Locatie locatie locatie! Dit is een klein appartement, maar geweldige locatie. Op de oceaan blok dus lopen naar de oceaan of wandelen promenade is geen probleem. Wandelen naar de winkels is ook zeer gemakkelijk te doen! Korte rij-afstand van Seaside Heights en Point Pleasant promenades, maar Lavallette is een geweldige stad dus geen noodzaak om overal te rijden. TWEE strand badges inbegrepen voor TOEGANG TOT HET STRAND.
Pizza, bakker, restaurants, Ocean en Bay, Wandelen Boardwalk, alles is op loopafstand van deze geweldige locatie. Pretparken zijn slechts een korte autorit weg als zijn allemaal van de grote doos winkels.
Condo was clean and had all the necessities. Short, easy walk to the beach and dining. Quiet and cozy spot. Great price for a great location. We brought our bikes and they had a bike rack in the back. Avoid the pizzeria next door - they have no idea how to make pizza.
Andre
2016-07-20T00:00:00Z
Joe and Diane were excellent hosts. The place was clean in a wonderful neighborhood right by a beautiful beach. LOVED everything about the condo and would highly recommend it to couples or familyies
Lisa
2016-09-25T00:00:00Z
Diane and Joe's condo was great for my small family getting together around the holidays!
Christopher
2016-12-20T00:00:00Z
The space was very cozy. Location is perfect - Diane and Joe are so helpful, friendly and nice. We had a great time.
Diem
2016-09-12T00:00:00Z
Friendly and helpful - great stay
Edward
2016-06-30T00:00:00Z
Diane had the condo ready for arrival and was there waiting for us. She is very friendly and we enjoyed our time with her. The kitchen was well stocked and we had everything we needed. We were less than a block from the beach and very close to everything that you might need. We will certainly be returning.
Connie
2016-10-02T00:00:00Z
Diane and Joe were absolutely wonderful! The transaction was simple, the place was spotless and if we needed them, they were a phone call away. You cannot beat the location, there is a parking space for one car, the rest is street parking and the rental came with 2 beach badges. It saved us a lot of time a stress. Cannot wait for future rentals!
erica
2016-08-01T00:00:00Z
Communication was excellent. Last minute booking that went super smoothly. Great place to unwind with well stocked kitchen if you want to do some cooking and one block from the boardwalk/beach. Love the bright decor that puts you in a sunny mood before you even step outside.
Keith
2017-02-20T00:00:00Z
Rodzaj pokoju
Całe miejsce
---
Rodzaj nieruchomości
Apartament
---
Mieści
4
---
Sypialnie
Lavallette, New Jersey, Stany Zjednoczone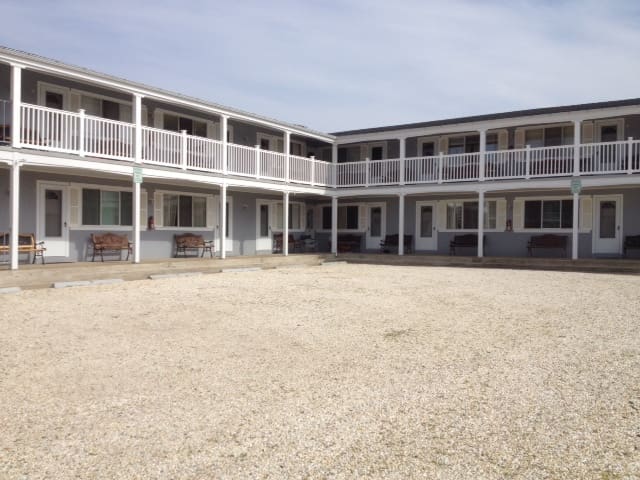 The host canceled this reservation 129 days before arrival. This is an automated posting.
Kelly
2017-03-15T00:00:00Z
Working with Christian was a wonderful experience. He was very accommodating and responded quickly to all inquiries. The house itself is a great space. My group and I loved eating breakfast outside at the picnic table and the outdoor shower was a HUGE bonus. This house truly is steps from the beach and an easy walk into town. Overall a great stay- I would highly recommend staying here!
Jackie
2016-06-27T00:00:00Z
Rodzaj pokoju
Całe miejsce
---
Rodzaj nieruchomości
Apartament
---
Mieści
6
---
Sypialnie
Lavallette, New Jersey, Stany Zjednoczone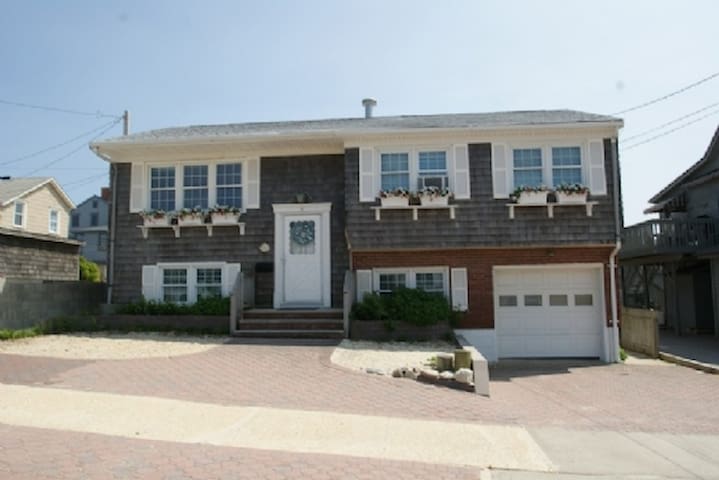 Veldig Rent hav blokk, med gammel hytte sjarm. 4 sengeplasser komfortabelt, trinn til privat strand. Patio & grill. Vi er på eiendommen for eventuelle behov. Ta med håndklær og slappe av! Parkering for en bil. Ingen over natten gateparkering.
Gammel tid hytte sjarm, men alle bekvemmeligheter av dagens verden bare 300 fot til Beach !!!
En privat strand Association gir deg en privat strand med bare noen få sunn fornuft regler. Kom sitte ved vannkanten og lukk øynene og drøm.
Everything about Martha's place was wonderful-- the apartment was beautiful, very close to the beach, and had everything that we needed for a weekend vacation. Martha was a very pleasant host, but we unfortunately did have some misunderstandings along the way. Our booking confirmation said that the checkout time was "flexible," which led to some confusion since Martha never communicated to us that she needed us to check out by a certain time. I wish that this, as well as other information about house rules, had been communicated to us earlier so that everything would have gone more smoothly. In any case, I still definitely recommend staying at this very lovely home.
Carly
2016-07-24T00:00:00Z
MARTHA AND LEE WERE EXCELLENT HOSTS, STARTING WITH THE HAPPY WELCOME FROM LEE AND BOTTLE OF WINE ON THE TABLE. WE HAD A GREAT TIME TALKING WITH THEM. THEY TOLD US ALL OF THE PLACES WE SHOULD VISIT IN THE AREA. THE NEIGHBORHOOD WAS CLEAN AND QUIET, WITH A QUICK WALK TO THE BEACH. THE APARTMENT WAS COMFORTABLE AND HAD ALL OF THE COMFORTS OF HOME. THE OCEAN BREEZES WERE GREAT. WE NEVER NEEDED THE AIR CONDITIONING.
Craig
2016-07-06T00:00:00Z
Martha and Lee were fantastic. From the time we got there to the time we left they were helpful. Always asking if we needed anything and telling us where to go and what to see. If I'm around the area again I will definitely look them up to stay here again!
Michael
2016-06-27T00:00:00Z
Martha and Lee were terrific. They welcomed us and were very accommodating. The location was ideal with a short walk to the beach as well as to shops, ice cream, restaurants. The accommodations were as described, clean and with plenty of room for me and my daughters. We really enjoyed our stay.
Lisa
2016-08-02T00:00:00Z
Location great close to beach access. Rustic but neat and clean. Very friendly and available if anything needed. Loaned beach chairs. An additional AC in kitchen would help couldn't sit in there although it was excessively hot out. They did provide a fan to push air down hall but one more AC would help cool the BR & kitchen. One car only no street parking overnight. Extra cars up the street a little inconvenient.
Brian
2016-08-18T00:00:00Z
This was the perfect rental for MDW with my boyfriend. The location could not be any better! Martha was extremely friendly and was available to answer any questions we had about local places to go for dinner etc. We had a fantastic time and will definitely consider renting again!
Allegra
2016-05-31T00:00:00Z
Great place, Great experience, great people. Would definitely come back here!
Jordan
2016-09-18T00:00:00Z
Just spent three nights at Martha and Lee's second floor apartment and it was just perfect. The apartment itself was small and cozy, but had plenty of space for my girlfriend me including a living area (which included a couch along with the two single beds pictured in the profile pic), a bedroom with a full size bed, a bathroom, and a fully stocked kitchen (fridge, stove, microwave, pots, pans, dishes, utensils, toaster, blender, crock pot, and, most important to us, a wine opener). Martha provided us with linens for the bed as well as towels. There are plenty of windows if you want to feel the ocean air, but it was a little warm for us and we opted for the window AC unit which kept the whole place cool. We were just a few minutes walk to the beach and we could walk or bike to a number of great places to eat. The beach is a private beach and even on a beautiful Saturday afternoon in August it didn't feel crowded. No bathroom facilities at the beach, but since we were a quick walk from the apartment, it wasn't an issue. The apartment is on the same property as Martha and Lee's house and throughout our stay they were friendly and helpful and seemed genuinely interested in making sure we had a good time while also giving us all the privacy we needed. This was definitely a winner and my girlfriend and I will be sure to be back. Thanks to Martha and Lee for a truly wonderful stay.
Buzzy
2015-08-24T00:00:00Z
Rodzaj pokoju
Całe miejsce
---
Rodzaj nieruchomości
Apartament
---
Mieści
4
---
Sypialnie
Lavallette, New Jersey, Stany Zjednoczone
Rodzaj pokoju
Całe miejsce
---
Rodzaj nieruchomości
Apartament
---
Mieści
8
---
Sypialnie
Lavallette, New Jersey, Stany Zjednoczone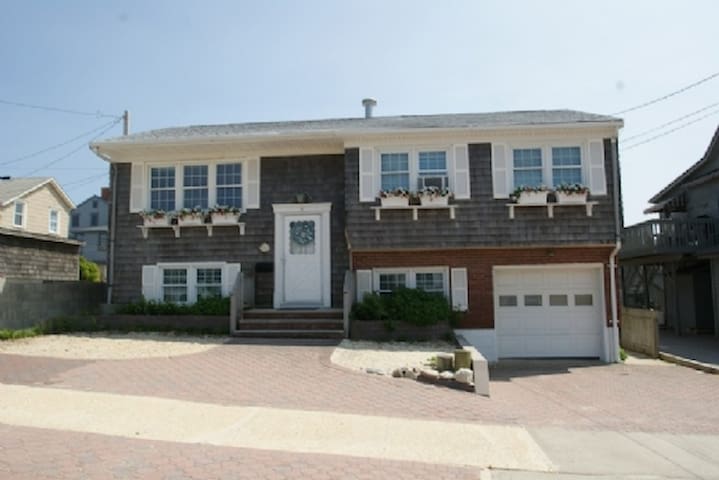 Martha always responded immediately whether it's text, phone call, or a direct message. The house is perfect and in a great location. Walking distance within everything including the beach, and when I say walking I mean a very very short walk. She's super friendly and provides a shortcut guide to anything you may be interested in whether it's to dine or to be entertained. The house itself is super clean! Bedroom, bathroom, and kitchen! Really gives you an at home vibe and that was my favorite thing about the place. You also have a little patio you can utilize to have dinner, relax, or have a few drinks. Definitely looking forward to coming back and even seeing Martha again! I don't know what's better the host or location!
Sam
2015-09-21T00:00:00Z
The location/neighborhood was perfection, quiet and right next to the beach, what could be better. This apartment was the perfect size for my me and boyfriend, it was clean and provided us with everything we needed to enjoy our stay. We also couldn't have asked for nicer hosts, they were welcoming and helpful they even had all of our questions already typed up and answered for us in the house. Our trip was amazing, we had such a great time and I would love to come back and stay here again. Would recommend this to any couple looking to just getaway and have a relaxing vacation by the beach.
Brittany
2016-07-19T00:00:00Z
Very lovely beach cottage. Just a two minute stroll to the beach. Accommodation is as described, cozy one bedroom with everything required. Martha and her husband were very friendly and live on the property so they are always available. They were kind enough to lend us beach chairs during our stay. Within walking distance bakery, ice cream shop, and a few dining spots. Favorite feature, outdoor shower. It makes it feel just like the beach to me. Really couldn't recommend more highly, just perfect place to stay for a beach getaway.
Jessica
2016-09-19T00:00:00Z
We felt so at home and welcome. Our hosts are the nicest people and they made us feel right at home and gave us advice on where we could go for food or entertainment. The apartment description is accurate and has everything you need, and is comfortable. You can bring groceries or supplies with you and feel right at home. We had our breakfast outside on the patio every morning, it doesn't get any better! Finally, the location is amazing! The beach is perfect and so close. The apartment is so close it was no trouble to come back when we forgot something or wanted to take breaks from the sun. We can't wait to visit again next season!
John
2015-08-24T00:00:00Z
This beach guesthouse is in such an amazing location literally 4 houses from the beach. Though we didn't have great weather while staying here, Martha made our stay great. She's very responsive and even offered us some of her beach chairs which I thought was very sweet! The kitchen was great. We brought groceries and she had all the necessities for us we could ask for. I'd definitely recommend staying here, perfect for a couple.
alexandra
2016-09-09T00:00:00Z
This apartment was just what we were looking for. It was spacious, private and clean. Martha was very friendly and always accessible. All linens were freshly cleaned and ready to go! There was toilet paper, garbage bags and even little samples of toiletries. Anything you could possibly need to cook and a grill was available for use. I look forward to renting this unit in the future!
Jessica
2016-08-25T00:00:00Z
We had a wonderful visiting the beach! Martha and Lee are great hosts and this was our second trip staying in the apartment. The conveniences of the neighborhood and proximity to the beach make it so easy to enjoy the shore.
John
2016-06-20T00:00:00Z
Rodzaj pokoju
Całe miejsce
---
Rodzaj nieruchomości
Apartament
---
Mieści
2
---
Sypialnie
Lavallette, New Jersey, Stany Zjednoczone
Rodzaj pokoju
Całe miejsce
---
Rodzaj nieruchomości
Apartament
---
Mieści
6
---
Sypialnie
Lavallette, New Jersey, Stany Zjednoczone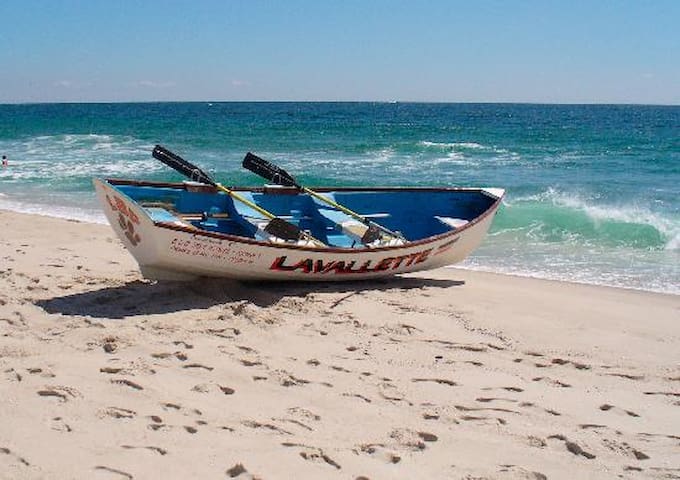 Rodzaj pokoju
Całe miejsce
---
Rodzaj nieruchomości
Apartament
---
Mieści
8
---
Sypialnie
Lavallette, New Jersey, Stany Zjednoczone
Dos habitaciones privadas con cocina equipada y sala de estar abierta. Nuestro apartamento está a una cuadra de la playa y tres cuadras del distrito de negocios Lavallette con todos los mejores restaurantes y tiendas! Insignias incluyen el acceso gratuito a la playa. Vivimos por encima de una tienda de licores. Viejo.
Rodzaj pokoju
Pokój prywatny
---
Rodzaj nieruchomości
Apartament
---
Mieści
4
---
Sypialnie
Lavallette, New Jersey, Stany Zjednoczone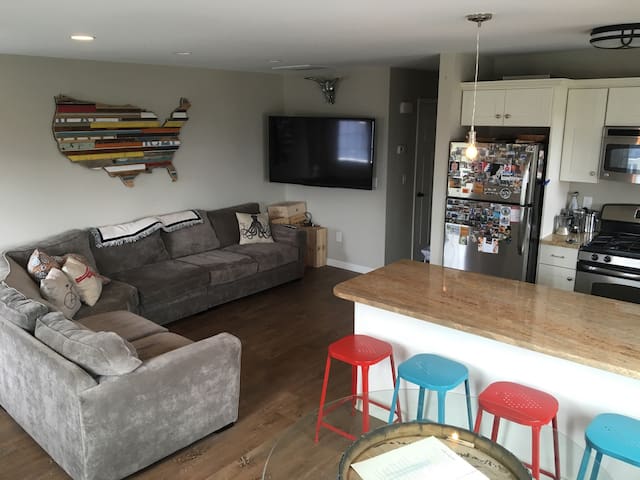 Élvezze az exkluzív privát stranddal és saját tengerparti medencével! Kerülje a zsúfolt nyilvános strandok. A privát strandtól 60 láb széles óceánparti! Grillezési lehetőség a teraszon asztalok, székek, napernyők és szabadtéri zuhanyzó forró vízzel. Helyszíni úttestről parkoló. Az óceán a hátsó kertben !!!
Az óceánparti Multi-room egység EXCLUSIVE privát strand található, az alsó szinten egy igazi tengerparti / tengerparti otthon és közvetlenül függ a homokos dűnék, amelyek megfelelnek az óceán. Az óceánparti Multiroom Area adhatunk a bérleti a főépületben (jegyzett Airbnb a "OCEANFRONT HOME + privát strand"). HOME KIZÁRÓLAG tulajdonosa a saját EXCLUSIVE privát strand! ! ! 60 láb széles - hossz óceán mintegy 150+ láb függően dagály. PRIVÁT OCEANFRONT medence és a strand is a lakosok a mi otthon csak. Elképzelni kilépve az ajtón, és a homokba a valóban saját strand vidámság a frissítő hullámok a gyönyörű, napsütéses napon! Élvezheti a hideg jeges italok és grill hamburgert szabadban mint pihenni óceánparti! Isten hozott a paradicsomban! It `s izgalmas nézni a delfinek úszni a strandtól. A bálnák és fókák is észrevette offshore. JELLEMZŐK: + Tágas szobák + VADONATÚJ központi légkondicionáló 2. zóna (június 10, 2015) + Márka új kemence (június 10, 2015) + Új tető (11-2014) + Saját kültéri tusoló / öltöző (közös terület) + Belső udvar (közös terület) + Között található Point Pleasant Beach Boardwalk and Casino Pier Boardwalk Seaside Heights. Körülbelül 4-5 mérföld sem Boardwalk. + Helyszíni szörfoktatás elérhető bérleti bérlők. Magába foglalja: + Tágas több helyiség területe + Hálószoba 1 + Szalon (walk-through) Queen futon kanapé + Nappali / TV szoba (2 Teljes méretű EuroLounger konvertálni sima / dönthető. + Új 55 "síkképernyős színes televízió és Wi-Fi és on-demand (URL rejtett) csatornák / Netflix + Étkező / asztal 6 székkel + Vadonatúj 4,4 köbméter ft. Rozsdamentes acél hűtőszekrény + Új, teljes méretű rozsdamentes acél hűtőszekrény / fagyasztó lehet elérhető, add-on + Új rozsdamentes acél mikrohullámú sütő + Kültéri faszén grill a főzéshez + Teljes fürdőszoba csempe, zuhany alatt kád, mosdó, WC, tükrös szekrény. + 1-2 helyszíni úttestről parkolóhely. + Korlátlan saját strand használat bérlők.
A Point Pleasant Beach Boardwalk és Jenkinson akvárium található, mintegy 4 mérföldre északra otthonunk. A Seaside Heights "Casino Pier Boardwalk árkádos & éttermek található, mintegy 5 mérföldre délre a haza. KÖZELI: 1 blokk Népszerű Használt-to-Be étterem-bár / Grill-Music 1/3 mérföld-Bayside dokkoló halászat / crabbing + Playground Több Mini Golfpályák Surf & Beach Üzletek Charlie Fruit Market Élelmiszerbolt Kisboltok
My group of friends and I had a great time this past weekend! The owner was incredibly friendly and accommodating, and we felt very welcome and comfortable in the apartment. Our group of 10 fit comfortably in the apartment, though we spent most of our time on the beach either swimming or grilling! There were plenty of beach chairs available, as well as tables to eat outside while grilling. I would absolutely come back to the house!
Remy
2015-08-24T00:00:00Z
Rodzaj pokoju
Całe miejsce
---
Rodzaj nieruchomości
Apartament
---
Mieści
6
---
Sypialnie
Mantoloking, New Jersey, Stany Zjednoczone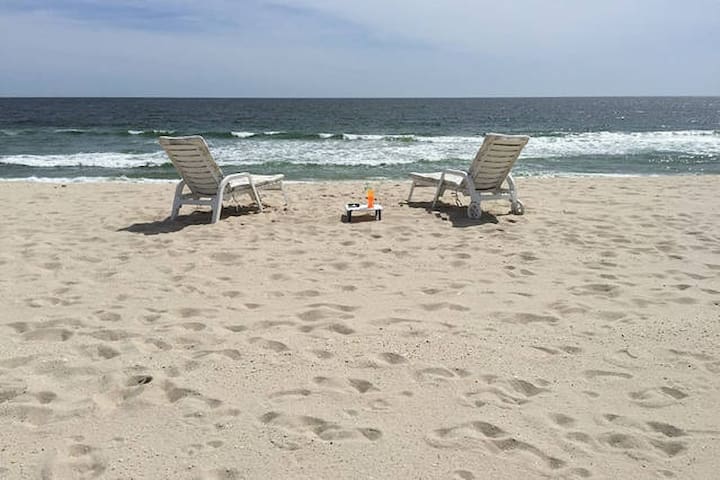 The property served us very well. It was just what we were looking for. Lavallette is lovely and serene. The house is clean, attractive and close to the beach. We had no trouble finding parking for three cars. The house rules make sense. If you need internet, wireless works well. What you should know in advance is that it comes with nothing -- no sheets, no toilet paper, no soap. You don't find this out until after you book. It's in a lease you sign. The lease specifies the owner provides no bedding, of any kind. (When we arrived, there were pillows, and new blankets, but we had brought our own.) We didn't find out about the toilet paper until we arrived. Michael told us this is normal for NJ shore places -- I wouldn't know. If true, fair enough, but it really should have been stated in the listing. We were three couples, all coming from distant places. If you're coming by air, it isn't practical to pack blankets and pillows, and renting them from a local agency is an annoying extra cost. On the whole, this was a good choice, but the experience of renting it was out of character with our previous AirBnB experiences. If you like meeting and socializing with the owner, it won't happen here -- Michael is the agent for multiple properties, and you won't meet him.
Peter
2016-05-31T00:00:00Z
Rodzaj pokoju
Całe miejsce
---
Rodzaj nieruchomości
Apartament
---
Mieści
8
---
Sypialnie
Lavallette, New Jersey, Stany Zjednoczone
Awesome location 3 houses from Beach & Boardwalk and restaurants, nightclubs. Small apt. 2 futons, 1 full bed aircond. Flat screen TV WiFi picnic area, gas grill, bikes, boogie boards, beach chairs. Parking included
Joanne and her husband were friendly, pleasant, and great hosts. Location was excellent, right next to the beach and comfortable. Would highly recommend.
Ray
2016-09-11T00:00:00Z
Joanne saved me when I arrived at a place I'd long ago planned to stay at. Knowing I had to leave where I was I found her listing and messaged her. She called me almost right away and calmed my anxiety over leaving one nightmare and trying to book a better place. Her and her husband were super accommodating and met me fairly late the same night to make sure I had everything I needed. The room was exactly as described and wasn't what we were planning, but ended up being much better. We spent three days splashing in the waves with our puppy. The location could not be better, it's right on the boardwalk and steps away from the ocean. I highly recommend their beautiful little motel, it's like staying with family.
Rebecca
2016-09-21T00:00:00Z
Všechno bylo naprosto vpořádku. Úžasná lokalita!
Bára
2016-09-18T00:00:00Z
Very friendly and accommodating!
Shannon
2016-09-14T00:00:00Z
Rodzaj pokoju
Całe miejsce
---
Rodzaj nieruchomości
Apartament
---
Mieści
6
---
Sypialnie
Seaside Heights, New Jersey, Stany Zjednoczone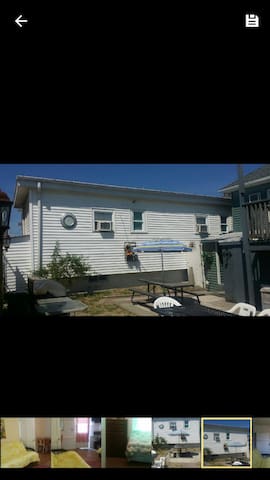 Our three bedroom apartment includes 7 full size beds, one bathroom, kitchen and living area. Enjoy watching fireworks every Wednesday from your deck. Boardwalk and beach located right across the street. Famous bamboo bar and karma located minutes from the property.
The listing was better than accurate. We were very happy to be a stones throw distance from the boardwalk and beach! The owner was very kind and very accommodating. Check-in and check-out were a breeze. They even helped out to fire up the bbq grill. Amazing place to end our summer!
Adrian
2015-09-07T00:00:00Z
The host was great, very welcoming and met with us to explain the listing. The house fit all of us, and was one block from the beach. There were grills and a patio, exactly what we were looking for. Everything was very clean.
Karli
2016-07-05T00:00:00Z
We loved staying at Francis' place! As a group of 10 we were worried about having enough space, but had plenty and were able to enjoy some nice, unplugged time together. Everything we needed was there, we just recommend bringing a few more towels if you're a big beach goer! We would come back for sure!!
Alexa
2016-08-24T00:00:00Z
The property manager was communicating with me throughout the whole trip. The place was just right for this short trip. The outside area where you can grill had garbage and others people's belongings when we got there. Besides that I would recommend for the host to have more garbage bags in the house and iron.
Gian
2016-06-27T00:00:00Z
Francis's place iss quite big, very well located (less than 5mins to the beach front). It was clean upon arrival, but we could see signs of aging of the place (toilet doorknot would not close). The place only contains contains the minimum of amenities (ie 3 sets of cutlery, just enough sheets, 1 couch, no TV) and minimum furniture. Wifi was very poor.
Daryline
2016-07-29T00:00:00Z
The apartment was everything we expected. Great location for beach, boardwalk, and restaurants. Very relaxed atmosphere, host was very friendly. Only complaint was the neighbors did not clean their dog waste, which made the outside area smelly on hot days.
Jay
2016-08-08T00:00:00Z
Our weekend at the apartment was very nice! Francis was very responsive and accommodating to our needs. The apartment looked just like the pictures and was in a great location (steps from the beach and restaurants/nightlife)! The house was equipped with sheets/towels, pots/pans, dishes, travel soap/shampoo, toilet paper/paper towels and garbage bags. If you need more of anything, you just need to ask! I really like having the keypad for the door lock, so you don't have to worry about carrying keys! The air conditioning worked amazing, which was very needed on the hot days! Thank you, Francis for making our weekend memorable!
Jeanne
2016-07-25T00:00:00Z
Rodzaj pokoju
Całe miejsce
---
Rodzaj nieruchomości
Apartament
---
Mieści
14
---
Sypialnie
Seaside Heights, New Jersey, Stany Zjednoczone
Nice condo. Per night rate for high season. Water park 2 blks - summertime. Ask for offseason rates. Balcony, one parking space - off street, central air, cable TV, full kitchen(microwave etc), washer/dryer and beach tags(4). Family friendly resort.
One off street parking space and four beach passes. No linens or pillows provided. Sleeps six.
The apartment was very close to the boardwalk and the beach, walking distances to nightclubs. Host was kind enough to provide 4 beach passes. Apartment was well kept. I would definitely stay again if I had the opportunity. Thank you anne for allowing us to stay at your apartment over the weekend. My friends and I had a great time.
Danny
2014-07-22T00:00:00Z
The condo was perfect in every way....clean, lots of room, close to beach, boardwalk, and everything we needed and wanted to do.
tammy
2015-09-21T00:00:00Z
Very easy experience, exactly as described! Wonderful location!
Danielle
2016-09-04T00:00:00Z
The place was very clean and neat. The TV in the living room area is nice and has a good amount of channels. Be sure to bring enough sheets because only comforters are provided. The shower is new and very nice lots of room and shelves for shampoos and the like. The location is really great a block from the beach and boardwalk. Check in and out was easy, Anne was flexible with the times. Overall, great place to stay in Seaside.
David
2016-06-14T00:00:00Z
We had a great time with our two young children. Good amount of space, and you can't beat the 1 block walk to the boardwalk and beach! Having the beach passes included was a real plus.
Jesse
2016-09-02T00:00:00Z
I rented out the beach apt/condo for three nights for my 30th birthday with 5 friends. The place is very close to the boardwalk in prime seaside heights. A block away from the beach and restaurants and bars. The place is in a complex with with 4 other units including some nice older people. So we had to keep any festivities pretty quiet. There is room for 6 to sleep comfortably and the kitchen had all the basics. We had to bring all of our sheets and towels but it was nice and comfy. Nothing fancy but just what we needed for a beach weekend. The owners were very nice and helpful
Alyssa
2014-07-01T00:00:00Z
The condo was exactly what we needed for our weekend in Seaside Heights. Accurately matches description and pictures. I was glad that Anne provided cleaning and cooking supplies, as well as paper products. when I had a question, she responded promptly. Also enjoyed the balcony, and the location is 1 block from the boardwalk (not even)
Heather
2016-05-23T00:00:00Z
Our family of six had a great time at this condo. The location is one block from beach and boardwalk - VERY convenient. The condo was clean, well stocked and safe. Great communication by owner as well!
denise
2016-07-24T00:00:00Z
Rodzaj pokoju
Całe miejsce
---
Rodzaj nieruchomości
Apartament
---
Mieści
6
---
Sypialnie
Seaside Heights, New Jersey, Stany Zjednoczone
The Perfect location. Walk outside and cross the street and you will be either on the beach, boardwalk, rides, restaurants, or the water park. Not only do we have a great location, we have one of the nicest house
We welcome you our second level newly renovated two family 3 bedroom 1 bath unit Beach House. You will be amazed with our newest and cleanest beach house in Seaside Heights. Our newly redone spacious 950+ sq ft three bedroom outshines the competition. Accommodations up to eight individuals. Bedrooms: Each bedroom awaits you with your own 30 inch wall mount TV, a memory foam mattresses (assuring you the best night's sleep). Our memory foam mattresses are all naturally antimicrobial and resistant to allergens, mold, bacteria and dust mites. Parking and Beach Passes: Simply arrive by car, park it, you won't need it for the rest of the week. We offer 2 free parking space (additional parking spaces are available) plus up to 8 beach badges (a minimum total savings of $500). Eat-In Kitchen: We have all the kitchen essentials you can think of for our Eat-In Kitchen including: - Full size Stainless Steel Refrigerator - Built in Stainless Steel Microwave/Fan - Toaster, Blender, Coffeemaker - Dishes, Pots & Pans, Silverware, Cups, & Glasses - PLUS out door open shower, picnic table and propane grill (shared) - We provide freshly washed bed linen and comforter, along with pillows and towels (if requested) -There is plenty of table space if you choose to stay in for the evening playing a board game, enjoying your favorite cocktails with friends or dabbling in a hand or two of Poker.
It was Seaside Heights, so set expectations accordingly. Location was great though, just a few blocks fr the beach and boardwalk. Some miscommunication throughout the stay, but nothing that John and I weren't able to clear up immediately.
Joyce
2016-07-11T00:00:00Z
Rodzaj pokoju
Całe miejsce
---
Rodzaj nieruchomości
Apartament
---
Mieści
8
---
Sypialnie
Seaside Heights, New Jersey, Stany Zjednoczone
Rodzaj pokoju
Pokój prywatny
---
Rodzaj nieruchomości
Apartament
---
Mieści
6
---
Sypialnie
Mantoloking, New Jersey, Stany Zjednoczone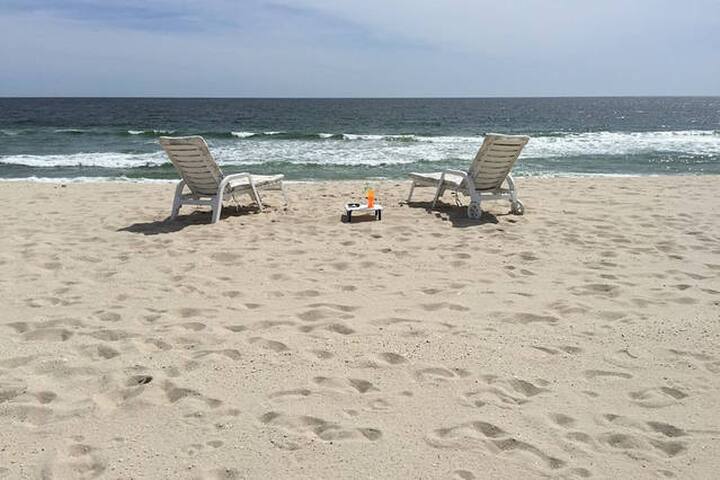 Fully furnished 1 bedroom, 450SF, modern apartment on 2rd Fl with parking spot. Across the street from large CVS (24 hrs) & Redbox movie rentals for rainy days. Two blocks away from beach & boardwalk. *Renter condo age restriction : 25yrs old & above. *Not Child Friendly (0-12 yrs), No Pets. Please message us before booking!
Included 2 large screen HD TVs with DVD player for each. Wireless internet with cable TV channel.
Quite area but within walking distance of A&P, Restaurants, bars and nightclubs.
The hosts were very accommodating and provided fantastic communication prior, during, and after the stay. The place was perfect for us and so lovely and modern. This was my first time using Air B&B and it provided us with confidence and longing to use the app again!
Diane
2016-08-08T00:00:00Z
I originally wrote a positive review since the place is great, especially the location. The day after I came home, though, I received a message from the host accusing me and my 2 friends of having 3 extra guests and leaving the place a mess, this demanding extra money. Apparently neighbors had said they saw 2 people leaving early in the morning on our last day and 4 people later on. A friend who lived nearby had stopped by Saturday night and came back Sunday so he was the 4th person the neighbor had seen, but nobody had left earlier so I'm not sure who the neighbor was talking about. If we're going to be watched, they should've made sure to be accurate. We forgot to take out the garbage and left a couple water bottles in the living room area, which they thought was "a complete mess." We were also told using most of the towels they left for us and drinking the "complimentary" water were issues. It started to feel like a scam. I was satisfied with my stay while I was there, but the accusations and demand for extra money were ridiculous and caused it to not be a completely positive experience.
Brooke
2016-08-15T00:00:00Z
The condo was perfect for my fiancé and I. It was quiet and perfectly located. The hosts left us everything we needed for our stay including water, toiletries, towels and even coffee! We had a wonderfully stay and would definitely go back!
Ingrid
2016-07-30T00:00:00Z
I stayed here with two friends for two nights and we really enjoyed our stay! The place was clean, comfortable and extremely convenient to the beach. I highly recommend this apartment for a stay in Seaside Heights.
Tami
2016-07-18T00:00:00Z
Everything about This condo was amazing. Location, cleanliness, amenities, it was a perfect stay! Would definitely stay here again. Thanks JiJe!
Trisha
2016-07-12T00:00:00Z
A fantastic stay!! Jije was extremely accommodating and has a beautiful modern home. My fiancee and I were extremely happy and would recommend this condo and Jije to anyone. Great experience!!
Jordan
2016-06-24T00:00:00Z
The condo was exactly what we needed for a beach getaway weekend. It's location is ideal for both access to the beach and for the nightlife. I would not hesitate to book again in the future.
Stefan
2016-06-20T00:00:00Z
This place is a block from the boardwalk. Walking distance from bars and restaurants. The pool is adorable and everyone in the development seemed really friendly. Jije and Alex have a wonderful unit that makes you feel more at home than a hotel. We were pleasantly surprised to find waters in the fridge, k-cups for the keurig and even beach towels (excellent because we forgot ours at home). You really can beat this listing. The value is obvious especially for the location. We will absolutely be back.
Nick
2016-08-29T00:00:00Z
Rodzaj pokoju
Całe miejsce
---
Rodzaj nieruchomości
Apartament
---
Mieści
3
---
Sypialnie
Seaside Heights, New Jersey, Stany Zjednoczone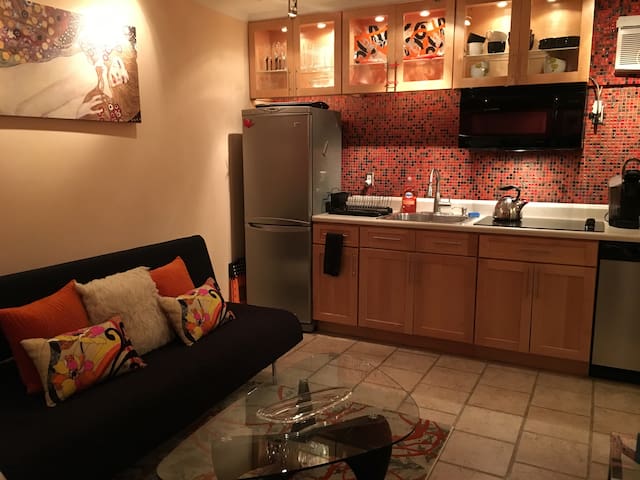 Our brand new apartment includes 1 bedroom(queen bed) and a pull-out couch(full bed). Spacious bathroom. Full kitchen and living room with a small dining table(seats 4). The space is bright and airy, and the furnishings are all beach themed.
The apartment was refinished last year. I love my shore house and wanted the opportunity to share with my friends, family and now you! Sooo...I finished the first floor and made part of it into an apartment that we would be happy to stay in ourselves(and have on numerous occasions). It's bright and open and hopefully has everything you'll need. If it doesn't, we are always looking for ways to improve upon it, so please let us know and we'll be happy to accommodate to the best of our abilities.
Seaside Heights is a great location to come for a "beachy" get away. The beach and the boardwalk are a given to make the trip worthwhile on their own. Between fun in the sun and on the sand, as well as the rides, games, and night time attractions of the boardwalk; younger families and kids are delighted. There are also numerous night clubs, bars, and lounges for those looking to go out at night. The restaurants are awesome, some right in town and others just a few minutes drive away(ask us all about our favorites - we're foodies so we're definitely in the know).
The host was very accomodating.
Maggie
2016-08-18T00:00:00Z
Dominic was an excellent host! He made sure that my family and I were comfortable and had everything we needed. Dominic and his family were so welcoming and delightful. Dominic went out of his way to help out with an issue I had with parking and saved the day:) Thanks again!!! The apartment is affordable, well kept and a great place for a weekend get-away.
Elaine
2016-06-27T00:00:00Z
We were so pleased that Dominic and his family had the flexibility in their schedule this past weekend to accommodate a mini-vacation for our family. The apartment was cozy, as described, clean, bright and pleasant, and we loved the patio - to sit and read, play games and hang out. The place is a few blocks away from ocean, so when we were finished with the beach and boardwalk, we could easily escape to the relaxing quiet. Perfect for our long weekend, and with attentive, caring hosts! We missed seeing Dominic himself, but we had contact with him while down, and his parents were great, friendly, made sure everything was in place and that we enjoyed ourselves.
Pat
2016-08-22T00:00:00Z
We had a wonderful time at this place 4th of July weekend. Dom and his family were warm and welcoming and always looking for ways to improve our stay. The patio is fantastic and a great place to retreat. I would recomend this place for couples or familes with a few kids. Great stay!
Chris
2016-07-06T00:00:00Z
We loved our stay at Dominic's beach house! We traveled as a group of 4 for a weekend getaway. Dominic was quick with communication, checked in to make sure we arrived okay, and was very accommodating when we had to check in early which was helpful for us after driving all night. When we arrived, his friendly neighbour introduced himself and gave us a couple tips about the street and neighbourhood before we had even gotten into the apartment, which was pleasantly surprising! We got in with ease and the apartment was spotless, and it was just as listed. There were more than enough bath towels, and there were even beach towels that we used to take to the beach for a day. We were completely blown away with the shared outdoor patio space which was BEAUTIFUL! It was really nice to be able to sit outside after wandering around all day. The patio is at the front of the house but feels cozy and quiet because it is fenced in. Dominic's family was there for the weekend which was such a highlight of our trip. They were so warm, friendly, and generous. We were able to sit outside talking with them one evening about Seaside and New York and their favourite spots to go to in the area. They made us feel incredibly welcome staying in their home, which is important when you are sharing a public outdoor space with essential strangers. Thank you so much for your hospitality! We would definitely rent this apartment again and will be recommending it to anyone headed to the area.
Rachel
2016-06-20T00:00:00Z
From the time we arrived, Doiminic's parents warmly greeted us, and gave us good referrals for restaurants in the area. We felt very comfortable with our sweet private apartment and Loved the Huge Pretty Patio and grill, we definitely will be back!
Patricia
2016-08-01T00:00:00Z
DOMINIC, WAS A WONDERFUL HOST HE WAS VERY WELCOMING AND INFORMATIVE. THE APARTMENT WAS AS LISTED AND VERY NICE AND CLEAN AND ALSO HAD PLENTY OF TOWELS IN THE BATHROOM. THE NEIGHBORHOOD WAS QUIET AND WE PARKED RIGHT ACROSS THE STREET FROM THE APARTMENT. MY FRIENDS AND I ALSO ENJOYED SPEAKING TO HIS FAMILY AND ALSO ENJOYED THE COMPANY OF HIS 2 DOGS WHILE WE WERE OUT ON THE BEAUTIFUL PATIO THAT HE HAS. WE ALSO USED THE GRILL ONE NIGHT AND ENJOYED THE SERENE SOUNDS OF THE LITTLE WATER FOUNTAINS THAT HE HAS ON HIS PATIO. IN ADDITION DOMINIC WAS A GREAT HOST ONE DAY WE GOT CAUGHT IN A THUNDER STORM AND I KNEW HE DIDN'T HAVE TO DO THIS FOR US, BUT HE WASHED AND DRIED OUR TOWELS AND BEACH BLANKET THAT GOT CAUGHT IN THE STORM. MY FRIENDS AND I WOULD STAY HERE AGAIN AND IF ANY OF MY OTHER FRIENDS ARE LOOKING FOR A PLACE TO STAY DOWN BY THE JERSEY SHORE I WOULD RECOMMEND DOM'S PLACE.
Sasha
2016-07-19T00:00:00Z
Rodzaj pokoju
Całe miejsce
---
Rodzaj nieruchomości
Apartament
---
Mieści
5
---
Sypialnie
Seaside Heights, New Jersey, Stany Zjednoczone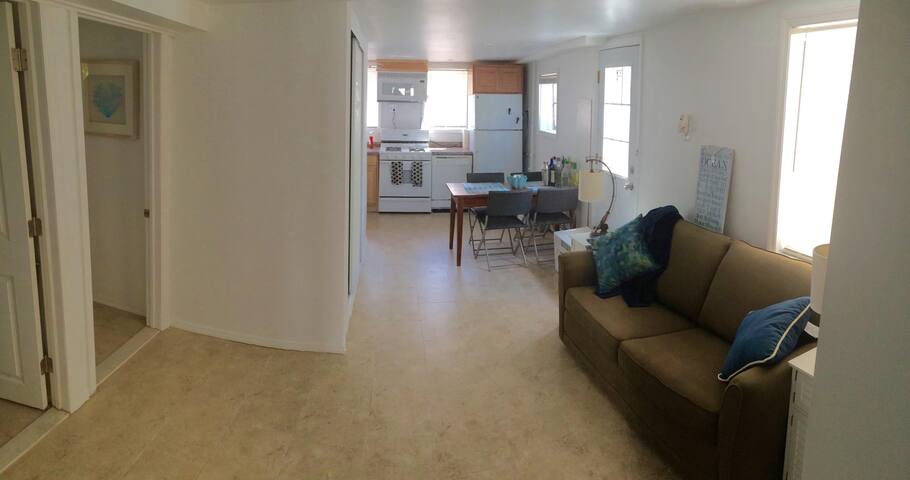 3BR and 1 Bath apartment located 5 min walk to Beach. Apt can sleep up to 14ppl with full kitchen, full bath, each BR with AC and cable TV. Six beach badges included. Free parking for 2 cars. Discounted tickets to Casino Pier Rides.
Apartment is located five minutes walk from the beach and boardwalk. We are also short walking distance to waterpark, amusement rides, nightclubs and local bars.
The host canceled this reservation 35 days before arrival. This is an automated posting.
Karli
2016-05-27T00:00:00Z
Staff were very friendly and helpful. Everyone had a great stay. More than enough room. Very accommodating. Close to the beach and boardwalk.
Nicholas
2016-06-27T00:00:00Z
The host canceled this reservation 28 days before arrival. This is an automated posting.
Yuling
2015-07-31T00:00:00Z
I booked this place for me and 6 of my friends to celebrate my birthday. The place was clean, the a/c worked great to keep the whole place cool (and it was a HOT weekend). theres plenty of beds and space so no one feels cramped. less than a 5 minute walk to the beach and boardwalk. 7-eleven right around the corner. very convenient location. just a heads up to future stayers, that to get to this unit you have to climb a pretty steep flight of stairs. my only complaint was that immediately after booking i was informed that in addition to the airbnb charge i would be required to pay a 12% "taxes" in cash. would still reccommend this place and stay again in the future.!
catarina
2016-09-11T00:00:00Z
Excellent host. Gave us everything we needed to maximize our experience. Would stay again. Do not come expecting 5 star resort action. Area is all motels. Next to police station as well.
Christopher
2016-08-01T00:00:00Z
Very accommodating and close to the beach. Spacious.
Rashida
2016-08-30T00:00:00Z
The place was great! Just 2 blocks from the boardwalk. Host was very nice and available at any time. Responds email right away. Will rent again!
Sueellen
2015-07-20T00:00:00Z
Rodzaj pokoju
Całe miejsce
---
Rodzaj nieruchomości
Apartament
---
Mieści
14
---
Sypialnie
Seaside Heights, New Jersey, Stany Zjednoczone
Lavallette - Airbnb
:
Średnia ocena:

4.65

/

5

gwiazdek od

97

gości
Wpisz daty, by zobaczyć pełną cenę. Obowiązują dodatkowe opłaty. Cena może uwzględniać podatek.