Located in the tree area just south of the University of Wyoming, our cute one bedroom basement apartment has been completely remodeled. We are within walking distance to the University of Wyoming, Downtown Laramie, parks, restaurants, museums, Civic Center and the library. Laramie is located near great views, hiking, biking and skiing. Our cozy apartment is perfect for couples, parents visiting their UW student, athletic events, solo adventurers, and business travelers.
You have your own separate entrance to the completely remodeled and fully furnished PRIVATE apartment. The apartment is cozy and comfortable, we have tried to think of all you might need to make the space feel like home while visiting Laramie. The kitchen is fully stocked with everything but your food! We also provide fresh ground coffee from our coffee shop, Turtle Rock Coffee. The bathroom includes towels, soap, shampoo, conditioner, hair dryer, iron and ironing board. You have cable TV and wireless internet. Laundry facilities are available for your use. There is on-street parking.
We live in the tree area just south of the University of Wyoming. Undine Park is just 3 blocks away and the downtown area is 5 blocks. The Civic Center is located 1 block away and hosts many events in the Gryphon Theater and gyms. The University of Wyoming is just 5 blocks from the house.
Amazing stay. Everything was so clean and had everything you could think of that you would need. I would highly suggest to stay here and will surely stay again if it's available. Thanks again.
Jacob
2017-03-10T00:00:00Z
Loved my stay! The hospitality was awesome. Angela has thought of everyone for her guests. Such a cozy place; can't wait to come back!
Dawnn
2017-01-23T00:00:00Z
Wow! What a cute place. We decided to get away for Christmas and were so thrilled when we walked in to Angela's place and saw a Christmas tree. Such a great bonus. We had taken gifts, now we had a place to keep them until Christmas morning. After our arrival, Angela and Andy came down and introduced themselves and made sure we were all set for our stay. Very nice hosts! The place is very well stocked and so so comfortable. We are already making plans to visit again.
Troy
2016-12-27T00:00:00Z
The basement apartment is wonderful. Very clean, excellent hosts. We hope to return very soon!
Curtis
2017-01-10T00:00:00Z
My husband and I thoroughly enjoyed our stay. Very clean, comfortable, nicely decorated and in an awesome location. Angela was a great host, very easy to get a hold of and friendly. The extra little details in the house were great too. We will definitely be back!
Holly
2016-11-21T00:00:00Z
We couldn't have asked for a better stay here. This little apartment was so perfect and cozy. Nice, quiet location in town. Easy to get to. We knew the hosts were available if we had any questions. And the coffee...definitely delicious and an added bonus! This apartment has everything you could possibly need. If/when we are back in Laramie this will be our first choice!
Hannah
2016-12-07T00:00:00Z
This place is great! It has everything you need to be comfortable during your stay. Angela not only offered to pick me up from the airport, but she had muffins and fruit in the apartment when I arrived! The couch is very comfortable and the bath towels are amazing! The kitchen is fully stocked(minus food) for all your cooking needs. It is just a short walk to both campus and downtown, which is very convenient if you don't have a car! I loved the privacy and the fact that Angela or her husband were available if anything was needed!
Chelsea
2017-02-05T00:00:00Z
Angela's place was great! We never actually met but checking in was no problem. The location is very close to where we wanted to be for a great price. Ya'll did a wonderful job on the place, it is clean, well decorated and feels like home. Thanks for the coffee and scones!
Lillian and Sean
2017-02-21T00:00:00Z
Rodzaj pokoju
Całe miejsce
---
Rodzaj nieruchomości
Apartament
---
Mieści
2
---
Sypialnie
Laramie, Wyoming 82070, Stany Zjednoczone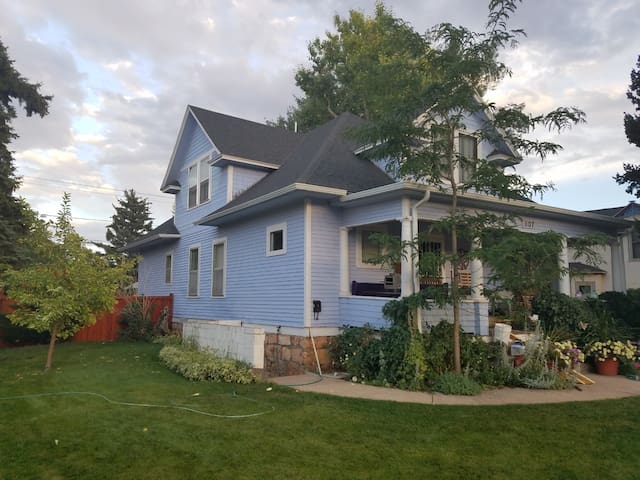 The upstairs apartment in our historic turn of the century home is also a separate, private space for our guests with a full kitchen and bath. We are located across the street from the Laramie historic downtown district and 4 Blocks from the UW campus.
Wonderful 2nd floor apartment flooded with natural sunlight. Perfect space for visiting family and friends at UW or in Laramie. Perfect home base for returning alumni in town, visiting professors and students, stopover for cross country travelers, or outdoor enthusiasts visiting SE Wyoming looking for recreation . 2 blocks from downtown Laramie. Our Location: Surrounded on two sides by the Medicine Bow National Forest and located in the heart of the Laramie Valley between the Laramie Range and the Snowy Mountains, we are 10-15 minutes from mountain climbing, cross country skiing, mountain biking, and hiking at Happy Jack and Vedauvoo , and 35 miles from Snowy Range Ski and Recreation area. Saratoga Hot Springs are 90 minutes away. The House: Early 20th century historic Wyoming prairie architecture combined with late 20th century design located in an ideal location. Built in 1903, our house had at one time been a rooming house for University of Wyoming students , visiting teachers, and guests. Walk to restaurants, 3 brewpubs, downtown shopping, Laramie Plains civic center, University of Wyoming and Laramie parks in minutes. Spacious fenced in side yard with patio furniture and a Weber kettle charcoal grill for grilling upon request. Front porch for weather watching and relaxing. Upstairs apartment awash in natural sunlight. Private entrance in the front and parking in driveway.
We are on the outskirts of the downtown historic district- as close to downtown as you can get without actually being downtown. Located minutes from I-80 and 2 blocks from Highway 287. We are a block away from live music at the Alibi Pub and the Gryphon Theater at the Laramie Plains Civic Center, the partially restored and historic Wyo Theater, and All Terrain Sports. 3 breweries are within a 5 minute walk. We have an active downtown with plenty of dining and entertainment options. Laramie is conveniently located near the following interesting destinations. Pole Mountain Recreation Area @Med Bow NF-15 mins Vedauvoo -20 minutes Curt Gowdy State Park-25 mins Med Bow Peak- Snowy Range-45 mins Saratoga Hot Springs-90 mins Rocky Mountain National Park-120 mind Ft. Collins-60 mins Centennial Wy-30 mins Woods Landing-30 mins Denver-120 minutes
Jill and Tim were great attentive and helpful, made sure to offer they help with anything if needed. Thank you!!
Charel
2017-03-06T00:00:00Z
This is a wonderful place to stay. Only a 5 minute drive from War Memorial and walking distance from shops and restaurants. The pace is very clean and quiet. Jill and Tim have set up a great place. You won't be disappointed!!!
Jon
2016-11-12T00:00:00Z
Very lovely home just steps from downtown shops and restaurants. Very quiet and private. Would recommend
Nick
2017-01-16T00:00:00Z
Great place to stay, walkable distance to restaurants and bars, 15 minutes away from Happy Jacks trails where we went cross country skiing. They were also kind enough to allow my dog to tag along :)
Jen
2017-01-16T00:00:00Z
We absolutely loved our stay here! Just wish we had had more time to enjoy it. The apartment is so, so charming, clean, roomy and the bed is extra comfy. The decor is lovely. The entrance is completely separate which was nice since we got in late. Also very quiet; we did not hear any noises from the hosts. Nice touches in the kitchen like Trader Joe's coffee and fresh fruit. There was snow overnight and Jill went out of her way to lend us her snow scraper before we left. She was very kind. Highly recommend!
Megan
2017-01-05T00:00:00Z
A cute upstairs apartment with loads of character! We loved staying in this sweet apartment that is tight but has everything you need. Hosts were easy to communicate with, and house is in walking distance to campus, restaurants, etc. The bed is small, so if you're a couple used to a King-sized bed, you'll need to prepare to snuggle :) We would certainly stay here again if we're ever in the area.
Laura
2017-01-01T00:00:00Z
Please see my other review for details! Highly recommend!!
Elizabeth
2017-01-13T00:00:00Z
The picture listed does not do this place justice- it is nicer than the picture. There is a sunny kitchen that is very nice to hang out in. The place is very tidy and the location is great. You can walk to many restaurants. It is also nice and quiet there. We did not have an opportunity to meet the hosts since they were away, but they were very responsive to messages and had helpful recommendations. We would definitely stay there again.
Marcia
2016-06-01T00:00:00Z
Rodzaj pokoju
Całe miejsce
---
Rodzaj nieruchomości
Apartament
---
Mieści
4
---
Sypialnie
Laramie, Wyoming 82070, Stany Zjednoczone
My place is close to nightlife, family-friendly activities, and the University of Wyoming, as well as a fifteen minute drive to Wyoming's famous National Parks. You'll love my place because of the neighborhood, the light, and my wonderful dog. My place is good for couples, solo adventurers, and business travelers.
Hannah and Bruce were great hosts! Hannah even made some soup for me and gave me breakfast in the morning (while Bruce tried to take it back and get pet a little). Brought back good memories of college too.
Gordon
2016-12-20T00:00:00Z
Hannah was a wonderful host. Bruce the dog was very well behaved. Great place to crash for a night. She had made dinner and invited us to share. Which we did. It was very good. Enjoyed visiting with her and interacting with Bruce!
Dean (and sometimes) Carolyn
2016-12-03T00:00:00Z
Hannah's place was perfect for our night's stay- super friendly host- nice comfortable room and great neighborhood w access to university and downtown bars and restaurants- thanks Hannah for the great experience in Laramie
Suzanne
2017-01-02T00:00:00Z
Hannah is a lovely person who is very welcoming. Staying at her home has the feel of staying at a friend's house. She makes you feel that she is opening up her home to you. Wonderful place to stay right next to the university!
Conroy
2017-02-24T00:00:00Z
The host canceled this reservation 2 days before arrival. This is an automated posting.
Tracy
Great location 1 block from University. Hannah is easy going and a great host.
Kimberly
2017-03-05T00:00:00Z
It was a great stop for us as we travelled farther out west.
Mitchell
2016-12-20T00:00:00Z
Hannah was very welcoming and kind. Right by downtown and campus
Bryan
2016-12-15T00:00:00Z
Rodzaj pokoju
Pokój prywatny
---
Rodzaj nieruchomości
Apartament
---
Mieści
2
---
Sypialnie
Laramie, Wyoming 82070, Stany Zjednoczone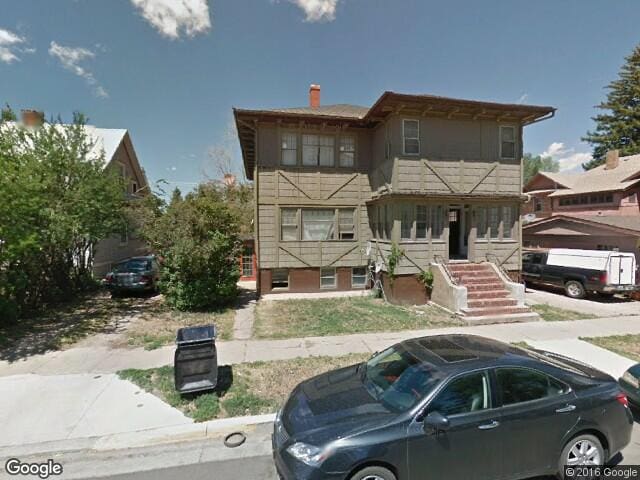 Simply two comfortable, single beds and a bathroom designed for one or two tired people traveling on the cheap. The room is one half block from the UW campus and from a superior coffee shop.
Amazing place! Thanks for a great stay.
Christopher
2017-02-21T00:00:00Z
The Rue's are delightful people. Their house is immaculate and the wood work is amazing. Their house is a block from campus and pretty close to everything in town. I highly recommend a stay.
Jeremy
2017-03-07T00:00:00Z
The place was clean and as described in the pictures. Well kept and very spacious. Definitely check it out.
Quan
2017-02-25T00:00:00Z
Rodzaj pokoju
Pokój współdzielony
---
Rodzaj nieruchomości
Apartament
---
Mieści
2
---
Sypialnie
Laramie, Wyoming 82072, Stany Zjednoczone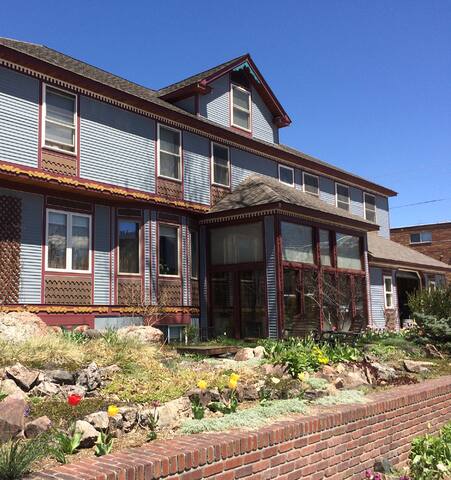 This amazing 2 bedroom, 2 bath, 2000 SF Loft apartment is a one of a kind in historic downtown Laramie. This building was built in the late 1800's and was a hotel for the Union Pacific Railroad. It was situated above a "Hested's" variety store which later became "Gambles Mercantile". In 2012 the hotel was converted into two high end apartments and an office. Long term stays are eligible for discounts up to 40% and all stays over 29 days are tax free.
This property is ideal for two to four couples or larger parties with plenty of room to spread out with separate bathrooms. Loft C can comfortably accommodate 11 people. It is within walking distance to ample shopping, restaurants and bars. Painstakingly restored, this apartment's features include high ceilings, exposed brick walls, original doors and trim, original wood floors, and 6 skylights. Radiant floor heat in both bathrooms, a gas fireplace in the large living room and hot water, cast iron radiant heat registers in all the rooms with independent thermostats insure that everyone will be warm in the colder months. Air conditioning keeps guests cool in the summer. Or keep cool on the 500 SF West facing deck that overlooks historic downtown and the RR tracks. Take in a sunset from there or take a stroll over the last remaining Union Pacific foot bridge that connects downtown to West Laramie. The Master bedroom features a king bed, the guest bedroom is furnished with one queen bed and a queen sleeper sofa, the living room is equipped with a queen sleeper sofa. For an additional fee this apartment can house up to four additional guest. The kitchen is equipped with stainless steel appliances, a five foot farm sink, under cabinet lighting, solid surface counter tops and an antique USPS mail sorter for a kitchen island. One bathroom is complete with a claw foot bathtub/shower combo while the other has a walk in shower. Large laundry room with high efficiency washer and dryer are also available. Located in the heart of the historic downtown, it is just steps away from eleven eating establishments, 8 bars and all the shopping you can handle without getting into your vehicle. Situated above the host, the Craftsman's Co-Op, "The Bent & Rusty", so help is never far away. This apartment is furnished with antiques from this one of a kind store and are available for purchase. Snowy Range Ski Area is just 30 minutes away. The Snowy Range Mountains are host to some of the best snowmobiling in the US. In the summer months the mountains offer many hiking trails for all skill levels. If you are visiting us for University of Wyoming athletics, UW graduation or any other UW event, you will be just blocks away. If you are here for graduation, this property is perfect to host the celebration as there are several restaurants close by who could cater your event.
Historic downtown offers a multitude of places to eat, grab a drink or go shopping all within steps of the Mercantile Loft.
This was so beautifully decorated, and so homey. The location was incredible as well! The check in process was easy. It was so nice to hear about history of this loft! Everything was in tiptop shape, it was so much fun to stay here. The beds are incredibly comfortable, and the sheets were so soft:) This was a memorable trip. Plenty of space, and fully stocked with everything you need. The host Billy even left us cinnamon rolls to enjoy it with our coffee in the morning
Bonnie
2017-01-28T00:00:00Z
Great location for food and fun. Everything seemed to be within 4 blocks.
Justin
2017-03-06T00:00:00Z
Rodzaj pokoju
Całe miejsce
---
Rodzaj nieruchomości
Apartament
---
Mieści
11
---
Sypialnie
Laramie, Wyoming 82070, Stany Zjednoczone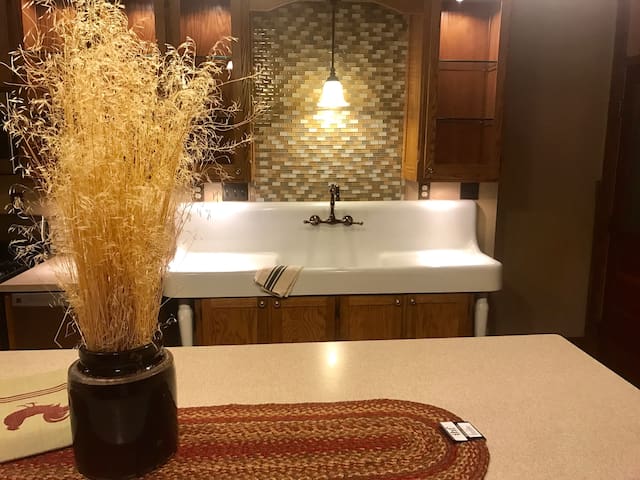 First floor private apartment with inside access front and rear. Lots of natural light, with direct afternoon sun. Complete kitchen with all utensils provided. Hardwood floors. Washer and dryer access in basement. Laundry detergent provided.
Approximately 700 square feet. Large living / common room, dining area adjoining living room. Kitchen with two entrances. Two large hall closets and one bedroom closet. Bathroom with tub and shower. Bedroom in rear away from street. Hallway connects front rooms to bath and bedroom. Rear entrance off of hallway connects to inside stairway that exits to rear of building featuring a backyard with lawn furniture.
Historic section of town. Near Laramie Plains Museum.
Rodzaj pokoju
Całe miejsce
---
Rodzaj nieruchomości
Apartament
---
Mieści
2
---
Sypialnie
Laramie, Wyoming 82070, Stany Zjednoczone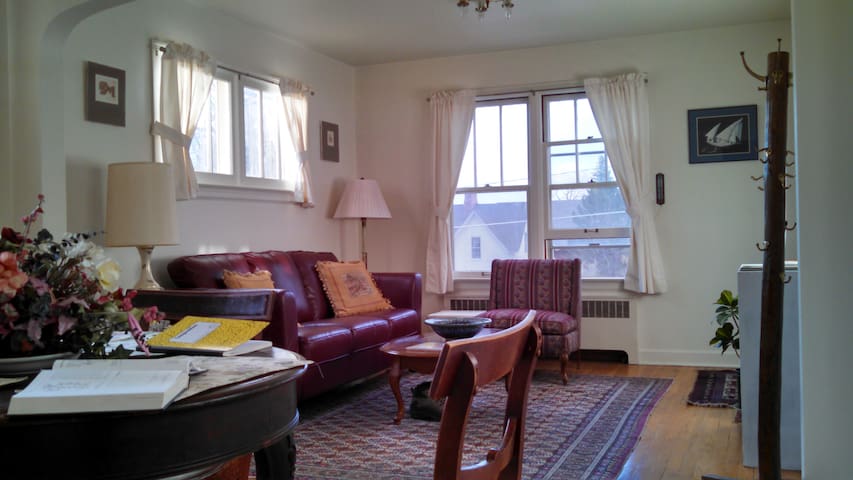 Downtown loft apartment. Our block has great shops, restaurants and bars. Laramie is near Snowy Range with great hiking and skiing.
Karen was always quick to respond to questions or requests. She was very accommodating with us as our travel plans adjusted as the date approached. This rental has so much character! Such a fun place. The pictures don't do it justice. If you appreciate antiques, quirks, and charm then you will adore it! You can't help but wonder what the history is behind the rental. Downtown living comes with the noise of the city nightlife, but that goes hand in hand with being within 3-4 blocks of many excellent restaurants, coffee shops, breweries, and boutiques.
Jordell
2016-10-11T00:00:00Z
Karen's place is right in the middle of the main part of town. Literally walking distance to anything you could need! Karen herself was an amazing host. She was extremely communicative and the place was perfect for our stay. I would definitely stay again.
Nathan
2016-11-17T00:00:00Z
The space was incredibly unique! I was in town with two colleagues for work at the University. Sleeping arrangements were manageable for the short trip but are not noted in the description - there it is 3 bedrooms with a Queen, a twin and kids bunkbeds (also a sofa pullout and various mattresses in the back). It is 2 bathroom, but only one shower in the master bedroom (the other is a tub). Fantastic location near shops and restaurants. No wi-fi so we had to walk over to a coffee shop. Overall a great stay and I would recommend it.
Joshua
2016-11-21T00:00:00Z
She is just great.
Henok
2016-12-13T00:00:00Z
The host canceled this reservation 214 days before arrival. This is an automated posting.
Laura
Karen was very friendly and quick to respond to questions about the apartment. She welcomed my group and gave us excellent directions on where to park. She was also very flexible on the check-in and check-out time. The apartment was huge and provided a lot of space for a large group. The only somewhat negative thing about the apartment was the sleeping arrangements. There were a couple larger beds, but the others were twin size with 2 of those being bunk beds. I wish the sizes of the beds were listed in the description. The location was great for walking to shops and restaurants, but it is right across the street from a popular bar and is noisy when you are trying to sleep. Overall, it was a very charming apartment and had a lot of character! I would stay here again!
Lori
2016-11-09T00:00:00Z
This was a fun, quirky 2nd-floor apartment above a store in downtown Laramie. It is a charming and probably historical space. I'd love to hear the story the walls could tell. It was furnished with the necessities for cooking, although we only made coffee while there. There are many restaurants and shops within a few blocks. Karen was kind and flexible with check-in. She was responsive to questions before and during our stay. One bathroom has a tub/shower and the other has a claw-foot tub. It was a fun change from a typical hotel room.
Shelly
2016-11-10T00:00:00Z
Rodzaj pokoju
Całe miejsce
---
Rodzaj nieruchomości
Apartament
---
Mieści
10
---
Sypialnie
Laramie, Wyoming 82070, Stany Zjednoczone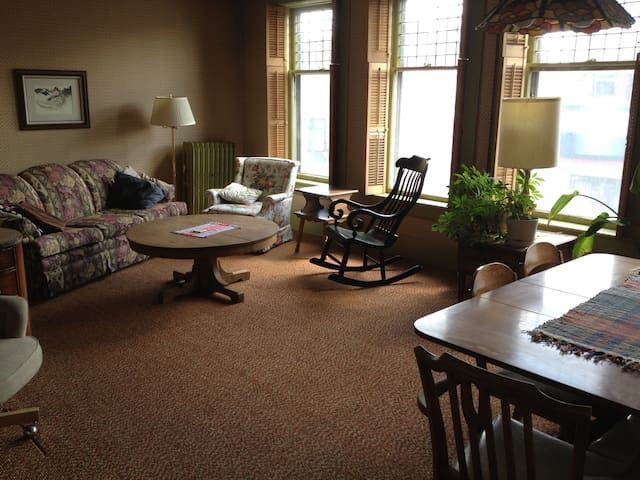 Cool quiet clean space in Laramie, 2 bedrooms. High ceilings. Centrally located 1 block to university and walkable distance to downtown.
Walkable to everything
Great place, great location. Comfy bed, super clean and lots of character.
Lynne
2016-07-24T00:00:00Z
Beautiful space in the heart of Laramie, right by the University.
Spring
2016-06-10T00:00:00Z
Neat loft in a great location. Was nice to be able to walk downtown and around campus. Unit is well furnished and it was a comfortable place to relax while in town for business. Gil was very accessible and made sure my stay was enjoyable.
Zach
2016-06-22T00:00:00Z
Gil made arriving and getting into the apartment very easy, and was available by text (or I guess by phone but we had no need to call) whenever we needed. Gil clearly lives in the apartment, and vacated it for our use. There were clothes in the closet, jackets hanging on the hooks behind the door, but this was fine. It is not a luxurious place, but it is not a sterile, unfriendly place either. It was rather like staying in a friends apartment for the weekend - very comfortable.
Paul
2016-08-03T00:00:00Z
Gil was very helpful to us as weather in Colorado forced us to make last minute location changes to our backpacking plans. He drove a considerable distance to accommodate us. His apartment was stylish, clean, conveniently located and available!
Marlon
2016-08-13T00:00:00Z
Gil was very responsive and the place was just as advertised. Centrally located, nice space.
Maria
2016-08-06T00:00:00Z
Gil was very accommodating and helpful with our arrival. The space is clean and very big. Only one bed but certainly enough room for a couple people. My friend and I actually worked remotely from there for the day which was great. Very close to shops and food and Laramie, not a big place so it all seems like walking distance.
Alyssa
2016-07-26T00:00:00Z
Gil made us feel immediately welcome. The Cool Loft Place is exactly as described. The place was spacious, eclectic, and quiet. We really enjoyed our overnight in Laramie. Gil is an excellent host.
Jean
2016-07-05T00:00:00Z
Rodzaj pokoju
Całe miejsce
---
Rodzaj nieruchomości
Apartament
---
Mieści
5
---
Sypialnie
Laramie, Wyoming 82070, Stany Zjednoczone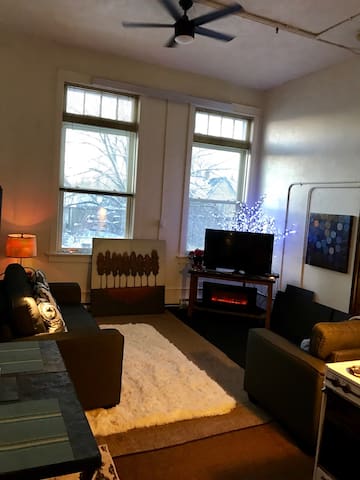 This amazing 2 bedroom, 1.5 bath, 1500 SF Loft apartment is a one of a kind in historic downtown Laramie. This building was built in the late 1800's and was a hotel for the Union Pacific Railroad. It was situated above a "Hested's" variety store which later became "Gambles Mercantile". In 2012 the hotel was converted into two high end apartments and an office. Long term stays are eligible for discounts up to 40% and all stays over 29 days are tax free. Property is cross posted on VRBO.
Rodzaj pokoju
Całe miejsce
---
Rodzaj nieruchomości
Apartament
---
Mieści
8
---
Sypialnie
Laramie, Wyoming 82070, Stany Zjednoczone
Wpisz daty, by zobaczyć pełną cenę. Obowiązują dodatkowe opłaty. Cena może uwzględniać podatek.