This luxurious home is close to parks, lakes, walk to Cricket Hill Golf Course, fishing, swimming, ski resorts, shopping. You'll love this gorgeous place because of the outdoor space, privacy, in ground pool, Jacuzzi, cable tv in all rooms, WIFI, large deck with gas grill, gas fireplace, large rooms, basketball, horseshoes. 2 Jet Ski's for rent. This home is good for couples, solo adventurers, business travelers, and families (with kids). Enjoy nature's serenity.
The living room space can accommodate two or more cotts if need. Just let us know ahead of time. Outside is 7 acres of woods, including "horse shoes". You can walk to golf coarse with a great restaurant and bar.
You may walk to the "18 hole golf course" and rent your golf cart for the day. ENJOY
Awesome location! Beautiful home within minutes of fun activities!
Jose
2017-02-13T00:00:00Z
Jesse's home was great for our NYE trip to the mountains. It was well equipped with plenty of rooms and beds to fit everyone comfortably. The hot tub was a great touch, everyone loved it even in the cold weather. Would definitely reccomend staying here!
Jon
2017-01-01T00:00:00Z
Jesse was very accommodating, very nice, and thoroughly answered all questions we had on the area. House was spacious and fit all 8 of us comfortably. Pool and hot tub were great. Really appreciated him letting me bring my little pug dog, who had an amazing time in the country and out of the city.
Brie
2016-09-16T00:00:00Z
We had a great time! We went with 1 toddler and 1 baby and 2 couples and there was definitely enough room. The pool isn't baby/toddler safe though so you need to keep a close eye on your kids. The house and yard are large and have great additions like a pool, hot tub, and jungle gym for kids.
Batya
2016-08-31T00:00:00Z
The owners of this home were so lovely. We are a group of 10 who booked another house but it feel through the last minute. The owners of the Woodland Paupack Escape responded to my inquiry within an hour and were very accomodating of our last minute booking. When we arrived, the house was very welcoming - candles were let and lights were turned on. We immediately took advantage of the pool, hot tub, and grill and had a wonderful long weekend at the house. Anytime we needed anything, the owners made themselves available to answer any questions. It was the perfect getaway for the 10 of us and we'd be so glad to visit again!
Tommy&Tanya
2016-08-23T00:00:00Z
Jesse's place was very accurate to the pictures posted. It was comfortable for my party of 9 who showed up, and we found the house to have plenty of space. The rooms were very comfortable, and the jacuzzi was great to use. I would definitely recommend big parties looking for a place to stay to consider this. The only downfall of the location is that it is a little away from some of the activities in the poconos, other than that everything else is flawless.
Dimitri
2017-02-05T00:00:00Z
Rodzaj pokoju
Całe miejsce
---
Rodzaj nieruchomości
Dom
---
Mieści
10
---
Sypialnie
Hawley, Pensylwania 18428, Stany Zjednoczone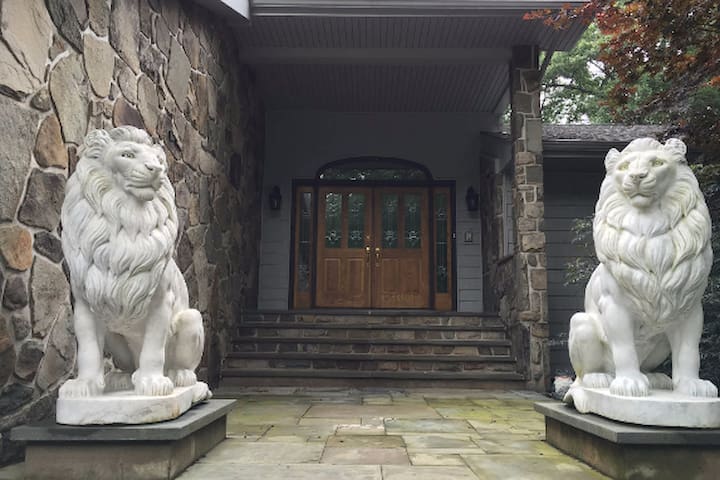 **House is being gut rehabbed over the winter and will be BEAUTIFUL when complete in March. New bathroom, kitchen, flooring, stairs, sheetrock etc. not yet reflected in pictures. Must be at least 23 years old to book. This is a beautiful lakefront lot with a private dock for your boat. We have parking for 5 cars. House has a modern rustic chic interior with unobstructed sweeping views of Lake Wallenpaupack.
The house has three floors. You enter the second floor through the main entrance which has a living room w/ a flat screen TV, a bathroom, 2 bedrooms (one has a queen and the other has a king and a full) and a wonderful bright sitting room overlooking the lake. The sitting room has also has a pull out couch. There is a spiral staircase to a large "bunk with 5 single beds.
About the Lake: Lake Wallenpaupack is a center of recreation for the surrounding communities, providing boating, swimming, and fishing access in the summertime, as well as ice skating and ice fishing in the winter. Its wooded shoreline also provides opportunities for hiking and viewing wildlife. Lake fish include smallmouth bass, largemouth bass, rock bass, bluegill, walleye, muskellunge, northern pike, pickerel, rainbow trout, brown trout, lake trout, catfish and yellow perch. Striped bass and hybrid striped bass have been stocked in the lake. The lake is 13 miles (21 km) long, has 52 miles (84 km) of shoreline, and is about 60 feet (18 m) deep at its maximum depth. You can rent boats and jet skis up and down the lake. It is a short walk (250 feet) to the waters edge.
Great place, has everything that you could need. Lovely view of the lake. Pictures do not do it justice to how spacious it truly is.
Alexandra
2017-01-03T00:00:00Z
This is a lovely cottage on a gorgeous lake! You won't be disappointed. Steve does a great job in making the cabin a wonderful vacation spot!
Jay
2016-08-09T00:00:00Z
The whole family was there readying the newly purchased house for our stay when we arrived. We had a great time at the lake! Lake Wallenpaupack is very clear. The bbq and dock were great. It was also a plus that our dogs were welcome.
Lucia
2016-06-27T00:00:00Z
수건과 침구 bedding등은 세탁을 해 놓고 나와야 하는데 시간이 걸리므로 미리 준비해야됩니다. 좋았던것은 호수가에 있는 숙소이므로 휴양지 온것 같아 좋았어요
정현
2016-11-28T00:00:00Z
This home is beautiful, with a breath taking view of the lake. The house is fully equipped with everything you need for your stay!
pamela
2017-01-16T00:00:00Z
This place feels like home! It's clean and cozy, the perfect spot for a winter getaway. Steve and his parents are great with communicating, and were very helpful when we were snowed in on the morning of our checkout. I would absolutely recommend this to anyone with a big group looking for a beautiful home on the lake.
Malden
2016-12-30T00:00:00Z
This lake house was the perfect setting for a weekend getaway for our group. We were warmly welcomed to the house and had a fantastic time staying there. The house was perfect for our group - many beds, a great open space to hang out and eat in downstairs, and the outdoor space around the fire pit and on the dock. We could not have asked for a better arrangement! In addition, Steve and his family, were very responsive and easy to communicate with to make arrangements.
Catherine
2016-09-27T00:00:00Z
Our hosts did everything possible to make our stay comfortable and welcoming. The lake was wonderful! There was plenty of room. The downstairs kitchen is fantastic for a group. Plenty of room. Had such a lovely time.
Jennifer
2016-08-19T00:00:00Z
Rodzaj pokoju
Całe miejsce
---
Rodzaj nieruchomości
Dom
---
Mieści
12
---
Sypialnie
Hawley, Pensylwania 18428, Stany Zjednoczone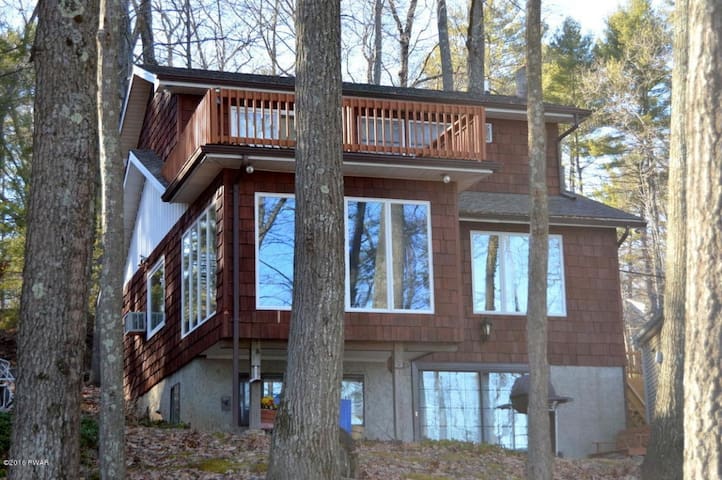 Kick back and relax in this beautiful house on Lake Wallenpaupack. We have extra large decks with expansive water views. The open layout floor plan allows everyone to hang together. The vaulted ceilings in the great room bring the outdoors inside. There is a large private dock to get even closer to the water. The fire pit terrace brings magic to the night. This house is close to the public boat launch if you are bringing a boat. Close to grocery store, shopping and charming restaurants.
This house is dog friendly for up to 2 dogs, however we do charge an additional $25 to cover the addition cleaning/wear and tear associated with a dog in the house. After you accept the booking, you will receive a request for an ADDITIONAL $25 to cover this fee. Please note that the wood burning stove in the pictures is NOT working at this time. We make the beds with clean linens in all rooms, however in the bunk room, only the two lower bunks are made up. The upper bunks will have clean linens, but you will need to make those beds.
Our house is 5 minutes from Hawley. Hawley has a grocery store, coffee shops, restaurants, shopping, liquor store etc.
My friends and I had an amazing time at Brenda's. The lake is great and Brenda was super easy to communicate with. Definitely recommend!
stacy
2016-08-29T00:00:00Z
My wife and I had a great stay in this very clean, comfortable and nicely situated lakefront home. The house could have very easily accommodated a few more couples, or would have been great for a family. Brenda was a pleasure to work with - We hope to visit again in the future.
eric
2016-09-12T00:00:00Z
We really enjoyed our stay at the lake house. Everything we needed was available for us and it was handy that linens and paper products were supplied. The outdoor spaces were great and the layout is perfect for large groups and entertaining. Thanks so much for everything!
Nicole
2016-10-03T00:00:00Z
Brenda was very helpful. She offered suggestions of things to do and always answered our questions right away! The place was beautiful and the use of the kayaks were great! We will definitely return!
Elyse
2016-10-10T00:00:00Z
Myself and 7 friends spent a long weekend at Brenda's Lakehouse and we never wanted to leave! The house exceeded all of our expectations, there was plenty of space for 8ppl to cook, hang out and sleep comfortably. The large living space was amazing for cooking and chilling as a group and the outdoor deck is a great extension on this area. The private dock is amazing for swimming and hanging out in the sun and there is a fire pit with outdoor chairs too! The lake is beautiful and we spent almost the whole time in the water. Brenda was a perfect host, super friendly and easy to communicate with. Her husband was even kind enough to take us on a private boat ride! I would absolutely recommend staying here! Thank you Brenda can't wait to come stay again soon!
Hayley
2016-06-01T00:00:00Z
The host canceled this reservation 52 days before arrival. This is an automated posting.
Tricia
Thank you for letting us stay at your beautiful lake house. It was very kind of you to work with our vacation schedule. Your spacious house was clean and accommodating. We enjoyed the fishing, boating, and swimming! You provided us with hours of enjoyment with your board games as well as kayaks. We are looking forward to our next visit very soon.
Tia
2016-07-19T00:00:00Z
My family and I had a great 4th of July week at the "Nest". The weather, the house and the lake were exactly what we needed for an enjoyable family vacation. The house was roomy and accommodative for family talks and family fun. I would highly recommend the house and host for anyone looking for a fun and/or restful vacation. This house can accommodate both. The house is exactly as advertised, and the hosts add their own personal touches to exceed expectations. Enjoy the Nest!
M
2016-07-10T00:00:00Z
Rodzaj pokoju
Całe miejsce
---
Rodzaj nieruchomości
Dom
---
Mieści
10
---
Sypialnie
Hawley, Pensylwania 18428, Stany Zjednoczone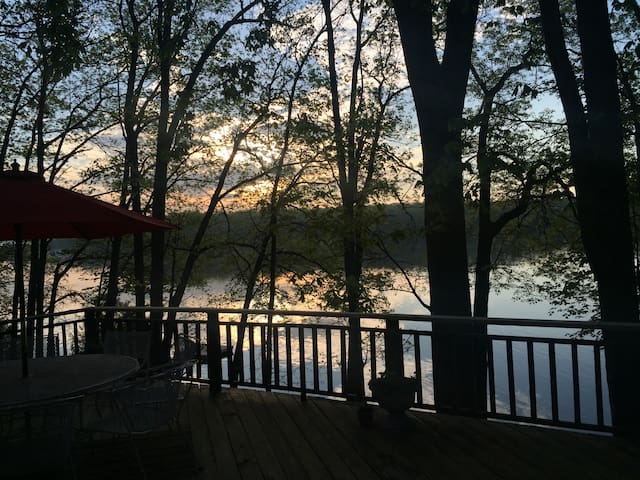 Enjoy the sunrise over private beach, dock, lakeside bar-b-que, with patio table and chairs, large deck for outdoor dining, 3 bedrooms, lake view from master bedroom w/ skylights(pull down stairs), wood floors, sun room, Separate (no internal stairs) lower level with living room, 2nd bathroom and deck. Maximum 5 people. Gradual grassy slope leading to lake, no railing. New gas stove/oven.
A warm sunny house with pine paneling in kitchen and great room, large deck is delightful overlooking lake. Views of lake through 3 large windows upper master bedroom, skylights. Lots of lakefront space to enjoy.
Woodlyn Shores is a friendly community. You can take a nice walk to the community beach and docks. Each lakefront house has its own beach as well. Recommend Restaurants: The Settler's Inn in Hawley, and Gresham's and The Boathouse on the lake for sunset dining. Hawley is a cute little town
Used private feedback because trust the host to attend to matters of concern. HB
Hugh
2016-08-01T00:00:00Z
Dale seemed very nice! She was easy to contact and quick to respond. The house feels roomy and has a beautiful view. They have a huge porch which is wonderful to sit at. Dale even allowed us to borrow her canoe, which was a delight to paddle around the lake. While the house is at a very pretty location on the lake, there were some quirks with the house that made our stay less enjoyable and made me a bit concerned for our safety. First and foremost, the kitchen is not very workable. The stove worked (though you had to hand light it), but the oven did not. When we brought this to Dale's attention, they just told us to use the toaster oven. The toaster oven is, of course, a great deal smaller, and hard to operate as the labeling has all but rubbed off (as it is quite an old toaster) so you don't really know how to set the knobs. The fridge and freezer is really small. We rented this place for six people, so we assumed they would have amenities that suited six people. The fridge was not much bigger than a college mini fridge. The majority of the beds were unbearably uncomfortable. The bed in the basement is a pull-out bed that gets so damp (as the basement is quite humid) that if you were to slide your hand against the bottom of the remarkably lumpy mattress it would return entirely wet. We gave up on the bed and set up an air mattress down there. As for safety, the house only has one exit. There were no smoke detectors or carbon monoxide detectors in sight. Several lamps had very old wiring that was taped up in some way with electrical tape. There was one fire extinguisher, but for outdoor fires (as there was a fireplace) we were not offered a working hose or even a bucket. The roof leaked when it rained. At one point a ceiling tile fell loose. The house did have internet, which me and my family really did love, but the wifi router would not allow our phones to connect. I just ordered a replacement router from amazon for us to use for the remainder of the week. Bottom line, I think the house was not worth the cost. We've stayed at other houses on the lake that didn't have any of these issues and paid less. You could certainly have a lovely vacation at this house, as we did for the most part, but you're going to have to lower your expectations and deal with a lot of quirks. If the house was a bargain, I wouldn't have been so upset with what we had to put up with. But as it stands, we feel a little bit ripped off.
Dan
2016-07-10T00:00:00Z
Rodzaj pokoju
Całe miejsce
---
Rodzaj nieruchomości
Dom
---
Mieści
4
---
Sypialnie
Hawley, Pensylwania 18428, Stany Zjednoczone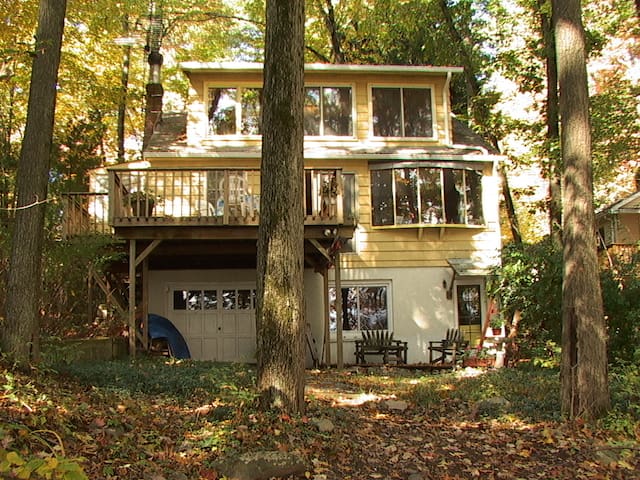 Our Lakefront Cabin on Lake Wallenpaupack is located in the North Eastern portion of the lake, facing west, providing beautiful sunsets from the shared dock. The house sleeps 6 and has a large deck and spacious grounds. Photos taken from the grounds.
Our lakefront cabin is located on a private road in the Northeastern section of Lake Wallenpaupack. The lake is 13 miles long and about a mile and a half wide where we are located. The property is about an acre, and is shared with our new lakefront chalet. There is a seasonal dock (available mid may through mid October), lakeside picnic area, grassy field with lounge chairs, fire pit and a large deck with gas grill. The house has 4 bedrooms, one with a Queen, one with a full, one with 2 twins and one with a Queen air mattress. There is a kitchen, dining area, breakfast nook and living room. The house includes cable tv and wireless internet.
Our property is located on a private unpaved road. There are only 4 house on the road, and the Cabin and our Chalet are located at the end of the road, so it is very private setting.
Everything we expected! Beautiful everywhere. Spot on directions, maps and even had games and movies. Restaurants and stores near by. I plan on staying here again!
James
2015-01-01T00:00:00Z
David's lakehouse is great!! Very closely situated to the lake and dock, and the deck is fantastic. We had a very nice time and it comfortably slept 7 people. Bring pool toys as tubing on the lake was the best part of the whole weekend. David is also very nice, and came by personally to wish my husband, Rob, a happy 30th birthday. Highly recommended!
Carla
2014-07-31T00:00:00Z
The listing was accurate; we had a relaxing, enjoyable stay. We would have extended our stay if possible!
Stacey
2016-08-20T00:00:00Z
Our experience at the lakefront cabin was great. We had a group of 6 people for a very low key bachelor "party". If you want a very quiet area to relax by the lake this is a great place. We spent most of the time on the deck cooking / eating or on the dock swimming around the lake. David was a good host and was very available. We had a couple issues on check-in that were taken care of promptly. There were no complaints about the beds from the group, as those can sometimes be a problem. Overall a very fun, relaxing and quiet area to enjoy the lake!
Michael
2016-06-27T00:00:00Z
The directions David provided were spot on. The property manager was in contact with me in the days leading up to our trip and she was at the house when we arrived. She was very helpful and gave some great tips about where to eat and about different events in the area that weekend. The dock right across the road and down a cute dirt path. We brought inner tubes and floated all day long! It's a great house to stay if you want to get away for a few days and really relax. If you want to use the fire pit make sure you bring chairs with you.
Jamie
2016-09-09T00:00:00Z
Rodzaj pokoju
Całe miejsce
---
Rodzaj nieruchomości
Dom
---
Mieści
6
---
Sypialnie
Hawley, Pensylwania 18428, Stany Zjednoczone
Lake front house on 31 acres Sleeps 8 or 16 if you rent both of my Cabins. Adjoined Land; Mid Century Stream Front on 10 acres
If you like outdoors, bon fires, grilling etc. this is the place for you. Free fire wood is provided.
Walking distance to tennis courts, baseball field, kids play ground and Blueberry Farm where you can eat as much as you like to and pay for the blueberries that you take home. Great home made Blueberry Ice cream and pays. My Ranch is located between Lake Wallenpaupack and Lake Fairview. This is the best part of Poconos for vacations. Boating, fishing, horse riding and more. Kalahari Water Park is about 20 minute drive.
Rodzaj pokoju
Całe miejsce
---
Rodzaj nieruchomości
Dom
---
Mieści
8
---
Sypialnie
Paupack, Pensylwania 18451, Stany Zjednoczone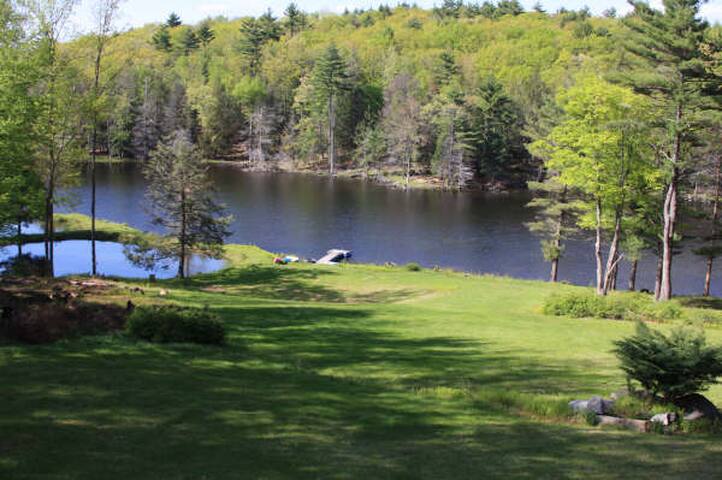 My place is close to the trails and parks. You'll love my place because of the location, the views, and the people. My place is good for couples, business travelers, and families (with kids).
Rodzaj pokoju
Całe miejsce
---
Rodzaj nieruchomości
Dom
---
Mieści
10
---
Sypialnie
Hawley, Pensylwania 18428, Stany Zjednoczone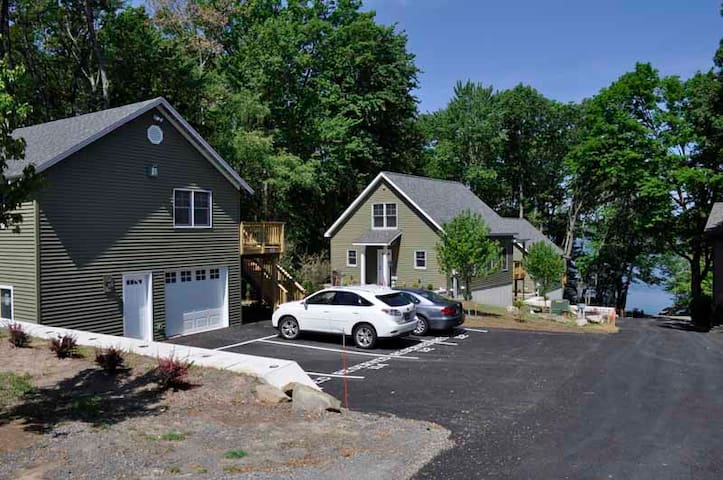 G
The house was very great to me . The House is very big and comfortable . It's a great house to pass a weekend with family . The house owner , Sead , is very helpful and very attent , everytime we needed help he would always respond and come help quickly . This house was very efficient . Thank Yoh
Yurlet
2016-09-10T00:00:00Z
The worth airbnb ever! We spent one night in this disgusting house. Nobody was there to meet us. The house was open and the hidden keys did'nt open/close the house. It was disgusting: bathroom and living room were not clean at all, it was dirty, there was a moldy dish in the microwave with moisture and midges, there was also moisture in the coffee machine! We tried to call the host several times and he didn't answer! I don't recommend this airbnb!! It is a shame because the house could be very nice...
Muriel
2016-08-08T00:00:00Z
Sead was very helpful. We enjoyed the stay.
Dragon
2016-08-31T00:00:00Z
Had a great stay! Host had the house cleaned before we arrived, and it was very neat and well kept. House is big, and it has everything you would need (toilet paper, towels, etc.). The house is also very close in proximity to the center of town and the nearby lakes. Would definitely stay again.
Pooja
2016-07-11T00:00:00Z
Rodzaj pokoju
Całe miejsce
---
Rodzaj nieruchomości
Dom
---
Mieści
10
---
Sypialnie
Hawley, Pensylwania 18428, Stany Zjednoczone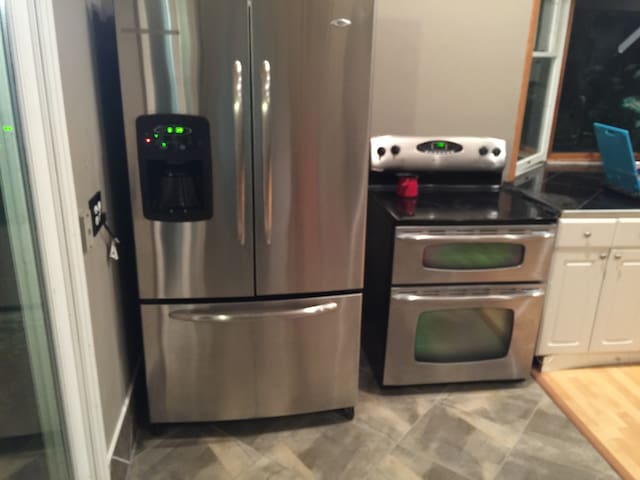 Spacious home situated on 8 private acres. Less than 2 hours from NYC. Just minutes away from golfing, fishing, boating, Lake Wallenpaupack , skiing and antiquing . Relax at night in the screened gazebo on a spacious deck, enjoy the quiet, solitude and wildlife. Large heated pool, pool table, BBQ. All the amenities of home except neighbors, and community rules. Enjoy a getaway with family and friends. Please note there is a strict 10 guest limit at all times in the house. No parties.
Secluded but close to amenities. 5 minutes from downtown Hawley, 10 from Woodloch resort, 10 from Honesdale. This spacious 4,000 plus foot home is nestled in the quiet of the woods, hidden from the road by a lengthy driveway. The house provides plenty of living space, large bedrooms and bathrooms. Nearby you will find fine dining and grocery stores. Close to state game lands, skiing, golfing, boating, tubing, fishing, hiking trails,the Delaware river and Woodloch resort. Large deck for sunbathing in privacy, 30 X 14 foot heated pool ( closed as of September 5), 6 flat screen TV's with cable, washer, dryer, WI-FI and the comforts of home.
Restaurants, motorboat lake where you can rent boats and watercraft, skiing nearby, fishing, quaint antique shops , local musical venues, pubs, movie theater, all within a 5-10 minute drive.
Roger is the best host, he explained all the details of the house before we reached, scribed the same in a mail and sent it to us, just in case we forgot. He even helped us with things to do around the area. As soon as we entered the house we has a bunch of brochures for nearby attractions and a note from Roger and Sandy. The house was clean and well kept when we arrived, with all the amenities to make a good vacation perfect. The only thing you will wish you had when you are in this house, is a few extra days in your vacation. Thank you Roger, we had a great time.
Pradeep
2016-06-02T00:00:00Z
Roger went above and beyond to make sure our stay was enjoyable. The house was extremely spacious and comfortable. He provided all the needed info for the house and a whole lot of helpful information about the local surroundings. It was a pleasure dealing with Roger and his house and its secluded setting provided the perfect site for our weekend.
David
2017-02-06T00:00:00Z
Roger was a great host! The house was beautiful! We all had an amazing time! Would definitely come back again!
Kelly
2017-01-01T00:00:00Z
Roger and Sandy have a marvelous property, perfect for a rejuvenating, secluded holiday. They readily communicated with us before and during our stay, but were never intrusive. Our family felt at home; there was ample space to relax all together or to find a place to be alone. There was plenty to do on the property, including swimming, wildlife watching, shooting pool, and sunbathing. There is also plenty of outdoor activity in the local area with a nearby state park and a lake. The kitchen had everything we needed, including detailed recommendations for going out. Roger and Sandy were fantastic hosts, willing to do whatever they could to make our stay pleasant and enjoyable.
Stephanie
2016-07-21T00:00:00Z
We had a great stay in Roger's home in Hawley, PA. He was an accommodating and informative host who was easily accessible to answer any and all questions. He left us a few pages of detailed instructions and restaurant recommendations. He even included several brochures of nearby attractions. The house was clean, well-kept, and well-stocked with necessities. We enjoyed taking advantage of all the amenities available on the property including the large above ground pool, the pool table, and the firepit. The property is huge and houses a ton of wildlife. We saw deer everyday during our weekend stay. With Lake Wallenpaupack just a short drive away, there was a lot to do in the area. It was perfect for our family reunion. Thanks Roger!
Katherine
2016-07-13T00:00:00Z
Our stay was wonderful. We had an amazing weather and enjoyed the pool. It was easy with kids of young age. We were so happy at home that we didn't even went out :-) Roger made things easy for everything and was very nice and easy to communicate with. Would recommend and hope to come back another time. Thanks again
Camille
2016-09-06T00:00:00Z
Rodzaj pokoju
Całe miejsce
---
Rodzaj nieruchomości
Dom
---
Mieści
10
---
Sypialnie
Hawley, Pensylwania 18428, Stany Zjednoczone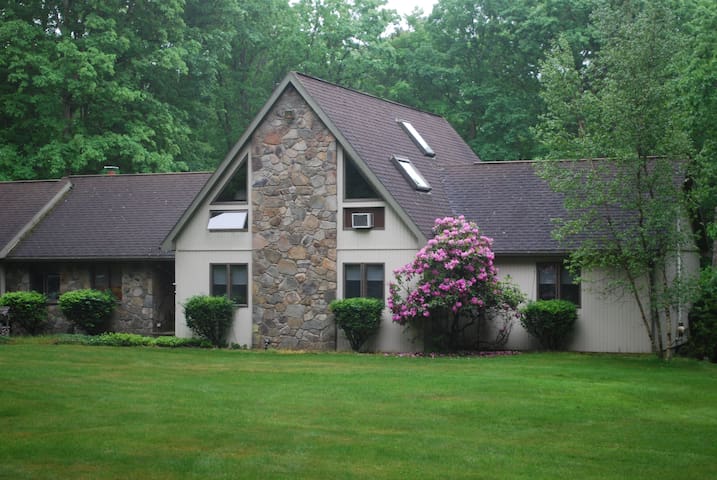 Just Listed: Our new Chalet on Lake Wallenpaupack is available for rentals for 2016. This rental home includes a dock, deck with grill, central AC, 3 bedrooms and 2 full baths. The chalet faces west, providing the setting for great sunsets. Families and low key friend gatherings welcome. Chalet is located is quiet family setting, so those who are looking for a loud party house should look elsewhere. Thanks! Bookings from late June through Labor Day are 7 days from Saturday to Saturday.
Our beautiful brand new chalet features a living room/kitchen area with a wall of glass facing toward the lake. There are 2 bedrooms in the downstairs area, one with a Queen and one with 2 twins, along with a full size bath. The upstairs loft bedroom area has a Queen size bed and a full bath. The house has central air and heat, cable and wireless internet. The outside deck has a gas grill.
The chalet is located on Sunset View Road, in Tafton, PA. Sunset View Road is a private unpaved road that has 4 houses. Our chalet and cabin are at the end of the road. It is a very private setting for Lake Wallenpaupack.
Rodzaj pokoju
Całe miejsce
---
Rodzaj nieruchomości
Dom
---
Mieści
6
---
Sypialnie
Tafton, Pensylwania 18464, Stany Zjednoczone
We love our home because it is a peaceful respite from busy life. It is surrounded by trees and wildlife.
We have a cozy and quiet country home in Beach Lake, PA. our 3 bedroom/2 bathroom home is nestled between the Catskill and the Pocono Mountains. Our home is secluded on the side of a hill with breathtaking views. We have a large porch with 2 grills and lots of bird watching. We have 2.2 acres of land and the land behind the house is protected so it is easy to hike in the woods. The house is close to Narrowsburg, NY which is an adorable historic town with an art gallery, delicious restaurants and boutique stores. Narrowsburg is on the Delaware River. There are a number of spots to swim or raft down the river close by. We are also close to Honesdale, PA which has a quiant main street and also a movie theater. There is a water park 10 minutes for our house which has water slides, go carts, mini golf and bumper boats. Our home is a great retreat from busy life. *Please note that we do not have television or cell service out the house. However, we do have WIFI and a landline.
Pros: close to Narrowsburg, which was very cute and great shopping. The owner wrote a helpful list of things to see and do in the area. Great deck, good view, trampoline. Cons: dirty, even though it was professionally cleaned. Spoke to owner about it and she was very sweet so maybe a one-off. But it felt different than most air bnbs where most personal items are put away. In this how, personal items such as keys, cell phone, earrings, medicated creams etc were left out, so it felt like the family was going to come home at any second. Also there was a recently shed snakeskin on the coffee table when we got there, which was not decorative, and definitely added to the weird/dirty vibe. The beds are really, really uncomfortable too and the towels are old and stained. We had a fun weekend, nevertheless! But it was too expensive, considering the issues. We easily could have gotten the hotel.
Abigail
2014-09-09T00:00:00Z
We spend end of 2015 and bigening of 2016 with my doggies. House was great and there are lot of things to do. There are trampling ,so we felt like go back to childhood, lot of board games. And my favorite part was grill at the terrace. Also, Owner who is Elizabeth was really nice person I can tell. I miss vacation at this house so much. I strongly recommend.
Jesica Boyoung
2016-01-06T00:00:00Z
Such a beautiful house! Lovely views and very comfortable. We had a little girl travelling with us who had a ball chasing butterflies, playing on the trampoline and swing, watching out for deer. We went swimming at the lake which is very close and at night had delicious BBQ and played board games. A completely idyllic retreat and we would definitely return.
Talia
2014-07-07T00:00:00Z
Rodzaj pokoju
Całe miejsce
---
Rodzaj nieruchomości
Dom
---
Mieści
6
---
Sypialnie
Beach Lake, Pensylwania 18405, Stany Zjednoczone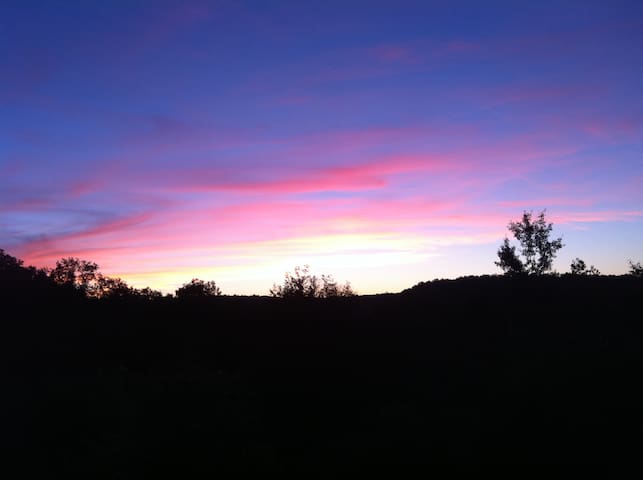 Wpisz daty, by zobaczyć pełną cenę. Obowiązują dodatkowe opłaty. Cena może uwzględniać podatek.