We are located just 7 miles from Johnny Cash's Boyhood Home, where they filmed scenes from "Walk the Line" and just minutes from the I55 corridor. Just 45mins from Memphis Bridge, 45mins from Jonesboro and 2hrs from Little Rock. You'll love my place because we are a functioning livestock farm with rare breed pasture raised pigs, goats, chickens, ducks & more! Enjoy a slice of the country life surrounded by rich music & cotton history.
Not only is our little slice of country a hobby farm where you can enjoy pastured farm animals but the property is located in a former country school. Home of the Tigers, "Missco", as it is affectionately known to all used to serve as a bee farm before we bought it and started to renovate! Rich history and rolling fields surround us!!!
We are located 6 miles from the closest town, with stunning views across rolling fields of cotton
Matt and Nicki are wonderful hosts. Our room was as described and comfortable. We enjoyed our stay at "the school" and will definitely stay there again when we are in the area.
Dick
2016-12-19T00:00:00Z
Nicki was an excellent hostess. She was friendly and very helpful. The bedroom, bathroom, and sitting area were neat and clean, and the bed was very comfortable. The area was quiet and was obviously completely safe. We appreciated the fact that we could park just outside our window. (That was important to us because we don't like to park on the street or very far from our room.) It was a pleasant experience to stay in what used to be a school building and is now their home and farm. (When we arrived and pressed the doorbell button, we heard an old school bell ring. Very appropriate!) The kids, Charlie and Agatha, are very cute and friendly. They also have cute little Alfred, but he's only one year old. On the morning of our departure, we asked if we could see their farm, and Matt graciously took us on a tour. He explained the history of the school, and he described all of their farm animals. We visited the goats, donkeys, pigs, chickens, guineas, and Henry the dog. It was a short but interesting tour. If we're ever in that area again, we would be happy to stay there again. Thank you, Nicki and Matt. Dianna and James
James
2016-10-31T00:00:00Z
Nicki & Matt are lovely and their place was fantastic. The bed was incredibly comfortable and the entire guest suite was super cozy. They were really warm, welcoming and accommodating and I had a great stay at their place!
Merritt
2016-11-08T00:00:00Z
I recommend this location!! Everything was perfect!!
Dwayne
2017-01-19T00:00:00Z
My hosts are a wonderful family, very hospitable and welcoming. I loved getting to know them, and their charming little children; and I felt like they wanted to get to know me as well. I feel like I made some friends, instead of just finding a place to stay. And believe me, when I travel that way again, I will definitely check to see if they have room available. I had some business to attend in Jonesboro, and wanted a BnB as opposed to a hotel. So I wasn't really looking for a place with things to do close by. They had brochures for interesting things to do near them. As a matter of fact, I did not realize all that interesting stuff was near that area. The drive back and forth wasn't bad at all. When I took a wrong turn, I contacted them and they helped me get to the right road. Very Helpful and Available. I look forward to watching their BnB grow as they continue to work on it. They have a good thing going, and I hope it is a big success.
Wendy
2016-11-07T00:00:00Z
Wonder stay. The room is beautiful and the bed is so comfy you won't want to get out of it. Nicki and her family are so warm and welcoming. She will accommodate your needs. We enjoyed looking around the farm and there is no light pollution so it's a great place to stargaze. Can't wait to go back for another relaxing weekend.
Irene
2016-11-20T00:00:00Z
My husband stayed here for several weeks on business. It was very comfortable and the hosts were warm and kind. A perfect situation for his busy schedule; the amenities, the hosts and the location just what he needed.
Liz
2017-02-13T00:00:00Z
Unique old renovated school house with a super comfy bed and a very friendly family to greet you upon arrival. When you go into the backyard, a parade of awesome chickens, ducks, piglets & mules come to check you out. Our baby Wild was intrigued encountering farm animals for the first time. Though short, we had a great visit!
Samantha
2017-01-25T00:00:00Z
Rodzaj pokoju
Pokój prywatny
---
Rodzaj nieruchomości
---
Mieści
2
---
Sypialnie
Osceola, Arkansas 72370, Stany Zjednoczone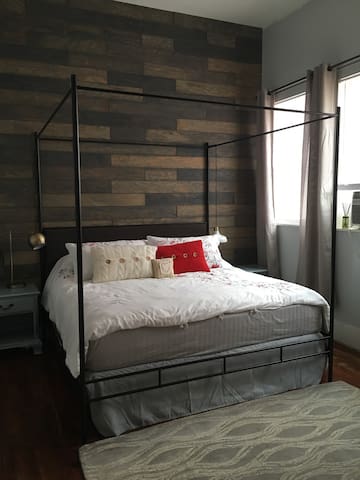 This Antique Cottage style home is 2.4 miles from Downtown Jonesboro. With the Brand New Appliances, washer and dryer, King & Queen sized beds, and a 50" Smart TV, Netflix, WiFi, you're sure to feel at home. Kitchen is fully equipped, including Keurig coffee machine. Covered Parking. Huge private yard.
The house is immaculate and adorable! The front windows are old antique stained glass windows and the porch has beautiful antique columns! There is covered parking and the lot is large. The house is very easy to find and sits back off the main road.
The Stained-Glass house is in a very safe neighborhood and a straight shot to downtown Jonesboro. The NEA Hospital and ASU are approximately 5-7 minutes away. ENJOY
For us being their very 1st bnb that we were impressed with the details of everything you provided. From hair products to drinks and snacks. The wireless internet with Netflix was a plus. We will definitely stay again. D
Dean
2017-02-17T00:00:00Z
The house was clean and well maintained. I thought it was even better than the pictures portrayed. The host was very kind and attentive.
Ethan
2017-03-01T00:00:00Z
We had a wonderful stay at the "Stained Glass House". The house was cozy and clean. It was a perfect size for our family of 4. Thank you to the hosts for making it so accommodating!
Matthew
2017-03-05T00:00:00Z
Great Place to stay for business travelers!
Dean
2017-02-28T00:00:00Z
This house was great, comfortable, and provided all the necessities! It was close to the cute little town with restaurants.
Erin
2017-02-19T00:00:00Z
She is such a hospitable host. She was flexible when we had to change reservations, which was a huge plus. We should be back in town probably in about 6 months and we definitely will book with her again! Thanks :)
Dean
2017-02-24T00:00:00Z
Rodzaj pokoju
Całe miejsce
---
Rodzaj nieruchomości
---
Mieści
4
---
Sypialnie
Jonesboro, Arkansas 72401, Stany Zjednoczone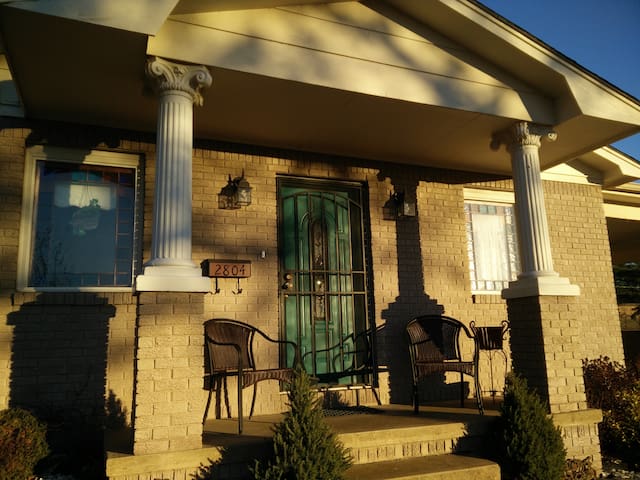 This is an attached guest house with all the privacy you could need. Queen bed in master bedroom with a twin bed in second bedroom and a foldout twin for a smaller adult or child. Fully equipped kitchen to cook whatever you crave. Short drive to walking trails, a lake, and a nature park and Arkansas State Univ. We do not allow pets for a variety of reasons but mostly for potential allergy issues for future guests.
This is a great little mother-in-law attached house with one large bedroom and one small bedroom. The large bedroom has a queen bed for up to 2 guests. The small bedroom has a twin bed for 1 guest. There is a folding bed for a smaller adult or child and can be used in the living area or second bedroom. The kitchen is stocked with dishes, silverware, cookware, utensils, coffee maker, toaster, coffee, spices, and more. All sheets, pillowcases, and towels will be provided. There is one HD television with cable along with high speed cable Internet and wifi. From the house, you can get to most anything in Jonesboro in 5 to 10 minutes.
The neighborhood behind the home is walking friendly with light traffic although there are no sidewalks. From a crime perspective, it is a very safe area to walk, run, or jog if desired but Harrisburg Road has faster traffic so avoid it for exercising. Within a 3 to 5 minute drive, there is a Wal-Mart Neighborhood Grocery, Craighead Forest Lake (great for walking, running, jogging), Waffle House, Home Depot, Sonic, and more).
Great location and neighborhood. Very spacious apartment. I Highly recommend this place.
Patti
2016-11-10T00:00:00Z
Home is in a very nice upscale neighborhood in Jonesboro. The location was close to access the interstate, but still far enough away to be a quiet retreat. Everything we could have possibly needed was provided. We highly recommend!
john
2017-02-14T00:00:00Z
This is a great place to stay. It is just as described. Very cozy. The host is very organized and helpful. Worth staying here for any reason.
Kenneth
2016-10-04T00:00:00Z
Everything was as Corky promised! The place is easy enough to locate and its private and cozy. He also left a detailed binder of different places to see and go to eat. I loved walking the nature trail and wouldn't have found out about it without Reading about it in the binder. Highly recommend staying here when in Jonesboro!
Anna
2016-09-30T00:00:00Z
The place was so nice we added an extra night. Big comfy couches, beds comfy, very large space, easy to find and Corky is a great helpful and responsive host.
Tina
2016-11-11T00:00:00Z
This was my second stay. Very peaceful and comfortable.
Timothy
2016-12-07T00:00:00Z
This place has that homey feel you just can't get from a hotel suite. We are very much an "online" family, so the wifi access really came in handy. The full kitchen is really nice as well. It would have been nice if there had been laundry facilities nearby, but the listing did not mention laundry so that's not a real issue. There are coin laundromats within driving distance. We will be using Airbnb again!
Alan
2016-11-27T00:00:00Z
Great house, and Corky was a great and communicative host. Little touches throughout the house made for an even better stay.
Landon
2016-06-04T00:00:00Z
Rodzaj pokoju
Całe miejsce
---
Rodzaj nieruchomości
---
Mieści
4
---
Sypialnie
Jonesboro, Arkansas 72404, Stany Zjednoczone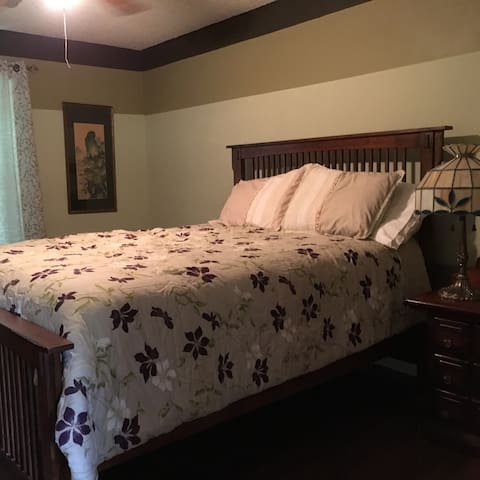 Guest cottage with 3 bedrooms and 2 baths. #1 Master bedroom with king bed, master bath with double sinks and shower. Bedroom #2 has queen bed. Bedroom # 3 has a single twin bed. Closets are empty and available for guests. Hall bath with tub shower. Open living room, dining room and kitchen which is fully equipped with all dishes and appliances needed to cook with while you are here. Laundry room with washer/dryer.
We live on a 75 acre farm 10 minutes north of Jonesboro. We are just a few minutes from NEA baptist Hospital and Arkansas State University. 15 minutes from downtown and no more than 1 hour from most duck hunting areas in NEArkansas. Duck Hunters are welcome! Our guest cottage is a beautiful and comfortable modular home with a covered front porch to enjoy exquisite sunsets and soothing Crowley's Ridge breezes. Geese frequently fly into our pond and we have cattle and horses grazing on all sides of the house. Our rooster does crow early, but it wouldn't be a farm without one. We have good cell service. Wifi included. Satellite TV in living room
Quiet countryside with beautiful unobstructed views, yet close to town for everything you might need.
Exactly as described.
Norma
2016-12-19T00:00:00Z
Beautiful location and grounds, Susan & Lindley are fantastic hosts..you will enjoy your stay!
Donna
2017-02-11T00:00:00Z
We absolutely loved staying here. We were meeting some friends in the Sage Meadows Golf Course area, and this was very convenient. Our toddler spent several hours playing the lawn games, running around the farm, and collecting eggs from the chickens! The sunset was to die for. I should also mention that this place could be the cleanest AirBnB we have ever visited. We didn't hesitate for one second to let our 8 month old crawl around. We will definitely go back when visiting the area.
Benjamin
2017-02-21T00:00:00Z
Rodzaj pokoju
Całe miejsce
---
Rodzaj nieruchomości
---
Mieści
5
---
Sypialnie
Jonesboro, Arkansas 72401, Stany Zjednoczone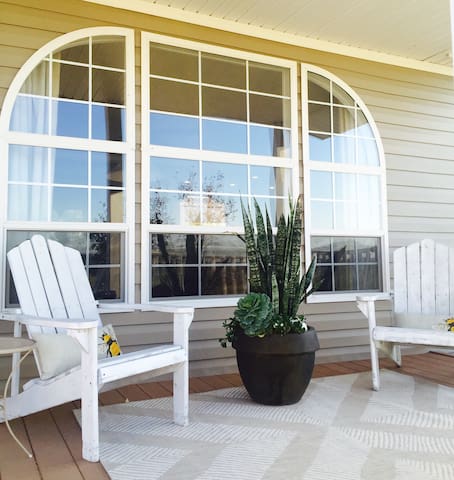 Inviting 3 bedroom, 2 bath space with hot tub and fenced back yard. Pets welcome. Residential neighborhood minutes from boutique and big box shopping and revitalized downtown. Modern, equipped kitchen, 60-inch Smart TV with surround sound in vaulted LR, 50-inch TV in bedroom. Includes Wi-Fi, desktop computer, wireless printer, cable and washer/dryer. Hop on Highway 49: it's 25 minutes to Jonesboro/Arkansas State University; 90 minutes to Memphis, Tenn., birthplace of the Blues.
If you like artistic, original design you'll love this artist's eclectic bungalow. Check into this unique space that's chock full of fun, funky, colorful ambiance!
Quiet, tree-lined neighborhood near primary school and access to Hwy 49.
Rodzaj pokoju
Całe miejsce
---
Rodzaj nieruchomości
---
Mieści
5
---
Sypialnie
Paragould, Arkansas 72450, Stany Zjednoczone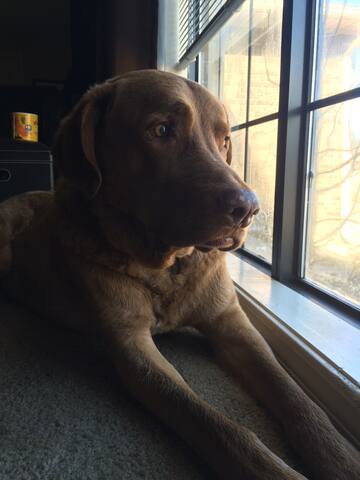 My place is close to parks and restaurants and dining. My place is good for couples, solo adventurers, business travelers, big groups, and furry friends (pets). I have a tenant that is there on a regular basis. This is also a house with dogs. We have 4 total but only 2 are there all the time.
Lots of room for families, or quaint enough for a weekend alone with that special someone.
Very comfortable places with lots of space. Alicia is always available if you need her and leaves you on your own to enjoy if you don't
Jake
2017-01-23T00:00:00Z
Alicia was very welcoming and flexible! One of the nicer homes in this neighborhood. This is a pet home which was a little unexpected. Overall good host and nice home, and Alicia was available for anything I needed!
Mallory
2017-01-18T00:00:00Z
Alicia is great very easy to talk to. Great for long stays or a one night stopper. Bedroom gets plenty of daylight in the morning. Theres lot of space for you to feel comfortable and roam around. You dont have to be secluded to your room.
Victor
2017-02-24T00:00:00Z
The room was good for the price. The bed was comfortable. The bathroom beside the room was shared with another permanent renter and did not have a shower. There was another bathroom downstairs with a shower. The permanent renter's dogs entered my room twice unannounced with the door shut.
Ashley
2017-01-30T00:00:00Z
Rodzaj pokoju
Pokój prywatny
---
Rodzaj nieruchomości
---
Mieści
8
---
Sypialnie
Paragould, Arkansas 72450, Stany Zjednoczone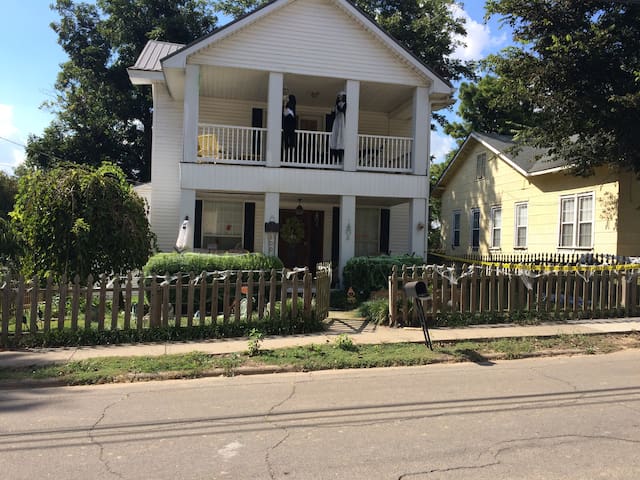 Brand new 2 bedroom apartment with modern amenities. Easy access off of I-555 and just 9 minutes from Jonesboro. Perfect sleeping location for activities and events in Jonesboro.
The apartment is brand new with modern amenities such as high speed internet, wi-fi, apple TV, and large 1080p tv. The kitchen is fully stocked with dishware, coffee, snakes, and cleaning supplies.
The neighborhood is on the edge of town with a direct road to Jonesboro. The apartment sits near a railroad with one (1) train per hour during the day. Noise may be an issue for this brief time as the train passes.
The house was great!! Chad was very easy to deal with. Thank you
Dwayne
2017-01-26T00:00:00Z
Chad was a very gracious host and keeps great care of the place. The appliances and amenities he offered were great and everything is as shown. The only thing is that a train track is right across the street and sometimes there is some noise at night. You cant really hear it from the bedrooms but can from the living room. All in all, it was a great stay and I'd highly recommend it!
Cameron
2017-01-15T00:00:00Z
Rodzaj pokoju
Całe miejsce
---
Rodzaj nieruchomości
---
Mieści
5
---
Sypialnie
Trumann, Arkansas 72472, Stany Zjednoczone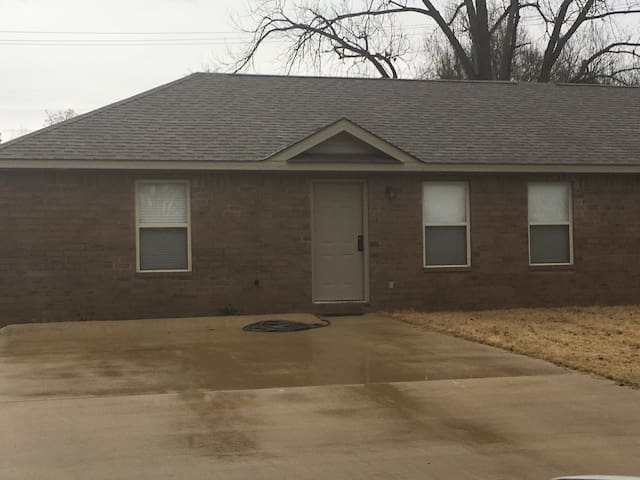 Our charming split-level home is in the heart of Jonesboro with quick access to I-555. It is a curated mix of modern and farmhouse rustic awaiting your smiling faces. With both historic Main Street authenticity and retail therapy of Red Wolf boulevard within 10 minutes, it makes this home highly desirable. We hope to welcome you soon!
is a centrally located neighborhood with rolling hills, mature trees, and a friendly atmosphere.
Place was great. Host we're wonderful. Very clean
Michael
2017-02-20T00:00:00Z
Rodzaj pokoju
Pokój prywatny
---
Rodzaj nieruchomości
---
Mieści
4
---
Sypialnie
Jonesboro, Arkansas 72401, Stany Zjednoczone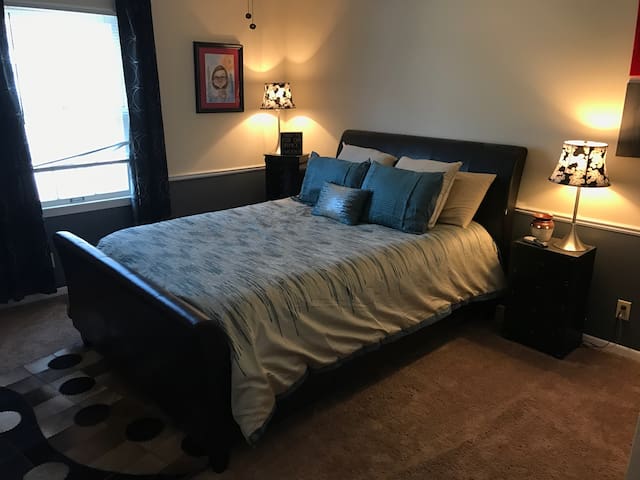 This beautiful home is perfect for family gatherings! It has beautiful granite counter tops, concrete floors, and 2 fire places. It is located in the beautiful family community of Rossland Hills.
This is a large beautiful up to date home.
This home is located in a nice neighborhood. It is about a 10 minute drive to the university. It is very spacious and there is room for a medium sized group to have privacy but still enjoy each others company. The kitchen is fantastic! Everything was clean and as promised. Ameila was a great hostess!
Amy
2016-11-04T00:00:00Z
Amelia was absolutely wonderful to work with. I had some follow up questions after my initial booking and she got back to me almost immediately. The house was more than spacious for our needs, clean, and well equipped with all your basic household necessities and convenient to where we needed to commute to while staying in Jonesboro. This was our first time using Airbnb for our travel needs and I have to say Amelia is the host you want to book with if you've never used this type of site and are hesitant about getting your feet wet. She made everything a breeze. I would absolutely book with her again if we were in the area. Thank you once again for a great first Airbnb experience, Amelia!
Lauren
2016-08-30T00:00:00Z
Made me feel VERY welcome and was a complete pleasure to work with. Beautiful Home!
Jason
2016-09-28T00:00:00Z
Amelia was great,reachable and welcoming
Kathy
2016-08-16T00:00:00Z
House was beautiful Nd it worked perfectly for our mini family reunion. It was close to AState so made it easy to travel to watch baseball.
Denyce
2016-11-03T00:00:00Z
Location was great. House was clean and comfortable. This location is definitely on the top of my list. Host made our stay stress free.
Raymond
2016-11-23T00:00:00Z
House was nice, the host was very responsive to questions we had. Overall great place to stay.
Chris
2016-08-23T00:00:00Z
The home is absolutely beautiful, in a very nice neighborhood. PLENTY of space too. fantastic kitchen, and big bonus of a muscadine vine in the backyard!
Bo
2016-09-05T00:00:00Z
Rodzaj pokoju
Całe miejsce
---
Rodzaj nieruchomości
---
Mieści
9
---
Sypialnie
Jonesboro, Arkansas 72404, Stany Zjednoczone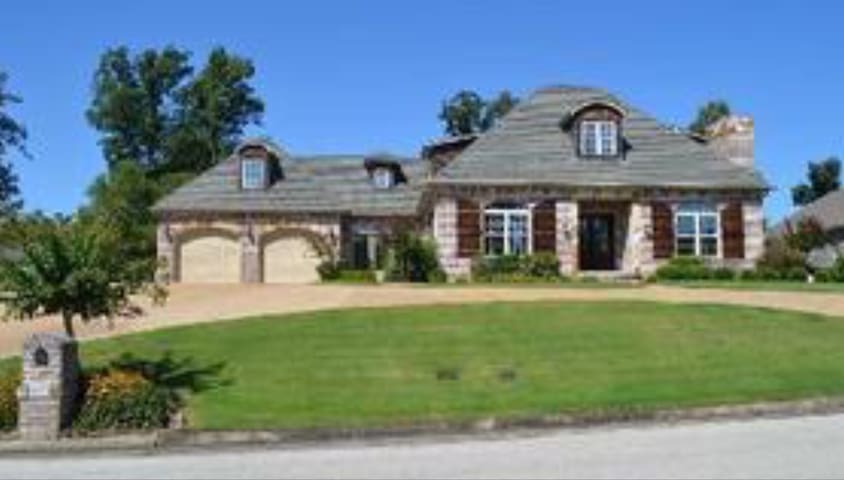 Executives, Duck Hunters, & families find privacy & comfort in this newly remodeled 2-bedroom, 2 1/2-bath apartment conveniently located downtown Paragould. One king bed & one queen bed, kitchenette, living room, 60" TV, cable, desk, internet.
Working temporarily near Paragould or visiting family? This comfortable, ground floor non-smoking space gives you privacy a hotel cannot offer with convenience of workspace, kitchenette, and living room. Newly updated, the modern decor is lovely. Duck hunters also love this location, as they can travel in any direction 20-30 minutes to find duck hunting areas.
Located downtown, there are several great restaurants within walking distance and 3 or more convenience/grocery stores within 1 mile.
Exactly as described, very understanding and communicative host.
STEVEN
2016-12-15T00:00:00Z
The apartment was as advertised and even better. We were very comfortable and enjoyed our stay very much. Audra was very accessible and helpful.
Ben
2016-06-10T00:00:00Z
Audra has been a wonderful host. She is easy to get hold of and pleasant to work with. We had to do last minute date change and she has graciously accommodated us. The check in was easy and house was very clean and tastefully furnished. The whole stay was flawless. Thank you and we will definitely come back!
Anne
2016-11-22T00:00:00Z
The place is nice but the hot water runs out after one shower.
Jo
2016-05-10T00:00:00Z
This is a really nice apartment, although it is obvious that is was converted from office space. The rooms were beautifully (professionally?) decorated. The "kitchen" doesn't permit much serious cooking activity, but is adequate for most purposes. Lane and Audra are really good hosts. They provided detailed information about the area and including dining possibilities. Communication was excellent and the turnover without any problems. We recommend this apartment without reservation. Will probably return ourselves.
J. Allen
2016-11-09T00:00:00Z
We had the best experience ever, this place is Paragould's best kept secret!
Tangela
2017-01-02T00:00:00Z
The host canceled this reservation the day before arrival. This is an automated posting.
Nate
Great hospitality, great location and phenomenal place to stay, thank you again for letting me stay at your apartment Lane and Audra, cheers.
Marsel
2017-01-18T00:00:00Z
Rodzaj pokoju
Całe miejsce
---
Rodzaj nieruchomości
---
Mieści
6
---
Sypialnie
Paragould, Arkansas 72450, Stany Zjednoczone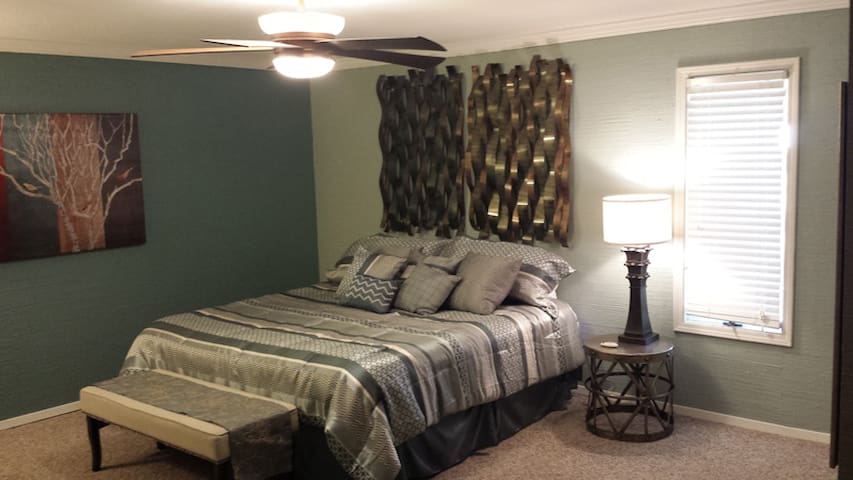 Built in 2012, this townhome is extremely nice. It is an end unit (1,600 sq. ft.) with an upstairs and a big yard. Large enough for a family gathering. Feels removed from the city but you're only a few minutes away from anywhere you'd want to go. Currently decorated for Christmas. Feel free to use anything you want! We have a wireless printer, two flat screen TV's, dishwasher, treadmill, and enough couch space for the whole family.
The only apartment in town with a forrest view. Only minutes from the center of Jonesboro, but feels like you are not in the city. Feels more like a stand alone home than an apartment.
The neighborhood is mostly quiet. It is a community of townhouses, with friendly neighbors.
Rodzaj pokoju
Całe miejsce
---
Rodzaj nieruchomości
---
Mieści
4
---
Sypialnie
Jonesboro, Arkansas 72404, Stany Zjednoczone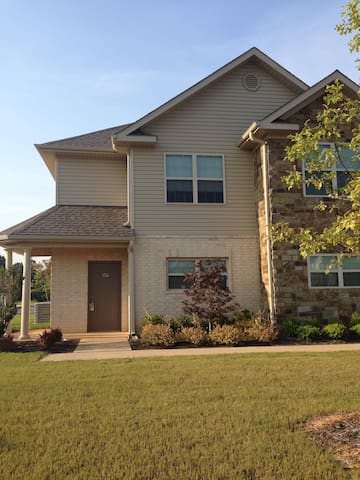 Our place is close to Downtown Jonesboro and ASU campus.. You'll love our place because of it's in a quiet cul de sac with a front yard safe for children to play including a fenced back yard.My place is good for couples, business travelers, families (with kids), and big groups.
Quiet safe neighborhood tucked back in a cul de sac just minutes from downtown.
Amazing home with perfect amenities for our group of 9. Susan was very pleasant to work with, and her lovely home was so much more than we expected. The warm comfortable at home feel and surroundings was the perfect setting for our group's 25th year college reunion. Great Experience!!
Aundrea
2016-10-16T00:00:00Z
We had a number of out-of-town family members coming in for a wedding. We wanted to be able to gather around a dining table to eat and play cards or watch TV together. We used all 5 bedrooms and it was perfect for us. Much better for us than individual hotel rooms. Very nice house and we felt at home.
Jeannie
2017-03-05T00:00:00Z
The home was very clean, open and nicely decorated! It was the perfect size for our family of 6 and the location just right in a quiet culdesac with easy access to main highways. If available, we'd definitely ask to stay again.
Cinnamon
2016-09-25T00:00:00Z
A beautiful home with lots of room to entertain. Everything we needed for our family was readily available. Susan was absolutely amazing to work with. Thank you for making our first airbnb experience easy and enjoyable. We will definitely book again!
Carrine
2016-12-22T00:00:00Z
Rodzaj pokoju
Całe miejsce
---
Rodzaj nieruchomości
---
Mieści
10
---
Sypialnie
Jonesboro, Arkansas 72401, Stany Zjednoczone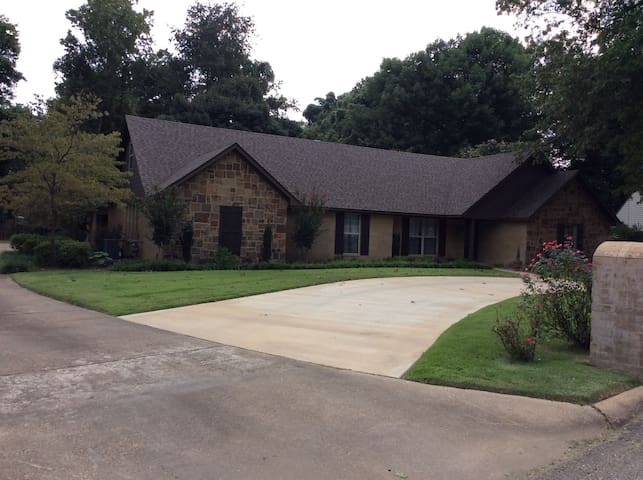 Over 1,200 SQFT of room with a private entrance. High end rustic style apartment with loft, one bedroom with a master bath on main floor. One bed in the loft overlooking room. Extremely quiet and relaxing with very plush furnishings and amenities.
This is a large private quiet space. Finely appointed furnishings with everything you could possibly need to enjoy your stay. This space is designed primarily for one couple. The master bedroom has an on-suite so other guest will have to come through the bedroom to get to the bathroom. A detail you should know.
This is a very quiet neighborhood that is located in between some very large wooded tracks. Wildlife is abundant and includes deer, foxes, coyotes, geese and other furry critters.
The moment we opened the door we knew we were in a very special place. We have never stayed anywhere as beautiful as the loft apartment at the Niell Estate. We felt at home and welcome. We appreciated the cleanliness, the comfortable bed and amazing shower! Chad answered all our questions quickly and made sure we had everything we needed. Looking forward to a return trip soon!
Ann
2016-08-26T00:00:00Z
Our experience at the Niell Estate was completely hassle-free. The property was very clean and new and everything we needed to know was perfectly laid out for us. Would highly recommend.
Davis
2016-09-27T00:00:00Z
Our stay at the Niell Estate was incredible! The location was easy to get to and is located in a great part of town. Chad and Pam were great hosts and we are looking forward to returning. We originally booked the apartment for two days, but decided to stay a third because we weren't ready to leave! The bed was comfortable, shower was spacious, and the hospitality was off the charts.
Kate
2015-12-02T00:00:00Z
CHAD AND PAM WERE TERRIFIC JUST LIKE THEIR BEAUTIFUL HOME.
KEITH
2016-11-12T00:00:00Z
Beautiful home with amazing decor, yet comfortable and inviting, for a very good value. Chad and Pam are very accommodating. Close to Jonesboro, nice deck with beautiful view....great for morning coffee!
Maureen
2015-11-24T00:00:00Z
Chad and Pam made us feel very welcome and are such a lovely couple. The home was even more beautiful than the photos. It is in a great location and very convenient to all of Jonesboro. I would definitely recommend this Airbnb.
Naomi
2016-04-01T00:00:00Z
I'm so happy we skipped the local hotels and stayed here with The Niell Family. What a gorgeous, comfortable place ! We enjoyed our stay immensely. This home has it all and the hosts are delightful. We will definitely book again on our next trip to Jonesboro!
Tim
2016-05-19T00:00:00Z
Very nice house. Very pleasant host.
Jose Carlos
2016-03-25T00:00:00Z
Rodzaj pokoju
Całe miejsce
---
Rodzaj nieruchomości
---
Mieści
4
---
Sypialnie
Jonesboro, Arkansas 72404, Stany Zjednoczone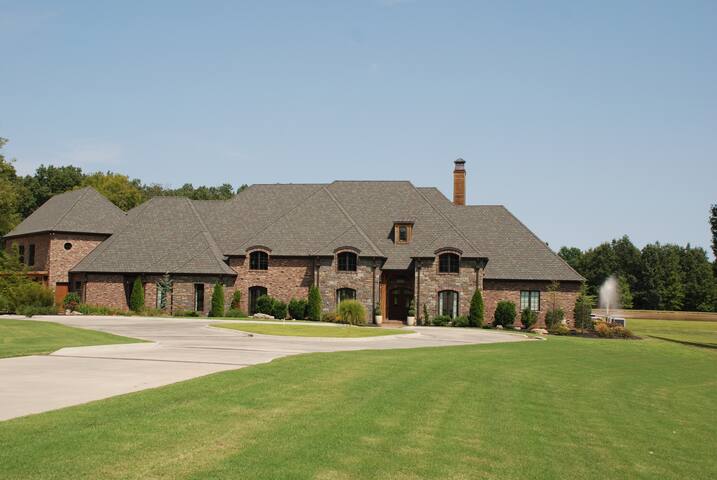 Our charming split-level home is in the heart of Jonesboro with quick access to I-555. It is a curated mix of modern and farmhouse rustic awaiting your smiling faces. With both historic Main Street authenticity and retail therapy of Red Wolf boulevard within 10 minutes, it makes this home highly desirable. We hope to welcome you soon!
is a centrally located neighborhood with rolling hills, mature trees, and a friendly atmosphere.
Rodzaj pokoju
Pokój prywatny
---
Rodzaj nieruchomości
---
Mieści
4
---
Sypialnie
Jonesboro, Arkansas 72401, Stany Zjednoczone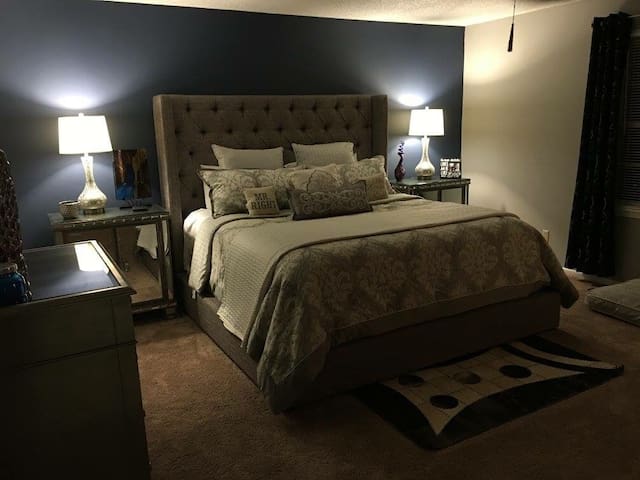 With 30 minutes of three of the largest cities in the Mid-South, the Denwood Guesthouse is a place to relax and unwind after a busy day in the city, or a refuge from the city if just for the weekend.
The house was pretty cute. It has bunk beds and thats always a plus. The kitchen was cute too. And breakfast was provided so that was nice. All in all, there wasnt anything lacking.
Ashika
2015-12-26T00:00:00Z
Had a quiet, comfortable stay here. Benn was a great host and the guest house was clean and comfy. We will consider staying here again during our travels.
vanessa
2016-03-24T00:00:00Z
Everything was perfect and well prepaired .After a warm welcome and a tour through the house we were very happy with our choice at this quit location. The house was clean and there were lots of extra's to make our stay very comfortable like the dishwasher and the washing machine. With only 25 minutes by car from the centre of Memphis this location was perfect for us. We were just with 2 persons, but there is space for much more people.
Gerard
2016-04-19T00:00:00Z
We are Board members of the ARSA that were hosting a workshop at ASU-N in Marked Tree, AR and we spent 1 night in Benn's guesthouse. Benn and his family greeted us in the driveway and after showing us a quick tour of the place, left us to enjoy the peaceful surroundings of the guesthouse. We really enjoyed the peace and quiet and the fact that we did not have to get up an hour earlier to make the drive to Marked Tree from a hotel. The rustic feel of the guesthouse was so relaxing...wish we would have had longer to stay. The place was very clean and we each had our own comfortable bed. The showers were nice and warm and the breakfast snacks were a nice treat. If we are ever hosting a workshop again in Marked Tree, you can be sure we will be staying with Benn again at his guesthouse.
Cindy
2016-04-11T00:00:00Z
We only stayed for one night but had a great experience! Benn was very welcoming, and the guest house itself was very spacious and comfortable. Breakfast was also provided (bagels, cream cheese, and orange juice), which was a nice plus!
Scarlett
2016-03-27T00:00:00Z
Benn was super friendly and welcoming, and the guesthouse was well maintained and definitely spacious enough for four people. We were all really pleased with our first airbnb experience! Would highly recommend Benn's place.
Rebecca
2016-03-18T00:00:00Z
The kids had a great time exploring and playing in your country home and land!! It was nice for them to have some personal tour guides and playmates too. Thanks so much!!
Allison
2016-04-20T00:00:00Z
beautiful, quiet place that offered comfortable beds, plenty of room and lot of quiet. we enjoyed watching birds from the kitchen window!
Abigail
2016-02-22T00:00:00Z
Rodzaj pokoju
Całe miejsce
---
Rodzaj nieruchomości
---
Mieści
10
---
Sypialnie
Tyronza, Arkansas 72386, Stany Zjednoczone
Wpisz daty, by zobaczyć pełną cenę. Obowiązują dodatkowe opłaty. Cena może uwzględniać podatek.