300+ Wynajmów apartamentów
Delizioso appartamento in villa con ingresso indipendente.E' composto da un ampio salone con cucina a vista, camino, angolo bar , 2 camere da letto, bagno e ampia cabina armadio. Spazio esterno privato con divanetti e disponibilità utilizzo giardino
Charming apartment in villa with separate entrance. Is consists of a large living room with kitchen, fireplace, wet bar, 2 bedrooms, bathroom and large walk-in closet. Private outdoor area with sofas and availability use home garden. The location, Lane Casale Lumbroso, near Via Aurelia is very comfortable being half way between Rome and Fiumicino Airport, 5 minutes from Via di Brava and 10 minutes from the New Fair of Rome. L 'apartment is located in a quiet area for this reason it is recommended not only for those who want to discover Rome in a comfortable (with private parking) and away from the traffic of the city but also to those who want to sleep near the airport of Rome Fiumicino (available on request a shuttle service to and from the airport, the cost is € 35) and even to leisure clients which is located in Rome for business, work and meetings and even for families with children (thanks to the possibility to use the kitchen and the cradle). The apartment is fully equipped for short and long stays. Business services: Satellite TV, free WIFI and high speed. Family Services: • Private outdoor area equipped with sofas; • Possibility of extra bed or crib; • Full kitchen with dishes, pots and pans; • Iron and ironing board; HOW TO GET TO THE CENTER OF ROME Leaving the area take the 906 and get off at Circ. Cornelia (terminus). Then take the metro line or a bus in any direction center. For more information, visit (website hidden) or call (phone number hidden). CENTERS OF INTEREST NEARBY Academy of adventure Sports (tennis, football, gyms, etc.) Water-Park Salons Theatre 10 Restaurants, pizzerias Roman Dancing Bowling HOSPITALS AND CARE CENTERS NEARBY "Aurelia Hospital" - Via Aurelia 860 (10min) "Policlinico Gemelli" - Largo Agostino Gemelli, 8 (30min) "IDI Hospital - San Carlo di Nancy" - Via Aurelia 275 (30min) "Bambino Gesù" - Via Tower Palidoro, snc - 00050 Rome Fiumicino (30min.) "Bambino Gesù - Piazza S. Onofrio, 4 00165 Rome (30min.) "Israelite Hospital" Via Fulda 14 (20min.) DISTANCE FROM THE MAIN POINTS OF INTEREST • Ministry of Justice - Via Brava - 1.2 KM (5 minutes) • A Metro Station - KM 6 (Cornelia) • St. Peter's Basilica - KM 9 • New Fair of Rome - 9.8 KM (10 minutes) • Piazza Navona - KM 10.5 • Spanish Steps - KM 11.5 • Policlinico Gemelli - KM 12 (30 minutes) • Fiumicino Airport - 12.5 km (20 minutes) • Termini Station - 13 KM • Beaches of Fregene - KM 15 • Colosseum - KM 16 • Cerveteri Etruscan and places - KM 20 • Ciampino Airport - 21 KM • Golf Parco de 'Medici - KM 6.5 • National Museum of Arts and Popular Traditions - 8.7 KM • Congress Centre - 8.9 km • Villa Madama - 8.9 km • Roman Forum - KM 9.3 • Milvian Bridge - KM 10.3 • Park Leonardo - KM 10.5 • Castle of Julius II - KM 13.9 • Ostia Antica - KM 13.9 • Macchiagrande Oasis - KM 14.3
C'e un ottimo ristorante ( trattoria romana) e pizzeria con forno a legna di fronte al cancello del comprensorio. C'e un bar/ latteria/tabacchi sempre di fronte al cancello e, ancora Parco Avventura, Hydromania (parco Acquatico), Castel romano Outlet a 20 minuti di macchina, Un grande Centro commerciale a 10 minuti (Parco Leonardo), Fiera di Roma (5 minuti), Università degli stranieri, è molto vicino alla sede dei Concorsi per la Polizia Penitenziaria (via di brava)
Valeria is an excellent host! Communication with her is fantastic and quick. She even left us daily notes to check in and see how we are doing, which was very thoughtful and kind. The place was beautiful, my boyfriend and I discussed how we would actually live there. The location was a bit far from downtown Rome, but it was nice to get out of the city. That said, in the suburbs, English communication is rare. The cafe nearby is fantastic. But the restaurant is just a restaurant (don't treat it like a bar!). For our departure, Valeria kindly arranged for us to have a taxi take us to the airport. We highly recommend staying at Valeria's!
Talia
2013-05-17T00:00:00Z
hosts are very friendly and nice people - they live above the apartment and are ready to help with anything you might have. (we were traveling with a baby and Valery went out of her way to arrange a baby cot for us) the apartment is great and has everything you need. the location was terrific for us - it's 15 minutes to the airport in morning traffic. to get to Rome we left the car near a metro station and that got us into the city in 30 minutes. all in all a very pleasant stay, and good value for money. thanks Valery!
mark
2013-11-06T00:00:00Z
Our stay at Valeria's Villa was amazing! The apartment is clean and comfortable and Valeria went beyond that of a host. She provided us with detailed maps and explanations of transportation as well as the major landmarks to see. She also gave us freshly baked cakes, cookies and breads daily. Valeria went as far as to even give us a personal walking tour around the sights of Rome at night which was beautiful and one of the main highlights of our 2 weeks in Europe! The neighborhood where the villa is located is a quiet, clean and safe suburb of Rome and very conveniently located only a 5 minute walk to the bus into the city (a 15 minute ride). Valeria and her family are lovely hosts and people. Our stay with her was beyond what we anticipated and well worth it! Thank you so much for making our trip so memorable Valeria!
jessica
2013-06-06T00:00:00Z
I stayed here with my family and it was ideal. The apartment is large, clean and well appointed. The garden was lovely and my children enjoyed playing in it very much especially after a long day in the city. Valeria and Mario were warm, friendly and went out of their way to help us on numerous occasions. I would recommend staying here! We look forward to visiting again! Thank you Valeria for a great stay!
Ian
2014-03-15T00:00:00Z
Muchas gracias por todo, tan buena atención como la primera vez, por eso volvimos. Totalmente recomendable. Thank you very much for everything, so good attention as the first time, for this reason we returned. Strongly recommended.
Samuel
2013-08-06T00:00:00Z
We stayed in Valéry's house for a few days when we visited Rom. Perfekt location for us as we travel with kids and teens and to stay as far to the beach as to the city center .we also spent a day at Hydromenia aqua park which is a short walk from the house. Valery and her husband is a very nice couple who really do everything to make you feel welcome . I will definitely check out if this is available the next time I visit Rome .
Peter
2016-08-04T00:00:00Z
Zwei Tage vor der Anreise gibt es eine SMS zur Erinnerung und nochmals mit Angaben zur Adresse und wie man zum Haus gelangt. Das war großartig! Einmal angekommen hat man den Eindruck, dass sich alle Türen automatisch öffnen und dann wird man persönlich und sehr freundlich begrüßt.
Rico
2016-08-29T00:00:00Z
This was our second stay with Valeria - same great experience as before! I stayed here with my family and it was ideal. The apartment is large, clean and well appointed. The garden was lovely and my children enjoyed playing in it very much especially after a long day in the city. Valeria and Mario were warm, friendly and went out of their way to help us on numerous occasions. I would recommend staying here! We look forward to visiting again! Thank you Valeria for a great stay!
Ian
2014-03-28T00:00:00Z
Rodzaj pokoju
Całe miejsce
---
Rodzaj nieruchomości
Apartament
---
Mieści
5
---
Sypialnie
La Massimina-casal Lumbroso, Lacjum, Włochy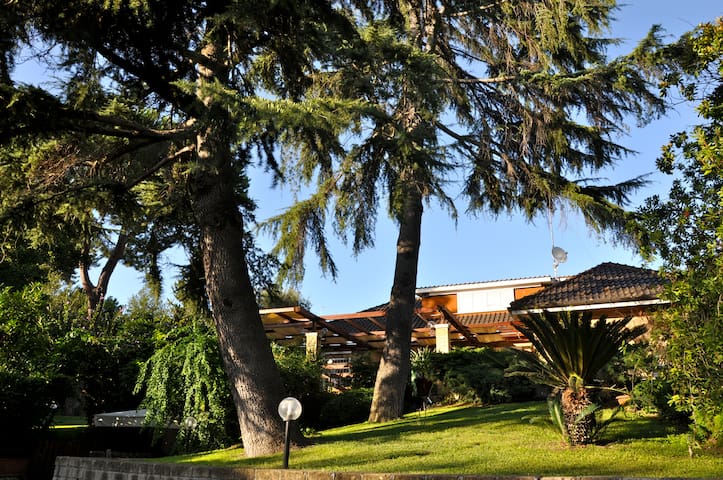 Private apartement in beautiful villa !!!!!!!!
is a very special place for those who want to spend a holiday in the countryside in Rome .
is an area emerged in the green, close to the center, but out of earshot
Serge was so friendly. This apartment is convenient, clean. Thanks a lot.
Le
2016-04-27T00:00:00Z
Serge was a kind and helpful host to us, jet-lagged and weary travelers. The apartment is gorgeous and I wish I could have stayed longer to read and relax in the beautiful courtyard! I highly recommend this as a convenient location to stay between downtown Rome and the airport.
Sarah
2016-06-26T00:00:00Z
Appartamento bello e pulito con un bel giardino davanti, in una zona tranquilla. Perfetto per raggiungere la Fiera di Roma ma anche una buona posizione per raggiungere in macchina il centro di Roma. Non ho conosciuto Sergio di persona ma al telefono mi è parso una persona gentile e corretta. Consigliato
Marco
2016-10-16T00:00:00Z
Very easy. Close to airport. Cafe and restaurant around the corner for late arrivals to airport
Jemima
2016-07-31T00:00:00Z
The apartment is beautiful and the location is perfect.The host made the arrival even more pleasant by treating us with the most delicious fruits we have ever tasted! Sergio provided us with information about the area and closest beaches,and Rome attractions as well. Besides spacious and comfortable living room combined with the dining room,you can always enjoy your cup of coffee outside in the front garden .The garden is taken care of and can be called a little oasis.There is also an oven where you can always try your best as a pizza chef. Villa is situated in a safe community,you have your personal access to your apartment. Close to villa there is a great pizzeria where you can always order a take out if you are not in the mood of cooking! I would definitely recommend this villa to everyone!It is the best place to relax and to enjoy Rome and explore the history of this unusual city,as well as enjoy beaches with the perfect water and clear sand. If you like to shop and cook food by yourself there are food stores in 10 minutes access where you can find all the Italian food this country is famous for. The host is a great man who is always ready to help his guests and make their visit pleasant and memorable. If you going to explore Rome with your family this place is the best to spend your vacations.
Vladimir
2016-07-29T00:00:00Z
La accoglienza del sig. Serge era veramente calorosa, ci ha fatto trovare anche ingredienti necessari per poter farsi un piatto di pasta dopo lungo viaggio. La casa è molto curata, bella e abbiamo avuto a disposizione anche tutto il bellissimo giardino. Ne la casa non mancava niente, anzi cera tutto quello che potete immaginare. Zona molto tranquilla casa immersa nel verde nonostante questo molto comoda vicino aeroporto e vicino centro. Che dire un week-end da favola ! Grazie !
Monika
2015-04-20T00:00:00Z
Very very beautiful house with a big garden! Serge and his family is very nice,if you come to Roma,it's a best choose!
Li
2016-05-06T00:00:00Z
The host canceled this reservation 14 days before arrival. This is an automated posting.
Eric
2016-02-27T00:00:00Z
Rodzaj pokoju
Całe miejsce
---
Rodzaj nieruchomości
Apartament
---
Mieści
6
---
Sypialnie
La Massimina-casal Lumbroso, Lacjum, Włochy
Appartamento accogliente e dotato di tutti i confort, in zona tranquilla. Essere in vacanza ma sentirsi a casa propria.
Apartment on the 3rd floor of a building in a quiet area, 10 km from St. Peter, with free parking area. At 50 meters there is bus stop for the city center or the underground stop. The apartment is comfortable and hospitable. It has one room with double bed and another one for children, and one with two single beds plus a possible third bed. In the living/dining room there is a sofa bed, a dining table, TV and radio. The apartment has two bathrooms, one with tub, washing machine and hairdryer. The kitchen is equipped with electric oven, microwave, toaster, coffee maker and dishwasher. Bed linen, towels and kitchen towels is included. There are also 2 balconies with tables and chairs to enjoy in all seasons the wonderful climate of Rome.
Il quartiere è molto calmo e tranquillo, è costeggiato dalla Via Aurelia, con la quale arrivare facilmente e velocemente nel centro di Roma.
Amalia is very nice and helpful, she responded to each of my questions within 30 minutes. Her apartment is a little outside the city, only 12 kilometers to the Vatican, which was perfect for us. It was a quiet building, the apartment was exactly as pictured, very clean and had everything we needed for a our weekend in Rome. We will most certainly stay with her again and recommend her to our friends.
Tammy
2014-06-17T00:00:00Z
Un incroyable séjour passé a Rome ! Un appartement spacieux, bien agencé et très beau. Nous n'avons manqué de rien ! Plein de petits détails, jusqu'au petit déjeuner sur la terrasse, Amalia a pensé à tout ! Merci beaucoup on a hâte de revenir !!
Dorine
2014-06-02T00:00:00Z
Bydlení od paní Amalie bylo přesně podle našeho očekávání. Amálie je velmi milá a příjemná paní. Bydlení -prostorné v klidné lokalitě několik minut do centra ,moře taky blízko. Parkování bez problémů. moc se nám tam líbilo . Všem zájemcům doporučuji, neváhejte :-D Děkujeme
Jarmila
2014-08-08T00:00:00Z
Amalia's a great host. She's kind, friendly and helpful. She suggested a car park near metro station, also warm welcome with her secret recipe of Italian coffee. That's amazing !! Her apartment's SUPER CLEAN and well equiped with everything you need. Spacious and comfy for 4-6 adults. My mom&dad said this's the best stay during our trip in Italy. If you have a car this is the best place to stay !! Only 10-15 minutes drive to Vatican city.
Chanattha
2015-04-13T00:00:00Z
Wij hebben een fijn verblijf gehad. Netjes goed ingericht en schoon. Fijn dat er 2 sanitaire ruimtes waren, 1 met bad en 1 met douche. Totaal 2 wc's. Het is een goede uitvalbasis om met het openbaar vervoer naar Rome te gaan. We ontdekten een tabakszaak op 100 meter vlak bij de bushalte. Bij deze tabakszaak kun je kaartjes kopen voor het openbaar vervoer. Een persoon kan voor ongeveer 1,40 euro op de bus stappen en op hetzelfde kaartje met de metro verder (100 minuten geldig) Rome in.
P & M
2016-08-14T00:00:00Z
great host! spacious and clean space.
Loue
2016-06-20T00:00:00Z
Amalia è una persona squisita, il suo appartamento è pulito, comodo e fornito di tutto. Molto comoda la posizione, per andare alla Fiera di Roma.
sandro
2016-06-24T00:00:00Z
Amalia welcomed us very nicely, although we were late a bit to our check-in. The apartment was super-clean, super-organized, quiet place and very close to main roads (airport, easy ride to Rome). Perfect stay, highly recommended.
Itai
2015-10-01T00:00:00Z
Rodzaj pokoju
Całe miejsce
---
Rodzaj nieruchomości
Apartament
---
Mieści
8
---
Sypialnie
La Massimina-casal Lumbroso, Lacjum, Włochy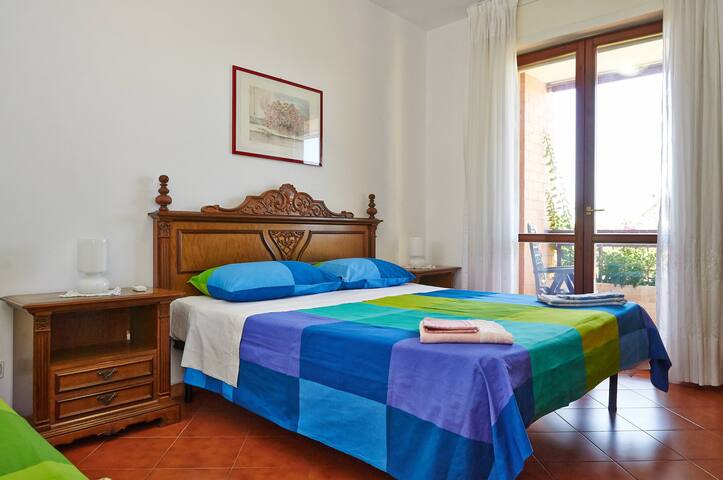 La camera e' ampia, si trova all'interno di un appartamento ristrutturato con balconi, posto al primo piano di una palazzina in cortina. E' arredata con mobili nuovi e moderni. A pochi metri il turista puo' trovare tutti i servizi, compresi i mezzi
Rodzaj pokoju
Pokój prywatny
---
Rodzaj nieruchomości
Apartament
---
Mieści
1
---
Sypialnie
La Massimina-Casal Lumbroso, Lacjum, Włochy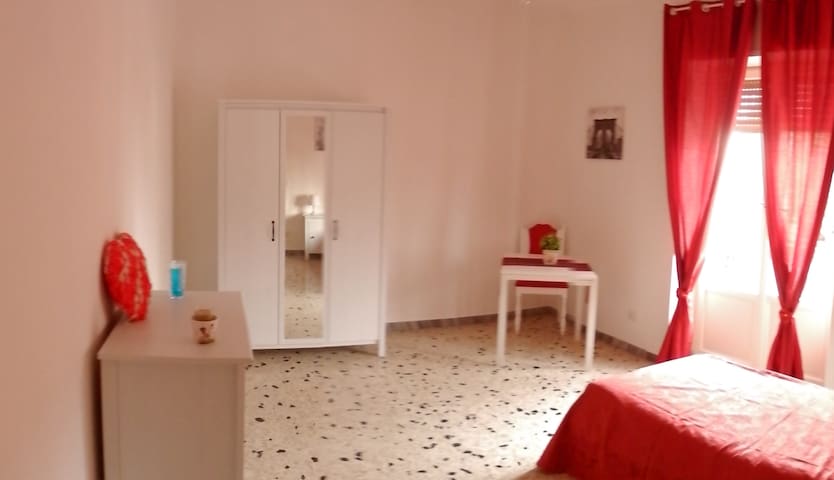 Accogliente e curato appartamento in una zona residenziale estremamente tranquilla ma ricca di servizi a metà tra il centro città,l'aereoporto e il (URL HIDDEN) 20 minuti,anche con i mezzi, si è al mare!ideale per coppie o gruppi di max 4persone Appartamento indipendente in villetta con giardino ,ampia metratura nella zona living con 2 camere ed un bagno.Curato nei dettagli,giovane,pulito e ordinato.Potrete godervi un'aperitivo in giardino o il calore del camino se la vostra permanenza in città sarà d'inverno...connessione WIFI,tv(anche in camera),riscaldamento Gli ospiti avranno libero accesso alla zona giorno con cucina e salotto,alla camera o camere a seconda del numero di ospiti e al bagno dove c'è possibilita di usufruire della lavatrice.Gli ospiti avranno accesso alla zona esterna all'entrata dell'appartamento deliziosamente arredata con divanetti in estate. Io e mio marito nel periodo in cui il nostro appartamento sarà affittato alloggeremo al piano superiore dove vive mia madre.Questo ci permetterà di essere spesso a disposizione dei nostri ospiti per fornire consigli ed informazioni in riferimento alla casa o alla città,servizi,ecc Il quartiere in cui alloggerete si chiama Massimina,si trova al 13km da Piazza San Pietro appena l'uscita 1 del raccordo anulare,Aurelia,e a 20 km dall'aereoporto Leonardo Da Vinci di Fiumicino.Pertanto pur non trovandosi nell'estremo centro della città ha un'ottima e comoda posizione,immerso nella tranquillità e il verde,senza far mancare i (URL HIDDEN) sono numerosi supermecati e negozi raggiungibili a piedi o con biciclette messe a disposizione da noi! A circa 300metri dall'appartamento si trova la fermata dell'autobus(linea 246) che vi porterà comodamente alla fermata CORNELIA della metro A,da dove potrete raggiungere il centro in 10minuti.Dalla stessa fermata vicino casa ci sono poi mezzi che in circa 20 minuti vi portano verso le località di mare(CERVETERI;FREGENE;SANTA MARINELLA) Noi siamo una giovane coppia che saprà ospitarvi con gentilezza e disponibilità cercando di rendere il vostro soggiorno da noi e a Roma piacevolmente indimenticabile.Organizziamo anche,come extra, cena su richiesta per i nostri ospiti con tipico menù della cucina romana o umbra o ricche colazioni con prodotti bio.
È stata una esperienza molto bella. Il sig. Mauro e la consorte sono stati veramente disponibili e gentilissimi. Abbiamo trovato il posto tranquillo e l'appartamento ordinatissimo e pronto ad accoglierci come fossimo a casa nostra. Un'esperienza da ripetere sicuramente e un grazie grande per il soggiorno offertoci.
Paolo
2015-11-06T00:00:00Z
Rodzaj pokoju
Całe miejsce
---
Rodzaj nieruchomości
Apartament
---
Mieści
5
---
Sypialnie
La Massimina-casal Lumbroso, Lacjum, Włochy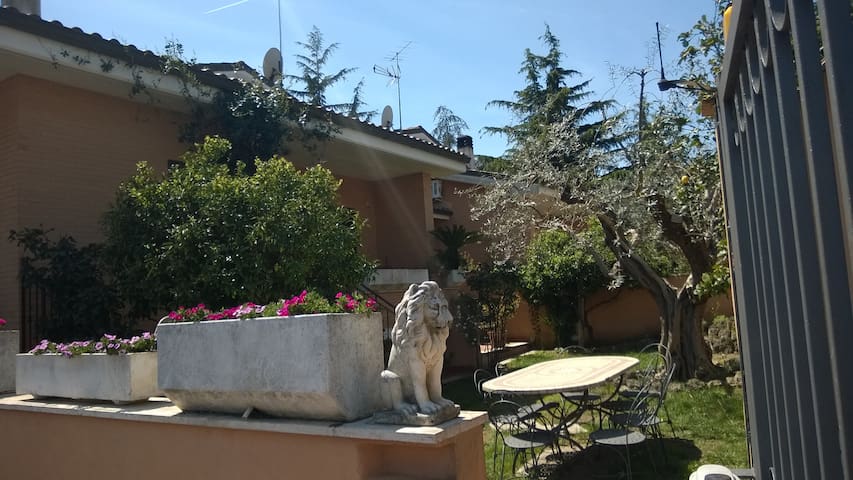 lovely studio apt just renovated and totally new. It s located in a quite area but close to the centre that you can reach easily with public transport. With its urban style and a romantic bedroom this fully furnished apt makes your stay u
the apt has one romantic bedroom for 2 people and a living room with a sofa bed for additional 2 guests. style is modern, metropolitan , furnished with dishwasher, washing machine, microwave, toaster
One of the more traditional area of Rome. You will be immersed in the typical Roman life.
Zeer mooi, hip appartement! Ongeveer 10 minuten van centrum mer de tram. Een aanrader!
Mirjam
2015-10-05T00:00:00Z
The host canceled this reservation 22 days before arrival. This is an automated posting.
Conor
2015-08-20T00:00:00Z
The flat was well designed, clean and well equipped (a kettle,...). Moreover, it is well situated inRone and thanks to the tramway, the city centre is easily reachable within 15 minutes. Our host was really kind and she gave us pre-printed maps of the city with key restaurants and shops of the area, which was really helpful. But we had a small problem with the shower and the host made all things possible to fix it down.
Delphine
2015-05-23T00:00:00Z
Indeed-the fresh renovated studio was gorgeous. The chosen furnitures, decor and its' colours were combined in harmony. We also loved the location of the apartment, which is away from tourism and very near to Trastevere-at the same time . In addition to that-Stafania is great: careful and always reachable for any kind of questions. Stefania-You and your apartment made our stay in rome perfect.
Aee-Ni
2015-05-27T00:00:00Z
Stefanie was an AMAZING host! The apartment was beautiful and clean, and she even left little welcome snacks for us. She helped us get settled and gave us a folder with directions to the main sights. We called her before dinner and she gave us tips for restaurants. She was the sweetest and we LOVED our stay in Trastevere. 10/10 !
Sophia
2015-06-09T00:00:00Z
We had a really good stay in Stefania-s beautiful apartment! She was very helpful from the beginning and made getting there and finding our way around completely hassle free. The apartment itself is fantastic, recently renovated and has all the appliances you might need. Pus there are some very good restaurants around the building! Would go back there for sure, thank you Stefania!
Kaarel
2015-10-19T00:00:00Z
Fin dal nostro ingresso abbiamo capito che la nostra permanenza presso Sofia's house sarebbe stata molto piacevole. Così è stato. I locali sono dotati di ogni confort e arricchiti di tantissimi particolari che li rendono piacevoli alla vista oltre che funzionali. La cucina è attrezzata per preparare ogni tipo di cena (spaghetti alla Matriciana, compresi!) e Stefania ci ha fatto trovare tutto il necessario per una buona colazione e anche per una calda tisana serale ideale per rilassarsi dopo le lunghe passeggiate romane. L'appartamento è in una zona molto tranquilla, ma vicinissima alla fermata del tram 8 che in pochi minuti ti porta in centro. Insomma, siamo stati benissimo, Stefania sempre molto gentile e disponibile. La consigliamo moltissimo.
Gilda
2015-06-24T00:00:00Z
Rodzaj pokoju
Całe miejsce
---
Rodzaj nieruchomości
Apartament
---
Mieści
4
---
Sypialnie
Rzym, Lacjum, Włochy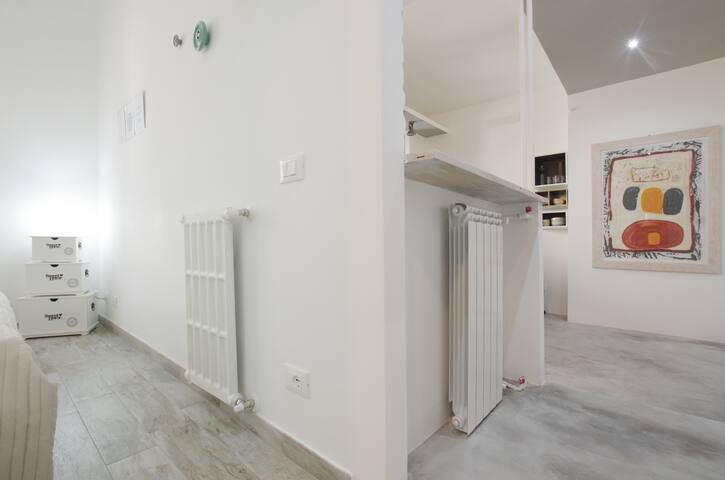 Delizioso appartamento dotato di ogni tipo di comfort (posto auto, ascensore, aria condizionata, lavatrice, stoviglie e lavastoviglie), a 20m dalla fermata dell'autobus che ti permette di raggiungere comodomente il cuore della città e il mare.
L'alloggio è rifinito e molto intimo. Ideale per una coppia, può ospitare fino a 4 persone. La cucina è completamente attrezzata (anche di pasticche per la lavastoviglie!), il tavolino è piccolo ma fino a 3 persone si mangia bene. Per una cena più importante si può aprire il tavolino in salotto che diventa per 6 persone.
Il quartiere dove è sito l'appartamento offre bar, alimentari, supermercati, pizzerie, tabacchi, chiesa, farmacia e parco giochi per i bambini tutti raggiungibili a piedi.
Rodzaj pokoju
Całe miejsce
---
Rodzaj nieruchomości
Apartament
---
Mieści
4
---
Sypialnie
La Massimina-Casal Lumbroso, Lacjum, Włochy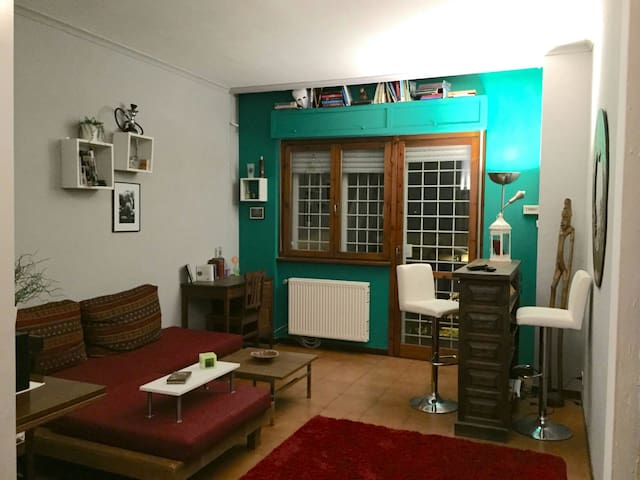 Appartamento accogliente, situato al 3° piano di una palazzina ubicata in una zona tranquilla e residenziale, zona Aurelia, a 8 km da San Pietro, con parcheggi gratuiti. A 20 metri la fermata degli autobus numero 906 e 088 per arrivare metro linea "A", fermata "Cornelia", ed essere in pochi minuti al centro di Roma, e se siete con la vostra auto, raggiungere il centro di Roma, percorrendo la Via Aurelia, è facile e veloce. Internet WIFI è gratuito. Offriamo servizio lavanderia. La cucina è dotata di frigorifero, piastra con 4 fuochi, forno elettrico e a microonde, bollitore e stoviglie. A vostra disposizione troverete: olio e aceto, sale e pepe, zucchero, caffè, thè, tisane, merendine per la colazione. La biancheria da letto e da bagno è inclusa. A disposizione troverete bagnoschiuma, shampoo. Informazione importante, il prezzo che pagherete per alloggio è comprensivo di tutto: nessun altro supplemento vi verrà chiesto. Inoltre è disponibile su richiesta il servizio navetta da e per gli aeroporti, il costo è di € 35 (max 4 persone). Per me sarà un piacere ospitarvi ! A tutti i servizi della casa, da non condividere con altri ospiti in quanto l'alloggio è solo a tua disposizione. Accogliamo i nostri ospiti, che avranno la casa a disposizione - Pulizie e cambio biancheria ogni 3 giorni - siamo a disposizione per qualsiasi esigenza. Su richiesta vi accompagniamo nei luoghi di interesse (Ostia, Fregene, Villa d'Este, Zona archeologica di Cerveteri, ecc) Un tranquillo quartiere di Roma, ben collegato. Autobus a 20 metri - collega alla Metro linea "A" oppure 088 - scendere capolinea Casaletto, dove prendere Tram 8 per Piazza Venezia. Uscita GRA 33 per Fiumicino o Autostrade, mentre con la Via Aurelia, si arriva facilmente al centro di Roma IN ZONA Accademia dell'avventura Centri sportivi (tennis, calcio, palestre ecc) Acqua-Park Hydromania Centri estetici Ristoranti, pizzerie, e supermarket Discoteca Bowling Pub Nei Dintorni •Ministero della Giustizia - Via Brava - KM 1,2 (5 minuti)•Basilica San Pietro - KM 9•Nuova Fiera Di Roma - KM 9,8 (10 minuti) • Spiagge di Fregene - KM 15• Golf Parco De' Medici - KM 6,5 • Ostia Antica - KM 13,9 • Oasi di Macchiagrande - KM 14,3 OSPEDALI E CENTRI DI CURA NELLE VICINANZE "Aurelia Hospital" - Via Aurelia 860 ( 10min.)"Policlinico Gemelli"- Largo Agostino Gemelli, 8 (30min) "Ospedale I.D.I. - San Carlo di Nancy" - Via Aurelia 275 (30min) "Ospedale Pediatrico Bambino Gesù" - Via Torre di Palidoro, snc - 00050 Fiumicino Roma (30min.) "Ospedale Pediatrico Bambino Gesù - Gianicolo(30min.)"Ospedale Israelitico" Via Fulda 14 (20min.)
Il quartiere è residenziale e tranquillo, ma nei dintorni sono disponibili divertimenti (Ristoranti, pizzerie, pub, bowling, acqua park hydromania), e supermercati ecc.
Rodzaj pokoju
Całe miejsce
---
Rodzaj nieruchomości
Apartament
---
Mieści
5
---
Sypialnie
La Massimina-casal Lumbroso, Lacjum, Włochy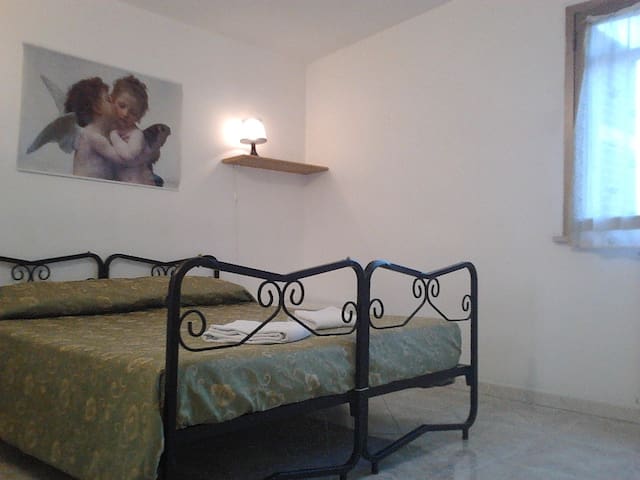 apartment suitable for couples and families
The apartment is a lovely vacation home located in very strategic point for those who want to visit Rome. It is situated in a central district that offers the opportunity to walk to St. Peter's Basilica, as well as easy access to all tourist attractions of Rome (the Vatican Museums, Colosseum, Campo de 'Fiori, Spanish Steps, Trevi Fountain , Piazza Navona, etc..), being provided by various buses to the city center and not far (about 10-15 minutes) walk from Cipro Metro Station. The apartment was renovated in May 2016 is of 50m2 with one bedroom with a double bed and an armchair (single bed) and a bedroom with a single bed (2 bedrooms, 4 beds, kitchen, bathroom, TV and air conditioning). The apartment is cozy and comfortable, the kitchen is stocked with pots and pans, fridge, freezer and stove. We would be happy to help you but on occasions it is necessary to book tickets for museums or provide reservations for shuttle services to and from the air port. Final cleaning, linen, towels, wi-fi, gas, electricity, water and heating are included in the price. To welcome you there will be the owner of the house, the Mrs Federica, who will give you advice on where to eat and how to get around easily in Rome.
It's quite and safe... There is everything you need for lovely holiday in Roma.
Mieszkanie bardzo przyjemne, czyste, świetnie ulokowane, 10-15 minut na piechotę od Watykanu, łatwy dojazd do centrum (autobusami; stacja metra też jest blisko, ale dojście do niej nieciekawe). Gospodarze bardzo mili i pomocni. Zdecydowanie polecam!
Aleksandra
2015-07-03T00:00:00Z
Todo muy bien limpie cerca del Vaticano all ok clean apartment close to the Vatican
Juan Carlos
2017-01-15T00:00:00Z
appartment was lovley and spacious, very well situated, close to main attractions, owner is lovley and so helpful, will go back again. .xx
Pip
2017-01-29T00:00:00Z
The apartment is nice with a couple of places necessary for a short stay. Bar and restaurants , pizza place for a quick bite. A supermarket is just 5 minutes from the apartment which is handy. Very nice and clean place to stay, 20-30 minutes leisurely walk to the Basilica.
arthur
2017-01-27T00:00:00Z
Their home is a cozy spot ideal for those wanting to visit the Vatican, as well as for those wanting to have access to the city without being in the middle of everything. The hosts were very polite and communicated well. A great value and experience for travelers on a budget.
Adam
2017-03-24T00:00:00Z
Federica's apartment was very nice and comfortable, and just a quick cab ride from some of the biggest places to visit in Rome. Would recommend!
Jack
2017-04-03T00:00:00Z
Amazing stay! In an excellent location near many restaurants. The owner Frederica is very open and nice . Always available for questions. We stayed two days and enjoyed alot. I would recommend this to all!
Mirza-Zain
2017-02-20T00:00:00Z
The right place for a family or couple.
Adolf
2017-03-11T00:00:00Z
Rodzaj pokoju
Całe miejsce
---
Rodzaj nieruchomości
Apartament
---
Mieści
4
---
Sypialnie
Rzym, Lacjum, Włochy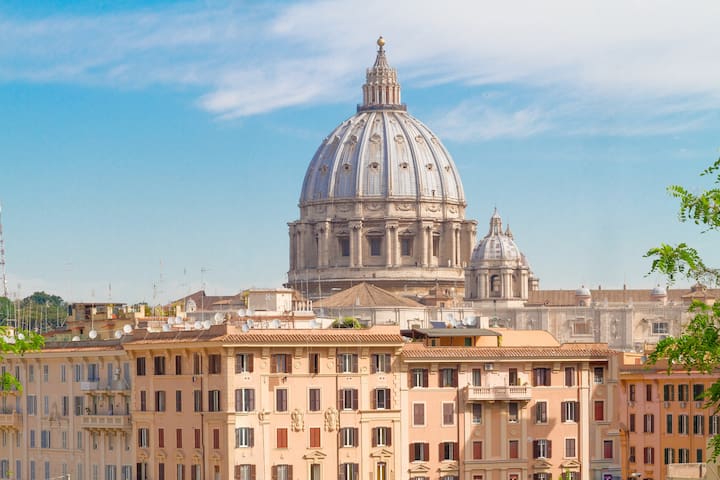 This place is ideal for those who are passing by and need a place to sleep. The view over the Vatican City and the roofs of the North of Rome is our top. Clean, quiet, big room with a lot of light at a walking distance from the Vatican.
The room is a shared room, it is big and quiet, when fully booked there are in it only 3 people in total so bathroom and internet is easy to access only the shower has a little boiler so when someone takes a shower before you, you have to wait 20 min for the water to warm up. Bed is confy and there is a lot of light, we provide clean sheets and towels and free wifi included in the price no extra charge. Our guests till now have been people coming from all over the world. The people are all very kind and respectful they enjoy interaction with us and with the other guests.
Nearby there are lots of bars and restaurants, a vintage store and the marvelous Villa Pamphili the biggest park of Rome. The neighborhood is one of the most secure and calm of the town, near the house we have a little park with a restaurant opened till 8 pm in the winter and till 1 am in the spring and in the summer.
Very great experience! Flora is extremely nice and helpful. There's a laundry machine free to use, and they keep the space very clean. Having a shared room let's you meet other travelers coming through, but is not as busy or chaotic as a hostel. A very wonderful balance, I even booked an extra night. There is also a market and great coffee nearby.
Ross
2016-09-01T00:00:00Z
Flora and Pascalle where wonderful hosts ! The always has your bed fixed and offered to help for things like washing and places to go and buses to catch into the main Roma city. It's a nice quite place and can easily get a good nights rest. 100% recommend to book here.
Justin
2016-04-12T00:00:00Z
Flora was a very easy going host. Provided very specific instructions from the airport to her residence which was super helpful. Not far from the Vatican city at all if you wana visit St. Peters and Michelangelo's Sistine Chapel. Florence is an hour away by train too. Very much recommend staying here!
william
2016-10-17T00:00:00Z
The room is good,bath room is very clean.Flora is very kind.
le
2017-02-16T00:00:00Z
Comodo e super economico, stanza grande e assolata, Flora gentilissima e super discreta, appartamento con arredi spartani ma pulito e ordinato. Fantastico per un soggiorno breve spendendo una cifra veramente ridicola!
Giacomo
2017-02-11T00:00:00Z
The hosts are very nice here, but I otherwise did not have a very good experience. Awful location: It took me around 2.5 hours to get here from the airport - you have to take a bus from the airport to the city, then the metro, and then another bus to near their flat, and then finally walk up a large hill. It was blazing hot and incredibly uncomfortable. I arrived within the check in time window, but made it there an hour later than I expected to get there. When I got there, I called on the buzzer for the apartment at least 13 times. After getting no answer, I had to turn my roaming on on my phone (so much for the money I thought I was saving by booking here) and call her and say I had arrived. She said she was eating and couldn't hear me, but I don't see how that is possible when it was ALWAYS loud and clear when the buzzer rang inside the flat. It does take "only 20 minutes to get to the Vatican," but you end up on the back end and have to walk for about another 20 minutes to get to the entrance - so really you are 40 minutes from the Vatican. If you want to get anywhere else, you have to wait a long time for a bus to take you to the metro stop. If you plan on getting home later at night, you can plan to wait at least forty minutes in front of a not-so-nice shop for a bus to come get you which was scary. Then after the bus, you have to walk through a dark area and up a hill. Amenities: The shower is horrible. If you were in longer than 5 minutes, the water turned to FREEZING cold. I would have to turn it on to wet myself, turn it off to soap myself, and turn it back on to HOPEFULLY try and get all the soap off. Every shower I took ended in me wiping soap off of my body with my towel. Hosts: They were very accommodating in the sense that they provide you with a map, a list of stuff/directions, information on how to get there, and a popsicle when you arrive. They also are very nice and provide you with towels. Although, they need to update their listing because it is a dishonest: There is no view of the Vatican from your window, so don't get excited by the picture they have of the dome. Also, they have dogs that bark a lot and pretty frequently and there is a birds nest right outside the window, so it is not quiet as is described in the listing. Overall: I would stay somewhere else unless this is absolutely the only place you can afford. You are so far from everything that you miss out on some of the wonderfulness of Roma that you could otherwise be experiencing.
Devon
2016-06-29T00:00:00Z
Flora es una gran persona. Las indicaciones para llegar estuvieron muy bien, es cerca de todo. Lo mejor es el balcón en donde escuchas los pajaritos, puedes ver un atardecer muy lindo con una gran vista a Roma. El lugar es muy limpio y organizado.
Deyanira
2016-10-24T00:00:00Z
El lugar súper cerca del Vaticano Una colonia súper tranquila Flora te resuelve todas tus dudas La habitación confortable
Perla
2017-01-21T00:00:00Z
Rodzaj pokoju
Pokój współdzielony
---
Rodzaj nieruchomości
Apartament
---
Mieści
1
---
Sypialnie
Rzym, Lacjum, Włochy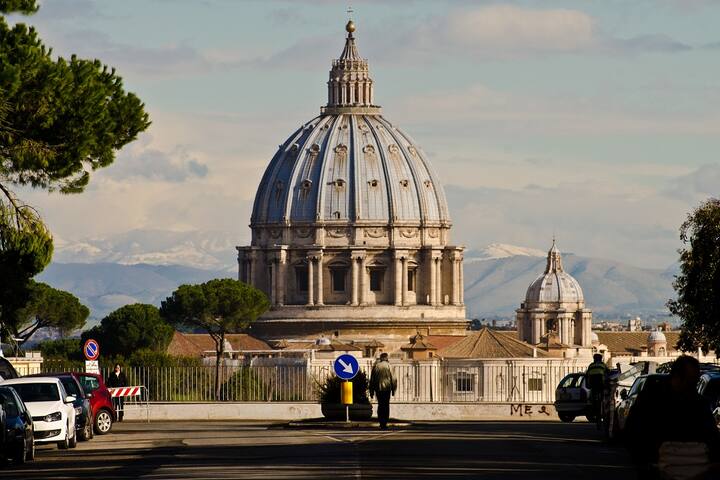 Apartment located in a quiet place, 20 minutes from St. Peter's Basilica. A few meters from the bus stop. About 30 minutes to reach the center by public transport. WiFi available, free parking inside, shower, TV. It can accommodate up to 5 people
New apartment of 50 square meters, the center can be reached by car in 20 minutes or by public transport in about 30 minutes. The bus stop is located in front of the 'apartment. Internet with WiFi and TV are available. In the apartment there are 2 bedrooms and a bathroom; 1 living room with corner kitchen equipped. First room: 1 double bed; Second room: 2 single beds or 1 double bed; Living room: 1 sofa bed. Shower, washing machine, parking, garden, balcony, 2nd floor. It can accomodate 5 people. In the district there are shops, pizzerias, a church, a park for children and everything necessary to make (URL HIDDEN) is well connected to the center and 20 minutes drive from the airport of Fiumicino.
Apartment really good, had everything we needed. Had a large car which we were able to park behind gates. Into Rome on bus and train also easy. Its not the prettiest locations and traffic pretty mad, had a few shop as well. Luigi very friendly and explained everything so we could get around.
Christine
2015-09-18T00:00:00Z
The reservation was canceled the day before arrival. This is an automated posting.
Trang
2014-06-18T00:00:00Z
Very comfortable apartments!There are needments in the apartment, even such meal as honey, jam, bread, olive oil! near the apartments are supermarket and stop of bus!Very hospitable owner that offered us to meet from an airport and drove back to airport!He gave us a map of metro and explained as to reach anywhere!Luigi thank you very much for everything!
Georgii
2013-12-02T00:00:00Z
Our stay was very pleasant. The house was quite spacious and looked even better in person! All the rooms were very clean, the kitchen's cupboards were impeccably good. The location is ideal- 20 mins from the airport (FMC), there's also a bus right outside taking you to the train station (where the Vatican is a few stations away). I must also note how incredibly helpful Luigi was, he was always easily contactable. I very much recommend this house & host to anyone visiting Rome.
Emmah
2015-04-07T00:00:00Z
Luigi si è rivelato molto accogliente e disponibile la casa e stata consegnata con riscaldamento acceso e quindi direi un'accoglienza calorosa, consigliatissimo. Grazie Luigi
Alessandro
2016-11-06T00:00:00Z
It's a really good house. We love the small garden. Luigi is a kind man.
Yuanyu
2015-10-16T00:00:00Z
Luigi is very friendly and gave us all the tips we needed to explore Rome. His apartment is new, fresh and bright. The metro station can be reached after a short bus ride where it will take you to all major city attractions. Communication was great and Luigi answered to all our questions always promptly. He was also very kind to allow us park our car at his private parking for half a day after checking out. Highly recommended!
Onna
2015-09-26T00:00:00Z
Luigi was excellent! He picked us up late from the airport and told us exactly how to use public transport around Rome. Fantastic clean apartment located right outside the bus stop. Would definitely stay again.
Hugh
2015-06-15T00:00:00Z
Rodzaj pokoju
Całe miejsce
---
Rodzaj nieruchomości
Apartament
---
Mieści
5
---
Sypialnie
Rzym, Lacjum, Włochy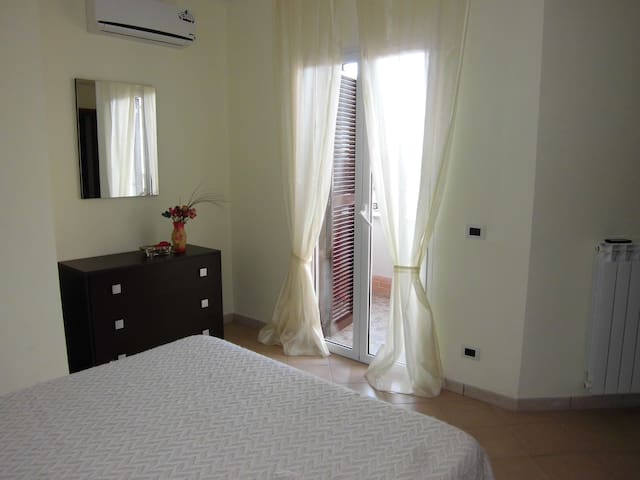 Clean and cosy room available for your stay. The terrasse, the calm, the beautiful view and our care for hospitality will make your stay worth living ! :)
THE ROOM • Fully furnished 13m2 bedroom, a private bathroom and part of our wonderful terrace are available for your vacation stay. • You get your own key to the building and apartment. • Furnished with a comfortable, new, full-size 160x195 bed, bed-stand, lamps, bookshelves and in-built closet + storage. • One big door window overlooking the neighbourhood (green and quite). • Bed linen and towels provided. • BREAKFAST INCLUDED. THE APARTMENT • 5th floor apartment with elevator access, 3 bedrooms, 2 bathrooms, 1 livingroom. • All rooms have windows. • Spacious and green 35m2 terrace. THE NEIGHBOURHOOD • Apartment located in a great, quite neighbourhood. • 5 min to the metro A line. • Access to multiple bus lines and taxi station. • About 20 minutes only from St. Peter's Cathedral and city centre. • The neighbourhood has cafes, restaurants, supermarkets, laundry service, pharmacies and tobacconists'. • FREE parking lot. ABOUT US • We are a married middle-aged couple. We both fluently speak English, German, Italian and French. • We are looking for someone clean, quiet, respectful & laidback. • Gay-friendly • Please confirm your arrival time 24 hours in advance. • AIRPORT TRANSFER on request !
This was by far the BEST Airbnb I have ever experienced! The love and kindness stefania and Bernard hosted us with was exactly what we needed..they were so helpful with finding things to do and what to see and easy to follow maps and instructions. The house was beautiful and felt like we were staying at a relatives house. Very clean and comfortable. Breakfast was beautiful on the balcony. We have nothing negative to say about these hosts and their Airbnb. They truly give Airbnb a good name!! I will be recommending them to everybody i come across who will be traveling Rome!!
christina
2016-09-22T00:00:00Z
We enjoyed our stay with Bernard. He picked us up on our first night from the train and showed us how to use the train and bus system. He also had toast, yogurt, tea, and juice waiting for us each morning. The stay was pleasant, though we spent hardly any time there due to packed days of sightseeing! We were worried about privacy, but this was not an issue at all while we wee there. It does take a awhile to get to the apartment from the major attractions, about 30 min, but longer when the bus is late. We did not mind this. We wanted to spend our money on sights, sounds, and food, not our accommodations! Recommended!
Khai
2014-03-19T00:00:00Z
Lors de notre séjour à Rome c'est Giulia, la fille de Stefania et Bernard qui s'est occupée de nous. Sa présence discrète mais efficace nous a permis de profiter pleinement de cette ville exceptionnelle. Nous avons particulièrement apprécié d'avoir une hôtesse qui parle couramment le français. De plus, le transfert aller-retour depuis l'aéroport simplifie bien des choses. La chambre et la salle de bain sont très propres et confortables. Le petit déjeuner copieux servi sur la terrasse est particulièrement agréable. Le retour le soir par le bus est cependant assez long (une heure à une heure et demie ). Nous recommandons la chambre car le quartier est calme et les hôtes disponibles et très agréables.
Stephanie
2014-07-12T00:00:00Z
We had a fantastic time with Stefania and Bernard. They were kind, considerate, generous and beyond helpful. They were full of knowledge about Rome which they were happy to share with us. They made us feel welcome and at home in their apartment, which was very clean, comfortable and well-located for getting around Rome. The apartment was private, quiet and secure. We couldn't have asked for a better stay in Rome and are very thankful to Stefania and Bernard for enriching our experience so much!
Lucy
2015-07-18T00:00:00Z
It was a very good experience staying at Stefania and Bernard place. Very warm hearted people, kind and generous who made usfeel home at their place. As we arrived at the train station, Bernard was already there to pick us and explained well about the bus routes and near by restaurants. Indeed Rome was very pleasant, although we were 20 mins away from center itself. Moreover, it was easy to access to near by worth seeing places like Spanish steps, Trevi fountain and the Vatican. Thank you so much for guiding us with a pretty decent map and the bus/ metro routes. We really enjoyed staying at your place as I can say it was quite luxury experience. 3 days is not at all enough for ROME nevertheless we did spend some quality time and was worth. We hope to come back again. We thank you both for that great hospitality.
Chandan
2016-04-01T00:00:00Z
This has been my first experience using AirBnb so naturally I was a little anxious to how this will turn out. I was greeted outside of the station by Stephania who was so welcoming. I couldn't have asked for a better welcoming, so kind and accommodating. The attention to detail inside their home was lovely, the room indeed came with a beautiful view. The house itself had a warm and welcoming presence which had been so refreshing when compared to a standard hotel room. Stefania explained thoroughly and helped us understand how to navigate around Rome so clearly which had been so helpful! Bernard and I would get lost in interesting conversations and lose track of time. Both Stephania and Bernard prepare breakfast every morning which was such a lovely way to start the day. If the sun is shining, you get treated to having breakfast outside, couldn't have asked for a more pleasant experience. While the listings are accurate, the review does not give the hosts and their home justice, only to visit and experience being a guest will you truly appreciate. I was very upset when our journey had ended and we had to leave their lovely house. I am very sure our paths will cross again, I still have a lot more of Rome left to see! Thank you both again for your hospitality, I couldn't have asked for better hosts.
Niv
2016-05-17T00:00:00Z
Stefania and Bernard home is very cozy. It has a warm home feeling and we were comfortable as soon as we set foot inside. The terrace was relaxing, the room is comfortable and warm, and lots of books, which I thought was awesome. The house is clean, bathroom is clean, we were very comfortable and would stay with them again if given a chance. As host, they welcome you and make you feel comfortable. They are a couple with respect and they are very easy to talk to. They are hospitable and knowledgeable with Rome, directions were clear, and suggestions of where to go are clear. The location is convenient as there is a bus stop right outside that can take you straight to the metro, from there, going to the center city is easy. There is a restaurant, walking distance, that is phenomenal. Overall, we would stay there again and highly recommend them not just for the place, but as host and people as well.
Fulbert
2016-10-27T00:00:00Z
Stefania und Bernard sind super Gastgeber. Sehr freundlich und mit guten Tipps für einen wunderschönen Aufenthalt in Rom
Matthias
2015-10-03T00:00:00Z
Rodzaj pokoju
Pokój prywatny
---
Rodzaj nieruchomości
Apartament
---
Mieści
2
---
Sypialnie
Rzym, Lacjum, Włochy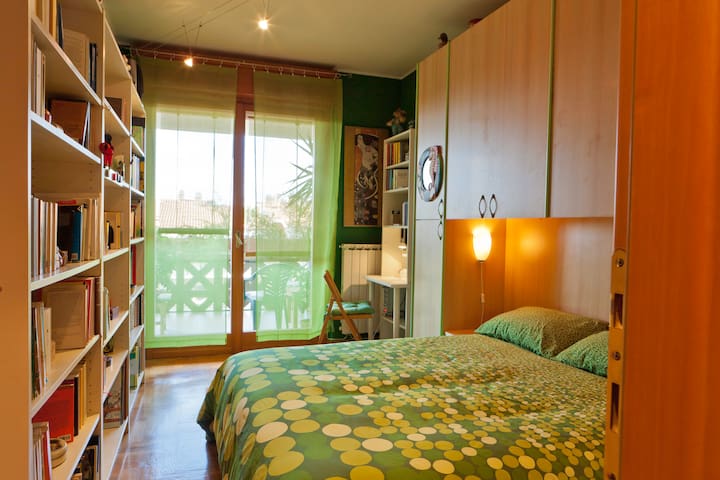 Desire of many people is living in a city like Rome, hopefully close to the center, and having at the same time the possibility to avoid traffic, noise, pollution. NOTE THAT YOU CAN BOOK My others room together since they are in the same apartment. ASK FOR MY SHUTTLE SERVICE!
Guest will enjoy a private garden, directly accessible from the room. Since the house has many spaces, you can always find your own privacy, or if you prefer interact with others guests. The most private area will be anyway your own garden, provided with a table and chairs. This way, you can decide to have your breakfast, lunch or dinner directly there, enjoying, especially in the evening, relaxing and/or romantic moments. The place, even if close to the center, is very quite and silent, you will wake up with the birds and not with annoying noise of cars, people screaming on the street, and so on. It's a beautiful building with concierge, full of green. Since in the neighborhood there are many trees, the apartment is not hot, neither in the summer. Anyway, the room is provided with a fan. You'll be very close to San Peter and metro station. Taxi are just in front of the apartment. A beautiful park (Villa Carpegna) is only 10 minutes by walking. Ergife Palace is just in front of the apartment.
Neighborhood is very quite, safe and silent. Area is fresh because is a close street so there are not many cars going around, that means no pollution. Sleeping in the center of Rome and not being annoyed by the noise of the city is priceless.
Host professionale,cordiale,gentile e molto disponibile. Consigliato
Riccardo
2016-10-12T00:00:00Z
We loved Augusto! Super nice place and even nicer host! Made our stay exceptional :)
Ying
2016-08-19T00:00:00Z
Agradable y confortable desde la llegada. Como si alguien de tu familia de espera, así fue Augusto. Dispuesto a colaborarte brindándote lo mejor de su casa.
Eliana Cristina
2016-09-09T00:00:00Z
Thank August! Super friendly lad, he promptly receive me and made himself available to any needs. I'd definitely stay again, the house is so big! :)
Jana
2016-09-17T00:00:00Z
Augusto est un hôte accueillant et détendu qui sait se rendre disponible et de faire discret à la fois. Son logement est calme et agréable, proche du métro et du bus pour accéder au centre de Rome. Nous y retournerons volontiers, et nous vous le conseillons! Merci encore pour tout Augusto! Jonathan et Pauline.
Jonathan
2016-10-04T00:00:00Z
Great quite spot! Bus to downtown Roma just a 10 min walk away
Adam
2016-11-20T00:00:00Z
I had a good stay at Augusto's place, he's a good host and very relaxed and generous with little things such as food, coffee....I too one of his chocolate bars in desperation once but he was very good about it :) I would recommend this place as a good spot if you're visiting Rome, 10-15 min walk to a metro which connects you to everywhere you need to go.
Fred
2016-09-27T00:00:00Z
A nice room in a multi guest apartment. Augusto was very friendly and helpful and pretty easy to contact. The Apartment is 15 min walk to the closest tube or there is a bus at the end of the road. Overall a very pleasant stay and can't say much more because of the brevity of our trip. Would stay again!
Scott
2017-03-19T00:00:00Z
Rodzaj pokoju
Pokój prywatny
---
Rodzaj nieruchomości
Apartament
---
Mieści
2
---
Sypialnie
Rzym, Lacjum, Włochy
My beautiful and quiet studio apartment is on the first floor of a typical Roman building.The apartment consist of a living room with 2 sofà bed and a fully equipped kitchen,one bedroom with double bed, one bathroom with shower, one additional bathroom with washing machine, A/C,microwave,kettle and fiber optic internet connection with Wi -Fi
Very close Saint Peter Square!
This area is safe, with only one bus you can arrive to the Colosseum, You can arrive walking to Piazza Navona, Pantheon and Campo de' Fiori
Louise e' un'ospite davvero perfetta, gentile e disponibile. L'appartamento è molto bello, ben sistemato e fornito, pulitissimo. Si trova in una ottima posizione, per noi è stata davvero una scelta azzeccata che ci ha permesso di godere appieno di un bel weekend romano!
Ilaria
2016-10-16T00:00:00Z
Sehr gute Kommunikation. Tolle Unterkunft.
Hans-Josef
2016-10-25T00:00:00Z
Отличная квартира в тихом районе, недалёко от Ватикана. Хозяйка квартиры была достаточно гостеприимна, даже договорилась с водителем о нашем трансфере в аэропорт.
Alexandr
2017-01-02T00:00:00Z
Louise was extremely welcoming. She was also available to answer any questions I had. The apartment was very nice and in a great location. Recommended host to anyone wanting to stay near the Vatican City!
Salvador
2016-12-11T00:00:00Z
Louise was very kind and helpful at all times during our stay! We could contact her at any time we had questions! Very guest-friendly!! The nice modern and well new appartment is located at a busy street but still very silent inside! We would come back! Thank you very much!
Marcel
2016-10-18T00:00:00Z
Buena localización. A 5 minutos de la Plaza de San Pedro. 30 minutos del Centro historico (Panteon, Fontana de Trevi, Plaza Venecia) Un apartamento comodo y sin ruidos) con todo lo necesario para cocinar. Louise nos recomendo sitios para comer y como movernos por Roma, ademas te da la opcion de que te recojan y te lleven al aeropuerto (muy comodo y rapido) Muy recomendable y una anfitriona excelente. Gracias por todo
Información -
2017-04-11T00:00:00Z
I have traveled a lot using airbnb but I have to say that my experience at Louise's place was by far one of the best. The apartment is really stunning - it is actually much larger than it appears in the listing and Louise has decorated it so beautifully. The location is fantastic - really close to the Vatican and public transport and there are some really cute little restaurants nearby. Louise was such a nice host. I was running late on my day of check-in because of transport strikes in the South of Italy, and actually ended up being several hours late but she was completely understanding and flexible. Louise responded immediately to messages and was always on hand to help - I needed a taxi one evening and she kindly called it for me, and when my Mother arrived in Rome on my last day, she let us leave our bags for a few hours. I would definitely recommend this place to any visitor to Rome and would love to stay here again if I visit the city again in the future. Grazie :)
Melissa
2017-03-21T00:00:00Z
Very tasteful and comfortable studio in a very good location
Richard
2017-03-07T00:00:00Z
Rodzaj pokoju
Całe miejsce
---
Rodzaj nieruchomości
Apartament
---
Mieści
4
---
Sypialnie
Rzym, Lacjum, Włochy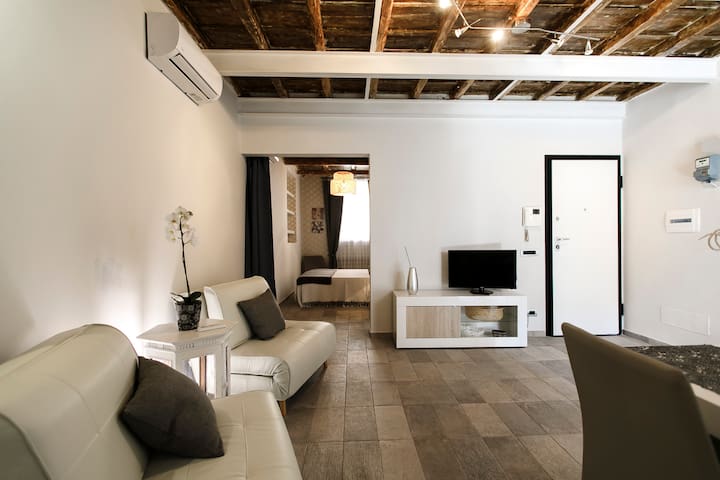 The apartment consists of a bedroom, living room with sofa bed, bathroom, kitchen and large terrace. It is located 5 km from the Vatican, 7 km from the Colosseum, Trevi Fountain and Piazza Navona. It can accommodate 4 people in 2 comfortable beds.
The house is located on the fifth floor of a building covered with a curtain. E 'consists of a bedroom (double bed), living room with sofa bed, kitchen, bathroom, utility room and large terrace with a large unobstructed view and is equipped with every service. The metro stop 'Battistini' is 700 meters. At the entrance of the building is the 916 bus stop, with a few stops that reach St. Peter's Square - Vatican Museums, Castel S. Angelo, Piazza Navona, Campo dei Fiori, the Corso Vittorio Emanuele, the Roman Forum and the Colosseum. Good Stay!
The main services are all very close, Pharmacy, Banks, Supermarkets. Just behind the house is a confectioner's shop, which starts at about 21 prepares croissants that you can buy until after midnight. A few meters from the entrance, there is a gym, a swimming pool and soccer fields. For lunch or dinner list some restaurants to walk to, "Da Gildo il Cacciatore' via Di Boccea 348,' Boccea China 'at No. 312,' Locanda di 'Tizia e Caio' in Via Mattia Battistini 11 G, Restaurant' Dal Presidente ' in via Di Boccea 400 and others.
Super séjour dans l'appartement de Francesca, dans lequel nous sommes restés 6 nuits. L'appartement est spacieux, propre, bien décoré, et dispose de tout ce dont on a besoin pendant un voyage (internet, fer à repasser, etc.) L'appartement est tout à fait conforme à la description. La terrasse est grande et parfaite pour des petits déjeuners au soleil. L'accueil est chaleureux et sympathique. Nous avons beaucoup apprécié les produits de bienvenue ! La résidence est suffisamment sécurisée, le quartier est calme. Pour se rendre dans le centre de Rome c'est relativement rapide, en ce qui nous concerne nous avons pris le métro à chaque fois. Je recommande l'appartement de Francesca pour découvrir les merveilles de Rome ! Céline
Céline
2015-04-05T00:00:00Z
Мы прожили у Франчески неделю и нам очень понравилось! Дом очень уютный, большая терраса, есть абсолютно все необходимое. До центра добирались на автобусе или метро около 15-20 мин. Рекомендуем всем этот уютнейший домик:) We have lived in Francesca's house for a week and we love it! House is very comfortable, big terrace, there are absolutely everything what you need. The way to the city center took us about 14-20 min by metro or bus. We strongly recommend this nice house .
Евгения
2015-07-31T00:00:00Z
Francesca was amazing, punctual and very friendly.
Hind
2016-05-21T00:00:00Z
Франческа и ее дочь Джулия очень хорошие и гостеприимные! Спасибо за теплый прием! Квартира не большая, но очень уютная, чистая. В ней есть все что нужно для проживания. В начале не работал интернет, мы созвонились с Джулией, и они пришли ровно через 10 минут!!! Проблема была с успехом решена. Район хороший, рядом парк, и ранним утром просыпались под пение птиц. До метро идти 7-10 минут. До крупного супермаркета 10-15 минут. Рядом есть прекрасный местный ресторан и магазин морепродуктов, в нем же можно и покушать, готовят рыбу и вкусные салаты. Кафешек где варят кофе немыслимое множество!!! В общем, прекрасный отдых в прекрасном городе, в прекрасной уютной квартире! Спасибо огромное! Елена и Сергей г.Екатеринбург, апрель 2015
Сергей
2015-03-30T00:00:00Z
Francesca's apartment was nice surprise for us. It is much prettier than you can see on pictures. It's cozy, sweet, everything you need was there. Big terrace on the roof with plenty of flowers was our resting place after walking all day around beautiful Rome. Small details like maps, guides, cookies, water & juice, clothes for rain, cosmetics and other stuff are something what positively surprised us. Everything you need is near. Bus stop is in front of building but we don't recommend anyone to go to city center that way because metro is much faster. Enjoy staying in this nice place and we will for sure come back :)
Marko
2016-04-26T00:00:00Z
We met with Fabio who checked us in. Very friendly! Apartment was as listed. Francesca was attentive to our needs and responded to our questions quickly. We tried to stay here again at the end of our stay but it was sold out
Kristin
2016-10-13T00:00:00Z
Appartement très propre et beaucoup de choses a notre disponibilité. Cuisine equipée + café sucre etc. On se sentais bien dedans. Pas très loin du métro. Fancesca et son mari sont super gentils, souriant et très accueillants. Très contente de mon séjour. Merci a Francesca et Fabio
Fatima
2016-12-19T00:00:00Z
Nice small appartment for a short stay, clean enough. Wonderful terrace for breakfast as its usually warm in Rome even in winter. Two Metro stations are not far, one - 700 m, another (Cornelia) 1200 m and more fun to go there as there are shops and caffes. I had cozy staying. Grazie!
Marina
2014-11-12T00:00:00Z
Rodzaj pokoju
Całe miejsce
---
Rodzaj nieruchomości
Apartament
---
Mieści
3
---
Sypialnie
Rzym, Lacjum, Włochy
Delightful bright and cozy studio apartment, recently renovated, beautifully furnished, located at the first floor of a nice and modern building few stops from St Peter. The apartment is provided with a double sofa bed, a kitchenette, TV Led, bath
Studio flat of 35 sqm fully renovated with double sofa bed, kitchenette, washing machine, bathroom with shower, LED TV, free wifi, air conditioning, balcony with possibility of eating outside. The studio is on the first floor and can accommodate up to 2 people.
Just 5 minutes away is a large supermarket, there are pharmacies, bars, restaurants and even a covered market, with a large parking where you can buy fruits, vegetables, pizza hot and crispy and many other food
I have a wonderful experience from booking to check out. The place is perfect, I feel at home while in Rome :-) My hosts is very accommodative and helpful. She was very patient with my queries being a first timer in Rome. She extended helpful hints and assisted me with airport transfers. My host responded promptly with all my messages. I would recommend this place to anyone looking for a private and secure accommodation away from tourist traps :-)
Ann
2016-07-18T00:00:00Z
This is a great studio with everything to make you feel comfortable. Communicating was easy and I was allowed to drop off luggage early. Although the location was not great (30-60min commute to center attractions depending on public transportation route and destination). Overall very happy and comfortable for singles or couples.
Jay
2016-10-11T00:00:00Z
It is a good size studio, extremely functional, welcoming and in a quiet building - you can hear children playing, laughing which is music to my ears. The police station is across the street, a church 200 ft away, one great restaurant and a very convenient beauty shop with reasonable prices. Cornelia Metro station is 10 min walk, Vatican, Peters Square and Spanish steps are only 4 four metro stops from Cornelia Station.
Nancy
2016-10-03T00:00:00Z
El apartamento es lo que se anuncia. Es pequeño pero como se pasas el dia fuera no hace falta mas. Esta limpio y tiene lo necesario. El unico punto negativo es q esta retirado del metro, unos 20 minutos q se hacen interminables cuando uno vuelve agotado de patear roma.hay un bus pero tardar en pasar. Es por lo unico que no repetiria.
Aranzazu
2016-07-22T00:00:00Z
Хозяин был гостеприимен,даже принес питьевую воду,холодный чай и вино.Из-за жары путь от метро до квартиры показался довольно длинным.Но потом, мы пользовались автобусом от метро,остановка напротив дома.Достопримечательности Рима доступны на метро.
Olga
2016-07-06T00:00:00Z
The studio was modern and good for a budget stay in Rome. We were given plenty of help in terms of finding the apartment and the contact number of the person meeting us in case of any problems. There was excellent information in the apartment detailing nearby restaurants (and in the city centre) as well as detailing the public transport available. There are plenty of restaurants in the area so we would recommend meals out over cooking as the oven is a small, portable one. The flat is situated in the western suburbs and is around 10-15 mins walk from the nearest metro (A Line). Overall, it is a good choice for anyone wanting a short, inexpensive stay in the city.
Harry
2016-09-18T00:00:00Z
Sono stata qui dal 14 al 16 gennaio con un' amica e ci siamo trovate benissimo. L' appartamento piccolo ma molto accogliente, ben arredato, un bel bagno (URL HIDDEN) divano letto comodo . La zona è abbastanza buona, ci sono market nelle vicinanze e la metro a meno di un km, comodissima x poter raggiungere il centro. Ci torneremo sicuramente
deborah
2017-01-16T00:00:00Z
This apartment was nice, but pretty small. It had everything you needed for an extended stay (stove with pots and pans, fridge, washing machine). The bed, although a pull out couch, was actually pretty comfy. We knew what we were getting into with the location being away from the touristy part of Rome. To get to the metro, you have to walk about 15 minutes and then it will take you to the major attractions for 1.50€ a ticket. There is a 24/7 grocery store that is about 10 minutes away as well. Overall, it's a good option for the low price. I would recommend this place for someone who is having an extended stay, on a budget, and is not afraid of public transportation.
Zach
2016-12-28T00:00:00Z
Rodzaj pokoju
Całe miejsce
---
Rodzaj nieruchomości
Apartament
---
Mieści
2
---
Sypialnie
Rzym, Lacjum, Włochy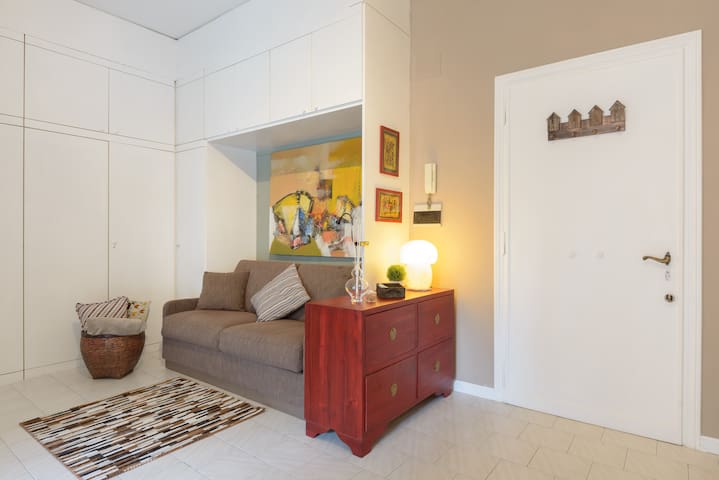 Our apartment is very cute, nice and cozy, with a nice garden, situated in a quiet and well connected to Rome, a few steps from the beautiful Villa Pamphili park. Comfortably accommodates two people, but also great for 4 people. parking for car .
Our apartment is on the ground floor of a building with separate and exclusive access to our home. It also equipped with every comfort. In a part of the garden of the house you can park your car,free. In the garden,there is an umbrella with a table and chairs where you can have breakfast or simply relax yourself. Accommodates two people, but it is also equipped with a sofa bed for two person. Possibility of adding two single beds in the loft bedroom or a cot for the baby on request. For the baby on request it is possible to have a stroller. The apartment is for the exclusive use of guests. Features: Interior dimensions: 51 mq External dimensions: 80 mq LOCATION: From the first bus: 300 meters By Subway: 3,5 km From the Vatican: about 4,6 km From Airport of Fiumicino Airport: 25 km (URL HIDDEN) From 'Ciampino Airport: 31 km A90/E80
It 's a quiet neighborhood where you can find everything: supermarket, pharmacy, post office, bank, tobacconists, bars, newsstands, photographer, greengrocer, butcher, fishmonger where every Tuesday and Friday morning is fresh fish ect ... Nearby there are two swimming pools and sports centers.
We were very well received at Maria's home. She left us all the useful information we could need and was available whenever necessary. The home was very pleasant and we could reach the metro stations easily by bus. Commodities (supermarket / market place / reviews' shop selling bus tickets ...) were really close.
Sophie
2014-09-04T00:00:00Z
Mari Rosaria was a wonderful host and very helpful with any questions or problems I had. Her husband was also very generous in driving me to the P Portese markets on the Sunday morning. The apartment was exactly as listed - everything one could need. It's about 12 mins walk to the H bus which takes you all the way to the Termini station. (I would recommend that you don't travel in peak hour morning traffic). I think it's also easy to get to the Vatican but I didn't go that way. It's was a lovely place to stay - near to supermarket and other shops.
Liz
2015-04-06T00:00:00Z
Very nice Place, loved it!
Flo
2016-09-29T00:00:00Z
Grazioso nido d'amore...accogliente e vicino al Vaticano! Proprietari simpatici e disponibili: dimora consigliatissima!!
angela
2016-07-30T00:00:00Z
Maria gave us a warm and friendly welcome, the place was spotless and very handy. Private parking and close to Rome centre. When I come next time to Rome, I'm not looking elsewhere. VERY HIGHLY recommended.
jean
2016-04-07T00:00:00Z
Old but fully functional home. About 10-15 mins walk to the various bus stops outside. Takes about 1+ hour to get back from the centre at night by bus (metro line A closes at 21:30 most days). Cosy little garden where you can park. Has a little loft with extra beds to accomodate a family with children. Great local pizza place nearby. Hosts were super nice and helpful!
Sheryl
2015-08-20T00:00:00Z
We had a lovely stay at Maria Rosaria's bright, spacious and fully equipped apartment. We were really grateful that the host allowed us to move in much earlier (around 8am) than expected. Massimo (Maria Rosaria's husband) met us in front of the house and provided us with necessary guidelines. Location is OK, quite far from the city center but in peaceful green district. It is a perfect place if you have a car. Otherwise, you can expect long bus waiting time and traffic jam (especially in between 8am-11am) as we did. The apartment is on the ground floor being a huge advantage as you become "the owner" of private outside garden area and parking space. We faced no problem with electricity, water, a/c. Everything was in perfect and working condition. The only disturbing moment was leaking shower tub - the bathroom floor was covered with water every time we took shower. Finally, we want to thank Maria Rosaria for being absolutely responsive (she replied to every request and/or message sent within 2 minutes)!
Anastasia
2016-05-11T00:00:00Z
Un'accoglienza speciale da una padrona di casa speciale: gentile, cordiale disponibile e premurosa. La casa e' un gioiellino. Pulita, con cortile privato, ampia, funzionale e ben arredata che non guasta mai :) La zona e' molto tranquilla e a due passi dalla fermata dei bus, dai supermercati e da un ottima pizzeria ristorante. Ci torneremo sicuramente. Grazie di tutto Maria Rosaria
Enrica
2016-01-05T00:00:00Z
Rodzaj pokoju
Całe miejsce
---
Rodzaj nieruchomości
Apartament
---
Mieści
2
---
Sypialnie
Rzym, Lacjum, Włochy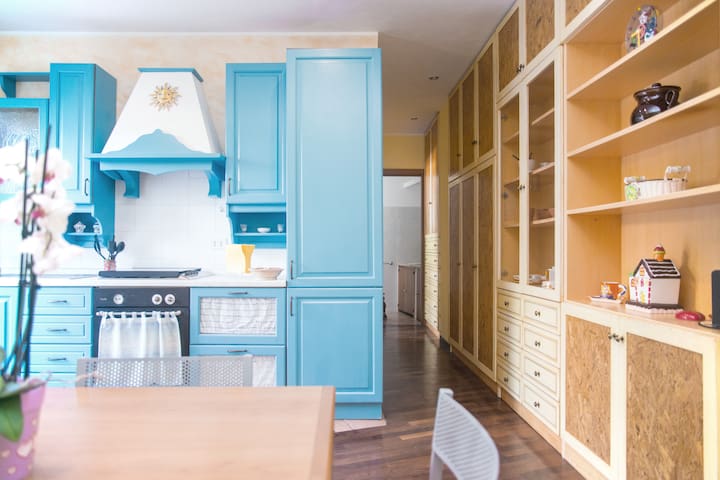 A very confortable house,in a quiet building and 7km far from downtown. Vatican area and St.Peter Dome.
A very confortable house situated only 7km far from city centre. Composed by a Bedroom with a Double Bed, Living Room with all confort needed for a great stay in the Eternal City (Tv, Internet, WiFi, Balcony, Garden with children playground). Perfect for Family and Couples. Is available a private free park if you prefer reach us by car.
a very SAFE Neighborhood, few blocks from city centre, with all services you need for not use the car. groceries shop, Shops, Restaurants and bar.
El apartamento limpio y dispone de lo necesario para cocinar ,nos vino a buscar al aeropuerto y fue muy amable ,muy atententos a todo .... inconvenientes ubicacion bus nocturno no hay y metro tampoko esta cerca y si no hay bus hay como 10 km andando IMPRECINDIBLE COCHE O MOTO por lo demas estancia perfecta
Nasar
2016-11-25T00:00:00Z
Paolo é stata una persona molto gentile e disponibile. Casa perfetta, comoda e corrispondente alle recensioni. Consigliata. Grazie a presto
RAFFAELLO
2016-09-09T00:00:00Z
I literally loved this apparment!! We enjoyed this place!! So so cute and clean !! Wifi was excellent and very equipped kitchen!! Bathroom was very relaxing with towel and hair dryer!! 10 stars for this appartment!! Highly highly recommend Paolo's place
Charmagne
2017-01-22T00:00:00Z
I booked an apartament by Paolo. That was really pretty on the pictures. After he told me that place is gonna be busy so he give me an other apartament what is more beautiful and bigger. We arrived and honestly I didn't like that place, it was dark and not so pretty... So I felt disappointed.
Dalma
2016-03-25T00:00:00Z
Stay was pleasant and place as described, we drove into Rome which was 30/40min drive on normal traffic. Kitchen is pretty small & one single hob available.
Katherine
2016-10-29T00:00:00Z
Appartamento molto pulito, accogliente e confortevole. Da evidenziare la cortesia di Paolo che si è' preso cura di noi e reso disponibile prima, durante e dopo il soggiorno ....e la zia, carinissima che si e' prodigata affinché il nostro soggiorno fosse perfetto! Grazie ! Lo consiglio sicuramente a tutti!
tizianagraziella
2016-11-28T00:00:00Z
It was a great place! With airconditioning and that was great with the Heat. It looks like the pictures. At night it was very noisy because of the Traffic. And the bus that stops in front of the place was horrible. It was never on Time and a few times 25+ minutes late. But the place itself was great!
Amee
2016-07-22T00:00:00Z
Apartment is in a nice part of Rome, just few meters away you have fast food, supermarkets and a small bar. We were with motorcycle (which is very good for Rome) so I don't know about public transportation, but bus stop is also near the house. We came unexpected one day early and Paolo and Guiliana prepared the apartment for us. The place is nice and clean and Guiliana is there to help you if you need anything. I recommend them to all other guests!
Marija
2016-10-20T00:00:00Z
Rodzaj pokoju
Całe miejsce
---
Rodzaj nieruchomości
Apartament
---
Mieści
3
---
Sypialnie
Rzym, Lacjum, Włochy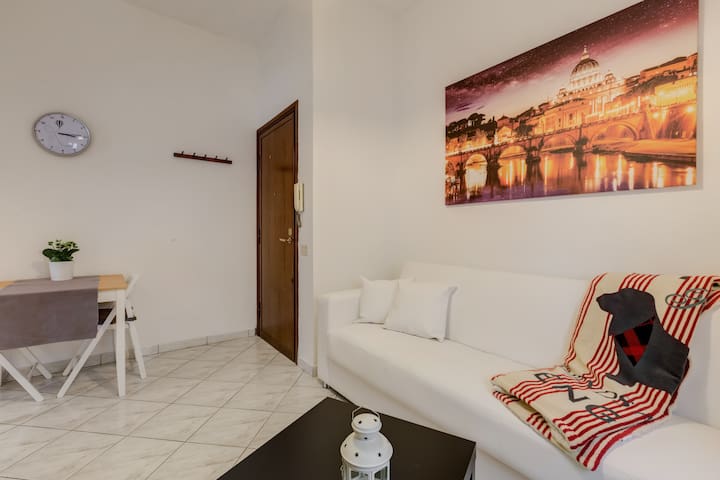 La Massimina-Casal Lumbroso - Airbnb
:
Średnia ocena:

4.64

/

5

gwiazdek od

953

gości
1

–

18

z

300+ Wynajmów apartamentów
Wpisz daty, by zobaczyć pełną cenę. Obowiązują dodatkowe opłaty. Cena może uwzględniać podatek.