Plně vybavené studio v rodinné atmosféře staré roubenky v centru Špindlerova Mlýna. Nachází se v 1.patře s krásným výhledem na sjezdovky ve Svatém Petru. Skibus a veškeré služby se nacházejí v dosahu 100m od ubytování. Rádi vám se vším poradíme.
Krásná horská roubenka v centru plna pohody
Ubytování je naprostá bomba,polohou-primo v centru, kousek od skibusu, všude blízko, i vybavením-nechybi nic.Anna usmevava, ochotná, s ničím nebyl problém. Vřele doporučuji!
Lucie
2016-03-12T00:00:00Z
A nice place to stay in Spindleruv Mlyn! Anna was very responding and understanding. Also flexible when it comes to our needs (we ask to remove one bed and we arrived delayed). The appartment is located right in the center of the town and has own parking space. Restaurants, bars, skibus stop and nice walking paths are right next to the place. To Svaty Petr you can walk on foot (it's a 10 minute walk). The appartment itself is well equiped, warm and nicely isolated from the noise from the outside. The only drawback I found is that it can be a little bit noisy inside as you can hear other tenants. It's not a problem when you are a couple but when travelling with a toddler who still naps during the day, it may be a little disturbing. But that's just a minor issue. Overall stay was very pleasant. Thanks!
Paulina
2017-02-13T00:00:00Z
We enjoyed a lot our stay with Anna. She was very friendly and helpful, and communication was quick. The flat is very cozy and perfectly located in the center. Everything was at hand: skibus, shops and restaurants. She was flexible for check-in / check-out time.
Karla
2017-01-11T00:00:00Z
En fin lejlighed, som er centralt beliggende, med nem adgang til spisesteder og skiløjper. Anna er en rar vært, som er nem at kommunikere med.
Steffen
2017-02-26T00:00:00Z
She is a friendly person and when we arrived she told us lots of useful informations regarding Skiareal Spindlermühle. We enjoyed our one-week-stay in the cosy and comfortable apartment, which is located very central in Spindlermühle and also moderate in price. Just an oven or toaster to bake buns was missing to us sometimes.
Heike
2017-03-12T00:00:00Z
A nice old-fashioned modest cottage! Very close to everything: centrum, slopes, bars and Silver Rock ;) I would recommend your place to everyone who likes peace and quiet but don't need luxury :)
Kasia
2017-02-20T00:00:00Z
Very Good!
Thomas
2017-01-20T00:00:00Z
Anna was fantastic. She met us at the bus stop. She and her family went above and beyond to help us.
Jonathan
2017-02-18T00:00:00Z
Rodzaj pokoju
Pokój prywatny
---
Rodzaj nieruchomości
Dom
---
Mieści
4
---
Sypialnie
Špindlerův Mlýn, Hradec Králové Region 543 51, Czechy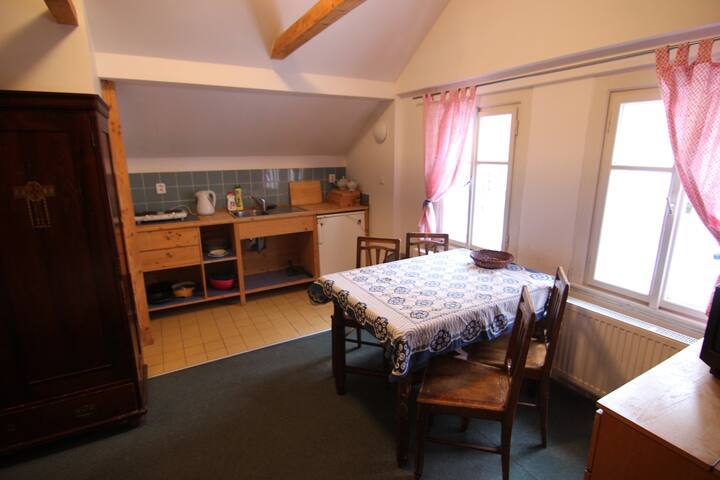 At 850 meters above sea level and 25 minutes from downtown Spindleruv Mlyn, well decorated and comfortable. In summer ideal for hikers. In wintertime, the ski in, ski out location makes a favorite lodging spot for skiers and boarders alike. Buffet breakfast included!
We offer you accommodation in the quiet family environment of one of the best locations in Spindleruv Mlyn - Svatý Petr Valley.
Spindleruv Mlyn is a dual season resort offering a range of activities in both -winter and summer. 100m to the bus stop with connection to the center or mountain lifts.
Super, vielen Dank.
Fabian
2017-02-03T00:00:00Z
We booked the room at Frantisek's place the day before we went there between Christmas and Silvester. Considering the low rate I was absolutely positively surprised when we arrived, it was great value for money. The beds were more than good, the room including bathroom was clean and every morning there was a fabulous breakfast served which I wasn't aware we're going to get for that price. Frantisek even arranged a breakfast on the day of our leaving at 6:00am, thanks for that Frantisek. I will go Barytka again a next time I go to Spindleruv Mlyn.
Bart
2017-01-04T00:00:00Z
Rodzaj pokoju
Pokój prywatny
---
Rodzaj nieruchomości
Dom
---
Mieści
2
---
Sypialnie
Špindlerův Mlýn, Hradec Králové Region 543 51, Czechy