A quiet neighbourhood in the beautiful mountain town of Kimberley. Minutes from skiing, mountain biking, hiking, golfing, the Kimberley Nature Park and St Mary's river and St Mary's lake.
Beautiful log home with unobstructed view of the mountains from multiple decks. Your rooms are located in private part of the house with full walk out basement onto your own private patio. Nicely appointed bedroom with adjoining private sitting room with loveseat, 50" flat screen TV and optic cable/internet. Lovely bathroom with large limestone tiled shower. Kitchen area with small fridge, sink and microwave. Kettle, tea pot, Keurig machine and assorted coffee's,tea's hot chocolate and apple cider.
Kimberley Nature Park across the street for Hiking and Biking. St.Mary's river is only a quick walk down the street where you can fish, hike or mountain bike by the river. Kimberley Alpine Resort is 10mins away
Jodie was very kind and hospitable. The room was very comfortable with plenty of room for suitcases, etc. The sitting room, bedroom and bathroom were nice and private. We loved the tea and coffee station, it was perfect while getting ready in the morning. We would definitely stay again and would have loved to stay for longer in this beautiful log home.
Sean
2017-03-11T00:00:00Z
A very welcoming family in a beautiful home. We had a very private room, which was clean and quiet. Great hosts, great place to stay at!
Erika
2016-12-29T00:00:00Z
I'd stay again in a heart beat and hope to come back. The accommodations are superb and the hosts outstanding. They absolutely made sure I was comfortable, happy and had everything I needed. Plus Jody loves to bake so eat up!
Carey
2016-12-28T00:00:00Z
Clean and cozy accommodations, and a warm, welcoming host.
Lynsey
2017-04-09T00:00:00Z
We had a fantastic stay at John and Jodie's place. They are wonderful hosts, are their animals are super cute. The basement suite is extremely comfortable, with a private bathroom and living room. The coffee machine is fully stocked, and there are plates, bowls, cutlery and a fridge if you decide to bring snacks and breakfast. All in all, and beautiful, secluded spot only 10 min drive from Kimberley. Highly recommended!
Daniel
2017-02-20T00:00:00Z
Thank you for the muffins and the great hiking advice! You guys have a beautiful home and it was great chatting with you.
Jack
2017-03-25T00:00:00Z
We had a short, relaxing and lovely stay at John's place. Very accommodating and kind hosts, great suite downstairs with a very comfortable bed, excellent shower and big screen TV. Everything was great. Thank you!
SALIMA
2017-01-02T00:00:00Z
Beautiful, clean and comfortable quiet getaway. The hosts were friendly and kind. We would definitely stay again.
Jaime
2017-01-26T00:00:00Z
Rodzaj pokoju
Pokój prywatny
---
Rodzaj nieruchomości
Dom
---
Mieści
2
---
Sypialnie
Kimberley, British Columbia, Kanada
Private 2 bedroom ground level suite located 5 min outside of Kimberley. On beautiful 10 acres in an unoccupied house. 2 nights minimum stay.
This cozy suite is located just 5 minutes from downtown Kimberly, a lively and picturesque community with cafes, shops and restaurants to dine in. This area of the Kootenays is surrounded by nature, perfect for recreational enthusiasts for all seasons. In the summertime you can find a wide variety of hiking and biking trails, lakes and rivers for all your water sports, and many golf courses within a half hour drive from town. The nearby St. Mary's River also offers world class fly fishing with guided tours available. You can even find a local river rafting company if you're in for some adrenaline! In the winter months Kimberly is a bustling ski town. The Kimberley Alpine Resort ski is located 5 minutes from downtown. There you can find cross country and downhill trails, snow shoe trails, as well as ski and snowboard rentals. This area is also known as a snowmobiler's paradise. Those looking for a distinctive mountain escape – or adventure, will agree, Kimberly is the place to be! If hunting is your sport, this region of the Rockies is great for Elk and Deer. There are many places within a short distance where you can find big game.
Fabulous place to stay! New, super clean, well appointed, with a grand view. Super big super comfortable bed - also with a view! Highly recommended, you won't be disappointed.
Christine
2014-11-06T00:00:00Z
A very Nice place, easy to find, in a percé fil ares not too far from the ski lift. It was very cleaning, very simple but Great. Can accommodante 5. Rita answers very quickly to my questions.
sophie
2015-12-31T00:00:00Z
We really enjoyed our time in Kimberley. The accommodation was spotless and in a very secluded setting. Lots of lovely towels and fresh linen. The suite does not comprise the whole house and so it is small for an extended stay. We enjoyed the views looking out at the friendly horses in the field outfront and excellent dining at the Old Baurenhaus. We had our first rafting experience on the local river which was very scenic. Kimberley is not apparently high on the tourist trail but all the more enjoyable because of that. Memorable!
Paul
2015-07-19T00:00:00Z
We really enjoyed our stay. The location is remote and beautiful, the house is clean and cozy, and the host was very quick to respond to all our questions. Horses made the place really special. Thank you Rita!
Natalia
2016-05-24T00:00:00Z
Really quiet- relaxing place.,
Karen
2016-07-05T00:00:00Z
We had a very pleasant stay in Kimberley. The apartment is located a few minutes outside of Kimberley in a very quiet area. We sat outside and watched the horses. Very peaceful. We also went on a few walks in the beautiful neighborhood. The apartment is modern and was very clean. Good mattresses and enough closet space for the four of us. One evening we had dinner at "The Old Bauernhaus" restaurant which we only can recommend to try out. They have excellent food, wine and beer. One day we went on a hike down the St. Mary's River to Marysville and had a coffee at the "Timber Hitch Coffee Shop". Good coffee and pastries. Watch out for bears and I would recommend to bring bear spray since we spotted a black bear, which is very common in Kimberley (at least this is what we were told). For swimming-we went to Wasa Lake and enjoyed the clean water. They have a few beach areas. We even found St Mary's Lake, which is a little bit of a drive and very hidden. Beautiful!
Annika
2016-08-23T00:00:00Z
Great stay, beautiful acreage with some nice horses. Quick drive from Kimberley, would definitely recommend staying here.
Graeme
2015-07-26T00:00:00Z
The moment we started up the gravel drive, we said to ourselves, "Couldn't we stay here longer?" The location was so inviting with its views of mountains, open fields, horses, and privacy. We even had two deer welcoming us in the morning when looking out the window. We found the suite clean with all that we needed to make our stay comfortable. It was a great base to explore hot mineral pools.
Geoff
2015-10-05T00:00:00Z
Rodzaj pokoju
Całe miejsce
---
Rodzaj nieruchomości
Pokój gościnny
---
Mieści
4
---
Sypialnie
Kimberley, British Columbia, Kanada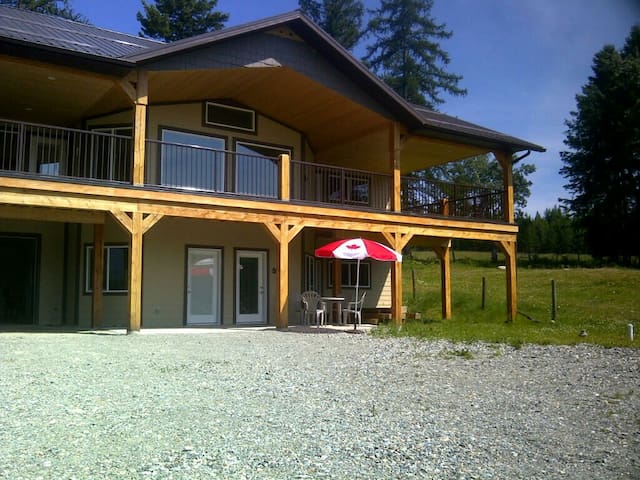 New, self contained basement suite. Walking distance to downtown, trails, parks and a small store 1 block away. Great community! Full kitchen. Queen sized bed, and sofa bed. Heated tile floors, very comfortable. HDTV & WiFi. Ski hill, golfing, 4 trail systems, lake and river paddling, endless hiking. Festivals, restaurants, downtown walking/shopping area, history... I am a professional canoeing/outdoor guide and instructor and can create custom trips or leadership training. See link below.
Laundry is only available on special request. There are stairs down to the suite. No bathtub, shower only. Guests are must be reasonably quiet as the owner is sometimes living upstairs. No parties please. Kitchen has a small fridge, microwave, countertop stove, small convection oven, pots and frying pans, cooking utensils, toaster, coffee maker, blender, and all the usual plates, bowls, cutlery, etc. Basics like cooking oil, sugar, spices and tea are also supplied. Bedding, towls, toilet paper, paper towels are supplied.
It's a very quiet neighbourhood. It's a great place to walk around with very little traffic. Great for kids. There are several small parks nearby. The houses in the area are some of the first built in Kimberley, in the 1920s, for the miners of the Cominco mine.
Great location in Kimberley! Newly renovated basement suite was clean and comfortable. Roger was great with communicating with us and was very helpful with advice about the area. We would definitely recommend this great value and hope to come back! Kurt and Brian
Kurt
2017-03-11T00:00:00Z
Roger's place was beautifully modern, cozy, clean and exactly what we needed as we adventured during the day and could come back to cook, fully relax and enjoy! A easy, short walk to town for all amenities, parking out front, excellent!
Danielle
2017-03-13T00:00:00Z
Rodzaj pokoju
Całe miejsce
---
Rodzaj nieruchomości
Dom
---
Mieści
4
---
Sypialnie
Kimberley, British Columbia, Kanada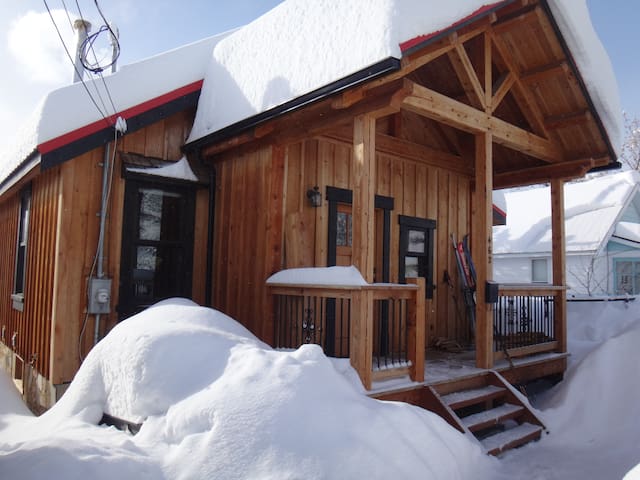 My home is close to biking and hiking trails, 15 minutes from airport, 5 minutes from ski hill, and has 3 golf courses in the area within 5 minute drive. Very quiet street so you can relax after a day of golf. Walking distance to Overwaitea and 10 minute walk to the Platzl.
Queen size bed suitable for 2 people.
Hike or bike the many trails starting right here only a block away.
The room is super comfy and was perfect for my needs. Diane was such a lovely visit, I would most certainly return to her place.
Bonnie
2016-09-16T00:00:00Z
Diane was great! She let me check in early to the room because i had a wedding to attend that day. There were pamphlets left in the room on places to go eat and things to do in Kimberley. The room was located right by the entrance which was very convenient as i was coming in late some nights. The bed was extremely comfortable and Diane left water by the bedside table for me. If i'm ever back to Kimberley i would definitely stay here again.
Cairns
2016-09-19T00:00:00Z
Our host made us feel special with a bottle of wine for our 30th Anniversary.
RUDY
2016-08-08T00:00:00Z
Diane was a great host. Her house is inviting. The room itself was clean, decorated nicely and the bed/bedding was incredibly comfortable. Will be staying with Diane again whenever my travels bring me back to Kimberley.
Eleanor
2017-01-09T00:00:00Z
Nice comfy room, lots of pillows! Biggest shower head I've ever seen! Diane had to step out before I arrive, but self check-in was easy. Diane was welcoming and very hospitable, fresh coffee ready in the morning. Worthwhile stop! Thanks.
Richard
2017-01-16T00:00:00Z
This place is very cute, everything you need and a friendly host! The bed is very soft!
Sherri-Ann
2017-03-12T00:00:00Z
The house was cozy and clean. Even though Diane was away, we were well taken care of.
Iris
2016-12-30T00:00:00Z
Lovely experience- Home, host and emma. i must say the bed and linens - wow! -slept like a little kitten. And lets not forget the location - one block from mtb heaven trail head - yeehaa! We will be back .
cecli
2016-08-06T00:00:00Z
Rodzaj pokoju
Pokój prywatny
---
Rodzaj nieruchomości
Dom
---
Mieści
2
---
Sypialnie
Kimberley, British Columbia, Kanada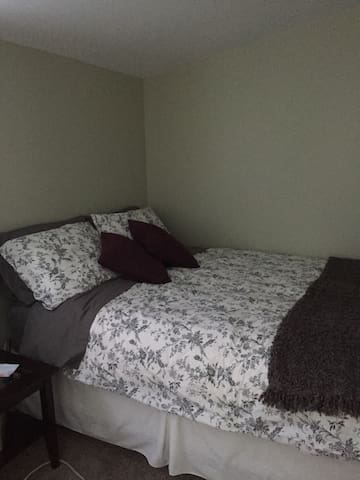 This cozy condo, on the ski hill, in Kimberley is a great place to relax, hit the hills, or escape to the 6 world class golf courses in the area. The complex is one of the few on the hill with ski in and out privileges and if you want to head down town for dinner and drinks, the town bus will pick you up and drop you off right out front.
Fireplace, BBQ, Mountain and Valley views, Stainless Steel Appliances, leather couches,
There are so many amenities and activities to do in the area. And it is 20 minutes away from an international airport
Rodzaj pokoju
Całe miejsce
---
Rodzaj nieruchomości
Apartament
---
Mieści
6
---
Sypialnie
Kimberley, British Columbia, Kanada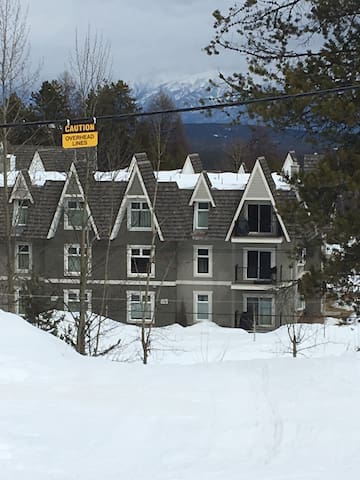 Located on the Kimberley ski hill. Close to hiking, biking and golf in the summer and a short walk to the chair lift during ski season. Nice room with queen size bed and private bathroom. Big screen TV, well equipped kitchen and hot tub.
Comfy place with a fully equipped kitchen, large TV, private hot tub. On the ground floor with access to the back yard. Short walk to the chair lift.
We really enjoyed our time at Andy's place! The atmosphere was beautiful both inside and out. We thoroughly enjoyed the gas fireplace and hot tub. We also appreciated how prompt and clear he was communicating with us! Definitely would recommend!
Nicole
2016-11-13T00:00:00Z
Awesome condo! Has everything you need! Chairlift is within a 3min walk!
Ashley
2017-02-10T00:00:00Z
Both Andy and his place were great. The place itself is private, cozy and clean, well equipped with everything we needed, right on the hill. The hot tub was wonderful after skiing. Absolutely great value. Andy was a great host as well, making sure everything was good to go, and was always prompt to respond to messages. Would recommend to anyone, and hope to stay again sometime. 5/5.
Tanya
2017-01-22T00:00:00Z
Andy's place is fantastic! Quiet & private with a nice view and a relaxing hot tub, it was the perfect place to stay for a couples getaway. Andy is very friendly and hospitable. We loved our stay at his place!
Julie
2016-09-08T00:00:00Z
We LOVED Andy's place! Gorgeous views from the private hot tub. Condo had everything you could need. Super comfy, warm and inviting. Very clean and well maintained. Honestly cant say enough good things about it. We're already looking to return in the near future!
Cara
2017-03-05T00:00:00Z
Great stay at Kimberley! The location and amenities make this place great, perfect spot for a weekend getaway. The size was perfect for two people, kitchen had everything you could need, cozy living room with gas fireplace. Hot tub to yourselves!? Awesome!! The condo is a 5 minute walk to the lifts, and a 5 minute drive to downtown. Overall a great value. Would recommend, and would stay again on a trip to the area.
Trevor
2017-01-08T00:00:00Z
Great location ... comfortable ... Andy is a fantastic host ...
Patrick
2017-02-12T00:00:00Z
Close to the lift.
Henry
2017-03-20T00:00:00Z
Rodzaj pokoju
Całe miejsce
---
Rodzaj nieruchomości
Apartament
---
Mieści
2
---
Sypialnie
Kimberley, British Columbia, Kanada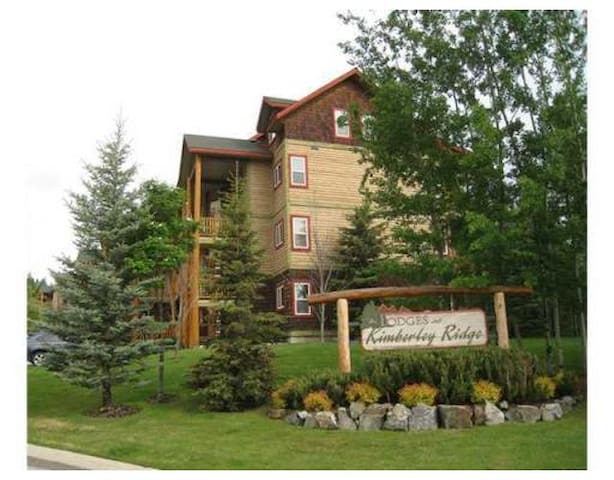 Casa Solar, great view of ski hill & area, perfect location 2 min walk downtown to restaurants, banks, stores. 5 min drive to ski hill & cross-country, hiking, bike trails, & golf courses. Self contained with private entrance solar powered living.
Double occupancy most comfortable, could accommodate 4 using double pull out couch in living room, unique solar home private suite, separate entrance, full kitchen, full bath with washer/dryer. Free Wifi, satellite tv with parking, storage for golf clubs, skis & bicycles.
Our neighbourhood is centrally located & easy walking distance to restaurants, shopping, visitor information found in or near the Platzl as well as many more amenities. A great area to walk your dog, lots of trails close by & off leash areas. Beware of wildlife in area & leash your dog as necessary. Also please pick up after your dog & deposit in containers provided.
Staying in Jori and Linda's solar house was awesome, and super inspiring. I want to build a solar house!! The place is PERFECT. We were lucky enough to be skiing there on a day when Jori was working as a mountain host and loved spending time with him in his paradise.
Laurel
2016-03-25T00:00:00Z
From the moment I contacted Jori I could tell how friendly and welcoming he was. He was quick with his responses, and accommodating to my schedule. Once I got to the home he showed me around the private suite, and gave me valuable information about Kimberley. The actual suite was extremely spacious and had everything one would need. The best part was the large private deck I had access to - a great view!
Bethany
2015-09-07T00:00:00Z
Excellent place! I highly recommend this house and host when in Kimberley. Will be back next year!
Brian
2016-07-18T00:00:00Z
This was a lovely suite, and Jori was a very welcoming host. He offered to pick me up from the airport, gave me a tour of the neighbourhood, and offered everything from advice on nearby hiking trails to fresh kale and basil from his garden. He was always prompt in our correspondence, accommodating (I brought my bike and he rigged up some bike storage for me), and quick to address any questions I had. The suite itself was cozy, spotlessly clean, nicely decorated, with great views of the ski hill and within convenient walking distance to the Platzl. The spacious rooftop deck was a perfect place to watch the sunset or take in the view of the mountains and changing fall colours. I would highly recommend staying here. Thank you Jori!
Krista
2015-10-05T00:00:00Z
We had a great stay in Jori and Linda's solar powered suite. The suite stated amazingly cool despite the 30+ August heat. The suite is clean, comfortable and the kitchen well stocked for eating in. Very centrally located for exploring Kimberley. We loved the rooftop garden, it is evident Jori and Linda take pride in their home.
Lori
2016-08-23T00:00:00Z
Booking and communicating with Jori and Linda was very efficient. They were both very welcoming. The suite is lovely - spacious, spotless, and well supplied. The stay was peaceful and comfortable.
Jessica
2015-12-28T00:00:00Z
This place is way better than the description. The view from inside the suite overlooks the whole town, and you're a five minute walk from everything you'd need. There's a huge balcony overlooking even more.. this place is not an airbnb throw together, it's well made and feels really great. The hosts are available and incredibly thoughtful. The morning we left, (New Years morning) they shovelled a way specifically from the door to our car. Also, they were very welcoming to our dogs.. Thank you so much! Would super reccommend this place!
cheyne
2017-01-01T00:00:00Z
Such a great location close to coffee shops, pubs, restaurants, shopping etc. The suite was clean, comfortable and warm. It was nice to have a dryer available to dry our damp ski clothes.
Brooke
2016-02-21T00:00:00Z
Rodzaj pokoju
Pokój prywatny
---
Rodzaj nieruchomości
Apartament
---
Mieści
2
---
Sypialnie
Kimberley, British Columbia, Kanada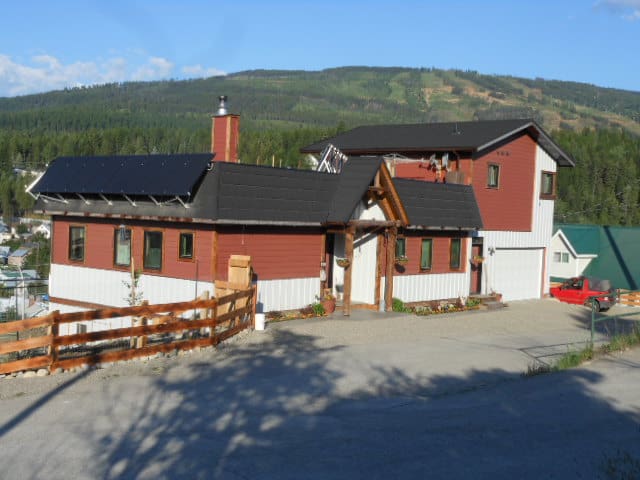 A unique all-season bed and breakfast suite, A B&B at 228 is an ideal getaway for couples and small families. Our guests will enjoy a warm reception, a private suite, sumptuous full breakfasts, free parking, internet access, hot tub and more...
The suite has its own separate entrance and comes complete with two bedrooms, two bathrooms (of which one is an en-suite), a full kitchen, dining nook, comfortable living area with gas fireplace, and private deck with hot tub and gas barbecue. With a sofa bed in the living area, the suite can sleep up to 6. Our guests will enjoy a warm reception, sumptuous full breakfasts, free parking, internet access and on-site laundry facilities.
Formerly home to the world's largest lead-zinc mine, which ceased operations in 2001, Kimberley is now a vibrant, year-round recreational community with a population of 7,600. Having adopted an alpine theme, Kimberley has become known as the "Bavarian City of the Rockies" where there is something to offer everyone whether it be the arts, cultural or historical attractions, local festivals and events, food and wine, or a myriad of outdoor adventures and activities during all four seasons. In addition, there is an abundance of lakes, streams and wooded areas close to Kimberley.
Amazing weekend! Beautiful suite, hot tub, comfortable, feel like home. Perfect location 3 min walking from the ski hill. Lorne and Gail are awesome and so welcoming. Breakfast were gigantic and delicious! Best place I've been in a long time.
Val
2016-02-07T00:00:00Z
My husband and I along with the rest of my family stayed at Lorne and Gail's beautiful place for 2 nights. We had an amazing time! Lorne and Gail were such wonderful hosts! Easy to communicate with and the place was super easy to find! It is located in a beautiful part of Kimberley and is walking distance to shops, restaurants, the ski lift, a playground and a basketball court! The breakfast Lorne prepares is simply delicious! It was our first time staying at a bed and breakfast and we could not ask for a better stay! Thank you Lorne and Gail for your wonderful hospitality. We highly recommend it to anyone!
Hazel
2016-06-13T00:00:00Z
Lorne and Gail's place was awesome, everything we needed and more. The private hot tub and area was perfect for myself and my husband. Lorne was so helpful and let us know about the the town shuttle, plus his breakfasts are amazing!! Thanks again, Courtney & Ryan
Courtney
2017-02-23T00:00:00Z
My wife and I stayed at Lorne and Gail's place for a little weekend getaway in Kimberley. Lorne and Gail were wonderful hosts and their B&B had everything we could possibly need. The location is great, easy walking distance to the ski hill, dinner and the Platzl in town. Two bedrooms and bathrooms, a complete kitchen, eating area and sitting area with a fireplace and a nice hot tub and BBQ outside. Kimberley itself is fun and we enjoyed both our cross country skiing and a 2 days of downhill skiing. We liked being able to walk everywhere. If possible we will try to come back again in the summer time to take advantage of the golf, hiking and mountain biking that is all close by. On top of everything else, Lorne's breakfasts each morning were amazing. We only wish we had bigger appetites to be able to enjoy more of it!
Geoff
2017-01-29T00:00:00Z
A lovely place to stay. Lorne and Gail were great when it came to my gluten intolerance at breakfast. I highly recommend this B & B.
Terry
2017-03-12T00:00:00Z
Lorne and Gail were perfect hosts, great breakfasts, location was close to the ski area, we had a great time and hope to go back again.
Mike
2017-02-17T00:00:00Z
Excellent apartment with very comfy beds. We enjoyed the BBQ and wildlife spotting from the hot tub. Lorne and Gail were brilliant hosts very friendly and the breakfasts are amazing. Would definitely recommend 228 and Kimberley.
April
2016-06-09T00:00:00Z
We have felt more than welcome in Lorne and Gail's apartment. The rooms were nicely decorated and everything was spotless. We were greeted with cold soda in the fridge. When Lorne learnt that it was my brother's birthday, he made him a cake. Lorne's breakfasts were simply amazing (self-made and fresh banana bread, fresh BC fruits,...). The apartment itself is in the nicest area of Kimberley, right next to the ski hill. We also enjoyed the nice walk to town. Lorne and Gail are great hosts and we will definitely stay here again on our next trip to Kimberley. Thank you!!
Isblle
2016-07-02T00:00:00Z
Rodzaj pokoju
Całe miejsce
---
Rodzaj nieruchomości
Wikt i opierunek
---
Mieści
6
---
Sypialnie
Kimberley, British Columbia, Kanada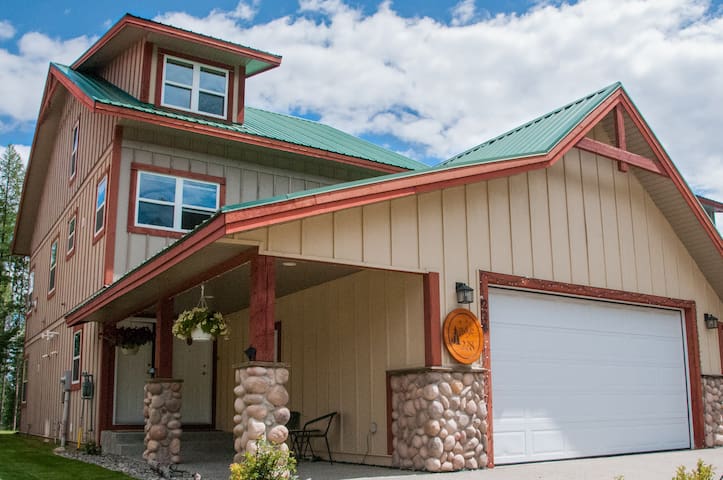 Cranbrook Airport 20 min. drive. This mountain retreat looks out to the Kimberley Nordic trails and over Trickle Creek golf course. The location is great for every season. From cross country and downhill skiing out your door to hiking and biking on the trails. The area is surrounded by golf courses, beautiful lakes that are great for kayaking fishing and swimming. Rails to trails is an amazing paved bike trail that takes you from Kimberley to Cranbrook. The adventures are endless!
Park the Car! This mountain location gives you immediate access to the Kimberley nature park for hiking and biking. And once the snow arrives it time to tackle the amazing Nordic trails or grab and board and hit the slopes. Maybe a hot tub to follow. BBQ on the deck Many options!
This unit is at the highest point on the mountain for accommodation. People are relaxed and friendly. The view Spectacular...Ground level ---- step out on the grass out the back overlooking the amazing and beautiful Rockies mountains with your favourite cut on the BBQ. Enjoy the panoramic view. Nothing like being on top of the world with an adult beverage in hand!
Great value. 300 meters to the ski hill, you can ski in right to the condo. Beautiful view!
Marina
2017-02-24T00:00:00Z
Great little condo in a perfect location for all your outdoor adventures. Short walk to the ski hill and in the summer hiking and mountain bike trails right out the front door. The bed was very comfortable and the space had everything you would need and much more. Sandra responded quickly and was very kind. Would definitely recommend these accommodations.
Tiffany
2017-01-22T00:00:00Z
Very close to the Kimberly Ski Hill. Real Ski in / ski out condo! Kitchen is furnished with all the utensils you'll need to make a good meal after a long day of skiing.
Steven
2017-03-19T00:00:00Z
Great little condo within walking distance to the main lift at Kimberley Alpine Resort, and ability to ski back to the condo at the end of the day. Sandra was easy to deal with and made the process very simple.
monique
2017-03-14T00:00:00Z
Great ski weekend getaway with everything you need to hit the slopes.
Sabina
2017-02-20T00:00:00Z
This condo is wonderful. Great location - walking distance to the Nordic Ski Centre, ski/walk to the Kimberly Ski Resort and minutes from xc ski at Trickle Creek golf course. Lots of room, cozy fireplace, quiet location with an amazing view of the valley! A must place to stay when enjoying Kimberly
Judy
2017-02-07T00:00:00Z
Condo was super clean. Located in a peaceful area that provided easy access to trails. Sandra was a great host. Hope to return soon!
Corinne
2016-08-26T00:00:00Z
Le logement est bien décrit il s agit d un "condo" au pied des pistes ... agréable en été comme en hiver !
arnaud
2016-07-04T00:00:00Z
Rodzaj pokoju
Całe miejsce
---
Rodzaj nieruchomości
Kondominium
---
Mieści
6
---
Sypialnie
Kimberley, British Columbia, Kanada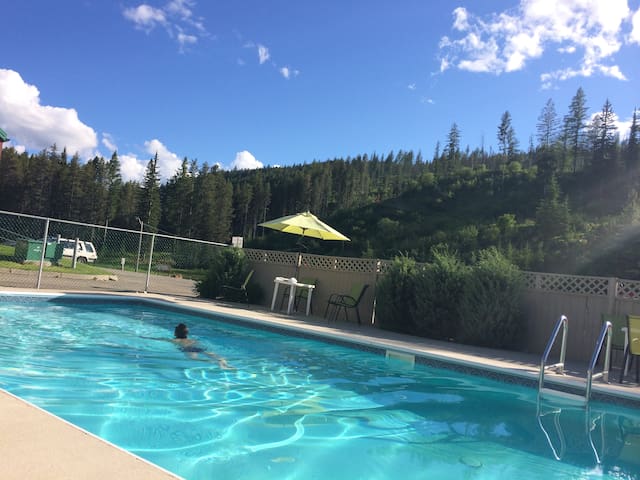 Top floor Mountain Chic Modern Condo - overlooking the Kootenays in Canada's sunniest town. Finely appointed & fully furnished 2 BR Unit. Unit includes in-suite o/u washer & dryer, microwave, range, fridge. Soaker tub in master bath and shower. the guest bedroom has a full bathroom that is also accessible from the kitchen / common area (living room).
Whether you are here enjoying world class golf courses, mountain bike trails, beautiful hikes, white water sports or trophy fly Fishing... you will find coming home to this modern, fully appointed, top floor unit with lifted ceilings and balcony - either before or after relaxing by the refreshing pool and soothing those sore muscles in the giant hot tub.
Rodzaj pokoju
Pokój prywatny
---
Rodzaj nieruchomości
Kondominium
---
Mieści
6
---
Sypialnie
Kimberley, British Columbia, Kanada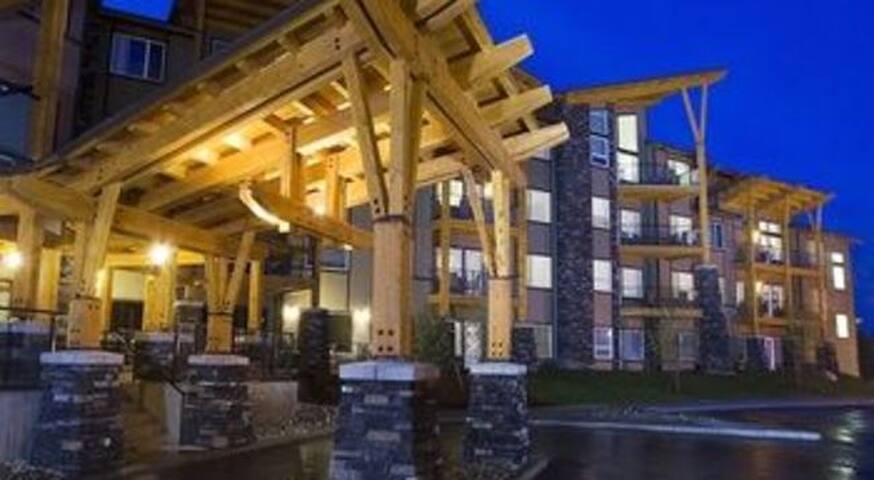 This is a unique house and you will surely enjoy it. Entire garden level of house is available (2 bdrms) and has private full bathroom, private entrance, fireplace. Partially heated with solar energy. Shared laundry and kitchen but private fridge.
Very respectful tenant/host lives upstairs. The entire garden level is @ 1000 sq ft and is the space for the guest(s). There is a choice of having one or two bedrooms, the price listed is for one bedroom/one guest. Your own private entrance and full bathroom. The kitchen is shared but there is a private fridge/freezer and microwave in the guest space. Access to yard, garden, sundeck, greenhouse is also included. Pet friendly, no smoking, students and children welcome. The fireplace is also in this space.
Directly across the street is a park, tennis courts, aquatic centre, recreation centre, soccer and baseball fields and curling rink. Five minute drive to the ski hill which is visible from the sundeck. There is a cross country ski and walking trail right out the back gate that is part of the Rails to Trails network. A nature park and another walking trail (riverside) 5-10 minute walk away. A central recreation hot spot with the downtown amenities 10-15 minute walk away.
Lovely mountain home with lots of character. very cozy and warm with a wood burning stove. Well kept and clean. Close to many amenities such as shopping and restaurants. The popular Platz and ski hill are also close by. I would recommend and would go back.
Rebecca
2016-03-04T00:00:00Z
My stay was very comforting. Great amount of my own space in the unit and really enjoyed the unique house and great hosts. Big fan of the trails right out the back gate and quick drive to the ski hill. Loved being able to check out the ski hill from the sundeck while having morning coffee.
James
2016-02-17T00:00:00Z
The house had a great living space and the host is one of the best I've had. I wish I had more time at this location to soak in all the adjacent amenities. The summer must be great here with the park right across the street. Loved the patio, bathroom, bedroom and central location. Hope to be there again soon.
Murray
2016-02-18T00:00:00Z
I had a great relaxing stay in Kimberley. There was plenty of space in the unique house. The host was very helpful and was able to recommend places to eat at. I would stay there again.
Jeff
2016-02-26T00:00:00Z
A lovely basement suite in a lovely mountain town. The upstairs tenants Shara and Maygan were very accommodating, and made sharing the kitchen a breeze. The wood stove was a great place to dry our ski gear and cozy up. Make sure to check out the platzl if you visit!
Alyssa
2016-02-15T00:00:00Z
The check in was super easy and well handled by the care taker Megan. She was very friendly and helpful. The basement suite was very roomy and quiet, with lots of good amenities. The wood burning furnace was a really nice touch and the host chopped the firewood for us. I did use the kitchen space upstairs in the shared part of the house and it was very comfortable and nice to chat with the hosts.
Willis
2016-03-25T00:00:00Z
Rodzaj pokoju
Pokój prywatny
---
Rodzaj nieruchomości
Dom
---
Mieści
4
---
Sypialnie
Kimberley, British Columbia, Kanada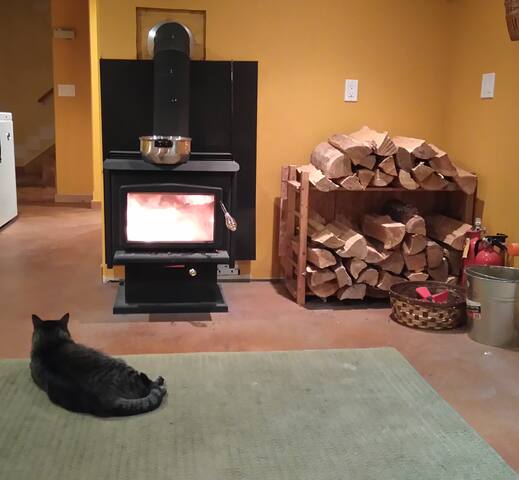 Situated on a quiet a cul-de-sac at Kimberley Alpine Resort this main floor unit backs onto a beautiful green space with views of Kimberley ski hill. Covered private deck with hot tub, BBQ, gas fire bowl & patio furniture. Willow Vistas offers ski-in, ski-out access in winter and access to walking/biking trails and golf courses in summer. Inside you will find a cozy gas fire place, comfortable beds for 7 guests, fully equipped kitchen with granite counter tops, puzzles & games for family fun.
This main floor unit backs onto large lawn area. Lots of room for kids to run and play outdoors. We just love not being confined to a balcony space. No stairs to climb after a hard day of skiing, boarding or biking. Lots of deer and the occasional moose wander through the natural reserve and pond area behind the WV property. This end unit is especially quiet and private. We are sure you will enjoy it!
Enjoy alpine skiing, cross country skiing, snow shoeing, winter fat bike riding. Short walk to Trickle Creek Golf course and the ski hill base. Many golf coursed in the area. Great snowmobiling at Lumberton near Cranbrook. Lucier natural hot springs at White Swan Provincial park. Short drive to Moyie Lake, Wasa Lake and Fort Steele heritage park. Restaurants and shopping in downtown Kimberley and more in Cranbrook 20 minutes away. Take in a Junior A hockey game, watch the Kootenay Ice play in Cranbrook.
Great condo! Lots of sleeping space and a well stocked kitchen. Very clean. The games were a bonus, good family fun!
Jodie
2017-03-23T00:00:00Z
Very cozy comfortable condo. Very clean, hot tub was awesome!
kraig
2017-04-02T00:00:00Z
We highly recommend this place and would definitely stay here again!! Very conveniently located to ski at Kimberley (you can essentially ski to and from your place with only a short walk to the end of the street). Carol has provided many well thought out, and helpful details. The hot tub, fireplace, internet access, Netflix, etc made our stay very enjoyable! They even have a set of walkie-talkies to use. It also very family friendly!! (Even has some kids Nintendo 64 games) Lots of room to sleep our whole family (large bed in the master bedroom with ensuite bathroom, a double and single in the other room, and a day bed and hide-a-bed in the living room). Thanks Carol!
Cameron
2017-03-26T00:00:00Z
Me and my girlfriend had a wonderful stay at Carol's place. The kitchen was fully equipped with any essentials we needed. There were 3 coffee makers! We really enjoyed the hot tub which had alot of privacy as did the whole patio. You can see the ski hill from it and you can ski right to your door if there's enough snow. It was tastefully decorated with very comfortable beds/couches. It looks way better than the pictures and exceeded our expectations in every way. The entertainment system with several video games/dvds/full cable/netflix was an added bonus as was the bbq. Carol responded promptly to any questions/concerns we had throughout our trip. I would highly reccomend this place to anyone and it would be great for families as well. Absolutely loved it!! The only bad part was that we had to leave.
Tim
2017-03-11T00:00:00Z
Great place to stay with a family. Lots of great things included for use during your stay -family games, tv, Netflix, Nintendo and hot tub. The outdoor space has lots of privacy. Friendly community, and helpful neighbors.
Amy
2017-03-02T00:00:00Z
This is a very high end condo, beautiful furnished and decorated with everything you could need and more in the kitchen. The private hot tub and fire bowl on the deck just adds to making this place special.
Christine
2017-03-19T00:00:00Z
Our experience at Carol's condo was phenomenal! The place it beautifully decorated, in the perfect location and so comfortable and spacious! Carol has thought of everything. She was also easy to reach if we needed anything. Everything we could possibly have needed for an enjoyable stay was at our fingertips. The value was incredible with the capacity to comfortably sleep 4-6, a well-equipped kitchen, BBQ and private outdoor hot tub with view of the mountain. Incredible experience! We would love to stay here again if we're ever in the area. Thanks so much for everything Carol!
Maria
2017-03-07T00:00:00Z
Rodzaj pokoju
Całe miejsce
---
Rodzaj nieruchomości
Kondominium
---
Mieści
7
---
Sypialnie
Kimberley, British Columbia, Kanada
Large and bright walkout 1000 square foot basement suite with brand new queen bed, available double cot, single cot and baby playard in living space, Shaw cable, PVR and internet included and within walking distance to downtown. Private yard space includes firepit, gas BBQ and seating area. Located beside Lois Creek trails for hiking, biking and cross country skiing. Down the street from the corner grocery store and Kimberley Medical Clinic and two children's parks.
One bedroom, one bathroom with shower and full kitchen make this walkout basement suite unique to Kimberey and a heritage home in general! Originally built for Kimberley's doctor in 1937, this home is being lovingly restored and is a cozy space to stay and visit Kimberley. Our city motto is "A Good Place to Be" and our home reflects that. As it is an older home, please note the ceiling height is only 8' so our taller guests may not be as comfortable! It does tend to creak and settle in the night as well so if you are a light sleeper we have a white noise machine to help you sleep more comfortably should you need it.
We live in Townsite, the original "town" of Kimberley. Our house is located within a 7-10 minute walk to the Platzl, the heart of Kimberley, and you can find the Mark Creek grocery store, two banks, many restaurants and shopping there. We are also located by three children's parks, two across the street and one up the hill, Cominco Gardens, Kimberley Medical Clinic, skating rink, small corner grocery store and access to the extensive Lois Creek trails, which is also an off-leash area for dogs. You can see the ski hill from our backyard and it is a short 5 minute drive to the base. It's the perfect location to stay in Kimberley!
It was a nice place, but we couldn't accommodate 4 people as it offered, since the second "bed" had that typical "hole" in the middle that won't let you sleep comfortably. We also were blamed for a blind that was bended. None of us were sure we did it, although we all saw it. I never met the host, so we can't say for sure it we did it, but none of us did. We just were told where to find a key and where to leave it after. Fishy there.
Charlie
2016-03-02T00:00:00Z
Clean, quite and comfortable place. Short drive to downtown Kimberley. Yard was a great place for R&R. Brandi was super accommodating with our schedule.
Hannah
2016-07-26T00:00:00Z
The host canceled this reservation 25 days before arrival. This is an automated posting.
Aoife
2016-12-04T00:00:00Z
Brandi was easy to get a hold of and the place was nicely organized and easy to find. Great for our weekend trip.
Grace
2016-07-25T00:00:00Z
Had a great stay, relaxing, clean and short walk from main town. Great host very good at communicating.
Karen
2016-08-24T00:00:00Z
Beautiful home. It was so clean and nicely decorated. The ceiling is a bit lower but my husband is 6'2'' and was still ok. Would highly recommend this place.
Erin
2016-08-07T00:00:00Z
Great stay! Location close to downtown Kimberly. Accommodation was clean, with all the amenities. Brandi was helpful, and responded quickly to our requests.
Glenn
2016-09-12T00:00:00Z
Our stay at Brandi's place was very enjoyable! The place is really nice, spacious and comfortable. Brandi was really quick to answer the questions we had. The backyard is really nice and we got to enjoy a nice camp fire. Everything we needed and more!
Josiane
2016-08-07T00:00:00Z
Rodzaj pokoju
Całe miejsce
---
Rodzaj nieruchomości
Dom
---
Mieści
4
---
Sypialnie
Kimberley, British Columbia, Kanada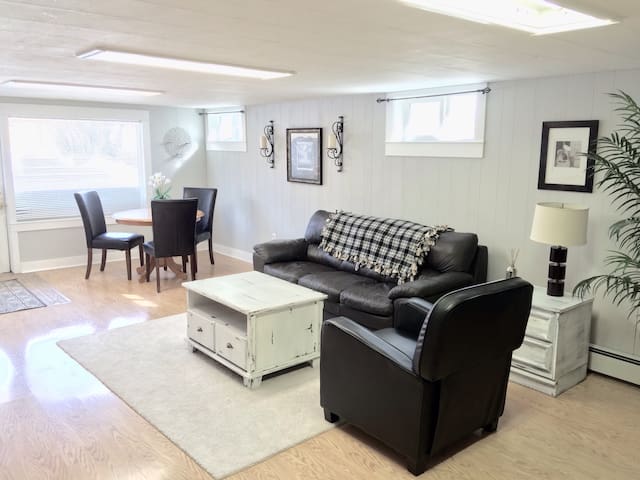 Unique 3 level cabin (SLEEPS 8 ADULTS + KIDS) located within City limits in a secluded Mountain Community, by Kimberley Nature Park. Rocky Mountains, Purcell Mountains.Endless outdoor activities in proximity (18 hole putting course,championship golf courses,hiking,skiing,natural hot springs/waterfalls,lakes)
This very unique, spacious, and well-furnished log cabin has everything you need to enjoy a relaxing vacation. Bring family and friends, this unforgettable getaway can accommodate small to large groups. There are 4 bedrooms, including a loft space, that are furnished with 3 Queen beds, 2 Queen size sofa beds, and 2 bunk beds (1 Full/Full, 1 Single/Full). This cabin can comfortably sleep 8 ADULTS and 4 KIDS! On each level there is a bathroom. Also, the lower level has a laundry room. The outside of the cabin is quite spacious with 3 HUGE decks. The front deck is equipped with a BBQ and outdoor patio set to enjoy the natural environment with deer that visit the yard almost daily! The upper back deck is a semi-private sanctuary to relax in the afternoon sun on comfortable lounge chairs. Enjoy lunch or dinner conversations on the large patio set, also on the upper back deck, where it's very easy to unwind hearing the many species of birds sing along. If you need space to escape the afternoon sun, the lower back deck is shaded and perfect to cool down. To get the full cabin experience, enjoy a fire outside under the stars with good company and fireside snacks. Or when the weather gets colder, take that time to relax and enjoy company indoors; there's nothing better than dimming the lights, throwing some logs in the fireplace, and playing some tunes to pass the night away! But don't let the cabin keep you in one spot, there are many activities in the surrounding area to enjoy! Right outside the cabin door is a very well maintained 18 hole putting course, 36 Hiking and biking trails for all physical levels, and the beautiful St. Mary's river is only a quick walk down the street where you can fish, hike around the river or take a dip to cool off from the Kootenay summer heat. The town of Marysville is only 2.5 km away from the cabin and has a gorgeous 30m (98.4ft) high waterfall to view! *Please note : -Our Strata prohibits the parking of boats, trailers, all terrain vehicles etc. -Taxes are now included in price -Firewood for outdoor firepit/indoor fireplace not provided, please purchase wood in BC if coming from out of province.
Downtown Kimberley, only a short 7 min drive from the cabin, offers a wealth of accessible amenities. These amenities include: an aquatic center, shopping, and dining at the Platzl where there is more than 30 restaurants and coffee shops to please any appetite including German, European, Thai, Mediterranean, Chinese and Canadian cuisine. ----------------------------------------------- Kimberley offers both winter and summer activities for the entire group! Summer activities: •White water rafting •Fishing tours •Kayaking/Rafting •Hiking •Mountain biking •Swimming •Golfing •Mini- golf •Annual July fest! – Live music, beverage gardens, and local vendors serving delicious food. July fest is home to one of the biggest soccer tournaments in North America, an extreme down hill long board race, and a kid's festival! ----------------------------------------------- FOR ALL THE GOLFERS OUT THERE! The area boasts championship golf courses close to the cabin for all skill levels! Lots of these unique golf courses are award-winning golf destinations. Offering breathtaking, scenic views of mountain peaks, river valleys and forested hillsides that are sure to not disappoint! Kimberley Golf Club Course (2 km from cabin), Bootleg Gap Golf Course (5 km from cabin), Trickle Creek Golf Course (9 km from cabin), Shadow Mountain Golf Course (19 km from cabin), St. Eugene Golf Resort and Casino (23 km from cabin). Wildstone Golf Course (25 km from cabin) This area is known for its abundance of sunshine; boasting 2,125 hours of sunshine per year. Kimberley is part of the Sunniest area in all of BC! Temperatures vary throughout the year from January's average of -7.5°C/19°F to July's average of 26°C/78°F. ---------------------------------------------- Winter activities: •Skiing/Snowboarding •Mountain tours •Cross country skiing •Backcountry skiing •Snow Shoeing •Fat biking •Skating •Dog sledding •Snowmobiling- Sledders will find everything from beginner to extreme mountain riding here, some of the best in the East Kootenay's! ---------------------------------------------- Kimberley is noted for its elevation and ranks itself among Canada's highest cities (elevation of 3,643 ft). It receives an impressive 500cm/200in of snowfall in the winter which makes it a very popular destination for skiers, snowboarders and people who are just wanting to enjoy winter activities without freezing. --------------------------------------------- Kimberley Alpine Resort offers world class skiing where beginner to advanced skiers and snowboarders can enjoy 80 runs (with 20% beginner, 42% intermediate and 38% advanced trails). For a fun experience try skiing in the night under the stars (Thu, Fri, Sat). Fresh powder, good vibes and sunshine, no wonder Kimberley attracts skiers from around the world! ----------------------------------------------- The cabin is only 16 km (14 min) from the (YXC) Canadian Rockies International Airport! After arrival it wouldn't take long for you to get on the mountain skiing, or to challenge yourself at a round of golf!
This is a gorgeous house settled right near Kimberley, with a pool and a putt-putt golf course that you can walk to. It has a big television, two patios, and so many comfortable beds! Great place to stay, and Wayne & Alisha are so accommodating.
Dave
2016-07-27T00:00:00Z
My stay at Wayne and Alisha's cabin was exactly as I expected! It was a perfect getaway from city life. The place was as described with all the things we needed for the weekend. The fire pit provided a superb night setting for star gazing in their yard and the beds were really comfortable. Fishing at the St. Mary River was a short walk and trails are aplenty near the cabin. But, the best thing was waking up with a coffee and walking out to the front porch only to be surprised with deer feeding on the grass in the yard. Truly memorable. Thank you guys again for hosting my friends and I.
Edward
2016-08-30T00:00:00Z
Great stay at Wayne and Alisha's. They were easy to communicate with and responded quickly to any questions that we needed answered. It was difficult to find a place to accommodate 4 families and this worked perfectly. Looking forward to our next stay!
Ashley
2017-01-02T00:00:00Z
Had a great time. Great location and would stay here again in a heartbeat
Kalin
2016-09-25T00:00:00Z
Our annual couples golf weekend was absolutely perfect thanks to Wayne and Alisha and their beautiful cabin! The hosts were quick to respond to any questions and concerns and provided very detailed directions. The log cabin was perfect to accommodate six adults, we all had a very comfortable queen sized bed. The cabin was spotless clean when we first got there and the kitchen was fully equipped. I loved the towels provided in the bathrooms, so soft! Cooking was easy with the bbq and large kitchen. It was nice to sit out on the front balcony for the morning sun and have our coffee and relax on the back balcony at the end of the day. It was nice on one of the cooler days to have the wood burning fireplace inside. The location is perfect for a golf weekend as it is close to the courses we played. We will definitely be back next year!
Cheri
2016-06-27T00:00:00Z
Wonderful house, exactly as advertised. Very clean and had everything you needed for a great trip. Really close to everything Kimberly has to offer.
Adam
2016-09-12T00:00:00Z
Beautiful cabin that comes equipped with everything you need. Pictures are accurate and hosts were friendly, prompt with communication and easy to deal with. We had a great time in Kimberley and the cabin was a great place to host our group.
Tysen
2016-07-18T00:00:00Z
Wayne and Alisha's vacation house is fantastic! A beautiful home in a nice neighborhood. The place was clean, comfortable and warm! A very enjoyable stay! Thank you!
Andrei
2017-02-12T00:00:00Z
Rodzaj pokoju
Całe miejsce
---
Rodzaj nieruchomości
Dom
---
Mieści
12
---
Sypialnie
Kimberley, British Columbia, Kanada
My place is on the Mountain,looks out to Kimberley Nordic Trails and over Trickle Creek Golf course. You'll love my place because of the views, the people, the outdoors space.... Every season!. My place is good for couples, solo adventurers, families (with kids), big groups, and Pets are negotiable!
Our location allows you to leave your car parked and start your vacation from the front door. You can hike and bike with the Kimberley nature park across the street. Then once the snow arrives, throw on your skis and tackle the amazing Nordic trails available or grab your board and hit the slopes. So many options!!
Great value. Would go back.
Llana
2016-08-14T00:00:00Z
We had lovely stay here! The views are fab from the balcony and lots of nice walks to do nearby. We had our 4 month old baby with us and the house was cosy and comfortable for baby. Host was great with recommendations and prompt at returning any queries. We would return here!
Claire
2016-09-26T00:00:00Z
Stephanie was a great host! Her place was beautiful, and very comfortable, great for a weekend trip to the mountains. Great communication, very quick responses from Stephanie and she makes sure we are taken care of. Will definitely stay here again!
Sally
2017-03-05T00:00:00Z
Stephanie goes the extra mile to help. She isn't at location, but she sure is on the ball with everything. Stephanie responses to my queries were super fast. The outside of the building is a tiny bit outdated, but Stephanie keeps the unit in fantastic condition, clean and tidy! Totally recommend Stephanie's place for anyone wanting to enjoy Kimberley.
Eddie
2017-02-02T00:00:00Z
Great place to stay near the ski hill in Kimberley. Clean and comfortable. Everything that's needed is provided. Will check it out again for the ski season.
James
2016-09-06T00:00:00Z
Stephanie was great and very communicative. Nice 2 bed 2 bath condo very near the ski trails. Would be great for a family. Close to the trails to the Kimberly base and easily ski back to the condo. Right near the xc trails too. Kimberly is a great mountain, very chill!
Leighann
2017-04-03T00:00:00Z
Stephanie's place was great, fit our little family (3 kids myself and my husband) very well. I loved how available Stephanie made herself for us and any questions we had. Was a fun ski trip!
Terra
2017-02-19T00:00:00Z
Can't go wrong! North Star express chair is within a 7 minute walk then a quick shoot down the hill. There's plenty of games and activities for adults and kids within the condo and the espresso machine will be a hit for sure. Stephanie has set up a perfect family friendly affordable rental that includes fido on the family trip! From the top of Tamarak chair I was able to get back to the condo within 15 minutes including the short walk along northstar dr. If your on the fence on where to spend your families hard earned money on a ski vacation Kimberley should be on the top of your list in terms of value and quality skiing. Some resorts focus on quantity but suffer from high prices and huge crowds, dont be put off by the small number of ski lifts here! Kimberley has put together more quality skiable terrain using 3 chairlifts then some of the bigger expensive resorts with Many more chairs. All in all great value w/ plenty to keep everyone entertained. I would not hesitate to recommend this to anyone looking for a ski in/out rental.
Justin
2017-01-22T00:00:00Z
Rodzaj pokoju
Całe miejsce
---
Rodzaj nieruchomości
Kondominium
---
Mieści
6
---
Sypialnie
Kimberley, British Columbia, Kanada
Comfortable home with view of the Rocky Mountains and Kimberley ski hill. Private room in a family home. Cozy wood fireplace. Attractive bedroom with adjoining private sitting room, own bathroom, comfortable pull out couch for additional guest.
Our home is very comfortable. Heated by gas, supplemented with wood by a wood stove fireplace. We enjoy music and have a baby grand piano to share if you are so inclined! We have a very gentle, well trained, and remarkably quiet (seriously!) mid size dog. We enjoy an outdoor lifestyle, healthy food, good friends, music and fresh bread!
Our neighbourhood is very unique as the houses are some of the oldest in town with lots of quality and character. We have no back alley, but rather, our back yard backs on to the forest with a view of the Rocky Mountains to the east. A small creek trickles by in the forest below our home in the summer. The sunrise comes directly into the kitchen making it awash with beautiful morning light. Designated walking biking and cross country trails abound just steps from our door, making this one of the most desirable neighbourhoods in town. Our location is extremely quiet, and our back yard is very peaceful, especially at night as no light can be seen, unless the moon is out!
Kathy's house is cozy, clean and comes with an absolutely beautiful view to wake up to each morning. Kathy, her son Drew and even their puppy Rio are the most warm, welcoming, friendly family with lots of funny stories to share. This household brought me so much happiness!
Erica
2016-10-18T00:00:00Z
Kathy and Drew have been the best hosts that we have had. They are the nicest people and go the extra step to make sure you are welcome and comfortable. We stayed for a month and they went above and beyond what we expected. The room and lounge area are private and comfortable. The view to the rockies is gorgeous. We will always remember our time with them and I am looking forward to keeping in touch in the future.
Ashlee
2016-09-03T00:00:00Z
We absolutely loved staying with Kathy, her son, and their dog, Rio, who are outstanding hosts and such lovely people (yes, Rio is his own person :p). They made us feel very welcome in their beautiful and comfy home, conveniently located near the city centre and Kimberley ski resort. Kathy met and exceeded our expectations with her good nature, attention to detail, and easy-going attitude. We had a great time getting to know our hosts and learning about their great town. We look forward to visiting them again in the summer!
Milana
2016-02-16T00:00:00Z
My husband and I had a wonderful stay at Kathy's place! Very lovely and welcoming home close to downtown and hiking/biking trails. We look forward to coming back!
Alexandra
2017-02-19T00:00:00Z
Very welcoming. Hope to return!!
Gale
2016-07-27T00:00:00Z
Kathy and her son Drew were most welcoming and accomodating. The space seemed newly renovated - very attractive and clean.
Linda Mae
2016-03-13T00:00:00Z
Great place to stay! You will feel right at home.
Arianna
2017-03-19T00:00:00Z
My son and I felt very welcomed by Kathy. The place was nice and clean. We left to go dinner and when back, we had a great conversation with Kathy and Drew, her son. We had great time conversing together.
Françoise
2016-04-29T00:00:00Z
Rodzaj pokoju
Pokój prywatny
---
Rodzaj nieruchomości
Dom
---
Mieści
3
---
Sypialnie
Kimberley, British Columbia, Kanada
Shared Space; Private Cozy Bedroom with 4 piece Bathroom. Enjoy beautiful views of the Rocky Mountains from the Hot Tub! Includes Parking, Kitchen, Dining, Living Room, Laundry, Deck, BQ, Wifi, Cable, Netflix and BlueRay! Ski in/Ski out, close to Golf Courses, Hiking, Biking and Cross Country Ski Trails!
Clean, quiet and comfortable. Diana is a great host.
Erin
2017-04-10T00:00:00Z
Diane's place is the second turn to the right after you go under the ski lift tunnel. It was ideal for accessing the groomed x-country ski trails. It was great to sit in the hot tub at the end of the day and look at the wall of mountains across the Rocky Mountain Trench.
mary
2017-03-23T00:00:00Z
Loved staying at Diana's place! The view from the hottub was breathtaking. She was so lovely. Provided us with breakfast.
Joanna
2017-03-21T00:00:00Z
Such a beautiful place to stay with such an wonderful accommodating host!! The condo has spectacular views, especially from the hot tub! We will be bringing our skis next time as you can ski right from the condo! Diana had so much info to offer on where to go for coffee and food and which sites to checkout! She was also incredibly easy going about us leaving our pooch while we went for dinner. We will definitely stay here next time we visit Kimberley! Thanks again Diana!!!
erin
2017-02-18T00:00:00Z
Our stay with Diana was fabulous. Diana gave us a warm welcome. She was very helpful. The bedroom is large with a bathroom right next it, The bed was one of the most comfortable I ever slept in! We used the hot tub after skiing and before bed. The location was super convenient for us as we were skiing. The access is right out the door I highly recommend this place Thanks again Diana for a lovely stay!
Marie-France
2017-02-26T00:00:00Z
What a beautiful place to stay! Ski in - ski out with no problem, enjoy a hot tub with an insanely beautiful view of the mountains, and then enjoy a wonderful sleep on the most comfortable bed! Diana is an amazing host who goes above and beyond - she kept an eye on traffic and road conditions for me, made fresh coffee and even provided breakfast! She's super friendly and laid back. I went alone, but going as a couple or a friend would work (if you're ok sharing a bed) no problem. She even took me into town and we had supper together one night! This is a great new addition to Air BnB and I'm willing to bet once people start finding out about it, it'll be sold out months in advance. If you're reading this while it's still available,I'd book asap - the perfect place to stay in Kimberley will book up fast!
Rachel
2017-03-05T00:00:00Z
The hot tub has great views. The bed is very comfortable. Diane makes good coffee and makes you feel at home.
Barbara
2017-03-31T00:00:00Z
Rodzaj pokoju
Pokój prywatny
---
Rodzaj nieruchomości
Kondominium
---
Mieści
2
---
Sypialnie
Kimberley, British Columbia, Kanada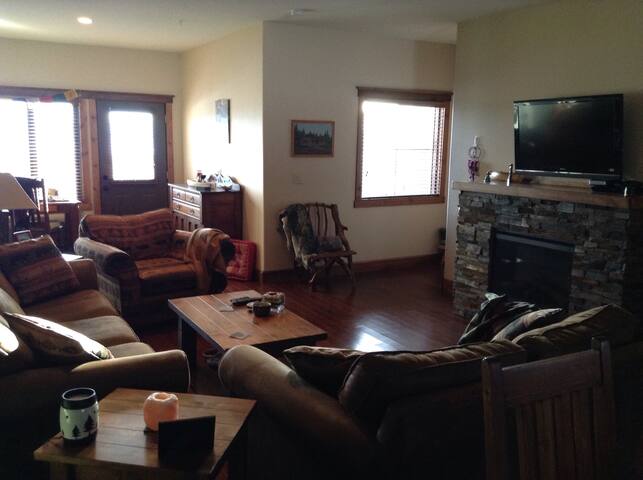 Bright & beautiful room available, sleeps 2. Home has mountain views , private yard with gardens, quiet sitting areas, quiet street. Close to trails, golf courses, short drive to other amenities.
Our home is cool because we are on a back street, away from the main highway. It is very quiet here and often can feel like your in the country. Most people say they have amazing sleeps because of the fresh mountain air and peacefulness. The space listed is a double room great for single or double travellers. It has a very comfortable queen bed and a full closet and dresser for you to fully unpack for the duration of your stay. It is always fresh and clean!
There are loads of places to walk around here, we have direct access to one beautiful trail and are a few minutes from the popular Rails to Trails, which is a paved pathway with some spectacular views. We live in a subdivision of Kimberley called Marysville. The main part of town is a 5 minute drive away and has all the shopping and restaurants. Here in Marysville however there are no restaurants currently (some on the way!) but there are lots of other cool places to check out such as Fruition Wellness. They have registered massage therapists and an acupuncturist! So great if you are needing some TLC while on vacation! The Marysville Falls is also a main attraction and is a lovely 5 minute walk to see them.
i was in kimberley on business during the holidays. they invited me to a christmas party which was really nice because i was in town by myself. definitely went out of their way to make my stay enjoyable. the dogs were awesome and very friendly as well as well-behaved. i highly recommend
gerrard
2016-12-18T00:00:00Z
The host canceled this reservation 5 days before arrival. This is an automated posting.
Andrea
2015-09-30T00:00:00Z
A lovely house in a beautilful and wild area ! It was great to see deers on a street in the morning !! Perfect informations before coming, Thanks Alicia !! pierre et charlotte
charlotte
2015-08-01T00:00:00Z
This was our first experience with AirBnB and we were very happy with it. Allissa is a very welcoming, open, enjoyable hostess and her home was perfect as a base for our visit to Kimberley. We had the use of the kitchen facilities, the bed was comfortable, and the antics of her dogs proved very amusing. There is a scenic walking trail within a block of the house and a great used book store and pub not much further.
Roche
2017-01-23T00:00:00Z
Allissa was a fantastic host! She made us feel very comfortable and we had access to the BBQ in the backyard. Their 3 dogs are lovely and well educated. We enjoyed our stay at this place and the emplacement is great. Even if we arrived earlier, Alissa was welcoming. Thanks for everything!!
Marie-Pier
2015-08-20T00:00:00Z
The host canceled this reservation 65 days before arrival. This is an automated posting.
Sandi
2016-06-07T00:00:00Z
Dear Allissa, We had a nice and convenient stay in your house, which we can fully recommend. Thank you so much. Regards, Carsten
Carsten
2015-11-28T00:00:00Z
Lovely host, lovely house, lovely dogs, lovely town… and even lovely borscht! What more could you ask for? We had such a nice time, we almost didn't leave :)
Jeremy
2015-10-02T00:00:00Z
Rodzaj pokoju
Pokój prywatny
---
Rodzaj nieruchomości
Dom
---
Mieści
2
---
Sypialnie
Kimberley, British Columbia, Kanada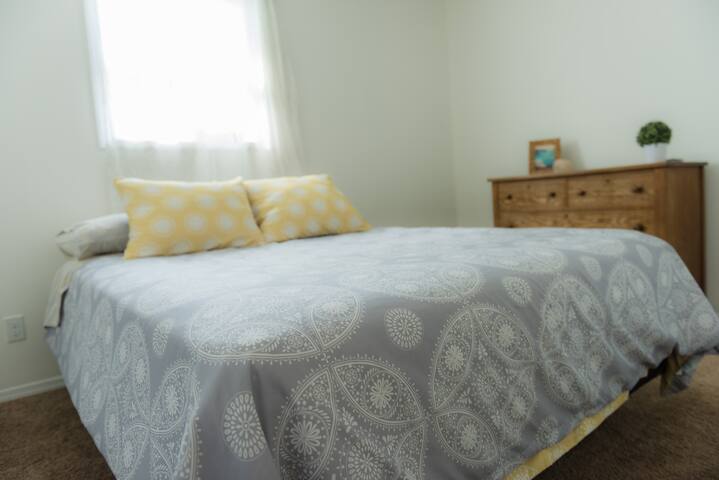 Wpisz daty, by zobaczyć pełną cenę. Obowiązują dodatkowe opłaty. Cena może uwzględniać podatek.