beautiful colorful and wellness room in the city center offers direct access to all the services of the city. The private room provides guests with all the comforts of a normal house. food to cook basic supplies clean beds, towels etc.
This was my second experience on airbnb. I travelled to Kavala alone and booked a room in this apartment. It is a large apartment with three rooms actually and i could stay in the double room as i wished. Everything went very well and i liked the apartment really much with its facilities. Apart from the rooms there is a bathroom and a large kitchen with everything inside. Although i came in the early morning of Saturday, they welcomed me and i could get in the apartment easily. Fotis the owner, is really helpful and so friendly, his communication is very good, he knows what hospitality means, so, thank you very much again. I found my apartment in Kavala, i do not search for anywhere else next time. Thank you.
Mustafa Bahadır
2017-02-26T00:00:00Z
It was a good stay.
Cristina
2017-02-27T00:00:00Z
Logement central qui vous permettra en quelques minutes d'être sur le bord de mer et de là, monter jusqu'au château (attention, cela grimpe bien). L'appartement est bien équipé, de quoi vous faire à manger si vous le souhaitez. Bonne expérience !
Romain
2017-04-03T00:00:00Z
We stayed in Kavala only for two nights and we visited only to see some friends who live nearby. The flat was perfect for what we needed as it was in a good location and well equipped so that we didn't need to buy anything such as coffee, milk etc. We stayed during a very cold snap which meant we had some problems with the hot water in the shower but this was not the owner's fault. The flat is very comfy and is great value as a base to explore the city and the countryside. The hosts were very nice and met us even though we arrived a bit late in the evening. Would definitely book again in the future!
Chris
2017-01-08T00:00:00Z
nice and central of kavalla room
Thomas
2016-11-15T00:00:00Z
The room and the apartment are very large and clean, near the centre and the port. Fotis and his cousin Thanos are very kind.
Niccolò
2016-10-16T00:00:00Z
Clean and spacious room. With 10 minutes walk to the city centre.
Kelvin
2017-03-23T00:00:00Z
Ο Φώτης ήταν εξυπηρετικός, ευγενικός και απόλυτα "εύκολος" στην επικοινωνία! Το δωμάτιο είναι πολύ ευρύχωρο, όλοι οι κοινόχρηστοι χώροι ήταν άνετοι και πεντακάθαροι, όπως και οι υπόλοιπες παροχές (σεντόνια, πετσέτες κλπ). Ο Φώτης προσεγγίζει την υπηρεσία του με μια πολύ τίμια και επαγγελματική ματιά.
Pavlos
2016-10-30T00:00:00Z
Rodzaj pokoju
Pokój prywatny
---
Rodzaj nieruchomości
Apartament
---
Mieści
2
---
Sypialnie
Kavala, Grecja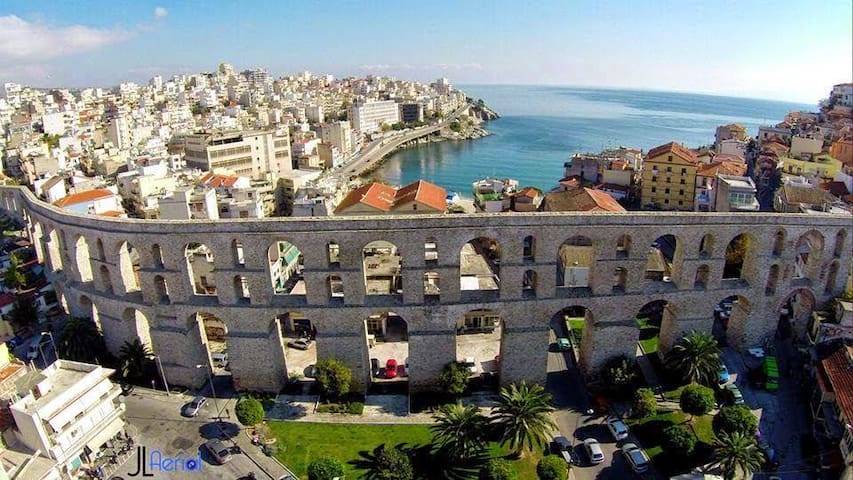 Sunny apartment with a view of Kavala, with a balcony and a yard. You can be at the center of town in just five minutes!
Our neighborhood is friendly and peaceful. Our mountain is close and beautiful for a nice walk or hike. There are small shops close by for any groceries you may need.
Η μητέρα της Συνθια,Θεά! Η κυρία Νίκη μας υποδέχθηκε σαν να γνωριζόμασταν χρόνια ! Μας έκανε να νιώσουμε σαν στο σπίτι μας από την πρώτη στιγμή ! Με πλήρη διακριτικότητα.Το σπίτι ήταν καλύτερο από ότι στις φωτογραφίες .Όμορφα διακοσμημένο,καθαρό, λειτουργικό,με ανέσεις που δεν τις συναντάς συχνά.. Το λουτρό ολόκληρο δωμάτιο. Η τιμή πολύ καλή για τις παροχές του σπιτιού. Την Σύνθια την γνωρίσαμε μια μέρα πριν την αποχώρηση μας αλλά οι εντυπώσεις ήταν καταπληκτικές όπως και η κόρη και η μητέρα της! Το συνιστώ ανεπιφύλακτα ! σας ευχαριστώ πολύ, θα σας θυμάμαι με αγάπη ..
Yamini
2016-07-26T00:00:00Z
Cynthia's apartment was one of our favorites on Airbnb. It's big, airy, and bright, meticulously cleaned and generously equipped in the kitchen and bathroom. We really enjoyed the large balcony for meals outside with near-panoramic views of Kavala. The decor and interior design of the apartment is very Greek and Cynthia did a really nice job making the place feel cozy and comfortable. The apartment is inside a duplex house in a typical residential neighborhood with kids playing outside on the streets, neighbors chatting, and folks relaxing on their patios and balconies. Parking is not a problem but for walking, keep in mind the apartment is up near the top of a steep hill about 12-15 minutes from downtown. Makes for a scenic walk but definitely a bit of an exercise. Cynthia was a great host, very responsive and flexible, and paid attention to a lot of details other Airbnb hosts do not. We would absolutely stay there again when back in Kavala.
Ondrej
2016-09-19T00:00:00Z
Diese Unterkunft war einfach wunderbar. Genau wie beschrieben und noch besser. Wir wurden verwöhnt mit Getränken im Kühlschrank bei der Ankunft , 2 x pro Woche Handtücher und Bettwäsche, was sicherlich nicht selbstverständlich ist. Die Wohnung ist sehr geschmackvoll eingerichtet und es wurde alles, was der Gast benötigt, zur Verfügung gestellt. Die sanitäre Einrichtung war sehr gut und komfortabel. Das war wirklich klasse! Die Wohnung liegt weit auf den Hügeln über der Stadt und die Parkmöglichkeiten sind beschränkt. Aber! wer die Stadt kennt, weiß dass dies der Normalfall ist. Dafür wird man mit einer grandiosen Aussicht belohnt. Die Nachbarschaft hat uns sehr nett aufgenommen. Also Gratulation, es war alles super. Wir bedanken uns!
Monica
2016-08-20T00:00:00Z
If you decide to visit Kavala, Cynthia's magnificent home is your best choice! Not only that it is lavishly furnished, with typical Greek interior full of bright and vivid colours, but also you have large terrace from which you can enjoy the sea. The house is situated in a very quiet neighbourhood, especially during the night, and is very close to the center of Kavala (bear in mind that you have steep climbing on the way back :) Cynthia was extremely polite and she gave us full privacy. The house was full of all sorts of amenities that you can think of, so you really do not need to bring anything else than your positive attitude. I recommend strongly this home and hope that we will be able to come back some day. Thank you, Cynthia!
Irina
2016-09-26T00:00:00Z
Amazing appartement, comfortable and cozy. Located outside the centre in a quite and authentic neighbourhood. As Cynthia is furthermore a great host, this seems the perfect place for visiting kavala.
Alexander
2016-10-13T00:00:00Z
ΠΟΛΎ ΌΜΟΡΦΟ ΣΠΊΤΙ ΜΕ ΚΑΤΑΠΛΗΚΤΙΚΉ ΘΈΑ Η ΣΥΝΘΙΑ ΕΊΝΑΙ ΠΟΛΎ ΚΑΛΉ ΟΙΚΟΔΈΣΠΟΙΝΑ ΤΟ ΣΥΣΤΉΝΩ ΑΝΕΠΙΦΎΛΑΚΤΑ
SIMONA
2016-10-06T00:00:00Z
Όλα άψογα συνιστάται ανεπιφύλακτα.
Tasos
2016-08-30T00:00:00Z
Perfect, amazing, excellent I can't find a word to describe this lovely house. The owner of the house Cynthia and Niki are wonderful persons always helpful and friendly with a smiling face all the time. The house has an amazing view of Thassos island, Kavala castle and the port of Kavala from the large balcony you can watch the sunset . You can find everything that you need in the house. So bright, peaceful neighborhood with a walking distance to the city centre, perfect location. We will definitely be back to this lovely house. I highly recommend to anyone this house. No need to search another place just book and go this wonderful house. Dear Cynthia and Niki thank you for everything
Gokce
2016-07-11T00:00:00Z
Rodzaj pokoju
Całe miejsce
---
Rodzaj nieruchomości
Apartament
---
Mieści
2
---
Sypialnie
Kavala, Grecja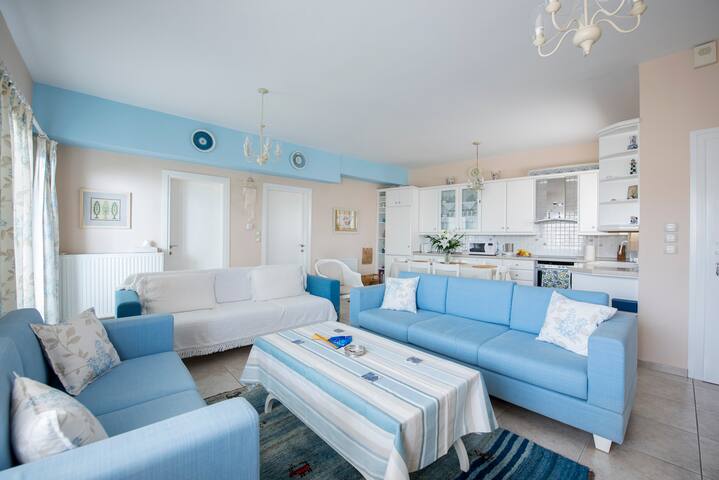 -My place is close to nightlife, beach, Kavala castle, cafes, restaurants, 5 minutes from the city center. My space is suitable for couples, families (with children) and pets.
-In the Old Town or otherwise in the district of Panagia visitors can admire buildings, paved and monuments, that you think they have escaped from a dusty old book.
Small neat apartment,in the old part of Kavala,only 5 min from the city center.There is a nice sun terrace whit sea view.It is very quiet (URL HIDDEN) is parking for car which is very important.Sofia and her family is very hospitable.The apartment is very clean.The furniture is not new but is very cozy.The kitchen has everything you need.Wi fi is good.Romantic place.
Elizabet
2017-03-26T00:00:00Z
Rodzaj pokoju
Całe miejsce
---
Rodzaj nieruchomości
Dom
---
Mieści
4
---
Sypialnie
Kavala, Grecja
Cosy apartment in the old town of Kavala, a place which every visitor in Kavala has to see. Incredible view of Thassos Island.
The apartment consists of two rooms. One (where the entrance is) has a kitchenette, a double sofa-bed a small table and a closet.This room serves as living area but the sofa bed can accomodate 1 adult or two people (queen size). The second room is the bedroom equiped with a double bed. From this room you can get out to the balcony which has an amazing view of the sea and the surrounding area including Thassos island. Lastly there is also a small bathroom equiped with a shower. Furthermore there is a barbeque area on the balcony that can be opened for you per request.
The house is situated in the most traditional area of Kavala (Old town) a place that every tourist in Kavala have to visit. The main attractions of the area are the City Castle (5 minutes walking uphill), the lighthouse with the excellent view and the statue and house of Mehmet Ali, an Egyptian Pasha (high ranking official) that lived in the city (also 5 minutes walking from the property). Walking towards the city center you will pass through the old aqueduct of the city (nowadays call "Kamares"). If you enjoy swimming in rocky shores you can easily go swimming in 2 minutes walking from the property. Please note that there are several strThere are also another 2-3 places you can go swimming in Panagia, all with small stones and/or rocks. If you prefer sandy beaches the are several steps on the way to and from the sea which wouldnt be a problem for the average person but it might be for the elderly or someone with mobility issues places you can go in Kavala and the surrounding areas but you will need some sort of transportation.
Everything was perfect. The host's were helpful and kind. The apartment is a dream and we couldn't be happier. We recommend this strongly!!!
Patricia
2016-09-22T00:00:00Z
Πολύ όμορφο και άνετο σπίτι. Η θέα από το μπαλκόνι μαγευτική.Λίγο με το παρκάρισμα δυσκολεύεσαι αλλά έτσι είναι όλες οι παλιές γραφικές περιοχές. Θα ξαναπάω Καβάλα και σίγουρα θα το ξανακλείσω αν είναι διαθέσιμο.
Bill
2016-08-22T00:00:00Z
Un appartement très agréable situé dans la vieille ville de Kavala. La literie est neuve et il est équipé avec tout ce dont j avais besoin (repassage, sèche cheveu, serviettes). La cuisine est petite mais permet de préparer facilement à manger. La maison est climatisée (mais je ne m en suis pas servie) et le wi-fi fonctionne bien. Il y a aussi une télé (mais je ne l ai pas allumée). La maison est dans un endroit calme et les cafés et endroits qui bougent sont à 10 mn à pied. Idem pour le ferry et les stations de taxi. Le bus pour l aéroport est à 20 mn à pied (avec valise) de la maison. Et évidemment, la terrasse est superbe. Elle est plus grande que le laisse penser les photos et la vue est à couper le souffle. Je recommande donc chaudement.
Gaelle
2016-07-23T00:00:00Z
First of all, we loved the apartment. It was nice and cozy, and even nicer than it is on pictures. The view is so good you don't even have to leave the apartment :) everything you need, you have there, it felt like home for us, and we would definitely go back. Everything was in 5 minutes walk, beach, bars, shops, beautiful sights, museums are also all in a circle of 15 min walking, etc. We didn't meet Dimitris, but spoke with him on the phone. He seemed nice and friendly and helpful. His parents were also really nice, they helped us with some problems we had and never bothered us. We loved the apartment and Kavala and we would recommend it to everyone.
Tina
2016-07-30T00:00:00Z
The house of Dimitris is exactly how its describe on the announe. You will enjoy a nice view on the sea and a comfortable flat situated in the old town of Kavala. I highly recommend it.
Maxime
2016-10-04T00:00:00Z
Rodzaj pokoju
Całe miejsce
---
Rodzaj nieruchomości
Apartament
---
Mieści
4
---
Sypialnie
Kavala, Grecja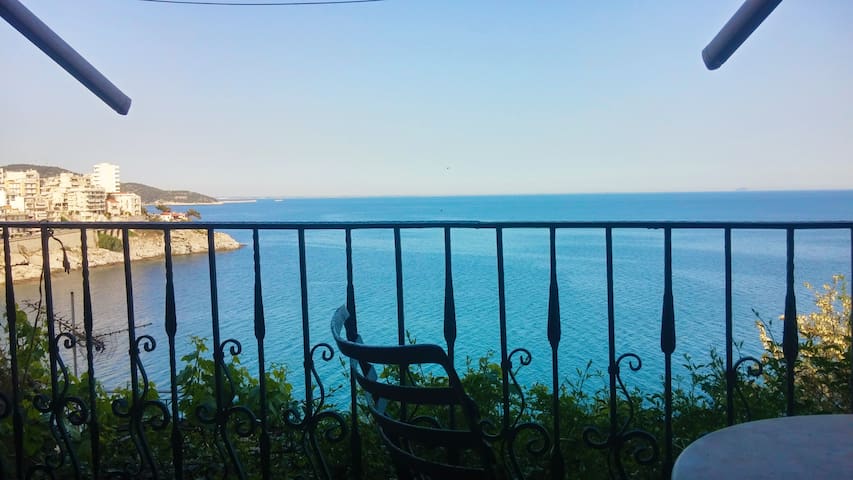 Comfortable studio with all amenities located on a hill offering a beautiful view from its spacious terrace. 5 minutes away by car from the center. 250 meters away from the nearest organized beach offering a beach-side restaurant and café bar.
Sofía Was very kind with us even we didn't see her. But her brother Andreas was a gentleman totally. He helped us in everything and even he picked us up from the Kavala center.(on foot 30 minutes and by car 3 minutes). It's very near to the beach(Kalamita) 5 minutes by walking. I totally recommend this flat.
arantza
2016-08-05T00:00:00Z
Everything was great.
Momchil
2016-09-25T00:00:00Z
The apartment is located at peaceful street, far from the busy and loud places and very close to the beach. The view from the terrace is gorgeous (as is shown on the photos). Everything inside is like new, in excellent condition! Friendly hosts. This is just a nice place for an awesome vacation!
Denis
2016-05-25T00:00:00Z
The host canceled this reservation 65 days before arrival. This is an automated posting.
Panos
2017-04-05T00:00:00Z
We've spent great 4 days in Kavala. The city is beautiful and Sofia's flat is just as it looks on the pictures. It is nice, clean and comfortable and has splendid view over the sea. Sofia is a great host, very helpful and polite. I would definitely recommend the flat and would come back again
Georgui
2016-08-31T00:00:00Z
We spent wonderful time in the apartment. It was very clean and looked like as in the photos. It was comfortable and well equiped, with a large terrace with a nice view to the sea and Thassos island, ideal place for a morning coffee, daily meal and evening contemplation of the sea. The apartment has a good and convenient location, very close to Kalamitza beach and also a shot drive to other beautifull beaches like Toska and Amolofi. Quiet neighbourhood. We would come again.
Silvia
2016-09-11T00:00:00Z
The apartment is superb - the hosts have thought of any detail you might need to feel at home. It is bright and cosy and terrace is great with its sea view. The location is perfect for someone who would like to be at a walking distance from a nice beach and not far from the centre, and stay in a quiet residential area at the same time. The bus stop is just 2 minutes away from the place and it takes 10 minutes to be in the very centre of the town. Sofia and Andreas are very very kind and welcoming! Thank you so much for the hospitality!!!
Isabella
2016-09-20T00:00:00Z
I came to Kavala with a friend for 11 days and it was a very happy days with a comfort at Sofia's appartament. Near the appartament (5 min) located Nea Kalamitsa beach (Blue flag), big supermarket, some small cafe and bus station to the centre (7-10 minutes to the center). Sofia ave very friendly and hospitable host. Everything was good!
MARIIA
2016-08-20T00:00:00Z
Rodzaj pokoju
Całe miejsce
---
Rodzaj nieruchomości
Apartament
---
Mieści
4
---
Sypialnie
Kavala, Grecja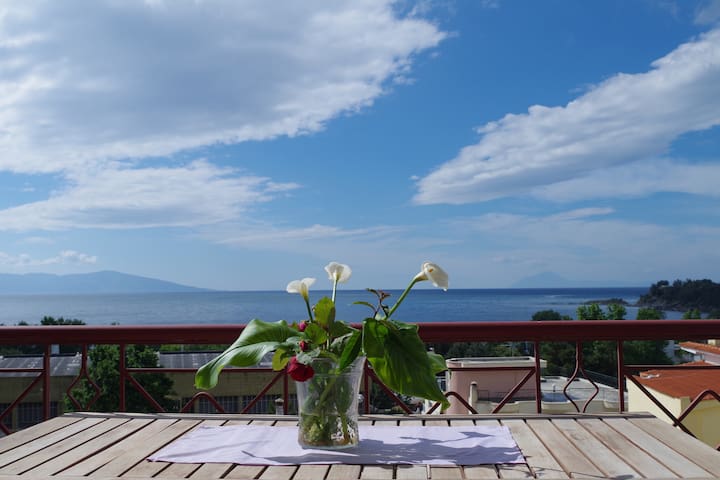 SWEET DOUBLE ROOM is furnished for max. 2 accomodates with 1 Double Bed The room comes with fresh washed bed linen and towels.
SWEET DOUBLE ROOM is furnished for max. 2 accomodates with 1 Double Bed. The room comes with fresh washed bed linen and towels. If you wish, you can use the kitchen to prepare breakfast/lunch/dinner! IF YOU ARE MORE PEOPLE, YOU CAN BOOK ALSO MY SWEET SINGLE ROOM AND SWEET DOUBLE SUITE ROOM JUST INDICATE IT ON YOUR REQUEST I WILL MAKE A SPECIAL OFFER My SWEET HOME home is composed by: Sitting Room with Fireplace, Open Space Kitchen Area, 3 bedrooms: SWEET SINGLE/TWIN ROOM SWEET DOUBLE ROOM and SWEET DOUBLE SUITE ROOM 2 bathrooms with WC, Sink and Shower, garden and FREE PARKING and can host max. 6 adults children sleep with you on the same bed with mammy and daddy My SWEET HOME is situated next to the little forest, the lung of Kavala, you can breath the very fresh air of the city in completely relax away from noise and traffic, but on the same tome 5 minutes walk from the bus stop to city centre, my SWEET DOUBLE ROOM offers you a confortable stay in Kavala. In the city centre you can enjoy shopping, short or long walks by the sea side having fresh drinks or coffees, swimming and more. Kavala offers a variety of beaches with clear blue waters, where you can enjoy the sun, the sea and water sports. The most popular are: Periyali, Rapsani, Kalamitsa, Batis, Tosca, Palio, Iraklitsa. Many of them have won the blue flag environmental award. If you wish, I can help you find what you need. Tranfer Surcharge to your destination, ask for it, I'll be glad to take you everywhere you need, Ferry Boats to Thassos Island, Bus Station (KTEL), Airport of Kavala/Thessaloniki Please, contact me via message for further instructions to reservation.
Thanks Ana for the nice place to stay. Kavala is absolutley worth it to see! And if you have time please check out the archeological place in Philippi. The room was perfect for us; and we liked the new bathroom as well. When you come by car; there is no problem with the parking. Ana's parents are good hosts - no problem with the communication in english and german ;) Her mother was happy of course to train her german again. So we recomend that place for a stay in Kavala.
Mitko
2016-08-31T00:00:00Z
First off all Kavala is the marvelous place to see. Ana's house was comfortable. It is in perfect location. Especially her parents are really kind and hospitable. We love them. We will come back to kavala again someday and we will stay Ana's house for sure
Azra&neco
2016-07-11T00:00:00Z
We had just a stopover in Kavala and this was a very good place to spend the night. We slept beautifully and Ana's mother's breakfast was marvellous!
Matthieu
2016-08-07T00:00:00Z
We highly recommend Ana' s place. It is just like at the description. It is near to the center of the city. There was a place for parking. The house is great. The room was cozy and very clean. The bathroom was like new - beautiful, clean and bright. Ana's mother welcomed us really warm. She was really nice to us. We loved Ana's place and the beautiful city of Kavala so when we decide to come back we will definitely chose again this place. :)
Svetoslav
2016-06-26T00:00:00Z
Room was nice, location of the house was also close to the Kavala centre. Ana's parents were very helpful.
Ufuk
2015-06-29T00:00:00Z
This was my first experience with airbnb and we had an unbelievable stay. Anastasia's family were hosts of the highest order. Mamma Sofia made us feel right at home and made us delicious breakfast (with Frappe) in the morning. King Savvas of Kavala, the man of the house, seemed to have travelled in a time machine from Ancient Greece. He was always keen to talk with his new guests about the ancient Gods. And It was good to hang out with the Giorgios, who made us feel at home and was instrumental in setting up the WiFi. We were also joined by little Phillopos and the grandparents. It was an amazing stay in a beautiful house, hosted by a great family. Will hope to come back at some point and reccomend for anyone.
Jonny
2013-08-19T00:00:00Z
Много се радвам, че избрахме това място за престоя ни в Кавала. Семейството е много мило и услужливо, къщата е с добра локация, Стаите са много чисти. Ще се върнем отново. Благодаря. I am very glad that we chose this place for our stay in Kavala. The family is very nice and helpful, the house has a good location, the rooms are very clean. We will come back again. Thank you Sono molto contenta che abbiamo scelto questo posto per il nostro soggiorno a Kavala. La famiglia è molto gentile, la casa ha una buona posizione, le camere sono molto pulite. Ci torneremo di nuovo. Grazie Je suis très heureuse que nous avons choisi cet endroit pour notre séjour à Kavala. La famille est très gentil, la maison a un bon emplacement, les chambres sont très propres. Nous y retournerons. Merci Savina, Balchik, Bulgaria
Savina
2014-08-05T00:00:00Z
Very nice-clean and authentic place with easy location. We are really very happy to meet Sofia and Savvas, we enjoyed a lot the conversation we had with them. Thank you for your hospitality, we will definitely stay with them next time we go to Kavala.
jesus
2015-09-23T00:00:00Z
Rodzaj pokoju
Pokój prywatny
---
Rodzaj nieruchomości
Dom
---
Mieści
2
---
Sypialnie
Kavala, Makedonia Thraki, Grecja
Sunny, comfortable room in a neoclassical building, located 5 minutes from the center. Near there is super market and bakery.
Comfortable and sunny room with one double-bed. No extra charge for children under 5 years old. Optional breakfast at extra cost of 2.5 euros/ person. It is also possible to use the kitchen to prepare breakfast / lunch / dinner by yourself. There is a room with a bath, a washbasin, and a washing machine (washing machine: 2 euros/ use) and a separate room to use as WC. There is a big balcony and a small garden. The house is located 7-minute-walk away from the center. There is a super-market and a bakery nearby. Bus stop (urban and intercity ones) are closed by aprox. 4-minute-walk.
Έχει κοντά σούπερ μάρκετ και αρτοποιείο
Everything was perfect and as expected.
Alex
2016-09-25T00:00:00Z
Dear Minos, thank you for everything! It was a very good place to discover Kavala and to start with our Greek trip!
Eve
2016-09-05T00:00:00Z
Wir wurden von Minos direkt am Hafen von der Fähre abgeholt und in die Unterkunft gefahren. Minos ist sehr hilfsbereit und hat uns alles wichtige erklärt. Die Wohnung war für uns perfekt, die Lage ist sehr gut und wir hatten alles was wir brauchen. Die Zimmer sind liebevoll eingerichtet und alles duftet wunderbar.
Olivia
2016-10-10T00:00:00Z
The accommodation, a ground floor 3 bedroom apartment was perfect. On arrival it had been immaculately cleaned, and communications with Minos meant he had me settled within minutes of my arrival. The house has a fully equipped kitchen, washing machine and garden clothes line, fan in the bedroom, and mosquito replant devices both on the front patio and within the bedroom. (I had no mosquito issues anyway) There is a good sized inside table for meals in the kitchen, and a pleasant front patio area to enjoy. Minos rents out the second of the 3 bedrooms to other travellers and keeps the third room vacant. I spent most of my time at the apartment as the only house occupant, so effectively I had the place to myself. If you require it you could easily take both rooms as a family etc and ensure that the place is yours. As a solo traveller I didn't mind the prospect of other travellers. The location of the place is brilliant. It is easy walk to all the town attractions including beach, port, shopping streets, old town and castle. I really liked the convenience of the large discount supermarket directly opposite too. Minos is a very welcoming host. He made a genuine effort to ensure that everything was comfortable for me and there was nothing that could be done to make my stay more enjoyable. For me it was 10 out of 10.
Philip
2016-06-22T00:00:00Z
If you want to see and feel the town of Kavala, the house and all provided in it will help you. Nice home, sympathetic hosts (Minos and his mother). Warmly recommended.
Peter
2016-08-16T00:00:00Z
We stayed in Minos's room just for one night. The place was clean, neat and easy to find. Minos was very nice and it was easy to communicate with him.
Alberto
2016-08-08T00:00:00Z
Minos is a great host. There is a reason to has title superhost here in airbnb. The house is in a 5 min to the center of Kavala and in front of it there is a market. The house is fully equiped and even has things that I dont have in mine :) Litteraly from frappe mashine to plastic bags for ice :) The house decoration which is made by Minos"s mom (very kind women) also makes very good impession. Me and my man felt like we are at home. The house has two bedrooms and maybe next time we will come with friends. Thank you, Minos :)
Mihaela
2016-07-31T00:00:00Z
Minos was great host. The place was clean and he was very kind. I am grateful for people like him. He even gave me a ride from where the bus dropped me off (very early I might add; 6am) so getting there was stress free.
Robert
2016-06-19T00:00:00Z
Rodzaj pokoju
Pokój prywatny
---
Rodzaj nieruchomości
Wikt i opierunek
---
Mieści
2
---
Sypialnie
Kavala, Grecja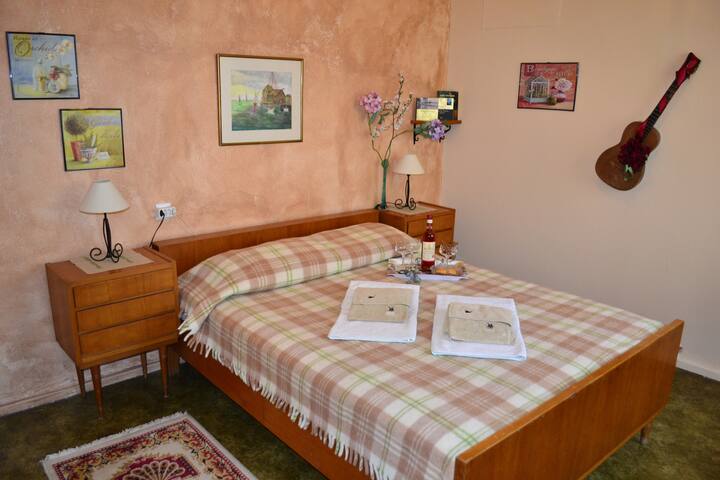 Beautiful house at the center of Kavala. Sunny terrace with sea view, four minutes walking distance from the closest beach. One big bedroom, fully equipped kitchen and two living rooms.
Everything is in walking distance. Beach, market, old city, tavernas.
Thanos was an excellent host. We had a wonderful time staying in Kavala. The flat was very clean, very cosy and indeed sunny; the rooms also were quite spacious. In addition to that, the flat was fully furnished; in fact nothing was missing, even the fridge was full! The view from the balcony was very beautiful as you can literally see the sea out of the window and the location of the flat is great, too. There are quite a few supermarkets nearby, a pharmacy, a bus stop, etc. The flat is very close to the city centre which helped a lot. Thanos as a host was very helpful, cooperative, approachable, polite and punctual, which we appreciated a lot. He was always there when we needed something, he gave us recommendations, etc. The neighbours were quiet, AC was included, there was enough space for storage, the furniture was beautiful and well maintained, and the internet speed was quite good, as well. We would highly recommend this place to everybody. We're very pleased with the whole experience. We thoroughly enjoyed our vacation in Kavala and the flat we rented played a major role in that. Felt like home. Highly recommended.
Χρήστος
2016-08-23T00:00:00Z
Ο οικοδεσπότης ήταν πολύ εξυπηρετικός. Πάντα πρόθυμος να μας βοηθήσει, φιλόξενος, μας ξενάγησε στην Καβάλα δείχνοντας μας τα σημαντικότερα αξιοθέατα της πόλης.
EIRINI
2017-01-03T00:00:00Z
Ο οικοδεσπότης απλά ΑΨΟΓΟΣ!ευγενέστατος,διαθέσιμος παντα για οτι απορια ειχαμε,φιλικος και παντα προθυμος να βοηθησει .Ηταν πολυ παραπανω από το απλα ενας καλος τυπικος οικοδεσποτης!
sofia
2016-08-15T00:00:00Z
The place is excellent - perfect location, fantastic view. Thanos was kind and responsive.
Hristo
2016-09-06T00:00:00Z
Thanos was a perfect host. He helped to us everything we needed. He also gave to us lots of information and suggestions about our vacations. The house is very closed to centre (2 min by walking). The sightseeing of the balcony is like a dream, you will feel perfect! Cleaning is also well! The house is very big (2 rooms and 1 bedroom) you can find whatever you need. We want to go to kavala and stay in thanos's house in every year!
Oktay
2016-08-30T00:00:00Z
Simple but nice (URL HIDDEN) what you need when you're in Lovely Greece? Perfect location. Thanos and Fotis are great guys! I recommend Thanos place!
Borislava
2016-10-27T00:00:00Z
I highly recommend Thanos place, the location is perfect and there is plenty of space in his aparment. We stayed for 3 nights and coulnd't find a thing to complain about :) Thanos is a really nice guy and gave us some cool advices about Kavala.
Patrick
2016-09-09T00:00:00Z
I had a great time staying at Sunny house at the center of Kavala, when I visited Kavala! Thanos is the best AirBnB host. He made sure I felt at home and had great recommendations for bars and restaurants in town. The apartment is nice, clean with panoramic sea view and well equipped, has fast internet, large widnows/balcony doors, and is 3 minutes from a supermarket. I can't imagine that any other rental in Kavala can beat this experience or this price. I will definitely stay here again the next time I'm in Kavala.
Argyris
2016-07-31T00:00:00Z
Rodzaj pokoju
Całe miejsce
---
Rodzaj nieruchomości
Apartament
---
Mieści
2
---
Sypialnie
Kavala, Grecja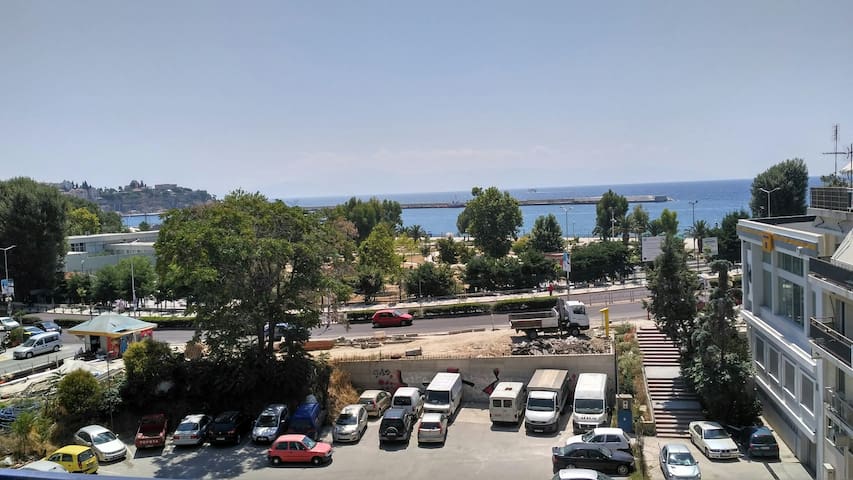 A neoclassical building in the city centre, redecorated.
Right in the city centre. Surrounded by all amenities. Βρίσκεται στο κέντρο της πόλης. Όλες οι μετακινήσεις γίνονται με τα πόδια.
Quiet neighborhood city center Δεν χρειάζομαι αυτοκίνητο! Όλα είναι στα πόδια μου!
Katerina and her friend Eva were wonderful hosts and very hospitable. The apartment is just as it appears in the photos and is very centrally located (albeit the erroneous map). I also had no trouble finding parking. This was a great deal and I would definitely consider staying again.
OLGA
2017-01-01T00:00:00Z
We enjoyed the time spent in Kavala and in Katerina's house. Everything was very ok and she is a wonderful host. We highly recomand !
Christa
2016-09-01T00:00:00Z
This place will make your trip wonderful. I stayed for a month and wouldn't hesitate to stay again. Katerina was able to pick me up from the airport and we bonded immediately. She was very easy to communicate with and there was food in the cupboard! It was amazingly quiet for being so central. Book it.
Carissa
2016-12-19T00:00:00Z
Katerinas flat is the perfect place to stay for a holiday Kavala - it's in a beautiful old building in the middle of the center, but the surroundings are quiet. Katerina was a great host, and communication was easy and efficient :) We will really recommend this place, and hope to come back one day.
Ines
2016-08-13T00:00:00Z
excellent!
Anthi
2016-10-09T00:00:00Z
Appartment very much in the Center of Kavala. All the restaurants in walking distance. It was very clean and everything was in a good shape. Thank you for the stay in Kavala... Uncomplicated contact with the owner. Everything went smooth.
Blagovest
2016-09-20T00:00:00Z
Katerina is a very responsive and helpful host. She tries to be flexible with staying hours in the house if possible. The house is in a very central location. It's on a main shopping street. Walking distance to the port and bus station in the center.
Hande
2016-08-08T00:00:00Z
Katerina was very nice and provided us with everything we needed including shower gels,towels,cold beverages, and my other sweet amenities for which we are very thankful. Even thought we had to check out early in the morning we didnt have any problem with Katerina. And we would reccomend Katerinas place to everyone wishing safe place close to te center of the town.
Emir
2016-08-02T00:00:00Z
Rodzaj pokoju
Całe miejsce
---
Rodzaj nieruchomości
Dom
---
Mieści
3
---
Sypialnie
Kavala, Kavala, Grecja
χώρος φτιαγμένος με μεράκι κ χειροποίητη διακοσμηση.Με τετοια πανοραμική θέα στο λιμάνι αλλα και στο αρχαίο κάστρο της καβάλας δεν μπορεί παρα να έχει κανείς εμπνευση.. χειροποίητα φωτιστικά απο ξύλα θαλάσσης,αλλα και πίνακες αφηρημένης τέχνης .
καθαρές πετσέτες και σεντόνια.Χρήση ηλεκτρικής κουζίνας και φούρνου.Πλυντήριο ρούχων,καφετιέρα τοστιέρα.Σεσουάρ μαλλιών,σαπούνι,Σαμπουαν.
Ησυχη γειτονιά,φιλικοί γείτονες.
Angeliki was a great host and I highly recomend this place. It has an amaizing view and it is so quiet and charming. #lovegreece
Bogdan
2016-10-09T00:00:00Z
A true breathtaking view from the apartment! We had comfort and pleasant stay there. Free parking and quick access to the center. The only problem is that you never want to leave the lounge terrace. :-) Angeliki is welcomed and helpful host.
Maria
2016-03-23T00:00:00Z
Great view, beautiful decoration, nice and clean. Really worth the trip. My GPS didn't find it. The apartment is in the building at the corner of the Griva Str and Karatasou Str.
Danail
2016-06-27T00:00:00Z
The best view in the city. The best host in the city. Angeliki is amazing and made us to feel like we are home. She is very nice and helpful. The apartment is cozy and has a great location.
Bobby
2015-09-08T00:00:00Z
Ангелики беше изключително мила и любезна. Жилището е прекрасно, с усещане за уют и много артистично. Надмина очакванията ни. Районът е хубав с прекрасна гледка.
Anna
2016-07-28T00:00:00Z
Ήρθε και μας παρέλαβε στην είσοδο της πόλης για να μη μπερδευτούμε. Πρόκειται για διαμέρισμα πλήρως εξοπλισμένο με θαυμάσια θέα όπως ακριβώς στη φωτογραφία.
Σπύρος
2016-07-04T00:00:00Z
Great place with really amazing view. The host was very welcoming. It's A must if you are going to Kavala ;)
Martin
2016-07-17T00:00:00Z
It is an amazing place with a lovely view. A couple friendly apartment. Highly recommend!
Nikola
2015-09-18T00:00:00Z
Rodzaj pokoju
Całe miejsce
---
Rodzaj nieruchomości
Apartament
---
Mieści
3
---
Sypialnie
Kavala, Grecja
We offer you a very cosy, bright, sunny, comfortable, 74 sq.m., 3 rooms, kitchen, bathroom, in the heart of the old town of Kavala. It's very well located in a small and quiet street of "Panagia". Rocky beach 5 min walking, sandy beach 10 min by car.
I had a lovely stay here! Vasilis is a very kind and helpful host who even picked me up from the bus station. The apartment is spacious and the view from the balcony is just amazing. I can highly recommend staying at Vasilis' apartment that is located in the beautiful old town of Kavala.
Judith
2016-07-03T00:00:00Z
I had a lovely vacation with family at Vasilis home! Clean and spacious with beautiful view above Kavala, in the heart of the old part. It had everything you need. We were with 5 people and still had enough space. Communication went smoothly and everything was as expected. I'd highly recommend this place! Thank you Vasilis for hosting us!
Tanya
2016-09-16T00:00:00Z
This was a comfortable apartment in the best part of Kavala with a great view. Vasilis was very welcoming, and helpful about everything. We stayed for 10 days, and would have been happy staying 10 days more.
Chris
2016-06-21T00:00:00Z
The apartment is exactly as you see it in the pictures; very clean, comfortable and has a great view over the harbour. Has all the basic things you will need for a short or long stay and the location is excellent. The area is nice and quiet, I would definitely recommend to anyone.
allan
2016-03-04T00:00:00Z
Agréable séjour dans un appartement situé dans la vieille ville de Kavala, pleine de charme. Vue sur le port magnifique. L'hôte est très sympathique.
Isabelle
2016-08-24T00:00:00Z
Bassili was very welcoming and helpful. The apartment was very clean and comfortable and the view was absolutely amazing. The location is beautiful and is only a few minutes away from the city centre.
JBPepi
2016-08-17T00:00:00Z
Проживали 10 ночей в количестве 4 чел. Квартира в нормальном состоянии. Может разместиться 5 человек. Расположение - в историческом центре. Вид из окна - неповторимый. Все достопримечательности города совсем рядом. До супермаркета 10 мин ходьбы до "дикого пляжа" - 10 минут до близлежащего другого пляжа - 10 минут пешком и 10 мин автобусом. Автобусы ездят регулярно и часто. Проезд 1.20 Eur в киоске и 1.70 Eur у водителя. Для тех кто на машине - парковки возле дома не будет. Местность не позволяет - улочки узкие и под углом 65 градусов. За отпуск накачаете мышцы ног лучше спортзала. На соседней улице находятся лучшие таверны и бары города. Эгейское море очень теплое. Василис и его жена - приветливые и радушные люди. Всегда готовы помочь, за что им отдельное спасибо. Единственный минус Кавалы - отсутствие общественного транспорта с аэропорта. Рекомендуем квартиру у Василиса
Oksana
2016-07-28T00:00:00Z
Perfect location in the old town with an amazing view
Kamen
2016-09-08T00:00:00Z
Rodzaj pokoju
Całe miejsce
---
Rodzaj nieruchomości
Apartament
---
Mieści
5
---
Sypialnie
Kavala, Grecja
Ο χώρος μου είναι κοντά σε κέντρο πόλης, τέχνη και πολιτισμός και δημόσια συγκοινωνία. Λόγοι που θα σας αρέσει ο χώρος μου: η τοποθεσία. Ο χώρος μου είναι κατάλληλος για ζευγάρια, δραστηριότητες για ένα άτομο, επαγγελματίες ταξιδιώτες, οικογένειες (με παιδιά) και μεγάλες ομάδες.
The appartment is near the centre of city and also near the sightseeing of town.
Rodzaj pokoju
Całe miejsce
---
Rodzaj nieruchomości
Apartament
---
Mieści
5
---
Sypialnie
Kavala, Grecja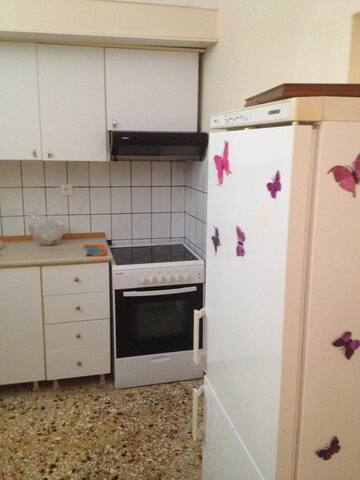 The flat is close to the city centre and within a walking distance from the beach! You'll love the flat because of the view, the neighbourhood, the people and the light! The flat is suitable for couples, business travellers, families (with kids), and groups.
Rodzaj pokoju
Całe miejsce
---
Rodzaj nieruchomości
Apartament
---
Mieści
4
---
Sypialnie
Kavala, Grecja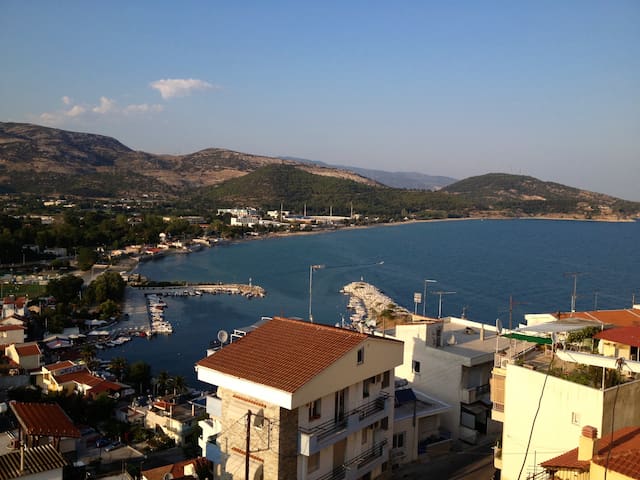 In the heart of Kavala, between old Panagia District and Eleftherias central square, lies the Guest House Old Town Inn with its distinctive colour. An old 19th century building, which operated from the very beginning as a hotel, renovated with care and respect from the current owners and maintained the neoclassical features that characterize a modern and warm environment.
Ο χώρος μου είναι κοντά σε εστιατόρια και χώροι εστίασης, τέχνη και πολιτισμός κάστρο καβάλας, καμάρες καβάλας υπέροχη θέα, παραλία, πάρκα. Λόγοι που θα σας αρέσει ο χώρος μου: άνετο κρεβάτι, η θέα, στο κέντρο της πόλης στην καρδιά της αγοράς. Ο χώρος μου είναι κατάλληλος για ζευγάρια, επαγγελματίες ταξιδιώτες, οικογένειες (με παιδιά) και μεγάλες ομάδες.
Rodzaj pokoju
Pokój prywatny
---
Rodzaj nieruchomości
Hotel butikowy
---
Mieści
2
---
Sypialnie
Kavala, Grecja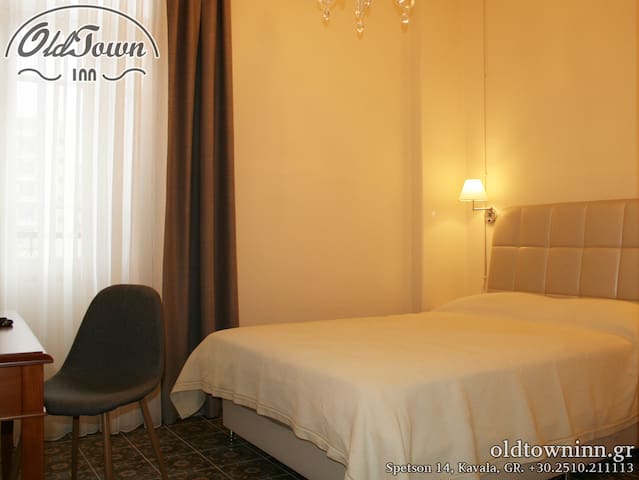 It is a fully renovated three-storey house built in 1929. On the ground floor there is a kitchen, a living room and a bathroom, on the first floor there is a bedroom with two single beds and on the second floor there is a bedroom with a double bed and a large bathroom . Also on the 2nd floor there is a balcony with unobstructed views of Kamares.
The building was constructed in 1929, during the heyday of the city of Kavala because of tobacco marketing from the port and a few years after the arrival of refugees from Asia Minor, after the exchange of populations between Greece and Turkey. Originally, were housed at the ground floor several shops and on floors was domiciled, the shopkeeper. Later, as the city center and trade shifted to the district of Agios Nikolaos and Omonia Street, the building was entirely converted into a residence. With the passage of time, eventually the building was abandoned and deserted. It was bought in 2015 by the current owners and after major renovation turned into a Tourist Furnished Residence, with the purpose to accommodate even the most demanding visitors of the city. With renovating the building, were used electromechanical materials and high-quality facilities.
Rodzaj pokoju
Całe miejsce
---
Rodzaj nieruchomości
Dom
---
Mieści
4
---
Sypialnie
Kavala, Grecja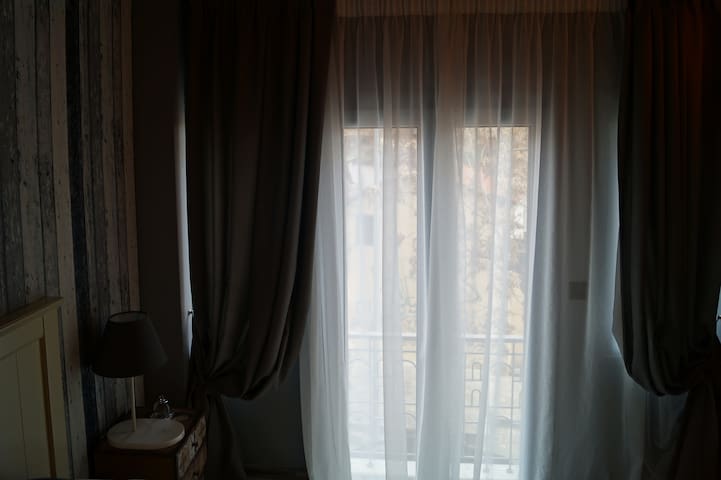 10' from city center,near bus station,1 bedroom,large kitchen and dinning room and living room,furniture and electical devices,1st floor with few stairs and balcony,free wifi
Ευχαριστη διαμονη, η περιγραφη του σπιτιου ηταν ακριβης, καθαρο, ευρυχωρο, με θεσεις παρκιγκ, διπλα σε μινι μαρκετ, κοντα στο κεντρο. Η κυρια Δεσποινα πολυ εξυπηρετικη.
Maria
2016-06-21T00:00:00Z
Ωραίο διαμέρισμα, σε πολύ καλή κατάσταση σε μια ήσυχη περιοχή της Καβάλας. Η κα Δέσποινα πολύ εξυπηρετική και φιλική. Το σπίτι είναι πλήρως εξοπλισμένο. Το μόνο που του λείπει είναι η σύνδεση στο internet. Έμεινα πολύ ικανοποιημένος και θα το ξαναεπιλέξω στο μέλλον.
Yannis
2015-10-15T00:00:00Z
The host was very nice and kind. We loved it there. The apartment is great. We could not wish for more.
Cristina
2016-07-25T00:00:00Z
The flat was in a nice location at the top of a hill a short walk from the city centre. It lies in a quiet and friendly neighbourhood. The hostess, Despina, was very, very kind and warm and she helped me so much, I would be happy to stay at the flat again. I got watermelon from her when I was very hot and hungry, I will not forget that. The flat itself was ideal for my purposes, it was comfortable and clean and has a big fan for when you get too hot. The little balcony was great to just chill and have a glass of Ouzo (of which there was a little bottle in the fridge...). I hope Despina keeps getting nice people to stay in her flat as she is so helpful and kind she deserves only the best. I would recommend this flat to people who want a basic but comfortable base in Kavala away from the centre, but still close, at a reasonable price and with a great hostess.
Robert
2016-09-07T00:00:00Z
Nous avons passé une bonne nuit dans ce logement qui correspondait parfaitement à la description qui en est faite. Le logement est très propre, accueillant, joli et spacieux. Il y a tout le nécessaire pour cuisiner si vous en avez envie. L'hôte est très sympathique, elle a accepté notre arrivée tardive et notre départ matinale, et est même venue nous chercher lorsque nous étions perdus. Possibilité de communiquer en anglais avec son fils sans problème. De plus, l'appartement est à 20 min à pied seulement du centre et du port, ce qui est pratique pour les liaisons en bus et en ferry. Le quartier est plutôt calme et permet de découvrir les ruelles typiques de Kavala. Aucune fausse note, nous aurions aimé y séjourner plus longtemps, je recommande vivement!
Pauline
2016-06-19T00:00:00Z
Très agréable logement situé dans un quartier typique à 20 min à pieds du centre ville: conforme à la description, propre et spacieux Excellent accueil de Despina Nous ne sommes restés qu'une nuit, en transit entre Thassos et Thessalonique, mais nous serions volontiers restés plus longtemps
maryvonne
2016-07-21T00:00:00Z
Despina was super friendly and the Apartment very clean.
Annkristin
2016-10-02T00:00:00Z
Everything was perfect. Thank you very much.
hakan
2016-09-16T00:00:00Z
Rodzaj pokoju
Całe miejsce
---
Rodzaj nieruchomości
Apartament
---
Mieści
3
---
Sypialnie
Kavala, Grecja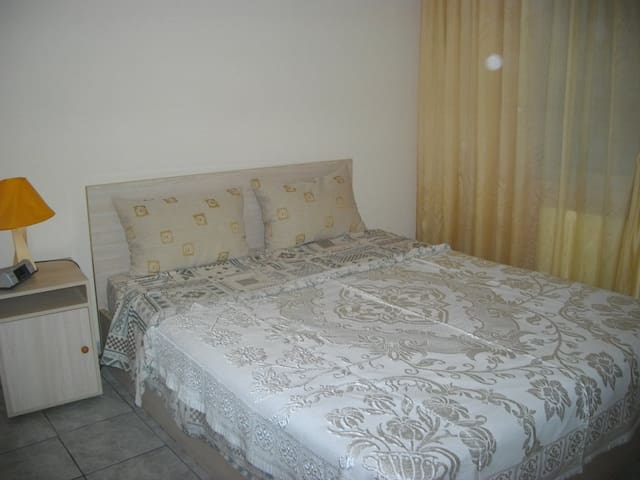 Διαμέρισμα στο κέντρο της Καβάλας μπροστά στο λιμάνι, με θέα το Βυζαντινό Φρούριο, το Αιγυπτιακό Ιμαρέτ, το νησί της Θάσου και το Άγιο Όρος. Έχει 1 υπνοδωμάτιο, 1 σαλόνι με 2 καναπέδες, μία κουζίνα, 1 μπάνιο με ντουζιέρα, και 1 WC χωρίς ντουζιέρα.
Διαμέρισμα στο κέντρο της Καβάλας, μπροστά στο λιμάνι της Καβάλας, με θέα το Βυζαντινό Φρούριο, το Αιγυπτιακό Ιμαρέτ, και στο βάθος το νησί της Θάσου και το Άγιο Όρος. Το διαμέρισμα αποτελείται από ένα υπνοδωμάτιο με διπλό κρεβάτι, ένα σαλόνι με δύο καναπέδες όπου μπορούν να κοιμηθούν άνετα δύο ενήλικες, μία κουζίνα, ένα μπάνιο με ντουζιέρα, και μια τουαλέτα χωρίς ντουζιέρα. Είναι 75 τ.μ. και απέχει μόλις 100 μ από την κεντρική πλατεία της Καβάλας, και 50 μ από τον Δημοτικό Κήπο. Στους γύρω δρόμους υπάρχει ελεύθερο Parking, αλλά και σε μία περίμετρο 300 μ υπάρχουν 3 οργανωμένα Parking με μίσθωση 1,5€ - 2€ για 8 ώρες. Το διαμέρισμα βρίσκεται στο κεντρικότερο σημείο της Καβάλας, και τριγύρω υπάρχουν τα μεγαλύτερα πολυκαταστήματα (Zara, Marks & Spenser κλπ), μπαρ και καφετέριες, και πληθώρα από παραδοσιακές ταβέρνες και μοντέρνα εστιατόρια. Σε όλα αυτά υπάρχει πρόσβαση σε 5 λεπτά με τα πόδια, και δεν χρειάζεται η μετακίνηση του αυτοκινήτου. Σε απόσταση από 5 – 10 Κm υπάρχουν πολλές οργανωμένες παραλίες με πεντακάθαρα νερά και βραβευμένες με την μπλε σημαία.
Το διαμέρισμα βρίσκεται στο κεντρικότερο σημείο της Καβάλας, και τριγύρω υπάρχουν τα μεγαλύτερα πολυκαταστήματα (Zara, Marks & Spenser κλπ), μπαρ και καφετέριες, και πληθώρα από παραδοσιακές ταβέρνες και μοντέρνα εστιατόρια. Σε όλα αυτά υπάρχει πρόσβαση σε 5 λεπτά με τα πόδια, και δεν χρειάζεται η μετακίνηση του αυτοκινήτου.
πεντακαθάρο σπίτι, υπέροχη φιλοξενία, εκπληκτική θέα!
Maria
2017-02-20T00:00:00Z
We had one night stay in Maria's place. It was right in the heart of city, pretty close to the main attractions, everything is in walking distance. Maria is very kind and warm. She had delicious pastry ready for us in the apartment. We very much enjoyed our stay and will prefer her place if we happen to visit Kaval again.
Seryal
2017-02-26T00:00:00Z
Exellent localisation by the sea. Maria is a kind and attentive host, she wellcomed us with delicious donuts. We really enjoyed our trip very much. Everything was as described at the detail of the apartment is well tought out and beautiful. Located at the heart of the city, you can go every attractive place of Kavala by walk. We would like to come back again.
Umut
2017-03-12T00:00:00Z
Maria is wonderful host. She waited for us in the apartment, made sure we have everything we need, even accomodated us with some refreshments and snacks. The apartment is great, wonderful view from the balcony. The only issue was that is a bit noisy (at night as well) because it looks straight towards the main street and its traffic. I would recommend Maria's place to everyone!
Nataliya
2016-09-12T00:00:00Z
This is a very well located apartment in the center of Kavala with almost everything you need is at walking distance, in a fine building, the apartment was probably a doctor's cabinet previously, furnished to some level.. No TV, no internet, not even a radio, no drying rack, iron and ironing board, kind of half furnished. It's really a shame this fine apartment not to be furnished well at minimal cost with minimal amenities. Maria is a fine person, trying to do her best, but not so good at hosting and organizing things, we were in her apartment for 7 nights with our 4 years old daughter, somehow it was impossible to fix a TV for entertainment during the 40+ C siesta hours. I like our time in Maria's apartment and in Kavala, but not the hosting.
Troy
2016-08-01T00:00:00Z
Evimde gibi hissettim. Kavalada bir evim var artık
yeliz
2016-08-16T00:00:00Z
The apartment is really well placed in Kavala city center near the shopping center, bars and restaurants and at the same time has a nice view on the port. The host welcomed us and gave some useful tips for the city. I definitely recommend the apartment!
Panagiotis
2016-06-28T00:00:00Z
Marias apartment is just PERFECT! The location the amenities the apartment - everything was just as it should! Thabk you Maria!
Andrea
2016-08-04T00:00:00Z
Rodzaj pokoju
Całe miejsce
---
Rodzaj nieruchomości
Apartament
---
Mieści
4
---
Sypialnie
Kavala, Grecja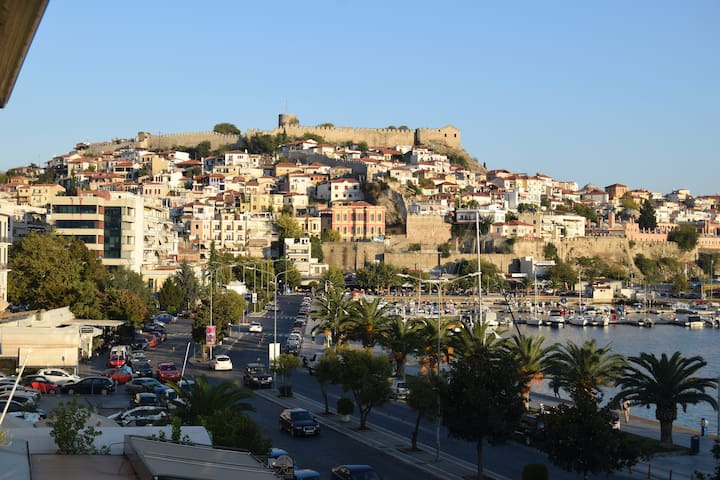 Ο χώρος μου είναι κοντά σε κέντρο πόλης. Ο χώρος μου είναι κατάλληλος για επαγγελματίες ταξιδιώτες και οικογένειες (με παιδιά).
Rodzaj pokoju
Całe miejsce
---
Rodzaj nieruchomości
Apartament
---
Mieści
4
---
Sypialnie
Kavala, Grecja
Wpisz daty, by zobaczyć pełną cenę. Obowiązują dodatkowe opłaty. Cena może uwzględniać podatek.