Second floor of a big house with a huge terrace. You can see a sunset, a jungle and sea from terrace. Two bedrooms with AC and kingsize beds, kitchen and bathroom. A nice quite area - near Wat Krom Temple. AUTOMATIC MOTORBIKE Honda Airblade FREE!!!
Hello, our dear guests! We live in our Dream House on a nice quiet security area - near Wat Krom Temple. It is near Independence and Hawaii beaches. We have 2-floors house. We live on the first floor (Alex, Elena and our daughter 5 years old). Second floor of our house is for you. You have your own entrance. From your terrace you can enjoy to see great sunsets, jungle and seaview. Around our house are a lot of banana and coconut trees. We will give you a routes on the map and suggestion, how you can find a way to our house. We can be a free tourist guide for you around the city and the most touristic places in Sihanoukville. We can show you all beautiful beaches, shops, markets, waterfalls and other.
It is a nice quiet security area - near Wat Krom Temple. It is near Independence and Hawaii beaches.
On a reste une semaine chez la famille d'Alex. La famille est simplement super, l'accueil fut chaleureux comme le reste du séjour. Super petit déjeuner, les conseils pour voyager. Grâce à eux, on a découvert pas mal des endroits magnifiques peu connus par les touristes et également la nourriture du coin. On a fait pas mal des sorties ensemble. Je conseille vivement Ми залишилася один тиждень у Саши та його сім'ї. Все було чудово, сніданки, компанія та атмосфера. Ми відвідали завдяки їхнім порадам багато маловідомих місць для туристів та завдяки їхніх порад іли смачну місцеву їжу. Неодноразово їли смачні тортики, подорожували всі разом. Супер сім'я і супер атмосфера
Dana
2016-06-19T00:00:00Z
If you're looking for the perfect Airbnb experience, THIS is the place. The home is exactly like it is explained on the website. Alex and his family are so welcoming. They gave us great recommendations for food, transportation, and exploring. Alex taught us how to use the scooters which is a huge plus. They served us a wonderful breakfast and showed us around the town. We would stay here again!
Olivia
2016-12-06T00:00:00Z
These guys are awesome and such a sweet family. We spent the week in Sihanoukville and they ensured we got the most out of time there. We visited the waterfalls in the jungle, had a tour of all the main attractions in Sihanoukville and much more. They know the area well and can recommend good places to eat, where to go and anything else you might need help with. The accommodation is cosy and has everything you could possibly need. With the bike and free breakfast its incredible value for money. And by the end of the week we were sad to leave and would've liked to stay longer. To Alex and his family we'd like to say thank you for everything you did for us during our stay.
Amandine
2016-01-31T00:00:00Z
great value for money - especially the motorbike included in the room rate. Alex and his family are super! Amazing breakfast
Jai (pronounced Jay) :)
2016-10-14T00:00:00Z
Alex est un très bon hôte, nous avons été bien reçu par ses parents, d'ailleurs le petit déjeuner cuisiné par sa maman est délicieux! Leur maison est accueillante, nous avions a disposition l'étage avec ses 2 chambres, une cuisine, une salle de bain et une terrasse. Il nous à aider lorsque nous avions besoin de ticket pour prendre le minivan et le bateau. Je recommande vivement.
Nine
2016-11-27T00:00:00Z
Elena and Alex place was awesome. It is really comfortable. I would like to highlight how friendly they are, and how they take care on the guests. Scooter, breakfast... is just their welcome. Alex gave lot's of tips about places to visit, beaches or where to eat. The communication was more than excellent. I consider I have made friends here rather than just be hosted. I hope to see them again in the future and, I will recommend that place to anyone who visit Cambodia.
Juanse
2017-03-30T00:00:00Z
Une maison idyllique comme l'indique son nom au milieu de la jungle et proche de la ville. Des hôtes adorables. Merci pour cet accueil. Il ne pouvait être meilleur. An idyllic house as its name in the middle of the jungle and near to the city. Perfect and nice hosts. Thank you for this welcome. It could not be better.
Pauline
2016-07-14T00:00:00Z
If Alex's place is available book it immediately. Don't even look at any other property. Alex and Elena are very kind and helpful. Who else gives you a bike to ride for free? Will save a lot of tuk tuk money. They also made us some amazing breakfast - even though we are vegetarian and have a few dietary restrictions. They both went above and beyond to be helpful and make us comfortable. Alex gave us some very helpful advice on planning our stay. Which island to go to. Which beach to go to. He helped with next destination transportation as well. The home itself is lovely. Its not on the beach but with a bike, beach is a couple of minutes away. Sunset views are amazing. Room is clean and as per description. Wifi is fast. Kitchen has everything needed to make basic meals. Water is also provided for free - something not everyone in South East Asia provide.
Ankesh
2016-09-26T00:00:00Z
Rodzaj pokoju
Całe miejsce
---
Rodzaj nieruchomości
Dom
---
Mieści
4
---
Sypialnie
Krong Preah Sihanouk, Preah Sihanouk, Kambodża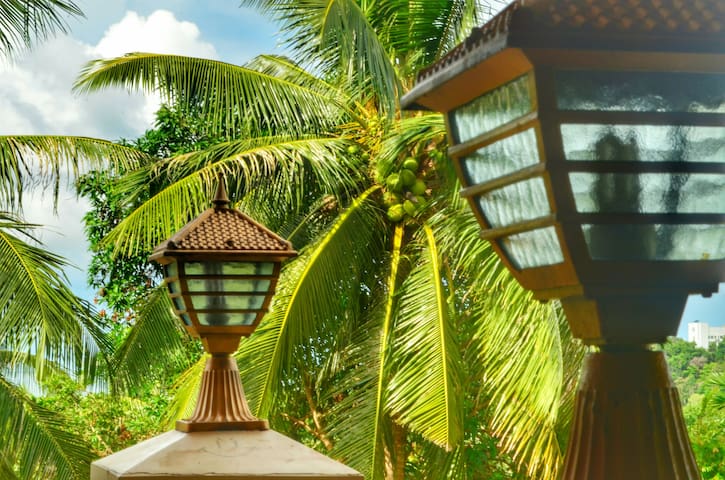 Old Khmer House 2Beds is naturally of my traditional wooden house with Western amenities. An unique & comfortable one in the middle of Siem Reap City. Family twin bed rooms, Living room, Balcony, Free WiFi, Garden, Air-con, Fan & a very clean and good service. There is a private balcony with chairs and tables. You can make coffee and tea by yourself anytime you like.
Whole Khmer traditional wooden House Western amenities Private only Home service Quite location Khmer House designed An old but very clean and comfortable The middle of city Staying at Old Khmer House 2Beds you will get warm relax with your private house and we FREE offer as Transfer you from Airport to house Breakfast Mobile cellphone (Local SIM) Tea & coffee making Drinking water & cool tower Welcome drink & fruit WiFi
Sąsiedzi wokół są przyjazne Uśmiechnięty od miejscowej ludności dla cudzoziemca i każde ciało
It was my friend and I's first time in Siem Reap. We arrived at the airport at around 10pm, and Mr. Tin picked us up. Upon arrival at the house, we were mesmerized due to the very traditional yet cozy feel of it. We were also greeted with fresh dragon fruit and carrot/orange juice. It was refreshing. After settling in the house, Mr. Tin drove us to the pubstreet as we requested. He also arranged a tour for us the following day because we wanted to see the sunrise in Angkor Wat. Then, when we came back from the tour and before we checked out, Mr. Tin gave us some rolls (lumpia in Filipino), which tastes really delicious! Mr. Tin also allowed us to stay for more hours in the room since the rain poured hard minutes before our check out time. We had more time to enjoy the laidback province feels of the house. We had a feeling of being home aways from home. I think we left our hearts in the Old Khmer House! (BTW, the house is like a hotel with complimentary coffee/tea, bottled water, toiletries.)
Edlyn
2016-06-30T00:00:00Z
We had a fantastic time with Tin. His place is so beautiful, if you think the photos are amazing, just wait until you see it person. His whole family was extremely welcoming, we had one of our favorite meals of our whole trip with them (a home cooked banquet!). The best part though, was his brother in law Nat who drives a Tuk Tuk and drove us around for three long amazing says. He's a jovial super relaxed guy who went out of his way to show us all the little things that make Cambodia such a wonderful place. Thanks Tin and Nat (please thank both of your wives too!)
Martin
2016-01-06T00:00:00Z
Tin was as amazing. Hosting doesn't get any better than this. Me and my girlfriend were treated with with first class service the entire way. He arranged for pickup at the airport with my name written on a card which was quite cool. Our driver was outstanding as well. Tin and his family upon arrival gave us a cell phone which were able to dial him and our Tuk Tuk driver (taxi) whenever we needed, welcomed us with some gracious home cooking from his wife (the welcome drink of carrot juice was out of this world good), and provided us with beverages and breakfast as well as arranging service to the temples of Angkor as early as sunrise. We will miss him and his extraordinary hostility!! Definitely will be back!!
John
2016-11-08T00:00:00Z
Old Khmer House 2 was amazing. If you want to immerse yourself in local life and still have all the amenities of a big hotel stay here. Seriously. Not only was the house itself awesome, but Tin was an amazing host. He made recommendations on where to eat, called us a tuk tuk driver everything we wanted to go somewhere, and he himself took us on a tour of all of the temples in the Angkor Wat site. His wife is a great cook too! If your thinking about booking this place, just do yourself a favor and pull the trigger.
Harlan
2016-05-20T00:00:00Z
Tin and Nat, Thank you for your taking us in and hosting us throughout our trip! You have made our first trip memorable and we will definitely visit again. Tin and Nat are both very friendly and thoughtful in hosting us, we are provided with the essentials, such as a local sim card with a mobile phone, which is very helpful when it comes to contacting Nat for transport or to call when you have emergency. Our trip to Cambodia wasn't planned, as it was a rush, but Tin and Nat brought us to all the places where we can find delicious local foods, and not to mention, awesome view of sunrise and sunsets!! The room was beautiful! Feeling so lucky to got the bookings made in time with a very reasonable price. The area was peaceful and friendly neighbourhood. You will have the whole place for yourself and your partner, with a hammock as well! Everything was perfect. They have made us looking forward for our next trip to Cambodia. :)
Evone
2015-12-24T00:00:00Z
Staying with Tin and his family was one of the most gratifying travel experiences I've had. I personally didn't want to be couped up in a hotel or shuttled around in tour groups but wanted to see Cambodia on a local, authentic level. If that is something you are after, than this is the perfect place for your stay. Tin and his wife were so polite, hospitable and eager to help me plan my excursions ...and to help me practice and polish up my Khmer phrases haha. Santana, their tuktuk driver, became my trusted guide and friend and I wouldn't have had half the experiences I had if it weren't for him showing me Siem through the eyes of a local. Genuine, clean, comfy, authentic, educational, heartfelt experience!
Jayne
2016-12-20T00:00:00Z
Tin is a nice host. The house is not easy to find but our tuktuk driver called host and find it. the room is good, thought the AC can't cool the living room. but the experience is good, and the breakfast is nice because it's not convenient to eat around.
策
2016-01-16T00:00:00Z
From the moment Tin picked us up from the airport he made us feel welcome, comfortable and safe! The house is lovely, beds comfortable and Tin and his family go above and beyond to make sure you have a wonderful stay. Tin can also take you to the temples for a very resonable daily fee - his vehicle is much nicer than alot of the others out there, and he is an excellent guide.
Sara
2016-01-06T00:00:00Z
Rodzaj pokoju
Całe miejsce
---
Rodzaj nieruchomości
Dom
---
Mieści
4
---
Sypialnie
Krong Siem Reap, Siem Reap, Kambodża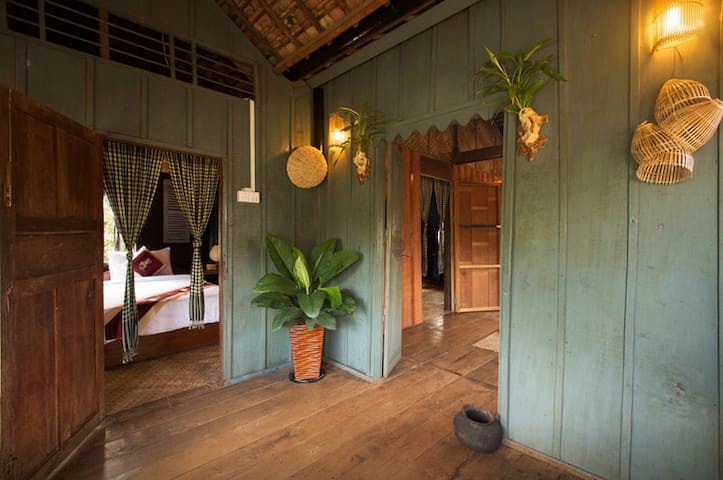 Our Wooden House completes your Cambodian experience... this charming wooden house has been lovingly and thoughtfully furnished and decorated; its what you have always dreamed of... just 5 minutes from the heart of Siem Reap and Angkor Wat
Our Wooden House is a traditional Cambodian Wooden House that has been beautifully and lovingly decorated and furnished to ensure a relaxing and comfortable stay. The bottom part of the building is brick and is where I stay, or sometimes other friends or guests... though you will have private access and absolute privacy. The main bedroom is air-conditioned for your comfort, but also has fans and flyscreens on the windows in case you prefer to enjoy the evening breeze. It contains a comfy queen sized bed and also a single bed; so it is perfect for small families or a group of friends to share. The bedroom is very spacious (32sqm) yet the layout ensures a comfortable and cosy feel. There is a beautiful balcony at the front of the property which is the perfect spot to relax and catch the last of the suns rays, or to enjoy your breakfast and morning coffee. The balcony is very private, overlooking the lovely garden and many fruit trees. There is a comfy lounge and coffee table where you can kick back and reflect on your Angkor experience. At the rear of the house is a small, simply equipped kitchen where you can prepare your breakfast or other meals if you are so inclined. If you please to prepare meals, please let us know what you need and we would be happy to provide! BREAKFAST: We include a simple breakfast of muesli, fresh fruit, yoghurt and milk. Please let us know if you need anything topped up during your stay. * Please note that this is an older house so sometimes things might not work as they would in more developed countries, but please let us know if there are any problems and we will do our best to fix them.
Its a great location as you get a taste of local village life, in the security and comfort of our lovely house. You are only a 10 minute bicycle ride/5 minute tuktuk ride or 25 minute walk from the heart of Siem Reap. Please note that the location of this house is in a local neighbourhood. Our neighbours are very friendly and welcoming though they can sometimes be shy. By the same token, local Cambodian residential neighbourhoods can be lively! It's not uncommon for the neighbours to play music or karaoke at any time of day, and they tend to play at whatever volume they like, but at least not late. This is rare in our neighbourhood, but can happen... There are some local breakfast restaurants and coffee shops nearby, but you will need your phrasebook or some sign language... local interaction is one of the great joys of travelling after all!
Great place to stay when in Cambodia! They have a personal tuk tuk driver available to take places who is safe and reliable as well as 2 bicycles to use! Smey, who was our host was very kind and helpful and allowed us to check out a bit later than normal. Highly recommend this house if you want to enjoy Siem Reap!
Kyu Jin
2016-12-28T00:00:00Z
The host is very kind and lovely. And if u r looking for quite , cozy and local house, this is the one. It's quite far from pub street, so if u go out make sure u bring the phone that the host gives you. Then u don't need to worry.
Vivien
2016-12-15T00:00:00Z
Just awesome, beautiful place where you can grab a fresh mango off a tree from the porch. What else is there to say?
Daniel
2017-03-02T00:00:00Z
We liked the typically khmer atmosphere of the house and the extreme kindness of Smey, the housekeeper. Special thanks to her and the 3 tuktuk drivers she introduced us to: Ary, Dara etc.
JOELLE
2017-01-04T00:00:00Z
Lovely house in a quiet authentic neighborhood. There's a lovely garden in the back right below the balcony. It was an amazing stay. Ada was very responsive and her brother Ary is totally the best tuktuk guide/driver in town. I'd stay there again. I recommend for folks who want space and also for the long term.
Carlos
2016-07-05T00:00:00Z
Highly recommendation wooden house if you wanna experience local lifestyle. It's very quiet. Old market and pub street are within walk distance. Reasonable price and good service. We arrived siem reap very late, but the host arranged a tuk tuk to pick me up. Driver Bros is a very nice guy. So is Ada. We would like to book it next time .
XIN ZHU
2015-10-19T00:00:00Z
Our stay at The Wooden House was amazing. The rooms were exactly as per description and very clean. We stayed there for 5 days and had the best experience. Our host Smey went out of her way to make our stay smooth. The location is perfect as it is only 1 km from Pub street and tuk tuks can be available after a short walk. We would love to stay here again and would definitely recommend it to anyone who is visiting Siem Reap.
Prince
2016-10-25T00:00:00Z
这家woodenhouse各方面都很好,是我很喜欢的风格,位置也不错,很安静,只是晚上真的很吓人,尤其我是一个人住的,如果有同伴一起住,那真的会很好
ULULADY
2016-02-15T00:00:00Z
Rodzaj pokoju
Całe miejsce
---
Rodzaj nieruchomości
Dom
---
Mieści
3
---
Sypialnie
Siem Reap , Siem Reap, Kambodża
Northeast Khmer house consist of 4 suite rooms (2 wooden suites on first floor, and 2 garden suite ground floor), and a nice swimming pool set in a large of greenery with mango tree located next to new Angkor Panorama museum and Ticket booth to heritage temple complex, and 5mm to local night market area Angkor KyungYu, on 60 street, just right next to New for government building.
Contemporary style Khmer house build from the reclaimed wood from the north, set in the lust green garden with lots of mango tree. with a nice swimming pool and outdoor.
Sothea was a great host, collected us from our hostel in town and allowed us to check in at 11am despite official check in being in the afternoon. The villa was exactly as seen in the pictures, an idyllic setting about a 20 minute drive from Siem Reap. Sothea owns a couple of restaurants in town and we were able to order food from them to be delivered whenever we wanted which was great, also there was always a Tuc tuc driver waiting outside the villa to drive us into town. Rooms were huge and clean, pool was amazing and we really enjoyed our stay. Thanks Sothea!
Alex
2016-10-22T00:00:00Z
房东很热情,房子打扫的很干净;就是离市区有点远,热水供应不足够,可能因为我们人多所以不够用;整体感觉还是很不错
丽莉
2016-09-15T00:00:00Z
This villa offers a spacious, luxurious retreat while its location gives you a taste of village life in Cambodia. We were a group of nine with three young children and really enjoyed having space to run around, as well as use the pool. It is essential to have a driver, thankfully Sothea had arranged everything from meals to reasonably priced transportation and a guide. This was an unforgettable holiday.
Charles
2016-12-29T00:00:00Z
Sothea has a restaurant and this B&B, thus we appreciate that he popped by a few times to ensure everything is ok. He's very approachable, so was his housekeeping lady. It's a very comfortable stay in Isann Lodge, not to mention the big rooms and clean pool. Everything works well. They are able to arrange massage to your room, which is a great plus. The only downside is really the location. The road is bad and being a 6.3km from town (based on (SENSITIVE CONTENTS HIDDEN) map), it takes a long time if using tuk tuk. Unless guests rent their own bikes where they are free to move around, booking a tuk tuk doesn't mean they are willing to shuttle you various times in a day. If distance is not an issue, I recommend this place to families cos it's a nice retreat.
Karen
2016-12-24T00:00:00Z
Sothea's place was wonderful. Described exactly how the pictures show it: a lovely wooden house in the middle of the jungle with a great touch of decoration. Very spacious making it confy for traveling, specially after being in small hotels for a while. Sothea was very kind and so was his staff. They picked us up at the airport and were taking care uf us in case we needed anything. We definitely recommend it.
Valentina
2016-11-03T00:00:00Z
房源描述准确,住宿环境很不错。
jackson
2016-09-13T00:00:00Z
Sothea is super friendly! He was there to welcome us on arrival. The house has everything you need for a holiday. Not to mention very clean and tidy too. You would be amazed by the little details in every corner of the house. During our stay we get to have the privacy of having the whole place to ourselves. The pool is clean and amazing! We also had a nice soak in the bath! TV (bring your own movies in pen drive), hair dryer, towels, bathrobe, slippers, shampoo, etc all provided! You can even order some breakfast from the lodge or have food delivered. Sothea even lent us a mobile phone for us during the stay which was really convenient for us especially when we had to call our tuktuk driver. Check in and check out time very flexible too! Sothea does not stay in the lodge but there is a housekeeper who works until around 5pm to provide any assistance. Distance from the town is something to be aware of too. It takes almost 20min for the tuktuk ride from the airport, around 15min to pub street (~10usd round trip) and angkor wat around 20min (~20usd half day). Overall, this place is too good to be true! We enjoyed every minute of our stay!
June
2016-07-26T00:00:00Z
带着全家老小一共九人在暹粒六天,前三天定了天堂酒店后三天这里。由于定了吴哥一日游专车,没有让老板安排接。到达后有些担忧因为位置确实有点偏,在一个路灯都没有的村子里,周边全是村民家,怕不安全,后和老板沟通退不了钱只能入住。服务小姑娘可以帮叫tutu,一般跟一天10美金,早餐免费,午餐晚餐老板的餐厅可以送过来。院子里大大的游泳池成为全家每天下午开心的娱乐项目,然后自己做晚餐,难得体验这种安静的旅行,慢慢喜欢上这里直到依依不舍离开。入住期间赶上老板在建第二栋木屋,见到老板本人,热心的安排送机。对了,villa离吴哥售票处很近,
伟玮
2017-03-03T00:00:00Z
Rodzaj pokoju
Całe miejsce
---
Rodzaj nieruchomości
Dom
---
Mieści
8
---
Sypialnie
Krong Siem Reap, Siem Reap, Kambodża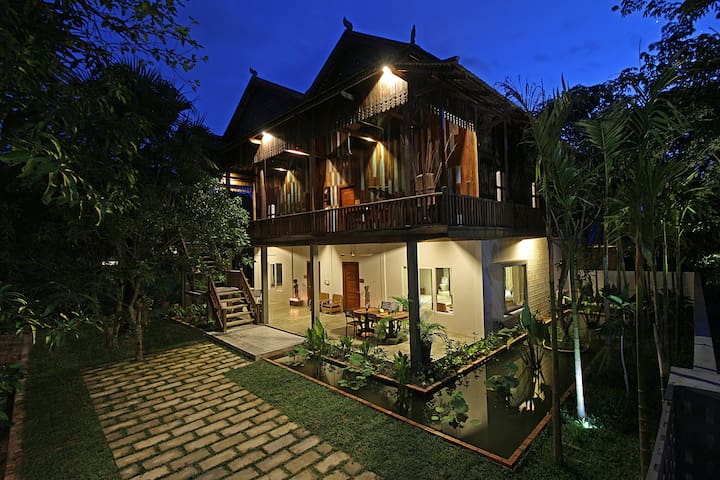 Just half hour from the Royal Palace in busy Phnom Penh this oasis in the country is a charming wooden house beside the Mekong, with antiques and Cambodian art, pool, six bikes, kayaks, and a mini-gym. Cook available plus silk island excursions.
We stayed at the wooden house for 5 days and I can honestly say it was one of the best places I have ever stayed in while being on holiday. This was our first stop in Cambodia and we definitely weren't disappointed. Charley is a lovely host and has an amazing home with everything we could want at our disposal plus a few nice extras. We also appreciate how helpful he was arranging Puth to pick up for us from the airport and advising us on how to get around the country. 4 words to discribe our stay - beautiful, tranquil, idealic and relaxing. We spent one day just relaxing by the pool in a setting that can only be described as a rainforest. It takes about 10 - 15mins on a tuk tuk to get into the city. The house is not in the heart of Phnom Penh but that was fine for us as we wanted to find a place that was in a peaceful area. Getting back to the house is easy if you follow Charley's instructions. We did have 1 night where we had to call Puth for help getting back to the house. After that hiccup, there were no issues. I know this sounds like a "too good to be true" review but what can I say, we had a great time there. Loved the house, the area and the local food restaurants based on the Mekong River. I couldn't help but sigh when it was time to leave.
Ira
2015-07-28T00:00:00Z
We spend a wonderful relaxing w-e in this beautiful wooden house. Away from the hectic life of Phnom Penh city center, the country-side atmosphere, the delightful garden and swimming pool made our retreat a memory time. Puth was a very friendly and helpful house manager, and we even had the opportunity to cook delicious bbq. A perfect w-e!
Amélie
2015-06-01T00:00:00Z
I think this is the house of my dream! I still don't realize I have been there. I highly recommend it. Puth, the house keeper was very helpul.
Etienne
2016-04-26T00:00:00Z
We stayed for 6 days in this wonderful wodden house and it was an experience of its own. The traditional architetcture, the Cambodian artefacts and of course the wonderful garden with its magnificant pool make this place a wonderfull retreat off the pulsating Phnom Penh. Charley has been a perfect host. The communication was superb and all our questions concerning our stay in Phnom Penh were answered promptly and detailed. With his deep knowledge of Cambodian art and culture Charley opened a new world to discover for us. By his recommendation we hired Seyha as our driver and guide to Phnom Penh. Seyha is a jewel and took care of our well being and safety. He showed us the sights of Phnom Penh as well as local restaurants and the Khmer kitchen. A special highlight was our trip with him to the countryside where we visited his hometown. If you need a reliable and caring driver and guide Seyha is your choice. This place is unique and we would stay with Charley anytime again.
Andre
2015-03-01T00:00:00Z
A great place to get away from the traffic and dust of Phnom Penh. A real little haven. I wouldn't recommend your staying here if it is your first time in Cambodia, as you will end up staying here the whole time and not seeing anything at all of the country! I valued the interesting collection of books, the river breezes and the sighting of the giant gecko (not for the fainthearted!) that croaked a welcome to us. I would come back again: the pool was so wonderful and the garden a delight. The staff were just brilliant. I didn't meet Charley, but the security and manager were so kind and thoughtful.
Susan
2016-09-17T00:00:00Z
This beautiful wooden house succesfully connects you with the natural surrounds of palm trees and native birds. Close to the river and a short ride from central Phnom Penh, the house is very traditional including its decor. The jewel in the crown of this great accomodation is the beautiful pool which is just lovely to swim in. Charley is an excellent host, promptly answering any queries and putting you in touch with guides to show you around this beatiful country. We enjoyed this place so much, we are staying there twice! ☆☆☆☆☆
Oskar
2014-11-12T00:00:00Z
We had a great time visiting Phnom Penh and staying in Charley's house. His right hand man Puth was very helpful and welcoming, giving us directions we could give to tuk tuk drivers, when returning in the evenings, as it's a little way out of the city. Charley's place is packed with character and everything you need to be comfortable. One thing to note is that only one bedroom is air conditioned and whilst it wasn't a huge problem, as the other rooms had good airflow, if you are coming in the very hot months, you may find things a little sticky. Having said that, there is an amazing pool area, that will get you cooled down pretty quickly. We had a couple of small niggles, but Charley has been very helpful in setting those straight.
Matt
2016-04-18T00:00:00Z
Had a great time in Charleys beautiful house, the pool is great especially after a day in town!! Charley was away ( but still very helpful with messages) but Mr Puth was a great help organising transport for us each day and making sure we were all good. There was also a night guard which is nice for piece of mind. There was games and art and craft to keep the kids occupied as well Thanks for a great stay
Bianca
2016-01-14T00:00:00Z
Rodzaj pokoju
Całe miejsce
---
Rodzaj nieruchomości
Dom
---
Mieści
5
---
Sypialnie
Phnom Penh, Phnom Penh, Kambodża
Newly renovated colonial house with roof terrace. Private floor. 10 minute walk to old town in authentic charming community. Peaceful environment with modern amenities and decor. Driver Nak will pick you up at the airport for free. English speaking
Clean and with private hot water shower in the 'deluxe' en suite bathroom. Aircon and Wifi are included. Enjoy the view of river life and beautiful trees above the rooftops
The river that winds through town is at the front of the house. A 10 minute walk along the river gets you to 'old town'. Restaurants and the night market are also convenient. This is a real living community with local homes and a vegetable and beverage 'stand' next door. Fishermen cast their nets in the river in front of the house
We had a wonderful stay at David's Crocodile House. It's a beautiful space with a wonderful green rooftop. David, Nak and Vansak were perfect hosts and we had a nice breakfast together. They made sure we had enough water for showering and drinking. Getting to town is easy. It's both close to the center (pub street and old market) as well as Angkor Wat and the other historic sites. Vansak showed us around the town and temples. He had some good tips on how to avoid the crowds. Vansak was very punctual, this Swiss approves ;)
Danilo
2016-06-01T00:00:00Z
I had a great time staying at David's place. The room was beautiful, it looked exactly like the pictures, and was located in a great area. David was incredibly friendly and helpful - he gave me some great tips as to how to make the most of my time in Siem Reap, helped me organize transportation, etc., and was always up for a good conversation. Overall I had an amazing time staying at David's place, definitely would recommend it!
Marlaina
2016-08-27T00:00:00Z
The Crocodile House was absolutely charming - close enough to the centre of Siem Reab to walk to (or take a cheap tuk tuk ride back) and removed enough for a quiet night's rest. The room was very comfortable and bright - just perfect for two. The upstairs terrace was very lovely with a view of the river. David was an exceptional host - providing us with a warm welcome and a welcome drink that we really appreciated. He introduced us to Nak, a wonderful driver and guide, who took us around to all the touristy sites and the local sites. We had a great time with Nak who even brought us to a local monastery for a traditional water blessing. Highly recommended if you're looking for a local experience. Nak also took us to the local markets where we could buy our souvenirs at lower prices as compared to the tourist markets. We also experienced a magical sunrise and sunset at various historical sites that were practically empty because the rest of the world were at the more touristy places - that was really appreciated. Nak's recommendations made our trip truly unique and it will be a treasured experience for a long time to come. David also has an adorable cat, TBD, who welcomed us unconditionally, too. On the last night, we all enjoyed a glass of wine on the beautiful terrace with lovely conversation - the definition of a great Airbnb experience. The stars were out, a playful cat was pouncing on leaves, and lots of laughter and stories were exchanged. We will definitely be back to stay at Crocodile House again in a heart beat. I'm sure we're not alone in that sentiment. Thank you again, David and Nak, for an incredible time!
Peter
2016-02-12T00:00:00Z
David is such a great host! His house, kindness and advices turn our trip into a great experience. This is Airbnb as it has to be! Ps ask for Sak or Nak Tours!
paolo
2016-08-22T00:00:00Z
清潔で落ち着く快適な空間です。泊まってよかったです。アクセスも繁華街から程よく離れており、静かです。もちろん歩いて街の中心部まで行けます。 ホストは親切で素敵。 隣には地元の商店などがあり、ビールとか買えます。夕暮れどきに屋上ガーデンで飲むのが最高! ボーイフレンドとゆっくり過ごせました。 David,NAK,ありがとうございました。
Yuuri
2016-06-04T00:00:00Z
Crocodile House is the best experience I ever had on airbnb. David and Nak come to airport to get us in person and give us a tour around Siem Reap. The house is newly updated and it's very nicely designed and comfortable. The roof top garden is open to us so we can both take a break on the roof top with perfect view or stay at our room. The location is both quite and also easy to go to the night market with walking distance to get food and souvenir. We enejoy the trip and real local life in Crocdile House.
zeqin
2016-01-13T00:00:00Z
We stayed at David's place during our visit to Siem Reap and had a wonderful time! The whole unit is a stand alone three floor building by the river with a cute living area with a patio on the first floor, the couch/day bed could serve as a 2nd sleeping area, the master bedroom is on the 2nd floor, with a lovely bathroom and queen bed, and the beautiful lush roof deck is up top with views of the surrounding neighborhood. (I'd like to note that the stairs to the deck are rather steep so be aware if you have significant mobility issues). The kitchen area on the roof has a drinking water + hot water dispenser, a mini fridge, sink and simple dishes. The bathroom was equipped with towels, hairdryer, shampoo and hand soap. David and his driver Nak picked us up for the airport (even though we were delayed at customs they sweetly waited for us!) and gave us a list back to the house where David showed us where everything was and gave us some tips for our stay. We had hired Nak as our driver for the following two days (reserve him early, he's popular!) and he took us around to the temples, some local food spots (delicious!) and to be blessed by Buddhist monks. It was very helpful to have him with us because the temples are very spread out if you're trying to hit more than one per day- his rate was also very reasonable! We were only in Siem Reap for 2x days before heading south but if we had stayed longer I would have done some more exploring on foot as well to see things at a different pace. The house itself is near the downtown area- ten minute walk along the river- but is far enough down that you get away from the backpacker party scene around Pub Street. We would get breakfast and coffee in the morning from a small noodle shop on the corner which was very convenient and inexpensive. I would HIGHLY recommend to book David's place if it is available. A few tips for Siem Reap in general: The local food is very good, not as spicy as food in Thailand but full of flavor- if you're not so adventurous though they have every other cuisine available as well (Mexican, French, Italian you name it!). The country as a whole uses $USD for everything, they don't use coins though so for change less than a dollar you'll receive local currency (4,000 Riel is $1). Have lots of small bills on you as nearly every small thing costs $1 (water, snacks etc.). In the temples you cannot show your shoulders or knees so pack accordingly- and it is polite to dress as such everywhere, you'll notice tourists are the only people ever showing skin. Enjoy your stay!
Marissa
2017-01-17T00:00:00Z
Nak picked us up from the airport and drove us to the house, which was very well appointed. We paid Nak to drive us to the temples the next day, 30$ US. He was an excellent driver. We only had two nights unfortunately but we would definitely stay again as the house was in an excellent location and we'd love to come back. Thanks again!!
Dotty
2016-10-27T00:00:00Z
Rodzaj pokoju
Pokój prywatny
---
Rodzaj nieruchomości
Dom
---
Mieści
2
---
Sypialnie
Krong Siem Reap, Siem Reap, Kambodża
Included to use Wi-fi/Pick up from airport or bus station/bicycles! This entire of private 2nd floor of our house, 90 sqm, 1 king room(could add a large mattress) & 1 Twin room, each room with air-con,private en-suite bathroom&shower cold/hot water,Flat screen smart TV, Living room,Kitchen,washing machine, Convenient for group 4-6
Entire private second floor of our house size 90 square meters consisting of 2 bed rooms with 2 bathrooms, a living room with seating and dining table, equipped kitchen, free using reliable internet as Wi-Fi. Each room is equipped with air conditioning & fan, cable/YouTube flat-screen TVs, Wi-Fi. Our space are furnished as below: -1 bed room with a large bed, suitable for extra large mattress, bath room with bathtub and separated shower with hot water, air-con & fan, cable/YouTube flat-screen TV, sofa -1 bed room with 2 beds, bath room with shower & hot water, air-con & fan, cable/YouTube flat-screen TV, balcony with seating -Living room with seating, dining table, cable TV, refrigerator, connected to the kitchen with kitchenware, washing machine -Towel, linen, soap, shampoo, tooth paste/brush, tea/coffee, drinking water will be provided -Free pick up from airport or bus station even late night time - Bicycles are available for free for you to take to town -Our house locate in a quiet area but near the city center - We can book for you tuk tuk, car with driver or minivan and tour guide, and other arrangement for your trip. The tour arrangement can be made in advance or when you arrive.
A very nice and big apartment which price was very reasonable. Lim was very conscientious that he helped us to plan and arrange the tour. It was a good experience.
Dominic
2016-06-30T00:00:00Z
lim is a nice host and very helpful to our trip. He helped us planning our trip and arranging a tuk-tuk for us. Nice place to stay.
雪挺
2016-08-31T00:00:00Z
Li
Maikee
2016-07-22T00:00:00Z
Lim is the host you would want to experience in your lifetime at least once. From picking you up from the airport to giving you a cell phone with a local number, he does it all. He booked our tickets to Sihanoukville, collected them for us and made us board the bus too. He was always approachable and super friendly, giving us the exact and best information. He arranged our tour to Angkor Wat with a guide and a mini van. He arranged tuk tuks for us all through the day, whenever we wanted it. Coming to the house, it is super spacious, large and open. Extremely clean with a very well equipped kitchen. Lim supplies endless drinking water along with tea and coffee and all the toiletries one would need.
Naina
2016-11-30T00:00:00Z
Homely atmosphere, good amenities, warm family. The rooms were spacious and clean. The view of the pond with water lilies from the bedrooms was awesome. Would recommend everyone visiting Siem Reap to stay with Lim. Would like to stay at Lim's place in future if I visit Siem Reap again! Thanks Lim and Many!
Subhra
2017-01-09T00:00:00Z
Lim is a good host, and a very nice person. He picked up us at the airport and bring us to a very good local restaurant. Gave us a mobile phone so that we could contact him anytime, also this phone helped us a lot to contact with the drivers! We got some good suggestions from Lim about the tour, reasonable price for the tutu and car. The house is clean and comfortable, perfect for 2 couples/4 friends or a family. At the end, I want to thanks Lim once more for all the helps!
Qi
2016-09-17T00:00:00Z
Lim and his wife are such wonderful hosts. Both of them checked on us daily to ensure me & my family are having a comfortable stay while in Siem Reap. In addition, both Lim & his wife (Many) have assisted us in recommending and making reservations such as places to visit, driver, guide etc. Both of them are very knowledgeable. Most importantly, my family and me are comfortable with them and their wonderful kids. Not forgetting their pets!!
Cyril
2016-11-25T00:00:00Z
Lim is one of best hosts you can get in Siem Reap. His place is a bit off the main area but its easy to get everywhere with tuktuk.
Daniel
2016-11-26T00:00:00Z
Rodzaj pokoju
Całe miejsce
---
Rodzaj nieruchomości
Dom
---
Mieści
6
---
Sypialnie
Krong Siem Reap, Siem Reap, Kambodża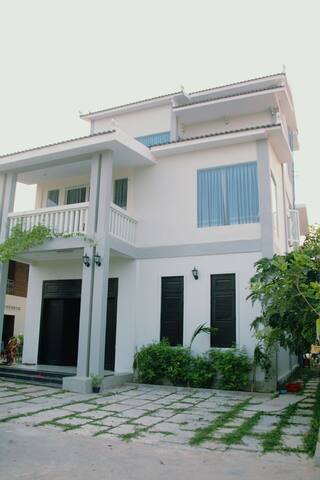 Immaculately equipped villa which includes free internet and TV. 2 bedrooms and 2 bathrooms, terrace and garden. Upon arrival, after your free airport pick-up you will receive a welcome a basket of fruits, set of breakfast and selection toiletries. Enjoy swimming pool
Ta piękna willa łączy tradycyjną Khmer i zachodnich wzorów pośród bujnych tropikalnych ogrodów. Orientacja Domek składa się z dwóch dużych pokoi rozmieszczonych wokół przestronnego salonu, w pełni wyposażonej kuchni. Piękny taras czeka, aby cieszyć romantyczne kolacje i relaks i odpoczynek. Jest codzienne sprzątanie dostępne i pościel zostaną zmienione na codzień. Mamy rowery do użycia w trakcie pobytu i dostarczy Ci z telefonem komórkowym z wszystkimi ważnymi numerami kontaktowymi wstępnie ustalonych dla ciebie.
Willa znajduje się w bardzo spokojnej okolicy z dala od zgiełku ulicy Pub i jednocześnie na tyle blisko centrum miasta.
Very nice, tasteful and spacious house in a very good location, 15 minutes walk to the center. Bicycles are available for guests which is very convenient. Manager Andrew was very kind and helpful with all the tour suggestions. The cafe-restaurant next door is also very good. I would definitely recommend the place.
mia
2017-01-23T00:00:00Z
房东人很好,曾经是小学老师,在柬期间我的脚趾受伤发炎,房东随时免费带我去诊所看病;还帮我们买当地的胡椒和香烟。女主人也很友好,提供洗衣服务(一美元一公斤.房东家现在正在盖新房和餐馆,估计不久以后能提供餐饮和更多的住宿服务。地理位置也不错,离老市场和酒吧街都不远,总体来说很很很满意
艳彬
2016-07-23T00:00:00Z
The host was intentional, informative, and helpful. Gave us everything we needed, and then some. Clean folded laundry for $1/kg, arranged rides, etc. Awesome experience.
Will
2016-05-29T00:00:00Z
Great location and nice people and place. Would stay here again
George
2016-11-22T00:00:00Z
Phalla is so nice that he provided us milk,egg and bread the day we arrived. His house is so charming with a big yard, it's good for us to take a break after a whole day trip. The location is also wonderful, you can walk to pubstreet within 10 minutes or take a tuktuk at 2 dollars, it's quiet in the night, you dont have to worry about the loud music or crazy people. I would highly recommend Phalla's house, it totally worth it! Phalla 的房子非常赞,离酒吧街不是很远但是也不会太吵,房子在一个大院子里,偶尔会有猫咪跑进院子里,它们非常可爱而且不怕生,房间里有两间房,三张床,浴室也非常大,电视可以收到很多中国台,还可以点播电影。个人认为这间房子是我在暹粒Airbnb里看到的最好的了,重点是价格还很便宜,完全推荐!
柠檬
2016-03-01T00:00:00Z
Phalla's house is really nice! It's roomy and cozy. Instead of getting breakfast directly from the hotel, we were able to make a nice breakfast for ourselves by using the materials provided by Phalla. Besides, Phalla prepared bicycles for us to use and the television was also great since a lot of movies can be seen on it. Though the house is a little bit far from the pub street or the old market, it's definitely worth staying! We really enjoyed staying in the house and big thanks to Phalla!:) :)
Yuxi
2016-01-15T00:00:00Z
The house is sooo nice! we love every part of it. Very spacious, beds are so comfortable and very very clean! It is also near the pubstreet/market. :) hosts are very nice, friendly and accommodating too! Will definitely come back and visit again!
Michelle
2016-11-03T00:00:00Z
Una casa hermosa con todas las comodidades, no tiene nada que envidiarle a un hotel, los dueños son súper amables, tienen una piscina muy bonita, súper recomendado, muchas gracias.
rosa johana
2016-10-11T00:00:00Z
Rodzaj pokoju
Całe miejsce
---
Rodzaj nieruchomości
Dom
---
Mieści
5
---
Sypialnie
Krong Siem Reap, Siem Reap, Kambodża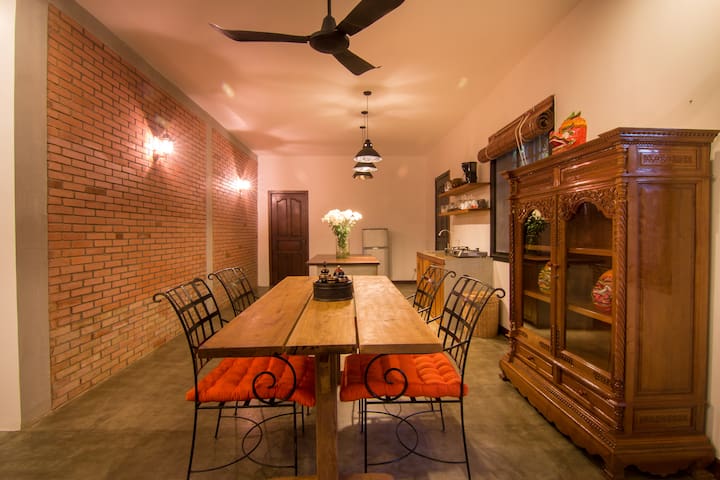 Not a villa in the countryside but a true country villa, The One Villa Angkor is no doubt one of Siem Reap's most unique lodging choices. Located just a short 5km from the Old Market, run by American hotelier and 12 year resident. Owner of Linga Bar. Rates are flexible seasonally and adjusted higher or lower than base rate.
A private home in a gated compound of 4,000sqm (1 acre) in the countryside. New construction by Cambodia's leading architect group. For third person, day bed mattress can be put in living room area.
Nestled in a small farming village 5km from the Old Market.
My husband and I went there for a 3 night stay and Martin was very accommodating. He went over and beyond to provide personalized service as to what we specifically wanted to do and see in Siem Reap. He helped arrange our tour, car and guide - you won't really have to worry about anything. All you gotta do is communicate with him what you want. We had a night when we just wanted to stay in and get food delivered and Martin went to get the food himself. We definitely recommend this beautiful spacious villa and the excellent personalized service Martin has to offer.
Cresta
2016-05-25T00:00:00Z
Our original plan was to book a nice luxury hotel, but due to some delay in planning most of the good hotels were fully booked by the time we started searching. So we decided to try Airbnb and it was pure luck that Martin's villa came out at the top of the search and I fell in love with the villa once I saw the pictures. We quickly made the reservation and Martin responded in minutes. Everything went on smoothly and he was there waiting for us when we reached the airport. Martin is such a cheerful guy that will make you feel welcome and at ease. The property is as beautiful as the pictures in the listing. Stylish yet cozy. We were so glad that we didn't go for the hotels. It is around 10 minutes drive from down town but Siem Reap is rather a small city, you can get to everywhere easily with a car or tuk-tuk ride, and you will have the quiescence of the countryside. Martin and his team are very helpful. They arranged everything properly for us, from car and driver to the tour guide. On the second day, while we were out for the sunset at one of the temples, he offered to change the appointment time at one of the restaurant for us when he got to know the time we originally booked. Indeed we were almost late by an hour (from the original booking) as we miscalculated the sunset and traveling time when we made the reservation. They also woke up at 5am to pass our breakfast when we were out for a sunrise tour. The team (including the lovely Coco and Sandy) took care of everything and made our stay very enjoyable. I am not a frequent Airbnb user, to be frank, as I enjoyed the services and comfort that one would receive at a prestige hotel, but I do highly recommend this property as it has certainly met the standards.
Silas
2016-02-12T00:00:00Z
Thanks for his great arrangment and friendly treat to us. When we come back Siem Reap , we will choose it again.
Margaret
2016-02-20T00:00:00Z
One villa is amazing! Great design, modern and clear with professional service. It's located in a quiet village, only 15minutes way to the central of the city by car. Martin is a great host, he answered any questions I had promptly and make sure we have anything we need. Martin arranged airport pick up, his staff made delicious breakfast and arranged temple tour for us. My boyfriend and I had a great stay here. We could not asked for anything better. Thank you Martin!
lili
2015-01-23T00:00:00Z
This is the highlight of our trip to Cambodia. It was an excellent stay at the villa. We couldn't ask for anything better. There are literally 4 dedicated staff to serve us during our stay. Martin and Bean arranged everything for us including massage at the villa. Thanks Martin!
Jessica
2014-11-06T00:00:00Z
We enjoyed our stay at the One-Villa very much. Martins property is in really good condition, nice, comfortable, clean and equipped with all things you need for a state of the art lifestyle. His extreme friendly and very obliging crew made our days in Siem Reap perfect. They picked us up at the airport, introduced us to all the spots to see, brought us at night to all the locations we wanted to go and have been always there when needed. Thanks again (esp.to Mr. Bean) for making our stay so adorable. We highly recommend Martins place as a place to stay if you plan to go to Siem Reap.
Heiko
2013-12-30T00:00:00Z
Amazing house and Marting one of the best guys ever! he will arrange averything and take care of anything. the house is in a real 3rd world village just 15 minutes from the center of siam reap wich is great if you want to see how real cambodians living. one of the safest places though , as i travel a lot i can say with confidence that no one will make you feel threatend or uncomfortable. go there even if you are a backpacker or a high class hotel guy. the place is a guaranteed success!
Giannis
2016-11-15T00:00:00Z
Martin is a fantastic, charming host. He's a local who can give lots of color, with a refreshing clearly eye towards the realities of the town. His villa is splendid and makes for a really unique stay in such a location. Be aware that the location is not in town, and while Martin was super accommodating in helping us to get to and from town (a 10 minute ride or so).
Vince
2016-10-20T00:00:00Z
Rodzaj pokoju
Całe miejsce
---
Rodzaj nieruchomości
Dom
---
Mieści
3
---
Sypialnie
Siem Reap, Siem Reap, Kambodża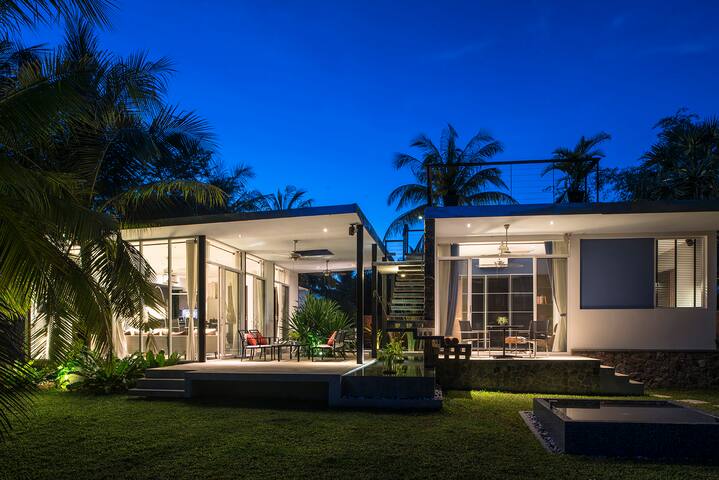 Villa Medasia nel cuore di Siem Reap vi dara' la possibilita' di sentirvi come a casa vostra. A pochi minuti dal centro e dal fiume, potete muovervi con estrema facilita' sia con tuk tuk che bicicletta, o volendo anche con una breve passeggiata.
Villa Medasia nel cuore di Siem Reap vi dara' la possibilita' di sentirvi come a casa vostra. A pochi minuti dal centro e dal fiume, potete muovervi con estrema facilita' sia con tuk tuk che bicicletta, o volendo anche con una breve passeggiata, raggiungendo tutti i posti di interesse – old market, ristoranti, mercati, café'
La casa e' molto vicina al centro, ma appena arrivati si ha la percezione di esserne completamente distanti per la tranquillità intorno.
Valentina's Guesthouse was ideal for our stay in Siem Riep. It was less than 10 minutes away from town by tuk tuk. Our host was very helpful, even lending us a phone to use on our travels. We would recommend this guesthouse anytime.
Hannah
2016-06-11T00:00:00Z
Valentina is absolutely a great host, from welcoming, to making me feel at home, and she has some nice collection of music too! The room is even better than in the pictures! and it is spotless clean, well design, and most importantly, i feel at ease, and got my privacy, a home, out of the bustling siem reap. Great job on the property, will definitely coming back with friends and families =) Ciao~ for now!!
Rahman
2015-12-13T00:00:00Z
The room is clean and bathroom is bright and specious. Only issue is the shower. The water is small and either hot or cold. The location is good, which is near Pub Street. But you still need to take tuktuk to go back home in the night. Because after 8pm, there is no street lamps and so many dogs would bark and run to you when there is only 1min walk to house. We chose here because she mentions the special Italian food in the description. But in fact, it is not welcome dinner. She would give you a menu and you need to place an order in the morning. It's pricy comparing with other Italian/French restaurants in the town. The airport pickup is not free. It's 6 dollars. But you have no choice because it's hard for other tuktuk driver to find her house. I believe that you can get a good price when you have an idea about the market price here.
Jing
2016-10-31T00:00:00Z
Valentina's house in Siem Reap is a mini haven hidden away down a quiet road but within easy walking distance of the town and all it has to offer. It has been beautifully restored, and the layout offers guests both privacy and access to the gorgeous garden. We spent a wonderful evening enjoying a home cooked dinner on the balcony area outside our room, watching geckos and birds and enjoying the beauty of the garden. Valentina also has some wonderful contacts. We spent a day riding round and exploring the temples with Ross in his tuk tuk and a day with Bun in his jeep seeing more of the real Cambodia. Both have made our trip unforgettable. Thank you so much Valentina. I would not hesitate to recommend you to all our friends (and indeed, have already started to!)
Ian
2016-11-15T00:00:00Z
Valentina's place is just as wonderful as Valentina herself:)warm, comfortable and really sweet!You will find yourself at home here, and it is also very convenient to get to old market, only less than 10 minute walk. The room is eqiupped with good AC and smooth bed, which are most important after an exhaustion day visiting Angkor. Btw, you could also play with her three cute kitties, which is a super bonus!
StarSeeker
2016-06-29T00:00:00Z
beautiful garden, colorful room, helpful host, thanks for all your help, Valentina
shiyi
2016-06-08T00:00:00Z
Valentina is an amazing host! Both my friend and I feel very welcome at her villa. The villa is at good location, approximately 10 minutes walk from the pub street and the night market and is ~20 minutes from Angkor Wat by Tuk Tuk. The rooms is clean, spacious, and comfortable and it is everything you'd expect (if not more) from the pictures. Both Steve and Valentina were keen to answer any questions or solve any problems if asked. It was a wonderful experience and I'd recommend this villa to anyone who is coming to Siem Reap. (p.s. if you love cats as much as I do you'll definitely be thrilled to see the three adorable cats in the villa).
Cecilia
2016-03-30T00:00:00Z
The room was as in the photo fabulous. The gardens also great. We used the bikes which kept my wife and I fit. We both enjoyed the ceiling fan the noise soothed us both to sleep. Valentine was a perfect host. I would recommend this place to anybody going to Siem Reap. the room was cleaned every day. In fact the whole experience was the best.
Kevin
2016-10-15T00:00:00Z
Rodzaj pokoju
Całe miejsce
---
Rodzaj nieruchomości
Dom
---
Mieści
2
---
Sypialnie
Siem Reap, Cambogia, Siem Reap, Kambodża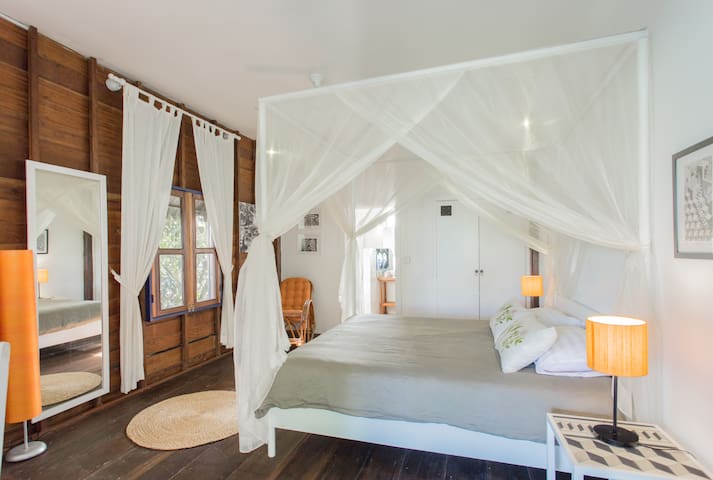 Уютный гостеприимный деревянный дом-студия находится на просторной охраняемой территории в окружении тропических деревьев и исполинских камней. Оборудованная кухня с холодильником. 5 минут до входа в 4* Independence Hotel и 10 минут до Hawaii Beach. В подарок вы получаете абонемент на посещение 4* отеля Independence Hotel, включая спортзал, спа, джакузи, сауну, бассейн, пляж и др. А также бесплатно предоставим Скутер Honda для передвижения по городу.
Замечательный дом-студия с оборудованной кухней и ванной. Большая двуспальная кровать и, при необходимости, большой (1,2x2,0) матрац. Терасса с видом на зеленую территорию. В стоимость включен полный суточный абонемент на один день в 4х звездочный отель - Independence Hotel - один из самых лучших отелей не только Сиануквилля, но и всей Камбоджи. Дом находится в 5 минутах ходьбы от Центрального входа в Independence Hotel. Таким образом вы получаете уникальную возможность за бюджетные деньги воспользоваться полным комплексом услуг высококлассного отеля: с 6:00 до 22:00 безлимитный доступ в СПА ( горячая, холодная джакузи, сауна, турецкая баня), огромный современный спортзал с видом на море, ежедневные уроки йоги, фитнеса и аэробики с опытными инструкторами, частный пляж (без попрошаек и местных жителей) с бесплатными шезлонгами и полотенцами; большая детская площадка, самый большой в Сиануквилле бассейн, столы для пинг-понга и бильярда. Всё это находится на великолепной ухоженной территории в окружении настоящих тропических джунглей с лианами, деревьями-великанами и обезьянками. Шикарный прозрачный лифт к пляжу добавит изюминки вашему незабываемому отдыху. Для передвижения по городу предоставим вам бесплатно скутер Honda.
Близко к пляжам Hawaii и Independence. Недалеко от знаменитого Snake House с хорошей кухней и зоопарком-террариумом.
This place is great, it's in a quiet secure residential neighborhood. It's a bit secluded so having the scooter was perfect. Alex was very awesome - he showed me around when I arrived to some local spots including the hotel with the day pass which is a very nice perk. The wifi wasn't working when I arrived and he came by and fixed it right away - after that the wifi worked great in this unit.
Eric
2016-12-03T00:00:00Z
Although we didn't meet the man himself in person (owing to a minor accident) we were rather treated to meeting Alex's father-in-law on our first day. Initially we were a little apprehensive if we understood everything since his English wasn't fluent, but Alex was a fantastic host with keeping in touch regularly and communicateIng clearly regarding any questions we had; a major bonus quality on top of the clean and tidy facilities. The place itself is nice and quiet and though you might need the scooter to get around, I personally enjoyed riding to the more central part of town everyday as there are plenty of scenic routes and even monkeys beside the main road of the house. All in all, very highly recommended!
Gene-George
2017-01-18T00:00:00Z
Alex is a great host!! He gave us a tour of all of the good places to go in the area on our first day and then was available to answer questions for the rest of our stay. The house is clean and charming. We really enjoyed the scooter coming along with our reservation! It allowed us to get all over the city! Only down side to this reservation, for us, was the location. If you are looking for a place away from the ocean and the action of town than this is great. It comes with the free resort membership which gives you access to the beach but we found we preferred to stay on the ocean and closer to the city center.
Teagan
2016-11-17T00:00:00Z
We loved the package "wooden house + scooter + access to the independance hotel pool, spa, beach, etc. In fact, the scooter is a must to go around in Sihanoukville which is a spreas-out city. And being included we did not have to spend time to fing one. Note that tuk-tuks are a mafia there; minimum price is 5$ ! This package also allowed us to benefit from the private (deserted) clean beach from the independance hotel. And also its good swimming pool. The wooden house is comfortable. We stayed 4 nights. The description is faithful. Alex welcomed us very nicely. He truly is a nice and enjoyable person.
Renaud
2017-03-28T00:00:00Z
Everything was great! The communication with alex and his wife was excellent. He answered by instant and we felt very comfortable. They had shown us a few restaurants and gave us lots of useful informations arround sihanoukville. The entreecard to the hotel with the beach was very good and made our stay easy to relax. also that we could use a scooter (inclouded two helmets) was super because we could create our time in sihanoukville very flexible. alex and elena really cared about us and we found some friends in cambodia :)
Sabrina
2016-12-24T00:00:00Z
Alex and Lena are incredible hosts! They helped us a lot during the stay. Alex has even taught me to drive motorbike. :) They advised us the best places to eat and everything regarding our trip to Seam Reap. The place is located on a quiet safe territory, small clean house equipped with everything needed. The Independence beach is on 15 minutes walking distance or less than 5 minutes driving on motorbike. Unlimited access to Independence Hotel facilities was great - clean and empty beach with sunbeds and towels, spa with sauna and jacuzzi, swimming pool, etc. Perfect place to stay for those searching for quiet and relaxing vacation. Don't forget some insect repellent if you plan to sit on the porch - a lot of mosquitos this time of the year.
Natalia
2017-03-09T00:00:00Z
This house is perfect for the adventure traveler that isn't they resort type. It's in a small residential area that is quiet and hip but very close to the beach, restaurants and night life! The house itself is so cute and the perfect size for a couple or small group and Alex was a fabulous host. So, If you're looking for a place with all the amenities but not looking to pay a fortune, this is the place for you!
David
2017-02-14T00:00:00Z
Our stay was nice. The spa was excellent and so was the location. Having a scooter was very convenient and at times necessary. Alex's father helps with check in and check out but he doesn't speak English. He is very friendly and tries to hard to communicate.
Lila
2017-02-21T00:00:00Z
Rodzaj pokoju
Całe miejsce
---
Rodzaj nieruchomości
Dom
---
Mieści
3
---
Sypialnie
Krong Preah Sihanouk, Sihanoukville, KH, Sihanoukville, Kambodża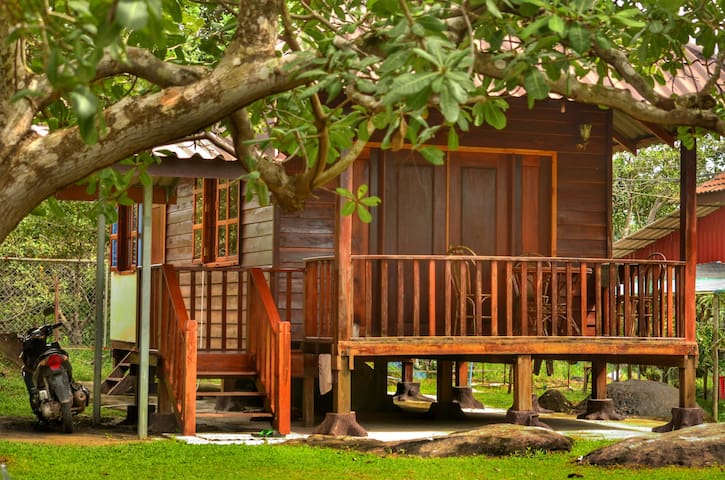 Nasz dom jest nowy budynek, duży hol, ładny ogród, przestronne i dobrze urządzone pokoje, położone w środku miasta, w pobliżu ulicy pub, zajmuje tylko 7 mns spacerem do pub street 15 mns do świątyni Angkor Wat Mamy również układ itinerarium Temple Tour
Our stay, although short, was very comfortable at Ratana's place. Each room was spacious and well-appointed.
Chedilyn Aissa
2016-10-27T00:00:00Z
very nice house with spacious rooms and common area. 6 of us had a great time staying there. Good location, close to the airport and to the Centre of the city. Ratana and his team was very helpful and friendly, we had some great time together on our last night in Siem Reap.
Danny
2016-03-30T00:00:00Z
Great time in Siem Reap, the villa is beautiful, spacious and clean, the host is very friendly, we have a few drinks together. Everything is wonderful, highly recommended.
BEI CHUIN
2016-06-29T00:00:00Z
Great host. Great location. Everything was as promised and we had a great stay.
siju
2017-02-18T00:00:00Z
It was free and easy, we can just treat it as our own home, can go in and out whenever we want. The host treated us very well, the beer is free of charge. It is kinda strategic place, can go pub street in a walking distance.
Shek Yee
2016-10-02T00:00:00Z
Host is very kind and friendly. He is very considerate as he will arrange our transportation from airport until the day we go back. Fast response when we got any request or question. Good location as only walking distance to pub street. Last but not least...I accidentally left my passport and my working ID in the room,inside the cabinet. Host allowed me to go back and collect them and concern about do I manage to get them back..This is very sweet. Will definitely come back again if I visit Siem Reap next time!!
Chee Yin
2016-08-02T00:00:00Z
Our group of 10 enjoyed a wonderful stay at Ratana's private villa. The service was incredible - Ratana and his staff were only too happy to help. He organised our transportation to/from the airport and also assisted us in renting bikes and scooters for our sunrise ride to see Angkor Wat. The villa itself was built only a year ago and all the facilities are new, clean and modern. It is located 6 minutes' walk from the centre of town (pub street) and very convenient to get around either by foot or tuk tuk. Breakfast is simple but fresh and tasty. The villa is incredibly good value and I would not hesitate to recommend this to anyone!
Cindy
2016-01-31T00:00:00Z
Clean rooms. Something can be done about the smell from the toilets. Aircon, television, bed and breakfast are more than satisfactory. Ratana and his assistant are very friendly and patient.
Faiz
2016-05-28T00:00:00Z
Rodzaj pokoju
Całe miejsce
---
Rodzaj nieruchomości
Dom
---
Mieści
6
---
Sypialnie
Krong Siem Reap, Siem Reap, Kambodża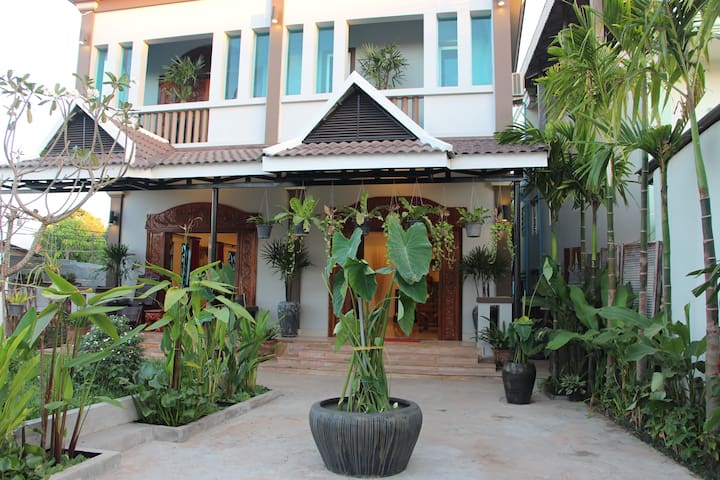 Villa Medasia, in the heart of Siem Reap will give you the feeling to experience Cambodia like at your home. Just few minutes walk from the center and the river, you can easily reach all the place of interest - old market, restaurants, markets. Villa Medasia has a lush and free tropical garden that make the house a quiet oasis and the perfect place to relax after a long day in the temple. Ideal for family that want to relax and cook their home meal at home. Bright, big and comfortable room.
Villa Medasia, originally a traditional Khmer wooden house, has been redesigned according to the passion and creativity of Valentina. She wanted to reverse in her house the great passion for the Mediterranean sea and Asia, hence the name Medasia, creating a mix of different atmospheres. With only three rooms and a delightful veranda facing west into the sunset and the garden, you can relax and enjoy the slow passage of time, listening to music or reading a good book or why not, drinking a glass of wine waiting for an Italian dinner that, on request, Valentina will be happy to prepare for you. Valentina lives at the ground floor and happy to host and share hew experience and knowledge about Cambodia as she is living here since 5 years.
Not far from the center of Siem Reap, only 10 minutes walk from the Old Market and Pub Street. Villa Medasia is located in typical residential area and you will experience a real Cambodian atmosphere; nearby there is a University and a school and many local Cambodian bar and restaurants. Once you enter in the gate of the property you will forget all about and you will be in a real peaceful oasis.
Valentinas place is most lovely. Beautifully decorated, very clean and great to chill out after a day of climbing the temples. Valentina is a great host with lots of helpful advice on what to do and see and reachable easily whether she's home or not. Our highlight of the trip was the tour with Bun she recommended. He is a local that customizes the tour depending on your interest. It is rather expensive compared but it is definitely worth every dollar! I would absolutely recommend staying with Valentina. In fact I might come back for a few days this month cause I liked it so much :)
Ivonne
2017-03-08T00:00:00Z
Valentina es una persona muy amable! Y nos sentimos como en la casa nuestra, muy cómoda y limpia! Y recomendo los chilenos ( o sea, las personas quienes hablan español, italiano)y los chinos que vivan aquí! Pueden comunicar bien con ella en español, italiano y inglés bien! La guía y el conductor de tutu car que Ella remendó también son muy buenas personas! valentina是一个非常nice的房东,在她家居住像在自己家一样,干净整洁,24小时热水,空调,wifi! 她推荐的tutu车司机以及吉普车导游都非常好!下次来,还住这!
Luna
2017-02-18T00:00:00Z
We stayed for 3 weeks at Valentina's place. The graden and room were beautiful as shown on the pictures. It's not far away from the city and the temples, which are soooo worth to go visit. You have to prepare that the power can go out in the whole town, but an emergency generator is in the house. The kitchen wasn't quite what we expected, as it is poor in facilities, rusty and old, not in a good shape but manageable. For small dinners it works.
Maria
2016-12-16T00:00:00Z
Valentina was a fantastic host. She was incredibly warm and welcoming and helped us plan our stay in Siem Reap and our onward travels afterward. The room was every bit as colorful and inviting as it appears in pictures and was our favorite place we stayed in Cambodia.
Zale
2016-07-31T00:00:00Z
位置在暹粒市的生活区,相对旅行团住的地方更生活化,步行到老市场大慨15分钟左右,周边小餐馆更便宜好吃,女主人介绍的Tuk Tuk 司机有(SENSITIVE CONTENTS HIDDEN),添加后到哪里都很方便。有厨房可以在超市买新鲜实材自己做,也可以品尝女主人做的正宗意大利餐,总之,一切都是愉快美好的!
燕
2017-01-25T00:00:00Z
很不错的房子,感觉非常好。房东也很好,还有三只猫,很可爱。有机会还回入住的,很美妙的体验
中
2017-03-03T00:00:00Z
It was my first Airbnb experience and I thought I picked the right one. I really liked how Valentina decorated the room and the garden. The lucky surprise for me was that she has two lovely cats who welcome me as soon as I get there! The location wasn't really close to anywhere but I could catch Tuk tuks easily and didn't feel it inconvenient.
Chiho
2016-01-05T00:00:00Z
Our stay with Valentina is amazing. Lovely apartment with delicate decorations and arrangement. And dont miss out the homecook italian dinner by Valentina! Highly recommended** :)
Mo
2016-04-17T00:00:00Z
Rodzaj pokoju
Całe miejsce
---
Rodzaj nieruchomości
Dom
---
Mieści
3
---
Sypialnie
Siem Reap, Cambodia, Siem Reap, Kambodża
A newly renovated traditional and stylish Khmer house with 2 double bedrooms. All featuring with internet, fully equipped kitchen, dining area. Set in a lush garden. Only minutes awayfrom the incredible Angkor Wat temple and the center of Siem Reap.
A traditional Khmer house newly renovated all equipped and very well located minutes away from Angkor temples and town city center. Nice and very quiet neighborhood (really safe location) and surrounded by a small tropical garden style. 1 bedroom with AC, 1 bedroom with ceiling fan ( still pleasant to sleep). 1 big bathroom to share between the 2 rooms. Small terrace upstairs with large ceiling fan and nice bed and big relaxing/ dining area downstairs!
Neighborhood is really nice and very quiet... ready to listen local birds? Welcome to paradise next to the town center!
Everything here was fantastic. I was picked up from the airport, and taken to the house. A cool drink was waiting for me, and Cedric gave me a quick tour before he had to leave on business; he left me in the care of Mr. Narong, and his brother who were both extremely helpful, and insightful guides during my stay. Definitely top notch service, and I will definitely stay here again the next time I am in Siem Reap.
Ean
2015-11-25T00:00:00Z
I'm an experienced airbnb superhost hosting more than 500+ guests every year in Istanbul. This was one of my best experiences as a guest. One word, Amazing ! The house was located perfectly, in the town at the 10 minutes by walk to everywhere or 2-3 minutes by tuk tuk (costing $2 or $3) to old market, pub street (typical, loud and ugly beer pubs), supermarkets etc. The street is a little dark at night, however we never felt unsafe without doubt. One of my friend, she liked the bed in the ventilated balcony upstairs and she didn't mind to sleep outside in this unlocked space every night. If you want to go to find less touristy or upper scale restaurants or bars/cafes there are many choices closer. Cedric's house is obviously not designed for a short term stay, it's a real one, so you'll feel at your own holiday house and find more than you'll need during the entire stay. Maps, touristic books, novels, mosquito killers, drinkable water, ice etc. We appreciated the free of charge daily housekeeping, beds made, towels changed, cleaned up. Everything was spotlessly clean. All the equipment was working properly, washing machine, wifi, fridge, ceiling ventilators, the A/C in one of the bedrooms. We enjoyed a lot at the house so beware that you would like stay and spend your time in the house rather than visiting the spots around the beautiful city. Cedric arranged one of his friends, Mr Narong to pick us up at the airport. He is bending over backwards, very fluent in English and helped a lot driving us to the Floating Village, Angkor Wat at the very reasonable prices. His friendship and communicative approach helped us to understand the local culture better. If have any doubts staying whether in a hotel or an airbnb apartment/house in Siem Reap, I would 100% recommend to stay at Cedric's houses.
Doruk
2015-12-08T00:00:00Z
Very private as far as visibility from neighbors but a little noisy from dogs barking next door and carpenter work. The tuk tuk driver was fantastic. He waited at the airport when our plane was very late and was available to take us anywhere during our stay. Very cozy house.
DEB
2016-11-05T00:00:00Z
This place was fantastic, exactly as described and perfect for our stay. Nerong our tuk tuk driver was wonderful and couldnt have been more helpful, he was there any time of the day or night. I would recommend Cedrics accommodation to anyone who is wanting to stay in Siem Reap, and we will definately return there
Michelle
2016-10-27T00:00:00Z
Cedric always responded to our messages fast and was helpful. The villa was great. It was walking distance from the big market and the restaurants. The driver, Narong, was also helpful and told us about some tours. I would recommend it.
Caroline
2016-08-11T00:00:00Z
We very much enjoyed our stay during our visit to Siem Reap. The outdoor living space downstairs was a very nice place to relax after a day exploring the temples. It was great having Mr. Narong to drive us in his tuk tuk to the temples and into town in the evening for dinner for a very reasonable price. We highly recommend staying here for your trip to Siem Reap.
Jennifer
2016-03-02T00:00:00Z
我和全家人在cedric暹粒的小木屋住了9晚,cedric正好从金边来暹粒,还特地过来和我的家人打个招呼,非常热情。我们的行程基本都是tutu司机narong帮忙做的,因为85岁的姥姥同行,每天中午都返回the home休息,下午再出发,narong满足了我们所有的需求,服务热情周到。我们在暹粒度过了一个难忘的春节期间。
Juan
2016-02-15T00:00:00Z
Cedric was very responsive to my questions in the days leading up to the trip. He even arranged a free tuk tuk pick up from the airport. The home was as described in the listing and the experience is what we expected.
Bryan
2015-06-14T00:00:00Z
Rodzaj pokoju
Całe miejsce
---
Rodzaj nieruchomości
Dom
---
Mieści
4
---
Sypialnie
Krong Siem Reap, Siem Reap, Kambodża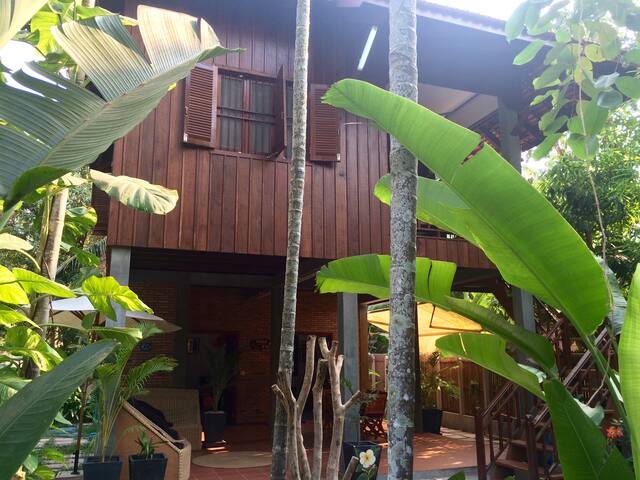 The villa Arlou offers you harmony with nature as its unique 100% solar system and bio-climatic architecture are naturally blended in Kep country side. The Kep national park and rice fields are literally next door. You'll have full access to the 350 sqm house with up to 3 bedrooms, 2 bathrooms, private swimming pool.
The house is fully equipped with: - 3 bedrooms (third bedroom available for big groups only), each including 1 double bed and 1 single bed (up to 3 adults per room) + 1 double bed on the mezzanine (100 sqm large so it's more like a second floor). Total capacity under mosquito net is 11 persons. - 2 bathrooms - Swimming pool - Fully equipped kitchen - All bedding and towels are provided - Plenty of fans - Bose speakers, DVD player and TV screen (no channel)
The house is secluded in the countryside, surrounded by beautiful landscape of rice fields and mountains. Lots of outdoor activities are available at a short distance, see "getting around" section. Since you're surrounded by nature, it's a peaceful and quiet place. Please, respect the peace of your neighbors.
Alex's house i a great piece of work and offers a lot of space for a big group of friends or a family or even two families. It's a quite and peaceful place in the middle of the Kep countryside, but only 15 minutes away from the sea by tuk tuk. We really liked the interior decoration, it all has great style and we felt really comfortable. The kitchen has everything you need to have in order to enjoy great dinners with a group of friends and the barbecue allows for a great crab and prawn barbecue, freshly bought from Kep's Crab market. Alex was helpful from the beginning and everything was really greatly organised. It was the most reliable communication experience I had so far with Airbnb. Roger, his friend, helped a lot as well, showed us the way to the house and dropped by to see if we are happy and sound. We all needed to get used to the experience being within Cambodia's nature including crawling little neighbours but they stayed mostly out of the house when we moved in. I think we got a deal there. Nature around, especially during the day, is beautiful and relaxing by the pool, listening to music with a cold beer in our hands made the little weekend retreat worth it. I hope many guests will follow!
Laura
2017-01-22T00:00:00Z
We booked a work retreat at this truly amazing eco-home at the base of the Kep mountains. For us it was the perfect place to relax, hike, run, swim, brainstorm, organize, cook, and spend time together. Both outdoor and indoor spaces are fantastic. The house is so well designed you never need a fan as the space invites a natural airflow. The rooms are spacious with their own bathrooms and everything was set and very clean upon arrival. While there are homes around, the house still feels very safe and private and the quiet was most welcome. If you're planning a stay there are just a few things you should be aware of. The house is quiet secluded so bring all of your food and supplies with you. It does have a full kitchen and water is provided so you can leave the plastic bottles behind. It can be a bit difficult to find so try to arrive in the day time and try to make sure your driver understands where he is going. Other than that the house is fully equipped so once you're there you'll have little need or concern about anything other than enjoying this awesome space. There is a really fantastic NGO run school behind the house called Kep Garden Association (Its on (SENSITIVE CONTENTS HIDDEN) maps and is a good landmark for your arrival). If you're looking to get involved in anything they seem happy to accept short-term (and longer term if you're so inclined) volunteers. Its also a great place to organize any activities for the surrounding area. There is information on the trips they can arange at the house. The area is safe to walk during the day and the neighbours are very friendly. Beware about walking at night as like most rural areas, dogs pack-up and can be aggressive, especially towards strangers. In the day time they are docile and friendly though. If you're looking for a quiet secluded getaway and a unique rural Cambodian experience then I would highly recommend this house. Fresh mountain air, cooler temperatures, nature, and all the comforts of home, there is very little more than to want for.
Robert
2017-03-06T00:00:00Z
The host canceled this reservation 3 days before arrival. This is an automated posting.
Bill
2017-01-03T00:00:00Z
This is a great place. The design of the house is amazing. It's comfortable. Alex is very, very helpful. It's slightly far from town, but a tuk tuk is available. We found it incredibly relaxing. You won't be disappointed.
Daniel
2017-02-05T00:00:00Z
Rodzaj pokoju
Całe miejsce
---
Rodzaj nieruchomości
Dom
---
Mieści
11
---
Sypialnie
ដំណាក់ចង្អើរ, Kep Province, Kambodża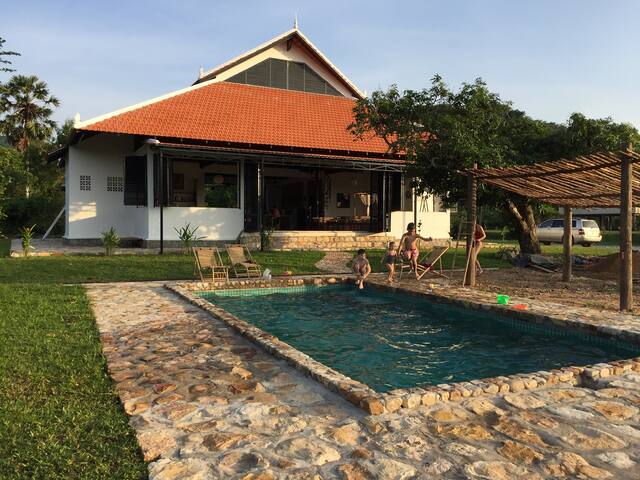 Our home is brand new build khmer traditional wooden house with 2 bed rooms on first floor and kitchen and living area on ground floor, suitable with a family , kids. We could arrange cooking class and BBQ, make real Khmer living style and relaxing.
Wooden traditional house with relaxing atmosphere!
Surrounding with great villagers, quiets and safty place as beside are the rice fields with animal farm like cow, Buffaloes, duck...you might enjoy the real Khmer life style.
NaturalStay is a beautiful, quiet, traditional airy Cambodian home in the countryside just on the edge of Siem Reap. It is easily accessible from the airport using ground transportation (tuk-tuks). The accommodations included two large second-floor bedrooms, each with private bath, a double bed and storage. It is comfortable for two travelers, one in each bedroom. (Two couples?) Both the second floor and the bedrooms lock. Between the bedrooms is a spacious gathering room with a view of the pasture. Downstairs features comfortable, open concept areas for seating and eating. The breakfasts ranged from local fair to home cooked meals. The NaturalStay is located nearby the Ankgor Temple ruins and is accessable by tuk-tuk. The floating village is about the same distance. Siem Reap is close enough to use a bike for transportation, but we used tuk-tuks. In town there is a lot to explore with street food, restaurants, bars, and night markets. We recommend this airbnb for all travelers for the following reasons: hospitality, close to airport, sights, and city life, safe, quiet, and affordability. We took 4 days to explore the area, including 2 days in Angkor and one day at the floating village.
Thomas
2016-01-17T00:00:00Z
Our whole experience was utterly amazing! Definitely recommend! Sokbo could not be more helpful and genuinely caring, anything we needed organised was sorted and you really get a real feel of the Khmer culture. :) The most welcoming experience I've had staying anywhere!
maxine
2016-01-10T00:00:00Z
Beautiful place, quiet but close to all actions. Sokbo is nice and sweet, who will accommodate your requests. She even provided us with a local mobile phone to use during our stay.
Femia
2016-02-28T00:00:00Z
We are very satisfied with the host Sokbo and her house. The airplane arrived in the midnight,sokbo sent the tuktuk driver yuth to pick us up in the Siem Reap airport, waited in the house and arranged everything. She also took us to the local market to buy daily necessities, provided us with purified water, arranged for the aunt to clean the yard and the room every day,introduced the view points of the Angkor Wat. The night before leaving, she cooked for our dinner and gave a send-off party,with her two girls and yuth. I,and my parents, like this house vey much, the quiet courtyard, comfortable bed,green plants, the turkey,lovely little grey cat...This two-storeyed wooden building, clean, beautiful, simple,but with the complete internal facilities,has the strong Khmer architecture. We missed sokbo,yuth,the people met in the Cambodia,and the silent temples,wheat fields under the light of the sunset...... I love Cambodia,I think would visit again.
Chen
2016-02-15T00:00:00Z
Vuthy and Sokbo's place exceeded all my expectations. it was far enough from town to make you feel you were experiencing the real Siem Reap and close enough to town to part of the action if you wanted it. Vuthy and Sokbo's house is incredibly beautiful. The bedroom I stayed in was one of the nicest I ever stayed in - much better than a hotel. Vuthy and Sokbo go out of their way to make you feel welcome - from home cooked breakfasts, dinners, phones, organising transport - anything you need they find a way of making it happen. their local tuk tuk drivers are amazing - it was an adventure in itself taking the tuk tuk into town. I also rode a bike they provided into town and I loved that as well. Vuthy and Sokbo provided a home away from home and their daughters are delightful. I stayed here 7 nights and I loved it so much i'm coming back to stay again. If you are in Siem Reap and want a Cambodian experience I highly recommend staying at Vuthy and Sokbo's house.
Cathy
2017-04-02T00:00:00Z
We had an amazing experience at this home in Siem Reap. We were picked up at the bus stop and brought straight to the house, so we didn't have to worry about finding it. The home is absolutely gorgeous, spacious, and clean. All amenities were provided. The hosts are wonderful and charming. The breakfast in the morning is delicious. I highly recommend this place if you are staying in Siem Reap. It's not in the city, but a quick Tuk Tuk ride, bicycle ride or a nice walk away.
Saba
2016-01-26T00:00:00Z
my family and I were looking for more of a Cambodian cultural experience and so we decided to stay at this place. let me tell you it was everything we hoped for and more. sokbo was exceptionally welcoming and has a heart of gold. her family were very kind to us and took care of anything we needed. the place itself has wifi, power, hot showers and is relatively close to the pub street (5 minute tuk tuk ride). it's an open air home so you're really experiencing what it's like to be in a Khmer home. awesome. recommend it. will return!
Zaine
2016-02-20T00:00:00Z
Sokbo and her family were AMAZING! From the moment we landed and they had a Tuk Tuk awaiting our arrival, to the home cooked meals and all of the kindness they shared throughout our time there, we could not have asked for better hosts. And their little daughter is such an adorable little ball of energy! If we make it back to Siem Reap (we plan on it), we will firstly look to stay with Sokbo and her family. Highly recommended!
Jimmy
2016-01-04T00:00:00Z
Rodzaj pokoju
Całe miejsce
---
Rodzaj nieruchomości
Dom
---
Mieści
2
---
Sypialnie
Krong Siem Reap, Siem Reap Province, Kambodża
My place is close to restaurants and dining. You'll love my place because of the comfy bed. My place is good for couples. You will experience the local community and you will stay in a great neighborhood in the heart of town close to the Tul Sleng Genocide museum (S21), the famous Russian Market , restaurants, temple, local culture, Massage night club.
just for your info around our place have 2 apartments under contraction and also at the ground floor of our place also under renovation. there are 3 dogs around the place, but they are just make noise when they show new coming.
its very local! and only if you are interested to stay among them! Thanks
地點有點難找,雖然離屠殺博物館和小偷市場很近,但由不是一般光觀客會來的地方晚上沒什麼地方活動,也有點可怕如果晚上去蹓躂的話。。。房間是要上樓的,建議輕裝旅客,蓮蓬頭只有冷水,沒有熱水,所以不要冬天來這。但屋主很親切。
Leila
2017-03-25T00:00:00Z
Great stay at longs place! Good location, room was exactly as advertised! Long and his family were very welcoming and helpful :) Great value, Would stay again! Thank you
Nicole
2016-06-27T00:00:00Z
The room was not clean, trash has not been emptied and the floors hasn't been cleaned! It was really noisy (dogs, a family downstairs playing guitar and singing late...). Our host didn't talk to us, just showed us the room and gave us the key without a word!
Maxime
2017-01-25T00:00:00Z
Nice place near to example russian merkets or Tuol Sleng. We had a great stay there.
Sofia
2016-11-10T00:00:00Z
We had an amazing stay! Long was always avaialble when we had questions, and was very flexible as well which made our stay very easy at his place! Highly recommended!
Mirana
2016-06-05T00:00:00Z
I didn't get to meet Long as he was out of the country, but he still organized my check in to be done by his friend and everything went smoothly. The place was exactly like the pictures and I loved it because it was so clean. The bed was comfy to relax on after a long day out, and wifi and tv available for some entertainment. Thanks for the great stay!
Sarah
2016-12-29T00:00:00Z
Very friendly host and family. Very good for the price. Only thing was that it was a little difficult to find but that was just as much my own fault that I didn't get that before arriving to PP. I would stay there again
Palle
2017-02-05T00:00:00Z
We had a great stay here, clean and tidy private room with bathroom.. Really in the midst of Khmer culture in this homestay, but only a 10 minute walk to Russian Market.. You get the best of both worlds! Long and his sister are lovely hosts-would recommend anyone to stay here!
Emma
2016-06-24T00:00:00Z
Rodzaj pokoju
Pokój prywatny
---
Rodzaj nieruchomości
Dom
---
Mieści
2
---
Sypialnie
Phnom Penh, Phnom Penh, Kambodża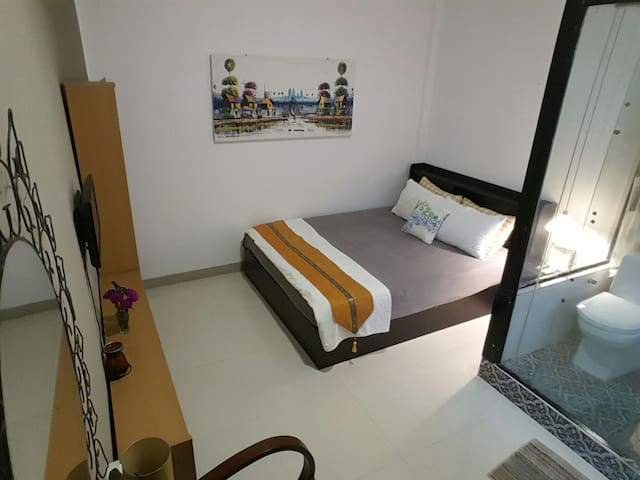 You're welcome to stay at our place . You will experience the local community and you will stay in a great neighborhood in the heart of town close to the Tul Sleng Genocide museum (S21), the famous Russian Market , restaurants, temple, local culture. Please try to read the location description don't depends on (SENSITIVE CONTENTS HIDDEN) map. because on the street 396 have 2 same house number.
just for your info around our place have 2 apartments under contraction and also at the ground floor of our place also under renovation. there are 3 dogs around the place, but they are just make noise when they show new coming.
its very local! and only if you are interested to stay among them! Thanks
There is nothing else to say but how great it was. Long communicated well in advance and the descriptions were incredible accurate. I absolutely advise this place.
Ann-Cathrin
2016-08-04T00:00:00Z
That is nice
Roger
2016-08-29T00:00:00Z
Long's place was very nice! Our room was spacious and clean with a large shower area, and good air conditioning. Long is a fantastic host and we were even invited to share a meal with Long and his family. He gave us great advice about the local markets and ways to get around in the city. We highly recommend staying at Long's while Phnom Penh.
PJ
2016-11-21T00:00:00Z
Longs place is great, the room is spacious, the bed is really confidante comfortable and he's put real effort into making it look nice. The wifi is great too! As a host, he is really friendly and responds very quickly to any questions you have both prior to your arrival and during your stay. We texted him a few times when we couldn't find places and he got back to us straight away. The location is a few minutes walk from S21 and the Russian market, shops are very close by and there are a few restaurants, pizza, Thai, Khmer, just round the corner. The main strip by the river is only 3-4 dollars away. I'd definately stay here again, he provides amazing value comparatively with the rest of the Phnom Penhs accommodation options. Thanks Long?
John
2016-07-31T00:00:00Z
Had a great stay at Longs place. The room was very clean and spacious. Location is close to the Russian market, otherwise all walking distance to the main tourist attractions. Unfortunately I didn't get to meet Mr. Long, but from what I have heard he is a very nice person. :) thank you for having me.
Monika
2016-08-03T00:00:00Z
Bed was super comfortable! Everything was clean and tidy and modern. The host was really friendly and helpful, although we did get a little lost finding the house.
natasha
2016-06-11T00:00:00Z
Only stayed a night but it was really easy to find and communication with Long was no problem. Good location by the Russian Market and a good value. Very clean also, would stay again.
Austin
2017-03-01T00:00:00Z
Amazing place! Good location with affordable local food around. Room is spacious and decor is nice. Highly recommended !
J K
2016-06-15T00:00:00Z
Rodzaj pokoju
Pokój prywatny
---
Rodzaj nieruchomości
Dom
---
Mieści
2
---
Sypialnie
Phnom Phen City, Phnom Penh, Kambodża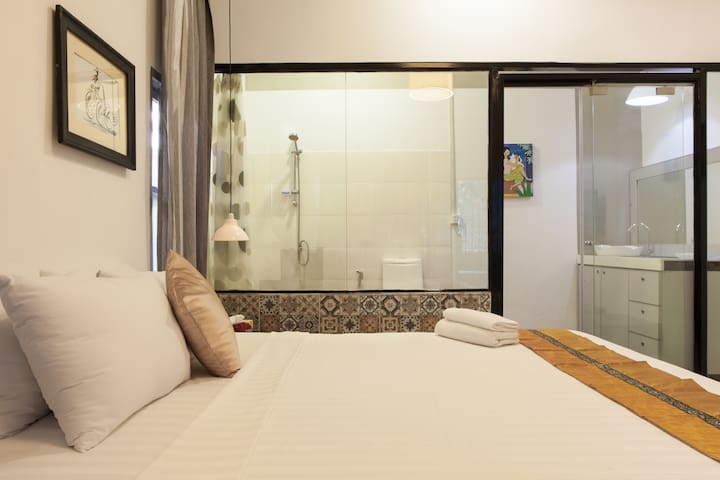 Kambodża - Airbnb
:
Średnia ocena:

4.74

/

5

gwiazdek od

833

gości
1

–

18

z

300+ Wynajmów domów
Wpisz daty, by zobaczyć pełną cenę. Obowiązują dodatkowe opłaty. Cena może uwzględniać podatek.