Questa cabina è perfetto per due persone. E 'accogliente, romantico e perfetto per rilassarsi. Amerai l'arredamento affascinante. Il proiettati in veranda è grande per godere di una bibita fresca e la lettura di un libro mentre si è circondati da un paesaggio straordinario.
Great cozy cabin!
Rose
2017-04-09T00:00:00Z
Sherrie was flexible enough to let us change plans slightly and actually stay in her "Cheyenne" cabin instead of the "Cool Cabin". We had a relaxing weekend and thoroughly enjoyed the location and the wildlife. She suggested "Lum's BBQ" in Junction and it was fantastic too!
Brandon
2017-03-19T00:00:00Z
We LOVED our stay at the Cosy Cabin-- it was everything we were looking for. Highly recommend!!
Eva
2017-03-16T00:00:00Z
We needed a place to relax for a couple days, away from everything, under a starry nighttime sky. Bingo! Being a dog friendly place is important and the screen porch was perfect for them and for us. A bonus was the nifty ATV ride the Schusters gave us around their ranch where we were accosted by their herd of Watusi cattle who demanded money for "protection." :-) We also enjoyed the beauty and serenity of their pecan farm and are eating the delicious nuts as we are writing this. Maybe next time we'll stay in one of the cabins on the farm, if available. Stan and Sherrie were way beyond friendly and it was a treat to meet them and stay at their ranch. The K9s agree.
Beth
2016-10-06T00:00:00Z
Our hosts made us feel very much at home. They took us on an ATV tour of the property and showed us where we could hike and bike ride. If you're looking for a peaceful setting surrounded by cute cattle, friendly hummingbirds, and a star-filled sky at night, then this is the place. My husband enjoyed sitting out on the screened-in porch every morning to watch the hummers feed. We both enjoyed nature watching and star gazing. It was a very nice stay in the cabin on the ranch.
Wendi
2016-07-31T00:00:00Z
The Cool Cabin was very clean & comfortable. We relaxed at night on the front porch. I caught a 2-3 lb. bass fishing on the Sycamore creek in the morning. Lots of wild life! Thank you for a nice stay!
Mike
2016-07-17T00:00:00Z
Cool cabin was a perfect weekend getaway. Very quiet, lots of wildlife, and the ranch property was fun to explore.
Victoria
2016-09-06T00:00:00Z
Rodzaj pokoju
Całe miejsce
---
Rodzaj nieruchomości
Chatka
---
Mieści
2
---
Sypialnie
Junction, Teksas, Stany Zjednoczone
What a great host! Nol is very accommodating and the cabins and property were far better than expected. We have already booked another stay :)
Hec
2017-03-19T00:00:00Z
Really enjoyed our stay here. Cabins are very private and quiet. Nol was very nice to talk with. You must go the the bats at Devil's Sinkhole near Rocksprings. Loved seeing all the wild animals.
Paul & Belinda
2015-08-07T00:00:00Z
Wow! This place is a true treat and we are so lucky Nol has shared it with us. The cabin is clean and perfect for a couple trying to escape the busy city life. If you like to dish, enjoy water, or just appreciate the outdoors, this is the place for you. You can't ask for a better location with some of the best fishing in Nol's backyard. To top it off, you will not find a nicer, more accommodating host!
Hayden
2017-04-02T00:00:00Z
Nol was a great host! She was super flexible and very understanding :) we will definitely be coming back to her property. Forget an item? Ask Nol before going to the store, she is overall wonderful and made us feel like we were at home. Her cabins are also very homey and the property is beautiful and private. Best AirBnB experience I've had!
Michelle
2016-07-20T00:00:00Z
This was the perfect spot for us, secluded and right on the river. Nol let us have a choice of cabins so we chose the one a little closer to the river with plenty of chairs out on the porch to sit and watch the variety of birds that come to the feeder. She was the perfect host, making sure we settled in comfortably and she even dropped us off up river with our kayaks so we could paddle back right to her property. The cabin was stocked with everything we needed and everything was clean and in working order except the Dish TV was troublesome at times. But then, we were there to read, relax, bird watch, and kayak and not watch so much tv. What I loved was the shady area by the river with chairs that can be put in the water, a hammock, table, a swing, and little playground for kids. We wished we had stayed longer! Hopefully we will be back when the weather cools off a bit. This is our new favorite spot in the Hill Country.
Dina
2015-08-26T00:00:00Z
Nol is an exceptional host. The cabin is beautiful! Far nicer than any we have stayed in before. But the private River access was even more amazing. After a hot day on the motorcycle, lounging in the river with a cold one was perfection. We can't wait to go again. Five stars!!!!
Phillip
2016-05-12T00:00:00Z
Beautiful place, comfortable cabins, gorgeous river, charming hostess. Great spot for relax.
Lahat
2015-09-09T00:00:00Z
Nol is a fantastic hostess with a great riverside vacation setting. Excellent fishing and beautiful scenery made our Spring break one of the most memorable!
Sheri
2017-03-14T00:00:00Z
Rodzaj pokoju
Całe miejsce
---
Rodzaj nieruchomości
Chatka
---
Mieści
4
---
Sypialnie
Junction, Teksas, Stany Zjednoczone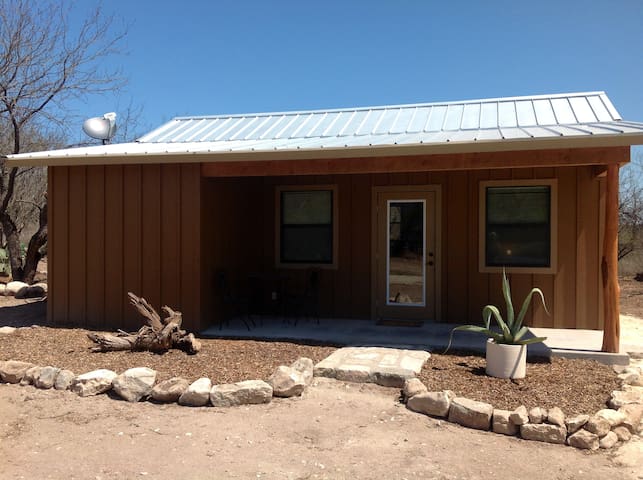 This was such a perfect getaway! Walking distance to the river. My husband fished, while I read. Sherrie was an amazing host! We will definitely be back!
Ann
2017-03-16T00:00:00Z
Absolutely LOVED everything about our stay! The cabin itself exceeded our expectations. The kitchen was well stocked & fully functional & even a charcoal grill outside. We were able to make a fabulous surf & turf dinner. Sherrie was so thoughtful in leaving us both sweet birthday greetings as my fiancé & I were celebrating both of our birthdays on this trip. Our two pups were also greeted with a warm welcome as big, fresh water bowl & treats were available upon arrival. We saw an abundance of deer which is always exciting. Enjoying a cup of coffee on the front porch looking out to the rows & rows of pecan trees was one of my many favorite parts about this stay. We didn't catch any fish, but it was a great time.
Nina
2016-09-05T00:00:00Z
It's hard to describe our experience at Sherrie's cabin - The setting forces you to relax. Adjectives just don't do it justice. It's a comfortable cabin, in a beautiful location, with endless things to experience. I can't stress enough how great our whole weekend was - the pecan farm is just so gorgeous, Sherrie was so easy to communicate with and made us feel so welcome, and the surrounding area has tons to do. We rented kayaks and floated the South Llano, fished, got bbq in Junction, and spent endless hours reading and doing puzzles on the porch. Book it. Trust me. Highlights: fishing on the Llano river, which runs through the property, waking up to wild turkey and deer in the front yard, an incredibly comfortable bed, no cellphone service/wifi (disconnected for a whole weekend!), tons of privacy, and painless easy booking/arrival/departure.
Will
2016-06-13T00:00:00Z
perfect place for a quick, last minute get away to relax and unplug. we grilled and chilled. never touched the tv. sat outside on the great porch the whole time and even though the trees were trimmed, we enjoyed the deer crossing and scenery with some wine and each other. highly recommend!!
Lisa
2017-03-05T00:00:00Z
A great weekend at the Pecan Orchard! The cabin was extremely comfortable. The bed was amazing and the cabin was cool and dark. The kitchen was well equipped and the porch has a great view through the orchard. The river access was perfect for fishing and/or putting a kayak on the water (4x4 recommended for the latter). Last, but not least, the shear abundance of deer was incredible. I'm not much of a hunter but if I were... I've lived the the hill country, and I was blown away by the density of deer on the orchard. Amazing, I will be back with wife!
Rowdy
2016-07-25T00:00:00Z
This cabin was an absolute bargain. The pecan farm setting was so relaxing. We saw hummingbirds feeding from the hanging flowers on the porch, and we saw deer and turkey running through the fields. The Llano river is a walk away on their property where we swam and fished. We caught bass, brim, and a bunch of catfish. They have everything you need to cook and clean up in the cabin including a grill. Just a great weekend getaway for us.
Jr.
2016-06-27T00:00:00Z
The place exceeded all expectations in every way. I have already recommended this listing to several friends and family members. I hope to go back soon. Sherrie is an amazing host!
Conor
2016-08-14T00:00:00Z
Rodzaj pokoju
Całe miejsce
---
Rodzaj nieruchomości
Chatka
---
Mieści
2
---
Sypialnie
Junction, Teksas, Stany Zjednoczone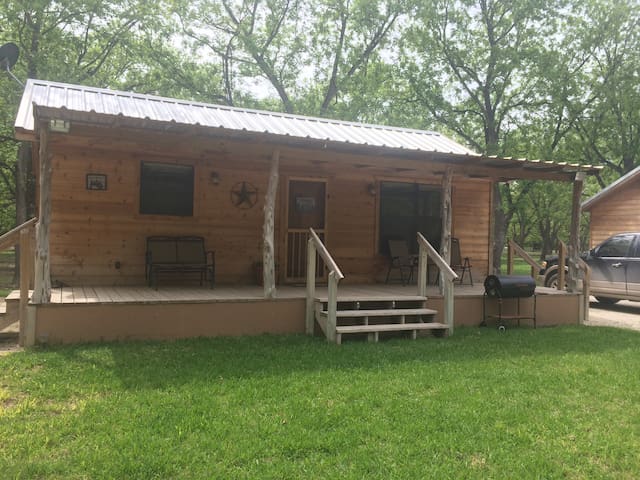 I needed a relaxing break from the city and work, so I decided to take a trip to hill country, and a cabin in the middle of a pecan grove sounded perfect. The property is absolutely beautiful and serene! I loved sitting on the porch at dusk each evening to watch the 30+ deer graze throughout the grove. What a wonderful experience! Completely relaxing and rejuvenating, it was just what I needed! Sherrie made me feel very welcome, and I would highly recommend it to anyone!
Morgan
2016-08-23T00:00:00Z
My husband and I felt very welcomed. The property is beautiful and very private. The cabin is clean and quaint. We would defiantly recommend it to friends and family.
Melanie
2016-08-08T00:00:00Z
Rodzaj pokoju
Całe miejsce
---
Rodzaj nieruchomości
Chatka
---
Mieści
2
---
Sypialnie
Junction, Teksas, Stany Zjednoczone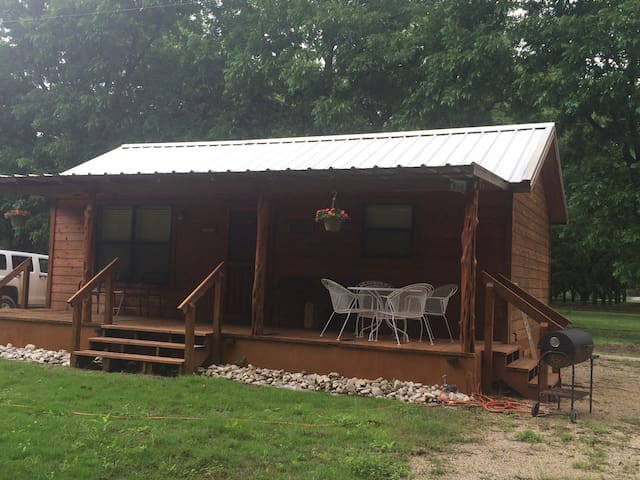 Wow! We absolutely loved our 2 nights in this little paradise. The cabin itself was wonderful- beds very comfortable, great kitchen, lovely decor, patio with fire pit, inviting spaces. The land around the cabin is picturesque hill country. Perfect for birders (a lot of activity), nature lovers, and those who like to walk scenic ranch roads. The host Sherrie is a generous, friendly person who genuinely wants her guests to enjoy themselves. Would highly recommend this cabin and hope to return someday. Thank you!
Margaret
2017-03-18T00:00:00Z
Rodzaj pokoju
Całe miejsce
---
Rodzaj nieruchomości
Dom
---
Mieści
6
---
Sypialnie
Junction, Teksas, Stany Zjednoczone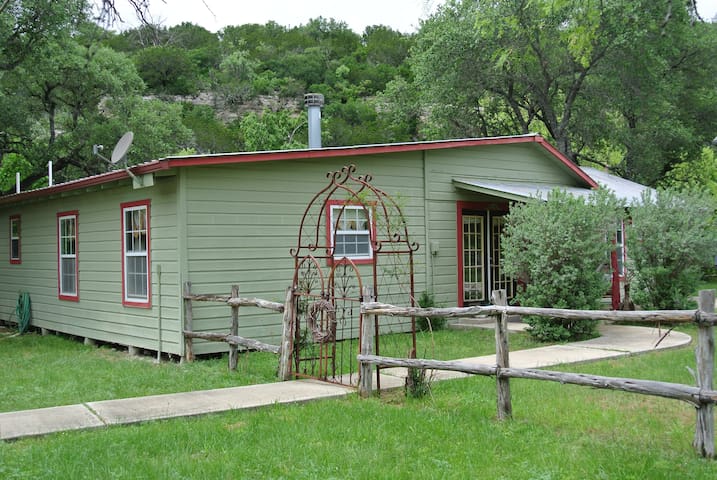 Unwind from the hustle and bustle and relieve stress with a peaceful and relaxing stay at Hill Country Getaway. Our greatest compliment has always been when guests say that the moment they drive through that gate they feel their bodies decompress. The Ranch House sits on top on one of the highest points overlooking our beautiful 10,500 acre ranch. Start the morning off rocking on the porch watching animals and cap the night off with star gazing.
If you wanting to escape the city and relax in the country this is the spot. The view is breathtaking; you can see for miles. The sunrise/sunsets are gorgeous and the stars at night are amazing. The house is prefect for a romantic getaway or a family vacation. There is an outdoor playground and sandbox for children to enjoy. The game room upstairs has a pool table and toys for the children. There is an outside grill. House is equipped with: •Fully equipped kitchen •Two fire places •Crib/ Portable High Chair •Kids Toys •DVD Player •Bedding •Towels •Toilet Paper •Outside Grill •Firewood can be available for an additional fee •First Aid Kit •Fire Extinguishers Things to bring: •Shampoo and Soap •Food and Drinks •Charcoal & Lighter Fluid •Fire Starters •Paper Towels •Binoculars
The house is located on one of the highest points on the ranch. It's perfect spot to spend time with family and friends.
The house was beautiful and very clean. The scenery that you can approach from the house is amazing. People who love nature definitely have to come here.
Mayra
2016-12-26T00:00:00Z
This is a beautiful location with extremely nice lodging. The stargazing alone is worth the trip. This is a perfect place to really get away.
Carliss
2017-02-22T00:00:00Z
Ashley and her ranch house were both WONDERFUL. Ashley was very communicative and prompt in her responses, really friendly and fun, and made my friends and I feel very welcome. She gave a ton of details about the property and the house, which was invaluable to have with such a unique set up (especially for us 'city people'). I absolutely had the best weekend and would 100% visit again.
Magda
2017-01-01T00:00:00Z
What an awesome place! The Ranch and the house are outstanding. If you are a morning person I suggest getting a cup of coffee, a pair of binoculars and a camera and sit on the rock patio and watch the wildlife as the sun comes up. The hosts were more than wonderful. We will definitely be back in the future.
Kelvin
2017-03-05T00:00:00Z
Beautiful Ranch with amazing views. The home was perfect with tons of amenities. Very secluded but worth the trek.
Matt
2017-02-19T00:00:00Z
Rodzaj pokoju
Całe miejsce
---
Rodzaj nieruchomości
Hotel ekologiczny
---
Mieści
10
---
Sypialnie
Mountain Home, Teksas, Stany Zjednoczone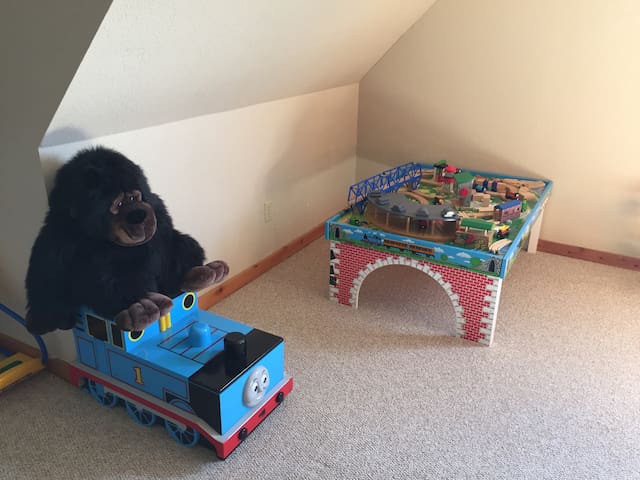 Wpisz daty, by zobaczyć pełną cenę. Obowiązują dodatkowe opłaty. Cena może uwzględniać podatek.