Beautiful master suite with a private balcony with a breath taking view of Henry's Lake and the continental divide mountains. King sized bed and private bathroom. 17 miles from West Yellowstone. Kitchen and outdoor fire pit available for your use.
Share our beautiful mountain home. We are located on the south and west side of Henry's Lake, known worldwide for its great fishing. Many miles of 4-wheeler and snowmobile trails are close by. Don't be surprised if you see deer, moose, elk, antelope, fox, songbirds, and other amazing wildlife. Beautiful hiking areas surround us also. We are only 17 miles from the West entrance to Yellowstone Park, giving you easy access to that amazing wonder. We are a cattle ranching family with our summer range land just up the road, so if you are looking for a unique western ranch experience you are in the right place!
Very nice place, pictures are an understatement. Very large room with balcony and view of the large and green pastures and Yellowstone NP. We totally loved it and would come back anytime, just stay more days next time. there was even breakfast for us!!!!!!!
Anna Maria
2016-05-30T00:00:00Z
We had an amazing time at Bruce's home. He was very communicative in terms of our arrival and made sure we had all the information we needed to find his place first time. The views up there are stunning and our room was excellent, with a great porch and chairs to look over the lake. A great location for exploring Yellowstone NP! Just far enough out to be away from the hoards of tourists, close enough to get to the West Entrance in about 20 minutes. A great stay, thank you Bruce!
Samuel & Sarah
2016-08-11T00:00:00Z
Bruce and Annette were wonderful hosts, even finding us when we got lost as we did not pay attention to his directions! Their home is lovely, in a beautiful setting with gorgeous views, very quiet, clean, spacious, fully equipped kitchen, breakfast and a short drive to the west entrance of Yellowstone Park. Very easy to communicate with and timely. We really enjoyed learning about ranching and performance horses as the home is on a working ranch, Bruce was very informative. We highly recommend this Air Bnb and would definitely stay here again.
Kathleen
2016-05-22T00:00:00Z
Bruce made us feel welcome by texting is important details ahead of time, leaving water bottles in our room, providing plenty of breakfast options and writing them on a board on the fridge. He was very responsive to texts and the cabin looked even more beautiful than the pictures! Even though we didn't get to meet, all of the amenities were available and easily accessible.
Audrey
2016-07-15T00:00:00Z
We were delighted with Bruce and Annette's place. We were not expecting the setting of mountains and lake from our private balcony. We were not expecting breakfast either! We were pleased to be constantly in touch with them about what to do in the area. The room was lovely and spacious. We felt so much at home that we spent most of our last day right there "at home."
Alicia
2016-06-25T00:00:00Z
Bruce and Annette were so friendly and welcoming. Everything was just as described. We love that the location was less than a half hour to the YNP entrance. This was our first airb&b experience and we would definitely stay here again. It was very clean and so beautiful.
Dawn
2016-10-26T00:00:00Z
Annette and Bruce were wondeful and so was their home!! Thanks for leaving the lights on that first night for us, Annette!! So thoughtful!
Shannon
2016-06-08T00:00:00Z
Very nice house and host, but need pay attention to the direction, the (SENSITIVE CONTENTS HIDDEN) maps does not work for this location.
YEQING
2016-05-23T00:00:00Z
Rodzaj pokoju
Pokój prywatny
---
Rodzaj nieruchomości
Chatka
---
Mieści
2
---
Sypialnie
Island Park, Idaho, Stany Zjednoczone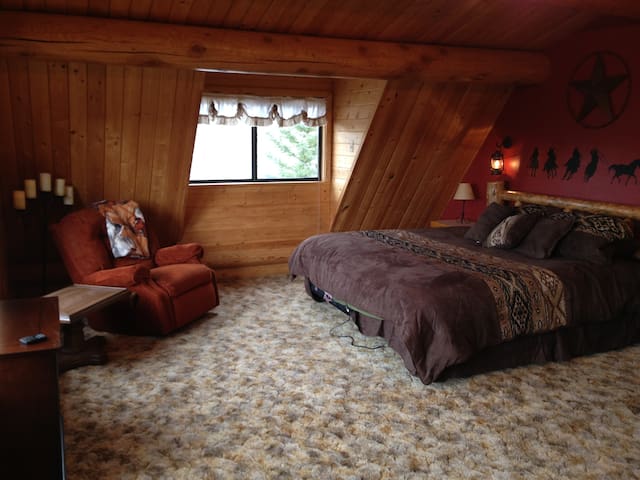 Enjoy this Log cabin in the pines, only 23 miles from the entrance of Yellowstone National Park. It's located next to the famous Mack's Inn recreational area and only a short distance from the Henry's Fork portion of the Snake River. This cabin has 3 bedrooms, 1 full bath, full kitchen, a beautiful rock fireplace, and flat screen tv. This cabin has satellite and wifi. Sleeps 7. This cabin is the perfect getaway place for anyone who loves the scenic outdoors! Please no pets and no smoking.
Rodzaj pokoju
Całe miejsce
---
Rodzaj nieruchomości
Chatka
---
Mieści
6
---
Sypialnie
Island Park, Idaho, Stany Zjednoczone
Custom built luxury 18"X18" guest cabin. It offers two twin beds and space to spare for a roll-away bed if needed. Set in the mountains just 30 minutes from the West Yellowstone entrance. Traveling with friends? Check out its twin guest cabin for availability!
The custom guest cabin offers a unique mountain experience that you cant get in a hotel. Set away from the hustle and bustle of Yellowstone crowds, it offers a quiet evening retreat to the end of each activity filled day. The space offers 2 twin beds, bath with shower, small coffee pot, and mini fridge. 1 king bed is available upon request instead of 2 twin beds. A Roll out twin is available for an additional fee upon request.
Island Park is full of food and fun! Ask about the local recreational options.
We had a wonderful stay in the cabin. Almost new and very clean. Only 30-40 minutes from West Yellowstone. Quick easy drive. The wooded area was safe and enjoyable. Would love to come again. Thanks.
Wayne
2016-09-08T00:00:00Z
We enjoyed our stay in Island Park. The cabin was perfect, clean and quiet and Ron was a great host. Make sure you eat at Boondocks and visit Mesa Falls if you stay there!
Tim
2016-09-07T00:00:00Z
Jamie's partner, Ron, was easy to reach by phone and greeted us when we arrived. Turns out he build the two cabins on their property by hand! He showed us around, offered dinner recommendations, made sure we were comfortable, and even helped up build a campfire in the ring that evening. The cabin itself was perfect! There is attention to detail throughout to help make it great for travels and add charm. Overall -- worth the 30 minute drive from West Yellowstone to stay away from the hustle and bustle of oodles of other tourists.
Lacey
2016-07-17T00:00:00Z
We stayed here for 4 nights on our trip to Yellowstone. The cabin was exactly as pictured. It was absolutely beautiful. Felt very at home. The Lucy and Ricky beds were very comfortable, from the mattress to the blankets. We all agreed these were our best nights sleep of our trip. Ron had brought a foldaway for our daughter in case she decided the loft was not for her, and she even thought that was comfy. She used the loft as her reading area and her area to be away from Mom and Dad as any tween would, when 'stuck' with her parents for a 2 week vacation. We had brought our own guide book to Yellowstone but the one in the cabin, we borrowed proved to be a great companion to us in tackling Yellowstone. Would definitely stay again and have recommended to others.
Chris
2016-06-29T00:00:00Z
The Guest Cabin near Yellowstone was perfect for a weekend getaway to celebrate my fiancé's birthday. The cabin was very clean and comfortable and the location is ideal, being just 20 minutes from the Yellowstone West Gate entrance. Island Park also has a lot to offer and we were very happy to have been able to explore the area.
Kara
2016-06-20T00:00:00Z
Jamie was great-- close to Yellowstone but in the woods
Kathy
2016-06-21T00:00:00Z
The host canceled this reservation 74 days before arrival. This is an automated posting.
In Sun
2016-05-19T00:00:00Z
Our host was wonderful, he even met us and drove us in when our GPS failed. I left my camera charger behind and Ron promised to mail it to my home. The accommodations were lovely and very clean.
Susan
2016-09-28T00:00:00Z
Rodzaj pokoju
Całe miejsce
---
Rodzaj nieruchomości
Chatka
---
Mieści
3
---
Sypialnie
Island Park, Idaho, Stany Zjednoczone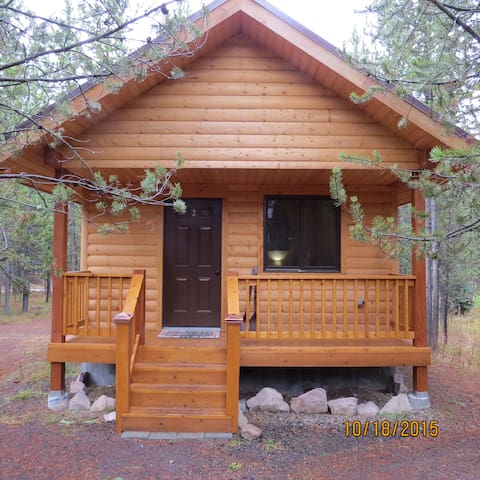 Perfect for a family retreat! This 3 bedroom cabin is convenient to fishing, wildlife watching, water activities and ready for relaxation. 30 minutes to Yellowstone National Park. Year around Access!
This family cabin is located off the beaten path on a quiet cul de sac close to all the outdoor recreational activities you could want! Fishing, hiking, riding ATVs, snowmobiling, and cross-country skiing are all just outside your door.
You can start snowmobiling from your backyard!
I was so impressed with this cabin. The place is very clean and cozy. The beds were very comfy and we slept like kings! The kitchen is also very well stocked with everything we needed. The location was in a great spot and easy to find, but still tucked away and private. Ece was so easy to work with and to get a holdl, and had a little book out full of information about the area for us. We really enjoyed our stay here and would go back in a heart beat!
Aubryann
2017-02-20T00:00:00Z
The pictures and description accurately reflect cabin. Everything inside is new with comfortable beds. Nice neighborhood. Gas fireplace was also a bonus.
Tamara
2017-01-01T00:00:00Z
All the details were communicated very clearly, the location of the cabin was great. People who are interested in taking astronomical pics, this place is the best with a great backyard for taking pics. Overall experience and quality is commendable.
Jayendra Kashyap
2016-07-05T00:00:00Z
Ece was an excellent host, accommodating, helpful, easily accessible and quick to respond to questions. The cabin is charming, inviting, clean, new, and a comfortable place to stay while visiting Yellowstone. The internet was a bit slow, which Ece tried to help with. It was a nice place to come back to after visiting Yellowstone, perfect for a family stay, and we enjoyed our visit.
Prasanta
2016-08-19T00:00:00Z
Ece's was a great place to be and she is a great person to get information from. A little bit far(35min drive) from our destination(Yellowstone NP) but it was clearly described from the beginning. Thanks for the clean house and letting us to use it for our stay. We'll use it again and would recommend to my friends.
Sparky
2016-09-22T00:00:00Z
We really enjoyed our stay at Ece's cabin. The cabin was very clean and beautifully furnished. Ece was very helpful and responded to my questions immediately. We would definitely stay at this cabin again.
Lori
2016-12-29T00:00:00Z
An amazing place to stay. We were here for a few days to visit Yellowstone. Trip advice and guides we found here were a great help. Everything in the cabin was neat and clean. The hot tub was a great relief after a day's hike.
Matej
2016-10-12T00:00:00Z
We were a Group of 6 and we thoroughly enjoyed our stay. Cabin was extremely well maintained and clean. Location was great as we wanted something away from the city. Facilities provided were excellent. Ece was quick to respond to all of our queries. I would love to come back here again !!
Amrut
2016-09-26T00:00:00Z
Rodzaj pokoju
Całe miejsce
---
Rodzaj nieruchomości
Chatka
---
Mieści
9
---
Sypialnie
Island Park, Idaho, Stany Zjednoczone
Cozy home on more than half an acre of land near Macks Inn Resort and 20 Mins (20 miles) from West Yellowstone. 2 bedrooms + 1 detached bedroom. Enjoy fishing, hiking, boating, kayaking, horse back riding, 4-wheeling, & Yellowstone National Park. Walking distance to Snake River & great fly fishing, hiking trails, restaurants, & Macks Inn Play House. Amenities include WiFi, BBQ, stove, fridge, microwave, coffeemaker, washer/dryer, smart TV, & DVD player. Tranquil area with privacy.
You have two bedrooms, a detached small cabin (10 feet from the property), a bathroom, kitchen and living area. 1. There is a queen bed in the master bedroom. There is a bunkbed in the second room. There is a sofa bed in the living area that turns into a double and is very comfortable. There is a separate bedroom detached from the main home that includes a queen bed and a single/twin bed (10 feet away). 2. We have utensils, cups, plates, pots & pans as well as a lot of extras: coffee, tea, sugar, cooking oil, flour, etc. There are plenty of extra towels, shower gel, shampoo, Q-tips, body lotion, toothpaste and many other toiletries.
Great neighbors and neighborhood all around. The scenery and quiet nights are great. You can see the Milky way on clear night. There are moose in the area so enjoy observing them but also be careful since females with calves are very protective of their young and will charge you. We strongly recommend a walk to the river it is quite amazing there and there is a good chance of a moose sighting.
I had a pleasure to stay at Sonia and Chris's again and they were nice enough to provide me with a discount for being a repeat guest. As expected this was an amazing trip again and this is the reason we came back.
Maria
2016-09-07T00:00:00Z
We had a great time in Island Park, staying in Sonia and Chris' house. The house was perfect for us (2 adults and 2 kids). I wish we didn't bring so much stuff with us all the way from California, as the house provided absolutely everything we needed during our 3 day stay. The house is very close to Yellowstone's west entrance which was a big plus. Sonia was always available via email to answer all our questions. We absolutely would return to this house and would highly recommend!
Macey
2016-07-08T00:00:00Z
This was our first Airbnb experience! We usually camp, but recently had a baby and felt we would be more comfortable in a home. We were correct and this experience made me an Airbnb convert! We arrived late to find a clean, comfortable home! Sonia and Chris were amazing at communicating quickly and making sure our stay was excellent! The beds were very comfortable (as was the couch!). We made the short drive into Yellowstone National Park each day, but there were many things that we could have done around the area. Other things that may be of interest: 1) Shower pressure/heat was great 2) Everything was very clean and neat 3) There were basic food items available (such as flour, sugar, salt, etc). 4) The trailer is indeed cozy, so it isn't a space for lots of people--but for us it was perfect! 5) It is generally very quiet with little car traffic nearby. Thank you so much, Sonia and Chris! We loved enjoying your home!
Lori
2016-07-01T00:00:00Z
My boyfriend and I had a wonderful stay at Sonia/Chris'. We didn't meet them during our stay but they both communicated with us through the entire process and made sure everything went smoothly and that we had everything we needed. Their place was very clean and spacious, and perfect for our stay.
Justina
2016-07-11T00:00:00Z
It's very clean and comfortable. Convenient to the Yellowstone. Sonia is very nice. 5 stars.
Sanng
2016-08-23T00:00:00Z
Had an awesome stay! Great location and great house. Hosts are incredibly generous and very responsive. Would totally stay here again if we were in the area!
Matthew
2016-08-08T00:00:00Z
We had a nice time at this Airbnb in Island Park. It was far from the hustle/bustle of West Yellowstone that was filled with tourists even though we were at the tail end of the season. It was well equipped so we could have a meal at home and avoid the crowded restaurants and we met the neighbors who were very nice. I would highly recommend watching the Yellowstone DVDs provided by the hosts to get a helpful overview of the park. The winter one was hard to watch because I prefer to think all the wild animals just hang out in heated barns during the winter but apparently they don't...... Overall a good experience but the only downside I might report is that the space is a little small for three adults. It would be perfect for a family with small kids however.
Erin
2016-09-24T00:00:00Z
Very cozy home for our four people. It is convenient to West entrance to YellowStone. Sonia is friendly and easy to talk with giving us a lot very helpful advices.
Decheng
2016-10-12T00:00:00Z
Rodzaj pokoju
Całe miejsce
---
Rodzaj nieruchomości
Dom
---
Mieści
6
---
Sypialnie
Island Park, Idaho, Stany Zjednoczone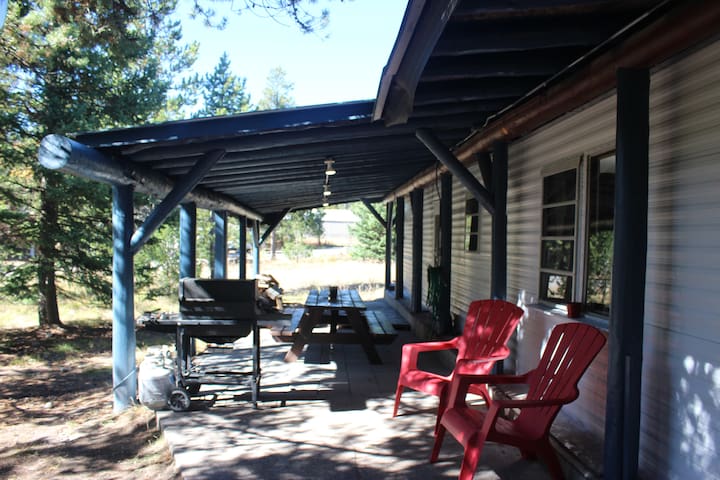 My place is close to great views, restaurants and dining, and family-friendly activities. You'll love my place because of the coziness, the location, and the people. My place is good for couples, solo adventurers, business travelers, families (with kids), and furry friends (pets).
Inexpensive
david
2017-02-20T00:00:00Z
Nice wooden apartment. Very friendly host with good communication
Hu
2017-03-03T00:00:00Z
The apartment was clean, the beds were comfy, and there was plenty of hot water for our family. I loved that it was dog friendly and the price was great too!
April
2017-01-08T00:00:00Z
Rodzaj pokoju
Całe miejsce
---
Rodzaj nieruchomości
Apartament
---
Mieści
4
---
Sypialnie
Island Park, Idaho, Stany Zjednoczone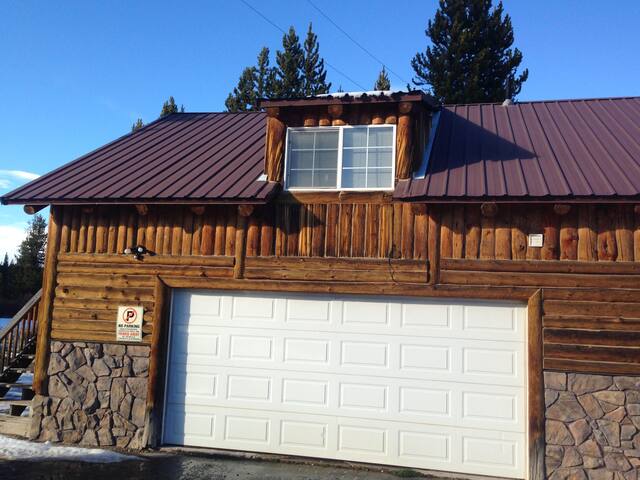 Our Guest Room near Yellowstone is the perfect location for your Yellowstone Vacation. With all the comforts of home and easy access to the area activities. Located in Island Park, Idaho and just 20 miles to the west entrance to Yellowstone National Park.
Our Guest Room Rental is located on the main floor of our home. Lovely bedroom has a king bed, adjoining bathroom with large shower. (This bathroom does not have a bathtub). Guests will have access to the living room, dining room areas and Wi-Fi. Guest Room is quiet and cozy, although you may hear us from time to time and we may require access these areas occasionally.
The same natural forces that made Yellowstone National Park so scenic also made Island Park similarly beautiful! Located in Eastern Idaho along the Idaho/Montana border Yellowstone National Park is our neighbor and our back yard playground. Guest Rental Room is located in a small subdivision 20 miles from Yellowstone National Park.
Our stay with Laurie and family was wonderful in every way. Laurie is a tremendous hostess- we felt completely taken care of. Staying here is like staying at a bed and breakfast, as Laurie made the most delicious breakfasts for us every morning. To add to that, you have Laurie's extensive knowledge of the area to help you plan your days. Laurie gave us great suggestions, not just for Yellowstone, but for unique and beautiful places to visit in the surrounding areas. She took a good bit of time with us to map out where to go and how to structure our days there. Laurie provides an amazing and perfect balance of attentiveness and privacy. In terms of accommodations, the room and bathroom was spacious and very comfortable. The home is a immaculately clean and every detail was thoughtfully prepared. We had a separate entrance so that we could come and go independently. During this stay we truly were made to feel like a part of their home. I don't think you could get a better Airbnb experience!
Brendan
2016-09-12T00:00:00Z
We loved everything associated with Laurie and her guest room. It was the best place we have stayed in till now. She was very nice caring. She knows a lot about YNP and GTNP and wild flowers and shared many travel tips with us. On the other hand she respects your space and gives you total privacy. She takes an extra step to make you feel comfortable and adjust to a new place. We felt very much at home. And to top the list, she made wonderful breakfasts for us. If YNP was closer, we would visit and stay with Laurie more often. Thank You Laurie for making the stay so nice and memorable. And we miss Annie too.
Saikat
2016-07-01T00:00:00Z
Laurie was very warm and welcoming and truly made us feel like family! The room was very clean, comfortable, and warm. The bathroom was quite spacious, with two sinks and a very roomy shower. And we got to meet her dog, Annie, who stole most of the attention from us. The price for what we received was well worth it. If given the choice, we'd definitely stay with Laurie again!
Brandon
2016-09-21T00:00:00Z
Laurie was a wonderful host and we enjoyed staying in her house. The place was optimally located (about 20 min drive from the West entrance of YNP) and had a grocery store in the vicinity.  Our room was very comfortable and all promised amenities were upto mark. Everyday we would look forward to the delicious breakfast that Laurie would personally cook after taking our inputs. She also gave us access to her Kitchen area and welcomed us to use the cutlery and gadgets (refrigerator, microwave, coffee maker) to prepare our other meals in the day. Laurie also helped a great deal to plan our daily itinerary and kept us updated about the best route to take and the forest fires. We would highly recommend Laurie's Grandma cabin to those thinking about renting out a place for Yellowstone National park.
Aman
2016-08-26T00:00:00Z
Laurie的家实在是太温馨了。整个房子都是非常有特色的木屋。住在里面感受到暖暖的幸福。值得一提的是,房间真的十分干净,没有一点点脏乱的地方。而且早上Laurie还会准备精美的早餐,简直是太棒了。非常喜欢。
Lizzy
2016-07-24T00:00:00Z
My husband and I agree that this was the best Airbnb we have come across. Laurie is an amazing host. She is very friendly, informative, and makes a great breakfast! During breakfast, Laurie provided us with maps and let us borrow her guidebook to Yellowstone. Also, her small dog Annie is very cute and fun to play with. The location is just far enough from the touristy town of West Yellowstone, but not too far away from the park. Also, her home is beautiful! It feels like a real lodge with high ceilings and wooden finishings. We would encourage anyone to stay with Laurie!
Kimberly
2016-08-12T00:00:00Z
Our visit to Laurie's beautiful home in the woods was delightful! We enjoyed the room which was spacious, clean and very comfortable as well as quiet. There is an attached bath as well. Everything we could have wished for and more. Best of all we enjoyed talking with Laurie who was very warm and welcoming, serving up delicious breakfasts and lots of helpful information about Yellowstone Park. She also happens to have the cutest little dog in Idaho.
Clark
2016-09-14T00:00:00Z
This is my first time staying in the guest room of owner's house with Airbnb,and no doubt this is my best Airbnb experience. The guest room and attached bathroom in Laurie's house were very clean and very well decorated. The bed was so comfortable that both my wife and I had good sleep and rest after whole day activity at Yellowstone park. Every morning, Laurie freshly made us delicious breakfast with different variety. When we came back in the evening, Laurie and Annie (the most lovely dog I have ever met) were always greeting us and helped us to plan next day activities. Laurie was extremely friendly and nice to us that made us feel like stay at home not a rental property during the trip. The location was about 15-20 min to west entrance of Yellowstone. There is a very good Chinese restaurant as well as other restaurants cross the road. I will highly recommend this place to stay for a couple during visit to Yellowstone National Park.
Jin
2016-08-20T00:00:00Z
Rodzaj pokoju
Pokój prywatny
---
Rodzaj nieruchomości
Dom
---
Mieści
2
---
Sypialnie
Island Park, Idaho, Stany Zjednoczone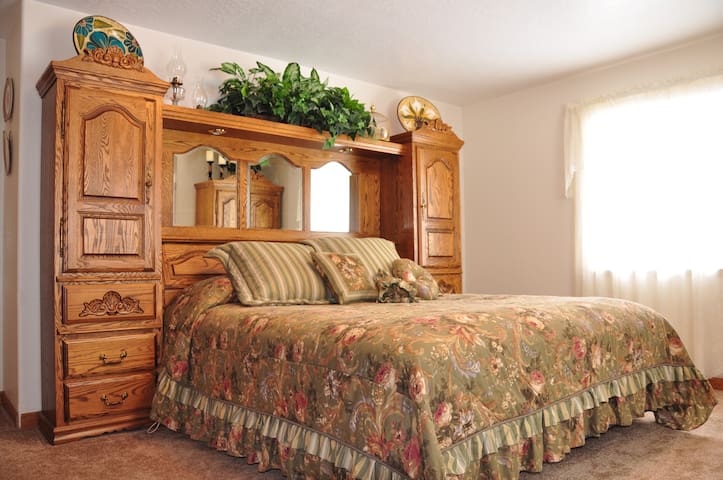 Our beautiful, secluded cabin is located at the end of an easily accessible private road, yet only 30 minutes from the West Yellowstone Park entrance. Come enjoy a quiet get-away, or fun outdoor recreation. WIFI included. (which is rare for the area)
The cabin has two bedrooms & a large loft upstairs. There are two king & two queen beds. It easily accommodates 6-8 guests.
Yellowstone Park is 30 minutes from cabin. Mesa Falls is about 20 minutes away. It is a beautiful waterfall & has fun hiking trails.
Lovely little cabin, has some very interesting details. 30mins drive to HS, and has a pretty lovely restaurant close by. Check in went smoothly, my families andI had a very comfortable stay.
Beidan
2016-09-06T00:00:00Z
Location of the cabin is perfect. It was our first time to literally live in woods. The cabin is spacious, cozy and clean. The kitchen is well equiped. We enjoyed our stay very much.
shuo
2016-10-03T00:00:00Z
房子很赞,好像童话里的小木屋,室内布置很特别,处处体现主人的细心。离西黄石大概30分钟的车程,很方便。
向南
2016-09-19T00:00:00Z
A very comfortable home, just right for us, would definitely come back.
Cathy
2016-09-15T00:00:00Z
房子很棒,室内布置和周围环境都很美。我们一家5个人住得很宽敞。房主Ruth提供的设施齐全,寻求帮助时,回应也很迅速。我们在这待了一周,过得很愉快!
fei
2016-07-18T00:00:00Z
We had a great time staying here! Our hosts were responsive and very helpful. Everything was provided for...even shampoo! It was the perfect home awe for our trip to Yellowstone.
stacey
2016-07-10T00:00:00Z
The cabin was lovely and thoughtfully prepared for (URL HIDDEN) was more than what I had expected. We had really good times there. Unfortunately , my daughter got lice after staying there for four days. I picked out nearly twenty lice eggs out of her hair after seeing her scratch her hair constantly this morning.Now we all have to get treatments just in case. On top of that,my son had multiple bugs bites behind his neck after the first night stay. I didn't see any past reviews from others stating similar problems so I think it just happened. The towels and beddings need to be sanitized thoroughly after being used by visitors.The hosts Ruth took it seriously and told me they would look into it and took care of it immediately.
wen
2016-06-18T00:00:00Z
The place is beautifully located and it was as a great surprise when we arrived to it. Pictures do not express it . It's was way more beautiful then we expected. The house is facing beautiful forest and I've never seen so many stars anywhere. It has everything you need plus very comfortable beds to help with good night sleep.
Monika
2016-08-01T00:00:00Z
Rodzaj pokoju
Całe miejsce
---
Rodzaj nieruchomości
Chatka
---
Mieści
8
---
Sypialnie
Island Park, Idaho, Stany Zjednoczone
A unique experience! Stay in our cozy custom built guest cabin. Located just 30 minutes from the West Yellowstone Park entrance, it offers all the amenities/conveniences of the park while providing the tranquility of your mountain get-away!
This custom 16'x16' guest cabin offers a unique mountain experience that you can't get in a hotel. Set away from the hustle and bustle of Yellowstone crowds, it offers a quiet evening retreat to the end of each activity filled day. The space is set up with a king bed, bathroom with a shower, small coffee pot, and mini fridge.
Island Park is full of food and fun. Ask owner about the local recreational options.
The place is good. Clean and quiet. People is very nice.
琦
2016-08-19T00:00:00Z
We absolutely loved staying at this cabin! Jamie and Ron were so welcoming and helpful. You can tell they really love the area and are excited for you to love it too :)
Emily
2016-06-17T00:00:00Z
The description of the cabin was accurate and the stay was very comfortable. Jaime and his wife were so nice and accommodating. We especially loved making smores by the campfire. My daughters and I had a great time!
Wendy
2016-07-20T00:00:00Z
This mini cabin is WAY better then we anticipated. A friend and I stayed for 3 nights in a trip to Yellowstone. The bathroom and beds were amazing and comfortable. The travel time was about 40 minutes to the park but it was VERY well worth it. The scenery and highway that leads to the cabin is unreal and it doesn't get old. Ron is an impeccable host! He even let us join his campfire and we shared stories and had such a great experience.
Lauren
2016-08-15T00:00:00Z
We enjoyed our stay a lot. The cabin is great and quiet. Good place to stay if you want to visit Yellowstone!
Marc
2016-09-06T00:00:00Z
The cozy is fairly good, and Ron is really nice and easy-going.
Jiaxi
2016-08-08T00:00:00Z
we love the cabin so much.Everything is so good .Thank you so much!
monica
2016-08-02T00:00:00Z
The cabin is like new, comfortable and the perfect place to enjoy a quiet weekend or enjoy a week at the many national parks in the area. Plenty of local conveniences so while you have the feel of a cabin away from it all you still can access restaurants and other amenities. The cabin is perfect for a romantic evening or a good nights sleep. Clean, quaint and very reasonable, this place is a great place to begin your adventure.
Mark
2016-08-06T00:00:00Z
Rodzaj pokoju
Całe miejsce
---
Rodzaj nieruchomości
Chatka
---
Mieści
2
---
Sypialnie
Island Park, Idaho, Stany Zjednoczone
You'll love my place because golf is just across the street, fly fishing on the Snake River is 2 miles down the road. Floating down the Henry's Fork. Hiking in the Rocky Mountains. Lots of wildlife to view. Yellowstone Park is just a 20 minute drive (West Yellowstone). Jackson Hole and Teton National Park are about 1 hour (real scenic) drive. Close to restaurants, gas station, grocery store & bar. My place is good for couples, solo adventurers, park visitors & families (1 or 2 kids)only.
Sleeping arrangements: One queen size bed and one queen size futon (not pictured at this writing). Kitchenette: Microwave, fridge, coffeemaker, toaster. No stove. Entrance: Steps to outside entrance and steps to loft area. Parking is in the back of the unit. Bathroom: Large shower, no bathtub.
The host canceled this reservation 86 days before arrival. This is an automated posting.
Tom
2017-02-11T00:00:00Z
Rodzaj pokoju
Całe miejsce
---
Rodzaj nieruchomości
Domek gościnny
---
Mieści
4
---
Sypialnie
Island Park, Idaho, Stany Zjednoczone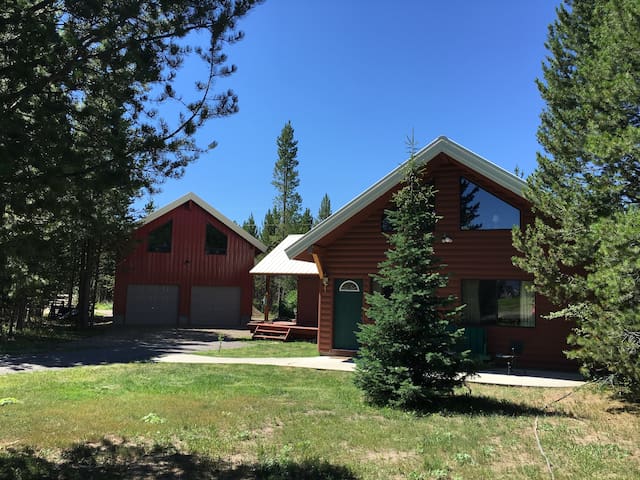 This cute little guesthouse sits 15 minutes from Yellowstone National Park world class fishing, Madison River minutes away and Henry's Lake within eye's view. Surrounded by wildlife, the living arrangement is good for couples, solo adventurers, and business travelers. As well as hiking, mountain biking and horse back riding trails sit nestled in the mountains at a rocks throw.
Great location to explore yellowstone park and close to several lakes and rivers
Only 15 minutes away, the quaint town of West Yellowstone holds wonderful restaurants, gift shops and a local airport. And only two miles down the road, a local cattle ranch hosts rodeos with western style food and live music every weekend during the summer.
Rodzaj pokoju
Całe miejsce
---
Rodzaj nieruchomości
Apartament
---
Mieści
2
---
Sypialnie
Island Park, Idaho, Stany Zjednoczone
Our place is located 30 minutes from Yellowstone National Park. You'll love the coziness and having everything to make your stay comfortable with a well supplied cabin. The Forest Cottage is on an quiet, secluded half acre lot completely covered in large trees. Moose, deer and occasional bears frequent the area.
There is plenty of outside space to relax and have fun. Enjoy the beauty of the forest. You are in the greater Yellowstone Ecosystem, 34,375 square miles and one of the largest temperate-zone ecosystems on Earth. Frequently moose and deer visit, and an sometimes an occasional elk or bear. On a clear night you can see the milky way and stars as you have never seen them from any city. The fire pit is a great place to make "S'more" lifetime memories. A gas grill is also available for outside BBQ's. Be Bear Aware. This really is part of the Yellowstone Ecosystem, and there are Grizzly and Black Bears in the area. It would be rare to encounter one, but putting garbage and food away will help ensure they don't come around looking for food.
The Forest Cottage is 30 minutes to the western entrance of Yellowstone National Park. Restaurants, gas stations, Island Park golf course, fishing, hunting, ATV and snowmobile trails, river rafting, horseback riding, and water sports are all just minutes away from the cabin.
Rodzaj pokoju
Całe miejsce
---
Rodzaj nieruchomości
Dom
---
Mieści
8
---
Sypialnie
Island Park, Idaho, Stany Zjednoczone
A beautiful private room for 2 with private bath and balcony in a stunning log lodge just 40 minutes from Yellowstone National Park! It has a jetted tub & double shower heads in the shower. We provide a free breakfast guests can prepare themselves such as eggs, bread, hot & cold cereals, fruit, yogurt, coffee, tea, etc. Please read ALL of the info and look at all the pictures so you'll know exactly what we are offering. Also, please read the house rules as you'll be expected to abide by them.
Kilgore Mountain Hideaway B&B is surrounded by trees and mountain meadows and is located in the secluded Arrow Wood Subdivision. It has a fully equipped kitchen and dining room for guests' use. There are two separate common areas with beautiful gas fireplaces and satellite TVs and one has a pool table. There are a total of 8 bedrooms. The lodge also has a nice fire pit and the deck has tables and chairs and a gas grill for all your outdoor cooking. The lodge sits on a 1.7 acre wooded lot with lots of privacy and beautiful views. You will love it so much you won't want to leave! There is also a cozy three bedroom guest house nearby if you would prefer to stay in a room there.
Island Park, Idaho has a lot of history, scenic attractions and activities to make your vacation a memorable one. Yellowstone National Park's West entrance is just 40 minutes away. Visit Mesa Falls, Big Springs, Johnny Sacks Cabin, Harriman State Park, Quake Lake, West Yellowstone and more! The area is perfect for both summer and winter activities like our famous snowmobiling, cross country skiing and snowshoeing to our renown Island Park fishing, horseback riding, ATVs, mountain biking, hiking and many other outdoor activities. As an added bonus guests can visit the Yellowstone Wolf Discovery Center, Mack's Inn Playhouse, The Playmill Theatre, and Yellowstone Imax Theatre. There are also a variety of restaurants for fine dining. With so much to do you may not want your days here to ever end!
Rodzaj pokoju
Pokój prywatny
---
Rodzaj nieruchomości
Wikt i opierunek
---
Mieści
2
---
Sypialnie
Island Park, Idaho, Stany Zjednoczone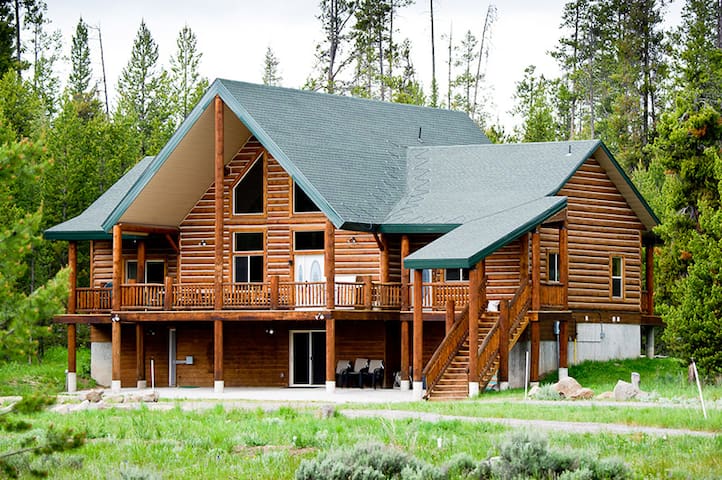 Beautiful 3 bedroom Log cabin. Sleeps 10 total. Only 20 miles South of Yellowstone Park-West entrance. Enjoy Golf, fishing, 4 wheeling, Snowmobiling, cross country skiing, water sports, nature hikes, Elk, Deer, Bears, Fox, Bison.
Log Built in 2008 -20 minutes to Yellowtone West Gate.
Friendly Neighbors in Culdesac close to Big Springs
It is a so nice cabin for a family. The location is very good and quiet. The decoration of the cabin is amazing. David is so friendly to help us. It is great experience.
Guan
2016-05-24T00:00:00Z
Wonderful place and wonderful house. It is a fully equipped house in a beautiful part of Idaho. We visited Yellowstone with the family, the house is conveniently located to visit it as well as other places nearby. For families I would recommend a visit to Johny Sack´s cabin (8min away) and a kayak excursion on the Henry River (2 min away). The house has all you can need and even more, all tip-top. Thank you for a memorable week!
William
2015-06-20T00:00:00Z
Like your cabin, although we arrived when the weather is late, but to enter the room, full of surprise children everywhere of the rapture, a very good location.
wendy
2015-07-06T00:00:00Z
The lodge is very beautiful,closed to yellowstone ,we have a nice journey。
li
2015-06-27T00:00:00Z
This was the best Airbnb experience I have ever had. The Aspen Lodge was perfect for our Yellowstone Adventure base-a scenic 30 minute drive to the West Yellowstone gate. The house is extremely comfortable with plenty of space inside and outside on the decks. This is by far the cleanest home I have ever rented. And the kitchen is definitely a cooks kitchen. Wonderfully stocked with quality appliances and cooking utensils. The beds were comfortable and the cabin is tastefully furnished. Thanks David for sharing your wonderful home.
Nancy
2016-07-14T00:00:00Z
Everything are prefect! We own the amazing experience.
丹阳
2015-05-30T00:00:00Z
Very comfortable cabin. Convenient location.
Damien
2015-07-22T00:00:00Z
The home was as described and fit our family of 9 very well. It could have easily held several more. It is a beautiful home and has plenty of amenities. The pictures are a good representation. We really enjoyed our stay.
Paul
2016-06-23T00:00:00Z
Rodzaj pokoju
Całe miejsce
---
Rodzaj nieruchomości
Dom
---
Mieści
10
---
Sypialnie
Island Park, Idaho, Stany Zjednoczone
The Lodgepole is good for couples, families (with kids), and big groups. A scenic 30 minute drive to Yellowstone Park. Mesa Falls, Henrys Lake and Harriman State Park all close by. Local activites include fishing, boating, floating the river, hiking, horseback riding, ATVs and snow machines. Cell service is good at the cabin.
What makes this cabin unique is it's super location; it's really easy to find, there is a beatiful river within walking distance, and Ponds Lodge is nearby with a fantastic restaurant and sports bar - no cooking if you don't want to! It's also close to Yellowstone Park and other area attractions.
Rodzaj pokoju
Całe miejsce
---
Rodzaj nieruchomości
Chatka
---
Mieści
12
---
Sypialnie
Island Park, Idaho, Stany Zjednoczone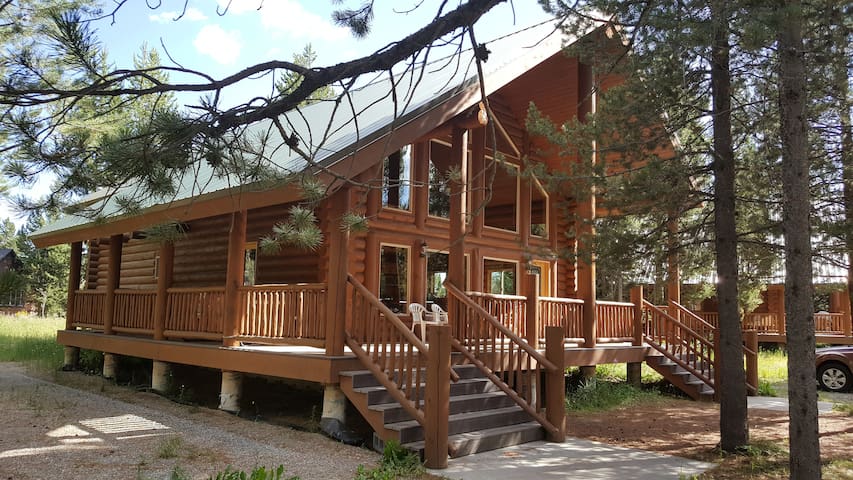 We have a small resort in Island Park. We offer an onsite restaurant, and a forest setting. We have several units, the cabin you rent may differ slightly from the pictured unit. All the cabins have a similar layout and the same amenities.
Are you looking for a short stay in Island Park and the greater Yellowstone area? This listing is for one or two night vacancies that we have and is only found on Airbnb. Our One Bedroom Cabin is 600+ square feet. The cabin has full log construction and finish, granite, tile or Corian accents. Luxurious linens including down comforters, fitted sheets, pillow top mattresses, plush towels, leather sofas, and private hot tubs make this the ultimate in log home living. Also included is a loft. Amenities: 2 Queen Beds, Kitchenette, Leather Sofa, Hot Tub, Gas Fireplace PLEASE NOTE: Check-in time is 4:00 pm and check-out time is 10:00 am. NO SMOKING and NO PETS ALLOWED. We have several units. Unit may vary from picture but they all have similar layout and the same amenities. Occupancy limits are strictly enforced. This cabin will accommodate 4 people. We do not have roll away's, cots, or cribs.
We had a great stay! My daughter and I were celebrating her graduation from high school. The cabin was clean, very well stocked with what we needed and we felt safe!! The resort is quiet, woodsy and cozy! Adorable place!
Karen
2016-07-28T00:00:00Z
We spent the first night of our Yellowstone trip here. The cabin is clean and lovely. It is great for the family. It is only 30 min from the West gate and we went to see the Old Faithful geyser after checking in. Would definitely recommend.
Sophia
2015-08-28T00:00:00Z
Thank you for letting us check in so late. We were sad we couldn't stay longer.
Nancy
2016-08-16T00:00:00Z
I had a great time at the cabins. They are located in a very quiet region 20 minutes driving from the entrance of yellowstone and we did shopping for dinner and breakfast at West Yellowstone. The house is clean and well kept and the barbecue grill worked wonders before we headed for the hot tub outside. A little pricey (got it last minute), but overall a great experience!
Matheus
2016-05-22T00:00:00Z
Exceptional, beautiful, well furnished cabin. Very reasonable distance from the west park entrance (30 min). Sat TV. No internet in cabin. Would certainly stay again.
John
2015-07-16T00:00:00Z
Very good service,nice house,clean and comfortable。
Nancy
2015-07-02T00:00:00Z
Great cabin!clean and comfortable! We arrived at 10:30pm, but Dana waited us late, which she had to drive for 30min back home! Really thanks for Dana, great host!
Haiyan
2016-07-04T00:00:00Z
They allowed us to show up a little late because of our adventures in Yellowstone. We arrived and they had everything ready for us to get a nights sleep before heading back into the park the next day. Thanks for everything
Charlie
2016-08-25T00:00:00Z
Rodzaj pokoju
Całe miejsce
---
Rodzaj nieruchomości
Dom
---
Mieści
4
---
Sypialnie
Island Park, Idaho, Stany Zjednoczone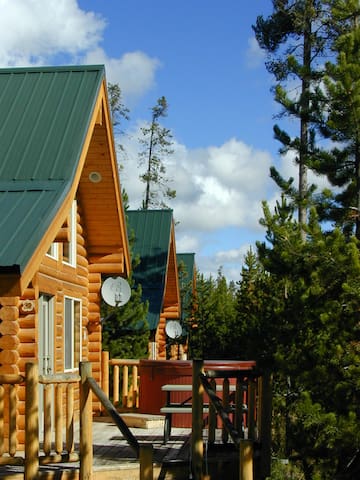 This family owned cabin is a perfect spot for anyone looking to build memories, and having almost anything anyone could ask for while looking to vacation in Rocky Mountains.
Beyond what you would expect in a mountain cabin on the inside, it has many things needed on the outside to enjoy the Idaho outdoors. For eating outside there is a 8 foot picnic table with a large fire pit for telling ghost stores late into the night. There is a pull though drive way for easy access. With outside water and power access it is convenient if someone wanted to bring along an RV for extra family. The cabin is located in the middle of an acre lot, the nearest cabin is 200 feet away in a wooded area so you feel like you are all alone. With all that the cabin has to offer it is located so close to many other locations to visit like 35 minutes to West Yellowstone Montana access to Yellowstone National Park, Minutes to Henrys Lake, Mesa Falls, Warm river and Bear river (both are great to float down) and Harriman State park. With the pull though drive way, there is easy access to bring ATV (must stay on designated trails and roads). If you bring your ATV's, this cabin is right next to Yellowstone Line Branch Trail which is 34 miles taking you from Bear Gulch past the cabin to West Yellowstone. Our family loves riding the 4-Wheelers into West Yellowstone to our favorite restaurant before heading back, it's a great day trip. For more information on the Yellowstone Line Branch Trail. (URL HIDDEN)
Rodzaj pokoju
Całe miejsce
---
Rodzaj nieruchomości
Chatka
---
Mieści
8
---
Sypialnie
Island Park, Idaho, Stany Zjednoczone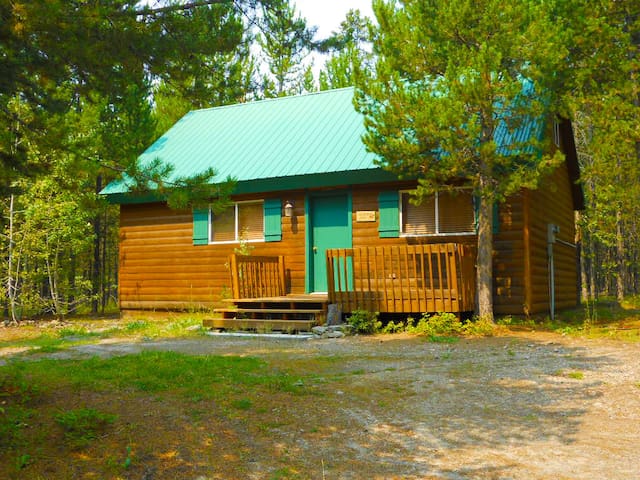 The Waystone Cabin is located in the heart of Island Park (in the Mack's Inn area) and is just 20 miles from West Yellowstone and Yellowstone National Park. * Great for snowmobiles and winter getaway's This cozy cabin is great for large parties and small gatherings alike.
The Waystone Cabin is located in the heart of Island Park (in the Mack's Inn area) and is just 20 miles from West Yellowstone and Yellowstone National Park. This cozy cabin is great for large parties and small gatherings alike. As you walk in the front door, you'll see a large kitchen fully equipped with everything you need to stay and be comfortable (including utensils, pots and pans, dishes, and a Keurig). In the middle of the kitchen is a large island that seats six, making it a perfect place to cook, eat, and talk. Next is the living room. It features a huge sectional and a 65" HDTV with more than 100 channels from DishNetwork. There's also an additional seating area with a bookshelf full of books, games, and movies for your enjoyment. The cabin also includes high-speed internet—with unlimited data! You can stream, surf, and watch to your heart's content. Also on the main floor is a full bathroom (shower and bath -- shampoo and conditioner are always available) and a laundry/mud room with a washer and dryer. You can take off your boots and snow clothes here after a long day on the trails or wash your swimsuits after taking a dip or floating down the nearby Henry's Fork River (just a block away)! As you walk up the stairs, you'll come to a second living area with a queen sofa bed and a second HDTV, complete with DishNetwork and a DVD player. This a great place for kids to take some quiet time while the adults lounge downstairs. Upstairs there are four bedrooms: three queen beds and one king bed. There's also a pack 'n play portable crib for any babies in the group and sleeping mats for younger kids to sleep on the floor. There are both front and back decks and balconies off each room—perfect places to drink your morning coffee and watch for wildlife (we often see deer, moose, and birds, with occasional bear and fox sightings). The cabin is on a full acre of land, keeping you secluded from the neighbors. But it's still within a two minute drive of a gas station/C-store. And Big Springs (a definite must if you're in the area) is just four miles away.
Great access to West Yellowstone. Excellent setup for big groups - big downstairs area. We really enjoyed the fire ring as well as all outdoor space for the kids to play.
Joe
2016-07-17T00:00:00Z
We loved this cabin. Plenty of room, comfy beds and two full baths worked great for our two families!
Derek
2016-07-21T00:00:00Z
Well what can i say about this cabin, This is one of the best cabin i have stay so far, it was spacious and clean.we were family of 15,with 9 adults and 6 kids.4 bedrooms with kings and queen beds and unlimited number sofacumbed and mattress are more then enough.smart tv with dvd player and a huge library for movies as well as books .balcony,fire place it was simple lovely.Host is so helpful and easy to contact.The only thing i checked on the review is to dumb the garbage but the host is kind enough to advise us to leave the garbage bags outside the cabin and she ll take care of it.i ll be coming over here next year for sure.ju
Fahad
2016-08-21T00:00:00Z
这个小木屋超大的,设备齐全,离黄石公园西门差不多30分钟车程。如果西黄石的住宿贵,并且只是暂住一晚,这里是不错的选择。有两张床比较软,两张床软硬适中。需要自己去垃圾处理厂丢垃圾,地方不太好找。房间里手机信号不太好,但打电话没问题。我们自己做饭吃,可以早点休息,感觉还不错。
Jun
2016-09-26T00:00:00Z
The three of us enjoyed our stay very much. The house was just as pictured, but more spacious than expected. The location was exactly what we wanted, rustic area not far from Yellowstone. WiFi and TV was a big plus.
Mark
2016-06-09T00:00:00Z
We had a great stay at this cabin in Island Park. There was plenty of space and everything was as described in the listing. We'd stay here again if the opportunity arose. The only (tiny) thing to note is that there was not a wine bottle opener to be found in the house. So make sure to bring your own if you plan on enjoying any wine :) Disclaimer: it's possible there is one and we just didn't see it, but we did a pretty thorough search of the kitchen.
Valerie
2016-09-06T00:00:00Z
Le logement correspondait à la description
maryelle
2016-05-23T00:00:00Z
The host canceled this reservation 170 days before arrival. This is an automated posting.
Magalie
2016-02-07T00:00:00Z
Rodzaj pokoju
Całe miejsce
---
Rodzaj nieruchomości
Chatka
---
Mieści
12
---
Sypialnie
Island Park, Idaho, Stany Zjednoczone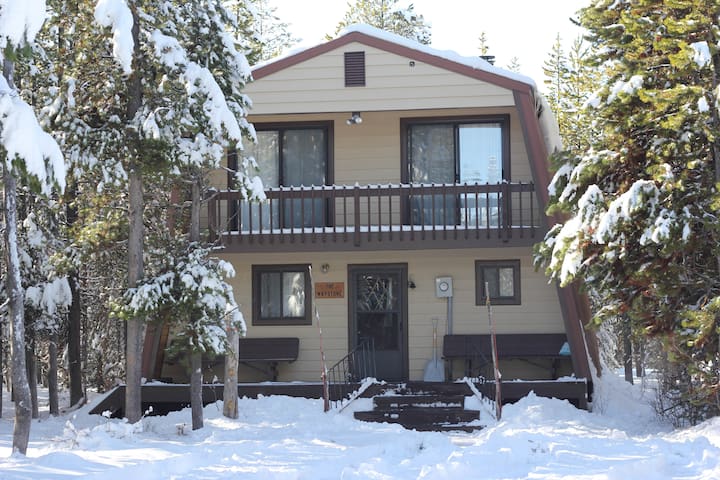 Wpisz daty, by zobaczyć pełną cenę. Obowiązują dodatkowe opłaty. Cena może uwzględniać podatek.