This lake home in the woods feels like a private retreat but you're close to everything. Soak in the hot tub, grill on the deck, or enjoy the fire-pit...all while taking in lake views. Enjoy!
My house offers the perfect getaway. It has lots of space and is very private...you have the place to yourself and no one will bother you.
Steve provided a beautiful home for our overnight stay. All of the amenities were worth every penny! I wish it had been warmer out so we could have enjoyed the lake, but the hot tub made up for it. The beds are extremely comfortable, the house is beautifully decorated and though we didn't need him at all while we were there the one text we did send was answered instantly. We would stay a million more times. Thanks Steve!
Nicole
2015-04-07T00:00:00Z
Our stay at Steve's home was perfect! Steve was super fast at communicating, accurate in everything he told us, and answered all our questions promptly. The house itself is gorgeous and the views are unreal. We sat in the back yard for hours and watched Canadian geese with their 4 goslings swim by, watched baby bunnies play on the lawn, and saw great blue herons and egrets fly overhead. Idyllic doesn't even being to describe the setting! Thanks, Steve, for a great stay. We'll be back!
Tracy
2015-06-03T00:00:00Z
This property worked perfect for us - family of 4 adults getting together for Thanksgiving weekend. The property was exactly as described on the listing, the kitchen was well equipped, refrigerator surprisingly well stocked. We loved it and I would recommend it to anyone who wants to be close in to the Twin Cities yet "on a lake".
jim
2014-11-30T00:00:00Z
The house was great! Seven of us stayed for a bachelorette party and enjoyed the spacious living area and kitchen and gorgeous lake view. We would have loved to stay longer. Great host!
Maren
2014-07-14T00:00:00Z
I booked this house way back in the winter for my bachelorette party on 4th of July weekend. Steve was great from the beginning! I was always contacting him with random questions and he was super quick to respond and very patient. Super flexible with check-in and everything. Wonderful host. The house was also so lovely! Roomy and comfortable enough for a big group of girls. Great common areas for us to all spend time together and plenty of room for us to all sleep comfortably. I am 100% pleased with everything about our stay. Thank you so much!
Kelsee
2015-07-06T00:00:00Z
:)
Bruce
2017-02-26T00:00:00Z
Our host contacted me right away when I booked and when I asked questions he responded quickly. The listing was accurate. The property was very nice quiet and peaceful.
judith
2016-12-29T00:00:00Z
We booked Steve's Lake Home a few months before New Year's Eve as a central meeting point for friends near and far. We could not have imagined a more wonderful location for a group of 10 to cook, catch up by the fire, and enjoy sitting in the hot tub. While the home is just outside of St. Paul, you feel like you are at a northwoods cabin. It is quiet and secluded with a beautiful view of the lake. The kitchen is one of the best I have experienced for "herd cooking" and is incredibly well stocked, including food items beyond the typical condiment assortment. There was plenty of space for us to comfortably sleep and two bathrooms for us to use. The upstairs bathroom was more comfortable to use given the cold temperatures. We all agreed we will love to come back in the summer. Thank you Steve!
Andrea
2017-01-02T00:00:00Z
Rodzaj pokoju
Całe miejsce
---
Rodzaj nieruchomości
Dom
---
Mieści
16
---
Sypialnie
Inver Grove Heights, Minnesota, Stany Zjednoczone
My place is just a hop, skip, and a jump from MSP airport, St. Paul, and the Mall of America. I am about 25-30 minutes from downtown Minneapolis. You'll love my place because of the location. I am conveniently located off of 52/55 and Concord with easy access to either city as well as the Big Mall and Ikea. I live in a quiet neighborhood.. My place is good for couples, solo adventurers, and business travelers. Bedroom is about 12x11 with a queen size bed,
The bedroom is 12x11 with a queen sized bed. It currently has a small table which will be replaced with a desk soon. You will have access to the entire house so if you have work to do, the best place right now is at the kitchen table. Another awesome feature of this room is it is equipped with a room darkening shade that blocks out almost all light. Sleep in without being bothered by the sun!
Megan is a gracious host and i definitely recommend her home to others visiting the area.
Sarah
2017-02-07T00:00:00Z
Le logement à été très bien décrit et il est très propre. Megan à été formidable à tout point du vue. Le 1er jour de mon arrivée, elle m'a attendu très tard alors qu'elle devait aller au boulot le lendemain. Son père pendant qu'il faisait très froid à mis à mis gentiment des vêtements chauds à ma disposition. Je la recommande vivement. Si ,j'ai moi même l'occasion d'y retourner j'irai certainement de nouveau chez elle. On s' y sent comme chez soi.
guy-maurille F
2016-12-24T00:00:00Z
Megan is a GREAT host! She is super accommodating, she made me dinner, and she provided me with so many extra items I wasn't expecting. The room is great. It's not particularly large but is great if you need a quiet place to run to or just a place to sleep! Perfect for the solo traveler or a couple. The bed in the room is also very comfortable and she provided me with towels for my shower. She has a very friendly and eager dog, so I hope you like dogs! She really loves to play and cuddle. Overall, my stay with Megan was GREAT. Very hospitable, makes you feel at home, and great company.
Janine
2016-09-04T00:00:00Z
I felt more at home than at home. I got treated like a VIP in a way you wouldn't get in any hotel. Megan did everything she could to make my stay perfect. She even saved me lots of hours on buses by giving me a ride to places because it was 'on her way' (which I then 'wasted' on the couch). Great dog too. Only downside for me was the location and not having a car. Book before she realises she can ask more money for this.
Michael
2016-11-25T00:00:00Z
Super cool host, my wife and I enjoyed the time we spent there talking for hours with Megan. Very hospitable and accommodating.
Frank
2016-11-20T00:00:00Z
Megan is incredibly kind and helpful and her place is great. I visited Minneapolis for a conference, and Megan drove me to the city every day so that I could get there on time. She also helped me figure out public transportation, and shared a delicious dinner with me. I had fun talking with her and hanging out, and the dog she is fostering is so sweet. The bedroom where I stayed is large with a very comfortable bed, and the area is good for someone who doesn't want to be in the middle of the city and ideal if you are traveling with a car. Thank you Megan for a wonderful experience!
alexandra
2016-11-18T00:00:00Z
Megan was an excellent host. She was professional and hospitable in my stay. The room met my expectations. The photos captures accurately, the livable, warm, comfortable environment in her home. I appreciate her kind and friendly attitude. As an guest, I appreciated her friendly and outgoing personality.
Elridge
2016-09-24T00:00:00Z
Damn it,mathematically after all my AirBnB stays this should have been the one that fell short,but no way Megan was awesome. Room was spacious bright airy,quiet,private and close to the bathroom,lol.... Right down to the basket of personnel items,came in handy because I forgot my toothbrush.... Plus being a daily shaver mentioned that large cans of shaving cream can't be carried on airlines....POOF.....they appeared.....magic or Megan...hmmmmmm
anton
2016-10-02T00:00:00Z
Rodzaj pokoju
Pokój prywatny
---
Rodzaj nieruchomości
Dom
---
Mieści
2
---
Sypialnie
Inver Grove Heights, Minnesota, Stany Zjednoczone
Beautiful, family-friendly home with a country feel close to the Twin Cities (20 minutes from US Bank Stadium). It offers many amenities to help you feel at home: clean linens, soaking tub, Sleep Number bed, Amazon Prime, Netflix, large open yard, lake view, white noise machines, plenty of toys, modern kitchen with high-end appliances and more. Basement has its own wet bar, living room, bathroom and bedroom.
Rodzaj pokoju
Całe miejsce
---
Rodzaj nieruchomości
Dom
---
Mieści
10
---
Sypialnie
Inver Grove Heights, Minnesota, Stany Zjednoczone
Enjoy the Twin Cities! Lovely setting 10 minutes from the airport & Mall of America. 1 BR in lower level with bath, TV area, desk. Friendly cat & dog. Easy access to freeways. Longer stays work well for education/trainings/selling home transitions.
With the Twin Cities at your fingertips, this is a great location. The lower level provides privacy, a separate bedroom and private bathroom. There is also a lower level large screen TV, living room with wireless internet, and a large desk. Please let me know if a second and/or third bedroom/sleeping area is needed--if so there will be an extra charge. Towels, hair dryer, coffee pot, additional small refrigerator and microwave in lower level provided. Open to longer stays i.e. for trainings, work, educational programs.
Peaceful, quiet back yard and lovely neighborhood with trails nearby. Close to major freeways so easy access to many Twin Cities sites. Also a great stay for those who need to be in town for trainings, educational programs, and work. There is a large desk conducive to studying. Guests have also stayed while waiting for a new home to be completed.
Where to begin!? We had such an amazingly perfect stay. Pam is a superb host. She was helpful and friendly; warm and welcoming. She gave us space to do our own thing but was always a phone call or flight of stairs away, should we have any questions or needs. Her home was a dream come true; beautiful and spacious, complete with all the amenities of home sweet home. I would have happily paid three times what she charged. We can't wait to come back.
Jenny
2016-10-05T00:00:00Z
Pam was very warm and welcoming when we arrived with a complete tour and invitation to use the house, pool and her neighborhood trails as our own during our visit. She printed off a listing of restarunts we might enjoy, offered directions including how best to about construction traffic and helped us locate local trails we could hike or bike on. I felt complete comfort in the quiet and cool downstairs for sleeping and relaxed on her back yard patio with 2 extremely sweet pets. We could not have had a better time, Pam was a gracious host and would surely pay her a visit again if we visit Minnesota.
Jennifer
2015-08-05T00:00:00Z
This home is in a very upscale neighborhood. Its very quiet and comfortable. Pam makes every effort to make sure your stay is perfect.
anthony
2015-10-26T00:00:00Z
Pam made me feel very welcome in her home. She is such a nice person. The neighborhood is very nice and the listing is accurate.
Jean
2016-10-01T00:00:00Z
Pam welcomed my wife and me into her home with all the care and consideration anyone could ask for. Her house is as she describes, located at the end of a quiet cul-de-sac in a very nice neighborhood that has excellent access into both Minneapolis and St. Paul. We were Pam's guests for 10 weeks as we made the move from our house in a nearby community to a new residence in a new state. In addition to a nice bedroom and bath, Pam let us "move in" to a large rec room on the lower floor with a walk-out to an attractive, private terrace and garden. We, soon, transformed the rec room into an office for both of us, a small kitchen and dining area, and an entertainment area with large-screen TV. While we provided a microwave, small refrigerator, folding table & chairs, and our own computers, the rest of the furnishings were Pam's. For anyone considering a longer-term stay, this set-up was nearly ideal. Pam's rec room also had a treadmill, which we, we sometimes used when the weather wasn't good for taking a walk on nearby trails. Pam also provided a full-size refrigerator and pantry space for us in her kitchen, in addition to inviting us to use her kitchen any time we wanted to do so. There was, also, a washer/dryer for our use, as well as a parking space in her garage. Finally, she has a lovely in-ground pool that we were invited to use. Unfortunately, the weather only started turning warm enough just as we were getting ready to leave in mid-June but the pool did look inviting. Beyond the great accommodations, the thing that made our stay so very, very nice was Pam, herself, and her friend, Kip. Both are gracious, friendly and open-hearted people with whom we became good friends. The four of us quickly found we had many shared interests and enthusiasms. Even with the busy schedules we all had, we found time for a lot of good conversation. Finally, we have to mention Pam's adorable pets, which added a lot to the experience. Otto, the dog, and Pebbles, the cat, were totally charming and fun. They accepted us almost immediately and seemed to enjoy our being around. They stayed, for the most part, in their own space upstairs but were always there for a quick "pet" when we were going out or coming back in. All in all, our experience was akin to being long-time friends of Pam's whom she invited to stay over. We could not have felt more at home.
William
2015-06-11T00:00:00Z
When I arrived at Pam's house she welcomed me very warmly. She helped me with my stuff into the downstairs apartment, my suitcases where not light. I was so appreciative. The description of her home is accurate, actually I think its even nicer than the pictures. Her house is in a upscale very safe place.
Jean
2016-06-01T00:00:00Z
Pam was incredibly nice and accommodating. It was a great place to stay
Sarah
2015-12-21T00:00:00Z
Pam was a great host. The house and neighborhood were great. The next time I go to Minneapolis I plan on staying with Pam!
D
2015-02-05T00:00:00Z
Rodzaj pokoju
Pokój prywatny
---
Rodzaj nieruchomości
Dom
---
Mieści
2
---
Sypialnie
Inver Grove Heights, Minnesota, Stany Zjednoczone
4 BR 2.5 BA 2-story modern 2016 built home. Great location - 10 mins to airport and Mall of America. 15 minutes to downtown Minneapolis or St Paul.
Rodzaj pokoju
Całe miejsce
---
Rodzaj nieruchomości
Dom
---
Mieści
8
---
Sypialnie
Inver Grove Heights, Minnesota, Stany Zjednoczone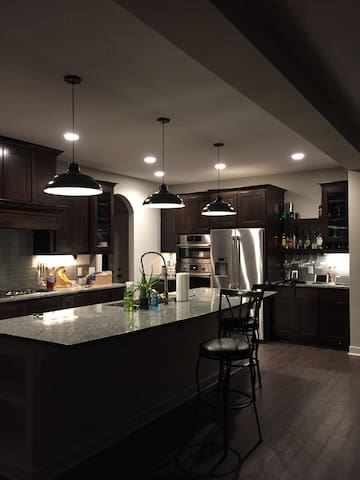 Located within a short drive to the St Paul Minneapolis International Airport and the world famous Mall of America (13 miles) and a very short drive to the 494/694 Loop, allows you quick access to any part of the beautiful twin cities.
Private suite with queen bed, with your own sitting area, fireplace, private 3/4 bath, walkout to private patio. Ideal for a single individual or a couple.
Quiet with walking paths starting right outside the door.
Linda was a great host. She was courteous, gracious, and thoughtful. She was fun to chat with in the mornings and accommodated all of our needs. Thanks for the great stay.
Ramona
2016-08-13T00:00:00Z
Linda's place was very comfortable & homey. She made me feel welcome and the space was quiet and very pleasant. Guests have the use of the entire downstairs area - you arrive at the front door and go directly downstairs where there is a large family room with a large TV and a gas fireplace that operates with a light switch. A hallway off the family room leads to a bathroom with shower and the large bedroom with another TV. The bed was very comfortable and I especially enjoyed the overhead shower. I looked outside the bedroom window before I left to see if the snow was letting up & saw a pair of red-headed woodpeckers! I was visiting my brother and hope to stay with Linda on future visits.
John
2016-12-11T00:00:00Z
We stayed with Linda for about a month, this was the second part of our reservation. We enjoyed her home, she made us feel welcome. Linda also was great with directions. We were given use of part of her refrigerator and freezer. We had full access to her washer and dryer. In the room there was cable and tv and also access to wifi. Her house was clean. The neighborhood was quiet and clean, and in a good area of town. Inver Grove Heights is a great place to stay if you need access to the airport, which is a short 15 min away. St Paul is not too far along with Woodbury, Stillwater (30-45min), St Paul Park, Cottage Grove, Hastings area. Great place for the money. Would definitely stay here again if I needed to.
Jessica
2015-11-13T00:00:00Z
Linda is very welcoming and hospitable. I have never had a host be so concerned about not invading 'my private space' in their home and this was a definite plus. I really appreciated easy access to the washer/dryer since I stayed a month.
Laurie
2016-08-01T00:00:00Z
Linda is a great hostess. The living space is more than one could hope for. I would definitely stay here again!
Kris
2015-05-16T00:00:00Z
Linda was a gracious, welcoming host! She made us feel like family. Her home was delightful; everything we needed and more! The bed and the shower were AMAZING! If we're ever in the area again we'll be sure to visit again. Thank you, Linda!!!!
Kaitlyn
2015-12-29T00:00:00Z
Linda was an excellent host and her ad and pictures was very accurate. Very spacious downstairs. Large flatscreen television, fireplace, couch. Bathroom is very nice. I loved the shower. Bedroom was very pleasant. Nice comfy bed. I slept great. Made a great friend in Linda.
Dan
2015-09-26T00:00:00Z
I had another easy and comfortable stay with Linda. I especially enjoy that I have the entire lower floor to myself with a spacious bedroom, my own bath with a very nice shower and a large family room where I could do yoga & exercises. The family room also has a gas fireplace and a large TV.
John
2017-03-12T00:00:00Z
Rodzaj pokoju
Pokój prywatny
---
Rodzaj nieruchomości
Dom
---
Mieści
2
---
Sypialnie
Inver Grove Heights, Minnesota, Stany Zjednoczone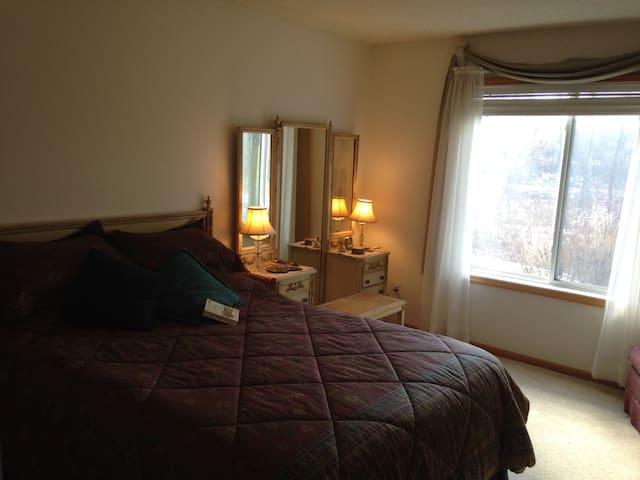 Within 15 minutes of the twin cities and conveniently located by the airport. Quiet neighborhood and fully furnished. Clean, televisions in every room, large walk in closets, several attractions within walking distance and a two car attached garage. Great for a short or long term stay.
Rodzaj pokoju
Całe miejsce
---
Rodzaj nieruchomości
Szeregowiec
---
Mieści
5
---
Sypialnie
Inver Grove Heights, Minnesota, Stany Zjednoczone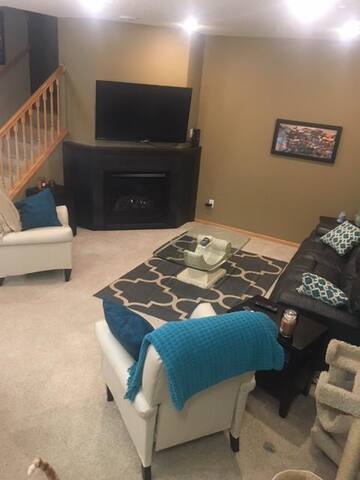 Nice, spacious private room with shared bathrooms - could include garage stall if required, or off-street parking. Near major highways and several restaurants. Full bed, plus queen air mattress if needed. Quiet, safe neighborhood.
Rodzaj pokoju
Pokój prywatny
---
Rodzaj nieruchomości
Szeregowiec
---
Mieści
2
---
Sypialnie
Inver Grove Heights, Minnesota, Stany Zjednoczone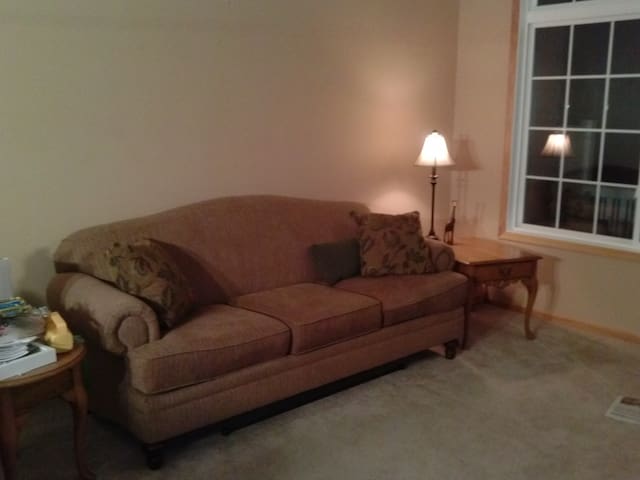 Larger room with a small kitchenette, in my home. 10 min from downtown St. Paul, 20min from downtown Mpls. 10min from the airport.(drive time) Quit neighborhood, apple orchard, herb garden.....
From the room you walk out to driveway.
This neighborhood had large lots, nice to go for long walks and bike rides. There is a 27 hole golf course behind the property.
This is the perfect space. It was everything I needed and some. Kevin was a great host. I would recommend Kevin and his space to anyone. Lots of space and private and clean. Super comfy bed!
Amy
2016-07-11T00:00:00Z
Always a great, comfortable place to stay. Kevin goes out of his way to make sure you have everything you need!
Susan
2016-09-23T00:00:00Z
Kevin went above and beyond to make our transition into his home a good one, especially since there was an arrival time goof-up on our end. He was very friendly and told us of a few places to visit in the area. We were very busy during our stay and didn't have time to get to know him more but would've loved to. The home was beautiful and well kept. The neighborhood was nice, spacious, wooded, and offered good privacy.
Cory
2016-10-17T00:00:00Z
Nice quiet location, private entrance and convenient parking. Kevin made sure I was comfortable and had everything I needed and was easily accessible by phone. Comfy bed, private bathroom and convenient kitchen area. I'm coming back!
Susan
2016-09-09T00:00:00Z
Kevin is a very interesting guy and fun to talk to!!! Enjoyed the stay
Kyle
2016-07-30T00:00:00Z
Rodzaj pokoju
Pokój prywatny
---
Rodzaj nieruchomości
Dom
---
Mieści
2
---
Sypialnie
Inver Grove Heights, Minnesota, Stany Zjednoczone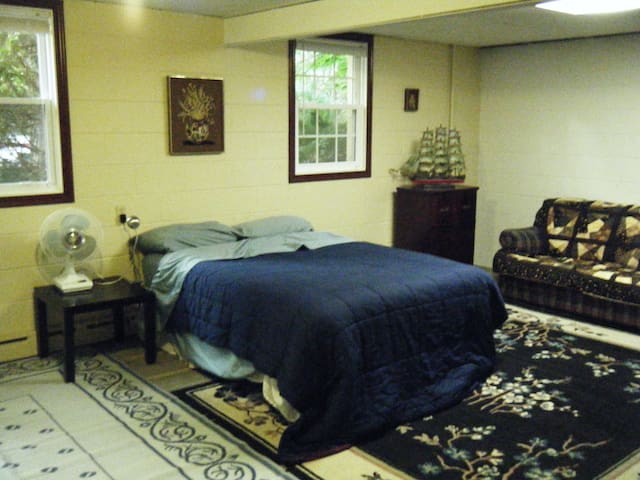 This furnished flat is awesome and walkable. Everything you need at the doorstep. Or take the lightrail only a block away. Long-term (6 month +) rentals preferred.
This furnished apartment is with in walking distance of all of the great St. Paul sites. A walkscore of 95, this loft is centrally located with great restaurants and entertainment opportunities right on the doorstep. Enjoy the restaurants of St. Peter's street, take in a show at the Ordway or the Xcel, or visit one of the many stellar museums in the area like the Children's Museum, the Minnesota History Museum or the Science Museum. Or if this trip to St. Paul is for business at the Capitol or one of the many hospitals, you'll be perfectly situated in this loft. This is truly loft-style living with an opened floor plan and comfortable finishes. A comfortable living room with leather furniture looks out onto the bustling city life. The compact kitchen is perfect for throwing together tasty dinners in a snap. Set the ambiance in the dining room with an electric fire place (that also doubles as an additional heater in the winter). The bedroom is unique with its circle bed and its view up to the capitol most of the year (after the leaves fall from the tree outside the window). A small office area with a desk and chair would be the perfect place to work on your next big project. Parking is in an adjacent parking ramp for an additional fee or on street parking is free certain times of the day. Public transit is easily accessed. Some bus lines run right past the house and the light rail (connecting you to University of Minnesota, downtown Minneapolis, the airport, the Mall of America, etc) is only a block away. Also, there IS an air conditioner, but it's a portable floor unit with an exhaust hose out the window and does NOT adequately cool the entire condo area. It's far more effective on the hot humid days to use it as a dehumidifier. Instructions on its use are laid out in the manuel. I didn't check the air conditioner tab because I feel like you should know what you're getting into. There are some pretty spicy hot summer days even in MN and we found that we would just have to go to the movies to cool off. I checked the Handicap Accessible tab- but beware!!! There is a four inch curb to enter the front of the building. Our neighbor upstairs uses a wheelchair and he can maneuver his chair to have the front half go up, then propels himself up to get the big wheels to go up. He's young and active and has a manuel chair. I don't think an electric chair would be able to mount that same curb. The bathroom is not equipped with any special bars or handrails so if your mobility is limited on the lower half of your body, this might not work for you. It all depends on what your handicap is and how you've been able to manage curbs/ bathroom. I checked the box because I don't want to deter anyone who doesn't have a problem with one step and might otherwise be interested. Dogs are allowed on a case by case basis. The dog must be housebroken, have completed obedience training, and are NOT allowed to sleep in the bed OR climb onto the furniture. I realize that most owners allow their dog(s) on the furniture and in their beds and if that's you, PLEASE look for someplace else to stay. Don't fool yourself in thinking "Oh we'll just keep Rufus off the furniture while we're there even though he's never had that expectation in his life." It's not fair to the dog and it's not fair to us as owners who have to deal with scratches on our leather furniture and dog smell in our bed. I will follow up with Airbnb and assess charges from the security deposit and leave negative feedback if these rules are not followed. No cats no exceptions (sorry- we have allergies in our family). Internet is included but not cable tv. The tv gets many local channels over the air including all of the major networks. Check in is after 6:30pm on the weeknights and more flexible on the weekends.
Downtown St. Paul has it all!
Simply perfect. The location of the loft in Downtown Saint Paul is awesome, with all that you can need inside eather outside around, is even much better than you can imagine by the description. Jodi provided me all the facilities I needed in my stay. I am from Spain, I've been living in her loft for the last two months and everything has worked without any problem. Jodi has been always providing my support when I needed. No doubt, if I someday come back to Saint Paul, I'll try hard to stay in Jodi's loft.
Francisco Javier
2016-04-01T00:00:00Z
I stayed here for 2 months and loved every minute of it. The place is actually better than the photos and has everything you could need! Jodi was amazing at communicating things to me an was very helpful through the whole process (even with extending my stay for a month).
Kristen
2014-08-29T00:00:00Z
Jodi was the perfect host with any questions we had were answered quickly and without and fuss at all. The location was great, right in down town St.Paul and never had any issue with neighbours the building or the apartment itself. My partner and i thoroughly enjoyed the 3 months that we stayed and were sad to leave as it was perfect for us. Highly recommend if your looking for place in St.Paul you wont find a better place as it is within walking distance of shops, bars/restaurants public transport and CHS field
Adam
2016-08-29T00:00:00Z
Great location in the center of St. Paul. Comfortable and safe. Jodi was easy to communicate with and made us feel welcomed.
Brian
2014-04-01T00:00:00Z
Fantastic apartment - big rooms, a handbook plus lots of suggestions of places to go and things to do in Minnesota. Great location - close to a supermarket, the green line train is right around the corner, a lovely walk to the Cathedral neighbourhood. And Jodi was great to deal with: always responded quickly and was very helpful. I recommend this apartment 100%.
Nikki
2016-01-18T00:00:00Z
Rodzaj pokoju
Całe miejsce
---
Rodzaj nieruchomości
Loft
---
Mieści
2
---
Sypialnie
St Paul, Minnesota, Stany Zjednoczone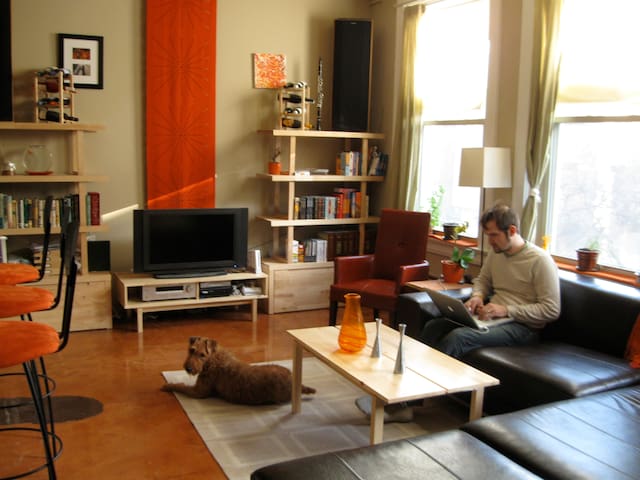 Lower level with private entrance. New bathroom, new queen size Beauty Rest mattress. Full size futon sleeps two. Located south of downtown St. Paul on public bus transportation that connects to the Green Line light Rail. Close to Xcel Center, good restaurants and shopping at the Mall of America.
Newly remodeled lower level. Queen is a wall bed (aka "murphy bed" ) with a new Beauty Rest mattress. Other bed is a full size futon that sleeps two. Large bathroom with shower. Bistro table for two for your morning coffee.
Quiet and safe. Single family homes built in the 1930s. Mix of young families with children, empty nesters, and retirees. There is a grocery store, take out Chinese, 2 Take out Pizza, Mexican restaurant, coffee shop and Restaurant/tavern within walking distance.
Our stay at Arlenes was everything we could have wished for. Although we arrived later than we first anticipated there was a warm welcome and quick go-through how things work. Additionally there were guides and for example menus available for the nearby restaurants. The location of the apartment is superb. There are all the necessary basic services within a walk distance and additionally the bus stop is just 20 meters (60 feet?) away from the apartment. Should you prefer to move around by car St. Paul is REALLY close by and basically just one "downhill" away from the apartment. But I think that the best portion was the hostess Darlene and her family. Such a superb and warm people. There were no problems what so ever. Now I think that I know what they mean when they talk about "Minnesota nice!" I think that it should be adopted globally. The world would be allot better place. :)
Teemu
2016-04-11T00:00:00Z
Nice place. Large spacious room and bathroom. Darlene was a great host. Nice quiet location in St Paul.
Sara
2016-07-18T00:00:00Z
Darlene embodies the saying of "hostess with the mostest" ! This being my first Airbnb experience, she has set the bar high. Darlene was very gracious with her time to be quick to responding to messages and staying up a bit later than planned to help guide us in on our arrival. She had a great assortment of snacks, bottled water and coffee. She also had a personalize print out for us of information and local restaurant recommendations. The space was very comfortable for the 3 of us women, with room to move about, space for more than one to use the bathroom mirror at a time and the temperature was extremely comfortable. Darlene was wonderful to speak to and we were sad to have to leave, as we really wanted more time to chat with her! We have already discussed staying with her again on a less hectic weekend.
Charmaine
2015-11-08T00:00:00Z
Where to begin? This was our first experience with Airbnb and if our future experiences are like this one, well, they will truly be amazing. Our host was superb. Darlene is a wonderful host. She has a great room in a great neighborhood. We chose her place because it was located near our Sons apartment, Cathedral Hill. We were there to be with our new Granddaughter! We went for a walk everyday and there are some nice places to eat within walking distance. Darlene recommended a few places and she even took the time to take us on a few excursions! Darlene's place was very comfortable and nicely appointed. We did not want for anything. When we return to St Paul, to see Baby Girl, we will definitely call upon Darlene again! Thank you Darlene!
Robert
2015-08-04T00:00:00Z
Darlene is truly an amazing host. She was extremely thoughtful and took the time to talk to us, while still giving us privacy. We were greeted with snacks and her homemade peanut butter cookies that were to die for. The space was huge, the bathroom was spotless, and the Murphy bed extremely comfortable. I really can't say enough good things about Darlene and her air BnB. Our communication was always quick and effective. It's a 5 minute drive to DT St. Paul and under 20minutes to DT Minneapolis. If I ever visit the Twin Cities again, I will not hesitate to stay here. By far the best air BnB experience I've had.
Joshua
2015-10-26T00:00:00Z
This was my first Airbnb experience and it was a great one. Darlene was a great communicator, made me feel right at home, and was very respectful of my privacy. The space is very comfortable and there is a semi-private entrance which was great. The mattress is fantastic and provided great rest. In fact, I almost never remember dreams but had very vivid dreams every night there which I think means I hit very deep sleep. The neighborhood is safe and is pretty close to downtown St. Paul. I can't imagine finding a nicer host than Darlene so do yourself a favor and book this bad boy!
Paul
2015-09-01T00:00:00Z
Wonderful experience. Darlene was a welcoming host who was happy to help in any way she could. She greeted me with water and snacks upon my arrival. Her home is beautiful and it was a wonderful accommodation for my week stay. It was very clean and neat. It was exactly as described. The neighborhood is safe and quiet, close to the freeway, shopping, restaurants, very easy to find. Darlene was highly responsive to my communication and questions. She provided everything I needed for a perfect stay. I will be back Darlene! Thank you for everything. I highly recommend Darlene's home.
Tiffany
2015-07-24T00:00:00Z
Darlene has a lovely space in a good, safe neighbourhood. There's grocery stores, resturaunts, and plenty to do within a short distance from the house. Darlene was quick to recommend some locally owned resturaunts that were great and was very welcoming upon our arrival. Our stay was very comfortable and I would definitely recommend Darlene as a host.
Gennevieve
2016-07-31T00:00:00Z
Rodzaj pokoju
Pokój prywatny
---
Rodzaj nieruchomości
Dom
---
Mieści
4
---
Sypialnie
St Paul, Minnesota, Stany Zjednoczone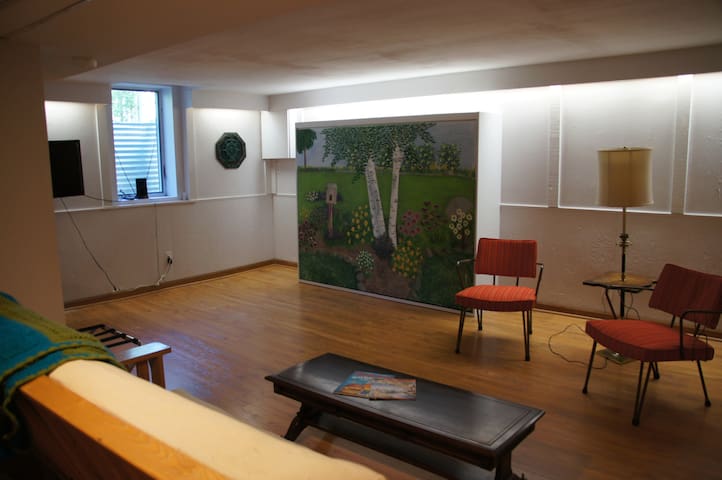 Just need a place to lay your head and stow stuff while you explore? This is just the place to call home base.
This is a cozy house close to the river, with a fenced backyard. Bedroom is furnished with a full bed. Living room has a couch that can pull out to become a full bed. Bathroom is shared with the host and so is the kitchen and living room. There is wifi, on-street parking, and laundry.
Located in the confluence of Highland Park and the W. 7th neighborhoods as well as a 20-minute walk to the confluence of the Mississippi and Minnesota Rivers. Within a block is a community park, a church, the Jewish Community Center, and a fire station (don't worry, it's not very busy). The neighborhood grocery store is at Selby Plaza 3-blocks away and the retail district in Highland Village is a 15-minute walk in the summer.
It was my first time visiting Saint Paul and Conie was an excellent host. She was very friendly, respectful, accommodating and helpful in any manner needed. She offered me rides to and from the airport and taught me a lot about the city. The room itself was clean, organized, warm and cozy. The neighborhood is nice and the house is in a convenient place for shopping needs. I enjoyed my stay there and would recommend her to anyone.
Josh
2016-12-13T00:00:00Z
I had a great stay at Conie's. She was helpful and personable and the surroundings worked great for me.
Glenn
2016-08-24T00:00:00Z
Conie is a GREAT host. She is overly accommodating. Quick initial response, great communication before my arrival, very kind upon arrival, and she was very easy to get along with. She felt like a roommate I've lived with for some time already. Her cute home is the perfect location for taking the bus to St Paul or the airport. Its only a 5-10 minute walk away from the bus (#54) stop. Thanks again Conie!
Phill
2017-03-22T00:00:00Z
This was my second stay at Conie's, as it took me two attempts to secure an apartment. Just as before, Conie was an excellent host. The room was comfortable as always, and the house is in a convenient location for public transportation, shopping and dining. Conie genuinely cares about her guests and sees to it that they are properly accommodated.
Josh
2017-02-01T00:00:00Z
Nice quiet place to stay near the MSP airport. Would certainly recommend if you simply need an inexpensive roof for a few weeks. She also has breakfast covered if you like.
Aaron
2017-04-03T00:00:00Z
Conie's room was comfortable, pleasant and very conveniently located. She is a kind woman with a friendly and generous demeanor. With access to a Saturday farmers market right next door for fresh veggies, it was great to have access to her kitchen to create a favorite recipe. The WIFI was dependable, steady and reliable. Conie was very understanding and flexible regarding the hours I had to keep due to my occupation.
Tom
2016-09-06T00:00:00Z
I have stayed in three other places in Minnesota before ending up at Connie's and of all the places I have stayed, I can truly say that her place was the one place that I really felt at home. she made my visit worry free showing me how to get to where I need to be and giving me a sense of family. She makes herself available to talk if you want and maintains quietness if you prefer. I will totally stay at Connie's if I have to do it all over again.
Ebere
2016-12-01T00:00:00Z
We had a great stay with Conie. it started when she picked us up at the airport. she was very friendly and welcoming. Her place is centrally located and very convenient for all activities in the Twin Cities. During our stay it seemed the right mix of interaction with our host with an ability to come and go as we needed. We were in town for a graduation, so had quite a lot planned. We'd highly recommend this host and would stay again if we are in the Twin Cities area.
Ajai Singh
2016-06-14T00:00:00Z
Rodzaj pokoju
Pokój prywatny
---
Rodzaj nieruchomości
Dom
---
Mieści
4
---
Sypialnie
St Paul, Minnesota, Stany Zjednoczone
The guest bedroom is a cozy space with a nice queen sized bed, a small desk for spreading out work or play and a closet for hanging your clothes. You can use the wifi from your room. The bathroom is shared with our other listing the Master Bedroom.
Quaint and charming are some of the words used to describe this unique place. The manor has an enclosed courtyard with plenty of room for your next family function or gathering. We have a wonderful doberman named Scorch. She is very well socialized and well behaved. We are close to downtown St. Paul and Mpls with access to the freeway within a mile or so.
I live in a diverse neighborhood that is often busy and bustling but we have a compound that creates an inner sanctum, like a place out of time. It has been described as a country place hidden in the city.
I needed a place to stay in St. Paul and re-booked here. As mentioned before, Sean's a great host, very accommodating. Cool house with a lot of character to it. I recommended this bnb!
Ross
2015-11-01T00:00:00Z
It was a very pleasant stay. The room is quite spacious and so is the house. Sean is very friendly and easy-going. The bathroom has everything you may need. It's also in a nice neighborhood: quiet but close to the cities.
Tung
2016-07-05T00:00:00Z
Sean was a great host. Very amenable and laid back. Has a great house with alot of history and great friends. Sean is also very knowledgeable about the area and good with recommendations (i.e. Summit Avenue, Trieu Chow, etc.)
Owen
2012-06-25T00:00:00Z
Sean is a great host. Very welcoming, and so is Scorch (the dog)! Though we had a few issues with trying to get in touch with each other, an honest mistake on his part, Sean was very apologetic. I would definitely consider staying at The Manor again if I need a place to crash while in the Twin Cities. Parking is very secure (inside their locked gates), so you don't have to park on the street! There is no television in the bedroom, but it is charming enough to make up for it! If you need a place to crash in the Twin Cities, this is the place for you! Sean is a great host and truly goes out of his way to make you feel welcome!
Chris
2012-09-01T00:00:00Z
Sean was a very pleasant and nice host. He created a cozy atmosphere so that I can relax. I enjoyed conversation with him especially about his past endeavor to Japan. Anyone staying in Manor should enjoy its experience!
Atsushi
2012-09-07T00:00:00Z
Unique, cozy home with great outdoor space which our dogs loved. Sean and Scorch were excellent hosts. The room was clean and comfortable. Thanks!
Mushfeq
2012-08-31T00:00:00Z
Where I stayed was actually the best part of my MN trip. Sean is a wonderful host. Easy to talk to, very familiar with the area. If you're looking for a non-cookie cutter experience, this is it. The house is from the 1830s and beautiful. There are artistic touches throughout the house.
Monique
2012-09-09T00:00:00Z
Sean immediately made me feel very welcome in his home. He had great recommendations for local restaurants. The Manor is a very relaxing place to stay and I highly recommend it!
Yvonne
2014-08-28T00:00:00Z
Rodzaj pokoju
Pokój prywatny
---
Rodzaj nieruchomości
Dom
---
Mieści
2
---
Sypialnie
St Paul, Minnesota, Stany Zjednoczone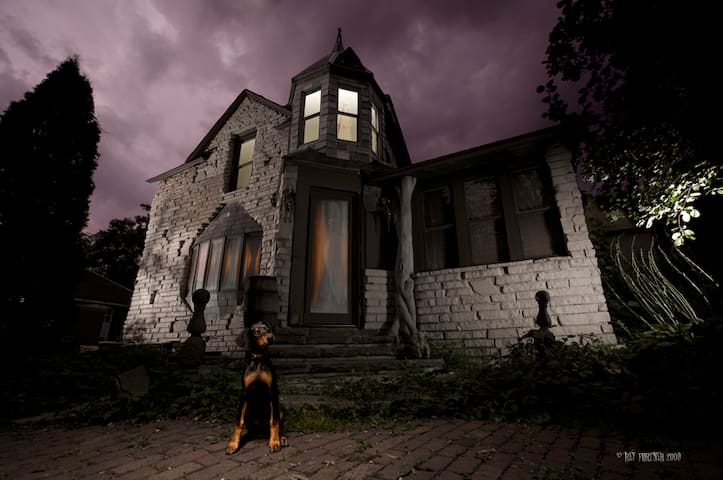 Our unit is a beautiful 1st floor flat with hardwood floors, lovely original wood, and lots of space.
The first floor unit of our 1910 home is spacious and light filled. It boasts original wood floors, built in, pocket doors, and boxed ceiling in the dining room. Each bedroom has a comfy queen sized bed.
We are within walking distance to downtown and the new US Bank Stadium, about a mile from the Convention Center, Uptown, Lake Calhoun, Lake Harriet, Lake of the Isles, and Lake Nokomis. We love good food, so we can also point you in the direction of local eating hot spots. We love our neighborhood. So much so, that we bought our new home from right across the street. We love the diversity it offers and how centrally located it is to the entire metro!! Because we are in the heart of the city, we get to experience people from all different cultures in a densely populated area. Our neighborhood, Ventura Village, is the most diverse neighborhood in the entire country with over 100 languages spoken here! There are restaurants, healthcare buildings, old Victorian homes, apartment buildings, and non-profit organizations. We LOVE it here, but it being in the heart of the city is not for everyone. Obviously, you will want to exercise "street smarts" as you would in any major metropolitan area. If you are looking for a quieter stay in the twin cities, you may prefer looking outside of our neighborhood. But we hope you won't. :)
Verten fulgte godt opp ved ankomst. Et hyggelig hus med noe eldre innredning. Koselig sted og hyggelige mennesker:))
Jorunn Berland
2016-07-02T00:00:00Z
This room is a great value for the location. This would be an excellent choice for anyone in town for business or to explore Minneapolis. I didn't interact with Amy and Josh much, but it seems like they work hard to make sure their guests have a positive stay.
Emily
2016-11-21T00:00:00Z
Amazing place, far exceeded my expectations. Really cozy and classy atmosphere and the owners are super helpful and communicative. Area felt very safe to me and I ended up walking from there both to downtown and the light rail stop. Super convenient.
John
2016-12-11T00:00:00Z
Great people. Warm welcome. Room and bed are nice and comfortable. The house is beautiful, clean and fully equipped. And you can chat with the hosts since they live just front! I highly recommend to stay with Josh and Amy.
Mathieu
2016-05-30T00:00:00Z
Amy and Josh were very special and friendly hosts. I had a great experience staying a their place. I loved the idea of an old house with so much history and also a confortable and well decorated place. They are a lovely family!
Caroline
2016-08-07T00:00:00Z
Josh was incredibly welcoming when I arrived. Even though there were super detailed instructions on how to get in, he met me anyway, to make sure everything was easy. The room was clean and the bed very comfortable. There are several other airbnb rooms in the house, but that never seemed to be an issue. As an extra nice perk, street parking was available right outside the house. Josh is super friendly, and it's clear to see he puts a lot of effort into being a great host! I would definitely stay here again.
Sarah
2016-06-10T00:00:00Z
Amy and Josh were excellent hosts - they were super friendly & helpful and the room was very comfortable. I would definitely stay with them again.
Johanna
2016-05-02T00:00:00Z
Great stay! Josh met me at the apartment to welcome me to Minneapolis. The apartment had a lot of character and was perfect for my needs. I would recommend staying here.
Vik
2016-12-15T00:00:00Z
Rodzaj pokoju
Pokój prywatny
---
Rodzaj nieruchomości
Apartament
---
Mieści
2
---
Sypialnie
Minneapolis, Minnesota, Stany Zjednoczone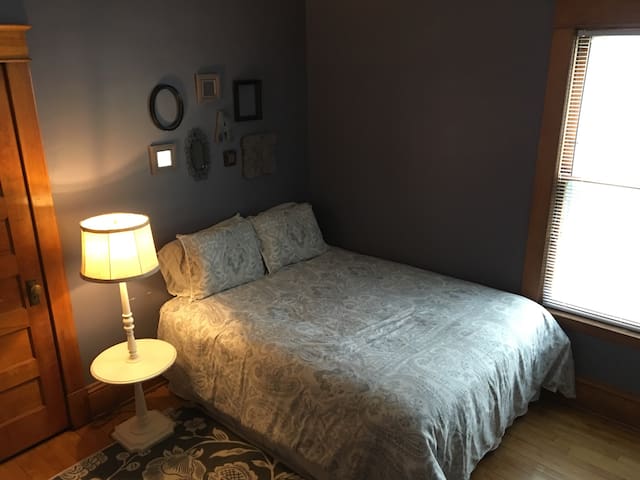 Gourmet kitchen with new stainless steel appliances, granite counter tops, and island that seats 6. Two main floor bedrooms share a bathroom with a clawfoot soaking tub. Private master bedroom suite with rain shower, 2 vanities, walk-in closet.
Gourmet kitchen with Frigidaire Professional Collection appliances, granite counter tops, and island that seats 6. Main floor laundry room next to kitchen. Two main floor bedrooms (one with a walk-in closet and the other with a flat screen TV) have queen sized beds and share a bathroom with a clawfoot soaking tub. Private master bedroom suite upstairs with custom rain shower, double vanities, office, and large walk-in closet. This house has been fully renovated and looks amazing.
Our home is located just 1 block south of St. Paul. It's quick and convenient to travel from our house to downtown St. Paul.
It was a great place to stay with a total of 6 adults. City center of the Saint Paul is in about 10-15min drive distance and there are also a lot of stores in just a few minutes drive. Also a very friendly living area. Had a great stay and I would highly recommend on staying here.
Antti
2016-02-28T00:00:00Z
Beautifully renovated house. Mike met us when we arrived and the house had everything we needed. The kitchen is gorgeous with everything needed to cook full meals. There are 3 Queen size beds, 2 of which were memory foam, but all were very comfortable. This house fit 6 easily and was one of the best houses I have had the pleasure of staying in. Highly recommend!
Sienna
2015-11-10T00:00:00Z
Great stay in a very spacious house with all mod cons. $8 taxi to the centre of St. Paul. 10 minutes in a car to the mall of America. Good location if you want to be out of the centre but still close enough you can get there easy if you want to.
Corin
2016-10-04T00:00:00Z
The experience was great, nice little quiet neighborhood. The house has all the amenities you may need. Great place to stay, I would highly recommend. We have stayed here many times throughout the winter.
Steven
2016-03-19T00:00:00Z
The house is as good as it looks on the listing - clean, spacious and well-equipped. Mike was exceptionally helpful. He allowed my son, who lives nearby, access before we arrived, jet lagged from the UK, to stock up the fridge with essential provisions. Mike also kindly bought an electric kettle especially for us so that we could make cups of tea easily and quickly - very important for us Brits! A great place to stay and a great host.
Janice
2016-09-03T00:00:00Z
Mike's house was perfect for our stay in St. Paul! Very clean, spacious (held 4 and could have held more!), and affordable! Everything that we needed was available, and the location is near St. Paul's downtown. Mike communicated well with us and made sure that our stay was comfortable.
CJ
2016-05-29T00:00:00Z
Host was excellent. Flexible with check-out. Place was clean, nice and comfortable. Highly recommend
Brad
2016-03-08T00:00:00Z
Rodzaj pokoju
Całe miejsce
---
Rodzaj nieruchomości
Dom
---
Mieści
6
---
Sypialnie
St Paul, Minnesota, Stany Zjednoczone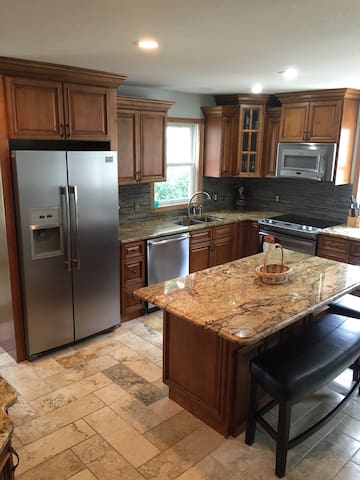 Built in 1908, this house has the beauty and elegance of a time gone by. Walk this gorgeous, historic neighborhood to restaurants like the French Hen, or Happy Gnome or visit our neighborhood co-op. Shopping is amazing and light rail is nearby.
What makes this home unique is that it has original hardwood floors, a fireplace in the kitchen, spacious rooms, lovely furniture and art work, and is in a quiet neighborhood. It is beautiful!
This is a GREAT walking neighborhood! Just a few blocks away is the F. Scott Fitzgerald House, St. Paul Cathedral, The James J. Hill House, The University Club and wonderful shops and restaurants. Some of our favorite restaurants are Happy Gnome, the French Hen, W.A.Frost, Moscow on the Hill, Mango Thai, Punch Pizza, and Bon Vie. The Grand Ole Creamery is a favorite with homemade ice cream that is out of this world! There are beautiful parks and walking along Summit Avenue is like walking back in time. The architecture and landscaping of mansions built in the early 1900's is a sight to behold!
Dawn was a wonderful host! Her home was very clean and comfortable!! We would certainly stay there again. Dawn was very sweet, even left me a personalize note, wishing us a great visit. I would recommend this location if you are visiting the area.
Sherri
2016-10-10T00:00:00Z
I was in town for my sister's wedding which was at the Happy Gnome around the corner from Dawn's place. (The Happy Gnome is a must place to visit!) The neighborhood is very cute! Beside being conveniently located for us, the house was perfect! Plenty of street parking, quaint patio, big bedrooms, lots of seating in the common areas, and everything was clean! Dawn's love for this home is obvious with her charming decor and restorations. She was quick to respond and flexible with the check-out time. If you find yourself in St. Paul, then stay here!
Colleen
2016-10-17T00:00:00Z
We had a great time! It was the perfect retreat in the city. The courtyard is amazing and perfect for summer nights. Dawn's home is beautiful and accommodated our needs perfectly. The home is perfectly located near Selby Ave. where there are great restaurants and walkable to Grand Ave. where we did some shopping. It was a great weekend away with girlfriends!
Ally
2016-08-08T00:00:00Z
My family and I were in town helping my little sister move in and we needed a place to stay. The house was beautiful and very clean with spacious rooms and great seating area. Dawn was very helpful and easy to communicate with, and had left us a note welcoming us wich was very nice. The house is located in a very nice area which is close to nice restaurants and shopping stores at grand.
Eman
2017-01-05T00:00:00Z
Dawn's home is delightful! The neighborhood is fantastic, the space is roomy and clean. I will definitely be back!
izzy
2015-09-17T00:00:00Z
This house is beautiful! Dawn made my mothers and her sisters feel right at home. She was easy to communicate with before booking and provided great instructions. I would highly recommend this place -- such charm, within walking distance of restaurants, coffee shops, etc.
Angela
2015-09-21T00:00:00Z
Rodzaj pokoju
Całe miejsce
---
Rodzaj nieruchomości
Kondominium
---
Mieści
5
---
Sypialnie
St Paul, Minnesota, Stany Zjednoczone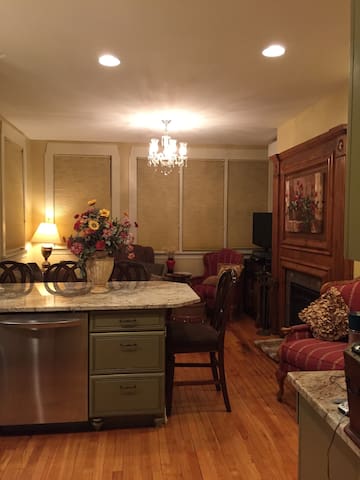 Enjoy your own level in this 1885 Victorian cottage, 10 min to MSP or colleges; 5 to downtown. Your 600 sq ft 3-room suite includes wine on arrival, fridge stocked for continental bkfst, microwave, gas fireplace, 55" Smart TV, full private bath, free WIFI.
This space is truly unique for the lower level of an old house. 7-8 ft ceilings give you room to breath and the bedroom egress window features its own little garden view and offers south light all day. The bedroom is huge! Queen-sized Mission-style bed with European pillow-top mattress and "pillow menu" of feather, polyfill and "I Love My Pillow" options, antique bureau, generous closet, writing desk and shelves of CDs and movies and chairs/settees for reading. This room is very quiet and comes with a white noise machine if you prefer waves, trains, rain, wind or a babbling brook while you sleep. Your room includes a dorm fridge stocked with sparkling and still water, soda, yogurt, fruit and your choice of one bottle of wine or champagne. You also have a microwave if you'd like to heat something up quickly or make popcorn without going upstairs to the kitchen. Your choice of coffee or tea awaits you upstairs, but if you are an early riser, you have your own coffee pot and coffee as well. The adjoining library features leather furniture, a new gas fireplace, 55" Smart TV with Netflix, blu ray (no cable) and hundreds of discs. Cozy up with a glass of sherry from the crystal decanter and a cookie or shortbread when you come in from your day about the city. The large private bath is nothing fancy, but plenty large with tub, shower, and room for your toiletries and supplies. Shampoo, soap, lotion and hair dryer provided. If you've forgotten something, just ask - we may have it! Iron and board provided. The only other room on this level is a utility room with furnace and humidifier (which you can turn off if the white noise is a bother).
We are located in the Cherokee Park neighborhood of Saint Paul's West Side, just over the High Bridge from downtown, Grand Avenue shopping/dining and the historic mansions of Summit Avenue. Also close to Xcel Energy Center, Ordway, Park Square Theatre, Fitzgerald Theatre, local colleges and universities including: Macalester, St. Thomas, St. Kates. Cherokee Park itself, with its great views from atop the Mississippi River Bluffs, is just a few blocks away. We are 10 minutes from the airport and 5 minutes from downtown. About 20 minutes (depending on traffic) from downtown Minneapolis. We are on a busy street, but you won't hear the traffic in your hideaway. Enjoy a "big beautiful breakfast" and Tex Mex food one block away at the Capital View Cafe, or a steak, Walleye and occasional bingo or Karaoke 5 blocks away at the Cherokee Tavern. The best coffee in town 5 blocks up Smith at Cafe Amore, next to two antique shops and a funky upcyle pop-up shop. Good running, walking and cycling in the nearby park, or over the bridge and along the river trails. This is a working class neighborhood filled with many artists, nonprofit administrators like us, small kids and LGBT couples.
What a nice stay! Wonderful hosts, an entire suite filled with treats. I wish my trip had been longer to enjoy all the amenities at Michael-Jon's. Entirely recommended.
Federico
2016-04-15T00:00:00Z
I can't say enough about Michael-Jon and Christopher! We had such a great weekend from the moment we arrived to the moment we left. Fresh scones when we arrived, a fridge full of fruit and yogurt and bottled water, and 2 bottles of wine all when we arrived! The space is very big and so lovely (the bed is to DIE for. We never wanted to leave). Their cats Hurley and Ray Ray will leave you alone if you want, but we loved cuddling with Ray Ray because he was so sweet and friendly! Michael-Jon and Christopher were both so nice, I really enjoyed talking to them when we had the chance. We wish we could have stayed longer and gotten to know them more! All-in-all, we had such a great experience staying here and are so grateful to them for being such excellent hosts. Best Airbnb experience so far. Thank you, Michael-Jon and Christopher!
Megan
2016-09-26T00:00:00Z
Suffice to say, we are now spoiled for life when it comes to AirBnB. Everything about our stay, from our incredibly thoughtful hosts Michael Jon & Christopher, to our beautifully appointed garden-level en suite, was absolutely perfect. The house was neat as a pin, full of history and charm, and every need was planned for – they even had fresh-baked gluten free cookies waiting for us upon arrival. An absolute gem in South Saint Paul – we'll definitely be back!
Lisa
2015-11-08T00:00:00Z
This was my first experience with Airbnb, and it was fabulous! Michael-Jon and Chris made me feel at ease in their beautiful home. I can't say enough good things about their warm hospitality and lovely accommodations!
sarah
2016-04-17T00:00:00Z
They made us feel very welcomed. The space was extremely accurate, much bigger than I expected. So cozy. I loved their house, the decor, the design and the neighborhood is quiet and lovely. The neighbors were very friendly even at 5am! And we loved Hurley the cat and it was such a nice surprise when he would come down to visit.
Marisa
2015-11-03T00:00:00Z
Everything about this stay was fantastic! When we first arrived we were welcomed with open arms and chilled bubbly, not to mention a fridge full of cheese, fruit and yogurt. The communication was spot on and everything worked like clockwork with our arrival. The rooms were beautifully appointed and the home in general was just gorgeous and well taken care of. There were even homemade scones and clotted cream for breakfast! The hosts were so kind and helped us plan out our time there, I can't say enough great things about this place!
Mara
2016-07-09T00:00:00Z
Highly recommended! Michael-Jon and Christopher were very welcoming hosts. The suite is comfortable and spacious. Awesome location close to downtown St. Paul. You won't regret booking a stay here!
Dayna
2015-12-04T00:00:00Z
Simply put, my stay was wonderful! the space was much larger than I expected, especially the bedroom and I loved the library with the warm fireplace and multiple forms of entertainment. Michael-Jon and Christopher were very nice to accommodate me on short notice when the place I was previously staying became unbearable. They were very friendly and I enjoyed my conversations with them, but they also gave me plenty of peace and quiet to get studying done. Michael-Jon, on multiple occasions would bring me treats such as scones which was very thoughtful and delicious. I would definitely rate them a 10/10 and over all I loved my experience there!
Nate
2015-11-19T00:00:00Z
Rodzaj pokoju
Pokój prywatny
---
Rodzaj nieruchomości
Dom
---
Mieści
2
---
Sypialnie
St Paul, Minnesota, Stany Zjednoczone
Charming garden level apartment with private entrance in the heart of South Minneapolis. Newly remodeled "vintage" kitchen and bath with modern amenities. The ideal location for business and leisure travelers, blocks from the light rail train, with easy access to major highways. 2person maximum. No pets or children under 12.
Our lovely apartment is the second unit of our legal "duplex" in the lower level of our 1909 single family home. We live on the top three floors and have separate entrances from our rental apartment. The apartment is garden level with plenty of light from two large south facing windows and 7'4" ceilings. Its a small space, but the layout is perfect for single travelers (or couples) and has everything you might need including a cozy living room with flatscreen TV/DVD, free wifi, workstation, dinette for two, comfortable queen bed with extra pillows, fresh bedding and towels, fully equipped kitchen, and free private laundry. On street parking is plentiful (we live on a very quiet block), emergency off street parking can be arranged with prior notice. We prefer long-term (one month or longer) guests and have offered a significant monthly discount. We love hosting visiting nurses, doctors, and professors (this is an ideal location close to all major hospitals and Universities in the twin cities) and would be open to offering an additional 25% discount for stays 3 months or longer.
Our location offers the best of both worlds; an urban setting close to all the action, with a quiet retreat to come home to. Powderhorn Park is like a "small town in the city", home to countless artists, musicians, master gardeners, and even chicken farmers! Enjoy the Mayday Cafe, Matt's Bar (home of the famous Juicy Lucy) or take a walk around beautiful Powderhorn park, all just blocks away. People in Powderhorn create community by embracing diversity, we know our neighbors and look out for one another. Plus, our neighborhood is absolutely beautiful, take a stroll down any street and you'll notice that people here really take pride in their homes and make the most of our little 1/10 acre lots! As with any urban environment, we expect our guest to take precautions against theft by keeping valuables out of plain site and keeping doors locked.
This place is absolutely wonderful and so is Maile! If you're looking for privacy this is perfect, Maile left us a key and instructions how to get in, has a very helpful welcome guide explaining everything you need to know about the place and Minneapolis, and left a few refreshments in the refrigerator. She was very helpful whenever we did have questions that the guide book couldn't answer. The location is perfect. We were without a car for the month we stayed but only a 20 minute walk to Midtown Global Market and good bus connections into uptown and to Lake Calhoun. I'd definitely recommend staying here!
Kate
2016-12-16T00:00:00Z
We enjoyed our 3 night stay on Maile's property. The place was clean, bed ultra comfy, & a stocked kitchen with most all amenities you can think of. She had a cork screw, wine glasses, coffee cups & even coffee. For me that's BIG!
crystal
2016-10-05T00:00:00Z
This place is great. It's comfy and has everything you could need. Maile is a super friendly host and was really helpful. The place is in a really nice neighbourhood with some good local food stops and good public transport links. My wife and I had just moved to the twin cities area from the UK and this place was a life saver. It is a great base to explore Minneapolis from and helped remove a lot of the stress from moving countries while we found a permanent apartment.
Joseph
2016-11-07T00:00:00Z
Maile's apartment was cozy and well decorated. It was exactly what we needed for our stay in Minneapolis.
Debbie
2016-09-30T00:00:00Z
Maile is a very attentive host, but is not intrusive at all. She has made the apartment very comfortable with its own private entry. There is a well equipped kitchen and a cozy, nicely decorated living space. I found the location to be perfect for getting around, within 10-15 minutes ride to anywhere I wanted to go. The check-in process was very easy and I found fruit and other provisions to get me started. Thank you, Maile.
Katharine
2017-03-19T00:00:00Z
It was such a wonderful wonderful experience to stay at Maile's ! She made it really easy to get into the apartment and get settled in. The location was indeed close to everything. There is a beautiful park nearby. Maile is so thoughtful - there were tons of extras such as a fully stocked kitchen and even pens, etc in the desk. I wouldn't hesitate to recommend this accommodation.
AMY
2016-07-25T00:00:00Z
This was the perfect place to stay for my month long trip in Minneapolis! I'm a medical student and was rotating at HCMC for a month. I was not very familiar with the area and I felt very comfortable and safe here. Maile was so accommodating and she thought of everything I could possibly need including a fully equipped kitchen. Would recommend this Airbnb to anyone! Great place for one person or for a couple. My husband came to visit me for a weekend and Maile had some great recommendations for things to do in the area. Thanks for everything Maile!!
Michelle
2016-08-27T00:00:00Z
Rodzaj pokoju
Całe miejsce
---
Rodzaj nieruchomości
Apartament
---
Mieści
2
---
Sypialnie
Minneapolis, Minnesota, Stany Zjednoczone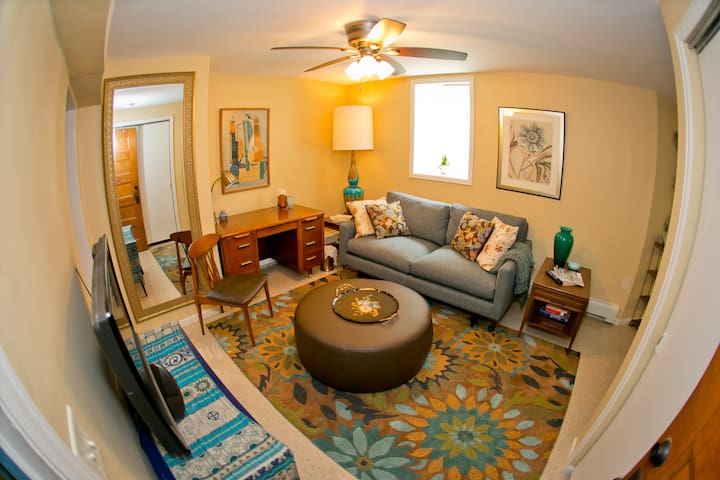 Wpisz daty, by zobaczyć pełną cenę. Obowiązują dodatkowe opłaty. Cena może uwzględniać podatek.