This self-contained gem has its own balcony which overlooks a designated Area of Outstanding Natural Beauty. It is south facing, light & airy and has pure cotton sheets, a small well equipped kitchen, and a powerful shower.
When you arrive you'll find a small welcome basket of food for breakfast. The floors are limed oak and warmed by underfloor heating.
We live at the end of a narrow lane, overlooking a quiet valley on the very edge of Nailsworth, yet only a 15 minute walk to the centre of this small town, with its range of shops, pubs and great restaurants. Five miles away, Stroud is renowned for its creative culture and its frequent art and music events, not to mention its awarding winning Saturday morning farmers market!
Wow - what a view - the picture does not do it justice! The studio is lovely and Kaye and Richard are fantastic hosts - just book you won't regret it!
Karina
2016-09-17T00:00:00Z
Kaye and Richard were very welcoming and hospitable. We had everything we needed for nice breakfasts and they even picked us some lettuce from their own garden. The view is great, the studio is very clean and comfortable and the wi-fi was pleasantly powerful. The surrounding area is beautiful and our hosts tips helped us make the most of it. All in all a very good experience.
Maarit
2016-08-30T00:00:00Z
We were made very welcome bye Kaye immediately on arrival. The Studio was in a beautiful setting with incredible views, it was well furnished and very comfortable. We were provided a good selection of breakfast foods, most from local suppliers. We will be returning in the near future.
Ian
2016-10-03T00:00:00Z
Welcoming host, well-functioning clean contemporary space with a gorgeous view
My
2017-02-08T00:00:00Z
Fantastic, comfortable and tastefully finished, the property felt really luxurious with one of the best views we have ever seen. We felt so at home with Kaye and Richard who offered great advise for eats and drinks in the small but vibrant Nailsworth.
Ben
2016-08-18T00:00:00Z
Kaye and Richard have a lovely little studio flat in Nailsworth which is well worth a visit. My partner and I spent a couple of nights in their comfortable and well-equipped space. The view from the bedroom is beautiful and the setting is very tranquil. I'd highly recommend a few nights in this wonderful space. Richard and Kaye were really helpful and even left out a lovely hamper with enough supplies for breakfast and snacking.
Mark
2016-04-25T00:00:00Z
This place is lovely - I don't have anything to add to all the other glowing reviews, I recommend it and plan to return. The view, restful space and breakfast made it for me.
Abigail
2017-01-21T00:00:00Z
We had a great time at this beautiful getaway. There were lots of personal touches such as fresh flowers and a basket of tasty food for breakfast and to snack on. The view was just stunning and Kaye and Richard went above and beyond to make sure we were happy. I loved the natural based products around the studio also. Highly recommended and will definitely be back again in the future :)
Ellie
2017-04-14T00:00:00Z
Rodzaj pokoju
Całe miejsce
---
Rodzaj nieruchomości
Apartament
---
Mieści
2
---
Sypialnie
Nailsworth, Stroud, Wielka Brytania
Immerse yourself in 420 acres of natural outstanding beauty-within a short walking distance from the Cotswolds Way. This self contained gem is light & airy, has luxury cotton sheets, a well equipped kitchen & a powerful shower. It sits on the edge of Woodchester Park -a 420 acre SECRET landscaped valley, inc woodlands, lakes & a gothic mansion. Relax further during your stay & treat yourself to an aromatherapy massage/Reiki/crystal treatment in our beautiful healing & wellbeing centre next door.
We have put our heart and soul into creating a uniquely beautiful, uplifting and very special place for you to truly unwind and connect. The studio is filled with light, completely detached, quiet, peaceful, south facing, with views embracing the valley. We have furnished it to a very high standard, with luxury cotton sheets, luxury blankets and gorgeous furniture and fittings. There is even a built in dishwasher and washing machine! Our wellbeing centre next door offers exquisite treatments, such as: Aromatherapy Massage, Reiki, Crystal Healing, Indian Head Massage, Miracle Meditation Circles, Transformational circles, Chakra Cleanse, Self Mastery & Self-Healing courses, The Art of Feng Shui & creating dynamic radiant space, Self Transformation, Manifesting Abundance Prosperity & Success. This is a very special place where wonderful things happen!
The Cotswolds: If you're looking for somewhere with a surprise round every corner then look no further than the beautiful Cotswolds. Famous for quintessentially English market towns and villages built from honey-coloured stone, the Cotswolds are a range of gently rolling hills and the largest Area of Outstanding Natural Beauty in England and Wales making them a perfect base for keen walkers and cyclists. Escape the high street and lose yourself in village lanes full to bursting with quirky and independent shops, restaurants and farmers markets or soak up the amazing atmosphere of one of our many festivals and events. You'll find some of the world's most famous – and beautiful gardens in the Cotswolds, as well as wildlife parks, castles and stately homes and some of the finest historic buildings and churches in the country. Don't be put off by our lack of coastline either! We have 40 miles of lakes in the Cotswold Water Park and numerous gently winding streams, canals and waterways criss-crossing the picturesque towns and villages. On the door step: WOODCHESTER PARK - the secret valley: Nestled in the Cotswolds, the secluded valley of Woodchester Park is home to the remains of an 18th- and 19th-century landscape park, a Victorian mansion, a chain of five lakes fringed by woodland and pasture, and an abundance of wildlife.The 19th Century Victorian Gothic Masterpiece was abandoned in mid-construction in 1873. Hidden in a secluded Cotswold valley, it is untouched by time and the modern world. This Grade 1 Listed Building has been saved from dereliction, but will never be completed. Visitors walk through an extraordinary architectural exhibit in which the secrets of the medieval Gothic builders and masons are laid bare. The carvings in Woodchester Mansion are among the finest of their kind in the world. 3 mins drive / 30 mins walk: NAILSWORTH: The artistic, market town of Nailsworth is nestled in a wooded valley in the south Cotswolds. Nailsworth is renowned for its selection of award-winning restaurants, pubs and cafes. Eating out in Nailsworth means you are spoilt for choice. Hobbs House Bakery is famous for being owned by the Fabulous Baker Brothers – Tom and Henry Herbert – and was featured on their TV show. William's Food Hall has helped turn Nailsworth into a foodie haven. It draws celebrities and foodies through its doors to dine on fresh seafood and local produce. 5 mins drive: MINCHINHAMPTON The delightful, small market town of Minchinhampton sits on the edge of Minchinhampton Common. It's made up of pretty stone cottages, many dating back to the 17th century and medieval wool trade. There is a weekly country market and a good choice of cafes. Minchinhampton was chosen as a scenic location for the recent BBC TV adaptation of J K Rowling's Casual Vacancy. There are breathtaking panoramic views of the Stroud Valleys from Minchinhampton Common, which sits on the Cotswold escarpment. It is an important archaeological landscape and managed by the National Trust. Rare orchids and butterflies can be spotted along with freely roaming horses and cattle. Please drive carefully over the common and keep an eye out for (URL HIDDEN) of the most famous residents is the Princess Royal who lives at Gatcombe Park on the edge of town. Every year, the famously quirky Giffords Circus takes up residence in Minchinhampton as part of its annual summer tour of the Cotswolds. 15 mins drive: TETBURY: Tetbury is a historic market town that is now internationally famous for its range of antiques shops and dealers. Independent boutique shops sit alongside restaurants that feature in the Michelin Guides. Tetbury attracts everyone from Royalty (Prince Charles and his sons' home, Highgrove, sits less than a mile away) to English countryside lovers, antique-finders, foodies and real ale connoisseurs. 8 min drive: STROUD: In the opposite direction and you will find yourself in the market town of Stroud - Situated below the western escarpment of the Cotswold Hills at the meeting point of the Five Valleys, the town is noted for its steep streets, independent spirit and cafe culture. The Cotswold Area of Outstanding Natural Beauty surrounds the town, and the Cotswold Way path passes by it to the west. The award winning saturday farmers market IS A MUST! 25 min drive: BIBURY & ARLINGTON Bibury is a charming, typically Cotswold village just a short drive from Cirencester. It's easy to see why William Morris called Bibury 'The most beautiful village in England' – wonderful stone buildings strung out along the banks of the River Coln. Arlington Row, owned by the National Trust, is one of England's most iconic and photographed sites – it even appears on the inside cover of UK passports! Originally built in the 14th century as a monastic wool store, it was converted in the 17th century into a row of weavers' cottages. The cottages are now lived in by National Trust tenants, with no public access to the cottages or gardens, although one of them can be rented out as a holiday cottage. The River Coln flows through Bibury sandwiched between the main village street and an expanse of boggy water meadow known as Rack Isle, so called because wool was once hung out to dry there on racks after it had been washed in Arlington Row. With Arlington Row as a backdrop, it makes one of the most picturesque scenes you will find in the Cotswolds. 30 min drive:CHELTENHAM SPA 45 min drive: BATH SPA
This place couldn't be better positioned on the southern slopes of a valley holding a stunning series of crystal clear lakes. There are gorgeous paths right next to them and if I'd been braver I (it was March) I would have been super tempted to swim. Victoria's apartment is spacious, self contained & immaculately presented..and the floor of the bathroom is particularly well heated! A really lovely stay. I can also recommend the well being centre which adjoins the accomodation. It's set in a remarkable location and I found it truly worthwhile. Nailsworth is also a lovely place with a very creative atmosphere. Highly recommended.
Zoe
2017-03-22T00:00:00Z
very nice place,and very nice host !!
Rob'z
2016-12-03T00:00:00Z
Victoria put was extremely helpful from the get-go - replying to message queries promptly and being extremely accommodating whilst making travel arrangements. The studio was clean, cosy and furnished to a high spec and left with the nice touches (milk, tea, bread etc) that makes you feel welcome. Parking was a easy with our own space which led on to a separate entrance. The bed was extremely comfortable and the kitchen was well equipped if you wanted to cook for yourself. I would also strongly recommend Victoria's wellness centre next door - we went for a relaxing massage which was spot on! All in all, it was a fantastic stay hosted by some genuinely lovely people - thank you Victoria and Paul.
Jimmy
2016-12-10T00:00:00Z
Just back from a great weekend with some friends. High spec studio with lovely views, right by a great walk to woodchester Mansion, the Ragged Cot pub in Minchinhampton does a fab roast and Victoria was a great host - extremely accommodating and helpful!
Hannah
2017-02-26T00:00:00Z
Our stay at Victoria's was perfect! The place looks over beautiful views and is in close walking distance of Woodchester Park. Victoria was extremely helpful and offered to get us when we had a flat tyre and also dropped us off at the Old Fleece. Can not recommend enough.
Jessica
2017-02-06T00:00:00Z
It was lovely to meet Victoria. We both felt very welcome and relaxed at the location! Beautiful local walks, and beautiful local Cotswold villages and towns. The studio was very clean and comfortable, the bed was wonderful to sleep in. A very peaceful and nourishing experience. The host Victoria is lovely and a pleasure to meet. We are already thinking about visiting again in the spring. Thank you Victoria!
Stuart
2017-01-07T00:00:00Z
Beautiful part of the world. Great spot, really comfy bed and cosy studio flat. Clean bathroom, well equipped kitchen and incredible scenery! Perfect for a romantic weekend or countryside getaway! Please note the most incredible walk takes a few hours so leave enough time (we didn't and I wish we had as we only did half). Would 100% stay here again in the future. It was the cosy romantic weekend my boyfriend and I were hoping for :)
Ellie
2017-01-22T00:00:00Z
My host was so helpful and my stay was so peaceful in a beautiful studio....just perfect
Fiona
2016-12-14T00:00:00Z
Rodzaj pokoju
Całe miejsce
---
Rodzaj nieruchomości
Apartament
---
Mieści
4
---
Sypialnie
Gloucestershire, Anglia, Wielka Brytania
Our beautiful apartment is surrounded by stunning countryside - just waiting to be walked or cycled. It comfortably fits two, has a large kitchen, cosy living area plus bathroom. Outside is a sunny garden area. Dogs are welcome.
You can walk and cycle straight from the door step into stunning country side. There is a pub at the end of the road with great food. Nailsworth is a short walk away through beautiful fisheries. Loads to do in the surrounding area.
We were made to feel really welcome but also left alone which was great. Cannot fault their hospitality and friendliness. Recommend this stay to anyone and only wish we could have stayed longer!
Henry
2016-07-11T00:00:00Z
We loved staying in this beautiful apartment, it was exactly what we were looking for - a lovely quiet location, nestled in stunning scenery with plenty of walks and places to explore. The apartment is very modern, clean and cosy and has everything you could possibly need. Deborah and Stuart were great hosts - so helpful and friendly and so too was their dog, Bella. We really can't fault this place, we loved it and look forward to staying again in the future!
Tom
2016-06-17T00:00:00Z
We had a lovely welcome, a great beginning to an all to short stay. The accommodation is beautiful and so well situated for walking in to Nailsworth and the lovely woods. I would highly recommend a visit here, thanks so much Deborah, we hope to be back soon!
Jenny
2015-09-14T00:00:00Z
A lovely cosy and modern retreat away from every day life. Clean and well equipped - we'll be back.
Andy & Sam
2017-01-25T00:00:00Z
Stuart welcomed and gave us an overview of the property, and local area. The apartment is lovely, clean and perfect for two. The local walks to the forest and along the path to the fisheries is beautiful. We will definitely be returning to the area!
Greg
2016-07-10T00:00:00Z
We loved staying in Deborah's beautiful apartment in the Cotswolds. We were made very welcome and felt at home instantly. The dogs had a fantastic time as there are so many beautiful walks on the doorstep and we very much enjoyed the local pub. Would love to come again and highly recommend.
Charlotte
2015-09-05T00:00:00Z
This was our third visit to Deborah and Stuart's lovely place in Horsley, and we enjoyed it just as much this time as the previous two times! It really is the most peaceful and beautiful spot. Waking up to the sound of the birds and the sun coming in from all the windows was just wonderful. We enjoyed the recommended walks and dinner in the Hog pub. Also loved exploring Nailsworth and the farmer's market in Stroud on Saturday - definitely worth a visit if you are up on a weekend. Thank you for a lovely stay! Libby and Bruno
Libby
2017-04-09T00:00:00Z
We had an amazing time at Deborah and Stuarts. The location was stunning and the apartment was beautifully decorated and fitted with everything you could need. We were given all the local information we needed to make the most of the area, the walk into Nailsworth along the fisheries was spectacular. I loved the fact that there was a small private garden area where we could sit outside and enjoy our meals, I'm already thinking of going back as soon as I get a chance.
Sally
2015-05-19T00:00:00Z
Rodzaj pokoju
Całe miejsce
---
Rodzaj nieruchomości
Apartament
---
Mieści
2
---
Sypialnie
Horsley, Wielka Brytania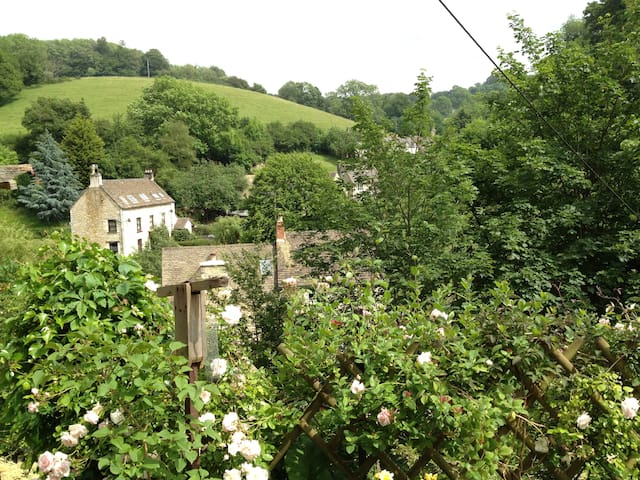 The Cottage at Tythings is a fully independent living space behind our family home. The views and grounds truly distinguish this country getaway, with views across the Stroud Valley, and only steps from The Bell Inn. Comfy bed, full kitchen. Welcome!
Jen was great and made us feel very welcome from the outset. She was really helpful and gave lots of recommendations for places to eat and visit - one of which was an unfinished victorian mansion in Woodchester. Beautiful area, fantastic views overlooking the valley and amazing sunsets every night from the hills nearby. Thank you.
Christopher
2016-07-20T00:00:00Z
A fantastic experience in Jennifer's cottage. Located in great view point with parking place.
yi
2017-03-11T00:00:00Z
Exactly as advertised, a cosy little cottage just outside Stroud and next to a great Pub. The cottage was clean and exactly what we wanted.
Chris
2016-11-13T00:00:00Z
Amazing location. Close to some lovely walks with breathtaking views of the surrounding countryside. Excellent hospitality, with a clean and cosy apartment.
Adam
2017-02-20T00:00:00Z
We had a lovely time at Jennifers place! Perfect for a weekend getaway and such lovely views :)
Sophie
2016-12-11T00:00:00Z
Jennifer was a great host & very prompt with replying to our queries before booking our stay. Jennifer kindly came to greet us once she'd arrived home & offered to help with anything else we might need. The cottage was the perfect stay for our first family break with our 12 week old little girl. The cottage was clean, tidy, warm & well equipped. The views out over the garden were beautiful! Thank you again for a great stay!
Natalie
2016-10-26T00:00:00Z
Op de foto's zag het er allemaal al mooi uit en dat is in het echt ook zo. Mooi appartement en een prachtige tuin waar we - heel gastvrij - gebruik van mochten maken. We hebben een fijn verblijf gehad.
Ruben
2016-07-26T00:00:00Z
Great location, great accommodation and a great host! As described with no surprises or disappointments - I would definitely recommend to anyone looking to stay in the area. Thanks Jennifer... you may well be seeing us again in the future!
Ben
2016-08-31T00:00:00Z
Rodzaj pokoju
Całe miejsce
---
Rodzaj nieruchomości
Apartament
---
Mieści
2
---
Sypialnie
Selsley West, Anglia, Wielka Brytania
Rural location. Quiet garden flat above double garage with its own entrance. En-suite shower. TV, WiFi, fridge, microwave, double bed in small village with good public transport connections. Village on the Cotswold Way trail, 2.5 miles to J13 of the M5 motorway.
Quiet room with en-suite shower/toilet. Small fridge with fresh milk provided, along with tea and coffee. Remote control TV. Table and chairs for cereal breakfast provided. Wifi available. Small microwave and ironing board/iron available
Situated on the village green. Small shops available within a short walking distance. Pleasant village pub. Village take-away within 250 yds.
Great stay. Our hosts were very friendly and welcoming. The apartment was comfortable in a quiet area and close to many attractions in the area.
Paul
2016-07-09T00:00:00Z
i've stayed with Shirley a couple of times now and have booked a few more visits , its beginning to feel like home
Andy
2016-09-17T00:00:00Z
The self contained room is set in a lovely garden with private access. and in a very quiet location. When we arrived there was fresh milk in the fridge, a selection of teas and a selection of tea and coffee so we could make ourselves at home immediately. Cereals were also provided for breakfast if required. Head height is a little restricted in places but this added to the charm. Shirley had thought of everything for our comfort and the room was absolutely spotless.
Colin
2016-07-17T00:00:00Z
Greeted on arrival and given a walk around the place, given information on where is good to eat around the area, general chit chat after a return from work each day. Really nice hosts.
Jake
2016-09-09T00:00:00Z
returning guest
Andy
2016-11-04T00:00:00Z
home away from home
Andy
2017-01-27T00:00:00Z
Shirley was friendly and welcoming as soon as we arrived. Her directions were spot on and car parking was easy. The studio is just as it looks in the photo and the bed is really comfortable. As it was a hot day we were offered an extra sheet instead of a duvet and an electric fan. It was perfect for one night - maybe not for the very tall!
Sandra
2016-08-07T00:00:00Z
Shirley and Nick are very friendly, the room was clean, comfortable and quite. We had a great stay at shirleys place.
Robin
2016-08-04T00:00:00Z
Rodzaj pokoju
Całe miejsce
---
Rodzaj nieruchomości
Apartament
---
Mieści
2
---
Sypialnie
King's Stanley, Wielka Brytania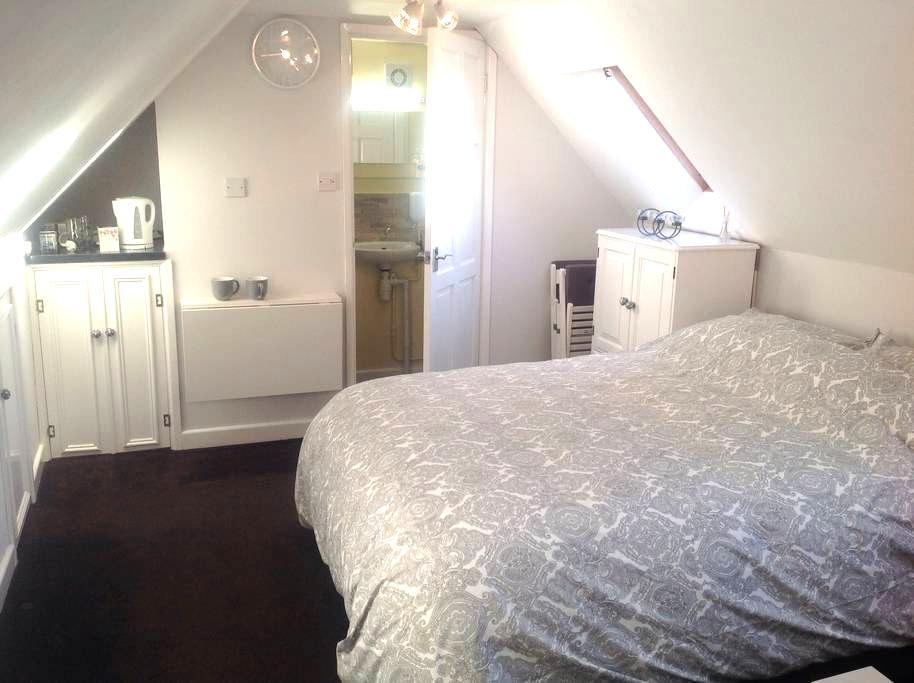 Cosy, comfy, home from home: perfect for just the two of you! The AA inspected; quality facilities. Fully equipped kitchen (inc dishwasher, microwave, Tassimo, large 'fridge/freezer). Superb views and awesome summer sunsets! Free WiFi, welcome pack, linen, gas, electricity, onsite parking. Fully tiled ensuite with fantastic walk in "rainfall" shower. Lovely local pub nearby with great food + large supermarket only 1 mile. Peaceful, relaxing, central base: explore the Cotswolds and beyond.
Here's a great place for a long, lazy summer holiday! There are loads of things to do and see in the Cotswolds... or you can recharge your batteries in this peaceful, restful place! We have loved creating this comfy apartment as a relaxing getaway for two or a sweet, peaceful retreat for one, where you can feel instantly at home, relax and be comfortable. It is superbly equipped, has amazing views and peaceful countryside surroundings whilst being within easy access of road networks, a large number of attractions, walks etc. It is situated alongside the Cotswold Way in a central Cotswolds location with beautiful villages and quirky Stroud with its bohemian atmosphere, cafe culture and highly acclaimed farmers' market close by. Inside Bobby's Nook there is a cosy and peaceful bedroom with a fully tiled ensuite containing a lovely, spacious walk in "rainfall" shower. There is a separate, fully equipped, modern kitchen with extra table and chairs, perfect for breakfast or a quick snack. The living area has a comfortable sofa, dining table and chairs and a desk where you can set up your laptop etc. Free WiFi is available and a Welcome Pack (tea, coffee (a selection of Tassimo pods), milk, sugar, biscuits), all linen, gas and electricity are also included in the cost of the rental.
The location has an AMAZING view to the west, towards the Severn Estuary and the Forest of Dean beyond and beautiful sunsets are often experienced in summer. The surrounding countryside is peaceful, making this a great place to relax, whilst still having easy access to places in the Cotswolds and beyond. Bobby's Nook is adjacent to the Cotswold Way so there are many lovely walks to be taken straight from the front door including the Selsley Circuit which is a 5 mile round walk of great variety; from the breathtaking view from the top of Selsley Common to the industrial heritage of the newly restored canal. There are two pubs within walking distance; The Kings Head in Kings Stanley and our local, The Bell in Selsley which serves great food.
Good value for money
Andrew
2016-04-15T00:00:00Z
Lovely stay, perfect for 2 people. Stayed for 3 nights :). Lovely welcoming owners x
Faye
2016-10-31T00:00:00Z
Gill was very welcoming and gave us good directions for finding Bobby's Nook, which was a lovely place to stay - warm, comfortable and well-equipped. Little touches like fresh flowers and seasonal lights made it extra special. We had a relaxing enjoyable stay and hope to return before too long.
Joan
2016-01-05T00:00:00Z
Had a lovely stay here! Beautiful view from Selsley Common at sunset and a good meal at the Bell inn. Gill was very welcoming.
Jemima
2015-09-04T00:00:00Z
Gill's place was a good base for us exploring the Cotswolds. Gill and Mike are very friendly and organized. Check in was very easy. Well equipped kitchen and really nice modern bathroom. Would recommend.
Ella
2016-12-10T00:00:00Z
Fantastic place to stay! Me and my boyfriend were very happy and had everything we could've wanted and more. Gill was very welcoming. Thoroughly recommend!
Tika
2016-08-30T00:00:00Z
Me and my partner had a fantastic week at Bobby's Nook, the apartment is a great size for a couple, set in a beautiful location, and was spotlessly clean. Gill and Mike had thought of everything, we had everything we needed and had a great time exploring the local area, with help from the very thorough information pack they had compiled. We would highly recommend it and are thinking of returning!
Michael
2016-09-13T00:00:00Z
Lovely, clean and cosy apartment. Pretty location, friendly host. We had a great stay and would definitely recommend it.
Giulio
2015-02-22T00:00:00Z
Rodzaj pokoju
Całe miejsce
---
Rodzaj nieruchomości
Apartament
---
Mieści
2
---
Sypialnie
Selsley, Wielka Brytania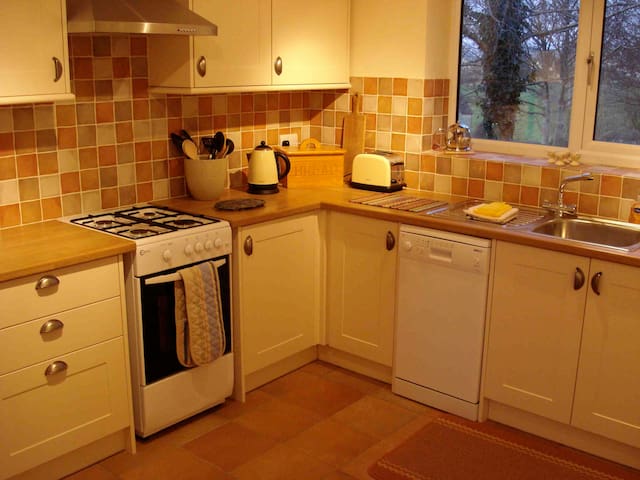 Self-contained apartment above our lovely pub – built in the 17th Century The Tipputs Inn building oozes character and charm. The pub and restaurant is local too many and now inviting the further afield to share the unique experience in the heart of the Cotswolds & rolling countryside decorated in Cotswold stone villages. Boutique shops, bars, cafes and artists studios to visit. Explore the area by walking, the Cotswolds provide gentle strolls to hilly hikes all levels are catered for.
*room is currently set up as super King bed* The room has 2 single beds (if requested we can make this into a super king bed) the room is lovely, light and spacious with contemporary decor, attached is an enormous ensuite! The kitchen is newly fitted & fully equipped with tea, coffee and breakfast. Lastly the lounge / sitting room - very cosy and warm colours with board games, tv, sofa, coffee table, table and chairs where you can sit and have dinner etc. The sofa does pull out to make a small double bed which lays along the ground so you can sleep up to 2 more people - perfect for your kids or adults that like to get cosy! We have had guests say the sofa bed is only big enough for 1 adult or 2 small kids.
5 min drive to the Market Town of Nailsworth with its popular deli restaurants, cafes, art and craft shops. Less than 15 mins drive to the Historic Market Town of Tetbury filled with cafes/restaurants, antique and boutique shopping and the Highgrove Gift Shop. Also 15 mins from Stroud where you can find a Saturday morning farmers market, cinema, and much more shopping. An easy drive to Bath, Bristol, Cheltenham and the rest of the Cotswolds. There are many hidden valleys and Cotswold stone villages to explore by foot, bike or car. Plenty of pubs, restaurants, cafes, and historic towns. Not to mention the array of interesting and varied shops selling antiques, crafts, art and second hand shops.
Clean, cosy flat and amazing food at the pub downstairs.
Andreas
2016-12-29T00:00:00Z
We had a fantastic stay here. Incredibly welcoming hosts. Bright, clean and beautifully decorated rooms. The landscape around the pub is stunning - great walks, towns and people. The pub downstairs is warm, cosy and serves amazing food. Strongly recommend staying here - perfect weekend getaway.
Luke
2016-11-06T00:00:00Z
Lovely apartment above the pub, fitted with everything we needed for a comfy night's stay. Close to the road with a beautiful walk behind taking you the back route into Nailsworth.
Sophie
2017-02-04T00:00:00Z
Shame the pub below wasn't open..!
New
2017-02-27T00:00:00Z
We had a lovely stay. An enjoyable walk to the nearby mill through the farm and good food in the pub in the evening. We can really recommend the Toblerone cocktails!
Jenny
2016-11-20T00:00:00Z
Stacey is a great host, had a fantastic stay! The flat is very spacious and clean, plenty of nice touches. If you're visiting the Cotswolds, I strongly suggest this apartment as it's quiet, relaxing and surrounded by amazing countryside. Pub downstairs was amazing, Jamie and the staff were really friendly, great choice of beers and even a discount for the Airbnb guests! Would definitely recommend.
Laura
2016-11-27T00:00:00Z
My girlfriend and I stayed here for a one night getaway! We were not disappointed! The apartment is spacious and clean and the bed was very comfortable. We drank and ate in the pub/restaurant and was was made very welcome and food was delicious. It was a perfect evening and would definitely recommend. Thank you :)
Alex
2016-12-11T00:00:00Z
Unfortunately we did not stay here in the end due to some unexpected problems with the property upon arrival - I have been told these issues have now been rectified. Thankfully, the host (Stacey) was very apologetic and sympathetic and gave us a full private refund through bank transfer. From what we did see of the apartment and the pub downstairs, it was exceptionally clean and much like the photos. I have only had dealings with Stacey over the phone and through messages but I can only speak exceedingly highly of her due to her friendliness, compassion, communication and honesty. Although we were only at the apartment for an hour, I feel confident in saying that Stacey is a great host and the apartment is nice.
Jon
2017-02-12T00:00:00Z
Rodzaj pokoju
Całe miejsce
---
Rodzaj nieruchomości
Apartament
---
Mieści
4
---
Sypialnie
Nailsworth, Anglia, Wielka Brytania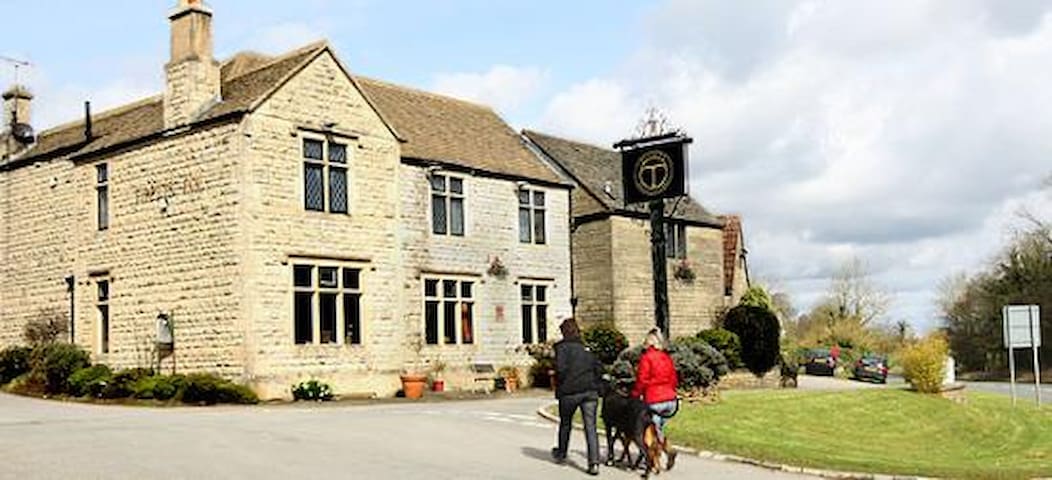 The Bonnet is a beautifully converted top floor of a stonemason's cottage in the Stroud Valleys. Beautiful views, very tranquil, private access, 1 guest parking space. Compact kitchen and shower room, hand made oak double bed inlaid with stars.
'The Bonnet' at No. 1 Yew Tree Cottages is a delightful, bright and cosy self-contained flat. It occupies the top floor of a Victorian stonemason's cottage in Rockness. There are wonderful views and a feeling of tranquillity. The only access is through the front door, reached by the pretty blue staircase seen in the photos. The Bonnet is open plan, with a star spangled oak double bed (made by the owner), a compact kitchen and neat shower room. Heating is provided by the wood-burning stove, (logs are supplied), with back up electric radiators. The woodburner will be lit to welcome you making it very warm and inviting, if it is cold !! Tea, coffee, milk ,croissant and home made jam will be there for your arrival. There is no TV, but there is internet access. Cotton sheets and towels are provided. You are welcome to wander, sit in the garden.
The Stroud Valleys are famous for the glorious countryside and the history of the woollen mills. A 10 minute walk downhill brings you to the centre of Nailsworth. The town is folded in the hills of the Stroud Valleys and is surrounded by lovely walking country. There is a thriving arts and music tradition in the area, and there is plenty to do and see. Nailsworth has a multiplicity of sole-trader shops, restaurants, gastro-pubs and cafes, we even have our own beer.
Fiona made us feel very welcome in her lovely cosy accommodation. The flat was very well equipped with everything you would need for a stay including breakfast and tea and coffee. We would of loved to use the wood burner but visited on a freak hot weekend at the end of October! So instead found a sunny bench in the pretty quiet garden to relax instead. The accommodation itself was finished to a high standard with beautiful examples of her woodwork skills giving the place a unique boutique feel. Although it felt very private and remote it was within very easy walking distance ( about 5 mins) to nailsworth a lovely little town with plenty of options for food and some lovely independent shops. Also easy to access lovely walks. Had an absolutely perfect stay and would highly recommend the accommodation, the town and Fiona as a host. Thank you Fiona
emily
2015-11-01T00:00:00Z
Absolutely marvellous place, spotlessly clean, really comfortable, very well provisioned (croissants and orange juice plus milk) with a fabulous wood burning stove!! A full kitchen, beautiful bed which was very comfortable. Excellent communication and brilliant local information supplied. Well done & thanks Fiona, great stuff, we will be back soon I hope. Simon & Hannah.
Simon
2017-03-04T00:00:00Z
Beautiful home in a beautiful location! Fiona thoughtfully provided breakfast things and lit the fire for when we got there which was very much appreciated due to the snow! Extremely tidy and very comfortable, I would definitely return.
Megan
2017-02-12T00:00:00Z
Fiona made us feel very welcome. The accommodation was accurately described and lovely to stay in. Fiona provided a very helpful set of information about the local area which came in handy.
Jeremy
2016-05-16T00:00:00Z
Another great stay at The Bonnet! Just right for my midweek business trips to the Cotswolds... Thank you Fiona!
Geoff
2016-09-01T00:00:00Z
We just came back from a 4-day visit in Nailsworth. Fiona´s cottage is even better than in the pictures. It was set up exactly how it was listed. It's super cosy, clean, and well equipped. Fiona was great. She gave us some tips where to go and what to see and left us fully in peace. Even if it was raining for most of the time we really enjoyed our stay and would highly recommend both the house and the host! Its great for a peaceful escape from London. 
lukas
2015-02-23T00:00:00Z
Lovely cottage, beautiful surroundings and a perfect host! Thanks so much for having us.
Robin
2016-06-13T00:00:00Z
A tresurable find in the Cotswolds and will definitely be back! Fiona offers and amazing space of beauty that allows you to be totally self contained. All home comforts provided and excellent communication from the host to enabled a smooth experience. Fiona provides very fine marmalade too.
Lisa
2016-07-24T00:00:00Z
Rodzaj pokoju
Całe miejsce
---
Rodzaj nieruchomości
Apartament
---
Mieści
2
---
Sypialnie
Nailsworth, Gloucestershire, Wielka Brytania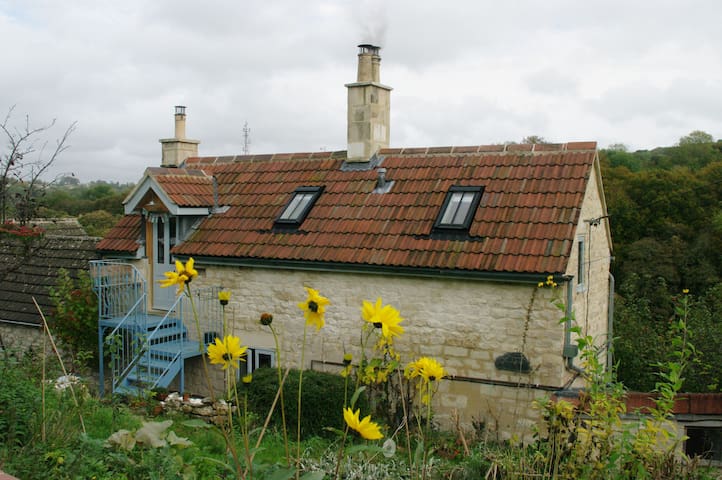 Το σπίτι μας είναι στη μέση της Rodborough Κοινού (National Trust), μια αγροτική λόφο ρύθμιση "περιοχή εξαιρετικού φυσικού κάλλους» πάνω από τα ιστορικά Stroud. Σας προσφέρουμε ένα ευρύχωρο αυτόνομο διαμέρισμα με εγκαταστάσεις και ευελιξία για να αξιοποιήσετε στο έπακρο τη διαμονή σας.
Ευρύχωρο, ανακαινισμένο και ιδιωτικές. Το διαμέρισμα έχει τη δική του είσοδο είναι από ένα στολισμένοι βεράντα με θέα στον πίσω κήπο. Είναι αυτόνομο, που αποτελείται από ένα υπνοδωμάτιο με διπλό κρεβάτι και καναπέ-κρεβάτι, μπάνιο / wc και κουζίνα / τραπεζαρία. Μέσα στην εβδομάδα το διαμέρισμα είναι ένα επιχειρηματικό φυτώριο έτσι έχει μερικά παιχνίδια σε μια γωνιά, με καρεκλάκι και κούνια διαθέσιμα, αν απαιτείται. Παρέχουμε καθαρά σεντόνια και πετσέτες, μαζί με τα απαραίτητα για τσάι / καφέ. Μπορούμε επίσης να παρέχουν ένα ευρωπαϊκό πρωινό κατόπιν συνεννόησης, ή μπορείτε να φάτε έξω σε τοπικές παμπ γκουρμέ εστιατόριο και καφέ, ή να μαγειρέψουν τα γεύματά σας. Έχετε την ευελιξία και τις εγκαταστάσεις για να έρχονται και να φεύγουν όπως σας παρακαλώ να αξιοποιήσουν στο έπακρο τη διαμονή σας.
Cotswold Brow βρίσκεται στη μέση της Rodborough και Minchinhampton Commons διαχειρίζεται το National Trust και χαρακτηρίζεται ως "περιοχή εξαιρετικού φυσικού κάλλους» από φυσικό Αγγλία για λογαριασμό της κυβέρνησης του Ηνωμένου Βασιλείου. Υπάρχουν περισσότερες πληροφορίες και μερικές μεγάλες φωτογραφίες σε αυτό το σύνδεσμο: nationaltrust uk ιστοσελίδα / Minchinhampton-και-rodborough-commons / Τοπικές δραστηριότητες περιλαμβάνουν: περπάτημα, ιστορικά αξιοθέατα, τέχνη και χειροτεχνία, αγορές, εκθέσεις, φεστιβάλ. αθλητικές εγκαταστάσεις περιλαμβάνουν: γκολφ, ποδηλασία, ιππασία, παραπέντε, χαρταετούς, ιστιοπλοΐα, τοξοβολία, τένις, μπάντμιντον, σκουός και κολύμπι (τόσο δημόσια εσωτερική και εξωτερική πισίνα, καθώς και ιδιωτική εξωτερική πισίνα μας).
We had a great stay. The property is located in the perfect spot to enjoy the stunning scenery and villages near by
Paul
2016-03-30T00:00:00Z
The house is in a lovely setting, the hosts met us and made us feel welcome, showed us around the apartment and then left us to it - it was very nice indeed. We felt very welcome.
Andy
2015-10-05T00:00:00Z
I had a lovely stay at Ludo n Katy's place. Fresh, clean and very welcoming. Being next to the ice cream factory is a real treat and the views are stunning. If you want a peaceful retreat, this is it.
Valerie
2014-09-30T00:00:00Z
We had a very comfortable stay. The room, the kitchenette, bathroom..everything was just perfect. The electric kettle in the kitchen was very helpful as i needed to sterilize my little one's feeding bottles. The location was good, few minutes from Stroud and Painswick.
Ankita
2014-12-01T00:00:00Z
A great retreat. Ludo and Katy were lovely and made us feel at home. We did a walk they recommended and even though I thought I knew the area...I really had no idea, it was breath taking. We also did an 'open studio' event, which was amazing. It's a romantic, peaceful, characterful, beautiful, rustic getaway. Thank you
Abi
2016-05-16T00:00:00Z
We spent a weekend at Ludo and Katy's wonderful retreat. We are a family of 4 with a 7 month old baby and a boisterous 3 year old, so not easy to cater for! Katy and Ludo were the perfect hosts, helpful and approachable but they respected our privacy. The place was simply and comfortably furnished, with white linen and light grey walls, very peaceful. There was beautiful polish pottery in the kitchen which we could use, as well as a few basic groceries (tea, coffee, butter, jam etc.). The bathroom was well designed, again with soap, shampoo, etc left for our convenience. The place was very clean throughout. But what made the place extra special was the deck and we spent a lot of time there. It overlooks the swimming pool and the lovely garden with far reaching views . Rodborough common was just around the corner and we went for a walk with the kids. We spent Saturday morning at a market in Stroud, as recommended by Ludo, and were amazed by the amount of fresh produce and local creativity. Highly recommended.
Anneke
2014-08-18T00:00:00Z
The Cotswolds Retreat was above all expectations, and started from as soon as we arrived. It's situated in a cute, quaint and quiet place in Rodborough - and the hosts provided all we could ever want for out stay. The room, bathroom and kitchen area were a great size, clean, comfortable and well furnished for our stay. There was even a small decking area outside and access to their wonderful pool which we took full advantage of! Overall, the retreat was a treat for us during our visit to the Cotswolds; and we couldn't recommend it more.
Anthony
2014-07-28T00:00:00Z
Ludo and Katy were very kind and really helped us out with a last minute booking and even gave us walks to go on. The flat is great with views out over the valley, would highly recommend! Thank you
Hal
2017-02-26T00:00:00Z
Rodzaj pokoju
Całe miejsce
---
Rodzaj nieruchomości
Apartament
---
Mieści
4
---
Sypialnie
Stroud, Gloucestershire, Wielka Brytania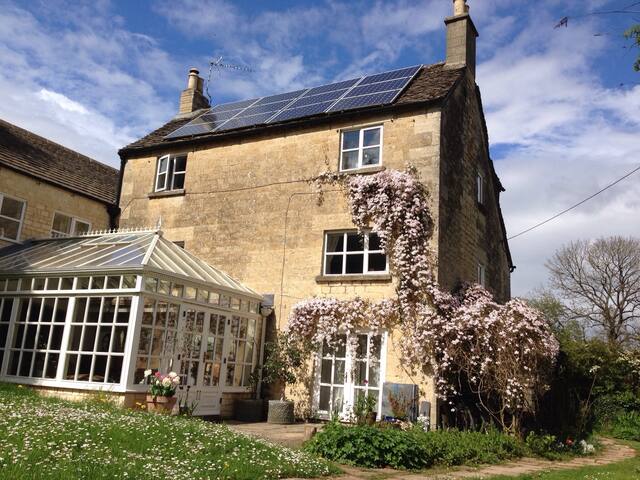 Private Studio with panoramic views, just below Minchinhampton Common and overlooking Burleigh Common. Beautiful location, spacious accommodation, ideal for a romantic getaway, and a perfect base for exploring the local area. Fantastic walks and cycling on the common, canals, footpaths, miles of country lanes and an abundance of Cotswold villages/towns and places of local interest. Within walking distance of award winning hotels, cafe's and restaurants as well as easy access to major events.
Large, private and open living space, approximately 42 square metres, with facilities ideal for a short or longer stay. The kitchen has fridge, cooker, washing machine, microwave, utensils, cooking equipment and a large pine table and chairs. The bedroom area has a wardrobe, chest of drawer, bedside tables and a double bed with 100% cotton linen. Plenty of room to bring your own travel cot for an infant under two or bedding for a child, for no extra charge. (Please contact me if your party has more than 1 infant or child.) The lounge area has a sofa, chair and a 32" television, and the bathroom has 100% cotton Egyptian towels. There is a seating area outside the door to take advantage of the lovely views and quiet and peaceful location.
Surrounded by National Trust land where cows and horses graze at certain times of the year! Within walking distance of the lovely village of Minchinhampton, the famous Winstones Ice Cream Factory, town of Nailsworth, and HRH Princess Anne's Gatcombe Park and the famous Horse Trials. Easy access to Tetbury, Highgrove House and Highgrove shop, wonderful antique shops as well as the Woolsack Races. Westonbirt Arboretum and outdoor summer concerts close by, as well as the home of Gloucester Rugby, Kingsholm, Cheltenham Races and the cities of Bath and Bristol, with hugely popular tourist attractions.
Thankyou for a lovely stay. Loved the excellent facilities, the views and the accommodation as a whole. Would definately recommend to friends and family and would love to visit again.
Rik
2017-03-19T00:00:00Z
We really enjoyed staying in this beautiful, pristine studio flat which was warm, cosy and full of thoughtful touches. We really appreciated the breakfast welcome pack and bottle of wine. Susan was a great and welcoming host, checking that we knew how to get there and that everything was ok throughout our stay. We had sunshine the whole time and it was lovely to sit on our little private terrace admiring the spectacular view. Loved walking on Minchinhampton Common and exploring the beautiful local area.
Carol
2017-04-09T00:00:00Z
Such a wonderful, cozy and quiet place, ideal for walking the Cotswolds. Everything was super clean and little adorable details spread around the place made me feel super welcome. A true home from home with a cute private outside area and stunning views.
Kora
2017-03-17T00:00:00Z
Just an amazing place - large studio apartment at the second floor of a guest house. Very quite place with a wonderful view. Susan is a perfect host and a very nice person. All was perfectly in time, the apartment was very clean and many nice bonuses, such as a bottle of wine etc. were there. I strongly recommend this place.
Pavel
2017-04-13T00:00:00Z
Rodzaj pokoju
Całe miejsce
---
Rodzaj nieruchomości
Apartament
---
Mieści
3
---
Sypialnie
Brimscombe Stroud, Gloucestershire, Wielka Brytania
Our cosy and comfortable one bedroom lodge with all mod cons is ideal for two. It has a rural feel but is just a 5 minute walk from shops and restaurants in the town centre of Nailsworth. A quiet relaxing base for exploring the best of the cotswolds.
Fully self contained lodge with separate access. We have a five star rating for this lovely lodge on the other site we use. We have been providing this top quality accommodation for nearly 3 years and have an excellent track record.
Nailsworth is one of the towns in the Stroud 5 valleys. The area is a less know part of the Cotswolds and has wonderful scenery and views some of which reach across the river Severn to the mountains of Wales. If you like the out doors there is no shortage of walk, hike or bike routes to explore. If you enjoy history and pretty villages there are many to choose from, each with it's own character and splendid range of curio shops and tea rooms.
The host canceled this reservation 123 days before arrival. This is an automated posting.
Steph
2017-04-10T00:00:00Z
Thanks Jackie for creating such a lovely and welcoming and comfortable bolt hole really well appointed, quiet and with all the mod cons - thank you
David
2017-03-12T00:00:00Z
Lovely place... Perfect for a few days break. Nice that it is private and had everything we needed.
Clare
2016-09-12T00:00:00Z
I would highly recommend Jackie's accommodation. The apartment is really nicely decorated, well equipped for self catering, had a powerful shower and a comfy bed. There were lots of books, leaflets etc on the area which I found helpful. It was also nice to have a DVD player and hairdryer available. Many thanks Jackie.
Alison
2016-09-03T00:00:00Z
This is an attractive little apartment in a quiet road and well placed for enjoying the area. Jackie and Andy were friendly and helpful. The kitchen equipment was good. Can sleep 3 adults but quite tight. Probably better for 2.
Diane
2016-06-14T00:00:00Z
Jackie was just at the end of a text or a message. she gave her mobile for added ease but we didn't need it in the end as she had provided accurate information. The apartment is perfect and in a lovely location. We couldn't have asked for anything better. Bed VERY comfortable too!
Nai
2016-08-02T00:00:00Z
The host canceled this reservation 13 days before arrival. This is an automated posting.
Barry
2016-05-20T00:00:00Z
Jackie's cosy lodge was the perfect place for our little family holiday. It's very clean and equipped with more than you'd expect. The location is nice and quiet and we liked that it is only a short walk from the town centre. Had a delicious lunch in the Hobbs bakery and breakfast in The Canteen. The walks outside the town and the near aboretum were amazing especially now in autumn. We highly recommend Jackie's place.
Sebastian
2016-11-20T00:00:00Z
Rodzaj pokoju
Całe miejsce
---
Rodzaj nieruchomości
Apartament
---
Mieści
3
---
Sypialnie
Nailsworth, Wielka Brytania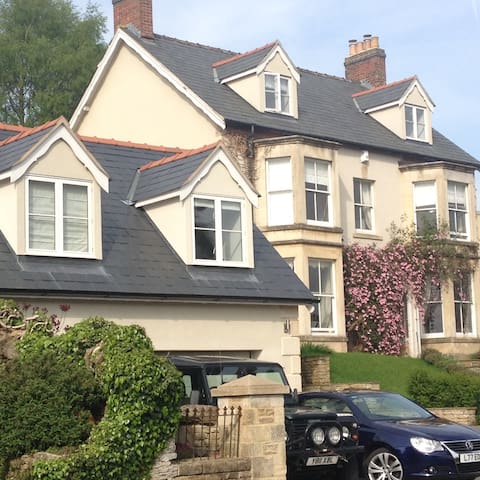 En-suite room with own sitting room / study, wifi own locked entrance. Small kitchenette and continental breakfast Lovely garden rooms, newly developed and overlook garden and views from our family home in the grounds of Stanley Park, a Cotswold manor house. Sorry, no dogs.
The garden rooms are newly developed as part of our recent house renovations, set on the ground floor adjacent to the garden and below the main house. The large bedroom is attractive, spacious and well equipped with plenty of drawer and wardrobe space. The en-suite has a large shower, loo and basin and is bright and clean. We have a large super king sized bed, which can be split into two twin single beds if wanted. (Please request this when booking.) The apartment is accessed through its own sitting room with smart TV and DVD, two easy chairs and a table with dining / desk chairs suitable for eating and/or work. Full wifi There is a small kitchen in a cupboard: with fridge, microwave, toaster, kettle and sink. We will supply a variety of foods for a continental breakfast, tea and coffee etc. You can prepare this for yourselves, at your leisure. You can use the fridge for storing your own food for self catering other meals if you require. (Just a microwave- no hob or oven.) The sitting room is accessed through the locking patio doors into the garden. This is accessed around the side of the house from the drive, with a separate drive and parking space for guests. Guests also have access to their own garden seating area, with lovely views of the surrounding countryside and our large garden. No smoking inside please and sorry, no dogs.
Selsley is a small village just outside Stroud, with its own large common (open land) on the hill, with outstanding views. (It is listed as an AONB and is a lovely place to walk- just a minute or two from our house) We are directly on the Cotswold way with lovely rolling hillside walks in all directions. It's also a great spot for enthusiastic cyclists. It's quite hilly, but there are great views all around and lots of cyclists about. (The Tour of Britain cycle race is passing through Selsley this year.) The village has a lovely pub (The Bell Inn Selsley -website available.) It serves good food and beer and is about a 5/10 minute walk from our house. Stroud is a fantastic town with award winning farmers market on Saturdays. It has a station, playhouse, cinema etc. We are on the edge of the Cotswolds, with the small but interesting cities of Gloucester, Cheltenham, Bristol and Oxford all easily accessed. It is an easy train journey into London.
We had a lovely stay in this self contained apartment. Rachel and her husband were great hosts giving us tips on what to do and where to eat and drink locally. The continental breakfast was a lovely touch. We'll be back!
Aoife
2016-05-03T00:00:00Z
Great views and birdlife in the garden! So good to be able to walk straight from the house to the common and beyond.
Carolyn
2017-02-27T00:00:00Z
Rachel made us feel very welcome on our arrival and continued to check that all was well.
Chris
2016-06-04T00:00:00Z
We had a wonderful time in Selsley. The unit was very clean and modern. The views were spectacular it was very quiet and private and the ideal place to get away and relax. Rachel went above and beyond all expectations. We were greeted with at bottle of wine & fruit along with enough supplies for a continental breakfast in the mornings. We did not have a car and she was very helpful navigating public transportation for us and providing a lift if needed. She knows the area well and we took advantage of her many suggestions. If you love the outdoors and history/architecture this is a perfect place. The hikes were breathtaking and there was always a local pub nearby to quench our thirst and visit with locals. I would highly recommend this place to get a real taste of England. Unfortunately there's not a six-star rating or we would have given one!
Jim
2016-11-29T00:00:00Z
Beautiful location with stunning views! We had a lovely stay, Rachel was extremely kind, helpful and welcoming. The accommodation is comfortable and quiet with everything you need. We would whole heartedly recommend it!
Antonia
2016-03-18T00:00:00Z
A lovely place to stay. It was nice to have our own entry to the apartment, which was very clean and had a great outside area to enjoy the sunshine and the view. Rachel is a lovely lady, who will keeped in touch to make sure we had everything we needed for breakfast or afternoon tea.
Ina
2016-09-10T00:00:00Z
Rachel hospitality makes us feel at home! Thanks for the bottle of wine, the use of your balcony (to enjoy the sunset) and good tips! The view and surrounding was suberb! Never before had an overnight in a park! The apartment was new and clean. Highly recommended!
Mariëtte & Rosita
2016-06-27T00:00:00Z
Enjoyed our stay at Rachel's place (Fri-Sun). The unit is cosy, really clean and modern, and the bed was comfortable. It's perfect for 2 people for a short break. The views are amazing. Rachel was really friendly and happy to help. Her father welcomed us on the Friday so we could drop our bags off before walking up to lunch at The Bell (totally recommend!), and Rachel had left us everything we needed - including provisions of bread, bagels, jams, butter, milk, wine, orange juice, fruit basket, coffee, tea, yogurts and biscuits. Met Rachel on Sat morning. We were visiting family locally, so know the area, but it was great to discover more about the history of Stanley Park - fascinating stuff. A really wonderful stay!
Joanne
2016-10-23T00:00:00Z
Rodzaj pokoju
Całe miejsce
---
Rodzaj nieruchomości
Apartament
---
Mieści
2
---
Sypialnie
Selsley, Wielka Brytania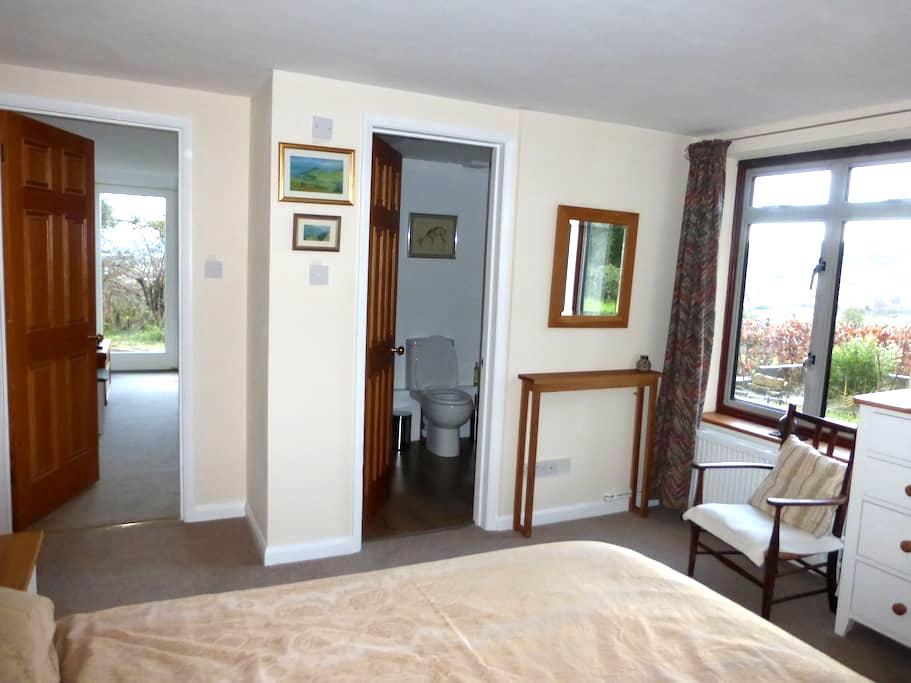 Grigshot apartment is set in the top floor of a Georgian house on the outskirts of Stroud, with its own entrance its a perfect place for work, leisure or family time as you can come and go as you please. It is also set ideally for commuting to Cheltenham, Bath, Cirencester, Tetbury or Gloucester. Good for couples, business travelers, families, big groups, and pets. Next door is the Old Fleece where you will enjoy a 10% discount on food which is available 11am to 10pm 7 days a week.
Our space has very large rooms, with character third attic bedroom. In beautiful historic Georgian house set in 3 acres of garden.
The house is within walking distance of Selsley Common and both Rodbrough and Minchinhampton Commons and nearby attractions of Woodchester Mansion. We have negotiated discounted green fees at nearby Minchinhampton Golf Old Course. Equestrian events locally include Gatcombe and Badminton. Next door is the Old Fleece, which serves lovely food all day every day.
The accommodation is at a great location. The view is quiet scenic. It is next to a pub, which is always helpful. Rosie and Kyle were very friendly and nice to help with the check in process. My recommendation would be to do something about the stairs for the entrance. It is a three bedroom apartment, which means people with reasonable luggage. The stairs are too small to take things up and down. My second recommendation will be to provide guests with a provision to control heating and hot water. I'm sure it was just one off but my family stayed without heating or hot water one evening + night. That was a cold experience. It was, however, sorted the next day and Ben was very helpful throughout. The third bedroom on top needs some decor. It's a bit raw and my sister got some shivers at night. Some nice interior adjustments would help. Apart from these, great hosts, great location and give it a try.
Vaibhav
2017-04-04T00:00:00Z
Nick's apartment is just beautiful! The decor is absolutely stunning and the apartment is extremely spacious, it can easily accommodate 6 adults comfortably. There is lots of parking available, and Nick allows you full use of the garden which is useful, especially as we had our Chihuahua with us. A bottle of wine in the fridge was a nice touch, along with milk, tea and cafetiere coffee. The layout with the kitchen and dinning room combined was great. The kitchen is well equipped and everything is brand new, which is lovely. The location is great and there are lots of great places to walk and explore nearby. Nick offers 10% discount at the pub next door which is a great bonus! Having stayed a quite a few Airbnb's this one is my favorites.
Ann-Marie
2017-01-02T00:00:00Z
Rodzaj pokoju
Całe miejsce
---
Rodzaj nieruchomości
Apartament
---
Mieści
6
---
Sypialnie
Gloucestershire, Anglia, Wielka Brytania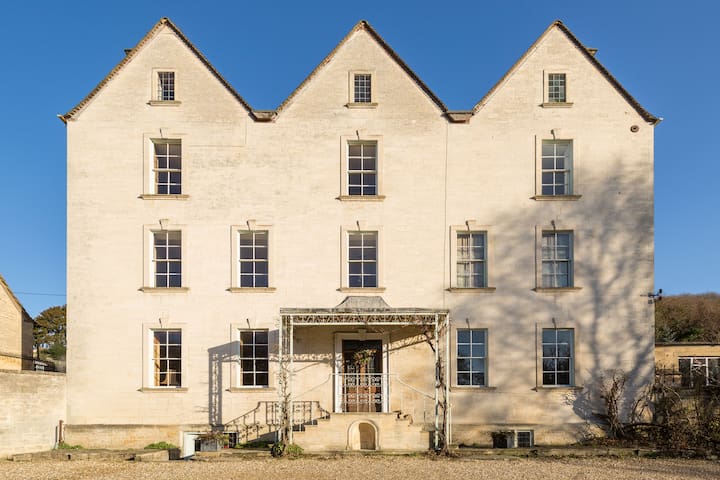 Grade II listed house, which has been converted into modern apartments. This fabulous apartment, has an open plan living room/dining room, with separate kitchen/breakfast area and 2 large Super Kings, which can be made into twins. You also have 2 en-suites shower rooms and use of the shared garden.
Set within an historic building that has undergone an incredible renovation, Corruna is an exceptional holiday property. The lovely big rooms with tall windows let the light flood in giving the space an airy feel that is matched by the high quality finish that oozes style and elegance throughout. Not only that, but the charms of the very understated Nailsworth lie just a short walk away - somewhere that is just as welcoming for couples as it is for families and why Corruna is a perfect holiday destination. This smart retreat has seen a total renovation, with all rooms spacious and airy and furnished with a cracking eye-for-detail. For us, however, the kitchen is a real stylish tour de force, a contemporary thing of beauty packed with the top of the range kit that will excite any cook! Downstairs are two large double bedrooms (with zip & link superking beds) with smart ensuite bathrooms. With a top grade hotel around the corner serving excellent food, this is an exceptional choice for a short break or longer break in one of the most attractive parts of the Cotswolds- and at any time of the year. Stunning! More than 4 in your party? We have two other properties for you to consider next door!Watledge (sleeps 4) and The Nailsworth (sleeps 6). ANY DAY ARRIVAL PERMITTED, VERY FLEXIBLE! ACCOMMODATION Kitchen, ultra modern, hand built units with modern fixtures and fittings, Seimens induction hob, oven, grill and microwave; coffee machine (with first pods included) dishwasher and washer dryer. There is a breakfast bar, bar stools and from the large window views towards Nailsworth. Living / Dining Room, with double aspect views and oak flooring, a large sofa and armchair / chaise. Large flatscreen TV and DVD player. Home Audio system. Cloakroom with WC and washbasin. Downstairs Bedroom One with super king size double bed (6ft) zip and link (please specify if you wish to have double or separate beds) with wardrobe and chest of drawers. Ensuite Bathroom with bath, shower over WC and washbasin Bedroom Two, similarly large and luxurious, with Superking size double bed (zip & link, please specifiy if you require as singles), wardrobe and chest of drawers. Ensuite Shower Room with walk in shower, WC and washbasin. Outside There are shared gardens surrounding the property, which guests are welcome to use. Please note, however, it is not a 'traditional' in so much as it is not enclosed. There is ample off street parking. Guests are also advised that if you wish to, there is an excellent hotel (The Egypt Mill) which is less than 2 mins walk away and serves excellent food and drink. Children Welcome. Cot & High Chair Available. Sorry No Pets. Heating & Elec included all year. Complimentary Wifi. Arrival / departure days are flexible all year round. Corruna is one of a number of apartments available, which can be booked together to accommodate larger groups - links to the other properties are attached below (URL HIDDEN) (URL HIDDEN)
We love Nailsworth! Set in an area that is often overlooked and considered off the beaten track, Nailsworth is a veritable hotbed of nooks and crannies where you will find quirky shops and places to pop into and soak up a truly authentic Cotswolds' experience and all within easy walking distance of the property. Shops, boutiques, excellent restaurants and various cafes all within a few minutes walk. Perfect! You are situated a moment from the heart of the town (big village) so there is no need for the car. If you are feeling particularly energetic and you've got your walking boots on then you could scale the hill up to Minchinhampton Common which will give you some cracking views across the Cotswolds' hills and undoubdtedly give you a huge hunger for some local pub grub - over which there are plenty to go to. There are many renowned attractions such as Westonbirt Arboretum, The Prince of Wales' Highgrove Farm shop at Tetbury, Woodchester Park, Newark Park (NT), Dyrham Park (NT), the Rococco Gardens at Painswick, Laurie Lee's Slad Valley, Minchinhampton Common and Owlpen Manor in the village of Uley. Depending on how long you staying and your inclination to get 'out and about' you are spoilt for choice. Slightly further afield are more excellent gastropubs, such as Tipputs, The Old Fleece and The Ram, and the award-winning Calcot Conservatory Restaurant, Spa and Gumstool Inn. There is a Waitrose supermarket and a Tesco Express within walking distance. Stroud is 10 minutes' drive away and has all the major supermarkets, as well as one of the oldest (and biggest) farmer's market every Saturday. For major shopping all the high street names can be found at the award-winning Cribb's Causeway Mall, less than 45 minutes away on the M5 motorway. Bath is approx 45 minutes' drive to the south west, and Bristol about the same, with the airport another 10-15 minutes to the south.
Had a very pleasant stay in the village of Nailsworth. Flat is lovely.
Jacob
2016-08-14T00:00:00Z
Rodzaj pokoju
Całe miejsce
---
Rodzaj nieruchomości
Apartament
---
Mieści
4
---
Sypialnie
Nailsworth, Wielka Brytania
I live in a spacious 2 apartment with one of the rooms empty , benefits from good views situated in a beautiful elavated position in Nailsworth, the property is Situated in Nailsworth town centre and also 5 mins away from open countryside. I would describe the apartment atmosphere as open, relaxed and welcoming. The large room to rent has close proximity to well equipped Bathroom and kitchen. Supermarkets , takeaways , pubs , bars and more .. are 2 minute walk from the apartment.
Rodzaj pokoju
Całe miejsce
---
Rodzaj nieruchomości
Apartament
---
Mieści
2
---
Sypialnie
Nailsworth, Anglia, Wielka Brytania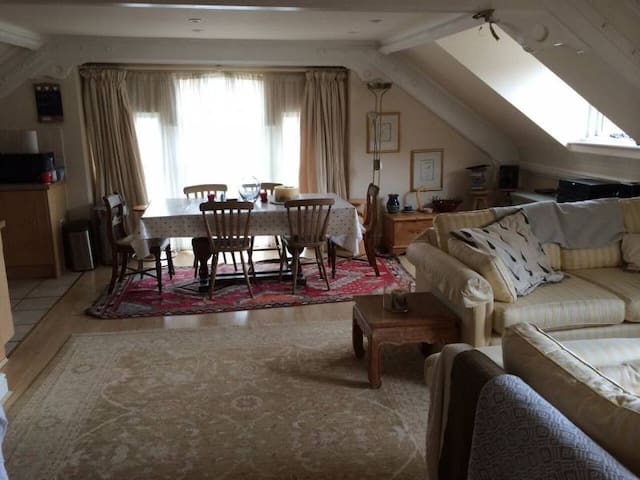 The Railway Hotel Apartments comprises of eight luxurious apartments set within its own quiet grounds adjacent the Nailsworth stream, yet ideally positioned in the centre of Nailsworth
There are 3 distinctive types of Property – The Main Grade II Listed building, which has undergone two years of full but sensitive restoration, returning what had been an uncared for property, back into the prestigious landmark building it was originally built to be (Corruna House), culminating in 4 spacious luxury apartments , 3 x 2 bed and 1 x 3 bed The original Stable Block has been converted into 2 x 1 bed cottages. The original Coach House was demolished, and replaced with 2 new distinctive 2 bed cottages. All properties have been finished to an exacting standard, with a very high specification and furnished in a contemporary style Set within its own private grounds, the properties overlook the central garden and courtyard. The properties location is perfect for visitors who want to enjoy Cotswold Country living, yet be within a small town with all the amenities Nailsworth has to offer. Bring your bicycles, as it is located at the start of a cycle network that stretches across the region, or just enjoy the many walks that the area has to offer Ideal for families, groups or groups of families who are looking for a venue, but perhaps would prefer to have their own space within the same venue The apartments can also be offered with full Hotel services, through the adjacent Egypt Mill Hotel. All apartments have super king size sofa beds, for additional flexibility. Some of the properties allow pets and there is ample parking, with secure bike storages For further information please either call Egypt Mill Reception on (PHONE NUMBER HIDDEN) or visit (URL HIDDEN) The Railway Hotel Apartments will also have its own dedicated web site (URL HIDDEN) shortly. Viewings can also be arranged for those wishing to view these unique luxury apartments. Accommodation Description The Railway Hotel Apartments and Cottages consist of eight distinctive holiday lets, all finished to the same high standard, but all with a unique feel and touch All properties offer contemporary interiors include German designer kitchens with Corian worktops, Siemens appliances including multiple ovens for those who enjoy entertaining, washing machines, dishwashers and tumble dryers, as well as being fully accessorised Furnished with Italian leather super king size beds, which can be split into large singles to enable single or twin accommodation, and large leather sofas with king size sofa beds for additional flexibility/accommodation. Reclaimed timber furniture, as well unique and original art works. Satellite TV with Blue-ray players and DAB docking stations, the whole complex is covered seamlessly with free WiFi High specification bathrooms, with each apartment having both showers and baths (unless stated). All apartments benefit from underfloor heating, with heat and hot water provided by the commercial biomass boiler that serves the whole complex. The apartments are fully accessorised, however if there are any additional requirements, this can be arranged with prior notice The Main House The four apartments offer grand accommodation, but with all the convenience of modern living. All apartments are light and airy and have fine views of the surrounding area Due to its grade II listing, unfortunately wheel chair access is not possible for these apartments. Pets are also not allowed in these apartments Apartment 1 This duplex apartment is wholly within the original building and comprises 3 very large bedrooms, a spacious living room with fireplace and a separate large kitchen. Bedroom 1 is on the ground floor, Bedroom 2 is within the semi-basement, which remains light and airy and benefits from its own ensuite wet room. Bedroom 3 is also within the semi-basement and again is light and airy and there is an adjacent bathroom. There is also a ground floor WC and the apartment enjoys two private entrances Apartment 2 This duplex apartment comprises 2 very large bedrooms, a spacious living room overlooking the garden, and a large kitchen. Bedroom 1 is within the new modern extension and has the rill running below its four windows. Bedroom 2 is within the original building and both bedrooms enjoy their own ensuite bathrooms. There is also a ground floor WC and the apartment enjoys its own private entrance, as well as a separate entrance off the main entrance hall. Apartment 3 This apartment is the entire First floor and comprises 2 very large bedrooms, a spacious living room overlooking the garden and surrounding area, a large kitchen and 2 bathrooms. This apartment is accessed via the grand staircase off the original main entrance and is incredibly light and airy, with large windows on all elevations giving 360 degree views Apartment 4 This apartment is the entire Second floor and comprises 2 very large bedrooms, a spacious living room overlooking the garden and surrounding area, a large kitchen and 2 bathrooms. This apartment is accessed via the grand staircase off the original main entrance and is incredibly light and airy, with large windows on all elevations. This apartment has panoramic views of Nailsworth, Watledge and the surrounding hills The Stable Block Cottages Located within the grounds of the main building, these railway brick buildings have been converted into two distinctive 1 bed cottages. Bedrooms have king size beds. All apartments are light and airy and overlook the courtyard and gardens beyond Well behaved Pets are also allowed with prior arrangement. Stable Block Cottage 1 This cottage is single storey and has ramped access for wheel chairs. The cottage comprises of an entrance hall, spacious kitchen/living room, a good size bedroom and ensuite bathroom. Please note that the bathroom layout does not allow full wheelchair access and has a shower Stable Block Cottage 2 This cottage is two storey with the bedroom on the first floor. The cottage comprises of an entrance hall, spacious kitchen, a large living and dining room, a good size bedroom and bathroom with shower Coach House Cottages Located within the grounds of the main building, these newly built properties have replaced the original dilapidated coach house and garages Well behaved Pets are also allowed with prior arrangement Coach House Cottage 1 Overlooking the courtyard and gardens, this apartment comprises 2 good size bedrooms, There is an ensuite bathroom off bedroom 1 and a family bathroom, utility room, and large open plan kitchen and lounge. Terrace doors off all rooms ensures that this apartment is light and airy Coach House Cottage 2 Overlooking the garden, this single storey cottage is wheelchair friendly. There is ramped access to the property, wide door access throughout. The kitchen is designed for use from a wheel chair and the ensuite bathroom is a wet room. The cottage comprises of 2 large bedrooms, the first with ensuite bathroom. There is a second family bathroom, utility room, and large open plan kitchen and lounge. This property also benefits from terrace doors off all major rooms onto its own private patio, which wraps around the building and has its own bbq and outdoor seating. Outside The large central garden is mainly laid to lawn, with various patio areas for outdoor eating and bbq area. The biomass boiler house is located on the far side, with its purpose build bat roost within its attic. The new modern extension to the main house has also has a shallow water rill running around its base The central courtyard with garaging allows secure covered parking for one car per apartment. There is an overflow car park for any additional cars, keeping the courtyard free from vehicles. Each garage has a secure cage for storage of bicycles etc, however please bring your own padlocks to lock the cages, as this ensures no one else has access. The whole site is also covered by 24hr CCTV for your security. There is also outside hot and cold taps and a wash area for cleaning bikes or pets.
This Airbnb is perfectly located in the middle of the Cotswolds! It's about 45 minutes from Bourton-on-the-Water, Ebrington, Bath and Daylesford Organic Farm, all of which I highly recommend. The town of Nailsworth is also great. The Airbnb itself is spacious for two couples and nicely decorated with modern amenities. The adjoining hotel has a great restaurant and bar with beautiful outdoor seating. It's a local hotspot. Overall, I highly recommend this Airbnb.
Justin
2016-07-04T00:00:00Z
Rodzaj pokoju
Całe miejsce
---
Rodzaj nieruchomości
Apartament
---
Mieści
4
---
Sypialnie
Nailsworth, Wielka Brytania
Amazing newly converted barn, it has a modern light industrial feel with a very large sitting room, ensuite bathroom and large kitchen, Wood burner, large T.V. great place to relax and walk across associated farmland owned by us
Rodzaj pokoju
Całe miejsce
---
Rodzaj nieruchomości
Apartament
---
Mieści
2
---
Sypialnie
Horsley, Anglia, Wielka Brytania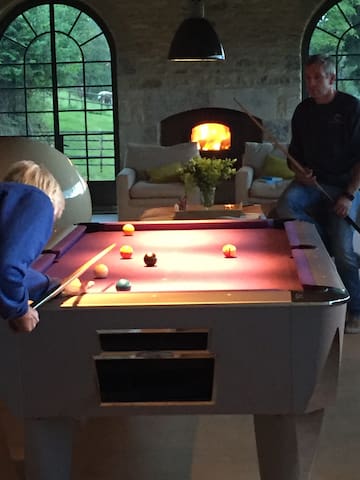 Perfect base for exploring the Cotswolds. Situated on a residential street in town and close to the shops, but with beautiful hillside views and close to footpaths for country walks. We'll definitely be staying here again; Luuk was a fantastic host!
Ken
2017-04-04T00:00:00Z
Perfect location for a visit to Stroud and surrounding countryside. Amazing views over a valley called 'The Heavens' (yes, really!!) and an easy walk into the centre of town. Lucas is a great host and very connected in the local community - when he walked me into town for the truly fantastic farmers market he introduced me to so many people, and pointed me to all the best stalls and places to shop. The accommodation is comfortable, with enough space and privacy to make it an easy home from home. Definitely recommended and will be back!! Thanks, Lucas
Emrys
2017-03-26T00:00:00Z
Rodzaj pokoju
Całe miejsce
---
Rodzaj nieruchomości
Apartament
---
Mieści
3
---
Sypialnie
Stroud, Anglia, Wielka Brytania
Inchbrook - Airbnb
:
Średnia ocena:

4.85

/

5

gwiazdek od

615

gości
Wpisz daty, by zobaczyć pełną cenę. Obowiązują dodatkowe opłaty. Cena może uwzględniać podatek.