My place is close to public transport, the city center, parks and California State University San Marcos. You'll love my place because of the high ceilings, the location, the spiral staircase to the loft office. My place is good for couples, solo adventurers, and business travelers.
this is a shared 2 bedroom 2 bath apartment. There are 3 cats living here as well. There is a security guard at the entrance to the apartment complex. Please let them know you are my guest. Please do not mention airbnb. Even though I have a parking space, they will most likely give you a guest pass.
Near the 78, 15 and 5 freeways as well as a shopping plaza. Also right next to CSU San Marcos
Kerry's lovely home is perfectly located in the middle of everywhere we wanted to go. We're not from California, but I felt like we got the full experience while we were here, with two beaches just a short drive down the road, great restaurants a stone's throw away, and a beautiful scenic view that greets you on the way in and out. Had a wonderful time, and I highly recommend you take advantage of her generous listing. #teamGozer.
Benjamin
2017-04-02T00:00:00Z
Kerry was great and was very helpful in getting me settled in. Nice place. Definitely cat friendly.
Dave
2017-03-22T00:00:00Z
Nice little place to stay, comfortable bed and for the price it's a no brainer.
Jamil
2017-02-14T00:00:00Z
I really enjoyed my stay at Kerry's place. The bed was very comfortable and having access to the gym, pool and sauna was a definite plus.
Roger
2017-04-04T00:00:00Z
Lovely and clean place.
Amir reza
2017-02-10T00:00:00Z
Kerry's place is so clean and quiet. A much needed respite from my busy and active lifestyle.
Ronald
2017-02-26T00:00:00Z
Kerry's place is modern, clean, cozy, and quiet. It overlooks some trees that are loaded with all sorts of birds. The bed was super-comfy, the room and shower were were clean and well equipped. There is a cozy living room for lounging with the cats and also a nice balcony. A great value! There is a bit of a walk from the parking spot, and its up a hill and up 3 flights of stairs so if you have a lot of luggage be prepared.
bret
2017-02-25T00:00:00Z
Only stayed for a night but everything was good. The room and bathroom was perfect. Her place was close to a lot of food places and the movie theaters, which was good for us since we just wanted to spend the night relaxing. Although she has multiple cats I only got to meet one and he was the absolute sweetest.
Tina
2017-03-12T00:00:00Z
Rodzaj pokoju
Pokój prywatny
---
Rodzaj nieruchomości
Apartament
---
Mieści
2
---
Sypialnie
San Marcos, Kalifornia, Stany Zjednoczone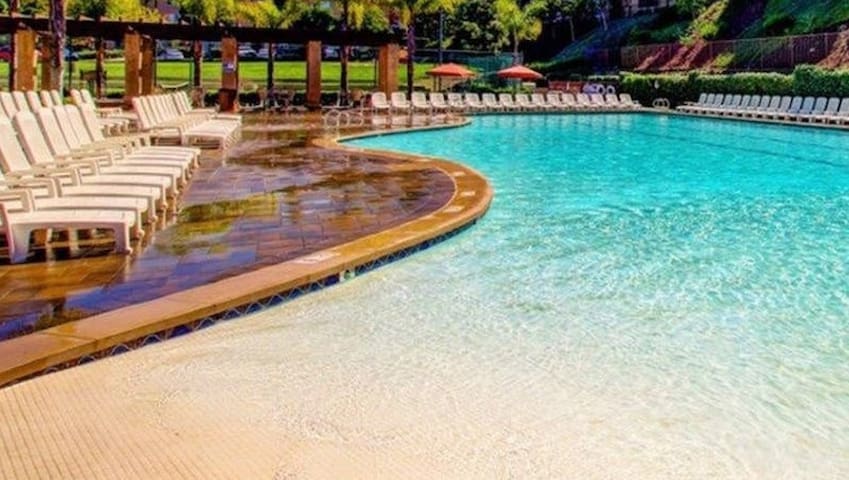 Enjoy a quiet, comfortable private room with Queen Featherbed, private bathroom, shared living and kitchen area, and porch to watch the sun rise. If you have slept in a Featherbed, you know how comfy it is. If you have not slept in a Featherbed, you are in for a treat. You will feel like you are in the country but a short walk to the Sprinter gets you access to Downtown SD. Easy access to CA-78 and I-15. WiFi and parking space.
Perfect for a biz traveler or if you wanna getaway for a few days. Parking space and WiFi included.
Great host! Kathryn and Malcolm was so friendly and welcoming. It was a pleasure staying there. The bed was very comfortable. And the area was nice and quiet. I would definitely stay there again.
Brian
2017-03-09T00:00:00Z
Very kind, easy to communicate and clean room.
Ivy
2017-02-26T00:00:00Z
The hosts are very nice and welcoming. The room was clean, the bed super soft and comfy!
Peter
2017-01-19T00:00:00Z
Lovely place, lovely people , we would recommend to family &friends anytime
Valerie
2017-03-05T00:00:00Z
Clean and comfortable place to stay
Anii
2017-01-13T00:00:00Z
Cozy bed and clean bathroom. Friendly hosts!
Edith
2017-01-27T00:00:00Z
Our hosts were great! The place was very clean and nice to stay at. The room was quiet and had its own bathroom across the hall. The hot water was immediate at the (URL HIDDEN) waiting for the shower to get hot, which is a nice feature. I would definitely stay there again when I'm back in San Marcos. :-)
Brian
2017-03-30T00:00:00Z
The room is very clean and good for two people:)
Qin
2017-02-20T00:00:00Z
Rodzaj pokoju
Pokój prywatny
---
Rodzaj nieruchomości
Apartament
---
Mieści
2
---
Sypialnie
San Marcos, Kalifornia, Stany Zjednoczone
Newly renovated 1 bed/1 bath apartment with a private entrance, attached to a well loved home. Located on 1.5 acres of privately owned hillside, come and enjoy a quiet, meditative retreat set against the backdrop of the serene Coronado Hills and Eden Valley, sub communities of Elfin Forest / Harmony Grove. This location is only 1 mile from the train/transit station, allowing for easy access to downtown San Diego or its plethora of beaches without having to endure dreaded California traffic!
As a bonus (to those in need of liquid refreshment) the famous Stone Brewery is a scant 1.5 miles away, with cheap transportation available via Uber, Lyft, or a 20 minute walk for those trackers. For the adventure seekers, my kids and I loved taking the Sprinter to the coast, transfer to the Coaster train and ride down coast to the Santa Fe station in downtown San Diego. Once at the station we would walk 2 blocks to the ferry and go to Coronado Island. We would rent bikes and ride around to the different shops and have lunch/ice cream. This is an excellent adventure to take with your kids and have them experience the different types of transportation as well as enjoying a days adventure with the family.
Eden Valley is an equestrian community. Horse riders enjoy going up and down our dirt roads. This is one of the few places you can look up in the night sky and see stars that are usually polluted by the city lights. Alot of great hiking trails in the area including Elfin Forrest and the Daily Ranch Trail.
Rodzaj pokoju
Całe miejsce
---
Rodzaj nieruchomości
Apartament
---
Mieści
4
---
Sypialnie
Escondido, Kalifornia, Stany Zjednoczone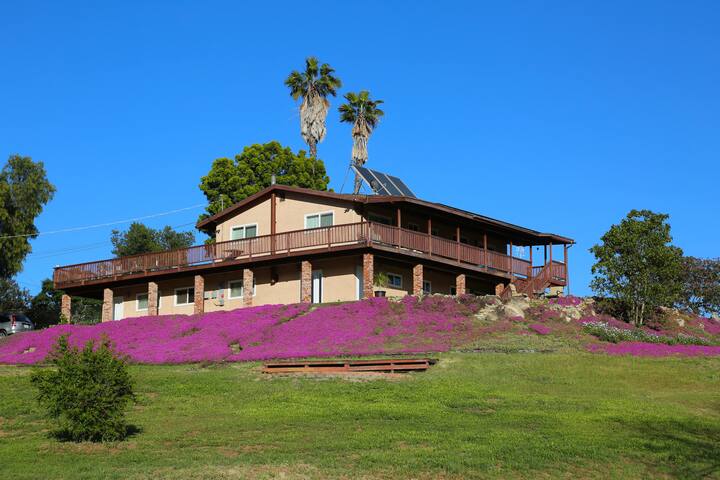 My place is close to the city center. You'll love my place because of the ambiance. My place is good for couples, solo adventurers, and business travelers. 2 Cats on property! They have been kept out of your room and bathroom since I moved in.
Yes
Maureen
2016-08-14T00:00:00Z
Ellie's apartment was perfect for our needs. It was super clean, easy to access and she was flexible with our needs!
Sarah
2016-08-21T00:00:00Z
Nice area, pretty easy to find, VERY affordable, nice big bed, and some really great cats to hang out with during your stay here!
Scott
2016-08-28T00:00:00Z
Ellie's place was really nice. Everything was clean and neatly organized. Ellie was very accommodating in regards to check in and check out time and was always quick to respond! Would stay here again :)
Emma
2016-08-16T00:00:00Z
Ellie was a great host! She was very accommodating and relaxed. I felt comfortable doing my own thing and using the kitchen how I needed. I even worked out often in her living room and she didn't care at all. Ellie is a very nice person and she let me use her covered parking spot while I was there for a month. Definitely recommend staying here if you need a comfortable bedroom and full kitchen!
Natalie
2017-01-29T00:00:00Z
The apartment is gorgeous! Super clean, everything and more. We could have asked for a better place to stay. Ellie made it easy for us to check in and out and our convenience. Great place!!!!
Selena
2016-12-04T00:00:00Z
Ellie was very warm, friendly, and accommodating. She keeps her apartment in tip top shape--very clean, neat, and organized. She has a wide variety of entertainment options available for guests; video games, movies, a guitar, etc. The bedroom I stayed in was nicely decorated and was very comfortable. The bathroom was spotless. The neighborhood was great. From the balcony, you have a perfect view of the pool and recreation area. The neighbors were very friendly and Ellie seemed to know every one of them. If I were to come back to the area I would definitely love to stay here again. #homieprice Great place and even better host!
Sico
2016-08-07T00:00:00Z
Rodzaj pokoju
Pokój prywatny
---
Rodzaj nieruchomości
Apartament
---
Mieści
3
---
Sypialnie
Escondido, Kalifornia, Stany Zjednoczone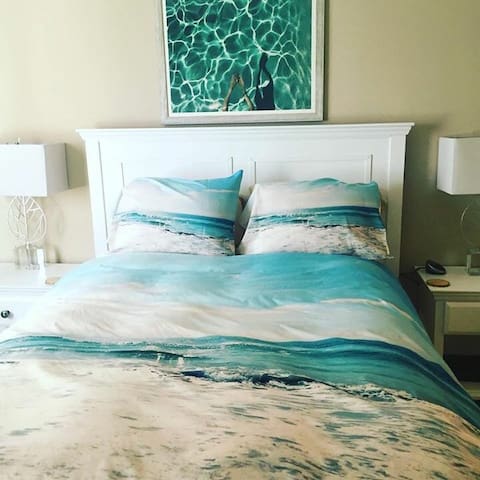 This listing is for an entire apartment inside a gated Spanish villa with panoramic views of surrounding mountain range. The villa is situated in an acre property, away from neighbors. Very quiet and relaxing. Private entrance to your apartment.
This is a 1500 sqft apartment, with an open floor plan, with the kitchen/dining/living room area all combined in one huge room. There is a dining room set that comfortably sits six people. There are two huge bedrooms, each furnished with luxurious Queen-size bed, dresser/drawer and night stand. Inside each bedroom is a huge walk-in closet. We can accommodate up to 8 people comfortably, 4 in each bedroom by setting up our double and queen size aerobeds, if needed. We also have additional cots/portable beds that can be used if there are more than 8 people. This apartment is currently set up to sleep 4 so advance arrangement is necessary if there are more than four guests.
Our house is centrally located to all sorts of places. Less than a mile (.9 mile) is a Costco, Wallmart, Kohl's stores, restaurants and access to the 78/I-15/I-5 freeways. Truly an ideal location for Southern California sites: 10 miles (15 min.) to Wild Animal Park; 20 miles (22 min.) to Oceanside; 25 miles (31 min.) to Del Mar;29 miles (30 min.) to Temecula Wineries. There is a Buddhist Temple on Monteil road (2 miles). It's a straight shot freeway route to Downtown San Diego (30 min), so it's very convenient to attend the Comic Con this July; 32 miles (37 min.) to La Jolla ;75 miles (1 hr 20 min.) to Disney World and within 15 minutes drive to the coastal cities, Encinitas, Carlsbad and Oceanside. Colleges: California State University San Marcos (CSUSM) and Palomar College is approximately 3 miles away. If you like beer, the Stone Brewery is also 2 miles down the road.
Sonia and Hugh were very welcoming, and had great recommendations for dinner reservations in the area. Their house was beautiful and cozy, in a great, quiet neighborhood, and was bigger in person than the photos captured online. We had everything we needed! I would definitely stay here again!
Tawny
2014-09-15T00:00:00Z
Sonia and Hugh were very friendly and helpful during my stay at there home. The apartment had a well equipped kitchen, and laundry facilities. I found the home clean and comfortable. The beds had excellent mattress and plenty of clean pillows We plan to return next year !
michael
2015-11-02T00:00:00Z
Great place! It was very spacious and clean. Sonia and Hugh were awesome hosts. This was my first time for my friends and I using AirBnB and they made it a wonderful experience!
Wei
2014-03-24T00:00:00Z
Wonderful Hosts. Will always come back
Basharat
2016-08-29T00:00:00Z
We had three problems with our stay at Sonia & Hugh's apartment. First of all, there was a rather substantial insect infestation in the apartment. We found 5-10 live cockroaches most of which were crawling in the kitchen cabinets on plates and glassware that our children had used before we discovered the roaches. We also found many other types of bugs in the bathroom and kitchen areas. Secondly, when we rented the apartment, the listing indicated that Sonia & Hugh lived in a separate building in the gated compound (they have since changed this description). This apartment turned out to be a basement apartment directly underneath Sonia & Hugh's house. This was an issue because our first night at the apartment was on Thanksgiving and Sonia & Hugh had friends over until approximately 11:15 p.m.. Although we had told them we needed to wake up at 5:30 a.m. the next day and despite us texting Sonia nicely just before 9 p.m. asking them to keep the noise down, the noise from their loud gathering kept us awake until approximately 11:15 p.m. Had the listing indicated that this was a basement apartment, we would not have rented it. Our third problem was that Sonia failed to give us the full refund she promised us. When we discovered the roach problem, we explained to Sonia & Hugh that we would not be staying at the property for the 3rd night of our reservation. They promised us that they would quickly refund us for that night. The daily rate we were charged for the apartment was $197 (the daily rate for the apartment was $150 but Sonia & Hugh charged us an extra $47 per night because of the number of people in our group). However, after we contacted Sonia asking when we should expect to receive the refund of $197, she responded that that she would only refund us $150 because that is the daily rate for the apartment. We appreciate that Airbnb has tried to make the situation right by directly refunding us for the full amount for that night.
Rebecca
2014-12-01T00:00:00Z
Sonia and Hugh are amazing! We went to San Diego with two big dogs, eight months pregnant and looking for a quiet retreat and felt like we had a family supporting us! They are both so friendly and welcoming and the accommodations were perfect. We can't wait to visit them again and couldn't offer a higher recommendation. Fantastic hosts and wonderful people!
Daniel
2014-08-12T00:00:00Z
Sonia and Hugh were wonderful hosts. The place is very spacious, clean, safe and, great lighting. I recommend this for an overnight stay or longer.
Beatriz
2017-04-09T00:00:00Z
Rodzaj pokoju
Całe miejsce
---
Rodzaj nieruchomości
Apartament
---
Mieści
8
---
Sypialnie
Escondido, Kalifornia, Stany Zjednoczone
Wpisz daty, by zobaczyć pełną cenę. Obowiązują dodatkowe opłaty. Cena może uwzględniać podatek.