Charming, furnished 1 BR 1 BA apt in Frank Lloyd Wright Historic District. Parking, kitchen, washer/dryer in unit, Air/Heat, TV/Xbox. Free wifi. Central location: 1 blk to farmers market, near Hemingway / Frank Lloyd Wright attractions. 4 blocks to green line. 20 min ride to downtown Chicago.
The space is private, well stocked and centrally located in OP. Easy access to downtown Chicago via the train only 4 blocks away. Parking and wifi provided. Couch has additional pull out bed. Private entry through garage. Host available to answer questions and provide info / directions around town and to Chicago.
The apartment is in the Frank Lloyd Wright historic district. It's a beautiful area full of historic homes and a great place for anyone interested in architecture or beauty. The Ernest Hemingway houses and museums are within walking distance as is downtown Oak Park, which is full of cute shops, restaurants and places to explore. It's also close (via train) to downtown Chicago and all its attractions. We recommend Millennium Park, Maggie Daley Park for the kids, the museums of course, and the Chicago architecture boat tour. There are so many more things to see- ask for more ideas!
Our stay was great. Place is bigger than it looks from the photos. Very comfy and private. Great communications. Bagels, cream cheeses and OJ provided for breakfast. We would stay at Niles place again
beata
2016-12-05T00:00:00Z
Clean, comfy, economical and easy! Thanks, Niles.
Christopher
2017-03-25T00:00:00Z
Niles was great. He was flexible and very easy to arrange things with. He came right away when we arrived and oriented us to the place and town. He stayed available for questions if we had them over the weekend. We loved the place. It was simple and very sweet with some nice touches (ex., books about Chicago, funny DVD's) with everything we wanted and needed so it was pretty perfect. We could really relax there. The garage door is kind of loud opening from below but we were warned by the reviews and it wasn't any problem. We took our white noise machine and it was never opening too late at night or early in the morning for us.
Emily
2016-04-05T00:00:00Z
Everything was as expected--which was great. Niles was very friendly and accommodating in his communication to us. We arrived rather late in the evening but this was not a problem at all. Niles was waiting out front to help guide the Uber driver to his address, to help us with luggage if need be, and show us to the garage apartment out back. We appreciated the breakfast items in the refrigerator to get us started the next morning so we wouldn't have to make a trip to the grocery store right off the bat. It was the perfect respite to come back to each evening after long days of touring all that Chicago has to offer. The rail line is a pleasant 10 minute walk through a nice neighborhood (good sidewalks and landscaping) which gets you most anywhere you want to go.
Tracy
2016-09-18T00:00:00Z
Niles was most welcoming - continued contact via text so AC could be turned on and he could greet us upon arrival (which was later on a Friday than we had expected; thanks Niles:-). Over a holiday weekend, his family was busy -- plus the eldest child (son) celebrated a birthday on Sat - HAPPY BIRTHDAY!! The location was a good place for our family - midway between downtown Chicago and friends in Wilmette. For us, perfect (we are also great admirers of Frank Lloyd Wright!) so could simply enjoy the neighborhood. Plus -- we enjoyed the Farmer's Market on Sat - just a block away. We would/will definitely try to link up with Nile's AirBnB the next time we visit Chicago.
Claire
2016-05-31T00:00:00Z
Niles is a very kind host :) I really thanks to his help. I wanna visit this place again.
인성
2015-09-07T00:00:00Z
I'm a repeat guest. I needed to stay in Oak Park for the night, and Niles's place was my first choice. Lucky for me, it was available. Niles is a terrific host and the coach house is darling. It's a good space that makes you feel right at home. Thanks for another lovely experience, NIles!
Amy
2016-01-09T00:00:00Z
Great place to stay! Oak Park is a beautiful neighborhood. Niles did everything possible to make me feel welcomed, listing wound up being better in real life than in the pictures. If you need to grab dinner once you arrive I highly suggest Novo, it was delicious and a quick walk. Would definitely stay here again!
Nathan
2016-08-30T00:00:00Z
Rodzaj pokoju
Całe miejsce
---
Rodzaj nieruchomości
Apartament
---
Mieści
4
---
Sypialnie
Oak Park, Illinois, Stany Zjednoczone
Private room w/ queen size bed and walk-in closet. Living room converts to 2nd bedroom for additional guests. Home projector and surround sound system for entertaining. Walking distance from COMLEX-PE and USMLE testing sites. 3 min from CTA Blue Line. Quick ride 5 min to O'Hare or 30 min to Downtown Chicago.
I did come back on my way home from asia/Europe. Still a great place to stay!
Alyssa
2017-02-24T00:00:00Z
Wow! Justin is so cool, kind, generous, and considerate. I would definitely stay here again!
Alyssa
2017-02-03T00:00:00Z
Thats a beautiful apartment and nice and friendly owner
Irina
2017-03-26T00:00:00Z
Justin was a great guy leaving a great comfortable place to stay with extra little things that just made our stay that much more pleasant. If you are deciding, let me tell you it is worth it!
Touacha
2017-03-19T00:00:00Z
Rodzaj pokoju
Pokój prywatny
---
Rodzaj nieruchomości
Apartament
---
Mieści
2
---
Sypialnie
Chicago, Illinois, Stany Zjednoczone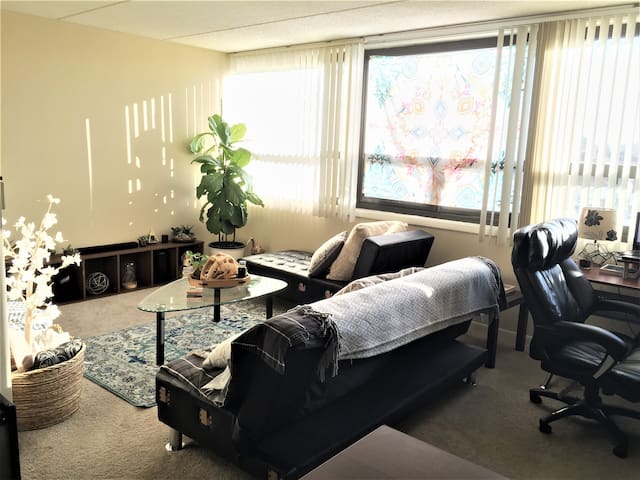 Have questions? Send your "Inquiry"! I'm flexible, as is this newly-decorated 3BR apartment. Whether family or business plans lead you to Chicagoland, you'll find this homebase in a quiet, residential area of NW Chicago comfy, private and accessible.
Pack light! Except for food and personal items, this house is equipped! Our fully furnished 3 bedroom, 1 bath garden apartment is peaceful and ready to be your temporary home. A roomy 1040 square feet, the space is allergy-free and freshly renovated, including new carpet and tile floors. It has separate access from a shared lobby with two upper level apartments. Located in a quiet residential neighborhood just over the northern edge of Oak Park, the city center is also easily accessible by car or public transit. Here you'll have the best of both worlds! Up to eight guests can be accommodated in the apartment: two in each of 3 bedrooms (one with a double bed, and another a queen), and the third bedroom a "flex" room, set up either with 2 twin-XL beds, or 1 king -- your choice. The remaining two people can use the double bed futon in the living room. For them, there is an extra closet available in an adjacent room. For your baby's sleeping comfort, I have a Graco Pack N Play Playard with optional bassinet and toy bar, which can be setup wherever you want except the Poppy Room. Note: All linens, blankets, towels, etc. are provided. Because I have concerns about mattress and pillow protection, you won't need to: each mattress is fully sealed in a bedbug-dust allergen-waterproof cover and then topped with a cushiony waterproof mattress pad, with pillows also encased in soft, dust allergen-bedbug-waterproof protective covers. Sleep easy and leave those worries behind. This apartment is comfortably furnished with a kitchen equipped with the basics-- including cook/bakeware, a 14" carbon steel wok, a 12 cup/single cup coffee brewer, tea kettles and infusion teapot, blender, a 9-speed hand mixer, storage containers, and table service, both dish and hand soaps, paper towels, linens, and napkins. Although it requires a change in set-up, it is possible to have a sit-down meal for eight around the fully extended dining table with cloth napkins and tablecloths provided. You also have private laundry room access (washer, dryer, ironing board and iron, laundry detergent and dryer sheets). Shampoo, conditioner, body wash and lotion, liquid soap, etc. are also provided in the bathroom. Everything has been arranged for your comfort and convenience!
Our Galewood neighborhood is a diverse residential area with an Italian heritage. Think of it as a hub, making access to multiple attractions easy -- Going east takes you through the Wicker Park/Bucktown creative centers into the Chicago Loop. Then directly south it's under 2 miles into the heart of Oak Park, known for unique shops, restaurants, theaters, tourism, and continuous events. Further south is Midway Airport -- 11 miles from our house, as is O'Hare Airport 11 miles north. To the west, the suburbs offer their own temptations with Morton Arboretum and in the northwest, LEGOLAND Discovery Center. Whatever way you chose to go, you can come home to rest, refresh, and relax in the very private space available to you here. See my Guidebook for my family's recommendations for all our favorites nearby!
Lois was a great host, very accommodating and friendly. House is all you could want for a stay in Chicago. Close to the train downtown, clean and spacious.
George
2016-11-06T00:00:00Z
Great space for a large group. We each enjoyed a large bedroom and live space. The kitchen is great and we had breakfast each day before hitting the city. Lois is very friendly and greeted us when we arrived. The nearby oak park neighborhood is a good place to grab a bite to eat and take a walk. The immediate neighborhood was nice. I would stay here again.
Erik
2016-05-09T00:00:00Z
Everything was just as described. It had everything we needed and more. This place felt like a home away from home. I will definitely be staying here again on my next visit.
Zack
2016-10-02T00:00:00Z
I am from China and rent this apartment during my time in Chicago.its very clean house and it make me feel like at home.Lois is nice and sweet .and she always meet all kinds of needs of us.I am so greatful for that.
Jason
2016-04-24T00:00:00Z
A nice place and a nice lady! Love her home so much, it is like the home!
cat hy
2016-05-02T00:00:00Z
This rental is exactly like what you see in the listing and Lois is a wonderful host. The apartment is very clean and has everything needed for a comfortable stay. Lois met us when we arrived. She showed us where things were and gave some helpful tips about how things (like the tv) worked. It is obvious that she cares a great deal about her rental and her guests. We would recommend this rental as a great choice for a place to stay.
Jennifer
2016-08-16T00:00:00Z
Lois' place was great and we loved all the space! Very comfortable and great amenities. Lois was a wonderful host and was very friendly and welcoming!
Abigail
2017-03-12T00:00:00Z
Lois was fantastic and the apartment was incredibly well appointed; everything you could need for a stay of any duration. Lois was ever-helpful and responsive to all questions. The house manual/guide provided details of all local amenities and much to do in the city. We stayed for two weeks, with kids, so used it as a proper home from home. If you want to be out of downtown it's a great place to base yourself for a Chicago trip (the Metra train takes 20mins into downtown). The beautiful suburb of Oak Park is also on the doorstep (40min walk or 5-10mins bus from just outside). There's also lots of shops within an easy walk, for groceries, takeout, etc. We couldn't recommend it more highly, you won't be disappointed.
Thomas
2016-06-02T00:00:00Z
Rodzaj pokoju
Całe miejsce
---
Rodzaj nieruchomości
Apartament
---
Mieści
8
---
Sypialnie
Chicago, Illinois, Stany Zjednoczone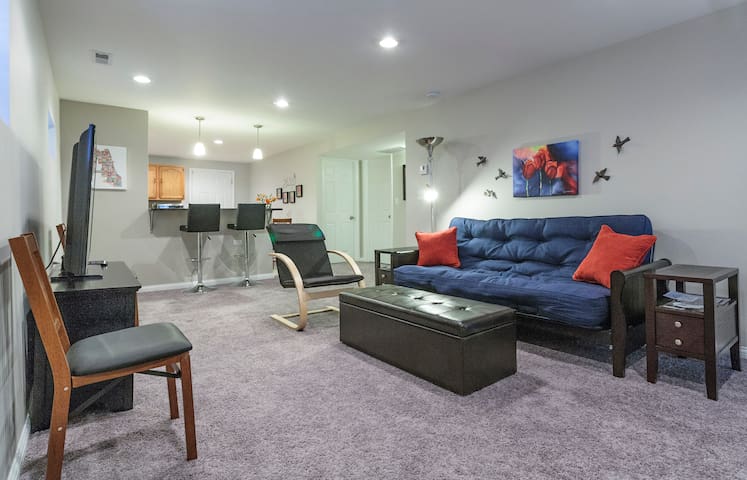 Enjoy your travel
Its quiet, safe and really close to Ohare Airport. Easy access to local transportation.
Aziz was a great host who took the courtesy of providing me with clean towels and whatever I needed when I asked. They also cooked me dinner and it was delicious! They were very helpful and communicative. Would definitely book again!
Ahmad
2017-03-16T00:00:00Z
AZIZ appartment are very close to airport. Clean and very nice guy. Fast internet.
Winnie
2017-03-20T00:00:00Z
Thanks Aziz was very ssupportive at the check in and kept a good comunication. For me was useful this place as I needed to rest and sleep. I recommend Aziz place Thanks Aziz.
Mario D.
2017-03-27T00:00:00Z
Aziz is really great, understanding, and flexible. Would definitely recommend it.
Maleah
2017-04-01T00:00:00Z
Clean, easy to find, and close to the Blue line which was perfect for me. Aziz is friendly and helpful. Couldn't have asked for a better host.
Liz
2017-03-30T00:00:00Z
Rodzaj pokoju
Pokój współdzielony
---
Rodzaj nieruchomości
Apartament
---
Mieści
1
---
Sypialnie
Chicago, Illinois, Stany Zjednoczone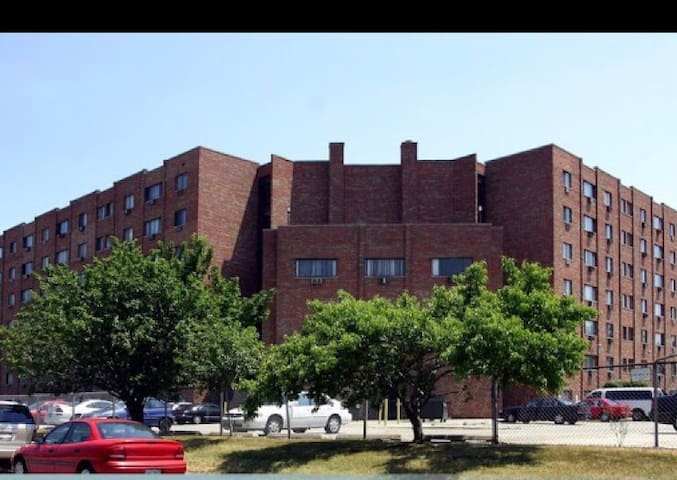 Furnished 2 beds in room. However, can be turned into one big bed. Near metra station Belmont Cragin, just one block away. Bus stations are at the corners! Green line is ten minutes on bus, also close to Oak park. A back yard grill. Close sports field park. Shopping complex ten minutes walking. Restaurants nearby, grocery stores, fast food all walking distance. 30 min from downtown by car. There is laundry in unit. Furnished shared living room and full kitchen. Most importantly, wifi!
The house is clean.
Siyi
2016-09-17T00:00:00Z
Nice clean place, thanks!
Stephen
2016-10-29T00:00:00Z
Mirsanda welcomed us and showed us our room. It was enough space for the 2 of us for the night. Everything was clean. Thanks!
Davin
2016-10-23T00:00:00Z
Enjoyed my stay here. Mirsada was available to answer any questions I had, and was around even with my late check in. Great neighborhood with lots of good Mexican food. Bus/Metra are both very close. Wifi was really slow, but no biggie.
Brian
2016-09-20T00:00:00Z
Mirsada and her other guest made us feel very welcome in their home. She was very kind and generous, and offered for us to come into her home for tea. We enjoyed the diverse neighborhood and a wonderful park just a few blocks away.
Anna
2016-05-30T00:00:00Z
The host canceled this reservation 7 days before arrival. This is an automated posting.
Greta
2016-06-01T00:00:00Z
Mirsada and her family were great hosts. She was genuinely very interested in my travels. Also, they were very accommodating; I had a lot of personal things in the back of my truck that I wasn't comfortable with parking outside. They offered to put my truck in their garage, which was really nice of them. I would definitely recommend staying at Mirsada and her family's home. I had a great experience.
Dom
2016-06-02T00:00:00Z
Me and my friend stayed there for a day. The place was so clean and comfortable. Host was very responsive and helpful to us through out our trip. All in all it was a great place to stay. I highly recommend!
Ullas
2016-12-18T00:00:00Z
Rodzaj pokoju
Pokój prywatny
---
Rodzaj nieruchomości
Apartament
---
Mieści
2
---
Sypialnie
Chicago, Illinois, Stany Zjednoczone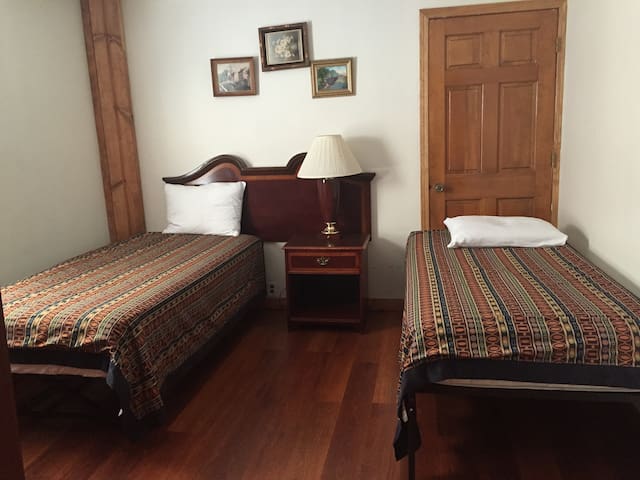 It's a quiet 2 bedroom apartment will keep you happy and relaxed for your stay. You have access to the kitchen and free WiFi. The Brickyard mall is less than five minutes away. Lots of shopping stores to chose from.
It's a cozy 2 bedroom apartment with a small kitchen. Free parking. It's a quiet house to sleep in. There is a living room space and a remodel bathroom.
It's a friendly neighborhood and you will have a great time here. Not as much noise going on outside. There is a mall in walking distance less than five minutes. Jewels Osco, Target, Walgreens, Ross, Shoe Carnival,Marshall, Dental offices, etc
I stayed at Rosanna's place for long term, about 10 weeks. She and her Mom did everything they could to make the stay as comfortable as possible. They even put some bread in the freezer. The apartment is in good condition and it was cozy and warm during the cold days. They were very flexible with check in and out time which made it a lot easier for me. No matter what issues or questions I had they took care right away. I also used their laundry from time to time. I would definitely recommend staying at their place when you are seeking a spaceous and nice apartment to stay.
Sabine
2016-12-20T00:00:00Z
We were made welcome by Rosanna's mum as we arrived earlier than normal check-in. Rosanna also allowed us to leave late as our flight wasn't until evening. The flat was as described, conveniently near an open air mall, supermarket and chain restaurants. The trip to downtown Chicago takes 1 hour by bus - there may be quicker ways. There is a 55 acre park at the end of the street. The area in general is populated by Latino families and we felt safe walking around.
Brian
2016-09-20T00:00:00Z
During initial consideration of this rental. I communicated with hosts that my husband and myself would be coming in for my birthday weekend and that my husband would follow the next day. The hosts and I even went out to eat my first night there and we talked extensively about my work and family. I allowed them to ask any and all legal questions without charge. There were a few issues with unit as piping and water pressure thought needs to be fixed. There were twin beds in both rooms. Difficulty getting hot water during showers. A/C did not cool as anticipated. Locked out of unit because host didn't provide all keys to unit. But overall I thought the price and unit were ok. At 11:30pm on final night host emailed to say they need fee for 2nd guest as they didn't know my husband would be there although original communication before booking says my husband and I will be using the unit. Then insinuated that we were disrespectful to them in their home for asking them to come unlock the door. My husband and I immediately left 1 day before we were scheduled to leave because it appeared that hosts tried to extort us for more money outside agreed contract and then insulted us. We would never stay there again!
Judy
2016-09-06T00:00:00Z
Rosanna and her mother greeted me when I arrived (rather late), escorted me to the apartment and made me welcome. The neighbourhood noise was extremely low. The Wi-Fi connection was very solid and fast. The best thing I can say about my four-day stay is that I will happily use their apartment for my next visit.
Allan
2016-09-16T00:00:00Z
The host canceled this reservation the day before arrival. This is an automated posting.
Todd
2016-08-09T00:00:00Z
Rodzaj pokoju
Całe miejsce
---
Rodzaj nieruchomości
Apartament
---
Mieści
3
---
Sypialnie
Chicago, Illinois, Stany Zjednoczone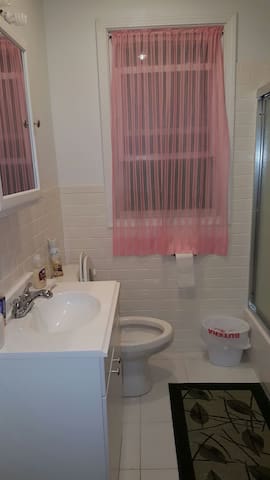 850 sq ft Apartment in Northwest Chicago close to O'Hare. 30 min from downtown, or 1 hour by public transportation. We provide FREE per stay: Make yourself organic coffee w/organic cream, organic eggs, non-GMO bread and organic steel cut oats.
This is a private apartment in the basement of my single family home. You'll have your own private entrance. Once you enter thru the side door, there is a common hallway and then a private door down to the basement apartment. It has 2 bedrooms, a Living Room, a full kitchen and a full bathroom. We call this a, "Do It Yourself" Bed and Breakfast. We are huge fans of the slow food movement and want to help you eat Organic, Non-GMO and as home cooked as possible. This will save you money and help you feel better during travel. Per stay we provide free organic eggs, non-GMO bread for toast, antibiotic-free and nitrate-free bacon, as well as organic coffee and organic cream. We have a queen mattress in one bedroom, and two extra long twin mattresses in the other. A futon is in the Living Room (which can be treated as a BR since we put on a privacy door knob). We provide in Bathroom: clean towels, soap, shampoo, blow dryer. The bedroom has an ironing board and iron. And a place to hang your clothes. Apartment has free Wi-Fi. We have a full kitchen with flatware, glasses, mugs and plates. Stainless steel Pots and Pans for cooking, toaster, toaster oven, hot water kettle, french press, drip brew. Household things for your use: iron, blow dryer etc... If it's not found in the apartment you can always ask to borrow any item you need. (Including our ice cream maker!)
Our neighborhood is close to O' Hare Airport. It's one of the safest neighborhoods in Chicago and is home to many Police Officers and Fireman and other city workers like Chicago Public School teachers and Chicago Park District managers. We are extremly close to a beautiful 5 acre park. Walking distance to a couple coffe shops, a well established Italian deli and a library.
Sean went above and beyond to make me and my wife's stay as pleasant as possible. He was very responsive. His place is in a great location the queen size bed is super comfortable. His place was clean and tidy and quite comfortable. I would highly recommend to anyone wanting to visit Chicago to stay at his place!
Daniel
2016-05-04T00:00:00Z
Sean was friendly and accommodating. The basement apartment was spacious for a family of four with small kids. There's actually 3 rooms, 2 bedrooms and 1 tv room with a futon bed. Bacon and eggs were in the fridge along with other basic food to get you started. The smoke alarm did keep turning on every time we cooked. We were there for a week and drove all over the place. There was always parking on the street when we got home late at night. Traffic to downtown was manageable but we usually were driving non rush hour, about 35 to 45 minutes. Toll was a bit of a hassle so just make sure you have plenty of coins with you. It is a basement unit so you will hear people walking upstairs plus they have kids too, but it's pretty quiet at night. We've never been to Chicago before and I was pretty impressed with the city in general.
beulah
2016-08-24T00:00:00Z
The place was clean and comfortable, everything as it was described in the listing. Sean was a responsive and accommodating host.
Trevor
2016-06-01T00:00:00Z
Sean's place was awesome. The neighborhood is very pleasant. We took our morning walks. :) He was quick to respond if we had any needs. His place is very clean and the beds are cozy. It was so nice to walk in and have a few essentials in the fridge for an organic breakfast. We've stayed in many Airbnb's and the diy breakfast was a nice touch. Thank you so much, Sean for making our time in Chicago that much more enjoyable.
Charlotte
2016-07-25T00:00:00Z
I enjoyed staying at Sean's place because I had the sense that I was staying with a family, but had my own private space to relax in every night. The bed is super comfy. Nice perk to have eggs, toast and coffee (I never had time to fry up the bacon, but it was there!) for breakfast! Sean is a very friendly and helpful host. We had good communication throughout my stay. Private entrance is convenient with a security light and no key to lose because the lock is a keypad! The house is located in a residential Chicago neighborhood, with ample parking, even when I returned late in the evening. It's a reasonable drive to the nearby suburbs and downtown. It's a good value! At the time I stayed with there was no cleaning fee, but a polite request to leave things as found.
Miriam
2016-04-27T00:00:00Z
Sean and his family home was very welcoming and comfortable. We were traveling with two young kids and the space was ample and great for the four of us. The organic bread, eggs, bacon were a welcome extension of our own home making the stay even more home like. Thankful for the experience and will stay again when in the area! Thanks again, Sean!
Tiffany
2016-06-07T00:00:00Z
The house was clean and tidy and served our purpose well.
VISHAL
2016-07-13T00:00:00Z
Sean's place was very clean. He was also within contact amd helped ua resolve the cable tv and wifo connection as there was a storm earlier that affected the connection. It had bread, eggs, milk and some condiments to prepare a meal. Kitchen supplies and dining ware was complete. The beds were very comfortable. I wish we had more time to stay here. Recommend it if you want to be near the airport. The neighborhood was very nice and quiet. Hope to be back some time.
Kristine and Benedict
2016-07-19T00:00:00Z
Rodzaj pokoju
Całe miejsce
---
Rodzaj nieruchomości
Apartament
---
Mieści
6
---
Sypialnie
Chicago, Illinois, Stany Zjednoczone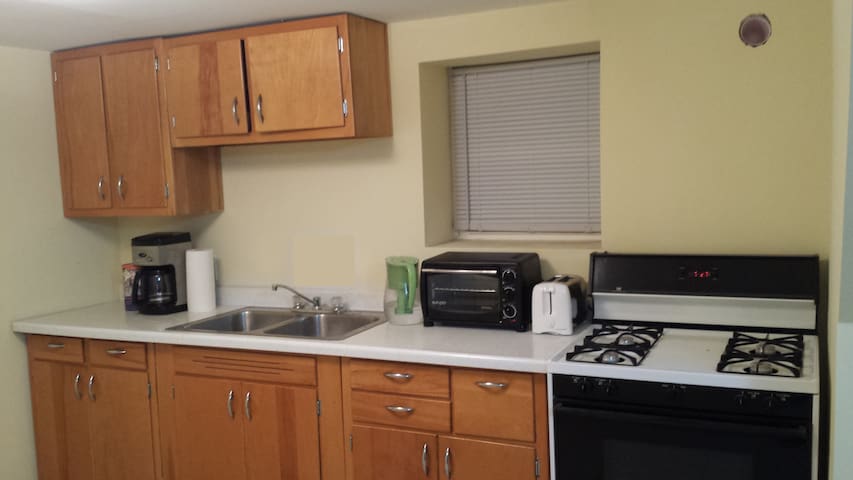 Newly built home, private, cozy spacious and modern 2-bedroom (King/Queen), and two twin beds in family room. I take pride in ensuring every corner of the entire place is clean, clean, clean! Great location, close to Metra train, Stephens Convention Center, mall, restaurants and parks. Great for couples, solo adventurers, business travelers, families (with kids). Two night minimum stay on Fri/Sat (unless waived). You will have full private access to the lower level of the home.
- The apartment has two 50" TVs with 300+ cable channels. - The WIFI has a strong download signal of 30+ Mbps. Average speed at public coffee shop is 10 Mbps. - The house has a private side yard that can be used for guest only outdoor activity, ie BBQ, etc. A Weber (charcoal) grill is available.
The neighborhood is quiet with a combination of seniors and families. Many neighbors routinely jog, walk their pets and use their bicycles.
Me and my mother had a wonderful 10 days stay in Horatio's apartment. The apartment is very clean, spacious, comfortable and very well equipped. The apartment is located in a nice quiet residential area, close to O'Hare airport. Horatio is a great host, very gentle and pleasant to talk to, he was very responsive to our needs and made sure we had everything we needed. I highly recommend it.
Dana
2016-08-20T00:00:00Z
Horatio is a wonderful host. He accommodated our early checkin and met us at his place. My husband and I couldn't stop raving about how emaculate the place was. It was clean and nice and very accommodating for my kids who love to watch TV in the living room and in bed! The location is great! There is a great park around the corner the kids loved to play at. Horatio was available by text/ phone if we needed anything and he checked in to make sure all was well. We couldn't have asked for a better place and host. The kids were sad to leave! Thank Horatio!
Sherry
2016-10-03T00:00:00Z
My stay here was AMAZING. The house is more beautiful then the photos show (and that's with the photos already being beautiful) Such a lovely stay and our host was so kind and attentive. I would stay here again. What a great time.
Wayo
2016-09-27T00:00:00Z
The Horatio was an amazing host, with an amazing home. We felt very welcomed and comfortable there. we loved everything about it, the neighborhood is quite and it was beautiful.
iliana
2016-09-20T00:00:00Z
Great private, clean and beautiful apartment to stay when staying in Chicago. Transportation is near and Uber to downtown is between $15- $20. I recommend this place, feels like a home away from home. Horatio is so nice and aims to make your stay pleasant.
Natalie
2016-11-06T00:00:00Z
El anfitrión fue muy amable, nos mostró todo el lugar. Tenia todo lo descrito e incluso nos dio una canasta de bienvenida. Las camas eran cómodas con suficientes almohadas. Todo el lugar estaba muy limpio. Definitivamente nos volveríamos a quedar aquí, lo recomendamos. Gracias Horacio por tu amabilidad.
Cesar
2016-10-10T00:00:00Z
Horatio was an amazingly gracious host. This was actually one of the best AirBnB experiences that I had. I would strongly recommend his place, and would definitely stay again next time I'm in the area.
Rony
2016-10-27T00:00:00Z
Horatio went above and beyond the night of our arrival by staying up to ensure we could access our accommodations. His rental is beautiful and very quiet. We had everything we needed and made sure to ask us if there was anything else that we needed he would get it for us. I just don't know Notes for future travelers: The River Grove Metro station is a short walk and the closest grocery store is riches fresh market which is an easy short walk. Horatio, thank you for a great stay and we will consider staying with you again should we come back to town in the future.
James
2016-08-05T00:00:00Z
Rodzaj pokoju
Całe miejsce
---
Rodzaj nieruchomości
Apartament
---
Mieści
6
---
Sypialnie
Chicago, Illinois, Stany Zjednoczone
My cool one bedroom apartment gives you that true city feeling, located 10 minutes from downtown Chicago and is walking distance from the historic, oak park. My building is quiet and very friendly.
Rodzaj pokoju
Całe miejsce
---
Rodzaj nieruchomości
Apartament
---
Mieści
4
---
Sypialnie
Chicago, Illinois, Stany Zjednoczone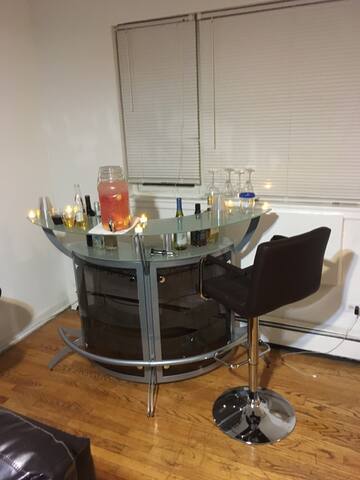 Situated on the1st floor of a Victorian home in a park-like setting. The living room has stained glass windows, loads of natural light, a fireplace, and opens onto a sunroom. There are 2 bedrooms, a dining room, kitchen and full bath.
The apartment is close to transportation to downtown Chicago. Pete's Fresh Market is 3 blocks away, and the main shopping area of Oak Park is within easy walking distance.
This is a residential neighborhood in the original Historic District of Oak Park, which includes many grand Victorian homes as well as some homes built by Frank Lloyd Wright. Oak Park River Forest High School & Ridgeland Commons pool & skating rink are both 1-1/2 blocks away. The Hemingway birth home and Hemingway Museum are 4 - 5 blocks away. The Frank Lloyd Wright Home and Studio are a bit farther, but still within walking distance. Shopping and restaurants are all close by.
Very nice apartment in a very nice neighborhood. Close to station. Very good. Recoment it.
vibeke
2016-06-24T00:00:00Z
Kim's place is gorgeous, relaxing, and highly recommendable. She goes the extra mile, shoveling snow so you have a clear path, leaving a nice bottle of wine for your stay, furnishing the place with all you need. I will be back!
Courtney
2016-12-10T00:00:00Z
My sisters were in town for a family event and had a great time. Beautiful, clean home. Kim had the fridge stocked with yummy treats and essentials and even had a great bottle of wine for us! Will book her place again!
oluwatoyin
2016-06-02T00:00:00Z
Kimberly and her house are amazing! Her house is a beautiful classic and had everything we needed for a nice stay. The decorative glass windows, and the natural light throughout the entire house added to the beauty. She has a beautiful garden that was blooming, and many birds were also enjoying the flowers. The house is very conveniently located close to public transportation, and the Oak Park sites we came for such as the FLW home and studio. My mom and I enjoyed walking outside to look at FLW and Victorian houses in the area. Kimberly was a terrific host, and I can't say enough nice things. So thank you Kimberly!
Elizabeth
2016-05-16T00:00:00Z
We had a lovely week-long stay. Everything was as described. A beautiful old Victorian home, very convenient to the Green Line L, Ridgeland Commons pool and park, grocery store, and all the historic sites in Oak Park. Kimberly even left us some breakfast foods, drinks, and a bottle of wine. Everything you need is included. Cannot recommend enough!
Kerry
2016-08-06T00:00:00Z
A great base from which to explore Oak Park and Chicago. Plenty of room to spread out and be comfortable. Easy check in coordination and nice hospitality. The neighborhood is lovely to walk around and the train is just a few blocks away. Glad we found this place!
Aaron
2015-11-16T00:00:00Z
We truly enjoyed staying in this lovely Victorian home in Oak Park. Kim was helpful and gracious. The location was perfect for our needs. We were surprised to find fresh fruit and muffins for breakfast! I am certain we will be return customers.
Paula
2016-06-06T00:00:00Z
We enjoyed our stay at Sunny Victorian Garden Oasis. It was a great location. Very close to the train and grocery store (walking distance). I would recommend her place. Kimberly was welcoming from the first moment she accepted our request to stay at her home. She was very responsive to any and all questions. Even though she was not able to meet us on arrival, she was able to give us clear directions on how to enter the property. The place was clean and inviting. The home is an older Victorian home in a beautiful neighbor. Even through the water pressure in the home isn't the best it would not deter me from staying at her place again.
Ayesha
2016-11-07T00:00:00Z
Rodzaj pokoju
Całe miejsce
---
Rodzaj nieruchomości
Apartament
---
Mieści
4
---
Sypialnie
Oak Park, Illinois, Stany Zjednoczone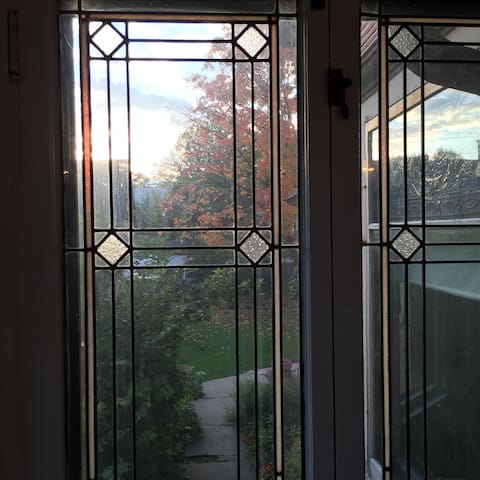 New, big & bright condo in a modern building on a street with 24/buses. You'll have a master bedroom with tons of privacy and own bathroom.
Modern condo building with alarms, security cameras, an elevator in a nice quiet area. It is also located on a street with 24/7 bus service. About 15-20 minutes from O'Hare Airport. Friendly neighbors as well as tons of free parking all around the building. The space is clean and spacious. It is well furnished, and you'll have a whole master bedroom with a bed as well as fold-out sofa-bed if you need it. The room has a private bathroom with a shower. An office desk as well as big closet and shelves are yours to use. The common area such as the living room, dining room, kitchen, and a huge outdoor patio has everything you'll need as well. I love my place, and hope you do too.
Nice and quiet. All residential. Has a lot of Eastern European cafes and grocery stores.
My experience at Stepaniya's was really good. She was a great host who made sure we had a comfortable stay and also let us have our privacy. The neighborhood and the Condo is really quiet and comfortable and great if you want to relax. The room is really spacious and the bed is very comfortable. The attached bathroom was very luxurious. Would definitely stay again when I am in Chicago.
Sanchit
2015-10-18T00:00:00Z
My friend and I had an exceptional experience staying at Stephanie's place on our trip to Chicago. I would absolutely recommend her as a host to anyone! The room was very clean and comfortable, the building was quiet and very safe, I'd say it was the perfect place to stay while exploring the city. Stephanie was extremely accommodating about us checking in and out and we really appreciated that. Thank you so much for such a lovely experience!
Ildyko
2016-05-10T00:00:00Z
Staying at Stephanie's house made my trip even better, she is very kind and respectful. Her house is very beautiful, clean and cozy. And as if it wasn't good enough her cats are the cutest!
Laura
2016-11-06T00:00:00Z
You should book a stay with Stephanie. She's great and the apartment is spotless and inviting. The bed was probably my favorite part. Soooo comfortable. The weather was perfect, so sitting out on her large balcony was very relaxing. I couldn't have wished for a better stay.
Ryan
2016-09-06T00:00:00Z
Stephanie was great! Her room was spacious and comfortable. She also had some great recommendations that allowed us to save money on transport within chicago.
Murali
2016-05-23T00:00:00Z
I have stayed at Stephanie's condo for a number of weeks now. Feels like my second home now. This is a convenient, safe, and quiet place to stay in Chicago.
Tom
2016-01-22T00:00:00Z
I've stayed at Stephanie's place numerous times. It's clean, quiet, and spacious.
Tom
2016-04-01T00:00:00Z
Stepaniya is a nice host and her condo is comfortable and clean. It has lift that we are easy to move our lots luggages, also easy to park. Super nice stay in Chicago! Thank you.
Yi Feng
2015-11-07T00:00:00Z
Rodzaj pokoju
Pokój prywatny
---
Rodzaj nieruchomości
Apartament
---
Mieści
4
---
Sypialnie
Chicago, Illinois, Stany Zjednoczone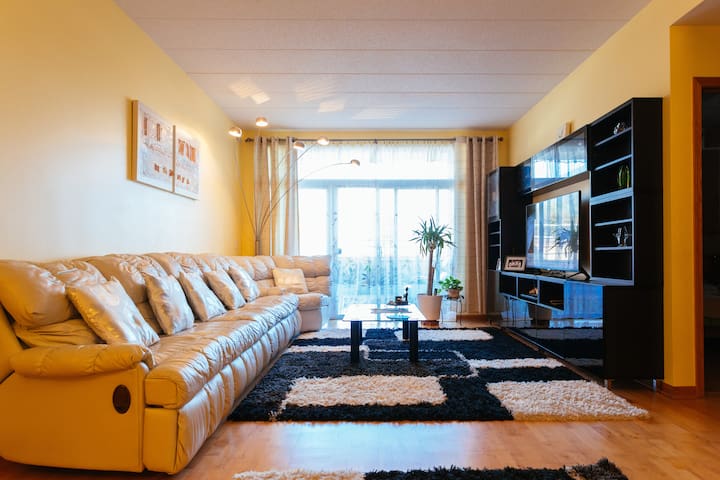 presidential tower located in the city, nearby the union station, public transport is very convenient, 90 and 290 highway all the way in a few blocks away. Superior living environment, shopping, dining, entertainment, a variety of living facilities, there are food whole, a variety of styles and characteristics of the restaurant. only for female.
it is a private living room, so enough space.
TACO BELL , Arby's, Popeyes,McDonald's ,Indian Swaad,Simply Greens ,Greak steak,Burrio beach, subway ,Panda Express
Excellent experience. Host was warm and ensured that everything was okay! Comforting and hospitable Our stay was great!!!
Anisha
2016-12-25T00:00:00Z
Rodzaj pokoju
Pokój współdzielony
---
Rodzaj nieruchomości
Apartament
---
Mieści
2
---
Sypialnie
Chicago , Illinois, Stany Zjednoczone
This gem is 15 minutes to O'Hare and 25 to downtown Chicago. Near shopping and dining plaza. Newly remodeled luxurious and private. We offer free high-speed internet, fully equipped kitchen in brand new appliances, coded entry, and free parking.
Each bedroom has a bathroom so you dont have to share. We have a fully equipped kitchen and a supply of filtered water through the fridge.
This is not a white-only neighbourhood, but a mix of white and hispanic. We are close to Mannheim and North Ave, which are two big streets. It is a safe place. I, a woman, work in the baby store downstairs, late nights, by myself and I havent had any problems. I love the place. I personally dont see what is wrong with our neighbourhood. Buildings look nice, although they're not glossy hotels, but we have a Chicago brick style to the houses and buildings around. Everything around is lit at night. We're also chummy with the police guy who sometimes parks on our commercial parking lot to catch cars speeding onto North Ave. If you see him, say hi. Just avoid speeding onto North Ave. But where ever you are, protect your valuables.
Absolutely loved it! Very comfy, clean and top of the line accommodations. Especially enjoyed having your own private bath for each of the bedrooms. Location was convenient and check in was a nice smooth process. Thanks Deyana for providing an enjoyable stay.
Roberta
2015-10-24T00:00:00Z
Très propre, sécuritaire
Rochdi
2016-11-15T00:00:00Z
Great stay! Apartment was just remodeled and looked brand new and was very clean. We loved it! Deyana was a great host, and was very helpful. There is a code to get in the house which was nice and easy upon arrival. I would highly recommend!
Jamie
2015-08-15T00:00:00Z
Deyana was great. It was a nice place to stay in a convenient location. I would definitely stay here again.
Kale
2016-11-21T00:00:00Z
Our host communicated well through out our whole stay and was quick to respond. Directions were very clear, the apartment just what we expected, a great space for our family to actually have room. We felt safe, had good nights sleep and quick access to the city! Would recommend and stay here again.
Rachel
2016-11-13T00:00:00Z
Very responsive and accommodating hostess. Check in and check out were smooth. All amenities and cookware included. Beds were alright. Bathrooms were clean. Skylights are a great addition to master. Location is away from the city downtown, but closer to the airport. Takes about 30 to 40 minutes to loop based on traffic. If location is no biggie, stay here and have a relaxing stay.
deva
2016-08-29T00:00:00Z
Deyana was a great host. me and my brother , my girlfriend felt so comfy. This apartment is very clean. You'll like it. If i come to Chicago, i'll stay here again.
HYUNJONG
2015-08-22T00:00:00Z
Deyana was such a great host! She responds quickly to all inquiries. When we arrived, she came out to welcome and show us around. The apartment is brand new and very clean with plenty of towels and blankets. The bedrooms are very spacious. It's in a weird location, but I would stay here again when I need to be close to ORD.
Tricia
2015-09-13T00:00:00Z
Rodzaj pokoju
Całe miejsce
---
Rodzaj nieruchomości
Apartament
---
Mieści
4
---
Sypialnie
Stone Park, Illinois, Stany Zjednoczone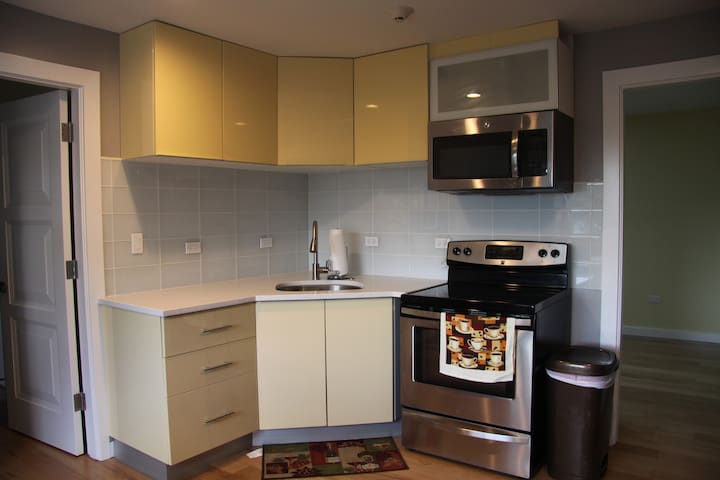 Great view and close to the highway and the city really good location
Very friendly, helpful and flexible hosts! Definitely made our trip more enjoyable :)
Angela
2017-03-05T00:00:00Z
Rodzaj pokoju
Pokój prywatny
---
Rodzaj nieruchomości
Apartament
---
Mieści
2
---
Sypialnie
Chicago, Illinois, Stany Zjednoczone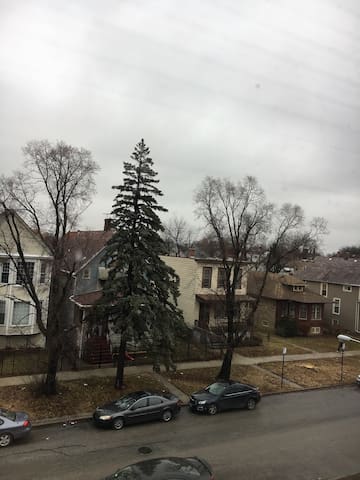 Welcome to my cozy, private "Purple" Room! Conveniently located by O'Hare ORD (3 miles), Rosemont Expo/Entertainment District (3 miles), and near expressways and train to beautiful downtown Chicago. Free parking and Wi-Fi. Safe, friendly and quiet neighborhood (despite being so close to the airport!) The Purple Room has a Full Size bed, TV w/ Netflix, recliner chair & a Common Room to sit and relax as well as a kitchen to brew fresh coffee/tea and have a bite to eat.
Cozy and Convenient! We are just 3 miles from O'hare Airport ORD (8 minute drive), 2.5 miles from Rosemont Entertainment District (convention center, Fashion Outlet Mall, Rivers Casino and MB Financial Park which has fine dining & cocktails, Zanies Comedy Club, Muvico, IFly, bowling & live entertainment/fireworks throughout the Summer & outdoor Ice Rink in the winter). We are 15 miles to downtown Chicago with world-class dining, museums, theaters, galleries and more! Whether you drive/Uber or take the Metra Train straight to Union Station, it's a short 30-40 minute trip, depending on traffic. The city of Chicago itself has many diverse neighborhoods, as well - and the edge of the city proper is only 4 miles East of us.
We are in a diverse and family-friendly, safe suburb just west of Chicago and right next to O'Hare Airport and Rosemont. There are expressways and Train stations within very short distance from us, and if an Uber type of taxi service is called, they show up very quickly (within a few minutes)
Awesome place and conveniently near to the airport
Anudeep sharma
2016-09-06T00:00:00Z
Excellent condition and nice owner!
Xiangran
2016-10-12T00:00:00Z
This place is awesome and well worth the price. I needed a place to crash for a night after arriving at O'hare and it was perfect. It is within a good distance from the airport and the neighborhood is quiet, clean, and safe. Not to mention all of this is worth the price she was asking for. The host herself is amazing. She worked really hard to make sure that I could get there at the time it said that I could and she was very friendly and helpful in showing me around and making me feel comfortable. It was comfortable and very spacious! I have to admit the place is way bigger than I thought it would be. Also, she was very sweet the next day and drove my luggage and I to the nearest Metra station so I could board the train to Union Station. I was not expecting that. In addition, the bed was really comfortable. All around A++++ I would stay again!
Joshua
2016-09-22T00:00:00Z
Although my stay was brief, it was a pleasing experience. Jennifer is so nice and easy to communicate.
Aiman
2016-12-17T00:00:00Z
What a fantastic and smooth experience!
Duane
2016-12-12T00:00:00Z
Jennifer was awesome, we were only there for the night but it was wonderful! Cozy private room, beautifully decorated with a perfect amount of space. Roku TV was also included for a great night of binging american horror story lol Jennifer provided a lot of great accommodations and was super helpful and polite and willing to flex with us on check in time.
Tye
2016-10-26T00:00:00Z
Jennifer's place is very close to the airport, she is a kind host, and she offers a simple yet nice breakfast to grab and go.
Greg
2016-12-06T00:00:00Z
Jennifer is amazing. She responded quickly to my texts, she welcomed us, gave us a tour when we arrived, and was just very kind. She made me and my sister feel at home. The place was even more beautiful than the pictures and very clean. The neighborhood is nice too and less than 10 minutes from O'Hare. Jennifer even left muffins for my sister and I before we left. You will not go wrong by choosing this place. Two thumbs up!
Adaugo
2016-08-09T00:00:00Z
Rodzaj pokoju
Pokój prywatny
---
Rodzaj nieruchomości
Apartament
---
Mieści
2
---
Sypialnie
Schiller Park, Illinois, Stany Zjednoczone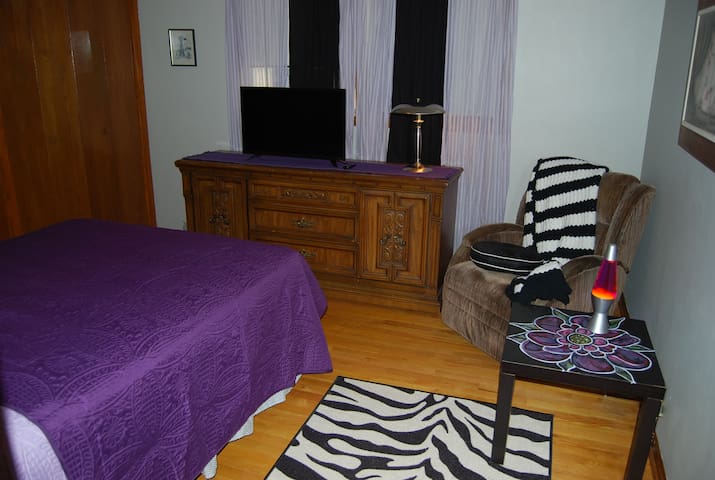 My place is close to restaurants and dining and family-friendly activities. You'll love my place because of the people, the ambiance, and the light. My place is good for couples, solo adventurers, business travelers, families (with kids), and big groups. PLEASE SEND EMAIL WITH INQUIRY. DISCOUNTS AVAILABLE FOR MULTIPLE NIGHTS
BEAUTIFUL HARDWOOD FLOORS, CROWN MOLDING, FREE PARKING IN FRONT
Rodzaj pokoju
Całe miejsce
---
Rodzaj nieruchomości
Apartament
---
Mieści
8
---
Sypialnie
Chicago, Illinois, Stany Zjednoczone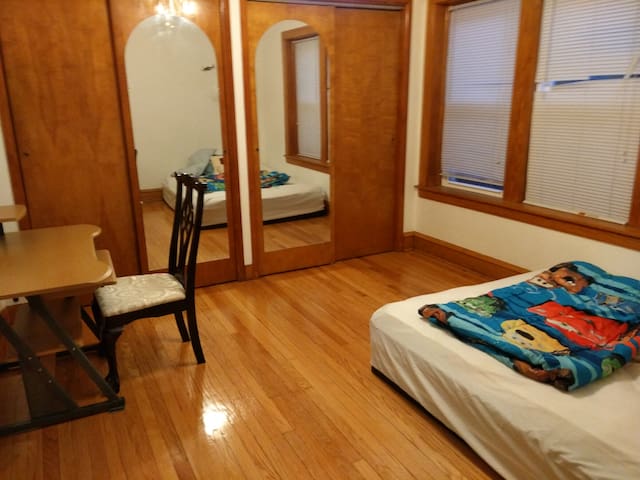 Victorian boarding house in historic Austin/Schock neighborhood. Private keyed room with twin bed, sitting area, full kitchen. Shared bathroom on the hall. 2 blocks from El green line...easy 20 minutes to downtown Chicago. Walk easily to Oak Park.
Trevor was an excellent host. He was very responsive and welcoming. Overall it was a great experience.
Jonathan
2015-11-04T00:00:00Z
Trevor made me feel welcome and comfortable! The room was comfortable, clean, and huge!
Erika
2015-03-13T00:00:00Z
Functional room with kitchen and desk, shared bathroom, close to public transportation, great communication & host.
John
2017-01-26T00:00:00Z
Trevor´s Green House is a good location for the budget-minded traveler. Trevor is a very accommodating and friendly person and it was nice to meet him. The area of Austin itself has some issues with crime and not everybody might feel really safe there. Nevertheless, Trevor makes you feel welcome and the open street with trees alongside looks like a nice neighborhood. Compared to the prices in downtown Chicago you get a good place to sleep and you will be within 25 minutes in the very city center. The train station is just around the corner. The room has enough space and I havn´t missed anything in the kitchen. The bathroom is shared with 4 other rooms, but during my stay there was just one other guest. I wish Trevor good luck with his boarding house.
Antje & Dominik
2015-08-30T00:00:00Z
This was my first Airbnb experience. With Trevor it was easy-peasy, as-advertised, and a cool little place. I parked here and walked to the El station. I had a good experience.
Kirk
2015-04-19T00:00:00Z
I definitely had a good time during my stay at Trevors place. It was a clean 2-room apartment, including a living room and the kitchen. I've been told that the area is not the safest, but I had no unpleasant encounters, even though I worked late and got home often after 10pm. The Green Line Station "Austin" is a 2 minute walk away and within 15 minutes you are Downtown/Loop. Also, there's other people living in the house, but you can lock your own door.
Robin Lee
2015-08-23T00:00:00Z
Trevor's house was great! The room and kitchen were spacious and clean. The bathroom was well kept and always clean. It does get a bit warm in the summer months without having central air but Trevor quickly provided extra fans that helped cool the room down to a comfortable temperature. I lived here during a rotation at a local hospital and really enjoyed my time at the house. I recommend it without any reservations whatsoever.
Evan
2015-09-25T00:00:00Z
The host greeted me and was was quite cordial. In fact, his young six year old son greeted me first! I knew it would be great from there. The place was as advertised, and met my expectations. The neighborhood was as the owner described it "the best part of the not so good part of town". I had no issues with any other residents, and felt quite safe the entire time. I would definitely return.
Joshua
2015-06-30T00:00:00Z
Rodzaj pokoju
Pokój prywatny
---
Rodzaj nieruchomości
Apartament
---
Mieści
1
---
Sypialnie
Chicago, Illinois, Stany Zjednoczone
Private master bedroom with a queen size bed near O'Hare, 10 minutes walking distance from Blue Line train and 1.2 miles away from USMLE center. We are a family in our late thirties willing to make your stay in Chicago as wonderful as possible. We are also great cooks.
We are a family in our late thirties willing to share our space with you and make you feel at home. Our master bedroom is furnished with a great quality furniture in a Victorian style. We want our guests to feel excellent in our own place. Our condo is newly remodeled and everything is brand new. We are neat and organized people and we would like our guests to be the same. We both love cooking from the scratch and for an additional price we can provide you any meal needed. Please just let us know in advance what are your preferences. We are located in a very convenient area with 3 grocerie stores, restaurants, 7 eleven, liquor store, dunkin donuts, physician immediate care etc within 1-2 blocks from our place. Parking is available on the street, but if you just visit Chicago, you don't need a car since great public transportation is available within walking distance. Cumberland Blue Line ( the second stop from O' Hare) is ten minutes walking distance from our home and it will take you downtown in about 30 minutes. USMLE center is 1.2 miles driving distance, but if you walk and take the shortcut it will definitely be shorter than that.
It is a very quiet and safe neighborhood conveniently located close to O'Hare, great public transit, restaurants, groceries stores, physicians immediate care, etc
The hosts are happy and friendly. I felt I was visiting my remote relatives. Great people. The bed is very warm and soft. I have been Chicago many times and stayed in many fancy hotels. This was a wonderful sweet experience. The host gave two rides to the nearby place I wanted go in the early morning. I wish I had more time to spend with them. Taking a walk together, learning about their childhood stories would be wonderful. I will be thinking about them and wish them the best.
Andrea
2016-10-16T00:00:00Z
Stayed here for one night and found the room comfortable with everything I needed. Hosts were very friendly and welcoming. Would recommend.
Steve
2016-12-01T00:00:00Z
felt like home.
Vishesh
2016-10-03T00:00:00Z
Very friendly and gracious hosts! Also, excellent chefs. Went above and beyond to make sure I was comfortable.
Brian
2016-09-09T00:00:00Z
The hosts were very nice and passionate, they were very friendly and helpful. We actually became friends. The place was really clean and very comfortable it was next to the train station and it was good for you if you just come here for visiting. You don't need a car because the transportation here is really convenient.
Rong
2016-08-22T00:00:00Z
Terrific hosts and very flexible, considering I was a last-minute booking. Renata and Dan have a lovely home and offered me breakfast AND dinner! They even offered me a ride if I wanted to run somewhere close for additional food. I didn't end up taking them up on the offer, but their generosity was really appreciated. It was a perfect place to hunker down for a night near the airport. I'd stay again in a heartbeat!
Ashley
2016-09-02T00:00:00Z
Renata and Dan were very welcoming and hospitable. Offering to share their dinner and conversation and providing an exceptional breakfast made it feel more like a bed and breakfast and went beyond the average airbnb experience. We booked last minute and they were very accommodating. The location is excellent for departures to and from the Chicago O'Hare airport. The bed was extremely comfortable and the apartment impeccably clean. We would definitely stay here again. Cheers, Heidi and Patricio
Heidi
2016-09-14T00:00:00Z
Renata and Dan are very nice couple. They are very accommodating and always offer breakfast and dinner. Their location is perfect, just few minutes walk to the train station.
Rhyan
2016-09-19T00:00:00Z
Rodzaj pokoju
Pokój prywatny
---
Rodzaj nieruchomości
Apartament
---
Mieści
2
---
Sypialnie
Chicago, Illinois, Stany Zjednoczone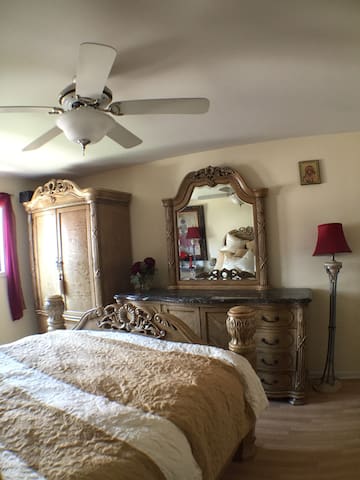 Wpisz daty, by zobaczyć pełną cenę. Obowiązują dodatkowe opłaty. Cena może uwzględniać podatek.