Dela (taxidriver)& Jane (tailor) are looking forward to welcome you at The beachhouse ,simply enjoy, swim in the sea,relax in the hammock, BBQ, seavieuw , seabreeze, birdwatching, turtles ,Daytrips to market, Aburi gardens , Shai Hills, Akosombo.
Simple room , with ventilator. With mosquito net around bed, terace with seavieuw, Quiet surrounding
beach, Relax
From the moment Dela met us at the airport until he dropped us back off, both he and his wife was there to assist in whatever we needed or to answer any questions. Whether it was a ride to the fish market, the local market, or accompany us to the Accra market, they were extremely polite, helpful, and enthusiastic. The house was better than advertised. The area was very quiet and everyone from the beach and surrounding communities always greeted us with smiles. We felt very safe. I could not get enough of the lobsters. They were excellent. The fish were fresh and nice also. Fresh pineapples, mangoes, and oranges were available from a lady who made daily rounds to the house. I would recommend this experience for anyone looking to get back to basics and looking for a quiet relaxing beach getaway.
DAVID
2015-02-22T00:00:00Z
The caretaker (Dela) and his wife (Jane) were there and they were very friendly and helpful. They made me a beautiful fresh tuna on the barbecue. The round houses are charming and you hear the sea all the time. Beautiful birds and very nice trees. On de balcony you can look at the waves. The neighbourhood is also very kind and it is a quiet place. The village New Ningo is at walking distance and a visit is advisable. Also Old Ningo: the fishermen arrive there with their wooden boats at the end of the afternoon. You can buy fresh fish straight from the sea (take a bucket: no plastic bags there!) It felt really good there! Wish I could stay longer.
alice
2014-12-27T00:00:00Z
Het was een hele fijne tijd in het huis van Coco. Zijn vriend, Dela en zijn vrouw, Jennifer, verzorgen het huis en zijn ontzettend vriendelijk. Wij hebben onze tijd hier gebruikt om te ontspannen na een drukke rondreis. Het huis biedt de gemakken van een comfortabele woning, maar wel echt in Ghanese sfeer. Delas rijdt als taxi chauffeur je voor goede prijzen naar de stad etc en voor het huis kan je heerlijk zwemmen en strand wandelen. De mensen in de buurt zijn ook erg vriendelijk en elke ochtend word je wakker met zonsopgang, heerlijk!
iesja
2015-11-08T00:00:00Z
I spent 15 Days here with my family and I have to say it was absolutely WONDERFUL! The managers, Dela and his wife made us feel like we were staying in our own home. They even brought fresh fruit and bread for us each morning, and Dela took us to the local fish market and got us deals on fresh fish. The constant Ocean breezes and quiet atmosphere made for a relaxing family holiday. The listing says that power can be intermittent and that internet is poor, but we only had lights out once and the internet was plenty fast for browsing and reading email. No TV and no AC. That is because you don't need them and they would probably detract from the overall experience. If you want a laid back, stress free place to stay, this is it. I have nothing negative to say about any aspect of our stay, and will stay there again.
Bruce
2016-05-02T00:00:00Z
Dela and his wife were wonderful. Coco also contacted us shortly after we arrived to welcome us. The beach house was ridiculously romantic and private. We are vegan, so we ended up cooking all of our meals at the house. The produce was fresh and tasty. We would definitely consider coming back for another stay!
MICHELE
2016-10-10T00:00:00Z
We stayed at Delabeach Guesthouse for two days and it's been pleasant to say the least. Dela and his wife are friendly and the rooms are quite big. Dela gets you everything you wants and is able to provide you with breakfast at any time you please. Getting to New Ningo might be difficult, especially when you're new to Ghana, but Dela can taxi you from and to the airport. Tema is the closest city to Ningo, which might be a good town visit first upon arrival. It is quite small and nowhere near as busy as Accra or Kumasi, even though you can surely taste Ghana's diverse flavours there. Going back to Ghana would definitely mean going back to New Ningo for me. Its a great place to spent your first days in Ghana and to adjust to Ghana's dynamic lifestyle.
Niek
2015-10-05T00:00:00Z
Nous avons passé un séjour inoubliable à Ningo, notamment grace à la gentillesse de Dela et Jane. Ils se sont portés disponibles tout au long du séjour pour nous rendre service et nous en sommes très reconnaissants. Coco et Marije nous ont également laissé tout le nécessaire pour passer un long séjour (5 semaines) dans le confort (lits confortables, machine à pain qui nous servaient presque tous les matins, hamacs pour se détendre, cuisine extérieure fonctionnelle, provisions...) Nous avons donc passé un séjour très agréable dans un cadre idyllique (très jolie maison située au bord de la mer). Merci infiniment pour tout, nous reviendrions sans hésiter !
Léa
2016-09-06T00:00:00Z
Rodzaj pokoju
Całe miejsce
---
Rodzaj nieruchomości
Chatka
---
Mieści
4
---
Sypialnie
New Ningo, Greater Accra, Ghana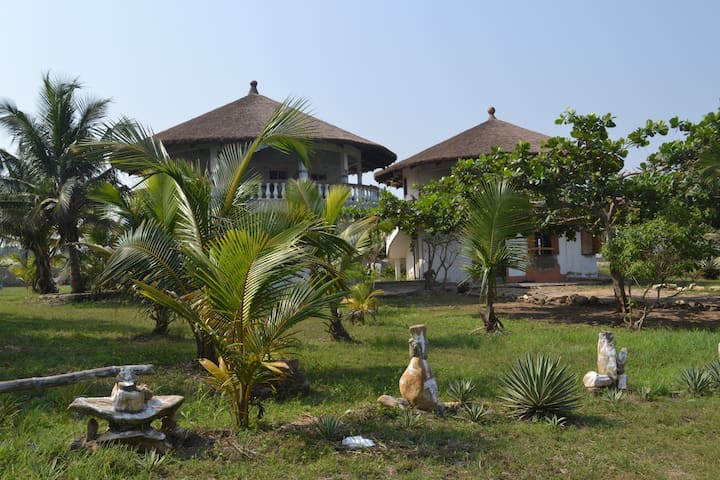 Wir haben viel sie für den Urlaub gereist, Abenteuer, Familienbesuche, Wirtschaft, etc. und verstehen, was für welche Art von Urlaub benötigt wird. Wir werden versuchen, mit Hilfe von Ihnen zu verstehen, was in Bezug auf Unterkunft für Sie wichtig ist und wird sich bemühen, diese Bedürfnisse zu erfüllen. Diese Wohnung ist ein schicker Serviced Apartment-Komplex hat mit Hotel-Einrichtungen im Osten Legon - Tetteh Quarshi Gebiet in Zentral Accra. ANLAGEN: Fitnessraum und Yoga Studio Dachterrasse mit Pool Gemeinschaftsgärten Tiefgarage Concierge Rezeption Free Internet und DSTV Wöchentliche Reinigung (kann Kosten je nach Dauer des Aufenthalts anziehen) Sehenswürdigkeiten in der Nähe: Tetteh Quarshie Interchange (500m) Accra Mall (600m) Kotoka Airport (2 km) Airport City (1,5 km) Osu / Oxford Street (4,0 km)
Rodzaj pokoju
Całe miejsce
---
Rodzaj nieruchomości
Apartament
---
Mieści
4
---
Sypialnie
Accra, Greater Accra Region, Ghana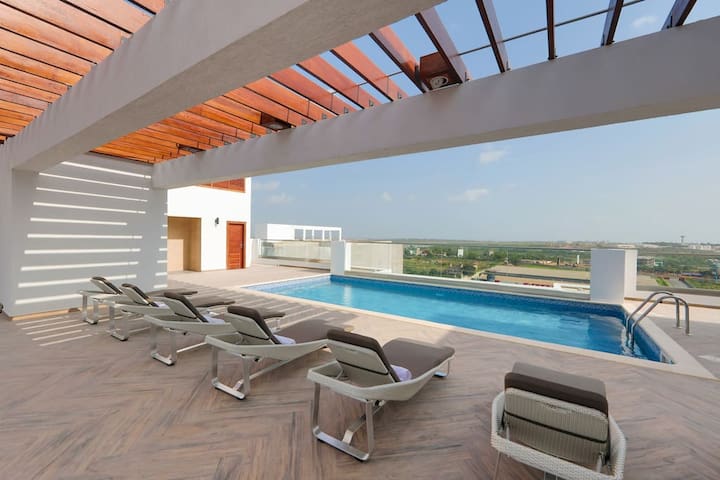 Great new 3 bedroom house semi detached house. Are you planning a business or leisure trip to Accra- Ghana and looking for a hideout? Then our cool & very comfortable 3 bedroom furnished house is a place away from home. Located in the gated community of HFC estates, Celebrity Hills, Sakumono, near Tema. Very close to Tema Beach. Also closed to the major shopping mall. There is a new children playground as well for the kids.
Very close to Tema Beach. Also closed to the major shopping mall. There is a new children playground as well for the kids.
Rodzaj pokoju
Całe miejsce
---
Rodzaj nieruchomości
Dom
---
Mieści
5
---
Sypialnie
Tema Metropolitan, Greater Accra Region, Ghana
A rólegur, aðgengilegur, og tryggt samfélag á HFC Estates Tema bandalagsins 25. 7 mínútna fjarlægð frá Tema hraðbrautinni og 22 mínútur frá Accra Airport. Betri gildi en hótelherbergi dvöl á svipuðum stöðlum.
A rólegur, aðgengilegur, og tryggt samfélag á HFC Estates Tema bandalagsins 25. 7 mínútna fjarlægð frá Tema hraðbrautinni og 22 mínútur frá Accra Airport. Tilvalið gisting ef þú ert að skoða Ghana fyrir nokkrum vikum, mánuðum eða dvelja á meðan á verkefni í allt að eitt ár (eða jafnvel fleiri) með fjölskyldu þinni eða lið. Þetta er tveggja herbergja hús með fjögurra stjörnu hótel huggar á broti af verði á einum hótelherbergi?
Rólegur og öruggur miðja-flokki hverfinu. Auðvelt aðgengi að miðbænum og ýmsum áhugaverðum í Accra. A kjörbúð, apótek og veitingastaður eru staðsett innan 100Meters eign, veita greiðan aðgang að mat og ýmsum birgðum.
I enjoyed living in this house. The host was fantastic : she perfectly performed her duties (checking me in and out). She was interesting and I learnt a lot from my conversations with her. I definitely recommend this house. I think it is perfect for couples or small groups of friends.
Emmanuel
2016-08-15T00:00:00Z
My stay in Tema/Accra in Richard's house took place in March/April 2016. The entire house was very clean and all furniture and commodities described in the airbnb notice were available and in good working condition. The check in welcom was perfect and the surroundings are very quiet and pleasant. I can only recommend this house for all guests visiting Tema for professional and personal reasons. Only be aware that you need a personal / rented car or a taxi if you wish to move to Accra or Tema center. Christian
Christian
2016-04-07T00:00:00Z
The house is in a residential and quite area in Tema. It is a very spacious place, decorated in a modern way and has all comforts that somebody would have in a well equipped house. There is even a home cinema and satellite TV. In fact the house looks exactly like in the photos. The bedrooms are very spacious and well furnished. There is new AC in all the rooms of the house. The bathroom is spacious and there is plenty of hot water with pressure, which is rare in Ghana. The kitchen is fully equipped and very modern. In few words, I think it is very rare to find such a standing in Ghana. The host is extremely responsive any time of the day by email. I recommend it without any doubt.
Niko A.
2016-04-20T00:00:00Z
The listing was exactly as stated. Richard was a excellent host. We enjoyed our stay in Tema
Franklin
2015-05-16T00:00:00Z
I booked No. 47A for my family when they visited Ghana in October 2016. The feedback they gave me was amazing. The house looked exactly the way it was on the website and even more. The check in procedure was excellent and they enjoyed their stay very much.
Ellen
2016-10-29T00:00:00Z
My host was swift to respond and so gracious, as was his property manager. He even got a coffeemaker before I arrived and had it waiting for me when I inquired before my visit. He let me check in early because my flight arrived in the early morning. Everything needed was in the house; it was clean, and in a nice, secure, convenient neighborhood. The air conditioning was great and appliances like new, too. I had a wonderful stay in Ghana! Thank you!
Dorothy
2016-07-10T00:00:00Z
My family and I really enjoyed our stay in Richard's house. The entire house was very clean and specious as described. Richard's wife was always at our service and willing to help in times of difficulties .
Reynolds
2016-06-17T00:00:00Z
The old charms remain . Peaceful, spacious and clean . Definitely suit those who prefer a place away from the noise and happenings of city life and that one call also call a home away from home .
Clint
2016-02-25T00:00:00Z
Rodzaj pokoju
Całe miejsce
---
Rodzaj nieruchomości
Dom
---
Mieści
4
---
Sypialnie
Tema, Greater Accra, Ghana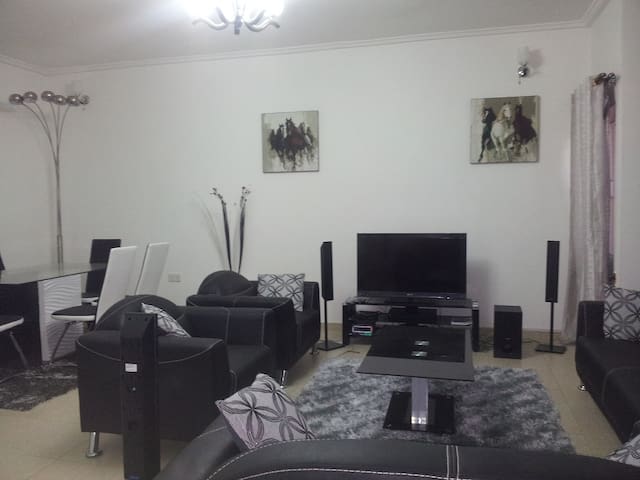 Vorstand eingerichteten Raum in Osu rechts in der Mitte der Oxford Street, wo Sie Zugriff haben, können leicht zu einem zu transportieren, wo Sie in der Stadt besuchen möchten. Alle grundlegenden Annehmlichkeiten, damit Sie sich wie zu Hause fühlen wird mit Sicherheit zur Verfügung gestellt. Preise reichen von $ 50 bis $ 120 pro Nacht.
Rodzaj pokoju
Pokój prywatny
---
Rodzaj nieruchomości
Apartament
---
Mieści
1
---
Sypialnie
Accra, Greater Accra, Ghana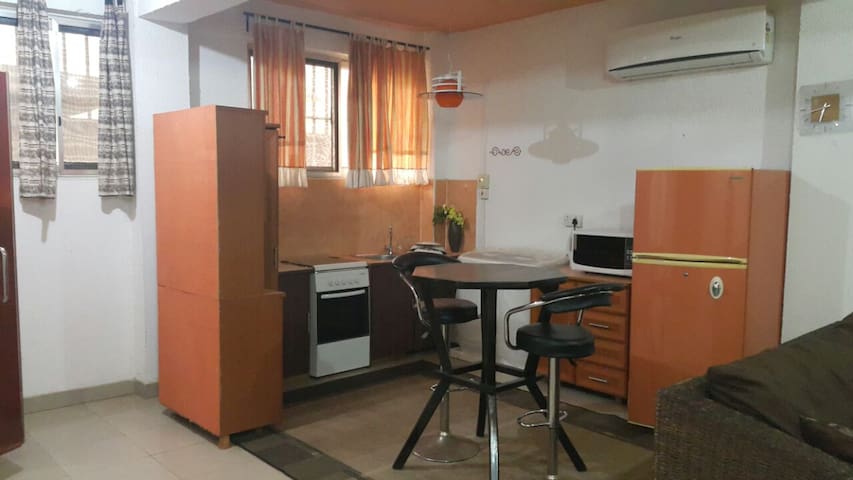 I have stayed in many Airbnb places all over the world and glad that decent ones like this have come to Ghana. As a guest, you simply want a clean and comfortable place and Laura's place is just that. Communication was quick. The staff, especially Gloria, is very helpful. She makes sure that the place has everything I need. The apartment is lovely and spacious. It is easy to find by taxi. You can take Uber anywhere. It's a bit far from the beach if you want to go but that's that. Overall, I was very happy with the place and would highly recommend it.
Jams
2017-04-09T00:00:00Z
Laura's airbnb is a great one, definitely one of the best I have experienced. The location is convenient, the room is perfect and equipped with everything you need (even a water dispenser and coffee). The host and helpers around the house are all lovely. Breakfast is great. The apartment is literally in a sports complex, there is a gym available for a very affordable rate and an olympic sized swimming pool, which is free to use.
Bruno
2016-08-28T00:00:00Z
I alway stay here when I am in Accra, value for money is great and the hosts are fantastic
Bruno
2017-01-13T00:00:00Z
This apartment is comfortable and well situated near shopping, restaurants, and bars. Laura and her family live nearby and are gracious hosts.
Chris
2017-03-20T00:00:00Z
Merci Laura pour ta disponibilité et Ton assistance. En juste une nuit j'ai pu Bien me sentir chez Laura.C'est une charmante personne agréable et aux petits soins. Ma chambre était spacieuse et la salle de bain aussi .. Le séjour lumineux ! Bon rapport qualité prix ! Le bon plan pour Accra !
Renee
2017-01-17T00:00:00Z
I had an amazing stay in your place! Laura's place changed upside-down my impression of Ghana and Africa in general. Rob, husband of Laura, and Gloria were there for me. Especially Gloria, she was always available and she was very kind. I went to Cape Coast and had a Canopy Walk in Kakum National Park (4-hour drive from Accra, yes imagine the anxiety I had when I was planning). But Gloria assured me that Ghanaians are peace-loving peopl. She helped me find a private car and a good driver. By the way, the room was so neat. I had a spacious private comfort room and the whole apartment is cozy. The neighborhood is so calm and the people are amiable. Me daa si Laura!
Jo-Dann
2017-03-28T00:00:00Z
This was my first time in Accra travelling on my own. Laura is a fantastic host. She made me feel so welcome during my stay and suggested places I could go to get my hair braided, arranged taxis etc. Nothing was too much for her. Her home is beautiful in a safe building complex with amenities close by. There's a bureau de change in the A & C Mall (5 minutes away) that offers a better rate than the forex by the residential complex. My room overlooked the sports complex, so it got a bit noisy early some mornings when people were playing on the football pitch but apart from that, it was a great stay. Would definitely stay here again next time in Accra. It's also great value for money compared with some hotels in Accra.
I
2017-01-11T00:00:00Z
Laura is an extremely gracious and welcoming host! She gave every effort to make sure our stay was comfortable including making her housekeepers available to prepare breakfast or do laundry, refill the spring water dispenser, and keep the apartment clean throughout our stay. The apartment is on the 3rd level of a medium sized complex, with a TON of security guards 24/7. It is very safe. (Note that there is no elevator, but it's not difficult to reach.) The apartment is huge and minimally but tastefully appointed. The exterior includes a sitting area shared with Laura and her sister which she has filled with lots of nice plants. That facility includes an amazingly huge and well-kept modern gym (Pulse), which can be used for GHS 30-40 per visit. There is also a 24/7 pharmacy, and you are within 200m walk to the A&C mall which has a huge grocery store, cafe, multiple restaurants, banks, and shops. The room has an adjoining bathroom with plenty of hot water and a spacious shower. The room has a small terrace from which you can look onto the soccer / football academy at which there are usually games in the morning and late afternoon. It's not loud, and is quite entertaining to watch! All in all, a wonderful experience with a great host and apartment in a prime location.
Chris
2016-11-19T00:00:00Z
Rodzaj pokoju
Pokój prywatny
---
Rodzaj nieruchomości
Apartament
---
Mieści
2
---
Sypialnie
East Legon , Accra, Ghana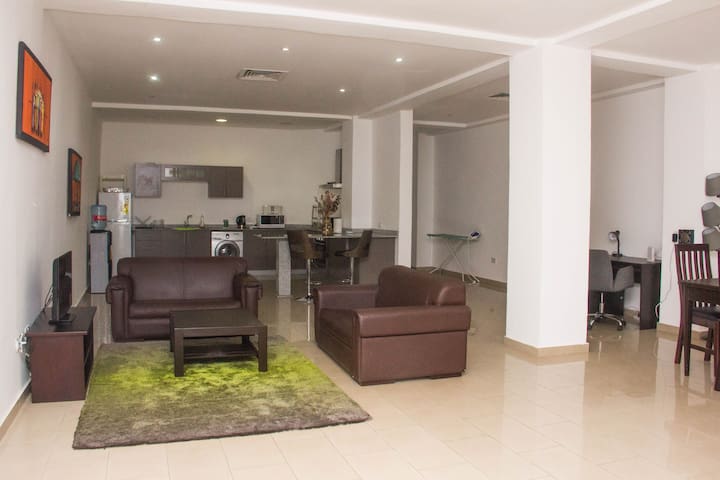 Mein Platz ist nahe dem Stadtzentrum, Flughafen, Kunst und Kultur, Ridge Hospital, Deutsche Botschaft Krankenhaus, West African Prüfungszentrum, 5 Minuten vom World Trade Centre, 5 Minuten vom Nationaltheater. Sie werden meinen Platz wegen der bequemen Bett, die Küche und die Gemütlichkeit lieben. Mein Platz ist gut für Paare, Solo-Abenteurer und Geschäftsreisende.
Der Ort verfügt über 2 Lounge-Bereiche - eine im Erdgeschoss und ein Obergeschoss. Schöner Ort für Sie zu entspannen.
Ruhig, sicher, schön, sehr edel.
Was warmly received by the host even after same day notice, and was always available and happy to help. Felt like I have the the whole place to myself. Felt like family member helping out.
Edmond
2017-01-09T00:00:00Z
The accommodation is truly a home away from home. It is absolutely nice and worth every penny or should I say cedi. The host is excellent and very responsive. Also, ensures you feel comfortable and at home. Really enjoyed my stay at the house while in Accra and will recommend to any friend.
Ikenna
2016-08-22T00:00:00Z
I'm so thankful Airbnb is in Ghana! And more so, I'm so grateful to have come across Sandile's listing. His home gave me the headspace needed to work, relax and self-care (I made use of the gym!) What's more is that Sandile is such a genuine and considerate person. I loved our long conversations as though friends catching up, and I also respect that I was able to have my own space when necessary to do my work. Overall, a very "human" experience... Thank you for your kindness and consideration Sandile! You have a place in London!
Kaili
2016-11-01T00:00:00Z
the host himself wasn't there but the flat care taker and driver was available instead. They where very friendly and very hospital, the flat itself was very comfortable , we enjoyed our stay and dreaded leaving while knowing we will come back again.
Victoria
2016-10-09T00:00:00Z
Sandile was an excellent host in all regards. The facility is well located and roomy. . . I was very impressed with Sandile's courtesy and his efforts during my stay. I enjoyed my conversations with Sandile has superb knowledge of Africa as a whole and Ghana Economic activities etc. I look forward to requesting with him again as the need arises.
Bradley
2016-09-29T00:00:00Z
Great apartment, spacious and comfortable.
Akosua
2017-01-02T00:00:00Z
Rodzaj pokoju
Pokój prywatny
---
Rodzaj nieruchomości
Apartament
---
Mieści
4
---
Sypialnie
Accra, Greater Accra, Ghana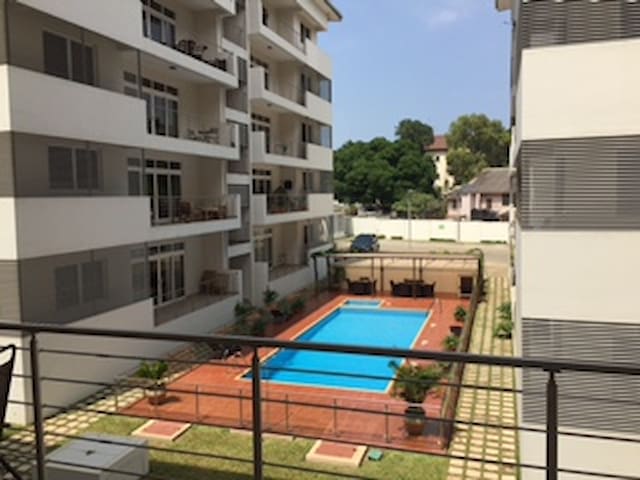 Crown Apartment verfügt über eine stilvolle, meist 2-Zimmer-Apartments im Herzen von Accra einem der exklusivsten Viertel von Flughafen Wohngebiet. Die Wohnungen befinden sich auf 3 Etagen. Mit 23 individuell gestalteten 2-Zimmer-Wohnungen mit voller Größe Küche und ein 1 Schlafzimmer-Studio, geräumige Luxus ist unser Markenzeichen. Das Anwesen verfügt über überdachte Parkplätze, einen Pool, ein Restaurant und eine Bar, 24 Stunden Sicherheit und 24-Stunden-Service, um Ihnen mit allem, was Sie brauchen.
Diese riesige 2-Zimmer-Wohnungen ist wirklich das Markenzeichen von Crown Apartment mit zwei getrennten Schlafzimmern, ein Bad und einen Balkon Beim Betreten sind Sie durch die schiere Raum beeindruckt. Die geschmackvoll eingerichtete Lounge - mit Kunstleder-Suiten, Tisch in der Mitte, Flachbildschirm-TV - führt nahtlos in den Essbereich, Frühstück Bar und in voller Größe Küche mit einem Gas- / E-Herd, Backofen und Dunstabzug. In den Schubladen finden Sie Gedecke, Besteck und Geschirr für maximal vier Personen. Es gibt einen großen Kühlschrank mit Gefrierfach und eine gut bestückte Minibar. Die zwei getrennte Schlafzimmer haben in voller Größe Schränke, eine Arbeitsstation, und eine individuell regulierbare Klimaanlage eingebaut. Das Bad, in voller Größe Badewanne mit Duschmöglichkeit und heißem und kaltem Wasser mit, liegt etwas außerhalb und ist von jedem Raum leicht zugänglich. Diese sind wirklich geräumige Apartments für den Preis von einem normalen Hotelzimmer!
Crown Apartamento Hotel liegt an einer ruhigen Straße im Flughafen Wohngebiet. Diese erstklassige Lage ist die Heimat vieler Botschaften und weniger als fünf Minuten vom neuen Airport City Einkaufszentrum Entwicklung. Es ist nur wenige Gehminuten von der renommierten Nyaho Clinic, und weniger als zehn Minuten vom 37 Militärkrankenhaus. Die bis Markt Vierteln von Roman Ridge, Airport West und Dzorwulu sind alle innerhalb von fünf Minuten. Innenstadt Accra und das Verwaltungszentrum ist etwa 30 Minuten auf einem durchschnittlichen Verkehrsfluss; und die Nähe zu den Tetteh Quarshie Austausch bedeutet, dass Sie schnell und einfach Zugang zu den wichtigsten Routen aus Accra nach Tema, Aburi, Cape Coast und Kumasi.
Fine, good value, could have used just a bit more attention to details. Would stay again for personal travel, but for business would look for a place with solid wifi in the room.
Ivan
2017-02-21T00:00:00Z
Great location if you need to be near the airport. The neighborhood was safe and had great selection of restaurants and shops. Highly recommend!
Angie
2017-03-13T00:00:00Z
Rodzaj pokoju
Całe miejsce
---
Rodzaj nieruchomości
Apartament
---
Mieści
4
---
Sypialnie
Accra, Greater Accra, Ghana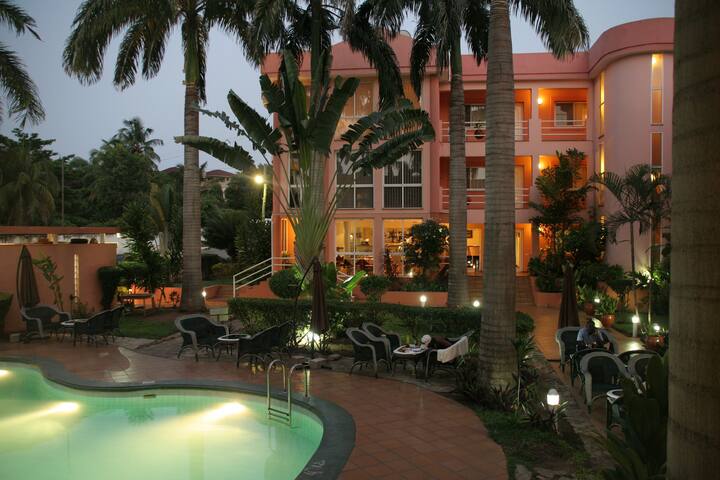 La casa está situada en una finca de la puerta en un vecindario local de primera. El medio ambiente es muy fresco y ordenado, con valores fuertes. Todas las habitaciones disponen de baño con baño y aseo. Tenemos un total de tres habitaciones (3) baño que comparten un área de comedor, balcón y compuesto que no son accesibles de alojamiento a su conveniencia. El ritmo no está lejos de la playa.
Je umístěn ve středu do okolí horní třída, která chůze a běh cesta.
Very great location. Not too far from shops and the city centre. The place is very clean and fresh towels provided everyday. Amoako was very pleasant and very helpful. His attitude is just superb. I will definitely recommend this place to anyone who wants a clean and friendly environment to stay.
Mark
2017-04-09T00:00:00Z
The host Amoako is super friendly and forthcoming. He helped us in finding our way around and organising transportation. He prepared delicious breakfast every morning :) Highly recommended to stay here. We will come back when returning from traveling to other cities. Thank you.
Ivo
2017-04-01T00:00:00Z
thank you for give us crean (URL HIDDEN) is so comfortable!
啓泰
2017-02-27T00:00:00Z
Very helpful host who was responsive to all my needs. Modern accommodation on a modern Estate. Very Nice.
Zing
2017-01-18T00:00:00Z
Very clean and tidy place to stay. Overall experience is nice. Not very dar from aiport too. Hospitality from host was also nice. I will definitely recommend this to other.
Sanjeev
2016-12-24T00:00:00Z
Amoako made me feel at home, the description was on point and the neighborhood is great - I would definitely stay there again
Eric
2017-01-03T00:00:00Z
Emmanuel is a great host! My flight arrived around 10pm and I was allowed a late check-in. Breakfast was always great and Emmanuel was very accommodating. For some reason I had issues with my Uber app but Emmanuel was always able to secure a ride for me. I would recommend Emmanuel to anyone who is looking for a great value and a reliable host.
Afi
2017-04-12T00:00:00Z
Rodzaj pokoju
Pokój prywatny
---
Rodzaj nieruchomości
Wikt i opierunek
---
Mieści
2
---
Sypialnie
Accra, Greater Accra Region, Ghana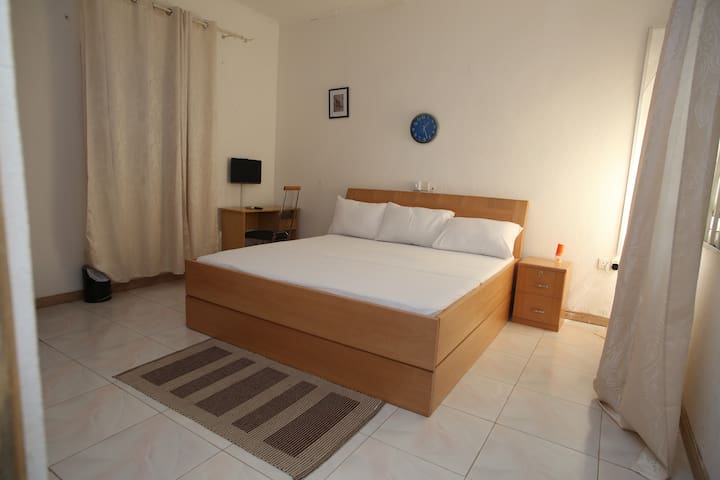 Die Lodge liegt in East Legon, Accra, Ghana eine lebendige Vorort von Accra entfernt, das zum Flughafen und der University of Ghana nah ist. Es ist ideal als Ferien oder Ferienhaus oder für Paare, Solo-Abenteurer, Wissenschaftler, Künstler, Geschäftsreisende, Familien (mit Kindern) und all diejenigen, die die Freuden der ruhige, gemütliche Behausung zu schätzen wissen. Der Preis ist inklusive unserem kostenlosen Frühstück.
Die Lodge bietet individuelle Zimmer oder möblierte Wohnungen für über Nacht, kurz- oder langfristigen Aufenthalt. Alle Zimmer sind en-suite. Die Lodge verfügt auch über einen Außen Lokal, wo die Gäste Speisen bestellen können.
Great value for money and great atmosphere and staff! Warmly recommended
sylvain
2016-11-27T00:00:00Z
Beautiful hotel
Hubert
2016-10-17T00:00:00Z
A fantastic new place in Accra. We have been traveling to Ghana in the past years and tried many places. This one is outstanding with supurb rooms and verrry friendly staff. Even the food is good and also breakfast. The only hurdle is traffic in the morning but hé that is Accra for you.
Aart
2016-10-15T00:00:00Z
Great place to stay in accra
Juliet
2017-03-11T00:00:00Z
I had an excellent stay. The property is very tastefully built and decorated, and more importantly for me, perfectly matches my aesthetic. The amenities onsite are great, and it is close to a bustling area with local bars and eateries. The staff/hosts are exceptional. They deliver a level of service better well above the average for Accra.
Kwamina
2017-04-04T00:00:00Z
Had a great stay!
Hubert
2016-10-22T00:00:00Z
Rodzaj pokoju
Całe miejsce
---
Rodzaj nieruchomości
Domek gościnny
---
Mieści
16
---
Sypialnie
Accra, Greater Accra Region, Ghana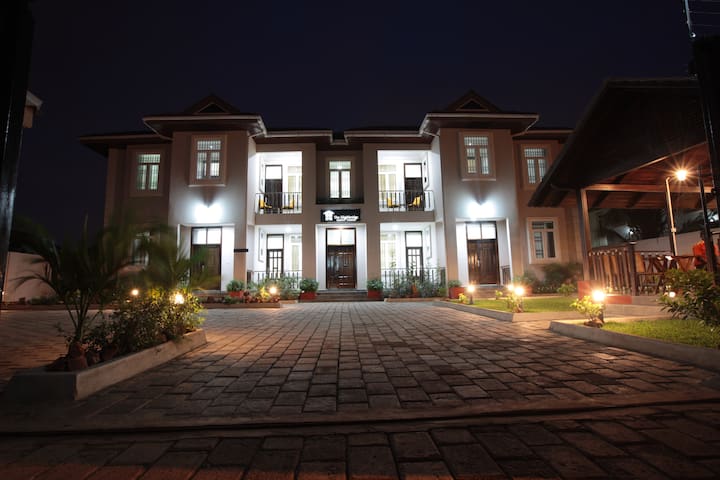 Mein Platz ist etwa 15 Minuten von den Restaurants und Nachtleben zB der berühmten East legon. Sie werden meinen Platz wegen der bequemen Bett, die Küche, die Gemütlichkeit, die Privatsphäre und die Sicherheit lieben. Mein Platz ist gut für Paare, Solo-Abenteurer, Geschäftsreisende, Familien (mit Kindern) und große Gruppen. Ich habe 24 Stunden unbegrenztes WIFI. Mein Platz ist ein 10 private Zimmer-Haus und jede Buchung ist für ein privates Zimmer, ideal für 2 Personen maximal. Um das ganze Haus buchen haben Sie 10 Zimmer zu buchen.
Mein Platz verfügt über 10 Zimmer mit jeweils eigenem Bad und WC. Deshalb hat jede Buchung ist für 1 Zimmer und nur maximal 2 in einem Zimmer bleiben.
Addy's warm heart, humour, open mindedness, kindness and great personality made my stay in Ghana a beautiful, not-to-forgotten experience! I immediately felt at home. Everyone in his house is a joy to be around. I had my privacy yet I was welcome to hang out and watch TV (even though I had a TV in my room.) They took some time off to show me a bit of Ghana and I honestly feel that the little money I paid for accommodation cannot make up for all they did for me! This will always be my home in Ghana! Thank you, thank you, thank you! It's people like you that make this world a beautiful place!
Wini
2016-07-07T00:00:00Z
Addy was very helpful in navigating the city and providing transportation options. He was very warm and friendly and was always on-hand to help out or answer any questions
Ayodeji
2016-05-28T00:00:00Z
Everyone in the house was super-friendly and welcoming. It was always possible to reach someone with any questions one might have. Addy, his girlfriend, the cleaning lady and the night guard were all very helpful (e.g. dropping me off on their way to town, showing me the way to the bus stop, coming to open the gate earlier for me). I had a very pleasant stay.
Lyn-Kristin
2016-11-04T00:00:00Z
Hi, I share Addy's house and like the place very well. Addy is very friendly and helpful. A calm place to be with WiFi.
Theo
2016-09-28T00:00:00Z
Rodzaj pokoju
Pokój prywatny
---
Rodzaj nieruchomości
Dom
---
Mieści
10
---
Sypialnie
Adenta West, Greater Accra, Ghana
Gated Community, 24 patrouilles de sécurité, éclairage des rues, accès facile à l'aéroport, système de drainage souterrain, TVS LCD dans toutes les chambres, LESSIVEUSE, INOX CUISINE (website hidden) AVEC AC dans toutes les chambres, DSTV ETC.
Trois auto chambre contient maison mitoyenne à louer dans une communauté fermée à Tema Communauté 25 Devtraco immobilier. La propriété est située à 15 minutes en voiture de l'aéroport Kotoka évitant ainsi le trafic Accra. Il est livré avec une patrouille de 24 heures de sécurité, l'approvisionnement en eau constant, entièrement meublé avec Air conditionné dans toutes les chambres, dans les armoires de chambre construites, salle à manger ensemble, canapés vivant, cuisine équipée avec appareils en acier-cuiseur inoxydable, four micro-ondes, réfrigérateur double porte, machine à laver etc .Toutes les chambres sont équipées d'une télévision murale avec DSTV (en option). La propriété est située dans la meilleure communauté fermée à Accra. route goudronné tout autour, système de drainage souterrain et la meilleure sécurité. Il fournit l'alternative parfaite à l'hôtel hébergement Le tarif est de 45 £ par jour disponible à partir du 1er Septembre 2015. Offre valable pour un long séjour. Intéressés doivent contacter au Royaume-Uni (numéro de téléphone caché), GHANA (numéro de téléphone caché)
Secured communauté fermée, avec une patrouille de 24 heures, l'alimentation en eau constante avec réservoir. Devtraco ESTATE est connu pour être préféré quartier résidentiel pour beaucoup d'expatriés laissant au Ghana en raison de sa sécurité et de la sérénité de toute la communauté.
It was absolutely beautiful and just as described. Perfect place to be for a relaxing vacation. It was a very safe gated community with security at the gate. Most people in the neighborhood are also avid travelers. I made some few friends who were also from the USA visiting. The caretaker was very helpful. He went above a beyond the call of duty. The rooms were spacious and comfy too. The weather in Ghana was very warm and the air condition in the rooms were very helpful. My host was also very attentive and receptive. He answered questions promptly and always asked if everything was ok. I will definitely use the place again. You wont be disappointing with the place.
Esther
2016-03-30T00:00:00Z
Rodzaj pokoju
Całe miejsce
---
Rodzaj nieruchomości
Dom
---
Mieści
6
---
Sypialnie
Tema, Greater Accra, Ghana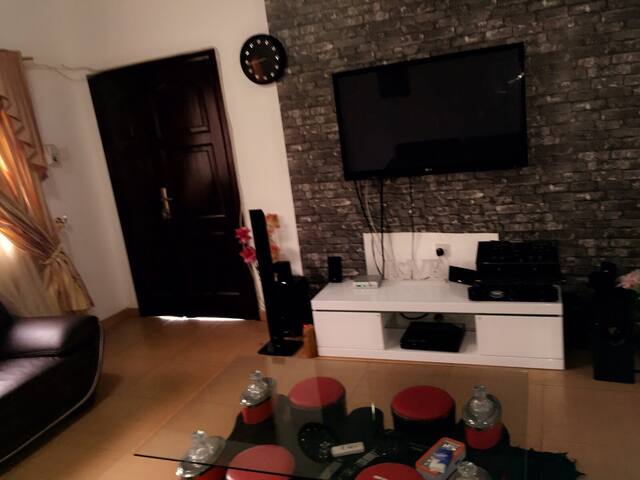 We welcome you warmly to the Palas retreat. Owned by a family who have century old links to Akropong. The peaceful villa has a beautiful view of the Akropong rainforest, is fitted with modern amenities and is primarily safety focussed. Our kind and trusted caretaker will be on the ground floor which is locked from where you will stay on the top floor. Whatever food you want at whatever time, tips on fantastic local bicycle tours, local history, clothes washed/dried, he is there to help.
Safe, quite
Wij hadden eerst 5 dagen geboekt, maar hebben onze verblijf verlengd. Het is een geweldige rustige omgeving. Mary (wife off The house keeper) heeft ons het Akwaaba gevoel gegeven. Het is een aanrader voor natuur liefhebbers de omgeving en mensen zijn vriendelijk. Ideale locatie voor hiker / bikers Min puntjes geen WiFi wel een internet café op loop afstand. Weinig te doen voor kinderen. Mel& Mea
Melitia
2016-08-20T00:00:00Z
It was a great location. Very peacful and the weather up there is excellent. It is a short drive to Accra and most places are accessible with public transportation.
Kwadwo
2017-01-02T00:00:00Z
Rodzaj pokoju
Całe miejsce
---
Rodzaj nieruchomości
Willa
---
Mieści
5
---
Sypialnie
Akropong, Eastern, Ghana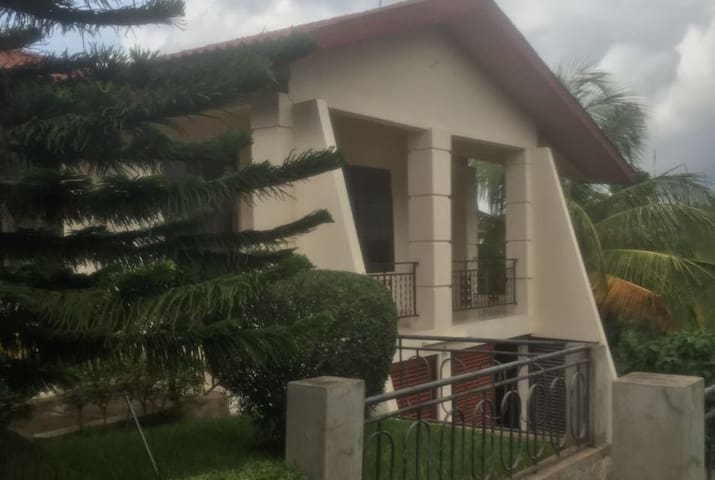 Batsoona Villas è un self-catering situato al largo Spintex Road a (URL HIDDEN) è un buon livello di tre camere da letto villa si sviluppa su due piani con aria condizionata in salone e il maestro (URL HIDDEN) altre camere da letto hanno ventilatori a soffitto.
C'è una cucina completa con forno a microonde e forno. Altri servizi come lavanderia sono offerti. La struttura offre un parcheggio gratuito. La struttura dispone anche di un serbatoio d'acqua e di un generatore di corrente da utilizzare in caso di interruzione di alimentazione elettrica di alimentazione. Questa villa è dotato di misuratore di pre-pagate che sarà caricato con 20 cedi di credito al momento del check in. Il cliente è responsabile per l'acquisto di altro, come richiesto. Il personale sarà in grado di assistere con this.The cliente paga per il costo del carburante per i generatori di energia in caso di interruzioni di corrente. Tutti gli ospiti sono tenuti a firmare un contratto di locazione prima di passare nella proprietà. La struttura si trova in una tranquilla gated community residenziale con guardia di sicurezza 24 ore.
La struttura si trova in una tranquilla comunità gated residenziale con 24 ore di sicurezza guard.The Villa si trova a circa 15 minuti a piedi dalla strada principale, quindi si consiglia di avere l'uso di una macchina per assoluta facilità di accesso. I benefici villa da tutte le amenità tutto sulla strada comunitaria 18 Junction che è solo 10 a 15 minuti a piedi. La barra cortile nelle vicinanze e ristorante è un posto comodo per rilassarsi con un drink.
The place is really good and the photos are as the place. It's also really clean and was so comfortable to stay in. The only problem was that it was too far from the main town Osu ,(if you want to go there all the time) but you can easily get access to taxis to go. There are also shops and mall that you can easily get stuff from. There are taxis around which the caretaker was always ready to get. The direction was also tough to understand, let hope the host puts up a map that makes it easy to get there. All in all, I'd stay here again.
Tabitha
2016-11-02T00:00:00Z
Joe's place is an excellent option for family vacation or long stays in Accra. While location may be a bit out of the way, it's easy to get an uber to get around town. The housekeeper is also on hand 24/7 to assist with public transportation and other needs that may come up. Joe also checked in frequently to make sure there were no issues. We thoroughly enjoyed our stay and plan to be back the next time we are in Accra.
Yorm
2017-01-02T00:00:00Z
Thank-you for your nice and warm accommodation. We really had a good time, but we also had little problems, it was difficult to have hot water in the evening, and the wi-fi ot never connect at all. Also there were no extra towel, toiletry's. Lastly is electrical issue we had to buy many times of the pre-paid lights. This were little problem we had. But we enjoyed our stay. Thank
Nico& Kazuyo
2017-01-23T00:00:00Z
Rodzaj pokoju
Całe miejsce
---
Rodzaj nieruchomości
Dom
---
Mieści
6
---
Sypialnie
Accra, Greater Accra, Ghana
Möchten Sie die Natur zu verbinden, eine afrikanische Erfahrung, atemberaubende Ausblicke und haben Großstadtleben direkt vor der Tür? Die Bergspitze Einstellung + kühles Klima weniger als 25 Minuten vom Zentrum von Accra. (ANMERKUNG: VODAFONE MOBILE WI-FRI R207 JETZT IN ALLEN WOHNUNGEN INSTALLED SO GUT FAST INTERNET VERFÜGBAR)
Ein Aufenthalt im Safari Lodge ermöglicht es Ihnen, die Natur, das Dorfleben zu erleben, Frieden und Ruhe BUT weniger als 25 Minuten vom belebten Zentrum von Accra entfernt. Die Lodge ist ein 'Zurück zur Natur' Art des Ortes. Es gibt Solarlampen für, wenn es Stromausfälle und aufgrund der Höhenlage des Hauses ist es kühl besonders nachts so Klimaanlage nicht notwendig ist. Wir versuchen wirklich Wasser in unserer Lodge und unsere stolz auf unsere grünen Referenzen zu bewahren. Auch läuft Internet-Modem auf einem pay as you Basis wie in viel von Ghana gehen, aber diese können für nur ein paar Dollar belastet werden. Wach am frühen Morgen bis zu Vogelgezwitscher und üppige Berge, wie Sie durch Ihre Gardinen gucken. Nach dem Frühstück auf der Terrasse die Sonne über die Hügel beobachten steigt die steilen Hügel zu lebhaften, heiß und staubig Accra nach unten. Am Abend nach der kühlen Ruhe der Safari Lodge zurück. fühlen Sie werden buchstäblich die Luft freshen und cool, wie Sie wieder die steilen Hänge steigen, während die funkelnden Lichter von Accra unten zu beobachten. Ein Vorteil dieser kühlen Klima ist es sehr wenige Mücken in Safari Lodge. Das große Haus ist in zwei Wohnungen aufgeteilt. Jede Wohnung verfügt über zwei Schlafzimmer ein angrenzendes Bad, (Natur und eine atemberaubende Aussicht hat nun ein zweites Badezimmer und Flach Coconut hat ein extra Gäste-WC) Küche, Essbereich und Wohnzimmer. Beide Wohnungen verfügen über große Terrassen, wo Sie im Freien speisen können oder einfach nur sitzen Ihr Lieblingsgetränk schlürfen die Sonne aufgehen zu beobachten oder die Berge versinken über. Beide Wohnungen sind komplett selbst in ihren eigenen Gärten enthalten. Die Gärten sind voller Obstbäume, Papaya, Mandarine, Zitrone, Limette, Guave und Banane und den Anwalt.
Die Nachbarschaft um Safari Lodge ist spektakulär. Es verfügt über ein afrikanisches Dorf Umwelt, sondern ist auch ein Teil von Accra, in den nördlichen Vororten zu sein. Die umliegenden Berge sind voll von Wanderwegen, die unerwartet in einem abgelegenen Dorf am Ende kann das in der Zeit stecken scheint. In der Nähe ist ein mountian-Fahrradverleih Unternehmen, in dem Sie Führungen durch die umliegende Landschaft mit dem Mountainbike nehmen können oder einfach nur wandern. Aburi Botanical Gardens ist nur wenige Minuten entfernt. Hier können Sie Baumarten aus der ganzen Welt zu finden. Die unmittelbare Umgebung hat viele gute Restaurants. Nächster ist Aruba Guesthouse, die unglaubliche Gerichte, Hillburi Hotel und Little Acre hat. Alle Restaurants sind in wunderbaren Boden mit dem spektakulären Blick über die Berge und Accra gesetzt, die Sie nur in diesem Bereich finden, die schnell als "Beverley Hills von Accra" bekannt werden. Bob Marleys Frau Rita Marley ist ein naher Nachbar und die Bob Marley Foundation trägt in diesem Bereich viele soziale Projekte aus. Sowohl Little Acre Hotel and Hillburi Hotel (beide sind nur wenige Minuten zu Fuß von der Lodge, haben erstaunliche Swimmingpools, die Sie verwenden können.
The lodge is absolutely beautiful, the mountain views stunning. Everything works in the lodge and the caretaker caters to our needs and treats us like family. Due to mountain region Internet is poor so recommend you bring a Vodafone Mobile Wi-Fi R207 from Vodafone. Sit back and enjoy a wonderful vacation.
karen
2016-10-13T00:00:00Z
We had a wonderful time in this spacious lodge. The beds and bathroom are nice and the kitchen is functional. The housekeeper is very friendly and helpful. Nearby we found beautiful botanical gardens and enjoyed a cycling tour to Boti Waterfalls.
Jo
2016-09-20T00:00:00Z
I only had the opertunity to talk to the hostess by phone. however the maintainance family are very wonderful people that were more then willing to assist day or night. I believe for the most part the add was a very accrate . The power went off as everywhere in the Accra area. But we did have rechargeable lights. My only negitive thought was that even with the electricity on hot water was not always available and bath water had to be heated on the stove.and water was in short supply. Basicly we all enjoyed our near 18 days there.
Randy
2015-08-21T00:00:00Z
A lovely apartment in an exquisite setting overlooking the Aburi hills. The gardens are amazing and really well looked after by Sam & his family. Our kids had an amazing time and so did we!
Rowan
2016-06-10T00:00:00Z
My husband and I loved staying here. You can't beat the view in Aburi and the layout and feel of the compound is really wonderful. The groundskeeper (Sam) and his family are so friendly and extremely helpful. They do a great job at being available, but also give you tons of privacy. The house was clean and has PLENTY of room to move around. We really enjoyed our stay and will definitely come here again. Also, you can't beat the price for what you get.
Tatum
2016-04-26T00:00:00Z
It's a very nice place to stay around Accra! Thank you
anna
2017-03-04T00:00:00Z
I absolutely loved staying here, the place was beautiful and the scenery was amazing!!! I will definitely book again and tell anyone going to Ghana to book here! The caretaker and his family were also very lovely.
Paula
2016-05-06T00:00:00Z
The house is beautiful, great view and nicely and detailed furnished. The care taker is very helpful and friendly and can even take you for the hidden waterfalls around the area. Great value for the price, great surprise!
Isaac
2015-05-27T00:00:00Z
Rodzaj pokoju
Całe miejsce
---
Rodzaj nieruchomości
Apartament
---
Mieści
4
---
Sypialnie
Greater Accra, Greater Accra, Ghana
Wpisz daty, by zobaczyć pełną cenę. Obowiązują dodatkowe opłaty. Cena może uwzględniać podatek.