Very quiet and secluded area away from the city. Outdoor fitness equipment and personal training sessions available (included in price as option). Farm lands. Beautiful house. Kitchen available. Living room available. My brother and myself live here
Great space. We love being active, exercising, doing yoga, and we are always up for hanging out if you had decided. We also have chickens and rabbits and a dog.
Hiking trails, Granville State Forrest, Granville Gorge
Rodzaj pokoju
Pokój prywatny
---
Rodzaj nieruchomości
Dom
---
Mieści
1
---
Sypialnie
Granville, Massachusetts, Stany Zjednoczone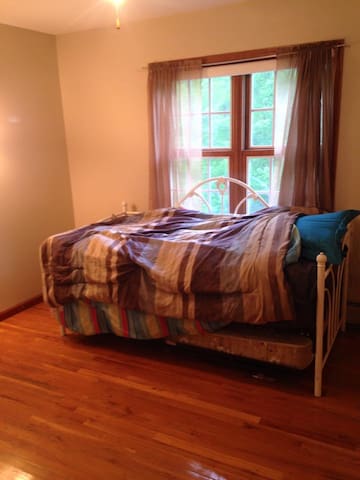 Less B&B, more B&C (is Bed & Cocktail a thing yet?) Breakfast=any (vegan or certified humane) dish you'd care to create in our outrageous cook's kitchen. Take a bath, read by the fire, hangout in the yard or join us for film night. Hike/bike/ski the Berkshire foothills.
Besides your bedroom and the amazing bath (avail at certain hours) you will have access to the enormous double-sided stone fireplace in the media room/living room where we love screening docs and old movies and 70's exploitation and stuff in the evenings. We like to use the TV for Pandora during the day - to play tango and blues and latin jazz and opera and stuff. We have a wood fired "nature tub" that may be available if you want to help us gather wood etc to heat it. We will cook for you/with you if you care to join us. We are mostly vegan. If you just want to escape without social pressure you can hole up and read in peace - we get it. We are usually quiet and always considerate and truly enjoy hosting. We have discounted the rooms while we finish our upstairs renovation!
Granville is a historic village in Western Massachusetts. Very beautiful, very rural. We have one store, a small library, a town square. Famous for our annual Harvest Festival on Columbus Day weekend, the Granville Gorge, the Tunxis trail, and the Granville State Forest. We have five mostly wooded acres with town forest behind our backyard (we often see wild turkeys in the mornings and evenings.)
Very accommodating, allowed us to arrive late... 11pm, found a phone charger for me. Unusual stone construction. Wish we could have lingered!
Doug
2015-10-10T00:00:00Z
The host canceled this reservation 22 days before arrival. This is an automated posting.
Juli
2016-06-03T00:00:00Z
This is a very special place, everything about this airbnb is fantastic -as a home (a most comfortable bed), as a vacation spot (elegant, great amenities), the hostessess (great conversationalists), and the part of the country (from the chickens to the woods).
Alison
2016-06-20T00:00:00Z
Rodzaj pokoju
Pokój prywatny
---
Rodzaj nieruchomości
Dom
---
Mieści
5
---
Sypialnie
Granville, Massachusetts, Stany Zjednoczone
This pretty LAKEFRONT home is perfect for couples, friends, family or business traveler. Located on Congamond Lake "Middle Pond", it's the perfect spot to start your day sipping coffee by the water and end it with a glass of wine by the fire. You'll love it! 25 mins...Big E, Six Flags, Basketball Hall of Fame, Bright Nights. Close to the bike trail, hiking, parks, farm stands, airport, grocery store, restaurants, golf courses and more. Do you need a getaway? this is it!! AMAZING....
WATERVIEWS from almost every room. So comfortable & relaxing, unplug and day dreams are possible. Beautiful new patio, covered gazebo by water and big dock to sit on top of the water. At night, plug in the lights, so romantic and magical! The view is so pretty, it's hard to focus on anything else.
It's a quiet dead end street.
Bella's lake house provided the perfect "base" for my family to gather for the Thanksgiving holiday. It was roomy enough, clean, and "homey". It's big soft sectional was a comfy place to hang out in and chat, with lots of throws and quilts to get cozy during the grey and drizzly days we were visiting. TV was great. Wifi was super functional. It worked perfectly. We're only sorry we didn't have time to enjoy the fire pit as others have written about.
Mary
2016-11-25T00:00:00Z
Bella has a very nice lake home. She made us feel very welcome and it was very easy to feel comfortable once we arrived.
Zack
2016-11-18T00:00:00Z
Our stay at Anabela's home was nothing short of amazing! We had an incredible time at the house and she was a gracious and easy going host. She even provided us with some toys for our daughter to play with during our stay and made our little one feel comfortable by showing her her own special bed she had set up with stuffed animals and all, so cute. The home is absolutely immaculate and very charming. Plenty of comfortable beds for the family and lots of stuff to do, tv, wifi, etc. We spent many nights sitting out by the water having a fire and enjoying the beautiful lake. There is also a very nice bbq we put to use and made our dinners. The surrounding area provides lots to do for families, and Anabela provided many menus and suggestions as to where to dine and visit. We are so looking forward to coming back next year for a nice relaxing visit by the lake!
shane
2016-09-18T00:00:00Z
Anabela was extremely available and eager to help, she genuinely felt invested in making our stay as easy and pleasurable as possible, and it truly was. The house is beautiful and comfortable, the lake and dock are amazing, everything was great.
Jeffrey
2016-08-26T00:00:00Z
Bella was fantastic. Great communication. She was very welcoming and had all the amenities we needed in the house. The house was very clean and tidy. Great experience
Joe
2016-10-02T00:00:00Z
Bella's home and hospitality are nothing short of EXCELLENT! She was a wonderful host greeting us there, giving a quick tour, and instantly conveying to us that "mi casa es su casa" before heading back to her home. She checked on us once or twice by text to make sure all was well with the home... and it was perfect! Her home is on the lake with wonderful views. We spent Christmas there with a family of 6 and two family visitors that came by each day. Bella's home had all the amenities available for us to fix a wonderful Christmas meal and relax afterwards... allowing the TV to watch us (we all fell asleep from being so relaxed)! :-) I simply have to repeat my 8 yr old granddaughters comments that, "this is the BEST AirBnB we've ever stayed in!". She was a bit blown away that Bella had set up the little girls room with all kinds of activities - dolls, children movies, and even more - just for for them. We will definitely request to stay again... hopefully every time we visit the area. Bella is a fabulous AirBnB host and sets the bar for all others. She is a wonderful person - warm and has a very natural hospitable personality. Making you feel like family as soon as you meet her upon arrival.
EstebanandSharon
2016-12-26T00:00:00Z
Two of my co-workers traveled with me to Anabela's house. They never used airbnb so they were not so convinced before we arrived. But when we left, they said they definitely use airbnb next time they travel. Anabela is a very friendly and caring host and we really enjoyed our staying in her beautiful house.
Lei
2016-09-11T00:00:00Z
Bella was a great host and the house was wonderful !
Kim
2016-08-22T00:00:00Z
Rodzaj pokoju
Całe miejsce
---
Rodzaj nieruchomości
Dom
---
Mieści
8
---
Sypialnie
Southwick, Massachusetts, Stany Zjednoczone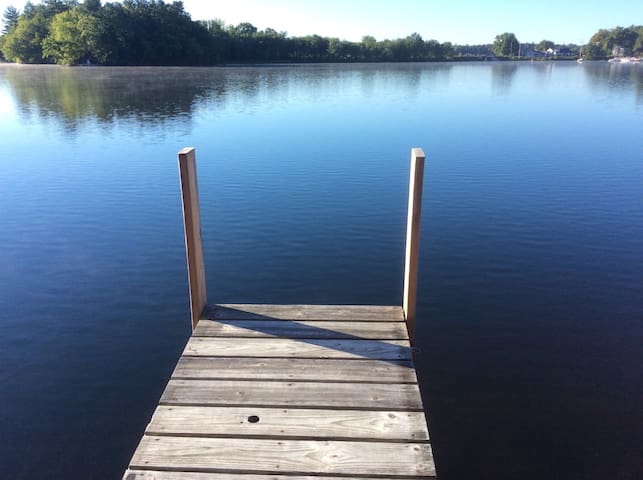 Lakefront home located on Congamond Lakes North Pond, includes a private dock! Close to the rail trail, hiking, golf course, farms, and restaurants. Great for families, couples, business, or solo trips. 20 minute drive to Bradley airport, Basketball Hall of Fame, Six Flags, and the Big E.
Rodzaj pokoju
Całe miejsce
---
Rodzaj nieruchomości
Dom
---
Mieści
8
---
Sypialnie
Southwick, Massachusetts, Stany Zjednoczone
Come relax on our serene & beautiful spot on Congamond's North pond. Perfect for couples, solo travelers, and families. Fantastic neighborhood filled with friendly lake loving neighbors. Lake front location, complimentary dock space, walking distance to three fantastic restaurants featuring great food & live music, and a short drive to many other local attractions (Six Flags New England, Basketball Hall of Fame), restaurants, and more!
Welcome to our property on Congamond's pristine North Pond - just twenty steps off the water! One of three bodies of water that make up the Congamond Lakes, North Pond is a quiet & cozy place, perfect for couples or families looking for a week long or weekend getaway! By day, you'll find boaters lounging and playing on the sandy, uninhabited shores of the far side of North Pond and fishermen/women exploring the water throughout the day. By night, you'll be able to sit on the porch or by the lake enjoying a serene, quiet atmosphere, watching the stars, sitting by the fire bowl and enjoying a drink that you fancy. We have a nice dock, available for use at no cost - motor boats & non motorized boats are welcome! Jet Skis are not allowed on North Pond per MA law, but can be launched nearby on Middle Pond with ease. The neighborhood is welcoming & filled with very friendly lake living neighbors and weekenders. It's a family oriented atmosphere, with many residents living in their current homes for 10, 20, 30+ years. Our home has three bedrooms upstairs + finished basement living area downstairs, one bathroom, two queen beds, one full size futon, one single bed and twin bunk beds - and also features a pullout couch. The home would comfortably accommodate a family of 6-7, and could easily accommodate a couple more. Granite counter tops, wide pine hardwood floors, a big leather sectional, and modern amenities fill the home - Keurig with a selection of coffee included, dishwasher, washer/dryer available for use, propane grill, and fire pit. All bedrooms & living room have separate air conditioners as well. Outside on the deck, enjoy time in a screened tent to stay out of the sun yet enjoy the lake. It's truly a place where you can throw your car keys in the fish bowl and not touch them for a week if you didn't want to. Within walking distance are three fantastic places: Legends of the Lake, a perfect spot for breakfast, lunch or dinner, - on the water; Nora's Restaurant, a mid to higher end restaurant that overlooks the lake from a nearby hill - a great place to enjoy a nice steak; and Louie B's - a restaurant/bar on the water featuring live music every weekend and rocking back deck. *$100 in Complimentary dining gift cards provided with each week long (5 night minimum) booking!* $50 - Nora's; $25 - Legends of the Lake; $25 - Louie B's Within a short drive, there's everything you would ever want - pharmacy, grocery store, gym, spas/salons, golf, antique shops, farm stands, one of the best fresh Donut shops (Mrs. Murphy's!) in New England, an ice cream shop (Summer Shack), brewery (Westfield River Brewery), and more. See below for a LONG list of nearby attractions and amenities!! We've got loads of board games at the house for families to enjoy, as well as a flat screen Smart TV with Netflix subscription included.
Beautiful house inside and out stocked with everything we needed for a great stay.
Martin
2016-07-06T00:00:00Z
We had a lovely stay at Tim's home. We stayed for a few nights during the off-season and loved his spacious house and the quiet of the frozen lake. We enjoyed cooking in the gorgeous kitchen and were very comfortable during our stay. Tim was easy to communicate with, and was helpful and prompt replying to all of our questions. Thank you, Tim, for a relaxing get-away and a great experience!
Callista
2017-01-01T00:00:00Z
Staying at this house was a slice of luxury in rural New England. The view of the lake alone from the kitchen and the master bedroom was breathtaking. The house was well equipped with any and all amenities one would want/need, and the privacy and quiet of the neighborhood provided the perfect backdrop for much needed R&R. Tim, the host was always on top of making sure we were having a comfortable stay. I would highly recommend this listing for anyone looking for a private elegant retreat.
Bradford
2017-03-28T00:00:00Z
Tim's house was clean, comfortable and accurately depicted. Tim was very easy to communicate with and there if we needed anything or had any questions. Tim was the epitome of what an Airbnb renter should be. Would suggest and recommend his home for anyone looking for a relaxing weekend, stress free weekend on the lake.
Brian
2016-07-05T00:00:00Z
Tim is awesome! He made us feel like we were his best friends when he introduced himself. The house exceeded our expectations and so full of everything needed to make a family of 5 comfortable. We swam, floated, fished, saw town fireworks from the deck, baby ducks ate right out of our hands!! We played classic board games ( of which there were many!!) Fantastic beds! So comfortable! The house was warm and inviting!! Wished we could have stayed longer and would absolutely return!!
Bonnie
2016-07-23T00:00:00Z
Rodzaj pokoju
Całe miejsce
---
Rodzaj nieruchomości
Dom
---
Mieści
6
---
Sypialnie
Southwick, Massachusetts, Stany Zjednoczone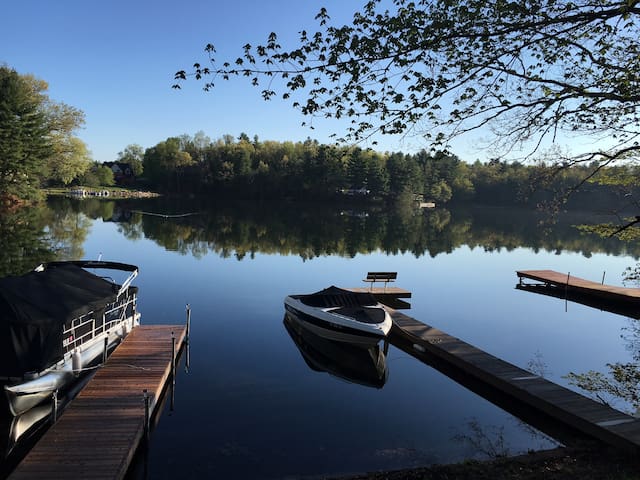 Welcome to the Lodge, Farm and Theater! Whether we're your staycation destination or your base for forest exploration, be sure to channel your inner Iron Chef in our oversize kitchen and enjoy a luxurious Airbath full of bubbles for two.
Extraordinary, custom-designed cook's kitchen takes center stage. The eat-and-lounge-in kitchen features multiple work spaces, sinks and other practical design details and surprises. The upstairs bath is also quite amazing. Separate W.C., and a huge tiled walk in shower room with an Airbath that seats two. Two king bedrooms, a queen bed in a cubby - hole bedroom, an antique day bed (twin size). Note: upstairs has a semi-open floor plan. Still, the space is large enough so that three couples have privacy. Downstairs is another full bathroom with shower. Mostly stone and glass, finished concrete (radiant heat) floors downstairs. Which means it stays cool in the summer. Mod meets romantic meets wabi-sabi/shabby-chic/eco-conscious. (Well-behaved) dogs welcome, and we know that most people who bring their dogs on vacation are super-considerate. Good to know - we are on five acres, with town forest behind us. If the neighbors behave it can be completely (we do have nice neighbors) even unreasonably, quiet. An adorable A frame guest cabin is also on the property, which is often available as well. .
Scenery is gorgeous year round. Fall leaves are breathtaking, if you like to bike, we are at the top of a hill and you can coast down to the Granville Gorge and splash around, then get a real workout riding home. Rural community famous for apple and peach orchards, pick your own berries, and small dairies.
Seven of us stayed in Marj and Ai's stone palace, and it was as cozy, spacious, clean, and conducive to a fun, relaxing weekend as we hoped it would be! We can't wait to come back in the summer time.
Daniel
2017-02-25T00:00:00Z
Aina and Margie were extremely accommodating and thoughtful. Their space is warm and well-appointed, and we had a wonderful time.
Tong
2017-01-02T00:00:00Z
The house is just as pictured--lovely, spacious, and beautifully decorated. It was also extremely comfortable with big, cozy chairs and a wonderful fireplace. It exceeded our expectations. The wood-fired hot tub was an added bonus and the location was perfect, close to hiking and pretty walks. We would definitely come back! I would also add that some concerns expressed in earlier reviews were not problems at all for our group of four, such as the privacy issue between bedrooms, and the fact that the smaller cabin on the property was also rented (it still felt very private). All in all, a most lovely home!
Elizabeth
2017-02-19T00:00:00Z
Such a beautiful home and relaxing place to visit. Felt right at home from the moment we walked in. Hope to return once the weather is warmer!
Lauren
2011-03-28T00:00:00Z
Aina and Margie were great! They were always available and responsive. The place is exactly how it is listed... And even better! It was an enchanting, eco-modern meets rustic-japanese. Every single crevice of the location has been designed thoughtfully, and lovingly. It was perfect for my boyfriend and I. He is a musician and he said,"This is the perfect place for me and my group to seclude to and make an album". The town of Granville is green and lush. If you like to cook and get away- this is it. We went to the Granville Gorge- a flowing river that runs through giant rocks. It is a destination that i will definitely return to.
Natalia
2014-07-08T00:00:00Z
My wife and I (and our dog) enjoyed a wonderful 3 night stay at the Stone Palace. If you are looking to get away from it all and I mean "all" this is a great option. Set back from a very quite street this house is beautiful and very well appointed. The big kitchen, huge double sided fireplace and large Whirlpool tub were the best features for us. The house was very clean and perfect for our needs. You will be 20+ minutes from any sign of civilization or store so plan accordingly. We really enjoyed our stay and wish we had stayed longer. I definitely recommend this property.
David
2015-02-08T00:00:00Z
The space was great for getting away from the city. Our stay was very comfortable. A very nice and inviting layout with a private feel.
Anthony
2014-12-07T00:00:00Z
Prefect for our short stay. Would follow their suggestion to arrive before dark. We arrived late and was very dark.
Kalin
2016-10-06T00:00:00Z
Rodzaj pokoju
Całe miejsce
---
Rodzaj nieruchomości
Dom
---
Mieści
6
---
Sypialnie
Granville, Massachusetts, Stany Zjednoczone
Come relax on our serene & beautiful spot on Congamond's North pond. Perfect for couples, solo travelers, and families. Fantastic neighborhood filled with friendly lake loving neighbors. Lake front location, complimentary dock space, walking distance to three fantastic restaurants featuring great food & live music, and a short drive to many other local attractions (Six Flags New England, Basketball Hall of Fame), restaurants, and more!
Great house. My wife and I traveled with our kids, including a couple, for a last minute family event. Tim responded quickly and provided a great home for us to stay in. House is brand new, well appointed and decorated. Amazing view. Everything you need is provided. Area is somewhat secluded but there are a few good shops and restaurants nearby. Would like to use the house again for future stays. Thank you for making a difficult event easy.
Vincent
2017-03-17T00:00:00Z
The house was beautiful, spacious and very clean. We loved the view and only wish it was warm enough to go outside and spend time on the lake. Tim was quick to provide answers to questions and the house was good for kids 2 plus. Thank you again Tim. We hope you will have us back.
Jennifer
2017-01-16T00:00:00Z
My friends and I stayed at Tim's beautiful home for a weekend and we couldn't be happier with the house and location! Tim is awesome! He stopped by the house prior to our arrival to clear the snow from the walkway and driveway and turned up the heat in the home. Communication with Tim was great as he responds quickly and was clear with directions and answers. The home was extremely clean and spacious! The home is right on the lake and unfortunately we couldn't take advantage due to snow, but we hope to return over the summer! Definitely recommend this home if you are looking for a getaway, yet with all the conveniences nearby. Also, must try the Westfield River Brewing Company, great food and unique beers! Thank you for everything Tim! :)
Jeanette
2017-02-12T00:00:00Z
The home is located in a peaceful setting overlooking lake and is always clean and exactly what I expect when I rent from Tim. Tim's communication is fantastic and I look forward to more future stays.
jonathan
2017-03-06T00:00:00Z
The house was a true find for us as it provided the space our team needed. It was close enough to where we needed to go and yet provided a respite. New construction in a beautiful setting We count it as yet another wonderful airbnb experience.
Fran
2016-11-15T00:00:00Z
The house was perfect for my family and everything was exactly as described! I was able to reach Tim with any questions or concerns within minutes or faster! You could not ask for a better host and I plan on staying at the home many more times!! Thank you for a perfect, enjoyable stay for my family and I !! Jon Cape Coral, FL
jonathan
2016-11-03T00:00:00Z
Tim's Lake House is wonderful, spacious & comfortable house with a beautiful lake front setting and view. The area is very scenic and you can walk to lakefront restaurants and bars. We highly recommend Tim's place and hope to return some day.
Stephen
2016-11-21T00:00:00Z
This is a spectacular home, in a perfect neighborhood and really everything I would have wanted in a home was there! This is a great place for a large family needing to relax right on a lake! Great nearby town too!
Gregory
2016-12-23T00:00:00Z
Rodzaj pokoju
Całe miejsce
---
Rodzaj nieruchomości
Dom
---
Mieści
6
---
Sypialnie
Southwick, Massachusetts, Stany Zjednoczone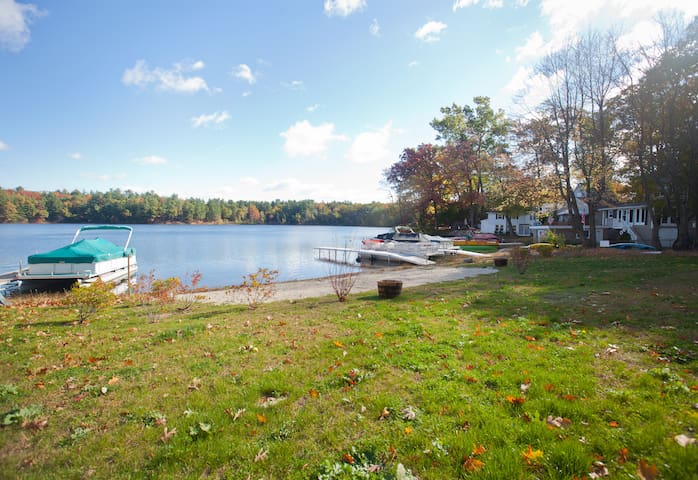 63 acre organic farm with beautiful vistas, walking trail. 5 min drive to Lake Congamond with Public Beach and biking trail. 20 min to Hartford, Ct and Springfield, Ma. Ten minutes to Bradley Airport. Use of private living quarters. Full bath, refrigerator, coffeemaker, amenities. Full n twin bed available.
Separate room and bath from rest of house with use of front porch.
No neighbors are the best neighbors!
Diana was very welcoming and accommodating! She got us an AC unit and even brought over freshly baked treats. She was very flexible with arrival and departure times too. Great host! She even took the kids on a nature walk. The room is as advertised - not glorified, but great for 3 adults and a kiddo to stay way cheaper than a hotel and a stone's throw to CT. Fridge and table allow you to make basic meals too.
Jessica
2016-07-31T00:00:00Z
This is a lovely old farmhouse with a big room for sleeping and hanging out, a kitchenette, and a full bathroom, as well as a pretty front porch with chairs and a table. Diana was a lovely host and we enjoyed the many critters on her property (including chickens, dogs, and cats). It's on a gorgeous country road, but only ten minutes from two town centers (Granby and Southwick) if you need supplies (including the best donuts in New England). We loved staying here!
Susan
2017-01-07T00:00:00Z
Felt welcome
Susan
2016-07-22T00:00:00Z
We had a lovely time at Diana's...it was a great place to get out of the city (though if you like to sleep in and are a light sleeper, ear plugs might be in order for when the roosters crow. For us it was no problem as we tend to get up early anyway). The accommodations were comfortable and we had everything we needed to enjoy our stay. Diana even made us homemade scones! It is a farmhouse so don't expect a hotel experience...though we had a sink, mini-fridge (with freezer) and coffee setup which was nice to have. Would stay here again...much more interesting than a motel/hotel!
Philip
2016-05-31T00:00:00Z
Rodzaj pokoju
Pokój prywatny
---
Rodzaj nieruchomości
Dom
---
Mieści
4
---
Sypialnie
Southwick, Massachusetts, Stany Zjednoczone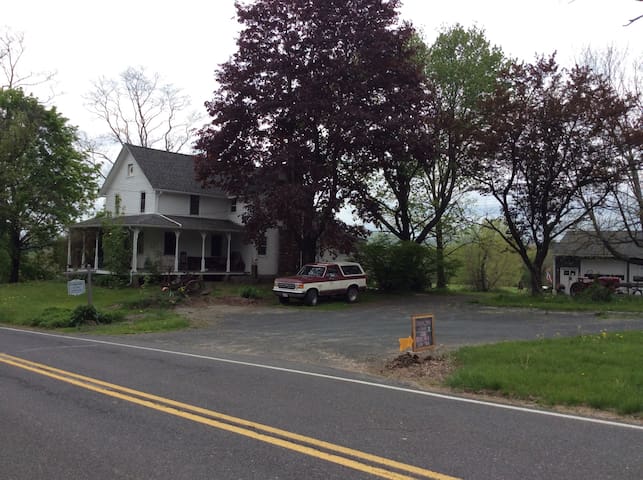 Escape completely from city life, an easy drive from NYC or Boston. The _only_ home on 110 acre (huge) Lost Wilderness Lake, surrounded by 800 acres of state forest, this is real privacy. With beautiful views on the lake and forest, you will see songbirds, birds of prey, beavers, turtles, and fish jumping.
My family rented this place from its then-owner for a weekend in 2015 for a getaway and fell in love. We bought it shortly after and have been enjoying it ever since. We hope to share our enthusiasm with you! The site: This is a unique place. It is right on a beautiful lake, surrounded by state forest, which also surrounds the rest of the lake. It feels like you own the lake, very different from the other place you're probably looking at. The forest and lake are pristine, and you will see at most a handful of kayakers per day (there's a rarely used public launch). The lake is beautiful. There is an incredible variety of wildlife out on the lake and in the adjacent forest, ranging from salamanders to herons, beavers and the occasional bear! The noise of the crickets at night is charming. We have a rickety dock and two small boats, but those aren't accessible to guests for liability reasons. Please bring your own boats though, and use the public launch: the water is beautiful! To check the lake out for yourself (not my video): search for "twining pond youtube". The house: It is very well equipped! We use the space a lot, and we cook/grill frequently for big groups and have generally fixed up all the little issues that exist in homes where the owner doesn't really use the place. The pictures are very honest: we love it, but you'll see it's not grand or hotel-like. It sleeps 8 people very comfortably (four new queen beds/new linens), and it could sleep two more on a fold-out sofa in the living room. There's a crib and bassinet, which can also be used. The neighborhood: We are out in the middle of the wilderness, but there's an incredible amount to do within a reasonable drive. If you're looking, you probably know about the big Berkshires attractions, like Tanglewood, Jacob's Pillow, and the Mass MOCA. But in addition, there are nearby hiking trails, lakes, berry picking, and local antiquing. There is a pizza place within a few miles and the Granville Country Store has essentials, about 10 minutes down the road. In summer, the Gran-val Scoop is a delicious stop for locally made ice cream and has a charming petting barn/yard. This is a very special place, and we hope you enjoy it as much as we do. We'll be happy to share with you all that we have discovered in the neighborhood and do whatever we can to make your stay pleasant!
This place is one of a kind! From the moment we booked the place, Luke was very responsive to any questions we had about it--he usually responded within an hour or so. Before our arrival he sent detailed instructions on everything from how to get into the place to how to work everything in the place to what was available and what was not. The house itself is perfect for a big group. There is plenty of bedroom space on all three floors. The main floor is great for gathering as the front half has a wide open floor plan. The kitchen dining room and living room all being spacious and open to each other. The outside space is terrific as well. Even though it rained the whole time we were there we could see that any of the 3 porches (2 upstairs and 1 on the main floor) and the fire pit down by the water could be a nice way to spend an evening looking at stars or the pond. There is lots of woods to explore right up the road in both directions as well. The "neighborhood" consists of one house in each direction about a mile up the road each way. You don't see or hear any neighbors. If you have a large group of people that like a woodsy feel while maintaining the benefits of electricity and running water or if you are just looking for a place to spread out in, Luke's place is great! We are likely to return there!
Kevin
2016-10-23T00:00:00Z
Luke's home is exactly as advertised, a very quiet, secluded place on a lake. Perfect spot for my family from New York and our friends from Boston to meet right in the middle. Very short drive to hiking, fishing, and the outdoors in general. Great place to unwind and relax.
Paul
2016-09-06T00:00:00Z
Rodzaj pokoju
Całe miejsce
---
Rodzaj nieruchomości
Dom
---
Mieści
10
---
Sypialnie
Tolland, Massachusetts, Stany Zjednoczone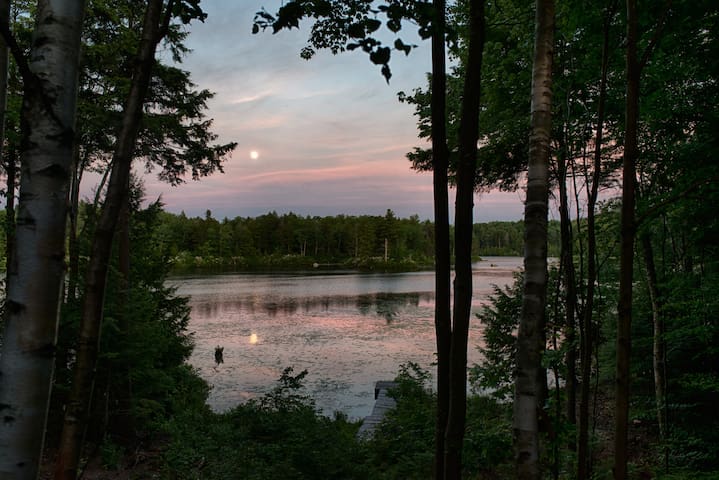 Cherry Ridge is a stunningly redone contemporary cabin nestled deep in the Berkshire Hills. Ski right out on to Otis Ski Ridge, or a short drive to Butternut, Hiking, Jacobs Pillow, Great Barrington and Tanglewood. Enjoy relaxing in our sauna after a day out on the trails, or gather 'round the fire for a cozy night. We have fantastic 6 mile views of the Otis Ridgeline, and just a few acres away from Tolland State Forest. Bedroom, sleeping loft, snowshoes, and kayaks available. Come join us!
A quintessential Berkshire retreat. In addition to the guest bedroom, we also have a sleeping loft with a comfortable queen pull out couch, and two twin beds-lofted in the loft, and a private bathroom with a deep soaking tub. Masterfully redone over the past few years, nothing has been left untouched. We welcome you to join us in our home, where we live with our dog, Cherry. We know you'll find our home bright, warm, and welcoming. Won't you join us?
We live in a private community, with just a few other home owners. Cherry Ridge sits atop Otis Ski Ridge, and you can ski right out the back door!
My girlfriend and me spent one night at the Cherry Ridge house. It was a beautiful stay! The house is very clean and confortable and Jenny and Susan are great host, we had a very nice talk. We definitely suggest this location if you want to spend some relaxing time in the nature.
Alessandro
2016-09-10T00:00:00Z
Jenny and Susan were excellent hosts. They went out of their way to take of everything we needed. They made us feel like home!
Saori
2016-07-30T00:00:00Z
Jenny and Susan's place is a wonderfully cozy place to stay - cool hosts, comfortable rooms, fun attic for kids and adults, and great location for casual ski (right on top of Otis Ridge)!
miya
2017-02-26T00:00:00Z
Sus atenciones fueron inmejorables.
Pedro
2016-07-12T00:00:00Z
The host canceled this reservation 61 days before arrival. This is an automated posting.
Laura
2016-06-18T00:00:00Z
I thoroughly enjoyed my stay with Jenny and Susan. Their home was just what i expected from the photos. Their hospitality, suggestions of places to eat and things to do have me planning my next stay during Fall foliage season.
linda
2016-08-27T00:00:00Z
Another wonderful stay with Jenny and Susan! I enjoyed the Campfire Grill in Great Barrington that Susan recommended. They were quick to resolve a small issue that arose. I hope to return for their hospitality and location.
linda
2016-10-15T00:00:00Z
Jenny and Susan welcomed me into their home like we have been friends for a long time. I immediately felt comfortable. These women are just fantastic. Considerate of my needs and made sure I had what I needed. Their home is cozy, clean, and comfortable. I can't say enough great things about my stay. I will definitely consider coming back to see this beautiful area and stay with these wonderful people!
Sarah
2016-07-05T00:00:00Z
Rodzaj pokoju
Pokój prywatny
---
Rodzaj nieruchomości
Dom
---
Mieści
4
---
Sypialnie
Otis, Massachusetts, Stany Zjednoczone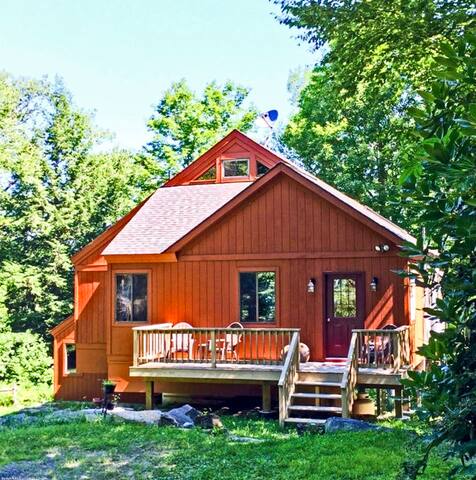 Beautiful private bedroom and bathroom available for women guests in architectural beauty of a forest home that combines the aesthetics of New England's tobacco barns with those of a Zen temple and the open space of a Manhattan Loft.
Japanese Suite in Zen Home Temple available for women guests. Beautiful private bedroom & shower bathroom. Futon/foam bed (guest can opt for placing bed on frame or floor). Large windows open to the forest receiving the afternoon light. Radiant heated wood floors. Glass walls of the Main Room invite nature into our forest home. Wood beam construction, natural wood details, high ceilings, radiant floor heat, wood stove. Surrounded by gardens, acres of walking trails, streams, forests, and small family farms. In Autumn delight in the leaves changing colors, in Summer enjoy the blooming mountain laurel, in Winter snow shoe the trails and warm your toes by the wood stove, in Spring witness the rapidly flowing mountain stream and watch the earth come back to life.
There are hiking trails on the property as well as an Audubon Wildlife area minutes down the road. We are 1 mile from Outlook Farm Market and Orchards a well-known destination for home cooked food, provisions, local crafts and apple picking in season. A 3-minute drive takes you to the center of town where you will find our award winning 'green' library, and down the road, Steve's Sugar Shack. At Steve's, a breakfast place during maple sugaring season, you can see the sap boiled down, turned into syrup and taste it on your pancakes. Further down the road is The Strawbale Cafe, a local eatery made with bales of hay, serving home cooked breakfast and lunch. We are 15 minutes drive to Smith College and the City of Northampton, 45 minutes to Jacob's Pillow and 1 hour to Tanglewood and Kripalu Yoga Center. Closest airport is Hartford/Springfield International shy of 1 hour and Boston Logan is 2 hours away.
My stay at Catherine and Ryumon's home was wonderful. Everything was so peaceful and welcoming, and they were wonderful hosts. Their dogs are silly and sweet, and there's an old logging trail out back for some walking in the woods. They also prepared a wonderful cold breakfast of granola, fresh fruit and nuts, and almond milk in the morning. Everything was just lovely.
Genève
2015-07-04T00:00:00Z
Catherine's and Ryumon's was a beautiful place to stay in every way. They both made me feel so welcome in their house. They made sure I had privacy and felt at home at the same time. It was one of the most peaceful and beautiful places I've ever experienced. I felt as if I was in a zen temple a million miles away from everything.
Anna
2015-05-17T00:00:00Z
This place is amazing! Peaceful and beautiful. Catherine and Ryumon were so caring and sweet. Pictures really don't do this place justice. It is quiet and tranquil and lovely!
Rhys
2014-08-12T00:00:00Z
What an amazing retreat! I simply can't say enough wonderful things about my time - even though it was short - at Catherine and Ryumon's home. First, it truly did feel like a retreat for me, on-par with (if not exceeding, just because of what I was looking for in such an experience) Kripalu. A beautiful, inspiring place that's very connected with nature. Great for meditation, hiking, and general solo time, while also still being quite close to NoHo and the like. Second, it was just so wonderful to connect with both of them, and with the larger community. I was invited to a fantastic event at the nearby Black Birch Winery, and got a great glimpse of Westhampton. But I also had a chance to have great conversations with both Catherine and Ryumon on Sunday, which really meant a lot to me. (And, of course, if you're in more solo silent mode, you would have plenty of space and privacy to do none of the above!) I hope to go back, and felt so lucky to stumble on this home and couple!
Jeanette
2015-06-07T00:00:00Z
The location is tranquil yet close to Northhampton. The room is full of light and a beautiful view with a closet and desk, very roomy and comfortable. I have knownthe hosts for many years and they are attentive and caring. It is a lovely spot to relax and replenish, complete with a pond and two friendly dogs. Highly recommend!
Linda
2015-05-07T00:00:00Z
Rodzaj pokoju
Pokój prywatny
---
Rodzaj nieruchomości
Dom
---
Mieści
1
---
Sypialnie
Westhampton, Massachusetts, Stany Zjednoczone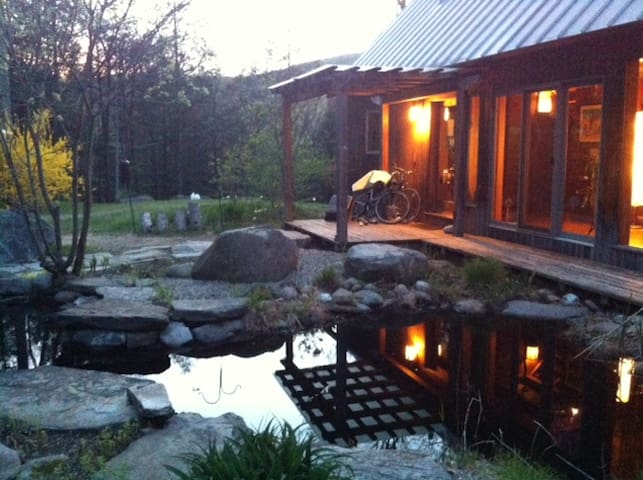 Home is Colonial Revival, located in Forest Park Heights section of Springfield. Quiet neighborhood, short walk to park, less than a mile from the Basketball Hall of Fame, within close proximity of numerous colleges, restaurants and historic sites. Only 2 minutes from Interstate 91.
Great experience, lovely home, lots of space and extremely clean, everything was great!
Kyle
2016-11-15T00:00:00Z
Amazing. The room is fantastic. There is a bedroom, living room, and a private bathroom and you basically have the whole third floor to yourself. Both hosts were very likeable and we talked about a lot of different things. And they even offered me to eat dinner with them
Michael
2016-08-31T00:00:00Z
Mr. Thomas and his wife Mrs. Marianne were wonderful hosts. I was just in town for the one night; I wish I could have booked for longer. The area was very clean and the bed was SO comfortable. I had everything I needed. There was a basket full of snacks and a water bottle when I arrived; very much appreciated after a long day of travel! I would book with them again.
Nisha
2016-08-30T00:00:00Z
Exactly as advertised, Pleasant surroundings, welcoming host, very clean. We loved it.
Roger
2016-07-21T00:00:00Z
Comfortable blanket.
Edison
2016-12-20T00:00:00Z
The accommodations were superb! Thank you Thomas and Marianne we can't thank you enough for providing a warm welcoming beautiful space for Yvonne's Graduation! This was my moms first Airbnb experience and needless to say she's now an Airbnber because of the warmth you shared with us! Yvonne sends her best to you both! And the banana nut bread...there weren't even crumbs left:)!
Dametra
2016-05-18T00:00:00Z
My mom and I absolutely loved our stay with Thomas and Marianne. The space was large, clean and comfortable. They were incredibly accomidating. We would love to stay there again.
Maya
2016-09-05T00:00:00Z
Marianne and Tom where excellent hosts! The space was clean and comfortable with a beautiful repurposed bed frame! We would definitely recommend a stay in their lovely home :)
Hailee
2016-07-14T00:00:00Z
Rodzaj pokoju
Pokój prywatny
---
Rodzaj nieruchomości
Dom
---
Mieści
2
---
Sypialnie
Springfield, Massachusetts, Stany Zjednoczone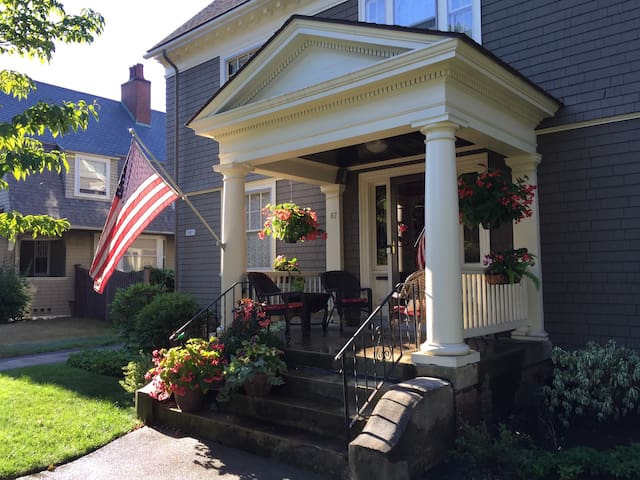 Comfortable 1850's farmhouse, 25 minutes to Bradley International Airport and close to Westfield State University, beautiful Stanley Park, Columbia Greenway Rail Trail, and many other local activities. You'll love it because of the unusual architecture, private bed/bath suite with 2 full beds (one is a futon). Guests are welcome in the whole house and yard (pool, hammock, and garden - weeding welcome). Friendly host, knowledgeable about the area.
Large bedroom and bath on the second floor. Wood floors, pressed tin ceilings and a big walk in shower.
A couple of miles to Westfield State University, walking distance to Amelia Park Ice Arena, groceries, library, town center and just 3 blocks from the bike trail.
This was our first experience with Airbnb and Martha did a wonderful job of making us feel at ease right from our initial communication via email. When we arrived, she was there to greet us and show us her home. She is such a pleasant person that in no time we felt like we were visiting an old friend! Our bed- and bathroom were very clean, homey and comfortable. When the weather changed during our five-day stay, a blanket appeared on our bed. Our towels were laundered halfway through our stay. There was lots and lots of space to put clothes away and to make ourselves feel at home. We were visiting family in the area for a reunion of sorts so we were busy most days with family activities. On the mornings that we were there, Martha had a lovely breakfast of fresh fruits, muffins or zucchini bread, and coffee ready for us! And she did all this while working at her "real" job! Because of all the time we spent with family, there were a few times when we came in quite late or Martha left before we arose in the morning. She always left us a note to communicate. In fact, she was better than we were at doing that! Sorry, Martha. We're learning! And thank you for the thoughtful snack bag that you sent with us on our 900+ mile drive home!! I'm hoping that we have the opportunity to stay with Martha in the future when visiting our Westfield family. I really want a chance to sit out on her porch with a cup of coffee or in her back, "reading" room with a good book. We picked up many helpful tips from observing the way Martha took care of us as we prepare to take the step one day to open up our home to Airbnb guests.
Kelley
2016-09-27T00:00:00Z
Martha was very helpful from the first instant. We were running late due to being delayed in the UK and arrived at her house about midnight. She made us feel as though it wasn't a problem which we appreciated.
Paul
2016-11-07T00:00:00Z
We loved our stay. Martha is a wonderful host with great hospitality, a warm heart and an incisive mind. She was social and also gave us the space we needed to get rest and get work done in her house. She's offering a great deal! Not only does she offer you your own room and bathroom, she welcomes you to use common areas and provides breakfast, like fruit, muffins, banana bread, coffee… Loved the cheerfulness of the well kept old home which has very nice details- preserved stamped tin ceilings, wood floors... Loved having a big bathroom to ourselves. Nice style. Grocery nearby and a historic town with a great library- all in walking distance. Highly recommend.
Leralee
2016-09-21T00:00:00Z
Staying with Martha was such a wonderful experience. She is very welcoming, her home is beautiful and she makes sure you are comfortable. We enjoyed having a private bathroom and area to ourselves. Martha is always available if you need anything and she communicates with you throughout your stay. I highly recommend staying with her if you are going to be in the area! Her baked goods are amazing,too!
Stephanie
2017-02-05T00:00:00Z
Quiet rural home. Easy living, come and go all during the day. Will stay with Martha agan.
Ken
2017-03-24T00:00:00Z
This is the second time we've stayed with Martha, which says it all! She is a warm and considerate host and the bedroom and private bath were perfect.
Ann Marie
2017-03-26T00:00:00Z
Very smooth planning, friendly host, and beautiful house,!
Leanora
2017-01-03T00:00:00Z
Warm welcoming, good, safe, cozy, clean and feel like home. Super recommend!
Sirin
2016-12-15T00:00:00Z
Rodzaj pokoju
Pokój prywatny
---
Rodzaj nieruchomości
Dom
---
Mieści
4
---
Sypialnie
Westfield, Massachusetts, Stany Zjednoczone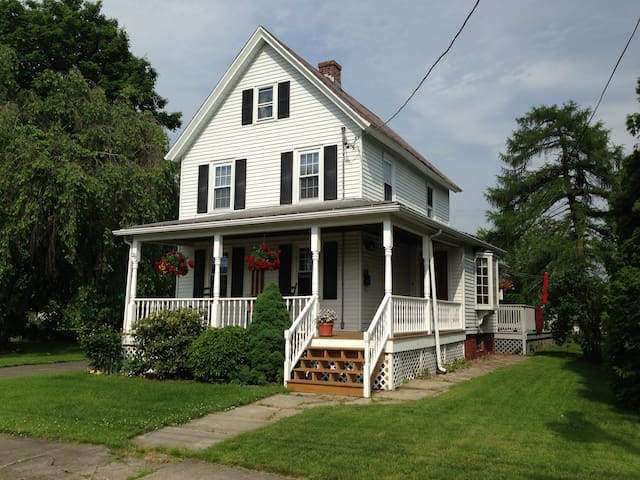 Our place is on a gentle flowing river, close to waterfalls, walks and the Berkshire cultural sites like Tanglewood and Jacobs Pillow . You'll love our place because of the river, the deck, the hot tub; complete tranquility and a home away from home. Close to some great sites and activities, far enough away to escape. Our place is good for couples, friends and solo adventurers. Snowboarders/Skiers (or snow bunnies) and families can have great fun too! Sit back, relax and enjoy our home!
When my girlfriend and I were looking for a place to stay for President's Day weekend, we wanted someplace affordable and away from our usual city trips. We wanted to find a little place to ourselves surrounded by nature where we could just spend time alone together, and that's exactly what we found. The kitchen, bathroom, and living areas look brand new and were very comfortable. The town is small and quiet, but there is a wonderful restaurant/bar within walking distance that made a very nice dinner for us. There are several picturesque nature walks within driving distance of the house. And probably my favorite part was the hot tub on the deck right next to a flowing creek in the backyard. It was everything we wanted and it's a weekend we will never forget!
David
2017-02-20T00:00:00Z
Rodzaj pokoju
Całe miejsce
---
Rodzaj nieruchomości
Dom
---
Mieści
4
---
Sypialnie
Chester, Massachusetts, Stany Zjednoczone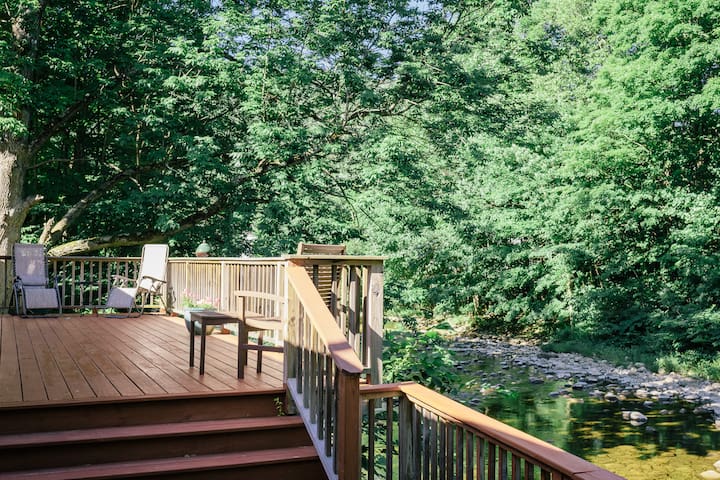 We welcome you to enjoy our country home. Built in 2013 with the help of many friends and family our classic post and beam house sits on 7 acres, 1/2 a mile up a dirt road and 5 minutes from the center of the little town of Otis, MA. We've been welcoming Airbnb guests to share our home with us since 2016 and based on that success are happy to offer you our entire home to enjoy while we are traveling.
Our house is on three floors. The main floor is an open cathedral ceiling with full well-equiped kitchen, half bath, living room with wood stove, dinning room, office with VeriDesk, and sun/play room with adjustant deck and outside 4 person hot tub. Upstairs features two bedrooms, one with a queen and one with a twin 3/4 height twin bunk bed, and a full bathroom with air soaking tub. Lower level has one bedroom, with a queen bed, a full bathroom, and a large room with a sofa couch and 55" TV and in the other half a play area with indoor trampoline for those under 100lbs. Surrounded by trees you can sit on the deck, soak in our 4 person outside hot tub or relax in our warm spacious house.
We are nestled in the Berkshires with easy access to snow mobile trails (which can also serve for walking and mountain biking, depending the season) that can take you to Spectacle Pond. We are 5 minutes to Otis Ridge Ski area and within 30 minutes or less to Stockbridge, Great Barrington, Lee and Lenox.
The house was very nice, clean and had everything you would need to enjoy your vacation. We would love to go back but in the summer or fall to take advantage of the woods for walks/hiking. Communication with Alexcia was great with quick responses. ☺
Roxanne
2017-03-26T00:00:00Z
Loved it! We were looking for a quiet getaway with another couple and lucky enough to find this gem. Alexcia is great. She is so kind and everything was communicated clearly before our arrival. She made the process so smooth and easy. What we loved best: Drinking coffee by the fireplace, soaking in the hot tub after dinner, cooking meals in a well-stocked kitchen, and relaxing in a clean environment. We felt secluded, but, we were also close to shops & restaurants if we wanted to go out. This was the perfect weekend to recharge from our stressful jobs. Thank you so much, Alexcia!
Tina and Grant
2017-02-19T00:00:00Z
We met friends here for a winter weekend and had a lovely stay. We could not get over how charming and comfortable the house was. The main floor was such a warm space, with a beautiful, well-stocked open kitchen connecting with a comfortable living room where were able to cook while visiting with each other and enjoying the wood burning stove. What's more, everything we needed to know was clearly laid out in the guest binder, which made our stay effortless. Our pup enjoyed exploring the grounds and the much needed large mudroom was of great use considering the unseasonably warm weather and resulting muddy conditions outdoors. We were even able to briefly enjoy the outdoor hub tub one morning which was a treat. Overall we had a wonderful stay and the coordination was seamless given the very helpful communication from Alexcia before, during and after our visit. We are very much looking forward to returning in the future!
Emily
2017-02-26T00:00:00Z
We had an excellent stay at Alexcia's home. She was very helpful and communicative during our stay. The house is amazing and well-stocked with all the comforts of home. Our kids enjoyed the unique swings, abundance of children's books, games, etc. The house is located 5 minutes from Otis Ridge and 20 minutes from Blandford--all great family skiing destinations. We'll definitely be back!
Chelsea
2017-02-24T00:00:00Z
Rodzaj pokoju
Całe miejsce
---
Rodzaj nieruchomości
Dom
---
Mieści
7
---
Sypialnie
Otis, Massachusetts, Stany Zjednoczone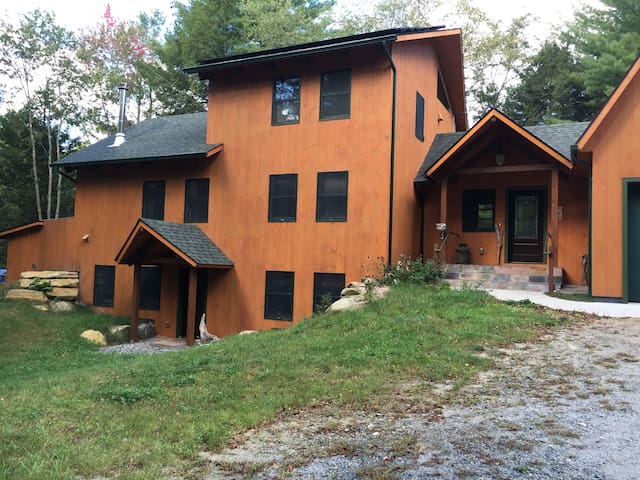 Our place is close to Lee, and Gt. Barrington for those who would like to take in some of the shopping and cultural experience. For winter activities we are a short drive to Otis Ridge, Ski Blandford, Ski Butternut, and Maple Corner Farms X-Country Ski. We have plenty of room for parking trucks & trailer for those who bring snowmobiles and would like to ride The Knox Trail Sno-Riders trails. Our place is good for couples and families w/kids.
Rodzaj pokoju
Całe miejsce
---
Rodzaj nieruchomości
Dom
---
Mieści
6
---
Sypialnie
Otis, Massachusetts, Stany Zjednoczone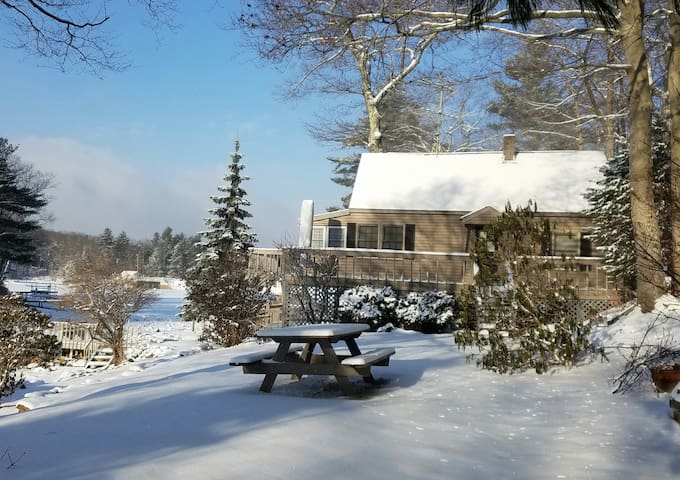 Quintessential wooden cottage w/ 2 BR, 2 full baths & open floor plan. Enjoy the glass enclosed sun room overlooking mature perennial gardens or walk the carved path through the field of wild flowers. Fully furnished, utilities included.
Nestled in the Berkshire hills and sitting above Lake Garfield our cottage is serene, private and beautiful. In winter the ridges of East Mountain can be seen from the living room windows. In summer you are surrounded by woods, field and myriad flower gardens. Enjoy your morning coffee in the sun room or in the gazebo. Take an afternoon walk down our country lane and view the sunset.
Note: If at some time you are looking for a smaller space in Great Barrington, Ma, we also have a wonderful airbnb 'Private Ensuite in Beautiful Victorian'. A Private room for two with kitchenette and bathroom with private entrance, gardens and a wonderful front porch.
Eileen and Stephen were great hosts and the cottage was adorable and exceeded our expectations. They thought of everything 6 star lodging! Lots of sunshine
Chris
2016-12-27T00:00:00Z
What a lovely cottage... The house was clean and very well taken cared for. My family and I had a wonderful time staying there. The home was on a quiet country road out in the woods (just what we wanted!) but close enough to Great Barrington and Stockbridge if we wanted a taste of "city life" or just go out for a bite to eat with the locals! Great little gem. 5 stars!!
Nicole
2016-01-02T00:00:00Z
Steve and Eileen welcomed us when we arrived at their well-appointed, spotless cottage. They thoughtfully recommended several Berkshires highlights. Once on our own, we found the cottage to be spacious and charming; rustic yet modern. And the surrounding region packs both scenic charm and urbane sophistication -- we loved the Monterey General Store just down the road; hip and organic enough to be right at home in Brooklyn. Steve and Eileen even showed up to send us off!
Matthew & Claudia
2014-10-13T00:00:00Z
We totally enjoyed staying at Eileen's cottage. She and Stephen couldn't have been more helpful or hospitable. Clean, comfortable and well-kept, the cottage was peaceful and quiet. I only wish we could have stayed longer.
Jim
2015-08-19T00:00:00Z
Eileen's cottage is exactly as described and pictured. The place is absolutely meditative, tranquil, stunningly beautiful. The location is spectacular as well -- right in the heart of the Berkshires, near Kripalu. Eileen was also a terrific host. From the moment we arrived, she welcomed us personally and showed us around the house, making sure that all our questions were addressed. She even left us gift-bags! I will certainly stay here again if I'm back in the Berkshires. This was easily one of my best AirBnB experiences. I couldn't recommend Eileen and her cottage any more highly. Experience the beauty and tranquility for yourself! :)
Anna
2015-09-27T00:00:00Z
The cottage is very sweet and comfortable, with an amazing winter garden that allows us to enjoy the view of this beautiful woods while not being outside. We had a great time, rested well, felt cozy and enjoyed being there very much. Eileen and Stephen are great artists and communicated very well. A great getaway! Thank you guys!
Dutra
2016-03-28T00:00:00Z
Eileen and Stephen were not only incredibly organized but also warm and welcoming!
Jill
2016-10-16T00:00:00Z
Eileen's home was a wonderful place to stay! We were 2 families with young babies and it was a great place to spend time in together, make dinners, and play board games. It was a 20 minute drive from restaurants, breweries, etc. in the Berkshires, so a nice place to make home base for the long weekend. She had all of the amenities you can want (tea, coffee, spices, etc.) to make it feel like home. We would definitely stay here again!
Alysha
2017-03-26T00:00:00Z
Rodzaj pokoju
Całe miejsce
---
Rodzaj nieruchomości
Dom
---
Mieści
4
---
Sypialnie
Monterey, Massachusetts, Stany Zjednoczone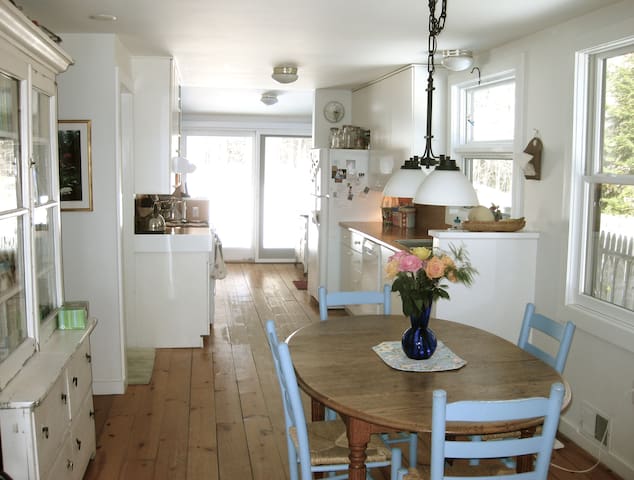 A beautiful, historical Mansion in a rural, quiet setting. Comfortable, clean, reasonably priced rooms with shared full bath. Wifi and off street parking available. Screened in porch to spend quiet time outside surrounded by nature. Refrigerator space available if needed. Friendly courteous host.
Olaf was the perfect balance of attentive but allowing you space when you tired after a long
Jeanne
2015-09-18T00:00:00Z
We stayed for one night at Olaf's place. It was very clean and comfortable. The home and area are both quite beautiful. It would have been nice to stay longer but we were just passing through. Olaf was friendly and interesting.
Margaret
2016-06-03T00:00:00Z
Olaf was super quick with replies to my messages and was willing to work with me on email as I don't have a cell phone (hence no calls or texts). The house is very clean, super important to this indoor allergy sufferer. Bedding was high quality, my only regret is that I didn't have time to spend reading and meditating on the porch. Lovely setting in the country. Olaf is really providing a public service with his affordable rooms in a very pricey area. This teacher on a strict budget is grateful.
Anne
2016-06-27T00:00:00Z
Very nice, cozy house with everything we needed and beautiful location. Olaf was very responsive, sent clear instructions for checking in, and was kind enough to accommodate our last-minute change of arrival time.
Vivian
2016-10-10T00:00:00Z
Olaf's place was great! Exactly as described. Although we arrived very late, Olaf was accommodating and very helpful. Would certainly stay again.
Doug
2015-11-15T00:00:00Z
I had an awesome time here. The house is huge, clean and interesting. I loved the kitchen too. Olaf was sweet to allow me cook :) He's a good host, i would love to visit again soon.
Devika
2015-11-08T00:00:00Z
Beautiful wooded neighborhood, quiet and removed. Olaf showed us around and made sure we had all we needed. We were able to use space in the fridge and cook what we wanted. I love the shoes off policy inside the house. The house is large and has a lovely screened porch.
Robin
2016-06-04T00:00:00Z
Hi Olaf..very much enjoyed meeting you..thanks for hosting..this proved to be the ideal location for a New England fall tour.
Richard
2016-10-15T00:00:00Z
Rodzaj pokoju
Pokój prywatny
---
Rodzaj nieruchomości
Dom
---
Mieści
2
---
Sypialnie
Becket, Massachusetts, Stany Zjednoczone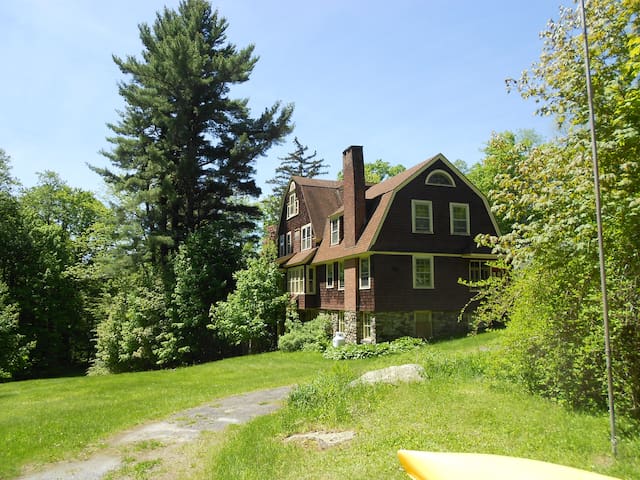 Granville - Airbnb
:
Średnia ocena:

4.95

/

5

gwiazdek od

497

gości
Wpisz daty, by zobaczyć pełną cenę. Obowiązują dodatkowe opłaty. Cena może uwzględniać podatek.