Located in a secure complex that includes pool, spa, gym and restaurant, this luxury apartment is ideally located and offers all amenities for a pleasant stay in Mauritius
Quiet and peaceful, the apartment is located in La Balise Marina, luxury beachfront complex with swimming pool, spa, gym and restaurant. Guests can rent on site Paddle and Kayak to visit the beautiful lagoon and the island clam
Great resort and apartment. The Spa and pool is awesome. The restaurant could be better. Frank is a nice guy and help with dolphin swim and kite surfing!
Martin
2017-01-29T00:00:00Z
Everything was great. ;)
Khyshov
2017-03-22T00:00:00Z
Franck a été un hôte exceptionnel, il nous a même emmené kité la première journée pour découvrir le spot, chaque jour, il nous suggérait des activités. Il nous a mis en relation avec une cuisinière qui nous cuisinait des plats mauriciens chaque jour... Il nous a aidé à louer une voiture... je recommande Franck à 500%, pour moi, c'était l'extase car il est passionné par l'univers des startups et le kite ;) Merci Franck d'avoir contribué à ce que notre séjour soit réussi
Romain
2016-11-14T00:00:00Z
圣诞节旅行第一个住宿地点,好的让人震惊!非常的舒适安静,房子在一个度假村里面,两室一厅两卫,可以住4个人,厨房里面锅碗瓢盆很全,度假村里有超美的泳池,还有一家餐厅。这里也是去海豚湾和看水晶石的出发码头,可以租船出海看日落,特别的美!房东人特别好,给予了很多建议和帮助。很幸运可以住在这里。 Amazing house! All of us love it! We stay for 3 days, we love everything in this house! Franck is so nice! He gives us a lot of help and good advices~ highly recommend!!
QIU WEN
2016-12-27T00:00:00Z
The host canceled this reservation 5 days before arrival. This is an automated posting.
德华
2016-12-25T00:00:00Z
Appartement ist wunderschön. Liegt in einer sehr schönen Anlage. Gastgeber war super. Hat auf kleine Probleme sofort reagiert und uns super unterstützt bei der Planung des Urlaubs
Susan
2017-03-01T00:00:00Z
A lovely apartment and such a reliable host! He helped us with everything The pool is great!
Steffi
2017-02-23T00:00:00Z
Superbe hébergement! Très bien situé, agréable comme point de chute pour visiter l'île ou juste pour se poser.
William
2017-03-30T00:00:00Z
Rodzaj pokoju
Całe miejsce
---
Rodzaj nieruchomości
Apartament
---
Mieści
4
---
Sypialnie
Rivière Noire, Rivière Noire, Mauritius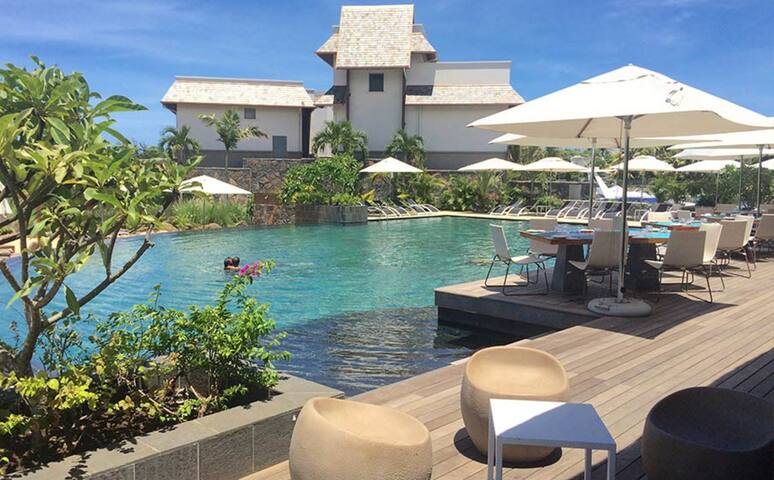 2 Schlafzimmer Apartments in "la Jetee Straße" rechts neben "La Balise Marina" Resort. Voll Luft mit einem Wohn-Essbereich und Küche Anlage. Der Reinigungsservice wird sowie ein Swimming Pool und gesicherte Parkplätze!
Wir vermieten vier Wohnungen in einem kleinen Privatbesitz Block, alle Wohnungen sind völlig unabhängig. Die Geräte verfügen über zwei Schlafzimmer, gibt es einen kleinen Balkon oder eine Terrasse mit einem Tisch und zwei Stühlen und einem gemeinsamen Innenhof neben dem Swimming-Pool im Freien. Im Inneren gibt es eine Küche und Kühlschrank ist, Induktionskochplatten Wasserkocher und Mikrowelle Kochgeschirr Grund ist so wenden Sie sich bitte beraten, wenn Sie spezielle Bedürfnisse Kochen haben, werden wir zu bieten freuen. Es gibt einen 32 "Flachbildschirm-TV mit lokalen Kanälen und Wireless-LAN im gesamten Gebäude. Die Wohn-und Ess-Räume bietet Platz für je vier. Alle Zimmer sind klimatisiert. Wir bieten Housekeeping alle 48 Stunden, saubere Bettwäsche, Handtücher und Seife werden zur Verfügung gestellt. Die Gegend ist sehr sicher, aber es gibt cctv um den Block und private bewachte Parkplätze vor Ort. Es gibt auch eine gemeinsame Waschküche die Wäsche auf dem Parkplatz zu tun.
La Jetee Straße führt direkt zu einem Angel Anlegestelle Sie auch frischen Fisch von den Fischern auf dem Weg zurück zu bekommen! Es ist eine sehr sichere und freundliche Umgebung Sie einen Spaziergang im Dorf für einen Blick von der mauritischen lifestyle.There nehmen können, sind Restaurants im Dorf etwas von Pizzen zu chinesisch und gastronomische Küche, die Sie auch auf la Balise Marina direkt nebenan gehen können, gibt es ein Restaurant direkt am Meer mit einer Bar und einen Swimmingpool. Das Dorf ist sehr lebhaft, gibt es kleine Geschäfte für alle Bedürfnisse, sondern auch einen größeren Supermarkt gibt es auch ein Einkaufszentrum mit Boutiquen Banken und Restaurants ruisseau creole.The Black River Nationalpark genannt wird gleich nebenan für endlose Wanderungen und Tierwelt.
A recommander, nous avons passé 1 semaine et avons reçu un accueil très chaleureux de la part du propriétaire (Darren). L'appartement est très agréable, propre, rien à redire et placé à distance à pied de la plage de Rivière Noire. Le propriétaire est de très bon conseil si vous cherchez quelque-chose de particulier sur Maurice.
elisabeth
2015-08-02T00:00:00Z
Hôtes ultra disponibles et réactifs. Logement parfaitement conforme à l annonce. Rien à redire.
François
2016-10-01T00:00:00Z
Thank you for everything Darren. :) We stayed for 2 weeks and had an amazing time in Mauritius. The apartment is very nice, clean and safe, the pool is amazing, especially since it's empty most of the time. Darren's dad picked us up at the airport which was really nice and Darren organized us a car, airport drop off etc. If we come back we will definitely stay in your apartment. Thanks :) Take care, Sophia
Sophia
2016-01-07T00:00:00Z
Que dire de plus que nous avons passer un agréable séjour , l appartement est vraiment magnifique dans un cadre cosi et sans vis-à-vis ...
Olivier & Chantal
2017-02-21T00:00:00Z
The apartment was great! Huge space, new furniture, and Darren was very helpful. Also the location was perfect to explore the island.
Sérgio
2016-11-20T00:00:00Z
Séjour très sympa et reposant avec notre fils de 5 mois. Position centrale sur la côte protégée du vent. description fidèle et communication simple et facile avec notre hôte. Entre mer (250m) et le parc national de rivière noire (5 km). Avoir une voiture à dispo est un réel plus pour ne pas dépendre des bus qui sont cependant à 2 pas.
max
2016-11-04T00:00:00Z
Super accueil et conseils de Darren, appart très grand et très propre. Bien placé pour visiter le sud ouest. Piscine agréable et voisins au top!
Mathieu
2015-12-22T00:00:00Z
L'appartement est très chouette, neuf, très spacieux et situé dans la jolie région de rivière noire. Kevin est fort sympathique. La piscine est la bienvenue.
Véronique
2015-02-21T00:00:00Z
Rodzaj pokoju
Całe miejsce
---
Rodzaj nieruchomości
Apartament
---
Mieści
3
---
Sypialnie
Rivière Noire, Rivière Noire, Mauritius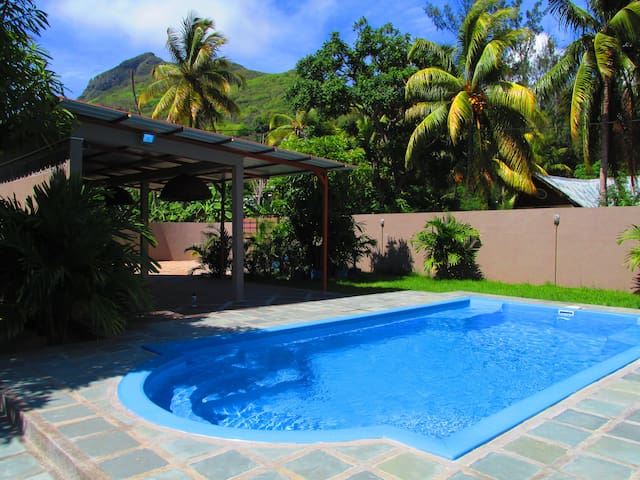 Tento plně vybavený 2 ložnicemi Duplex / apartmán se společným bazénem je strategicky umístěn v malebné komplexu s idylickým výhledem na moře. V blízkosti je veškerá občanská vybavenost; v pěší vzdálenosti od pláže, restaurací a obchodů. Wifi zdarma.
Z jízdě do korálové příjezdovou cestu, aby vstoupil do tohoto útulného domova open-plán, můžete cítit relaxační pohodlí tohoto rekreačního objektu. Atraktivní obývací pokoj / jídelna / kuchyně s WC pro hosty a dřevěná otevřené schodiště, které vede k 2 dvoulůžkových klimatizovaných pokojích a koupelně, rozjasní tvář s pocitem radosti a budete myslet "ach yesss, to bude dobrou dovolenou ''. A pak, konečně vyjít, cítíte dostat vstřebává v pohledu; úžasné tyrkysově modré Indického oceánu, lodě plující do útesu a vlny shazovat na břehu v dálce. Vítejte na Mauricius. Udělejte si čas pro nastavení, zatímco vy sedět, dát si pivo nebo šálek čaje, a vzít v pohledu, zatímco plánování poznávání naší krásné ostrova.
Riviere Noire (Black River) nabízí nejkrásnější scénické jízdy podél západního a jižního pobřeží. Na rozdíl od krásné pláže a šnorchlování aktivity v této oblasti patří rybaření, potápění, kite surfing, výlety lodí, pozorování delfínů, golf, motokáry, zip-obložení, horská turistika, dokonce Procházky se lvy, a ještě mnohem více. Přijďte a objevte to pro sebe. K dispozici je také krásný výběr restaurací, barů a obchodů.
Jeg havde en fantastisk uge i Kaybee`s lejlighed. Kom sent om aftenen og nøglen var lagt på aftalt sted. Mødte ikke Kaybee hele ugen, men hun tilbød alt den hjælp jeg behøvede. Dejlig sted med andre lejligheder der udlejes. Jeg gik sammen med nogle af dem en aften til fælles spisning. Meget hyggelig. I lejligheden er der ALT, og mere til. ANBEFALER STEDET TIL ALLE . Her mangler der INTET
Johs
2017-03-04T00:00:00Z
We really loved our time at Kaybees house. It was the best place we had during our stay on Mauritius. The communication was very good and Kaybee was really helpful. Definitly would stay again in the house! Thanks again.
Ulrich
2016-05-19T00:00:00Z
Kaybee's apartment is nice, clean and comfortable. Location is good and the view wonderful. She was really nice and helpful, always gave us good advice. We had a great holiday. Thank you, Kaybee!
Kersti
2016-12-19T00:00:00Z
Wir hatten eine tolle Zeit in dem Apartment von Kaybee. Es ist alles vorhanden, was man sich wünscht: schöne Zimmer mit großen Betten, Sofa mit Fernseher, Balkon mit Sonnenuntergang, moderne und saubere Bäder, eine vollausgestattete Küche, eine Terrasse und den Pool direkt vor der Nase. Den Weg vom Flughafen haben wir dank Kaybees Beschreibung ohne Probleme gefunden. Da wir relativ spät ankamen, waren wir umso begeisterte wie herzlich und freundlich Kaybee uns empfangen hat! Für ihre Gäste liegt eine Mappe mit allen nötigen Informationen über Restaurants, Trips und Tipps aus. Wir würden jeder Zeit wieder dieses Apartment buchen!
Thea
2017-03-18T00:00:00Z
Kaybee was fantastic always going above and beyond the call of duty! Thanks for a great time Kaybee.
Italo
2016-12-24T00:00:00Z
Wonderful apartment and fantastic value for money. This apartment is finished beautifully and was very clean. Make sure you look carefully on a map for its location as we found it hard to find. Beautiful spot with stunning views, especially from the master bedroom. Close so some really nice restaurants. Communication was excellent making Kaybee a great host! Thanks for having us, we are already itching to come back!
Richard
2017-03-12T00:00:00Z
100% recommendation!!! Perfect place for mobile travellers - very neat and tidy... More than well equipped, all features as descriped. Internet works in all rooms. Easy and trustful communication with Kaybee and her daughter. Well stocked supermarket in walking distance.
Andreas
2016-11-29T00:00:00Z
Kaybee was a great host, available, easy and always smiling. The flat is totally furnished (special mention for the blender, fresh mixed ananas and coconut milk is perfect), modern, easy to clean. Best for me when you are on holidays the beds are ultra comfortable and linen is very nice to sleep inside (I'm very sensitive about that) The flat is fresh as possible and everything is new. Well, a piece of heaven, very calm and 50m of a place of shopping, 300m from the sea... What else
Geraldine
2017-01-21T00:00:00Z
Rodzaj pokoju
Całe miejsce
---
Rodzaj nieruchomości
Apartament
---
Mieści
4
---
Sypialnie
Black River, Rivière Noire, Mauritius
Zasazené do úžasné západním pobřeží, tento 2 ložnice / 3 lůžka designer byt má vlastní terasu a bazén. Chůze do obchodního centra a restaurace a veřejné dopravy. Vychutnejte si skvělý západ slunce v rámci společné bazénem na nábřeží.
This is a well equiped luxurious quality appartment with a unique view in breathtaking surroundings. Here you'll get a stunning pool area, a private spa on the balcony and a light and friendly home away from home. It's placed nearby a newer local shopping center (Russeau Creole) with restaurants and shops only 5 minutes walk away and a plus while bringing a baby stroller is that this area actually have pavements in opposition to many other places in Moris. Eventhough we would still recommend renting a car to make it easier getting around the island. Besides you have different tourist attraction nearby such as the Tamarin falls, Black River Gorges National Park, Le Brabant, Casela Safari Park, recommendable dolphin swimming and snorkling. We got picked up directly from the boat bridge in front of the complex which made it very convenient to go enjoy a day at the sea with lunch, wild dolphins and small fishing. Priscilla is the perfect hoast - very helpful at all times and service minded forward her guests. So don't hesitate at booking her place. It's worth a visit!
Line
2017-03-30T00:00:00Z
A great place from where we have explored the South and the North! The apartment is new, modern, clean and safe in any ways for crawling babies. We had a great time living here with 2 little kids as the apartment offers really everything we needed (washing machine, tupperware, even cutlery for children). There is one spacious open living room with the kitchen and two perfectly sized bedrooms. We put the two single beds together, so we had two queen size beds. The dining table is outside on the covered balcony. Regarding the alltime warm weather it is the place you want to sit. There is no sun umbrella, but we did not miss it, since the sun comes around after 2 pm. You can spend the day down by the pool, where you have also couches, loungers and chairs in the shadow. It was very relaxing and enjoyable to meet there the neighbours of the community. Most of the apartments are rented to travelling families. By the way, the complex is 24 hours guarded. The adresses for local and lovely restaurants Priscilla gave us where awesome, you would not have found them by yourself. We loved it to be closer to the people and follow our own rhythm. The public beach is a cat jump away (nevertheless you need a car to get there since the Black River Road is not really comfortable to walk along there), supermarket, bakery store and shopping mall ... it`s all down the road. We wished we would have booked the apartment for a longer term and therefore less time at the hotel resort. Thanks Priscilla for the warm welcome, the first breakfast we have surprisingly found in the fridge and the stand by during our stay. You were very much of help when we needed a doc for the little one.
Katrin & Sven
2017-03-19T00:00:00Z
We had a wonderful stay at Priscilla's apartment. We were looking for relaxing, quiet and romantic getaway with everything we needed nearby and we were more than satisfied. The apartment and residence were perfect just like on the pictures. It was clean with all amenities required. The residence was beautiful with 24/7 security proposing many services like taxi ... The pool and the daily view on the sunset were priceless. The neighborhood was nice, very safe and friendly. The beautiful beach of La Preneuse, supermarkets and restaurants were nearby (10 min walk) so you could enjoy your stay without leaving Rivière Noire - what we did. Priscilla was a great host, she arranged pickup from the airport for us and she was available replying to all or requests in a very timely manner. She even gave us a very cute gift when we left. We strongly recommend you to stay at Priscilla's apartment if you look for sea, pool, sun and calm.
Ndongo
2017-01-27T00:00:00Z
Rodzaj pokoju
Całe miejsce
---
Rodzaj nieruchomości
Apartament
---
Mieści
4
---
Sypialnie
Black River, Black River, Mauritius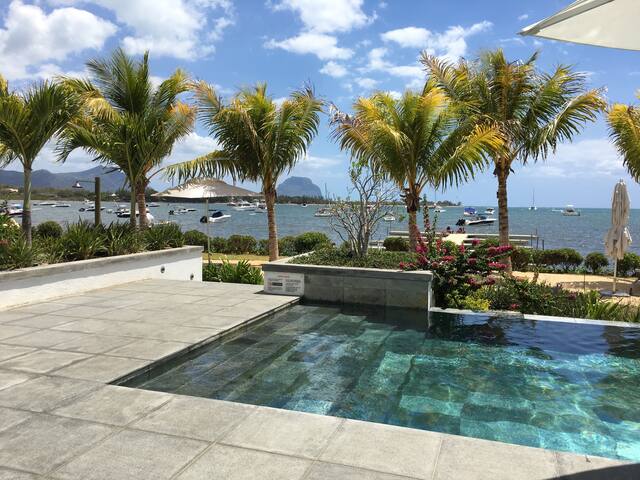 Udogodnienia Latitude mieszkań oferują wyjątkową troskliwego dotyku ze swojego prywatnego basenu wgłębnego, grill skonfiguruj, przestronne pokoje i wspaniały widok na przystań. Kompleks oferuje piękny klub dom nad wspólnym basenem, gdzie goście mogą odpocząć i cieszyć się codziennie magiczny zachód słońca. Moje miejsce jest blisko do komunikacji miejskiej i działań przyjaznych rodzinie. pokochasz swoje miejsce ze względu na widoki, lokalizacja, a atmosfera. Moje miejsce jest dobre dla par, osób podróżujących służbowo i rodzin (z dziećmi).
Prywatna brodzik. Grill skonfigurować do Państwa dyspozycji (Weber). Przestronne pokoje i wspólne obszary. Przyjazny dzieciom pływalnia ogólnodostępna.
这个房子不是在海边,照片是p过的。实际上没有照片拍的那么好~床单会有一些浅浅脏印~但房间设备齐全,环境安静~
Vivienne
2017-02-02T00:00:00Z
Stephane was a fantastic host for our group. He knew everything about Mauritius and gave us great advice on where to eat, play, swim, etc. The unit was very clean and only steps from the water. It was great to watch the sunset each night as we sat by the pool. The location was great too because it wasn't in a crowded area, and was only a short drive to all of the areas you would want to explore. I would definitely recommend staying here and we would absolutely stay here again if and when we return.
joe
2016-12-28T00:00:00Z
The apartment and complex was so much better than we expected and we thoroughly enjoyed coming back to it each afternoon. I would highly recommend staying here.
Wayne
2017-01-19T00:00:00Z
Great upclass accommodation in a very fair price. Very close to the beach. Pool area is amazing
Adam
2017-01-23T00:00:00Z
Le logement est incroyable : luxe, propreté, petite piscine privée, et 150m² rien que pour soi. Le luxe ultime serait d'avoir une vue sur la mer, mais pour cela il suffit d'aller à la piscine de la copropriété, et là, c'est l'enchantement complet. Piscine magnifique, vue à couper le souffle, palmier & co, berf tout ce que l'on cherche et que l'on croit réservé au milliardaires. Juste dommage qu'il faille se faire les petits déjeuners ...
Pierre-Etienne
2017-03-03T00:00:00Z
We thoroughly enjoyed our stay and loved the pool with an amazing view of ocean and boats, mountains and perfect sun sets. The pool was never crowded, felt like ours alone, and the section for small kids is just perfect for family vacation. The compund is guarded and feels friendly and safe. Apartment is new and comfortable with a small plunge pool and a bbq. The host is very helpful and friendly with great open communication skills and we sure would come back here.
Danijela
2016-12-05T00:00:00Z
Great quiet luxury place with lovely view from beautiful common pool, friendly support and kids loved the private small pool in garden as well, thx.
Bram
2017-04-01T00:00:00Z
Dejlig lejlighed, god plads, rent, skønne omgivelser, super beliggenhed, tæt på indkøb, natur og ikke mindst den skønne lagune med de vilde delfiner udenfor revet, tæt på nationalparken. Det kan anbefales❤
Charlotte Riis
2017-02-17T00:00:00Z
Rodzaj pokoju
Całe miejsce
---
Rodzaj nieruchomości
Apartament
---
Mieści
6
---
Sypialnie
Rivière Noire District, Rivière Noire District, Mauritius

Pełny widok na morze, Nowoczesny Wyrafinowane 3 BR / prysznicem, nieskazitelnie urządzone, Large outdoor living będzie to magiczny i niezapomniany Tropical Island wypad, czy chcesz się zrelaksować i kopać swoje nogi lub wychodzić wyruszą na wyspę Blisko do sklepów, barów i restauracji Łącznie 24/7 bezpieczeństwa, prywatny parking, bujnej tropikalnej walk-thru ogrodowe, duży basen & Club House z pięknym widokiem na ocean na najbardziej idealistycznych i niezapomniany sundowners. ... Śmiało porozpieszczać ...
Duży odkryty taras z niezakłóconym widokiem panoramicznym widokiem na wspaniały West Coast z najbardziej malowniczych zachodów słońca każdego wieczoru podczas zjeść obiad na świeżym powietrzu. Każdy pokój jest klimatyzowany łącznie z wentylatorem. W pełni wyposażona kuchnia ze zmywarką do naczyń, ekspresem do kawy Nespresso, kuchenka mikrofalowa i wszystkie nowoczesne udogodnienia, których można oczekiwać od własnego domu.
A true piece of paradise. The accommodation is lovely - exactly as it looks in the pictures. The outlook is amazing!!! We travelled with our 2kids (2yrs & 5yrs) and they loved being able to run in the gardens and play in the pool. They made lots of friends at the pool. A beautiful, peaceful place in an ideal position to enjoy other delights of Mauritius and also just quiet time with family enjoying the perfect sunsets
Philippa
2017-04-11T00:00:00Z
This certainly is a paradise getaway! The photos of the place are totally accurate (if anything they don't do it justice!). Richard could not have been more helpful and Angela kept the place absolutely spotless. We had a wonderful week of rest and relaxation - exactly what we needed! The view from the deck is stunning throughout the day, rain or shine, sunrise or sunset! Being able to walk out for dinner at 2 great restaurants at Russeau Creole was also excellent - Al Dente for Italian food and Medium Rare for steaks and ribs. The decor in the apartment is inspirational - we've come away with lots of ideas!! Thank you to Odile and your team for an amazing stay!
Chrissie and Nikki
2017-04-04T00:00:00Z
Great place !!!
Bogdan
2017-02-11T00:00:00Z
Det er den flotteste lejlighed man kan forestille sig. Dejlig udendørs terrasse - med fine møbler og den flotteste udsigt. Skønt sted at ferierer. Hvis man gerne vil gå i vandet, er stranden ikke den helt perfekte, bunden er lidt mudret. Men ellers er alt perfekt. Sød vært som svarer meget hurtigt.
Scharlotte
2017-03-02T00:00:00Z
Un compromis entre être à l'Hotel (haut de gamme) et être chez soi.
patricia
2017-03-20T00:00:00Z
Rodzaj pokoju
Całe miejsce
---
Rodzaj nieruchomości
Apartament
---
Mieści
6
---
Sypialnie
Black River, Rivière Noire District, Mauritius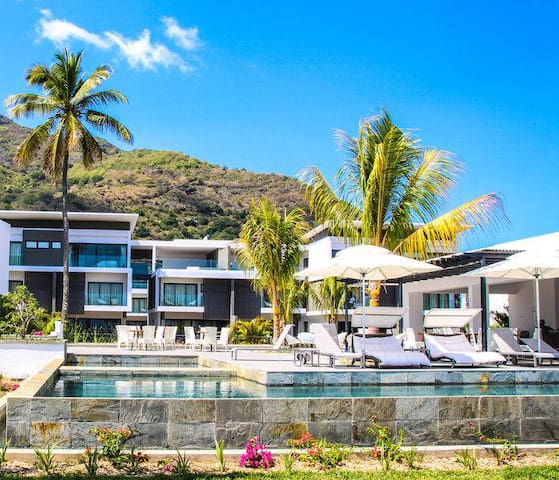 Three Bedroom Duplex with private splash pool located at Latitude Seafront apartment in Rivière Noire. Outside dining area, spacious living area, modern american kitchen. Partly sea view from patio. Master bedroom gives a fantastic view on the ocean and swimming pool view.
Rodzaj pokoju
Pokój prywatny
---
Rodzaj nieruchomości
Apartament
---
Mieści
6
---
Sypialnie
Port Louis, Rivière Noire District, Mauritius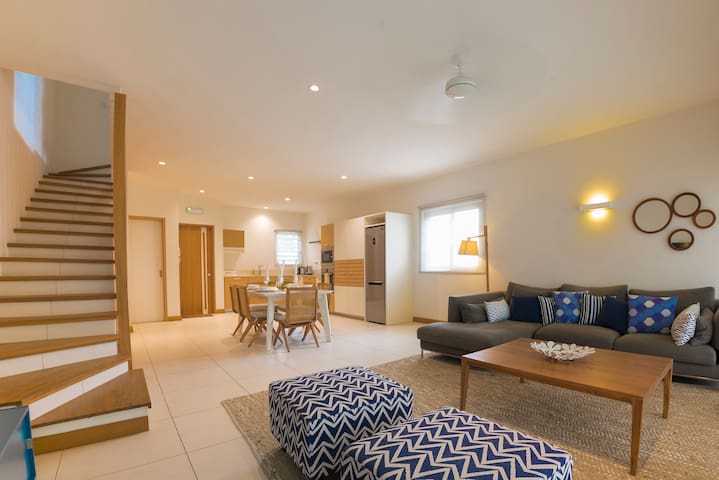 Mein Platz ist in der Nähe zum Strand, zum Supermarkt und Restaurants zu Fuß .. Du wirst mein Platz lieben, weil dieser Ort ist das Paradies, ruhig, nah an einem schönen Strand umgeben mit Palmen, gute Restaurants, der perfekte Ort zu verbringen einige Zeit, um das Leben auf der Insel .. Mein Platz ist gut für Paare, Solo-Abenteurer, Geschäftsreisende zu entspannen und zu genießen, und Familien (mit Kindern).
Merci à Géraldine et Jens pour cet agréable moment passé en leur compagnie. Nous avons été très bien reçu, avons partagé un excellent repas et un copieux petit déjeuner. Le logement est très bien situé, proche de la Tour Martello et de la très belle plage de la Preneuse. Maurice et Anne-Marie
Maurice
2016-08-12T00:00:00Z
Magnifique logement très bien placé près de la plage et d'un agréable restaurant, The Bay, recommandé par Géraldine et Jens. Après quelques jours de vacances, les sacs sur le dos, nous avons pu profiter d'un bon débit internet et surtout du lave linge et sèche linge ! Nous avons pu échanger avec le couple. Nous sommes restés qu'une nuit mais conseillons vivement ce logement !
Amandine
2017-03-14T00:00:00Z
Géraldine nous a très bien accueilli et a été très présente lors de nos questionnements. Merci à elle et à Jens pour leur accueil et leur sympathie.
Frederic
2016-08-07T00:00:00Z
Nice place
Anais & Maher
2017-03-31T00:00:00Z
Our stay at Geraldine and Jens was great and comfortable. We had a nice and cleaned room including our own bathroom and we could use the shared kitchen, terasse and washing machine whenever we want. They gave us really good tips for restaurants and activities. It's a good place for activities and sight-seeing in the South-West of Mauritius.
Michel
2016-08-26T00:00:00Z
We had two wonderful and unforgettable weeks on Mauritius. We could feel at home with Geraldine and Jens who have satisfied us every pleasure. Whether it is to pick us up from the airport, to organize ship trips, to make recommendations or to answer questions. The location of the apartment was also great. We were in 2 minutes on a beautiful beach and fast at the supermarket. Very nice and convenient was that we could rent the car from Geraldine for the two weeks so we could explore almost the whole island. We are very happy to have met two such lovely people!
Lena
2016-10-22T00:00:00Z
It was a great vacation for us! So many good memories and emotions! Thanks a lot!
Александр
2016-11-10T00:00:00Z
Rodzaj pokoju
Pokój prywatny
---
Rodzaj nieruchomości
Apartament
---
Mieści
2
---
Sypialnie
Black River, Black River, Mauritius
Luksusowy (200 m2) appart tylko 10 min od plaży na piechotę. Położony na zachodnim wybrzeżu (Tamarin / Black River) na parterze i na drugim końcu spokoju, zabezpieczone i up-market kompleks mieszkalny, Appart posiada duży pokładu taras z zadaszonym salonie i śniadaniu z widokiem tropikalnych roślin i kwiaty. Dostęp do parkingu i wspólnym basenem. sklepy spożywcze zaledwie 3 minuty spacerem. Apart jest dostępna dla 1-6 osób na zasadzie wyłączności. Ceny począwszy od 2 osób i 1 sypialnia.
Mieszkanie składa się z 3 klimatyzowany, sypialnie, 2 łazienki, otwarta w stylu amerykańskim w pełni wyposażoną kuchnię z widokiem na salon i jadalnię. Pralka w oddzielnym pomieszczeniu pralni. Duży telewizor cyfrowy z dostępem do kanałów telewizji satelitarnej. Prywatna wifi.
Mieszkanie jest ściśle zlokalizowany hipermarketach miasta, sklep owoce i warzywa, sklepów winiarskich i centrów handlowych. Wystarczy około 10 minut spacerem do plaży La Preneuse. Restauracja La Bonne Chute (wyśmienite owoce morza oraz dziczyzna cuisinne) znajduje się zaledwie 3 minuty spacerem. Liczne restauracje i bary znajdują się w pobliżu, by w nocy rozrywki. The Black River Gorges National Park i jego endemiczne lasy, liczne wycieczki, w tym połowów Big Game, żeglowanie katamaranem do Benitiers wyspy, pływanie z delfinami są w Black River kilka minut jazdy od hotelu. Plaża Tamarin, najlepszym miejscem surfowania jest blisko-by. Światowej sławy latawca i windsurfingu miejscem na wyspie, Le Morne jest krótki 15 minut jazdy od Black River. Golf w Tamarina osiedla jest zaledwie 10 minut od hotelu.
Bardzo wygodny i przestronny apartament ze wszystkimi niezbędnymi udogodnieniami (jedyna wada to brak zmywarki do naczyń i suszarki do włosów). Zdjęcia z oferty są zgodne z rzeczywistością. Gospodarze bardzo sympatyczni i niespotykanie pomocni. Na przywitanie dostaliśmy "żywieniowy pakiet podróżnika" :-) Bardzo dobra lokalizacja do podróżowania po wyspie. Polecamy.
Grzegorz
2016-07-09T00:00:00Z
On s'est sentis plus que bien dans cet appartement spacieux, confortable et très joliment arrangé ! Si l'on revient à Maurice, alors on reprendra sans hésiter contact avec Patrick qui a été un hôte très sympathique et disponible au besoin ! Bref, on a beaucoup aimé et on recommande !
pol
2015-10-24T00:00:00Z
Patrick and Catherine are amazing hosts. Truly enjoyed spending our holiday at this gorgeous flat. Everything you need is there and even more. They were always so nice to help us with everything needed, from tips to where to surf to transfers , restaurants and everything else.
Silvia
2016-01-11T00:00:00Z
Patrick and Nathalie are wonderful hosts. Lovely and caring and they helped with everything we needed (rental car, taxi to airport). They also provided a fridge with essential stuff/food as well as Marlin and baguettes so we had something to eat at our fist day, which was very delicious. A basked with fresh food was also there. Simply a dream! We were impressed by the size of the apartment. It looked even bigger in real than here in the photos. The apartment and bathrooms were very clean and beautiful. It was also lovingly decorated with flowers when we arrived. The kitchen was very well equipped. We had everything we needed. There were additional blankets provided, but we found they are not needed at all, so we left them in the closet. There is nice terrace with a sitting/lounge area and a table for eating outdoors. The pool was big, too. Arrival and departure were very easy. Patrick provided a map and plan of the apartment's location (our taxi driver still did not find it, but that was a problem of the driver not the map ;-)) We will definitely come back!
Julia
2016-05-31T00:00:00Z
Tout était comme sur le site à proximité de commerces et de lieux touristiques Super séjour merci à Patrick
david
2016-04-18T00:00:00Z
We had a really great time staying at this apartment. First class and highly recommended. When visiting Mauritius for business or pleasure, this apartment and the hosts will certainly make it memorable. Thank you to Patrick & Nathalie.
Ryno
2016-09-10T00:00:00Z
Patrick has been really friendly host with us, he took time to explain us what can we do over there. The flat was like expected. I highly recommend this place if you have to go to Mauritius island.
Geoffrey
2015-11-19T00:00:00Z
We had a lovely stay in Black River thanks to Patrick and Nathalie's warm hospitality and lovely, spacious apartment. The apartment was as it was advertised 'upmarket and spacious' and we were with a toddler and baby and we had no issues with it also being child friendly. Patrick and Nathalie went out of their way to help my father with some administration work he had to do urgently that day (scanning, emailing and even driving him to the post office) which was greatly appreciated. We will definitely try and book again next time we stay in Black River.
Rosy
2016-07-24T00:00:00Z
Rodzaj pokoju
Całe miejsce
---
Rodzaj nieruchomości
Apartament
---
Mieści
6
---
Sypialnie
Black River, Black River, Mauritius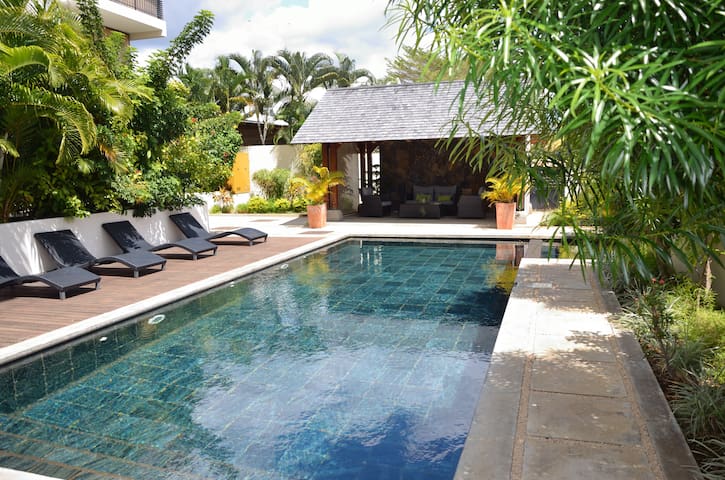 På det trendy West Coast Mauritius, Black River, et nyt hjem, 2 minutters gang til stranden og butikken. Denne anden sal rummelig lejlighed består af 2 store soveværelser, gratis WiFi, åbent køkken / stue, bad / toilet, privat swimming pool og haver.
På det trendy West Coast Mauritius, Black River, et nyt hjem, 2 minutters gang til stranden og butikken. Denne rummelige lejlighed på tredie sal består af 2 store soveværelser sove 4 gæster, åbent køkken / stue, bad / toilet, privat swimming pool og haver. Lejligheden tilbyder gratis WiFi og brug af en privat pool. En 2 minutters gang fra stranden og 5 minutters gang fra det lokale supermarked. Der er en række restauranter og barer at tage højde for enhver smag og en 20 minutters kørsel til La Morne Kite surfing distriktet. Fiskeri, Golfbaner, Ridning, tennisbaner i nærheden og vandsportsaktiviteter alle inden for en 10 minutters kørsel. Lejligheden er forbundet med min dental praksis og behandlinger af en britisk uddannet tandlæge kan leveres til en brøkdel af prisen for Europa.
Set i et boligområde 2 minutters gang til stranden og 5 minutter fra det lokale supermarked. Lejligheden ligger i et meget stille del af Black floden. Trendy og cool barer og restauranter nær ved.
Great host who made me feel welcome. The flat is nice and has everything you need.
Remi
2015-10-22T00:00:00Z
la barrière des langues ne nous ou pas fait défaut la maman et le papa a Dany étant là pour nous donner tous les conseilles soit en anglais ou bien en français parfois un mélange des deux nous arrivions parfaitement a nous comprendre et nous n'oublierons pas les petit gâteaux avec le thé de l'après midi devant la piscine a discuter. repos garantie merci a vous trois.
marguerite raymonde
2016-11-16T00:00:00Z
Daniel is very helpful and always available when you need him. The apartment is close to the nice beach in quiet and peaceful area. The apartment is clean and spacious. The supermarket is 5 minutes walk. I can definitely recommend staying at this place.
Michał
2017-01-23T00:00:00Z
My wife and I had the pleasure of staying with Daniel for 5 days. The apartment is lovely -- much larger than it seems in the pictures -- and very comfortable. Though it was just my wife and I, the apartment could have easily fit another two people (or more if someone doesn't mind the couch or sharing a bed.) The washing machine was a nice bonus and allowed us to pack lighter than usual. The flat was centrally located, just off the main highway that runs along the southwest coast of the island, and very convenient for the activities we wanted to do. (One caveat - we rented a car so I don't know how well you can navigate the area by public transit. That said, it is walking distance from the beach and a supermarket.) Daniel is a charming host and we had the pleasure of his family. His father even brought us fresh mangoes off his tree! At the same time, he's a low-key guy and happy to leave you alone if that's what you want. Overall, we had a great time and I can't recommend Daniel's place highly enough.
Michael
2017-01-28T00:00:00Z
Excellent location a stone's throw from La Preneuse beach. The flat is very spacious, has all the facilities you might need for a home away from home and is very well maintained. Daniel was a welcoming host and helpful with any questions we had.
James
2017-01-16T00:00:00Z
He had quick and excellent communication skills. Daniel's place is fabulous and I highly recommend it.
Francis
2016-07-17T00:00:00Z
Second time we stayed at Daniels place
Alan
2016-06-21T00:00:00Z
daniel is a very good host,if you have any question he is here to advice you.the appartement is very good located,near the beach and restaurant.the appartment is very big with all the equipment!thank you daniel!
emilie
2016-02-14T00:00:00Z
Rodzaj pokoju
Całe miejsce
---
Rodzaj nieruchomości
Apartament
---
Mieści
4
---
Sypialnie
La Preneuse, Black River, Mauritius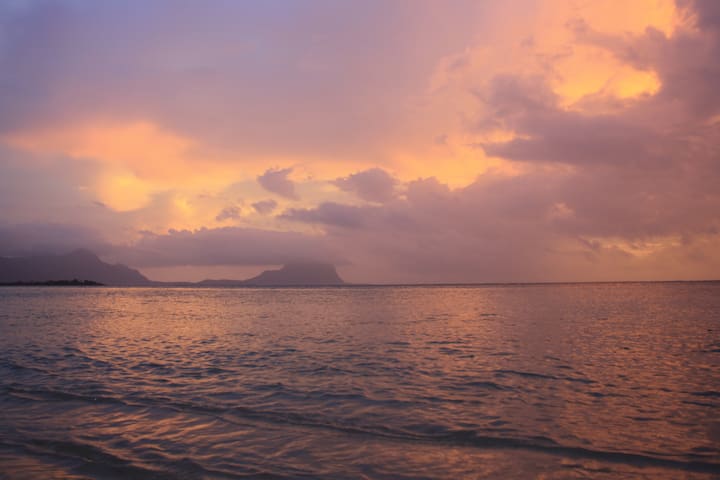 Rodzaj pokoju
Całe miejsce
---
Rodzaj nieruchomości
Apartament
---
Mieści
2
---
Sypialnie
La Mivoie, La Preneuse, Black River, Mauritius
Die Beachfront Apartments sind atemberaubend und bietet luxuriöse Anwesen am Wasser wirklich erstaunliche Aussicht auf das Meer mit eigenem Zugang zum Meer. Eingerichtet, um den höchsten Standards im gesamten, bieten die Apartments luxuriöse, moderne Einrichtung mit exquisiten Geschmack und opulance gestylt. In der beliebten Riviere Noire Region an der Westküste von Mauritius, die Beachfront Apartments bestehen aus vier schönen Apartments mit viel Platz und Privatsphäre in einem perfekten Paradies Einstellung. Jedes Apartment befindet sich 170 sq metres.There sind nur vier Wohnungen 2 im Erdgeschoss und 2 im ersten Stock den ganzen Strand stehen vor mit un Meer interupted views.Each Apartment verfügt über ein Schlafzimmer mit Kingsize-Bett und eigenem Bad mit Badewanne hat und sepertae Dusche und wc.The Master-Schlafzimmer verfügt über einen direkten Zugang zum terrace.There gibt auch ein separates Doppelzimmer mit Queen-Size-Bett mit eigenem Duschbad und wc.The dritte Schlafzimmer hat ein Einzelbett mit einem Doppel-Schlafcouch mit eigenem Duschbad und WC Die Wohnung verfügt über eine Klimaanlage im ganzen Haus und es gibt kostenlose Wi-Fi. Das Wohnzimmer ist mit 40inch Plasma-TV mit Satellitenempfang und DVD-Player.Die Wohn auf den höchsten Standard an Luxus eingerichtete Zimmer einen direkten Zugang zur Terrasse, die im Freien Tisch und Stühle für Essen im Freien. Die voll ausgestattete moderne Küche ist mit allen Annehmlichkeiten wie Geschirrspüler, Waschmaschine etc. Die Wohnungen verfügen über tägliche Reinigung außer Sundays.Tea, Kaffee, Milch und Zucker auf arrival.Shampoo zur Verfügung gestellt werden, Conditioner und Duschgel wird täglich komplementär zur Verfügung gestellt. Es gibt einen schönen Pool in den Gärten mit viel Sonne loungers.Beach towles vorgesehen sind. Die Beachfront Apartments liegen im ruhigen Ort Riviere Noire Region an der Westküste von Mauritius. Weltbekannt, verdankt die Popularität der Westküste von Mauritius sehr viel zu seiner dramatischen Szenerie und Sonnenuntergänge. Es ist auch die trockenste und sonnigste Teil der Insel, die für ihre herrlichen Strände und seine hervorragende Möglichkeiten für Ozean Aktivitäten wie Tauchen und Surfen bekannt ist. Es gibt ein eigenes Boot für die Gäste mit einem Skipper für Ausflüge wie Schnorcheln, Tauchen oder einfach nur einen tollen Tag auf dem Wasser !! Vor Ort zu zahlen. Das Hotel liegt in La Preneuse, die Wohnungen sind nur wenige Gehminuten von lokalen Annehmlichkeiten wie einen Supermarkt, Designerläden und eine Vielzahl an internationalen Restaurants.
We (family of 4 plus in laws) had 10 absolutely wonderful days at Olana's. Agnes and Ken were the best hosts one could ever wish for. We were carefully introduced to everything from local restaurants and sights to dolphins and car rentals. The house and the pool is great - just as the pictures if not better.
Lars
2017-03-20T00:00:00Z
Rodzaj pokoju
Całe miejsce
---
Rodzaj nieruchomości
Apartament
---
Mieści
6
---
Sypialnie
Black River, Riviere Noire, Mauritius
Beliggende ved siden af Martello Tower i Black River, dette hyggelige fuldt udstyret 3 værelses lejlighed har en direkte adgang til en af de mest overdådige strand på vestkysten. Beundre skønheden i Mælkevejen, mens madlavning en BBQ på rooftop er kun et klik væk! Ved siden af Tamarin landsby beliggende i fiskeren La Preneuse gade, lejligheden er en blanding af ægthed og komfort. Lejligheden er beliggende ved siden mange faciliteter (supermarked, restaurant, båd udflugt afrejse).
Mellem himmel og sand, kan du nyde alle vandaktiviteter i løbet af dagen (Boat, Kite, surf, snorkling, eller garvning) takket være en af de smukkeste strand (30 m), mens natten kan du også overveje den storslåede Mælkevejen og visning på bjerget fra tagterrassen, mens du nyder din bBQ sammen med dine kære.
Meget roligt kvarter, men tæt på mange faciliteter - 30 meter til stranden - 300m fra London supermarked - 50 meter til Martello Tower - Mere end 20 restaurant i 1000m radius
We had a wonderful time at the apartment of Priscille and Pierre. The hosts are really very helpful and attentive for their guests but also respect your privacy. When we arrived we appreciated the items they provided us with in the fridge and Priscille also offered us fresh herbs from her garden to cook with. Their son Thibaut is also very kind in helping out when needed and the communication was also good. The apartment is very practical, even more spacious then the photos show and is decorated with taste. The living area is very well ventilated and the 3 bedrooms all have AC and are very comfy and cosy. Also very practical to have 2 bathrooms, each with shower, toilet and sink. The kitchen is well equipped and practical (lots of tableware and dishwasher) and the rooftop terrace is well furnished and has a Weber BBQ for evening diners (too hot during daytime for our stay). Wifi connection is top and Canal plus TV is available. The location is also great to explore the West and South side of the island. A beautiful and peaceful beach is just 1 minute walk away with a fantastic setting on Le Morne and also the supermarket can be reached on foot (15min). We can really recommend this apartment to have a relaxing holiday and also as a base to explore some of the beautiful nature in Mauritius.
Bernadette
2017-03-19T00:00:00Z
We just came back home after spending almost 2 weeks in La Preneuse. The apartment is very spacious and comfortable, and Priscille and Pierre made sure that we were feeling like home. Very clean, with all the amenities you need and nicely located at 1 minute walk from a gorgeous beach. The area is quiet and relaxed, but you still have some restaurants close by. Thibaut helped us arranging the hire of a car, which is quite convenient in Mauritius to move around. We really enjoyed our stay and we highly recommend Thibaut's place!
Bibiana
2016-10-06T00:00:00Z
Fantastic place to stay! Great location (beach and facilities are near by). The flat is spacious and very comfortable. Everything is done to make you fell home.
Anne
2016-05-15T00:00:00Z
Nous ne sommes resté que 2 nuits mais on serait bien volontier rester plus longtemps. Superbe logement spacieux, très bon rapport qualité/prix.
NATHALIE
2016-07-07T00:00:00Z
We have just spent a fantastic four nights at Thibaut's apartment. The apartment was simple but very stylish and comfortable and only a minute to a beautiful beach, perfect for a sunset beer and a game of petanque! Beds comfortable, hot powerful showers and the kitchen is well equipped. We really appreciated the welcome basket of fresh fruit, bread and essentials for the first night too. The location is excellent, close to the beach, supermarket and some bars and restaurants close by including the restaurant along the beach with views out over the bay and a fun bar about 5 mins walk away called Tutti Fruiti. We drove along the coast to La Mourn and spent a lovely day exploring and relaxing on the beautiful public beach there, definitely worth doing with a real mix of both locals and holiday makers with good facilities on the beach. Overall a great apartment, we couldn't fault it and Thibaut's parents are very friendly hosts, making sure you have everything you need. We will be back :)
Maxine
2016-09-06T00:00:00Z
Lovely apartment in a quiet residential area just 100m from the beach, along which you can find The Bay restaurant (recommended)! Very friendly and helpful hosts made us very welcome.
Chris
2017-01-28T00:00:00Z
- aptm is at least 80m2, 2 bathrooms - quiet and tranquil neighbourhood - beautiful beach 50m from house - shops on foot 10min (including big supermarket and a shop for fresh fish) - 4 restaurants on foot 15min - bus stop on foot 10min (to flic en flac change at cascavelle once, direct to le morne and to chamarelle) - very stable wifi connection we were here for 5 nights with our 4 year old son and loved it. we did not have a rental car and did all our trips to sights and shops on foot and by public transport. having a cleaner every weekday morning did make our stay a true vacation (and she knows everything about busses). we would certainly love to return and stay again!
Fabienne
2016-10-27T00:00:00Z
Notre séjour dans cet appartement a été parfait. Tout est neuf, propre, confortable ! Le roof top est très agréable pour les soirées barbecues. Nos hôtes étaient très accueillants, très attentionnés et accessibles (ils habitent sous l'appartement). Le logement est très bien placé, à 50 m de la plage (par un chemin privé), proche des commerces. Une adresse à retenir !
Adèle
2016-11-01T00:00:00Z
Rodzaj pokoju
Całe miejsce
---
Rodzaj nieruchomości
Apartament
---
Mieści
6
---
Sypialnie
Rivière Noire, Rivière Noire, Mauritius
Zastrčený v Black River s vynikající styl a komfort, Sunset Coast se nachází na nejvíce vyhledávanou rezidenční pobřeží ostrova. Jedná se o zcela nový luxusní plážový byt, který klade pohodlí a relaxaci v centru každodenního života.
Nastavit přímo na pláži na jednom z mála posledních plochách nábřeží, byt se rozkládá na ploše 155 m2 navržen s moderní plně vybavenou kuchyní, 3 dvoulůžkové ložnice, každá s vlastním sociálním zařízením, prostornou obývací částí, která se otevírá na široká veranda nabízí pozoruhodně širokým úhlem pobřežní scenérie s bonusem neméně malebné zadní pohled na orientační bod Tourelle kopce. Byt je vybaven s nejvyššími technickými normami a dokončovací normám, jež jsou, pokud jde o všech hlavních elektrických spotřebičů, bytového textilu a ložní prádlo, nádobí, příbory, sklo a nádobí.
Black River je dobře rozvinutý region, velmi turistické a dobře známý pro své neuvěřitelné pláže a křišťálově moře. Nákupní je skvělé s vybranou mezinárodní i místní módě; jídelní je dobrá, kvalita nebo uvolněný. Ve velmi těsné blízkosti najdete také 2 Evropská supermarkety stylu, vinotéky, řezník obchody, lékárny, rodinný lékař, zdravotní středisko, čerpací stanice, policejní stanice, jakož i cestovního ruchu informační kiosek. K dispozici je široký výběr bank, které jsou v provozu od 09: 30 do 1500 Po-Čt a 09: 00-17: 00 v pátek. Klima je jedním z nejlepších na ostrově s průměrem (27 ° C - 33 ° C) s vrcholy v letním období.
Wir haben in dieser Wohnung zwei sehr schöne Wochen verbracht.Das Appartment hat eine ruhige Lage und einen schönen Blick auf das Meer sowie sehr gute moderne Ausstattung.Lediglich das Schwimmen im Ocean gestaltet sich aufgrund des niedrigen Wasserstandes und der Korallen etwas schwierig .Tatiana war eine sehr gute Gastgeberin und war immer bereit helfend bei Fragen zur Verfügung zu stehen.
Gerhard
2017-02-18T00:00:00Z
Excellents moments passés. Tout était au top.
Stephanie
2017-01-16T00:00:00Z
Tatiana's place is beyond the description, spotless, full equipped, we really feel like home. Straight to the beach, you can enjoy a morning walk to the coastline and beautiful sunset. Tatiana is one of the best hosts I met around the world. She is very welcoming, easy to communicate. She helped to arrange the airport pickup and dolphins watching trip, it was customized and perfect. Thanks for hosting us! We will definitely come back again!
Hua
2016-10-18T00:00:00Z
We had a great stay in her beautiful apartment. Tatjana organized the transfer from the airport for us. When we arrived we really got a warm welcome. The apartment is directly located at the sea with a nice refreshing pool and a lovely view to the sea which we enjoyed erveryday. A small supermarket and a fantastic bakery is around the corner. We rent a car to get to know more of the island. Not to forget to mention the nice snorkeling tour with the dolphins which was so fantastic for us. Thank you very much for the great vacation.
Carsten
2016-08-10T00:00:00Z
Séjour parfait dans des conditions extra sur une île paradisiaque ! Hôte à l'écoute de toutes les demandes, très disponible. Appartement magnifique entretenu tous les jours par une femme de ménage souriante. Les trois chambres sont équipées de grandes salle de bains. Le séjour donne sur la piscine et plage. Pas de vis à vis avec les autres appartements. Plage privée située à 500m des départs pour les sorties dauphins, restaurant et supérette proche à pied. Ce fut un séjour inoubliable merci à vous Tatiana !
Faouzi
2015-07-31T00:00:00Z
Stunning modern apartment, clean, serviced and it a fabulous area with great restaurants and shops close by. Tatiana was a wonderful host and an absolute pleasure to deal with. We will be back, highly recommended!
Mark
2017-02-03T00:00:00Z
This apartment is beyond our expectation. It's very spacious with three bedroom and three full bath rooms. Just steps away from beach. The room is very clean and stylish. Tatiana is a great host and is always available to answer our questions. No doubt a five star and recommend fully.
zhang
2017-01-27T00:00:00Z
这边明显是富人区,白人多。如果自己做饭吃,相当方便和经济。出门左转500米,有个食品超市,很便利。右转步行十几分钟,有个中型超市LONGDON MARKET,满足你的一切。再走十几分钟,是个商业区,有三家高档餐厅可以选择(牛排,意面,披萨,人均150)。如果你有车,在主道的选择就更多了。而且酒店附近也有几个小餐厅。景色如同图片,太迷人了。 女主人Tatiana非常热情,在路上就认出我们,并把我们带到餐厅。房间内的设施,现代化堪称完美。 去其他的地方还是租车,包车比较好。 这边的人沿袭了欧洲人的严谨,完全按照规则做事,热情,严谨。派车,退房,不会延迟一分钟,中国人要习惯这一点。我觉得非常好。
滨BIN
2017-03-04T00:00:00Z
Rodzaj pokoju
Całe miejsce
---
Rodzaj nieruchomości
Apartament
---
Mieści
6
---
Sypialnie
La Preneuse, Black River, Mauritius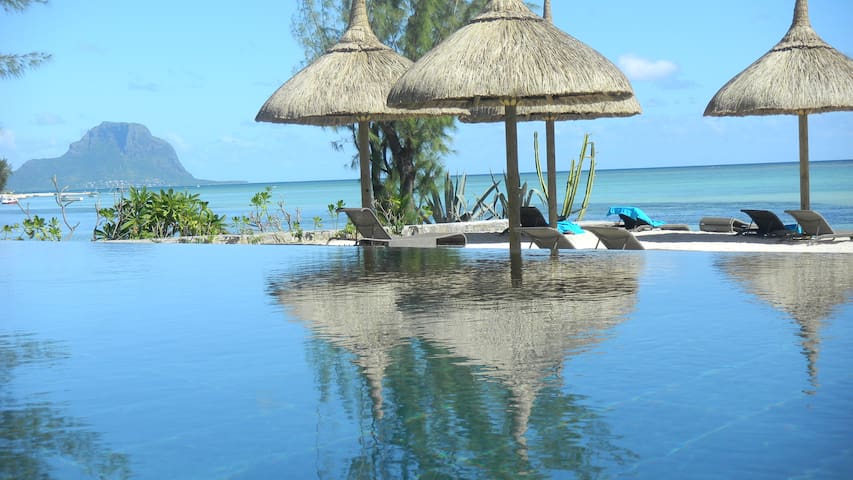 My place is close to great views, restaurants and dining, and the beach. You'll love my place because of the neighborhood, the comfy bed, the coziness, the kitchen, and the light. My place is good for couples, solo adventurers, and business travelers.
The Studio is Located in a Small Family owned Complex of four Apartments, each fully independent and Fully separated. There is a Pool, Garden and Large Patio as well as secured Parking. We do have a Laundry Room for guests.
We are located in the Black River village on the West Coast of Mauritius, very close to the Jetty to all major boating activities in the area, also right next door is the Black River Gorges National Park for trekking and wildlife for all ages. Also nearby are many restaurants a Supermarket, Bank, Shopping Center called Ruisseau Creole. The Closest Beach for Swimming is La Preneuse, otherwise there is a Beach 300M. Down the road.
Das Apartment war schön und gross. Es ist sehr ruhig gelegen. Leider muss man immer ein Taxi oder Bus nehmen, da die Restaurants, Beach und Geschäfte ziemlich weit entfernt war.
Kerstin
2016-12-26T00:00:00Z
Nice, clean and large appartment with a nice garden and pool. Darren is a friendly host. The appartment is in a small town, close to the National Reserve and nature. Bars, restaurants and supermarket are a bit further away.
Aart
2017-01-13T00:00:00Z
Darren's flat is nicely located in a local quarter. We even had a little garden for ourselves! Communication with our host, checking in and out went super smoothly. Any time again!
Elsa
2016-12-29T00:00:00Z
Rodzaj pokoju
Całe miejsce
---
Rodzaj nieruchomości
Apartament
---
Mieści
2
---
Sypialnie
Grande Riviere Noire, Rivière Noire District, Mauritius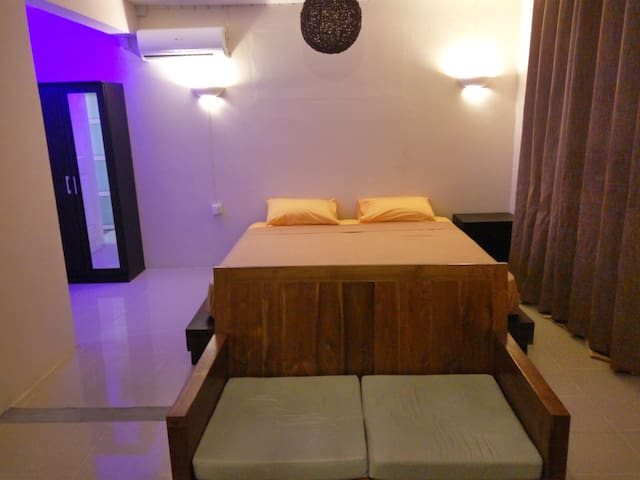 West Island Resort je první svého druhu na Mauritiu. Vilu Resort s vlastním přístavem se nachází v nádherné oblasti Black River. Toto Resort se skládá z prostorných luxusních apartmá v rozmezí od 2 -4 ložnice, které nabízejí dostatek prostoru (nejmenší kategorie 190 m2) a pohodlí! Mezi zařízení, které nabízí Resort jsou restaurace, lázně a nádherné bazénu a okolních prostor, kde je možné vychutnat nádherné mauricijských Západy slunce při popíjení na koktejl.
West Island je zasazeno v La balízový Marina v Black River na západním pobřeží ostrova. Plně bránou s 24 zabezpečení, tato vlastnost je skutečný klenot! Black River je známý jako Big game fishing Mekkou Mauritius! Na Mauriciu; se říká "West nejlepší". Samotný byt je vybaven vysoce kvalitním nábytkem a nabízí vše, co host vystoupí
Debras place is just amazing- the location, the apartment, the pool and the restaurant near by- everything is just perfect. The area is safe and clean and the staff is very kind and service minded. Debra was wery helpful with everyhing both before and during our stay. Thank you so much for a lovely vacation!!
Carl og Teresa
2017-01-01T00:00:00Z
Rodzaj pokoju
Całe miejsce
---
Rodzaj nieruchomości
Apartament
---
Mieści
6
---
Sypialnie
Black River, Rivière Noire District, Mauritius
L'Escale befindet sich an einem der schönsten Strand von Mauritius, La Preneuse. Alle Luxus-Suiten sind gut gestaltet und komfortabel, komplett ausgestattet und bieten einen atemberaubenden Blick auf das türkisfarbene Lagune.
STRAND DUPLEX Große Glasöffnungen enthüllt eine atemberaubende Aussicht ... Die ruhige Rauschen des Meeres auf dem Riff abstürzt ... das sind die Worte, die die magische Erfahrung des Beachfront Duplex am besten beschreiben. Die Duplex selbst ist auf zwei Ebenen gebaut und bieten eine hervorragende Räumlichkeit. Gäste betreten den Wohn- und Essbereich, die ows nahtlos in die Küche fl. Eine große Schiebetür öffnet sich zu einem geräumigen und luftigen Terrasse im Freien. Das Ambiente in der Duplex ist ideal für Gäste mehr Privatsphäre suchen, Komfort und Ruhe und für längere Aufenthalte. • 165 Quadratmeter • Drei Schlafzimmer (Alle Badezimmer en-suite) • Geteilt Garten • am Strand • täglich gereinigt * • Webber Gasgrill • Nespressomaschinen • Sat-TV, WLAN, A / C •Sicherheitsbeamter
Dieser Komplex befindet sich in einer Wohngegend in der Nähe von Geschäften, Restaurants, Geldwechsler und Banken gelegen.
Rodzaj pokoju
Całe miejsce
---
Rodzaj nieruchomości
Apartament
---
Mieści
2
---
Sypialnie
La Preneuse, Black River, Mauritius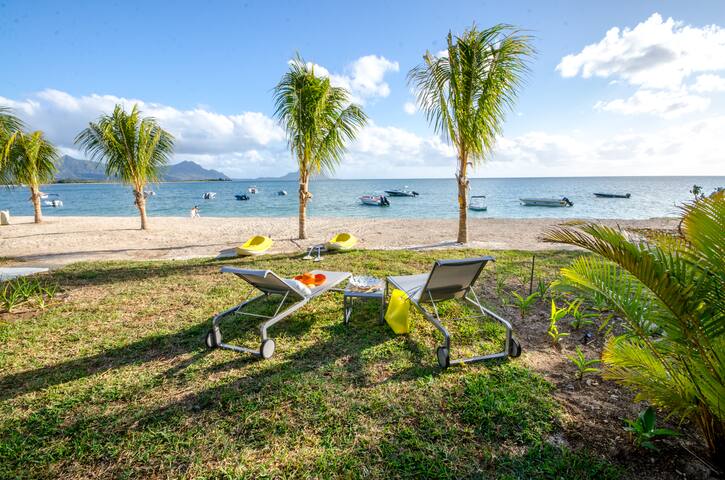 Mein Platz ist in der Nähe von Restaurants und Restaurants, Strand, familienfreundliche Aktivitäten, Nachtleben und den öffentlichen Verkehrsmitteln. Du wirst mein Platz, weil die Menschen, das Ambiente und der im Freien Raum lieben. Mein Platz ist gut für Paare, Geschäftsreisende und Familien (mit Kindern).
Rodzaj pokoju
Całe miejsce
---
Rodzaj nieruchomości
Apartament
---
Mieści
6
---
Sypialnie
Black River, Rivière Noire District, Mauritius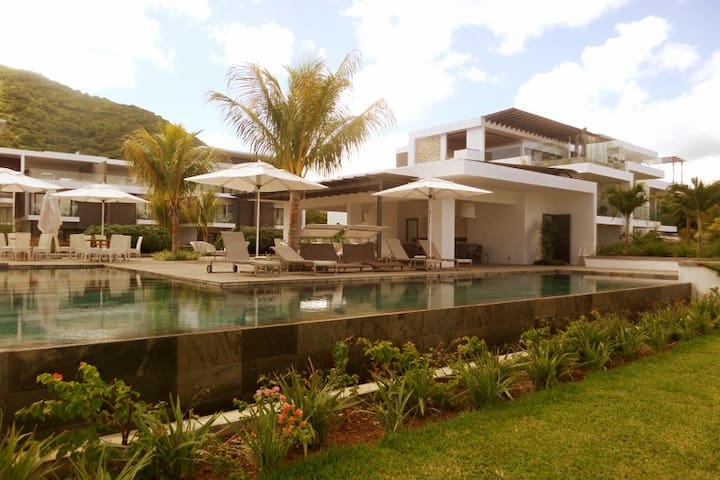 Wpisz daty, by zobaczyć pełną cenę. Obowiązują dodatkowe opłaty. Cena może uwzględniać podatek.