Zaciszne studio, prywatność, spokój i niezakłócony widok na polderze. Kookgel., Kuchenka mikrofalowa, toster. 2 p. Łóżka i ewentualnie o 3 os. krzesło sen. Wifi. Supermarket 4 km. Prosty r. Knajpka na 1 km. Restauracje: 4 + 7 km słoneczny taras Minimum 2 noce!
Perfekt...uns hat es sehr gut gefallen. Ein hübsches kleines Appartement mit wirklich allem, was man braucht. Die Gastgeber sind sehr nett und haben uns herzlich willkommen. Gerne wieder ....
Jens
2016-05-17T00:00:00Z
We had a wonderful time at the little house. Dirk and and his wife were very welcoming and we had some nice chats - great hosts! The appartment is sweet, tidy, lovely and incredibly clean. Next to the garden is a big sheep, which loves to be stroked. It actually behaves more like a dog than a sheep, when it runs toward the gate. If you plan to stay in southern Holland this is the place to be. In autumn dont buy fruit and vegetables, Dirk and his wife have tasty stuff in their garden, which they sell for little money. Bring lots of time, you will enjoy it!
Felix
2016-09-12T00:00:00Z
Great communication. The place was very comfortable, clean and well-equipped! Hosts are very friendly and welcoming, provided us with useful information and tips which helped us with our trip planning. Also very kind! Everything was fantastic. We enjoyed every moment of our stay. Thank you for making us feel so welcomed and comfortable!
wai ka
2016-06-14T00:00:00Z
Fijne plek om tot rust te komen. Mooie omgeving. De studio was schoon, comfortabel en goed uitgerust.
Alicia
2016-10-23T00:00:00Z
Une super nuit passée dans le charmant studio de Dirk au milieu de la campagne hollandaise. L'accueil par ce couple très gentil fut parfait avec de petits fruits et légumes du jardin, un vrai régale!
Tristan
2016-09-24T00:00:00Z
We hebben eigenlijk alleen maar lof over deze plek! Super schoon. Heerlijk rustig. Eigen parkeerplaats. Goede bedden en perfecte WiFi. Dirk kan misschien een badkamer ventilator inbouwen? De kraan bij de wastafel maakt een raar geluid (lucht in de leiding?) Deze puntjes stellen niks voor tegenover de voortreffelijke nachtrust die men in Heijningen heeft! Kortom een 9,5!
Amarens
2016-08-06T00:00:00Z
Wat een fantastisch plekje bij een stel lieve mensen. Het is er heerlijk stil aan de dijk en we werden gewekt door vogeltjesgekwetter. Het huisje bevat alles wat we nodig hadden, klein maar zeer fijn. Dank voor de goede zorgen Goverien en Dirk!
Rik
2016-04-08T00:00:00Z
A very very nice and cozy house with a great view to the yard, where flowers are blooming and vines bearing fruits. The interiors are tidy and clean. Kitchen is well facilitated. The communication with Dirk is perfect, he is always responding quick and helpful to our questions.
Zixuan
2016-09-16T00:00:00Z
Rodzaj pokoju
Całe miejsce
---
Rodzaj nieruchomości
Apartament
---
Mieści
2
---
Sypialnie
Heijningen, Noord-Brabant, Holandia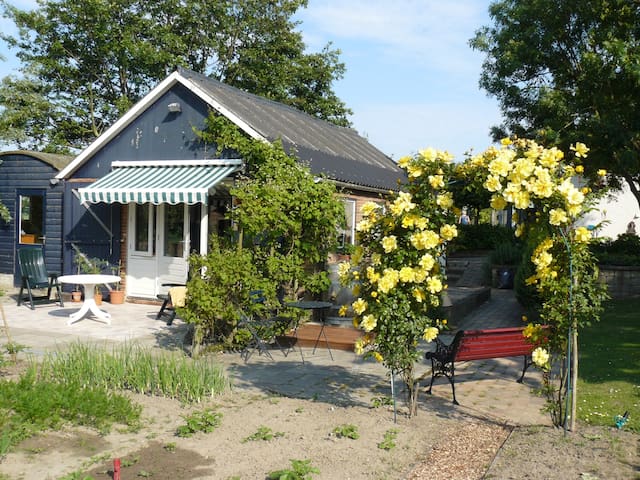 In our beautiful apartment can accommodate two people with ease and even four, with two children if you use the sofa bed in the living room. It is a quiet area and within walking distance of the island Tiengemeten and nature Tiendgors and forest.
Apartment "Nieuwendijk" ~ 30m2 can accommodate up to 4 people 2 adults and 2 children, 2 on a sofa bed. A garden with phenomenal views and lit a lovely terrace to fishing. Also 3 terraces to barbecuing.
Quiet neighborhood within walking distance of the island Tiengemeten and parking next door / entrance. No shops! 5 km south mall Beijerland.
le B n B est conforme aux photos très calme et très agréable Liesbeth et son mari son très accueillants merci
mathieu
2015-11-10T00:00:00Z
Le logement est réalisé avec beaucoup de goût , le jardin est très beau et reposant. Nous avons eu un temps merveilleux pour profiter de la terrasse. Nos hôtes étaient sympas. C'est parfait pour deux personnes mais c'est petit. Le prix n'a pas été le même que noté sur l'annonce. C'est dommage. ( attention pas de lave linge ou ... Payant ... Idem pour le barbecue). C'est un peu comme un mobile home mais dans une maison puisque les hôtes ont la terrasse commune. Au milieu de la campagne et nous avons beaucoup apprécié.
Corinne
2016-08-20T00:00:00Z
Wir waren zu Acht, vier Erwachsene, vier Teenager, ein Hund. Wir haben uns sehr wohl gefühlt. Das Wohnangebot besteht aus zwei getrennten Einheiten. Eine Wohnung ist über die Wohnräume der Eigentümer zu erreichen, die andere ist separat. Alles ist sehr geschmackvoll eingerichtet. Der Außenbereich ist traumhaft. Die Gastgeber sind unglaublich hilfsbereit und nett. Wir kommen sicher sehr bald wieder.
Stephan
2015-08-30T00:00:00Z
I so enjoyed staying at De Nieuwendijk, it was amazing and I hope to be able to return. I think I had the best nights sleep that I have had for such a long time as the bed is so so comfortable. Was like sleeping beauty with stubble! Totally a silent night, loved it. Its such a great place for 1 or 2 people but just don't try shopping on a Sunday as the local shops are closed.
Paul
2016-03-03T00:00:00Z
We hebben een heel aangenaam verblijf gehad in deze B&B. Op wandelafstand van de zee en een heel mooie tuin. Ideaal om tot rust te komen, maar ook vlakbij Rotterdam.
Ann
2016-07-04T00:00:00Z
Wij verbleven twee nachtjes in het appartementje. Het is een klein appartementje, maar heel gezellig en netjes. Je hebt er alles wat je nodig hebt. Liesbeth en haar man zijn zeer vriendelijke mensen en steeds beschikbaar indien voor tips, vragen, ... . Ook leuk om 's avonds in de tuin gezellig wat aan het klein watertje te zitten!
Van Ermen
2016-07-20T00:00:00Z
We liked our stay very much. Cees and Liesbeth were very kind. The apartment is small but very very nice and really clean. The garden is even better than in the photos and it ends with a (URL HIDDEN) of the most relaxing place we never saw.
cinzia
2015-08-19T00:00:00Z
Zeer vriendelijk ontvangen, heel leuk huisje in prachtige omgeving. Echt een aanrader! Hartelijk dank liesbeth!
Nadine
2016-01-10T00:00:00Z
Rodzaj pokoju
Całe miejsce
---
Rodzaj nieruchomości
Apartament
---
Mieści
4
---
Sypialnie
Zuid-Beijerland, Zuid-Holland, Holandia
Elegantly decorated rooms, will be simple fashion style waiting for you to experience the food on the ground, living in the land
Rodzaj pokoju
Całe miejsce
---
Rodzaj nieruchomości
Apartament
---
Mieści
4
---
Sypialnie
Roosendaal, NB, Holandia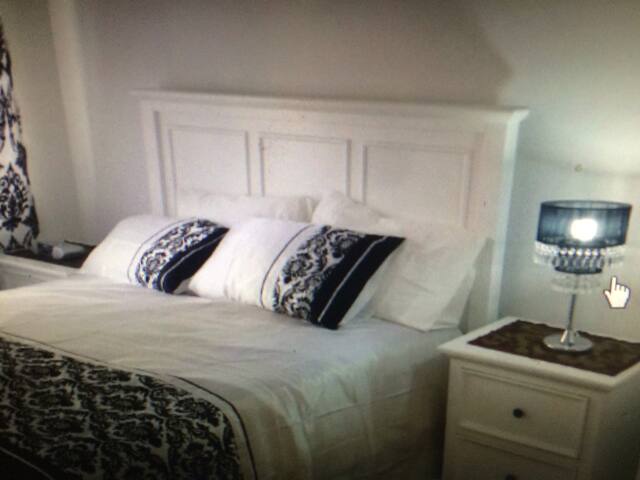 Mój pokój był zbliżony do działań rodzin z dziećmi, transportu publicznego, restauracji i lokali gastronomicznych. pokochasz swoje miejsce ze względu na lokalizację. Mój pokój jest odpowiedni dla rodzin (z dziećmi).
Rodzaj pokoju
Całe miejsce
---
Rodzaj nieruchomości
Apartament
---
Mieści
4
---
Sypialnie
Etten-Leur, Noord-Brabant, Holandia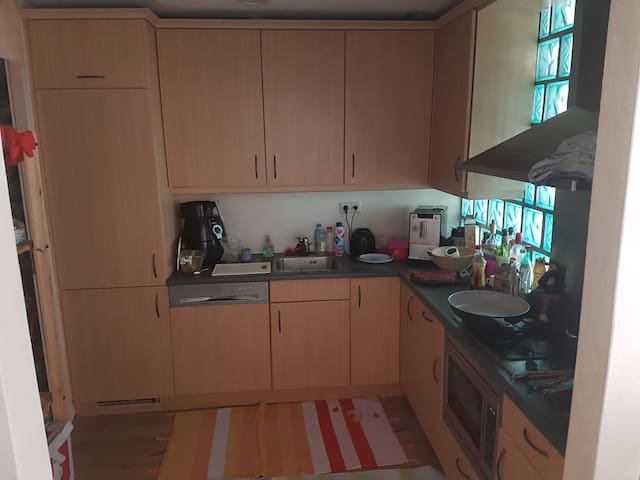 Centrally Located to TRAINSTATION & Bus Stands & Shopping!
Rodzaj pokoju
Całe miejsce
---
Rodzaj nieruchomości
Apartament
---
Mieści
3
---
Sypialnie
Roosendaal, NB, Holandia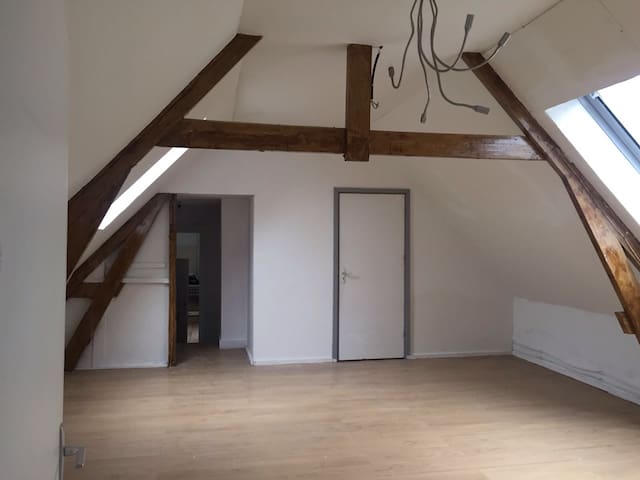 My room is nearby restaurants and eateries. My room is suitable for couples, solo adventurers, business travelers, families (with children), large groups and furry friends (pets).
Don't stay here.
Paul
2016-12-05T00:00:00Z
Niet leuk ervaring had ik. Voor begin was gegevende adres een fout. 2. Mijn bed was een opblaasbare bed - niet geschikt voor een rustig nacht. Zonder laken...... 3. Badkamer was in andere slaapkamer.....niet done 4. Niet uit gelegd als kan ik ontbijten en zo ja wat ... 5. Prijs kwaliteit verhouding Erg slecht. Niet aanbevolen voor jong en oud
Nhaum
2016-10-11T00:00:00Z
Rodzaj pokoju
Pokój prywatny
---
Rodzaj nieruchomości
Apartament
---
Mieści
2
---
Sypialnie
Etten-Leur, Noord-Brabant, Holandia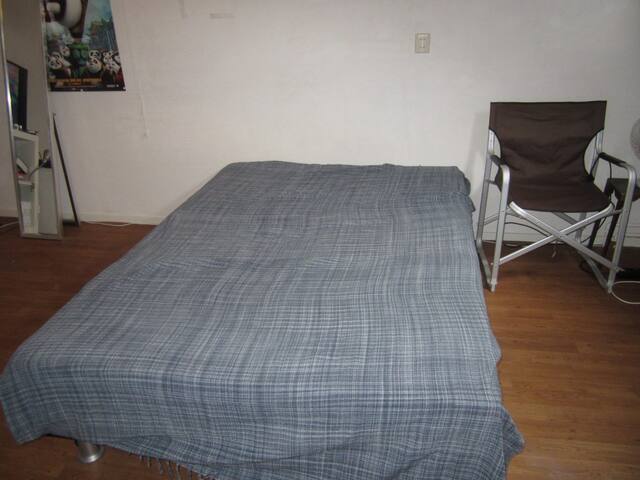 a nice little appartement with everything you need in the center of Steenbergen above a backery. many different shops right outside the door. free parking. a weekly market. 7-8 minute walk from the busstops that will take you to Rotterdam, Bergen op Zoom, or Roosendaal in about 35-40 minutes. Great startingpoint for exploring a big part of the netherlands with bicycle, car, or public transport. you can even go to Antwerp Belgium within the hour by bus and train.
the appartement is on the first floor, there are 3 houses per floor, its the first house.
located in the center of town. between 1 second and 10 minutes walking distance to every store there is to see. there is a small park, and various cafe's,or pub's.
Rodzaj pokoju
Całe miejsce
---
Rodzaj nieruchomości
Apartament
---
Mieści
2
---
Sypialnie
Steenbergen, Noord-Brabant, Holandia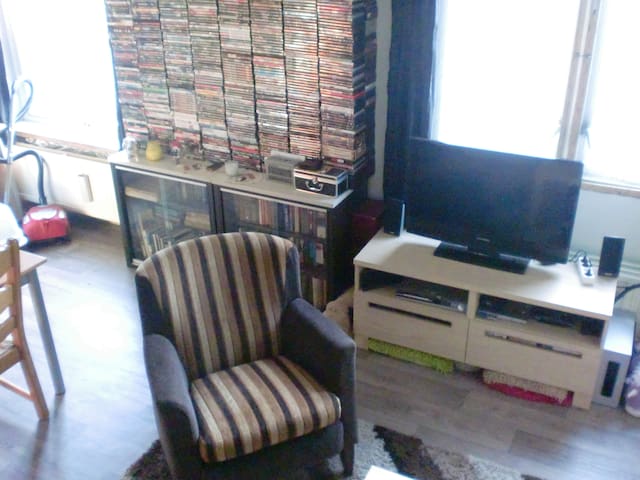 The apartment is situated in an old monumental building next to the monumental locks of Beneden Sas. Washing machine and drycleaner can be used from the restaurant and are not located in the apartment
The apartment is situated in an old monumental building next to the monumental locks of Beneden Sas. The apartment consists of a large bedroom with a bed for 2 persons. The bedroom has a small living area with a sofa. The living room can be turned into a bedroom. The bathroom has a shower and a bathtub. The apartement is situated on the 1th floor (steep stairs) just above our small and cosy restaurant and has a monumental character. It offers nice views of the surroundings. In the same building we have a holiday home which can connect to the apartment in case of larger groups/families (up to 12 people). When renting just the apartment there is no interaction with other guest if you don't want to.
There's a large nature reserve with walking path's, electric boar rental and canoe rental, bike rental at the location and a golfcourse at 1.5 km. Interesting cities like Breda, Rotterdam and Antwerp are at 30 minutes driving distance.
Jeroen's apartment was lovely, it was in such a unique location, we had to cross a bridge to get there and the building was beautiful and historic. There were four us in the apartment, two in the bedroom and two in the living room. We had everything we needed and the kitchen was stocked with basic cooking equipment. Jeroen was extremely helpful and even booked for 4 bikes for us at a rec center 5 minutes away and recommended a scenic bike trail to follow. Would definitely come back and stay again, felt very welcomed by Jeroen and the others who worked in the restaurant below.
Kelly
2015-05-16T00:00:00Z
Wonderful dreamy attic flat in picturebook setting next to a canal lock and boating area. Jereon and his father were the perfect hosts, even when we got lost en route and arrived late. First-class in every way.
Andy
2014-07-26T00:00:00Z
Het huisje was al gezellig warm toen we aankwamen. De buurt is heel rustig,maar fijn om met honden te wandelen.
Lenie
2015-12-31T00:00:00Z
Heerlijk appartement op een fantastische locatie.
Martine
2015-12-07T00:00:00Z
Proper charmant en stijlvol appartement. Wanneer je 1 voet buiten de deur zet, zijn er onmiddellijk 3 mogelijke wandelpaden in de Dintelse Gorzen, het natuurgebied waar het sluishuis zich bevindt. Prachtige plek met schapen, koeien, zwanen en we hebben ook een hert gespot. Het was heel rustig. Niemand gezien, het caféetje is enkel open in het weekend. Aan te raden.
Heleen
2015-11-06T00:00:00Z
Nous avons passé un week-end dans cet appartement spacieux. L'environnement est agréable ainsi que le restaurant situé au rez-de-chaussée. Malheureusement, l'isolation phonique laisse à désirer et les bruits du restaurant sont envahissants. De plus, lors de notre passage, la chaudière était défectueuse et nous avons donc eu quelques difficultés pour nous laver, ainsi que pour le chauffage. Pas l'idéal avec un bébé... Nous avons préféré notre premier passage dans cet endroit, lorsque nous avions séjourné entre amis dans la maison.
Benjamin
2015-09-21T00:00:00Z
We had a great time in Jeroen's apartment and it looks exactly as shown on the fotos. The apartment is bright and friendly furnished and there is plenty of room. It is also suitable for kids. We stayed there with our 3-month old daughter and everything went smoothly. However, the stairs are very steep. You just have to be very careful with kids. It was in such a unique location and the building was beautiful and historic as discribed. We loved the atmosphere and the environment. The house is located in the middle of a beautiful natural reserve and next to the monumental locks of Beneden Sas. It is also unique and charming that you have to cross a bridge (only by food not with a car) to get there. Therefore, you have to park at some distance away and carry your luggage to the apartment. We can also recommend their lovingly furnished restaurant located downstairs in the house. High quality and great taste. Furthermore, you can enjoy the nature and the sun in their wonderful garden und watch the boats go by. Highly recommended! We would like to come back!
Susanne
2015-05-29T00:00:00Z
A very charming and unique place to stay. The apartment was very clean and spacious, the interior is very nice. The monumental building is beautiful and its surroundings very peaceful. The restaurant underneath the apartment was great, it has a very well-designed, cosy interior and a large garden terrace. We had a lovely diner there. The host and restaurant staff were very helpful and made us feel very welcome. The steps to the apartment are likely original, but therefore somewhat steeper than modern standards.
Frederieke
2016-09-17T00:00:00Z
Rodzaj pokoju
Całe miejsce
---
Rodzaj nieruchomości
Apartament
---
Mieści
4
---
Sypialnie
De Heen, North Brabant, Holandia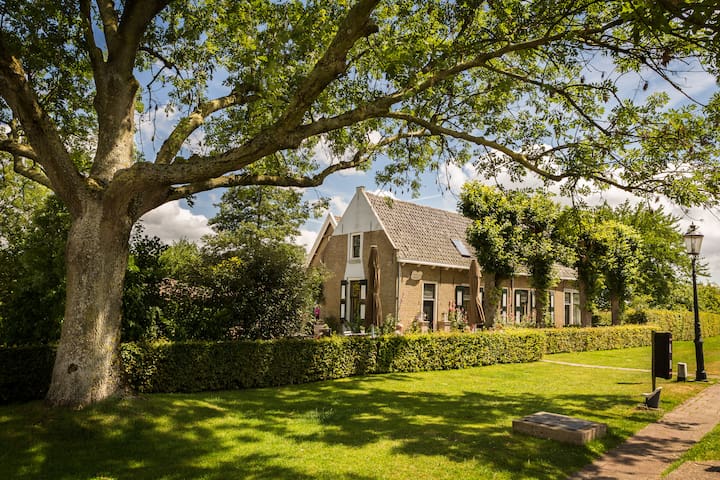 Step into the apartment of artisanal food, where you will feel that life is enjoyed because the time is taken to cook healthy food, you will feel the warm and homey atmosphere immediately. Cozy apartment is privately for you. 15 Minutes from center
This apartment is located in a comfortable house in a nice and quiet area. Sleep in this cozy apartment and get fully immersed by the feeling of artisanal cooking, the apartment is located at the first floor where you have all the privacy. The host loves cooking and upon request you can have breakfast and/or dinner. The apartment is very comfortable, where you will feel immediately at home. All over the house you see chamsa amulets, which is a sign of protection in the Middle East. Even very special collector items chamsa's you will find. There are 2 bedrooms, the Master Bedroom has a comfortable double bed with a wardrobe, television (with all stations), DvD player, ceiling fan and is decorated with paintings. The second bedroom has a bunk bed. The bathroom is privately for you and has a comfortable shower, sink and toilet. Looking out of the window you see the brook. Available in the apartment is a fan, microwave, water kettle for coffee- and tea. If you want to use the kitchen you can ask this to the host. The host makes you a fabulous healthy and artisanal meal. The breakfast (additional charge of €12) and dinner (additional charge €15) is an amazing experience and for sure a must. Very special is the patio, which has a large wall mosaic wall decoration, very inspiring while having breakfast in the early sunshine or during afternoon siesta at the lounge chair. For the late night sun you can sit on the terrace and gives you a beautiful view over the brook or use the barbecue to make your own dinner. Walking out of the terrace you can stroll down the brook for a nice evening walk The apartment is suited for business guests. Available are clothes hangers, hairdryer, iron, shampoo and soap. Also there is fast WIFI internet and a computer friendly workspace. The space is also suited for families with children, there are lots of games and toys for the little ones available.
The apartment is located in a quiet and nice neighborhood, 5 minutes from the border of Belgium and easily accessible. Directly in front of the house is free parking. The shopping center is very close with the supermarket, bakery, butcher, pharmacy, post office and various other shops. The forest is a few minutes away for a nice and relaxing walk or to bicycle. Every Monday there is a Market right in the city center at the New Market in Roosendaal.
Rodzaj pokoju
Całe miejsce
---
Rodzaj nieruchomości
Apartament
---
Mieści
4
---
Sypialnie
Roosendaal, Noord-Brabant, Holandia
Perfect gelegen bij de veerpont naar Tiengemeten. Sfeervol en ruim opgezet (ruim 48 m2). Naast een slaapkamer met keuken incl. kookgelegenheid is er een eigen badkamer en knusse tuinkamer (+ extra slaapbank) met prachtig vrij uitzicht. 20 minuten van Rotterdam en dichtbij Zeeland.
Perfect en rustig gelegen, op 3 minuten loopafstand van de veerpont naar Tiengemeten. B&B is ruim opgezet (ruim 48 m2. slaapkamer met keuken en gezellig zitje, een ruime badkamer en knusse tuinkamer met extra slaapbank. Vanuit de tuinkamer heeft u een adembenemend vrij uitzicht over de akkers. Het ontbijt is uitbundig met verse producten (zelfgebakken brood en verse jus). Ontbijt niet inbegrepen. 6,50 pp. De B&B is voorzien van WIFI, kabel internet, TV, koelkast, magnetron, kookplaat, afzuigkap, waterkoker en Nespresso koffiemachine (gratis koffie en thee). Er is een eigen ingang en parkeerplaats op het terrein van de B&B. Toeristische tips: Naast Tiengemeten zijn er voldoende mogelijkheden voor een wandeling of fietstocht. Op de fiets naar het kleine vestingstadje Willemstad (17 km). Of een wandeling door de fruitboomgaarden. Met de auto is Zeeland, of steden als Rotterdam (20 min) en Dordrecht makkelijk bereikbaar.
Quiet and rural with a unique view.
We hebben ons echt welkom gevoeld.... Tips gekregen. De kamer en eetruimte waren netjes n heel aangenaam. De badkamer heel ruim en modern. De tuin was zalig om rond te hangen. We kregen een super ontbijt op zondag morgen. Heel vriendelijk koppel. Bedankt voor jullie welkom.
Joke
2015-07-20T00:00:00Z
Wir hatten das Vergnügen bei B&B sferr & meer vom 19.07. bis 21.07. uns einmieten zu können. Hier wurden wir super freundlich von Hans empfangen. Er zeigte uns das angemietete Appartement, was sich mehr als einladend darstellte. Modern und mit Geschmack eingerichtet und dekoriert fühlten wir uns direkt wohl. Das vollmöblierte Appartement besteht aus 2 Zimmern, einem großzügigen Duschbad und einer Terrasse mit Weitblick, die zum Verweilen einlädt. Eine Mikrowelle, der Kühlschrank und eine Kaffeemaschine bieten alles notwendige für die tägliche Grundversorgung. Klasse, dass Kaffee und W-lan kostenlos zur Verfügung gestellt wurden. Rita und Hans waren sehr herzliche Gastgeber, die sich rührend um uns gekümmert haben und unsere Kinder und uns nebenbei mit frischgebackenem Brot und Melone den Aufenthalt verfeinert haben. Auch haben beide unsere Jungs zu einem Spaziergang mitgenommen, was wir super nett fanden. Unsere Söhne waren begeistert. An Euch beide nochmal herzlichen Dank. Wir haben uns super wohlgefühlt. Wenn sich die Möglichkeit ergibt, werden wir uns gerne wieder einmieten. Liebe Rita und lieber Hans nochmals vielen Dank und die herzlichsten Grüße aus Köln.
Dirk
2016-07-22T00:00:00Z
*****5 Sterne plus für dieses liebevoll eingerichtete, wunderschöne Appartement und auch für die sehr netten Gastgeber! Das Highlight war das fürstliche Frühstück am Abreisetag im sehr geschmackvoll angelegten Garten, direkt am Wasser mit herrlichem Ausblick! Vielen Dank! Wir kommen wieder!
Barbara
2015-07-10T00:00:00Z
We're been given a royal treatment by Rita and Hans. Their friendliness and attention to details have made our stay very enjoyable. Our expectations have been exceeded. We especially liked the free coffee and tea. Visit Willemstad if you can!
Ben
2016-07-28T00:00:00Z
Rita and Hans are a nice couple, with a cosy and beautifully decorated apartment and huge garden to have dinner/breakfast. We felt at home and had a wonderful relaxing time. We would like to thank you for some much needed rest and peace from the busy city.
Norbert
2015-08-16T00:00:00Z
Thanks for having us, the place was great, even better than on picture!
Frieda
2015-07-21T00:00:00Z
The house is lovely, interior design is contemporary, extremely confortable and cozy. We spent 4 days in august with 2 children. The location is quiet but also near to Rotterdam and village centers. We loved the dinner nearby the river in Rita's garden. The family is nice and Rita's home made bread is delicious.
Carlo
2015-08-13T00:00:00Z
It was very nice. Rita and Hans are very kind, apartment is great and place is quiet and close to nature, but also good for visiting Rotterdam.
Kaja
2016-06-20T00:00:00Z
Rodzaj pokoju
Całe miejsce
---
Rodzaj nieruchomości
Apartament
---
Mieści
4
---
Sypialnie
Zuid-Beijerland, Zuid-Holland, Holandia
Prachtig ruim en schoon appartement, bosrijke omgeving, schitterende fiets- wandel- en ruiterroutes. Kaarten aanwezig. Een plekje om echt tot rust te komen. U wandelt naast het gastenverblijf direct het zandpad op de uitgestrekte bossen/natuurgebieden/heide in. Buiten is er op meerdere plaatsen op het terrein zitgelegenheid gecreëerd, zodat u optimaal kunt genieten van de omgeving in de zon of schaduw. Er is bovendien een gezamenlijke overkapping. Speeltuin op het terrein aanwezig.
Nieuw en schoon gastenverblijf. Campingbedje/ babybedje en kinderstoel kunt u van van ons lenen, graag bij reserveren vermelden.
Schitterende bossen, natuur, wandelroutes, fietsroutes, ruiterroutes, boerderijen, dorpjes. Leuke restaurantjes in de omgeving op de routes. Ook diverse speelgelegenheden voor kleine kinderen in de omgeving.
The perfect place on the outlands of the city.! All clean and full equiped, but the best thing is the warmth of the hostes!! They're such a nice, gentle and helpful family! I'm very grateful with them for taking care as well as they did. The place is perfect for knowing further more than Amsterdm but you need a car to get there. Highly recommended!!!!
Patty
2016-11-24T00:00:00Z
We hebben een uitstekend weekend gehad in het appartement: leuke ontvangst, gemoedelijk, schoon en modern appartement, met alles er op en er aan. De trap naar het appartement was wat lastig voor onze hond, maar in de winter loop je toch niet steeds in uit .... Dat scheelt! Het appartement is verder wel een aanrader: eenvoudig maar van alle gemakken voorzien!
Marjolein
2015-12-07T00:00:00Z
Sabine put down some Christmas lights and ornaments for us to make us feel extra at home during our stay! We loved the landscape and the tranquility the farm boosted. There were horses to pet, rabbits and chickens roaming around and their dog and cats are very cute. Sabine was always around to answer questions or help us out with other things.
cynthia
2016-12-28T00:00:00Z
Everything was perfect, nothing to report.
Marianne
2016-10-09T00:00:00Z
We had a great pleasure to stay in this lovely farm. It was surprisingly easy to find, although it is located in a somewhat remote location (exactly what we wanted for a short relaxing stay). The quality of the housing is exceptionally good, as well as the service :) We were pleased to get coffee and eggs ready for the breakfast at exact time as we wanted: 7:30 :) many thanks for Ellert and Sabine for adjusting to our early waking up time :). My two years old daughter loved the play-ground that she found out side the house. In addition, she very much appreciated the close neighborhood of the cows :) So we had a wonder short stay in a relaxing atmosphere that I recommend to everyone willing to escape city noise :)
Simona
2015-09-14T00:00:00Z
MARVELOUS!!!!!!! First I want to say that Ellert and Sabine were the best hosts in the world!!! In fact, now I have two friends at Holland and they have us for anything they need. As well as their home was our home, ours at Spain is theirs too. They were attentive , looked after us , gave us all information , their love and all we need. THANK YOU A MILLION TIMES!!! I recommend to everyone who choose this holiday accommodation. Also the excellent personal touch, the both houses were fantastic. My wife, my sons and me stayed 3 days on flat groundfloor and 5 on flat upfloor.Everything is new, clean, comfortable, all facilities. The pictures don,t show well how good is the rooms, bath, space... The environment is like a dream: Vast prairies, woods, cows, huge sky, quietness... Pure nature and relax!!! Even there are a playground with a cottage and a trampoline for jumping the kids!!! We are very grateful and if we went to Holland a hundred times, the same times we will stay there again. I never tire of telling you thanks again and again. YOU ARE THE BEST!!!!!
Sergio
2015-08-15T00:00:00Z
Enjoyed a weekend with 3 friends. The house is new and well kept. Hosts are very kind and accommodating. Very good solution if you are looking for relax and peaceful place.
FEDERICO
2016-05-16T00:00:00Z
Wat een prachtige omgeving en wat een mooi en schoon appartement. We hebben vanuit het huis heerlijk gewandeld en een dagje in Antwerpen doorgebracht. We komen zeker nog eens terug!
Anne
2016-05-09T00:00:00Z
Rodzaj pokoju
Całe miejsce
---
Rodzaj nieruchomości
Apartament
---
Mieści
4
---
Sypialnie
Schijf, Noord-Brabant, Holandia
Aan de rand van De Biesbosch, vlakbij Breda en langs fietsroutes bevindt zich onze gezellige landelijk gelegen 2-pers. studio met eigen badkamer en toilet. Voor meerdere personen zijn twee extra slaapkamers met 2 eenpersoons bedden aanwezig.
De Studio bevindt zich op de 1e verdieping voorzien van een ruime zithoek, houtkachel, eethoek, 2 boxspring bedden en keuken. De keuken is voorzien van een kookeiland met gasfornuis (2x 4-pits), oven, koelkast, magnetron, koffiezetapparaat, waterkoker, pannen, servies, bestek en wasmachine. Verder bevindt zich op deze verdieping de badkamer voorzien van toilet, wastafel, ligbad en aparte douche. Beddengoed en handdoeken aanwezig. De twee extra kamers ( 1 boven en 1 op de begane grond ) zijn voorzien van 2-eenpersoonsbedden en een eigen zitje. Tevens bevindt zich op de begane grond nog een extra eethoek. Mogelijkheid om gebruik te maken van camping bedje, kinderstoel en wandelwagen.
Landelijk gelegen, langs fietsroutes. Dichtbij Openbaar vervoer. In de buurt van Nationaal Park De Biesbosch, gezellige steden, dorpjes en de Efteling. 2 km. van het centrum van Made met verschillende restaurantjes en winkels.
Marike is zeer flexible en uiterst gastvrij. Er stond een fijn efles wijn klaar en ales was picobello in orde
jutr
2016-10-07T00:00:00Z
Een ruim en open appartement, we logeerden er met 6 vriendinnen en er was meer dan genoeg ruimte. Goed ingerichte keuken, van alle gemakken voorzien. Fijne douche en ook daar alles aanwezig. Marike ontving ons hartelijk en gaf goede adviezen. Volgende keer boeken we ook een ontbijtje er bij! Nu hadden we zelf iets geregeld en dat lekker in de tuin opgegeten.
Annemarie
2016-07-10T00:00:00Z
Marike haar B&B is een heerlijke plek om te overnachten. We hebben met 5 man 1 nachtje geslapen vóór een wielerwedstrijd. Koken ging prima in de volledig ingerichte keuken. Bedden slapen prima, badkamer ruim genoeg en goed voorzien. Als de ploegentijdrit volgend jaar weer in omgeving Breda is, komen we graag terug.
Rick
2016-09-18T00:00:00Z
A really nice big house with a lovely price! The kitchen it's wonderful! And bedrooms are clean and comfortable. The hostess is so nice and kind! And locates not far from a lot of famous places and supermarkets! Thank you for caring and place! I highly recommend it to you guys!
Yuqi
2016-05-30T00:00:00Z
We hebben een leuke tijd gehad in de studio, het is ruim en mooi ingericht. We waren met 4 volwassenen en een peuter, en dat was prima te doen. De omgeving is rustig, eerder een fiets- dan wandelomgeving, en leuke dorpen/steden in de buurt. Marike is een leuke gastvrouw, en ze staat altijd voor je klaar.
Leida
2016-05-09T00:00:00Z
L'appartamento è molto particolare, un grande open-space luminoso e arredato in maniera originale ma con gusto, confortevole e spazioso, dotato di tutto quello che può servire. Per i bambini avevamo a disposizione una stanza con due letti singoli. Durante il nostro soggiorno ci sono stati alcuni giorni di maltempo, ma grazie al grande spazio interno i bambini hanno potuto giocare e svagarsi senza annoiarsi troppo, grazie anche ai giochi da tavolo che Marike ci ha messo a disposizione. La zona è tranquilla, si sente un po' il rumore della vicina strada, che comunque è poco trafficata. Marike è stata molto cordiale e disponibile; abita nella stessa casa, quindi è sempre presente per eventuali problemi.
Marco
2015-08-03T00:00:00Z
Great place to stay! We came with a group of 4 persons and we really enjoyed the light and spacious studio with its well equipped kitchen. Internet was working fine, even the bathroom is absolutely perfect. Everything was really neat. Thank you, Marike, for having been such a nice host!
Peter
2015-09-20T00:00:00Z
Our stay in Marika's home has been really good; her house is fully equipped, well furnished and original. She has been a perfect host. We suggest everyone to go there if you like country side holiday.
Carlo Maria
2016-08-16T00:00:00Z
Rodzaj pokoju
Całe miejsce
---
Rodzaj nieruchomości
Apartament
---
Mieści
6
---
Sypialnie
Hooge Zwaluwe, Noord-Brabant, Holandia
Light and quiet apartment with balcony overlooking the church. Within a few minutes you are in the street and on the Grote Markt. With beautiful bathroom and cozy sitting area. Kitchen with appliances. Ideal for a city trip. You have everything within walking distance and close to Central Station.
Quiet and still in the center. Fine sunny terrace overlooking the church.
In town, yet quiet. Restaurants, cafes, shops, supermarkets nearby.
Rodzaj pokoju
Całe miejsce
---
Rodzaj nieruchomości
Apartament
---
Mieści
2
---
Sypialnie
Breda, NB, Holandia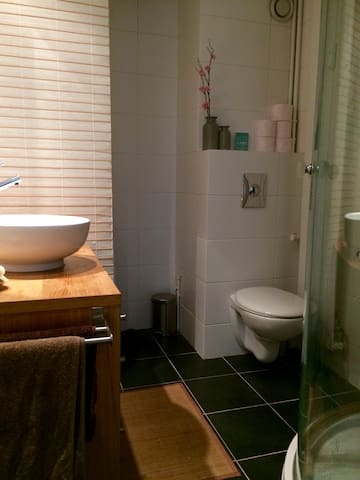 Apartment with the best view of Breda! located in the city center. Restaurants / shops and pubs: 3 min walk Drive / park: 8/10 min walk - Rain shower with towels, shower gel and shampoo. - Spacious kitchen with oven, hob and washing machine. - Queen bed with clean linens - Smart TV with Netflix, Youtube etc. - Wifi
Breda Center
Rodzaj pokoju
Całe miejsce
---
Rodzaj nieruchomości
Apartament
---
Mieści
2
---
Sypialnie
Breda, Noord-Brabant, Holandia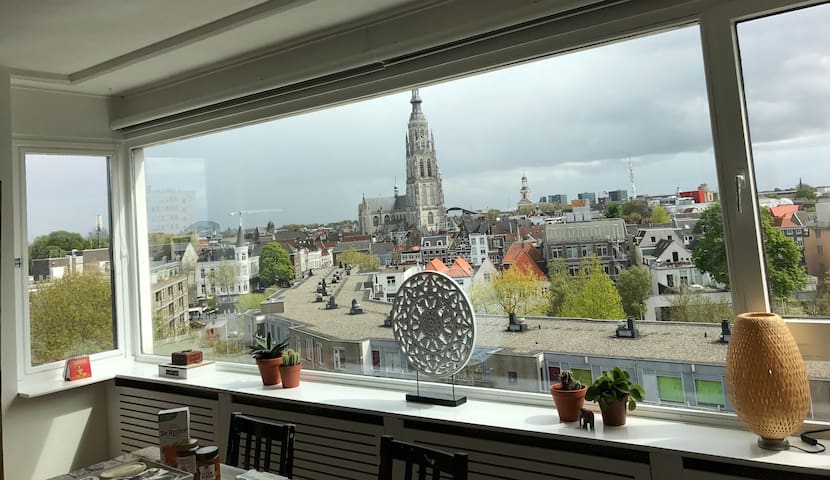 Deze privékamer bevat een tweepersoons bed (140 cm), groot bureau, kapstokken, spiegel en vuilbakje. Er kan ook gebruik gemaakt worden van zowel een gedeelde nieuwe keuken als een nieuwe badkamer. Bushalte om de hoek: binnen 5 minuten naar het centrum en 10 minuten naar centraal station. De stad kan je ook binnen 20 minuten te voet bereiken. Oude stadsfiets (2) ook beschikbaar voor je! Op de hoek: supermarkt, bakker, sportschool en brasserie. Voor de deur voldoende parkeergelegenheid (gratis).
De privékamer heeft een oppervlakte van circa 12 m2 en is gelegen in een appartement die zich bevindt op de 4e (bovenste) etage. Er is geen lift aanwezig. Kamer bevat een tweepersoonsbed (140cm), spiegel, kapstokken, vuilbakje en een groot bureau. Gehele kamer is in maart 2017 vernieuwd, alle overige faciliteiten zijn ook recent verbouwd.
Prima verzorgd!
Sylvia
2016-09-15T00:00:00Z
J'ai apprécié la réactivité d'Alwin au moment de la réservation et pour arranger le check-in : tout c'est fait rapidement et simplement. La chambre proposée est lumineuse et agréable. L'appartement est situé dans un quartier calme ou il est possible de laisser sa voiture sans souci. Le centre ville est accessible aisément en bus. Enfin, Alwin et Sanne sont des hôtes sont charmants, accessibles avec qui il est facile de discuter. Ils m'ont donné de bon conseils sur Breda, ainsi que quelques savoureuses recettes de cuisine :o) Bref, je recommande vivement !
François
2016-05-21T00:00:00Z
One of the best places I have ever stayed. The house was huge and all the details were very curated. The room was spacious and neat. Alwin was kind and helpful and he offered a bicycle for free and a coffee in the morning.
Mattia
2016-08-05T00:00:00Z
Alwin and Sanne are great hosts and very kind and helpful! The apartment is so beautiful und the location is also great, just 20 minutes to the city by foot. They also offered us their bike. I felt like home and can highly recommend their apartment. Thanks a lot:)!
Denise
2016-09-04T00:00:00Z
I had a great time staying in Breda at Alwin and Saane's place. Alwin is a very easy going and welcoming guy. He has himself traveled a lot and knows exactly what someone needs to feel at home and welcome while being abroad. It was easy to park at the street. The house was extremely clean and the kitchen and bathroom were my favorite places to chill out after a long day of dancing. I would fully recommend to other travelers to stay there.
Omar
2016-10-31T00:00:00Z
Klopte als een bus. Ze zijn zelfs de sleutel komen brengen naar ons werk in de buurt communicatie verliep perfect. De buurt was top! Alles in de omgeving. Faciliteiten ook nieuw schoon en fris. Aanrader!!
Frans
2016-07-24T00:00:00Z
Alwin & Sanne zijn leuke verhuurders. Alwin communiceert alles duidelijk en de kamer is top! Precies zoals op de foto's. Goede locatie. Ik kan de kamer zeker aanbevelen voor een verblijf in Breda.
Rob
2016-09-28T00:00:00Z
Gezellig jonge man, relaxt. Direct antwoord op berichtjes, goeie afspraken mee te maken en een erg mooi en verzorgde kamer en huis.
Monique
2016-09-18T00:00:00Z
Rodzaj pokoju
Pokój prywatny
---
Rodzaj nieruchomości
Apartament
---
Mieści
2
---
Sypialnie
Breda, Noord-Brabant, Holandia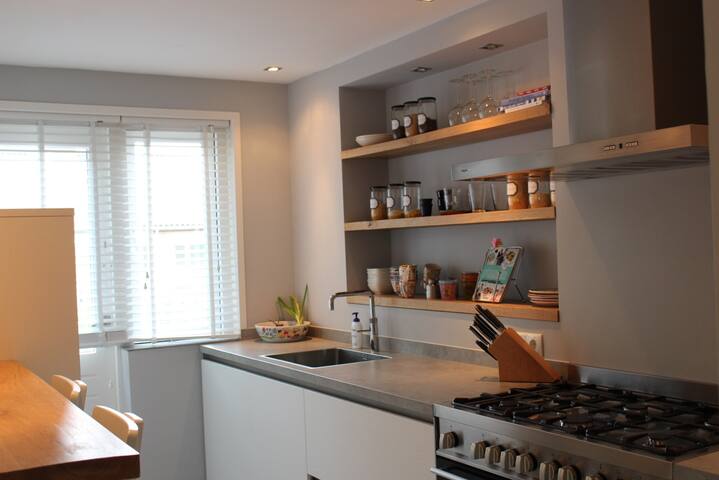 Een heerlijk 3 kamer hoek appartement op de 7e verdieping in een 50+ complex. Voorzien van TV, internet en een prachtig uitzicht. Een perfecte plek om bij te komen van alle drukte. Tevens een prima uitvalplek voor bezoekjes aan de historische binnenstad van Dordrecht.
De woning is gelegen nabij de a16 en dus ook prima geschikt om een uitstapje naar Breda of Rotterdam te maken (beiden 20 minuten met de auto)
Het appartement is gelegen in de wijk Wielwijk. diverse winkels waaronder een poolse en Turkse supermarkt bevinden zich op ongeveer 1 minuut lopen. Ook is er een schitterend park vlakbij. Ook is winkelcentrum crabbehof (oudste overdekte winkelcentrum van Nederland) goed aan te lopen. 6 minuten als je het heel rustig aan doet.
Rodzaj pokoju
Całe miejsce
---
Rodzaj nieruchomości
Apartament
---
Mieści
2
---
Sypialnie
Dordrecht, Zuid-Holland, Holandia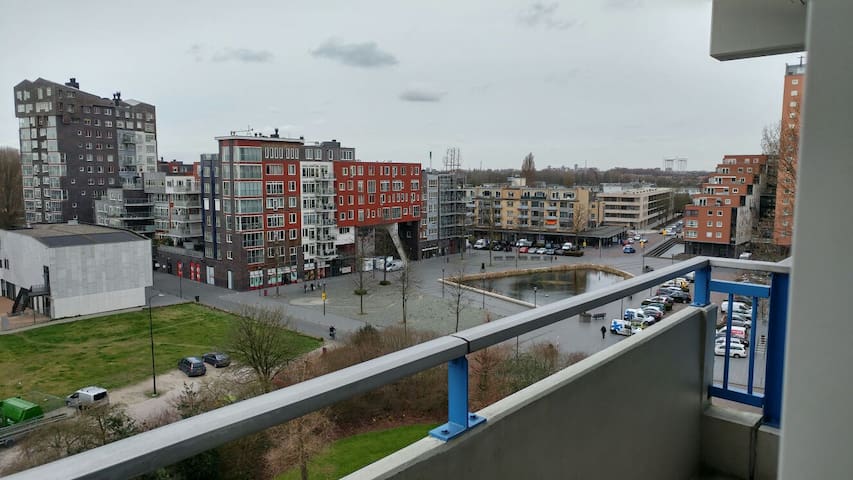 De onlangs gerenoveerde studio biedt ruimte aan max 4 personen en is gelegen nabij het stadscentrum met winkels, restaurants en attracties. De inrichting is Vintage Klassiek Design.
Deze studio bevindt zich aan de voorzijde op de 2e etage en heeft uitzicht op de Haven en het Spanjaardgat. Het is gelegen midden in het prachtige oude stadsgezicht van Breda, hartje centrum met alle winkels, uitgaanscentra en attracties binnen loop-afstand. Via een wandeling van ca 10 minuten door het mooie park Valkenberg is het station bereikbaar. Deze studio biedt een slaapplaats aan 3 personen middels een tweepersoonsbed (1,20 x 1,90 m) en een slaapbank en er kan met behulp van een futon op verzoek een 4e slaapplaats gecreëerd worden. De studio is smaakvol ingericht met Design Klassiekers Vintage door BeBoB Design Amsterdam. (website gelijk aan de naam + eu) Alle meubelen en lampen zijn tevens te koop. De studio is gemeubileerd met onder meer een tafel met 3 eetkamerstoelen, losse stoelen en een fauteuil. Aangrenzend is een royale tussenruimte met wastafel, een gescheiden douche en toilet, en een keuken met een royale hal, die allen gedeeld worden met een studio aan de achterzijde. De studio's zijn zelfstandig te huur, maar kunnen ook tezamen worden gehuurd tot een top-appartement met prachtig uitzicht aan beide zijden. Beddengoed, handdoeken, bestek plus pannen en borden zijn aanwezig. Indien het gehele appartement gehuurd wordt, geldt een circa dubbele prijs; check de advertentie van het gehele appartement op de 2e etage. Er is geen zelfstandige wifi aanwezig, maar gasten geven aan dat de wifi van het café beneden sterk genoeg is. Een andere suggestie is dat er middels een persoonlijke hotspot 3G te verkrijgen is.
Geschäfte, Restaurants und Unterhaltung sind in der Nähe zu Fuß. Zwei Parkplätze sind auf 3 Minuten zu Fuß.
Practical and nice place in a very good location, with a sympathetic reception by Miranda who also allowed me to enter before check-in time.
João
2016-04-07T00:00:00Z
We had a nice time in a beautiful old town and surroundings in which there was much to discover. Mira gave us a very friendly hello. The flat was nice and cosy. Unfortunately the first night was very noisy because the bar had opened among us til morning and the way to the station was quite far because of the construction work.
Nana & Thomas
2016-04-05T00:00:00Z
We hebben een fantastisch weekend in een erg mooi appartement gehad dat ideaal is gelegen aan de haven.
Holger E.
2016-05-09T00:00:00Z
Perfecte locatie, midden in het centrum! Flexibel met in en uit checken. Wij gaan zeker nog een keer terug!
Lieke
2017-01-29T00:00:00Z
The host canceled this reservation 6 days before arrival. This is an automated posting.
Angeline
2016-04-18T00:00:00Z
jättebra läge på lägenheten så kostnaden för det var oslagbart men lite sunkig lägenhet med bedbugs som bet en på kvällar och en mus på morgonen i köket så inte det renligaste men priset var bra och bra service
Jonas
2016-09-05T00:00:00Z
The room was very cosy and clean, beautiful view and beautiful city. location is perfect. The room is very design and spacious too, but there is some problems with the wi-fi (works half of the time) and there is loud music from the bar below until late almost every night. was no problem for me but it can definitly be for someone else... otherwise, the host was very helpful ! ;)
Kelil
2016-11-18T00:00:00Z
Erg prettige ervaring en zeer goede communicatie, de locatie was perfect in het hartje van het centrum. Voor ons was het perfect.
Sander
2015-09-20T00:00:00Z
Rodzaj pokoju
Całe miejsce
---
Rodzaj nieruchomości
Apartament
---
Mieści
4
---
Sypialnie
Breda, Noord-Brabant, Holandia
Mijn ruimte is vlakbij het stadscentrum, parken en restaurants en eetgelegenheden. Je zult genieten van mijn plek vanwege de locatie, de buitenruimte en de sfeer. Mijn ruimte is geschikt voor stellen, solo-avonturiers en zakelijke reizigers.
Een ruimtelijk appartement met hoge ramen, een goede keuken en een prettig tuintje staat te wachten op jou! In de woonkamer vind je een grote bank met kussentjes en lekkere dekentjes voor als je een avondje thuis wilt blijven. In de keuken vind je alle kook spulletjes die je nodig hebt om een lekkere maaltijd in elkaar te zetten. De supermarkt is op 5 minuten lopen afstand voor als je iets nodig hebt. Het stadscentrum is op 6 minuten afstand op de fiets. In het stadscentrum vind je veel winkeltjes en lekkere restaurants. Geniet van het mooie Breda terwijl je in ons gezellige appartement verblijft.
Across the street is a nice greek restaurant, which we love. You can walk in and a have a nice meal or you can take your food to go. In the city center there is on the Havermarkt a nice place thats called the Suikerkist. If you like a nice gin tonic and a proper meal, this is the place to be. If you like a fancy dinner with some real good wines there is this little place on the grote markt. It's called "Pinot", and it is our favourite wine and dine restaurant. Every Saturday there is a fresh market just about 500m from the apartment. You can get fresh fruits and vegetables, your weekly fish, fresh cheese and a lots more. If you like to of out and have a nice lunch there is this place called Hemels on the Wilhelmina straat 23. Its our favourite spot for a good lunch.
Rodzaj pokoju
Całe miejsce
---
Rodzaj nieruchomości
Apartament
---
Mieści
2
---
Sypialnie
Breda, Noord-Brabant, Holandia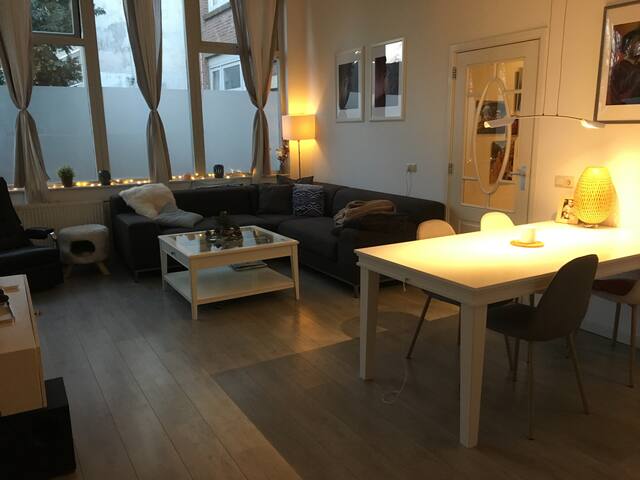 Wpisz daty, by zobaczyć pełną cenę. Obowiązują dodatkowe opłaty. Cena może uwzględniać podatek.