Nice and quiet place in the "Sierra de Tramuntana" just declared as a protected area. Perfect place to get in touch with the nature and have some peaceful time. Well known as the perfect touristic place for those who enjoy ciclyng and long walks.
The house is perfectly located in the middle of "La Sierra de Tramuntana" and with The Mediterranean see views, what makes it the perfect place to disconnect from the world, be in touch with the nature and feel the "other side" of Mallorca. Perfect for those who love cicling and having long walks in paths. Located at 30 minutes from "la Calobra" cave (by car) and from the Lluch Monastry (by walk) where you can find restaurans and feel a part of the mallorcan culture.
The house is surrounded by a holm oak forest whith hundred year old trees. You will enjoy the wonderful views over the sea and the mountains. Is a very quiet place in a protected area where you can practice hiking, cicling and enjoy the nature. 35 kilometers away from home you will find La Calobra and Cala Tuent caves, possibly you have never seen anything like this. In the Monastery of Lluch, 10 minuts by car, there are a cuple of restaurants with a tipical local food
We have spent a lovely week in Son Massip. It's a perfect place if you want to stay in a very quiet, silent and beautiful environment. We arrived with a late and also delayed flight, but it was no problem for Pedro/Victoria to receive us at that time. The receipt by Pedro was relaxed, he is a very nice and polite guy. During the week we had a small problem with the water provision. Pedro responded instantly and the problem was fixed when we were out during that day. Perfecto! The house is just wonderful (lovely big painting of the hostess!) and lovely situated in (to our opinion) the most beautiful part of the island. Surrounded by trees and the mountains at the back side. The GR221 passes the house at short distance. The sound of the birds during the day and early evening is beautiful & zen, the absolute silence at night is magic. The house was build approx 3 years ago and keeps the heat of the day very good outside. Some small things for improvement can be an additional light in the bathroom and a fixed bar for the shower curtain (it fell down a couple of times). Some kitchen towels for drying of the kitchen utensils will be appreciated. The terrace is really nice already, but will be absolutely top with smooth tiles. Be aware that you definitely require a car in this area of the island. The house will not be really suitable for wheel chairs since you require to take some stairs from the road to the house. I definitely recommend this house to people who love silence, nature, hiking, mountain cycling, but also prefer a good bed and nice, well-equipped house and kitchen to stay in. To my opinion 1 week in this area is too (URL HIDDEN) we need to come back... If you are looking for nightlife, bars and a lot of restaurants…you better look for another spot at the island.
Wouter
2016-06-10T00:00:00Z
Nos encantó la estancia en la casa ,en medio de la Sierra de Tramuntana, con unas vistas increíbles, un lugar lleno de energía y de paz, alejado del bullicio, justamente lo que buscábamos. Además los anfitriones, Victoria y Pedro, son unos amores, nos facilitaron todo desde el momento de la llegada, haciéndonos sentir como en casa. Unas vacaciones de desconexión y relax. Altamente recomendado! Gracias por todo! Volveremos, sin duda. Saludos!
Patricia
2016-08-15T00:00:00Z
Pedro und Victoria haben uns trotz extrem kurzfristiger Buchung einen sehr schönen Aufenthalt in ihrem tollen Domizil ermöglicht. Das Haus hat eine schöne Architektur und großes Potenzial, die Bergwelt und die Ausblicke rundherum sind beeindruckend. Die Nächte sind wunderbar ruhig, und der GR 221 geht praktisch am Haus vorbei, man kann also direkt vom Haus aus loswandern. Definitiv eine Empfehlung!
Thomas
2016-09-21T00:00:00Z
Querida Victoria, querido Pedro! Muchas gracias por todo! Soís anfitrionas muy cordiales y siempre dispuesto a ayudar ! We had a very pleasant stay at Sa Talaia and enjoyed the spectacular view and the silence every evening after our day trips. A car is absolutely necessary, the way up to Sa Talaia is like a stairway to heaven :) Abrazos, Jürgen y Michaela
Michaela
2016-07-18T00:00:00Z
Rodzaj pokoju
Całe miejsce
---
Rodzaj nieruchomości
Dom
---
Mieści
5
---
Sypialnie
Escorca, Illes Balears, Hiszpania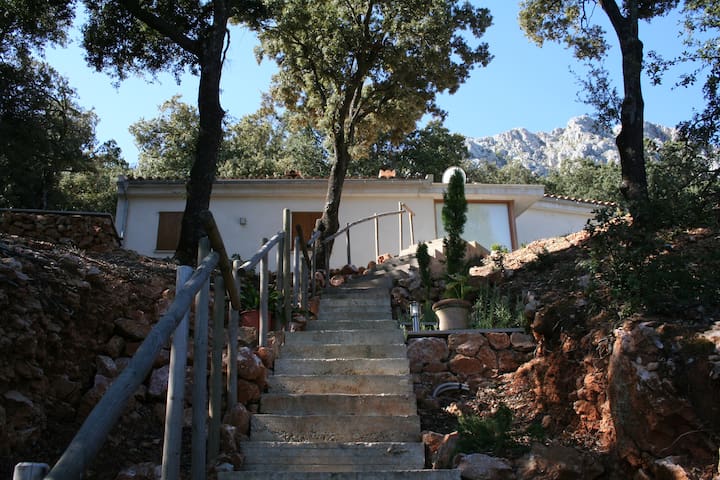 Small guest house for 4 people located in the mountains with private pool: ideal for hikers and those, who likes the nature.
Wonderfully situated in the middle of the Tramuntana Mountains in 620m hight and close to the Lluc monastery and pilgrimage lays this charming country estate. Your holiday home is part of a big farmhouse. The farmer's wife and her family will give you a warm welcome and will take care that you will feel at home anytime during your stay. The property is located close to the road that leads from Soller to Pollença through the mountains. A very picturesque road which is a pleasure to explore during your stay. Two big lakes, many beautiful mountain routes and great views are just there for you to explore during your stay. We can recommend a day excursion to la Calobra and Cala Tuent. The mountains and nature is spectacular in this part of Mallorca and totally different from the well-known beaches and tourist centers. Your holiday home has a nice sunny terrace on the front. Entering the house you will see the big living/dining room and kitchen. Kitchen with gas hub, oven and refrigerator. On the back side are two bedrooms and a big bathroom. As the backside of the house is part of the mountains, an agreeable temperature is maintained during the whole summer. The pool is idyllically situated behind the house and in the woods. It is free for you to use the pool anytime during your stay. Due to the coldness of the water the pool is not ready for use until mid May. The house has only solar energy and a generator.
Zona de montaña.
The communication with Marc was very efficient and so was the plan he sent us to find the house. The house in the mountains however was not such a great experience. pictures of the pool don't match with reality, and it was really humid inside.. There are no windows in the sleeping rooms, And unfortunately it was really cold at that time of the year, and we could only rely on 2 Small gazovens....that kept us warm 1 meter (URL HIDDEN) we were on the edge of leaving Marc helped us to find another stay. So thanks a lot Marc, the house in Inca was beautiful!! We appreciated a lot your professionalism....
Silvia Väykynen-
2016-05-15T00:00:00Z
Très bonne prestation.
joel
2016-07-21T00:00:00Z
I'm sure in summer that this would be most pleasant. However the property is pretty basic and poorly lit. 2 low energy bulbs from pendant lights high in the ceiling and 1 floor standing reading lamp meant that in order to see to cook we had to move the floor lamp around. I suggest you consider providing more and better lighting. The property itself was v damp so towels remained damp from one day to the next. I suggest you look to a way to heat the bathroom so towels dry and it's not cold when bathing. Inadequate warm water. We'd come to cycle and I was really looking forward to warm baths but at best they were Luke warm. Very disappointing. Really just too basic and dingy. Not somewhere to stay out of high season I feel. Overpriced for what it was. On one positive note the host was most friendly and helpful- although no English and we had no Spanish so v limited conversation.
Nichola
2016-10-15T00:00:00Z
Gorgeous little villa in a stunning mountain location! We stayed here with our 2 year old and it was very safe for him to run around and explore. More spacious than it looks in the photos. Pool was nice on a hot day but it was a bit too cool when the sun wasn't out. However we went in late September. The owners of the adjoining house didn't speak English but we muddled through with our bad Spanish (and (SENSITIVE CONTENTS HIDDEN) translate!) They were incredibly warm, friendly and helpful however, and enhanced what was already a great holiday. They were around if needed but otherwise gave us privacy. The English-speaking owners were available by telephone. There is no internet and all of the TV channels were spanish or german. It would have been nice to have some English-speaking channels, and also a HiFi system with auxillary input to listen to music. To be honest though it was a welcome break away from all that technology. The house is right in the heart of the Serra Tramantuna range and well placed to go to great locations such as Soller, Pollenca and Sa Colabra. We took a left turn before Sa Colabra and found Cala Tuent - a gorgeous and much quieter beach with a stunning mountain backdrop and warm, shallow swimming. The water is teeming with a variety of fish species very close to the shore which made for some great snorkeling. Our 2 year old would happily sit at the waters edge playing which felt very safe with very small waves hitting the shore. Overall we had a fantastic time and would definitely visit Mallorca and stay at this villa again.
Tom
2016-09-27T00:00:00Z
The location of this house is lovely and very quiet and peaceful. The hosts who live next door are truly very friendly and accommodating but they only speak Spanish. They couldn't have been more helpful to be honest. The house was clean, cool and very spacious and in the evenings it was spectacular to watch the stars from the patio. We had never seen them so clear and with the silence of the night it made it amazing. The location of the property is a longish drive from towns and restaurants for evening meals. Nearest town being 20 mins drive away depending on the traffic on the narrow windy mountain roads. Its located near the highest mountain of the island so its great if enjoy walking among the forests of the Tramuntana. The only criticism was the agent never gave us the house name or very good directions to get to the house which was a little frustrating. Overall a very relaxing location in such a beautiful part of the island.
Stuart
2014-08-23T00:00:00Z
Daniel war der Vermittler der Finca, wir haben ihn nicht persönlich getroffen. Alles hat sehr gut geklappt und wir wurden gut per Mail vorinformiert, die Kommunikation war sehr sympathisch und unkompliziert.
Barbara
2015-07-01T00:00:00Z
Das Haus liegt mitten in den Bergen, toll als Ausgangspunkt für Wandertouren und Radtouren. Soller ist ca 30 min mit dem Auto entfernt. Jedoch ist die Unterkunft unserer Meinung nach weit überteuert und vorteilhaft fotografiert. Was uns gestört hat/ zu der 2 Sterne Bewertung führen: - Pool war nicht benutzbar, laut Vermieter erst im Hochsommer, andere Pools in der Umgebung waren benutzbar. - 2 Tage kein warmes Wasser, sodass Wasser auf dem Herd gekocht werden musste um sich zu waschen. - Verschimmelter Bade-Vorhang - Badewanne läuft aus - Backofen funktioniert nicht. - Die Unterkunft muss mit Gasheizungen betrieben werden, bei denen die ganze Zeit eine Flamme brennt. Die Heizung kann also leider nicht bei Nacht beheizt werden und Kinder sollten nicht in der Nähe spielen. - Weder für Gasherd, Gas Backofen oder Gas Heizung liegt eine Beschreibung zur Benutzung bei. Was nicht ungefährlich ist. Leider mussten wir nach dem Aufenthalt den Meditations Center von Airbnb kontaktieren. Kurze Zeit später wurde uns glücklicherweise ein Teil des Geldes zurückerstattet. Die Wohung ist somit unserer Meinung nach leider viel zu teuer und den Preis so nicht wert.
Andreas
2016-04-24T00:00:00Z
This accommodation was lovely. The pictures are very accurate but do not covey the peace and serenity of the place. It is in a stunning setting in the mountains with hiking trails all around including a mountain trail straight from the property and a short drive to a flat easy walk around the nearby lake of Cuber. The pool is about 8-10m long and half as wide, filled with fresh mountain spring water and is in an enclosed area which is very private. The accommodation is clean and comfortable, well equipped and tastefully decorated. The bathroom is large, bright and airy. The property is built into the rocks so some rooms have skylights rather than windows in the wall but all have natural light and fresh air. There is a beautiful unspoilt bay called Cala Tuent about 30 mins drive away on dramatic mountain roads - crystal clear calm water. The property is very remote so we stocked up at the giant supermarket near the airport. The small and charming village of Fornalutx is about 20 mins drive - lovely for lunch or dinner and a stroll and there is a small supermarket and a bakery there to top up on supplies. No need to buy bottled water as the taps dispense fresh spring water which is safe to drink. The hosts were very discreet but there if we needed them and sweet and helpful. They don't speak English and our Spanish is very limited but we managed to communicate very easily. The place was easy to find and took about one hour from Palma airport. We highly recommend this property if you like to really get away from it all and to be surrounded by beauty.
Stephania
2016-06-12T00:00:00Z
Rodzaj pokoju
Całe miejsce
---
Rodzaj nieruchomości
Dom
---
Mieści
5
---
Sypialnie
Escorca, Islas Baleares, Hiszpania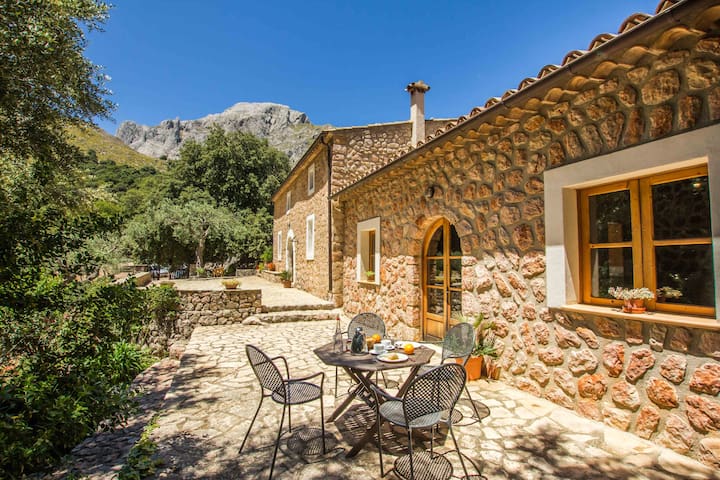 The house is really by the see!! 30 mts. away the famous beach " sa calobra". you can hear clearly the waves meanwhile have a breakfast at terrace or from the bed. 10 minutes away walking you have the amazing "Torrent de Pareis". stay in a world h
We have been 12 days at el calobra. It is a wonderful place, really beautiful. THE house is fine and has a nice terrace. A disadvantage is THE road to the house. You have to drive 50 min through the mountains with a lot of hairpin bends. In el calobra itself are no shops so you have to bring a lot of food/drink if you don't want to drive every day 2 Hours. Catalina is a very nice and kind women. She made me very happy to send my forgotteb medicins by boat from Soller to Calobra. The Island is very nice. We visited a sandbeach at Muro, very nice, Palma and don't forget to visit the market at Sineu.
Annelies
2016-08-01T00:00:00Z
It was fun and a privileged to be a local for a week in this beautiful but very touristy cove on Western Mallorca. Catalina was extremely friendly and welcoming when she meet us just out of Soller by a restaurant. We had a late flight so the meeting was short and sweet. Her son had typed-up all the instructions and info. we needed about the property in English and it was easy to follow. We then had dinner in Port de Soller before driving 50mins to the house. The following day we did a grocery shop as the "self-service" restaurants in Sa Calobra are only open for lunch and it was much nicer to sit in peace on the large patio anyways. The house was extremely clean and tidy, inside and out! Kitchen small but has everything you need and stove/oven looks brand new. My husband and I stayed here to Cycle the Serra de Tramuntana and we couldn't have asked for a more perfect base. We enjoyed the Sa Calobra climb and also riding through Deia, over the Coll de Soller and out to Cap Formentor lighthouse. We walked around to Torrent de Pareis (5mins) to swim and snorkel every day before the bus tours arrived, or late afternoon after a ride once the crowds had left. For a more peaceful beach during the day head around to Cala Tuent – another great snorkel spot, and here we hired Kayaks from Catalina's friend for one day and another day we enjoyed an incredible lunch at Es Vergeret (yummy fresh fish, book ahead for the most stunning view). If we ever visit Mallorca again, we hope Catalina's place is available.
April
2016-09-14T00:00:00Z
Catalina nous a accueillis avec le sourire, sa maison est un paradis de bout de route ! Tous les soirs, après le départ des derniers touristes, nous avions tout Sa Calobra pour nous. Un endroit un peu magique. Comme toute la région. Merci encore Catalina !
bertrand
2016-07-03T00:00:00Z
Catalina is a great host, we felt very cozy and everything was perfect. Catalina is very attentive and warm person.
Jolanta
2016-05-01T00:00:00Z
Catalina met us at at a local cafe and took us to the house. She did a great job to make us feel welcome. The house is very old but has has been renovated so is in good condition. We enjoyed the morning sitting on the front patio watching the small village come to life with cyclists arriving and then tour buses. The town's population swells during the day and is very quite at night and in the mornings. So come well prepared with food because there are not many local options after around 5pm.
Peter
2016-06-18T00:00:00Z
We had a delightful week in Casablanca de Montana. It is a magical bay surrounded by stunning scenery. Catalina was very helpful meeting us in Soler with directions to the house and helped us find the local supermarket. You do need to stock up as there are no food shops in Sa Calobra and restaurants close at 4 pm apart from one which is open until 8pm. The road down to the resort is stunning but precipitous and steep and to be avoided when the tourist coaches are coming and going . The house is well maintained clean and comfortable. The bathroom is very small ok for us but difficult with more adults. the view and location makes up for it.
Juliet
2016-06-12T00:00:00Z
Nous avons passé une semaine fantastique à la mi-avril avec ma femme, nos 2 enfants (6 et 2 ans) et leurs 2 grands mères. Catalina est très sympathique et Sa Calobra est un endroit magique et magnifique, très fréquenté dans la journée (cyclistes et touristes) et désert le soir. La propreté des lieux est irréprochable. La route sinueuse pour y parvenir est d'une beauté époustouflante, dans un paysage fantastique et sauvage : nous nous ne sommes jamais lassés de la parcourir en montant ou descendant en voiture (plus de 200 virages :) Attention toutefois : si vous souhaitez visiter les différents endroits de Mallorque, ce n'est pas la maison idéale car la ville la plus proche menant aux grand axes routiers est Soller, située à 50min de route de montagne sinueuse. Par contre si vous souhaitez passer un moment au calme en famille et profiter de la beauté du lieu et du Torrent de Pareis, c'est absolument parfait. Pour avoir visité beaucoup de coins de l'île pendant notre semaine (et donc en ayant fait pas mal de voiture...), c'est l'endroit le plus beau et sauvage que nous ayons vu ! Nous ne mettons pas 5 étoiles car le seul bémol de la maison est la salle d'eau + WC qui est beaucoup trop petite pour 6 personnes, malgré qu'elle soit juste refaite et très propre. Tout le reste est génial, notamment la vue sur mer et le bruit des vagues le soir depuis la terrasse !
Fabien
2016-04-22T00:00:00Z
Excellent séjour chez Catalina Maria. Le logement est très agréable. Nous avons été très bien accueillis, sympathiquement et avec de gentilles attentions. Merci!
Guy
2016-08-21T00:00:00Z
Rodzaj pokoju
Całe miejsce
---
Rodzaj nieruchomości
Dom
---
Mieści
4
---
Sypialnie
Port de Sa Calobra, Illes Balears, Hiszpania
Es una de las mejores zonas de Mallorca, casa se encuentra en una zona Única de la isla a unos 100 m de la playa y 10 min caminando de una de las mejores playas del mundo Torrent de Pareix. Tranquilidad absoluta, mucha naturaleza. Los huéspedes deben saber que al ser una zona alejada de ciudad, tienen que abastecer alimentación ya que el punto próximo está a unos 30 km.
La zona es unica, con mucha visita turistica ya que se encuentra en un entorno Unico y exclusivo. Alrededor hay 4 vecinos y un restaurante-bar a 200 metros que trabajan hasta las 6 de la tarde.
Rodzaj pokoju
Całe miejsce
---
Rodzaj nieruchomości
Dom
---
Mieści
4
---
Sypialnie
La Calobra, PM, Hiszpania
Dom wakacyjny dla 6 osób, blisko plaży i Internet
Rodzaj pokoju
Całe miejsce
---
Rodzaj nieruchomości
Dom
---
Mieści
6
---
Sypialnie
Palma, Illes Balears, Hiszpania
Welcome to this charming, rustic house located in the Tramuntana mountain range, near the Monastery of Lluc. It is prepared for 6 persons.
It counts with 2 large terraces, as well as a fully furnished porch with a barbeque. This 2-storey house measures 150 m2 and counts with 3 bedrooms: one with two individual beds and two with a double bed. On request, there is a baby bed and a high chair available. There are two bathrooms for general use: one with a shower and one with a bath tub. The cozy living- and dining room counts with a sofa, 2 armchairs, satellite TV, a fire place, a dining table and air conditioning. The independent kitchen works with gas and counts with all necessary utensils to prepare a nice meal. You will also find a washing machine, as well as an iron and ironing board. The whole house is equipped with central heating. Note: The rental of this property is based on the Spanish Law on Urban Leases ((PHONE NUMBER HIDDEN)th November). According this law the property is available for seasonal renting. However, the contract does not offer any tourist service. It is only for the use of the property. Pets are not allowed. Contact the advertiser for any possible additional charges. Celebration of parties or events is not permitted. At 150m you will find the restaurant Es Guix, with a natural pool which you may use free of charge.
The Monastery of Lluc is a sanctuary located in the middle of the Tramuntana mountain range, which has been declared World Heritage Site by Unesco. It is the perfect place for nature lovers, hikers and cyclists. In the area there are many hiking and cycling routes. You will surely enjoy a visit to the impressive monastery and its' surroundings. There are several restaurants nearby. You can easily reach Sa Calobra, Torrent de Pareis and Cala Tuent. The beach of Cala Tuent is one of the most unspoiled coves of Mallorca and is relatively quiet. Sa Calobra and Torrent de Pareis, however, are frequented tourist attractions, as they are one of Mallorca's most impressive sites. From Sa Calobra you can make a boat trip to the harbor of Port de Soller and continue the tour with the centenary train of Sóller to Palma. The area of Soller is famous for its fresh prawns and orange trees, as well as the Church of Soller with its modernist facade.
The host canceled this reservation the day before arrival. This is an automated posting.
Florian
2016-04-15T00:00:00Z
Die Unterkunft ist schön gelegen mit einem beeindruckenden Blick über ein Tal und Berge. Das Haus ist mit allem ausgestattet, was man benötigt. Die Inneneinrichtung ist rustikal und geschmackssache. Die Kommunikation und Schlüsselübergabe verlief problemlos. Super Unterkunft für Wanderer, die eine Basis suchen.
Paul
2016-11-22T00:00:00Z
Rodzaj pokoju
Całe miejsce
---
Rodzaj nieruchomości
Dom
---
Mieści
6
---
Sypialnie
Escorca, Islas Baleares, Hiszpania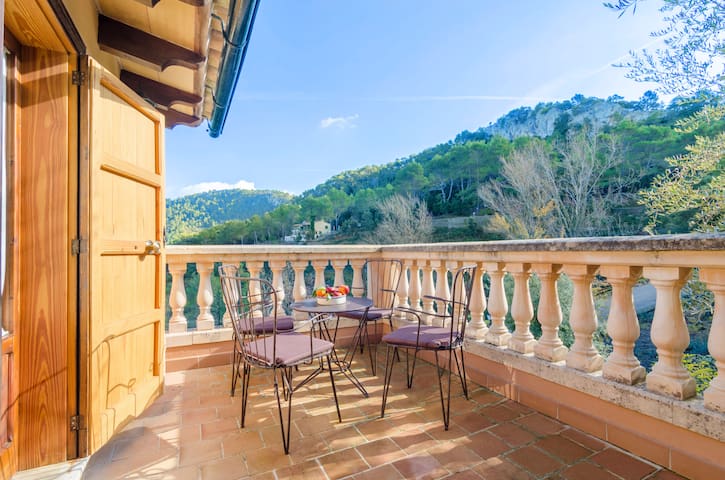 przytulny dom w wyjątkowym, spokojnym i urokliwym miejscu, gdzie mogą spędzić wakacje fantasy z przyjaciółmi lub rodziną, szczególnie odpowiedni dla osób poszukujących relaksujący wypoczynek z dala od Stres w wielkim mieście, bardzo cichej i soledada kierunkowym. Położony zaledwie 100 metrów od plaży, naturalna plaża, bez jakiegokolwiek budynku, otoczone górami, obszar naturalny i chronione. ogród, również z ładnym grill, gdzie można podziwiać przepiękne zachody słońca. Bardzo blisko do Cala Tuent Sa Calobra jest tam, gdzie jest plaża, restauracje, a lekarze. Zajmuje 30 minut Escorca dotrzeć do ludzi bliżej Cala Tuent. Mogą też zejść na drogę Puig Major i dotrzeć Soller - Fornalutx -. Puerto de Soller, urocze wioski (60 minut) "
We had a fantastic stay at Preciosa Casa in Cala Tuent. It was remote and beautiful. The beach was a 5 minute walk away and although pebbly was great. Nice and quiet with beautiful blue seas and near perfect weather. We had to be organised with food as the closest supermarket is in Soller about an hour's drive away. The local restaurant was open at lunchtimes and was reasonably priced with good food and amazing views. The villa was brilliantly equipped and our 2.5 year old had a lovely time pottering about. Our only surprise was that it was semi-detached and we hope our son did not disturb the neighbours. We enjoyed the cliff paths and clean fresh air as well as the spectacular roads. A very successful holiday and would recommend both the villa and the location. Ps mosquito repellant required even in the afternoon!
Alexandra
2015-09-26T00:00:00Z
This is a charming beach house 5 minutes walk from a beautiful, quiet cove nestled within a dramatic mountain landscape. Perhaps partly why this beautiful beach is not over run with visitors is due to the curvy mountain road which is the only way into it (other than by boat). Keep an eye out for the big coaches on the road with tourists checking out the incredible views - thankfully though they don't drop them off at this cove, they all go to one nearby that is developed and busy. There is one restaurant (with breathtaking views and good food) open for lunch only while we were there (but apparently open for dinner too earlier in the summer). There are a few other houses nearby and while the house adjacent to ours was occupied, they and everyone in the small neighbourhood seemed to respect the quietness of the area all the time.
Raul
2014-08-30T00:00:00Z
We had a wonderful time in Cala Tuent. The house is in a beautiful spot of the island. Totally worth it. Yes, you have to plan in advance as the nearest shop is 55 minutes driving distance. Other than that, no worries at all. If you look for a quiet place to retreat, this is the perfect place to go. The house was just perfect for all of us (family of 5), clean and in very good condition. Luisa, the owner, was very attentive and helpful. We will go back for sure.
Jacobo
2014-08-06T00:00:00Z
We had a lovely time, once again, at Cala Tuent. This house and garden was even more perfect than we remembered. All logistics worked perfectly without a hitch. Fast becoming a favorite holiday spot for the whole family.
Christian
2014-07-28T00:00:00Z
Un petit coin de paradis! La maison est située dans un cadre exceptionnel, loin de le foule et du bruit, et elle est au moins aussi belle que sur les photos. La vue depuis la terrasse est magique. On trouve tout ce dont on a besoin sur (URL HIDDEN) même plus (prise moustiques, sac congélation, parasols...). La calanque et ses eaux turquoises se situent à 3 minutes à pieds. Nous y reviendrons sans aucun doute....
Julie
2016-08-17T00:00:00Z
The house is great and the owner was really accomodating. I must say its a unique place. The house is really bautiful and it is super equiped. The outdoor kitchen is a total plus. Even though you must make a big groceries buy before getting there (the closest shop is a 55 minute drive) once you are there you wont want to leave. I must say anyway, that we couldnt get groceries before our arrival but the host took us to the town restaurant and we found an amazing place with super sweet people. I highly recommend it and hope i will be able to go back soon.
Rafael
2015-08-31T00:00:00Z
Casa Preciosa at Cala Tuent proved to be an absolute gem and provided the perfect location for an unforgettable holiday for the entire family. Situated relatively remotely approximately 1 hrs drive on switchback roads from Sollér requires solid logistics planning as no shopping is available within that one hour drive. However, once there, you will have no desire to leave as the bay of Cala Tuent is stunningly beautiful with crystal clear waters, mountain and sea vistas and some excellent cycling on the switchback roads. The house is very well equipped with both a conventional and an outdoor kitchen, two bedrooms, living room and a patio covered with a leafy canopy where life naturally settles in. We will definitely be back.
Christian
2013-07-15T00:00:00Z
Parfaite maison dans un parfait endroit. Le calme et la beauté de Cala Tuent nous ont donné envie d'y vivre pour toujours......Nous avons aimé cette belle maison confortable et sa terrasse ombragée donnant sur les montagnes. En revanche, il faut en effet prévoir une solide organisation puisque les premiers commerces sont à plus d'une heure d'une route de montagne assortie d'épingles à cheveux et de ravins, à vous dissuader d'aller faire les courses.....Ce qui n'enlève rien à la beauté de cette partie de Majorque. Merci à Lluisa pour son accueil !
Sylvie
2013-08-19T00:00:00Z
Rodzaj pokoju
Całe miejsce
---
Rodzaj nieruchomości
Dom
---
Mieści
6
---
Sypialnie
Palma de Mallorca, Baleary, Hiszpania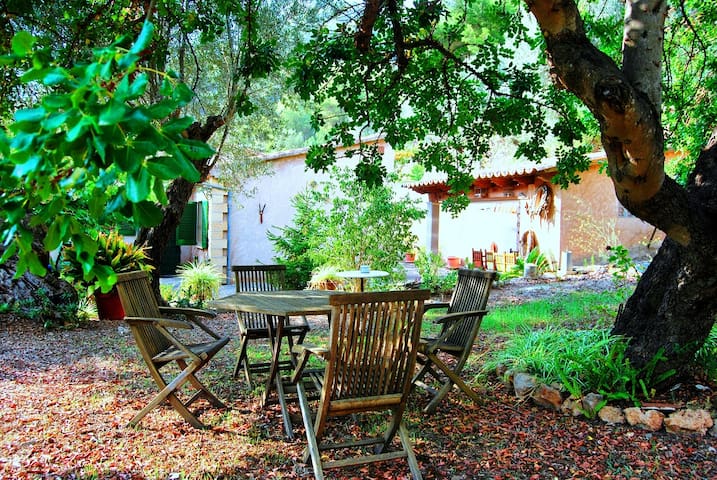 Casa típica mallorquina, muy luminosa y práctica. Sin ruido, sin coches. Total tranquilidad.
Rodzaj pokoju
Całe miejsce
---
Rodzaj nieruchomości
Dom
---
Mieści
4
---
Sypialnie
Escorca, Illes Balears, Hiszpania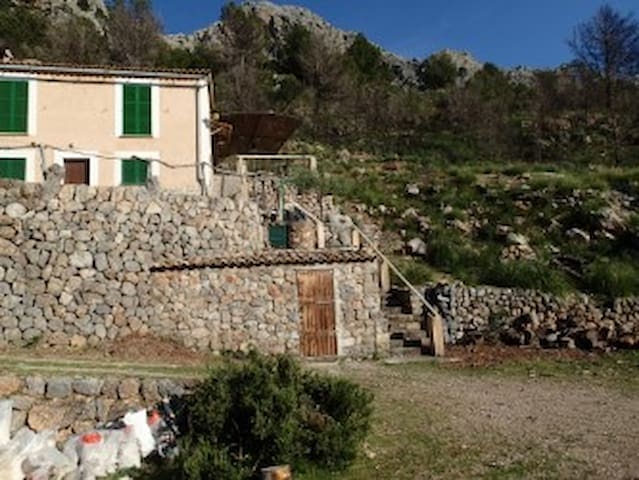 Villa gelegen in idyllische baai omgeven door bergen. Restaurant op 100m.
Gelegen op 45 min rijden van dichtstbijzijnde stadje (inkopen voorzien want geen winkel aanwezig).Zeer lekker restaurant die opengaat om 10u s'morgens (eventueel ontbijt). S'avonds is het restaurant gesloten.Enkel tijdens hoog-seizoen zijn ze open op zaterdagavond. Strand op 2min wandelen via ezelspad (zeer rustig strand). Eerstvolgende baai op 10 min rijden genaamd Sa Calobra. Daar heb je tevens de mogelijkheid om taxiboot te nemen naar Puerto de Soller.Tevens mogelijkheid om taxi te nemen in onze baai mits aanvraag bij vissershuisje op het strand, Toni Blau helpt je verder. Je voelt de rust van zodra je toekomt. Door zijn ligging is dit het ideale plekje om te ontspannen.
Je voelt de rust van zodra je toekomt. Door zijn ligging is dit het ideale plekje om te ontspannen.
Wow. What a house - the photos don't do it justice. Gorgeous location with fantastic sea views. We loved it, the pool was great as it was large enough for everyone to play in. The house was spacious and well equipped and we had a great stay. This house would would suit people looking for a peaceful holiday in a breathtakingly beautiful, unspoilt location. It felt like we were borrowing somebody's much loved holiday home
Jenny
2016-08-13T00:00:00Z
We hebben enorm genoten van deze prachtige plek! Zowel het huis is heerlijk (het is nog mooier dan de foto's) met het zwembad en het fijne terras, als het uitzicht, als de directe omgeving. Een prachtige rustige baai - ook al was het hoogseizoen - in het berglandschap, en aan de zee. Een hele bijzonder locatie. De verhuurder Stany is uiterst vriendelijk, was heel aanspreekbaar en behulpzaam. En Paco, de man in de directe omgeving die kan helpen bij problemen, ook. Zoals de advertentie al aangaf, je moet wel flink inkopen doen want de eerste winkel is ene fliink eind rijden door de bergen. Onze enige uitdading waren de mieren, maar die zitten nou eenmaal op het hele eiland in die warme zomermaanden. Ik denk dat we hier heel graag terugkomen!
Kirsten
2015-08-08T00:00:00Z
Nous avons passé un super séjour dans cette maison. L'annonce était complète et correspondait à la réalité, la maison était encore mieux que sur les photos. Endroit très agréable et très reposant. Il faut en effet anticiper et faire ses courses avant d'arriver à Cala Tuent mais cela est communiqué dans le descriptif de la maison. La piscine de la maison et la petite crique en bas de la maison sont très appréciables. Paco, qui s'occupe de votre arrivée, et de votre départ est très accueillant, disponible et répond toujours présent si besoin est (et il parle très bien français!!!!) A recommander!!!
Jean-Matthieu Lecornet
2016-08-07T00:00:00Z
Stany was excellent at communicating the set up and gave great info. The house is actually even nicer than the pics and the restaurant next door is lovely.
nina
2015-08-23T00:00:00Z
La estancia ha sido perfecta, si lo que buscas es tranquilidad absoluta esta es tu casa, las carreteras para llegar hasta ella hacen que no sea tan frecuentada por turistas, ya que hay cerca de 1 hora de curvas .... La casa la gestiona paco, un encantador señor siempre dispuesto a ayudar en lo que haga falta y con una sonrisa en la boca, todo lo que necesites él te ayudará. Recomendaciones es que hagas una compra en el supermercado bastante grande ya que allí no se dispone de ninguno donde ir a comprar . Por lo demás la casa dispone absolutamente de todo Desde menaje Equipo de música portatil .. Set costura.... Etc todo lo que necesites lo tienen. La casa está en buenas condiciones pero se nota que tiene algún tiempo, un pequeño lavado de cara no le vendría mal.. Pero en general más que bien todo. Personalmente sí que volvería a reservar en esta casa y sobre todo por la gestión fantástica que hace paco de ella .
Diego
2016-08-29T00:00:00Z
Paradise. We loved it all. Cala Tuent is in our opinion the most beautiful bay on the whole island. It is a very peaceful place; the mountain backdrop, the incredible turquoise of the water and the lush green flora. We were in such awe of all the amazing colours, the mountains glowed the most delicious peach pink before the sunset. The sky lit up with a billion stars at night. We had a small teenage goat and his father who came to visit us each day. The photos were helpful however they don't do justice to the beauty. Floating the in the pool with mountains over 1000 meters above, it's perfection. The house was very spacious for us 7 adults, 2 toddlers and one baby. We had everything we needed and more. Stany provided quick and friendly communication of information. He had all bedrooms set up for our group dynamics in advance. And then there was Paco. He was our go to person who manages for Stany. A warm, kind eyed, friendly local who helped us with everything and more. He came one day with lemons warm from the sun just picked from the tree and a citrus juicing machine. We love this place and are already thinking about how and when to go back.
Mary
2016-07-13T00:00:00Z
Nous avons loué cette maison pour une semaine de vacances entre amis. Il s'agit d'une superbe maison extrêmement comfortable qui est située à quelques minutes à pied d'une très belle crique. Nous recommandons vivement cette maison. Paco, la personne qui s'occupe de la maison s'est montré très disponible et sympathique pour réponde à nos questions. En revanche, attention, il s'agit d'une maison qui est très isolée, a 1h30 de Palma et la route pour y accéder est tortueuse et difficile.
Anne-sophie
2016-08-22T00:00:00Z
Rodzaj pokoju
Całe miejsce
---
Rodzaj nieruchomości
Dom
---
Mieści
8
---
Sypialnie
Cala Tuent, Baleary, Hiszpania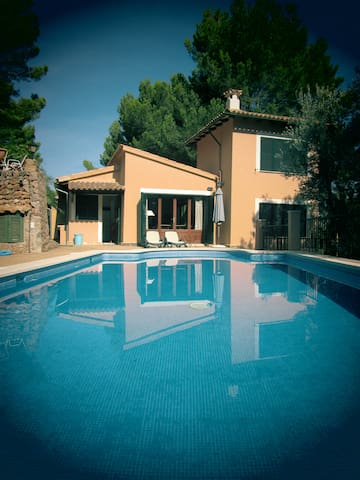 Beautiful house situated in a perfect natural environment, maximum tranquility, for those seeking a holiday to unwind. Located just 100 meters from the beach, natural beach, without any building, surrounded by mountains, natural and protected area. The house has a large manicured garden with flowers, lawn, and garden furniture, also with a nice barbecue, where they can enjoy the magnificent sunsets. Very close to Cala Tuent Sa Calobra is where there is beach, restaurants, and doctors. A 30-minute drive Escorca reach the people closer to Cala Tuent. They can also go down the road of Puig Major and reach Soller - Fornalutx -. and Puerto de Soller, charming village (60 minutes)
When we arrived the owners were cleaning the house and garden. They welcomed us warmly, showed us around and left us a crate with selfgrown vegetables. (Demelsa we never met, she appears to be an in-between) The house is lovely with a secluded garden and an outside shower. It is well worth the challenging drive through the mountains. The pebble-beach is at a few minutes walking distance. We would go there during the day to swim and at night to watch the stars. There is one restaurant in this area that offers fine local food and a breathtaking view on the coastline.
Chantal
2015-08-15T00:00:00Z
Liebe Demelsa, Magnifica Casa war für uns ein wundervoller Platz, eine Wohlfühloase für 7 Tage geworden. Wir hatten einen stimmungsvollen erholsamen Urlaub. Wir freuen uns schon auf ein nächstes Mal. Liebe Grüße aus Deutschland Petra
Petra
2013-04-10T00:00:00Z
Das Haus und besonders der Garten waren wirklich wunderschön! Tatsächlich noch viel schöner als auf den Bildern. Dazu die Aussicht auf die Berge .. einfach toll. Treffen und Schlüsselübergabe klappte reibungslos. Der Garten war für uns das Zentrum und wir konnten ständig neue schöne Plätze dort entdecken. Alles sehr liebevoll gestaltet. Super fanden wir auch die Außenküche mit Grill. Zum Strand sind es zu Fuß ca. 5 Minuten. Zum Einkaufen über die Serpentinenstraßen mit dem Auto ca. 50 Minuten; auch jedesmal ein Spaß mit grandioser Aussicht :) (Achtung, Schafe überall!) Einziges Manko war das Bad- der Abfluss hat leider nach fast jedem Besuch (z.B. nach dem Duschen) temporär übel gerochen; bis auf die Terrasse runter. Außerdem gab es keinen Duschvorhang und keine Befestigung für den Duschkopf; so musste man sich immer in die Badewanne kauern und oft war hinterher alles nass. Nichtsdestotrotz können wir das Haus und die Gastgeber absolut weiter empfehlen; wir hatten eine tolle Zeit, vielen Dank dafür!
Britta
2014-09-05T00:00:00Z
Rodzaj pokoju
Całe miejsce
---
Rodzaj nieruchomości
Dom
---
Mieści
8
---
Sypialnie
Palma de Mallorca, Baleary, Hiszpania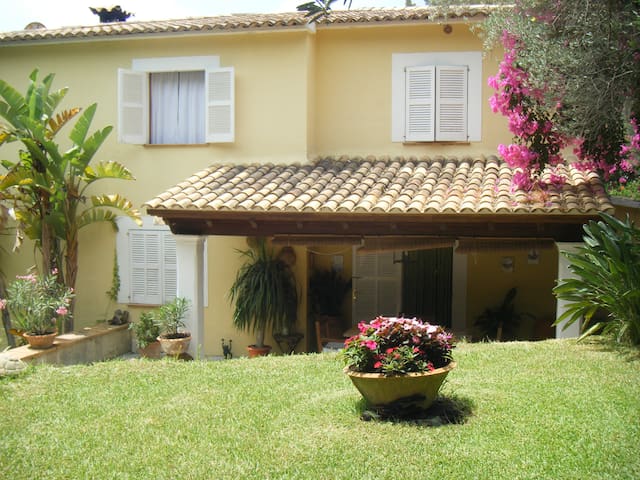 BEAUTIFUL VILLA IN A VILLAGE CALLED CAIMARI IN FULL SAND TRAMUNTANA, 30 MINUTES FROM THE BEACH. CONSISTS OF 6 DOUBLE ROOMS 4 FULL BATHROOMS, KITCHEN, TWO DINING ROOMS, TWO ROOMS, GARDEN, TERRACE, BARBECUE, PORCH WITH CLEAR VIEWS IDEAL FOR DINNER TRANQUILAMENTE ENJOYING A PRECIOUS VIEWS, SWIMMING POOL INFINITI. WIFI, A.C., TV (URL HIDDEN) accommodation is good for couples, adventurers, business travelers, families (with children), large groups, and pets.
Rodzaj pokoju
Całe miejsce
---
Rodzaj nieruchomości
Dom
---
Mieści
12
---
Sypialnie
Caimari, Illes Balears, Hiszpania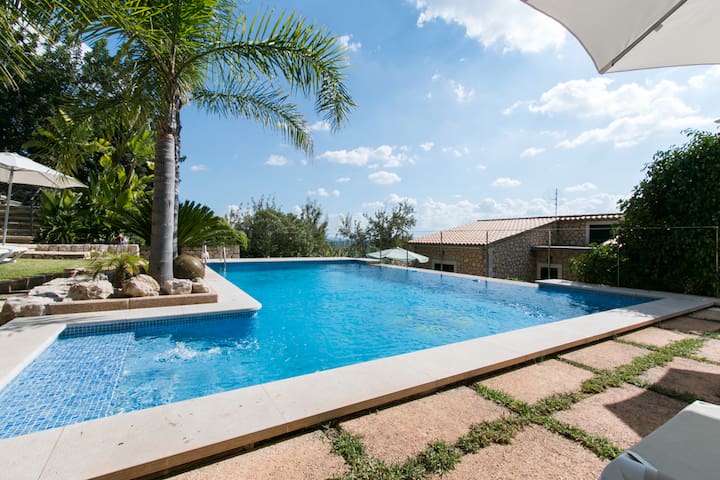 Casa rural en la sierra de tramuntana zona muy tranquila sin circulacion ideal para descansos y paseos por la serra y senderismo,precios segun temporada,casa de piedra de mas de 100 años de antiguedad reformada totalmente en el año 2000 .
En la planta baja de la casa encontramos entrada que nos lleva a una sala de estar con chimenea y a continuacion comedor con cocina tipica mallorquina , bodega en planta sotano y dos baños , desde el comedor se ascede a una maravillosa terraza . La terraza sin lugar a duda es la zona que hace mas especial esta casa en ella se encuentra una original piscina , con solarium . Tambien hay en este espacio un barbacoa . En la primer rellano se encuentra una habitacion con cama de matrimonio , siguiendo a la otra planta encontramos dos habitaciones mas , una dos camas individuales y otra cama matrimonio . Desde esta planta se sale a una terraza donde se puede disfrutar de unas escelentes vistas a la montaña del puig de lluc y ademas disfrutar de unos momentos de Relax en el Jacuzzi
La casa es preciosa, en las fotos sale incluso peor de lo que realmente es!!! Y el anfitrion super simpatica. Sin duda volveré para pasar otro finde de relax y la recomiendo 100x100.
anna
2015-11-08T00:00:00Z
We had a great time at the house. Caimari is a very relaxed little town, and a perfect starting point for exploring the mountains. The house is in a quiet alley, with a great view from the upstairs terrasse, a nice small pool and BBQ. The hosts are very nice and helpfull.
Jacob
2016-08-04T00:00:00Z
Ett jättefint och mysigt spanskt stenhus i en liten fin by bara 40 min. Fr Palma. Huset var välstädat och både gemytligt och trevligt. Härlig ute terass med utekök, pool och liten jaquzzi! Ägaren hade köpt bagagets, skinka, tomater och vatten till oss som vi kunde äta på det spanska keramiktallrikarna. Byn har två små affärer med det mesta man behöver , sedan finns det också några trevliga små lokala restauranger i byn. Kan varmt rekommendera att bo i huset, och ägarna var mycket rara och snälla. P- plats till bilen fanns några hundra meter bort. Vi fem vuxna är mycket nöjda med Casa Rural.
Marina
2016-06-30T00:00:00Z
nous avons passé un agréable séjour a caimari dans une région magnifique. la maison est superbe dans un village de montagne calme et idéal pour visiter la région. j'aime nous a acceuilli avec gentillesse le premier jour. nous y reviendrons
tornero
2016-08-21T00:00:00Z
Rodzaj pokoju
Całe miejsce
---
Rodzaj nieruchomości
Dom
---
Mieści
6
---
Sypialnie
Caimari, Illes Balears, Hiszpania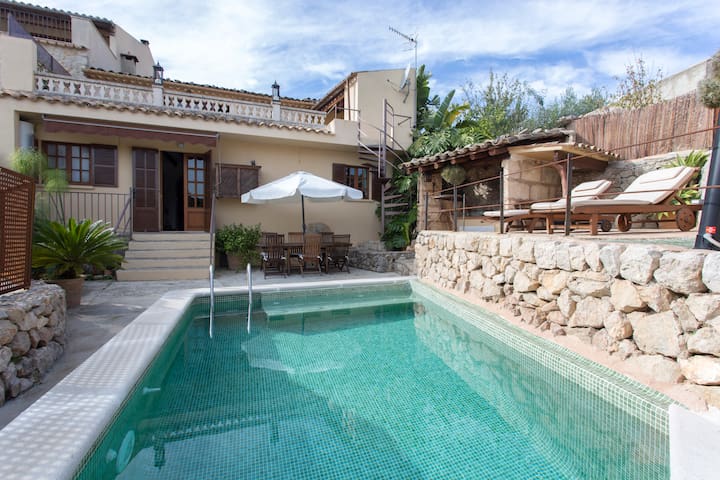 We rent the first ground floor with access to the beautiful Patio and the pool. The first floor is habited by me and my cousin, she is an artist and has her studio there.
Rodzaj pokoju
Całe miejsce
---
Rodzaj nieruchomości
Dom
---
Mieści
15
---
Sypialnie
Alaró, Illes Balears, Hiszpania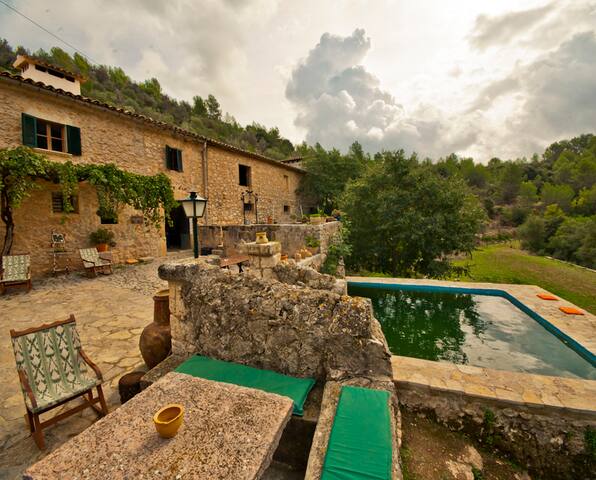 Can Masser es una casa de finales del siglo XVIII. Construida en piedra con vigas de madera en todos los techos. Tiene mucho carácter, siendo una de las casas más antiguas del pueblo. Está situada al lado de la plaza Mayor y la iglesia. Se restauró en 1995 y ahora cuenta con los servicios modernos de agua, electricidad, chimenea y calefacción. Cuenta también con conexión Wifi gratuita. Despertarse con el sonido de los pájaros o tomar un té en el patio, al lado del pozo, relaja el espíritu.
La casa se ha decorado con mucho cariño. De sus paredes cuelgan cuadros de pintores españoles contemporáneos, sobre todo de las vanguardias de los años 70 y 80. Hay una colección de marfiles antiguos y esculturas en bronce contemporáneas y antiguas.
Caimari es un pueblecito de 600 habitantes al pie de la sierra de la Tramuntana. La sierra es Patrimonio de la Humanidad desde junio del 2011. Pueblecito tranquilo con casas de piedra que cuenta con servicios básicos: farmacia, consultorio médico de la Seguridad Social, 5 bares, un pequeño hotel de interior, un restaurante de prestigio.
Rodzaj pokoju
Całe miejsce
---
Rodzaj nieruchomości
Dom
---
Mieści
4
---
Sypialnie
Caimari, Illes Balears, Hiszpania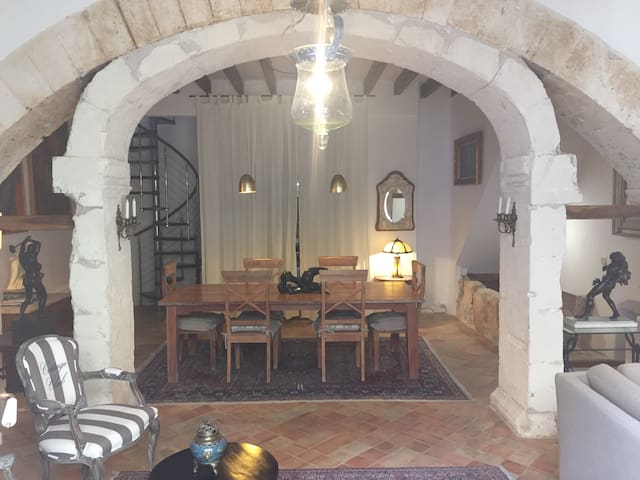 El encanto de una casa mallorquina combinado con la modernidad de un alojamiento reformado para disfrutar de las mejores vacaciones en plena Serra de Tramuntana, Patrimonio de la Humanidad, del clima de Mallorca, y la tranquilidad de Caimari. Ideal para relajarse, parking para 4 vehículos, garaje para bicicletas, con servicios ciclistas, multitud de rutas de ciclismo, MTB o senderismo, además de un completo gimnasio. Podrás incluso reservar tu masaje! Con Wifi (fibra óptica) gratuito!
El encanto de una casa antigua mallorquina combinado con la modernidad de un alojamiento reformado y equipado para que puedas disfrutar de las mejores vacaciones en plena Serra de Tramuntana, Patrimonio de la Humanidad, del excelente clima de Mallorca, y de la tranquilidad de Caimari. Ideal para relajarse, con dos amplias terrazas con vistas a las montañas, cuenta también con parking para hasta 4 vehículos, así como garaje para bicicletas para los amantes del deporte, que también encontrarán todos los servicios ciclistas que puedan necesitar, así como multitud de rutas de ciclismo, MTB o senderismo cercanas a Ca na Vilaneta, además de un completo gimnasio con máquinas de musculación, bicicleta de spinning... Además, podrás reservar incluso un masaje para disfrutarlo en la misma casa en su sala de masajes! Con Wifi (fibra óptica) gratuito para que puedas compartir las excelentes fotografías que harás durante tu estancia, y con 4 habitaciones dobles, 4 salas (con 2 comedores), 3 baños, uno de ellos en suite, y una amplia cocina completamente equipada.
Caimari es una pequeña población de poco más de 900 habitantes muy tranquila, en la localidad de Selva, y en plena Serra de Tramuntana, Patrimonio de la Humanidad.
We spend really good times in the house of johanna, she was really welcoming, helpful during the stay. The house is really clean, With Nice soaps for each people. And really confortable !! Everything was perfect! Caimari is a Nice village With an amazing municipal swimmingpool !
Magali
2016-08-25T00:00:00Z
Hem passat un cap de setmana fantàstic a Caimari. L'amfitriona és molt amable i atenta, i la casa és molt espaiosa i neta.
Pep
2016-11-20T00:00:00Z
La casa es preciosa, grande pero a la vez acogedora. Todo estaba muy limpio y ordenado. En las habitaciones nos soprendió el detalle de las toallas con formitas de cisnes y un mini neceser para cada uno, con su champú, gel de baño, crema hidratante, cepillo y pasta de dientes. Teníamos la wii para jugar y un montón de pelis, por si nos apetecía ver alguna. Joana es un encanto y estuvo en todo momento atenta, dándonos muchisimas comodidades. La recomiendo 100%!!!!
Sara
2016-11-01T00:00:00Z
Joana fue muy amable y simpática! La casa está justo en el centro del pueblo. La casa dispone de un amplio párking, espacios amplios y un precioso jardín.
Miquel
2017-02-12T00:00:00Z
Estupenda y enorme casa en la calle principal del pueblo. Impresionantes vistas a la montaña. Todo muy limpio y ordenado. Los detalles muy cuidados. La casa es muy amplia, con todas las comodidades. Joana un encanto, agradable y atenta. Un 10 en general!
Silvia
2016-10-30T00:00:00Z
Rodzaj pokoju
Całe miejsce
---
Rodzaj nieruchomości
Dom
---
Mieści
8
---
Sypialnie
Caimari, Illes Balears, Hiszpania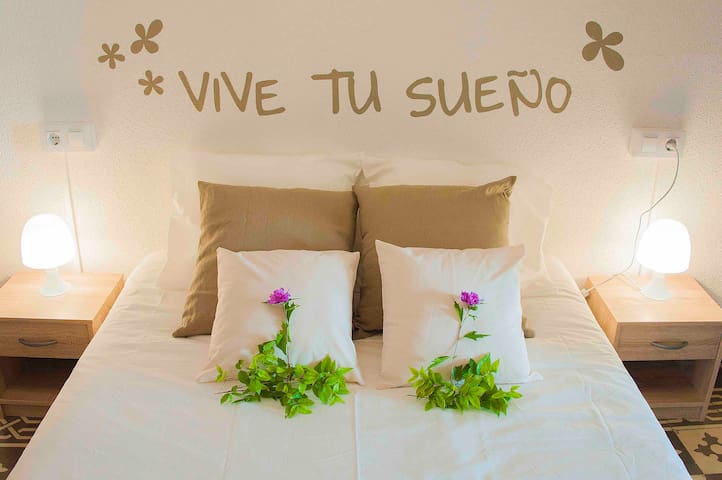 Casa de montaña, a los pies de la Serra de Tramuntana. a 5 minutos del pueblo de Caimari. Todos los servicios muy cerca, supermercados, restaurantes, tiendas. Las playas de Alcudia están a unos 25 minutos en coche. Ideal para senderistas.
Casa na montanha localizada na Serra de Tramuntana em Mallorca, uma cadeia de montanhas situada no norte da ilha declarada património mundial pela sua beleza e conservação, parte da história e da cultura da ilha. Localizado na estrada Inca no quilómetro 7 Lluc, ao largo da cidade de Caimari. A construção é típico da área rural de montanha, com grossas paredes de pedra. A casa é composta de dois pisos ligados por uma escadaria de pedra bonita fora do top é composto por cozinha e ampla sala de estar, lareira e banheiro com grandes janelas para desfrutar da magnífica vista para a montanha. Térreo são dois quartos e um banheiro. Amplos terraços integrados na paisagem deixá-lo desfrutar do ambiente ao ar livre e um ambiente descontraído. O resort dispõe de um churrasco completo e um velho fogão a lenha. A situação nas montanhas e apenas cinco minutos a pé da vila de Caimari permitir o acesso a todos os serviços, farmácia, supermercados e bares bancas e esportes municipal complexo com piscina. Um lugar ideal para caminhadas, ciclismo e mountain escalada.En um raio de 500 metros de escalada três setores; Em suas proximidades existem diversas partidas de trilhas que percorrem as mais belas da ilha.
The House: Shortly after our arrival back home we already missed Guillermo´s wonderful Mountain house. As already mentioned by other guests this place is a little gem: located in the midst of the mountains it´s the perfect place to enjoy the silence of the nature. OK....silence is not quite correct because you hear the baa of the sheeps, the ringing of the goat bells and the barking of the dogs. Especially our youngest (18 months) was taken by the sheeps and goats and competed with them in "baa-ing". Besides its location the house has enough space for everyone, is clean and includes a brilliant Bar-B-Q area which we used quite often. In addtion to that the patios invite to relax, enjoy the sun and/or are the perfect areas for breakfast or dinner. I highly recommend to walk upon the hill (facing the patios). From there you´ll have a wonderful view over Caimari up to the sea. My son (12yrs) and I really enjoyed this. Distances: In Caimari, you´ll find a litte shop nearby walking distance (approx. 5 min.) where you can buy bread for breakfast. Bigger stores may be found in Selva (2km distance) and/or Inca (4km). To Palma it will take about 35min by car. In 30min you´ll reach the beaches of Alcudia. The Host: Guillermo is such a nice guy, very obliging and always having a smile on his face. Guillermo, thanks again that we were able to be your guests. And many thanks for the small inflating pool!!! Our daughter loved it!!!
Markus
2013-08-09T00:00:00Z
We really enjoyed our stay in the beautiful finca in Caimari. Located at the Serra de Tramuntana, it was a perfect starting point for us to explore Mallorca. It has an excellent view to the mountains and a pieceful off-touristic atmosphere. Guillermo is a great host, who gave us lots of valuable travel advisories and a warm welcome.
Teje
2013-09-11T00:00:00Z
We had a great experience in Guillermo's house. He was very friendly and kind. Guillermo also provided us great tips and tourist information such as which beaches are the most beautiful and close by, where is the nearest supermarket and etc. Guillermo's house is very beautiful and convenient, with a great view to Caimari mountains. We would highly recommend to anyone to stay there if one would like to enjoy the silence of the rural parts of Mallorca.
Tomer
2014-07-14T00:00:00Z
Guillermo was very warm and welcoming and the house is even better in real. We had a wonderful time. The location is excellent. Thank you, highly recommended!
Olga
2016-09-06T00:00:00Z
On out visit to Malloraca in April 2014 Guilliermo offered us a very warm welcome with fresh fruits and a bottle of wine. Guillermo is a very friendly and responsive host. The finca was very clean and comfortable placed in nice location boundary of Tramontana mountains: Sitting on the terrace we had a marvelous view to the mountainside with olive trees and sheep between. We heard the bells and bleating of the sheep all day. If you like hiking you'll find a nice route to Lluc monastery nearby. Two little shops in Caimari offers everything for daily needs. We can recommend this lovely place and would like to come again one day.
Hans Joachim
2014-04-15T00:00:00Z
Über Guillermos Haus ist hier wirklich schon alles gesagt worden. Wir waren zu zweit 11 Nächte dort und können es uneingeschränkt weiterempfehlen. Es ist ruhig gelegen und ist ein guter Ausgangspunkt für allerlei Aktivitäten abseits des Massentourismus. Ein Mietwagen sollte vorhanden sein.
Norbert
2015-06-12T00:00:00Z
Desde el primer contacto Guillermo ha sido un anfitrión impecable. La rapidez de respuesta y su gran disponibilidad me ha animado a reservar por primera vez en airbnb. La casa es absolutamente perfecta para lo que queríamos, un remanso de paz cuidado hasta el mínimo detalle. Gracias Guiem!
Marta
2016-11-09T00:00:00Z
Debo decir que la estancia ha sido maravillosa. Empezando por el anfitrión, D.Guillermo, que no ha podido ser más atento ( nos ofreció toda la leña que quisiésemos, nos dejó hielo en la nevera, libros, juegos de mesa, aceite, tomates... En fín, increible), pasando por las inmejorables vistas de la montaña y su tranquilidad y pureza, y acabando por su casa de montaña... ¿Qué puedo decir de ella?, pues que es muy hogareña y cálida, así como sus habitaciones.Además se encuentra en un lugar estratégico perfecto, de cara a caminar por diferentes senderos. Tiene un pequeño colmado cercano donde se pueden comprar desde alimentos hasta enchufes, linternas... a escasos 50 mts., y el pueblo de Selva a menos de 1 Km. Muy recomendable, seguro que repitimos. Ah... por cierto, ¡Cómo sabe la comida del horno de leña!.
Juan
2012-02-16T00:00:00Z
Rodzaj pokoju
Całe miejsce
---
Rodzaj nieruchomości
Dom
---
Mieści
4
---
Sypialnie
Selva, Baleary, Hiszpania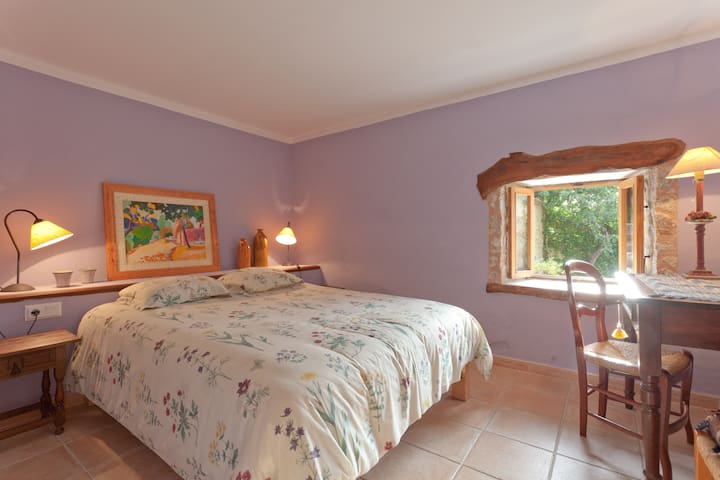 Pintor is a typical Majorcan town house with its own special character. You enter the house through a heavy wooden door and you will be captured at first sight by the charm of this old but totally renovated house. In the open living/dining room the big dining table offers space for the whole family and the comfortable sofa invites you to have a rest, have a glass of wine while you are watching the flames dancing in the open fire. The kitchen has access to the garden.
From the kitchen you have access to the upper floors, a bathroom and the garden. Going up the stairs there are two big spacious bedrooms, one with on suite. All rooms are with air conditioning.
Caimari is a village on the foothills of the Tramuntana Mountains with lots of history and is well known for its olive groves and olive oil production. The house is situated right at the Plaça Major where you will find a children playground and where every Monday the weekly market is hold. The area around Caimari invites to biking and walking. The monastery Lluc is only 20 min away by car, Cala Sant Vicenç 40 min and the beaches of Port de Pollensa, Alcúdia and Playa de Muro only 35 min.
Rodzaj pokoju
Całe miejsce
---
Rodzaj nieruchomości
Dom
---
Mieści
6
---
Sypialnie
Caimari, Illes Balears, Hiszpania
Exclusive House in Tramuntana, World Heritage Caimari Fornassos Zone, Trekking or Cycling to Santuari de LLuc, Sóller, Pollença, Sa Calobra...Relaxing village for disconnect Fully equiped. Internet Very fast fiber. 35Mbps 10' walking the village pool
Es una casa muy acogedora y bien equipada, ideal para descansar despues de un día de excursión, viendo una película entre muros de piedra de más de 100 años de antigüedad, pero con las comodidades modernas. En los dormitorios tienes suelos de parket de roble, para mayor confort. Puedes encender la chimenea. Tienes leña a tu disposición. A tu disposición en la cocina tienes aceite, sal y especias, por si quieres cocinar; y una botella de buen vino.. todo ello incluido en el precio del alojamiento
Es un entorno típico de pueblo de interior mallorquín, con las casas muy bien conservadas y rodeado de montañas.
This house was absolutely perfect for our stay. We came to Mallorca for a week of climbing, and the location and amenities were exactly what we hoped for - easy driving to climbs near Pollença and Sa Gubia and we could walk to the crags just outside of Caimari. The view from the balcony is stunning in the morning, the kitchen is fully equipped and the little fireplace near the kitchen is where we spent our evenings. Enrique was warm and welcoming and the bottle of wine on arrival was lovely. Caimari is a small town, but there are two little grocery stores that offer everything you might want. The streets are a little small when driving, but you get used to it really fast. We never had any trouble finding parking. I'm hoping to return to Mallorca for more climbing and when I do I will hopefully be staying here! Thanks for everything, Enrique!
Chelsea
2017-01-31T00:00:00Z
Lovely well equipped house in the foothills of the mountains. Enrique was a great host, gave some great advice for walks (Sa Calobra and around Lluc and waited up when we arrived late on the first day and even left us a bottle of wine. Would definately recommend.
Tom
2016-04-26T00:00:00Z
This is a charming old house, comfortably renovated, with a great kitchen and plenty of space for a small family to live during an extended stay. Caimari is also a beautiful village that has a remote feel, as it is the last stop before entering the mountains, and yet it's barely 10 minutes from a major highway, and even closer to Inca, where you can find all the city amenities you might need. We loved both the house and the location. Enrique was also very kind, responsive and attentive. We really hope we can stay here again when we return to Mallorca. Thank you Enrique!
Zachary
2016-11-02T00:00:00Z
It is always a pleasure staying in this wonderful little house nearby the mountains. Thank you very much, Enrique It was easy to book, easy to pick up the key, everthing perfect! I'm sure we will be back soon
Annette
2016-05-31T00:00:00Z
Enrique est un hôte chaleureux et attentionné. Une maison typique dans un village tranquille. Bien située si vous avez une voiture et avez l'intention de visiter l'île, c'est parfait. La maison est grande et propre et il y a l'air climatisée dans les chambres et au salon/cuisine. Qualité prix, je recommande cet endroit paisible au pied des montagnes, de toute beauté! Merci!
Karine
2016-08-29T00:00:00Z
Excelente anfitrión. El barrio es muy tranquilo, la única pega es la cuesta que hay que subir para aparcar, pero se puede descargar el equipaje delante de la puerta. La casa es muy acogedora, y la ubicación te permite llegar en menos de una hora a cualquier cala de la isla, y al mismo tiempo estás al pie de la Sierra Tramuntana.
Federico
2016-07-30T00:00:00Z
Once again another great stay in Caimairi. The house, setting and location was perfect!
Brendan
2016-05-26T00:00:00Z
Our stay was just great. The day of our arrival Enrique picked us up in Caimari because we couldn't find immediately the house. We really appriciated that. We stayed in contact all the time by (SENSITIVE CONTENTS HIDDEN). What to say? His house is just perfect, well equipped and cozy. Caimari is perfect base to make daytrips all over the island which we did. Valldemossa, Manocor, Cap Formentor, hiking in Tramuntana mountains near Lluc, swimming in sea near Porto Cristo and so on. When arriving home we relaxed in Enriques place. Cooking, drinking red wine on his little terrace, under Mallorca's starry sky. Enrique, thanks for everything!
Guido
2016-09-18T00:00:00Z
Rodzaj pokoju
Całe miejsce
---
Rodzaj nieruchomości
Dom
---
Mieści
4
---
Sypialnie
Caimari, Illes Balears, Hiszpania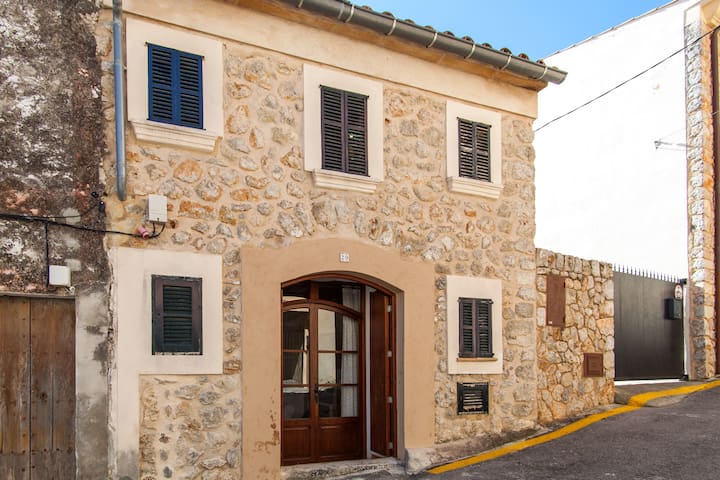 Wpisz daty, by zobaczyć pełną cenę. Obowiązują dodatkowe opłaty. Cena może uwzględniać podatek.