Kleine aber feine Einzimmerwohnung mit optimaler Lage für diverse Ausflüge. Direkter Bahn- (8 Minuten) und Busanschluss (15 Minuten) bis zum Stadtzentrum und zur Winterthurer Altstadt. Gute Zugverbindungen zum Flughafen Zürich (33 Minuten) sowie Zürich Hauptbahnhof (30 Minuten). Ausserdem direkte Zugverbindung zum idyllischem Städtchen Stein am Rhein (35 Minuten). Ebenfalls ist der weltberühmte Rheinfall mit dem Zug in einer Stunde gut erreichbar.
Rodzaj pokoju
Całe miejsce
---
Rodzaj nieruchomości
Apartament
---
Mieści
2
---
Sypialnie
Winterthur, Zürich, Szwajcaria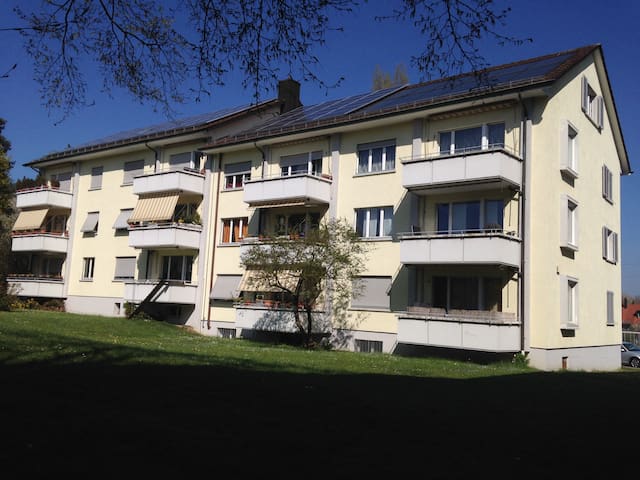 In short distance to various destinations (for example, the Rhine Falls, Zurich or Constance / Bodenseeregion) and only 30 min to Zurich Airport you will live in a extraordinary Canadian house. Pretty and quiet, in the countryside between Winterthur and Frauenfeld. The location is best connected with your own/rented car. Free Parking is included in your stay. Children up to 4 years are free (but please mention it in your booking request).
Our house, in which your 2 bedroom apartment is situated, is located in a quiet family neighbourhood. The house is kept in Canadian style and for Swiss Standards exceptional. A parking lot in front of the house is available and included for free. The accommodation and surroundings are child-friendly. High chair and cot are available on request (for free).
Quiet residential area Shops: - 3 min walk: village store - 10 min drive: Mall (Winterthur or Frauenfeld) Restaurant: - Good dining restaurant in the village (3 min walk) Playground: - 1-2 minutes on foot
This was the most wonderful stay we had in Europe, the hosts Elsbeth, her son and her husband were extremely helpful and caring. The house is very comfortable and the kitchen has everything you need. The place was charming, fun, and unique. We loved the patio! An ideal place to know Switzerland. I would definitively recommend this spacious house for your visit, this is what you expect for a most pleasant Airbnb experience.
Andres
2016-05-31T00:00:00Z
We had a great stay at Elsbeth apartment! The pictures and description were exactly as posted. the apartment was very well equipped especially the kitchen. Great location for travel by car or train. Great hosts, very helpful and friendly.
John
2016-06-27T00:00:00Z
非常棒的一次住宿体验,一家人感觉都很美好!
Acklen
2016-08-25T00:00:00Z
Elsbeth is a perfect host. Ous stay at her home was wonderful. The house is very confortable and in a convenient location to visit the zone: Rhinefalls, Stein am Rhein, Constanz, Bodensee, Technorama museum, etc. Elbeth made everything easy and also provided to us with yogurts, fruits, milk...for the breakfast. Our son and daughter enjoyed very much the trampoline in the garden. We highly recommend this home when visiting Switzerland.
Maite
2016-08-13T00:00:00Z
Elsbeth was super quick at getting back to us which was great as we chose to travel to Switzerland at the last minute due to a sick relative. The apartment looks exactly as it does in the photos but in addition, Elsbeth filled her fridge with breakfast for the next day. We were really touched by her generosity as we arrived late in the afternoon just as the shops were shutting. We loved the area. It is so pretty. And I would recommend a day trip to Constanz just across the border in Germany. That is a lovely city.
Elizabeth
2016-07-03T00:00:00Z
Elsbeth nos atendió con más atenciones de los que nos podíamos imaginar. Amable, cercana su casa dispone de todas las comodidades esperadas. Nos sentimos como en casa. Gracias Elsbeth
montse
2016-08-19T00:00:00Z
Elsbeth made us feel very welcome, the description of the property was very accurate . The bed is very comfortable and the living area very spacious. We enjoyed our stay immensely and would highly recommend Elsbeths beautiful home .
caroline
2016-09-05T00:00:00Z
We had an excellent stay. Elsbeth is an excellent, friendly and helpful host and the house is very comfortable and well equipped. We really appreciated the fresh bread on Sunday morning and directions to a nearby lake to swim!
Graeme
2016-08-30T00:00:00Z
Rodzaj pokoju
Całe miejsce
---
Rodzaj nieruchomości
Apartament
---
Mieści
5
---
Sypialnie
Wiesendangen, Zurych, Szwajcaria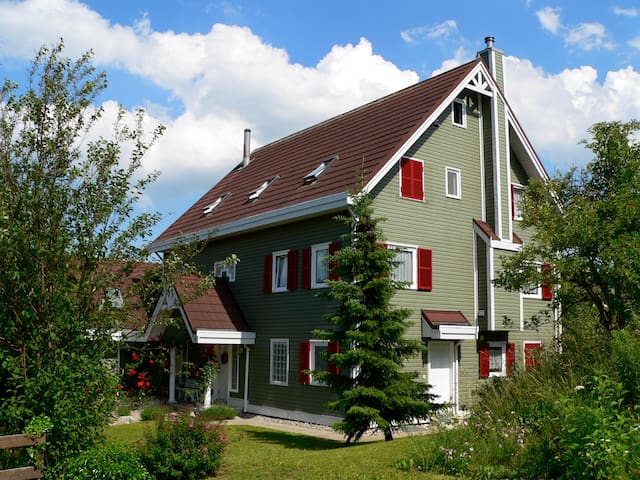 Το σπίτι μου είναι κοντά στο Winterthur, τα πάρκα, τα μέσα μαζικής μεταφοράς. Θα λατρέψετε τη διαμονή μου για τους ανθρώπους, το περιβάλλον, υπαίθριο χώρο και το φως. διαμονή μου είναι καλό για ζευγάρια, σόλο τυχοδιώκτη και Επιχειρήσεων ταξιδιώτες.
Rodzaj pokoju
Pokój prywatny
---
Rodzaj nieruchomości
Apartament
---
Mieści
1
---
Sypialnie
Seuzach, Zürich, Szwajcaria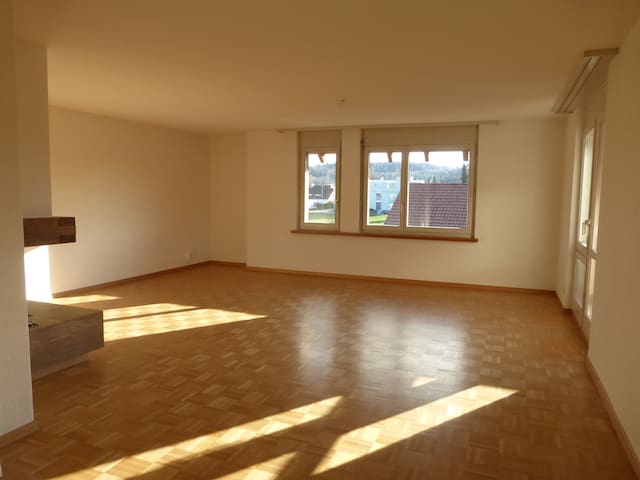 Cosy and very special place in the city of Winterthur - which is a great city on its own - but also an ideal base to venture into Zurich and the rest of Switzerland. Public transport within 200m from our doorstep.
Nice big & sunny rooms in a very old house originating from the 15th century. In the center of Oberwinterthur with shops, cafés in walking distance. Besides we are only some 3km from main station Winterthur. Whole appartment exclusively for our guests (no sharing)! Fully equipped kitchen, large living room with sofa (plus on request a single bed for a third person), large bedroom (twin bed 1.80x2.00). Easy access to all sights on foot, by bus, train or bicycle. In Winterthur there are great museums, theatres, cinemas, plenty of bars and clubs, an attractive city-center, castles, churches, industrial-sights etc. Also in easy reach is Zurich - only 25 minutes to Zurich main station by direct train. Organic/biologically renovated house, e.g. with wooden floors / ceilings and some clay walls. Guests are asked for respect and taking care of the place. TV and broadband internet available for free. Owner (long-distant cycler, vegetarian, middle-aged, interested in everything related to travelling) lives and works in same house. We will try to help you on any question regarding sights/food/excursions etc. Linen and towels provided. We live in the same house and (given we are home) are here for our guests for whatever question arising. Common activities on mutual wish (very welcomed)! Oberwinterthur is the original Roman settlement in Winterthur. Today it conserves a character of its own, a small town within the city.. Public transport to all corners of the greater Zurich area just a few steps from our door. Very frequent to downtown Winterthur (5 min), Zurich main station (20 min). Airport is some 20km away, easy accessible by train or car.
flair of a lively town within the city....
Roberto was an impeccable host even before the first night arrived. A few days before he reached out to make sure directions were received and if I needed any assistance from the train. He was most helpful during the 2 week stay and seemed to know the moment a questions came up, his timing was great! He was respectful of my privacy/space but was available and super helpful with a big smile if I needed anything.
Ahna
2016-07-10T00:00:00Z
Staying at Roberto place was perfect. The flat is very spacious and beautifully decorated, cosy and welcoming. The apartment is exactly as described. The location is great. Very nice neigbourhood. We had amazing time. Roberto is super nice host, extremely helpful, he gave us a lot of great tips. We loved staying at Roberto place. Thank you again Roberto, we felt like at home. We can only highly recommend Roberto's apartment.
giuseppe
2016-05-21T00:00:00Z
On arriving to Winterthur Apartment, immediate was clear, the pictures couldn't show the beauty of this place. I was warmly welcomed with swiss chocolate, coke in the fridge etc. Even though Roberto himself was still on vacation, his sister took care of everything. She also let my friends in the flat before my arrival, so they could fill the fridge even more to my needs. Loving good coffee, there is even a Nespresso machine in the kitchen! The kitchen is beautiful and well suited, the bathroom just adorable and very functionally renovated. The best bed I ever slept in! Free use of washing machine and dryer. As I stayed for 5 weeks, I got to know Roberto and his life partner Ursula quite well. I was invited on several occasions for dinner, coffee, a glas of wine, walks around the neighborhood - they are just wonderful people! As I grew up in Switzerland, I didn't need that much help getting around, but there is map material and books about Winterthur in abundance for the guests use. Any question would be answered by the very helpful hosts. The location of this flat is not to be beat! Very close to good shopping, Pharmacy, Postal service, coffee shops and to several bus lines of the very efficient public transportation!! The entire experience for me was just absolutely GREAT. Only to recommend!
Franziska
2014-09-28T00:00:00Z
Alles hat geklappt, wie man sich das wünscht. Wohnung sieht genau so aus, wie abgebilded. Sehr emphehlenswert. Danke Roberto.
Paul
2015-07-31T00:00:00Z
Alojamiento fantástico, espacioso, luminoso y muy acogedor. Cama en perfecto estado. El sitio inmejorable, en una zona muy tranquila a 10 minutos en autobús del centro de la ciudad, con supermercados a 2 minutos, estación de trenes y autobuses a 5 minutos. En cuanto a Roberto, el trato recibido inmejorable, respuesta rápida para la reserva, siempre tratando de hacerme la estancia más fácil(URL HIDDEN)
Juan
2014-07-26T00:00:00Z
Roberto is a terrific Airbnb host. He has lived a long time in this area and so can give you all the advice you need about what to do etc. He is very friendly, and usually on site to help out. The apartment is very good. The rooms are large and very comfortable, and if you want to cook there is enough equipment to do so. I must mention though the large and extraordinary Philippe Starck designed sink! Just a very short walk away you will find three supermarkets and other shops, including pharmacies and coffee shops. The village is delightful and there are some quite historical elements to it, as well as being lovely to stroll through. Public transport is also close by, and Zurich is not far by train. Roberto left us treats as well, which was very thoughtful. Beer and other things in the fridge, and lots of chocolates! We will definitely come back here. Thank you Roberto and Ursi.
Christine
2014-10-09T00:00:00Z
Roberto verdient den Status Super-Host! Extrem freundlich und hilfsbereit. Die Unterkunst ist gemütlich und komfortabel. (Küche, Badezimmer, Mitbenutzung der Waschküche möglich). Die Lage ist im idyllischen Dorfkern von Oberwinterthur und sehr ruhig. (Die Schlosserei nebenan war während unseres Aufenthalts nicht hörbar). Vor dem Haus fliesst das beste eigene Quellwasser! Eine Glasflasche steht bereit. Nur geeignet für sorgfältige Gäste. Roberto mag sein Objekt sehr, und dies zu Recht!
David
2017-04-09T00:00:00Z
All perfect ! very flexible in terms of arrival time, very warm Welcome !
Kerstin
2016-06-22T00:00:00Z
Rodzaj pokoju
Całe miejsce
---
Rodzaj nieruchomości
Apartament
---
Mieści
3
---
Sypialnie
Winterthur, Zurych (kanton), Szwajcaria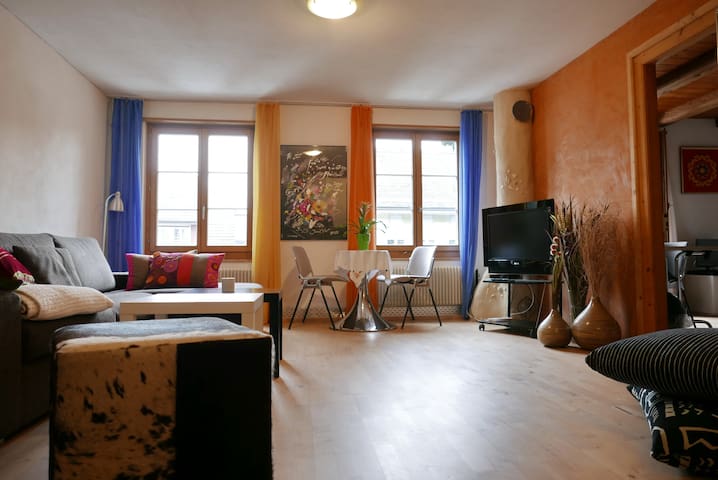 The room is 1 min from the bus station and 4 minutes bus drive/10 mins by walking away from the train station Winterthur. Das Zimmer befindet sich 4 Minuten mit dem Bus und 10 Minuten zu Fuss vom Bahnhof Winterthur. Direkt neben dem Kantonsspital Winterthur.
Sehr nette Gastgeberin, alles wie beschrieben. Jederzeit gerne wieder!
Nadja
2017-03-15T00:00:00Z
everything was good, convinient, not expensive, comfortable.
Omar
2016-12-12T00:00:00Z
The room in Helin's family's flat was perfect for my time in Zurich! It is much more spacious and than the pictures show it to be. It's in a nice neighborhood with some great shops nearby. The city of Zurich is very easy to get to from their home. Helin's parents made me feel so welcome and at home during my stay. They always offered me food they made, as well as full use of their kitchen. They really went above and beyond to make sure I was comfortable. Helin's mother even went as far to set out some rain coats and an umbrella for me on a rainy day. They are some of the loveliest people I've met and I truly appreciate their hospitality.
sapphire
2016-08-01T00:00:00Z
Für 12 Nächte habe ich in der Unterkunft genächtigt. Es war alles top, sauber, das familiäre hat mir gefallen und das Bett ist sehr gemütlich! Es war eine tolle, entspannte Zeit! :)
Johanna
2017-01-27T00:00:00Z
Sehr netter Gastgeber. Empfehlenswert
Urs
2017-02-17T00:00:00Z
The actual hosts were Helin`s family (Mom, Dad and Sister) and they are so lovely. And then there is that cute little dog with the big voice :-D I received a very warm welcome and all the things (Key, Wifi, tour of the house) right away. Halfway through my stay Helin contacted me to see if everything is good (which it was), extra points for that. In general, a very hospitable and friendly place with lovely people at a great location.
Florian
2016-12-31T00:00:00Z
I didn't meet Helin but she was at the end of the phone on arrival and was in touch a couple of times to see if I was ok. Her dad welcomed me and even offered me some supper on my late arrival. He was super hospitable throughout my stay offering me home cooked food. The room was bigger than it appears on the listing and the bed was clean and comfortable. The flat is cosy yet I felt I could use the space freely as needed, particular in the kitchen to cook. I would be delighted to stay with Helin's family again on another stay in Winterthur.
Elyse
2016-11-20T00:00:00Z
Alles supi:)
Roman
2016-10-01T00:00:00Z
Rodzaj pokoju
Pokój prywatny
---
Rodzaj nieruchomości
Apartament
---
Mieści
1
---
Sypialnie
Winterthur, ZH, Szwajcaria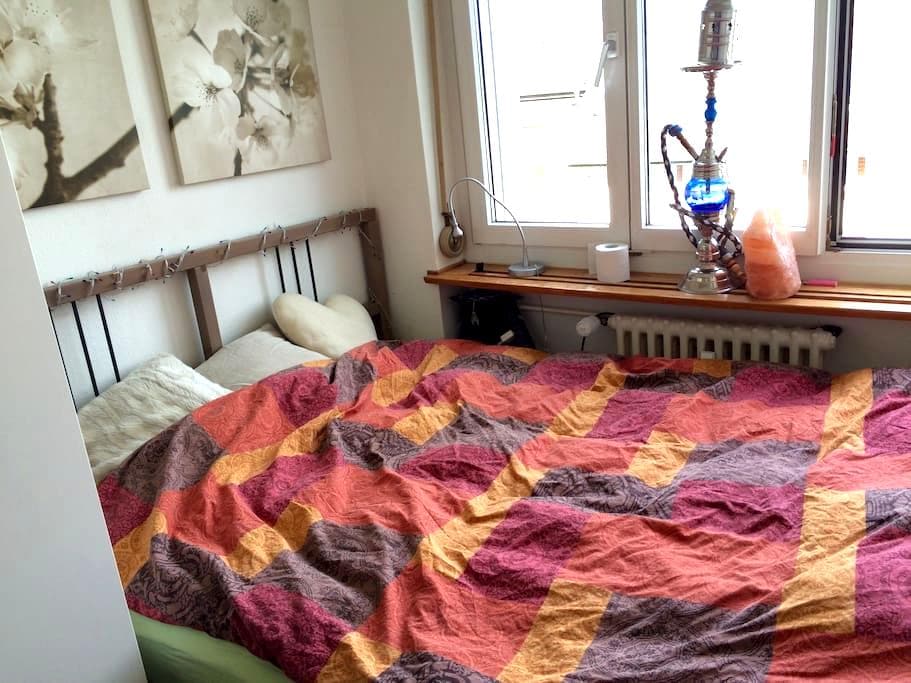 A cozy old building with a new kitchen and bath room near the heart of Winterthur (to city center, 5 minutes by bus or 10 - 15 minutes walk). In only 12 minutes by train you'll reach Zurich airport. Outside you'll have a little garden to relax and enjoy sunny days - or if it's raining, you can chill in the whirlpool inside. There are three bedrooms, of which at least one will be available. Feel free to tell us your preference.
If you're a group of more than 2 people, just contact us - we will find a solution!
Rodzaj pokoju
Pokój prywatny
---
Rodzaj nieruchomości
Apartament
---
Mieści
2
---
Sypialnie
Winterthur, Zürich, Szwajcaria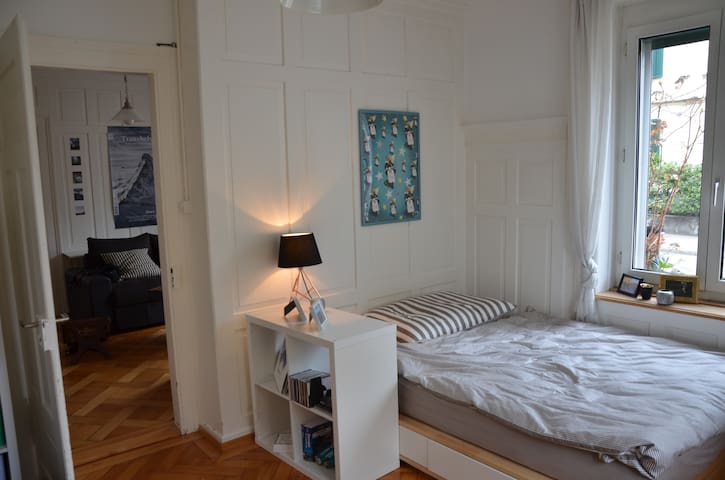 Meine Unterkunft ist in der Nähe von Oberwinterthur, Anschluss an 2 Bahnhöfe und diverse Bushaltestellen. Du wirst meine Unterkunft lieben wegen ruhig gelegen, in 20 Min. in Zürich City gepflegte Einrichtung, wirst dich wohl fühlen. Meine Unterkunft ist gut für alleinreisende abenteurer und geschäftsreisende.
Rodzaj pokoju
Pokój prywatny
---
Rodzaj nieruchomości
Apartament
---
Mieści
1
---
Sypialnie
Winterthur, Zürich, Szwajcaria
Ich werde vom 1.7.-31.8.16 in Australien sein und vermiete meine 3-Zimmerwohnung in Winterthur. Die Wohnung ist sehr zentral gelegen mit zwei Schlafzimmern, einem Badezimmer mit Dusche, Balkon, neue Küche und Wohnzimmer.
Meine Wohnung ist sehr hell, liegt direkt am Waldrand und ist doch sehr zentral!
Meine Nachbarn sind alle total easy! Ein paar davon sind in meinem Freundeskreis. Die meisten sind zwischen 25 und 35 Jahre alt.
We contact with Pia (Toha's friend). It was a lovely place. Since we are a family with 2 little kids, we loved it very much. It has a parking place which was important for us. Thank you Pia.
Veli
2016-08-24T00:00:00Z
Great apartment! Very nice, cozy quiet neighborhood. The apartment was very nice and wonderful to stay in. Everything that we needed was provided for us and Toja was a fantastic host.
Melissa
2016-07-23T00:00:00Z
Die Wohnung war der Hammer. Wir haben den Aufenthalt sehr genossen. Sofa und Betten waren bequem, Küche komplett ausgestattet, die Lage zur Stadt mit dem Bus vor der Tür perfekt. Auch die technische Ausstattung mit HD-Fernseher und sehr performantem WLAN ist absolut auf der Höhe der Zeit. Wir haben uns sehr wohl gefühlt, Wünsche sind keine offen geblieben. Wir kommen jederzeit gerne wieder! Viele Grüße Thomas und Anita
Thomas
2016-08-01T00:00:00Z
Toja arranged everything even with our late arrival. Apartment is very cozy. We've got also advice about good place for breakfast. Toja was always in touch. We recommend this place to stay if you travel in Switzerland or go to Zurich. Thanks Toja!
Kirill
2016-08-29T00:00:00Z
Toja's home was good :) many thx!
Tanja
2016-07-25T00:00:00Z
Unser Aufenthalt war super. Die Wohnung ist sehr gut ausgestattet und in einem ruhigen und schönen Gebiet, der Balkon war sehr gemütlich. Und mit dem Bus und Zug sind wir in 40 Minuten am Hauptbahnhof in Zürich gekommen. Wir wünsch nur dass wir länger geblieben wären.
Luke
2016-08-09T00:00:00Z
We didn't met Toya, but her friend Pia was very nice and ready to help. Appartement is confortable.
Izidor
2016-07-20T00:00:00Z
Very good apartment and Toja's friend was very friendly. I would recommend this place!!!!
ashish
2016-07-04T00:00:00Z
Rodzaj pokoju
Całe miejsce
---
Rodzaj nieruchomości
Apartament
---
Mieści
2
---
Sypialnie
Winterthur, Zürich, Szwajcaria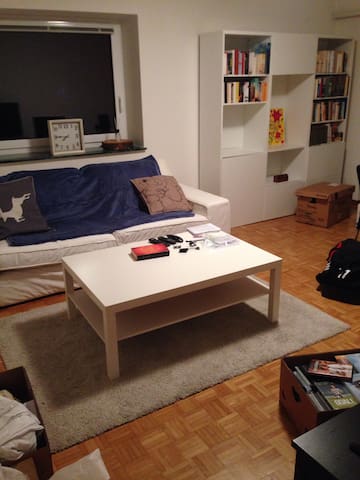 The Flat is in the middle of the Old town of Winterthur, 20 min far from Zürich whit the train and 15 min from the airport, Nearby you find all food Stores, Restaurants and Bars. You will love my Flat, because of the ambience of the Street, the location, and all what this beautiful City has to offer. The Flat is very good for Couples, Family and Groups, I Rent the complete Flat, only the Bad room, you will share whit our Neighbour. The Terrace, Living room,all the rooms and the Kitchen is privat
The Flat has Still and lots of charm, and is Very Central. The Flat has a big Terrace, a big living room whit TV, Netflix, Blu-ray, and all what you need, you will love my Place.
Die Neustadtgasse ist eine Künstlergasse. Es ist die ruhigste Strasse der Altstadt (Fussgängerzone). In derselben Strasse findest du die bekannten Bars La Cyma und Dimensione. In der Nähe, zu Fuss erreichbar, sind die zahlreichen Restaurants der Altstadt, unter anderem das Tibits, die Clubs Albani, Widder und die besten Sandwiches von Winterthur bei Hassan (an der Marktgasse). Die Altstadt ist sehr lebendig und vielfältig mit einem grossen kulturellen Angebot (Museen, Festivals wie die Musikfestwochen im August), auch kulinarisch interessant.
Rodzaj pokoju
Całe miejsce
---
Rodzaj nieruchomości
Apartament
---
Mieści
4
---
Sypialnie
Winterthur, Zurych, Szwajcaria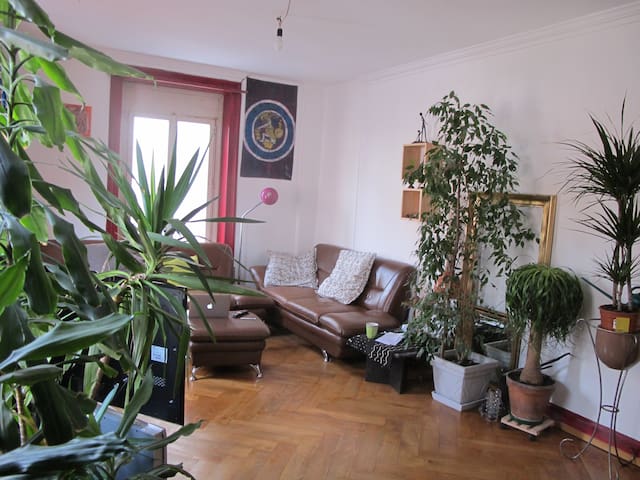 The 4-room flat with 3 bedrooms and 2 balconies lies in the heart of Winterthur on the top-floor of a charming old building. With a spacious living room, a fully-equipped kitchen and study, this apartment at is the perfect accommodation to enjoy your stay in the region. We're locals, in the city for generations, so we'll provide you with all the nice tips needed for a smooth and culinary stay.
Enjoy your stay in a well-furnished apartment in the trendy area of Winterthur, only a 20 minute ride from Zurich, 10 minute ride from the airport. This Flat is the perfect base for one, two or three persons.
- The street is a 20-Zone (meaning nearly no traffic at all), therefore especially quiet. - The whole district is surrounded by greenery and very demanded to live in. Unlike many other places in Winterthur, in this district it's still usual to greet the neighbors and have a chat with them. It's totally secure and therefore a preferred site for families or business persons. - It's well situated to to go jogging (3 forests reachable in 5 minutes) or go to the fitness-centre ("Banana-Fitness" is a 4 minute walk away). - There are good restaurants and grocery stores near the neighborhood and around the corner
Rodzaj pokoju
Całe miejsce
---
Rodzaj nieruchomości
Apartament
---
Mieści
3
---
Sypialnie
Winterthur, Zürich, Szwajcaria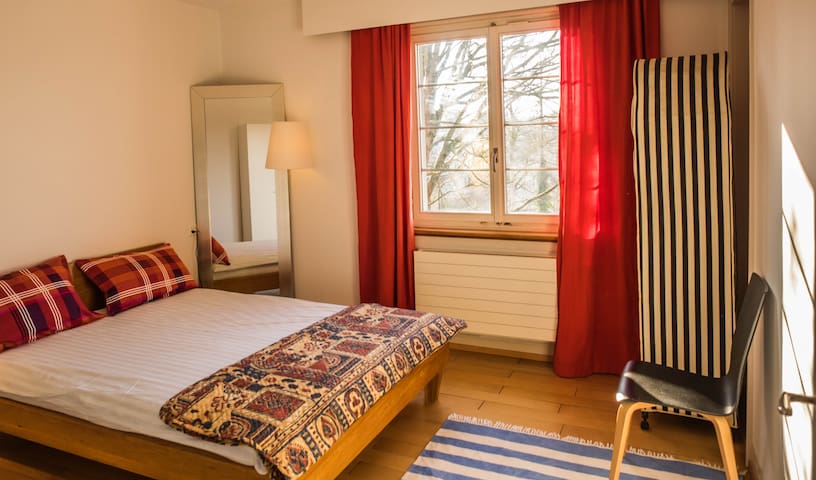 Rent a room in our nice flat for - February / March - bathroom/living room/balcony included - easy and calm living here - 8 min to city center - 3 min to forest/walking/sport - 8 min to station ...feel free to ask.
Rodzaj pokoju
Pokój prywatny
---
Rodzaj nieruchomości
Apartament
---
Mieści
1
---
Sypialnie
Winterthur, Zürich, Szwajcaria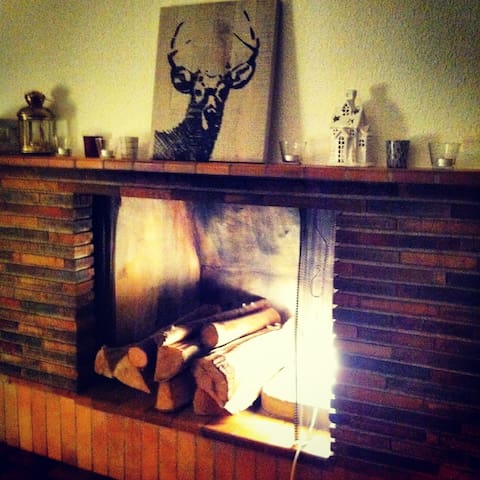 Moje mieszkanie znajduje się 30 minut jazdy od lotniska w Zurychu. Stolicą kantonu Thurgau Frauenfeld dotrą Państwo w odległości 5 minut jazdy samochodem lub pociągiem ze stacji. Bahnhof Islikon zajmuje 5 minut spacerem do mojego mieszkania. Pokój dzienny, kuchnia i łazienka mogą być udostępniane. Wycieczka do Renu Falls i Jezioro Bodeńskie jest blisko.
Położony przy głównej drodze i jeszcze cicho. To miejsce ma idylliczny co Szwajcaria jest znana.
Nie ma sąsiadów abwohnend obok mnie jest ciche studio tatuażu. Powyżej mieszka para właścicielu.
Rodzaj pokoju
Pokój prywatny
---
Rodzaj nieruchomości
Apartament
---
Mieści
2
---
Sypialnie
Islikon , Thurgau, Szwajcaria
Das Zimmer ist gross, hell und liegt im unteren Stock der Maisonette Wohnung, welche sich im 3.Stock befindet. Ich habe drei offene und unkomplizierte Mitbewohner, zwischen 20 und 28 Jahren. Zudem haben wir in jedem Stock ein Badezimmer mit Dusche.
Rodzaj pokoju
Pokój prywatny
---
Rodzaj nieruchomości
Apartament
---
Mieści
1
---
Sypialnie
Winterthur, Zürich, Szwajcaria
We (my husband, 38 and me, 34) live in a 4 bedroom apartment. It's very nice, big and comfortable. The rooms are very nice. The apartment's location is not central Zurich but it takes only 18 min by train to get there and 10 min to the airport.
Bei Camilla könnt Ihr Euch wie zu hause fühlen. Es gibt nichts zu beanstanden. Supper Ort und super Gastgeberin. Die Lage ist sehr Zentral und sehr ruhig. Es gibt auch gute Parkmöglichkeiten
Eveline
2016-10-24T00:00:00Z
Thank you Camille it was comfortable and nice to spend the night in your place
Razia
2015-10-14T00:00:00Z
Camille est très accueillante, comerces et restos à proximité.
Ricardo
2016-11-09T00:00:00Z
chambre propre, salle de bain nickel. Les hôtes ont été très accueillants. le quartier est très joli et proche du centre.
Gilles
2016-10-25T00:00:00Z
Wir fanden die Unterkunft wie beschrieben vor. Der Kontakt mit Camille vor dem Check-in war gut. Nach der Ankunft wurde uns alle gezeigt und wir fühlen uns sehr willkommen. Wir würden die Unterkunft sofort weiterempfehlen.
Claudia
2017-02-22T00:00:00Z
Such a nice stay in Winterthur. Camille is very nice and friendly, which made my stay feel like staying home. The place is very easy to find and very clean.
Ruethaiphat
2016-08-20T00:00:00Z
Frau Gimnez war sehr freundlich und zuvorkommend. Sie hat uns unser Zimmer gezeigt sowie die anderen Räumlichkeiten welche mit der Gastgeberin geteilt wurden. Wir konnten auch früher das Zimmer beziehen, da es in dem Fall möglich war und wofür wir sehr dankbar waren nach einer längeren Anreise. Die Küche hat alles geboten was wir brauchten. Es ist eine schöne Wohnung. Wir haben uns gefreut eine so nette Gastgeberin kennengelernt zu haben und können diese Unterkunft gerne weiterempfehlen!
Gottfried
2016-12-11T00:00:00Z
Camille was a very nice host. Unfortunately my schedule didn't allowed me to get to know her and her husband better. The room was clean and the bed comfy. Glad I chose them.
Dan
2016-10-05T00:00:00Z
Rodzaj pokoju
Pokój prywatny
---
Rodzaj nieruchomości
Apartament
---
Mieści
2
---
Sypialnie
Winterthur, Zürich, Szwajcaria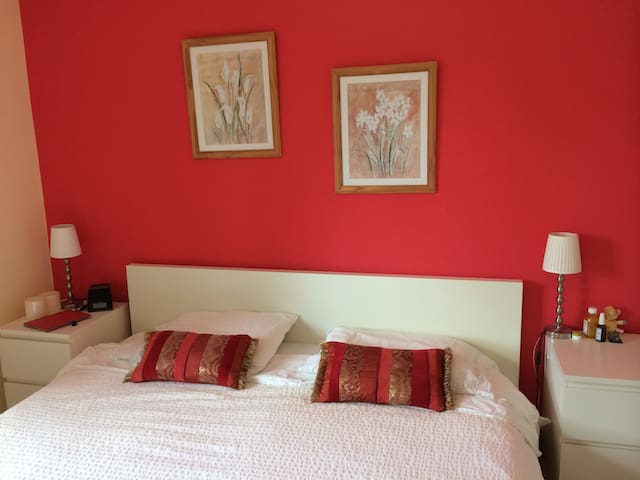 Meine Unterkunft ist in der Nähe von grösseren Städten wie Winterthur, Frauenfeld und Schaffhausen, beliebte Reiseziele wie Rheinfall und Stein am Rhein, Bodensee und Konstanz, zum Baden lädt der Rhein und die Thur ein, Sehenswürdigkeiten wie Kyburg, Burg Hohen Klingen und Stein am Rhein, sowie Fahradtouren, Picknick, Baden und Wandern sowie Bahnhof, Lebensmittelladen, Restaurants und Bankautomat in unmittelbarer Nähe.
Unser Loft ist offen und grosszügig gestaltet. Wir haben diese für unsere Ansprüche ausgebaut und eingerichtet und wünschen uns Gäste welche dies zu schätzen wissen. Die Wohnung besteht aus 4 Ebenen. In der 1. Ebene befindet sich der Eingang, Küche, Essen, Wohnen und Büro. Auf der 2. Ebene ist das Schlafzimmer, Ankleide, Bad, Hauswirtschaftsraum. Die 3. Etage ist über eine Wendeltreppe erreichbar hier befinden sich Kinderzimmer, Balkon, WC. Die 4. Ebene ist der Rückzugsort für Kinder mit zwei Einzelbetten. Insgesamt verfügt das Loft über 160m2 mit modernster Ausstattung. Baujahr 2014.
Die Nachbarschaft ist sehr freundlich und hilfsbereit. Die Stellplatz für Auto und Fahrräder sind ausreichen vorhanden. Im Auf dem gemeinschaftplatz gibt es einen Grillplatz inkl. grossen Esstisch (6 Personen) welcher von allen genutzt werden kann.
Rodzaj pokoju
Całe miejsce
---
Rodzaj nieruchomości
Apartament
---
Mieści
5
---
Sypialnie
Ossingen, Zürich, Szwajcaria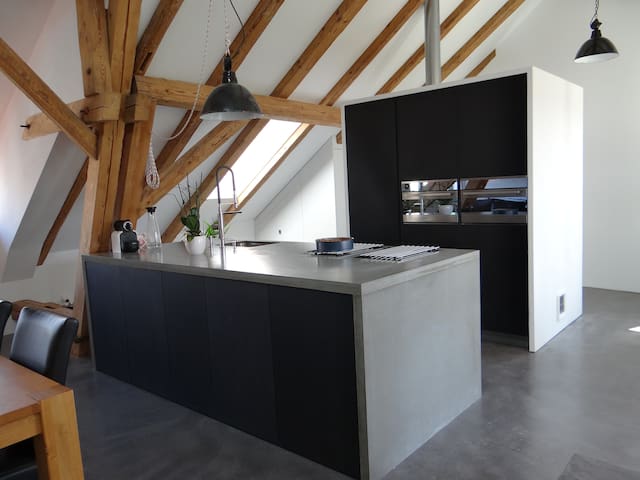 The apartment is situated in the heart of the old town of Winterthur (5 min walk from railway station) and with easy and quick connections into Zurich city. There are lovely Restaurants, Bars and Shopping around the corner. The apartment is brand new and offers everything you need for a confortable stay. We like to invite single travelers, couples or business peoples during your trip around Switzerland.
Guests can access WIFI and use the laundry machines and the iron. We will be there to welcome you at your check-in, as well as to provide travel information and some local sight-seeing tips, as well as any other information you may need.
Awesome place with very cool art :)
Damilola
2017-03-07T00:00:00Z
Rodzaj pokoju
Całe miejsce
---
Rodzaj nieruchomości
Apartament
---
Mieści
2
---
Sypialnie
Winterthur, Zürich, Szwajcaria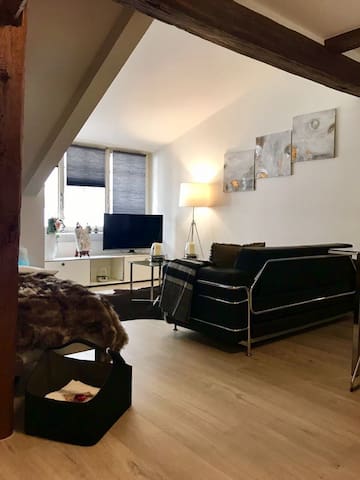 We offer a cosy home (1 to 6 persons upon request).15min to Zurich Airport and 30min to Zurich Lake by train.Warm place in a cultural city Winterthur close to Swiss Science Center and Museums.Walking distance for public transportation,shops and town.
You have access to the living room and you will sleep on the couch or sofa-bed. Couch more confortable than the sofa-bed. It"s up to you which one you would like to use
- Swimming pool: walking distance - Supermarket: walking distance - City center / Museums: walking distance - Technorama / City Science: really close with Bus 5 - Fotomuseum: walking distance
Danke für das tolle Sofa mitten in der Stadt Winterthur... Hat alles prima geklappt, netter Gastgeber, gepflegte Wohnung...
Jlona
2016-05-19T00:00:00Z
Perfekt
Natasha
2016-12-20T00:00:00Z
We arrived late but we find a very kind person; it was a pitty we hadn't the time to chat a little more, but everything was confortable, thank you very much... also for the Toblerone!
Chiara
2015-10-16T00:00:00Z
We had a good night and are on our way to Zurich now.
Dennis
2016-10-13T00:00:00Z
super friendly.. a very nice place to stay :)
Armaghan
2016-05-28T00:00:00Z
Super hôte ! Super sympa ! Tout correspondait à la description.
Josué
2015-11-28T00:00:00Z
Le logement était parfait, exactement comme sur l'annonce, très cosy et bien décoré. L'appartement est très bien situé, pas loin de la gare et proche d'un club très sympa, Hangar 11. Geoffroy a été très sympa, m'a donné pleins de renseignements sur la ville et les restaurants et tout s'est très bien passé. Je garde un excellent souvenir de mon séjour à Winterthur.
Jessica
2016-05-23T00:00:00Z
The place is cozy. It is quite convenient as it is walking distance from a train station. It is also walking distance from the center of the town. The host is quite accommodating.
Albert
2016-07-04T00:00:00Z
Rodzaj pokoju
Pokój współdzielony
---
Rodzaj nieruchomości
Apartament
---
Mieści
2
---
Sypialnie
Winterthur, Zürich, Szwajcaria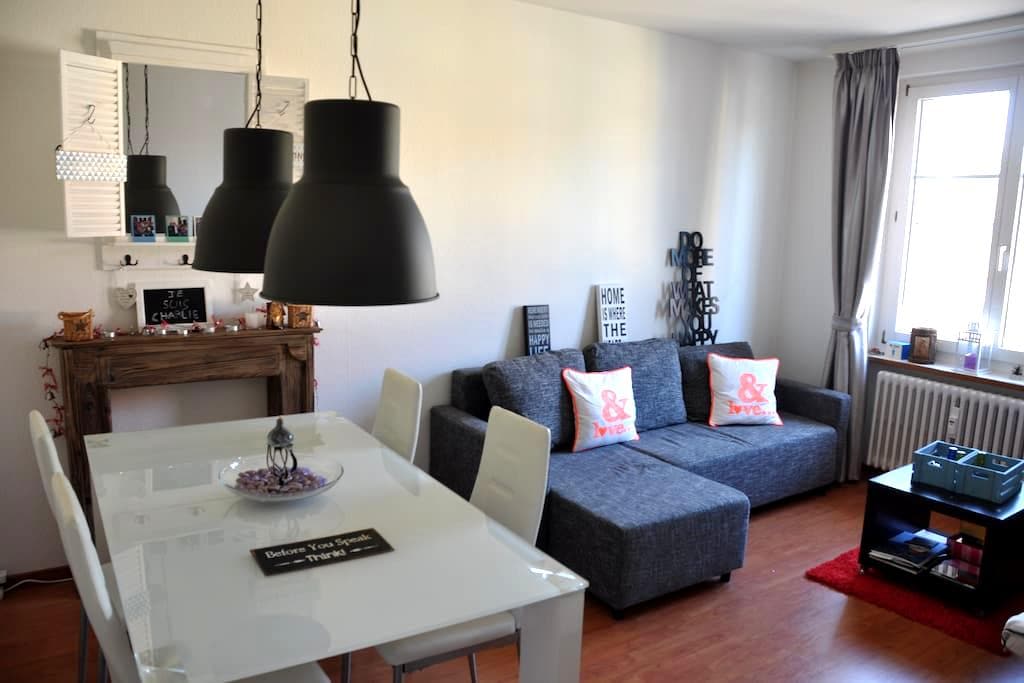 Our room with bed (140cm), table soccer and wardrobe is a perfect place for one or two people to stay in Winterthur. Next to your room you have a separate toilet. Living room, bath, kitchen and balcony are for shared use.
You like table soccer? Welcome! A table soccer table is the only one you have to share your room with ;-) Furthermore our balcony with grill and lounge are a perfect stay for beautiful summer nights.
Our apartment is next to the train station and a five minute walk away from the historic center with lots of restaurants and cafés. However it's a quite place - a perfect stay for Albanifest or Musikfestwoche.
Really nice and well located apartment near the train station and the city center. There are plenty of shops in the neighborhood. The hosts are very friendly and helpful.
Daniel
2016-07-16T00:00:00Z
Megaschön!
Clément
2015-10-24T00:00:00Z
Sehr gut Willkommen wie immer
Clément
2015-10-28T00:00:00Z
The apartment was lovely, Jenny and Phillip are very very nice and gave us good advice on Winterthur walks! We enjoyed our stay at their place, which is very close to the station and the centre. Really the place to be if you want to visit Winterthur or if you come for a work trip!
Irene
2016-05-09T00:00:00Z
Jenny and Phil were great. Clean place, nice neighborhood, and very close to the train station (5 minute walk). When I had a question, Jenny responded to my text/email literally within 1 minute. I arrived at an odd hour, and they were still able to conveniently deliver me the key. The event I was attending got out late, but the neighborhood felt very safe to walk through at night. I would recommend their place to anyone. And it's only a 15 minute train ride to the airport.
David
2016-10-24T00:00:00Z
Excellent location. Perfect hosts. Highly recommended!
Stavros
2015-06-17T00:00:00Z
da ich keine persönliche Begegnung mit dem Gastgeber hatte, fühlte ich mich trotzdem sehr willkommen. Die SmS Kontakte haben mir ein Gefühl des Vertrauen vermittelt. Ich würde diese Unterkunft jederzeit weiter empfehlen. Sauberkeit u. gute Verkehrsanbindung sind ein weiterse Plus. Lg. Werner
werner
2016-09-05T00:00:00Z
Wir waren für eine Weiterbildung in Winterthur und mussten kurzfristig eine Unterkunft finden! Jenny und Philipp haben uns freundlich empfangen, und das zimmer war gross und schön hell! Das Wc ist nebenan und konnten wir alleine nutzen! Ich würde sofort wieder hin gehen! Wir haben uns sehr wohl gefühlt! Danke nochmals!
Sabine
2016-07-10T00:00:00Z
Rodzaj pokoju
Pokój prywatny
---
Rodzaj nieruchomości
Apartament
---
Mieści
2
---
Sypialnie
Winterthur, Zürich, Szwajcaria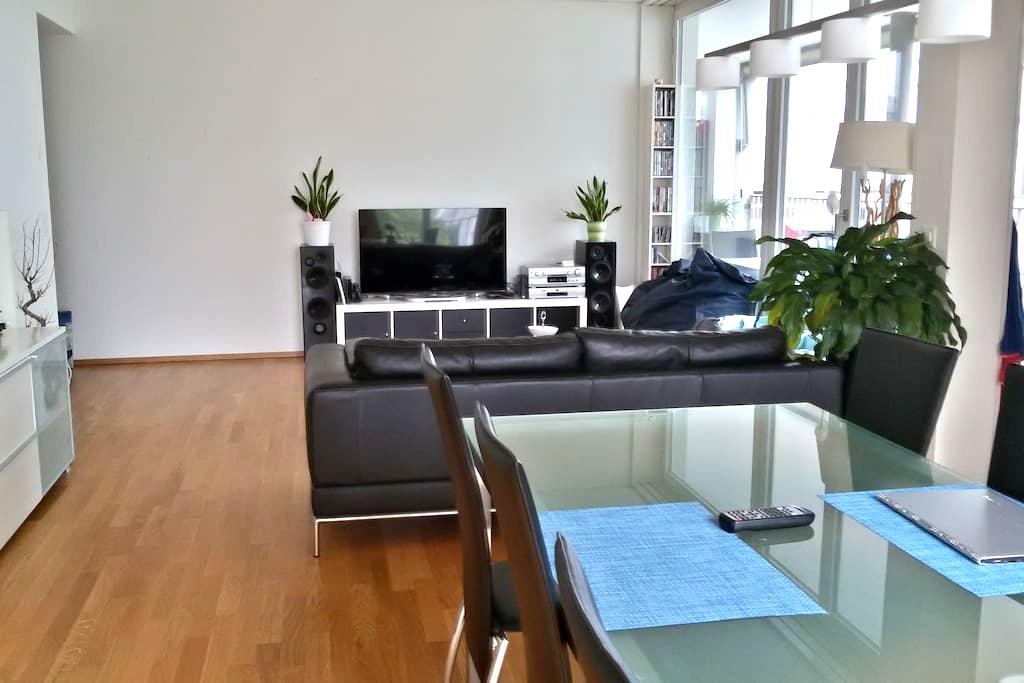 Dinhard - Airbnb
:
Średnia ocena:

4.81

/

5

gwiazdek od

156

gości
Wpisz daty, by zobaczyć pełną cenę. Obowiązują dodatkowe opłaty. Cena może uwzględniać podatek.