Get back to nature in this newly built eco-friendly solar powered, spring fed cottage in the mountains. Great mountain views and sunsets. Surrounded by Nature, Mtns to Sea trail, Blue Ridge Parkway and a Christmas tree farm. Plenty of country to explore and outdoor sports to enjoy.
This is an upscale sustainable solar powered off grid cabin with spring fed water and modern propane appliances. A solar powered home is awsome however limiting Therefore, backup power available if needed. In maintaining the eco-friendly nature, this home will not be equipped with small electric appliances such as toaster, microwave, electric coffee maker (french press provided) and blow dryer. Enjoy this alternative experience responsibly!
Deep Gap is a farming and outdoor enthusiasts community. Cabin is situated on a working christmas tree farm and spring water extraction facility. Blue Ridge Parkway and Mtns to Sea Trail are an easy hike away, New River nearby.
The house was wonderful! So peaceful and relaxing. Our stay was delightful!
suzanne
2017-02-20T00:00:00Z
The cabin was up a private lane. My girls had a great time hiding out in the reading nook and exploring the nearby pond and lane. The cabin was ready for us to check in and there was a fully stocked kitchen with all of the dishes and utensils needed. The location was great, private but close enough to Boone and Blowing Rock that going out to dinner and attractions was convienent. It was very cloudy and rainy the first 2 nights we visited but our solar power lasted until about 4 am which was fine because there was plenty of natural light in the morning and they had left us 2 lanterns just in case. The days that it was sunny out the solar power did fine and lasted all day and night.
Melissa
2016-08-16T00:00:00Z
This place was amazing. It had everything that it said it had and more. Being off the grid, I was expecting things to be a bit barren but the solar power held the electricity just fine. Everyone in our group had nothing but wonderful things to say about the property when we left and we look forward to staying again!
Matt
2016-08-10T00:00:00Z
This place is in a great location. Minutes from the parkway and about 15 minutes from Boone. The owners of the cabin also live on the property and are very friendly. We were very comfortable as the cabin was stocked with everything we needed. Keep in mind there is no tv or wifi, which was fine with us. If you decide to take a hike to the parkway, make sure to take a picture of the hand written map provided. We had a great time and would return!
Jennifer
2017-01-16T00:00:00Z
Beautiful views from a beautiful home!!! Peaceful and quiet and very unique. Enjoyed the location and experience so much that it will definitely be my first choice when returning to the area.
Thad
2016-10-07T00:00:00Z
We loved our stay! This was a very clean and beautiful cabin. The view of the mountains was awesome! Without a doubt I would stay here again :)
Brandy
2016-09-18T00:00:00Z
Great cabin just outside of Boone. Loved how secluded it was.
Taylor
2016-10-17T00:00:00Z
This Cabin is WONDERFUL!!! We were looking a place to get away, peaceful and quiet just to unwind from life!!! It was perfect!!! The cabin is warm, cozy, romantic and very well done!!! The views are spectacular!!! Its so amazing to sit on the sofa in the living room and watch the clouds move past the mountains and the moon!! Sunsets are awesome as well!! The engineering side is also very interesting when you talk to Ed!!! I really hate to write such a great review because I would love this place to stay a secret, but it's just not possible to do that!!! It is the most wonderful, relaxing trip I think we have ever done!!! The host are great, easy and accommodating. We have already looked at next years calendar to pick our dates to go back!! Can't Wait!!!
Mary
2016-10-11T00:00:00Z
Rodzaj pokoju
Całe miejsce
---
Rodzaj nieruchomości
Chatka
---
Mieści
4
---
Sypialnie
Boone, Karolina Północna 28618, Stany Zjednoczone
Quiet, cozy, and convenient. Located on a private road, nestled among Christmas tree farms, 1/4 mile off Highway 421 (near its intersection with Highway 221), one mile from the Blue Ridge Parkway, and 10 miles to downtown Boone, NC. Generous breakfast!
The space for rent is a bedroom on the main floor of a 3-bedroom, 2-bathroom mountain home. The guest bedroom has its own private bathroom right across the hall. The bedroom does not share a wall with any other bedrooms, so it is quite private. The only adjacent room is a sewing room, which does have a double bed that could accommodate one or two children (but would never be rented out separately).
We are only 1/4 mile off State Highway 421, a 10 miles east of Boone, NC, and Appalachian State University. You can walk a mile through a cow pasture and some woods (or drive 2 miles) and be on the Blue Ridge Parkway, with access to the Mountain-to-Sea Trail. You can drive 10 miles north on Highway 221 and bicycle the Railroad Grade Road to Todd, NC. Nearby tourist attractions include several ski resorts, Grandfather Mountain, Tweetsie Railroad, and the town of Blowing Rock.
Loved it there! Just make sure you get there before dark. One of the places I've stayed at.
Yolanda
2016-10-08T00:00:00Z
Mary Ann and her husband Ford were very kind and gracious about having us stay with them. This was my boyfriend and I's first AirBnB experience and it was a very nice one! Mary Ann went so far as to make us breakfast! So nice! Their house is beautiful and in such a great location for visiting Boone. They gave us great advice for our traveling around too. The room and the bathroom were very cute.
Jackie
2016-11-08T00:00:00Z
Mary Ann has a lovely house not far from the Blue Ridge Parkway. She was very welcoming and made us feel very much at home. We had the use of a private bedroom and close by bathroom in Mary Ann's house. We were able to use her kitchen to cook, watch television and sit and read in her living room as well as chatting with her. She cooked us a variety of things for breakfast in the morning each day (including peach cobbler, polenta and lemon buns). We really enjoyed our stay. Mary Ann is a quilter and showed us a number of amazing quilts she had made. On a particularly wet day she was happy to let us stay, watch TV and use the house as our own. We felt very comfortable. Many thanks Mary Ann - we had a great time.
Christine
2016-12-08T00:00:00Z
Mary Ann & Ford are fantastic hosts. The location is convenient to 421 & the Blue Ridge Parkway. The bedroom is homey and well equipped with storage, a comfy bed, TV and WiFi. The bathroom is a great size and very clean. Mary Ann's breakfasts are yummy and certainly make you feel like you're home with family! If you're planning a Boone area visit, this is the perfect place.
Amy
2016-11-14T00:00:00Z
Beautiful part of North Carolina. Not too far of a drive from downtown Boone. Location is in the middle of christmas tree farms. The scenery was amazing. Hospitality was amazing, made us feel so welcomed. Everything was very clean. Mary Ann is an amazing breakfast cook! Would definitely recommend!
Ashley
2017-01-02T00:00:00Z
Mary Ann was a very good host. Her house is just a few minutes from the Blue Ridge Parkway, the room was very clean and the bed really comfortable. Breakfast was inclusive, a lot of fruits and other stuff, very delicious. Mary Ann knows the area well and could gave us a lot of information. Stellar stay!
Nicole
2016-09-16T00:00:00Z
Great stay. Great hosts. Will return.
Mathangi
2016-08-08T00:00:00Z
fantastic experience from the get go. Mary Ann was clear with communication and directions. very nice room with TV and books. she also had breakfast items in the morning. Home is very clean. overall a pleasant experience and Mary Ann is a very nice host.
Kannan
2016-10-22T00:00:00Z
Rodzaj pokoju
Pokój prywatny
---
Rodzaj nieruchomości
Dom
---
Mieści
4
---
Sypialnie
Deep Gap, Karolina Północna 28618, Stany Zjednoczone
Whether you are looking to have a romantic getaway for two or to making new family memories, The Mountain Retreat is the perfect place for you! This gem of a cabin is perched on the hillside with everything you need for the ultimate retreat.
The Mountain Retreat is a wonderfully cozy cabin situated on several acres deep in the mountains of North Carolina, in close proximity to Boone, Blowing Rock, West Jefferson and Wilkesboro. The Mountain Retreat is the PERFECT spot for a romantic retreat for 2 or a small family. There is 1 bedroom with a queen bed and a queen size sofa bed in the living room. There is room for an inflatable queen size air mattress if needed (it would be very cozy). Just a stone's throw from the cabin there is the pleasant sound of a mountain stream. The terrain surrounding the cabin is full of plants, flowers, shrubs and fruit trees. We even have a gazebo with swing and a doll house for you to enjoy!
The Mountain Retreat is just a few miles away from the Blue Ridge Parkway and located in a charming cabin community called Creekside Estates. There are only a handful of cabins in the neighborhood, so you can rest assured to experience a most special stay. The Mountain Retreat is located 15 minutes from Boone and 20 minutes to West Jefferson and 30 minutes Blowing Rock. The Blue Ridge Parkway is only 4 miles from the cabin.
Richard was very accessible and easy to reach. The house was clean and the kitchen was well equipped. The garden and gazebo were lovely. It is quiet and remote. We were happy to have our SUV to drive on the gravel road towards the end of the drive. A real mountain cabin experience :)
Maria
2016-07-12T00:00:00Z
The home was as described. It was easy to find, clean, private and the kitchen was fully-equipped with all that we needed for our stay.
allison
2016-06-26T00:00:00Z
We enjoyed our stay! The cabin was cute and clean. We enjoyed sitting on the porch at night watching the stars and since the bottom porch area was enclosed, it was great to have our dog outside with us and not worry about having her on a leash. About a 20 minute easy drive into Boone.
Jennifer
2016-09-23T00:00:00Z
Richard's cabin was an awesome mountain getaway. It was the perfect size place for my girlfriend and I while we were visiting Boone and Beech Mountain. We really enjoyed relaxing in the gazebo, on the porch and on the bench in the garden. The garden was beautiful and full of blooming flowers. I wished we would have stayed longer!
Clay
2016-09-20T00:00:00Z
Cozy little home nestled in the side of a mountain, loved the creek and fountain in the yard. Gazebo was a great addition to the home. Convenient to Boone and West Jefferson, yet far enough away to enjoy the sunrise over the mountains!
Dustin
2016-11-03T00:00:00Z
Richard's cabin provided for the perfect, relaxing mountain getaway that we were looking for. The cabin is in a peaceful, quiet area, and just a short drive from several towns and points of interest. The bed was very comfortable and the fireplace made this cabin very cozy. Richard was very helpful and responded to questions very quickly. We will be back for sure!
Jonathon
2016-12-27T00:00:00Z
Richard offers a very quaint small cabin that is great for any couple wanting to escape for the weekend. The neighborhood is very peaceful with a nice view off the front porch. It is very close to Boone and Grandfather Mountain which is great for families! Richard is very pleasant to deal with and his directions for the cabin are easy to follow. I would recommend this place to anyone!
Brandon
2016-10-23T00:00:00Z
This spot is a great one! I stayed here with my two children ages nine and 12 who spent a lot of time hiking in the woods behind the house. The fireplace is great and unlike most rentals, the bed and linens are fabulous. The Wi-Fi is excellent though I could get no cell reception up here. You will have to go to the main road most likely to get reception. Also, the nearest grocery store is a pretty good distance away so come prepared. This is a great Airbnb! Big thanks to Richard for letting us stay.
Heather
2016-12-31T00:00:00Z
Rodzaj pokoju
Całe miejsce
---
Rodzaj nieruchomości
Chatka
---
Mieści
4
---
Sypialnie
Fleetwood, Karolina Północna 28626, Stany Zjednoczone
Our cabin has stunning views of the Blue Ridge mountains. It is perfect for family vacations, romantic getaways, active seniors, and for weekend visits to App State students. Our favorite moments are morning coffee, a glass of wine watching the sunset from the rockers on the deck, and sitting around the firepit after dark. Our favorite activities are Hiking, Kayaking, Ziplining, Scenic Driving, Horse riding, Tubing, Fishing, Cycling, Antiquing, and enjoying family and friends.
Our cabin is a beautiful log cabin inside and out. It has 2 bedrooms with queen beds, a kids cave (3rd bedroom) with a sofa bed suitable for 1 adult or 2 children, and a day bed with a trundle in the loft area. It is ideal for one or two couples who are looking to get away from the crowds. For young families wanting to escape the virtual world, and for active over 50's who enjoy life, and exploring this beautiful country.
Gated community with barbecues, picnic tables & pavilion next to a fishing lake, minutes from the Blue Ridge parkway. Boone and West Jefferson are 15 minutes drive.
Rodzaj pokoju
Całe miejsce
---
Rodzaj nieruchomości
Chatka
---
Mieści
8
---
Sypialnie
Fleetwood, Karolina Północna 28626, Stany Zjednoczone
Come visit our 60 acre farm in the Appalachian Mountains surrounded by Christmas trees, the Blue Ridge Parkway and Mtns to Sea trail. Enjoy hiking trails, streams, swimming holes and just pure nature. Far from it all, but only minutes away from Boone, Jefferson and ski resort.
Spend an afternoon relaxing on the country porch of this 1920s farm house. Unwind while listening to the creek, gazing at the mountains and smelling the fresh surrounding Christmas trees. Enjoy hiking the lush trails up to the Blue Ridge Parkway or adjoining Mtns to Sea trail. Outdoor enthusiast will enjoy the nearby cycling, skiing, fishing, canoeing and zip lining adventures(URL HIDDEN). This renovated farm house offers all the modern amenities of 4 bedrooms, 2 full baths, washer/dryer, satellite TV and internet while preserving the ambiance of the 1900s. Country setting with large outdoor covered sitting area, great yard, awsome fire pit for marshmellow roasting, creek and swimming hole make it great for children and pets.(URL HIDDEN) Farm is conveniently located in the High Country near scenic towns like Blowing Rock, Boone and West Jefferson, with easy access to three major ski resorts and many tourist attractions. Take a relaxing drive on the Blue Ridge Parkway and enjoy the mountain views, trails and waterfalls just minutes from this farm. Enjoy a great selection of unique shops with local arts and crafts as well as outlet shops all within 10 to 15 miles. Boone and Blowing Rock offer outstanding restaurants. Appalachian State University is 15 minutes away. Farm is in the community of Deep Gap, an old farming area full of lush green fields and old farm land. It should be noted that our farm is a working farm (occasional tractor and ATV sightings may occur). Our water comes from natural springs and is bottled on premises ready for distribution. You will need a vehicle here. Our farm is a 1/2 mile off highway yet still convenient to a Dollar General. Master bedroom has a portable aircondition available. Pet fee of $25 per dog due upon arrival.
Peaceful setting, beauty of the postcard seasons, advernture right outside the door. Farm is situated in the Deep Gap community, an old established farming area full of lush green fields and old farm land. Farm surrounded by Christmas trees.
The door was open when we arrived. The home was clean and well stocked. The neighborhood was quiet. The children loved running outside by the little brook, and chasing the fireflies at night.
Raisa
2016-06-15T00:00:00Z
My family's stay at the farmhouse was utterly delightful from beginning to end. The farmhouse is clean, roomy and quaint. We needed nothing as all our needs were met by the contents in the farmhouse. The mountain air and surroundings are peaceful. refreshful, and help to renew tired spirits. Moses, the farm dog, was an addd treat and part of the welcoming committee. The hairless sheep and spring water creek provided a loving attachment to mother earth. Our stay was unforgettable!
Christine
2015-08-10T00:00:00Z
Maritza and her family were friendly and amazing hosts and the house was beautiful. It was clean and nicely renovated and in a stunning location. We did road cycling trips during the day and we couldn't have asked for a better location. The house was equipped with all the necessities and the kitchen had everything you need. We had no problem checking in or getting in contact at any point. The only minor issue was with the internet. It is functional but so slow that it would be impossible to do any serious work with a laptop etc. from it. That being said, we were there to relax so it didn't bother us and it worked for checking things on your phone etc. There is also good cell phone coverage in the area. Overall this was an exceptional airbnb experience. One of the best I've ever stayed in.
Isaac
2015-07-01T00:00:00Z
We had a great long weekend at the farmhouse. We arrived late and the hosts had lights on and the fireplace making it toasty for us. Our kids got a bonus in that they found a closet and drawers with toys in them and they loved playing with the unexpected treasures. We had a dusting of snow on Sunday morning and had loved walking the property. It is a gorgeous property and a charming house fully stocked with everything you could need. We will be back!
Heather
2016-01-21T00:00:00Z
location is remote, exactly what we were looking for. Great location on xmas tree farm just off the mountain parkway, good hikes, nice creeks. Pleasant and cozy old farmhouse with nice yard. Limited scenic views.
Jennifer
2016-09-08T00:00:00Z
Maritza was wonderful, she was quick to respond to texts and emails, and made the whole process painless. It was seriously easier than checking in and out of a hotel. The home was extremely clean and we felt right at home. Once it got dark outside we stood out on the front porch and watched the fireflies dancing over the front lawn.
Natalie
2015-06-15T00:00:00Z
This is a wonderful house with great charm. Our 8 year daughter said, "This house couldn't be more perfect!" The kids really enjoyed playing in the creek on the property. We thought we had left something behind, and the host graciously looked for it.
Holly
2015-07-20T00:00:00Z
The place was very clean and welcoming, with a welcome note and a description of everything essential for our stay. In addition, we were welcomed by the owner and the family dog, who showed us how to use the heaters, etc. The house is exactly as depicted- homey, spacious, charming and has a beautiful updated kitchen. In addition, there are beautiful trails on the property that are easy to follow. Our family loved our stay and would definitely come back some time!
john
2015-11-26T00:00:00Z
Rodzaj pokoju
Całe miejsce
---
Rodzaj nieruchomości
Dom
---
Mieści
9
---
Sypialnie
Deep Gap, Karolina Północna 28618, Stany Zjednoczone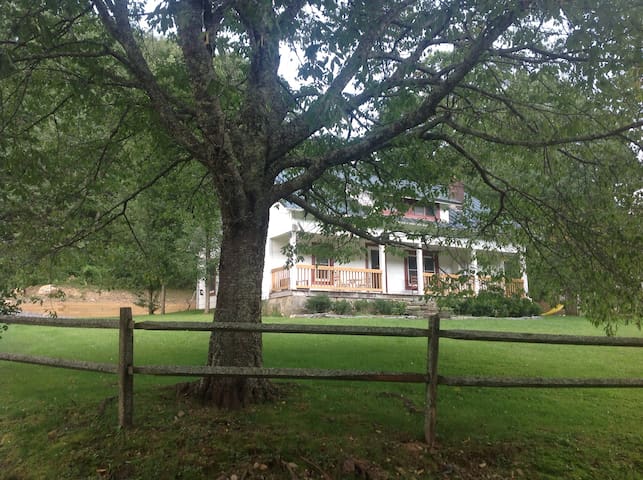 A big farmhouse near the parkway with lots of room and 2 fireplaces! Nice backdeck with a grill. Hiking trails right outside your door! Land borders the Blue Ridge Parkway. Washer dryer, kitchen at your disposal.
Rodzaj pokoju
Pokój prywatny
---
Rodzaj nieruchomości
Dom
---
Mieści
2
---
Sypialnie
Boone, Karolina Północna 28607, Stany Zjednoczone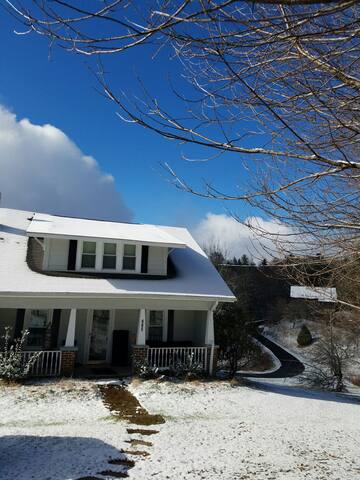 Our mountain cabin is located in a gated community in Fleetwood NC. It is located minutes from the Blue Ridge Parkway, 15 minutes from Boone and less than 35 minutes from skiing. Our cabin offers over 2,500 sq ft of decking to enjoy the beautiful mountain views. Rockers, swings, fireplace and firepit add to your enjoyment outside. If you prefer to enjoy the view from the inside, there are large windows which both maximize the view and let lots of light into the cabin. Sleeps 14
Rodzaj pokoju
Całe miejsce
---
Rodzaj nieruchomości
Chatka
---
Mieści
14
---
Sypialnie
Fleetwood, Karolina Północna 28626, Stany Zjednoczone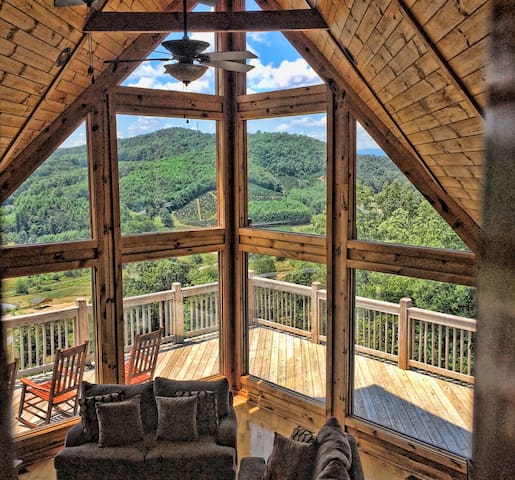 The Cottage at Cranberry Lane is 20 minutes from Boone & 20 minutes from West Jefferson. Less then 5 minutes from the New River for tubing, canoeing or kayaking. There are many miles of bike trails along the famous Railroad Grade Rd along the New River. The cottage is a cozy retreat in a wooded setting off the beaten path yet convenient to major roads. Suitable for couples, solo adventurers, business travelers, families (with kids), and furry friends (pets)
The Cottage is off the beaten path, very private safe community in a wooded area.
It is a safe and quiet neighborhood of good country folks. You may see neighbor ,Jim, working outside doing his woodworking. At the entrane to Cranberry Lane Nigel has a small farm of chickens, donkeys, sheep and goats
This cottage is just amazing! It is very spacious and relaxing. Joyce called ahead of time and really did a great job at making us feel welcome to her cabin. Thank you!! We had a lovely trip enjoying the fall leaves.
Tiffany
2016-10-17T00:00:00Z
(URL HIDDEN)The cottage was very clean and attractive. Fresh cut flowers were in a vase. Also dozen of pasture kept chicken eggs which Joyce offered for $4.00. The eggs were almost like Easter egg. I should have taken a picture. One egg even had a double yolk. We had another couple with us for three nights. Monday we took my canoe and rented another from Riverside canoe, who also shuttled my canoe and had a wonderful two hours on the New River. We are all over 65. We Had a late lunch at Shatley Springs. After we returned to the cottage, I tried out the hammock for a short power nap and woke 3 hours later. After supper we plaid Dominoes , salad and rook. Tuesday we wanted to canoe again but with the possibility of thunder storms decided to go to Grandfather Mountain. We saw the bears and eagles, had lunch and I sent my granddaughter a picture of me on The swinging or singing bridge of it raining on grandfather on Grandfather mountain. Wednesday our friends went home. My wife and I went into Boone and watched the new Star Trek movie in 3-d. Thursday we read books watched the birds at the bird feeders and a couple of playful squirrels. We had a lazy day. Friday we had to return to the Charlotte area heat having enjoyed our short stay at The Cottage on Cranberry Lane.
Joseph
2016-08-07T00:00:00Z
The house was very clean, the beds were comfortable, kitchen more than adequately appointed, and there are more than enough linens provided. There are ceiling fans in both bedrooms and in living room. The furnishings are very comfortable, as is the outdoor seating on the front porch. There is a bird feeder that receives lots of activity, and a very nice, level yard in which my small dog could meander. If you're looking for a high mountain view, this isn't your place. But if you're looking for a comfortable home surrounded by quiet and nature (this place is off the beaten path!), lots of beautiful, green foliage, and a perfect yard for dogs, children, and aging folks since it is so level, this is the place for you! The host has a brand-new rope hammock hung near a freshly-build fire-pit (we did't get the chance to use, but there's a supply of firewood for those who do), in which my daughter lounged reading her book. The bedrooms are on opposite sides of the house, which is nice for privacy. Master bath is huge with very nice soaker/jetted tub and separate shower-stall--plenty of room for two to get ready at once. The master bedroom has a sliding door to back, which was lovely on the cool mornings as I lay listening to the birds. And air-conditioning is a must for me during the summer, even in the mountains. Thanks to Joyce for being so communicative and responsive. We had a great time, although too short. Access to tubing/kayaking/fishing on the New River just minutes away, so if you're looking to spend time on the river, this place is a great option for you. I cannot comment on television, because we didn't use it!
Kim
2016-06-27T00:00:00Z
Joyce was a great host and I look forward to a return visit. Lots of room, nicely appointed with lots of privacy. Great get away!
Gene
2017-01-15T00:00:00Z
Joyce was an excellent host! The cottage was very clean and more spacious than it appears in photos. She had the kitchen and bathrooms well stocked. We enjoyed the whirlpool bath. We saw lots of birds and squirrels in the yard and there's a great place around the fire pit outside with plenty of firewood, a hammock, and chairs. Overall an excellent Airbnb experience.
Julie
2017-01-16T00:00:00Z
We loved the cottage. It was cozy and comfortable. It had everything we needed and more. The beds were comfortable. The kitchen, dining room, and living room being open made it great for our guests (my husband's family lives in the area and came over) to visit while we cooked. The kitchen has everything that you need. The bathroom has plenty of towels and wash cloths. Our host was always available when needed. We will definitely stay here again the next time we come to NC to visit family.
Tara
2016-10-12T00:00:00Z
Joyce could not have been more accommodating. She is an excellent host.
charles
2016-09-03T00:00:00Z
The cottage is 100%, absolutely everything it is listed at, and SO much more! This was the first airbnb experience for me, my girlfriend, and our dog. I have to say, it couldn't have been any better! Joyce called us a couple hours before our arrival to let us know there were fresh eggs in the fridge, and to tell me us about some of the other stuff that was in the house. She told us we were the first guests to have the tv and wi-fi, which was the perfect touch on this wonderful place. We only had to speak to her once before our stay, because when we arrived, she had already provided us with literally everything we could have hoped for. Clean house, with a nice bathtub with jets (my girlfriend absolutely enjoyed this), a nice porch with birds constantly stopping by the birdfeeders, a fireplace with chopped wood and starter wood, a grill with charcoal and lighter fluid, and everything else we could have possibly wanted. The location is also about as close to perfect for us as it could have been. We were only a few miles away from the blue ridge parkway, 5 miles from Boone, and only 10 miles away from my family who lives in Jefferson/West Jefferson. the cottage is right on the Watuaga/Ashe line so it is in prime location for all of these places. The cottage was everything we had hoped it would be, and Joyce is an excellent host who goes above and beyond any expectations you'll have. Truthfully, the pictures listed are slightly older, some of the areas have been updated a little since they were posted. So this is also a nice little surprise, when you see that it is more furnished than the pictures show! We will definitely be booking here again when we come up this way!
James
2016-08-20T00:00:00Z
Rodzaj pokoju
Całe miejsce
---
Rodzaj nieruchomości
Dom
---
Mieści
6
---
Sypialnie
Fleetwood, Karolina Północna 28626, Stany Zjednoczone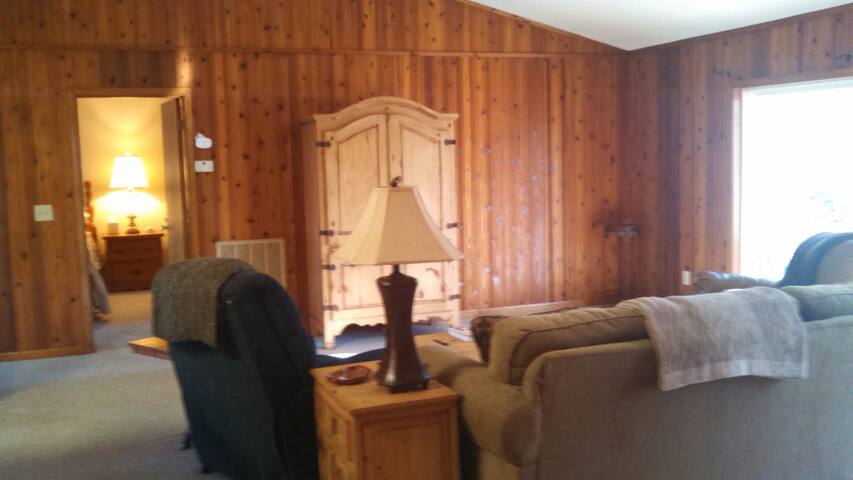 A big farmhouse near the parkway with lots of room and 2 fireplaces! Nice backdeck with a grill. Hiking trails right outside your door! Land borders the Blue Ridge Parkway. Washer dryer, kitchen at your disposal.
Rodzaj pokoju
Pokój prywatny
---
Rodzaj nieruchomości
Dom
---
Mieści
2
---
Sypialnie
Boone, Karolina Północna 28607, Stany Zjednoczone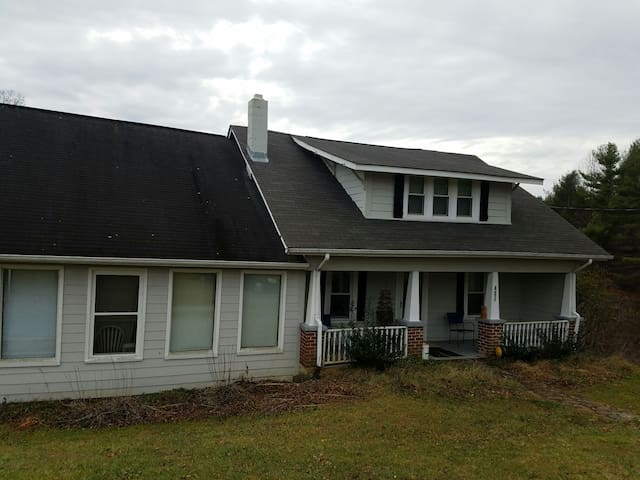 Riverfront home with playroom, tubes, bikes provided for Railroad Grade Road known for biking, hiking, 15 min to Boone and ASU, . My place is good for couples, solo adventurers, families (with kids), big groups, furry friends (pets). There is a manual in the house about places to go, restaurants, ski info, tubing info, and all other fun stuff. We offer discount coupons to Grandfather Mt. Tweetsie, and several area restaurants. After you book we will call and send you a contract, directions
BEDROOMS: 3 ............ SLEEPS: 8-11 BEDROOM 1: KING BED BEDROOM 2: KING BED BEDROOM 3: QUEEN BED LIVING ROOM: SLEEPER LOFT: QUEEN + 2 TWINS BATHS: 2 .................... SQ. FT.: 2,636 FIREPLACE.....HOT TUB.....RIVERFRONT
Beautiful house. Great place for family to hang out.
Kaye
2016-12-21T00:00:00Z
Rodzaj pokoju
Całe miejsce
---
Rodzaj nieruchomości
Chatka
---
Mieści
10
---
Sypialnie
Todd, Karolina Północna 28684, Stany Zjednoczone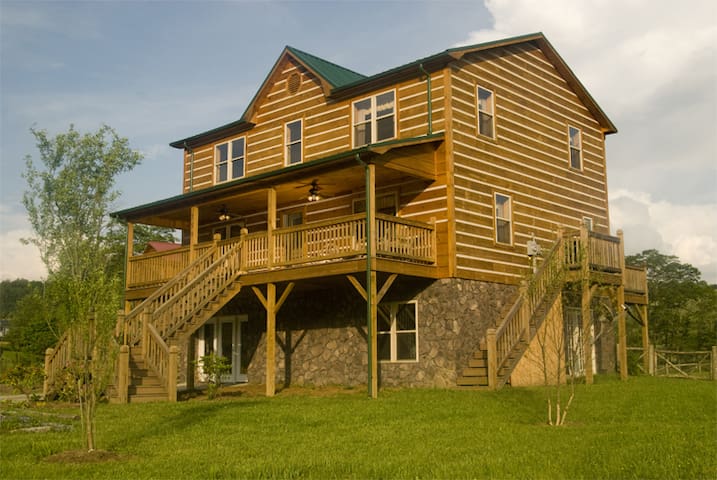 Luxury and refinement are what you will find in our 2 guest rooms . Reve Bleu is a luxuriously appointed bedroom for one or 2 persons with an ensuite bathroom . The Mimosas have 2 beds ( one double and one single ) and can accommodate up to 3 persons .
We invite you to stay in one of our beautiful guest rooms at our small Inn on the New River. Experience the charm of a chambre d ' hotes in the French tradition . You will stay in a lovely newly built cabin right on the New River near Boone , North Carolina .We are just 10 minutes from the Blue Ridge Parkway . Decorated with elegance , our 2 bedrooms , the Reve Bleu and the Mimosas have all comforts ( included luxury linens ) and are the perfect romantic getaway . The $ 150 rate si per night and for one bedroom .Rate for one person is $ 135 and rate for the Mimosas Room when 3 guests is $ 165 . Reve Bleu is our luxury and romantic bedroom suited for a couple or one person , it is furnished with beautiful antiques , has a four poster bed , real oriental rugs , French artwork and has a private ensuite bathroom . The Mimosas is our second bedroom and the one you will choose if you came with a child , teenager or a friend or for couple who sleep in separate beds . It has a double bed and a twin bed and is also a beautiful and elegant bedroom but keep in mind that a double bed may not be well suited for a big and tall couple . No other guests will be in the house while you are staying with us . If you decide to rent the second bedroom for the members of your party you will have to share the bathroom . Children well behaved of responsible parents are most welcome .Since we have a cat , we cannot accept dogs unless it is a small one kept in our basement . Cats are most welcome if litter box trained . Other amenities : •Two kayaks with shuttle service could be rented for $ 40 per couple . The river is at your doorstep •Ping pong table •Bocce balls •Many board games •Library of many popular books and magazines. •Continental gourmet breakfast using the finest ingredients and served in fine Lenox china . •Outdoor charcoal/gas grills Other option by reservation only : Therapeutic Swedish massages by your host Christine who is a licensed massage therapist # NC LMBT 10173 also available in the comfort of your own room ( by appointment only ) 1 hour massage : $ 70 . One hour 30 minutes massage : $ 105 .Half hour : $ 35 High country close attractions: 15 minutes from Boone. Grandfather Mountain and the lovely towns of Blowing Rock, Banner Elk and Valle Crucis are 30 minutes away. Farmer's Market are popular in Boone and West Jefferson. Historic downtown Todd is just four miles up the river. And in an hour you can be on the Virginia Creeper bicycle trail, or the Ski areas of Appalachian Ski Mountain, Sugar Mountain and Beech Mountains. Free Internet Wi-Fi in the house Please contact us regarding dining in the area
Chritine and Tom were awesome hosts! They made me and my girlfriend feel extremely welcome. The stay was impeccable. Everything was beautiful and refined. And every inch of the cabin was spotless! They provided useful tips for places to visit during our stay, provided a fantastic breakfast, and everything they did was designed to make us comfortable during our time there. I would absolutely recommend them to anyone looking for a stay near Boone and the NC ski slopes.
Danny
2015-01-05T00:00:00Z
Great place! Tom and Christine were amazing hosts! The cabin is in a beautiful spot on the river and their back deck is a perfect spot to enjoy it. Christine's cooking was superb, highly recommend the additional breakfast on Sunday! Tom's knowledge of the areas best spots to kayak and bike made it a easy trip to plan. Check this place out!!
Alex
2012-07-30T00:00:00Z
Picture yourself seated on the back porch of the River's Edge Inn. A morning breeze whispers by, and you hear the burbling of the river just a few hundred feet away. Before you a fresh, homemade French-inspired breakfast waits on fine china to be tasted. Little birds eat their breakfast as well on the hanging bird feeders near two adirondack chairs for sitting and viewing the river. A tasty repast and picturesque location is only one aspect of our stay at Tom and Christine's. We came in for a one-night stay on short notice, and Tom and Christine were more than ready! Everything was clean and fresh, from the firm mattress to fresh pillows. Our room was artfully decorated with French paintings and other fine ornaments. Christine showed us such hospitality: she offered us some fine French wine with some treats as we sat on the porch, and they told great stories. One highlight was taking Tom up on the opportunity to kayak. He graciously drove us to the nearby bridge, let us borrow his kayaks and other equipment, and sent us downriver to pick us up later. When we capsized soon after putting in, he kindly helped us back up again! We will remember a dozen precious details about this special place: the morning sunshine, the ongoing scrabble game between Tom and his son upstairs, Christine's art, a bike ride by the river, seeing an otter while kayaking, their friendly cat Casper, dinner with live music downtown, seeing shooting stars at night, and more. They truly welcomed us into their home. Thank you again for a great (and much needed!) stay.
Susie
2016-08-14T00:00:00Z
The listing description was very accurate, the bedroom was beautiful, breakfast overlooking the garden and river was lovely, and we also enjoyed trekking through the countryside. Tom and Christine were good hosts, showing us their amazing vegetable garden, and giving us tips on where to visit and places to eat. Highly recommended.
Kathlyn
2015-06-13T00:00:00Z
What a beautiful and relaxing place to stay! Christine and Tom were gracious hosts. I had breakfast each morning on the back porch overlooking the river. Bright goldfinches flitted through the yard. Hiking was nearby. Though this was a solo trip for an event in Boone, I enjoyed it so much that I plan to return soon with my husband.
JoAnna
2012-05-15T00:00:00Z
The reservation was canceled 19 days before arrival. This is an automated posting.
Kathy
Tom & Christine were amazing! They were both so accommodating and their attention to detail was perfect! The house was beautiful, comfortable and extremely clean and cozy. Christine's preparation for our gourmet breakfast was delicious and special. Her French roots are visible throughout their home and her culinary perfection! Tom made sure we had anything we needed and took extra time to inform us of local events he thought we would enjoy. We enjoyed our stay so much and didn't want to leave! Thank you both so very much for welcoming my family. We will definitely be back and highly recommend anyone wanting to be pampered and comfortable for their visit to the area!
Amy
2015-07-06T00:00:00Z
First, Christine and Tom are wonderful hosts. They are most accomodating and such a pleasure to be with to share a glass of wine or coffee. Her meals will have you looking forward to the next dining experience. The house was clean as a pin and confortably decorated. They take great pride in what they are offering. The location was perfect whcih allowed for biking right from their door through a beautiful valley that ran by The New River on a level stretch that ran for 20 miles end to end. Tom is an outdoorsman and can direct you to some of the best hiking trails in the area. Their back porch overlooks The New River and is such a relaxing place to go and read or meditate. I wll definitely BE BACK!!
Jim
2012-10-17T00:00:00Z
Rodzaj pokoju
Pokój prywatny
---
Rodzaj nieruchomości
Chatka
---
Mieści
2
---
Sypialnie
Todd, Karolina Północna 28684, Stany Zjednoczone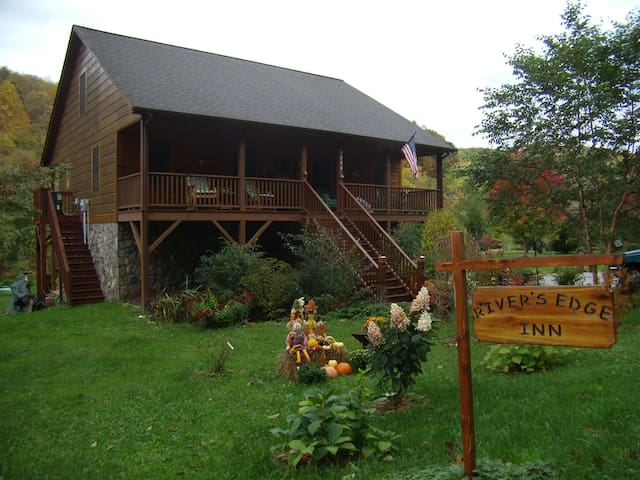 New River cabin rental with something for everyone - 360 degree views, walking distance to the New River or bike the old Railroad Grade! Pool table and foosball for indoor fun. This three bedroom two bath cabin sleeps up to six with two queens and two twins.
This sunny cabin is a great option, with lovely views in all directions to be enjoyed from inside the cabin or while soaking in your hot tub.  Head down to the New River and float away with river tubes, kayaks or canoes, bike along the popular Railroad Grade Road, or enjoy a freshly caught trout dinner cooked on your grill.  Inside you will also enjoy Wifi, a cozy gas fireplace, central AC; plus the pool table, darts and foosball in the unfinished basement.
Rodzaj pokoju
Całe miejsce
---
Rodzaj nieruchomości
Dom
---
Mieści
8
---
Sypialnie
Todd, Karolina Północna 28684, Stany Zjednoczone
We rent out our basement that has its own seperate entrance and driveway. It is closed off to the main house. The basement has a full kitchen, living room with projector, pool table and ping pong table. It has a beautiful view of the Blue Ride Mountains. Has air mattress.
Rodzaj pokoju
Całe miejsce
---
Rodzaj nieruchomości
Dom
---
Mieści
6
---
Sypialnie
Boone, Karolina Północna 28607, Stany Zjednoczone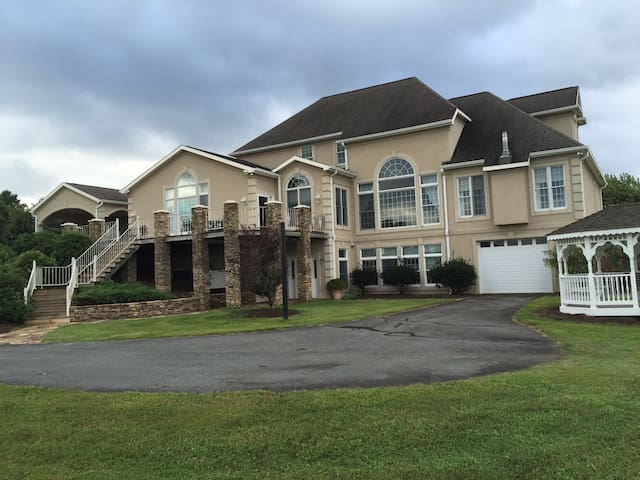 Log cabin rental near Boone ON THE NEW RIVER with large one acre tract! Outdoor firepit, hot tub, gas fireplace, central AC, pool table, air hockey, foosball table, video game system, table arcade with classic games, tubes, horseshoes and much more!  This three bedroom plus loft home accommodates up to ten with one king, two queens, two twins and one sleeper.
This house provides a guest book with recommendations for restaurants, activities, and discount tickets to Tweetsie. Firewood is provided and housekeeping is an additional charge. All linens, towels, paper products and kitchen necessities are included with the house.
We are very proud to offer Cruizin' River Dreams with over 100 feet of river frontage on the New River on Railroad Grade Road in Todd, NC. The Railroad Grade Road follows the New River for over 10 miles. It is the 2nd oldest river in the world and has some incredible rock formations, aquatic life, and an aura that almost evokes the primordial peacefulness of the river's beginnings. To ride a tube or paddle a kayak down its meandering, slow but sure, course is certain to suggest some sense of a simpler time, childhood magic, and a "what life is all about" sigh of relief. This beautiful log cabin on over an acre of flat land also has a mountain view which, to have both the river and a view, is an exceptional event! This three bedroom home offers comfort and quality in the whole house. With hardwood floors throughout, lots of windows for view, gas fireplace, and a spacious kitchen and living room for relaxing, playing, or cooking, it is a great family home and teh owners just added a 55" flat screen tv with blu-ray dvd for your added fun. The great room is large with cathedral ceilings and lots of wood, a stone fireplace that is 20 ft tall, granite countertops and pine cabinets and everything you need to cook a gourmet dinner except for food. Grill out and dine on the covered deck while gazing at the river and surrounding hills.
Rodzaj pokoju
Całe miejsce
---
Rodzaj nieruchomości
Dom
---
Mieści
10
---
Sypialnie
Todd, Karolina Północna 28684, Stany Zjednoczone
Wpisz daty, by zobaczyć pełną cenę. Obowiązują dodatkowe opłaty. Cena może uwzględniać podatek.