Our mansion is situated near Brasov and includes 5 bedrooms each with it's own bathroom. One kingsize bathroom with jacuzzi. A flowery backyard, with BBQ zone, and parcking space. On the ground floor we have a big open space for cocktails and late night fun, with a separate cooking zone.
Cristian, is a saxon village with a nice town center wich includes a lutheran fortified curch, a former lutheran parish house and a former german school. The village is situated between Brașov and Râșnov on the way to Bran Castle. So you can easily have access to lots of sightseeing, museums, citadels and castles. The Râșnov Citadel, is situated at 10 minutes distance by car. The citadel was built as part of a defence system for the Transylvanian villages exposed to outside invasions. A decisive aspect for building the citadel on the actual location was the route of the invading armies which were coming from the Bran pass and were passing through Râșnov, on their way to Burzenland. Compelled to stay there for decades, the people of Râșnov and the nearby villages turned the fortification into a dwelling - a must see if you are going to stay at our villa. If you decide to bring the kids around, in Râșnov you can visit the DinoPark - they will remember the trip guaranteed. Another key attraction is Poiana Brașov - the most popular Romanian ski resort and an important tourist centre preferred by many tourists not only from Romania, but also from Italy, France, Germany, Switzerland and other European states. After the 2010s modernization, the ski area has expanded from 50 hectares to 80 hectares and the slopes length was increased from 13.8 km to 23.9 km. most slopes now have snow cannons installed. In 2013, it hosted figure skating, alpine skiing and speed skating in the European Youth Olympic Winter Festival. So if you decide to stay at our place, as you can see be it bussines or pleasure, everyone can have a great time.
An amazing house! Very comfortable and a great location close by the main tourist sites. Also very reasonably priced given the quality of the accommodation. Highly recommended!
Max
2016-08-15T00:00:00Z
Une maison très agréable très propre, nous nous sommes sentis chez nous. Merci pour ce séjour.
Aurore
2016-12-02T00:00:00Z
The house is fully equipped and everything is new and working well. The neighborhood is ok but on a main road so there was a lot of noise during the night, but we didn't mind. Marius was quick to respond to any questions or problems we had. overall, a great first experience with Airbnb!! I highly recommend!
Michal
2016-08-12T00:00:00Z
A very nice house, with terace and all you need to have a wonderful holyday. The kitchen is full equipement, you can find there every thing - kitchenware, tableware, glasses, gascooker, dishwasher, et cetera. We stay 3 nights, beween 30 december 2016 and 2 january 2017. 5 couple. The rooms was exactly like in the pictures. We are happy! :)
Bianca
2017-01-02T00:00:00Z
The house looks great from the outside and especially from the inside. MArius do a lot of effort to solve any problem that raise. The communication with him is very good. The location of the house is excellent. Many attraction nearby. There is a place for improvment maintenance issues insede the house. It's not something that spoile the vacation but still can be improve.
Benny
2016-08-26T00:00:00Z
We really enjoy our stay in Marius's house. The house was decorated with a Christmas tree and with lights at the windows, which make us feel like cozy like home. The breakfast was very tasty and our menu had some traditional home cooked appetizers. There is fast access to Poiana Brasov and Brasov. Rasnov is at 3 km far away and there you can find a big supermarket. Otherwise close to the house, walking 3 minutes there is a small shop with essentials things to buy. Marius is a very nice person and a good host. He was very interested in make our accommodation comfortable.
Luiza
2016-12-26T00:00:00Z
Perfect villa for groups. Very comfortable.
João
2017-02-05T00:00:00Z
Rodzaj pokoju
Całe miejsce
---
Rodzaj nieruchomości
Dom
---
Mieści
12
---
Sypialnie
Cristian, BV, Rumunia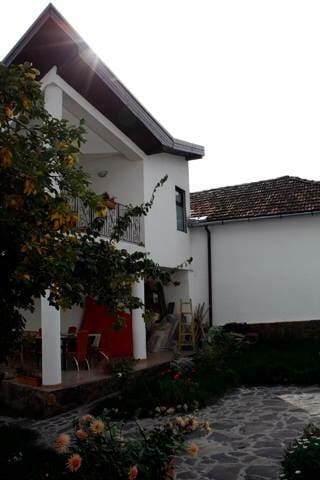 W sypialni znajduje się na 1 piętrze przyjazna i ciepła dom, położony w spokojnej okolicy, blisko do miasta, Cristian, pomiędzy Brasov i Rasnov, przy głównej drodze. Lokalizacja oferuje bezpłatny parking, a dla bezpieczeństwa zainstalowała kamer wideo i anty systemu bulgrary. Wewnątrz i na zewnątrz willi jest dobrze urządzony z wyszukanym smakiem dla gości cieszyć wysokie warunki, aby móc czuć się lepiej w czasie ich pobytu. Tuż obok was Pharma i supermarketów.
W sypialni znajduje się na 1 piętrze w przyjemnym i ciepłym domu, znajduje się w spokojnej okolicy, blisko do miasta, Cristian, pomiędzy Brasov i Rasnov, przy głównej drodze. Lokalizacja oferuje bezpłatny parking, a dla bezpieczeństwa zainstalowała kamer wideo i anty systemu bulgrary. Wewnątrz i na zewnątrz domu jest dobrze urządzony z wyszukanym smakiem dla gości cieszyć wysokie warunki, aby móc czuć się lepiej w czasie ich pobytu. Lokalizacja jest bardzo kameralny, spokojny i atrakcyjny. Stocznia jest pięknie zaprojektowany i posiada taras nince. Jest to idealne miejsce do spędzenia czasu i odwiedzić sąsiednie obszary, położone dokładnie w połowie drogi między Brasov i Rasnov.
The location is very intimate, quiet and attractive. The backyard is beautifully landscaped, and has a nince terrace. It is an ideal place to spend time and visit the adjacent areas, situated exactly midway between Brasov and Rasnov.
Rodzaj pokoju
Pokój prywatny
---
Rodzaj nieruchomości
Dom
---
Mieści
2
---
Sypialnie
Cristian, Județul Brașov, Rumunia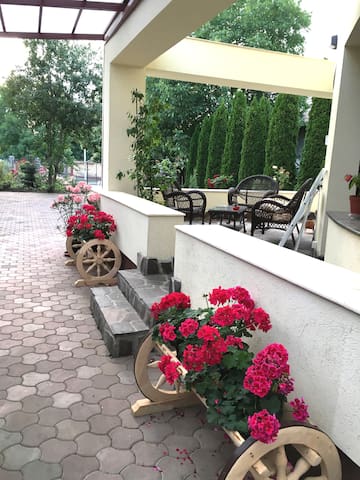 This room is large and airy and it has views of the forest and fortress. It comfortably accommodates two people and has its own en-suite bathroom.
Rodzaj pokoju
Pokój prywatny
---
Rodzaj nieruchomości
Dom
---
Mieści
2
---
Sypialnie
Râșnov, Brașov County, Rumunia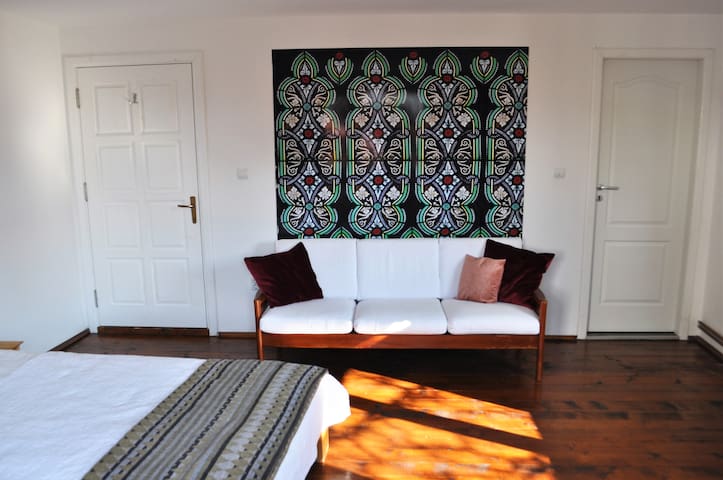 Friendly, welcoming home in Rasnov. Perfectly situated between Brasov city and Bran with a wonderful view of the Rasnov Fortress and very near transport routes. Price consist of access to 3 rooms, kitchen, bathroom . Land lady will be on site.
The house can accommodate up to 7 people in 3 double rooms ( extra bed available upon request). Kitchen and bathroom also available as well as outdoor sitting area.
Places to see: Rasnov Fortress, Dino Park, Bran Castle, Zarnesti Bear Reservation, Poiana Brasov, Brasov, Prejemer, Viscri, Bucegi Mountains, Piatra Craiului Mountains, Black Church.
Liliana is the warmest and most helpful person we have met in Romania! We only stayed one night in her villa but we felt more like a part of family than like visiting tourists. The house is comfortable, big, with all necessary amenities and conveniently located between Brasov and Bran and a walking distance from Rasnov fortress. And there is a lovely little garden :)
Dominika
2016-07-12T00:00:00Z
We had very nice long weekend at State's house. The house was clean and the kitchen had everything needed for cooking. It's very easy access (15min) by car from the house to the poiana brasov slopes.
Jyri
2017-01-29T00:00:00Z
Todo Perfecto. Liliana una magnifica persona. La ubicacion perfecta para acceder a diversas poblaciones. Repetiriamos.
Daniel
2016-10-16T00:00:00Z
Me and my friends had an awesome experience staying at this place and we totally recommend it to everybody who is visting Risnov. The host was incredibly nice to us. Liliana and her son Horia are the coolest people I've ever met & they made our vacation so relaxing and pleasant. Best of all we liked the garden where we could enjoy the breakfast and a glass of wine in the evening as well as BBQ parties. Thank you & see you again the next year!
Liliana
2016-08-16T00:00:00Z
Everything is very good at that place. Rooms are so clean and everything is same what you in pictures. She was so friendly and hospitalist for us, we ate together and gave fun. we totally recommend this place for stay. Thank you and hope to see you again :)
Batuhan
2016-09-04T00:00:00Z
This was a great Airbnb experience! Our host, Liliana, was very welcoming and gracious; the house was beautiful with a large yard! Everything was clean and organized, I would definitely recommend staying here. The location is close to markets, banks, and is situated between great historic attractions at Bran and Brasov. We will definitely come back again!!!
Peter
2016-06-14T00:00:00Z
We really liked staying at this location. It made our trip to the airport easy in the morning. The apartment was very clean and everything worked perfectly!
Ken
2016-08-23T00:00:00Z
Rodzaj pokoju
Całe miejsce
---
Rodzaj nieruchomości
Dom
---
Mieści
6
---
Sypialnie
Râșnov, Județul Brașov, Rumunia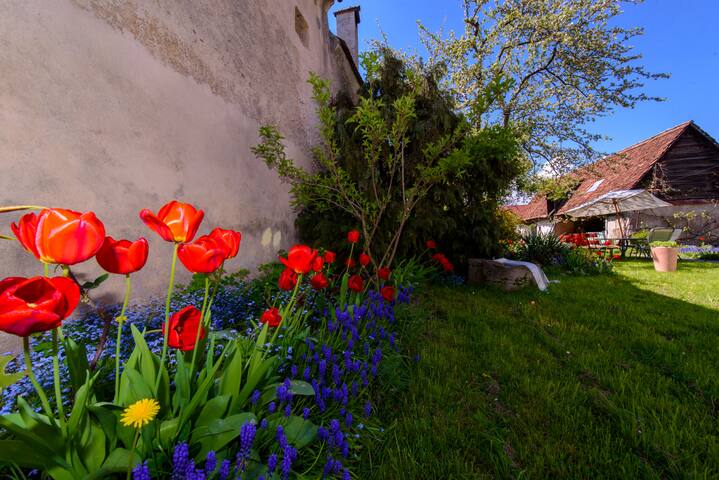 This is a double bedroom with a special morning sunshine and view on the mountains. It is just one of our 3 rooms available. Downstears there is a big living-kitchen you have acces to if needed. Our house is very close to the citadel of Rasnov.
Our house is very close to the center of Rasnov. The city of Brasov is 20 minutes away and you can get there easily by bus or car. Also the Bucegi and the Piatra Craiului - mountains are each in about 40 minutes to reach.
Very nice place! Petra's mother was very nice with us. Their little dogs are adorable. I recommend this place for a nice and relaxing full weekend with a brilliant view.
Alexandru
2016-09-11T00:00:00Z
Petra is a great host. Fantastic communication in advance, always there to help. She welcomed us rather late at night which, again was very nice. Explained the house rules in a friendly way and made us feel at home from the outset. The house is on a great location, right beneath the Rasnov fort and the pictures online do not make the hoise justice. An absolute gem waiting to be discovered. Would highly recommed her and her house and I'm looking forward to returning sometime soon.
Alex
2016-01-03T00:00:00Z
A beautiful home in a great location. The room was spacious and comfortable and the backyard a pleasure to spend time in. Everything is neat and clean, and communication woth the hosts was great.
Laura
2016-08-15T00:00:00Z
Rodzaj pokoju
Pokój prywatny
---
Rodzaj nieruchomości
Dom
---
Mieści
2
---
Sypialnie
Râșnov, Județul Brașov, Rumunia
Enjoy resting in a quit and comfortable bedroom furnished with old furniture. Our guesthouse is located in a quiet area, close to the Citadel Rasnov, being 5 min. walk away from the center, easy access, free parking, fresh markets, bus stop .
The house is surrounded by multiple touristic and ski attraction, plus historical sites. From our quit and green garden you will have great view of the "Bucegi" and "Piatra Mare" Mountains.
Very good! The acces way need to be finished.
Opris
2016-08-16T00:00:00Z
Rodzaj pokoju
Pokój prywatny
---
Rodzaj nieruchomości
Dom
---
Mieści
2
---
Sypialnie
Râșnov, Brașov County, Rumunia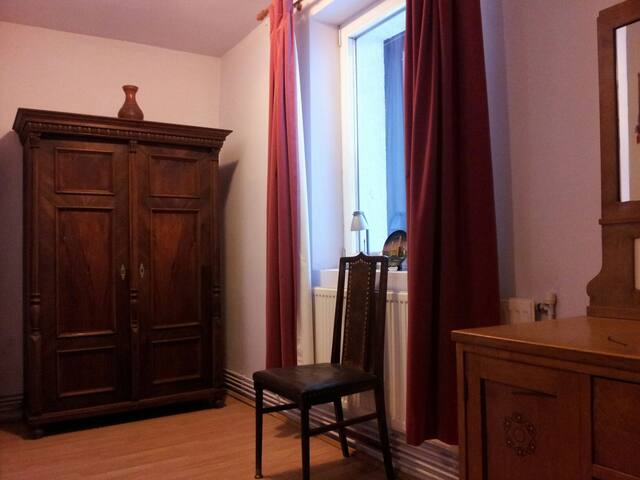 My house, 4 rooms, very big terrace and big garden, is located in Transilvania. In city center of Rasnov, near Rasnov Fortress, near Dino Park (biggest from S-E Europe), 2 km to Valea Cetatii Cave, 10 km to Poiana Brasov the most popular ski resort in Romania, 12 km to Dracula's Castle, 15 km to Brasov and 9 km to Bear Sanctuary (biggest from Europe). My place is close to great views and restaurants.
The Rasnov Fortress view from our garden it is amazing !
Mr. Aurel was really helpful and kind. He did not refused to give us a recommendation what to do, even he called me after we left his house if the places he recommended us was nice and if he can help us again. Also his english was at respectable level.
Marek
2017-04-02T00:00:00Z
Rodzaj pokoju
Całe miejsce
---
Rodzaj nieruchomości
Dom
---
Mieści
10
---
Sypialnie
Râșnov, Județul Brașov, Rumunia
Our House is very close to the centre of Rasnov, to the citadel and all main attractions in the area. You can arrive easily by bus to the mountains and Poiana Brasov, the biggest schi-region in Romania. Lovely garden and lots of friendly cats!
The space is suitable for a relaxing one-night sleep or to spend your entire holiday in an unique surrounding.
I've met a wonderful, friendly and most helpful host who catered for all my needs during my stay. The neighbourhood is safe & friendly, but no special; yet it is an excellent gateway to the mountains strategically placed between Poiana, Bran and Brasov, thus enabling drivers to avoid the traffic in Brasov. Bonus the views to Rasnov castle. The house was of very high standards and exceptionally clean. I would definitely recommend this listing whether you are a solo traveller or family.
Jimmy
2016-03-25T00:00:00Z
Awsommmme. Best place
Etienne
2016-09-11T00:00:00Z
What an incredible experience in Rasnov!! We arrived later than expected, but Petra's mother was awake and very happily welcomed us into the home around 9:30 PM on Halloween night. She showed us to a stunning coach house with beautiful hardwood floors, wood beams, two bedrooms, two bathrooms and a massive, welcoming kitchen. The pictures from the ad could not do it justice! After kindly explaining all of the specifics, Petra's mother also directed us to a lively pub with many people and great pizza. In the morning we were even more happily surprised by the gorgeous garden behind the home, which boasts a picture perfect view of the hills and Rasnov sign. Also, Petra's mother had provided us with fresh milk, cheese, apples, bread, and cold cuts for a lovely and rustic continental breakfast. While our stay was short in Petra's home, it was by far our favorite property in which we stayed in Romania. I can't say enough kind words about her home and her family!
Haley
2015-11-02T00:00:00Z
Place was very clean, everything is new or almost new. Room is spacious, quiet and calm at night. Good, business-quality internet. Only thing I would wish for was a bit more responsive host because I did not have a reply on Airbnb and sms until few hours before arrival so I felt a bit uneasy whether I will have a place to stay (I booked one day before arrival). Other than that, I would recommend this place, especially if you travel by car because it is close to Brasov but cheaper. Also Rasnov citadel is easily reachable and Dracula's castle. Thank you Petra.
Janeks
2016-08-01T00:00:00Z
Habitation dans un quartier très calme et assez proche du centre de Rasnov. Grande chambre lumineuse (nous avons juste déploré l'absence de rideaux opaques ou de volets) ; grande cuisine très agréable. Mais le nec plus ultra : c'est le chat ! super gentil...
shola
2017-01-01T00:00:00Z
This is a beautiful home in an ideal location. it only takes moments to walk anywhere you would like to go in the town. the view is amazing and it feels like you are in the countryside while in the middle of town. Petra is easy to get along with and is more than accommodating, she is pleasant and friendly without invading your privacy.
Justin + Teara
2015-12-01T00:00:00Z
Hier wird perfekt deutsch gesprochen! :) It was really a pleasure to stay there in Petras house. The apartement is cozy, clean, really comfortable and with the most amazing view in whole Rasnov. While staying there her Mum welcomed me and was always there when I had questions. I would absolutely recommend this place!
Katrin
2016-05-11T00:00:00Z
Very Nice place and great host!
Justin + Teara
2015-12-02T00:00:00Z
Rodzaj pokoju
Pokój prywatny
---
Rodzaj nieruchomości
Dom
---
Mieści
2
---
Sypialnie
Râșnov, Județul Brașov, Rumunia
My place is close to restaurants and dining10min walk, public transport 1min, Rasnov fortress10min, city centre10min, Dracula`s castle25min-by car, parks, family-friendly activities. You'll love my place because of the comfy bed, the ambiance, the neighbourhood, the outdoors space, the light, nature, peaceful environment. My place is good for couples, solo adventurers, business travellers, and families (with kids). I am also an excellent host, kind, multilingual, very good cook,funny and happy.
Double bed comfortable, with double wardrobe with mirrors,all brand new furnished and own bathroom with shower.
It's a nice and cosy place. Good value and close to the forest
Paul
2017-04-01T00:00:00Z
Eu si cu prietena mea ne-am simtit foarte bine. O gazda foarte primitoare, cu mult bun gust si de mare ajutor. Totul este confortabil. Ne-a fost pregatit micul dejun, foarte variat si delicios. La un pret atat de mic, este un loc extraordinar, pe care il recomand! Multumim frumos, Carmen A great place, with a very welcoming and helpful host! Comfortable indeed, very clean and quiet - perfect for couples. Me and my girlfriend were very happy here. It's a short walk from here to the train station, but it is a pleasant one. Carmen made breakfast, varied food and delicious coffee/tea. We had a wonderful experience here! Recommended for all the seasons.
Augustin Adrian
2017-01-02T00:00:00Z
Camera curata si foarte spatioasa, plus terasa care completeaza perfect cazarea (ideala pentru o vreme calda). Gazda a fost foarte primitoare, iar micul dejun a fost delicios - o locatie perfecta pentru un city break de 2 persoane. The room was clean & spacious and it has a nice terrace (I think it is perfect on a warm weather). The host was very welcoming and the breakfast was delicious - a perfect location for a city break.
Mihai-Alexandru
2017-03-12T00:00:00Z
Carmen was an amazing host, she offered us all that we need for a lovely staying; she is so kind and helpful, offered us valuable information about what we can do around, where to go, eat and sightseeing and we were delighted to have also a delicious breakfast (we didn't knew about it initially); I could not find a word for such lovely host, so friendly, and kind. The room was clean, warm and so cosy that we could think we actually live there :) I highly recommend! ----- Carmen este o gazda minunata, ne-a oferit tot ce aveam nevoie pentru o sedere frumoasa; este foarte amabila si cu o reala dorinta de a ne ajuta, ne-a oferit informatii pretioase despre ce putem face in zona, unde sa mergem, unde sa luam masa si unde sa ne plimbam; am fost foarte placut suprinsi sa aflam ca vom servi inclusiv un mic dejun absolut delicios! (despre care nu stiam initial) Nu am cuvinte sa descriu amabilitatea si bunavointa gazdei noastre! Camera a fost curata, calduroasa si foarte primitoare, de parca puteai crede ca acolo locuiesti :) Recomand cu caldura!
Catalin
2017-01-15T00:00:00Z
all good :)
Cosmin
2016-12-03T00:00:00Z
The village of Râșnov is a picterfull place right under the really amazing village-castel of Râșnov. Carmen's place is just perfectly close to the centered with some nice and cheap Restaurants and also to the way up to the Castel. Her house is right next to the bus stop. The bus there ruins all 30 minutes from/to Brașov and to the Castelu Bran. So you are just very easily connected to everything you wanna need and visit around. Carmen ha a nice and very clean house. She offers a private room upstairs with private bath room. The room is like on her pictures shown and the bathroom is perfectly clean and usable with shower and warm water. But the best is Carmen's self made breakfast! Just super cozy and coming from heart like her personality is! I really can recommend her place! She is very helpful and speaks English and German. I had and great time in rasnov cause of her.
Thomas
2017-03-10T00:00:00Z
A fost prima oara cind am folosit aplicatia Airbnb pentru o locatie din Romania, si am fost impresionati si foarte multumiti de servicii.Camera este curata si spatioasa ideala pentru un cuplu, iar micul dejun delicios. Multumim inca o data pentru ospitalitate. Great place! Close to the center and clean! Host was very nice and gave us great recommendation around town.
Daniel
2017-02-26T00:00:00Z
Rodzaj pokoju
Pokój prywatny
---
Rodzaj nieruchomości
Dom
---
Mieści
2
---
Sypialnie
Râșnov, Județul Brașov, Rumunia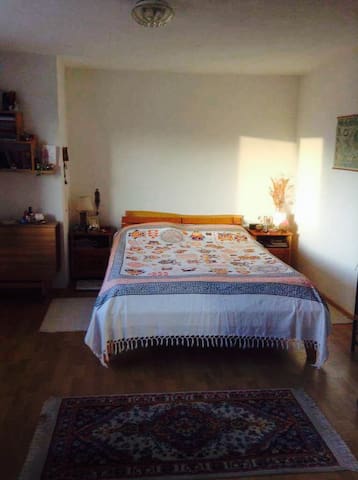 Bine ati venit! Ideal für Ruhesuchende, Familien mit Kindern und alle, die die Berge und die Natur lieben- Unser Ferienhaus Elena heißt Sie im schönen Siebenbürgen im Herzen der Karpaten herzlich willkommen!
My friends and me were here in January 2016. Everything was well, but we found the house after long search - on (SENSITIVE CONTENTS HIDDEN) Maps this address is not pointed correctly. The house is cozy, warm and sweet. There is a big dog in the garden and there is no teapot in the kitchen.
Лера
2016-01-03T00:00:00Z
Although Andrei wasn't able to welcome us he asked his friend to do the check in and out. Everything was perfect and this friend was very kind. The house was very good and spacious. Overall: great place, good location!
Wout
2016-09-22T00:00:00Z
Andrei asked his friends to show us the house. They were very polite and punctual. The house is big, clean and has an authentic atmosphere. It is very calm and safe, but at the same time just in the center of Rasnov town. It was very convenient for us to get to Poiana Brasov by car - just about 10 min. The house is warm and has everything you need for a comfortable stay for a big family or 3 couples of friends. I highly recommend this host!
Evgeni
2016-01-24T00:00:00Z
Wonderful house, great location, Andrei is very responsive even though he is not in the area.
Darren
2016-09-01T00:00:00Z
The location is great, really close to the best sky resort in the country. The house is very well insulated and warm. Very comfortable.
Octavian
2017-01-01T00:00:00Z
We enjoyed staying in this beautiful and warm house! There is a fully equiped kitchen, comfortable beds and good wi-fi - all you need for a pleasent stay.
Tatiyana
2017-02-15T00:00:00Z
Rodzaj pokoju
Całe miejsce
---
Rodzaj nieruchomości
Dom
---
Mieści
4
---
Sypialnie
Râșnov, Județul Brașov, Rumunia
Witamy w spokojnym miejscu z pięknym dziedzińcem i ogrodem, położony jest w spokojnym 10 min.to w Rasnov Castel i Dinosaurus Park, 10 km od zamku Drakuli (Bran Castle), 9 km od miejscowości Poiana Brasov - Ośrodek i 1 godzinę od zamku w Peles Sinaia. Łatwy dojazd, bezpłatny parking, świeże rynki,
Nasz pensjonat położony jest w obszarze zamknąć, bardzo blisko Cytadela Rasnov. Będąc 5 minut spacerem od centrum miasta, mamy atutem łatwego dostępu, wewnętrzny dziedziniec, bezpłatny parking, świeże rynkach (5 min. Drogi), przystanek autobusowy (1 min. Od hotelu) Dom otoczony jest przez wiele atrakcji turystycznych i narciarskich, a także zabytków.
Great stay for recharging! We had everything we needed and the vila is close to all major touristic points. Clean and spacious!
Corina
2017-01-02T00:00:00Z
We couldn't have hoped for better hosts than Apolo and Lily, they were friendly, helpful and welcoming. The house was fantastic, our girls absolutely loved having a bathroom to themselves (all rooms were en suite). The kitchen was suitably equipped (we did take our own knife), and if we needed anything extra Lily usually had what we needed. The ski resort was just a short drive uphill, approx. 15 mins, and Rasnov centre only a short walk away. The area was peaceful and ideal for our family holiday, local people were friendly. I would wholeheartedly recommend staying here.
Kerry and Kevin
2015-12-31T00:00:00Z
Wanderfull and warm family, big space, good equipmenet
Adi
2016-07-28T00:00:00Z
Warmfull welcome in this home with bathroom in each bedroom and everything was very clean. Usefull to find goods to take a breakfast in the morning
Sandra
2016-05-04T00:00:00Z
We enjoyed our stay hosted by Apolo and Lili. They are very warm and friendly hosts. Everything was clean and looked great, as described. Rooms were nice and we had a lot of space. Wi-fi worked great too. There is a gorgeous view from the backyard, that is elevated and you can see the town from above. This is indeed a peaceful place, located in the perfect spot between Bran and Brasov.
Radu
2016-06-20T00:00:00Z
Our host was amazing and went above and beyond to make us feel welcome. They gave us a tour of the home, the really cool old barn out back and the garden that slopes up the mountain behind it. They even gave us a watermelon and cantaloupe! The location was absolutely perfect for what we were looking for - a place central to Brașov, Bran and Sinaia. The facilities were also exactly what we needed for 6 people with plenty of space, a kitchenette perfect for breakfasts and 4 bathrooms with showers!! A wonderful accommodation. It could not have been better.
Scottie
2015-08-24T00:00:00Z
Nice place! Very comfortable and accomodating. The owner met all of our needs and even showed us the local market and a good place for dinner.
thomas
2015-11-29T00:00:00Z
Nice place, everything as promised Would stay again
Ronald
2015-08-16T00:00:00Z
Rodzaj pokoju
Całe miejsce
---
Rodzaj nieruchomości
Dom
---
Mieści
11
---
Sypialnie
Râșnov, Brașov County, Rumunia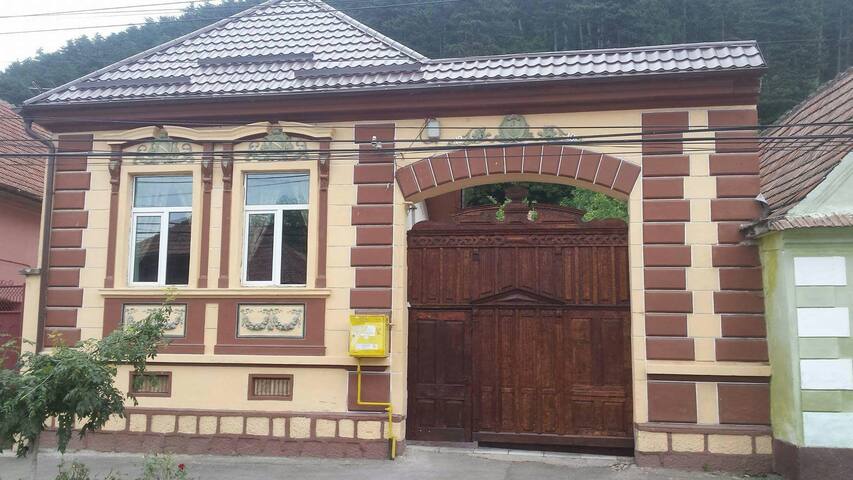 Special place for family group, yarth whit toys, place to relax, near to forest trip.
On ground floor ar living, kitchen completly equipment for 6 - 8 persons and a bathroom. On first floor are 3 bedrooms - one bedroom are own bathroom, 2 bedrooms are same bathroom.
In town you find Fotress Rasnov, cave Valea Cetatii, sky jumping area, many trips on forest, Gorge Rasnoavei - bungi-jumping area.
Rodzaj pokoju
Całe miejsce
---
Rodzaj nieruchomości
Dom
---
Mieści
6
---
Sypialnie
Râșnov, Județul Brașov, Rumunia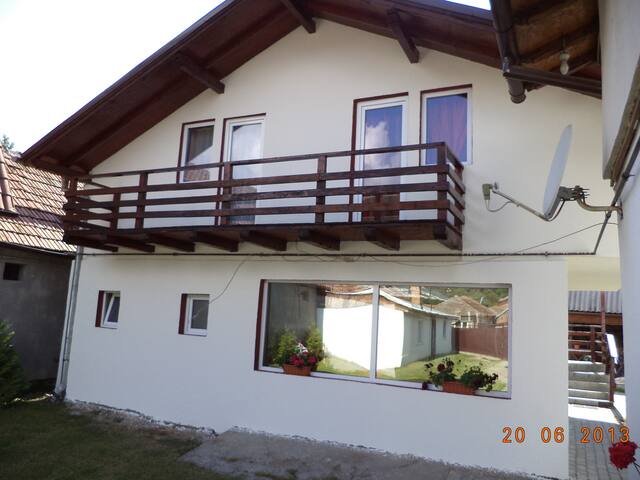 This Room can be used as a 3 or more bedroom (with matresses), as a meditation or music room. Great view on the citadel and the mountains.
Petra's house is awesome. The view from the big room is something you definitely want to seenin the morning when you wake up. The positioning is very good, close to a few stores, many restaurants, the fortress and the place of the festival I attended. The people are amazong and very kind, too. Even other people who stayed in other rooms at Petra's place were very nice—I did make a few new friends.
Robert
2016-08-16T00:00:00Z
It was a pleasent experience ! Such a nice host and a great location !
Dragos
2016-01-02T00:00:00Z
Very comfortable with fantastic views of the castle and hills. Warmly welcomed and looked after during our stay. All round superb
Michael
2017-01-02T00:00:00Z
Rodzaj pokoju
Pokój prywatny
---
Rodzaj nieruchomości
Dom
---
Mieści
5
---
Sypialnie
Râșnov, Județul Brașov, Rumunia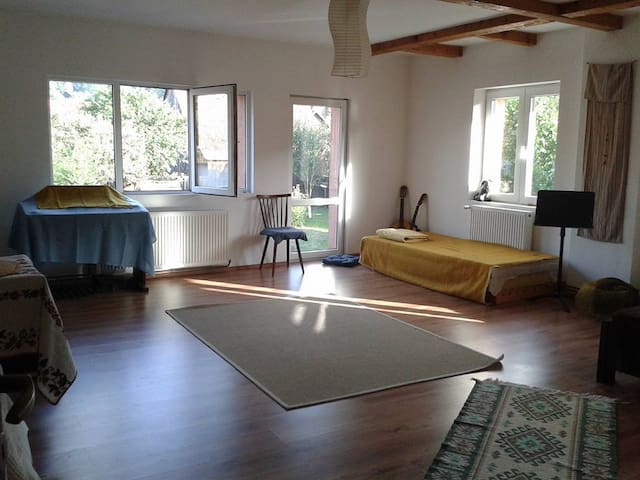 Idealny dom na wakacje. Wiele atrakcji turystycznych jak: Twierdza Rasnov, Zamek Bran, Brasov, Dino Park, Poiana Brasov, Busteni itp Spokojna lokalizacja, wspaniały widok w kierunku Karpat. Dom jest bardzo blisko drogi krajowej DN73 więc łatwo go znaleźć. Dom jest nowy, nowe sypialnie furniture.2, dwie łazienki, ogromny salon. 2 godziny drogi od lotniska (Bukareszt). Moje miejsce jest dobre dla par i rodzin z dziećmi. Będę szczęśliwy, aby odpowiedzieć na wszelkie pytania.
Witaj! Jest to przestronny dom, z dwoma poziomami. Na piętrze znajdują się 2 sypialnie (jedna sypialnia z ładnym wygodnym łóżkiem podwójnym i pianka i druga sypialnia z 4 łóżkami pojedynczymi) oraz łazienki. Na dole mamy bardzo duży salon z rozkładaną kanapą i dwoma fotelami, które mogą być również wykorzystywane jako pojedyncze łóżka. Kuchnia z wszystkie media (filiżanki, kubki, talerze itp) kuchenką i małą toaletę z prysznicem. Bezpłatne łącze internetowe.
Ku niepowtarzalnym widokiem gór Bucegi, dom posiada balkon, gdzie można zobaczyć są Twierdza Rasnov i Bucegi. Ładny widok na miasto Rasnov i Bucegi, z balkonu domu.
That house is totally great!And yes it's a big house that fits for sure 6-7 people. The place is exactly like the photos , clean , beautiful , bright and has everything you need for a pleasant stay! I would recommend it for everyone! We never met Alina because she lives abroad but her sweet and kind father was there waiting for us to show us the place and give us the keys. Alina was also all the time in contact with us , providing great infos about the City. Rasnov city is really nice and peaceful that I didn't expect it. I would like to come again in the future and of course I know my place! Thanks Alina
Panagiota
2016-09-13T00:00:00Z
At about 20-25 minutes of walking (5 min. driving) to the Rasnov Fortress' elevator downtown, this is a new house with wonderful views to wake up to, with the mountains all around in the background and green pastures. It's clean and has quite large rooms. Even the balcony our bedroom had was very generous in size. We had the whole villa to ourselves this time but all guests can make use of the equipped kitchen and its fridge, stove, etc.. Our bedroom had a double bed and the other bedroom upstairs had four single beds. The bathroom upstairs has a bathtub while the one dowstairs has a shower cabin. There were also a hairdrier, clean towels, etc. It's a pretty relaxing place to chill, with its upstairs spot for a nice morning coffee and breakfast, with the large living room and anexed closed porch. Although the national road is very close, there wasn't any perceivable noise high enough to disturb us. Our guests, Alina's parents, live at a nearby location. They were all (inc. Alina) very nice with us, granting good communication and trying to meet our expectations or needs. Alina's father waited for our arrival as late as 10:30 PM though we initially were supposed to arrive earlier. He's very likable and continued to give us advice about the local attractions, he is very passionate about the area where he was born and raised. He waited for us with fresh, all natural eggs from his chicken and the next day prepared a plate full of grapes from his vine in the yard. Small gestures which attract great appreciation! We're grateful to our hosts for the great accomodation and would like to return here, should the occasion to visit Rasnov again arises.
Mihai
2016-09-11T00:00:00Z
Alina's home is large and roomy. It's location is wonderful, because you can visit everything within a 15 - 30 minute drive. Yanku (Alina's father) takes great care of the house, and really wants you to see the country he is so proud of. Wonderfully warm and charming man. Finding the home was a bit difficult, because Waze and (SENSITIVE CONTENTS HIDDEN) maps sent us to the wrong side of the street, and we didn't have a phone number to call for directions. People in the area are unfamiliar with Alina's family and could not help us. The house itself is roomy and great for families. Giant, cozy salon and TV in every room. Unfortunately the house was lacking some basic items. We had to purchase oil, sugar and a sharp knife. There weren't enough towels and we ran out of toilet paper. Since Rasnov is a small town, you don't have a lot of options for eating out. If you choose to stay at Alina's you will most likely have to cook. Outside of dishes, a few pots and a kettle be prepared to bring your own supplies.
Debra
2016-10-20T00:00:00Z
Un loc foarte bun pentru cei care au nevoie de o evadare din urban, fie grupuri de tineri fie familii cu copii. Spatios, frumos utilat, incalzire buna iar iubitorii de peisaje montane vor avea ce sa vada. Gazdele sunt dragute si serviabile. Cu siguranta 5/5!
Radu
2017-01-02T00:00:00Z
Rodzaj pokoju
Całe miejsce
---
Rodzaj nieruchomości
Dom
---
Mieści
10
---
Sypialnie
Râșnov, Județul Brașov, Rumunia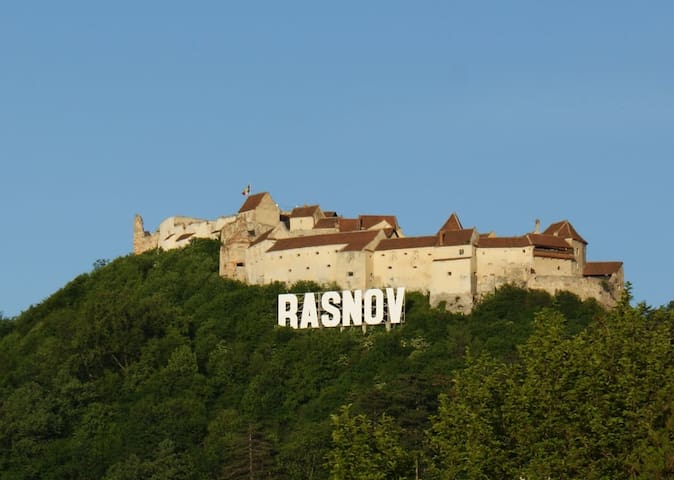 The Sunset Cottage is a perfect , enjoyable and unique place to stay in Brasov. It is located 5 min away by foot from the cosest hypermarket, 5 min by car to the city center. You will also have full access to a very beautiful garden with green grass, flowers, a wooden pavilion and garden furniture for adults and children. I can guarantee that this will be a truly pleasant Airbnb experience for you.
The Sunset Cottage was my grandparents' old house that we recently restored fully. Located just 5 minutes away by car from the city center. The cottage consists of two rooms ,a bathroom and a small kitchenette. The garden is also available for our guests. In the first bedroom you have a large double bed , a wardrobe and a TV LED 32". The bathroom is equipped with a washstand , a toilet and a very spacious and useful shower. In the living room there is a double bed , a table for 4 people , a TV LED 40" with a Nintendo Wii, board games and a fully equipped kitchenette so you can really enjoy your stay. There is everything that you need for a pleasant stay: bed linens , clean towels , shower gel , shampoo , toiler paper and several hygiene products. As a bonus , you will also have full access to a very beautiful garden with green grass, flowers, a wooden pavilion and garden furniture for adults and children. The wooden pavilion can be used to enjoy beautiful warm summer nights , but will be opened throughout the whole year.
We are located 5 minutes away by car from the city center. A public transportation station is one minute away from our house. There is also a big hypermarket at your ease , 5 minutes away by foot from the house.
Everything that needed to be said about Madalin and his residence has been already said in the previous 5 star reviews so it is difficult for us to add something new. What we would like to say is that everything is absolutely correct about the place and Madalin. We found the residence to be as per description and even more actually. As for Madalin he is an exceptional host and he goes well beyond any expectations to assist and make the stay for his guests as comfortable and easy as possible. We recommend staying with him 100%.
Hina
2017-02-25T00:00:00Z
Cosy clean and quiet place we enjoyed it very much and will come back if can
Marc
2016-11-14T00:00:00Z
The Cottage is furnished with taste and very beautifull, it's fully equiped in everything that demanding tourist could need, Madalin is a very friendly and helpfull person. This expierience rised standards for all future rentals. It was worth every BANI spent on this acomodation. I honestly recommend either Madalin as a host or his very nice house.
Katarzyna
2016-08-27T00:00:00Z
저는 차를 렌트해서 가서 쉽게 찾아갔는데 차 없으면 조금 불편해요. 개인 주차공간도 있고 집은 사진이랑 똑같고 주택가라서 엄청 조용해요. 전체적으로 깨끗하고 겨울인데 안춥고 따뜻하게 잘잤어요. 주인 가족분들도 다 친절하고 좋았습니다!
윤성
2017-02-22T00:00:00Z
Recomandam cu mare incredere! Locul este linistit, parcarea generoasa, curatenia impecabila in casa si gazda foarte binevoitoare!
Marina
2017-04-04T00:00:00Z
Madalin was very endeaver to make our stay perfekt.
Lisa
2016-08-08T00:00:00Z
The host was very friendly and the apartment was everything we could have asked for. We've had a lovely stay, and we would definitely recommend it to anyone.
Maria
2016-10-22T00:00:00Z
Superbe petite maison toute neuve avec un jardin très appréciable. Très bon accueil de Madalin. Un super séjour dans son admirable cottage !
nathalie
2016-07-26T00:00:00Z
Rodzaj pokoju
Całe miejsce
---
Rodzaj nieruchomości
Dom
---
Mieści
4
---
Sypialnie
Brașov, Județul Brașov, Rumunia
In the nicest area of Brasov, laid back, 3 minutes away from the forest and the city action is just down the road. Spacy, nicely furnished, with big balcony, view on city, perfect for families, or a small group.
In the nicest area of Brasov, laid back, 3 minutes away from the forest and the city action is just down the road. Spacy, nicely furnished, with big balcony, view on city, perfect for families, or a small group. A quite nice neighbourhood, close to the city, but closer to nature. You can start your hike to the mountain right in front of the house, but if your have a drink in the city and you´re to tired to walk the 15 minute to the house, a taxi ride doesn´t cost more then 2 euros. Bus connection to the city center 1 min. away minimum stay 2 nights
A quite nice neighbourhood, close to the city, but closer to nature. You can start your hike to the mountain right in front of the house, but if your have a drink in the city and you´re to tired to walk the 15 minute to the house, a taxi ride doesn´t cost more then 2 euros.
Anna's house is a cozy and stylish place to spend your (winter) holidays. Located within walking distance to the old historical center, the house is even better than in the photos, it is clean, well equipped and has a lovely view over the city. The fireplace creates a beautiful atmosphere and, surely, one of the best features of the place. It is highly recommended to all travelers out there and we will surely return when we have a chance. Thank you for your kind hospitality.
Stathis
2017-01-02T00:00:00Z
Ana's apartment was simply gorgeous, and the perfect place for our stay in Brasov. It was peaceful and spacious, with a great kitchen and comfortable bed. Her parents met us and showed us around the place, and were incredibly nice and helpful. Communication with Ana was super easy, and she was incredibly accommodating. We will definitely stay with Ana again the next time we are in Brasov!
Karin
2015-05-07T00:00:00Z
Amazing place! My husband and I have been travelling a lot around the world, in all conditions, and this appartment is one of the best we've stayed in. It is located between the mountains where you can walk for hours and the beautiful and inspiring historic center of Brasov. You can get everything you need within a short walk distance and there are numerous buses (5 minute walk from the appartment) that can take you quickly wherever you want in the city or around for even more amazing hikes (ex: you can get to the train station of Brasov within 20 minutes). The appartment is spacious and luminous with great views over the mountains and the city. It is perfectly equipped and suitable for short or longer stay. The hosts are very welcoming and warmful. We were travelling with a 6 months baby and they provided us with a baby crib and bath, even little toys and a mixer for puree. In Romania, visiting Brasov and its surroundings is a must. To do so, I would recommand 100% this appartment.
Mélanie
2014-11-07T00:00:00Z
We stayed at the aparment for 6 nights during the beginning of April. We are a family of 2 adults + 3 children (10, 6, 5 month). We really enjoyed our stay at the apartment. The place is very clean, warm and very well equipped. We got a baby cot and even a baby bath! The children's room is a big hit :) There are plenty of toys and surprises. The living area is cosy with nice view over the garden. The location is great, the walk to the center is not that long (15-20 mins), and the neighbourhood is nice and cosy, colorful small houses, and very green surroundings. There is parking close to the house, and a small supermarket. Ana's parents were very nice and helpful! It was a great experience staying at the apartment, and we would definitely return there and would highly recomment to anyone!
Nela
2016-04-15T00:00:00Z
Loved our stay! The apartment was beautiful, spacious, and rather accessible by foot and car. Ana was also very welcoming with advice and travel arrangements :)
Alex
2016-07-15T00:00:00Z
The area is very pleasant, narrow streets and an easy 20 min walk to the town square. This suburb nestles between steeply wooded hillsides. A view of the town in the distance over the old rooftops is very picturesque. A parking space (next to a small food shop) is provided only 30 seconds walk from the front door. We were made to feel very welcome. The apartment is well furnished and very comfortable. The bathroom is first class! Highly recommended.
Simon
2015-10-04T00:00:00Z
I can't recommend Ana's apartment in Brasov enough! The apartment was beautiful with gorgeous views. We loved spending time on the porch with coffee in the morning and with wine in the evening. It is a nice walk into the center of Brasov from the apartment - we walked back and forth each day with no problems. Both Ana and her parents we very kind and helpful. We loved our stay and would definitely stay here again!
Jen
2015-05-22T00:00:00Z
excellent all around.
Claudia
2016-07-09T00:00:00Z
Rodzaj pokoju
Całe miejsce
---
Rodzaj nieruchomości
Dom
---
Mieści
5
---
Sypialnie
Brasov , Brasov, Rumunia
luxury and cozy home, just 5 minutes far from center,with a magnific panoramic view, in the midle of the nature and in residential area. the home is situated on the way to the Poiana Brasov,the best place to ski in Romania. Villa and the parking is safe and monitored by cameras.Whole house is equipped to the highest standards, and cleanliness is very carefully done.
best place for relaxation, the villa have 280 metters including terrace,balcons and the backyard have 1200 metters with barbecue, gazebo, playground,a lot of trees and flowers..
nearby the citty Brasov is Dracula Castle(20 minutes by car) and Poiana Brasov ski Resort.
The house is amazingly located and furnished with an very good taste. Gheorghe was always there for us and very helpful. I can recommend the house and willing to stay in the future for sure to discover more of brasov. Thanks
Stanislaus
2017-02-19T00:00:00Z
Rodzaj pokoju
Całe miejsce
---
Rodzaj nieruchomości
Dom
---
Mieści
6
---
Sypialnie
Brașov, Brașov County, Rumunia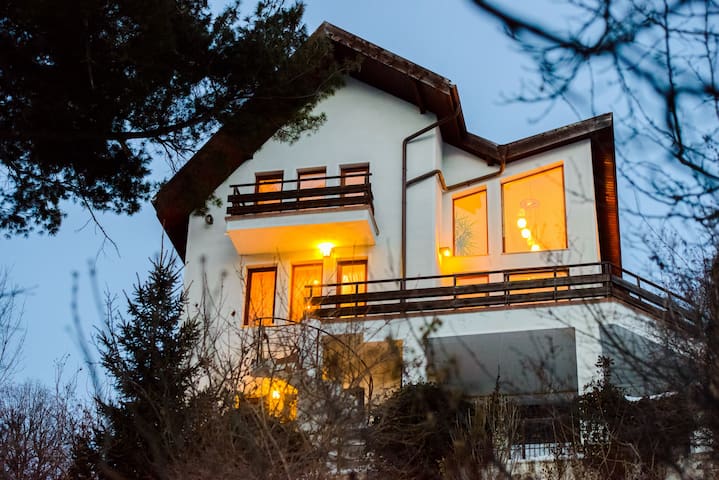 My place is close to the city center, parks, art and culture, great views, and restaurants and dining. You'll love my place because of the location, the ambiance, the outdoors space, the neighborhood. My place is good for couples, solo adventurers, and business travelers.
The room is part of a beautiful house located in the old city of Brasov within 500 meters of the Main Square and the Black Church. The neighborhood is quiet, with little traffic and it's in proximity of the city's main tourist attractions, restaurants and pubs.
Matyas' place is great, very close to the center, very clean and beautiful. Matyas himself is a very friendly host :)
Irina
2017-03-26T00:00:00Z
Rodzaj pokoju
Pokój prywatny
---
Rodzaj nieruchomości
Dom
---
Mieści
2
---
Sypialnie
Brașov, BV, Rumunia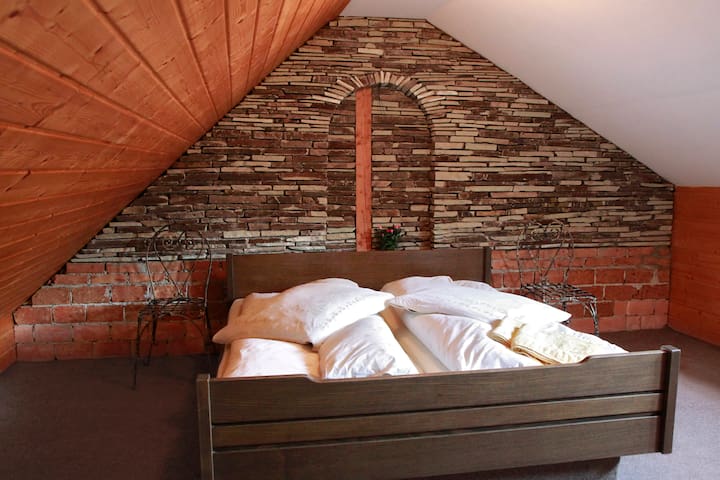 Wpisz daty, by zobaczyć pełną cenę. Obowiązują dodatkowe opłaty. Cena może uwzględniać podatek.