5000平方英尺的阁楼英尺的空间,新的生活在过去2年:)可容纳您住得你来哈尼县进行访问或者你通过通过:)浴室的访问,但没有连接到卧室卧室空间装修。
该建筑最初是由泥瓦匠建于1910年。我们开始在2013年翻新,并试图重新使用许多当地的材料,因为我们可以。空间是独特的和舒适。我们喜欢它,并认为你会太:)
泰国食品(Linda的泰国房/埃尔克霍恩),墨西哥(萨尔瓦多Toreo),当地的酒吧(中央消遣),中国食品(该Hilander),小酒馆(贝拉的Java),和美食(Rhojo的)都非常附近。 购物?一些非常可爱的小商店排队的主要街道。丝带和玫瑰有各种好玩的家居装饰,饰品,蜡烛,玩具。书客厅有好玩的标志,伟大的书籍吨,和伟大的咖啡吨。美食及配件有每一个厨房工具,你可以想像。沙漠之梦旧货商店提供一个干净和有组织的环境,服装和家居用品,并提供就业机会,当地的青年,可能需要一些额外的帮助。该儿童谷仓提供了新的和八成新童装以及玩具和礼品。必须看到! :)这有几个亮点:)
If you are traveling from point A to B and burns is in your path you need to stay at this amazing loft. The family is great and super kind. You'll feel like a family friend. I highly suggest this location.
Isaac
2017-01-02T00:00:00Z
Everything about this loft & family was unique, inspiring and fun! Hands down our best Air B &B experience yet.
Sarah
2016-07-14T00:00:00Z
I feel like I I stayed the night but walked away with new family friends! Lovely folks doing the good work of rural revitalization.
Kristin
2017-03-18T00:00:00Z
Jen and Forrest were terrific! They were so kind and welcoming. Jen and I sat and chatted about their amazing home. She showed me her scrapbook which showed the renovation process. Their home is unbelievably gorgeous! It's like a big city loft from downtown Manhattan in the middle of a tiny rural town. What a cool place to stay! I loved my time with them and wish I could have stayed longer!
Marissa
2016-07-26T00:00:00Z
Jen and Forrest were very welcoming hosts. The loft was as advertised and very conveniently located. Very nice place to stay!
JAMES
2016-05-02T00:00:00Z
Good experience, very nice family. Accommodations unique. TV was dominated by the children. Not really accessible. Other than that, very good experience. Definitely recommend.
Steve
2016-07-06T00:00:00Z
This place is even more awesome than it looks. Jen & Forrest and their boys are very welcoming, enjoyable to hang with, and are full of useful info about things to do in the area.
Alex
2016-05-20T00:00:00Z
Jen & Forrest (and their kids) are delightfully kind, thoughtful, accomodating and just plain cool. And their space Reflects that in its magnificent. The design buff in me was moved by the [early 20th century...?] building and what they've done with it. Assuming ownership of this once forgotten gem, they've created a modern loft and mixed use space below their dwelling worthy of a New York City or San Francisco loft. High vaulted ceilings provide the spacious setting for this open airy abode filled with an incredible mix of rough hewn support beams, hand painted murals, modern furnishings & elements of their own design and small personal touches that bring alive the soul of this very special place. Connecting with Jen and Forrest would be enough to make this a worthy stay for weary wayfarers. The accommodations provide the icing on quite a delectable cake. Thank you both for sharing this very fulfilling, refilling and inspiring experience. I'm grateful.
Chris
2016-10-29T00:00:00Z
Rodzaj pokoju
Pokój prywatny
---
Rodzaj nieruchomości
Loft
---
Mieści
2
---
Sypialnie
Burns, Oregon, Stany Zjednoczone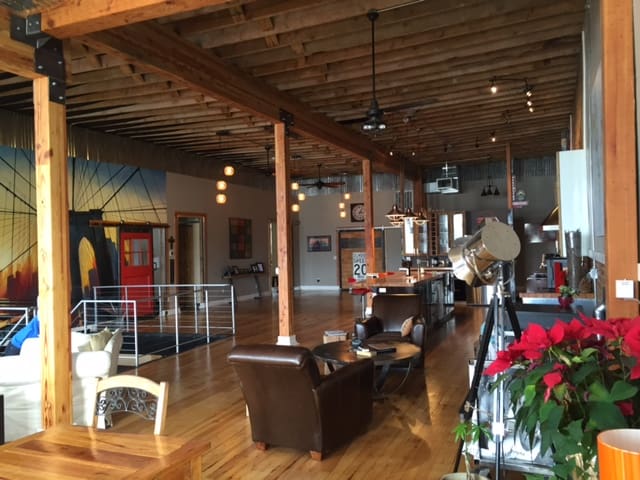 Thank you thank you than you!! Your home is absolutely amazing. You all make people feel like family at ease and comfortable. Great kids!!! If I'm ever coming this way again I would definitely stay again.
sarah
2016-07-20T00:00:00Z
Our visit worked out perfect. We arrived in Burns late but had a great dinner at a local restaurant where we met our hosts! They walked us back to the house, introduced us to their kids, and showed us around the very spacious building. We had a great rest that night and headed for Las Vegas the next morning.
Wallace
2016-07-22T00:00:00Z
We really enjoyed our stay in Burns! Jen and Forest's home is stunning. Jen made it super easy for us to settle in. Hopefully we will pass through Burns again some day!
Anna
2016-08-26T00:00:00Z
Jen and Forest have a wonderful home! Looking forward to coming back to stay at their hotel when it is finished. Highly recommend.
Jeannette
2016-12-30T00:00:00Z
The coolest place I've ever stayed and not even just Airbnb they've done such a good job renovating their place you HAVE to stay here.
Matt
2016-08-05T00:00:00Z
Jen and Forrest are a wonderful, warm and friendly couple who welcomed us into their home. Jake and Will, two of their three teenage boys, were astounding! Reached out to shake my hand firmly, introducing themselves and look me in the eye. Their home is an immaculate and stunning Manhattan style loft in an old brick building from the turn of the 20th century. The remodeling job is unbelievable, with tons of period architectural touches and a lot of reclaimed doors and fixtures. They chronicled the task in a coffee table book you simply must take a look at. It's a huge space, Jen said 5000 square feet. It feels very comfortable and inviting. Burns is a sweet little town, sort of in the middle of nowhere, Oregon. A couple of nice little restaurants downtown. All in all a wonderful experience. It's not quite as private as staying in a whole house, but the experience of seeing such an amazing family is something everyone should have.
Steve
2016-07-27T00:00:00Z
Great atmosphere! Great people! Great place!
Ryan
2016-06-28T00:00:00Z
Wonderful accommodating family, wonderfully clean and beautiful space. It felt very comfortable to spend time there, and I will certainly return :)
Katie
2016-11-12T00:00:00Z
Rodzaj pokoju
Pokój prywatny
---
Rodzaj nieruchomości
Loft
---
Mieści
2
---
Sypialnie
Burns, Oregon, Stany Zjednoczone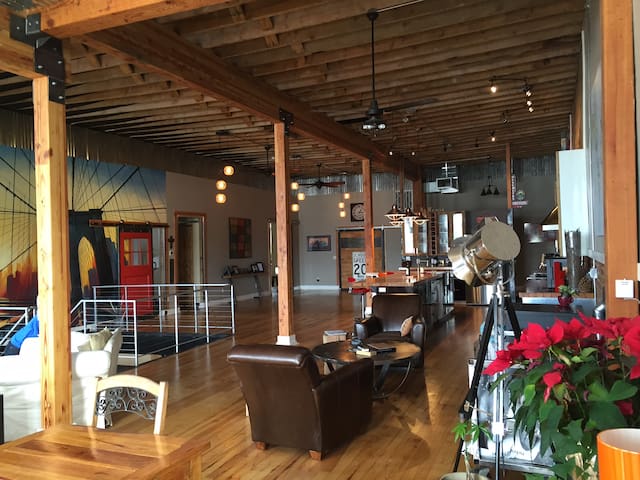 5.000 sq ft renoveret mursten bygning på hovedgaden i Burns, Oregon. Hurtig gå adgang til restauranter & købmand. Helt åbent, meget ren, meget unikt rum. Bygget i 1910 af Masons, denne bygning er nu en enestående ovenpå loftet!
Vores plads er enestående af mange årsager. One, det er en gammel bygning, der har haft kærlighed og liv sat tilbage i den. To, gjorde vi det arbejde selv. Tre, vi genbruges så mange gamle ting, som vi kunne få vores hænder på. Vores bordplader er gamle bowlingbaner baner fra bowlingbaner, der plejede at være i byen. De glas blokke i drenge bruser er fra folkeskolen. Gamle døre, gamle windows, masser af liv bragt tilbage :) Det har en bred åben føler alligevel hyggeligt og behageligt på samme tid. Master bedroom: King size seng med eget badeværelse Andet soveværelse: Queen size seng Tredje soveværelse: Queen size seng Fjerde soveværelse: Loft med fuld størrelse seng og separat dobbelt størrelse under loftet 2. fuld bad nær andet soveværelse Separat Rec værelse område med et stort tv og sofa ************************************************** Bare en hurtig side bemærkning: Dette er vores primære bopæl. Vi er en familie af fem med en lille mini schnauzer / Aussie mix. Når vi lejer ud hele rummet, vi er enten på ferie eller ud af byen for en kort periode :)
Meget nem adgang til de fleste af restauranterne i byen og den lokale biograf. Safeway købmand er et par korte blokke væk. Nem gåafstand. Sikker og ren :)
The design of the space was absolutely fantastic, and my family felt very lucky that Jen and Forrest opened their unique home to us. It was very cool and inspiring to see how they transformed this old building into their comfortable, warm, contemporary home, blending the character of the space with the character of this family. We only wish we could have stayed longer.
Avik
2016-08-01T00:00:00Z
We enjoyed Thanksgiving weekend at the Keadys loft and loved every minute of it! Their home is so comfortable and warm, with all of the amenities necessary for a perfect stay.
Shantay
2016-11-27T00:00:00Z
We had a great time. Loft is full of character with some cool eccentricities. We took some ideas from the loft for things we wanted to do in our own home. Very roomy with local accents. Good communication from hosts who were very helpful and friendly. Gas stove in the kitchen is restaurant quality and we saved a little money by cooking for every meal. A great option for Burns that we will keep an eye on if we need to come back in the future.
Derek
2016-07-11T00:00:00Z
This place was incredible! A perfect oasis of calm and comfort and elegance right in the heart of Burns. I honestly have a hard time conveying how perfect it was - a beautifully gut rehabbed loft, where Jen and Forrest did most of the work themselves. I felt like I was in a friend's loft in downtown Chicago - so roomy and elegant, yet welcoming at the same time. Loved the layout, the decorating, the huge kitchen, the coziness, the location - it was absolutely perfect for bike riding endeavors. It's definitely the kind of place you never want to leave.
Tasha
2016-08-22T00:00:00Z
Jen & Forrest were extremely generous & accommodating, and their home is absolutely GORGEOUS! Highly recommend.
Phoebe
2016-04-08T00:00:00Z
Rodzaj pokoju
Całe miejsce
---
Rodzaj nieruchomości
Loft
---
Mieści
10
---
Sypialnie
Burns, Oregon, Stany Zjednoczone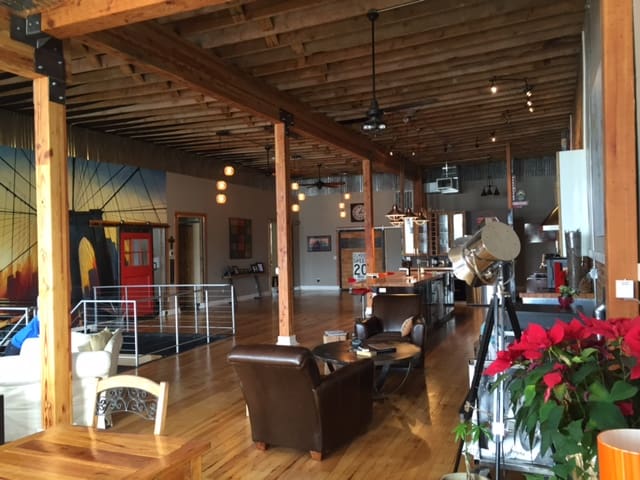 Crane - Airbnb
:
Średnia ocena:

5

/

5

gwiazdek od

79

gości
Wpisz daty, by zobaczyć pełną cenę. Obowiązują dodatkowe opłaty. Cena może uwzględniać podatek.