Wprowadź datę przyjazdu w formacie: dd-mm-rrrr
Wprowadź datę wyjazdu w formacie: dd-mm-rrrr
Rezerwacja Natychmiastowa
Oferty, które możesz rezerwować bez czekania na akceptację gospodarza.
Wpisz daty, by zobaczyć pełną cenę. Obowiązują dodatkowe opłaty. Cena może uwzględniać podatek.
Tego lipca i sierpnia możesz wypróbować jeden z tych 100 wysoko ocenianych domów (różne poziomy cenowe) i poczuć się jak mieszkaniec Sonomy. Opcja 24-godzinnego zameldowania, Rezerwacja Natychmiastowa, lokalne wino i przekąski sprawią, że rozsiądziesz się wygodnie i będziesz rozkoszować podróżą.
Our place is located in downtown Stuttgart, the Rice and Duck Capitol of the World! You'll love our place because of the views, the location, and the people. The Wings Over the Prairie Festival and World Championship Duck Calling Contest (Thanksgiving week) is located right outside the building. You can sit outside on the deck and watch it all happen or walk outside right into the middle of it! Our place is good for hunters, couples, solo adventurers, and business travelers.
I had a fantastic stay here. Our host was great and the apartment was beyond expectations. The location is second to none and the patio/deck is an awesome bonus. 10/10 will stay again. Perfect for hunters who want to be right in the mix for festivities etc. You'll have the best spot on Main St. Guaranteed.
Lex
November 2016
Wonderful hosts! Made us feel like family and did so by going out of their way. Perfect place for our needs too.
Matt
November 2016
We stayed at the Loft for 5 days during the duck season. There's a fair amount of stairs, but the deck and the loft are very nice. One very nice king size bed, one fold out couch, and a top of the line air mattress. The rest of the amenities were very nice. Great place to stay right on main street Stuttgart.
Adam
December 2016
Typ pokoju
Całe miejsce
---
Rodzaj nieruchomości
---
Mieści
4
---
Sypialnie
0
Stuttgart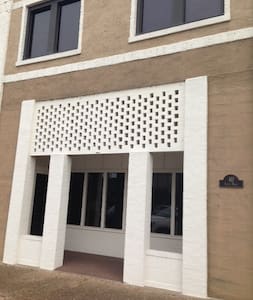 Great space for any hunters get away! Sleeps 6 with three bunks beds full on bottom and twin on top. Separate living, dining and kitchen area. Downtown Stuttgart, step right outside and hear the World Championship Duck Calling Contest. Newley remodeled.
Lodging only with a private entrance $450 a night includes taxes and fees Sleeping Sleeps 6 3 bunk beds full bottom/twin top new pillow top mattress Bath 4 showers 2 toilets Bath towels Hotel amenities Living room Two Catnapper sofas with large cameo recliner TV Bar area Place for dogs Mini refrigerator Kitchen Large dining table seats 8 Microwave Coffee Keurig/coffee provided Refrigerator Freezer for game Toaster Extras Boot closet and closet lockers for guns, hotel amendities and free wifi, walking distance to downtown and restaurants! Newly remodeled Will meet you with key and then let our guest enjoy there stay.
Walking to downtown restaurants. The standard ice company was established in 1926. The icehouse provided not only block ice but added services including freezing strawberries, freezing ducks and provided dry ice for shipping of game. In 1979 the standard icehouse was placed on the national register of historic buildings. The unique building has been home to varieties of businesses. Phil Smith CPA had his accounting practice in the building for 41 years until his retirement. To date, the ice house is operated by a real estate and a land management company. Come stay a night in the ice house, a rustic condo space in downtown Stuttgart.
Typ pokoju
Całe miejsce
---
Rodzaj nieruchomości
---
Mieści
6
---
Sypialnie
1
Stuttgart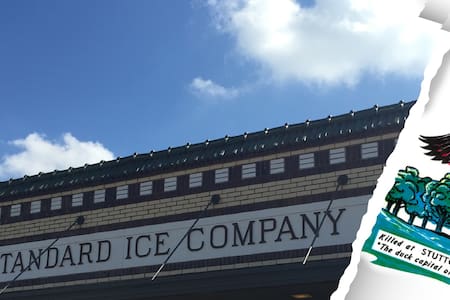 Clean & spacious home in Stuttgart sleeps 1 - 8 guests. You'll love our large bedrooms, kitchen, living spaces & quiet residential neighborhood. Two-car garage w/ laundry & covered breezeway parking. Great for couples, solo adventurers/hunters, hunting groups, business travelers & families. Space for pet(s) in attached sun room and/or kenneled in the garage workshop. Welcome to the "Rice & Duck Capital of the World"! We look forward to hosting you soon!
The space is specifically a spacious single-family home (approx. 2,100 sq. ft.) built in 1953 - very cool mid-century modern architecture. There are three bedrooms, each furnished with a queen bed and plenty of linens. The master bedroom and one guest room have attached private bathrooms. The third guest room has a separate half bath not attached. The kitchen is very roomy with plenty of storage and counter space and appliances to cook your own meals. The large open living room is furnished with a couch, two chairs and extra dining table. The living room has huge windows for great natural light during the day or draw the drapes at night for privacy. Washer/dryer is located inside the two-car garage. Guests will have access to the full property, with the exception of one or two supply closets that we keep locked for security. Please, make yourself at home! This home is currently vacant and we live about an hour away; however, we are available by phone/text night and day in case of emergency or if you simply have questions about the property. Please do not hesitate to call night or day if you have any questions! We take great pride in caring for this property and want to ensure that your stay is comfortable.
The home is located in the heart of Stuttgart in a quiet residential neighborhood. Centrally located within walking distance of a hair salon, dry cleaners, gym (fee-based), car wash and Sonic Drive-in. For those traveling in mid to late November, the home is within walking distance of the Wings Over the Prairie Festival. You will have access to a two-car garage, as well as a circle drive and breezeway that can accommodate additional vehicles, ATV's or boats. Stuttgart is a hunter's paradise during the fall and winter months, and we welcome families and hunting groups to our home. We do ask that if you're traveling with pets / hunting dogs that they be kept at all times in the sunroom attached to the third guest room, or that they stay kenneled in the garage.
This turned out to be a great decision for us. With seven hunters, two boats, three trucks, and a couple dogs this house had plenty of room for everyone to spread out. We were able to wash clothes and cook dinner for ourselves every night, something you just cant do in a motel. If you are planning a big hunting trip, I would deffinatley recomend considering this house for your stay.
Hayden
December 2016
Arrival time was miscommunicated but Bill and MaryAnne were very apologetic, accommodating, and nice! Everything was very clean!
Meggy
January 2017
Typ pokoju
Całe miejsce
---
Rodzaj nieruchomości
---
Mieści
6
---
Sypialnie
3
Stuttgart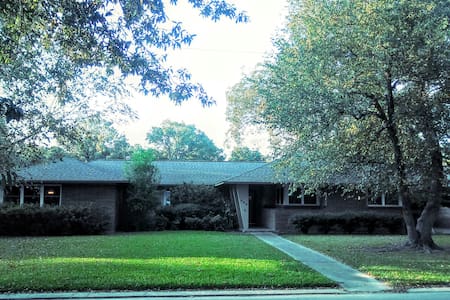 Our Comfortable 3 Bedroom 2 Bath Home is Equipped with Just about everything you have at Home including Free Wifi, Wash/Dryer, and BBQ Grill, Ready for your Entire Family. Why stay at a Hotel when you can rent an entire Home? PETS ARE WELCOME!
This Home is Great for Family Interaction. Free Wifi, Flat Screen Tv's in every room, Full Kitchen. You have access to the Entire House. Help is just a Phone call away.
The Town of Marvell Arkansas was Rank among the Top 10 Safest cities in the Country by (URL HIDDEN) We have plenty of yard space for parking. Washer and Dryer, Iron , Plenty of Yard Space for PETS, Picnic Work.
Coming for Chicago to a small town like Marvell, I didn't know what to expect. The drive up further enforced my fears. Farms and wooded areas. Then I arrive at this little mecca in the country. The house stands out compared to the other homes in the area. Very neatly manicured and well kept. The interior of the home is beautiful and again unexpected. There are TV's in every room. The TV's all have Netflix. The house is fully equipped wifi. Armando (and his lovely wife) put a lot of effort into letting you know they care. Thanks for an amazing experience!
Gigi
December 2016
It was a cute little remodeled home fully equipped. It was a great stay for a week. Armando and his wife were great hosts.
Keisha
December 2016
Comfy beds, cool a/c, reliable wi-fi, and cold sodas waiting in the fridge. Armando was very communicative, friendly, and accomodating. The home comfortably fit a family of seven- hard to do!
Katya
August 2016
The house was and our host were everything we could ask for. We appreciated the little touches like beverages and condiments in the refrigerator and the cookies on the table. In addition, when we mentioned we wanted to do some cleanup on our car, Armando left and came back with a hose, nozzle and sponge. Everything he did made us feel welcome and appreciated. This is obviously an older home that Armando is upgrading. There was a TV in every room (5 over all) and comfortable furniture.
Bill
October 2016
This was a Fantastic House. We are a family of 7 and we stayed here very comfortably. The home is big, clean and has everything you need to feel comfortable. The A/C is fantastic. The kitchen is fully stocked. The area is quiet. There were no problems with staying here and we felt the home was an excellent value.
Luba
September 2016
Typ pokoju
Całe miejsce
---
Rodzaj nieruchomości
---
Mieści
8
---
Sypialnie
3
Marvell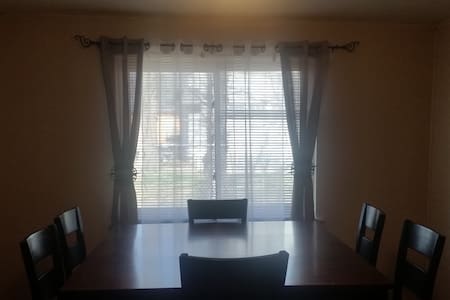 The Sugar Shack Lodge, located in Lee County, Arkansas, truly the heart of the Mississippi Flyway, offers the hunter an oasis that is merely minutes from thousands of acres of public management. ~35 minutes from downtown Helena if you are interested in staying for Blues Fest!
We think you will love our little slice of heaven. The house is furnished with dishes, pots, pans, and utensils for cooking. A large dining room table seats up to 8. The cabin is rustic and homey, with views of the surrounding pond and corn fields. This is not a fancy lodge with extravagant tall ceilings. It is just a small 3 bedroom home, with plenty of room to sleep and enjoy country living! You will have access to the whole cabin, as well as trying your hand at fishing in our pond. Fishing poles are on site, as well as a charcoal grill. We will provide any assistance you need throughout the stay.
There is no public transportation here.
The hosts were genuinely kind people. The cabin was great. I will definitely be back.
David
July 2016
We had a wonderful experience at the Sugar Shack. It is exactly as described and then some. The cabin is rustic but very clean and well-insulated. Our hosts were very communicative and helpful. And flexible. We really enjoyed the quiet beauty of the area. Highly recommend!
Lici
October 2016
Typ pokoju
Całe miejsce
---
Rodzaj nieruchomości
---
Mieści
10
---
Sypialnie
3
Marianna