Country house surrounded by olive and fruit trees, ideal for all those wishing to spend a relaxing holiday. Ideal for families or small groups.
Panoramic stone farmhouse renovated in 2015. The house has two double bedrooms, with the possibility of adding a bed for each room, a large living room with kitchen and fireplace, bathroom. Below the arch there are chairs and table, where to enjoy quiet dinners and lunches. The house is surrounded by olive and fruit trees. Two terraces with a panoramic view of Lake Corbara, the other a little more reserved. An almond centenary to welcome guests.
the house is 2km away from the medieval village Civitella del Lago where there are shops for necessities, bars and restaurants, and pharmacy. In summer it also has a public swimming pool. Located within the Natural Park of the Tiber Valley, it offers the possibility to take many nature trails on foot and bike.
The host canceled this reservation 226 days before arrival. This is an automated posting.
Claus
2016-12-13T00:00:00Z
Miriam was super helpful and friendly and the house is really nice. We had 2 great days - thanks a lot!
Max
2015-07-29T00:00:00Z
Nous avons été reçus par Alessandra la maman de Miriam très gentiment et elle nous a présenté la maison qui est exactement comme décrite.Elle est située au milieu des oliviers et des (URL HIDDEN) terrasse supérieure peut devenir solarium mais nous avons préféré pour notre part de profiter au maximum de l'ombre de l'amandier que l'on voit sur la photo.Nous sommes restes 10 jours et tout a été parfait. Le village de Civitella très proche est vraiment joli avec ses ruelles pittoresques et son bistro pizzeria ou l'on peut déguster un excellent cappuccino en contemplant le lac.
Jean-Pierre
2015-09-21T00:00:00Z
Lovely place, Nice host!
Claudia
2015-09-11T00:00:00Z
La villa ha pienamente soddisfatto tutte le nostre aspettative, garantendoci un soggiorno eccellente. La collocazione non è immediata da trovare, ma con le indicazioni della signora Alessandra non abbiamo avuto particolari problemi. La casa si trova effettivamente immersa in un ampio terreno con ulivi e altri alberi, vicina alla strada che porta a Civitella ma comunque assolutamente tranquilla e non disturbata dal rumore delle auto. Le terrazze permettono di godere del sole a tutte le ore del giorno, il grande albero presente nel giardino e il portico collocato accanto alla casa permettono di mangiare all'aperto anche col maltempo. Tutte le stanze sono spaziose, pulite e ben arredate, la cucina è molto attrezzata e permette di preparare senza problemi ogni tipo di pasto. Siamo stati accolti calorosamente da Alessandra, già presente in loco nonostante fossimo in anticipo sull'orario stabilito, che ci ha consigliato alcuni eventi organizzati nella zona e alcune aree interessanti per una visita. Non abbiamo avuto necessità durante il soggiorno, ma è sempre rimasta a disposizione per qualsiasi problema. Volendo cercare difetti, è presente solo un piccolo negozio di alimentari nel centro, altrimenti occorre allontanarsi un po', ma con una minima organizzazione non è difficile ovviare al problema. In più nella casa e nel terreno circostante non c'è campo telefonico se non in qualche zona ed è pressoché impossibile usare la connessione (URL HIDDEN) se si cerca una vacanza all'insegna del relax questo luogo è perfetto anche per staccarsi dallo smartphone! Nel complesso soggiorno splendido e rilassante, consigliatissimo a chiunque voglia respirare una vera vacanza umbra.
Gabriele
2015-08-19T00:00:00Z
Het was een heerlijke vakantie in het huis van Miriam. Haar moeder Alessandra verwelkomde ons hartelijk. Alles was naar wens. Een prima en netjes huis. Het huis ligt dichtbij het dorp Civitella del lago. Alleen moet je wel met de auto omdat lopen niet veilig is. Miriam was ook erg schappelijk. We kregen spontaan logies voor één nacht en dat was geen probleem. Nogmaals wij hebben een heerlijke vakantie gehad. Zeker voor herhaling vatbaar.
Linda
2016-08-12T00:00:00Z
Rodzaj pokoju
Całe miejsce
---
Rodzaj nieruchomości
Willa
---
Mieści
6
---
Sypialnie
Civitella del Lago, Umbria, Włochy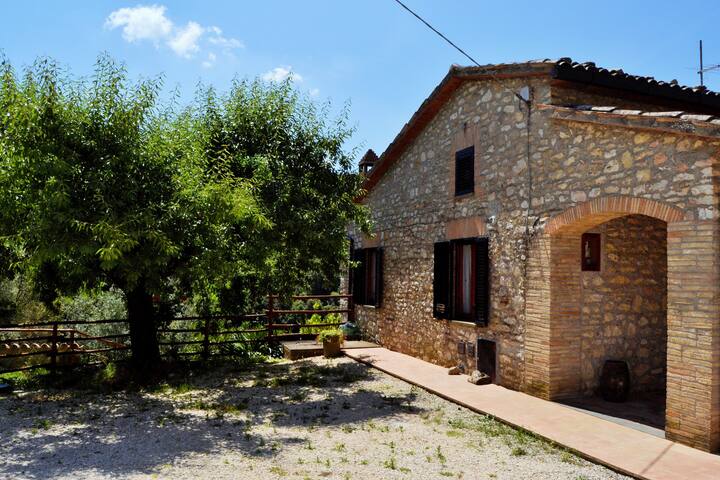 La mia casa è vicina a Civitella del lago e al lago di Corbara in una posizione strategica per raggiungere tante località dell'umbria. In 40 minuti a piedi si arriva al lago e al paese. In 15 minuti di auto si arriva sul monte "la Rocca" a mille metri s.l.m Ti piacerà il mio alloggio per questi motivi: i panorami , la posizione, l'atmosfera,la tranquillità, la campagna incontaminata, la gente. Il mio alloggio è adatto a coppie e famiglie (con bambini anche neonati).
La mia casa è nel territorio del parco fluviale del Tevere a 430 m s.l.m è esposta a sud, ed in una posizione strategica per raggiungere tutte le località dell'Umbria, in particolare Orvieto,Todi,Amelia e tanti altri piccoli centri di superba bellezza in soli 30 minuti di auto. Terni e Perugia si raggiungono in circa un'ora. Sono facilmente raggiungibili in un'ora di auto anche alcune località della Toscana e del Lazio,come le terme di Chianciano chiusi,Sarteano,Montefiascone,Bolsena e il suo lago,Civita di Bagnoregio,Bomarzo, Viterbo. In un'ora di autostrada A 1 si raggiunge il grande raccordo anulare e quindi ROMA. Anche la città di siena è facilmente raggiungibile. Il mio alloggio oltre al giardino privato ha ampi spazi di proprietà accessibili liberamente anche ai bambini se sorvegliati da un adulto, la sensazione che proveranno gli ospiti è quella di un grande senso di libertà sicurezza e tanta tranquillità,un ambiente per riposare la mente, per prepararsi a un evento importante, il panorama stesso trasmette serenità e ottimismo si possono osservare dei tramonti bellissimi. La mia casa per la caratteristica costruttiva (struttura in c.a e pietra di tufo) e la posizione collinare è adatta a tutte le stagioni,ma la primavera e L'autunno la rendono davvero unica. Le famiglie con bambini apprezzeranno in modo particolare gli spazi esterni per far giocare i loro piccoli. La mia casa essendo in aperta campagna dista dalla strada provinciale che conduce a Civitella del Lago circa un chilometro da percorrere su strada sterrata incorniciata da querce secolari che la ombreggiano,è piacevole percorrerla ma a velocità molto moderata perché è a doppio senso di circolazione ed è attraversata da varie cunette per il convogliamento delle acque piovane.
La descrizione dell'annuncio è sicuramente accurata e precisa, ma un luogo di tale bellezza ha superato di gran lunga le nostre migliori aspettative. Il nostro soggiorno da Bruno è stato meraviglioso: la casa è accogliente, pulita, funzionale e con una vista spettacolare sul giardino della proprietà e il lago di Corbara. La località merita davvero, è un luogo immerso nella natura, tranquillo, pacifico e bello, e ci sono borghi e paesini molto interessanti e affascinanti da visitare nelle vicinanze. Ultimo ma non meno importante, l'accoglienza e la gentilezza di Bruno ci hanno lasciato senza parole! Bruno è senza dubbio il miglior host che io abbia mai avuto il piacere di incontare. E' stato disponibile, preciso e attento a ogni piccolo dettaglio e a ogni nostra possibile necessità, dal momento della prenotazione fino alla partenza. Insomma, ci è dispiaciuto andare via e speriamo tanto di poter tornare in futuro! L'host e la casa sono caldamente raccomanti, ci hanno regalato un soggiorno impeccabile e magnifico.
Mirella
2016-09-13T00:00:00Z
Bruno's place is a well hidden, very nice and comfortable house with a magnificent view from every window. Bruno and his wife are a very kind and adorable couple, who did everything to make us feel welcome. The location is perfect for trips to beautiful places like Todi and Orvieto, Bomarzo and more if we only had time and better weather. The weather was quite rough when we were there. We would definitely like to come back in sunnier times for we are sure then it will truely reveil all its great qualities.
Jeanne
2016-10-14T00:00:00Z
Если вы устали от безумного ритма современного города и повторяющейся будничной рутины - смело приезжайте к Бруно и Марии в итальянскую деревушку Menicaglie, расположенную в самом сердце Умбрии. Ориентиром вам будет служить Civitella del Lago – небольшой городок, расположенный на одном из высочайших утесов в окрестностях озера Корбара. На дороге, ведущей в Чивителлу, где-то посредине вы должны найти поворот налево, там есть небольшая бордово-коричневая табличка Menicaglie. Поезжайте по грунтовой дороге очень медленно и после зеленых гаражных ворот налево съезд к дому Бруно. Но если вы заблудитесь в ночи (как это случилось с нами) Бруно отыщет вас и проводит к дому. Конечно, сюда нужно приезжать только на автомобиле. Иначе как вы посетите миллион живописных местечек? Это удаленное от цивилизации место с огромным садом и великолепным видами. Оно излучает безмятежность и спокойствие. Мария испекла нам потрясающе вкусный пирог с нежной кремовой начинкой и надарила кучу съедобных подарков. Мы с мамой сразу почувствовали себя как любимые племянницы в гостях у родственников. Дом добротный, чистый и ухоженный. Здесь чувствуется крепкая хозяйская рука Бруно и дизайнерская жилка Mарии. Гостить в этом доме удивительно комфортно. Каждая мелочь здесь продумана - выключатель верхнего света около подушки, теплый пол рядом с большим зеркалом, увлажнители воздуха на батареях, ставни на окнах, прикроватные коврики, батарея в ванной комнате. Очень удобная большая кровать, мягкие подушки, легкие и теплые одеяла. В доме очень уютно из-за обилия милых безделушек (осторожно! они хрупкие). Отопление газовое, всегда есть горячая вода. Этот дом полон таинственных звуков, а по ночам под окном кричит птица, как-будто мяучит котенок. И если вы креативная творческая личность - дом подскажет вам сюжеты для многих историй. Природа и виды - изумительные. Очень приятно выйти поутру на крыльцо с чашкой горячего шоколада и слушать пение птиц и перезвон с колокольни Чивителлы. На следующий день после нашего приезда хозяева повезли нас в ближайший крупный супермаркет в Орвието (25 км) и устроили экскурсию по главным достопримечательностям этого волшебного города. А на обратном пути уже на грунтовой дороге мы видели несколько кабанов. Бруно прислал нам на емайл очень много информации об интересных местах поблизости. Хозяева Бруно и Мария очень общительные и заботливые люди. Жалко, что нам не удалось как следует поболтать из-за языкового барьера. Но организационные вопросы мы решали без проблем. В доме есть все для комфортного проживания - от полотенец, фена - до туалетного утенка. Есть даже кофе-машина! Микроволновка, тостер, газовая плита, холодильник. Камин! Стабильный интернет. И все это великолепие вы получаете за очень небольшие деньги. Моя оценка - это десять из пяти. 200 процентов успешного отдыха! Совет: арендуйте авто с навигатором, покупайте местную сим-карту (провайдер TIM 4 Гб 20 евро), не забудьте теплые тапки (каменный пол) - и приезжайте в Menicaglie. Вы увидите нетуристическую Италию - без бомжей и попрошаек, без мошенников и навязываемых услуг. Вы попадете в средневековый городок Тоди, будете совершать покупки вместе с местными жителямив в Орвието, попьете капуччино в баре, где никто не говорит по-английски в Чивителла дель Лаго, полюбуетесь грандиозными панорамными видами гор, лесов и озер. В эти места хочется возвращаться снова и снова. Спасибо вам, Бруно и Мария,...
Александра
2017-02-10T00:00:00Z
Bruno è stato attento e gentile. La casetta è fornita di tutto il necessario ed è immersa in una campagna bellissima: la sera si possono ammirare dei tramonti mozzafiato. La padrona di casa ci ha accolto con un dolce fatto da lei e in cucina non mancava nulla. C è un piccolo pezzo di strada sterrata con molte buche ma basta andare piano. Orvieto è vicinissimo così come il lago di Bolsena e Todi. CONSIGLIATISSIMO x riposare mente e corpo :) Un grazie a Bruno e Maria e a presto
Simona
2017-01-02T00:00:00Z
Rodzaj pokoju
Całe miejsce
---
Rodzaj nieruchomości
Dom
---
Mieści
5
---
Sypialnie
Civitella del Lago, Umbria, Włochy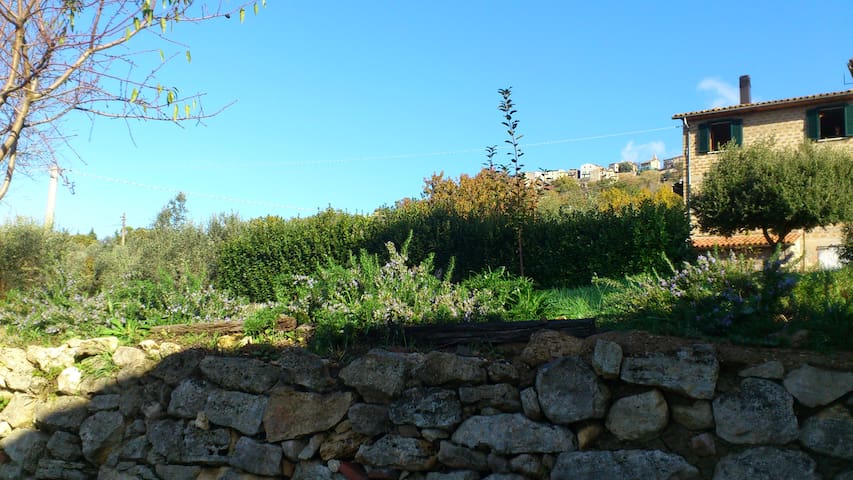 In riva al Lago di Corbara, tra Orvieto e Todi; è una villa tranquilla, ex proprietà principesca, le stanze con vista sul Lago e un parco-giardino. Camino e forno a legna. Cappella. Salotto. Alloggio adatto a coppie, gruppi di amici e adolescenti. Zona di colline verdi, ulivi e vigneti, gastronomica. Possibilità usare vostra imbarcazione sul lago, canoa, pesca. Parcheggio nel giardino. Causa cantiere interrotto a prossimità, per sicurezza la casa non è adatta ai minori di 13 anni.
Bellissima villa con ampio giardino. Piano terra (salotto, sala da pranzo, cucina, camera con due letti, stanza da bagno con doccia). Primo piano (due camere, ciascuna con due letti; due stanze da bagno). Mura esterne in pietre. All'esterno: vista splendida, piccola cappella, forno a legna.
Zona piacevole, verdeggiante e tranquilla dell'Umbria. In riva al Lago, circondati da colline belle in qualsiasi stagione.
Rodzaj pokoju
Całe miejsce
---
Rodzaj nieruchomości
Willa
---
Mieści
6
---
Sypialnie
Baschi, Umbria, Włochy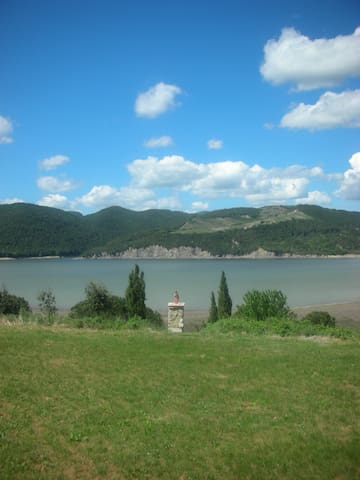 Il mio alloggio è vicino a attività per la famiglia. Ti piacerà il mio alloggio per questi motivi: i panorami, la posizione e l'intimità. Il mio alloggio è adatto a famiglie (con bambini) e grandi gruppi.
Il nostro casale, posizionato nel verde e nella quiete della campagna umbra, si compone di due unità autonome e di una piscina.Può ospitare comodamente fino a dodici persone per una piacevole vacanza tra arte, storia, cultura gastronomica, natura e sport. La proprietà è situata in una magnifica posizione panoramica, nelle verdi colline umbre a metà strada tra Todi e Orvieto, nelle vicinanze del lago di Corbara. La casa principale si sviluppa su 2 piani: Il piano superiore è composto da un salone con camino, una camera da letto matrimoniale con bagno privato e vasca, 2 camere da letto matrimoniali (di cui una trasformabile in doppia) e un bagno con doccia. Ogni camera è dotata di armadio, comodini con lampada di lettura, riscaldamento. In un angolo del salone è ancora conservato un antico lavandino in pietra che veniva usato dalle famiglie contadine che si servivano di questa stanza come cucina e spazio comune. Il piano inferiore - dove ogni stanza è accessibile dall'esterno, è composto da una ampia cucina abitabile, dotata di lavastoviglie, forno elettrico, tostapane, frigorifero con scomparto freezer e un caminetto, una camera con 2 letti singoli, e un ampio salone. Inoltre - con accesso esterno, una camera con bagnetto e lavatrice. La dependance è composta da un saloncino con angolo cottura completo di frigorifero; un bagno con doccia, una camera matrimoniale, una camera doppia, all'occorrenza trasformabile in matrimoniale. Il giardino ha una ampia veranda dotata di barbecue, forno a legna, tavoli e sedie per dodici persone, panchine e sdraio e luci di illuminazione notturna. La piscin(URL HIDDEN)m.) è dotata di sedie a sdraio, ombrellone e tavolino con sedie. L'affitto: è su base settimanale (la pulizia e la fornitura di lenzuola e asciugamani sono comprese nel prezzo)
Rodzaj pokoju
Całe miejsce
---
Rodzaj nieruchomości
Dom
---
Mieści
12
---
Sypialnie
Baschi, Umbria, Włochy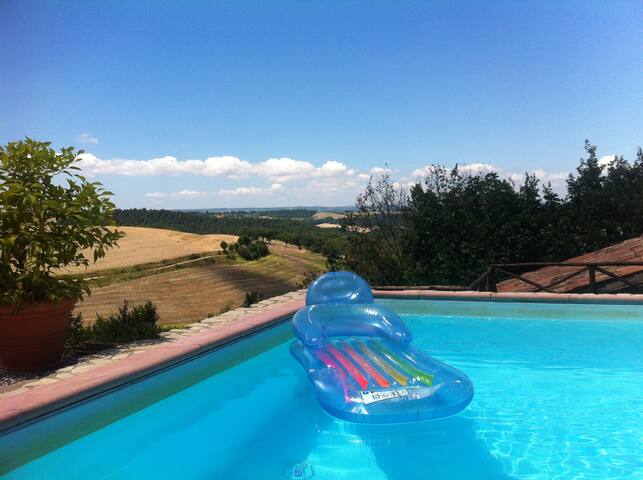 This amazing villa was a XXI century church recently renovated. It features a stunning view, overlooking the natural reserve of Corbara, the green land of Umbria and far away you can recognize the shape of Orvieto Cathedral. The country chic interiors are provided with all comforts and refined furniture. An unforgettable experience for both nature lovers and demanding travelers. Moreover this luxury Umbria villa for rent has been published among the most prestigious interior design magazines. Interiors The villa is on two levels. On the ground floor there is a wide living room (140 sqm) with wooden floor and high wooden ceilings. It features a big dining table, ideal for your Italian dinners, which can sit up to 10 people. A big fireplace dominates the center of the room, where you can relax on a comfortable sofa, watching a movie on the 42″ flat TV. The third area of this large room is composed by three sofas with a tea table. The living room faces the garden through two big door windows. This area is covered by Wi-Fi access. The beautiful and fully equipped kitchen is ideal to cook and to enjoy the breakfast all together. There is a wooden square table in the middle of the room, overlooking an unforgettable panorama. It is equipped with big fridge/freezer, 5 gas stoves, oven, dishwasher, 2 sinks and all the necessary tools to cook. A long corridor with a service bathroom leads you to the sleeping area. This area is on two levels. On the first level there are two double master bedrooms. In the first bedroom there is a king size ancient canopy bed, flat 21″ TV, en-suite bathroom with a large grotto style shower. The second bedroom has an ancient super king size wrought iron bed and an en-suite bathroom with a large bathtub made with blue mosaics. A flight of steps leads you on the second level, where you can find two bedrooms and a beautiful terrace. From this level there is a breathtaking view. The third bedroom features a king size canopy bed and a Napoleonic copper bathtub in the middle of the room, a 21″ flat TV and it has en-suite bathroom. A desk and an antique Russian stove enrich this beautiful room. The forth bedroom has two large single canopy beds, a desk with its chair, a library and an en-suite bathroom. There is a fifth room, with en-suite bathroom and its own private courtyard, close to the living room. It has its own flat 21″ TV and a king size bed. Exteriors The villa has 10 hectares of private land, with 1000 secular olive trees. To reach the villa you drive through a cypress road. In front of the villa there is a well groomed garden with a watering place and a stone swimming pool. Fruit trees beautify the garden and the hen-house will provide you fresh eggs every morning. Beside the villa there is an oak wood, ideal for gathering mushrooms or just for a walk. From every corner of the garden you can enjoy the amazing view on Umbria countryside.
This property is truly fabulous in terms of location, space and charm. The views from the property are stunning - we had amazing sunsets everyday of our stay! The grounds are delightful too - full of olive groves and fruit orchards. The kitchen is well equipped but could do with some better quality knives and toaster. We would recommend this property to our friends and family and to the host we would kind ask to provide better quality towels and a larger hot water tank in addition to the knives and toaster. The onsite caretaker is very helpful. Orvieto is 40 minutes away and well worth several visits and several local vineyards are very close to the property. The nearest town of Civitella has a couple of good restaurants and a handy grocery store. Can't wait to return to this beautiful part of Italy. Lorenzo our host was always helpful, very responsive and happy to deal with our questions and queries.
Sanjvee
2016-09-02T00:00:00Z
Rodzaj pokoju
Całe miejsce
---
Rodzaj nieruchomości
Willa
---
Mieści
10
---
Sypialnie
Civitella del Lago, Umbria, Włochy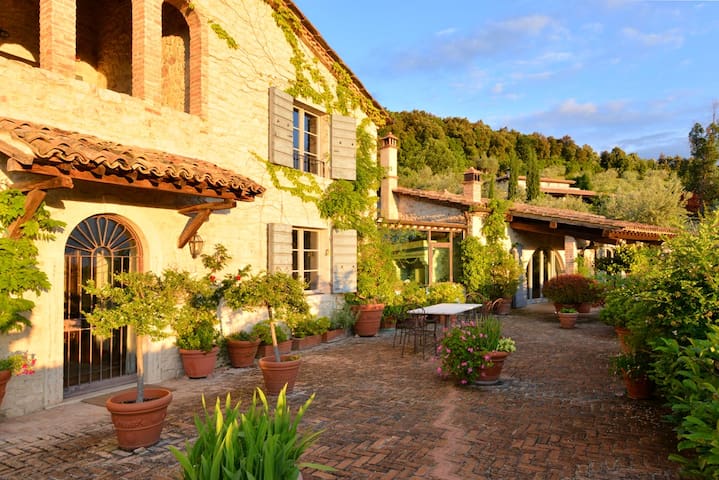 The Spaces Are Organized On Several Levels: Ground Floor: Living Room With Fireplace, Kitchen With Dining Area, Terrace, Bathroom 1° Floor: 2 Double Bedrooms, Living With Fireplace, Kitchen Connected To Another Terrace. 2° Floor: 2 Bedrooms, Bathroom
Our old rustic country house, located on a green hill just a couple of minutes from the charming village of Civitella del Lago, overlooks the lake of Corbara and almost the entire valley of the Tiber. The view is breathtaking! We bet it will be challenging for your gaze! The fabulous view stretches from Monte Fiascone to the Lake of Corbara, form Monte Argentario to Monte Amiata. The ancient materials such as stone and wood have been carefully renovated and restored. The House is a gateway that leads to the past and our conservative hard work warranties the splendour of the past centuries. The fields of olive trees, the surrounding wheat fields and the huge Mediterranean garden surrounding the property will envelop your senses with the perfumes carried by the wind. The interiors are furnished with great taste and simplicity, respecting the style and the charm of the place. The ceilings with wooden beams and the terracotta or wooden floors are characteristic of the area! The spaces are organized on several levels: - Ground floor: living room with fireplace, kitchen with dining area, outdoor terrace and bathroom. - First floor: two double bedrooms, living room with fireplace, second kitchen connected to another outdoor terrace, bathroom. -Second floor: two double bedrooms, a little living room and a bathroom. The villa is surrounded by paved terraces located on different levels and furnished with tables and chairs. Our guests will find a huge and very well maintained Mediterranean garden furnished with chairs and benches just located in the shade of large pines, oaks and cypresses. There is also a nice swimming pool with sun loungers! This part of the garden is slightly above the house level and from there you can enjoy an amazing view during a refreshing swim. We also taught about our younger guests: you will find swings, a jumping trampoline and a volleyball/tennis net. We also produce and sell a first quality extra virgin olive oil! All the comforts you need are available in the property: washing machine, dishwasher, oven, fridge, BBQ. This is the ideal destination for all types of holidays: with family, with friends, romantic, cultural…
Civitella del Lago : Old medieval town built on pure white travertine blocks with breathtaking views overlooking the ancient walls of the castle of Civitella and all the Valley of the Tiber: Amazing! Lake of Corbara: The Lake of Corbara, a great scenic spot, is considered by fishermen one of the most interesting lakes of central Italy for carp fishing. Have a trial! Gole del Forello: A great natural scenery: the landscape is characterized by high rocky walls of travertine, often open cavities and caves, which descend steeply down to the Tiber running through the narrow valley. Montecchio: Montecchio is located in a panoramic position from which you see the underlying lakes of Alviano and of Corbara. The Etruscan - Roman origins of the village are testified by the remains found in the area of the Necropolis that nowadays is one of the most important area of Touristic interest. A few kilometres from the town, you will find the ruins of the Castle of Carnano, whose history is linked to that of the lords of Baschi who extended their power in this are too. Civita di Bagnoregio: History, art, culture and traditions are the main features of a place that seems to have stopped in the past. Civita di Bagnoregio is an example of unique wonder. Connected to the world by a long and narrow bridge, the 'dying city', has long been named in this way because of slow landslides of the old stone walls. The old town has only a cluster of medieval houses and a population of a few families. The town overlooks the immense valley below, giving the visitors the chance to experience an enchanting and unforgettable scenery. In 30/40 kilometers you will be able to reach Bolsena, Todi, Orvieto, Montefalco, Assisi. With an effort of 1 hour you will reach Perugia, Rome, Tuscan Riviera, Tarquinia, Capalbio, Monte Amiata, Bomarzo…
Notre séjour dans cette demeure a été à la hauteur de nos attentes voire même plus. La petite ville de Civitella del Lago est adorable. La maison bénéficie d'une vue sur la campagne Ombrienne absolument éblouissante. Tout le confort souhaitable est à disposition dans une maison au charme authentique. Aucun supplément, aucune surtaxe comme on le voit bien souvent en Toscane par exemple. La maison semble habitée et tout simplement prêtée pour quelques jours. Aucun luxe ostentatoire, simplement une magnifique maison qui pourrait être la notre tant il est facile de s'y installer et de s'y sentir bien. Le propriétaire sont aux petits soins et présents pour toute question. Nous y reviendrons. Aucun doute.
Patrice
2016-08-14T00:00:00Z
Rodzaj pokoju
Całe miejsce
---
Rodzaj nieruchomości
Willa
---
Mieści
8
---
Sypialnie
Civitella del Lago, Umbria, Włochy
Our comfy 2 bed apartment (which sleeps 3) is elegant and fully equipped, with a view of our olive grove and the lake far below. Cool in summer and warm in winter, it has a wood stove and electric heating. A full library and lots of videos.
20 minutes from Orvieto in Umbria and an hour north of Rome,The Hobbit House is a 750 square foot apartment built under our patio. It overlooks the olive grove and garden and has a large French door leading out to the patio, all on one level so it is good for handicapped access. Murals by artist, Buckley Smith, painted on the interior wall of the sitting-bedroom make you feel as if you're seeing the best of Italian countryside while relaxing on a loggia. Sitting-bedroom sleeps 2 in a matrimonio bed. Breakfast nook looks out over the garden and patio. Kitchen is fully equipped with china, appliances,gas stove, oven,refrigerator, etc. Bathroom has full tub and "telephone" shower. Heating by wood stove or regular radiator. A twin bed is in the library corner. Video player is set up so you can watch movies from your bed. No regular tv. We are available to help with any problems. The medieval village, Civitella del Lago, on top of the mountain is a 20 minute walk or 5 minute drive. It has a grocery store, a bakery, a pharmacy and 2 cafes. To do a Lot of shopping, Orvieto is a 20 minute drive away. Gorgeous cathedral. Wonderful old town. There is a bus from Civitella to Orvieto at 6am, returning at 2pm if you don't have your own car. Our stone house looks like a Renaissance building, but in fact we finished it in 2007. You approach it on a country lane shaded by old oaks. Very peaceful and beautiful, the site of the Hobbit House and main house overlooks the Tiber river far below and the olive groves on either side of us. THE AREA: Orvieto, our closest large town, is 20 minutes' drive away. Spoleto, Assisi, Perugia, Deruta are all within an hour of driving. Montecchio and other medieval hill villages are nearby.
The medieval village of Civitella del Lago crowns the mountain. Lago di Corbara is far below. Walks through pastoral countryside and views of olive groves and vineyards surround us.
Rodzaj pokoju
Całe miejsce
---
Rodzaj nieruchomości
Apartament
---
Mieści
3
---
Sypialnie
Civitella del Lago, Umbria, Włochy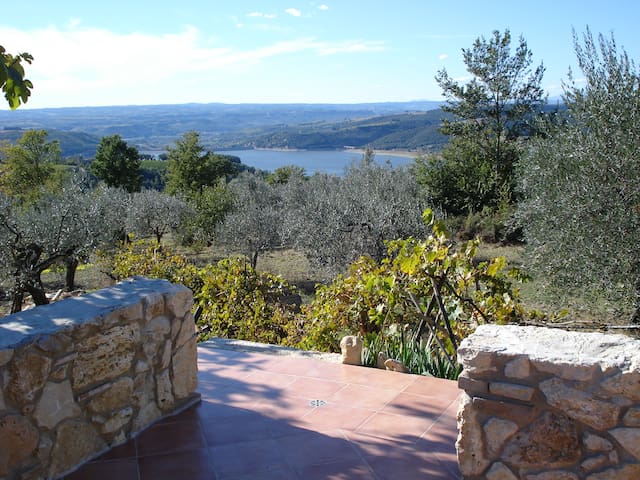 Gli appartamenti si trovano in un casale nel cuore delle colline Umbre con vista sul lago di Corbara e circondati da bassa montagna....sono ideali per chi vuole rilassarsi in mezzo alla natura e visitare i luoghi storici d'interesse nelle vicinanze.
GLI APPARTAMENTI SI TROVANO IN CAMPAGNA MA FACILMENTE RAGGIUNGIBILI DALLA STRADA PRINCIPALE. HANNO UNA STUPENDA VISTA SUL LAGO DI CORBARA E SULLE COLLINE CHE CIRCONDANO LA STRUTTURA....SONO DISPONIBILI PIU' APPARTAMENTI DI DIVERSE TIPOLOGIE.IDEALI PER CHI VUOLE RIPOSARSI A STRETTO CONTATTO CON LA NATURA....
Rodzaj pokoju
Całe miejsce
---
Rodzaj nieruchomości
Apartament
---
Mieści
2
---
Sypialnie
Baschi, Umbria, Włochy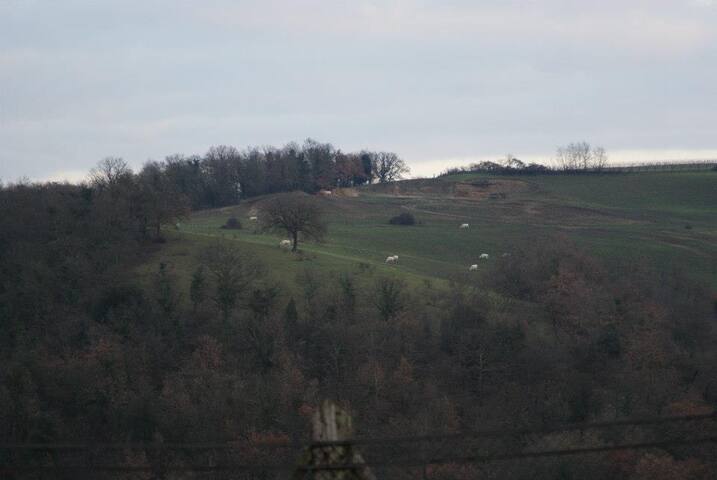 My accommodation is close to beautiful panoramic views, art and culture and parks. My accommodation is suitable for couples, lone adventurers, families (with children) and furry friends (pets).
To był niesamowity okres w Umbrii, cisza, spokój - oferta godna polecenia! Gospodarz przywitał nas świetnym winem własnej produkcji, pokazał nam okolice odpowiadał na każde zadane pytanie, pomagał organizować czas. Połowa sukcesu to lokalizacja, ale bez rodzinnej atmosfery miejsce nie byłoby takie samo. Dziękujemy!
Jakub
2016-09-11T00:00:00Z
La famiglia di Maria Teresa ci ha accolto davvero calorosamente. Ci siamo subito sentiti a casa. L'appartamento è spazioso e dotato di tutti i comfort. È stato un peccato fermarsi una sola notte
Michela
2016-09-04T00:00:00Z
Accoglienza incredibile con tanto di torta di benvenuto e vinello contadino in fresco; difficile trovare di megli;, l'host è molto preciso, cordiale e premuroso; La zona dov'è ubicato l'alloggio è molto tranquilla ed è un buon punto di partenza per visitare i borghetti più belli dell'Umbria e dove assaporare i migliori cibi tipici della zona.
Angelo
2016-08-22T00:00:00Z
Wonderful farm stay accommodations. Brand new facilities, just opened as a B&B this month. We stayed in a two apartment, two bath, ground floor apartment. Also rented a one room studio. Everything was clean, tasteful, orderly, spacious and new. Strong wi-fi and internet access. Owners were at your service. Upon arrival one of them met us in the nearby town and we followed them to the farm stay -- their own farm of olive trees and vineyards - a very peaceful setting. Also on-site is a nice garden, animals and fruit trees. We were fortunate enough to benefit from the ripe tomatoes and lemons. For breakfast we were offered a homemade apple tart with home-grown walnuts - yum!. Owner offered to drive my husband the first night to the local town, Civitella, 4km away, and oriented him to the grocery store, the pizzeria, the (wonderful) community pool, etc.. Civitella has an amazing panoramic view of the Umbrian countryside and overlooks Corbara lake (a great spot for fishing). It's a lovely place to just relax -- wake-up to the sound of roosters, take a stroll through the orchards, relax on the porch as the evening sun sets...However, we are active vacationers and spent our time exploring the area. Nearby activities: 20 minutes to the Orvieto, with its historical Basilica and underground Estruscan caves. 40 minutes the town of Bolsena, and 1 hour to Capodimonte where you can rent all kinds of water toys and boats to enjoy Lake Bolsena - Europe's largest and cleanest lake. 1.15 minutes to Assisi and St. Francis historical sites, a beautiful canyon drive 1.15 minutes to Pitigliano - "the little Jerusalem" and Sovana, a cute one-road medieval town There is much more to explore and the owner will be happy to direct you to other notable towns. We simply ran out of time. But would gladly return and highly recommend this new airbnb offering.
Liz
2016-07-19T00:00:00Z
Rodzaj pokoju
Całe miejsce
---
Rodzaj nieruchomości
Apartament
---
Mieści
10
---
Sypialnie
Baschi, Umbria, Włochy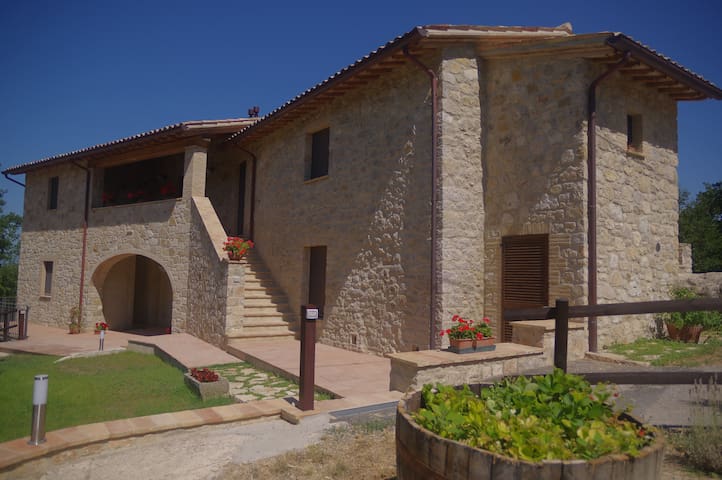 In the green and unspoilt Umbrian countryside, set like a jewel between Todi and Orvieto, it is a small medieval village called Morruzze. From the panoramic square of the town, you will enjoy the great view down to the Consolation Church of Todi. incrociate_2 The same rises majestically the Medieval Castle of Morruzze from the year (PHONE NUMBER HIDDEN), whose crenellated tower overlooking the entire area for 360 ° and stands proud and vigilant on the landscape to Lake Corbara.
The house, built on a hill behind the town, enjoys a magnificent panorama on the territory of Todi and Perugia valley rich in historic towns, majestic forests, olive trees and vineyards of vintage wines. The entire newly renovated building is entirely in local stone, terracotta and chestnut. All to create a simple and friendly environment where guests can immerse themselves in a paradise of deep green and forget the hustle and stress.
landscape, silence and smells of nature
Avec trois enfants nous avons passé un éjour de 2 jours chez Emanuela. Le site est magnifique, avec une vue splendide tout en haut d'une vallée en particulier depuis la grande piscine. Très clame, loin des routes et en pleine campagne. Notre appartement était propre, en très bon état, bien équipé et fonctionnel. Nous avons passé un très bon séjour.
guillaume
2016-08-18T00:00:00Z
Posizione strepitosa, piscina bella e curata con vista meravigliosa, fantastica per i bambini. Ci abbiamo passato molto tempo felice e allegro. Ospiti gentilissimi e sempre disponibili ma molto riservati, privacy e silenzio assicurati. La casa è ben tenuta e carina, forse un po' buia ma c'è tutto il necessario. Abbiamo due suggerimenti: qualche vaso di fiori fuori dalla porta e un cannizzo (lo chiamate così? ) per l'ombra nelle ore più calde la mattina ma perché piace a noi più che altro.
Raffaella
2016-08-26T00:00:00Z
Wij hebben een heerlijke tijd gehad in Borgo Morruzze bij Emanuela en Gian Marco. We werden hartelijk ontvangen door Emanuela en haar vriendin Oksana die vloeiend Engels spreekt. Tijdens ons verblijf is zij bereikbaar mocht het nodig zijn. Wij konden ons prima redden met handen en voeten, twee woorden Italiaans en (SENSITIVE CONTENTS HIDDEN) translate! Vooral dankzij de enorme hartelijke en open houding van Gian Marco die er echt alles aan doet om je welkom en thuis te voelen en ook wat Engels spreekt. Gian Marco en Emanuela houden zich op de achtergrond zodat je heerlijk kunt genieten van de rust en de prachtige omgeving en het heerlijke zwembad. Maar als je ze nodig hebt zijn ze super bereikbaar en staan ze meteen voor je klaar. Wij werden verwend met heerlijk groenten uit eigen moestuin en eitjes van de kippen. En een avondje samen pizza eten uit hun houtoven. Wij vonden het leuk om contact te hebben met de eigenaars, maar zij dringen dat niet op. Je hebt echt het gevoel de plek voor jou alleen te hebben als er in het 2e appartement geen huurders zijn, zoals bij ons het geval was. Super verblijf, super schoon en net huisje. We hebben genoten van de prachtige uitzichten, de mooie zonsondergangen, de stilte en de rust. En van het mooie weer, het prachtige en enorm grote terrein midden in de natuur, en het grote zwembad dat we voor ons alleen hadden twee weken lang. Maar zeker ook van de hartelijkheid van de eigenaars. We gaan zeker nog terug!
Marloes
2016-08-13T00:00:00Z
Rodzaj pokoju
Całe miejsce
---
Rodzaj nieruchomości
Loft
---
Mieści
5
---
Sypialnie
Baschi, Umbria, Włochy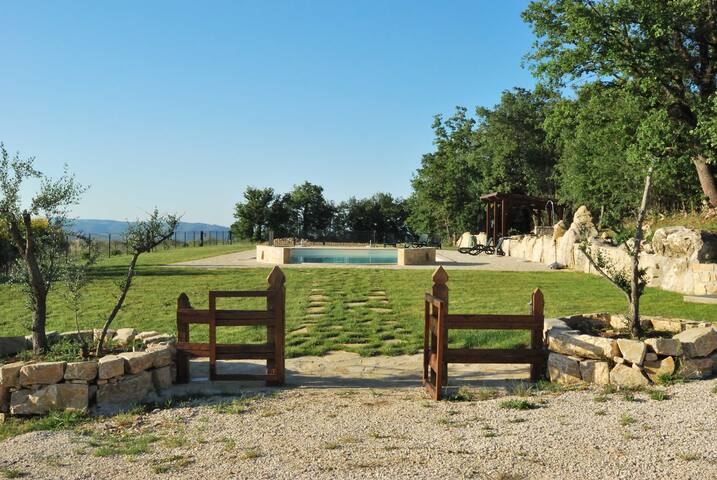 Our renovated 18th century house is located in the hamlet of Morruzze above the Tiber Valley in the hills between Todi and Orvieto. Morruzze is a true Italian country experience, but is not far from some of the nicest towns in Umbria and Tuscany.
We renovated our house with the things we like to do most in mind; cooking, eating, drinking and relaxing. Our kitchen has a working fireplace that we often cook over and is a cozy spot to eat as well. The focal point of our living room is a large fireplace surrounded by comfortable seating. In the Spring, Summer and Autumn we eat outside under the pergola next to our outdoor fireplace or in the garden (where we grow a variety of herbs and vegetables). We have three bedrooms which are perfect for a large family, two small families or several couples. Morruzze is 20 minutes from Todi, 30 minutes from Orvieto and within an hour of Assisi, Perugia, Spoleto and Deruta; all must-see Umbrian cities. Within 15 minutes of Morruzze are numerous hilltop villages nestled in the hills surrounding Todi. The family run restaurants and vineyards in these villages should not be missed. Southern Tuscany, including the wine towns of Montalcino and Montepulciano, are just over an hour away.
We lived for five days in this Umbrian getaway, and I believe we discovered Umbria in its truth and essence. The town of Morruzze has a population of 30, three of whom have now become trusted friends. Our liveliest neighbor lived half a kilometer away in a home-turned-petting farm. The residents of this and surrounding villages know altogether about 30 words of English, and yet despite my equally awful Italian, communicate we did! The people here have bright eyes and smiles like they've lived the good kind of hard-working life. This is the place where we learned how to pick wild asparagus, how the freshest mozzarella just melts in your mouth, and where to buy a whole wheel (and no less!) of pecorino cheese for twenty Euro. This home is absolutely wonderful for an Umbrian getaway. We also used it as a launch-pad for visits to Orvieto and Assisi. It served us well in that way, though the drives were somewhat long (one hour each way, each town). So if you're looking to be a classic American see-everything tourist, perhaps this won't be your best choice. But if you're looking to ESCAPE from classic American tourist patterns, this is absolutely your place. Our hosts are very good people, and took exquisite care of us. My family thoroughly enjoyed our stay here. I recommend it to anyone who wants nothing more than to drink Sangiovese and throw bocce while overlooking the best of the Umbrian countryside.
Bo
2013-04-29T00:00:00Z
We fell in love with Umbria from the vistas to the vinos, the wonderful home and the hospitality of the local people! Truly the heart and soul of Italy, a timeless haven of tranquillity steeped in history!!
Val
2013-04-19T00:00:00Z
What a gorgeous place to stay! Beautiful scenery, peaceful and a lovely spacious and wonderfully equipped home to stay in. We loved the garden which was just beginning to bloom and spent quite a few hours sitting around the outdoor table eating and drinking. Matthew provided a very useful outline of the surrounding towns and places to go. You do need a car for touring round and there are lots of amazing places to explore. Mario the caretaker was an absolute gem- friendly and helpful. I would love to return one day.
Janet
2012-05-03T00:00:00Z
We had a wonderful time. Matthew's home is delightful and the locals were so kind and helpful. We appreciated the great notes that Matthew sent us and visited all of the places that he suggested. We especially loved the little places like Melezzole but Orvieto was also a highlight. thanks for allowing us to share it!
jillian
2012-07-03T00:00:00Z
If you are looking for an "off the beaten" track place to make your home base for touring Umbria, I can't imagine that you'd find a better place than this one. Situated within driving distance to many destination towns in Umbria (even training to Rome which we did), the house itself is an area that doesn't draw tourists and therefore provides the backdrop to a truly authentic experience. Sometimes the tradeoff for authentic is less creature comforts, but that is not the case here. The house has ample room, comfortable beds, a shower with plenty of hot water and water pressure, a well equipped kitchen that invites you to cook in for a night or two, and a garden that you won't want to leave. The slower pace of a village town is a perfect fit if you are looking for a true vacation; the kind of place where you can play old school games like wall ball and kick the can in the charming piazza or a game of bocce in the garden. Unlike some foreigners who move into a country with their gated villas, Matthew has clearly come to Umbria with a desire to be part of a long standing community. Matthew is a delight to work with – responsive, helpful, and very easy to communicate with. The activities to do from the house are unlimited (cycling, running, olive oil tasting, eating out, wine tasting …)—we did them all, plus had the pleasure of being able to relax in this most special place.
Kate
2013-07-29T00:00:00Z
We loved the Stone House in Morruzze. It felt like a relaxing home away from home. All communication with Matthew was excellent prior to arriving and the notes he supplied on the surrounding area, where to find what, recommendations on places to eat etc were fantastic and invaluable. Mario was there to greet us and although he speaks no english (and us, very little italian) we were able to communicate just fine. The house was extremely comfortable and well equipped for our family of four. The peace and quiet of rural setting after dashing around through cities was fantastic and the house is well located to explore some of the wonders of Umbria. We would highly recommend this house if you want to get away from it all like we did. Already we are yearning to get back there. Thanks Matt!
Ross and Jules
2013-10-15T00:00:00Z
Beautiful relaxing location with fantastic views of the valley. It was a great location away from the hustle and bustle to get a real taste of Umbrian country life and culture. There are many hilltop towns to visit in easy access and the larger cities such as Assisi is an easy hour's drive. Matthew sent us plenty of information on the region including towns to visit and restaurants and wineries within the region with his informative reviews of each. The house was very comfortable, spacious and well equipped. Our friends and I had a great 5 day stay.
Peter
2011-10-07T00:00:00Z
Mario the caretaker was helpful and is a colorful character. The house is comfortable and clean with room for everyone to spread. It is conveniently located to take in many sights in the area within an one to two hour drive. Hope to have a chance to get back there again!
Cindi
2010-11-10T00:00:00Z
Rodzaj pokoju
Całe miejsce
---
Rodzaj nieruchomości
Dom
---
Mieści
6
---
Sypialnie
Baschi, Umbria, Włochy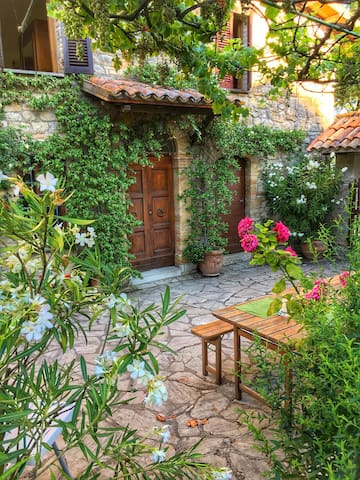 Casa Vissani is a Resort with a two Michelin-starred Restaurant, one of the most renowned in Italy and all over the world. Nestled in the middle of the green Tiber River Park, on the Corbara Lake banks, relax and nature are waiting for you
Gli alloggi di Casa Vissani sono suddivisi in 7 confortevoli camere, molto accoglienti e rifinite con materiali di pregio della Bottega Michelangeli di Orvieto. Ogni camera è indipendente ed ha il proprio bagno, tutti i comfort che un Hotel di lusso richiede quali, frigobar, cassaforte, aria condizionata, TV in camera ed anche in bagno, servizio lavanderia a pagamento, baby sitter su richiesta e linea cortesia dedicate oltre ad un meraviglioso parco nel quale è immersa, sulle rive del Lago di Corbara, in Umbria.
Rodzaj pokoju
Całe miejsce
---
Rodzaj nieruchomości
Wikt i opierunek
---
Mieści
8
---
Sypialnie
Orvieto, Umbria, Włochy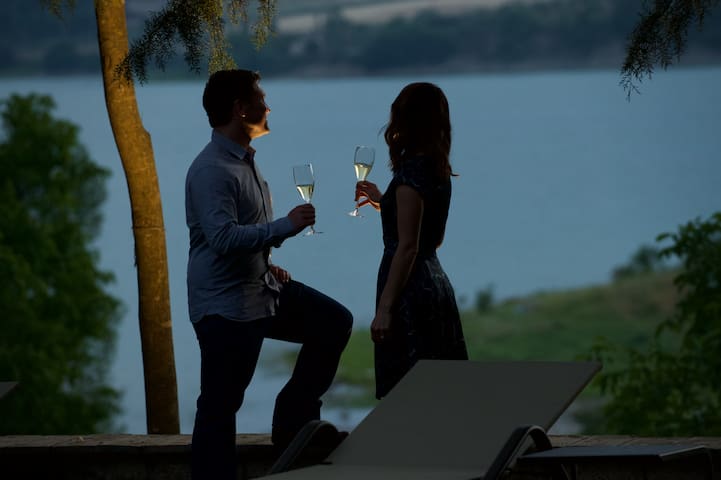 This lovely restored school is positioned in one of the most lovely villages of italy, little Acqualoreto. The house is an old restored school with antique beams, a lot of ambiance, and outside seating area and loungers for sunbathing. Enjoy the natural beauty and the sun !
Acqualoreto is strategically positioned between Todi and Orvieto, so great if you want to explore the area. There is a great bar for your morning capuccino and a fine restaurant, la cruccola, for lunch and dinner. The surrounding nature is stunning, with amazing views all around. Acqualoreto is positioned at 450 meter above sea level, with amazing views. You wont be bored !! You can go horseback riding, try the many excellent wines, restaurants, opera, music and theatre that the area offers. So come stay !
I lived in Acqualoreto for 10 years, and I loved every minute of it. The food, the people, the pace, the quality of life, you will never find it better than here !
Il Villaggio è davvero molto carino, siamo stati accolti da una signora del villaggio per darci le chiavi. La casa è carina, accogliente e in una bella posizione; il bagno è la parte più sacrificata della casa. Michiel ci ha anche procurato la legna per il camino!
michela
2016-01-02T00:00:00Z
A lovely characterful place in a picturesque village. It's a good base to explore both Orvieto and Todi if you don't mind a little driving. (note this does mean you are far from restaurants and even supermarkets, plan ahead!). We were there in March when it was still chilly and there was wood waiting for us in the fireplace - a lovely touch! Michiel also managed to arrange a toddler bed for us which was much appreciated. We had some plumbing trouble while we were there and Michiel responded so quickly that plumber showed up within 30 minutes at 9pm - thanks Michiel! The plumber had actually gone to school in the house back when it was a school room and walked us through the layout before it became a home - definitely made us appreciate the history.
Alexander
2016-03-05T00:00:00Z
Fantastic stay at Michiel's house, the town of Acqualoreto is simply wonderful and we had a great time staying there! Thank you so much to Michiel who allowed us to spend an unforgettable vacation.
Axelle
2016-08-14T00:00:00Z
We fell in love with Aqualoreto! It is a very picturesque, beautiful place. The people are hospitable and very kind. We spend 5 days in Michiel`s house. We had everything that we need for life and cooking in the house. Towels, blankets, a lot of different cooking things for making everything you want. The house was very cosy, big and it has its own spirit. Thank you Michiel! We highly recommend this place.
Lucy
2016-08-20T00:00:00Z
When you arrive in the antic centrum of Aqualoreto it's another world and what a surprise when you discover the michiele's house! it's an amazing interior with great personality, you immediately feel welcome. The pool is a little bit further than we expected but the location is super beautiful and relaxing. We loved it.
Cactus
2015-08-14T00:00:00Z
Non seulement Michiel à été très disponible (mail,(SENSITIVE CONTENTS HIDDEN)), mais il a fait plus car nous avons bien senti que tout le monde dans le village savait qui nous étions! Nous avons merveilleusement été accueillis! Si vous aimez les vieilles pierres (le logement se trouve au cœur même du vieux village intra-muros), les petits villages, les randonnées, la nature, les visites de villages et monuments, le vin et la bonne nourriture, c'est l'adresse parfaite. La piscine est à 10minutes à pieds mais le cadre en vaut la peine! Recommandation: il faut aller manger à l'auberge sur la place du village: typique, accueil top, cuisine locale et fraîche: un bonheur de plus! Cela fait du bien de rencontrer des gens qui préservent les valeurs du "bon dans la simplicité"! Pas de chichi, on a même eu le droit au sanglier au deuxième dîner après avoir dit en début de semaine à la patronne qu'on aimait cette viande! Nous repartons enjoués et ne pouvons que souhaiter aux futurs voyageurs de faire étape chez Michiel, Merci Michiel!
Camille
2016-06-28T00:00:00Z
Rodzaj pokoju
Całe miejsce
---
Rodzaj nieruchomości
Dom
---
Mieści
4
---
Sypialnie
Acqualoreto, Umbrië, Włochy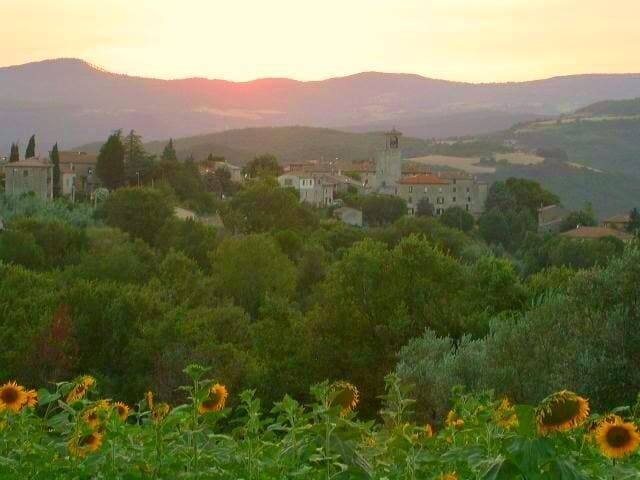 My place is close to art and culture. You'll love my place because of the outdoors space, the, light, and the ambiance. Set in landscaped gardens with a 12 x 6m infinity pool. This peaceful location in beautiful countryside between historic Orvieto & Todi, close to villages. The villa is modern, yet classical designed encompasing open plan living /dining opening on to a spacious shaded terrace. Amenaties also include Hot Tub, shaded pergola, outdoor kitchen with dining area and barbecue.
We have a number of services for guests such as a per arrival food shopping, a cooking service that guests can avail of on the day of arrival or during your stay. In addition guests receive a Welcome Pack which contains some basic food provisions to get your holiday started. You can also avail of Wine Purchase & a Wine Tasting service during your stay.
An area of magnificent vistas, close to beautiful villages that have their own wonderful charm. Situated between the historic towns of Orvieto (12km) and Todi (15km).
Rodzaj pokoju
Całe miejsce
---
Rodzaj nieruchomości
Willa
---
Mieści
8
---
Sypialnie
Province of Terni, Umbria, Włochy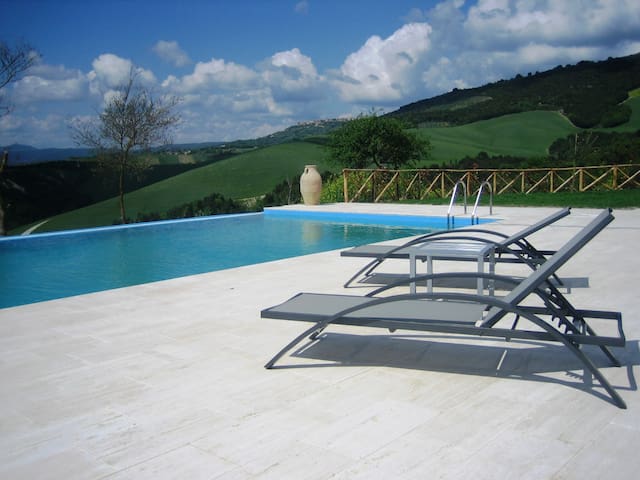 la location offre una vista meravigliosa, immersa nella tranquillità della campagna umbra, dotata di un'ampia piscina che affaccia sulla vallata, è il luogo ideale per rilassarsi, senza rinunciare alla visita dei borghi medievali e città d'arte.
The house is completely autonomous, located on the ground floor with its own entrance, has a double bedroom, bathroom with shower and hair dryer, living room with fireplace, fully equipped kitchen and sofa bed. The apartments are furnished with extreme care, blending design and color with modern furniture antique flavor, while respecting the traditional architecture of country houses.
L'orizzonte holiday home is just over 1 km from the medieval village of Montecchio (TR), strategically located on a hill overlooking the entire valley, the location offers a wonderful view of the picturesque Lake Corby, who at dusk turns surprising shades. Surrounded by the tranquility of over 6 hectares of land, including forests and olive trees, with a large swimming pool that overlooks the valley, L'orizzonte holiday home is the ideal place to relax in the heart of the green Umbria, without renouncing to visit charming medieval towns and major cities of the region, easily accessible by day trips. Nearby you can enjoy nature walks, hiking, mountain biking, fishing and birding, indulge in food and wine tourism, or simply indulge in delightful days relaxing by the pool, immersed in the tranquility of the hill.
Rodzaj pokoju
Całe miejsce
---
Rodzaj nieruchomości
Apartament
---
Mieści
4
---
Sypialnie
Montecchio, Umbria, Włochy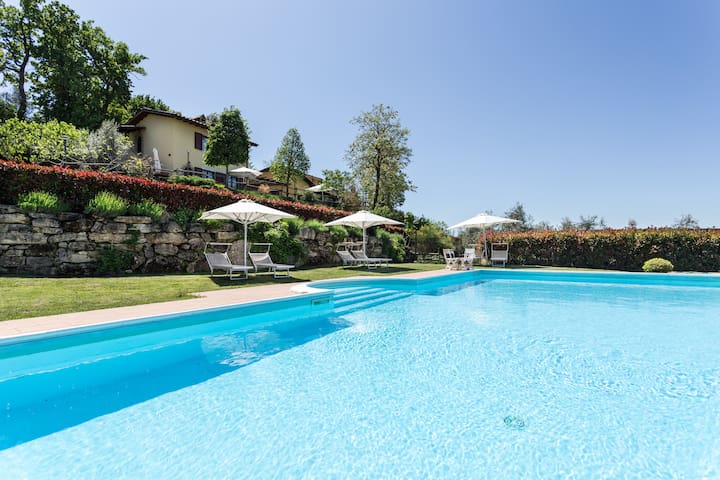 Il mio alloggio è vicino a todi orvieto, attività per la famiglia. Ti piacerà il mio alloggio per questi motivi: gli spazi esterni e il paese. Il mio alloggio è adatto a coppie e avventurieri solitari, è un appartamento su due piani, con un bagno a piano.
Paesino medievale silenzioso posizionato sulla Valle del Tevere,contornato da splendidi panorami. La cittadina di Todi dista appena 15 km. Orvieto 33 km con strada che affianca il Lago di Corbara.
Rodzaj pokoju
Całe miejsce
---
Rodzaj nieruchomości
Apartament
---
Mieści
4
---
Sypialnie
Acqualoreto, Umbria, Włochy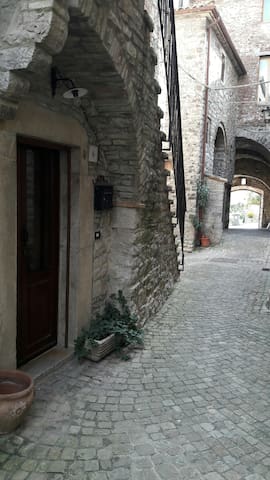 casa medievale completamente ristrutturata in stile shabbychic e dotata di tutti i moderni comfort senza perdere l'antica atmosfera romantica di vivere all'interno di un contesto storico. Ampie camere da letto con soffitti con travi in legno.
la casa è inserita all'interno delle mura medievali , una vera oasi di pace in stile shabbychic
Rodzaj pokoju
Całe miejsce
---
Rodzaj nieruchomości
Apartament
---
Mieści
4
---
Sypialnie
Acqualoreto, Umbria, Włochy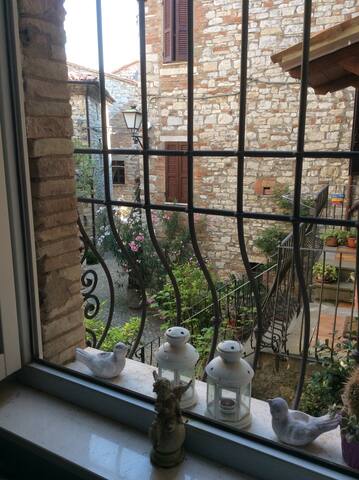 Karakteristiek, gezellig huis (60 m2) aan de rand van een middeleeuws dorpje. Groot terras van 120 m2 met vergezicht over de groene heuvels van Umbrië. Rust en ruimte, privacy. Prima uitvalsbasis voor de vele bezienswaardigheden in de omgeving.
Het huis is geheel gerenoveerd en compleet ingericht in Italiaanse stijl: landelijk, gezellig en comfortabel. Op de begane grond bevindt zich een woonkeuken met eethoek en houtkachel. Enkele treden lager een woonkamer met comfortabele zithoek pelletkachel. Vanuit de keuken leiden enkele traptreden naar de badkamer met toilet, wasbak, douchecabine en wasmachine. Op de eerste verdieping ligt de slaapkamer met tweepersoons bed (1.60 x 2.00 m). Buiten vindt u een groot privéterras op het zuiden (120 m2), gedeeltelijk overdekt met druivenranken en met een adembenemend vergezicht over de heuvels en op het stadje Todi.
Acqualoreto is een klein middeleeuwse dorpje dat als burcht is gebouwd. De oorsprong ligt in de 10e eeuw. Het is omgeven door wijn- en olijfgaarden, bossen en de prachtige glooiende heuvels.
Rodzaj pokoju
Całe miejsce
---
Rodzaj nieruchomości
Dom
---
Mieści
2
---
Sypialnie
Acqualoreto, Umbria, Włochy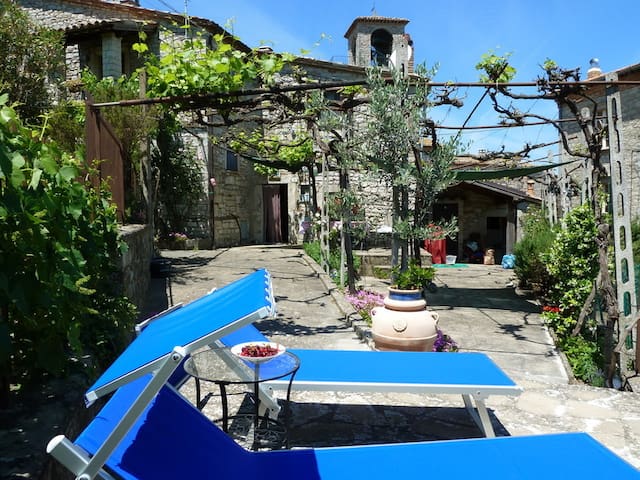 Wpisz daty, by zobaczyć pełną cenę. Obowiązują dodatkowe opłaty. Cena może uwzględniać podatek.