Fully furnished apartment with private entrance inside family home. Private parking with beautiful yard, just minutes from Devils Lake and boat ramps. Washer/dryer included, full kitchen, queen pillow top mattress in bedroom, + queen sofa sleeper & updated bathroom. Amenities include all linens & kitchen utensils + guests have gas grill, deck and picnic table for use.
The space feels like home and includes everything needed for a comfortable stay. Dishes, linens, towels etc. There is a gas grill available for the guests. We also have a place for guests to clean fish or ducks and dog kennels.
From check in to check out over the course of 5 weeks, Ray and Roxanne were excellent hosts. The apartment was clean and comfortable with all of the kitchen tools and comforts of home available. If you love luscious gardens and lots of greenery with yard decorations this is the place you must visit. Often times the hosts are willing to share the vegetables of their garden with you and even a possible s'more on the summer nights. A very convenient location about 5 minutes from town and a view of the lake on the way. Deer are often seen in the backyard in the evenings as well. Would highly recommend this BNB for a short term or long term stay while in Devil's lake!
April
2016-08-20T00:00:00Z
Roxanne was a great host. The apartment very well appointed and comfortable. Gardens were beautiful. Glad we stayed and we return again.
Gregg
2016-09-03T00:00:00Z
Roxanne and Ray were wonderful hosts! I stayed here for 5 weeks and felt very much like I was at home. It was a perfect place for all of my needs!
Teresa
2016-12-17T00:00:00Z
This apartment is beautiful, bright and spacious. Roxanne is a great host and goes the extra mile to make your stay the best. Their garden is really a show piece. It is always fun to benefit from the hard work of others who really know what they are doing in the garden! We definitely recommend this property to anyone visiting the Devils Lake area.
Jim
2016-08-07T00:00:00Z
Roxanne and her husband were so very kind and provided a lovely apartment for us to stay in. It was clean, spacious, and provided enough room for 4 adults and a toddler. The yard was absolutely beautiful and had lots for our toddler to do! We boated and fished at Devils Lake while enjoying our stay. There are two boat ramps and the casino marina within 3-5 minutes away! Perfect little place for our fishing weekend.
Ashley
2016-07-04T00:00:00Z
This apartment is exceptionally clean, with new appliances and decor. Kitchen is well supplied with cooking and dining utensils. It is spacious and quiet. My host was very accommodating to my needs and available very readily for questions and concerns. I was traveling for work and will definitely book in future for fun! I highly recommend this host and lodging!
Mary Pat
2017-01-27T00:00:00Z
Wonderful experience! Apartment was lovely and Roxanne was a fantastic host.
Guinn
2017-03-10T00:00:00Z
I absolutely loved staying here. Ray and Roxanne's home is nestled in a restful, beautiful spot with a large backyard that was great to relax in. Their apartment offered everything I could need and they put in a lot of little touches that made it feel like a special stay. These are fantastic hosts, and a big part of the reason I enjoyed my time in Devil's Lake!
Colin
2016-09-16T00:00:00Z
Rodzaj pokoju
Całe miejsce
---
Rodzaj nieruchomości
Apartament
---
Mieści
4
---
Sypialnie
Devils Lake, Dakota Północna, Stany Zjednoczone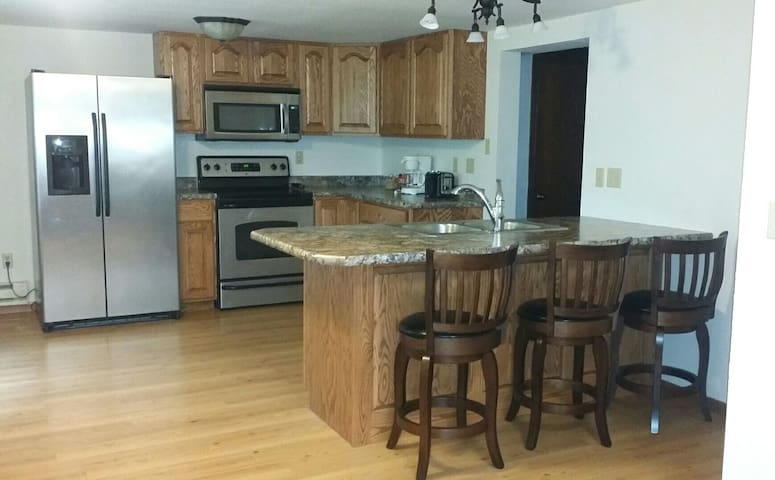 Totalmente amueblado. el diseño de planta abierta. Mi lugar es bueno para cualquier persona de las familias con niños al aventurero solitario.
La cabina está cerca de lo que muchos consideran que es absolutamente nada, pero eso es lo que hace que sea un lugar especial para alojarse. Definitivamente va a conseguir la sensación "rústico". La fauna es abundante, la ubicación es rural, y desde la cubierta frontal verá un puñado de árboles de más de colinas y tierras de cultivo durante varias millas hasta el horizonte. pozo de fuego con leña incluida. Residencia en el mismo recinto.
This place is great. Unique, picturesque and peaceful.
Russell
2017-01-29T00:00:00Z
Nice quiet place.
Lynsay
2016-08-15T00:00:00Z
John was a great host and the place was perfect for me and my wife. We were driving through and looking for a place to see and take pictures of the stars and Northern Lights and Johns place worked perfectly as it was away from lights and in an open location. We also enjoyed the recommendations about places to eat in the lovely town of Maddox, about 12 miles away. While the property may at first look geared to hunters or fishermen (and it appears great for that) it should not be over looked by families or others who need some extra room in a quiet, beautiful location. We'd be happy to stay again!
Jay
2016-09-29T00:00:00Z
Great place.
Josiah
2017-01-15T00:00:00Z
Very nice cabin in a very peaceful setting.
Tompat
2016-07-04T00:00:00Z
Very nice little get away spot with nature all around you. Clean, private and quiet-exactly what we were after. Much better accommodations than what is available elsewhere in the area. The fresh baked caramel rolls we found in our cabin were a real treat!
Pat
2016-09-11T00:00:00Z
Rodzaj pokoju
Całe miejsce
---
Rodzaj nieruchomości
Chatka
---
Mieści
10
---
Sypialnie
Maddock, Dakota Północna, Stany Zjednoczone
Die Zimmer sind in einem historischen Gebäude im Jahre 1906 erbaut wurde, das vor kurzem renoviert wurde. Das Gebäude wurde ursprünglich als Krankenhaus gebaut und später als Schule Wohnheim verwendet. Die meisten der ursprünglichen Holz und Zinn Decke wurde wiederhergestellt. Das Inn befindet sich in einer ländlichen Stadt im Zentrum von North Dakota in der Nähe von vielen Outdoor-Aktivitäten in nur 30 Minuten mit dem Auto nach Devils Lake, einem Top-Angelsee in Nordamerika.
Maddock ist eine kleine Stadt mitten in North Dakota. Das Inn befindet sich in der Nähe der östlichen Ende der Stadt von der katholischen Kirche, eine Schule befindet, und mehrere Wohnhäuser.
The host canceled this reservation 106 days before arrival. This is an automated posting.
Gaby
2017-03-02T00:00:00Z
Rodzaj pokoju
Pokój prywatny
---
Rodzaj nieruchomości
Inny
---
Mieści
8
---
Sypialnie
Maddock, Dakota Północna, Stany Zjednoczone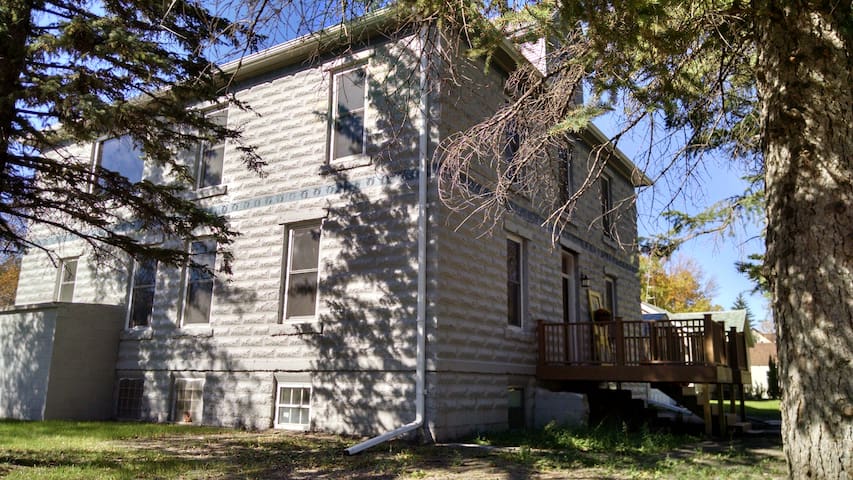 Wpisz daty, by zobaczyć pełną cenę. Obowiązują dodatkowe opłaty. Cena może uwzględniać podatek.