公寓3在大不列颠钱伯斯是一个精美的成品和照顾公寓,给你一个热情大方的欢迎。这个惊人的2间卧室的公寓是时尚,宽敞,设施齐全,可容纳多达6人。 除了舒适的2间卧室设有一张双人床和两张单人床有一个优越的沙发床,公寓的好处设备齐全的开放式厨房,饭厅,客厅。一台平面电视的特点是,免费WIFI,毛巾,并为您提供所有的床单。
走进你的美丽的2间卧室的公寓中宽敞的客厅,设备齐全的厨房,精湛和两个豪华的卧室有双人床,并在第二间卧室两张单人床。 成品到一个很高的标准,这套房是备受商务和家庭游客。 设备齐全您的所有需求的短期或长期逗留。 公寓3在大不列颠庭是钻石服务式公寓群,谁是热衷于提供一个友好的,专业的服务,高品质的住宿的一部分。从我们的全天候服务热线,电子邮件和文本服务中受益。
The apartment was spotlessly clean and exactly as described. Communication with the host was very helpful. We stayed here as a base for a trip to Alton Towers which was about a 20 minute car journey away. There is parking to the front of the building and paid parking a few minutes walk away. The apartment is located centrally within Leek and above a Co-op shop which was very handy. Unfortunately I did not anticipate the volume of people which would pass each night nor how loud they would be, which resulted in everyone having a very disturbed nights sleep. Perhaps we were unlucky as we stayed on a Friday and Saturday night. Great base for Alton Towers, just might need some ear plugs!!
Jennifer
2017-04-09T00:00:00Z
We had a lovely stay in Leek. The flat was lovely, centrally located and very clean. Communication with the host was very swift and accurate. Would definitely stay again.
Andrea
2017-04-02T00:00:00Z
Rodzaj pokoju
Całe miejsce
---
Rodzaj nieruchomości
Apartament
---
Mieści
6
---
Sypialnie
Leek, Anglia, Wielka Brytania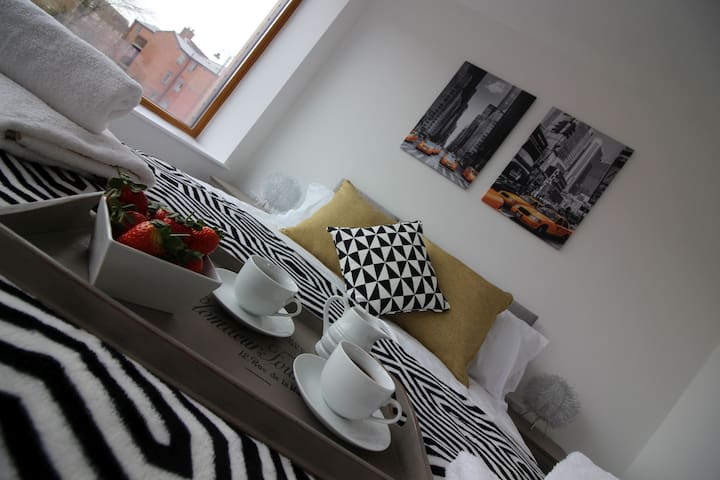 Wonderful location, warm welcome, excellent breakfast. The perfect overnight stay. Delightful hosts. What more could I ask!!
Margaret
2016-09-28T00:00:00Z
Our host tolerated our necessary late arrival and was very welcoming despite my almost comatose demeanour, as the 7am drive from London and day at Alton Towers had by then taken it's toll. The environment was outstanding and we wished we could have stayed longer to explore...........
Marie
2016-11-06T00:00:00Z
This was the best airbnb experience. The location was perfect and Susan gave us helpful direction which made arrival easy and welcoming. The place was just as we wanted, super clean, quiet and peaceful. Kids loved the animals and enjoyed the views. Will definitely visit again and stay longer.
Jun
2016-06-04T00:00:00Z
The old cinema
(EMAIL HIDDEN)
2014-09-26T00:00:00Z
Wow, where to start? The Old Cinema at Wildacres is a great find. Sue and Andrew were incredibly hospitable, stocking the kitchen with jams and bread and even soya milk and dairy-free spread as they knew we were vegan. Their property sports a garden with idyllic views and they are situated in fabulous walking country. A wonderful stay with very friendly people, dogs and chickens - we will be back.
Zoe
2015-04-20T00:00:00Z
Phenomenal hosts in a beautiful setting. Susan, Andrew and Will couldn't have done more to make me feel at home - a charming, friendly family in a quirky, homely place where everything was provided for. A good way out of town - but perfect if peace, quiet, beautiful views and excellent walks are what you're after. Even made friends with the chicken.
Hannah
2016-03-13T00:00:00Z
Hosts Sue and Andrew were very lovely, friendly and helpful. Large, beautiful gardens and the accommodation is so unique being previously a private cinema. It was very roomy for my family of 4 with my 2 young child using the sofa-bed in the living room. It was also very clean and surprisingly well stocked with a lot of different toiletries and a lot more food and drink in the kitchenette than expected. Our stay was very comfortable and it was the perfect location for us as we were attending a wedding at Consall Hall Gardens which was only a 15 minute walk away.
Lynn
2016-08-15T00:00:00Z
The grounds were incredible, we had an amazing time in this slice of heaven. My son of 20 months was also so happy here, wondering freely around the gardens, petting the family of ducks, chasing the pheasant, watching the family of local robins, the cute dogs and picking abundant blackberries. There are loads of cows in fields close by so we had a little boy waking up in the morning mooing as he was so excited to see them. We had a fab local lunch in The Black Lion, Consall Forge. Walking over the bridge, past canal boats and a train track to see the steam trains pass by. It's idyllic. We also visited Consall Hall which is open on the first Sunday of the month (some of the year) which was gorgeous. The flat is really well maintained and had everything you could ask for. The hosts are really helpful and very welcoming into their home. Nothing was too much trouble. The freebie supplies were really thoughtful too. There was organic milk, lovely butter, home made jams and yummy fresh breads along with cereals and teas/coffees. Thank you so much. It was a wonderful stay.
Debi
2016-09-05T00:00:00Z
Rodzaj pokoju
Całe miejsce
---
Rodzaj nieruchomości
Apartament
---
Mieści
4
---
Sypialnie
Consall, Wielka Brytania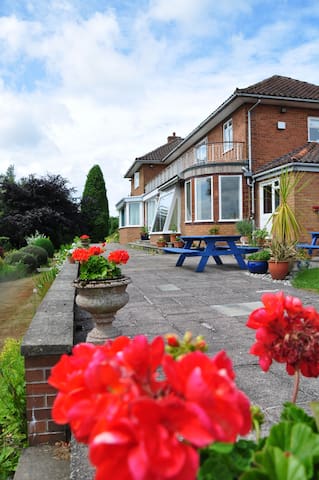 Rodzaj pokoju
Całe miejsce
---
Rodzaj nieruchomości
Apartament
---
Mieści
7
---
Sypialnie
Leek, Anglia, Wielka Brytania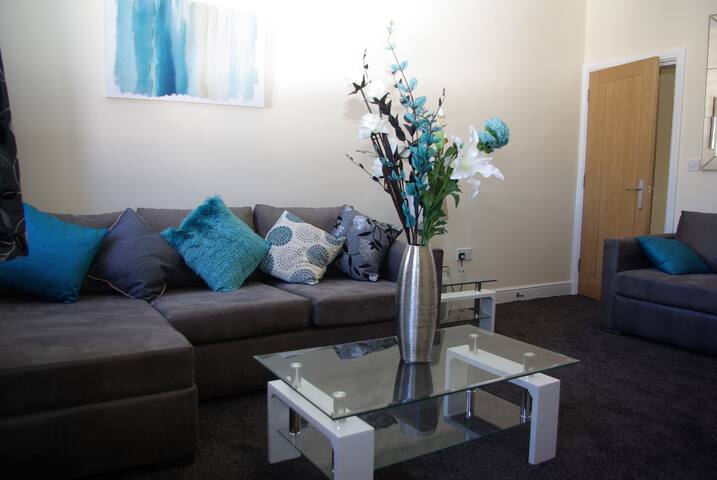 Rodzaj pokoju
Całe miejsce
---
Rodzaj nieruchomości
Apartament
---
Mieści
5
---
Sypialnie
Stoke-on-Trent, Anglia, Wielka Brytania
Lejlighed 4 på Britannia Chambers er en smukt færdigt og plejet lejlighed, som giver dig en varm og generøs velkomst. Denne fantastiske 2 værelses lejlighed er slank, rummelige og fuldt møbleret som kan rumme op til 4 personer. Ud over en komfortabel 2 soveværelser byder en dobbeltseng og 2 singler, lejligheden fordelene fuldt udstyret åbent køkken-spisestue-stue. Et fladskærms-tv er featured, gratis WIFI, håndklæder og alle sengetøj leveres til dig.
Gå ind i dit smukke 2 værelses lejlighed i til rummelig stue, veludstyret fremragende køkken og to luksuriøse værelser med deluxe dobbeltseng og to enkeltsenge i 2. soveværelse. Færdig til en meget høj standard, denne suite er populær med erhvervslivet og familier både. Fuldt udstyret til alle dine behov for en kort eller lang sigt ophold. Lejlighed 4 på Britannia Chambers er en del af Diamond Serviced Apartments gruppe, der brænder for at give en venlig, professionel service med kvalitet indkvartering. Drage fordel af vores 24/7 hotline, e-mail og tekst service.
Rodzaj pokoju
Całe miejsce
---
Rodzaj nieruchomości
Apartament
---
Mieści
4
---
Sypialnie
Leek, Anglia, Wielka Brytania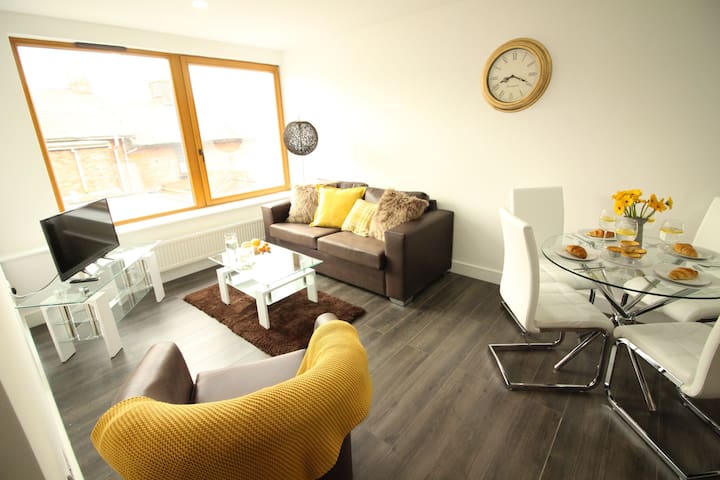 아름다운 시골의 호화 숙박 시설을 제공합니다. 피크 공원에서 비밀의 계곡에 잠시 멈춰서는, 멋진 360도 전망을 즐길 우리의 강에 낚시, 먹이의 조류에, 우리의 블루 벨 나무에 감탄을 산책 황혼이 도착할 때 오소리를보고.
우리의 변환 헛간 근처 알톤 타워에서 주말이나 아름다운 피크 공원에서 산책 휴가를 즐기는 4 개 또는 네 친구의 가족을위한 이상적입니다. 가구는 현대와 고대의 혼합물이며 숙박 시설은 전반에 걸쳐 패로우와 공 색상으로 장식되어 있습니다.
이 헛간이 아름다운 농촌 시골에 둘러싸여, 목가적 인 설정에 있지만 부추와 애쉬의 마을 사이의 주요 A523에서 불과 5 분, 모두 독립적 인 상점, 술집과 레스토랑의 재산을 즐길 변환됩니다.
Lovely, comfortable and homely place. Some great touches that were very much appreciated. Fab views. We will definitely be staying again soon, and recommending to our family and friends.
Matt
2017-03-05T00:00:00Z
Absolutely beautiful! Amazing, secluded, scenic location with beautiful views and he property is gorgeous and so homely. And Sarah left us an amazing welcome package too with beautiful snacks and juice and prosecco! Thank you for a wonderful stay
Billie
2017-02-12T00:00:00Z
A fantastic secluded apartment with amazing views, this is an excellent place in which to stay if you want to see the best of the Peak District. The booking exceeded all of our expectations and we had a great time exploring the area, before coming back to relax in this amazing location, extremely cosy and homely!
Peter
2017-02-26T00:00:00Z
A delightful place to stay ; position , general location and hosts! Would certainly return ! Thank you !
michele
2017-03-12T00:00:00Z
Sarah was a fantastic host - very patient in guiding us to her lovely place, late at night. The barn is lovely and the location stunning! Wish we had planned fro longer than one night.
Nav
2016-06-06T00:00:00Z
The location was lovely - beautiful views of the surrounding countryside. Sarah provided a welcome pack which was much appreciated. She also gave us very helpful instructions on how to find the property ( don't rely on your Sat Nav!). This Airbnb has the largest collection of books and board games I've seen for a while - so there's plenty to do if the weather is unfavourable.
Paul
2016-08-24T00:00:00Z
Extremely cosy, very welcoming host and hamper on arrival in a fantastic location for exploring the peak district. This was one of our favourite Airbnb experiences.
Isabel
2016-12-30T00:00:00Z
Best AirBnB we've stayed in so far by a long way! It's in a lovely scenic, secluded location and convenient for the South Peaks area. It is very well equipped and the welcome food bundle was very much appreciated, particularly with the very short notice due to our late booking. Sarah was very helpful even though on this occasion we weren't able to meet here directly. Highly recommended and would happily return again in the future.
Andrew
2016-04-06T00:00:00Z
Rodzaj pokoju
Całe miejsce
---
Rodzaj nieruchomości
Apartament
---
Mieści
4
---
Sypialnie
Ford, Wielka Brytania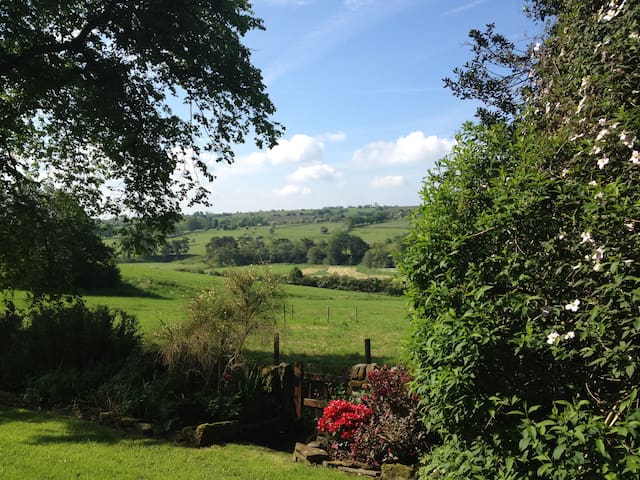 Ένα υπέροχο σύγχρονο δωμάτιο με καλό φωτισμό και δικό του μπάνιο σας σε μια τοποθεσία μόλις 10 λεπτά με τα πόδια από το κέντρο της πόλης, και ακριβώς πάνω στο κανάλι. Μπορείτε να χρησιμοποιήσετε ολόκληρο το επίπεδο, όποτε και με ανέσεις πολύ κοντά, θα έχετε ό, τι χρειάζεστε!
Το κτίριο είναι μέρος μιας νέας ανάπτυξης πάνω στο κανάλι, και αποτελεί «ανάποδα» διαμέρισμα - τα δωμάτια είναι στο ισόγειο με ένα μεγάλο, εντυπωσιακό ενιαίο χώρο κουζίνα / τραπεζαρία / καθιστικό στον επάνω όροφο.
Είναι ωραία και ήσυχα εδώ, και είναι ακριβώς στο κανάλι είναι υπέροχο. Το πάρκο βρίσκεται σε μικρή απόσταση με τα πόδια κάτω από το κανάλι και είμαστε εξαιρετικά κοντά στο κέντρο της πόλης, καθώς και τοπικά καταστήματα και μέρη για φαγητό και ποτό. Είναι μια αναπτυσσόμενη περιοχή με τα φορτία των νέων κατοικιών ξεφυτρώνουν το οποίο είναι αρκετά συναρπαστικό.
They were friendly when I met them and introduced themselves to me. The area was a lovely and perfect location for university.
Helene
2016-10-28T00:00:00Z
Andy met us and was amazing from the start. Lovely home and we were made most welcome. My house is your house was Andy,s motto. Everything was perfect. Had a lovely sleep. This was our first attempt at using Airbnb but it will not be our last. Will be back. This is an ideal stopping place when travelling from Scotland to our relatives in Bristol. Many thanks for making us most welcome x Simon said thanks for the jelly babies xx everything was perfect.
Marion
2016-08-26T00:00:00Z
Andy and Whitney were absolutely fabulous hosts -- warm, friendly, inviting, accommodating and helpful (particularly for someone new to England). They are vibrant members of the community as well and are inspiring to be around in general. Many thanks and would absolutely recommend.
sam
2016-10-06T00:00:00Z
The host canceled this reservation 3 days before arrival. This is an automated posting.
Polly
2017-02-05T00:00:00Z
Rodzaj pokoju
Pokój prywatny
---
Rodzaj nieruchomości
Apartament
---
Mieści
2
---
Sypialnie
Stoke-on-Trent, Anglia, Wielka Brytania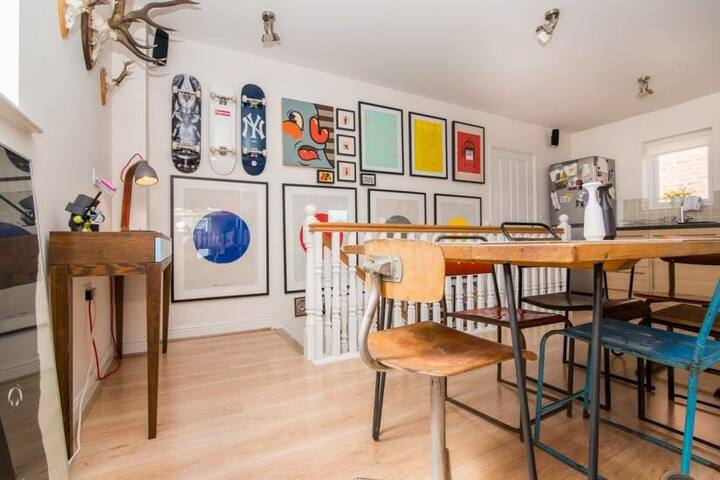 Exactly as described, student halls with everything required for a stop over. I need on short notice and the instant book was ideal. Very good value and maintenance manager was very friendly and helpful.
Andrew
2016-08-11T00:00:00Z
服务还算不错。整洁。
小润
2016-06-26T00:00:00Z
I was made to feel welcome. Location is ideal, if you want the city centre like I did. The description is accurate. Accommodation and parking could be a problem in September when students return.
Colin
2016-06-18T00:00:00Z
Rodzaj pokoju
Pokój prywatny
---
Rodzaj nieruchomości
Apartament
---
Mieści
1
---
Sypialnie
Stoke-on-Trent, Wielka Brytania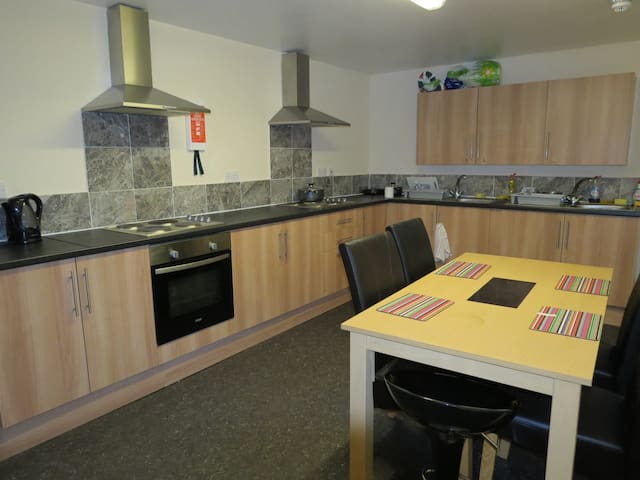 Fyrrum leirmuni verksmiðju breyst í HMO íbúðir í 4 ensuite einkaspjalli með stofu og svefnherbergi, sameiginlegt eldhús. Character bygging, ber múrsteinn veggi og hreinsað af faglegum hreinsiefni. Staðurinn er nemendur búsetu í skólaárinu.
Eign er breytt leirmuni bygging notuð sem húsnæði í skólaár og fara tækifæri fyrir ferðamenn, fyrirtæki ferðir, gönguferð um Newcastle Under-Lyme Hospital
Stoke on Trent er þekktur sem Potteries fyrir það fyrra Pottery verksmiðjum hverju ekki að búa í einu og heimsækja minjasafna, kvikmyndahúsum, garður og staðbundin matargerð. Við elskum oatcakes okkar!
Ein tolles Studentenwohnheim und sehr entgegenkommender Gastgeber. Für einen anspruchslosen Reisenden ist alles vorhanden. Ein schlichtes sauberes Zimmer in diesem tollen Gebäude. Waschmaschine und Küche vorhanden. Bei der exellenten Internetmöglichkeit war ein weiteres Planen meines airbnb-Urlaubes kein Problem. Ich hatte ein Zimmer hinten raus und hatte selbt im Zentrum keinen Straßenlärm. Ich wünsche dem Airbnb-projekt im Studentenwohnheim große Erfolge.
Ernst-Michael
2015-07-30T00:00:00Z
Fantastic place to stay and work from i would highly recommend, Wifi is excellent, Showers good, a good quite little base. Thanks for being so accommodating x
Hayley
2015-08-20T00:00:00Z
Rodzaj pokoju
Pokój prywatny
---
Rodzaj nieruchomości
Apartament
---
Mieści
2
---
Sypialnie
Stoke-on-Trent, Wielka Brytania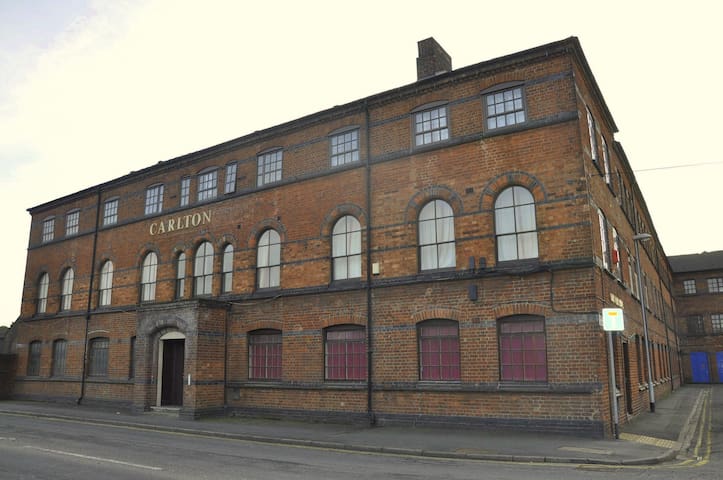 Our apartment is located in Wincle, a small village in The Peak District National Park - a stunning location that is perfect for walking. Within 3 miles of the apartment there are 4 pubs serving great food as well as a micro-brewery, an ice cream farm and a trout fishing lake. The area offers peace and quiet for couples or solo adventurers looking to get away from it all.
The apartment was converted a few years ago in one of our barns. It consists of a large, comfortable, high ceilinged bed-sitting room, a small separate kitchen and a shower room. It is heated by storage heaters and double glazed. The apartment contains books, games, Freesat TV, DVDs and an iPod with docking unit if you fancy just staying in and relaxing.
Wincle and its neighbour Danebridge together form one of Macclesfield Borough's most picturesque settlements, straddling either side of the River Dane where it separates Cheshire from Staffordshire. Wincle is geographically centred around the attractive St Michael's Church and adjacent village school, with spectacular moorland views across to the Roaches, Shutlingsloe and Hanging Stone as well as lush woodland and drystone-walled pastures. Such rich scenery and well-known pubs for eating and drinking, makes Wincle a favourite place for walkers and other visitors.
The apartment is amazing and all the personal touches really help to make it! The location is stunning and peaceful. Just as was described. Alison and her partner, Jon where super hosts and always on hand to answer any questions that we had! Will certainly think about coming back. The stay was nothing short of perfect!
Rebecca
2017-03-26T00:00:00Z
Alison and john could not have done anything else to improve our stay. From the moment we arrived we were welcomed into the cosy and quirky apartment barn. Little touches like the eggs and beer and iPod cleverly added personal touches for our enjoyment! Arriving in the pitch black allowed for an extra wow factor when we woke up to the glorious scenery of the farm and the surrounding land. Alison and john were most helpful recommending walks and the local pub the ship in. We hastily booked a table and at johns great advice borrowed some boots to make our way across the fields in the mud, a great adventure. In the evening we enjoyed the delicious food from the ship inn. Would highly recommend anyone who is lucky enough to come across this gem to stay for at least two nights! Thank you so much to Alison and john on your great hospitality and friendliness. Harriet and Hannah
Harriet
2017-02-26T00:00:00Z
Alison's place is delightful and in a truly special corner of the Peak District. Her and John were incredible hosts who offered us lots of special little touches, including eggs from their own hens. Great value. Would definitely stay here again.
Josie
2017-02-16T00:00:00Z
We had a fabulous stay with Alison, John and their wonderful animals. They couldn't be more accommodating and nothing was ever too much trouble. Fantastic location for a true escape from the busy city, turn your phones off, read a book, walk the wild and refuel at the lovely Ship Inn pub.
Jonathan
2017-02-05T00:00:00Z
A perfect location for a countryside getaway, Alison & John made us feel very welcome from the start. Fresh eggs for breakfast are brilliant, and the apartment has everything you could need for a weekend away. The nearest pub is a short 10 min walk across open countryside. We would definitely stay again.
Ben
2017-02-19T00:00:00Z
What a find and how lucky we were too! Booking a bank holiday weekend 3 weeks before we couldn't have timed it better.......finding Alison and John's place the same day they put their place on Airbnb. It was everything we were hoping for and more. A beautiful location tucked away in the Peak District countryside, lovely hosts and three friendly dogs! The walk to the pub and brewery was the perfect distance, especially on the way back, and the food and local brew up to the billing. A great place to get away from the city - just a little jealous its not our own home :)
Steve
2016-08-30T00:00:00Z
Such a fantastic stay at this lovely little place. Everything from the warm welcoming of the hosts to the personal touches in the apartment to beautiful views we woke up to every morning. John and Alison were so lovely and made us feel so at home. We had a lovely weekend exploring the Peak District and loved coming back to their place, especially when greeted with such lovely 4 legged friends. Thank you for letting us stay here, we'll definitely be back again one day xx
Georgia
2016-09-25T00:00:00Z
Staying here was the perfect weekend away, the farm is such a beautiful location and there are great walks just outside of your door! The apartment is very cosy, we loved the beamed ceilings! The kitchen is very well stocked and has lovely extras like fresh eggs! The main living space is spacious and comfortable, we loved every moment and would love to return!!
Suki
2017-01-30T00:00:00Z
Rodzaj pokoju
Całe miejsce
---
Rodzaj nieruchomości
Apartament
---
Mieści
2
---
Sypialnie
Cheshire East, Anglia, Wielka Brytania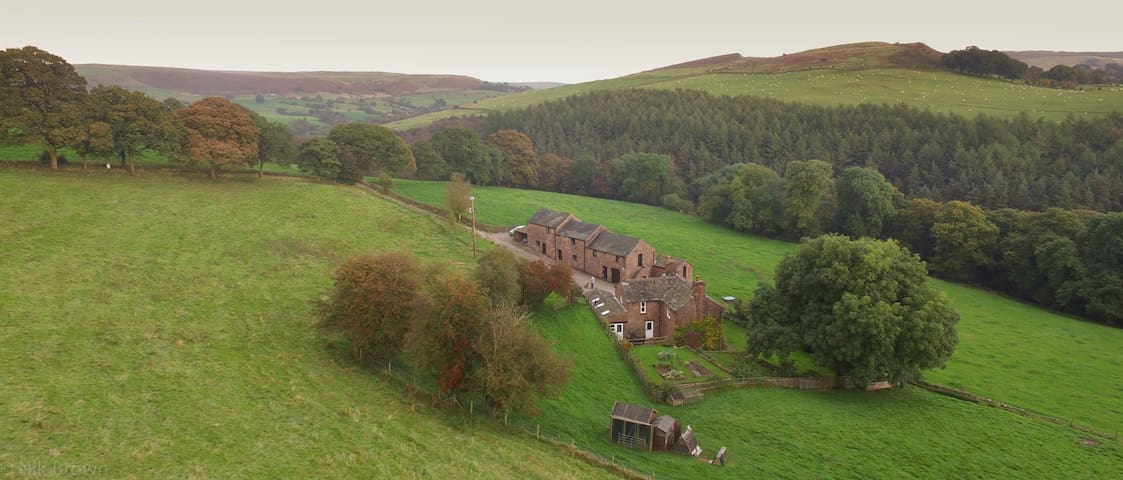 This is a private, stylish,single-storey annex attached to our home and set in beautiful grounds which include a private fishing pool. A beautiful, peaceful, romantic place for couples to relax and unwind with plenty to do locally whatever the weather. The wonderful Castle Inn is just a 5 mins walk down a country lane, and for those who fancy a pamper, The Mill Wheel Spa is just 11 miles away. A great base from which to explore Cheshire, the Peak District and Manchester.
. Suitable for 2 adults . A bit of luxury for a romantic break or a treat . Business people - a wonderful quiet alternative to hotel accommodation . Cyclists and walkers welcome
The area surrounding the accommodation offers wonderful walking and cycling opportunities with access onto The Biddulph Valley Way, surrounding fields and tow paths. Why not visit one of the many stately homes or gardens nearby and don't forget your National Trust card if you have one. Biddulph Grange Gardens are only 1.9 miles away, Little Moreton Hall 3.4 miles, Lyme Park House and Gardens 13.7 miles and Tatton Park mansion and gardens 14.4 miles. A little further afield, Chatsworth House makes a fabulous day out. There's a lot to see and do within an easy drive of Dane Cottage which is a wonderful base to explore Cheshire, the Peak District or the Staffordshire potteries. Explore, fish, walk, cycle, or just enjoy the garden, read a book and drink wine.
Lovely place just as described. I'll be recommending to others.
Brian
2017-01-12T00:00:00Z
Lovely cottage! Very comfortable and clean, would highly recommend!
Eleanor
2016-12-18T00:00:00Z
The host canceled this reservation 2 days before arrival. This is an automated posting.
Brian
2016-12-11T00:00:00Z
Hilary's place is a real gem and feels like home. It has everything one needs to make life comfortable. Hilary & Andrew are brilliant hosts, easy to contact, friendly plus really keen to ensure that we had a great stay and could make the most of our time. The place is exactly as described and great to unwind. Bailey is extremely well behaved and good natured, simply adorable. We would definitely recommend staying here and would like to return someday soon.
Jules
2015-10-12T00:00:00Z
Beautiful setting for a weekend exploring the local countryside. Hilary was very welcoming, as was Bailey the dog. Fresh milk in the fridge was also a welcome touch!
Alan
2015-05-26T00:00:00Z
Hilary, Andrew and Bailey (the dog) were wonderful hosts. They were they when we needed their help but always discreet and respectful of our privacy. The house is clean and well appointed. We had everything we needed and the serenity and calmness of the place just makes us appreciate the countryside so much more.
Karen
2015-04-18T00:00:00Z
We were warmly welcomed by Hilary and the gorgeous Bailey. We arrived early and Hilary was more than accommodating, showing us around the space. What a fantastic place this is, such stunning scenery and the cottage is gorgeous. Super comfy bed, amazing setting, wish we could have stayed longer!
Heather
2014-09-27T00:00:00Z
I stayed at Dane Cottage whilst visiting Alderley Park for work. I had a lovely stay. The annex is very private, comfortable and modern. Hilary was very welcoming and approachable. I will definitely stay here again if I am in the area.
Natassja
2016-11-18T00:00:00Z
Rodzaj pokoju
Całe miejsce
---
Rodzaj nieruchomości
Apartament
---
Mieści
2
---
Sypialnie
Congleton, Cheshire, Wielka Brytania
Rodzaj pokoju
Całe miejsce
---
Rodzaj nieruchomości
Apartament
---
Mieści
2
---
Sypialnie
Staffordshire, Anglia, Wielka Brytania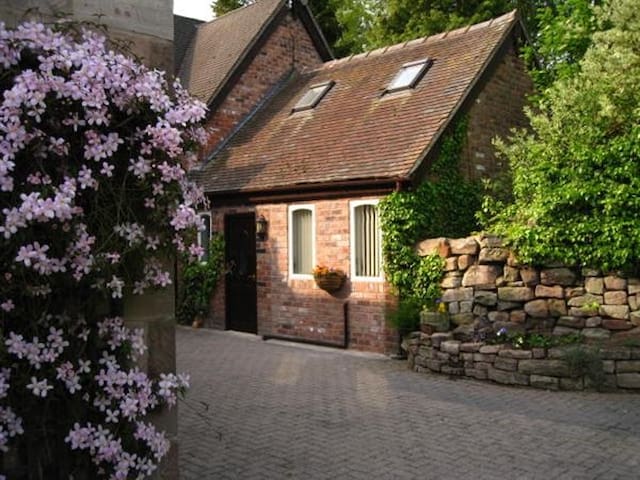 Although we received clear instructions about most of the essentials, we didn't actually meet Steve till the day after we arrived. He was very helpful and said he'd be changing the heating system soon. The holiday accommodation was very clean and modern, and set in lovely moorland, well off the main road, but still accessible to the local pub and not far from Leek or Buxton, either.
Hans
2016-07-18T00:00:00Z
Perfect location. The accommodation was exactly as described, if not better. Had a very enjoyable and comfortable stay. Steve was incredibly helpful
Angus
2017-02-12T00:00:00Z
What a great place superb amazing attention to detail. I thoroughly recommend this place. My room was perfect warm, great shower, cosy and beautifully appointed a real home from home. Kitchenette allowed me to cook my own breakfast and Steve left essentials bottled water and milk tea coffee and hot chocolate - life saver after a long journey up from London. Toiletries and lovely fluffy towels are the icing on the cake. And WIFI nearly forgot! And a lovely welcome note on the blackboard - attention to detail makes all the difference.
Camilla Milly
2016-01-26T00:00:00Z
All facilities were brand new, I recommend this place if you want to stay out of city life. I particularly enjoyed the hill where you could watch an amazing sunset view. Even horses and cats were welcoming to us. Thank you Steve for the yummy chocolate.
Jinhee
2016-06-08T00:00:00Z
We really enjoyed staying at the Bouncy Badger. It was a very clean room with breathtaking views. It is located down a single track farm road so be careful if you have a little car! It's in a lovely part of the Peak District, close to Buxton and Bakewell. We would definitely stay here again.
Georgina
2016-12-04T00:00:00Z
We arrived later than expected but everything was as described. There is little phone signal so I suggest taking pictures/writing down the very clear instructions about getting there and about how to enter the building to make life easier. We hadn't done this so got a bit lost using our sat nav and couldn't get Steve's email to load to get his phone number/instructions. Own fault! Super clean and comfortable once we were in. Microwave was a lifesaver as meant we could heat the food we had brought. Everything has been thought about to make your stay as pleasant as possible.
Rona
2016-02-18T00:00:00Z
We had a fantastic stay. It was a very unique experience.
Emrah
2016-06-07T00:00:00Z
Steve and Sally made us feel very welcome! The whole experience was really great,very fast replies! Beautiful place to stay! we will definitely be returning it was like a little haven! Steve left some great recommendations for places to eat which we tried out and they were lovely! Went into Leek which was only a 5 minute drive and a gorgeous little village to explore! Can't thank you enough for the wonderful experience!
Amelia
2016-09-01T00:00:00Z
Rodzaj pokoju
Pokój prywatny
---
Rodzaj nieruchomości
Apartament
---
Mieści
2
---
Sypialnie
Quarnford, Derbyshire, Wielka Brytania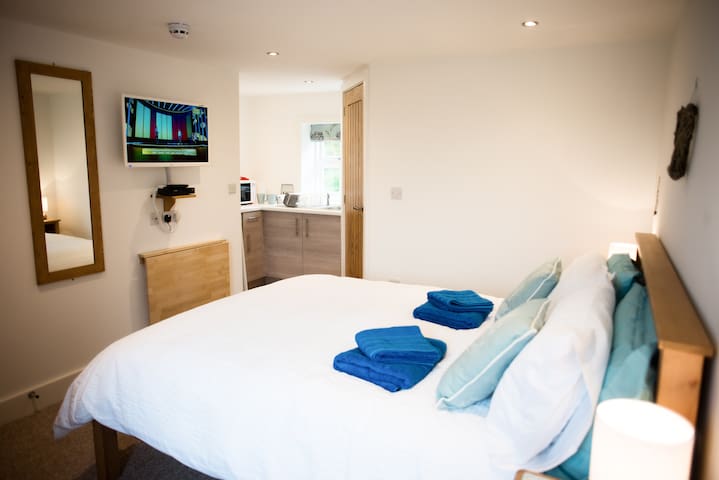 Mein Platz ist 7 neue Studio-Apartments mit Mini-Küchenzeile. Voll ausgestattete Küche auf dem Boden floor.You'll meinen Platz wegen des Lichtes, die hohen Decken, die Küche, das Bett bequem lieben. Mein Platz ist gut für Paare, Solo-Abenteurer, Geschäftsreisende. Jede Wohnung verfügt über ein eigenes Bad und Küche Seite mit Bett und Sofa besitzen.
Ganz in der Nähe des Stadtzentrums, Kino, Restaurants und Bars. Nord Mitarbeiter Krankenhaus ist auch ganz in der Nähe. Bus-Station ist weniger als eine Meile. Nah an Trentham Gärten und den Affenwald, Viktorianische zweistöckige Stadthaus in idealer Lage in Newcastle-under-Lyme, Staffordshire. Das Haus ist von einer Fülle von Geschäften und Unternehmen umgeben. Newcastle -unter-Lyme ist eine geschäftige Marktstadt in Staffordshire. Laut der Volkszählung 2011 hatte die Stadt eine Wohnbevölkerung von 75.125. Lokale Annehmlichkeiten sind eine Vielzahl von Geschäften, Bars und Restaurants, die alle zu Fuß erreichbar. Das Geschäft ist nur eine kurze Strecke von der Potteries Shopping Centre und noch näher am Festival Park. Das Haus befindet sich nur 20 Minuten von Staffordshire erste Theater in der Runde zu Fuß entfernt, sowie am Rande des Naturschutzgebietes Brampton, das sein eigenes Museum, eine Kunstgalerie und Gärten bietet. Das Haus ist ideal für Geschäfts- und Freizeitreisende gelegen. Das Anwesen ist sehr gut mit den öffentlichen Verkehrsmitteln, mit Bushaltestellen bequem zu Fuß von der Unterkunft serviert. Der nächste Bahnhof nur über zwei Meilen entfernt in Stoke-on-Trent. Das Gebiet ist auch gut bedient durch die A-Straßen, mit dem auf A34 gelegen ist, die an die nationalen Verbindungen A-Straßen- und Autobahnnetze. Crewe ist etwa 14 Meilen entfernt und Stafford ist 16½ Meilen entfernt.
The host canceled this reservation 11 days before arrival. This is an automated posting.
Tim
2017-03-18T00:00:00Z
Good value, mostly clean
Rahmanullah
2017-02-20T00:00:00Z
Rodzaj pokoju
Całe miejsce
---
Rodzaj nieruchomości
Apartament
---
Mieści
2
---
Sypialnie
Newcastle-under-Lyme, Anglia, Wielka Brytania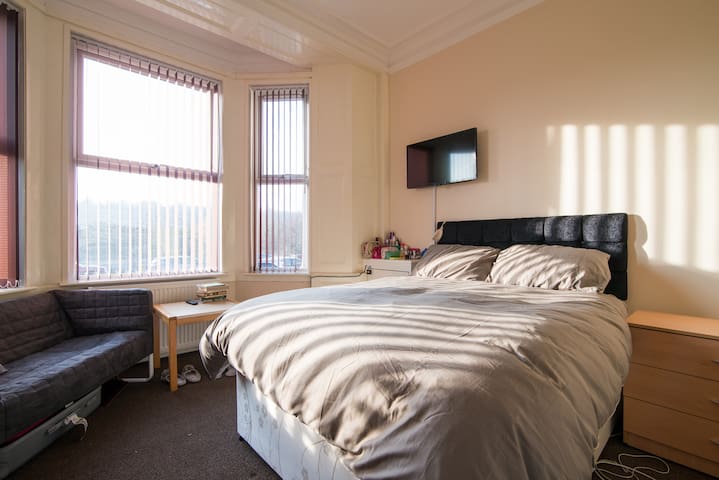 Lymedale Suites酒店外面纽卡斯尔安德莱姆镇中心,我们的位置提供了良好的交通联系附近的机构,如基尔和斯塔福德大学,皇家斯托克城大学医院也特伦特河畔斯托克城中心 我们的行政复式的设计,以应付出差,专业人士或家庭那些寻找比传统的连锁酒店房间提供一个在质量,保密性和空间上面的步骤客人。
我们的行政复式可以设置你喜欢的,与设计用来集成了家人分享两间卧室或利用该套件与卧室和独立的客厅整个公寓独自旅行的模空间 所有这些新近翻修的套房包括前卫的小厨房安置在一个单独的房间为标准,还包括另外就是宽敞的房间/生活在舒适的沙发床,工作区,宽屏幕电视,高速无线网络连接包括在内。 充分利用我们慷慨的长期利率和升级这一行政复式到全服务式公寓 - 每周家政服务和客房刷新这是完美的中长期寻求宾至如归长期的客人。 我们最近开业的酒吧和餐厅拥有令人兴奋的菜肴一个新的菜单可供选择,一个大的选择上提供欧洲啤酒和烈酒停止。 也有在酒店现场提供有偿洗衣设备。
This time we were offered bigger and separate rooms, so the stay was great.
Aleksander
2017-03-04T00:00:00Z
Most helpful despite our late arrival, due to extremely heavy traffic
Susan
2016-09-14T00:00:00Z
Verten har tatt godt vare på oss under hele oppholdet,vi kommer til og bo her neste gang vi kommer.
Stig
2016-10-15T00:00:00Z
We were so pleased with our stay! It was top quality, very clean and it had everything needed for a comfy stay and for the price it was really a bargain, very close to the shopping centre and Alton towers. I have to say that Tom was great and very helpful just a message away to make sure we had a great stay! Many thanks, until next time Johanna
Johanna
2016-08-29T00:00:00Z
Good place. Great customer service. Once the bar is done up it will be really easy
Pete
2016-09-27T00:00:00Z
So, this a a group of apartment/hotel and probably functions with some staff. Ashley was not present but the staff initially told us that the place was closed. Upon telling them about our booking and showing Airbnb invoice they checked and confirmed the booking. The receipt provided by them does not match the invoice given by them but the difference was small.
Amartya
2016-10-22T00:00:00Z
Very nice flat, one bedroom and kitchen with additional bed and sofa. Hosts communication very quick. Recommended for the future
Aleksander
2016-11-26T00:00:00Z
Tom was friendly,helpful and welcoming. The Motel suite was all new spotless and a 5 star rating.Exellent value.
Catherine
2016-09-02T00:00:00Z
Rodzaj pokoju
Całe miejsce
---
Rodzaj nieruchomości
Apartament
---
Mieści
4
---
Sypialnie
Newcastle-under-Lyme, Anglia, Wielka Brytania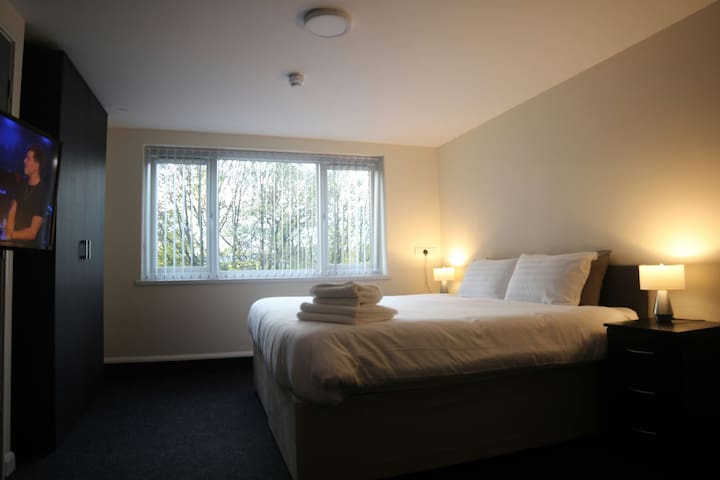 My place is close to the city centre, parks, art and culture, great views, restaurants and dining my property is oposite town centre. You'll love my place because of the Gym, the Sauana, the swimming Pool, the Steamroom, the kitchen, the cosiness, the high ceilings, the views, the location. My place is good for couples, solo adventurers, business travellers, families (with kids), and big groups.
Private Gym , Sauna, Steamroom , Balcony and private indoor underground parking space with security
Rodzaj pokoju
Całe miejsce
---
Rodzaj nieruchomości
Apartament
---
Mieści
4
---
Sypialnie
Newcastle-under-Lyme, Wielka Brytania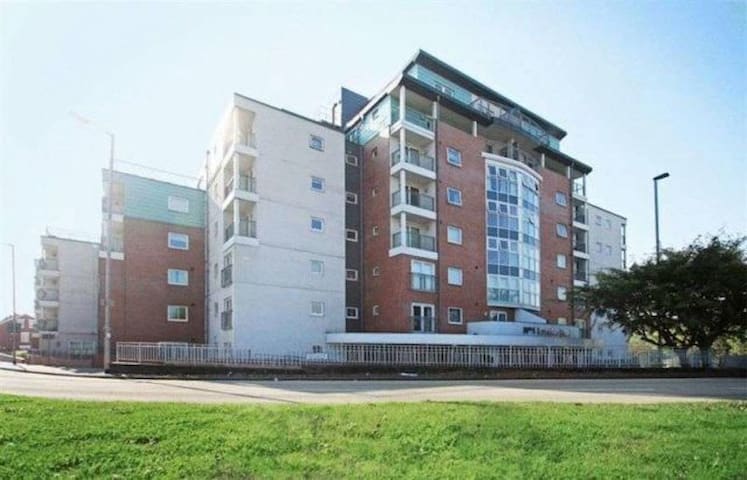 Town Centre Lokalizacja blisko do klubów, kina, bary i restauracje. Lokalnie można odwiedzić Alton Towers, Trentham Ogrody i Monkey Forest, Freeport Outlet Village, The Potteries Museum, teatrów i Potteries Shopping Centre. Keele Dom jest równie wygodny dla M6 i krótki dojazd do Manchesteru i Birmingham. Czy będzie to podróż do pracy lub przerwy z dala Keele dom jest idealnym miejscem.
Rodzaj pokoju
Pokój prywatny
---
Rodzaj nieruchomości
Apartament
---
Mieści
16
---
Sypialnie
Newcastle-under-Lyme, Anglia, Wielka Brytania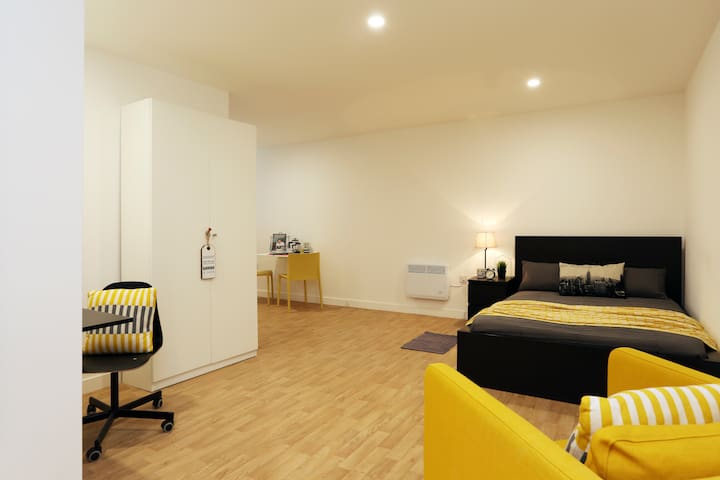 Stel op het terrein van een 12 acre hippische accommodatie in het idyllische dorpje Timbersbrook, we zijn ook binnen handbereik van de steden van Congleton, Macclesfield, Leek, Alderlet Edge, Wilmslow en Knutsford Een prachtige moderne appartement met een slaapkamer, handig om de eigen woning is gehecht, het Zadel is volledig op zichzelf nog opgenomen geniet uitgestrekte tuinen en gronden. Accommodatie biedt een open keuken en woonkamer, slaapkamer en mooi balkenplafond.
Ontspan in het prachtige landschap De Saddlery is gelegen aan de voet van 'The Cloud', die een prachtig uitzicht op de Cheshire platteland 'biedt. Met het moderne leven in een landelijke omgeving, het appartement is perfect voor een ontspannen avond na een dag wandelen, vissen of werken.
Had a great stay at the saddlery. The location is very nice, away from it all but very close to shops etc. The flat is very comfortable, well equipped to a high standard. Stacey and her husband were extremely helpful giving us maps of walks for our two furry friends. We arrived quite late after a long day driving. Stacey had left us milk,tea bags, sugar,chocolates and croissants for breakfast! We were left in peace but nothing was too much trouble if we asked. The dogs were welcomed and Stacey even offered to pick up after them having allowed them on her front garden to relieve themselves. I recommend the Saddlery, it is faultless.
Lesley
2017-02-26T00:00:00Z
The Saddlery is a great place to stay for a relaxing break in the countryside and makes a great base to explore the Peak District. It's situated in a quiet and secluded location whilst being easily accessible from the M6. The accommodation is clean, comfortable and well equipped and the hosts very friendly and welcoming - even providing fresh farm eggs and directions to local places of interest. There's plenty to see on the farm itself - including horses and peacocks - and there are great views from The Cloud, which is a short walk away. Highly recommended.
Stephen
2017-03-26T00:00:00Z
We had a delightful stay in lovely surroundings. The countryside is right on your doorstep with lots of walks available. Stacey, the hostess, is lovely and very helpful and accommodating and any questions were swiftly answered. We felt at home right away and wouldn't hesitate to book again. Highly recommend.
Debbie
2017-02-19T00:00:00Z
Absolutely beautiful place in a quiet area of congleton. Was the perfect location for us to stay. Spotless and cosy apartment with a view of the stables. Would definitely recommend it!
Elena
2017-03-05T00:00:00Z
Stacey's place is absolutely ideal. It's very secluded and quiet, but only a 5 minute drive to the shops which was perfect. When we arrived there were already a few basic amenities which was super appreciated and a really nice extra touch. Netflix being easily accessible on the large telly was also a great added extra that we didn't expect. Our favourite part about the stay was how comfortable the bed was, and the quality of pillows and duvet was amazing. I could have slept all day! For the same price you'd pay for a cheap hotel, this is so worth the money for a great nights sleep! Although this is a converted private part of a house, you'd never know that there were people in the house next door or working in the grounds, Stacey kept in touch to make sure everything was ok with our stay, but we honestly felt like we had the place to ourselves, minus the peacocks and horses which we loved seeing in the mornings! Thanks for having us Stacey, we'll be back!!!! X
ayme
2017-03-10T00:00:00Z
Rodzaj pokoju
Całe miejsce
---
Rodzaj nieruchomości
Apartament
---
Mieści
3
---
Sypialnie
Congleton, Anglia, Wielka Brytania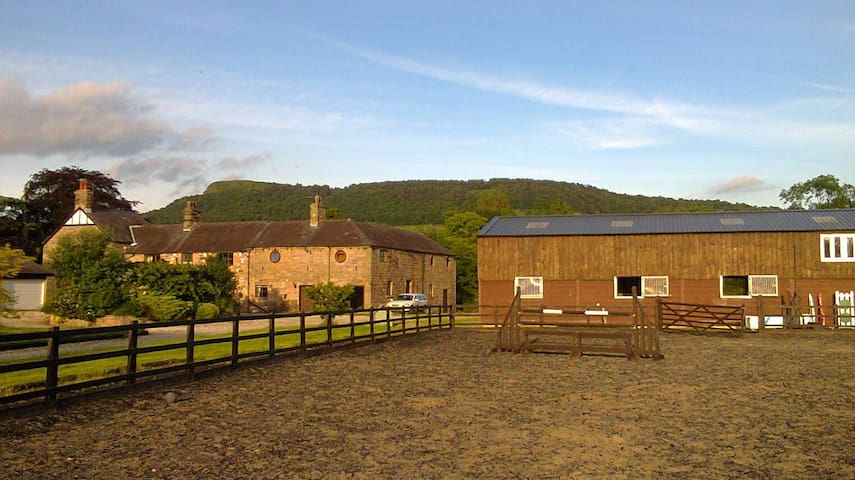 Wpisz daty, by zobaczyć pełną cenę. Obowiązują dodatkowe opłaty. Cena może uwzględniać podatek.