Charming one bedroom cosy cottage in converted (website hidden) an area of outstanding natural beauty surrounded by forests and farmland. Comfortable living room with full kitchen corner, Large double bedded room, shower room & private courtyard garden.
A top-notch conversion of a small flint and brick cart shed alongside a beautifully restored 300-yearold oak barn. It feels private too, with its own little courtyard garden, colourful borders, terracotta pots, teak table and chairs – catch the morning rays with an al fresco breakfast. Inside all is fresh, bright, light and comfortable. Beautiful oak floors are toasty underfoot, there are chunky beams, thick fabrics, white sofas, French doors out the courtyard and heaps of books. The bedroom makes great use of the space with its fine painted bed, so settle down with best linen, feather and down duvets, views across the garden, and a fully-tiled walk-in shower that's state of the art. A generous welcome basket includes a bottle of wine should you be staying the week, the flat-screen TV comes with oodles of DVDs, there's a fully equipped kitchen in one corner and kind owners next door to provide continental breakfast or evening meals should you want them; lovers will take root. There's walking through woods and paths for the more adventurous, and Canterbury Faversham and Whitstable are near. Nearby Ashford has high speed train link to london only 38 miutes away. Charming.
We are located in a listed "Area of Outstanding Natural Beauty" surrounded by fields and woods...mainly sweet Chestnut. There are plenty of good walks in the area including the famous "Pilgrims Way". Just wandering around the local country lanes with hedgerow wildlife, farms and country pubs is highly recommended. This is true "Darling Buds of May" country.
Thank you so much to Scott and Lizzie! We had a perfect relaxing weekend away. They were fab with replying to messages before we arrived, and I was delighted to arrive to such a warm welcome - lovely genuine people. The little extras like the freshly baked biscuits and breakfast bits and bobs were so appreciated. Love how the Cart Shed is decorated, both very cute and modern, and the location was very private and peaceful. Close to great countryside and nice coast, we would both definitely come back and in fact were reluctant to leave! Thanks again both for your flexibility and warmth, Emma and Michelle.
Emma
2014-04-07T00:00:00Z
We just had the most wonderful stay at The Cart Shed, it is a real gem and perfect for an escape from the city. We would love to come back and stay for longer to make more of the local walks as we ended up spending our main day in neighboring Whitstable and Canterbury which were both worth the trip but I would have loved some more time just enjoying the countryside that surrounds you here. The cart shed itself is perfect for 2 and so peaceful inside. The bed is really comfortable and the provisions supplied for us on arrival were fantastic. I am still savoring the shortbread and the homemade blackcurrant jam! We returned both feeling rested. A perfect weekend!
jessica
2015-02-02T00:00:00Z
Scott and Lizzie's place is perfect for a weekend break or longer. For us it was a long weekend out of London. The place is clean and comfortable and Scott was on hand should we need anything. It's a lovely rural location, with Canterbury and coastal towns just a short drive away. Also great for cyclists - we took our bikes and did the 6 mile Crab and Winkle Way from Canterbury to Whitstable but there are plenty of longer routes available.
Deborah
2017-03-13T00:00:00Z
Scott and Lizzie were lovely hosts, very welcoming (to the point of meeting us with a lantern so we could see where to turn off on our bikes), giving recommendations for the local area and making sure we had everything we needed. The Cart Shed was cosy and comfortable, well equipped and clean. We especially appreciated the breakfast items and delicious home-made preserves! It is in a quiet location and well situated for discovering Leeds Castle and the Pilgrim's Way/Kent Downs by bicycle. We'd definitely stay again.
Alice
2015-04-20T00:00:00Z
The Cart Shed proved to be the perfect getaway for my boyfriend and I - beautiful surroundings, really well appointed accommodation with everything that we could have possibly needed for a few relaxing days away, cozy with wonderful hosts. Scott was very quick to respond and very accommodating to our requests, friendly and approachable but at the same time allowing us all the privacy we needed - simply the perfect host! We would recommend the Cart Shed to anyone looking for a place to breathe and be amazed by all the beauty surrounding it. We can't wait to be back already!
Mihaela
2017-03-18T00:00:00Z
It would be an understatement to say: Everything is perfect. It should read: Everything is absolutely superb! The beautiful house is furnished and decorated very tastefully, comfortably and to a very high standard; it is also very well equipped and absolutely clean. Lizzie and Scott are indescribable friendly, reliable and generous hosts. The house is optimally located to visit beautiful Kent and it is also possible to make a trip therefrom to London (the train ride from Charing to London takes only about 35 min.). The Cart Shed is unrestricted recommendable and we will definitely come back again. Thanks for the wonderful time in your little house, Lizzie and Scott!
Guido
2016-07-13T00:00:00Z
Scott really made us feel welcome. The cottage was all set up for us - warm, cosy, goodies in the fridge. It was an ideal place to stay to explore the Kent countryside.
Susan
2016-11-25T00:00:00Z
We had a lovely stay at the Cart Shed and in Kent. The shed was warm, cosy and very comfortable in every way. Scott was a very welcoming and willing host, happy to help us with managing our way through car hire and train pick ups, even driving us when we needed assistance. A wonderful start to our European holiday! We would happily recommend a stay here as a wonderful way to wind down and see more of Kent.
Anne
2014-12-21T00:00:00Z
Rodzaj pokoju
Całe miejsce
---
Rodzaj nieruchomości
Dom
---
Mieści
2
---
Sypialnie
Charing, Wielka Brytania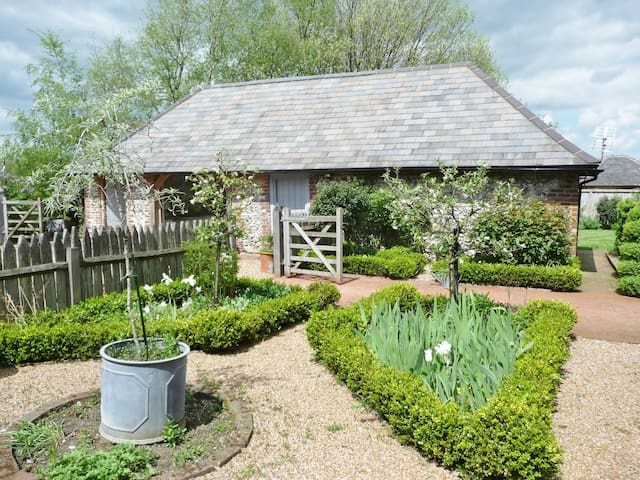 Peckwater House is in the centre of a picturesque village in the Heart of the Kent countryside. The spacious historic Georgian property is within walking distance to the train station with links to London and Ashford international, making Paris achievable in a day. You'll love Peckwater, its picturesque location with good transport links, beautiful Georgian house and garden with a relaxing swim Spa. Peckwater House is good for couples, solo adventurers, and business travellers.
Lovely Picturesque village with village stores, independent shops and a lovely welcoming tea room.
This was my first ever experience with Airbnb and I was absolutely blown away. Clare and Matt are impeccable hosts and their home is quite amazing. From the moment I arrived, I was very warmly welcomed and made to feel right at home as I was shown around their historic and tastefully decorated house. I really couldn't have asked for more. After a long and tiring walk along the North Downs Way, the guest room and bathroom at the top of the house felt like a luxury penthouse suite. A glorious soak in the stand-alone roll-top bath, followed by a deep and restful sleep in the spacious and soft double bed left me feeling refreshed and invigorated. Awakening to the soft cooing of a wood pigeon and rolling open the blind to be greeted by the quaint view of Charing High Street and the church tower prolonged the feeling of being a minor character in a Merchant Ivory production. Even the view from the skylight windows in the bathroom over the red-tiled rooftops of the neighbouring houses made brushing my teeth a pleasure. Clare's attention to detail shows her natural gift for hospitality, right down to the chocolate brownie left by the kettle in the room. I felt privileged to have been given such a genuine welcome into Clare and Matt's exquisite home and would gladly recommend a stay here to anyone who wants to see this charming corner of Kent.
Paul
2017-03-19T00:00:00Z
A lovely family home, extremely pleasant and comfortable. Clare and family made us feel so welcome. Highly recommended for weary pilgrims.
Isabel
2017-03-10T00:00:00Z
Rodzaj pokoju
Pokój prywatny
---
Rodzaj nieruchomości
Dom
---
Mieści
2
---
Sypialnie
Charing, Anglia, Wielka Brytania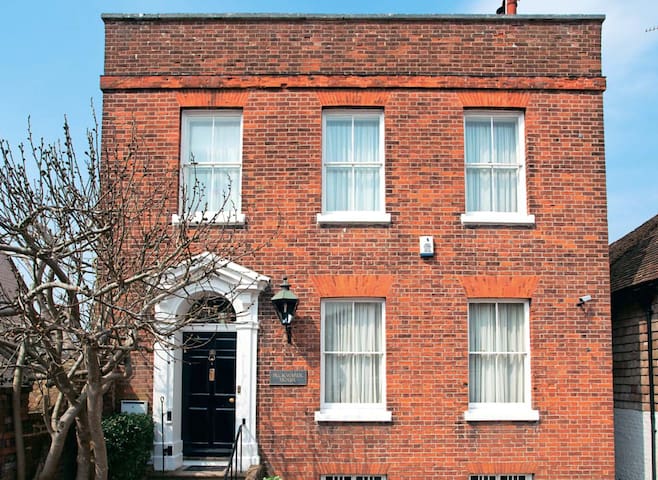 Located on a Small farm, meet and feed the animals and enjoy the countryside.Swan Street Hayloft is set within the grounds of 17thC Kentish barn, in idyllic Kent countryside and has been converted to provide the most modern comforts. Min stay 2 night
Swan Street Hayloft is set within the grounds of 17thC Kentish barn, in idyllic Kent countryside. Swan Street Hayloft has been converted to provide the most modern comforts and luxury accomodation. The historic villages of Charing and Lenham are only minutes away with numerous restaurants and local shops. Local pub with good food 5 minutes walk. Near to Leeds Castle and the cathedral city of Canterbury. A short drive into the heart of the Weald with its charming villages and historic attractions. Both Kent coasts can be reached within 20 minutes, including the fishing town of Whitstable famed for its oysters, to the north, and Dover with its historic castle and white cliffs to the south. Other outdoor pursuits include miles of beautiful walks such as the Pilgrims Way on the North downs, and not forgetting the cycling and horse riding. The Hayloft situated on a small farm and guests are welcome to walk round and enjoy meeting the animals. Please note access to Bedroom 1 is via bedroom 2.
The historic villages of Charing and Lenham are only minutes away with numerous restaurants and local shops. A short drive into the heart of the weald with its charming villages and historic attractions. Leeds Castle is just 6 miles away, surely the most romantic castle in the world, the county town of Maidstone is 12 miles and very accessible by either car or train. The Old market town of Ashford, now the gateway to Europe aboard Eurostar is a 15 minute drive, you can also take the Javelin into St Pancras from here in just 37 minutes.
We had a fantastic time at the Swan Street Hayloft - it is a beautifully decorated and cosy place to stay. The location on the farm makes it perfect for families, especially with young children. Joanna was incredibly warm and welcoming, taking us and our toddler children on a tour of the farm where we fed the animals, collected eggs and held baby lambs and goats. She was very responsive to our requests and had left a lovely basket of produce for our arrival, including Easter things for the children. We have stayed in a lot of self-catering properties before, but this was one of the best. Would highly recommend, and we hope to return.
Fleur
2016-03-30T00:00:00Z
Thanks Joanna for sharing your place with us. Everything was as in the photos, beautifully decorated and clean. We just had to watch out for those low doors and walls upstairs! Great location to do lots of exploring in a gorgeous part of the world. Cheers Ros
Ros
2016-09-10T00:00:00Z
Had a lovely stay at the Swan Street Hayloft. The pictures do not do the place justice, it was beautiful. Beds were comfortable and the sitting area was lovely and it was more roomy than I thought it would be. The kitchen was very lovely, very country. I would definitely go back and stay as the location is also great.
Lisa
2016-05-16T00:00:00Z
Spent a wonderful 7 days at Swan Street Hayloft. A real home away from home with an eco friendly approach and provided comforts like cosy bathrobes, a hairdryer in each room and a lovely hamper with local produce. Joanna was a warm and welcoming host. We loved that we were able to tour the small farm as well as use the folder of information in the hayloft to find our way around and to explore the local village, church and Archbishop's palace and take day trips to Broadstairs, Whitstable, Dover, Hastings, Brighton, Canterbury and Leeds Castle. Would definitely recommend.
Lynn
2016-07-10T00:00:00Z
We had such a wonderful stay at the Swan Street Hayloft! My friends and I were looking for an idyllic escape from London for the weekend and that's exactly what we got. The cottage is beautifully decorated and a great cosy place. The welcome basket was so kind of Joanna, we got to try goose eggs for the first time. The farm was such fun to walk around on Sunday morning, we didn't want to head back to London at all. It is just a short drive to Canterbury/ Whistable etc. The local pub, The Red Lion, is also a real treat.
Imogen
2016-02-29T00:00:00Z
We stayed at Joanna's for a weekend and it was absolutely lovely. Everything was immaculate and the location was lovely too. I had my young daughter with me who was more than delighted to discover a box of toys in one of the cupboards! I also was happy to see a baby gate too! Joanna was very welcoming and was a wonderful host! We will definitely return soon! P.S the complimentary sausages were amazing!!!!
Courtney
2016-02-16T00:00:00Z
Wow! We loved staying at the Hayloft this was our highlight from our whole UK trip. From our first step in the door we were transported to a calm, beautifully decorated piece of heaven. Joanna was the perfect host from beginning to end, she has thought of everything possible to make a homestay perfect from every item in the house, to the welcome hamper and to the farm tour. Our 11 year old loved being part of a farm and meeting all the animals and helping out at feed time. This place is truly ideal for families. It is also a short stroll to the Red Lion the local country pub which was a pure delight with fabulous food. There is not a single fault that I could mention or any area of improvement this house had it all. If ever we return to Kent we would defnitely book in here for a longer stay. Thank you Joanna for a wonderful stay and experience.
Cindy
2016-01-05T00:00:00Z
Great place for families. Beautiful area and wonderful quiet accommodation.
Dave
2016-08-13T00:00:00Z
Rodzaj pokoju
Całe miejsce
---
Rodzaj nieruchomości
Dom
---
Mieści
4
---
Sypialnie
Charing, Wielka Brytania
Our home is being lovingly renovated, as it was in a very sorry state when we moved here in 2009. It has been a labour of love and work is still ongoing. We are artist and musician's friendly. We have many personal interests and willing to share.
Welcome to the medieval village of Charing in Kent - the Garden of England and Chaucer country. Set in the mid-Kent countryside this small village remains unspoilt and beautiful. An ideal spot for walkers, cyclists, artists and photographers, the countryside views are stunning all year round. Our late Victorian house is being carefully restored in traditional cosy style and has a comfortable and modern ambience. We invite you to read all parts of our profile carefully, to make sure that you understand what you are booking for, including the style of breakfast offered. Here we have one double bedroom available, with two single beds, which can turn into a super kingsize bed, plus there is space for a child's cot. The spacious family bathroom, with shower and roll top bath also has underfloor heating. There are two other separate toilets as well, one on the ground floor. The house is just 5 mins walk from Charing railway station on the main line to London, Canterbury, and Ashford International which gives quick access to London, Paris, Brussels, Marseille and Continental Europe. Also close are the historic towns of Canterbury, Rochester and Tenterden - worth a visit for sightseeing and shopping. Local amenities include good restaurants and fine old country pubs, as well as shopping at the famous Ashford Designer Outlet and country markets close by. The area has many places of interest to appeal to all tastes - Leeds, Bodiam and Dover Castles are within easy reach, as well as famous gardens like Sissinghurst, the secret gardens of Sandwich, and the well known Rare Breeds Children's Farm at Woodchurch. Britain's most haunted village - Pluckley, is only a few minutes away, great fun for the ghost hunter! For the more active, local sporting facilities include, Golf, Fishing, Boating, Gliding, Parachuting, Ballooning, Shooting and Horse Riding. Charing has a horse racing track, which hosts several annual point to point events, and racing at Folkestone is only a short journey away. The Battle of Britain was fought in the skies above this area. Nearby WW2 airfields are still flying vintage aircraft locally, including Spitfires. The RAF Memorial at Folkestone is a focus for flying displays in the summer. Children love the nearby coast with sandy beaches, as well as Kent's unique and world famous Romney, Hythe and Dymchurch miniature steam railway. The famous pig racing at the Rare Breeds Centre is a must in the summer months. We are two friendly and welcoming adults, an affectionate female cat (Lucy), and a Romanian rescued small friendly well behaved female dog (Millie). We speak fluent Portuguese, fairly good Spanish, and will have a go at French and Italian. Professional Complementary Therapies are available by prior arrangement - please enquire by email. There is wireless internet connection and TV. Continental breakfast is included. Tea & coffee in your room, hairdryer and bath robes. Free car parking. Charing is a beautiful and welcoming village close to the North Downs, with great walks and many amenities. We look forward to welcoming you and your family. Please let us know in advance if you have any specific or unusual requirements.
We live fairly close to the centre of our village, with shops, cafe, post office and Pub, and near the crossroads with the A20 main road. This road can be busy during the day, specially in the summer months during harvest time, and the holiday period. Once in a while (on average once a year), operation stack is imposed on the M20 motorway, so traffic increases on the A20 during the day. However, traffic lightens considerably after about 9.00 pm, and you should have no difficulty in getting a quiet and restful night's sleep. Most of our guests confirm this too.
From the moment the front door opened I knew I had made a great choice. Grace welcomed me with a big smile and a hug, whilst Ken took my bag and whisked it upstairs to my room. It was then out to the kitchen for a cuppa and the first of many chats. Ken and Grace have a real passion for their small village and its surrounding area, and have a small library of books on its history and interesting places to visit. Being only minutes from the charming railway station access to Canterbury is very easy, as are the little towns up and down the railway line. The next morning I enjoyed some of Grace's home made bread with an egg and freshly brewed coffee. Nothing was too much trouble. It was important to Grace and Ken that I saw the best of what this idyllic corner of Kent has to (URL HIDDEN) room is just as it appears in the photo, warm, welcoming and cosy, Just like its owners. The beautiful bathroom just down the hall had the luxury of underfloor heating. For a quiet, leisurely stay in one of the most historic and beautiful parts of Kent, on a major rail line, "Cosy room in Charing" ticks all the boxes. Heartfelt thanks to two genuinely lovely people.
Gai
2012-11-29T00:00:00Z
Grace was a very welcoming and helpful host. The room was clean and lovely, and the house is being restored beautifully. The Victorian style bathroom is very nice. Breakfast was healthy, and the fresh croissants great. A great start on the day. Charing is a charming old village, full of history, near the downs on the way to Canterbury. Being so close to the small railway station was fantastic fo getting around the area. I would recommend staying at grace's if you enjoy history, art and nature. We had very interesting chats about many things.
Dale
2013-07-22T00:00:00Z
Grace und ihr Mann sind sehr, sehr umsichtige, aufmerksame und nette Gastgeber. Ich habe mich gleich "wie zuhause" gefühlt. Das Zimmer/Haus ist "kuschelig", sauber, aufgeräumt, nett, einfach klasse! Ich habe sehr, sehr gut geschlafen (was mir sonst nicht gelingt!) und würde jederzeit wieder dort unterkommen wollen. Es herrschte ein offener und dennoch wenn notwendig privater Umgang mit einander! Claudia*
Claudia
2012-06-05T00:00:00Z
Host made us very welcome and we enjoyed our stay. only comment would be that there are so many lovely ornaments on every surface, it's hard to find a place to put ones own things.
rita
2016-08-15T00:00:00Z
I loved staying here. Again a great Airbnb experience with such wonderful people! I arrived a little late, so after the initial meeting each other and showing around I almost immediately went to bed. The bed was super comfortable! Both Grace and Ken are such warm people and their little dog Millie a sweetheart! I enjoyed our morning play on the field with the dogs and in the little time we had some interesting conversations. There's a lot of knowledge in this household on all sorts of topics! My dog was comfortable which is a big plus for me, it's hard to find dog friendly places to stay at. I can't thank you enough for the hospitality, I felt right at home! I can definitely recommend this lovely place to stay at! With or without a beloved pooch! Hope to stay with you again in the future!
Nienke
2016-08-07T00:00:00Z
Grace and Ken made us feel very welcome at their home and we had a very pleasant stay. We were very comfortable in our bedroom and enjoyed a healthy and varied breakfast. Thank you! We would certainly like to stay again if possible when we are visiting our daughter.
Jane
2016-05-16T00:00:00Z
We had a lovely stay at Grace and Ken's place in Charing. They were accommodating and made us feel very welcome. The rooms were clean and very comfortable, and Grace and Ken gave us plenty of recommendations of things to see and do during our short time in Charing and the surrounding Kent area. Overall we had a lovely short stay at their place and would gladly recommend it to others!
Adlia
2012-07-22T00:00:00Z
As soon as I arrived Grace and Ken took me into their lovely back garden for a welcome cup of tea and some delicious homemade cake. Just what I needed after a long journey. The house was exactly as described - very clean, cosy and welcoming. Grace and Ken were very kind and interesting people and Ken even took me for a tour around the village shortly after my arrival so I could get my bearings. Following a good night's sleep in a very comfy bed, I started the day with a spring in my step. In terms of location, the house is very well situated and only a few minutes walk from the train station and right next to the charming and historic village of Charing. I felt at home and part of their household from start to finish. I would not hesitate to recommend Grace and Ken as hosts and I would certainly stay with them again if I was returning to visit the area.
Joe
2016-09-21T00:00:00Z
Rodzaj pokoju
Pokój prywatny
---
Rodzaj nieruchomości
Dom
---
Mieści
2
---
Sypialnie
Charing, Anglia, Wielka Brytania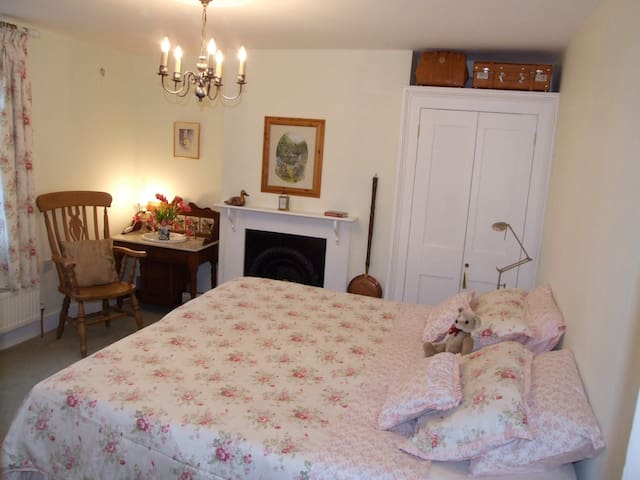 Spacious self catering annex in the heart of a Faversham a few minutes' walk from the town centre and railway station. Large living room with bay window, period marble fireplace with wood burning stove (wood supplied). The kitchen is fully equipped with washing machine, cooker, microwave, sink and fridge. Decked patio area with seating and gas barbecue. Large bedroom has both a king size and double bed and balcony with seating.
Faversham is a lovely medieval twin, although small it has an active event calendar throughout the year. It's location makes it ideal for access to Canterbury and the coastal towns as well as London. The house is within a few minutes walk to the town centre, railway station etc and the market, many cafes and restaurants.
Liz is everything you could ask for in a host. She is very friendly, kind and extremely helpful. The house is simply beautiful and perfectly equipped with everything you may need. It's the perfect location, just seconds walk for all the local amenities such as, pubs, restaurants, shops and tourist attractions. I strongly recommend for anyone who wishes to visit this wonderful area. I'll personally will book there again on my next trip to England! Thanks Liz!
Mike
2017-03-05T00:00:00Z
Great value for money. Ideal location. Well equipped kitchen and loveley lounge with wood burning fire. Very spacious bedroom upstairs with pull out sofa in lounge. Seating outdoors on the patio which was nice and there is a little balcony in the bedroom which was nice but didn't get around to using. The lounge is separated from the owners house by a door so we were a little mindful of trying to keep the noise down. Would recommend as great value.
Christina
2017-03-19T00:00:00Z
We really enjoyed our stay and Liz made everything easy for us. She was very accommodating and welcoming. The house is comfortable and very conveniently located close to the train station and the city centre (ideal for us as we don't have a car). Canterbury and Whitstable are minutes away on the train. We had a lovely time.
Florence
2017-03-26T00:00:00Z
We loved our stay at Liz's place in Faversham. Great little house, we felt really at home and would have loved to stay for longer. It is also in a great location, a 2 minute walk to the centre of town. We have two little children so we had our dinners in and spent the evenings in the house and felt really comfortable and at home. Liz and her family were really welcoming, friendly and helpful.
Sarah
2017-03-16T00:00:00Z
Amazing house, fabulously located and really wonderful wonderful hosts. Couldn't have wished for a better stay!
Ximene
2017-03-12T00:00:00Z
Rodzaj pokoju
Całe miejsce
---
Rodzaj nieruchomości
Dom
---
Mieści
4
---
Sypialnie
Faversham, Anglia, Wielka Brytania
Studio / Open plan, with separate kitchen and bathroom The Beautiful old bakery, the perfect bolthole for a romantic getaway, located in a pretty village of Eastling close to the market town of Faversham. Ideal for sunny days and cosy winter breaks. We allow pets - which we charge an additional £25 per pet, per stay.
The open plan living space provides everything you will need for a truly romantic retreat, surrounded by beautiful countryside and after exploring the local area, enjoy a drink at the typically English village pub, which is just yards away from this sweet cottage. The accommodation Open plan room with double bed (sleeps 2), wardrobe, sofa bed (sleeps extra +2), dining table and chairs. TV/Freeview/Netflix, DVD player. Shower/wet room. Kitchen with compact modern fully fitted kitchen including ceramic hob, fan assisted oven, fridge with ice box, microwave and washing machine. Outside Large paved patio overlooking the enclosed garden, with wooden table and chairs and parasol. Next to the garden is a small field with chickens. Services Wi-Fi Electric radiators in main room, underfloor heating in kitchen and bathroom. The open plan living space provides everything you will need for a truly romantic retreat, surrounded by beautiful countryside and after exploring the local area, enjoy a drink at the typically English village pub, which is just yards away from this sweet cottage.
Really lovely little cottage in a rural location perfect for a relaxing getaway and exploring Kent. We did trips to Canterbury and Deal, enjoyed walks in the countryside and sampled a number of the local pubs. Highly recommended.
Charlotte
2017-01-02T00:00:00Z
Warm welcome by Chris with the fire in the wood burner, some mince pies, a bottle and a Christmas tree... Everything is well done in this little cottage. The kitchen is perfectly equipped. The bathroom with a flour heater and a great efficient shower is very comfortable. The spacious living room/bedroom is lovely decorated, very comfortable sofa and bed. Nice large garden at the front, ideal for,our little dog. Quiet and peaceful area with plenty to do around. We ld like to come back in the Old Bakery.
veronique
2016-12-24T00:00:00Z
Rodzaj pokoju
Całe miejsce
---
Rodzaj nieruchomości
Dom
---
Mieści
4
---
Sypialnie
Faversham, Anglia, Wielka Brytania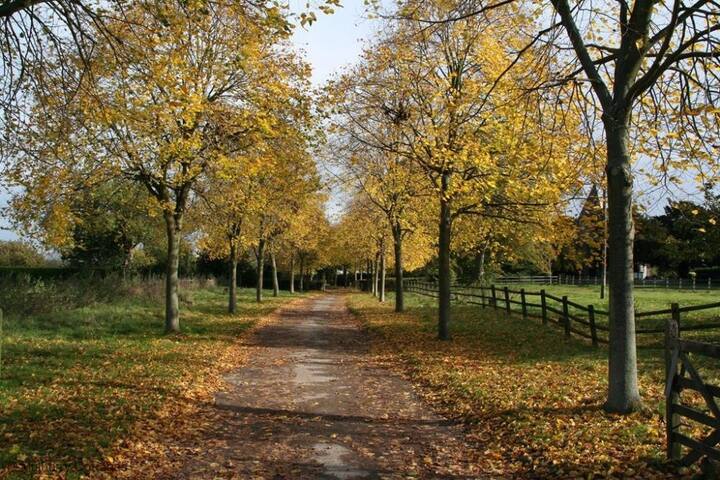 Guests have sole use of ground floor - which includes sitting room, bedroom, separate toilet and basin. Upstairs bathroom is for sole use of guests. Sitting room opens out onto Garden which provides direct access to the Creek and Saxon Shore path.
The bedroom has a double bed and the light and airy sitting room has a double bed settee which would be perfect for additional guests (1 adult or 2 children). There are coffee and tea making facilities, a fridge and microwave are available to use. The sitting room has access to the garden through French Windows, which is lovely for guests to sit and enjoy the peace and tranquility. From the garden there is direct access to the Creek path which makes it perfect for walks. Faversham centre is within walking distance (approx 10 mins). It is a picturesque market town 10 miles from Canterbury, 7 miles from Whitstable and has direct train access to London. M2 Motorway is within 10 minute drive. Faversham has a wealth of bars and restaurants.
The garden opens directly onto the Saxonshore way which is a footpath around the coast of Kent. Access to Faversham Creek is possible if guests wish to sail/boat along it. Faversham is a hidden gem in North Kent, with easy access to Canterbury, Whitstable and London, either by train or car. the M2 Motorway is within 10 minute drive.
Lovely warm apartment with everything you could need including a luscious lemon cake. Easy walk to town and short drive to coast.
Sarah
2016-11-27T00:00:00Z
What can I say....incredible location from for a walk on the river bank, great house, lovely owner, amazing lemon cake, milk in the fridge.... Really what I want to say is THANK YOU! It made our weekend x
Adam
2017-03-05T00:00:00Z
We had a great stay with Cathy and Richard. The accomodation is just perfect with lots of space, a very comfortable bed and a stunning view through the creek of Faversham. You have access to the garden and with it the key for the garden door which leads you directly to the creek. This invites for a walk or taking some pictures - especially if the water is gone during low tide and all boads lying on the ground. When we arrived Cathy was not around but we found the key how described and on the table a fresh lemon cake. This one alone counts for 5 stars! Heavenly! We also found a describtion from the area with some recomended restaurants. During our stay we had some very interesting and exciting talkes and so we enjoyed the last days of our holiday very much. Cathy and Richard thank you for that! Your title as "AirBnB Superhost" is well deserved!
Sina
2016-09-17T00:00:00Z
Cathy was a lovely host who made us feel very welcome and at home. She provided cereal, yogurt juice, milk, tea, coffee etc for breakfast, there was a bottle of wine and some water in the fridge, and had made some delicious chocolates too! She was very helpful in telling us good places to eat and places to go. The area is very quiet, leafy, with lots of big old trees (and buildings). The house is very close to the waterfront and a great waterside walk. We'll definitely be back again, both to visit family and also because Faversham is a picturesque, friendly and unspoiled market town.
Ken
2016-03-25T00:00:00Z
We had a lovely warm welcome from Cathy, which also included a delicious freshly made lemon drizzle cake. Our self contained floor of their house was clean, nicely decorated and a very comfortable bed. It is a short walk into Faversham, where there is a good choice of restaurants. We had an excellent Italian overlooking the creek. We would definitely stay here again.
Jude
2016-07-23T00:00:00Z
We couldn't have asked for a better host and location. We were attending a wedding and heard that the M20 was closed for the weekend so at the last minute we decided to stay an extra night so as to get to the wedding on time. Cathy was really responsive and accommodated our request with no trouble. She had got some breakfast items in, milk, etc which was a really nice touch as was the lemon cake she baked us but alas as we were at a wedding, we didn't get to try it. Lovely location, lovely home and great hosts.
Louise
2016-09-05T00:00:00Z
We loved staying at Cathy's place. It is a wonderful position by the creek, and it was magical to open the garden gate and walk along the bank of the creek without seeing anybody for an hour- just birds and cattle. And 10 minutes the other way we were in lovely Faversham sampling the market fare. The rooms were comfortable and spacious - with books and lots of goodies- we enjoyed the fruit and wine and of course the delicious lemon drizzle cake.
John
2016-09-13T00:00:00Z
It is a lovely peaceful place to stay with a very comfortable bed - and sofabed. A delicious lemon cake greeted us on arrival! Fruit and a range of cereals for breakfast. Well-stocked book shelves. French windows opening onto a pretty garden. A good shower in the bathroom upstairs.
Katharine
2016-06-27T00:00:00Z
Rodzaj pokoju
Pokój prywatny
---
Rodzaj nieruchomości
Dom
---
Mieści
4
---
Sypialnie
Faversham, Kent, Wielka Brytania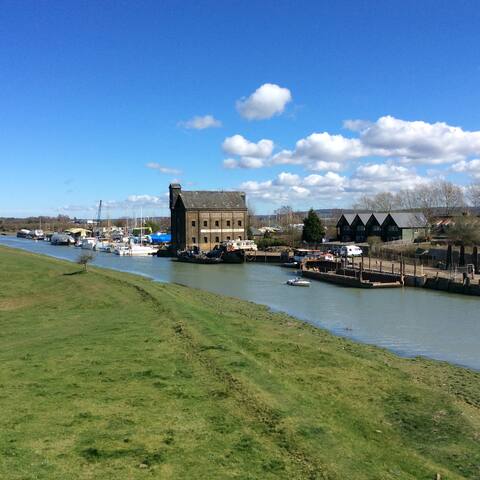 Enjoy the beautiful Kent countryside and coast in this cosy village home. Just 2 miles to the medieval town of Faversham, 5 miles to the beaches at Whitstable, and 5 miles to all the sites in Canterbury.
The house has a fully equipped kitchen and a nice big dining table that can seat up to 8. 2 bedrooms on the first floor, one double with a king size bed and en-suite dressing room, and one with a cabin bed that has a second bed that pulls out, good for 2 kids. The attic has a double futon that can sleep two adults, and has it's own en-suite bathroom. The attic doubles as a TV / Games room if you don't need the extra sleeping space. There is a small walled garden at the back and 2 parking spaces to the front.
The village is in a great location and has all the amenities you need, including 2 pubs that serve good food. There is also a village shop that sells all the essentials and if you don't fancy driving, buses run through the village every 30 mins to both Faversham and Canterbury. There are loads of wonderful country walks on your doorstep and a Pay and Play golf course just 2 minutes away.
Es war einfach alles da, was wir als Familie mit 3 Teenagern für einen schönen Urlaub brauchen: das W-Lan hat super funktioniert, DVD player und großer Bildschirm, auch Spülmaschine und Waschmaschine, ausreichend Handtücher und genügend Duschen, eine sehr gut eingerichtete Küche, sogar mit Gefrierschrank, kleiner Garten. Wir haben uns 3 Wochen lang dort wie zuhause gefühlt - auch für Pokémons ein guter Ort ;-) Viele Infos über Sehenswürdigkeiten und Aktivitäten rundum waren vorhanden und hilfreich. Die Kommunikation mit Tim war immer pünktlich, zutreffend und zuverlässig. Der kleine Shop hat sehr gute Öffnungszeiten. Wandern rund um Boughton auf den zahlreichen footpaths in schöner Landschaft haben wir sehr genossen. Mit der Bahn nach London geht sehr gut, es gibt lohnende 2 for 1 Angebote bei den Eintrittspreisen für Bahnfahrer, man muss aber vor Antritt der Fahrt danach fragen. Whitstable zum Baden, Canterbury und viele Vogelschutzgebiete in der Nähe haben uns gut gefallen. Ach ja, und außerdem der fantastische duftende Lavendelbusch vor dem Haus!
Renate
2016-09-07T00:00:00Z
Great location, ideal base for visting Canterbury and several seaside resorts. Very nice cosy house in a small residential close with parking opposite. Extremely well equiped and presented, comfy beds and modern bathrooms with the added extra of a downstairs utility with toilet. Small garden with seating, unfortunately it was too cold for us to take advantage of it. Would happily stay here again. Thank you Tim for letting us bring our puppy pug Digby, you will be pleased to hear he was on his best behaviour!
Lisa
2015-04-07T00:00:00Z
Great place within easy striking distance of London. 3 beaches in 3 days; Whitstable, Botany Bay and Minnis Bay, all perfect for the family. Children said it was "the best holiday house ever." But they always say that :)
Helen
2014-06-23T00:00:00Z
Très agréable séjour dans la maison de Tim. le Kent est une jolie région à découvrir et Canterbury, Faversham et Whistable sont de très jolies ville à découvrir . Nous avons pu profiter d'un petit déjeuner typique au restaurant White Horse à quelques pas du logement, l'accueil y était chaleureux et le petit déjeuner délicieux. Bref je recommande ce logement et merci Tim.
Aurelie
2016-08-04T00:00:00Z
Die Wegbeschreibung war sehr präzise. Das Haus war ebenfalls in dem Zustand wie er uns präsentiert worden ist. Wir waren sehr zufrieden. Lediglich mit dem Internet TV kamen wir trotz Beschreibung nicht klar, was aber auch an unserer Herangehensweise gelegen haben könnte.
Yvonne
2015-05-04T00:00:00Z
Excellent instructions given on how things worked in the house, and facilities. Local areas of interests and places to go. Great location and an excellent house. Kitchen full of all equipment needed, and the house has three bathrooms. A great stay.
Amanda
2016-12-27T00:00:00Z
The Old Bakery was very comfortable and conveniently close to Canterbury and the seaside at Whitstable. The house has everything that is needed.
Clover
2016-12-04T00:00:00Z
Tom is clearly a very experienced host. The house has everything you need and comfortably fitted our family of 5 grown ups. All very easy and hassle free. Lovely pub a few feet away and village shop that sells everything.
Mandy
2016-12-20T00:00:00Z
Rodzaj pokoju
Całe miejsce
---
Rodzaj nieruchomości
Dom
---
Mieści
5
---
Sypialnie
Faversham, Wielka Brytania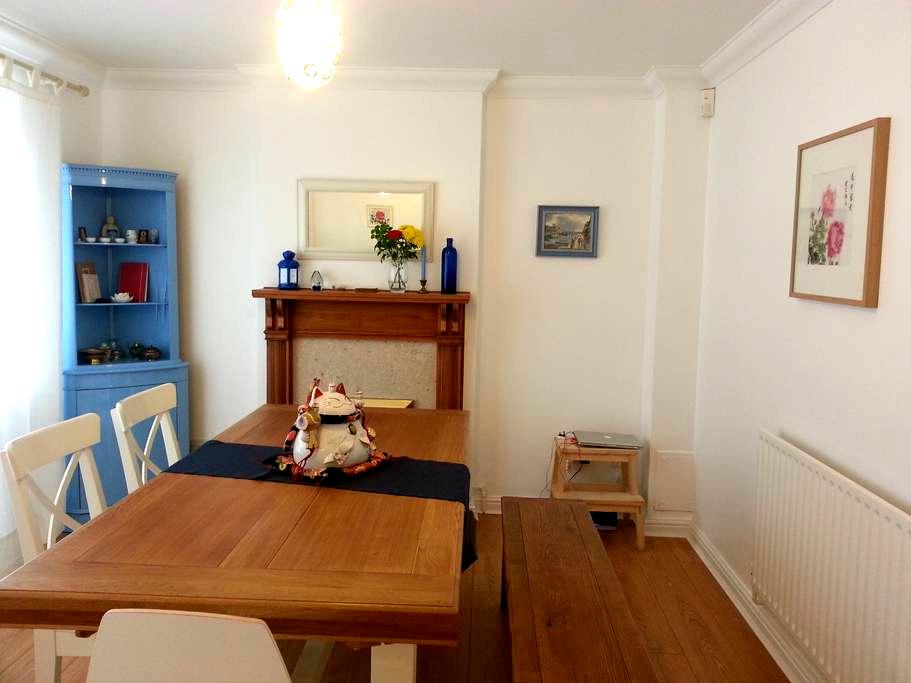 This house has lots of character and a friendly host! It is situated 10 mins away from the station and a few minutes drive from the M2.
Ali was very welcoming and made me feel at home immediately, sitting chatting in the sun in the garden at the back. We didn't see each other after that as we each had appointments elsewhere, Ali away with friends overnight, but later I spent a very comfortable overnight in the house in the small but adequate single room, then with a breakfast of coffee and croissant that Ali had thoughtfully provided. Overall very convenient and problem-free.
Ken
2016-05-23T00:00:00Z
Fantastic host and a most lovely homely place to stay. Ali went above and beyond and even provided me all the vinegar and other stuff to make my Fish and Chips most delicious and then bought for me croissants for breakfast with lovely strawberry jam and butter that she let me toast in her gas Oven.and lovely back garden living area to sit and chill out at and think about life and eat (URL HIDDEN) thank you Ali!definitely recommended
Monty
2016-09-06T00:00:00Z
Very nice lady, can't do enough for you, well recommend
Phil
2017-03-30T00:00:00Z
Ali is a really wonderful host and the room itself is lovely. Super close to the station (you can definitely walk it). I stayed here overnight when at a wedding and my friends were very envious that I only had a brief stumble home rather than having to get the last train! Totally worth every penny. Don't hesitate to book up this room if you're visiting! Thank you so much Ali :)
Harriet
2016-09-05T00:00:00Z
Zum zweiten aber bestimmt nicht zum letzten Mal bei Ali - unkompliziert, freundlich, einfach - alles da, was man braucht. Parkplatz immer leicht gefunden. Kleiner Schatz ohne Schnichschnack. Danke Ali, wir sehen uns!
Michael
2016-12-09T00:00:00Z
Just what I was looking for... enjoyed seeing Faversham and Ali made me feel very welcome. The room was small, but perfectly comfortable and as described in the photos / description.
Tom
2015-11-11T00:00:00Z
Once again Ali was more than helpful by allowing me to pick up a key earlier in the day, allowing me to flexible about my return later. Having stayed there previously, it felt like returning to stay with a friend. Thanks Ali.
Colin
2016-01-17T00:00:00Z
I visited for work purposes and Ali was absolutely lovely and really looked after me and was very accommodating. She kindly let me leave my luggage on my departure day so I could pick it up immediately prior to getting my train without having to lug it all to the office. She was very helpful showing me where everything was in the town and recommending a lovely place to eat in the evening which really improved my stay. I felt very at home and would happily go back when I have to visit again for work.
Laura
2016-04-29T00:00:00Z
Rodzaj pokoju
Pokój prywatny
---
Rodzaj nieruchomości
Dom
---
Mieści
1
---
Sypialnie
Faversham, Wielka Brytania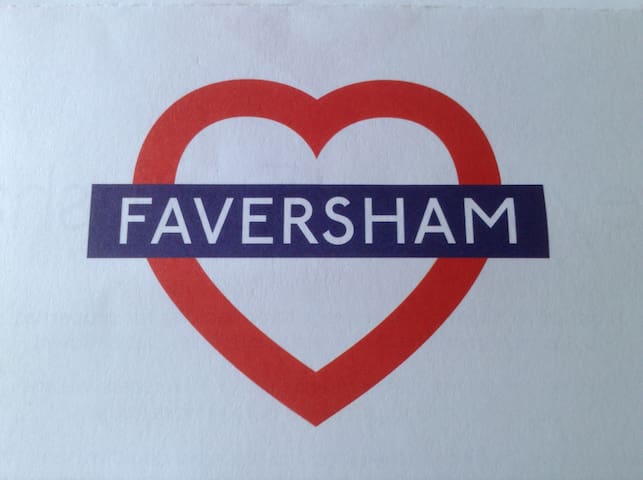 Our house is situated on a quiet road, but only a 10 minute walk into the heart of the historic market town of Faversham, and a stroll away from the boat yard. Its a 10 minute drive to the popular sea side town of Whitstable, and a 15 minute drive to Canterbury. We are just around the corner to plenty of lovely walks and parks and Faversham is well known for its wealth of great pubs and restaurants. Our place is perfect for large groups with kids or just couples, pets are welcome.
Our newly converted open plan house is great for family living, plus we have a small snug tv room with smart tv if you want to get away, which also comfortably doubles up as extra sleeping. Up stairs are is a shared bathroom, two doubles and a single room. We have spare camp beds if required. We also have super fast infinity broadband on wireless and connected to our TV room and smart TV in the main bedroom, with all the usual film and tv providers.
We live in a very quiet road, with no through traffic.
Very spacious open plan, with everything you need in the kitchen, plus numerous CDs and books to choose from when relaxing on the lovely rattan furniture outside.
Marius
2016-08-29T00:00:00Z
The house is a great space, very comfortable with all the mod cons necessary for a very enjoyable and relaxing stay.
Jenny
2016-12-27T00:00:00Z
Rodzaj pokoju
Całe miejsce
---
Rodzaj nieruchomości
Dom
---
Mieści
6
---
Sypialnie
Faversham, Wielka Brytania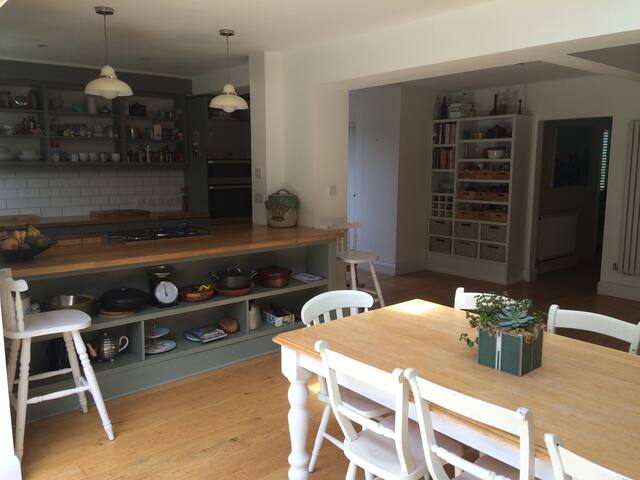 Faversham is the essential English market town. Historic, traditional, and surrounded by magnificent Kent countryside. It has a local market 3 times a week selling delicious local farm produce and home made food. Plenty of cafes,pubs and restaurants.
Large private double room with shared bathroom in 3-bedroomed Victorian terraced house. Decorated in a traditional style and with free parking. Continental breakfast included in price. Bath robes and hairdryer provided. In the winter time a welcoming wood burning stove in the dining room I have a male cat, Fluffy, who is a very friendly long-haired ginger cat. About me: I'm semi-retired, a keen gardener, walker, reader and local volunteer. I am an active and passionate supporter of a number of organisations that campaign for social justice.
Faversham is a very friendly town with regular events happening all the year round. We have a brilliant website visit (URL HIDDEN) that will let you know the weekly events.
Penny has the most lovely and charming home in Faversham, very conveniently located to the train station as well as the town center and pretty much anything else you'd want to do/see in nearby Kent villages. The room is absolutely fantastic: clean, comfortable, large, light, and every possible amenity is provided. It is exactly as pictured on the website. Breakfasts are incredible with lots of choices on offer all freshly sourced from local farms or in the case of the marmalade and elderflower cordial, made by Penny herself! And Penny is incredibly kind and gracious, making me feel instantly welcome. If you want to take some amazing walks through the countryside/beach, be sure to see if she will take you out as she is a fantastic guide and knows the area well. A great stay and highly recommended.
Roberta
2012-07-17T00:00:00Z
Penny's home is comfortable, in a very quiet neighborhood, and she is a wonderful hostess! Probably the best value as far as comfort, breakfast, and local advice and tips out of any of my Airbnb experiences. Penny even met me at the train station upon arrival. The station is close, giving good access to the high speed Kent/SE England rail system. I popped up to Whitstable, an old harbor town, with ease.
Paul
2013-07-23T00:00:00Z
Penny was a fantastic host, and her house is a delight to stay in. We were provided with delicious breakfasts and all the information we needed on the local area... Penny is great to chat to, and gave us a wonderful weekend away! Couldn't recommend more highly!
Charles
2012-11-26T00:00:00Z
We really enjoyed our stay in Penny's delightful house. She is very warm and welcoming. The breakfast was excellent. She is very knowledgeable about the area and, being a keen walker herself, was able to give us a lot of information about walks in the area.
Jill
2014-07-16T00:00:00Z
We received a warm welcome at Penny's place and had a wonderful stay there. The house is located in a quite neighboorhood and the room is very cosy. The breakfast was delicious with homemade marmelade and lot's of local products. My friend Christine and I would really like to recommend this address and we definitely will go back next year. Thank you Penny for all the good care.
Inge
2013-06-19T00:00:00Z
I was well looked after here. Penny was a good host and very helpful in pointing out places to eat in the town.
Mary
2016-08-14T00:00:00Z
Nothing but superlatives. Penny makes you (EMAIL HIDDEN)munication was very easy and fast through phone/mail. Lovely house, lovely garden. She serves excellent breakfast, as small or as big as you want. She'll provide you with info (hikes, train hours, places to visit) if needed. The room is large and very comfortable, the neighbourhood is silent. The house is at walking distance from the trainstation, which has excellent connections to explore the region in a relaxed way. We won't doubt for a second whenever we come back to this region!
sofie
2016-07-25T00:00:00Z
Staying with Penny was my most favourite part of my solo trip to Kent. She's so warm and friendly, the perfect hostess to encounter on a journey. The room was just as on a photo, with lovely big bed, writing table and most wonderful view from the top windows. Penny took me for a walk around town in the morning. Breakfast was great, with locally sourced produce and homemade preserves. Penny is very passionate and knowledgeable about the area and she's happy to share her time. Highly recommended !
Agnieszka
2015-06-07T00:00:00Z
Rodzaj pokoju
Pokój prywatny
---
Rodzaj nieruchomości
Dom
---
Mieści
2
---
Sypialnie
Faversham, Wielka Brytania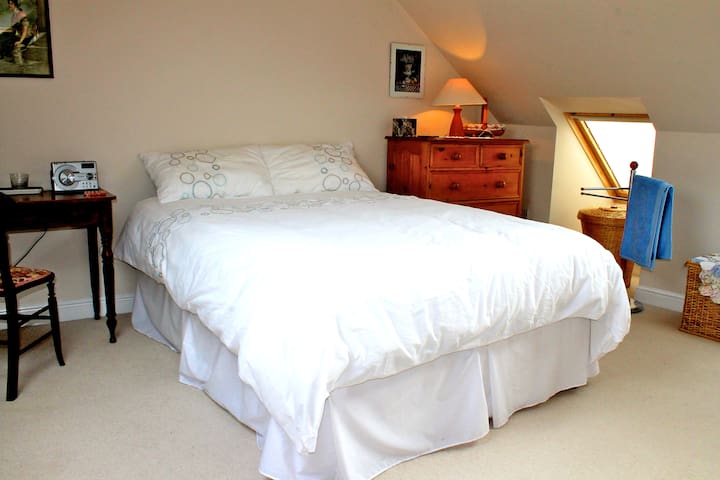 Newly decorated single room in a warm house in a quiet road. Near the creek , countryside and the medieval Market town of Faversham - famous for good eating and pubs! Near RSPB Reserve ,Saxon Shore way, London, Canterbury and Kent coast.
A quiet comfortable room with a single bed , wardrobe, desk and and Wi Fi .Its a good place to rest or work .
House is in a quiet Cul - de Sac with no passing traffic but is only 5 minutes away from the Town centre with its cinema, little Theatre and museum . Market days are Tues . Friday and Saturday." The Best of Faversham " food market is on the first Saturday of the month and Antiques Fair on the last Sunday . There are frequent festivals and public events see (URL HIDDEN) for details. The Saxon Shore Way passes at the end of the road . This is a coastal path which goes Eastwards along the creek to Sea salter and Whitstable, and Westward to the RSPB nature reserve at Harty Ferry overlooking the Isle of Sheppey
Frances was very friendly,welcoming and flexible. The room was comfortable and very much like a home away from home. I would recommend a stay here at any time.
peter
2016-05-05T00:00:00Z
Frances was a fantastic host. Made me feel at home. Her juices were amazing and was great to talk about her job and her book she is working on. Didn't want to leave!Would stay there again without a second thought!
Jacqueline
2016-06-12T00:00:00Z
My booking with Frances was my first Airb&b experience and it was brilliant. Such a nice stay. Very comfortable house and such a nice host in Frances. Highly recommended.
Ken
2016-05-18T00:00:00Z
Sweet and very comfortable Cottage near to town but in quiet spot.
Beverly
2017-04-03T00:00:00Z
I had a great stay at France's place. France's made me feel very comfortable. Place was wonderful warm and peaceful Locations great everything was as she had advertised. Will most defenitly stay there again if she has me. Also recommend the places to any one who wants to visit Kent. Thank you once again Fances
Neil
2016-09-18T00:00:00Z
This was my first experience of using Airbnb and Frances ensured it was positive from my initial enquiry until the end of my stay. The location is quiet, the house is cottagey and homely, and Frances is welcoming, warm and friendly. The bedroom is clean and uncluttered and the bed is very comfortable. An added bonus is the beautiful back garden. At breakfast we enjoyed fresh apple juice made from the garden windfalls and grapes from Frances' own vine!
Patricia
2016-09-02T00:00:00Z
I had a wonderful time staying with Frances in her delightful cottage. She is a lovely lady who made me feel welcome straight away. The room was very nice and she had been very thoughtful in providing an information pack explaining the workings of the house and to help one enjoy the area. She is a talented artist and I visited a gallery in town exhibiting her work. Frances was an attentive host and I felt quite spoilt with hot chocolate in the evening and a hot-water-bottle to keep me cosy in bed. I would thoroughly recommend staying in her house - I felt I was staying with an old friend rather than someone I had just met.
Imogen
2016-05-14T00:00:00Z
Frances is a very welcoming host, great to chat to, and I look forward to staying with her each time I'm in the area.
Ken
2017-01-22T00:00:00Z
Rodzaj pokoju
Pokój prywatny
---
Rodzaj nieruchomości
Dom
---
Mieści
1
---
Sypialnie
Faversham, Wielka Brytania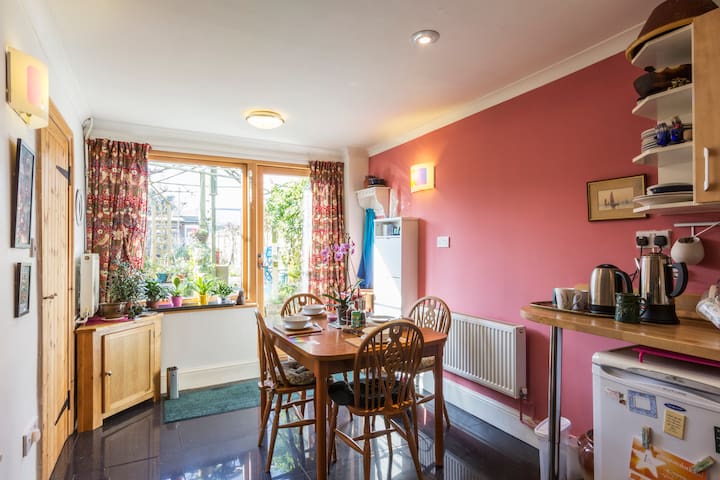 We're right in the heart of Faversham - a beautiful historic town full of independent shops, antiques, markets and great restaurants. It's only 10mins from the famous seaside town of Whitstable, 20 mins from Canterbury and an hour from London.
Our house is spread over three floors, with two bedrooms on the 1st (master bedroom & set of bunk beds) and a double bed loft room on the 2nd. It can sleep six adults (if two sleep on our blow up mattress) or four adults and two children - we have two doubles and a childs set of bunk beds. There is a real working fireplace in the lounge as well as central heating throughout. Parking is on-street in front of the house (with parking permits available on request). London, Canterbury and Whitstable are all easily reached by train from Faversham, plus many many more towns, villages, beaches and hamlets. First weekend of every month there is a big antique market in town, plus a local produce and craft market. Driving to central London (reached by the M2 2mins form the house) is around an hour also. Gatwick is the nearest major airport, 1 hours drive from us.
Faversham is jam packed with character and charm. From independednt shops and market stalls, to a lovely quayside and boatyard. Faversham has it all.
We stayed in Faversham at this charming period house for a family Christmas. We had a wonderful stay and were welcomed with Xmas treats. The house had everything we needed right on our doorstep including local shops, cinema and restaurants. The house itself was full of character and we really appreciated the interior design and amazing summer house complete with record player! Helen and Jason were really helpful in providing us with information about the local area and making our arrival and stay comfortable. We highly recommend!
Olivia
2015-12-30T00:00:00Z
Rodzaj pokoju
Całe miejsce
---
Rodzaj nieruchomości
Dom
---
Mieści
6
---
Sypialnie
Faversham, Wielka Brytania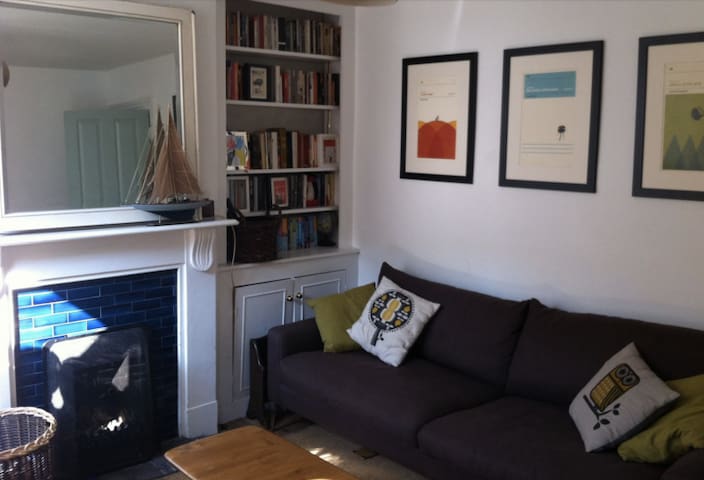 Lovely modern 3 story townhouse with outdoor area to relax in, outdoor furniture to use in the summer time. Access to living area, use of TV, wifi and reading spaces. A very comfortable place to have a break in. Small office available for use if needed.
Quiet, tranquil spot in an historic town. Close to waterway (creek) and many amazing restaurants. From our place you can walk into town, sample the markets and fine food on offer. You can walk out to the countryside along the creek to find yourself some quiet space. We are a 10 min walk from the train station and have easy access to Canterbury and all that is on offer there.
Rodzaj pokoju
Pokój prywatny
---
Rodzaj nieruchomości
Dom
---
Mieści
2
---
Sypialnie
Faversham, Anglia, Wielka Brytania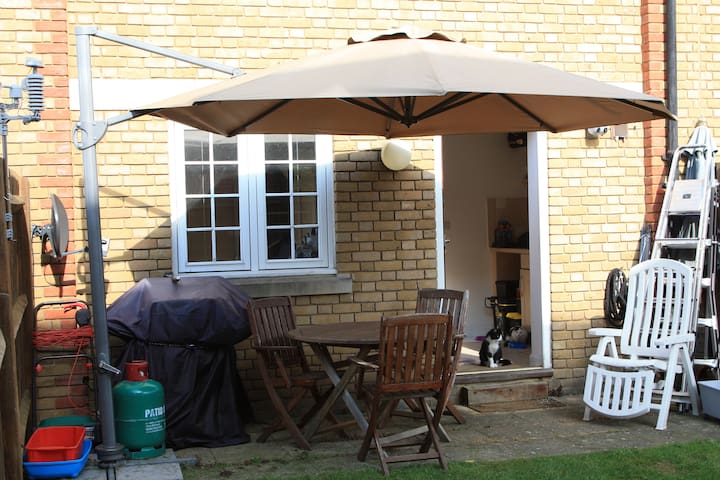 A beautiful bungalow in a quiet cul de sac. We have a seaside themed garden, which you are welcome to enjoy in good weather. Breakfast is included and served in our sunny conservatory. Reduction for solo guest
You have your own floor of bedroom and bathroom, free wi fi and a DVD player/screen
Faversham is a lovely ancient market town with historic buildings and the oldest still working brewery in England (tours available)
Rodzaj pokoju
Pokój prywatny
---
Rodzaj nieruchomości
Dom
---
Mieści
2
---
Sypialnie
Faversham, Anglia, Wielka Brytania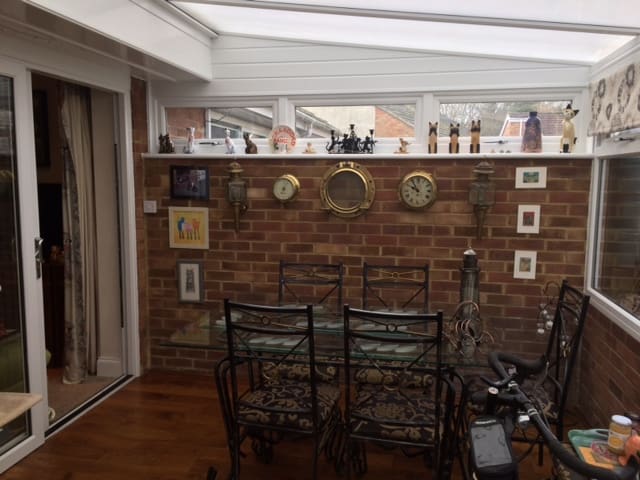 Nestled in the heart of the Conservation area of medieval market town, Faversham, this three bedroom home provides the perfect base for an idyllic holiday in Kent. The town is a five minute stroll and the closest beach an 8 minute drive. (Minimum 5 day let)
A wonderfully friendly street, secure and quiet.
Just as it says, this place is perfect for a family. We needed a base while on holiday at the Kent seaside, and this was perfect. All the modern comforts, dishwasher and a washing machine in the kitchen. Plus cable television, wifi and to top it off, instant hot water for late night baths and showers for the kids and parents after the beach. Not just utility, the house is charming and cosy. We were very happy.
Matthew
2015-08-13T00:00:00Z
Rodzaj pokoju
Całe miejsce
---
Rodzaj nieruchomości
Dom
---
Mieści
5
---
Sypialnie
Faversham, Wielka Brytania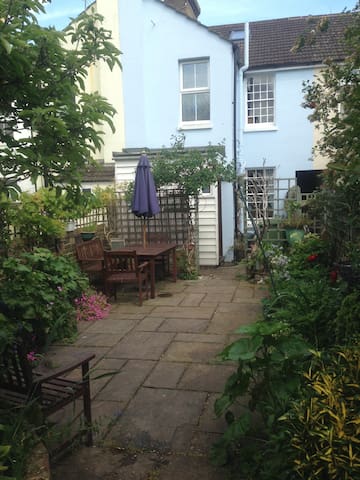 Small Victorian terrace 3 doubles, travel cot, 2 bathrooms. Single futon and Z bed. Shops,market,swimming pool,micro breweries,coffee shops, churches. Great walks - woods,marshes,the sea. Check Faversham's website for seasonal events. Station 5 mins for Victoria /St.Pancras. M2 for London,Canterbury, Whitstable,Margate. Calendar not a true reflection of available dates. Enquire for current vacancy. Applicants with air bnb recommendations only. Minimum 5 nights.
Each bedroom is quite separate. Perfect for 3 couples plus a single futon and travel cot. Not suitable for young children or those with mobility problems. Steep, uncarpeted stairs. Ideal for chilling out, long walks and lazy breakfasts. Sociable cooking and eating as kitchen opens into dining room and on into south facing garden.
Safe, calm with great access to the sea, the countryside and the woods. Good pubs and micro breweries, lots of bric a brac and antiques.
Rodzaj pokoju
Całe miejsce
---
Rodzaj nieruchomości
Dom
---
Mieści
7
---
Sypialnie
Faversham, Kent, Wielka Brytania
Cosy 3 bedroom house in Ashford. 2 spacious double bedrooms and 1 single. Large kitchen with all amenities. Open plan lounge and dining room with Freeview and BT Sport, Darts Board and Table Tennis Table. Lovely garden with deck and swing seat.
The house is 10 minutes by bus or car from Ashford International Train station (London 38 minutes; Paris 3 hours) and the McArthur Glen Designer Outlet Village with its huge variety of shops, restaurants and children's play area. 10 minutes towards Faversham finds you in glorious countryside with excellent walking and picturesque villages such as Wye. Faversham itself (15 minutes drive) is a jewel of a country town with Shepherd Neame Brewery, numerous historical pubs and antique shops around the Creek. Historical Canterbury is a 20 minute drive or train ride away. Within 5 minutes walk of the house you will find shops, restaurants and a pub. The Channel Tunnel is a 15 minute drive away whilst the coastal towns of Folkestone and Hythe are within half an hour. Ashford is a truly International town in the heart of the Garden of England.
Kennington is a leafy part of Ashford with pubs and restaurants. A small park is located 200 yards from the house. The countryside is literally 2 minutes away whilst the town centre, International Station and Designer Outlet Village are 10 minutes away. On-street parking is available near the house.
Very convenient place to stay to catch a boat from Dover. Ben was easy to communicate with and easy about using his house. We enjoyed sitting in the garden and playing darts, and because of a recommadation in his informationbook we ate very nicely at the indian restaurant a few minutes walk from the house.
Martine
2016-05-09T00:00:00Z
Ben's house was a great place to stay! Very cosy and an incredibly good value! The shower wasn't working when we were there (there was a bath though) but that was because it's being replaced so that should be really nice when it's done!
Drew
2016-11-06T00:00:00Z
I stayed with my husband and 2 friends of ours for one night in Bens home. Ben arranged everything perfectly and even though he wasn't home we felt very welcome. The description of the place is very accurate. It is clean and we had everything we needed. Also he had prepared a book for everything interesting near his place, so we didn't have a problem to find something nice to eat. We all agreed if we would come back to Ashford (area) we would stay at Bens place again.
Silke
2016-04-06T00:00:00Z
Lovely house in a great neighbourhood. Host was friendly and keys were exactly where stated. Excellent value.
Catherine
2016-10-25T00:00:00Z
Very spacious, clean and really comfortable house. Ben was really great host and and we enjoyed meeting him. The location is really quiet, comfortable beds. We had perfect one night stay at Ben's house with full home comfort. I understand that Ashford may be not the most desirable holiday destination but if you have some business around this area - this house is just perfect place to stay! I would highly recomend Ben's house!
Asta
2016-03-07T00:00:00Z
Thanks for your hospitality, Ben. We all had a cozy and comfy stay. - 5 Korean guests -
순옥
2017-01-06T00:00:00Z
Stayed here for a week, Ben let us stay in his house and was very helpful and unobtrusive. Very nice house and he was a great host. Would highly recommend.
robert
2016-08-02T00:00:00Z
Ben was very quick to respond . We were very happy with the flexible check-in and check-out time.The neighbourhood is very quiet.
Martine
2016-12-18T00:00:00Z
Rodzaj pokoju
Całe miejsce
---
Rodzaj nieruchomości
Dom
---
Mieści
5
---
Sypialnie
Ashford, Kent, Wielka Brytania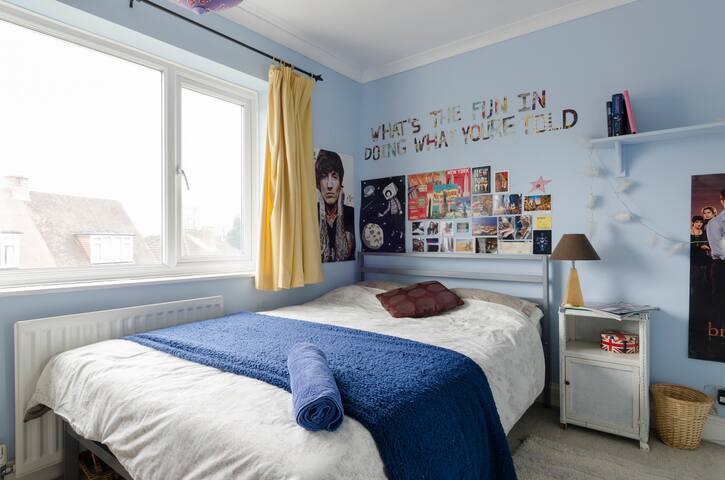 Wpisz daty, by zobaczyć pełną cenę. Obowiązują dodatkowe opłaty. Cena może uwzględniać podatek.