Priors lodge is situated in the historic town of battle. We are a stones throw away from Battle Abbey which was built on the site of the battle of Hastings in 1066. We are surrounded by beautiful walks yet close to the station for trips to London, Rye and Brighton.
If history interests you than you've come to the right place. Priors Lodge dates back to the eleventh century and was once the home of the John Hammond, the Abbot of Battle Abbey following his ousting from the Abbey during the reformation.
We had warmly welcomed and had a great stay. Beautiful old house, I can not even believe that house is so old. As a pet lover should say that Angela has adorable pets. We had tasty breakfast in the morning.
Kostiantyn
2017-04-02T00:00:00Z
Lovely quirky place and great location
debra
2016-11-06T00:00:00Z
Lovely stay in a cozy and historic house, close to the Abbey/town centre and tasty local food at the Chequers Inn. Would definitely come back and highly recommend to stay at Angela's! :)
Nora
2017-02-16T00:00:00Z
We had a perfect stay with Angela. The property is very unique and full of character as well as being warm and comfortable. A dog friendly house too, so much so as to look after my Belgian Malinois- who won't just trust anybody- while we were out for dinner in one of the several traditional pubs within walking distance. There is a lovely and genuinely convivial atmosphere in the house, something also felt by the other guest we met that night. We were already more than satisfied, but to top it off were greeted by a lovely and varied breakfast. We would definitely return and cannot recommend highly enough. Will and Arianna, December 2016
Arianna
2016-12-29T00:00:00Z
It was a fantastic experiencw. True historical dwelling right near the Abby. The hosts were lovely and friendly, extremely attentive to all our needs. We spent a great evening chatting about history and culture right at the eldest part of the house, near the chimney which dates back to XII century. Abolsutely recommended to those who like history, architecture and village tranquility.
Gleb
2016-10-17T00:00:00Z
Angela was a great host , very helpful and friendly. What an amazing house with plenty of character. Lovely breakfast too.
Nicole
2017-04-08T00:00:00Z
Very friendly, good breakfast and what a wonderful 800 year old building!
hardie
2016-12-31T00:00:00Z
We were made to feel very welcome and could not wish for a better experience. The house oozes history and is clean, warm and cosy. The bed was enormous and comfy. Nice touches were the speciality tea bags and childrens' books for our son. Breakfast was great, too. We did not want to leave! Battle is well worth a visit- we want to return for more history, and to sample the great little tea shops and restaurants.
Hannah
2016-10-16T00:00:00Z
Rodzaj pokoju
Pokój prywatny
---
Rodzaj nieruchomości
Dom
---
Mieści
2
---
Sypialnie
Battle, Anglia, Wielka Brytania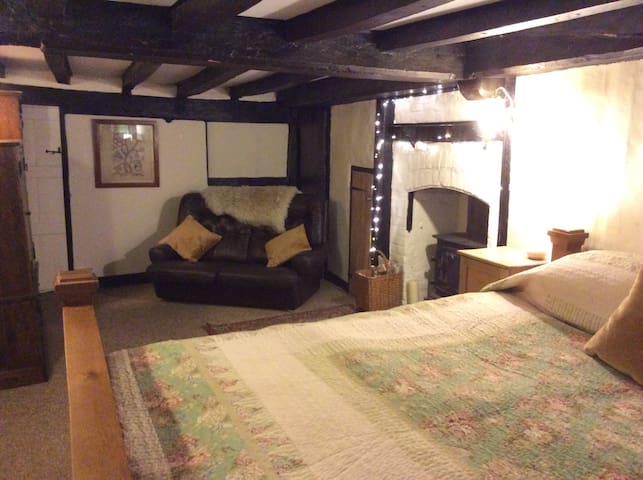 Mein Platz ist in der Nähe der historischen Stadt Battle, wo die Normannen im Jahre 1066 gelandet und auch in der Nähe der Küstenstädte von Bexhill und Hastings. Sie werden meinen Platz wegen der Gemütlichkeit, die Menschen, die Lage und die sehr bequemen Betten lieben. Mein Platz ist gut für Paare, Solo-Abenteurer, Geschäftsreisende, Familien (mit Kindern) und pelzigen Freunde (Haustiere). Wir sind auch nur eine kurze Fahrt entfernt von Brighton, Eastbourne und Tunbridge Wells.
Das Haus verwendet, um den Dorfladen und Post zu sein, und im Jahre 1645 gebaut wurde gekauft wir das Haus im Jahr 2007 zu machen und eine perfekt für Reisende weg zu schaffen bekommen einen gemütlichen Rückzugsort mit Geschichte direkt vor der Haustür zu suchen. Obwohl das Haus befindet sich in London House bildet, hat es einen eigenen Eingang, Parkplatz und Garten, aber wir sind auf der Hand, wenn Sie etwas brauchen.
Das Dorf besteht aus zwei Pubs und ein Dorfladen - es ist ruhig und entspannend. Innerhalb von ein paar Meilen erreichen Sie Schlacht, wo die Normannen König Harold und Battle Abbey eroberte ein faszinierender Tagesausflug ist. Die pulsierenden Städte Eastbourne, Brighton und Tunbridge Wells sind auch leicht zu erreichen, wo Sie einkaufen bis zum Umfallen und wenn das nicht auf der Liste der Dinge zu tun, gibt es viele Schlösser, Gärten und andere historische Orte, die Sie besuchen können .
The host canceled this reservation 3 days before arrival. This is an automated posting.
Sarah
2017-02-28T00:00:00Z
Such a beautiful house, absolutely couldnt fault a thing. All decor was perfect, the garden area was so lovely & everything had been though of down to the very last detail to make our stay the best it could possibly be. We had a fantastic trip & fell in love with the place! Would recommend anyone visitibg the area to stay here, it will make your holiday complete.
alison
2017-04-02T00:00:00Z
Rodzaj pokoju
Całe miejsce
---
Rodzaj nieruchomości
Dom
---
Mieści
5
---
Sypialnie
Ninfield, Anglia, Wielka Brytania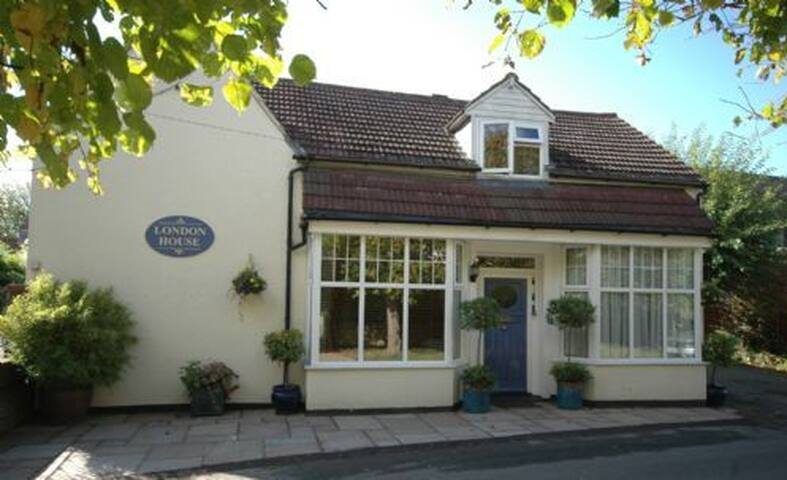 Priors Lodge is situated in the historic town of Battle. We are a stones throw away from Battle Abbey which was built on the site of the battle of Hastings in 1066. We are surrounded by beautiful countryside walks and yet close to the station for trips to Hastings, Rye and London. We have a quirky, inviting, working family home with a dog, a cat, two chickens, an inglenook and a stove. What else could you want.
This house is a delightful home to stay in as parts of it date back to 1375. The abbot John Hammond from Battle Abbey was forced to live here during the reformation under King Henry VIII.
Lovely kind family, great accommodation, ideal location, will be booking up again as soon as possible, defiantly as must try.
warren
2017-02-12T00:00:00Z
My boyfriend and I stayed at Angela and family's beautiful, rustic, historic home for two nights at the end of a cathedral tour of sorts. Angela and Barnie are warm and welcoming, and the house was an unexpected treat to experience. We felt like part of the family right away. The house was warm, quiet, and super convenient to town, and Angela served up great food and engaging chat. Their two sweet dogs, Stimpy and Teddy, and lovely Gypsy the pure white cat made the stay even more memorable. I loved getting to know them all. What an AirBnB should be. We will be back.
Erin
2017-01-15T00:00:00Z
Priors Lodge is almost opposite the wall of Battle Abbey; brilliantly located. It's a stunning period property and Angela's welcome and hospitality is amazing. A cup of tea on arrival and later a glass of wine and an invitation to share supper with her and her family. The view from the back of the property is brilliant with the old brick red-tiled roof, garden and field beyond. Angela is warm and very accomodating. I was able to leave my suitcase in the property till 4pm the day I was checking out. Book this if you can!
Andrew
2017-02-17T00:00:00Z
Angela's place felt like home. Her and her lovely family made us feel so welcome and she provided a delicious breakfast! We also had a fantastic meal at the gastro pub across the road.
Fliss and Matt
2017-02-19T00:00:00Z
Prior's lodge is a fascinating and characterful building, and Angela is a really welcoming and thoughtful host. We had everything we could wish from a room, and much more. Including treats, high end fluffy towels and delightful herbal teas. The breakfast was amazing. Angela and her whole family are also very helpful and interesting people to make acquaintance with. We really enjoyed our stay and will definitely recommend it to anyone who is after a character property stay which is well within a budget.
Anna
2017-04-02T00:00:00Z
A wonderful comfortable and clean stay. Very relaxing and Angie and family great hosts. A superb breakfast also. Definitely recommended and will return
Simon
2016-10-30T00:00:00Z
Angela was a fantastic host, giving us a warm welcome and making us feel immediately comfortable when we arrived. Her home and our room were lovely. The pictures don't do the place justice! She was very thoughtful, laying out a great breakfast in the morning and providing nice touches like sparkling water and tea in the bedroom. It was like a home away from home. Just lovely!
Kelly
2016-09-18T00:00:00Z
We really enjoyed our stay with Angela and her family. We felt very welcome from the beginning and we had a very pleasant stay and an enjoyable evening. Angela was very attentive as she made us a wonderful breakfast in the morning and helped us out when needed. Thanks Angela!
Fien
2016-11-03T00:00:00Z
Rodzaj pokoju
Pokój prywatny
---
Rodzaj nieruchomości
Dom
---
Mieści
2
---
Sypialnie
Battle, Anglia, Wielka Brytania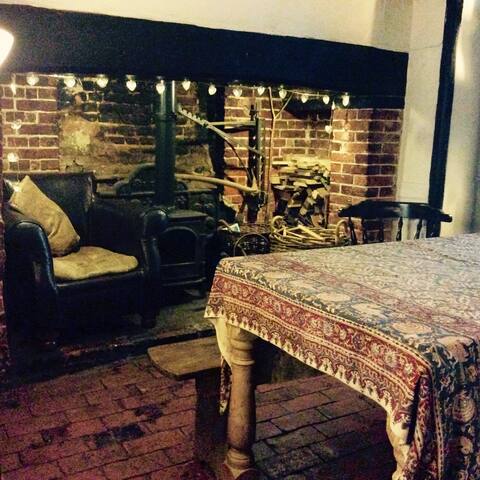 We can accommodate up to 10 adults. There is a large living area and full kitchen facilities. Ideal for a civilised family celebration. The property is in a quiet location with a large garden and beautiful views over the countryside. The property is not suitable for loud parties as we have neighbours to consider.
Rising like fairy-tale turrets throughout Kent and Sussex, the British Oast is a well-loved feature of the countryside that happens to make a great home too. We have 4 bedrooms with king size beds & ensuite bathrooms. (8 adults) The 5th bedroom is a twin and is best suited for older children but can be used for adults.
The historic market town of Battle is a 7 minute drive away. See (URL HIDDEN) Coast/Beach Beaches at Eastbourne, Bexhill-on-Sea and Hastings are about 15 to 20 minutes drive. The sandy beach at Camber is 25 -30 minutes drive. These beaches are also popular with kite flyers and surfers. Other Attractions include: BATTLE ABBEY - Site of the 1066 battle of Hastings BATEMANS - Home of Rudyard Kipling from 1902. BODIAM CASTLE - One of the UK's most perfectly preserved moated castles, featured in Monty Python and the Holy Grail. HERSTMONCEUX CASTLE - A 15th century moated castle set in 300 acres of woodland and gardens. PEVENSEY CASTLE - Built by William of Normandy DE LA WARR PAVILLION - A Grade One listed Modernist building situated on the sea-front in Bexhill. GREAT DIXTER HOUSE AND GARDENS - Family home of the late Christopher Lloyd, writer, gardener and creator of this famous garden.
The house is amazing. We were three families and there was plenty of space for all of us. The children loved it. Hide and seek was taken to a whole new level and lasted hours!! All the bedrooms were lovely but the two four poster bedrooms were extra special. There was no shortage of bathrooms either. Kitchen was well stocked and very clean. The outside area was very pretty so if the sun is shining it would be a lovely place to relax. We had a fabulous time at this property and would recommend to others.
Marian
2016-10-30T00:00:00Z
I stayed at Michael's oasthouse with my family for my mother's 50th birthday celebrations and we all had the best weekend there! The house is absolutely stunning and I would definitely recommend it to anyone considering this stay! Michael and his partner Anna we're both very friendly and welcoming and gave us a full tour of the house to explain anything we may need to know. They were flexible with check in and out which made our stay relaxing and even more enjoyable. Thank you! is truly stunning and I
Lauren
2017-03-05T00:00:00Z
A fantastic house with loads of space and comfy beds - we kept losing each other and the kids loved exploring. Plenty of parking and unlimited hot water :) Michael and Anna welcomed us and then let us be, which was nice as they live next door but we didn't feel overlooked. Battle is a lovely town in easy reach of lots of interesting things to do.
Kirsty
2015-08-29T00:00:00Z
We had a really lovely weekend at the Oast House for a family birthday. The accommodation is very spacious and well equipped. The setting is lovely and there is lots to do in the area. Highly recommended!
Jessica
2016-06-21T00:00:00Z
Michael and Anna were wonderful, warm hosts and the oast house is stunning. We were celebrating my mum's 60th there, so had a weekend of lots of cooking and baking. The house was superbly equipped for all eventualities. Best weekend ever!
Hannah
2016-05-24T00:00:00Z
Michael and Hannah are as charming as their house. And what a beautiful place this is! They offered to come pick us up at the station (the rest of us arrived by car a little later) so they could give us the grand tour. They also offered us a bottle of Prosecco on arrival which was really kind. We didn't see them for the whole 3 days except when the Wifi broke down and they kindly shared theirs with us. The place has been decorated with taste, style and a lot of patience (it took them 8 years to refurbish the oast!). You can tell they've spent time on it. There are 4 double bedrooms and 1 bedroom for the younger crowd with 2 single beds. You will need a car there so bear that in mind. There is a charcoal BBQ and pretty much anything you can think of (board games, DVDs with DVD players in each room, a toaster, etc.). We thoroughly enjoyed our time at the oast and hope to be back one day! Thanks again for making our stay so nice :)
Magali
2016-03-29T00:00:00Z
The Oast house is a great place for a large family gathering and we were made very welcome. The house is very well appointed and warm and has everything you could want. The beds are very comfortable and it is beautifully furnished and very spacious. It is in the country and quiet but easily accessible to Battle. Michael was very quick to sort out a minor problem. I would definitely recommend a visit.
Elaine
2016-01-19T00:00:00Z
What an amazing property. Absolutely loved it. Great decor, really comfortable bedrooms especially the two round Oast rooms. Great for a family gathering.
karen
2015-11-23T00:00:00Z
Rodzaj pokoju
Całe miejsce
---
Rodzaj nieruchomości
Dom
---
Mieści
10
---
Sypialnie
Battle, Anglia, Wielka Brytania
Heel vriendelijke ontvangst door Sarah-Fay. Rustig gelegen, op 2km v kiezelstrand. Je kunt zelf je ontbijt maken en mag koelkast en huiskamer en tuintje gebruiken. De slaapkamer was wel heel erg klein.
Ann
2016-07-24T00:00:00Z
The host canceled this reservation 2 days before arrival. This is an automated posting.
Sreejit
2016-07-28T00:00:00Z
Sarah Fey and her husband made us very welcome. Their house is extremely clean!
cate
2016-08-23T00:00:00Z
Sarah-Fay met me from the train station, and gave me a lift to the house. She gave me a tour, and outlined clearly where I could put my food, and what I could use in the communal areas. The hosts also provided me with a lot of information about the area, and made sure I knew where I was going. They were kind enough to offer me lifts around town during my stay, and took the time to get to know me. I had a wonderful time staying here, and would definitely stay here again!
Em
2016-08-08T00:00:00Z
Rodzaj pokoju
Pokój prywatny
---
Rodzaj nieruchomości
Dom
---
Mieści
3
---
Sypialnie
Bexhill, Wielka Brytania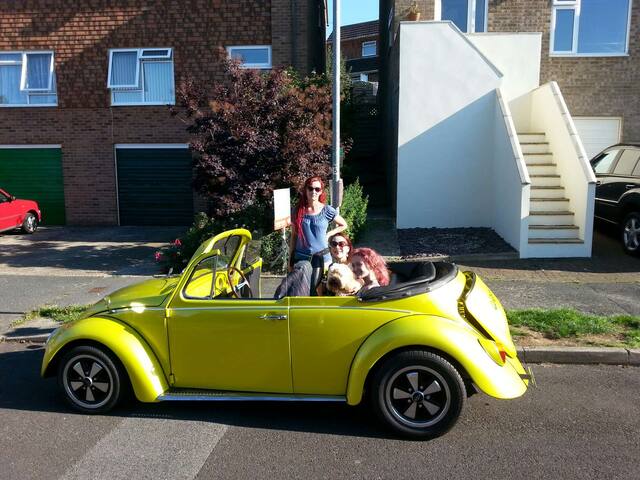 An 18th century cottage situated on a bridle and footpath about 1 mile from the historic town of Battle. This beamed cottage would be ideal for two couples or a family. The two shower rooms allow for privacy and there is plenty of storage for your clothes. There are walks over fields and through woods. The cottage is situated on a small holding with sheep, goats, chickens, horses and bees . There are many historic destinations nearby and lovely beaches within a 20 mins drive.
The cottage would suit a family or maybe two couples.
Our small holding is on the edge of a farm. We have Bridle paths and footpaths to the front and the rear of the property. There are walks through fields and woods with amazing views. The nearby town of Battle is the site of 'The Battle of Hastings' and has many cafes, pubs, restaurants and shops. A visit to Battle Abbey is a must. 20mins drive away are Bodiam Castle, Pashley Manor, Bedgebury Pinetum and Bewl Water. The nearest beaches are also about 20mins drive to Hastings and Bexhill. Both these Towns have theatre, restaurants and a vibrant night life. The historic town of Rye has many cafes and antiques shops and the lovely harbour. Hastings Country Park and the South Downs are great for walking. Glyndebourne Opera House and Charleston Farmhouse are also about 50mins drive away. Brighton is about an hour away by car or train. London is 1hr 20mins by train.
Rodzaj pokoju
Całe miejsce
---
Rodzaj nieruchomości
Dom
---
Mieści
6
---
Sypialnie
Battle, Anglia, Wielka Brytania
Nezwick Haus ist voller Charakter als Eigentum Daten 1800, mit c.1930s hinteren Verlängerung. Im Erdgeschoss ist eine separate, gut ausgestattete Küche, offen geplant, aber Wohn- und Essbereich definiert, bequem Platz für 6 Erwachsene. Im Obergeschoss befinden sich 3 Schlafzimmer mit Doppelbetten und eigene Lagerung in jedem Zimmer, sowie einen gemeinsamen Familien großes Bad mit Dusche in der Badewanne. Draußen ist eine schöne geschlossenen großen Garten ein Eckgrundstück einnimmt.
Nezwick Cottage befindet sich in exponierter Eckgrundstück nur wenige Meter vom Bexhill Downs, innerhalb einer Meile von der See, Bahnhöfe und Haupteinkaufszentrum entfernt. Bexhill-on-sea genießt wahrscheinlich das beste Klima an der Südküste mit einer behaupteten 4 Stunden zusätzliche Sonnenschein p / w als die durchschnittliche Stadt am Meer. Schwerpunkte umfassen eine breite Ebene Promenade, sanft abfallend preisgekrönten Strand, Sandfläche bei Ebbe & den berühmten 1930er De La Warr Pavillion bietet hochwertige Unterhaltung. Es gibt eine Vielzahl von guten Restaurants in der auch ziemlich "kontinentalen Stil" Straßencafés direkt am Meer. Bexhill hat zwei der besten Golfclubs in Sussex, einer davon ist nur entfernt 3mins fahren.
We had a great time spending an extended weekend at this gorgeous cottage. It's charming, very warm and spacious. There was 5 of us and we were very comfortable. Our hosts were lovely, ensuring they were there to show us around and they also made themselves available to us even quite late in the evening when we had a question. The neighbourhood is very quiet and picturesque. We would definitely recommend this.
Savvas
2016-05-03T00:00:00Z
The house and garden are lovely. It was nice and warm and cosy with great facilities in a good position. Will definitely use again.
James
2016-10-25T00:00:00Z
Lovely cottage, full of character, plenty of space for our family of five. Perfect spot for us to spend a few days in Bexhill visiting family. The house is centrally located and not a far drive from the sea and shops. The hosts were extremely accommodating and welcoming.
Maureen
2016-07-13T00:00:00Z
We just got back from Micheles and Kevins truly charming cottage. My husband and I have stayed there with our two girls and it is a perfect place to be from home to home, but with no household chores:) and seaside close by. We had a fantastic summer weather, and loads of fun at the beach which is a short distance from the cottage, but I can picture this cottage to be a great stay in not so summery or sunny days, if you want a cosy get away and lovely walks on the Bexill on sea beach.
sNDRA
2016-08-28T00:00:00Z
Fantastic period cottage with a great garden! Superbly clean, friendly extremely welcoming hosts who go out of their way to make sure that everything is sorted for your stay. Lovely card and selection of food essentials and even a bottle of bubbly on arrival! Much appreciated. We will definitely want to stay again!
Paul
2016-06-06T00:00:00Z
Beautifully decorated with loads of little quirky touches. Very comfortable beds, generous kitchen and garden. Perfect for friends and family. Excellent range of DVDs and games available for cosy nights in.
Laura
2017-04-03T00:00:00Z
The cottage was very homely, comfortable and had everything we needed. Michele was helpful and flexible with our booking (even though everything was booked rather last minute!), gave us useful information about things to do in the area and left the kitchen stocked with essentials which was a lovely touch. Overall the cottage gave us the ideal 'countryside getaway' feel which is exactly what we were after - would definitely recommend staying here!
Sophia
2016-04-25T00:00:00Z
Michele made us feel really welcome with a lovely note and a very thoughtful bottle of wine, water and some food essentials. It was a really kind touch. The house itself is lovely and the garden is gorgeous - lots of seating for outdoor dining and a lawn for a spot of sunbathing! The area is quiet and residential, it felt very safe. Towels were provided which was great as we'd forgotten ours! We ate in and the kitchen was brilliant, it had everything we needed to cook the lovely seafood we picked up by the sea-front at The Angry Whelk.
India
2016-08-15T00:00:00Z
Rodzaj pokoju
Całe miejsce
---
Rodzaj nieruchomości
Dom
---
Mieści
6
---
Sypialnie
Bexhill, East Sussex, Wielka Brytania
這是基於我們的房子,我,我的合作夥伴,我們的小卵石貓生活在一個可愛舒適的臥室,我們是在貝克斯希爾15/20分鐘步行到鎮和黑斯廷斯可愛伊斯特本和偉大的地方,領略美麗的海濱和鄉村之間在南海岸..
Rodzaj pokoju
Pokój prywatny
---
Rodzaj nieruchomości
Dom
---
Mieści
2
---
Sypialnie
Bexhill, Anglia, Wielka Brytania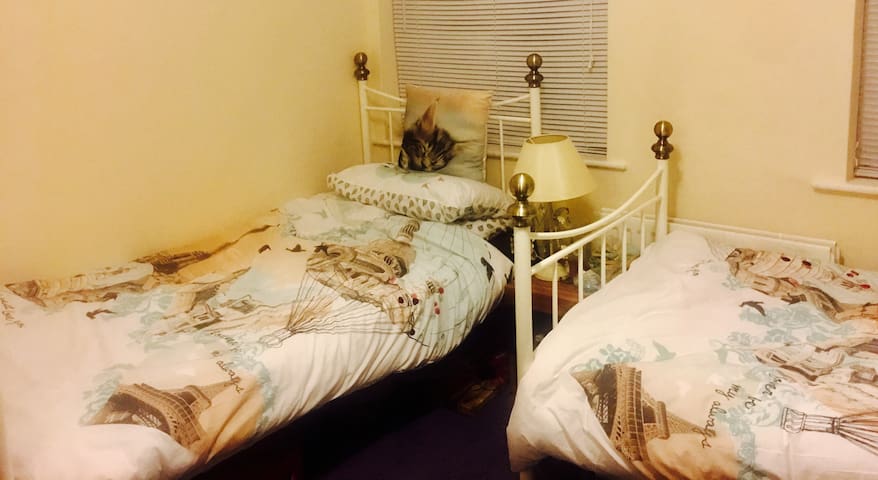 Mé místo je v blízkosti MHD, do centra města, parky a umění a kultury. Zamilujete si své místo kvůli pohodlí a umístění. Mé místo je vhodné pro páry, sólové dobrodruhy, a obchodní cestující. Dům Ian nachází jen kousek od hlavní ulice a dvě minuty od nábřeží !! Velké bary a muzeí a restaurací v docházkové vzdálenosti
모든 새롭게 단장! 저녁 접대에 현대적이고 깨끗한 설정 멋진 개인 정원!
Fabulous location if you're seeing something at the De La Warr Pavillion. Scarlett and her lovely family made us most welcome and provided some very useful suggestions. The house was spotlessly clean, the room great - very quiet and peaceful - and the bed is extremely comfy! Would highly recommend this to anyone.
Suzanne
2017-03-05T00:00:00Z
Scarlett's place is a great location, only a stones throw from the lovely seafront and an easy walk to all the shops. We had a delicious breakfast at the cafe over the road which I would also recommend! The house and the room were exactly as described, clean and tidy, and we had a very comfy nights sleep. Scarlett and her family were very friendly and welcoming and we would definitely stay here again if we need a room in Bexhill.
Maddy
2017-01-22T00:00:00Z
Lovely friendly couple, well decorated house near to Bexhill town shops and restaurants... my first Airbnb.
Reginald (Reg)
2017-02-19T00:00:00Z
Nice house, good location. Scarlett is lovely! Parking difficult so be prepared for a short walk if driving. Cafe over road recommend for breakfast!
William & Louise
2017-03-11T00:00:00Z
호스트 친절합니다. 역세권. 대형마트와 바다가 아주 가까워 이동이 편리했습니다. 잘 쉬었다 갑니다.
Misun
2017-04-08T00:00:00Z
Convenient location, close to the sea. Didn't meet Scarlett but her husband Bez was there to welcome me. Very friendly and the room is clean and facilities are nice. Nothing to complain and do recommend.
Peng
2017-03-29T00:00:00Z
Rodzaj pokoju
Pokój prywatny
---
Rodzaj nieruchomości
Dom
---
Mieści
2
---
Sypialnie
Bexhill, Anglia, Wielka Brytania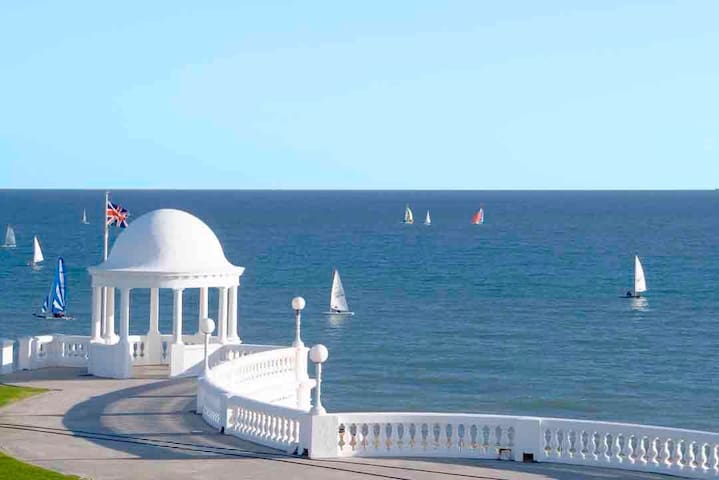 Judy's place was exactly as described (and more) - the room was warm, bright, clean and cosy, with a very comfortable bed and a truly convenient en-suite bathroom . It is situated on a quiet road, yet a walking distance from the sea-front and local shops, cafes and restaurants. Communication with Judy was excellent as well - she promptly replied to all our enquires and gave us a very warm welcome. She also prepared us a very nice breakfast, including the best home-made orange marmelade I've ever tasted. All in all, it was a great stay, we would deffinitely reccomend Judy's place to everyone that happens to travel that way!
Cirila
2017-04-10T00:00:00Z
Judy was an excellent host and made us feel very welcome, friendly greeting and on arrival we were treated to tea and freshly baked scones. The room was snug and the ensuite a real bonus. Everywhere was spotlessly clean and the bed comfortable. The cats were friendly and liked a tummy tickle!! Continental breakfast was offered and there was a delicious bowl of fresh rasberrys and blueberries with yoghurt, cereals and warm crossiants. Would definitely recommend.
theresa
2016-09-01T00:00:00Z
Friendly and welcoming host, in a nice area with short walks to key locations and public transport to surrounding areas.
Dan
2016-08-29T00:00:00Z
Judy has lovely home. It is very clean & cared for. She made me so welcome. The breakfast was lovely with fresh fruit cereal & toast! I defiantly recommend this house.
Teresa and Peter
2016-11-19T00:00:00Z
Judy was very welcoming and her house very clean and met the description on the site. A big thank you to Judy for a great stay, the bed was very comfortable.
Emma
2017-01-25T00:00:00Z
Judy was a great host! The room was perfect for what was needed - clean and comfortable. Judy was kind enough to provide breakfast and even a dinner! I would certainly recommend staying with her to all. Many thanks!
Graham
2016-08-26T00:00:00Z
Warm cosy place. Well looked after, Judy is very friendly and kind. Would definitely recommend.
Adam
2016-12-29T00:00:00Z
Perfect night in Judy's place ! She is so kind and welcoming. The room was confortable and very clean and the breakfast fesh and tasty ! We fell in love with her cats Merci beaucoup !
Claire
2016-08-10T00:00:00Z
Rodzaj pokoju
Pokój prywatny
---
Rodzaj nieruchomości
Dom
---
Mieści
2
---
Sypialnie
Bexhill, East Sussex, Wielka Brytania
Double adult room. Smaller room with three quarter bed on separate listing. Newly decorated room on quiet residential estate with road parking. Hastings 3 miles, shopping, culturally rich old town and beaches. Bathroom shared with single room occupants if any also downstair cloakroom/toilet. Back bedroom backing onto woodland. Bannatynes gym, pool and spa hotel 5 minutes walk. Distant sea views to front of house.
We enjoyed our time with Philip and Penny a lot. Great house with great people. We can recommend it with all our heart!
Christiane
2017-03-13T00:00:00Z
Our second stay at Phil & Penny's. We enjoyed it a lot. Was a lovely weekend, very easy and relaxed. Sitting in the garden in the sun while eating breakfast in April might be a first. Thanks Phil & Penny...we're looking forward to another trip to Hastings
Chris
2017-04-09T00:00:00Z
Stayed with Penny and Phil for several months while I was working at Hastings. Couldn't have asked for better hosts! My stay was very comfortable. Penny and Phil were always extremely helpful and kind. The house is very warm, cosy and clean! The location is lovely and quiet with easy access to town and seaside. Can't recommend this place enough! I will definitely be back! :)
R
2017-03-03T00:00:00Z
Rodzaj pokoju
Pokój prywatny
---
Rodzaj nieruchomości
Dom
---
Mieści
2
---
Sypialnie
St Leonards on Sea, East Sussex, Wielka Brytania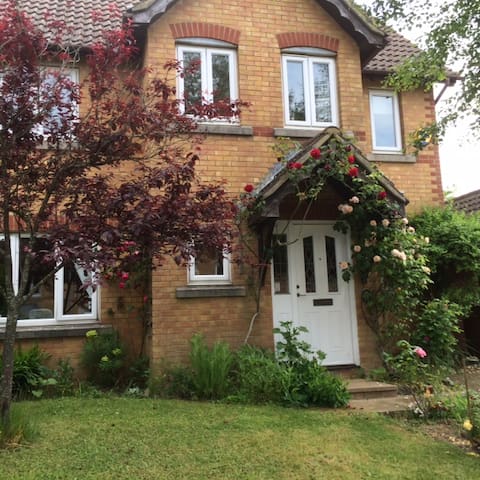 Kommen Sie und probieren Sie die Köstlichkeiten in einem Künstlerhaus in der Nähe des Bleibens auf das Meer und den Wald! Ruhigen Gasse über ein Feld mit Schafen suchen, nur 12 Minuten zu Fuß zum lokalen deli. und Auswahl an Geschäften, 15 Minuten, um das schöne Meer, die nie voll wird! Die individuell gestalteten Zimmer mit weißen Wänden, Holzdielen, Teppiche, zwei Einzelbetten und ein Doppelzimmer. Moderne Gemälde und Drucke schmücken die Wände. Die en-Suite besteht aus einem weißen Suite. Die Zimmer bieten einen Blick in den Garten. Frische Bettwäsche und Handtücher
Moderne Kunst bedeckt die Wände, das ist ein schrulliger Haus mit nichts fad zu enttäuschen. Die Wände sind entweder weiß oder hellgrau, mit bunten Prints / Malen / Keramik in jedem Zimmer. Ich bin ein aufgeschlossener, freundlicher Gastgeber, der wünscht Ihnen einen erholsamen, komfortabel, unterhaltsam Aufenthalt. Ich genieße, neue Leute zu treffen, und das Ziel Ihren Aufenthalt das Beste zu machen!
Huset er beliggende ned en rolig lane med får og heste i de omkringliggende områder. Der er en stor have på bagsiden af huset for dig at slappe af i, og hvis du har lyst til at være kreativ et studie. Hvis du ønsker at udforske kan arrangeres din kreativitet, kunst eller keramiske klasser. Geraldinefra(URL HIDDEN)
Gorgeous house and friendly easy going hosts. We had a wonderful time staying there! Many thanks for your hospitality. We hope to visit again soon.
Robert
2016-10-16T00:00:00Z
A lovely place, in a beautiful area. My hosts were very interesting people, and we talked and talked and talked. Both after my (very late) arrival in the evening, and in the morning over breakfast. Plus they were very helpful in showing me how to get to my destination the following day. I thoroughly enjoyed my stay and can recommend this place without hesitation.
Doug
2016-11-04T00:00:00Z
We stayed in Bexhill, to see Eddie Izzard on the De La Warr Pavillion, in Geraldine's lovely house. We couldn't have asked for more hospitable hosts in a lovely home with lots of character. Shout out to Eddie the dog.
Owain
2016-08-30T00:00:00Z
we like the host and the place a lot, every enjoyable stay and had some nice chat with host.
Lin
2017-04-09T00:00:00Z
I would just like to say thank you to Geraldine for being a wonderful host! So friendly and welcoming from when I initially enquired and booked to guiding me to her property. I stayed two nights. The room was a large double with 2 separate single beds and ensuite. Shower was lovely and powerful and the view of the garden was great. The house is gorgeous and quirky. Full of beautiful artwork and Geraldine was very friendly, we had long chats in the evening and it felt was though we were old friends. Edgar the dog was an added bonus. Adorable and happy to share his kitchen with me! Lots of love, hope to see you again, Ayesha Chowdhury (Orpington)
Ayesha
2016-03-04T00:00:00Z
It was a pleasure to meet Geraldine and her gorgeous dog! Her home is full of art and creativity. The house was warm, comfortable, clean and the en suite bathroom is brand new. The location was particularly convenient being close to my father's nursing home and is situated down a narrow country road backing on to fields.
Paula
2016-02-11T00:00:00Z
Lovely house, homely and Geraldine had set everything up to make my stay easy and comfortable. Lovely location and perfect to explore this part of East Sussex. I didn't get to meet Geraldine and my visit was shorter than planned but correspondence and instructions clear and very helpful.
Sean
2016-04-01T00:00:00Z
Thanks for a pleasant stay. great location for what we needed!
Louise
2016-06-26T00:00:00Z
Rodzaj pokoju
Pokój prywatny
---
Rodzaj nieruchomości
Dom
---
Mieści
2
---
Sypialnie
East Sussex, Wielka Brytania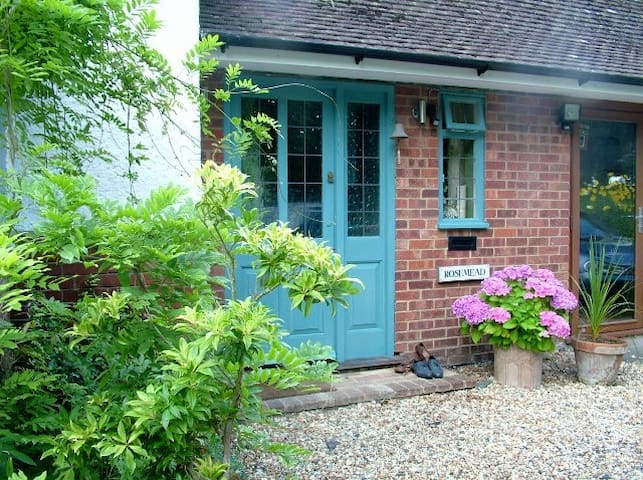 Sherlocks Barn is close to Battle, Pevensey Castle, Eastbourne, Bexhill and Hastings. 45 minutes from Brighton. It is set in four acres near country pubs and walks. You'll love my place, it is a 16th Century listed barn, built in 1550, completely renovated in 2011. It is situated in an incredible position with 180 degree panoramic views of Eastbourne and the South Downs. The property has a double garage and summer swimming pool. It would be ideal for couples, families and larger groups.
The property is ideal for a family gathering in a splendid location. It is large, set in four acres of grounds. It is spotlessly clean and available for discerning guests to enjoy.
Rodzaj pokoju
Całe miejsce
---
Rodzaj nieruchomości
Dom
---
Mieści
8
---
Sypialnie
Battle, Anglia, Wielka Brytania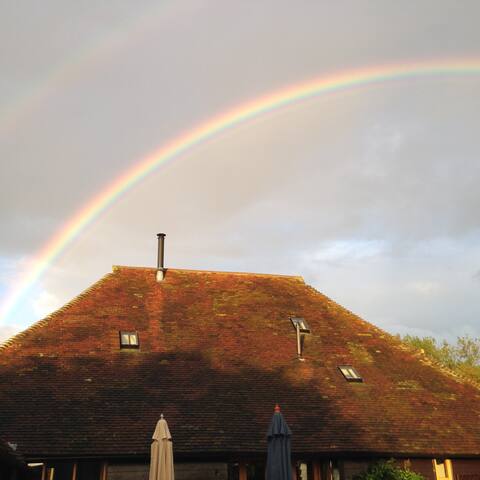 Mein Platz ist in der Nähe der berühmten De-La-Warr Pavillion in Bexhill und in der anderen Richtung St. Leonards & Hastings, die viele interessante Geschäfte, Cafés und die Jerwood Galerie bietet. Die neue Hastings Pier ist auch nett. Ein Meer Radweg verbindet sie alle. Für Keane Fans ist das Soverign Light Cafe ca. 35 Minuten zu Fuß von hier (URL HIDDEN)
Einzelbett. Stuhl und Laptop-Größe Klapptisch in kleinen, neu eingerichtete Zimmer mit Gartenblick. Sie können das Meer über die Dächer, Sterne und Mond in klaren Nächten sind nicht betroffen durch geringe Anzahl von Straßenlaternen zu sehen. Carparking - ich die Einfahrt mit meinem Nachbarn und haben einen Parkplatz Speicherplatz auf dem Laufwerk, aber wenn das für Sie einen Parkplatz zu eng fühlt, ist auf der Straße vor dem Haus zur Verfügung. Sie sind willkommen, Ihr Fahrrad mitbringen kann es in Halle oder Gewächshaus über Nacht gesperrt werden. Bitte nicht fragen Mine sein mein Schatz zu leihen.
Ruhige Wohnstraße. In wenigen Gehminuten von Strand & Ravenside Retail Park, hat Tesco, Marks & Spencer, Boots, Halfords, B & Q und 24 Stunden Garage in unmittelbarer Nähe.
I had a lovely stay at Gigi's home. She was helpful and welcoming. And the house is a walking distance from the beach, which makes it a great place to take off for discovering the coast.
Anna
2016-12-02T00:00:00Z
It's been a very wonderful staying at Gigi's place. The house is cosy and comfortable, located near the sea shore and nice to walk around. Very convenient for transportation. Gigi is really kind and helpful, she provided lots of travel advices for me when in Hastings. Great experience! Thank you Gigi!
Hua
2017-02-18T00:00:00Z
Gigi is a delightful person who made her equally delightful home available. All was as described except the room is better than the photos - a delightful surprise. Gigi and I had a very enjoyable afternoon at the Great Dixter Gardens. An easy walk to the gorgeous coast and the food hall of M&S. A decent walk to de la Warr Pavilion and Bexhill township. All very worthwhile.
Anne
2016-10-06T00:00:00Z
It was really very good experience staying at Gigi's place.
Ashish
2016-10-07T00:00:00Z
I had a really wonderful stay with Gigi. She was very welcoming and the room was clean and bright and lovely with a TV for my own use. The bathroom was also clean and nice and I had a fantastic bath which was just what I needed. Gigi couldn't have done enough for me and I would thoroughly recommend her as a host.
Joanna
2016-10-16T00:00:00Z
This place was exactly as described, in a good central location and ideal for visiting the area. Gigi made me feel very welcome and was there was good, interesting conversation during the evening I stayed there.
Alan
2016-11-27T00:00:00Z
I was privileged to be the first person to stay with Gigi & it was wonderful. Gigi is a very friendy and caring hostess. There's a huge Tesco's, M+S, Boots etc within 7 mins walking distance...but more importantly: the BEACH! If you are the type who loves a 'good old chat' but also likes to be 'out and about', this is perfect for you! ;-)
Bianca
2016-09-02T00:00:00Z
Delightful secluded residential house with pastel decor. Certainly lives up to bright and airy. Welcoming lady host.
Nick
2017-02-04T00:00:00Z
Rodzaj pokoju
Pokój prywatny
---
Rodzaj nieruchomości
Dom
---
Mieści
1
---
Sypialnie
Hastings, Anglia, Wielka Brytania
Privé spacieuse chambre double avec lits jumeaux qui peuvent être joints pour faire un double confortable. Chambre a pc et wifi. Situé à 100 m de la mer, au cœur du centre-ville, notre détendue 3 bed maisonette est un endroit idéal pour se détendre et explorer.
Notre maison est un espace chaleureux et accueillant pour vous de visiter, se détendre et explorer. Il y a 3 chambres, 3 WC, une salle de douche qui est partagée pour les clients ainsi que d'une salle de bains familiale. Nous avons un grand plan ouvert salon / cuisine dîner avec beaucoup d'espace pour vous d'avoir le petit déjeuner ou asseyez et vous détendre. La maison est sur la rue avec un accès facile aux commerces et restaurants. Il est également 100metres de la mer et l'idéal De La Warr Pavilion- pour les visites de week-end, courts séjours ou nuitées pour les concerts. Il est un espace grand et moderne et il y a beaucoup de place pour vous détendre. Nous courons un art et l'artisanat collective dans la boutique ci-dessous et vous aurez donc voir et de rencontrer des artistes locaux et les responsables de créateurs qui travaillent dans notre collectif.
Bexhill-on-sea est une charmante ville côtière anglaise situé à 50 miles au sud de Londres avec le célèbre pavillon De La Warr - notre art déco centre culturel au cœur de notre ville. Nous avons près d'un mile de long plage de galets avec un parking gratuit qui est paisible et relaxant, loin de la foule déchaînée. Beaucoup de restaurants et de magasins indépendants forment un mélange original et éclectique de boutiques. Nous avons déménagé à Bexhill parce qu'il fait une plaque tournante idéale pour explorer les endroits merveilleux autour de East Sussex- Eastbourne et les South Downs à l'ouest, Bataille et 1066 pays au nord, et dynamique de Hastings et St. Leonards à l'est.
2nd time I've stayed with Joe and Charlotte, lovely people and a great place to stay!
Alexandra
2016-08-22T00:00:00Z
Lovely, friendly couple. Very welcoming and shared lots of local knowledge. They have a fantastic pad! Thoroughly recommend!
Joseph
2016-11-17T00:00:00Z
Dear Joe & Charlotte, We really appreciated your friendly welcome and the spacious accommodation just a few minutes walk from the sea front. The English breakfast the next day was much appreciated following a late night! Thanks for all the useful tips and stories about Bexhill. We had a too short a stay and we would love to come back some day to properly explore the area and to take advantage of your sunny terasse. All the best, Thibaut & Maeve
Thibaut
2015-08-01T00:00:00Z
Joe & Charlotte gave us a warm welcome and made us feel as if staying with friends. They shared their excellent knowledge of the area with us and gave good advice on where to go and what to see. The breakfast was an unexpected bonus with a huge variety of cereals, toast and fresh fruit which we could just help ourselves to, and the kettle always had hot water for another tea. Earplugs were also provided in case the sea gulls woke us too early but fortunately this wasn't a problem and the gulls don't seem to be too much of a nuisance in Bexhill. Also, despite being in the town centre there was absolute peace and quiet at night. We would highly recommend Joe & Charlotte's home to anyone!
Michael
2015-08-23T00:00:00Z
Joe and Charlotte were really welcome and friendly, The room was lovely and the location was fab! Couldn't have asked for more, I'd definitely recommend!
Alexandra
2016-07-18T00:00:00Z
Joe & Charlotte gave us a very warm welcome and made us feel very at ease for our first airbnb stay. Our beds were very comfortable and the room at back of house was quiet (no we really didn't hear the seagulls!) so slept soundly. the house is in a great central location and we were very pleased - it really is like staying with friends, could have sat chatting for hours! Many thank(URL HIDDEN)you're lovely hosts :-)
John
2015-08-30T00:00:00Z
Beautiful home with clean, tidy rooms and great, friendly hosts who make you feel really welcome. Highly recommend
Chris
2016-10-23T00:00:00Z
My friend and I had a really great weekend in Bexhill and we couldn't have been happier with our accommodations. Joe & Charlotte are the loveliest people and not to mention their super cute little dog - we received the warmest welcome along with a whole bunch of recommendations as to what to do in Bexhill, where to eat & where to shop. The room we had was the spare one but it was still really comfortable. We shared the bathroom with Joe and Charlotte which was no problem at all and we even had access to the roof garden - a great place for breakfast or a glass of wine in the evening! The breakfast was perfect, too. It was everything we could have wished for and made for a wonderful start for the day. Thank you both for having us and for the interesting conversations we had. I'm looking forward to coming back!
Romy
2016-07-24T00:00:00Z
Rodzaj pokoju
Pokój prywatny
---
Rodzaj nieruchomości
Dom
---
Mieści
2
---
Sypialnie
Bexhill, Wielka Brytania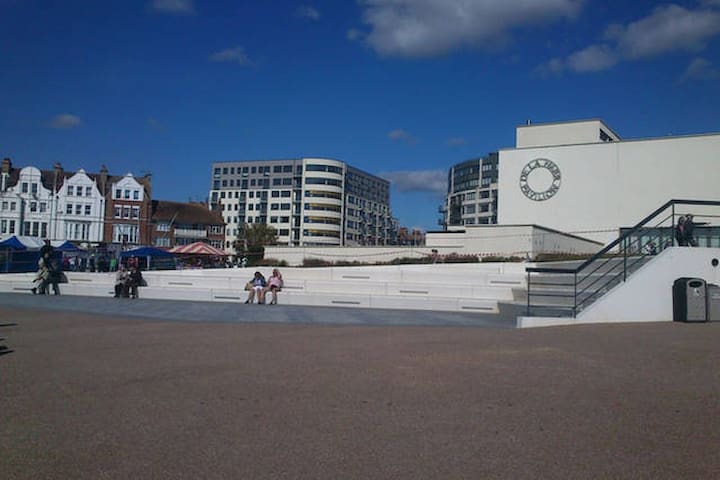 A perfect stay. A comfortable bed in a nice room in a lovely house. Philip and Penny both really welcoming and helpful, couldn't have hoped for better. Thank you
Peter
2016-10-16T00:00:00Z
This was an absolute disaster! I am sure Philip and his house are very nice BUT I was trying to book at 10:30am and at 11:30 Airbnb told me there was a problem and the booking could not be made!!! So I booked and paid for somewhere else not using Airbnb. I had to go out for the rest of the day and had no internet access( I was playing rugby) then at 11 pm Philip called me asking where I was and when I would arrive!! Airbnb have let both of us down! I want my money back and if necessary will go to the small claims court your service in this instant was terrible. I will tell all my friends about it and certainly NEVER use you again. I look forward to you reimbursing my £40 within 48 hours. I am a very disappointed customer.
peter
2016-10-09T00:00:00Z
Rodzaj pokoju
Pokój prywatny
---
Rodzaj nieruchomości
Dom
---
Mieści
1
---
Sypialnie
Hastings, Anglia, Wielka Brytania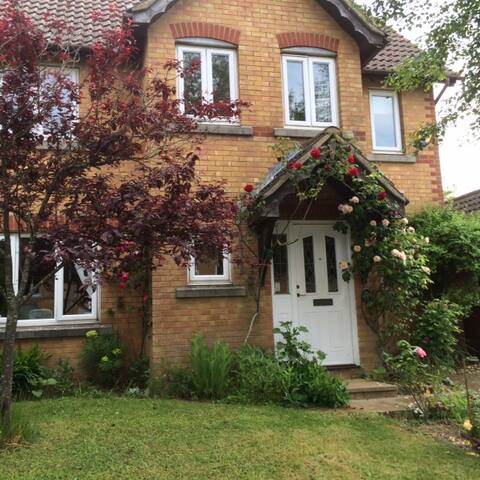 Il mio posto è buono per le coppie, avventurieri solista, e viaggiatori d'affari.
Besides our host didn't expect us because he didn't know instant booking option was activated in his account, he did the best to welcome us and prepare the bedrooms and bathrooms quickly. We enjoy our stay there.
Adrien
2016-11-02T00:00:00Z
Rodzaj pokoju
Pokój prywatny
---
Rodzaj nieruchomości
Dom
---
Mieści
3
---
Sypialnie
Bexhill, Anglia, Wielka Brytania

Wpisz daty, by zobaczyć pełną cenę. Obowiązują dodatkowe opłaty. Cena może uwzględniać podatek.