Lejligheden, som ligger kun 10 km fra Arezzo, er en del af en dejlig villa faturing en bred udenfor haven, en panoramisk swimmingpool og en sten grill. Et komfortabelt sted hvor alt hvad du behøver at bekymre dig om, er ... fortvivl ikke!
De to soveværelser lejlighed "IL TOSCANO" er en del af en smuk villa i Toscana landskab. De indvendige rum er komfortable og helt på linje med de behov, en familie eller et par.
Villaen er beliggende på toppen af en bakke. Herfra kan du nyde en fantastisk panoramaudsigt. Privatlivets fred og den afslappede atmosfære på stedet, er simpelthen uvurderlige.
Ci siamo trovati benissimo. Sara e suo fratello ci hanno accolto con tanta gentilezza e sono stati disponibili per ogni nostra necessità. L'appartamento era pulitissimo e con tutti i confort per una famiglia. Posto tranquillo con un bellissimo boschetto privato con una piccola cascata. Vicissimo ad Arezzo e altri luoghi molto interessanti da visitare come Anghiari, San Sepolcro e Cortona. Sicuramente torneremo.
Sahara
2016-04-26T00:00:00Z
Voici une location où le charme a opéré. Les hôtes étaient plus qu'accueillants, rendant notre séjour des plus agréables. Nous avons fait connaissance d'une très belle région que nous ne connaissions pas et de gens très agréables prêts à nous renseigner à tout moment.
SUSANA
2015-08-19T00:00:00Z
La maison de Sara correspond tout à fait à la description : l'intérieur est parfait pour une famille de 4 personnes et les extérieurs sont superbes : une grande terrasse avec toutes les commodités, un barbecue, des jouets pour les enfants (encore un grand merci à brio!), une piscine avec une vue magnifique, une mini forêt, des chèvres...bref, le paradis surterre et la tranquillité ! Nous avons été très bien accueilli par Sara et sa famille. Ils sont tous d'une gentillesse extrême, très souriants, présents si besoin et généreux. J'ai loué quelques maisons et/ou appartements avec AIR B&B et c'est la première fois qu'il y a un tel échange avec des hôtes. Franchement, au delà de la maison,il y a eu une très belle rencontre! Nous avons passé un très bon moment dans cette maison que nous recommandons vivement ! Last but not least, l'emplacement est très bien car toutes les villes sont faciles d'accès : Sienne, Florence, Orvieto, Pise... Le mot de la fin: Génial !
Aurélie
2016-08-12T00:00:00Z
Accoglienza ottima con simpatia e cordilaità... Bottiglia di benvenuto e posto impeccabile. Grazie Sara !!
Edoardo
2015-06-01T00:00:00Z
Todo en este apartamento es fantástico. Estas tres semanas han sido absolutamente maravillosas e inolvidables. La casa, su entorno, la amabilidad de Sara y de su familia, la gran disponibilidad de todos ellos para ofrecer todas las posibilidades a nivel logístico...Esta casa y el lugar en el que se sitúa no sólo es limpia, sino que también es tranquila. Un remanso de paz en medio de la naturaleza de esta parte de la Toscana. Bien conectado para visitar en autobús o en tren muchísimos pueblecitos con rico patrimonio y sumergidos en tradiciones centenarias. Recomendamos al 100% este apartamento..., y desde luego volveremos a él en próximas estancias.
Marisa
2016-07-31T00:00:00Z
L'esperienza presso "Il toscano" è stata meravigliosa in ogni suo aspetto: dall'assoluta libertà nell'orario di arrivo e di partenza alla pulizia, organizzazione e ampiezza dell'appartamento. La vista dal terrazzo è incantevole, la posizione è ottima per visitare la provincia di Arezzo e non solo ed è estremamente tranquilla (ultima casa di una strada privata). Sara e i suoi familiari sono stati splendidi: pieni di attenzioni pur nella massima discrezione, prodighi di consigli su itinerari, ristoranti e via dicendo. Peccato solamente che, causa maltempo, non abbiamo potuto usufruire della piscina (che gode di una vista splendida). Soggiorno perfetto!
Augusto
2016-06-16T00:00:00Z
Sara ci ha accolto con tanta gentilezza e disponibilita', la casa e' bellissima, con un ampio giardino dove i bambini hanno potutto giocare a loro piacimento. Posizione tranquilla, in cima a una piccola collina che sovrasta il paese, ottima base di partenza per visitare il Casentino, Arezzo, Cortona e tanto altro. C'e' perfino un boschetto privato con un ruscello e una piccola cascata: cosa si puo' volere di piu'? Assolutamente consigliata.
Marco
2016-03-28T00:00:00Z
Een heel fijn appartement en ruim. Wij waren er met 4 volwassenen. Hartelijk ontvangen bij aankomst en als welkomst presentje een fles wijn. Sara is bereid om alles uit te leggen en ook haar broer is betrokken. Heerlijk zwembad met supermooi uitzicht op de Toscaanse heuvels. Prima uitvalbasis voor uitstapjes in de wijde omgeving. Fijn terras om te relaxen. Wij komen hier zeker weer eens terug!!
Marja
2016-08-07T00:00:00Z
Rodzaj pokoju
Całe miejsce
---
Rodzaj nieruchomości
Apartament
---
Mieści
4
---
Sypialnie
Capolona, Toskania, Włochy
Typical stone farmhouse, kitchenette, living room, bedroom and bathroom. Large outdoor area to spend a few days relaxing, not far from the wonderful Arezzo.
Large studio in detached farmhouse, nestled in the green hills at the beginning of our forests of the oldest in Europe. Use kitchen and space outside with barbecue area in a beautiful garden surrounded by the peace.
The house is located right at the beginning of the Casentino, nestled in a small hamlet at 480 meters above sea level. The quiet and scenic, it makes it ideal for a pleasant stay in complete relaxation. It remains in a strategic position and in 40 'minute drive you can reach many places of interest such as Camaldoli with its Hermitage, the sanctuary of La Verna, Sansepolcro and Cortona. At 15 minutes from Arezzo city.
Uno dei nostri più bei viaggi. Dependance di casale d'epoca, restaurato, ambiente arredato con cura, mo derno misto a rustico, tanto accogliente, proprietari disponibili e gentilissimi, mai invadenti. Tanto spazio. Mai avuto materasso più comodo! Bagno graziosissimo con abbaino per vedere il cielo e la punta di un cipresso sopra di noi! Vin santo e cantucci ci aspettavano sul tavolo all'arrivo. Meraviglioso il contesto, nell'aspro bosco del Casentino. Nei paraggi, trattorie dove si mangia in modo succulento a ottimi prezzi. Paesaggio di fiaba: da tornarci!
Margherita
2016-01-04T00:00:00Z
L'accoglienza è stata ottima, la stanza (in realtà un vero e proprio mini appartamento!) era pulita ordinata e con tutte le comodità! Avevo prenotato per andare a trovare alcuni amici in occasione del Ferragosto e ci è stata data la possibilità di usare sia l'appartamento che il giardino e il barbecue per stare insieme. Veramente bello!
Marzia
2015-08-17T00:00:00Z
Bellissima esperienza e grande disponibilità. Il luogo è veramente carino e i servizi impeccabili. Tutto corrispondente a quanto descritto. Molto bene. Non capisco perchè ci sia l'obbligo di scrivere tante parole.
Simone
2015-09-14T00:00:00Z
Nell'appartamento di Paolo e Patrizia siamo stati benissimo, era perfetto per la nostra famiglia di 4 persone, e fedele alle foto nel sito. Arredato in modo intelligente e funzionale, offre tutto quello che serve per sentirsi a proprio agio, un vero gioiellino. Paolo e Patrizia sono stati gentilissimi e disponibili con gli orari, la colazione era ricca e abbondante. Non posso che consigliarlo!
Valeria
2015-10-30T00:00:00Z
Paolo greeted us and instantly set us up with a fabulously maintained apartment. We stayed only 2 nights and they even had us over for dinner. Both Paolo and Patrizia rock. They set me up with the outdoor bbq so i could make fire and cook sausages on my own. The place is outfitted well with good towels and kitchen stuffs. The bed, pillows and sheets are top notch. i love the 2 skinny pillows for each on the big bed with the smell of rosemary and lavender bushes out front not to mention the curious and friendly black cat that loves to hang out outside.
john
2015-10-18T00:00:00Z
tuttoperfetto,location,decrizione,disponibilità e simpatia
Maurizio
2016-08-23T00:00:00Z
Che dire, una casa molto comfortevole. Gente e host meravigliosi. Non abbiamo visto Patrizia ma Paolo e stato molto premoroso e molto gentile con noi. Abbiamo trovato tutto in casa. Inoltre avevamo a disposizione lo spazio adiacente esterno per poter rilassarci e poter mangiare fuori. Un posto veramente rilassante.
Kay
2016-08-21T00:00:00Z
Patrizia e tutta la sua famiglia sono stati ospiti gentilissimi, presenti ma discreti. Tutto era come descritto, anzi meglio. Posto di tutto relax, appartamento indipendente completo di tutti i confort. Lo consigliamo!
Da Iaia
2015-08-15T00:00:00Z
Rodzaj pokoju
Całe miejsce
---
Rodzaj nieruchomości
Dom
---
Mieści
4
---
Sypialnie
Capolona, Toskania, Włochy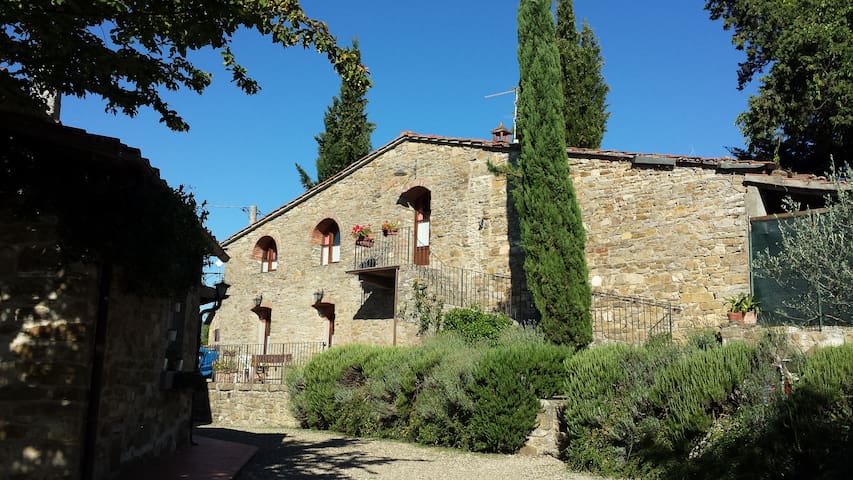 Dom wakacyjny "Il Villaggio di Armando" mieści się w typowym toskańskim krajobrazie. Przedstawia on dla swoich gości apartament z nowoczesnym i zadbanym design z dostępem do panoramicznego basenu z dużym trawniku. Opcjonalny dodatek jest dostęp do centrum odnowy biologicznej. Mieszkanie posiada duży balkon z panoramicznym widokiem, pokój dzienny z telewizorem z płaskim ekranem, w pełni wyposażoną kuchnią ze zmywarką do naczyń, podwójną rozkładaną sofą, sypialnia z garderobą i łazienką z prysznicem.
L'allotjament és a prop de belles vistes panoràmiques, un munt de restaurants típics i activitats per a la família. T'agradarà l'allotjament per a la intimitat, les vistes i la ubicació, la piscina i el centre de benestar exclusiu per als hostes. L'allotjament és adequat per a parelles, aventurers solitaris, viatgers de negocis, famílies (amb nens) i amics peluts (mascotes). Inclòs en el preu incloïa l'esmorzar que se serveix al soterrani de l'estructura adjacent a la piscina.
Na 13 km od Arezzo, na początku Casentibo, w "Villaggio di Armando" znajduje się na łagodnym i malowniczym wzgórzu z widokiem na całą dolinę Casentino, gdzie słynny Park Casentibo Lasów tworzy zielony, naturalny rezerwat ekologiczny i oferuje piękny panoramiczny widok na miasto Arezzo. Centralnie położony, do miast Florencja, Siena i Perugia, nasz domek letniskowy leży w jednym z najbogatszych obszarów tradycji i kultury, gdzie nawet typowe i autentyczne gastronomii sztuki identyfikują pięknej Toskanii.
Rodzaj pokoju
Całe miejsce
---
Rodzaj nieruchomości
Apartament
---
Mieści
4
---
Sypialnie
Capolona, Toskania, Włochy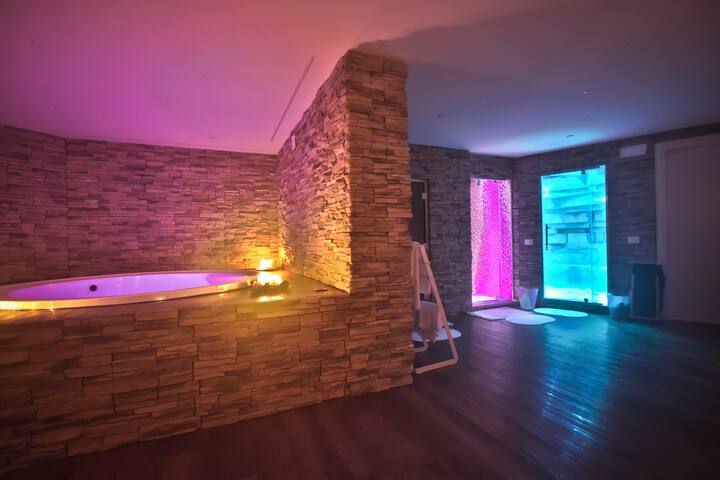 Rodzaj pokoju
Całe miejsce
---
Rodzaj nieruchomości
Zamek
---
Mieści
6
---
Sypialnie
Provincia di Arezzo, Toskania, Włochy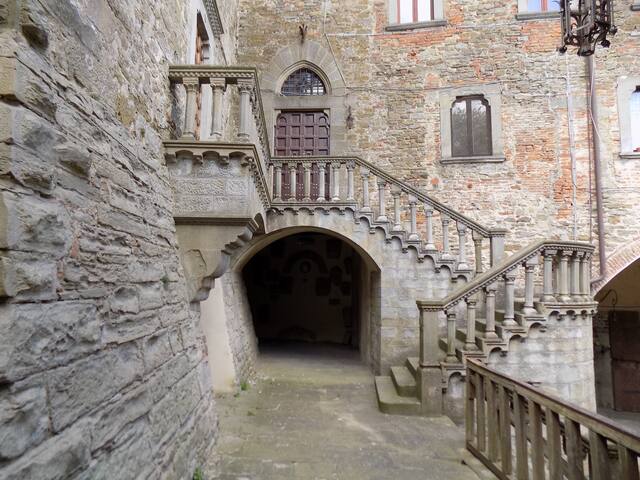 Dejligt lejlighed, bygget i den gamle struktur "stuehuset" går tilbage til det 10. århundrede. Lejlighed med udsigt over de toscanske bjerge og foret med Arno floden. Den sekulære struktur blev født i begyndelsen som et slot og derefter solgt nogle dele til benediktinermunke siden 1182. Familien kom i besiddelse i 1372, og siden da har plejet det og rakte den over til århundreder.
Det blev bygget i en gammel kloster og senere omdannet til en bondegård. Lejligheden har toscanske terracotta gulve, to rummelige soveværelser og et stort badeværelse med bruser. I stueetagen er der et opholdsområde, en stue med fladskærms-tv og en komfortabel tekøkken. Pejsen udstråler atmosfæren. Indkvarteringen har udsigt over Casentino bakker og er beliggende på bredden af floden Arno. Fra det sted, hvor strukturen er placeret, kan du nemt nå Arezzo (10 minutter), Firenze (60 minutter), Siena og Pisa (80 minutter). I nærheden er der flere religiøse og vigtige steder af interesse såsom det gamle Hermitage af Camaldoli og Helligdommen af Verna, hvor Frans modtog stigmata. Andre steder af historisk interesse er byerne Bibbiena, Poppi, Stia og Cortona
Historien om denne struktur er meget vigtig. Her boede han og studerede prof. Roberto Assagioli Stifter af psykosyntese; Under sine studier han ofte vært psykolog Carl Gustav Jung ved villaen. I midten af det nittende århundrede, Alessandro Volta og Ciapetti designet den gamle vandkraftværk ved siden af Casale. I 1162 blev Federico Barbarossa vogter af gamle slot "La Nussa" placeret på fundamentet af den nuværende ædle struktur.
Rodzaj pokoju
Całe miejsce
---
Rodzaj nieruchomości
Dom wakacyjny
---
Mieści
5
---
Sypialnie
Capolona, Toskania, Włochy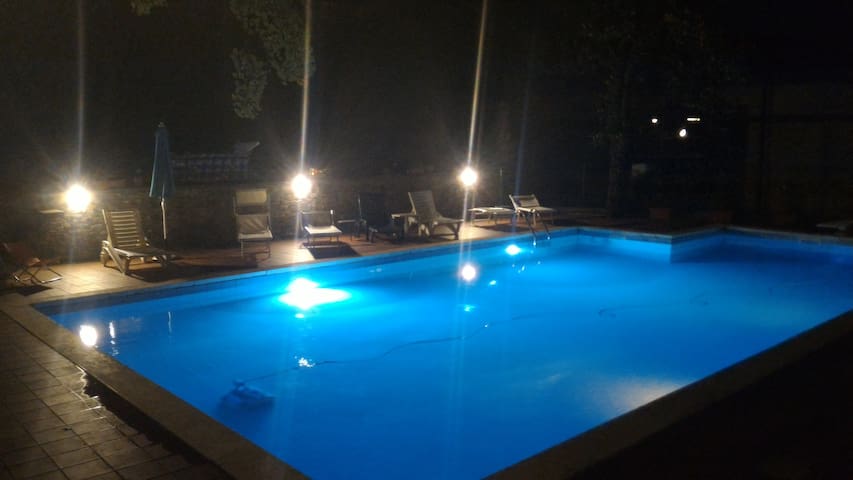 The castle is located on a hill in the small town of Castelnuovo di Subbiano in province of Arezzo. Just 15 minutes from downtown, you can enjoy the tranquility and beauty of the Tuscan countryside and the magic atmosphere of a castle, without giving up the proximity of supermarkets and shops. You will like the Castle for the atmosphere, the location, the external surroundings and the interior comfortable. Suitable for couples, lone adventurers and families.
主人很好客,认真给我介绍了城堡。还赠送了自产的水果,当地的番茄真好吃。能够在城堡里居住一晚,这样的体验真是难得,值得一试。
cao
2016-08-12T00:00:00Z
Diletta è stata un'ottima Host. Disponibile e rintracciabile in ogni momento. La casa è su di una piccola collina ed è anche più bella di quanto le foto mostrano. Ideale per rilassarsi in mezzo alla natura o girovagare nei dintorni.
Sofia
2017-01-01T00:00:00Z
Un posto incredibile!!! È stato molto suggestivo dormire in un vero castello. Diletta ci ha accolti come una perfetta "castellana" e i miei figli ne sono rimasti incantati. Super consigliato!!!!
Isabella
2016-10-02T00:00:00Z
Tutto perfetto e siete delle persone gentilissime....grazie!!!
Graziana
2016-10-29T00:00:00Z
Ottima accoglienza, ottima permanenza. Peccato esserci fermati così poco! Da riprovare!
Roberto
2016-08-06T00:00:00Z
Rodzaj pokoju
Całe miejsce
---
Rodzaj nieruchomości
Zamek
---
Mieści
6
---
Sypialnie
Arezzo , Toskania, Włochy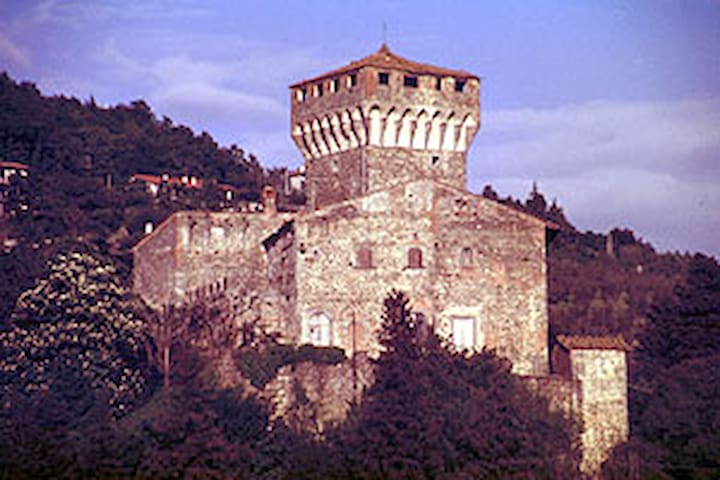 L'appartamento Filippo è un bilocale per 2 persone su due piani, con aria condizionata. La camera da letto è dotata di tv a schermo piatto e di un comodo letto alla francese. Il bagno è curato nei dettagli e completo di doccia, asciugacapelli e kit di cortesia. Al piano superiore la cucina abitabile, attrezzata, completa di tv, si affaccia su un terrazzo arredato con tavolo e sedie, per rilassanti pause in un ambiente intimo e riservato.
All'interno di tutti gli ambienti è vietato fumare, ma è comunque possibile utilizzare a questo scopo le terrazze e gli spazi esterni.
L'Angolo Incantato si trova a Marcena, una piccola frazione collinare del comune di Arezzo. Gli appartamenti sono situati a pochi passi dalla città di Arezzo e dal Casentino, una delle principali vallate della provincia e luogo ricco di interesse storico, artistico e ambientale. Il Casentino è noto per i suoi numerosi borghi medioevali, i castelli, i luoghi di fede e, non per ultimo il Parco Nazionale delle Foreste Casentinesi, punto di partenza ideale per gli amanti delle escursioni. Il territorio aretino e casentinese offre inoltre attività sportive e culturali per tutti i gusti, come equitazione, golf, sentieri percorribili in mountain bike, concerti, mostre e molto, molto altro ancora. Infine, una nota di merito all'artigianato locale, storico e tradizionale, senza però dimenticare il lato enogastronomico di queste zone che, come la classica ciliegina sulla torta, saprà dare alla vostra visita un gusto che non dimenticherete facilmente!
Rodzaj pokoju
Całe miejsce
---
Rodzaj nieruchomości
Apartament
---
Mieści
2
---
Sypialnie
Arezzo, Toskania, Włochy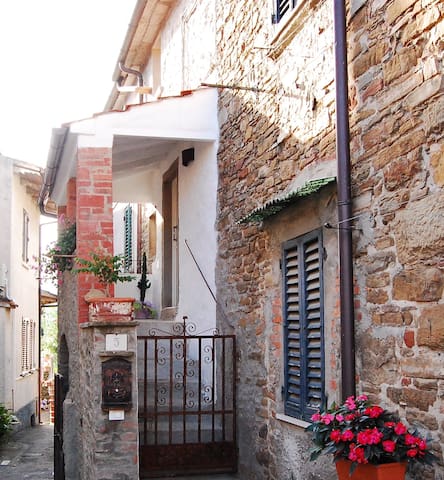 Villa with pool, located in a quiet place, not far from the city. Suitable for groups and families. Large outdoor area with furniture and barbecue. Private parking. 3 double bedrooms and 1 triple, living room with fireplace, basement, 3 bathrooms, equipped kitchen. Autonomous heating.
Rodzaj pokoju
Całe miejsce
---
Rodzaj nieruchomości
Willa
---
Mieści
9
---
Sypialnie
Capolona, Toskania, Włochy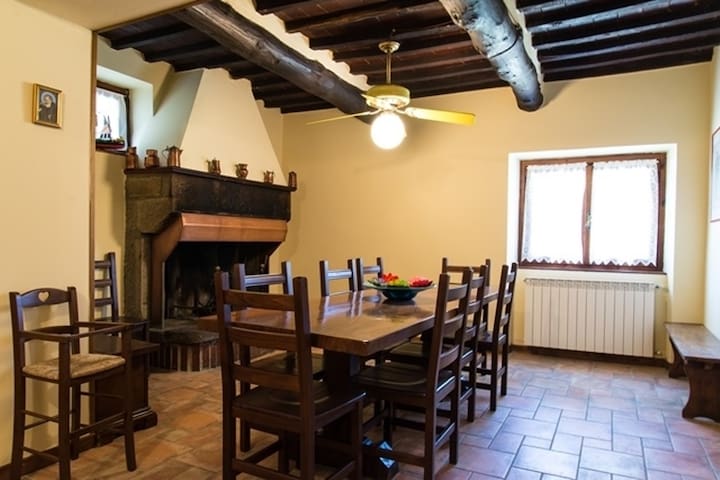 Beautiful large newly equipped appartment in the main street of the village. It has a balcony with a garden and street view. Perfect location for exploring Arezzo (city of La Vita e Bella) and for visiting beautiful natural parks and historical trips to Poppi and Stia. Close to the station. Daniela is very friendly and welcoming host!
Eline
2016-08-20T00:00:00Z
The host canceled this reservation 18 days before arrival. This is an automated posting.
gianvito
2016-12-13T00:00:00Z
Rodzaj pokoju
Całe miejsce
---
Rodzaj nieruchomości
Apartament
---
Mieści
6
---
Sypialnie
Subbiano, Arezzo, Włochy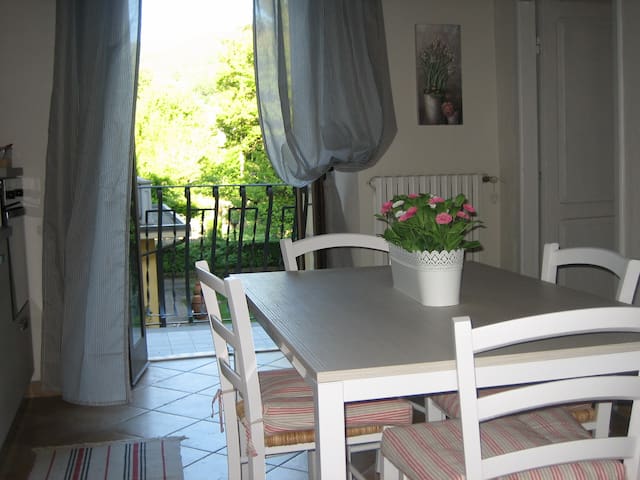 Stop 20 meters bus, parking under the house, a small garage on request.
Rodzaj pokoju
Całe miejsce
---
Rodzaj nieruchomości
Apartament
---
Mieści
7
---
Sypialnie
Subbiano, Toskania, Włochy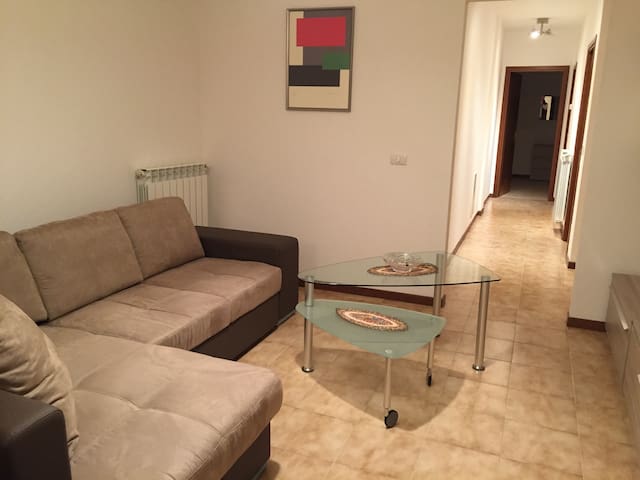 Appartamento il Fienile
Casetta Il Fienile L'Alloggio La struttura immersa nella quiete del verde e boscoso paesaggio toscano al riparo da tutto, è composta da due casette di campagna completamente indipendenti ed autonome che si affacciano sul cortile centrale a pochi passi dalla piscina. Il FIENILE Casetta ideale per famiglie e piccoli gruppi di amici è composta da due camere da letto (un letto kingsize e uno queensize) cucina open space,salotto (con divano letto) con camino e bagno. Clima familiare e cordiale Posizione panoramica e tranquilla ideale per passeggiate
Posizione panoramica e tranquilla
Nous avons passé un merveilleux séjour chez Giada ! Le lieu est simplement magique, loin de tout, un petit havre de paix ! Giada a été très accueillante et nous avons pu échanger avec elle tous les matins lors de son très bon petit déjeuner. Le gîte était très propre et bien équipé. La terrasse et la piscine offrent une vue extraordinaire !!! Je recommande fortement !
Clotilde
2016-08-04T00:00:00Z
Had an amazing stay in Giada's il fienile apartment! Not so easy to find (but got there with some help from some locals from Talla! :) The b&b looks even prettier in real life than in the pictures. It's spacious, peacefull and in a typical Italian theme and surrounding. The pool with a view over the Tuscan hills is all you need to unwind from everyday life. Giada did her very best to help us with what we asked for, even though there sometimes is a bit of a language barrier. The place is super clean, and would def recommend this to anyone who loves a relaxed and secluded stay in beautiful Tuscany.
Carly
2016-07-05T00:00:00Z
This is the ideal place to lose yourself in the Tuscan countryside. The apartment is very charming and comfortable and the property is simply stunning, amazing views, nice pool and two lovely dogs were an extra entertainment to our son. it's an easy drive to Florence and Siena. Giada was incredibly welcoming and so helpful during our stay. We hope to return one day!
Julia
2016-08-10T00:00:00Z
Ottima accoglienza, tutto pulito e curato al minimo dettaglio panorama bellissimo.. grazie per il week end.. super consigliato.. !!
Michele
2016-06-06T00:00:00Z
Giada was a wonderful host. The apartment was beautiful, equipped with great, huge towels, soft linens, a fully equipped kitchen ... basically everything we needed for a perfect stay. The property is absolutely gorgeous and very well situated! The swimming pool was clean and warm. The view was incredible, and the 2 sweet dogs and many turtles made our 4yr old daughter terribly happy! Giada herself is extremely helpful and friendly. She went out of her way to understand our plans so that she could equip us with maps, helpful tips and directions. She also really went above and beyond, making me a special breakfast every morning - one that was gluten and dairy free (unheard of in Italy!). I would highly recommend staying here. It is beautiful, peaceful, genuine and very well cared for. We hope to return next summer. Grazie Giada!
Daina
2016-07-09T00:00:00Z
Giada made us feel very welcome and we thoroughly enjoyed our break here.
Angela
2016-06-19T00:00:00Z
This is a beautiful villa on a hill with great morning views. The road to the property is unpaved but should not be a problem for most cars. It's a good location to visit Arezzo, Siena, and Florence, the latter two are about an hour away each. Giada was great about meeting us and preparing breakfast for us each morning. She was also very responsive to messages when we had issues with the wifi. The wifi is spotty and needs to be reset periodically, so if you are dependent on it, plan accordingly. It was a very comfortable stay and if you like dogs, the two were very friendly.
Jonathan
2015-10-19T00:00:00Z
We spent five days in Giadas House and it was really beautiful. The little house was very clean and well appointed. In the kitchen was everything you need. Children have lot space for playing and the pool was great. Giada has two very cute dogs who are really good educated - they don`t enter the House. You need a car for staying in Giadas house, because the town Bibiano is very small and there are no restaurants and bakeries. The next shopping opportunity is in Capolona. An insider tip is Arezzo which is about 15 km of distance from Bibiano. Arrezo is a beautiful historic town with only little tourists. Giada is a perfect host. She gives always good tips, is very friendly and helpful. Giadas house is a perfect place if you want to spend some calme days and it is a good starting point to visit Florence, Siena Moltepulchiano etc. To make it short: we highly recommend Giadas House!
Clarissa
2015-08-19T00:00:00Z
Rodzaj pokoju
Całe miejsce
---
Rodzaj nieruchomości
Dom
---
Mieści
3
---
Sypialnie
Talla, Toskania, Włochy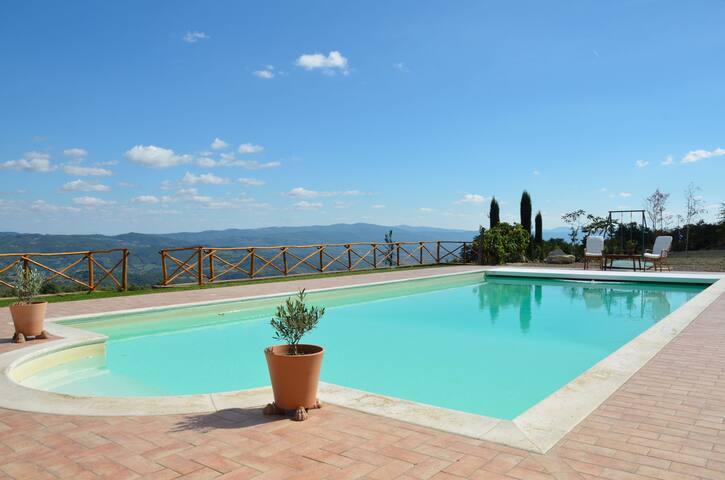 To całkowicie przywrócone średnim wieku "Borgo" w Toskanii w scenerii wzgórz, w pięknej zieleni toskańskiego krajobrazu w pobliżu Arezzo. Bardzo wygodne miejsce do odwiedzenia Cortona, Castiglion Fiorentino, Anghiari i bardzo znany Casentinese lasy. Będziesz w samym środku terenów św Frances i bardzo blisko do Borgo Sansepolcro, miejsce urodzenia Piero della Francesca. Bardzo blisko do Borgo, istnieje wiele bardzo dobrych restauracji.
Poczujesz się jak mieszka się w zabytkowym budynku w średniowiecznej wiosce, odosobnionym miejscu w spokoju na łonie natury.
Rodzaj pokoju
Całe miejsce
---
Rodzaj nieruchomości
Apartament
---
Mieści
5
---
Sypialnie
Subbiano, Toskania, Włochy

Specjalna Unposto żyć wymarzone wakacje na wzgórzach Toskanii, które zostały utracone horyzont bosco.Siamo wśród drzew oliwnych iw środku typowego krajobrazu w prawdziwej Toskanii, gdzie Casentino graniczy z Chianti, w pobliżu źródeł Arno. magiczne i dziewicze miejsce
Willa wyposażona jest w: odkurzacz, CD, DVD, Fax, pralka, stereo, telewizor, przenośny wentylator, bezprzewodowy dostęp do internetu, strona Język angielski, Pościel i ręczniki zmieniane są co tydzień, pracując kominek, żelazko, ogrzewanie gazu ziemnego , krzesełko do karmienia, Suszarka na pranie, łóżko, podwójna kanapa, łóżko z barier, grill, stoły i krzesła na zewnątrz.
Wir sind begeistert von diesem Ferienhaus! Es liegt absolut ruhig mit traumhaftem Blick auf die toskanische Landschaft. Das Highlight ist der großzügige Pool wenige Schritte vom Haus. Die einzelnen Zimmer haben jeweils ein Bad und teilweise eine extra Küche. Die Gemeinschaftsküche liegt im ersten Stock. Wenige hundert Meter entfernt betreiben die Eigentümer Caterina und Federico eine kleine Farm mit Ziegen - sehr netter Kontakt. Das W-LAN ist per Mobilfunk und nicht zuverlässig. Alles in allem sehr zu empfehlen.
Daniel
2016-08-21T00:00:00Z
Love, love, loved the villa. Peaceful location, amazing views, close enough to markets/towns but far enough away to really unwind.
Peter
2015-07-05T00:00:00Z
TERRIBLE TERRIBLE TERRIBLE these people are thieves and WILL steal your money!!!!!! Currently contacting lawyers to file a lawsuit against them!!!!! They stole over 1000 dollars of our money!!!!!!! DO not stay here!!!!!! At this scam artists home!!!! Then they have the nerve to go MIA. Not to mention the directions given to even get to this place was impossible!!! We were lost for two hours and no one answered us!!!!!! They stole our money and we want it back. These other reviews must be fake or friends of theirs. STAY AWAY for your protection!!
Zack
2016-08-26T00:00:00Z
I booked the villa for a week of family vacation and it was an amazing experience! About the house, the villa is beautiful, very large and very well maintained. An old farmhouse restored in every detail to perfection. These 5 spacious bedrooms each with their own bathroom and toilet allowing privacy to each were a non-negligible luxury. The three well-equipped kitchens and spacious living room helped the whole family for meals. About the area, one word: extraordinary. The panoramic view from the villa is breathtaking. Typical Tuscan landscape rolling hill and drills her showing the Arno river below and some small villages in this beautiful picture. The peace and serenity are the key words in these places and enjoy a sunset with your family, a glass of wine in hand is a unique experience. The pool is great too, but refreshingly cool, and cut wind thanks to beautiful groves overlooking the plant. Taking a bath with panoramic views from the landscape is truly exceptional. Be careful, however, keep an eye on children at an early age, there is no protection around the pool. And watch as insects (flies, wasps, etc.) there are many. In the vicinity there are plenty of hiking trails for those who enjoy walking! Arezzo 30 min, Florence and Siena at 1:30 car for cultural visits. Caterina and Federicco were really great hosts. Fairly quiet, which allowed us to really feel at home while being very available to our needs. We bought their homes their products (olive oil and honey) very good. I recommend this villa for all nature lovers looking for tranquility to spend their family vacation. Thank you to Caterina and Federico for their welcome and their availability, we will definitely be back!
Cyril
2014-08-24T00:00:00Z
The setting of the house is simply stunning, we never tired of the incredible panoramic views. The house is very big and was perfect for our family of 11. The owners catered a surprise birthday meal for us and the food was simply delicious. In facet we enjoyed it so much that we asked them to cater again on the last night of our holiday. I would absolutely recommend this place, especially for a large group. The ground floor rooms complete with ensuite, small kitchenette and private courtyard each were perfect for the older members of our party. All bedrooms were ensuite and the swimming pool was great. You must go here!
Laura
2016-08-07T00:00:00Z
Rodzaj pokoju
Całe miejsce
---
Rodzaj nieruchomości
Willa
---
Mieści
12
---
Sypialnie
Subbiano, Toskania, Włochy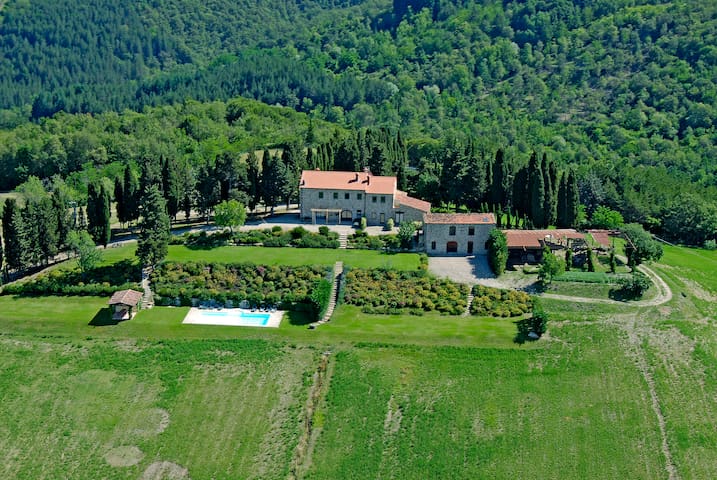 Si affitta un intero piano della nostra Villetta con giardino privato, all'ingresso della famosa valle del Casentino. La casa è bellissimo e vecchio, con un ampio soggiorno, 2 camere, un bagno, una cucina e molti grandi terrazze.
Rodzaj pokoju
Całe miejsce
---
Rodzaj nieruchomości
Dom
---
Mieści
4
---
Sypialnie
Subbiano, Toskania, Włochy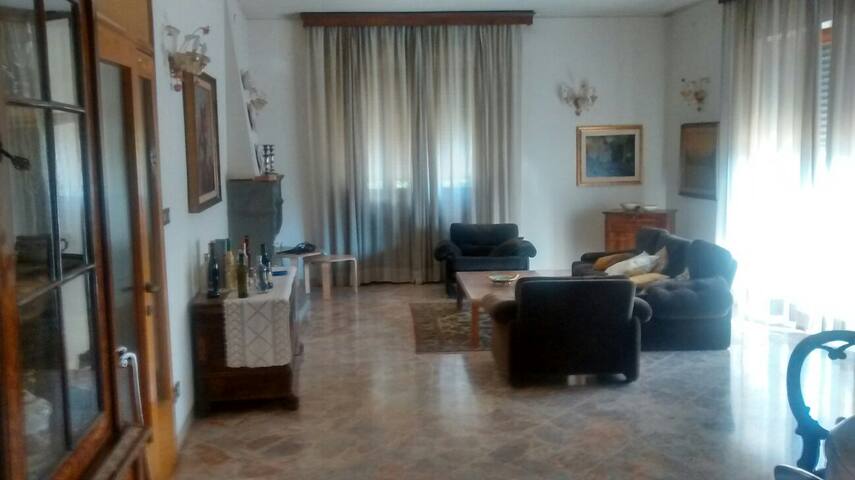 Casa de estilo toscano de piedra, decoradas con un toque moderno, en una colina, rodeado de bosques verdes. Frente a la casa hay una terraza cubierta con barbacoa y un gran terreno natural cerrado. Detrás de la casa se puede admirar ...
casa de la Toscana de piedra de estilo, equipado con un toque moderno, en una zona tranquila colina, rodeado de verdes bosques. Delante de la casa hay una terraza cubierta con barbacoa y un gran terreno natural cercado. Detrás de la casa se puede admirar la puesta de sol desde una terraza-solarium, siempre con una hermosa vista del valle. Ideal para aquellos que quieren refugiarse en un pequeño paraíso, desde aquí se puede llegar a Arezzo (15 km) y los bonitos pueblos y castillos de la Casentino. Capolona Subbiano y 1 km. Encontrará todas las comodidades para una estancia agradable y relajante, sin renunciar a las comodidades de nuestro tiempo: cuarto de baño con jacuzzi, equipo de música, TV vía satélite, sala de la chimenea / dormitorio, lavadora, secadora, lavavajillas, aspiradora, microondas, et .. venir y probar .. en fin, que son bienvenidos en su propio pequeño paraíso! :-) ... Y no se olvide de traer sus cachorros son bienvenidos!
Rodzaj pokoju
Całe miejsce
---
Rodzaj nieruchomości
Dom
---
Mieści
3
---
Sypialnie
Capolona, Toskania, Włochy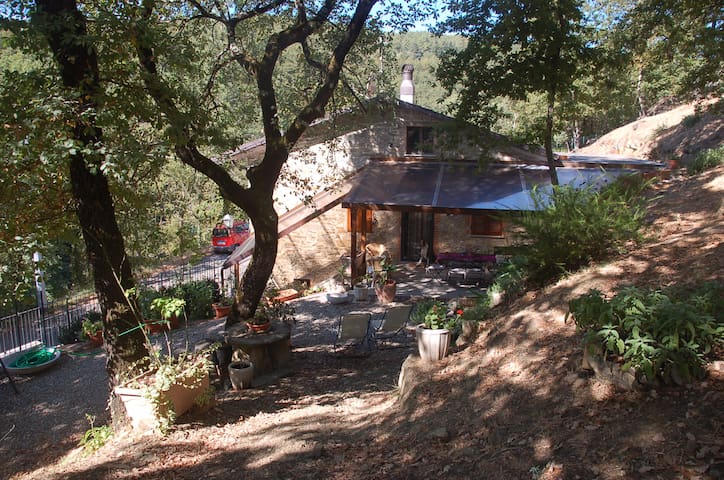 Rodzaj pokoju
Pokój prywatny
---
Rodzaj nieruchomości
Wikt i opierunek
---
Mieści
4
---
Sypialnie
Capolona, Toskania, Włochy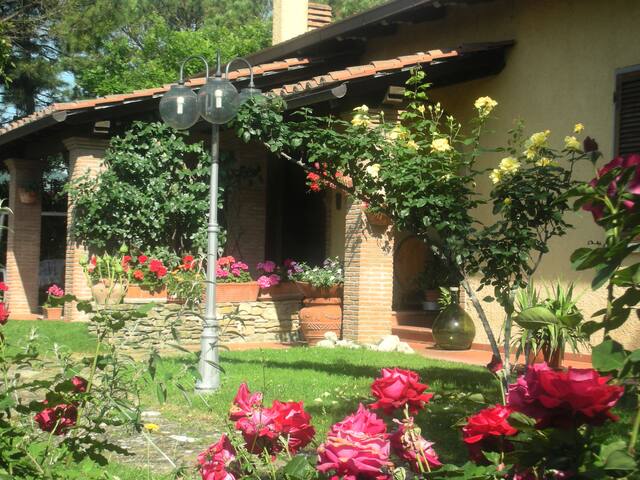 Rodzaj pokoju
Pokój prywatny
---
Rodzaj nieruchomości
Wikt i opierunek
---
Mieści
2
---
Sypialnie
Capolona, Toskania, Włochy