This large and cozy room offers both comfort and a unique at-home feeling. Located in the Concourse Village area of the Bronx, this is the perfect place for the traveler seeking an affordable and urban experience. Only 35-minutes away from Midtown, Manhattan and about 5 minutes away from the Yankee Stadium.
This is a private two-family home. I live in the first floor with my two children where I also run a daycare center for kids. The second floor apartment is shared with other roommates. Your room is located in the second floor. There are three other rooms. There is one full bathroom right next to your room, and a half bathroom next to the kitchen. The kitchen is fully equipped with anything one may need.
This place is located in the South Bronx. While you won't find any fancy boutiques or chic cafes around here, you will find a few local businesses to suit your basic needs. Although this neighborhood does not have many attractions of its own, Manhattan is only a train ride away.
I had a great comfortable stay great hospitality manners and very clean and spacious. I would deffenitly stay again
Brandon
2017-04-02T00:00:00Z
Ruth is a sweetheart she is always available when needed
Lucky
2017-04-05T00:00:00Z
Rodzaj pokoju
Pokój prywatny
---
Rodzaj nieruchomości
Dom
---
Mieści
2
---
Sypialnie
Bronks, Nowy Jork, Stany Zjednoczone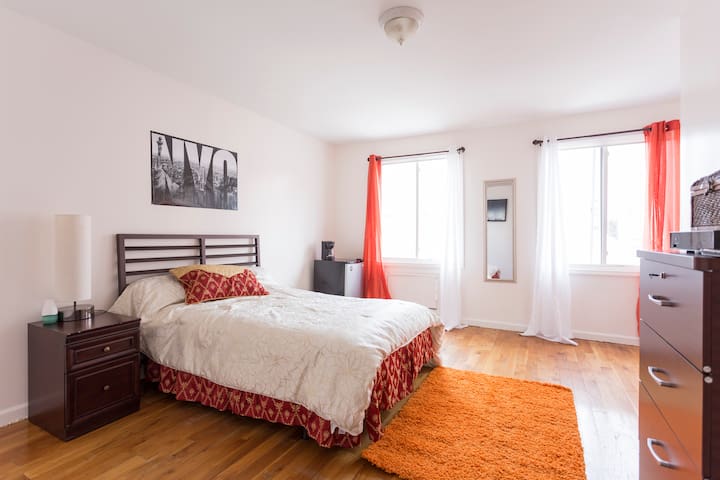 Private and quaint one bedroom apartment, only a short train ride to NYC, and walking distance into town. Amazing restaurants and local entertainment right around the corner, or you can stay in and sip some wine on the private patio.
You will have a bedroom, spacious common area with pull out sofa bed, full bathroom and updated kitchen with full access to stove, microwave, and fridge. You will have access to a small private patio area wiht access to a full BBQ and patio furniture for 6.
close to the Metro North (short ride into NYC) Very close to the main strip where you have access to restaurants bars and other entertainment areas such as movies, bowling, billiards and laser tag. Great for a weekend away, or family time.
Rodzaj pokoju
Całe miejsce
---
Rodzaj nieruchomości
Apartament
---
Mieści
4
---
Sypialnie
New Rochelle, Nowy Jork, Stany Zjednoczone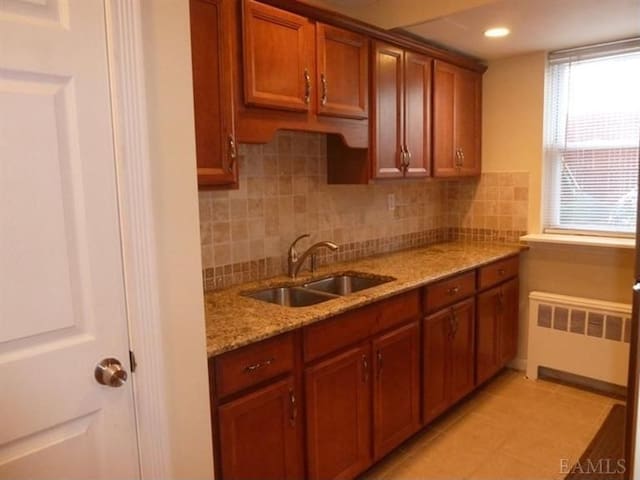 Genießen Sie einen erholsamen Aufenthalt mit einem Zuhause; In dem 1-Zimmer-Studio-Apartment. Ausgestattet mit einem komfortablen Bett, ein sauberes Badezimmer, Küche, Kühlschrank, Mikrowelle, Spüle, Zähler nach oben und Herd. - 1-Zimmer-Wohnung mit offenem Grundriss (Sitze 1-2 Erwachsene) - Privatperson Eingang - Bequeme und einfache Straße parken, in einer ruhigen Nachbarschaft. - 5 Minuten Fahrt von der Metro North Railroad (Mount Vernon East Station), die den Zugang zu anderen Teilen von Westchester, Manhattan gibt, und Connecticut Bereiche.
Enthält ein HDTV, Premium-Kabel, Wi-Fi und Couch für Ihre Freizeit.
Yakındaki: Wilson Woods Park / Havuz (1 dak) Yerel Karayolu: Hutchinson River Parkway- (1 dak) Alışveriş: Hedef, CVS, Bestbuy, Ptt, Dunkin Donuts, metro, Five Guys, Navy ekmek Launderette; vb (5 dk sürücü)
Nicole and her family were so wonderfully welcoming and accommodating. They were super easy to communicate with and quick to respond to any of my questions and needs. The space was very thoughtfully created and perfect for the needs of my trip. I would absolutely return to and recommend this perfect little Mt. Vernon studio! ~Mia
Mia
2017-04-09T00:00:00Z
Staying at Nicole's place was FANTASTIC. She really has the most beautiful studio to stay at. We have traveled and stayed at others places offered through Airbnb but this has been the most amazing place that we have seen. Nicole was really great and her service was awesome. She took care of us better than anyone else-even better than a hotel. The neighborhood is also fantastic. She made sure my fiancé and I felt at home . Which made our trip unforgettable. Thank You from the bottom of our hearts.
ANGEL
2017-04-02T00:00:00Z
We loved staying here! The apartment was all we needed and we love the location.
A. G.
2017-04-13T00:00:00Z
Rodzaj pokoju
Całe miejsce
---
Rodzaj nieruchomości
Apartament
---
Mieści
2
---
Sypialnie
Mount Vernon, Nowy Jork, Stany Zjednoczone
15&30%オフ、それぞれ、毎週&毎月の滞在に!ヨンカーズ安全なフード、マクリーンハイツ&ウッドの近くにアイルランドの地域。 EZの電車でマンハッタン!壁と広い客室にはクローゼット、40" ROKU LEDテレビ、デザイナーバス&キッチン、無線LAN、EZ駐車場を壁に!
ティベッツブルックパークを見下ろす禅の庭。清潔で機能的なベッドルームは、カップルやクイーンベッドを備えた単一のゲストをホストすることができます。 アパートの数ブロック内のすべて: - イタリア語、タイ語、日本語、ギリシャ語、インド、メキシコ、中国、アメリカのレストラン。 - スターバックス - 食料品店 - コーシャ食品店 - CVSウォルグリーンとライトエイド - 郵便局 - ドライクリーナー、靴の修理、ウェルズ・ファーゴ、チェイス、およびバンク・オブ・アメリカ ... もっと
絶好のロケーション マクリーンハイツの本格的なアイルランド料理エリア--Near --Jacobi病院、フォーダムU、アルベルト・アインシュタイン医学校、Manhatten大学、サラ・ローレンス簡単にトラフィック無料通勤しています --Conveniently簡単にアクセスparkwaysにあります:郊外モール:リッジヒル、シチューレナードの、クロス郡モール ヴァンコートランドパークにリンクTibettsブルックパークバイク/ランニング/ハイキングコースへ--walking距離
My husband Anthony and I had a wonderful experience staying at Fernando's home. His generosity and hospitality was topnotch. He hosted exactly as his Airbnb advertising states; Fernando was a perfect host to us as well as to the other guests who stayed at the time we were there. Breakfast and dinner were superb. Getting around was very accessible by taxi for us.
Denise
2016-08-23T00:00:00Z
This was my first Airbnb stay, and it couldn't have been better! I spent 3 months at Fernando's, and will definitely be back! From the time I reserved on through to check out, Fernando was attentive and helpful, going above and beyond to be sure I was comfortable and had all I needed. He is very thorough in ensuring all his guests are verified, and his home is very secure, so I always felt safe. He provided lots of options for breakfast every morning, and made some delicious dinners as well!! The house is clean, and has beautiful views...And is a very short walk to the bus line, from which you can go anywhere in the city! There are an abundance of great restaurants and shops within walking distance, and tons of places that deliver to the house. I was VERY comfortable and happy there, and very sad to leave. I would certainly recommend his place to any traveler looking for a great home away from home experience! Thank you for everything, Fernando!!!
Carla
2017-04-10T00:00:00Z
The room was as described and Fernando was a good host but he did leave out the fact that his house was packed with boxes (think Hoarders episode) and he had multiple ferrets. Fortunately all I did was sleep the whole time to cure my jet lag. I was under the impression it would only be me and the host but there were two additional people in the house. It was loud and I felt crammed. Don't even get me started on the smell. I would have paid more for a hotel instead.
Deepak
2014-11-01T00:00:00Z
Second stay with Fernando was as good as a first one. Very clean, covenant location, close to supermarkets, mall, and park. The house has the fantastic view and beautiful garden. Fernando is always welcomed. Also, he is an amazing cooker. Recommend to everyone, very nice place to stay, and I always feel like I'm part of the Fernando family.
Michael
2016-10-03T00:00:00Z
What an exceptionally wonderful Host! Fernando is so accomodating, friending and warm. The room is very cozy and comfortable. He is a host that goes out of his way to make sure all of your needs are met. Great location and easy commuting. We had a great stay!
Carol
2016-08-08T00:00:00Z
Fernando has lots of information available re: things to do and restaurants in the area and access to public transportation and NYC. Pictures are accurate of the room/tvs
Susan
2016-04-05T00:00:00Z
房子不是独栋是单房,很干净温馨,房东特别友善热情,亲自做美味早餐和晚饭,超级OK
Lin
2016-05-23T00:00:00Z
Fernando went above and beyond to make me feel comfortable and provided for during my stay. The room had a fridge and a smart television with netflix. Fernando prepared dinner for me and the other guests most nights which was appreciated. The location was great for getting to my summer job in Tarrytown, NY and I was able to get into Manhattan fairly easy using either the 1 or 4 metro rail lines.
Christopher
2016-08-06T00:00:00Z
Rodzaj pokoju
Pokój prywatny
---
Rodzaj nieruchomości
Dom
---
Mieści
2
---
Sypialnie
Yonkers, Nowy Jork, Stany Zjednoczone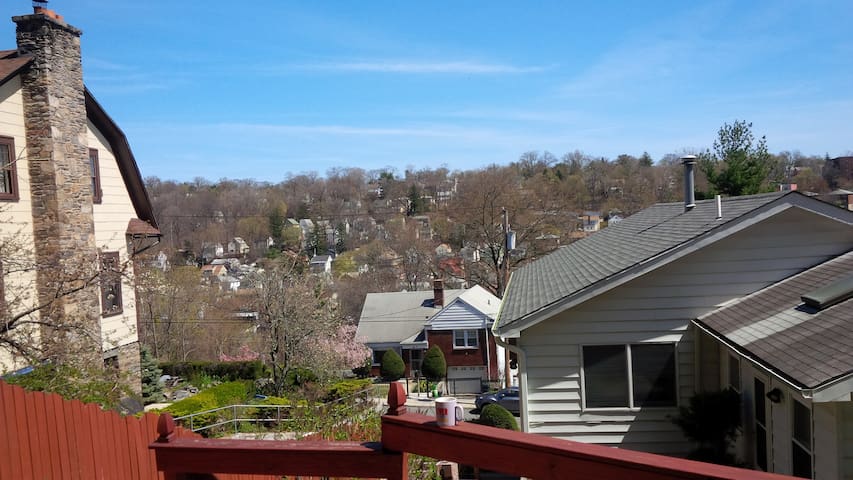 My place is close to The Bronx Zoo. You'll love my place because of the quiet neighborhood. It's close to all major highways & 30 mins to 34 st, Manhattan. It's also close to the 2 & 5 train stations which is also where are all the shops are located.
EXCELENTE ANFITRIONA!!! TODO DEMASIADO LIMPIO!!! Mejor dicho muy muy muy LIMPIO!!! Súper cerca del transporte, el tren y los bus. Belkis es excelente persona, muy atenta, servicial, respetuosa, entre muchas cualidades que la hacen ser una excelente anfitriona. Les recomiendo 100% su alojamiento. Más que agradecida por hacerme sentir como si fuera mi casa.
Roxy
2017-03-18T00:00:00Z
Belkis is very friendly and accommodating. She provided me with tips on where to eat and what to do in the Bronx. The room is very clean, large TV, comfortable bed, WiFI. Great experience overall, highly recommend!
Alex
2016-10-19T00:00:00Z
Belkis was a very welcoming and accommodating hostess. The room was comfortable and exactly as described. The apartment is easy to find and close to public transit, and there are shops and food nearby. I definitely recommend staying with Belkis!
Nicole
2016-12-15T00:00:00Z
Belkis' bedroom was very clean and looked even better than the pictures. She was very friendly and was willing to help us with everything we needed. I recommend staying here.
Murray
2017-01-01T00:00:00Z
The room is great, nice safe and clean. The bed is super cozy❤️ Belkis is friendly. I'll definitely recommend it to other people:)
Qing
2016-11-27T00:00:00Z
Room was exactly as described. The check in time was till 8/9 pm but Belkis went out of her way to accommodate our arrival at 11.30. I couldnt find street parking and she drove with me and made sure I found a safe spot to park my car even though it was very late at night. Very convenient location - about 1-2 blocks away from the subway and local shops.
Aniqa
2016-10-09T00:00:00Z
Very comfortable and very spacious room. King size bed which is very comfortable too. Apartment is 2 blocks from the 2 train... Belkis is the host and is as sweet as you can be... I highly recommend for an affordable and convenient stay in New York
Marcel
2017-04-08T00:00:00Z
Bellkis was a lovely host and exceptionally accommodating. Her apartment was very clean and tidy. She was quick to offer to be of assistance in anyway she could and accommodated my few requests thoughtfully. If I ever had a need in the future to stay in that part particullar area of New York City I would not hesitate to book with her once again. Very attentive and generous spirit.
Gail
2016-10-15T00:00:00Z
Rodzaj pokoju
Pokój prywatny
---
Rodzaj nieruchomości
Apartament
---
Mieści
2
---
Sypialnie
Bronks, Nowy Jork, Stany Zjednoczone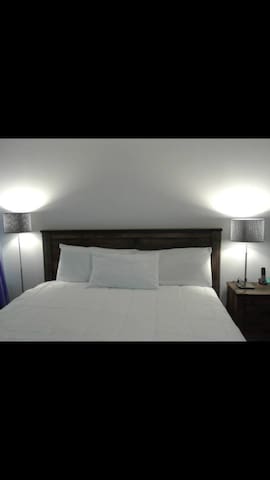 cozy room in a beautiful 3 family home w/ access to shared living, dining and bath. Steps to bus and an hour to the city via train
The stay was good. The host is very hospitable. I was given a towel and brush, which I was pleasantly surprised with. The house was fairly clean and in a quiet neighborhood. I was usually out exploring the city returning only to sleep. It was in fall so you don't need an A.C. anyway, opening the window did the trick.
Muh
2016-09-23T00:00:00Z
Ha sido cómo estar en familia.
Carles
2016-10-07T00:00:00Z
I was in town for just one night and just needed a place to sleep and shower to go to the airport the next day. This was exactly what I needed.
Juan
2016-10-04T00:00:00Z
She was awesome! She replied very quickly and her house was very nice! She over exceeded my expectations!
Arielle
2016-09-19T00:00:00Z
Great and understanding host
Ev
2016-09-17T00:00:00Z
Natalie's home was as pictured and described. The neighborhood was nice and close to subway and bus lines. She waited up for me when I came late around midnight.
Ni-Asia
2016-12-07T00:00:00Z
The host picked us up at the subway station because she was worried since it was already midnight. It was a really kind gesture for a start and the rest of the stay was of the same standard. Natalie was really friendly and it was nice talking to her. The room was clean, the bed was comfortable. All in all, it was a wonderful stay and i would definitely recommend others!
Ameerah
2016-09-18T00:00:00Z
Natalie Is very kind and friendly and willing to provide a lot of information about the restaurant ensure a ring in the New York City. Especially her hosteling price is very cheap. Her house is highly recommended to every backpack who wants to have the deep understanding about the New York City and about what the New Yorker's life is like!
Chin-Chieh
2016-12-20T00:00:00Z
Rodzaj pokoju
Pokój prywatny
---
Rodzaj nieruchomości
Dom
---
Mieści
1
---
Sypialnie
bronx, Nowy Jork, Stany Zjednoczone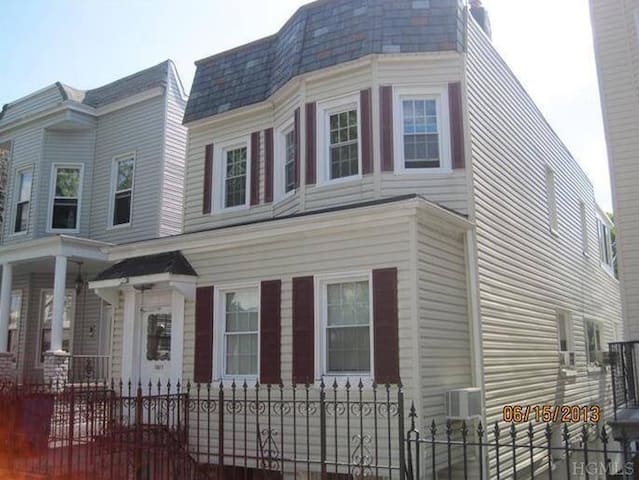 It is a nice room with a queen and and twin size bed.
Located in one of the safest Bronx neighborhoods. Walk to Botanical Gardens, Bronx Zoo and Bronx Park….. Minutes from the Fordham University Bronx Campus , Famous Arthur Avenue little Italy and Pelham Parkway. Two blocks from the Subway (Train 2 and 5) and Express Bus to Manhattan. Brand new Three Bedroom apartment with Top Kitchen Appliances and wood cabinets, granite counter top. WiFi Available There is TV which picks up about 15 Digital Channels in the room. If you happen to be a Die Hard Soccer Fan and must watch Barcelona-Manchester United game well there is always the TV located in the Living room..... If the Yankees are playing at the same time .. then we have a problem...well I will let you use my iPad instead. Walking distance to Arthur Avenue, Botanical Gardens, Bronx Zoo. I am very Flexible with Check in check out time. If you happen to arrive very early and the room is occupied with a guest, you can still drop off your stuff and your room will be ready when you return from exploring the city. The same goes if you need to leave late ... I may ask just to pack your stuff and move it to a closet or the living room, if for any reason I have the room reserved for a guest, you can come back later to get your stuff and go your way. I am a NO Drama guy ... so we can always make it work. Email me any inquiries you may have .
wszystko było ok! przyjął nas Enriqe syn i specjalnie za nami czekał. okolica może nie najlepsza ale blisko do metra i bezpośrednie połączenie do centrum.
Agnieszka
2016-10-07T00:00:00Z
Even though I didn't meet Enrique his home was lovely. great location. No complaints here.
Israel
2017-02-08T00:00:00Z
Lugar cómodo y comunicado para trasladarte a Manhattan, atención inmediata, me volvería a hospedar, recomendable 100%
Hank
2017-03-14T00:00:00Z
The place is very near a station on Subway route 2. Which provides a good connectivity with Manhattan. The room and bathroom were decent. Although the room we were provided was not the one shown in the picture (i.e. not mexican decor room). Towels and toiletries (soap, shampoo, lotion) were provided - which was good. Some lack in communication from Ricky lead to minor issues with finding the keys to check in. It was only worse because of freezing weather and no light at the gate. If you are not meeting him during check in, its better to find out beforehand on how to operate the lock. A pleasant stay overall.
Hershal
2013-11-27T00:00:00Z
The room was so clean and quiet. so was the restroom. I enjoyed my stay there for 3 days, and it served the purpose very well. thank you Ricky for having me.
mohamed
2012-12-21T00:00:00Z
The room was very nice and quiet not far from the 2 train and near plenty of restaurants. I would recommend this place to any one thanks again!!
Frank
2016-04-21T00:00:00Z
We've stayed for a whole week and only met Enrique once for a few minutes during that time. However, he was a nice guy and we didn't miss anything. Going with a subway to downtown Manhatan takes about an hour, but it's totally worth the price of the room.
Martin
2015-04-27T00:00:00Z
It was fantastic and we were so confortable at Ricky's House,I strongly recommend you hosting there. Estuvimos muy cómodos en casa de Enrique,él no estuvo pero nos atendió Armenia y hablan español,es una ayuda para los que no habléis inglés,cama muy cómoda y todo muy limpio,os lo recomiendo!
Juanjo
2014-04-08T00:00:00Z
Rodzaj pokoju
Pokój prywatny
---
Rodzaj nieruchomości
Apartament
---
Mieści
3
---
Sypialnie
Bronks, Nowy Jork, Stany Zjednoczone
THIS ROOM IS PERFECT FOR PEOPLE THAT WANT TO ENJOY NY , NEAR THE BRONX ZOO, YANKEE STADIUM JUST MINUTES FROM MANHATTAN AND HARLEM THE TRAIN STATION IS 4 BLOCKS FROM THE APT A LOT OF LATIN RESTAURANT AND SHOPING CENTER
nice space to shear
To live here is to have everything together near Commercial area bodegas supermarket restaurants Latino restaurants close to Manhattan and Harlem nearby Subway near Park
Victor is a nice person!I had stayed there for three nights.I felt really good!There is big TV scream in the room and you can lots of movies!Most of important thing was that I could use their kitchen and nice bathroom!!
Yu Chi
2015-01-03T00:00:00Z
This was a great stay for my rep. The room was clean as was the bathroom and all the other public areas. We would definitely stay here again if the opportunity arose. You'd be lucky to stay here.
Sheldon
2017-02-06T00:00:00Z
Victors and his apartment are great! Victor is a very helpful host. I was sick the first few days and victor gave helped me out with tea and a humidifier. Restaurant, Laundry, supermarkets, and transportation are steps from the apartment. The neighborhood is awesome. The room itself is very cozy. Place is very clean. I can honestly say there is nothing bad about this bnb. Would deff recommend.
Kevin
2017-03-07T00:00:00Z
Rodzaj pokoju
Pokój prywatny
---
Rodzaj nieruchomości
Apartament
---
Mieści
2
---
Sypialnie
Bronks, Nowy Jork, Stany Zjednoczone
(6) train 2 blocks away, (6) bus 1/2 block away Located in a great family -friendly neighborhood. Landmarks such as Bronx Zoo ,botanical garden , Yankee Stadium and a shopping center.
Renovated spacious apartment
Tourist friendly neigborhood ,accesible to trains and buses,near to a shopping center
Agustina was very nice. At the moment when I arrived she drove me to explore the area. Also she's been ready to share every thing in their house. I really appreciate that. I know everyone which deside to go to her I am sure will have a warm welcome.
Fehmi
2016-06-22T00:00:00Z
She was a great women, has nice plase quiet, clean , helpful.
Abdurhman
2016-09-04T00:00:00Z
Excelente me encanto la estancia en su casa. Un lugar muy limpio y agradable. Agustina una excelente persona me ayudo bastante con mis dudas sobre la ciudad. Gracias. Muy recomendable el lugar y rápido a todos los lugares.
Joanna
2016-11-02T00:00:00Z
The host canceled this reservation 4 days before arrival. This is an automated posting.
Pierre-Gilles
2017-02-02T00:00:00Z
Very clean. She had everything that we needed. The stay was great and I would go back in the future.
Cristal
2016-11-20T00:00:00Z
My stay with Agustina was really good, she is also a really nice lady that made me feel like I was staying with an aunt. The appartemtnt and all the appliances are new, the room also had a flat-screen TV and an AC unit. If I'm ever in the Bronx again I would definitely stay with her again
Oscar
2016-09-28T00:00:00Z
I enjoyed my stay with Agustina very much. The room is very spacious and comfortable. I definitely recommend staying here.
Michael
2016-12-02T00:00:00Z
The place is as described, very convenient and private! I highly recommend the place as I have stayed multiple times here!
Dominique
2016-12-12T00:00:00Z
Rodzaj pokoju
Pokój prywatny
---
Rodzaj nieruchomości
Apartament
---
Mieści
1
---
Sypialnie
Bronks, Nowy Jork, Stany Zjednoczone
My place is close to subway - B/D train. My place is good for solo adventurers and business travelers.
It's simple & minimal.
People are friendly
The host family is very warm and her place is nice. I strongly recommend it!
RUOCHEN
2017-01-12T00:00:00Z
Had a wonderful stay in the Bronx! Yolande was accommodating even when my flight was delayed and I could check in close to midnight! Thank you for an amazing stay!
Ganesh
2016-12-01T00:00:00Z
I felt very welcomed, as if I was staying with a family member. Yolande has an inviting spirit.
Jessica
2016-12-16T00:00:00Z
It was a clean and nice place to stay the night. Yolande was very helpful, kind and communicative. I had a late check-in, but she was more than willing to make up for the waiting.
Aldisa
2016-11-17T00:00:00Z
Great place!
diego
2016-11-15T00:00:00Z
Yolande and her son are so loving and welcoming. Don't hesitate to reach out for her if you need any help. As I am completely new to this city, she told me a lot about New York, like her experience and hidden gems in here. The stay is amazing, definitely will come back again.
Winnie
2017-03-24T00:00:00Z
I had a great stay, Yolande was very helpful and the place was really clean. This was a great stay! Thanks again Yolande.
Brandon
2016-11-24T00:00:00Z
Ms. Yolande, was truly amazing! Her son was amazing, house was clean, and it was just an amazing stay!
Jonathan
2017-02-18T00:00:00Z
Rodzaj pokoju
Pokój prywatny
---
Rodzaj nieruchomości
Apartament
---
Mieści
1
---
Sypialnie
Bronks, Nowy Jork, Stany Zjednoczone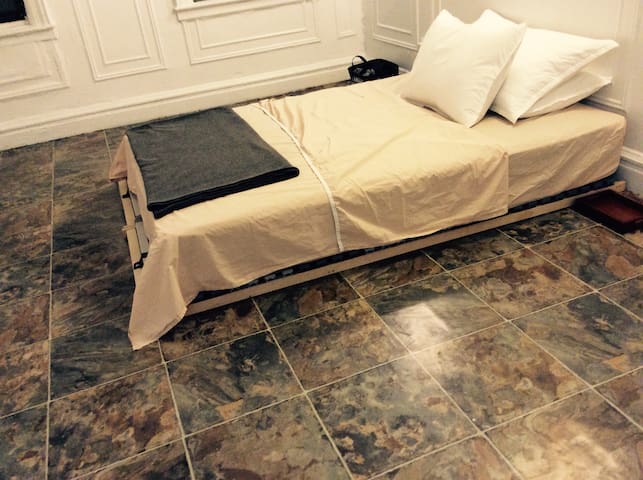 My place is close to Public transportation, the park, the beach, restaurants and dining, family-friendly activities. You'll love my place because of the coziness and comfort. My place is good for couples, solo adventurers, and business travelers.
Basement Studio apartment.
Pelham Bay Park is the biggest park in New York City. It includes Orchard beach and nearby City Island has some of the best sea food. There are a variety of bars, restaurants, lounges, and clubs on East Tremont avenue very close by as well. Bay Plaza is a close mall if you are looking to shop in the neighborhood.
It was a great stay! He's given us plenty of space and is very friendly. Also, his home is clean. Johnathan was very open and convenient when it came to answering questions. Great price for a great stay
Mina
2017-03-18T00:00:00Z
Jonathan was a great host. Place was clean and orderly. You are basically sharing his studio with him and works best as a crash pad. There is no kitchen access. Great for anyone on a budget and who won't mind the long train ride to Manhattan.
Casey
2017-03-11T00:00:00Z
It was nice to share some days with Jonathan who is really friendly, his studio is small and you need to share with him was a little unconfortable sometimes because we were a couple and some days we arrived when he was sleeping however he never said anything, his house is really near to the transport I really loved the location and his services. Thank you Jon
Verushka
2017-04-04T00:00:00Z
Close to the 6/green line train, 1hr away from times sq, he was very helpful thruout the stay, he even got me a microwave!!! I would stay again if I could. If u r taller than 6 2 do not recommend tho...
Joel andrew
2017-03-25T00:00:00Z
Nice guy, very conscientious and curteous.
Valerian
2017-03-26T00:00:00Z
Rodzaj pokoju
Pokój współdzielony
---
Rodzaj nieruchomości
Dom
---
Mieści
2
---
Sypialnie
Bronks, Nowy Jork, Stany Zjednoczone
You ever wonder what it would be like to sleep on a cloud? Now you dont have too because you will be sleeping on a cloud tempurpedic bed. You'll be in a pre-war building & access to a large park. The neighborhood is safe close to restaurants, gym, golf course, shopping mall, book store, movie theater, and 30-minute ride to Manhattan. The Average 5 star hotel price is $600 in NYC, we offer 6 star services at dollar menu prices - that's ridiculous you say? ridiculously generous - Book Now!
You are renting a private room in a two bedroom apartment. You will be sharing apartment with other guests. This is a HUGE apartment. You will feel at home and very comfortable here. It is very clean and odor free.Your private room has a queen size Tempur-Pedic bed, Large screen TV, Playstation 4, Xbox One, chrome-cast surround sound and wifi. Apartment is a large 2 bedroom apartment with a shared bath/kitchen. Also there's a workstation that serves as your office, with a basic desk, chair, whiteboard, printer, stapler, etc.. Your room has LOTS of storage space, TONS of dressers and hangers for your belongings. Also ironer and table. Washer and Dryer is in the basement. We have a stocked refrigerator with soda, water, beer, milk and cereal. We also serve coffee (and you can help yourself and drink to your hearts content)
Pelham Parkway is a working and middle class residential neighborhood geographically located in the center of the Bronx, a borough of New York City in the United States. White Plains Road is the primary commercial thoroughfare through Bronx Park East. The local subway line is (2 5 trains) Pelham Parkway is a major parkway in the neighborhood, which gives way to the neighborhood's name, originally called The Bronx and Pelham Parkway.
Ray's place was great. Stay started off well when Ray told me it might be hard to find parking but I actually found a spot right across from the front door. This was my first time staying in a shared apartment and Ray made it a good experience. I checked in late at night but Ray was really accommodating, and the same was true for me checking out after the regular checkout time. As advertised, the fridge was stocked with water, sodas, milk and I believe beer, free of charge. Cereal and coffee were also available. The room was clean and very comfortable and oh, the bed. It was so soft and comfortable that returning home, I realized that some of the soreness/stiffness I thought were due to my workouts were actually because I'm sleeping on too hard a mattress! Other plusses were the electronics in the room: huge TV with chromecase made streaming my favorite shows a breeze; surround sound made it even better. Wifi was easy to log on to and fast. I didn't get to play any games on the xbox or ps4 but even having those available were awesome; by comparison I was at a hotel in CT the night before which had blocked Internet access for devices other than computers and phones. The bathroom was clean, water was hot, shower was good. The only thing I thought was a drawback was our fault: we couldn't figure out how to use the dimmers on the light switch but Ray explained and it was all good from there. Overall a good stay in a convenient (easy walkability and access to bus/#2 train) location.
K
2016-10-31T00:00:00Z
Ray and his place were great. He answers back in a timely manner, he resolved an issue we had quickly and even bought us some wine to make up for it. The room was very private, warm, comfy, and well equipped. He had water, cereal, coffee, even beer. I don't have anything negative to say. I felt very at ease.
Glorisel
2017-02-01T00:00:00Z
Ray and Ron were great host, They truly go above and beyond to make there place as pleasurable as possible. The room was exactly as pictured and the whole apartment smelled wonderful. They also provide coffee,cereal and soda as many other guest has mentioned previously. This was my first time using airbnb and I must say they set the bar high.
Danielle
2017-01-07T00:00:00Z
Host was great. He was very welcoming. The place was large and spacious. Overall great room with a large TV and PS4, xbox systems. (SENSITIVE CONTENTS HIDDEN) chrome to play your fav movies or shows from your phone or laptop.
Karan
2016-11-08T00:00:00Z
c'était vraiment bien,le lit très confortable, même une petite bouteille de vin lorsque nous sommes arrivé. très chaleureux et acceuillant, vraiment rien a dire de negatif. :)
Marie-pier
2016-12-29T00:00:00Z
Ray's place is exactly as advertised. Its a very quiet place in a very quiet residential neighborhood. Only two blocks away from the train. Ray responds to any email immediately and was always available.
roberto
2016-11-26T00:00:00Z
The mattress is amazing
Daniel
2017-01-19T00:00:00Z
Amazing place and an amazing host. 10/10
John
2016-12-21T00:00:00Z
Rodzaj pokoju
Pokój prywatny
---
Rodzaj nieruchomości
Apartament
---
Mieści
2
---
Sypialnie
Bronks, Nowy Jork, Stany Zjednoczone
I have 2 bedrooms available for up to one week at a time. Guests will have access to bathroom, kitchen, and a bedroom. Guests will also have access to wifi.
Rodzaj pokoju
Pokój prywatny
---
Rodzaj nieruchomości
Apartament
---
Mieści
2
---
Sypialnie
Bronks, Nowy Jork, Stany Zjednoczone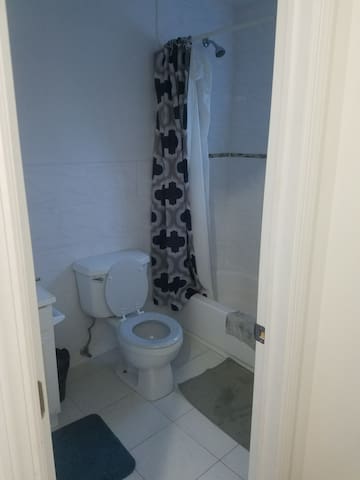 An amazing location! 1.5 blocks away from the subway train and 10 minutes to Central Park, 25 minutes to Times Square on the 4,5,6 and 2 trains! You'll love our place because of the comfort & the beautiful backyard. Good for couples, solo adventurers, business travelers, families (with kids), big groups & furry friends (pets). When it comes to local dining, you've got great choices including Mott Haven Bar & Grill, Charlie's Bar & Kitchen, Ceetay, Mexicocina, 24hr delis & so many more.
Our house is a charming 3 story townhome. When you walk up the entrance stairs, you'll gain access to our home via an electronic door lock, which allows you to come and go as you please. You'll enter the house on the main level and you'll find a shoe rack for your shoes (taking your shoes off will help us keep the house cleaner), as well as coat hooks and a bench when you put your shoes back on. The main level has the Bluejay and Star suites and one bathroom, which is shared between the guests on this floor. The top level has the Heart, Clover and Arrow suites and one bathroom, which is shared between the guests on this floor. The first floor has the living room, kitchen and the backyard.
Mott Haven has become the "hottest" neighborhood in the Bronx because of its proximity to Manhattan. You'll find an interesting mix of architectural styles as you arrive by subway. Take special notice of the different features on the buildings, as there are some beautiful gargoyles and artistic elements on many of the homes. You'll find a lot of families strolling the streets and an endless array of food choices in the immediate area.
Mark's place was such a great value and the rooms were beautifully decorated and spacious. Most of what we wanted to see was close to the 6 train so being a 5 minute walk from the station was AMAZING! We definitely were able to walk and see a lot more knowing how easy it would be to get there/back.
Monica
2017-02-20T00:00:00Z
Mark is a very friendly host, provides breakfast and keeps the house very clean. Place is located conveniently close to the train station
Katie
2017-02-08T00:00:00Z
Great and easy stay! Exceeded my expectations
Cameron
2017-01-31T00:00:00Z
It was really clean, cozy, nice, and quite room and Mark was a great host. Loved staying here!
soyoung
2017-03-22T00:00:00Z
THIS WAS MY SECOND STAY WITH MARK, AND AS USUAL HE WAS AN AWESOME HOST AND CANT WAIT TO STAY AT HIS PLACE AGAIN.
Harold
2017-03-01T00:00:00Z
I stayed at Mark's place for a few days with a friend, and it was more than we expected. The space is nice and roomy for two people. The amenities were also great. All around, Mark's place was more than accommodating.
Nikko
2017-03-04T00:00:00Z
Hi mark! I really enjoyed my stay in New York. It's my first time to try airbnb and I didn't regret my whole stay there. Cozy, comfy, clean and most especially it feels like home. Mark, aside from being handsome, he is a nice host and very accommodating will all your queries! Thanks Mark! Hope to see you soon! Good luck on your endeavors
Pamela
2017-02-27T00:00:00Z
Beautiful place. I could not have asked for a better experience
Todd
2016-12-24T00:00:00Z
Rodzaj pokoju
Pokój prywatny
---
Rodzaj nieruchomości
Szeregowiec
---
Mieści
2
---
Sypialnie
Bronks, Nowy Jork, Stany Zjednoczone
JFK 30 min by Car, LGA is 20 min, the Bronx is the heart & soul of what New York represents - Bronx Zoo, Yankee Stadium, Botanical Gardens, Fordham University. Backed against a park with bike paths along the Bronx River. We are a diverse community w/ people from all over the world. FAST WiFi for Entrepreneurs, Travelers, Professionals. Backyard for barbecues & cozy nights by the (gas) fire pit, PLUS a co-working space and an exercise room! Huge space! ~1 hour by train to Manhattan / Times Square
Our house is HUGE! We have space for all - you can have privacy or you can socialize. You can workout, work on your art or your startup, hang out in the back yard, or you can hide in your room. More about the space - Our bedrooms have either a full size bed, twin beds, 2 twins with a futon, or king bed with futon. Each room is private but shares a full bathroom, common area / dining, and full kitchen. The rooms are large with comfy beds and clean sheets and towels. Each room has a desk with an ergonomic chair for private and late nights working. We have a Common Area with Smart TV - for Netflix, ChromeCast, Hulu, etc, a large space for co-working or eating, and an exercise room with elliptical, treadmill, yoga mats, bands, etc. Another bathroom with shower on the common floor. A quiet Co-Working space rounds out the house in the basement - ergonomic chairs, printer, peace and quiet for concentrating on work. There's also a laundry room and 2 bathrooms downstairs on the basement level. A large backyard in the back of the house with a gas fire pit for summer, fall, and spring evening jam sessions or just hanging out admiring the park that's backed against the house. More about the people - At the Commonwealth, we are a mixture of different cultures with different backgrounds, diets, languages, religions – and we make room for and respect for all types of blends that make us human. Come experience the space with open minded entrepreneurs, artists, teachers, tech startups, developers, gamers, travelers and digital nomads. With our unique talents in the house, we offer skill-sharing, events / meetups, and whiteboarding sessions - sometimes spontaneous, sometimes planned. We like to keep our common spaces clean and everyone participates in cleaning. But, we also have a manager on site that helps with regular cleaning - also included in the cost. We are working on a project coliveworking a combination of co-living and co-working. Join us!
The Bronx! Did you know.... the most authentic Little Italy in NYC is in the Bronx? Or that Edgar Allen Poe had a (still standing) cottage in the Bronx? We also have the famous Bronx Zoo and New York Botanical Gardens, upscale neighborhoods in Westchester county, Fordham University, a huge Irish community in Yonkers, and several parks. In fact, the house is backed against Soundview Park, along the Bronx River, which has several bike paths and a baseball field. Our area is residential, with neighbors who've been here for 30+ years. It's safe to walk at night and the bus is only a 2 block (5 minute) walk away. As always, use caution like you would in any big city - don't walk alone really late at night, etc. You can always grab an Uber if you're out late or the trains and buses have slowed or if it's cold outside. Most guests find the neighborhood safe and the locals friendly, especially once you get to know them. The Bronx is one of the last places in NYC to gentrify, so you get to see a little bit of the nitty gritty, the diversity, and the 'real' NYC. The underlying language in NYC is of respect - no matter where you come from, if you treat people well, they will do the same with you. It's no different in the Bronx. With an open mind, you'll love the neighborhood and surrounding areas.
Great host and great person, Libby is always willing to help. Definitely staying here my next time in New York.
Javier
2016-10-10T00:00:00Z
Gratidao pela recepção aonde me senti em casa.
Paul
2017-03-25T00:00:00Z
I sepnt great time here! They are so kind♡
BOMI
2017-02-10T00:00:00Z
Rodzaj pokoju
Pokój prywatny
---
Rodzaj nieruchomości
Dom
---
Mieści
2
---
Sypialnie
Bronks, Nowy Jork, Stany Zjednoczone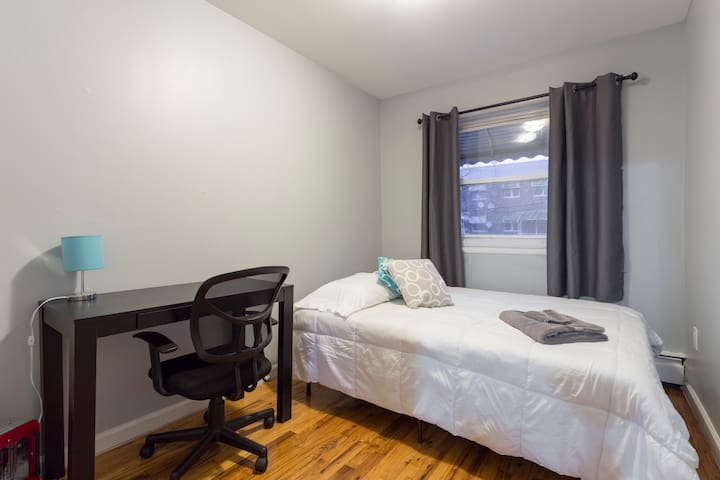 Diese Unterkunft ist in der Upper West von Manhattan wie Washington Heights bekannt ist. Die Nachbarschaft ist überwiegend Dominikaner und festlich mit Lounges und Restaurants für das Nachtleben. Es ist erreichbar mit Bussen und Bahnen, die Sie zu verschiedenen Sehenswürdigkeiten, Orten stattfinden innerhalb von 30 bis 45 Minuten oder früher. Der Port Authority Bus Terminal und Penn Station ist von diesem Standort aus zugänglich. Das Einkaufsviertel entlang St. Nicholas Avenue und Broadway hinunter zur 181. Straße begrenzt.
Rodzaj pokoju
Pokój prywatny
---
Rodzaj nieruchomości
Apartament
---
Mieści
2
---
Sypialnie
Nowy Jork, Nowy Jork, Stany Zjednoczone
Welcome to the Ciprian family Airbnb! A real homie space with lots of room to relax and enjoy. We provide a perfect balance of privacy and an interactive experience. We're in a safe and convenient location near many shops and two express metro stations. Spa treatment services are also available upon request. Our goal is to make our guests' NYC trip extra special. A true home away from home experience. If you would like any further details, don't hesitate to just let us know :)
Our home is fully renovated with beautiful hardwood floors and high ceilings. Our guests enjoy a comfortable stay with lots of space which we highly recommend when touring such a big city. Your room includes a full size bed, fresh sheets and towels. A folding bed is also available for a third guest and upon request. Our spa treatment consist of one hour relax and/or deep tissue massages. My mom is a certified masseuse and could even set up the massage table and environment right inside your room. If interested, just let us know :)
Our block is a little side street which is very quite and cute. The neighborhood is safe and near a supermarket and many shops and restaurants.
No esta cerca de manhatan pero tiene muy buena comunicación con el metro, casa muy limpia y con mucha privacidad, altamente recomendada
Abraham
2017-03-23T00:00:00Z
This is a great place and the best part is the price! We had a wonderful time and it met all expectations.
Ty
2017-04-11T00:00:00Z
House was decorated nicely and smelled great. Very convenient location near many shops and the subway. Family was very friendly yet still allowed us a fair share of privacy.
ReAijah
2017-02-21T00:00:00Z
Everything is close by there super market and CVS and 2 train station and bus service withing the 3 block area and any food you can think of too.
Joel
2017-02-06T00:00:00Z
We had great time staying here. Armando's place was clean, easy accessible, quiet and kept our privacy quite well. Our host was very friendly and warmhearted, when we said the room was a little bit cold, she immediately helped to control the air conditioner
Yang(Emily)
2017-04-03T00:00:00Z
Pros: very clean, near the subway, specious living rooms, full equipment kitchen, easy to checkin, wifi fast. Cos: water not going down in the bathtub. It's high recommends! Worth it.
HYOJUNG
2017-04-08T00:00:00Z
Clean, quiet and friendly.
Mamadou
2017-03-04T00:00:00Z
Everything was great. The house is excellent. Good place and location.
Tomas
2017-02-14T00:00:00Z
Rodzaj pokoju
Pokój prywatny
---
Rodzaj nieruchomości
Dom
---
Mieści
3
---
Sypialnie
Bronks, Nowy Jork, Stany Zjednoczone
Very lux. 1br Apt, with private entrance, fully furnished , sep. living room, full bath, internet and cable provided. 42 inch flat screen. kitchen with granite counter top brand new refrigerator and stove over the range microwave and minibar.
It is just spacious, cozy and exclusively for the guest.
Very quiet neighborhood with no alternate parking. Nice relaxing park with pool around the corner, great shopping mall (Bartow Mall ) within 10mins walk. Express buses to Manhattan and local bus stop a block away. Rite Aid and Restaurants around the corner.
Charles is a great host and very helpful. He gave us a tour of the place and made us feel right at home. His place is amazing and very cozy. Would definitely stay here again, the pictures really don't do any justice.
Minal
2016-10-03T00:00:00Z
Charles was a great host! The apartment was beautiful. Bathroom was the best part, tub was insanely huge! Lovely stay, I would totally stay here again in the future.
Alejandra
2016-03-11T00:00:00Z
I loved the place, perfect for relaxing, will definitely be coming back
Jamie
2016-11-27T00:00:00Z
I had a lovely time in Charles place as usual. I got privacy, peace and quiet. If I'm ever in the area I will definitely be back.
Sonay
2016-09-06T00:00:00Z
Charles was very friendly, and he made us feel very welcome. He gave us a tour of the place and taught us how to use the various things such as the showers knobs. I needed a hairdryer and he ran upstairs and gave me his wife's, which came in very handy! The bathroom was completely remodeled with all brand new fixtures. There were plenty of extra blankets and pillows. The electronics in the living room (the speakers) were really hi-tech. My husband wants it now for our house! There was also free wifi.
Estella
2016-05-18T00:00:00Z
I really enjoyed my stay here. The neighborhood was very quiet, it is conveniently located off of the highway, and the actual place was very clean and inviting. The pictures don't do it justice it at all! I definitely recommend booking here.
Crystal
2016-03-28T00:00:00Z
Charles was a great host!The apartment is spacious, with lots of extra amenities. The apartments is situated in a quiet neighborhood with convenient access to the subway. Restaurants and convenient stores are also within walking distance.
LeeAnn
2016-08-26T00:00:00Z
Truly enjoyed my stay here, Charles was very accomodating and ensured that if there was anything I needed I could call him without hesitation. Very warm comfortable apartment, fully functional kitchen and electronics, not to mention the stunning jacuzzi. Will consider Charles apartment over any hotel in the area any day.
Jelsy
2016-11-13T00:00:00Z
Rodzaj pokoju
Całe miejsce
---
Rodzaj nieruchomości
Apartament
---
Mieści
2
---
Sypialnie
Bronks, Nowy Jork, Stany Zjednoczone
Wpisz daty, by zobaczyć pełną cenę. Obowiązują dodatkowe opłaty. Cena może uwzględniać podatek.