Modern and cozy apartment with separate entrance in century home on a park like setting. Enjoy the spacious stone patio with BBQ facilities, sunny above ground pool, cool shade among the trees along the stream and and large fire pit for late night relaxing under the bright clear skies. The perfect getaway for adventurous nature lovers with a taste for the good things in life!
This is a modern one bedroom basement apartment on one level with private entrance and patio space. Although the door to the bedroom is rather low, the rest of the space is a comfortable height. There is an enclosed pool directly across from the apartment and laundry facilities in the apartment to wash or dry wet towels and clothing after hiking, biking, canoeing or swimming.
This is a country property 5 minutes from Paris on a country road. The nearest house is 2 acres away. There is a main road in front of the property that leads to Cambridge, Brantford and Waterloo that has some traffic during rush hours in the morning and afternoon. On weekends in the summer this is a very popular road for antique car enthusiasts going to the Paris Car Shows.
Rodzaj pokoju
Całe miejsce
---
Rodzaj nieruchomości
Apartament
---
Mieści
4
---
Sypialnie
Brant, Ontario, Kanada
Romantic private suite in historic Cobblestone mansion in Paris On, "the prettiest town in Canada". Great shops, restaurants and outdoor adventures a short walk away. King bed, spa bath, kitchen, living and dining spaces, patio with river view.
The home is a registered heritage property. The beautiful furnishings and white rugs make this an ideal space for two adults . It's a large 1 BDRM apt--with kitchen, bath, living room/dining room, separate bedroom with super comfortable king bed. You'll enjoy a private entrance, private garden and patio overlooking the river as well as the convenience of ample private parking.
You can walk to charming downtown Paris in five minutes. Here you'll find great restaurants and pubs overlooking the Grand River. Good wine at the LCBO, exotic cheese at A Swiss in Paris and fine croissants the the Paris Bakery round out the gastronomic delights of downtown. Drive three minutes north and you have all the urban convenience of a well-stocked supermarket catering to foodies. Downriver 200 metes Grand River Experiences is a equipment outfitters and guides for kayaking, canoeing and biking. A few more metres, across the bridge and you're on a groomed hiking and biking trail that hugs the meandering Grand for many kilometres. Paris is an invigorating mixture of old and new: old style crafts and funky, wonderful modern artists. But our guests most often remark on how friendly and polite the local Parisians are. It's our trademark.
This is such a lovely space. The view is beautiful in winter (I'm sure it's even better in the summer). The kitchen space is well outfitted (surprisingly good knives, which admittedly I only used on cheese and apples). It's very secluded, but just a block away from the Paris downtown, which is cute. I can't wait to see it in summer!
Dan
2016-12-17T00:00:00Z
Jean is a fantastic host. Check in was a breeze and the location is fantastic. Would definitely stay again.
Nick
2017-01-22T00:00:00Z
Jean, It was so wonderful to stay at your beautiful house! It is such a quiet and nice place, that anyone would want to go there and take a good rest. We felt home inmediately after your warm welcome and also because of your warm care throughout the month of our stay. Being in a quiet and peaceful place, waiting for our little bundle of joy to arrive and the most friendly and caring people around us, made the whole experience an unforgettable treasure! Both, my wife and I, thank you so much for having us over. We are glad we made wonderful new friends! We hope to see you again and we would definitely not think twice where to stay! Warm greeting, Angelina & Oscar
Oscar
2014-11-27T00:00:00Z
Jean is a very lovely host who provided us with a home away from home. It was a lovely self-contained unit that had everything and more that you could need. The unit is quiet, private and well appointed. The bathroom is amazing and the kitchen was very well stocked even with enough supplies for breakfast the first morning which is a wonderful touch. The unit is very clean, the towels are thick and plush and the bed was very comfortable. The area that the unit is situated in is perfect just a short walk to the downtown area of Paris. This was my first experience with Airbnb and Jean has spoilt me for any others.
Joanne
2016-08-20T00:00:00Z
Jean's Paris hideaway was a quiet oasis. Our days there were a wonderful respite from our normally busy schedule. The apartment was well stocked with breakfast goodies and the bed was so comfortable that it was hard to get up and going every morning! Jean was very responsive to all of our needs during our stay. And the best part .... the bathroom floor is heated! A wonderful stay in an amazing property with a 5 minute walk to beautiful downtown Paris.
Rudy and Maryann
2015-05-26T00:00:00Z
Jean was a lovely host. We stayed for a month and she welcomed us with home made muffins the first day and invited us for a glass of wine the last week. The place is a perfect size for 2 people and in a great location. She even offered to increase her internet package for the month so that we could use our Netflix. The laundry room was on her side of the house but was easy to organize access to. She also has a cleaning lady that comes weekly for an additional fee.
Jaclyn
2016-11-25T00:00:00Z
It was a very enjoyable stay, very comfortable accommodations and sitting outside listening to the river flow by was spectacular.
Michelle
2016-06-21T00:00:00Z
The photos don't do justice to this beautiful home on the Grand River! My fiance and I had a lovely two-day stay during the week to enjoy the peace and quiet of the small town and Jean and her husband's stunning property. We had coffee at Brown Dog each day on the patio to simply enjoy the river flowing by, the fall colours and the last bits of warm sunshine before winter arrives. We also enjoyed many great meals at the fantastic restaurants in town. The carrot cake at The Arlington Hotel is to die for!
Vivian
2014-10-04T00:00:00Z
Rodzaj pokoju
Całe miejsce
---
Rodzaj nieruchomości
Apartament
---
Mieści
2
---
Sypialnie
Brant, Ontario, Kanada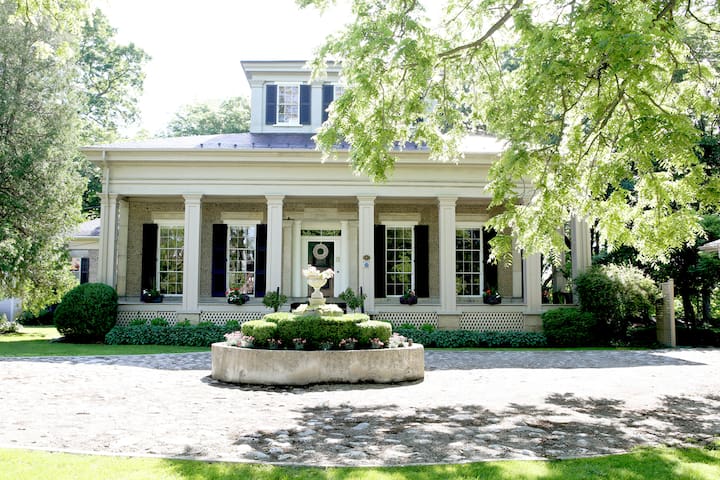 A Plantation Manor that is spacious and clean, providing a 800 sq ft housekeeping suite with two queen beds, private kitchen and bath. Minutes walk from Downtown District of Paris. Enjoy the view of the river...best fly fishing in Canada!
Our guests can take advantage of their own private kitchen or inquire about enjoying breakfast in our historic formal dining room. We also run a Tea Room between 10 and 4 serving 1850 style High Tea.
We have a wonderful downtown just minutes away and a short walk over the Nith River Brigde. Shopkeepers are freindly and eager to welcome guests to our lovely town of Paris.
Rodzaj pokoju
Całe miejsce
---
Rodzaj nieruchomości
Apartament
---
Mieści
4
---
Sypialnie
Brant, Ontario, Kanada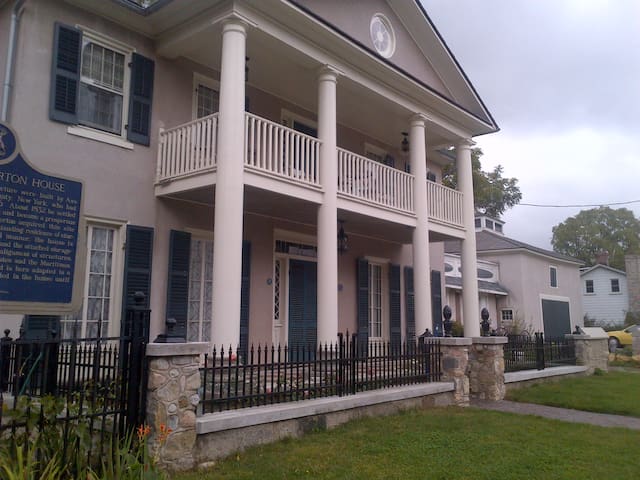 Our space is close to two airports (Toronto/Hamilton), parks, art, culture, and has great views. Paris is a beautiful little town within close driving distance to Toronto, Waterloo and Niagara Falls. Our home is located in a beautiful neighbourhood surrounded by spectacular hiking trails. You'll love our place as it is homey and has all the comforts you'll need whilst you travel. Our space is best suited for couples and solo adventurers.
Large-size bedroom, very clean and quiet. The bed was very comfortable and the hosts were very helpful and ready to help.
Bruno
2017-04-01T00:00:00Z
Very clean, friendly and easy to get to. Loved the quiet and comfortable bedrooms. Would definitely stay here again when in the Brantford area.
Catherine
2017-03-05T00:00:00Z
Rodzaj pokoju
Pokój prywatny
---
Rodzaj nieruchomości
Dom
---
Mieści
2
---
Sypialnie
Brant, Ontario, Kanada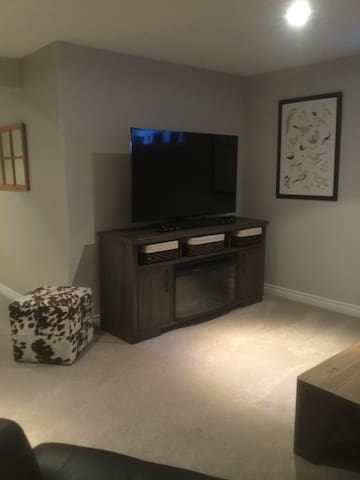 Our sunny 1860's semi-detached home has loads of character and is situated in the beautiful downtown of Paris, Ontario. Our quiet neighbourhood is just a minute walk from the river, trails and restaurants in town - it's a perfect place to base yourself while exploring the area!
Our home is bright and sunny with loads of character and is all yours for your stay. The kitchen is stocked with cookware, dishes, coffee and tea and the basics and towels and sheets are provided in the bedrooms. There is a full bathroom upstairs and a half bath on the main floor off of the rear entrance. The master bedroom has a super comfy queen bed and a second bedroom has two double beds. Additionally a single bed and the couch can be used if you need it, just let us know in advance! There is wifi available and a TV with Netflix (sorry no cable!) to use in the living room and in the master bedroom.
Our house is located downtown Paris (Ontario!) surrounded by wonderful trails and canoeing for your daytime activities and restaurants and pubs for your night! We are right across the street from a lovely park and surrounded by beautiful homes and churches. Only a minute walk from downtown and the river, it's a great place to base yourself while exploring the area!
We had a great, but short two-day stay at Tim and Michelle's place. It's a very nicely decorated and comfortable house . It had everything we needed. The price was very reasonable for an entire house. We would stay again if we have the chance some day.
Robert
2016-09-25T00:00:00Z
Our stay in Paris was wonderful. Michelle was very accommodating and even produced a much needed hair dryer in minutes! ;-) We would definitely stay there whenever we can as our son plays hockey there. Paris is a really nice little town with a beautiful historic home to stay.
PATTI
2015-12-01T00:00:00Z
My family and I love our stay in Paris On. Michelle's house is beautiful and exceeded our expectations! Thanks Michelle
crystal
2015-10-28T00:00:00Z
It's a really nice house and the hosts were very responsive.
Timilehin
2016-10-25T00:00:00Z
We spent a lovely and relaxing weekend in Michelle and Tim's distinctive home. Rejuvenating evenings on the back patio, coffee at the Brown Dog (overlooking the river) and afternoons in the park - all just blocks away... I could have done this for a week! Michelle and Tim have furnished their home with some beautifully chosen pieces, and we enjoyed simply being in their home! We felt that we could reach out to Michelle and Tim if we had any need (which we didn't) and the neighbours were incredibly welcoming and kind. This Airbnb is a real treat, and we would come back again in a flash! Lindsay
Lindsay
2016-06-27T00:00:00Z
Michelle's home is very charming and welcoming. Everything is very nicely decorated and make you feel at at home. I did not meet Michelle in person but we communicated often though text messages and she was always very prompt and attentive.
Leandro
2016-07-08T00:00:00Z
This has to be the best place to stay in Paris. We had the whole house for 5 of us and it was fantastic. So much space in the grand, restored 1860's house right in downtown Paris. We could walk to everything and had our meals in the huge dining room. Michelle was impeccable at making arrangements and the place was every bit as charming as we expected.
diane
2015-10-05T00:00:00Z
Thoroughly enjoyed our stay at Tim and Michelle's. We were in Paris for a competition for our kids and it helped immensely to have a place close to the venue. House was great and exactly as described. Would stay there again in a heartbeat. I wish all Airbnb places were like that!
Janet
2016-09-19T00:00:00Z
Rodzaj pokoju
Całe miejsce
---
Rodzaj nieruchomości
Dom
---
Mieści
8
---
Sypialnie
Brant, Ontario, Kanada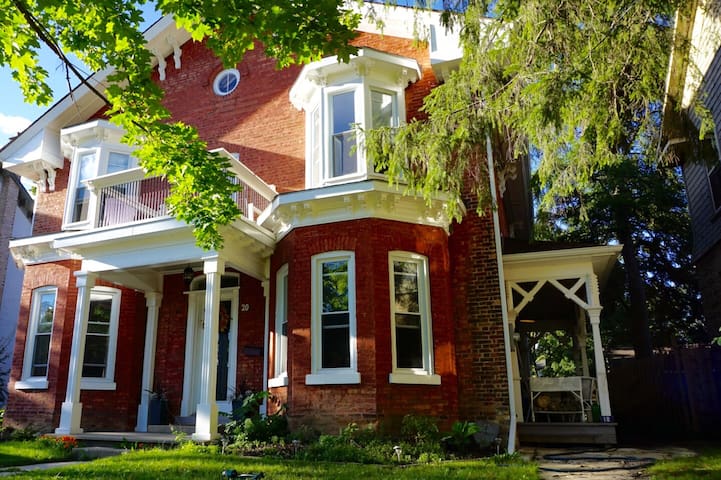 Luxury at it's finest! Newly built, the house is modern, beautiful and spacious 5000 sqft. Gym room equipped with state of the art Hoist machine. 2 jacuzzi tubs-each wing of the house. The loft has a pool table. Outdoor Hot Tub.
Luxury at it's finest! Newly built, the house is modern, beautiful and spacious. Main floor is 5,850 sq ft, in addition to bedrooms it has a dining room, fireplace room, kitchen, living room open concept, office room, gym room equipped with state of the art Hoist machine. There are 2 jacuzzi tubs one at each wing of the house. The loft is 850 sq ft and has a pool table and a bar. Loft looks down onto the family room (fireplace room). This house has a lot of windows!!!
10 minutes to Burford Golf Links 2 minutes to convenience store and LCBO/Beer store 10 minutes to Burford, which has a grocery store, bakery, Godfather's pizza, soccer/baseball fields, tennis courts, playground, splash pad.
Lisa and Dean are great hosts. Always available to help us out or give some local advise. If you are nice Lisa may even cook you a fantastic fried breaky on a Saturday morning. We will be back for sure.
Mark
2016-09-18T00:00:00Z
It was my first experience with renting a home from airbnb and it was awesome! The owners were very friendly and accommodating. They were there to do a walk through to explain everything. All the guests loved the house and kept saying it was beautiful. Would definitely recommend to others.
Eric
2016-11-21T00:00:00Z
Beautiful house. Nice property. Lisa and her husband were very nice. They were staying in the basement which was fine with us, but others may want to know about ahead of time when renting.
Rachel
2016-09-05T00:00:00Z
It was a great experience from check-in to departure. We had a lovely family gathering there and felt very at home. The house is beautiful and is a comfortable driving distance from Toronto and London. It was a real pleasure to meet Lisa and her husband and recommend staying at their country estate. Thank you again!
Allon
2016-10-31T00:00:00Z
Lisa and dean were great hosts ! No noise complaints at all !! We had a great time there :) and there puppy is the cutest !
Yanusha
2016-08-14T00:00:00Z
I booked the house for employees working in the area. They loved the house and Lisa helped to make their stay easy and comfortable. We ran into an issue with having enough water. After contacting Lisa in the evening, a repair service had issue was resolved the next day!
Doug
2015-09-13T00:00:00Z
This was my second airbnb experience and my favorite! I don't think anyone could beat it. Lisa and her husband were amazing and answered my inquiries promptly. I would love to stay here again and again. The place is beautiful. Great place for kids as well! They loved it and didn't want to leave!
Terrysa
2016-06-27T00:00:00Z
This house was awesome! My baseball team stay here and they were blown away by the amenities. The location was perfect, as we didn't have to worry about neighbours. I highly recommend staying here with your large group. Lisa was a fantastic host, always available and supportive! Thank you for making my first Airbnb experience so impressive.
Ozzie
2016-10-02T00:00:00Z
Rodzaj pokoju
Całe miejsce
---
Rodzaj nieruchomości
Dom
---
Mieści
6
---
Sypialnie
Brant, Ontario, Kanada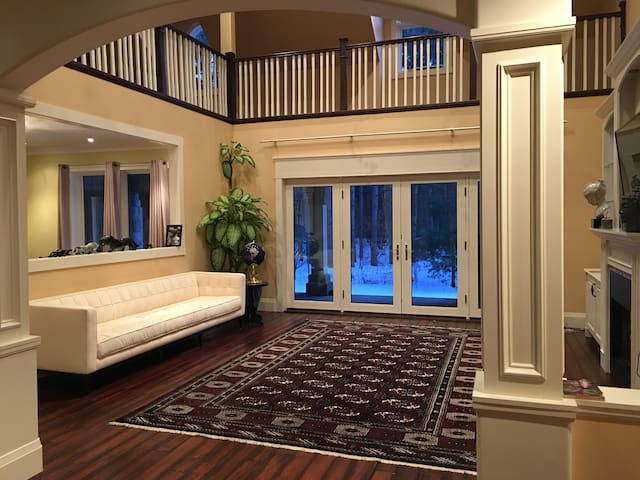 Must visit 100 year old home away from home where warm, cozy and peaceful place is awaiting you!
Private entire bungalow unit with one master bedroom perfect for a couple. We also have additional bedrooms available for a family or bigger groups. Private washroom, kitchen and living/dining room. Parking available. Complete privacy. Panoramic view. Steps from downtown Paris. Full english breakfast included!!!
Heart of Paris! Our Bed and Breakfast is walking distance to art and culture destinations of Paris Downtown. Steps to award-winning restaurants facing Grand River. Museums, Art Galleries, shopping, winter activities, historic landmarks, bike trails, fishing, kayaking, farms, and plenty of other family-friendly activities.
Iryna and Max were wonderful hosts. They were really friendly and made my wife and I feel very welcomed. The breakfast was delicious and plentiful! Iryna's artwork made the place very vibrant :)
Geremie
2017-02-19T00:00:00Z
Iryna and Max were great hosts for our stay at their beautiful house in Paris. The breakfast provided was sumptuous and generous. Good stay with a warm couple :)
rekha
2017-01-01T00:00:00Z
Rodzaj pokoju
Całe miejsce
---
Rodzaj nieruchomości
Wikt i opierunek
---
Mieści
5
---
Sypialnie
Brant, Ontario, Kanada
large executive bungalow in upscale community
custom built
Rodzaj pokoju
Całe miejsce
---
Rodzaj nieruchomości
Domek parterowy
---
Mieści
6
---
Sypialnie
Brant, Ontario, Kanada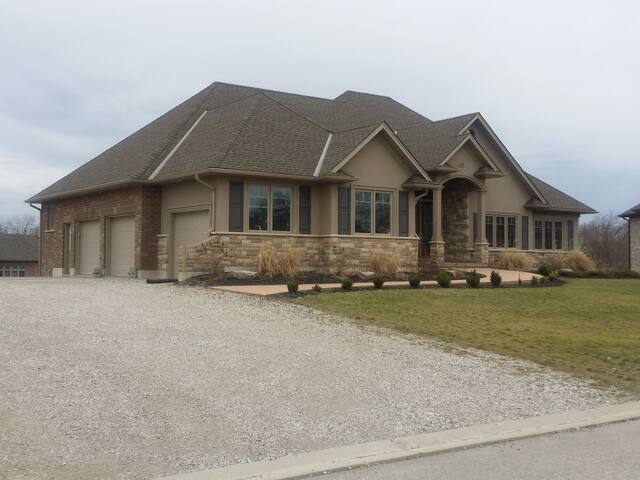 Cozy one bedroom (and shared bathroom) available in our lovely Victorian home, just steps from the Grand River and beautiful downtown Paris. Enjoy all that Paris has to offer, from the comfort of a centrally located home. Includes great breakfast.
Our guest bedroom is comfortable and attractive. We've ensured that there is space to lay out your luggage, drawers to fill if you so desire, and hooks for hanging items as well. You'll find towels, toiletries and bottled water for your use.
We live just a block from the Grand River, where is joins the mighty Nith River. You can stroll along the river on the trails, or cross the bridge to explore what downtown Paris has to offer. Right next door to our house, you will find a salon, spa and fantastic new fine dining restaurant - Juniper Dining Co.
It was a wonderful experience!! Kari is a wonderful host. The house is centrally located, close to the Cambridge-Paris Trail and some fine restaurants - Kari highly recommended "Juniper" for fine dining !! The room was very comfortable. And we had a fantastic breakfast! Kari and her husband were very helpful and welcoming: we totally felt at home - I absolutely recommend this place to anyone :)
Lisa
2016-04-25T00:00:00Z
Kari was a great hostess. Her home and the room were spotless. I wish I could have stayed longer on this occasion. I'm hoping to come back sometime when I can take more time to explore the town and surrounding countryside.
Janet
2016-05-20T00:00:00Z
Kari is an excellent host. She is very thoughtful and was able to fulfill all my requests (arrival time, breakfast time, etc.) When I got lost in the county, she immediately called me back and helped me get back on track to find her street. Her gorgeous and roomy Victorian house is very clean, well decorated and welcoming. I would recommend!
Martin
2016-09-08T00:00:00Z
Kari and her family were very warm and welcoming and always ready to advise us and help. We loved the genuine Victorian feel to the house which has been updated in keeping with its dignified age. The location is perfect for exploring Paris on foot as it is a few minutes from the centre of town and close to walks alongside the river. The breakfasts were varied and delicious and the interaction with family members made it seem we were part of the extended family. Car parking was in a safe area adjacent to the house . .
Mary
2016-08-08T00:00:00Z
Kari and her family were wonderful. the house was lovely and the room was perfect. I even got instructions on the AC unit (unnecessary) but could have been tricky without ;) Great stay. Great muffins. Great town. I got to be a "Paris-ite" for a day.
Cedric
2016-09-03T00:00:00Z
Great room in a historical house. Breakfast was amazing!
ALEXEI
2016-01-23T00:00:00Z
Perfect amazing house ! And great people
Vince
2016-12-09T00:00:00Z
I was a nice experience spending my time in Kari's place. She offers a warm, tidy, clean, cozy room, which I would like to recommend to anyone who is visiting this beautiful town.
Henry
2017-01-20T00:00:00Z
Rodzaj pokoju
Pokój prywatny
---
Rodzaj nieruchomości
Wikt i opierunek
---
Mieści
2
---
Sypialnie
Brant, Ontario, Kanada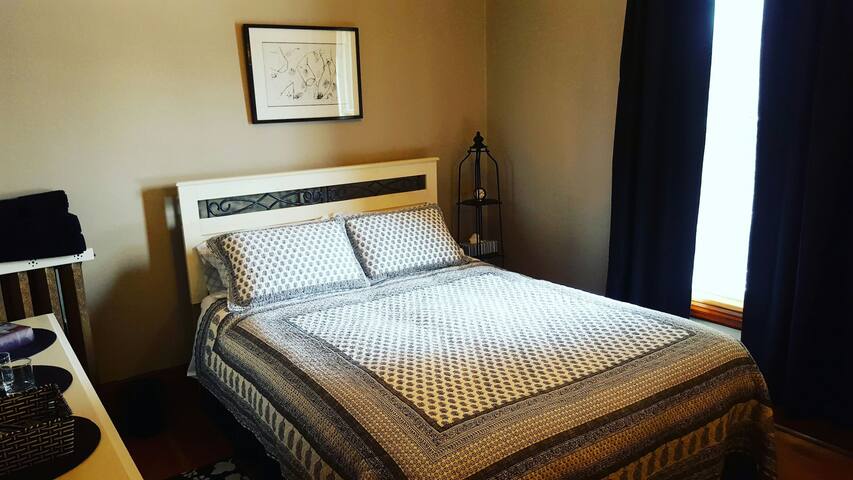 My place is a brand new condo on the Grand River. Minutes to walk to downtown Paris and river recreation (kayak, canoe and biking the trails). My place is good for couples, solo adventurers, and business travellers. Close to Highway 403. Transportation to and from Toronto/Waterloo/Hamilton Airports can be arranged.
The living room and kitchen are open concept. There is a 2 piece bathroom on the main level. Patio doors off the living room lead to a patio outside. The main large bedroom and ensuite is on the 2nd level. The laundry facilities are also on the 2nd level. The guests have the private use of the condo to themselves.
It is a beautiful new area in the quaint town of Paris Ontario. Footsteps to everything. Only a few minutes walk to downtown Paris, the bike trails and kayaking or canoeing. Seven minute drive to Brantford and minutes from the 403. Twenty minutes drive to Kitchener/Waterloo, Cambridge and Hamilton.
Nice clean and modern place. Great location to downtown.
Michael
2016-09-16T00:00:00Z
Sheryl was a great host! Her place was spacious, clean, and in a great location and she was available by text to answer any questions we had.
Darcy
2016-09-06T00:00:00Z
Sheryl was there when we needed her. She has a great comfy clean place close to all Paris has to offer.
Toni
2017-03-20T00:00:00Z
Rodzaj pokoju
Całe miejsce
---
Rodzaj nieruchomości
Dom
---
Mieści
2
---
Sypialnie
Brant, Ontario, Kanada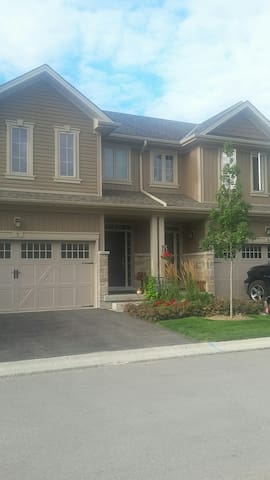 Our home is a quiet sanctuary near the convergence of the Grand River & Nith Rivers. Enjoy the nature paths, hiking, kayaking and more. Walk into "Canada's Prettiest Little Town" and enjoy this quaint, heartwarming town all year long. Enjoy an array of wonderful restaurants many with views of the Grand River. Enjoy the birds, nature and beauty surrounding us. Our home is good for couples, solo adventurers, and business travellers. Interested in kayaking... we can arrange for a guided tour.
Not sure we're all that unique. Just a relaxing place to lay your head for the night with easy access to Paris. I also offer guided kayaking and rafting trips down the Grand River.
We love the nature around us. We love feeding our birds and tending to our gardens.
Rodzaj pokoju
Pokój prywatny
---
Rodzaj nieruchomości
Dom
---
Mieści
2
---
Sypialnie
Brant, Ontario, Kanada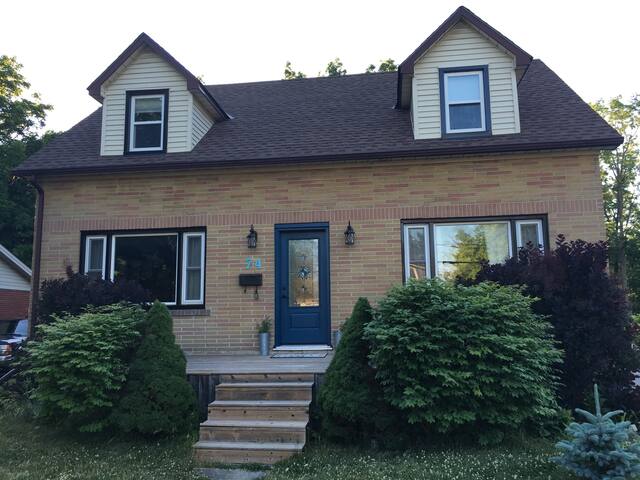 SPECIAL OFFER FOR 4 PLUS GUESTS. This amazing 1840 newely renovated cottage has patio doors featuring the view of The Grand River. Location Location Location...walking to downtown Paris! 2 Bdrms plus living room to accommodate 6 adults comfortably. Home away from Home!
Our Grand River offers the best water activies, especially canoeing and fly fishing. Great for bird and wild life watching. We are conveniently located walking distance to our downtown district with fine dining and great shopping. The little house has a BIG spacious feel and offers large picture window and patio doors to welcome the view of outdoors. Paris is all about our Grand River...and we have the best location!
Paris is a very friendly place to be. Visit our local pubs (all walking distance) and join into conversations. We have many special events happening weekly at our Agricultural Fair Grounds, Monthly Auctions at the Old Town Hall, and lots of great shopping and dining
Judy is very attentive and helpful, and close by in case you need anything. A cute, quiet, conveniently located spot.
Sara
2017-03-09T00:00:00Z
Everything as advertised, we had a wonderful stay! A quick walkout to downtown. It was charming and we would happily stay again!
Nathan
2017-02-25T00:00:00Z
Walking distance to pretty much everything. Small house backing onto the river. Happy with my stay. Thanks Judy
Shannon
2017-02-24T00:00:00Z
A fantastic little place. I stayed there on my own but perfect for a family. Beautiful view, and wonderful host.
Rowena
2017-02-12T00:00:00Z
Rodzaj pokoju
Całe miejsce
---
Rodzaj nieruchomości
Dom
---
Mieści
6
---
Sypialnie
Brant, Ontario, Kanada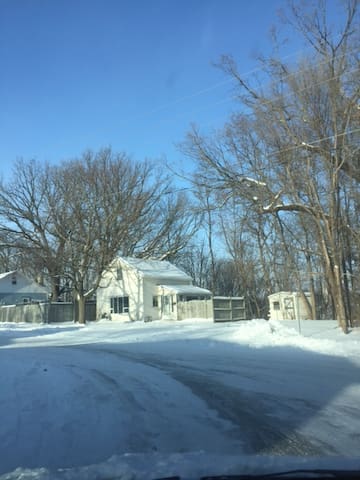 2 Bedrooms available in a new home in Mount Pleasant. Only a 5 minute walk to the local market and you can make yourself a gourmet meal in the large fully equipped kitchen. Our house is great for the avid walker, cyclist, or hiker as it backs onto the Regional Trails. See the listing and maps of routes here: (URL HIDDEN)
We have a beautiful modern custom built home just outside Brantford city limits. Over 4500 sq. feet of finished space. Our home is styled in a blend of modern and rustic decor. We have a fenced half-acre yard, complete with a patio that you have access to. You can sit and relax out on the patio and enjoy your morning coffee. We have a gym in the basement. We also have two bedrooms downstairs, complete with your own living area and full washroom. Our house can accommodate 5 guests all together.
We have access through our backyard to the beautiful trails that run through Brantford and connect to Cambridge, Hamilton and Port Dover. You are more than welcome to bring your bikes. We live in a quiet subdivision. There is a 5 minute walk to a market that is open Tuesday-Saturday. They serve great breakfast and lunches, and also have fresh deli, bakery, produce, and a grocery aisle.
Rodzaj pokoju
Pokój prywatny
---
Rodzaj nieruchomości
Dom
---
Mieści
4
---
Sypialnie
Brant, Ontario, Kanada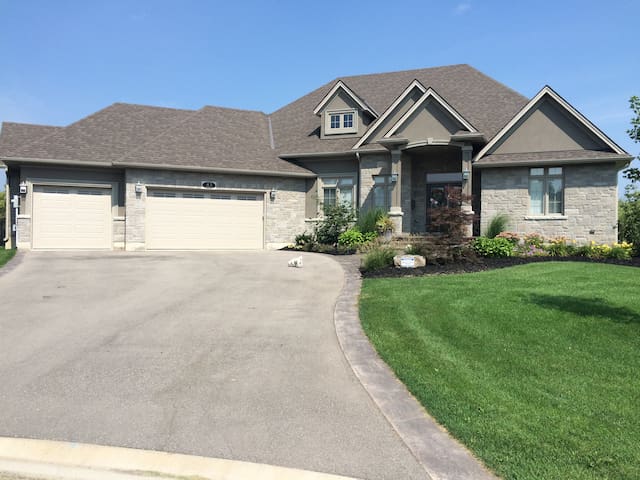 Walking Trails & Serenity. Located in the charming village of Mount Pleasant Ontario, our peaceful home is a 5 min walk to the infamous "Windmill Country Mill" and one of Brant County's best restaurants "Devlin's Country Bistro". 5 minutes to Brantford, 35 min to Port Dover, Hamilton or Cambridge.
Country setting, cornfield back yard, fire pit, big yard yet close to amenities.
Serene country setting, open concept main floor. Cozy country bed. Clean and comfortable. Good quality cereals, coffee and tea for breakfast. Or feel free to cook any meals you like.
Rodzaj pokoju
Pokój prywatny
---
Rodzaj nieruchomości
Dom
---
Mieści
2
---
Sypialnie
Brant, Ontario, Kanada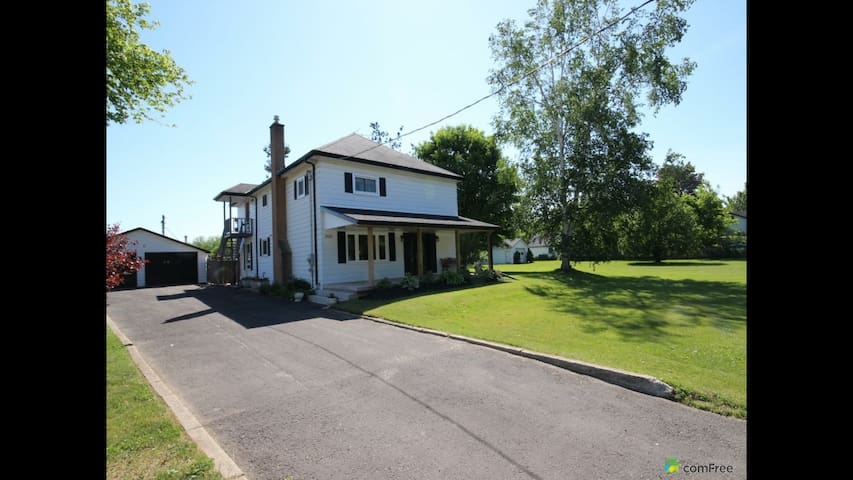 This stunning property is located on 6 acres with mature trees and garden beds. Large gardens to walk around with patios. In ground pool in the summer.
Rodzaj pokoju
Pokój prywatny
---
Rodzaj nieruchomości
Dom
---
Mieści
2
---
Sypialnie
Brant, Ontario, Kanada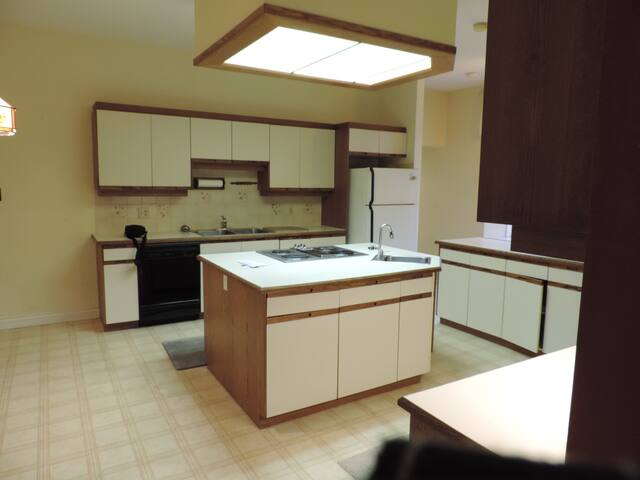 My place is good for couples, solo adventurers, business travellers, and furry friends (pets). Large 1 bedroom 19th century home with lots of historical charm and modern amenities.
A large bedroom with fireplace mantel, hardwood floors, high ceilings, wardrobe, smart TV and a four poster queen bed. A large living area with seating area and desk. Large eat in kitchen, modern appliances/ coffee maker/toaster/microwave and kettle. Modern 4 piece washroom. Front and back entrances/parking/patio/ gardens and backyard for your enjoyment and for your dog.
It was awesome to stay there. Rick is kind and he helped as about anything we need. The house is nice and we had a good weekend there.
Chunxia
2017-02-01T00:00:00Z
Ricks place is perfect. Its bright and airy, has all the comforts of home and more. Easy to find, great parking, and totally safe. Rick is an excellent host. Fresh flowers and fruit were great special touches.
Nadine
2017-03-05T00:00:00Z
Rick's place is absolutely amazing. We loved everything about it, the place is spotless, the location is terrific for exploring Brantford on foot, my husband and I walked downtown, Frosty Fest was a nice surprise. Went to the casino,the Farmers Market and walked to the Bell Homestead along the wonderful walking trails along the Grand River. The place is well equipped with everything needed for a relaxing getaway the 4 poster bed is so comfy and romantic the bedroom is so beautiful. I would highly recommend this place and I hope to return again. Thank you Rick for sharing this little gem with us. Also for the fresh flowers, wine and baked goods, we loved them and truly appreciated the kind gesture. Rick is truly an amazing host.
Leticia
2017-02-20T00:00:00Z
Rick's place is fantastic! Well furnished, comfortable, with plenty of space and everything you need to be comfortable. The neighborhood was quiet and centrally located to all of the restaurants, grocery stores, and amenities in Brantford! We will definitely be staying here again!
Amayllis
2017-01-16T00:00:00Z
amazing perfect victorian space with brand new updates throughout. decor is beyond tasteful. rustic, historic meets modern eclectic hybrid....really works! brantford and the neighborhood is super fun. farmer's market, river trails, coffee house, churches all within walking. rick is an a ++ host. unmatched kind touches everywhere. not one complaint, only the best to say about this place and this host. hope to be back!
LOG CABIN CAFE
2017-01-03T00:00:00Z
Rick's place was perfect for a weekend of escape to relax and get a bit of work done. Very cozy, equipped with everything I needed, and the bed was one of the most comfortable I've ever slept on. Really nice atmosphere and Rick is a great host, friendly and helpful. Would recommend.
Ellie
2017-03-12T00:00:00Z
Rodzaj pokoju
Całe miejsce
---
Rodzaj nieruchomości
Inny
---
Mieści
2
---
Sypialnie
Brantford, Ontario, Kanada
My place is close to great views, restaurants and dining, and family-friendly activities. You'll love my place because of the light, the comfy bed, the kitchen, and the high ceilings. My place is good for couples, solo adventurers, business travellers, and families (with kids).
Had A Wonderful stay two times in a row here and will be staying again in the near future. I loved the apartment!
Meghan
2017-03-07T00:00:00Z
Nice, clean and updated space! Lots of room to put your things away. Great host who responds very quickly to any of your questions!
Chelsey
2017-01-30T00:00:00Z
Nataliya was an excellent host she would pop by the building occasionally and was very attentive to any questions or concerns. This facility has all the amenities one could want as well as a convenient location to shopping, entertainment & business needs like banks & post offices. I highly recommend this facility. It is well cared for yet casual and relaxing. I will definitely stay there again when visiting Brantford ON.
Merrie
2016-12-10T00:00:00Z
The building was nice and quiet in a residential area just steps away from downtown Brantford. The apartment was very clean and all the kitchen utensils were supplied as well as a few items in the food cupboard! The wifi was fast and easy to connect to and there was an option to set up cable tv. Overall, a very nice stay and would definitely recommend for anyone spending time in Brantford.
Brandon
2016-10-28T00:00:00Z
Rodzaj pokoju
Całe miejsce
---
Rodzaj nieruchomości
Apartament
---
Mieści
2
---
Sypialnie
Brantford, Ontario, Kanada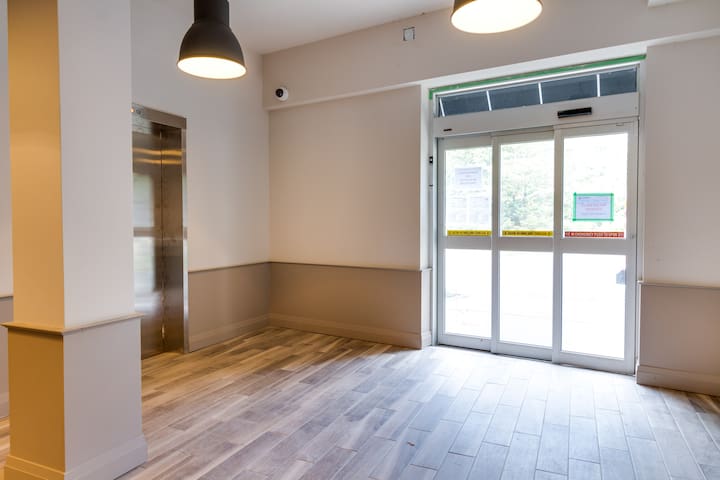 Check out beautiful 2bdrm 2 .5 bath modern house! Enjoy the cosiest King Sized bed with ensuite and soaker tub in desirable West Brant! Back yard with Gazebo, makeup/vanity room and truly comfortable and stylish living and dining area! Complete with WIFI and satellite TV, walking distance to amenities and public transit. 5 min drive to Casino and several delicious upscale and mid range restaurants. Easy check-in/ out! Make yourself at home and enjoy!
Our house has tons of natural light during the day with a backyard, deck and Gazebo with a full six person dining table out back for BBQ's in the summer months! There is also an above ground small pool to relax in and cool off. Help yourself to any garden veggies also! Our King sized bed is top notch. And our bedroom boasts a 50inch TV with en suite bathroom with shower and soaker tub for relaxing. Off the main floor is a girl's dream vanity room, to get ready in style, with hairstyling tools and professional hair products. We ask that you please respect our place like you would your own and keep the noise to a minimum, as we are attached to our neighbour. Smoking is only allowed outside, please do not smoke in the house.
Neighbourhood is nice and quiet and boasts TONS of biking and hiking trails all around. You'll even catch Dear roaming the area! Close proximity to grocery stores, Brantford airport, and more. If you're into fine dining, be sure to check out Devlins Bistro in Mount Pleasant which is only a 5 minute or less drive! Casino is also close by if you're feeling lucky!
Rodzaj pokoju
Całe miejsce
---
Rodzaj nieruchomości
Dom
---
Mieści
4
---
Sypialnie
Brantford, Ontario, Kanada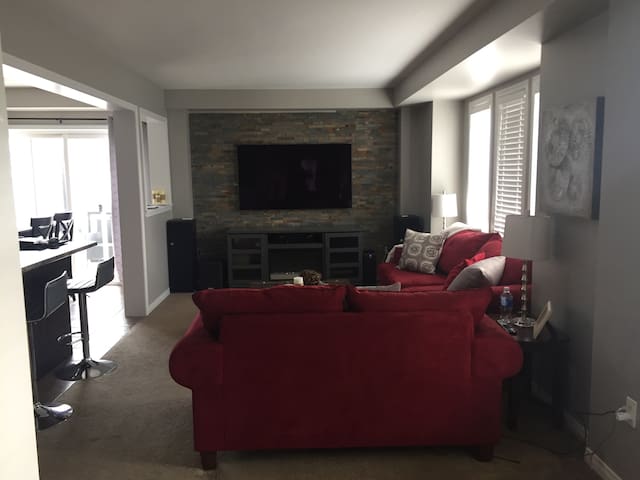 Brant - Airbnb
:
Średnia ocena:

4.88

/

5

gwiazdek od

163

gości