Small bedroom (twin bed) in our home, with great natural light. Great for a single business traveler. Desk, printer, and wifi in bedroom. Bathroom shared with us. You are also welcome to use kitchen and living room. Awesome location in Manchester - less then a block from Main Street, walking distance to restaurants, cafes, bars, shops. 5 minute drive to Manchester Community College, 10 minutes to Buckland Hills area, 25 minutes to UConn. Parking available. Please note, we have a cat.
Located in the Main Street area, and walking distance to plenty of restaurants, cafes, bars, and convenience stores.
Kristen is a wonderful host. So is her cat, Lucy. The place is just enough space for one person. I appreciate that I was able to use the kitchen!
Jeannie
2017-03-23T00:00:00Z
Kristen and her roommate are lovely hosts. Kristen is friendly, cheerful and outgoing, and the condo is a charming brick townhouse. Small, comfy room. The cat, Lucy, is an absolute sweetheart and will love all over you :)
Karen
2017-03-31T00:00:00Z
My stay at Kristen's was brilliant, she was a great host and everything went smoothly! I would definitely recommend staying here!
Jared
2017-04-05T00:00:00Z
Rodzaj pokoju
Pokój prywatny
---
Rodzaj nieruchomości
Apartament
---
Mieści
1
---
Sypialnie
Manchester, Connecticut, Stany Zjednoczone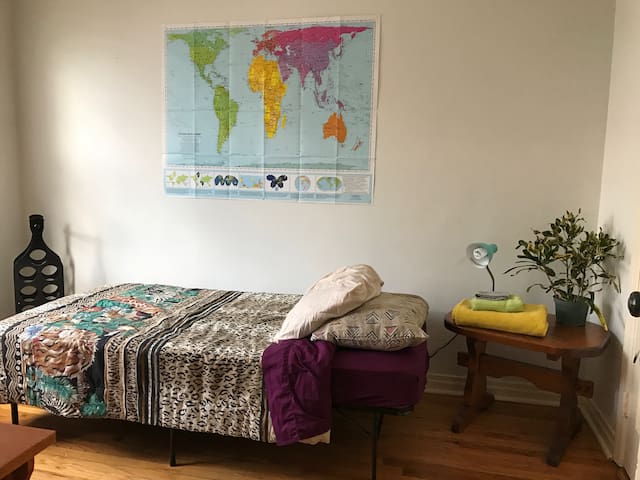 This one bedroom apartment is a 3 minute walk from the CT Transit bus line. A short 8 minute drive to Buckland Hills Mall. Very close to all kinds of dining and entertainment. It is located on a quiet street with a walking trail. Having Hartford within 20 minutes driving distance this is the perfect place to stay.
This space is part of a two family duplex. It's close to many attractions such as the Cheney Rail Trail; Buckland Hills Mall; and a short walk to Center Springs park.
Center Springs Park - has a short 9-hole disc golf course for DG Enthusiasts The Portal - Great gaming store Center Perk - Great local Breakfast shop in Downtown Manchester Cheney Rail Trail - Walking trail (goes into Center Springs Park)
Andy and Renee were great hosts. Gave us our space but were attentive to our needs. The home was beautiful and meticulously kept. We had a great weekend and everything went without a hitch.
Michael
2016-10-16T00:00:00Z
Comfortable and spacious 1 bedroom within an easy drive to Hartford. Hosts were great making the stay even more enjoyable. I highly recommend if you are needing to stay in Hartford.
alan
2017-01-09T00:00:00Z
This place is wicked clean and a lot bigger than I anticipated it'd be.
Eli
2016-11-28T00:00:00Z
Andy and Renee were going to be out of town for a day or so, but Andy made sure to check on me to make sure I didn't need anything before they left. Just as described, great area, and the space was larger than depicted in the pictures. As a quick note: this is an older home, so you WILL hear fairly loud noises from the radiator, but this is normal in an older home. Just an fyi for potential AirBnB'ers.
RaShonne
2016-11-26T00:00:00Z
Everything was great. Communication was quick and a breeze, as was meeting to get the key. The place is nice, even nicer and bigger in real life than in the pictures. Excellent experience. 5 stars!
Jeff
2016-10-14T00:00:00Z
Great and easy stay. Close to the highway and UCONN stadium. Clean and friendly. Thanks for the hospitality.
Matthew
2016-09-24T00:00:00Z
Had a pleasant stay at Andy's place. It is an older house, but is well kept, neat, and nicely decorated. It was nice to have the entire apartment all to myself. The bedroom is a good size, and the living room has a futon/sofa that can sleep additional people. The kitchen had all the appliances and accessories needed for cooking in the unit. As others have mentioned, you might hear the heating system kick on, and there was some noise from the street, but whenever I travel I make sure to bring earplugs, and they solve any noise issues that come up. Andy did check in with me to make sure I had everything I needed, which I appreciated.
Hugh
2016-12-08T00:00:00Z
Great value for an excellent location in relation to Hartford. Andy and Renee were very accessible to communicate with when we had questions, and the guest house was spacious, clean, and warm. Also, modern appliances and nice kitchen.
Maria
2016-11-19T00:00:00Z
Rodzaj pokoju
Całe miejsce
---
Rodzaj nieruchomości
Apartament
---
Mieści
4
---
Sypialnie
Manchester, Connecticut, Stany Zjednoczone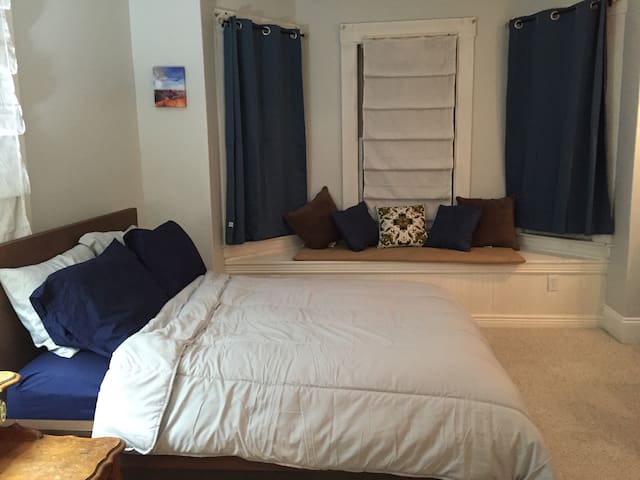 Our one bedroom apartment in a colonial barn has a country feeling! It comfortably fits two and is a 10 minute drive into downtown Hartford. Located halfway between Boston and New York City and within an hour to beaches and casinos.
We are on a private road with a country setting but half a mile from CT Rt.2 for convenience to major highways.
Carolyn was a very kind and accommodating host during our stay. She was helpful with directions and offered recommendations for restaurants and outdoor activities, which we used. Cotton Hollow Preserve was a great, simple hike with beautiful views! Also, Roses Berry Farm is terrific for apple picking and offers Sunday brunch overlooking their farm and the mountains, something I'd highly suggest. The barn itself was lovely. The place was neat, beautifully decorated with an outdoor patio and was very cozy for any couple looking to get away. If you're tall, the tub/shower will be a bit tricky and you will need to sit on a small chair that's been provided but that aside, Carolyn's barn was a great stay and my boyfriend and I recommend it to fellow travelers!
Jen
2016-09-25T00:00:00Z
The Charming Barn Apartment is a well-equipped, cozy and quiet get-away in a beautiful rural setting, only 15 minutes from downtown Hartford. Carolyn and Jim were welcoming, friendly and very graciously provided lots of information about local eateries and shopping. Jim even helped us with our rental car when we limped-in on the first night with a flat tire. We had a great stay.
Jeff
2016-10-05T00:00:00Z
Carolyn was very welcoming and her barn apartment is indeed charming. The location is very convenient, a short distance off Rt.2 but on a private and very quiet road. Well equipped and clean, the apartment has everything you need. Great stay!
Susan
2016-09-23T00:00:00Z
We arrived and were greeted by Carolyn who showed us our home for the next nine days. It was even better than we could have imagined. Loved the fresh cut flowers! It was spacious and homey. There were even movies to enjoy. We were close to the freeway so it was easy to get where we wanted to go. It was very quiet at night and it cooled down enough so we didn't have to use the air conditioner. The shower chair made it easy to shower so that was a great touch. If you are looking for a country like setting this is definitely the place.
Carolyn
2016-07-04T00:00:00Z
Carolyn's place is awesome, it was clean and cozy, close to downtown Hartford and Glastonbury. She was very welcoming, made my fiancée and I feel right at home. If you're looking near the Hartford/Glastonbury area, this is a great place to stay!
Brennan
2016-11-12T00:00:00Z
Carolyn and Jim met us when we pulled in - they were friendly and good-humored. The listing was very accurate - we appreciated the little extras like the sparkling water and granola bars. The general neighborhood is low-density suburban, although their specific area has more of a rural feel. The property is very charming - especially liked the moss-covered winding stone steps!
Robin
2016-10-30T00:00:00Z
Carolyn and James were great. We really enjoyed our time in their adorable barn apartment. Some things that we particularly enjoyed: full sized refrigerator individually-controlled heat very quiet neighborhood lots of land on which to walk around proximity to restaurant and shops (about a 10 min drive) Some things that were a big challenging: Well, there was really only one thing: the shower. The shower ceiling is deeply angled. If you're over 5'2'', you probably will not be able to stand up straight in the shower. If you have a bad back or prefer not to squat during showers, you may want to take that into consideration.
Rashea
2015-11-08T00:00:00Z
They were very welcoming, met us when we arrived, gave us recommendations for places to go. The area is gorgeous and the barn itself is super homey and comfortable. We'd definitely consider booking there again next time we're in the area. Thank you!!!!
Lily
2016-06-16T00:00:00Z
Rodzaj pokoju
Całe miejsce
---
Rodzaj nieruchomości
Apartament
---
Mieści
2
---
Sypialnie
Glastonbury, Connecticut, Stany Zjednoczone
Fully Furnished Apartment. king Bed, Two Closet, Flat Screen TV, Microwave, Cooking Range, Full Size Refrigerator, Dining Table with two chairs, Pull out sofa Bed, Coffee Table, Granite counter tops, free WIFI, Free Cable TV, Fitness room, Outdoor Pool, Bog Lobby, Free and secure Parking, will provide towels, for Long term Guest cleaning service available with fees. come and see this newly renovated apartments.
Rodzaj pokoju
Pokój prywatny
---
Rodzaj nieruchomości
Apartament
---
Mieści
2
---
Sypialnie
Manchester, Connecticut, Stany Zjednoczone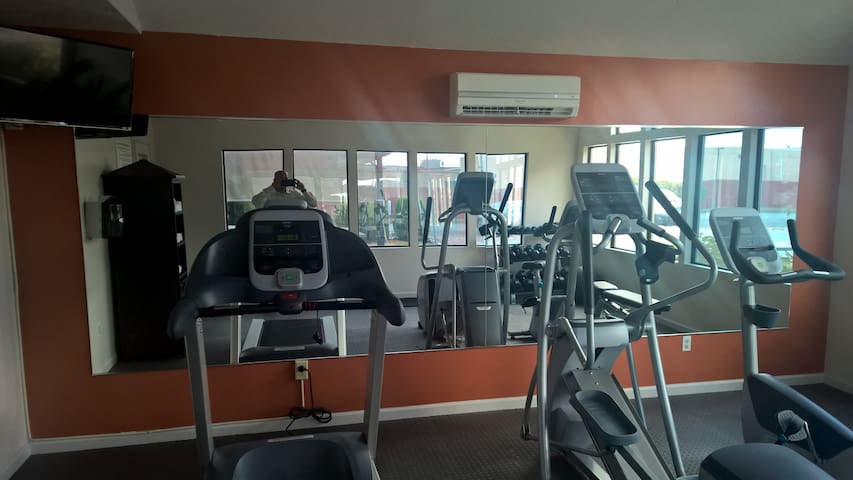 Our fully-furnished, 1000-square-foot, attached apartment makes sustainability comfortable. From the solar panels outside to the life-affirming wood interior, this apartment exudes positive energy. Relax and enjoy the architecturally unique features.
Amazing views of the Quiet Corner of Connecticut await you. Come enjoy this retreat, fully equipped to "recharge your batteries" after your days of vacationing, researching, or conducting business. Being two miles from UConn and Storrs downtown, with easy access to public transportation, this location remains convenient while helping you feel that you've gotten away from it all. We hope you will love the natural feel of the wood as much as we do in our architecturally-unique home.
Located right next to the Spring Hill Historic District, our property is surrounded by the open space of UConn fields and Joshua Trust land. Walking along Route 195 is not recommended, but hiking along the Nipmuk Trail is! Our view rivals 50-foot, which is another vista along the Nipmuk trail, a short hike east from the house. We are two miles from downtown Storrs and the UConn campus to the north and Willimantic is not much further to the south. Storrs is located en route between Boston and New York City in the Quiet Corner of Connecticut.
This is a wonderful place to stay. It was clean, spacious and incredibly comfortable. I travel a great deal for work and stay at AirBnBs often, this is one of the best I have stayed. The extra touches such as the delicious breakfast items make everything more relaxing. Check in/out and communication was very easy. It is in a great location, just a minute drive into town with lots of restaurants and other attraction. I will certainly stay here again if I get the chance.
Amy
2016-11-16T00:00:00Z
My wife and I arrived on a beautiful Sunday afternoon. Doug and his wife had to leave town, but they were gracious and met us before they left. Everything was as we expected it to be, and then some. The location is beautiful with a great view over the valley. The Ecohaven reminds me of an A-frame chalet with a spacious bedroom and bathroom upstairs and a beautiful large kitchen/great room downstairs (with separate powder room). We like everything about it. In fact, I think I could live there! Everything was clean and modern. Our hosts even left bottles of red wine ($20 on an honor system), coffee, tea, and breakfast items. Overall, this was a very pleasant stay, and we would definitely recommend Green Energy Ecohaven to our friends (in fact, we already did so with our friends on the faculty at UCONN.
Randy
2016-04-20T00:00:00Z
What a treasure! I came here to visit UConn and while it is right near by, you feel like you are a million miles away from everything. The beautiful pictures online don't do it justice -- it's even more breathtaking in real life. And so incredibly peaceful! I felt very lucky to have the opportunity to stay. All my interactions online with Doug were informative and friendly. I met Annie in person when I arrived and she was so warm and kind and very interesting! I highly recommend the Green Energy Ecohaven! I can't wait to bring my husband here. A true treasure!
Cinthia
2016-04-16T00:00:00Z
A great place to stay. The hosts are very friendly and welcoming. The apartment is clean, spacious, and has a great view. We highly recommend it.
Andrew
2016-03-10T00:00:00Z
Lovely setting and a lovely home. The hosts are very kind and warm and thought of many nice details in what they have included in the home, all of which made our stay special. We would definitely stay here again, and would definitely stay here rather than in the local hotels. The only downside for us was that road noise can be heard from the bedroom, which can be hard on light sleepers like me, but even with that we would still stay here rather than anywhere else local.
lara
2015-08-07T00:00:00Z
Very nice house! Everything looks good. We have wonderful three nights.
融迪
2016-05-22T00:00:00Z
We had a wonderful stay with thoughtful owners we hope to stay with them again
Dan
2017-04-09T00:00:00Z
The Green Energy Ecohaven is a quiet, private, and clean apartment with gorgeous view, conveniently located about 2 miles south of UConn. Annie and Doug were great hosts and took great care of their property. I had a great 3-week stay during my Three Summers program and Confratute. On my next visit to UConn, I definitely intend to come back!
Paula
2016-07-16T00:00:00Z
Rodzaj pokoju
Całe miejsce
---
Rodzaj nieruchomości
Apartament
---
Mieści
4
---
Sypialnie
Mansfield, Connecticut, Stany Zjednoczone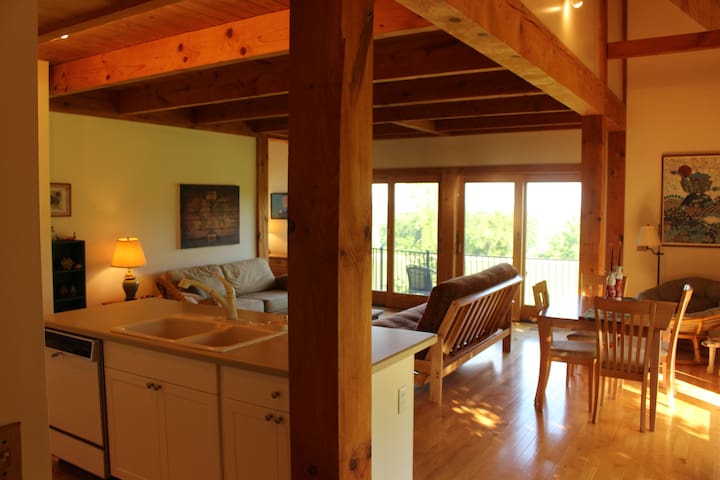 Min plads er tæt på stor visninger, restauranter og spisning, byens centrum, parker, og kunst og kultur. Du vil elske mit sted på grund af placeringen, de mennesker, atmosfære, udendørs rum, nabolaget. Min plads er godt for par, solo eventyrere og forretningsrejsende.
Rodzaj pokoju
Całe miejsce
---
Rodzaj nieruchomości
Apartament
---
Mieści
2
---
Sypialnie
Vernon, Connecticut, Stany Zjednoczone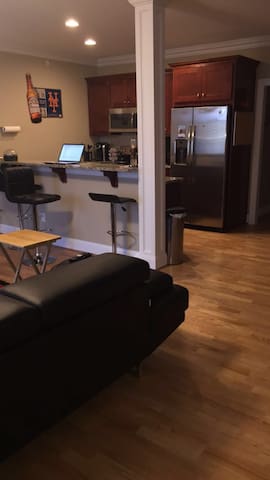 Открытый, светлый план этажа с телевизором и кабельным спать 4 взрослых 2 односпальные кровати ж / раскладной диван. Частный доступ и парковка. Полностью оборудованная кухня и ванная комната. Тихий сельский район с быстрым доступом к Interstate 84 и Хартфорду. Есть парки и теннисные корты и пешеходные тропы очень близко к нашему UConn Hideaway. Позднее в этом году вы увидите прекрасные цветы и овощи, которые заполняют двор. Мы органические озеленителей и не используют никаких вредных химических веществ или методов в нашем бизнесе, дома или во дворе.
Наше пространство является уникальным в том, что она является полностью частной и доступной из своего подъезда. Это идеальное место для длительного пребывания бизнеса, особенно для кого-то с диетическими проблемами. Это очень открытое с зоной отдыха и обеденной зоной.
Наш район является квинтэссенцией Новой Англии, от города Грин Willington Пицца 2.
Rodzaj pokoju
Całe miejsce
---
Rodzaj nieruchomości
Apartament
---
Mieści
4
---
Sypialnie
Tolland, Connecticut, Stany Zjednoczone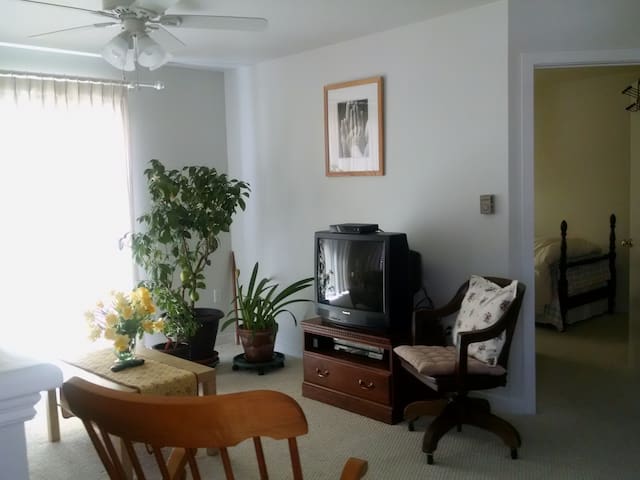 Modest decor, lots of windows, lovely new floors and paint, full kitchen, full bath, 2 small bedrooms, eating area off kitchen, laundry center, access to picnic table outside, view of large back yard with gazebo.
Rodzaj pokoju
Całe miejsce
---
Rodzaj nieruchomości
Apartament
---
Mieści
2
---
Sypialnie
Mansfield, Connecticut, Stany Zjednoczone
Large private In Law Suite w/ own entrance/parking. Fully furnished and equipped including WIFI. Owner on premises. Located in safe quiet family orientated neighborhood off main road with busline. Minutes from major highways Route 2, 84 and 91.
Spacious clean private furnished and equipped 1 bedroom 1 Bath with outstanding living room and full kitchen. Convienent safe parking right outside entrance. Sliding doors to private patio in backyard. Located in private neighborhood off main road with busline. Great if your in town for UCONN Football, Hartford Yardgoats Baseball, or longterm stay. 10 minutes from Downtown Hartford. 60 minutes from Foxwoods and Mohegan Casinos. 20 minutes from Bradley airport.
Quiet family orientated neighborhood located on private corner lot off main road with busline. Minutes from routes 2, 84, 91
Rodzaj pokoju
Całe miejsce
---
Rodzaj nieruchomości
Apartament
---
Mieści
2
---
Sypialnie
East Hartford, CT, United States, Connecticut, Stany Zjednoczone
I have a 2BR condo 1 mile south of the center of downtown Hartford. It's walking distance from corporate and govt offices and Hartford Hospital. Willing to rent the spare BR. Off-street parking and an in-unit washer/dryer.
It is a nice, clean 2 BR very close to everything that might bring people to Hartford, CT - corporate & government offices, Hartford Hospital, Trinity University and the UConn Hartford-area campuses, and Hartford's dining, nightlife and cultural attractions.
It is a historic neighborhood with beautiful brick buildings built around the turn of the century and is in a very convenient location. Past residents of the neighborhood include notable industrialists Colt (firearms), Borden (dairy), Pratt & Whitney (aeronautics) .
Chris is a fantastic host, and everything was as it is listed. I will definitely look him up again next time I'm in Hartford
Jesse
2016-04-05T00:00:00Z
Chris is an incredibly nice and friendly guy and made for a very pleasant host. He welcomed me into his home and tried to make me feel as comfortable as possible. He was willing to accommodate a last-minute reservation request as well as a late arrival. Very solid member of the AirBnB community. Thank you!
Chris
2015-09-25T00:00:00Z
Chris was a great host. He was very considerate, and took the time to communicate the types and cost of transportation into downtown Hartford. Location was great - quiet neighborhood a little over a mile from downtown. A few things concerned me: 1) Half of the bathroom curtain was covered with black mold. It was a health concern and gave the bathroom a moldy odor, especially when steamy. 2) The bedroom nightstand was very dusty. When I put my phone down and brushed against it, the dust was visible on my hand. 3) The bed linen had bits of what looked like cat hair, that I had to dust off before sleeping, which caused me to wonder if the linen was clean. I was exhausted when I arrived and only stayed for one night, so I didn't address my concerns with Chris. Would recommend if these issues were resolved.
Renee
2016-05-09T00:00:00Z
Nice, clean apartment and felt very welcome. Got there kind of late but Chris waited up for me to arrive without any hesitation. Would totally stay here again.
Sean
2015-10-05T00:00:00Z
My time at Chris' place was amazing! The place is great, very tidy and has everything that you need. The location is also very convenient if you are visiting downtown Hartford and the touristy places around, including the river walk/square, or if you are going to Hartford Hospital area which is very closely located. And the best thing is that Chris is an amazing guy, very friendly and makes you feel at home, it was a pleasure to meet him and I would definitely stay again with him if I'm back in Hartford. Highly recommended.
Humberto
2016-01-15T00:00:00Z
Very nice friendly guy with a very very clean apartment, strongly recommended to even people with obsession!!!
Ali
2016-01-22T00:00:00Z
Excellent response very friendly we got along great made a new friend.
Michael
2015-10-12T00:00:00Z
Chris is a friendly, laid back guy with a nice apartment near the heart of everything Hartford. Great value, comfortable situation - just what I was looking for.
Stephen
2015-09-04T00:00:00Z
Rodzaj pokoju
Pokój prywatny
---
Rodzaj nieruchomości
Apartament
---
Mieści
1
---
Sypialnie
Hartford, Connecticut, Stany Zjednoczone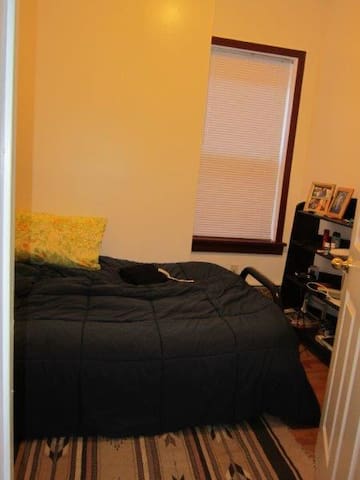 The Ida Bailey Allen Guest Suite is minutes from gorgeous state parks offering boating and walking trails, the art and culture of ECSU and UConn, stunning views of rural New England, the famous Willi Brew Pub, and Storrs Center. The space was created to honor my grandmother, author of over 50 cookbooks and radio personality. It is welcoming, peaceful, and surrounded by woods. The brand-new comfy bed, and the cozy, "tiny house" feel with vaulted ceiling and sky light makes it unique.
My grandmother taught me about old-fashioned New England hospitality, and it is my pleasure to offer you comfortable accommodations, including continental breakfast fare with a welcome Ida Bailey Allen breakfast bread based on authentic vintage recipes. The 12 by 18 addition that you will occupy has a separate entrance for privacy and sound insulation for quiet. As a licensed massage therapist I offer massages by appointment in my in-home office. Please contact me for details.
Although our neighborhood has a rural feel, we are 10 to 15 minutes away from Storrs Center, Uconn, grocery stores, shopping malls, Walmart and downtown Willimantic.
I stayed with Lynn for two weeks and it was great. You have your own privacy and the place is very quiet and clean. Plus she will drop off amazing bake goods. Definitely recommend.
Trevor
2017-02-25T00:00:00Z
The space is charming and cozy, and the hosts are lovely. I will absolutely stay again here in the future.
Adrienne
2017-03-30T00:00:00Z
comfy bed and clean efficient space.
mary
2017-04-09T00:00:00Z
Great stay - no complaints! Very nice to have a private entrance and some breakfast foods available. I also had a wonderful massage from Lynn as an extra bonus - be sure to schedule one if you have time!
Jocelyn
2017-01-16T00:00:00Z
Quiet, comfortable, clean, and thoughtful and delicious food as a bonus.
Justin
2017-04-05T00:00:00Z
Perfect place for a quiet and quaint stay. Private entrance was nice. When we arrived there was hot water and amazing banana bread waiting. The organic breakfast fare was great. We also got massages from Mariana which were amazing! Definitely would stay here again.
Samantha
2017-03-19T00:00:00Z
The accommodations we clean and comfortable. It was very homey and Mariana was lovely and very attentive to all our needs. I would definitely stay with her again. It was a good value and close to ECSU.
Kathleen
2017-03-05T00:00:00Z
The stay was great and breakfast in the morning was amazing!
Liam
2017-02-26T00:00:00Z
Rodzaj pokoju
Całe miejsce
---
Rodzaj nieruchomości
Apartament
---
Mieści
2
---
Sypialnie
Mansfield, Connecticut, Stany Zjednoczone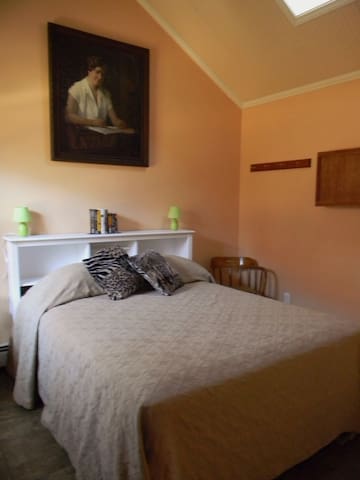 The apartment is quiet and light and has a calming effect. Beds are comfortable with a layer of memory foam. We are a mile from the Connecticut River and near many good hiking areas. Glastonbury is an old New England town with many exceptional restaurants and shops. Space has been used for out of town guests for weddings, funerals, and family reunions. 2-3 more bedrooms and living space are available upstairs and in the pool house (12 more people) if needed.
We are 5 miles from the center of South Glastonbury, a mile from the Connecticut River with an historic ferry to cross the river. A fruit and vegetable stand open from April to December down the street carries organically grown produce, flowers, and trees.
Great place, thank you.
Sahiti
2017-01-03T00:00:00Z
Enjoyed my stay at Alice's place. It was easy to find, set up as described in the listing, clean, comfortable, and well furnished. Alice was very helpful throughout the stay. This is one of the best airbnb places I have stayed in so far. The apartment is located on the lower level of her house and has a separate entrance from the garage. There are two separate bedrooms that share a full bath. She has set up the kitchen with supplies for basic breakfasts, like cereal, bread, fruit, etc. The lounge area has a good desk for working on my laptop as well as a couch and TV. The neighborhood is super quiet at night and is about a 15-20 min. drive from downtown Hartford or Manchester. I found some good restaurants just across the Putnam Bridge in Rocky Hill.
Hugh
2017-01-13T00:00:00Z
We were Alice's first airbnb guests. While Alice and her family were new to airbnb, their hospitality was not lacking. The apartment was exactly as described. It was not the right season for swimming, but there is an outdoor pool that looked very inviting. The beds were comfortable and there was more than enough space for our family of 5. Breakfast was brought down to us in the morning along with fresh coffee. The bathroom was huge and had a jetted tub and vanity. We would love a chance to come back here again sometime.
Jessaca
2016-12-24T00:00:00Z
Great overnight visit. Alice was incredibly accommodating and the home is beautiful. Plenty of space but still very cozy feel to it. Absolutely will stay again. Thank you for sharing your home
Diane
2017-01-10T00:00:00Z
FABULOUS FIND. GREAT PROPERTY, HIGHLY RECOMMEND ALICE!!! So I needed to come to CT for a few days to meet with my dissertation chair at CCSU (she is also a fellow Doctoral Student at UCONN so she could relate). Arrived at the property from the airport, and the property is magnificent, spacious and well planned out. She lead me into the basement where the apartment is and it is hard to believe that this a finished basement, it is a FULL APARTMENT will all of the amenities and creature comforts. This is definitely money well spent in the her renovation initiative. You would expect that with the freezing temps in CT this time of year to be cumbersome, but NOPE she has that taken care of that with the with the space heaters that made it more than toasty/comfy in the room. Bathroom has a jacuzzi (if only I had the time) so that is a plus. It is a drive, but if you are looking to get away Alice is the perfect host. I will definitely stay here again. DJH
Dwayne
2017-02-01T00:00:00Z
This was my first Air BNB experience. Alice's place was very comfortable and inviting . Plenty of room for 5 adults. We had a short family reunion with our adult kids. We had so much fun close by snow tubing, bowling , eating out and found an awesome escape room place . In the evenings we had so many games to choose from. This was way better than any hotel I have ever been in.
(EMAIL HIDDEN)
2017-02-12T00:00:00Z
Absolutely loved this space. Very comfortable for my family and I. Very generous hosts and warm welcoming.
Gage
2016-12-27T00:00:00Z
This space is very cozy and has every amenity. We loved having our dog with us. We would definitely stay here again.
Heather
2017-01-21T00:00:00Z
Rodzaj pokoju
Całe miejsce
---
Rodzaj nieruchomości
Apartament
---
Mieści
8
---
Sypialnie
Glastonbury, Connecticut, Stany Zjednoczone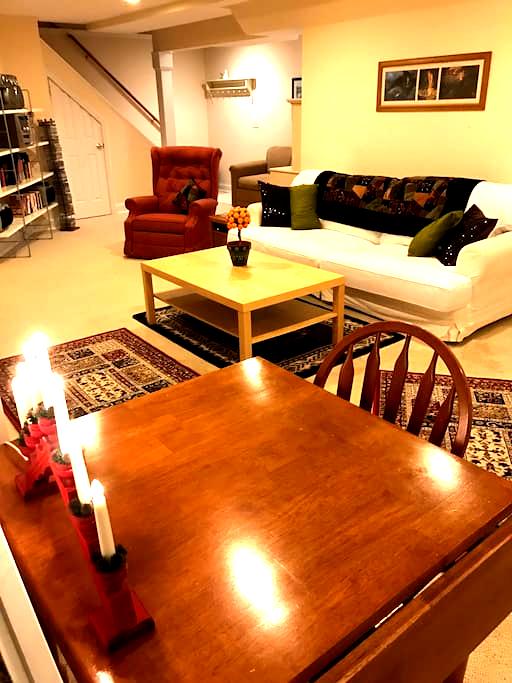 Work at home professional w/single room available for short term stays. Shared kitchen and bathroom. Local bus routes into downtown 5 min away.
Victors place was great, exactly as advertised. Victor was very nice, helpful and I even told him I wanted to get out and see some of the town and he went out of his way to take me to a few spots, I had a good time. I would definitely stay again.
Justin
2017-04-01T00:00:00Z
Rodzaj pokoju
Pokój prywatny
---
Rodzaj nieruchomości
Apartament
---
Mieści
1
---
Sypialnie
Hartford, Connecticut, Stany Zjednoczone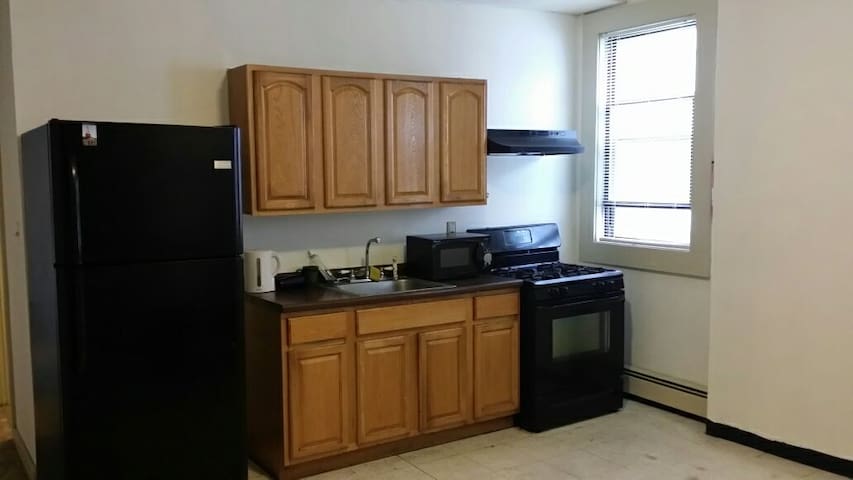 A private bedroom and sitting room with a full en suite bathroom in the garden level of a gorgeous Victorian brownstone condo. Quiet, comfortable space, walkable to everything downtown.
Your hosts for this property are Jane's parents Nancy and Bob. Jane and Earl's home is just around the corner and they are always available if needed. Their apartment is lovely. Soaring ceilings, historic detail and impeccable decorating make it a beautiful (and comfortable) space. The private bedroom and en suite bathroom with shower is in the garden level (half basement) of the apartment. The main living quarters are upstairs on the first floor. The bed is a Queen with a super comfortable tempurpedic-style mattress. The room has an armchair, wardrobe, and the other basic comforts of home. It also has a microwave and small fridge for your convenience. Our backyard is a small private park! There is a friendly dog on the premises, however she rarely if ever goes in the guest room.
We are close to everything downtown--restaurants, library, art museum, train station--and we are on several major bus lines including the CTFastrak; we are in a very convenient spot! Our small, historic neighborhood is a friendly community and we love being a part of it.
Jane was very nice and helpful. She was very easy to reach and suggested many places to visit during my short stay in Hartford. The house is beautiful and the bedroom very private and comfortable.
Armando
2016-07-09T00:00:00Z
I had a wonderful time in Hartford and my stay here definitely contributed positively to my experience! The home was beautiful and the hosts were very welcoming. I was in town interviewing for a residency position at a nearby hospital. The home was centrally located and within walking distance to everything you might need. I would definitely stay here again if I find myself in Hartford in the future!
Nicole
2016-12-13T00:00:00Z
The place was wonderful and in a great location, close to restaurants and downtown. The host was very nice, even parking my car when he saw how terrible I was at it. Snacks in the refrigerator, which is always nice. And best of all was their sweet dog. :) I'd recommend to anyone.
Debbie
2017-02-15T00:00:00Z
Jane checked in with me a couple weeks prior to decide on which property would best meet my needs. The place was all set up. Jane sent me travel directions and was waiting for me when I arrived. The home is right in the center of downtown close to everything. It's a beautiful brownstone place on an impressive block. My travel wardrobe was more on the Arizona side than the Connecticut side. Nancy let me borrow her rainjacket which kept my walking about town dry and warm. without it, my travels would have been very limited. When I slipped and my one sweatshirt was covered in dirt, she was accommodating, letting me use her washing machine to get a fresh start on the rest of my stay in New England. Nancy and Bob were great hosts and their lower unit had everything I needed and a few extras! I much appreciated their hospitality and discussing life's struggles and people who are making a difference in their community! Like them!
Cheri
2016-10-03T00:00:00Z
Jane greeted my friend and I with her adorable daughter. Her rental is beautiful, charming and clean. It had the feeling of a historic building in Boston or Brooklyn, and the location could not have been more convenient for us. I wish we had a longer stay to truly enjoy the city and particularly this quaint and beautiful brownstone. Thank you again Jane and Earl!
Scott
2016-07-11T00:00:00Z
This place is awesome! Hosts were helpful and attentive, went out of their way to ensure that my stay was comfortable. They provided excellent recommendations and were attentive and responsive in the time before my stay. Quiet, attractive, well-thought-out space. I think if anyone is looking to stay in Hartford this might be one of the best places they could find. I was very pleased with my stay and would stay here again.
Jordan
2016-09-12T00:00:00Z
We had a wonderful weekend staying in Hartford. Jane and Earl have a beautiful home that is centrally located and an easy walk to much of downtown Hartford. The bed was extremely comfortable and the room was very clean and perfectly prepared for our arrival. We will definitely keep them in mind again when we return to Hartford. Thank you for the wonderful experience!
Kyle
2016-06-27T00:00:00Z
Jane and Earl were great hosts and were very flexible about check-in and check-out times. The listing is accurate and the guest rooms are clean and private and the bed is very comfortable. There is easy parking in the area. The property is also a 5 minute walk from the starting line of the Hartford Marathon.
Jonathan
2015-10-10T00:00:00Z
Rodzaj pokoju
Pokój prywatny
---
Rodzaj nieruchomości
Apartament
---
Mieści
2
---
Sypialnie
Hartford, Connecticut, Stany Zjednoczone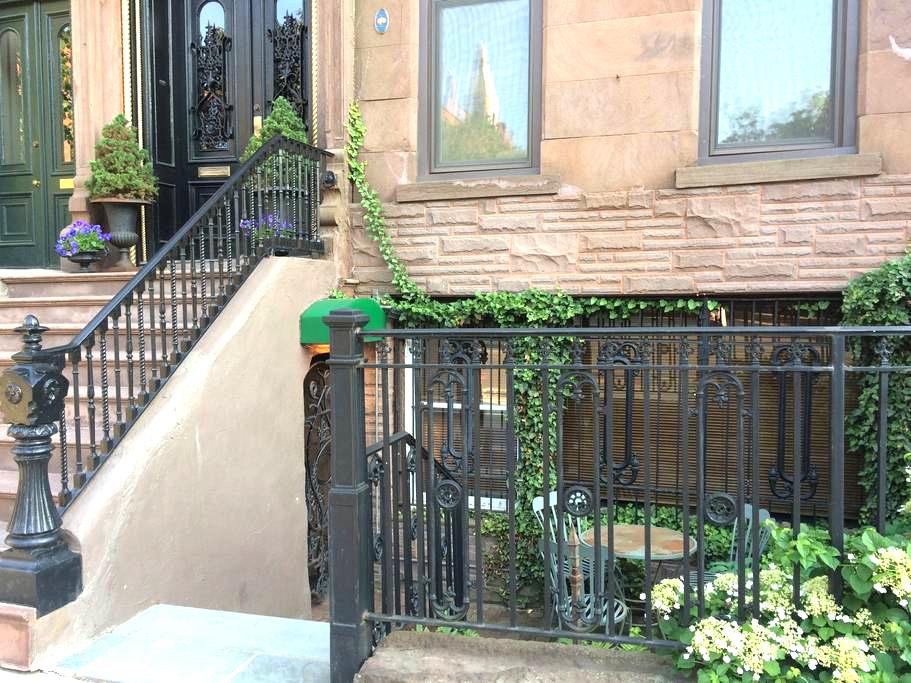 Whether your a student on campus or an employee at the many insurance companies or hospitals,you will find this room is near them all.
Great neighborhood
Jogger friendly with a perfect view of the city
Rodzaj pokoju
Pokój prywatny
---
Rodzaj nieruchomości
Apartament
---
Mieści
1
---
Sypialnie
Hartford, Connecticut, Stany Zjednoczone
This sunny one-bedroom is centrally located in the heart of Hartford. Quick walking distance to shops, restaurants, and theatres. If you're in town for a game at the XL Center, looking for a weekend getaway, or on business, this is the place for you.
The man
Dylan
2016-05-13T00:00:00Z
Though I haven't met Roland, he was very nice and accomodating. I picked up the keys from someone else, which worked well. The place is wonderful and right in the middle of downtown. Would always come back.
Andre
2016-03-20T00:00:00Z
Ron was great with communication and I was especially glad that he was so accommodating with key drop off as he was out of town and I was on a tight schedule. The apartment is incredibly convenient as it is in the heart of the city and eminently walkable. I chose to park nearby and walk or hop on the free Dash shuttle during my stay. The Dash and regular bus stops are a one minute walk from the front door making getting around easy. The one detractor is that there is no free parking on site but there is ample paid parking very close by including street meters, lots, and garages. Otherwise, the apartment was exactly as pictured and spotless.
Erin
2016-05-07T00:00:00Z
Ronald was kind and communicative. And listing was pretty much how it appeared in the photos. The apartment is large and well laid out. And the kitchen is well-stocked and easily accessible. The Location of the apartment was perfect. My work was located in Downtown Hartford and it was close to cafes, restaurants, banks, and more. What's more important is that as a woman traveling alone, I felt safe in the building because it was secured with a keycode and security guard at night. Some things to note: Although it is not listed in the amenities, wifi is not included with the apartment. However I ended up just paying the xfinity fee of $20 for my week-long stay. Not a huge deal. Also, there is no real grocery store in the area. So finding fresh fruits and vegetables was a little bit of a task. Overall my stay was pleasant. Thanks, Ronald.
Anissa
2016-03-30T00:00:00Z
Ronald was a great host! Very attentive and has a cool personality. Absolutely loved the apartment and the good vibes. I would recommend this apartment and host to anyone who is interested.
Lauren
2016-04-02T00:00:00Z
Great place at the centre of Hartford and great host. Thanks, Ronald!
Marta
2016-03-19T00:00:00Z
Ron was a gracious host, to say the least; I can be a nervous traveller sometimes, but he was very accommodating to my worries. The space itself was spacious, clean, and comfortable. It was a pleasure to stay at his place.
Jeremy A.
2016-03-17T00:00:00Z
The host canceled this reservation the day before arrival. This is an automated posting.
Dan
2016-01-20T00:00:00Z
Rodzaj pokoju
Całe miejsce
---
Rodzaj nieruchomości
Apartament
---
Mieści
4
---
Sypialnie
Hartford, Connecticut, Stany Zjednoczone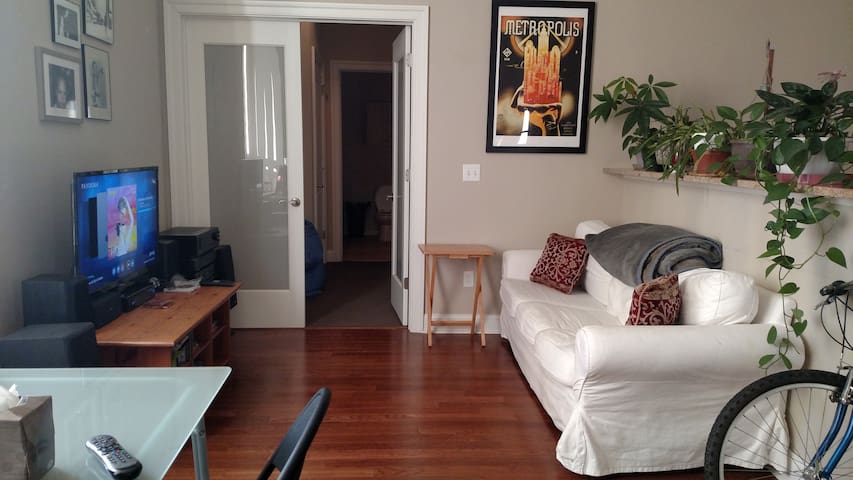 Located in the historic Congress Street neighborhood, my place is less than a block away from Hartford Hospital and Connecticut Children's Medical Center and a 10-minute walk from Hartford's bustling downtown. Newly renovated, my place is good for couples, solo adventurers, business travelers and families (with one child). It includes a spacious living/dining room, separate kitchen, full bath and a large bedroom, with modern appliances and period details from the city's glory years.
It includes a spacious living/dining room, separate kitchen, full bath and a large bedroom, with modern appliances.
Carmen's place is excellent. It's located close to food outlets and other amenities. The place is clean and huge. Comfortable for 3 people.
Shirish
2017-03-24T00:00:00Z
This location is ideal if you are going to Hartford Hospital or the state offices on Hudson. Starbucks and Au Bon Pain at hospital but nothing else really walking distance. The sound of upstairs apartment walking was quite loud but I was going to bed at 10pm. This apartment was very clean (except the bedroom carpets which need replaced!) and was fine for a no frills place to sleep. Do not expect any little "extras" like water, snacks, flowers, etc. Overall, I would probably stay again because it was clean and the location was perfect for me.
Kathleen
2017-03-22T00:00:00Z
Great stay!
Leah
2017-01-12T00:00:00Z
Carmen's place was a perfect getaway for Hartford. I loved how quiet the neighborhood was and how comfortable the bed was. I got in at about 9 pm after almost 9 hours of driving and Carmen was very VERY patient with me and even came out to make sure I knew where to park. I was able get to the wedding I was attending, and back with no problems. I HIGHLY recommend her place. The neighborhood is perfectly safe and friendly so I am not sure what other reviewers meant by neighborhood is rough. Everything in the place is clean and it is very spacious. Location is great and it takes no more than 20 min to get into downtown Hartford by walking.
Kris
2017-03-19T00:00:00Z
Nice, small, quiet, historic neighborhood. We felt like locals. It was easy to get around, we felt safe and walked most of the time. Apt was comfortabke, nice and clean. We will definitely stay here again!
Yoli&William
2016-11-25T00:00:00Z
The host canceled this reservation the day before arrival. This is an automated posting.
Scott
2016-09-27T00:00:00Z
Carmen is SO nice! We didn't know how to get the key from a 'safe-box' and she came from her home to help us in the night! She's very kind person and if I have another chance to come to Hartford, I'll definitely choose this place!
Zhenying
2017-03-10T00:00:00Z
This space was very spacious and very comfortable. Everything was great, but would have liked a little more furniture to sit on in the living room.
Davante
2017-04-09T00:00:00Z
Rodzaj pokoju
Całe miejsce
---
Rodzaj nieruchomości
Apartament
---
Mieści
3
---
Sypialnie
Hartford, Connecticut, Stany Zjednoczone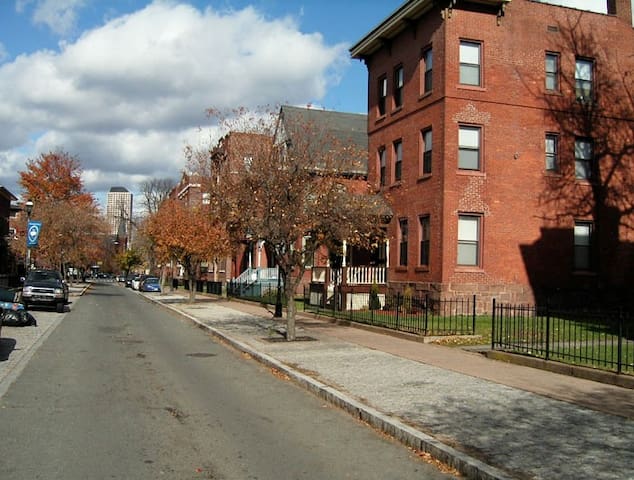 The place is in the center of the city and less than a mile to everything. I live about a block away from bushnell park and easy access to most major highways. You'll have your own room and full bath.
Registered as an historic site it is one of the most unique units in the city.
There's a very nice bar across the street and one of the oldest publicly funded parks is a block away
Rodzaj pokoju
Pokój prywatny
---
Rodzaj nieruchomości
Apartament
---
Mieści
3
---
Sypialnie
Hartford, Connecticut, Stany Zjednoczone
Wpisz daty, by zobaczyć pełną cenę. Obowiązują dodatkowe opłaty. Cena może uwzględniać podatek.