300+ Wynajmów apartamentów
Stanza in appartamento con bagno in camera
A very nice place, close to a supermarket and really close to public transport. Lots of light and nice rooms and bathrooms. Kitchen is well prepared for basic cooking. The host was always available for any issue.
Unai
2017-03-29T00:00:00Z
Rodzaj pokoju
Pokój prywatny
---
Rodzaj nieruchomości
Apartament
---
Mieści
2
---
Sypialnie
Siena, Toskania, Włochy
Na wsi w pobliżu miasta. Ponad 50 metrów: Bar - Restauracja / farmacja / prasa - Tytoń / home woda / ATM naprawy / samochód.
A gdzie jest Tognazzina? Prosty, jest Tognazza, kilka minut jazdy od Sieny. Więc dlaczego wynająć mieszkanie tam, a nie w centrum Siena? Przyczyny Istnieje również wiele, spróbuj wymienić tylko kilka z nich: to kosztuje mniej, dużo mniej, jest bardzo ładna, jest ładnie urządzone, jest dużo prywatności, ma swoje własne miejsce parkingowe, posiada telewizję satelitarną ma zatrzymanie "miasto autobus niemal naprzeciwko głównego wejścia (30 m) i jest cichy. Tak, to jest spokojny i jest to fakt nie tylko dlatego, że w Sienie, w centrum, a nie tylko w lecie, w nocy, być może istnieje długa cisza. Kilka minut jazdy samochodem? Ale czy to prawda? Nie wierz mi, wierz (SENSITIVE CONTENTS HIDDEN) Maps ™, pokazując, że trwa osiem minut, aby dotrzeć z parkingu przy Piazza d'Armi, lub jeśli po prostu nie masz ochoty na spacery, jedenaście zaparkować na stadion i do zobaczenia w centrum miasta , Istnieje także transport publiczny, wydając skromny (1,30 eur.), Można dostać się do centrum od 7 rano do 21 (które można znaleźć w domu cały czas szczegółowy). Z piętnastu euro może zrobić taką samą taksówką. Na pewno wiesz bardzo dobrze, co warto zobaczyć i zwiedzić w Sienie, ale jeśli potrzebne porady lub wskazanie, że trzeba tylko zapytać. Chciałbyś odwiedzić muzeum w Contrada? Przy odrobinie zawiadomienia możemy. A jeśli jesteś Tognazzina podczas Palio i chcieliby uczestniczyć w próbach, a nawet w wyścigu, mogę Ci bilet na siedzeniu na scenie w jednym z najlepszych na Piazza del Campo, oficjalną cenę, ani grosza "grzebień". Chcesz wziąć udział w jakiejś kolacji Contrada? Daj mi znać, w odpowiednim czasie i będzie to rozstrzygnąć. Zobacz, jak wiele zalet w porównaniu do ośmiu minut jazdy samochodem? I nie powiedzieć, że po drugiej stronie drogi, masz kawę z ciastkiem fantastyczna, tuż obok apteki, która służy tylko jako punkt odniesienia, ale jeśli tam był brak trawiennego, ponieważ mieliśmy zbyt wiele do jedzenia Siena i może się zdarzyć, jest dziesięć metrów. Ale mówiłem o barze, jeśli chcesz, możesz zjeść śniadanie w domu od 7 do 11 (z wyjątkiem niedziel) w śmiesznych cenach (usługa dołączone). Chcesz przykład? Cappuccino i rogalik zaledwie 4 eur, boczek i jajka i sok 6 eur. Wystarczy zamówić wieczorem przed i przybliżonego czasu, który chcesz W domu znajdują się: pralka, zmywarka, lodówka, zamrażarka, piekarnik, płyta grzewcza, kuchenka mikrofalowa, czajnik, ekspres do kawy oraz wszystkie niezbędne naczynia dla czterech osób, w foteliku. W pokoju wygodne łóżko podwójne, w salonie, dwa krzesła, które zamieniają się w tak wielu miejscach, aby spać spokojnie. Wszystkie systemy bezpieczeństwa: gaśnica, czujnik dymu, czujnik gazu, tlenku węgla, zestaw pierwszej pomocy Trzeba będzie przez 1 GB wolnego od opłat, router wifi, które można nosić ze sobą w okresie pobytu. Krótko mówiąc, uważam, że powody pobytu Tognazzina istnieje wiele i mam nadzieję, że opisałem prawie wszystko nie wspomnieć, że będę do dyspozycji dla wszelkich potrzeb, które mogą wystąpić. Będę czekać Jesteś w podróży na rowerze? Jest tam mały garaż dla ciebie. bez wydatków
spokojna okolica
accueil très chaleureux de saverio qui se met à votre disposition pour tout problème rencontré - appartement correspondant à la description et bien situé pour se rendre aisément à sienne par bus - compte tenu de la chaleur cet été, les ventilateurs ont été à peine suffisants pour apporter un peu de fraîcheur mais nous renouvellerons l'expérience avec plaisir en évitant le mois d'août s'il fait aussi chaud
Geneviève
2013-08-15T00:00:00Z
My friend and I stayed at Saverio's apartment and used it as a "home base" to travel around Tuscany. It's in a beautiful spot, very quiet and beautiful, and perfect if you have a rental car and want to do some touring. There is a cafe across the street where you can buy cheap brioche and cafe and they can also deliver breakfast for you if you order it the day before. Saverio was a wonderful host. When we couldn't find the apartment, he drove to meet us and we followed him there. He gave us great advice about Siena, maps, restaurant recommendations and some very nice espresso for the mornings. We could not have had a better host.
Christopher
2013-04-20T00:00:00Z
The most important thing to say is that Saverio was extremely helpful. He picked us up on arrival even tracking our flight from Turkey to ensure he was there when we arrived. Lots of helpful information about buses, easiest rental car company to find, food places to eat authentic Italian, and of course as others have mentioned the great deal they have going with the little bar over the road. . A more perfect host you couldn't find. The apartment gave you a taste of Siena of old; but with all the mod cons available. Thank you Saverio we look forward to seeing you in NZ when you come again!!
Margot
2013-06-17T00:00:00Z
Saverio was a perfect and gracious host, patiently explaining the use of appliances and giving us a great restaurant recommendation and directions to a supermarket. The apartment was spacious and equipped with a dishwasher. Although on a main road, it was perfectly quiet. We used the convenient bus to go into Sienna and it was a simple and easy drive to the Chiani region. We highly recommend Saverio and this apartment. Dan and Joyce
Daniel
2013-05-10T00:00:00Z
La description que Saverio fait de la Tognazzina est parfaitement honnête et juste. Cela était parfait pour nous car nous voulions utiliser Sienne comme base d'excursions dans la région et y sommes restés 6 jours. L'appartement est agreable et bien équipé, mais surtout Saverio est un hôte merveilleux: gentil, patient et passionné par sa ville. Nous étions à Sienne lors du Palio et étions tres heureux d'etre hors de la ville le soir. Nous sommes arrivés beaucoup plus tard que prévu dans la soiree car nous nous sommes perdus et Saverio a été immensément serviable. Ecoutez ses conseils et tout ira tres bien!
Catherine
2013-07-06T00:00:00Z
Loved staying in this lovely apartment that had everything you needed. Easy to get in to Siena on the bus . Saverio was so helpful and accommodating giving us great recommendations for sights to see and places to eat. He is a true gentleman and he really made our stay in La Tognazza a great experience. Thank you and we will return again.
Helen
2013-05-23T00:00:00Z
Encore un grand merci Saverio pour votre accueil et votre gentillesse. L'appartement est très bien situé et très bien desservi pour se rendre dans la magnifique ville de Siena. De toute la Toscanne, c'est certainement la plus belle que j'ai visitée. Nous serions même restés un peu plus vu le temps en France :-) ! GRAZIE, de la part d'Alice, Danielle et Jacques ! Forze à bientôt !
alice
2013-06-12T00:00:00Z
Saverio was a very nice host. my family stayed in la tognarzza and was very happy with this decision. the flat was clean and good located. there is a bus staion in the front of the flat. going direktly to the city of siena every hour. my family arrived very late and for saverio was not a problem to check in so late. he drove my partents to the trainstaion when they have to leave. that was very nice. he was very helpful. THANK YOU
Britta
2013-05-27T00:00:00Z
Rodzaj pokoju
Całe miejsce
---
Rodzaj nieruchomości
Apartament
---
Mieści
4
---
Sypialnie
Siena, Toskania, Włochy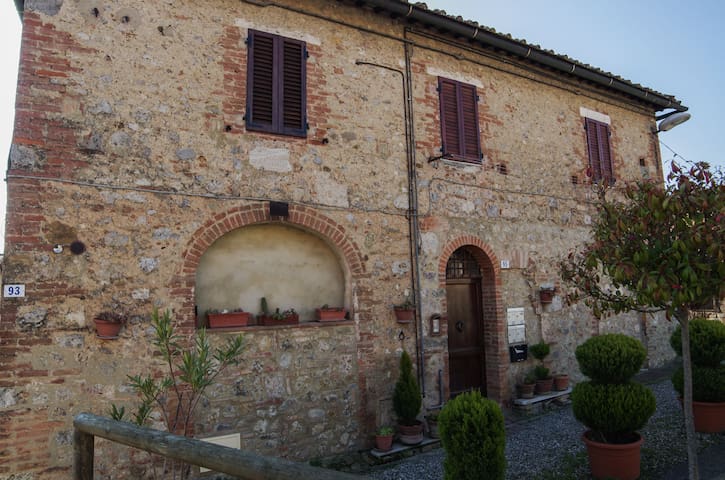 Apartamentu jest bardzo przestronny i jasny, można go łatwo pomieścić 5 osób (i więcej dwa łóżeczka). Jest bardzo blisko do Sieny i jest to dobre miejsce, aby odwiedzić wiele pobliskich urocze wioski wzgórze i region Chianti. Podatek zakwaterowania wliczone
Apartamentu jest bardzo przestronne i jasne. Został complitely odnowiony i może pomieścić 5 osób z możliwością dodać dwa łóżeczka. Jest bardzo blisko do Sieny i łatwo dostępne. Istnieje prywatny parking z automatyczną bramą.
Uopini to mała wioska w pobliżu Sieny, która jest również łatwo dojechać z lokalnych autobusów. Uopini ma dość spokojną i relaksującą atmosferę, co czyni go idealnym miejscem na pobyt podczas wizyty w wielu pobliskich urokliwych miasteczek i region Chianti. Strategiczne położenie na zwiedzanie okolic, jako centralny i równej odległości od głównych atrakcji turystycznych!
We couldn't have been happier with our stay in Laura's apartment. It central location was perfect for visiting the many nearby cities, towns, and villages. Laura was very welcoming and the house was large, clean, and comfortable. We would recommend to anyone.
Christopher
2015-06-25T00:00:00Z
L'accueil de Laura a été des plus courtois. La maison etait fidèle à la description et aux photos : spacieuse, fonctionnelle et bien equipee. Gardons un excellent souvenir de notre sejour. France
France
2016-05-23T00:00:00Z
We spent two wonderful days at Laura's appartment. Laura's welcome was very warm, with muffins from her mum and a bottle of wine! She gave us all the instructions we needed and helpful advices where to go and where to eat. The spacious appartment is very nice decorated and very clean, well equipped and situated in a quiet neighbourhood! A perfect place to explore Siena and the Toscana. Thank you Laura, we had a great time at your place!
Massimiliano
2016-09-17T00:00:00Z
Appartement très spacieux, très bien équipé, joliment décoré et très propre dans lequel on s'est senti à l'aise tout de suite. Le voisinage est très calme. Laura est une personne charmante et a été attentive à nos besoins. Nous avons beaucoup apprécié ses cadeaux de bienvenue; nous y reviendrions avec plaisir.
Serge
2015-08-11T00:00:00Z
Laura's apartment was exactly as pictured. Everything was in extremely clean, uncluttered, and we had lots of space. The amenities were plentiful, and the apartment is in a nice, quiet neighborhood not far from the Tuscan countryside and Florence. Everything was perfect. We were traveling with a 2 year old, and she provided us with a very comfortable crib. It was honestly the first time my daughter has ever slept well away from her own room. She provided a bottle of water, wine, and her mother even baked us homemade muffins for breakfast. Laura was a gracious host and I truly hope I will be able to visit again soon.
Laura
2015-12-30T00:00:00Z
Laura was a dream host, extremely welcoming, friendly and helpful. Spending 7 nights at her top quality apartment was like staying at 5* hotel and never leaving home at the same time - every need and wish was catered for. The views and facilities were amazing as was the cleanliness at this listing. We had a wonderful stay here and we would 100% recommend Laura's apartment to anybody who wishes to explore the beauty of Tuscany.
Ewa
2015-08-07T00:00:00Z
Wow this apartment was the highlight of our vacation. The house is lovely, beautifully decorated everything looked looks brand new, so so pretty. It's very spacious and so so cheap, my mouth nearly dropped open when I saw it. When we arrived we had wine, water, lollies, even cupcakes made by Laura's mum, so yummy! I can not say enough good things about this place only wished we could of stayed longer. Thank you Laura!!
Louise
2015-10-25T00:00:00Z
Laura's place was amazing. Very spacious with two large bedrooms, two bathrooms, a third bedroom/ office and living room and separate kitchen/ dining room. There was even a Landry room we could use and a big patio. Laura was a great host - providing a bottle of wine and some cake on our arrival. She was also careful to tell us about the house and provided a number of books and magazines about the area. We took the bus into Siena, which was easy and only about a 15 minute ride. While close to the city, this location is very quiet and really not far from the country. It would be a great base for a week of exploring Tuscany.
Justin
2016-09-27T00:00:00Z
Rodzaj pokoju
Całe miejsce
---
Rodzaj nieruchomości
Apartament
---
Mieści
5
---
Sypialnie
Monteriggioni, Siena, Włochy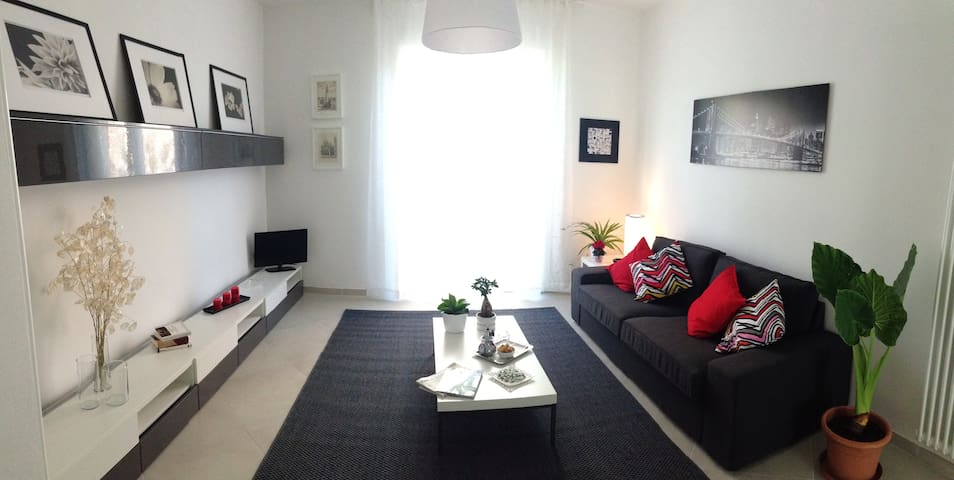 Very nice cozy and sunny single/double room located in 3km from the centre of Siena (5 min by car, 15 min by bus and 30 min by walk).The bus stop is just in front of the apartment. The room is in an ample apartment with marble floor e furniture. The room has a private bathroom (shower stall). In the apartment there is a spacious and luminous living room and a small kitchen. Free wi-fi . First day breakfast is also included.On request we can offer a healthy vegetarian dinner (7 euro for person).
W sąsiedztwie znajduje się w bardzo pięknym miejscu, с'e ogrodzie, tuż obok niewielkiego parku, 500m od domu znajduje się rynek supermarket, poniedziałek i czwartek с'e owoców i warzyw
Rodzaj pokoju
Pokój prywatny
---
Rodzaj nieruchomości
Apartament
---
Mieści
2
---
Sypialnie
Siena, Toskania, Włochy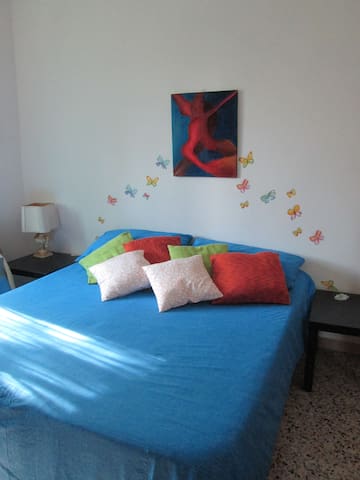 Appartamento 75mq con ingresso indipendente sito a 900mt dalla città vecchia (Porta Camollia), 800mt dalla stazione ferroviaria e 1,5 km dall'ospedale "Le Scotte". Per accedere alla porta di casa ci sono 12 scalini. L'appartamento è composto da: 1 cucina, 1 bagno, 1 camera matrimoniale con terrazzo, 1 camera matrimoniale (separabile in 2 singoli), 1 salone (con divano letto 1 piazza) con annesso giardino di 10mq.
perfetto per chi cerca un appartamento silenzioso e tranquillo benché vicinissimo alla città vecchia, alla stazione e all'ospedale. Sconsigliato per gruppi di soli giovani se non sono presenti adulti. It is not recommended for groups of teenagers \ young people if don't accompanied by adults.
quartiere tranquillo in una strada poco trafficata senza sfondo.
Rodzaj pokoju
Całe miejsce
---
Rodzaj nieruchomości
Apartament
---
Mieści
5
---
Sypialnie
Siena, Toskania, Włochy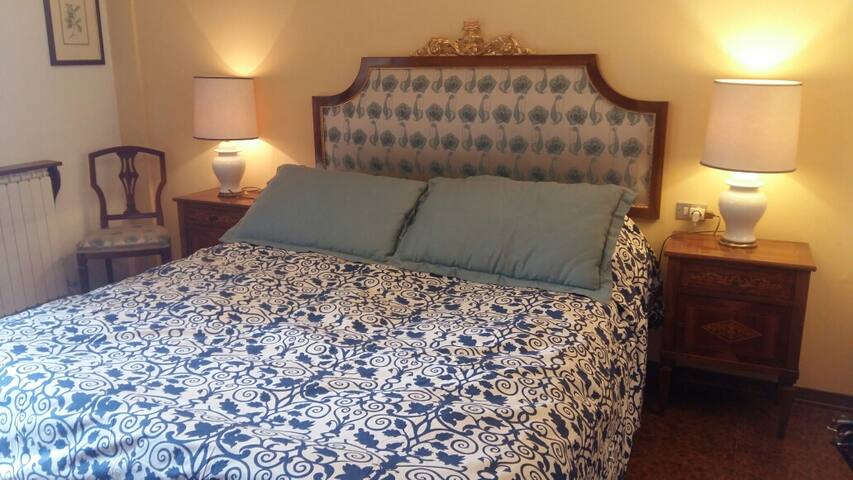 Comfortable room in Siena; house consisting of a kitchen, a large terrace, a bathroom and a room with one double bed or two single beds. the house is situated a few meters from the Siena railway station, close to the center, within walking distance.
Molto simpatico e accogliente! Consigliato!
Andrea
2016-10-21T00:00:00Z
The host canceled this reservation the day before arrival. This is an automated posting.
João
2016-10-14T00:00:00Z
Rodzaj pokoju
Pokój prywatny
---
Rodzaj nieruchomości
Apartament
---
Mieści
2
---
Sypialnie
Siena, Toskania, Włochy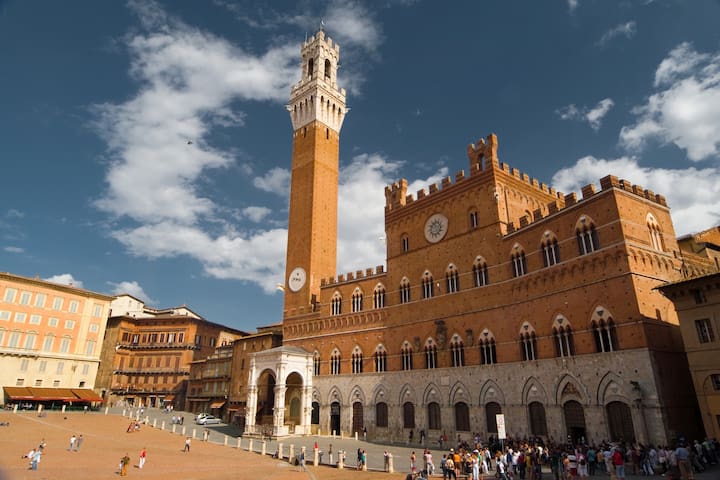 Dzięki położeniu na wzgórzu, w odległości 5 km od historycznego centrum dom oferuje panoramiczne widoki na miasto i okolicę Toskanii, odkryty basen oraz bezpłatny parking. To mieszkanie jest (URL HIDDEN) znajduje się na 2 piętrze willi i składa się z kuchni, łazienki z pralką, 2 sypialni dwuosobowych i żywego tarasie. Jasne i przytulne pokoje są nowo urządzone i wychodzą na ogród. I "jest obsługiwane przez autobusy.
Kleines aber sehr sauberes Appartement, liegt auf einem Hügel. Der Bus fährt alle 30 min vor der Haustüre. Handtücher für Bad und Pool waren vorhanden und wurden mit der Bettwäsche wöchentlich gewechselt. Auch wurde das ganze Appartement wöchentlich geputzt. Wenn man was brauchte,hat die Gastgeberin es sehr zeitlich für einen besorgt. Im Erdgeschoss sind zwei weitere Ferienwohnungen, in der ersten Etage wohnt die Gastgeberin und ihre Tochter, unser Appartement war im Dachgeschoss. Tolle Dachteraase mit Blick über die Toskana. Der Pool wurde regelmäßig mit einem Roboter gesäubert. Wir waren zu zweit in der Wohung, dafür ist die Größe super, zu viert ist sie eventuell etwas klein, vorallem Küche und Bad. Leider gibt es keinen Gemeinschaftsraum. Bei gutem Wetter kann man draußen sitzen aber wenn es etwas kälter wird, wird es eng.
Daniel
2016-09-30T00:00:00Z
Rodzaj pokoju
Całe miejsce
---
Rodzaj nieruchomości
Apartament
---
Mieści
4
---
Sypialnie
Siena, Toskania, Włochy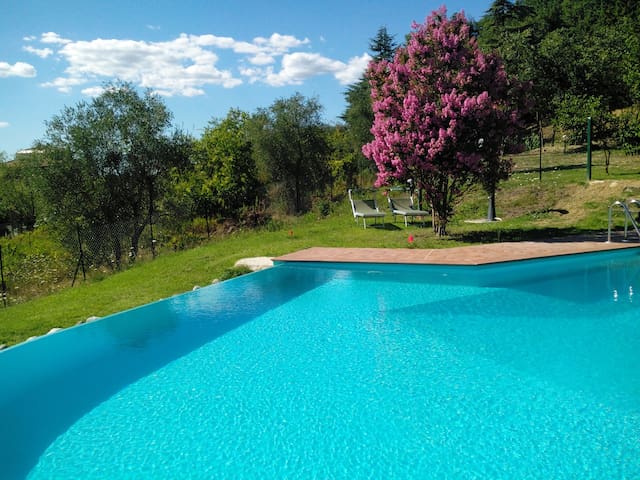 Modern flat, relaxing place, large and bright bedroom. The position is perfect for Tuscany jorney, next to the Chiantigiana and Chianti Area. Very next to the old city center, around 2 km far away. The room is suitable for one or two people.
Modern flat, relaxing place, large and bright bedroom. The position is perfect for Tuscany jorney, next to the Chiantigiana and Chianti Area. Very next to the old city center, around 2 km far away. The room is suitable for one or two people, the bed is continental and very comfortable. There is a private bathroom.
If your are in Siena for Novartis , Le Scotte Hospital, the train station, Università per Stranieri, etc. the flat is next to these destinations.
propreté impeccable, la SDB privée est un plus,
nathalie
2016-08-24T00:00:00Z
We had an amazing time in Siena, thank to Illuminata we had discover so many places. She recommended lot of nice restaurants. About the flat everything was perfect clean, nice and quiet. We were sad to stay in this place just for a night. I highly recommend this address
Charlotte
2015-05-15T00:00:00Z
The entire house is spot clean and the bed was comfortable too. The host was kind enough to pick me up from the bus stop since i was unfamiliar with the local transportation. I used her washer to clean some of my clothes. It was very convenient. I was really surprised to find my clothes folded the next day, thanks to Illuminata. Wifi signal was very strong and it helped me do some work and research about the place. Overall i had a lovely stay and I felt safe the entire time. :)
Maria
2016-08-13T00:00:00Z
Ottimo appartamento, finemente arredato. La camera è bella, luminosa e grande. Il bagno privato è perfetto. I proprietari sono disponibilissimi e molto cortesi. Colazione completa con molta scelta. Tornerò sicuramente.
carlo
2015-01-28T00:00:00Z
Gorgeous, modern apartment, and Illuminata was always available to answer questions and help me out as much as possible :)
Kaitlyn
2015-06-25T00:00:00Z
El lugar es hermoso, Iluminatta es una persona muy dulce y amable. Nos aconsejó muy bien de los lugares donde podíamos recorrer. La casa es preciosa y muy cómoda. Está camino al centro y cerca de todos los accesos
Ro
2016-06-23T00:00:00Z
We had a hard time finding this place - coming in late at night and being unfamiliar with the surroundings. Once we arrived and met our host - super kind - we were very tired from exploring all over Tuscany ... and we crashed on the bed. This place is perfect for that. It's super clean and tidy - a modern burst of fresh air after touring the ancient countryside. We had a bathroom for our own use...and both the bathroom and kitchen were delightfully modern and super functional. With a cup of coffee - we turned the page and re-entered the modern age.
morgan
2016-08-28T00:00:00Z
Great night at Illuminata's place. It is very calm and her home is beautiful. Perfect to visit Sienna and the beutiful little villages around. We really appreciated the breakfast also. Thank you Illuminata ! Lorenzo e Charlotte
Lorenzo
2016-08-23T00:00:00Z
Rodzaj pokoju
Pokój prywatny
---
Rodzaj nieruchomości
Apartament
---
Mieści
2
---
Sypialnie
Belverde, Toskania, Włochy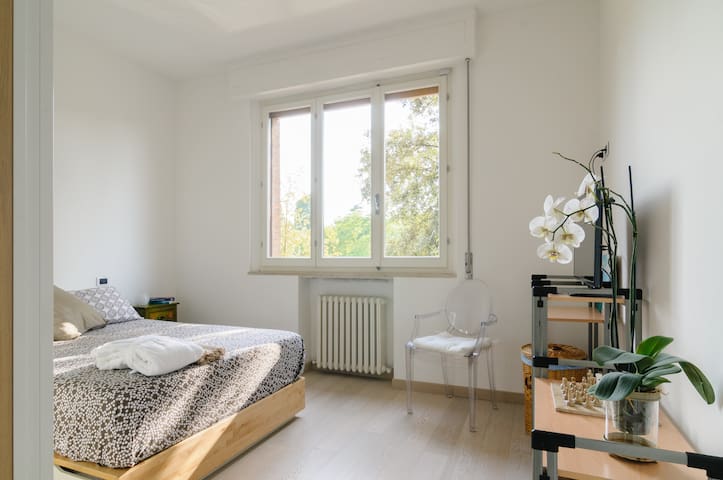 Cozy studio with fantastic views of Siena, formerly an annex of the sixteenth-century farmhouse Villa Vicobello. The apartment has a separate entrance, consists of living room, kitchen and sleeping in one room, and a bathroom and a beautiful garden with a swimming pool in common use with the owners. Away from Siena's historic center 2 km.
Rodzaj pokoju
Całe miejsce
---
Rodzaj nieruchomości
Apartament
---
Mieści
2
---
Sypialnie
Siena, Toskania, Włochy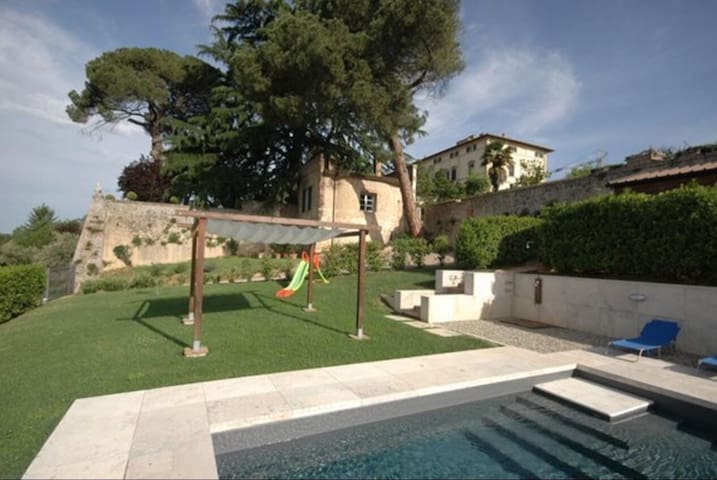 cozy and clean room. Suitable for couples, lone adventurers and business travelers. Simple apartment, located in a great location allows you to reach on foot and in short time the center of the city. Internet included, use of the kitchen. Cozy and clean room. This room is perfect for singles or couples Travelers who are seeking a safe and peaceful stay in Siena. Placed in a calm and very safe neighborhood near the center. Internet included. Full kitchen use.
Si trova al terzo piano di un complesso, situato in un quartiere tranquillo e molto sicuro. The apartment is pretty and and very cheap for Siena. It is located on the third floor of a complex, placed in a calm and very safe neighborhood near the center.
Rodzaj pokoju
Pokój prywatny
---
Rodzaj nieruchomości
Apartament
---
Mieści
2
---
Sypialnie
Siena, Toskania, Włochy
A small apartment suitable for a couple and for those who love the Tuscan countryside near the city. For those who want to visit Siena and surroundings without compromising on comfort. You will like my accommodation for these reasons: the atmosphere, outer space and the neighborhood. My accommodation is suitable for couples and lone adventurers.
A country house with a nice family atmosphere, warm and friendly.
And 'it situated in the North area of Siena. We are in the countryside but a few steps from the center. Closer to home we have football, volleyball, basketball, rugby, cycling ...
We like the app and we will recommend it. I think you can upgrade the breakfast.
tom
2016-10-21T00:00:00Z
Séjour très agréable !
Jean-Philippe
2016-07-02T00:00:00Z
The appartment is really close to Siena. 5 min by car! Room was OK to stay few days and travel to Siena. The pool was really nice!
Kati&Arthur
2016-08-28T00:00:00Z
The host canceled this reservation 246 days before arrival. This is an automated posting.
M-Ev
2016-11-16T00:00:00Z
The room was a bit smaller than I expected, but there was a swimming pool so we could chill out during our short stay, and we loved it so much! The house was located in a peaceful position and the breakfast was good enough =) Thanks!
Jamie
2016-06-23T00:00:00Z
Situé à 10 min de Sienne en voiture. Le Personnel du petit déjeuner etait aux petits soins. Résidence propre. La résidence et la piscine sont à côté de l'autoroute que l'on entend en continu notamment au bord de la piscine. Les horaires du petit déjeuné sont limités. 8h-9h30. L'accueil à été un peu trop rapide à notre goût.
Candice
2016-08-25T00:00:00Z
Very good place. Simone, Roberto and all the staff are very polite. We felt like home from the very beginning. We strongly recommend this amazing place.
Javier
2016-10-11T00:00:00Z
Notre séjour de 3 jours en couple chez Roberto était super! Super accueil et cadre parfait! Le logement était propre et très charmant! Très calme et reposant, nous avons vraiment passé un super séjour! Le petit déjeuner était nickel! Nous n'avons rien à reprocher à ce logement, au contraire, nous le recommandons à toute personne visitant la Toscane et faisant une escale à sienne, car le logement est juste à côté de cette ville (10min en voiture). Nous retournerons chez Roberto, c'est sûr car on a vraiment adoré! Petit plus, on a pu apercevoir des petites biches à côté de la piscine!!
Emilie
2016-08-04T00:00:00Z
Rodzaj pokoju
Całe miejsce
---
Rodzaj nieruchomości
Apartament
---
Mieści
2
---
Sypialnie
Monteriggioni, Toskania, Włochy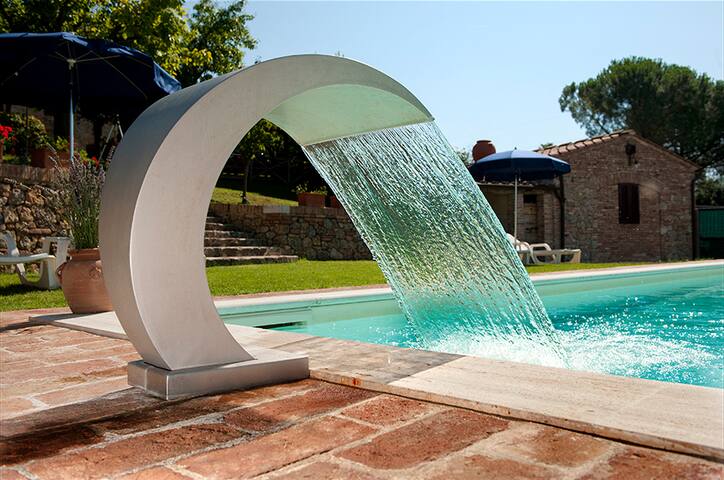 Lovely apartment in the countryside of Siena, close to the city and the castle of Monteriggioni with large garden and direct access to the private swimming pool.
The apartment is located in a portion of a typical Tuscan farmhouse and recently renovated, immersed in the countryside of Siena in a profusion of colors and variety of vegetation. It can accommodate up to 4 guests, offering all the comforts for a holiday in peace and quiet, but at the same time connected with the outside world.
The apartment is located just outside the small town of Uopini where there are major transport links to reach Siena and surroundings.
Przepiękne, ciche miejsce, niedaleko Sieny. Gospodarze bardzo mili i zawsze chętnie służący pomocą. Bardzo dobre miód i oliwa wytwarzane w gospodarstwie.
Radek
2015-08-19T00:00:00Z
Wir hatten eine tolle Zeit! Ein wunderschönes Gelände in einer traumhaften Gegend. Alles ist noch schöner, als es auf den Fotos ausschaut! Vor allem der Pool ist super! Wir würden jederzeit gerne wiederkommen.
Nele Marie
2016-07-10T00:00:00Z
We had a nice stay at La Farneta. The garden and pool area was lovely, all animals super for our little son (cats, hens and turtles). The apartment was ok, but lacking oven and had a really slow wi-fi. The host and her parents (living next door) were really friendly, helping us in any way they could (even though they did not speak English). They even followed us to the hospital when our son needed to see a doctor.
David
2016-06-12T00:00:00Z
The host of La Farneta is superb. Even with their own busy schedule, they go out of their way to show us Siena, and necessary local places such as market and laundromat. They even have a few welcome gifts, made on the farm, that we used during our stay there. The apartment is an extension of the main house, and just as lovely as the shown pictures. Lots of irises, and so peaceful with beautiful scenery. It is close enough to Siena and other beautiful Tuscany towns that you can use as a base camp when in Tuscany. Thank you Gaia and your parents for letting us stay there.
Dao-Quynh
2016-04-29T00:00:00Z
Gaia and her mother were very nice with us. They gave us good advices to visit the region. The flat was well equiped, we had everything we needed. The place is beautiful and quiet, great with children and close to visit many things like Sienna, Monterriggioni and San Gimignano!
Julie
2016-03-28T00:00:00Z
We could not imagine a better place to stay for a young family exploring Tuscany than with Gaia and her parents at La Farneta. This stunning farm is located right outside the walls of Siena, making it an ideal base for day trips to Florence, Volterra and the entire Chianti region. All the while, the farm itself is an oasis of solitude where especially the kids can roam free and discover an endless variety of flowers and plants, as well as a number of farm animals. Picture your ideal Tuscan farm – here you have it. The apartment is solid and has all amenities you'll need (except for an oven) with the charm of an Italian granny flat, which we found great! Gaia's parents were very kind and warm people who went out of their way to make us feel welcome and comfortable during our whole stay. We would not hesitate one second to come back to La Farneta.
Marian
2016-05-09T00:00:00Z
La Farneta lays on the Chianti side of Siena. It is like paradise close to the lovely city of Siena and the Chianti route. I would like to thank the parents of Gaya for their warm welcome and friendliness. The apartment is very complete, comfortable and inviting to stay and relax. Everything has been thought of. We enjoyed spending time here in the apartment and the beautiful garden. Of the four B&B's we have used this holiday, we liked La Farneta the best. I can recommend it to all.
Charlotte
2016-05-04T00:00:00Z
Very nice and cozy appartement. We felt directly at home. The cat Romeo is a must. Superb garden. Very well located at a few minutes driving from Siena city by car. The Veltroni family is doing the utmost to provide You a very nice vacation. Special plus for the nice coffee, biscuits, marmelade and honey prepared when You arrive .... For sure if You arrive on Saterday evening and all the shops are already closed. Thanks for the eggs, the fruits and the special visit to the beehaves.
Daniel
2016-09-22T00:00:00Z
Rodzaj pokoju
Całe miejsce
---
Rodzaj nieruchomości
Apartament
---
Mieści
3
---
Sypialnie
Monteriggioni (Siena), Toskania, Włochy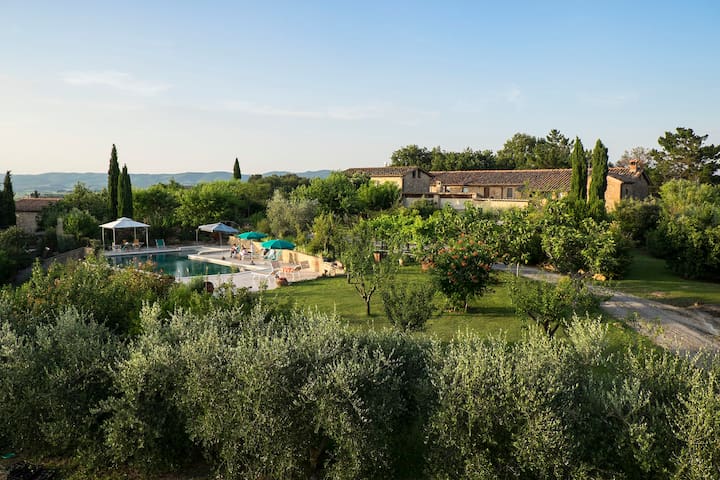 Jasny niezależne mieszkanie na dwóch poziomach wejściem i niezależnych ogrodowych 10 minut od centrum miasta i 500 m od głównego dworca kolejowego. parkowanie na podjeździe, bardzo spaziose.Due sypialnie kuchnia i jadalnia dla 4 osób z 2 łazienkami.
Niezależne mieszkanie na 2 poziomach, bardzo jasne i przestronne, prywatny ogród z tarasem, kuchnia dla 4 osób wraz z wszystkimi urządzeniami, 2 sypialnie z 4 łóżkami z łazienką z prysznicem i wanną, pokój dzienny ze stołem dla 4 osób, nieograniczony WiFi w całym hotelowym ogrodzie z leżakami, krzesła oraz duży stół dla 4 osób z widokiem na wzgórza Siena
Bardzo cichy i zastrzeżone 10min. od centrum miasta 500m od stacji i handlowego centrum
Simone was welcoming and very helpful in communicating before arrival and during. Easy access to the apartment, nice walk to they center of the historic city (10min), apartment is homey and very nice. Simone worries about his guests, he gave up maps and recommended restaurants, gelato shops and more - thanks again!
Jeny
2016-08-20T00:00:00Z
it is a very very very beautiful house! we like it so much,i almost cannot describe it in word.i hope i can live here more days,but we only booking one night. it is very clean and special house,two bedrooms 、two bathrooms,a nice balcony where you can see the beautiful scenery.the house near the train station,only walk 15minutes to get there. Simone is very friendly .bealieve me ,it is a good choice to choose this house
summer
2016-08-30T00:00:00Z
Simone è un host attento alle esigenze dei suoi ospiti. Disponibile e presente. La casa è pulitissima e non manca niente. Ottima posizione, silenziosa e il giardino è un gioiello per il relax. Cosa non da poco per Siena, posteggio gratuito sotto casa. Raccomando vivamente una vacanza a casa di Simone.
Cinzia
2016-08-13T00:00:00Z
Sistemazione consigliatissima! Simone è stata una persona molto disponibile ed amichevole, ha anche accettato di accompagnarci fino in città, dato che non conoscevamo la strada, e ci ha dato anche un paio di dritte su Siena. L'appartamento è caldo, comodo, spazioso e molto pulito, in una posizione strategica, a pochi minuti a piedi dal centro e dalla stazione. CONSIGLIATISSIMO. -English- Great accomodation! Simone has been a really friendly and helpful host, he also drove us far inside into the city center since we didn't know how to get there and he also gave us some tips on where to eat and what to see and do in Siena. The apartment is 100% relatable to the photos, really comfy, warm, bright and clean. I would reccommend it without hesitation.
Donato
2016-11-20T00:00:00Z
Excellent house !!! A beautiful house in the lap of Mother Nature. Surrounded by green carpets of magical grass. One can see red sun rising slowly . Listen serene songs of birds in morning. Take sun bath all day. Nature unfathomable. Host is very kind with beautiful heart. First time I kissed a turtle in house ))) Can't describe Siena in words. Only feelings & sensations !!!
Hemant
2016-03-27T00:00:00Z
Simone waited for us to arrive, showed us the apartment and gave us some recommendations for dinning and places to visit. The apartment is well located and super clean!
Christian & Malvina
2016-08-18T00:00:00Z
Bello apartamento para hasta 4 personas, tranquilo y buenas vistas, alejado de la ciudad lo suficiente para aparcar bien, pero cerca como para ir andando. Buena calefacción en invierno. Simone atento y simpático en todo momento. Han sido unos buenos días en siena, Florencia y perugia.
Alejandro
2016-11-30T00:00:00Z
E' la prima volta che mi capita di vedere delle foto bellissime relative alla struttura del soggiorno e comunque ritrovarmi in un appartamento ancora più bello che in foto. La presenza anche della macchina per l'espresso, con la dotazione delle capsule per il caffè, è un ottimo biglietto da visita che lascia intendere quanto il proprietario sia preciso e meritevole di lode.
Giuseppe
2016-12-04T00:00:00Z
Rodzaj pokoju
Całe miejsce
---
Rodzaj nieruchomości
Apartament
---
Mieści
4
---
Sypialnie
Siena, Toskania, Włochy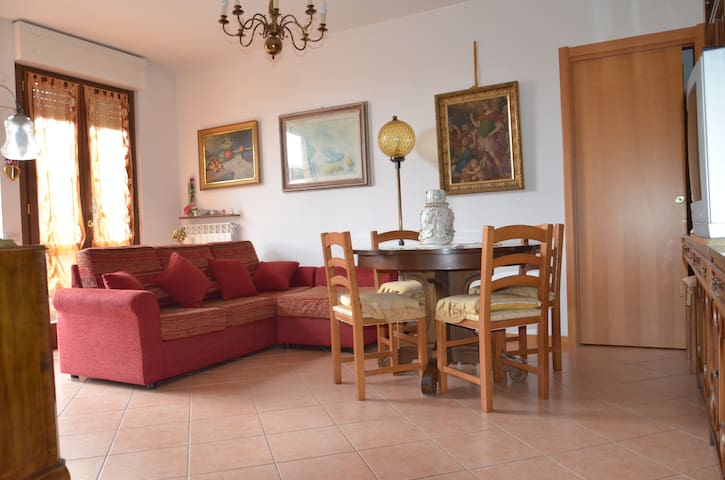 Nuovissimo appartamento superaccessoriato, mobili ed elettrodomestici di qualità superiore. E' luminoso , fresco, vicino al centro. Ha un parcheggio privato e la fermata dell'autobus a pochi passi dal palazzo
This sunny apartment was meant to be my first new house but for personal reason I had to move. It's fully restructured it, furnished with all quality comforts. It is perfect for travellers who wish to visit medieval Siena, but have their total comfort and privacy. It has one master bedroom with top quality memory foam mattress and very spacious living room with a comfy sofa convertible to a queen sized bed. Unlikely the city center aptmts it's very quiet, fully equipped with ALL comforts, sunny with a FREE private parking lot and no fees are required. The new comfy bathroom has wide led-equipped shower with chromoterapy. Balconies are available all around the apartment.
The apartment is located in one of the best district in Siena. It is modern, quiet, sunny but close to old walls (1 km).
The neighborhood is calm and quite. It takes about 10 minutes by car to get to the city center.
Carlos
2016-09-22T00:00:00Z
Modern, clean, and bright - exactly as described. Fabulous communication, and Alessandro was very accommodating with respect to altering our reservation when we got the dates wrong.
Claire
2016-10-10T00:00:00Z
Alessandro was a wonderful host. He went out of his way to make us feel at home, and gave us plenty of useful information to ensure a stress free stay in Siena. The flat itself was beautiful! Well furnished and had everything we needed for a comfortable stay. Highly recommend this listing.
Clare
2016-08-05T00:00:00Z
Abbiamo potuto incontrare solo Martina ma Alessandro è stato comunque presente telefonicamente ogni momento che ne avevamo bisogno. Martina poi è stata fantastica; puntualissima, bravissima e simpaticissima. L'appartamento era esattamente come nelle foto veramente molto confortevole e bellissimo. Dal quartiere è stato facile raggiungere sia il centro che i luoghi vicino a Siena.
daniela
2016-10-16T00:00:00Z
We really enjoyed our time at Alessandro's flat. It is as described in the profile, a modern apartment with a very luxurious feel to it, and it has many of the comforts that make it feel more like a home than like a holiday house. We enjoyed the kitchen very much, as well as the nice comfortable couch in the living room, the balcony and of course the great shower. This apartment is perfect if you want to feel comfortable away from home, and prefer a quiet area close to the city center, but with all comforts and a bit of luxury. One drawback is that since everything is a bit delicate (light leather couch, glass tables, glossy surfaces), you should be a bit extra careful not to make it dirty - maybe not so well suited for little kids. All in all we very much enjoyed our stay and recommend it to our friends.
Hannah
2016-10-05T00:00:00Z
Appartement agréable et spacieux correspondant bien à la description. Très bonne literie. Communication facile avec Alessandro le propriétaire et Martina qui s occupe du logement. Grande flexibilité pour l horaire d arrivée.
Bernard
2016-10-03T00:00:00Z
Thank you Alessandro! Alessandro made everything super easy and he was very helpful. The stay was very nice, and everything went smoothly. An amazing, nicely decorated apartment at a good price. I highly recommend this apartment for 2 or 3 people who enjoy sightseeing, but prefer to be a little further away (a walking distance) from the tourist areas. Beautiful place with everything you need. Thank you!
Natasha
2016-09-11T00:00:00Z
Had a great time in that appartment! Martina who is handing over the keys is also very friendly and happy to assist with any question. Approx. 20 minutes away from Siena town centre.
Florian
2016-09-18T00:00:00Z
Rodzaj pokoju
Całe miejsce
---
Rodzaj nieruchomości
Apartament
---
Mieści
4
---
Sypialnie
Siena, Toskania, Włochy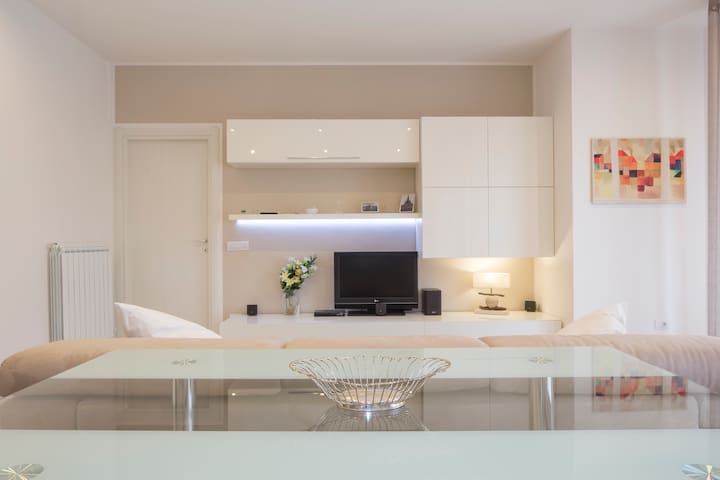 The apartment is located just outside of Siena in a well served and where you can reach the center on foot. The apartment is bright and consists of a well furnished double bedroom, large kitchen, living room, bathroom with tub and shower.
The accommodation is located on the first floor of a small building in the north of Siena. It consists of large spacious rooms, which give a sense of openness and freedom. The decor is elegant. Reserved parking.
The neighborhood where the apartment is located is equipped with all services: bank, pharmacy, supermarket. In addition, the center can be reached on foot in ten minutes. It is two minutes from the station and the ring road.
Rodzaj pokoju
Całe miejsce
---
Rodzaj nieruchomości
Apartament
---
Mieści
3
---
Sypialnie
Siena, Toskania, Włochy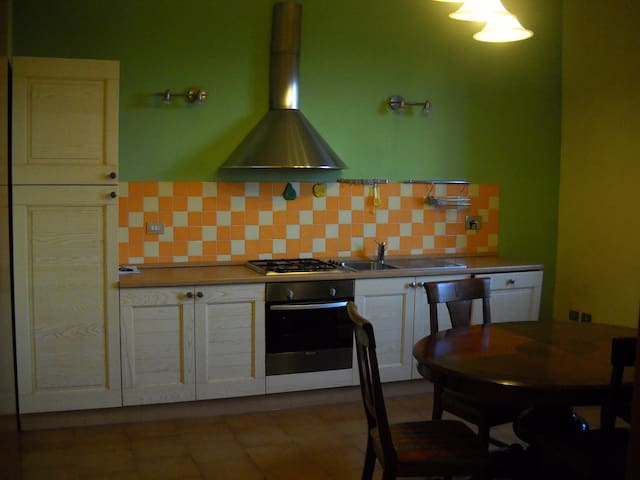 Hi everyone, it's Rob here, and I'm happy to welcome you all to my home! The place is a 64 qm modern apartment with a garden and a big terrace, and will be the perfect base for your trip to Siena and to discover the Tuscan countryside.
The apartment is located in a practical and very quiet area, and you'll find a lot of things that I usually use, like high speed internet, TV, dishwasher, washing machine, my books etc It's decorated in a modern and personal style, which immediately makes you feel at home. There's an American style kitchen that opens to living/dinning room. I love to cook, so you'll find everything to realise any kind of dish. There are 3 double high windows ( 2 meters) that make the apartment luminous and spacious, and one normal window in the kitchen. There's a window even in the bathroom. In the bed side of the apartment there's a big terrace, and in the other side there's the garden. Sofa bed will not be made up on your arrival unless specified in advance. Note about the sofa: the sofa is a queen size bed, so you can easily sleep there (I do it often…). I wrote the sofa is for one person, but it's big enough to sleep well even in 2 people. I'm a photographer and I usually need to travel because of my work, and that's the reason why I decided to rent it out. I believe in sharing, so you're welcome to my home, but please show respect to all the things you'll find there. Thank you.
Host disponibilissimo, appartamento caldo e accogliente, posizione ottima per spostamenti in macchina nei borghi vicini. Consigliato
Alessandra
2017-03-06T00:00:00Z
Rodzaj pokoju
Całe miejsce
---
Rodzaj nieruchomości
Apartament
---
Mieści
3
---
Sypialnie
Monteriggioni, Toskania, Włochy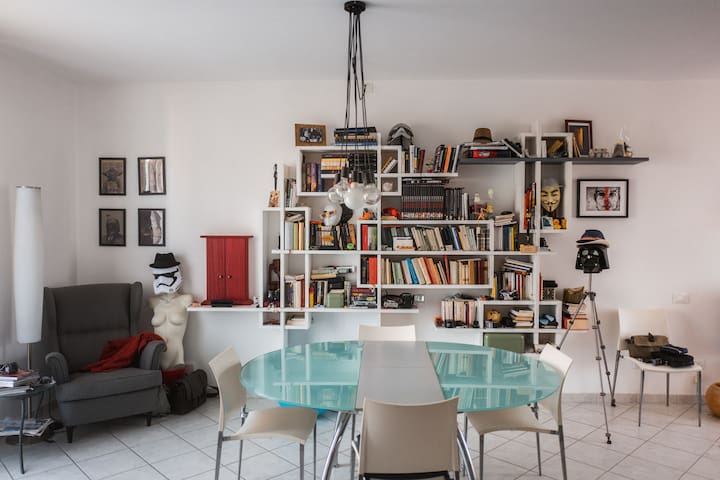 Cool, casual, comfortable. Apartment with private garage closed overlooking the garden. Perfect for those who want to visit Siena, for those traveling for business or should spend short periods in this wonderful city.
Studio apt., With garden and parking in the garage. It is located in the city center and accessible by car. It equipped with kitchen, refrigerator and freezer, electric oven, coffee maker with capsules, washing machine, iron, heating and WIFI. The small apartment has a slightly exotic flavor, with objects from my second home, Indonesia. Lights, paintings, textiles and small things of that distant country and give warm color inside, in contrast with the rigor and the majesty of the city waiting outside. Try?
We are inside the city. Inside the walls. Inside the district. In front of the source of two hundred. The water singing, bells, choirs, drums in the summer are the soundtrack. E 'di Siena music ...
Appartement très sympa, spacieux et calme, parfait emplacement. Agréable petit jardin. Merci, Laura!
Tanya
2016-07-16T00:00:00Z
We had a really pleasant stay at Laura's home. It is near the center, you can do everything only walking. There is a small garden to chill. Laura was very kind and we recommand her flat.
Pierre
2016-04-29T00:00:00Z
Très bonne adresse pour se loger à Sienne. L'appartement est très proche du centre ville. L'accueil de Laura est parfait et le logement est neuf et très propre. Parfait. Ne pas hésiter !
Maxime
2016-04-15T00:00:00Z
Our stay was wonderful. Laura and her husband were gracious and very helpful navigating our way through Siena and the accommodation was lovely and charming. We felt like we had gone back to a magical Medieval time. Wish we had stayed longer!
Jennifer
2016-07-14T00:00:00Z
This is a great location to visit different places and Tuscany. It was extremely difficult to find only because the GPS doesn't recognize the streets Laura was not available when we arrived but her daughter quickly gave us access to the house and we have a place to park You can easily access the bus to go to old town or if you're feeling energetic walk the hills
Sissy
2016-06-05T00:00:00Z
Laura was the perfect host - the apartment was immaculate, incredibly well decorated (with some of her own great artwork!) and such a pleasure to be in. To step outside the front door and see such an incredible example of Italian architecture on your doorstep each morning was a privilege. Laura was also happy to offer any advice or ideas about the local area. Thank you Laura x
Adam J
2016-02-27T00:00:00Z
房東人非常好, 因為我們抵達的時間比較晚, 還特地去車站接我們去住處。房間跟照片一樣,非常的溫馨漂亮, 非常推薦!!
weiting
2016-09-14T00:00:00Z
Laura was a wonderful host. She was very communicative and responsive. Her little apartment was charming and nicely decorated.
Julie
2016-09-20T00:00:00Z
Rodzaj pokoju
Całe miejsce
---
Rodzaj nieruchomości
Apartament
---
Mieści
3
---
Sypialnie
Siena, Toskania, Włochy
Delizioso appartamento a 10 minuti a piedi dalle mura ( Porta Camollia). L'appartamento è ideale per trascorrere una vacanza tranquilla ma con le comodità di stare vicino alle porte del centro. Servito dai mezzi pubblici per il centro o per le vicine città di Firenze e Pisa. Nelle vicinanze si trovano un centro commerciale, farmacia, posta e vari negozi e ristoranti. Inoltre l'appartamento si trova a due passi dalla sede centrale GSK in Viale Sclavo ( 2 minuti a piedi).
L'appartamento è in un luogo silenzioso e tranquillo, ma vicino alla città. Le due camere da letto sono indipendenti e ci sono due bagni confortevoli. Nelle belle giornate si può mangiare sul terrazzino guardando lo splendido panorama del Chianti. Inoltre, La stazione ferroviaria dista 10 minuti a piedi e 3 minuti in auto, Il centro storico della città dista 15 minuti a piedi e 5 minuti in auto. L'appartamento è molto vicino all'ospedale Le Scotte raggiungibile in soli 5 minuti di auto.
Tranquilo barrio a las afueras del casco antiguo de Siena
Rodzaj pokoju
Całe miejsce
---
Rodzaj nieruchomości
Apartament
---
Mieści
6
---
Sypialnie
Siena, Toskania, Włochy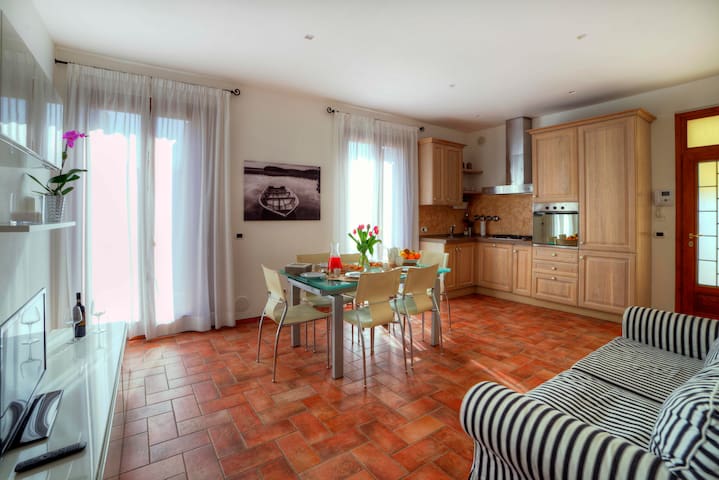 Belverde - Airbnb
:
Średnia ocena:

4.8

/

5

gwiazdek od

392

gości