Soy Ander, un chico de San Sebastián, que recientemente he adquirido y reformado un precioso Chalet pareado en Lekunberri, perfecto para tus excursiones por la Sierra de Aralar tanto de Trekking como de Mountain bike. La casa se encuentra a escasos 30 minutos en coche, tanto del centro de San Sebastián como del centro de Pamplona. Podría adaptar la casa para alojar 4 personas perfectamente.
Ofrezco una habitación doble que dispone de baño con ducha, acceso a una amplia terraza sólo para los invitados y todas las cosas que debe disponer una buena habitación como tocador, espejo amplio y un armario.
Se encuentra en una urbanización tranquila de Chalets de reciente construcción y en fase de ampliación a la entrada del pueblo, a escasos 5 minutos a pie. También hay un parque infantil próximo y acceso a una via verde peatonal y para bicicletas a 1km.
Mi novia y yo hemos pasado el fin de semana en casa de Ander en Lekunberri. Ha sido nuestra primera experiencia en Airbnb y repetiremos! Ander es muy majo, la casa muy chula e impoluta, super limpia! La cama era muy cómoda y en la habitación no falta nada. Nos llevamos una grata sorpresa al ver que la casa estaba mucho mejor decorada que en las fotos y aunque el tiempo no nos acompañó, pasamos un gran fin de semana. Fue un detalle que Ander nos dejara toallas, gel y flyers de planes en nuestra habitación.
IÑIGO
2017-04-02T00:00:00Z
Rodzaj pokoju
Pokój prywatny
---
Rodzaj nieruchomości
Dom
---
Mieści
4
---
Sypialnie
Lekunberri, Navarra, Hiszpania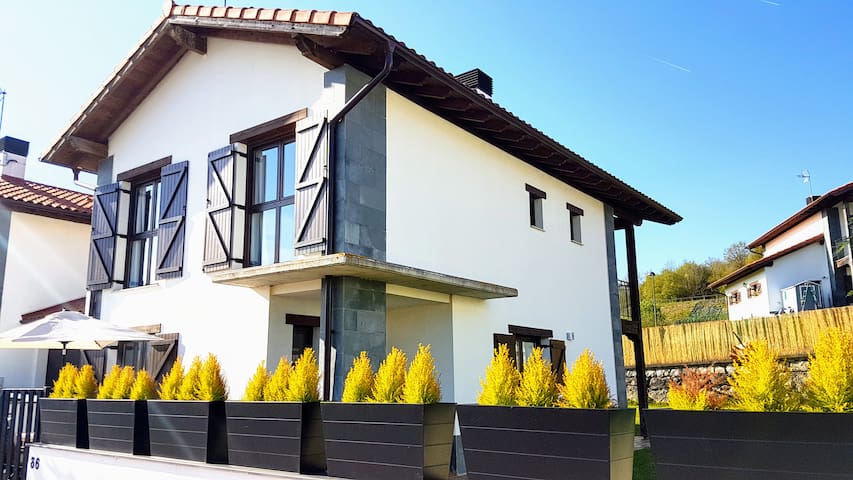 Labetxea es de 6 plazas como máximo incluidos los niños. No se admiten personas adicionales. Se encuentra en la Sierra de Aralar. Planta baja: sala-comedor, cocina bien equipada y un aseo. 1ª planta: 3 habitaciones dobles, grandes y acogedoras, salita y un baño grande y agradable. En el exterior : terraza.
Casa Rural Labetxea es de alquiler integro, de seis plazas en total, incluidos los niños. No se admiten personas adicionales. Se encuentra en el pequeño pueblo ganadero de Baraibar, en la Sierra de Aralar, entre San Sebastián y Pamplona. La casa es cálida y acogedora.En la planta baja de Labetxea hay una sala-comedor, una cocina bien equipada y un aseo. En la primera planta hay tres habitaciones dobles, grandes y acogedoras, una sala ( lectura, TV, acceso a internet, juegos...), y un baño también grande y agradable. Disponemos de un trastero para guardar bicis, coches de niños, etc... En el exterior hay un espacio-terraza donde disfrutar del buen tiempo, de comidas, etc.. Está muy bien comunicada con el resto de Navarra, la costa guipuzcoana y el País Vasco Francés por la autovía A-15. Labetxea es ideal para grupos de amigos y familias con niños. Nuestra perra pastora Argi que colabora en hacer la estancia más entretenida y animada. No se admiten animales.
En Astiz, uno de los pueblos del valle, se encuentran las cuevas de Mendukilo que se recomienda visitar por la importancia de sus estalagmitas y estalagtitas y el incomparable marco natural donde se encuentran. El nacedero del río que da nombre al valle, Larraun, es un precioso paseo que se realiza desde el pueblo vecino de Iribas. Se pierde uno entre bosques de robles y viejos castaños a la orilla del río que impregnan el ambiente de un encanto natural maravilloso. Los niños pueden acercarse perfectamente hasta la misma cabecera del río. La vía verde del Plazalola, antigua vía del tren que comunica los pueblos de Navarra y Guipúzcoa, cuenta con variadas posibilidades de paseos fáciles de realizar también con niños. Los diferentes tramos ofrecen bonitas vistas del conjunto del valle. Se alquilan bicicletas en la oficina de información y turismo. Se puede recorrer a pie o en carro de caballos el centenario bosque de robles de Orgui, o jugar al golf, en el precioso valle de Ultzama. Están el complejo deportivo con piscina cubierta y todo tipo de servicios (jacuzzi,..) y la piscina descubierta ubicada en una preciosa pradera dentro del Hostal Ayestarán. Los frontones de pelota que ofrecen un espacio para que los niños puedan explayarse patinando, jugando con pelotas y balones, etc El Parque Aventura, o andar por las ramas de un precioso robledal en Lekunberri. Apto para todo tipo de público y dos recorridos de diferente dificultad. Para excursiones de todo el día podemos mencionar la parte vasco-francesa de San Juan de Luz, Biarritz, Bayona y otros pueblos preciosos del interior. La antigua capital de Guipúzcoa, Tolosa, donde se celebran animadas ferias semanales, los sábados por la mañana. San Sebastián sobradamente conocida por su belleza y donde además podemos hacer disfrutar a los niños en el Aquariun, situado en el mismo puerto y el tradicional parque de atracciones del Monte Igueldo desde donde se puede admirar toda la bahía . También es interesante la ciudad de Vitoria por su cxasco antiguo, parques y su catedral que se visita interiormente recorriendo toda ella por los andamios colocados para la reparación. Tampoco podemos olvidarnos del muy recomendable Museo Natural de la misma ciudad. Y por supuesto el museo Guggenhein en Bilbao.
El trato recibido por parte de Maria Jesús ha sido exquisito. El lugar y la casa son paradisíacos, un lugar excelente para descansar y relajarse en plena naturaleza. Recomiendo este alojamiento, ha respondido a mis mejores expectativas. Además Maria Jesús nos hizo todo tipo de recomendaciones sobre la zona, sitios que visitar, etc. y estuvo disponible para cualquier cosa que pudiéramos necesitar.
GUILLERMO
2016-07-16T00:00:00Z
La casa de María Jesús es muy cómoda y acogedora, con todo lo necesario para hacer que la estancia resulte muy satisfactoria. Si se necesita cualquier cosa, ella está disponible en seguida, pues la casa y su casa están pegadas. Nos ha dado indicaciones y ha sugerido posibles visitas. El pueblo es pequeño y tranquilo, a escasos 5 km hay un pueblo más grande con todos los servicios.
Abigail
2017-02-19T00:00:00Z
It would be my old memory for my whole life. Clean, calm, kindness Who wants to have a peaceful rest, go here.
dae hyun
2015-10-29T00:00:00Z
I stayed at Maria's beautiful house with a group of friends for 5 nights. She was very welcoming & hospitable, being there to meet us upon our arrival (despite us being a little late). She offered to let us ride her horses, and gave us discount tickets to the Mendukilo caves. The house was very clean and had great facilities including a full functioning kitchen with all the necessary utensils. The location of the property is excellent - it was situated in a peaceful rural town, close to a slightly bigger town called Lekunberri (this is where you can find restaurants & a small supermarket). It's only a 30min drive to the beautiful San Sebastián & also 30mins from Pamplona. Overall an excellent airbnb experience & I hope to return to Maria's property one day!
Analise
2015-07-04T00:00:00Z
The host canceled this reservation 50 days before arrival. This is an automated posting.
Celine
2015-11-10T00:00:00Z
Maria is very nice and attentive to what our needs. Her house is located in a very romantic and beautiful country side that give you get away feeling from noise and busy city. Maria's house is a monument but combined with modernised kitchen and bath equipment which make us enjoying living in a very historical monuments but also enjoying very comfortable accomodation. Maria spent very much effort in decorating her house, every single decoration is an art . Needless to say her house is kept very clean and tidy that everything has a designated place to put. Maria also very keen to show you her dog arki and her horses. But due to our time very short that we missed to try her horse with her husband. If you want a holiday with pleasure and relaxation that i highly recommend you to visit Maria's house in St. Miguel here.
Siu kee
2015-07-08T00:00:00Z
Entorno muy tranquilo y frío (incluso en verano) y una casa ideal, reformada como nueva y muy bien decorada. El anfitrión es una persona muy poco enfocada al público ya que se ha mostrado muy intransigente con algún contratiempo que hemos tenido aun que finalmente hemos podido llegar a buenos acuerdos. Probamos las excursiones en caballo y la verdad es que nos sorprendieron muy favorablemente ya que aprendimos mucho y pudimos andar libremente en ciertos momentos de la experiencia, no en fila todo el rato como hacen otras hípicas.
Josep
2015-09-06T00:00:00Z
L'accueil de Maria et de son époux Joaquin était vraiment chaleureux et attentionné. La maison était très bien entretenue et offrait tout le charme d'une maison basque typique. Nous avons passé un excellent séjour dans ce village tranquille mais pas loin des commerces.
stephanie
2016-07-23T00:00:00Z
Rodzaj pokoju
Całe miejsce
---
Rodzaj nieruchomości
Dom
---
Mieści
6
---
Sypialnie
Baraibar, Navarre, Hiszpania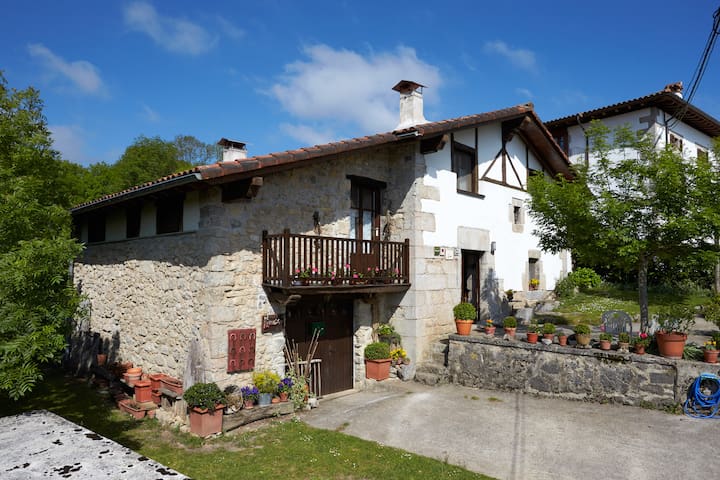 Lugares de interés: Sierra de Aralar, Plazaola, Lekunberri, Leitza, Cuevas de Mendukilo, Peruharri, Orgi.. Te va a encantar mi espacio por Acogedor, la ubicación, el entorno.. Mi alojamiento es bueno para parejas, aventureros, y mascotas.
Rodzaj pokoju
Całe miejsce
---
Rodzaj nieruchomości
Apartament
---
Mieści
2
---
Sypialnie
Arruitz, Navarra, Hiszpania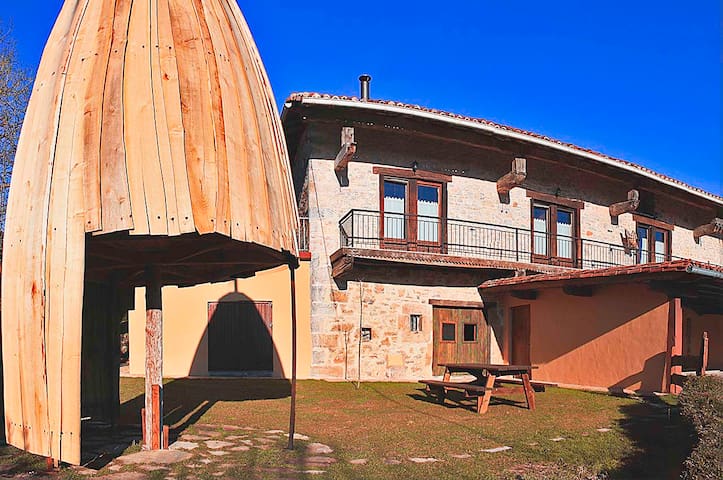 Hiriberri-Arakil es un bonito pueblo ubicado en el Valle de Arakil, entre Aralar y Andia (el centro geográfico de Euskal Herria) a 15' de Iruña. Ideal para hacer senderismo y monte o para disfrutar de la naturaleza y relajarse. Información turística en: (URL HIDDEN) (URL HIDDEN) (URL HIDDEN)
Casa del siglo XVIII rehabilitada. Aparcamiento delante de la casa.
quiet and friendly with lovely walks in plain and mountain people. There fronton and soccer field. We are located in the geographical center of the Basque Country, between the Sierra de Andia and Aralar.
La estancia en casa Gotzone ha sido maravillosa, se ubica en una zona espectacular, cerca de Iruña y de muchos lugares interesantes que visitar. Se trata de una vivienda tradicional vasca muy cómoda y limpia. Nosotros viajamos con perro y Gotzone nos facilito las cosas en todo momento para que nos sintiéramos lo más a gusto posible. Ella es una persona con mucha cultura que conoce muy bien su territorio y la historia de este. Además hemos tenido la oportunidad de probar los huevos de sus propias gallinas que estaban buenísimos. Resumiendo, nos hemos sentido como en casa, recomendado 100%.
Celia
2016-07-29T00:00:00Z
Una casa mágica, un lugar perfecto, con la mejor host que he tenido oportunidad de conocer hasta el momento en AirbnbLa experiencia que vivi junto con mi novia en la casa de Gotzone fue espectacular. Desde una cálida acogida con café, unos bombones de chocolate que nos devolvieron la energía hasta un buen vino compartido al calor de la chimenea. El sitio es mas de lo que uno puede esperar en las fotos, la comodidad que sentimos fue completa en nuestros 4 dias de estadía. Gotzone es una persona muy amable que nos mostró como subir a la sierra que es espectacular y tiene unas vistas magnificas salidas de historietas. Realmente nos sentimos como si fuéramos de la familia su hijo Javier fue muy amable y excelentes conocedores de historia Vasca, casi todas las noches nos sentábamos a escucharlos sobre el País, su gente las costumbre el idioma. Esta es una verdadera experiencia de viaje. De lo mejor!
Esteban
2016-04-12T00:00:00Z
Estuvimos muy bien con Gotzone. Es una señora muy amable y encantadora, nos sentimos como en familia. La casa es preciosa y muy limpia, el desayuno perfecto. Recomendado por una parada cerca de Pamplona y San Sebastián.
Stefano
2015-12-05T00:00:00Z
La experiencia en casa de Gotzone ha sido muy buena. Es una gran anfitriona que esta pendiente de lo que necesitas. La habitación con cama de matrimonio amplia, confortable y muy limpia, igual que el cuarto de baño, ambos en primera planta. En la planta baja gran salón con la cocina integrada. Es una casa antigua muy bien rehabilitada que está muy bien. Su ubicación para disfrutar de la montaña, y ciudades costeras es excelente. Isa y José
Jm
2015-08-20T00:00:00Z
Todo fue maravilloso de principio a fin. Gran ubicación.
Ryan
2016-08-14T00:00:00Z
Our absolute favourite air BnB in all of Europe!!!! Her house is hundreds of years old but beautifully kept, so it felt like we were staying in a Spanish castle. She doesn't speak any English but was so lovely, greeting is with slippers and even making delicious home grown food because we were tired. We just used an app to translate and chat to her. Very comfortable room and just wonderful experience all around!
Cameron
2015-07-11T00:00:00Z
Gotzone has a beautiful and comfortable home that it was a pleasure to share. The room is comfortable and spotlessly clean as is the bathroom. Gotzone is a great host who went above and beyond expectations to make me welcome. I learned a lot about the region from Gotzone which really enhanced my visit.
Robert
2015-11-12T00:00:00Z
We had so much fun at our stay here! As soon as we got there she was so sweet and showed us around her beautiful home. Her house was definitely the nicest place we stayed at during our trip throughout Europe. The house was spotless! The kitchen had all new appliances: stove, oven, dishwasher. everything you need to whip up a great meal. The room itself was really nice and quant with a shared bathroom that was really clean and big. It had a really cute garden in the backyard that she would get fruit from and welcomed us to have whatever we wanted. As a host, she was great. There was a little bit of a language barrier but she did her best to communicate with me ( i speak a little bit of spanish) and my boyfriend who speaks no spanish at all. She was so nice and accommodating, answered all of our questions, welcomed us to yummy food, and just made us feel very welcome. We were there for the running of the bulls festival and we didn't have any white clothes to wear so she came in with this huge box of clothes and welcomed us to whatever we wanted which was so nice! I would definitely recommend her and her gorgeous house.
Gabriel
2015-07-08T00:00:00Z
Rodzaj pokoju
Pokój prywatny
---
Rodzaj nieruchomości
Dom
---
Mieści
2
---
Sypialnie
Hiriberri, Navarra, Hiszpania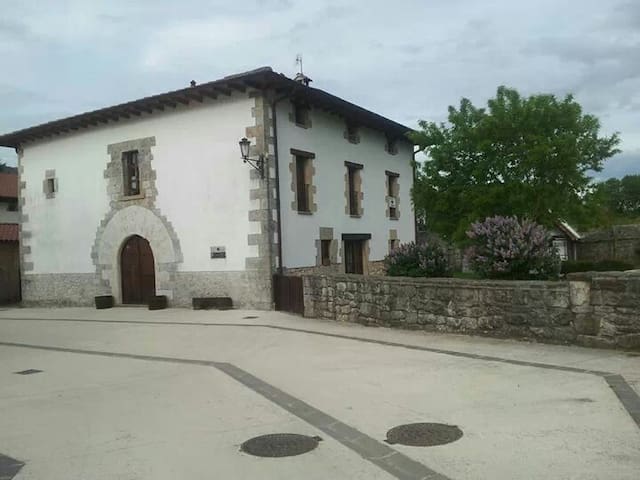 Mikelenetxiki is a completely renovated wooden house, distributed in 4 bedrooms and two bathrooms on the upper floor and kitchen, living room, bathroom and terrace on the ground floor. From the terrace you enter the garden. You can rent with Mikelenea reaching 27 beds It is located in a cattle town in the area of the Sierra de Aralar, half an hour from the beaches of San Sebastian and Zarauz ,. very quiet walk from the A-15 place, ideal for hiking, agrotourism ..
Rodzaj pokoju
Całe miejsce
---
Rodzaj nieruchomości
Dom
---
Mieści
10
---
Sypialnie
Arruitz, Navarra, Hiszpania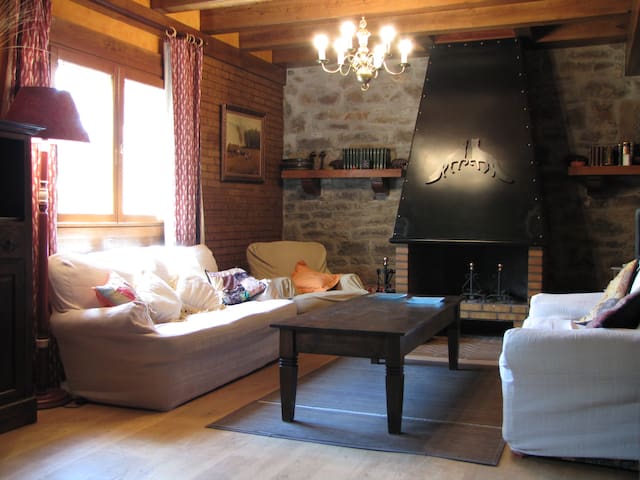 ¿Quieres pasar unos días en un entorno rural y tranquilo? Aloójate en este bonito chalet individual. Dispone de un jardín de 1000 m2, garaje, chimenea y unas preciosas vistas desde el salón y el dormitorio principal. Aquí puedes disfrutar de sidrerías y rutas por el monte (Paseo del Plazaola o Sierra de Aralar) asequibles incluso para niños. Lekunberri se encuentra a escasa media hora de San Sebastián, por lo que podrás incluso pasar el día en la playa.
El enclave es precioso, rodeado de la sierra de Aralar.
Rodzaj pokoju
Całe miejsce
---
Rodzaj nieruchomości
Dom
---
Mieści
6
---
Sypialnie
Lekunberri, Navarra, Hiszpania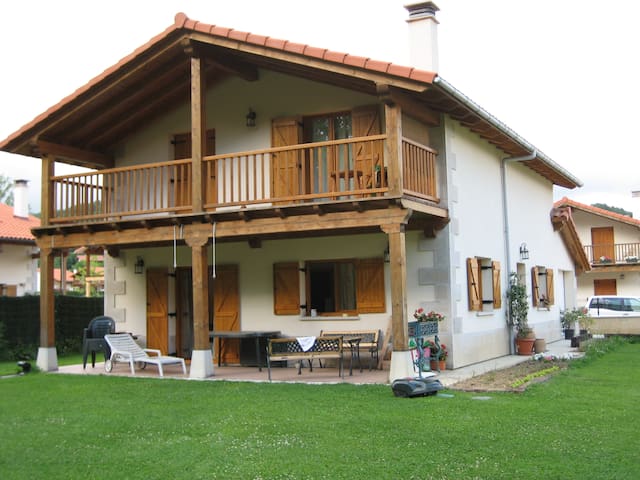 Casona rural del s.XVI totalmente rehabilitada en pequeño pueblo de montaña. Amplitud en 4 niveles, grandes acristalamientos a una naturaleza excepcional. 3 dormitorios y 2 baños, sauna, pérgola, huerta, etc.
Casona rural del s.XVI en piedra y madera totalmente rehabilitada en pequeño pueblo de montaña (50 habitantes). Espacios muy amplios (total 450 m2) en 4 niveles, con grandes acristalamientos abiertos a una naturaleza de excepcional belleza. Dispone de 3 dormitorios amplios, 2 baños completos (inc. sauna e hidromasaje), taller y varias estancias. Equipada con calefacción y chimeneta. El terreno (3.000 m2) tiene árboles, flores, huerta y pérgola cubierta y protegida, con mesas y asador.
La casa se sitúa entre Tolosa y Lekunberri, a 35 minutos de San Sebastian y de Pamplona. Ideal para disfrutar por los caminos de montaña de la sierra de Aralar, Navarra, las fiestas de San Fermín en Pamplona (7 a 14 de Julio) y la gastronomía y playas de San Sebastian y costa vasca (Zarautz, Zumaia, Fuenterrabía, Biarritz, etc.)
We had a fantastic time at this beautiful house in the mountains as part of my mum's 60th birthday celebrations. Upon arrival you are greeted by spectacular views and a very pretty garden. Inside, the house is beautifully done and was a great size for the family. We especially loved the ping pong table! Javier is a welcoming and helpful host providing lots of local knowledge. Although a little hard to find, the butchery in the next village Betalu is a gem with local meat, eggs, cheese and wine. It's down the road opposite the bar on the main road as you enter the village . The place is wonderfully positioned if you want peace and tranquility in this very interesting part of Spain but is also close to cities such as Pamplona, San Sebastián and Tolosa. We would love to visit again!
Hollie
2015-08-02T00:00:00Z
Nous avons vécu 3 jours de rêve dans cette superbe maison de campagne qui comporte tout ce que l'on peut espérer et même plus. Chaque pièce est un univers qu'il fait plaisir à découvrir et à habiter. Il y en a pour tout les goûts, du mélomane au lecteur assidu, du tennisman de table à l'observateur d'oiseau, du chef cuisinier au fan de sauna et jacuzzi! L'architecture de la maison est magnifique. La route pour s'y rendre est épeurante mais le jeu en vaut la chandelle. Les paysages époustouflants que l'on y découvre habiteront à jamais notre imaginaire. Merci milles fois
Jessy
2015-07-10T00:00:00Z
Beautiful house and nice host! Thanks Javier!
jun
2016-05-30T00:00:00Z
La verdad que las fotos no hacen justicia a la casa, hemos pasado n fin de semana fantástico, la casa es perfecta y el entorno increíble, hemos desconectado que era lo que buscábamos, días tranquilos disfrutando de la chimenea y el paisaje, la casa muy bien equipada y realmente acogedora, y nuestro anfitrión javier muy agradable y siempre dispuesto, repetiremos seguro
Athos
2015-12-08T00:00:00Z
Las fotos de la casa,dan una idea de como es,pero yo creo que "se quedan (URL HIDDEN) casa es preciosa,amplia,espaciosa,cada detalle en cada rincon es (URL HIDDEN) le falta de nada a la hora de cocinar,servir.....Ha sido como estar en nuestra propia casa.El mal tiempo hizo que no pudieramos pasear por el espectacular paisaje que la rodea,pero como contrapunto,hemos aprovechado al maximo la casa.Chimenea,juegos de ping-pong,charlas,un 10. Javier puede dar todo tipo de indicaciones para excursiones,mercados de interes,localizar tiendas,etc... Sin duda volveremos con buen tiempo para conocer la zona. La casa supero todas nuestras espectativas.Fuimos dos parejas,dos niños,y una Golden,que disfruto mucho del campo bajo la lluvia.
Virginia
2015-03-16T00:00:00Z
El alojamiento supera incluso la descripción del mismo. El anfitrión nos puso a nuestra disposición toda la casa, preparo una información completa del entorno y estuvo pendiente de nosotros. Un lugar de ensueño y un gran anfitrión.
Sofia
2016-08-21T00:00:00Z
Beautiful house in the Basque countryside. Wonderful place to spend time unwinding. Many stairs so maybe not suitable for young children or elderly and quite a drive to visit other attractions in the region, however if these things are not a problem then you will have a great experience.
Duncan
2016-07-03T00:00:00Z
Très bon accueil de Javier qui s'est adapté à nos contraintes d'arrivée. La maison et le lieu nous ont apportés ce que les photos promettaient, le confort , la surprise, le plaisir de se détendre dans un endroit paisible où l'on trouve immédiatement ses marques. Le temps pluvieux ne nous a pas permis de profiter pleinement de la nature alentour mais le confort et les espaces de la maison largement ouvert sur le site et le jardin nous ont permis de profiter autrement de cette semaine de repos. San Sébastien et Pampelune très rapidement accessible.
laurence
2014-07-31T00:00:00Z
Rodzaj pokoju
Całe miejsce
---
Rodzaj nieruchomości
Dom
---
Mieści
6
---
Sypialnie
Uztegi, Navarra, Hiszpania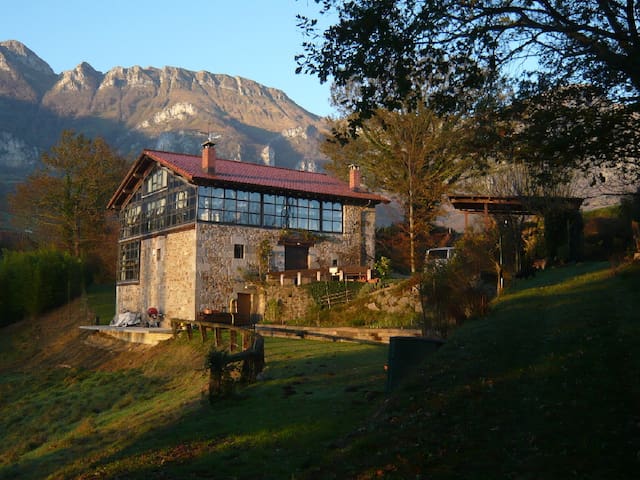 Iturburu is a newly built house, located in the old town of Lekunberri, at the foot of the greenway Plazaola. It is a house of 317m2 rustic style with capacity for 17 + 3 pers. íntegro.Tiene rental 7 rooms. 5 are en suite. The room on the ground floor and bathroom are adapted for disabled guests. In the attic there are 2 bedrooms and a spacious living (URL HIDDEN) house has ground floor, 1ªplanta and 2ºplanta.
CHARACTERISTICS: Low level: - fitted kitchen with dishwasher, microwave, refrigerator, induction fire, etc ... - living room with fireplace and TV. - En adapted for the disabled. - Cleanliness - Pantry. 1st Floor: - 4 bedrooms all with ensuite bathroom. 1 room double bed 1 bedroom double bed and single bed 1 bedroom 3 single beds 1 room double bed. 2nd floor attic: - 2 rooms 1 bedroom 2 single beds 1 bedroom 3 single beds - Large bathroom shared - Games Room equipped with: board games, library, billiards, table football. - 2 sofas. -Availability 2 free cots. -Central heating. - Wifi Exterior: - Covered barbecue - Garden (40m) - Porch / Terrace (150m). - You can access it directly from the 1st floor and from the ground floor by the outside via a ramp enabled disabled. - Parking for 5 vehicles. - Tarmac.
Lekunberri, it is a town and municipality located between Pamplona and Donosti-San Sebastian, in the middle of the valley of Larraun, in the foothills of the Sierra de Aralar. You can find almost all services; shops (fishmonger, bakery, butcher ...), bars, medical services, pharmacies, indoor pool, paddle tennis, squash, football, taxi service, cashiers, etc.
Rodzaj pokoju
Całe miejsce
---
Rodzaj nieruchomości
Dom
---
Mieści
15
---
Sypialnie
Lekunberri, Navarre, Hiszpania
90m de piso rústico y bonito en caserio reformado hace siete años en plena naturalez,con 80m de terraza jardin Consta de dos dormitorios,un baño con ducha,gran salon comedor de 35m y cocina muy bonita totalmente equipada Rodeado de naturaleza y tranquilidad Buenos paseos a pie y rutas en bicicleta A 30minutos de Pamplona y de Donosti A 10 minutos de la sierra de Aralar,cuevas de Mendukilo A 5 minutos de Lekunberri y de Leitza,con supermercados,bares,etc Buena zona micologica
zona tranquila
Rodzaj pokoju
Całe miejsce
---
Rodzaj nieruchomości
Dom
---
Mieści
6
---
Sypialnie
Uitzi, Navarra, Hiszpania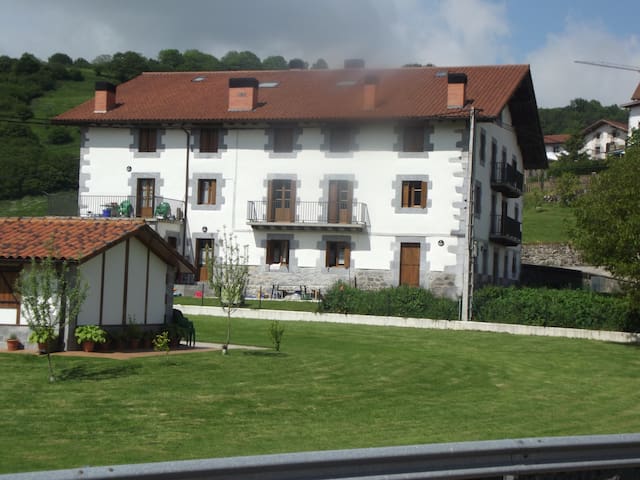 A village with 300 years of history, rehabilitated with maximum comfort. From the house the views are amazing. Enjoy a house of 300 square meters only for you and your companions. Also, we love pets. They are well received
singular eighteenth century farmhouse charming renovated in 2007. It has the highest category of houses in Navarra. It has five double rooms, one adapted for people with disabilities, and all with full ensuite bathroom. The house has a large living room with fireplace, fully equipped kitchen, terrace, 1500 square meters of turf and wi-fi. It is in Etxarri Larraun, a small village with 50 inhabitants, surrounded by pastures and meadows and only 2 km from Lekunberri, another municipality where they can enjoy a variety of restaurants, shops, supermarkets and bars. From Lekunberri part of a greenway, a former railway line was restored for walking and cycling, with over 30 km enabled. The house is ideal for hiking, mountain and bike rides. It is ideally located, half an hour from San Sebastian and Bilbao hour and a half, 20 minutes of Pamplona and just 45 minutes from the French coast towns like Biarritz and St. Jean de Luz. Enjoy nature without sacrificing the uniqueness of a farmhouse 300 years, adapted for the comfort of customers. Why settle for a hotel room when you can have a whole house for you and your companions ?. Also, we love animals. Admitted pets inside the house. Smoking is not permitted inside the house and parties with loud music and hen nights. The departure time is before 12:00 hours but we try to adapt to your needs. We can not be responsible for problems caused by force majeure such as power outages by the outage. The house should be returned clean.
We had a great time at the house. Stunning location, beautiful house and wonderfully decorated throughout. The bedrooms are all (each one of them) amazing and luxurious with individual bathrooms and great beds and views. If you want luxury with a country feel to it, this is the house. Bask country is amazing as well, away from the crowds but close enough to all the sites and the sea. We loved it. Finally Cristina has been a great host from the moment we got in contact, quick to respond and welcoming and helpful on arrival and during our stay. Loved it.
Rogier
2015-08-09T00:00:00Z
What a wonderful house. Everything is as described. Cristina was a wonderful host and very accommodating. She made sure our arrival and comfort was perfect. I would love to return and stay much longer. Truly enchanting. Plenty of space for all your needs. Don't hesitate and stay there. Thank you Cristina!
Todor
2015-07-08T00:00:00Z
El caserio es una maravilla, tiene un jardin espectacular con barbacoa, las habitaciones son muy amplias, cada una con su baño independiente y el entorno es una pasada para ir a descansar. Muy bien comunicado con san sebastian por autopista.
Alvaro
2016-07-04T00:00:00Z
Alquilamos el caserío durante cuatro noches y nuestra experiencia fue realmente excepcional. La realidad supera ampliamente la capacidad que tienen las fotografías para describir el lugar. Es verdaderamente encantador, muy bien decorado sin perder practicidad y extremadamente entrañable. Si bien tuvimos el clima a nuestro favor, lo cual habrá contribuido a redondear nuestra estancia, nos atrevemos a recomendar mucho la casa y el pueblo de Etxarri para estar un tiempo lejos del mundanal ruido aunque cerca de lugares muy interesantes. Cristina es una persona sumamente encantadora y nos apoyó mucho con sugerencias de nuestras actividades programadas en la zona (e incluso mucho más allá). Fuimos dos familias que en total sumamos 9 integrantes y estuvimos muy a gusto.
Josep
2013-07-20T00:00:00Z
El caserío es una maravilla, un caserío de hace 300 años perfectamente rehabilitado, y tanto las habitaciones como el resto de la casa están totalmente equipadas. Cristina fue muy amable y nos ayudó en todo lo que necesitamos. Sin duda un sitio totalmente recomendable, al que volveremos.
Gabriel
2015-01-24T00:00:00Z
Cristina was a fabulous host. She was very accommodating and went out of her way to make sure our needs were met, and helped us a lot with travel tips for the area. This house is absolutely stunning! You feel like you are staying in a piece of history. She has done very well at preserving the old-world feel of the house, but with updated decorations and amenities. The location is also great, as you are really out away from the hustle and bustle of the big cities, but still driving distance to Pamplona, San Sebastian, and French Basque country. We would love to stay here again if we get the chance.
Krista
2015-08-17T00:00:00Z
Cristina estuvo muy amable. Nos recibió personalmente y nos indicó algunos lugares interesantes cercanos para hacer excursiones. La casa es muy bonita, tal y como aparece en las fotos, acondicionada y provista de todo lo necesario para tener una estancia muy cómoda y agradable. La zona es muy tranquila y bonita. Situada cerca de ciudades como Pamplona y San Sebastián, se convierte en un lugar perfecto para visitar toda la zona.
Susana
2015-08-24T00:00:00Z
La casa de Cristina es preciosa!!!!, decorada con muchísimo gusto e impecable!!!, ha sido un gusto pasar unos días allá, aunque se nos hicieron pocos...el lugar es lindo y acogedor y queda cerca de muchos lugares maravillosos . Además Cristina, la dueña es muy cálida y nos diò mucha informaciòn acerca de los lugares a visitar... Felicitaciones!!, recomiendo a ojos cerrados esta linda casa...
Cecilia
2013-08-03T00:00:00Z
Rodzaj pokoju
Całe miejsce
---
Rodzaj nieruchomości
Dom
---
Mieści
12
---
Sypialnie
Etxarri Larraun, Navarra, Spain, Hiszpania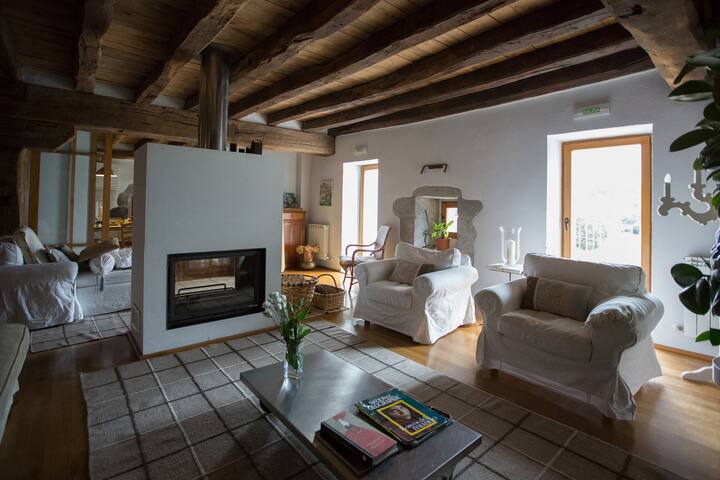 Zanurzony w średnim górskiej przyrody z pięknym widokiem na Malloas w Parku ARALAR. 45 minut od wybrzeża i plaż, 45 minut od San Sebastian, Bilbao 1:30 i 45 minut od Pampeluny. pokochasz swoje miejsce ze względu na krajobrazy, widoki, światła, wysokie sufity, przytulne miejsca ... domu z ciepłem drewna i sile swych kamiennych ścianach. Moja zakwaterowanie idealne dla rodzin z dziećmi i dużych grup. łatwy dostęp do przybyć.
Disponibles 2 camas de matrimonio y 7 literas, y un sofá cama con posibilidad de capacidad de hasta 20 personas. La casa dispone de una sala de 120 metros cuadrados con suelo de tatami como espacio lúdico o para talleres diversos, un salón y sala de estar y cocina.
Dom w wiejskiej okolicy, w otoczeniu lasów dębowych i bukowych, dobrych restauracji, z tras o średnich i niskich gór. Możliwość zakupu rękodzieła i rolnictwa w okolicy, takich jak sery, twarogi, jogurty, organicznych warzyw ...
Juanjo y Patricia son muy majos. Nos han tratado estupendamente.
Ainhoa
2016-12-26T00:00:00Z
Un paisaje precioso, una casa maravillosa, y una estancia para repetir. (Los anfitriones muy amables y atentos). Gracias por todo!!! MILA ESKER.
mirari
2016-11-20T00:00:00Z
Una casa preciosa con detalles muy originales y con un paisaje increíble. La única incomodidad es que al estar todo abierto no hay mucha intimidad. Pero si prescindes de eso, sobre todo para estancias cortas es un sitio ideal.
LEIRE
2017-01-01T00:00:00Z
Rodzaj pokoju
Całe miejsce
---
Rodzaj nieruchomości
Dom
---
Mieści
16
---
Sypialnie
Intza, Navarra, Hiszpania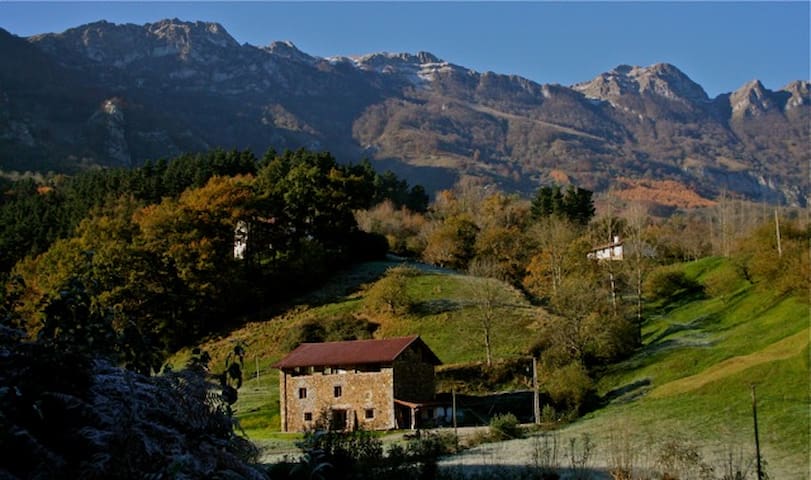 Preciosa y amplia casa rural situada en un entorno íntimo y natural con increíbles vistas a la montaña. Dos plantas con 4 habitaciones dobles, 3 baños, cocina y salón. Exterior con un gran jardín. Ideal para familias y grupos de amig@s.
Rodzaj pokoju
Całe miejsce
---
Rodzaj nieruchomości
Dom
---
Mieści
8
---
Sypialnie
Betelu, Navarre, Hiszpania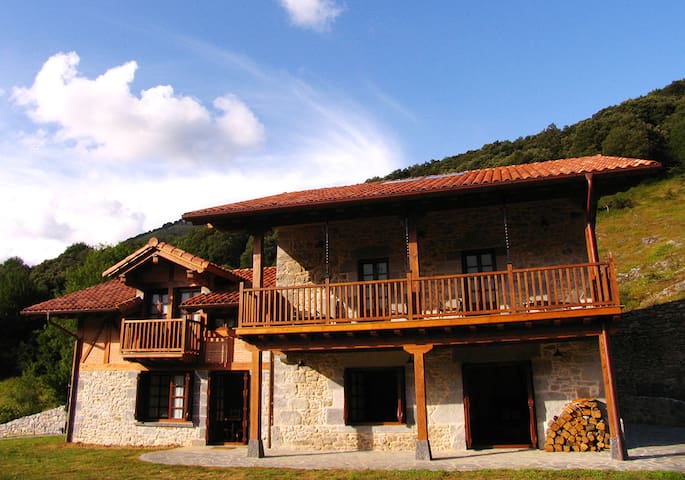 75metros house, very bright with country views. 3habitaciones features, living room, kitchen (microwave, dishwasher, oven) and bathroom. Situated in a lovely village 35 minutes from San Sebastian and Pamplona. Ideal for enjoying the mountains and the beach at the same time.
It is located in a wonderful place, living nature. It has private parking.
Small town to enjoy a few days of calm, there is a restaurant within 5 minutes walk.
El adjetivo que resume nuestra estancia es EXCELENTE!. Nos hemos sentido muy bien acogidos y mejor tratados. El entorno inmejorable, bien situado,muy tranquilo. La casa nueva bien dotada. Gracias a Nagore y a su familia por hacernos sentir como en nuestra casa. Sólo un pequeño pero: ha sido demasiado corto el periodo de estancia.
Irene
2015-08-07T00:00:00Z
Nous avons été ravis de notre séjour dans votre région. L'emplacement de ce logement nous a permis de découvrir la Navarre et le Pays Basque espagnol avec des trajets de moins d'une heure (Pampelune, Saint Sébastien, Getaria) en retrouvant le soir la tranquillité et la sérénité de la montagne. Le logement comprenait des couchages très agréables et une cuisine très fonctionnelle. Merci
Bénédicte
2015-04-07T00:00:00Z
Host was very courteous. They are beautiful family and took care of us like a family. There is family run restaurant nearby and food is awesome. Very clean apartment and beautiful views. Will recommend this to anyone looking for serene, quiet and beautiful place.
Anshika
2016-07-11T00:00:00Z
The appartment is very nice, well equiped and even exceeded our expectations. Nagore was very helpful and responded promptly. The appartment is in a small, friendly village. There is a waterfall close by and ample opportunity for hiking in the nearby national parks or visiting the coast or cities.
Jaap
2016-08-21T00:00:00Z
A beautiful spacious property. A beautiful location in the mountains. Probably better than advertised. Interaction with host was satisfactory. Plenty of contact and easy access. No surprises.
Pat
2015-07-12T00:00:00Z
Atallu es una ciudad pequeña y hermosa en el País Vasco. El apartamento estaba muy bien amueblado y equipado, nos sentimos como en casa cuando entramos por la puerta. Nagore y su hermana salieron de sus maneras de hacer que nuestra estancia en su apartamento más agradable al mostrarnos alrededor de la zona y la cocina local. 10/10 se quedaría otra vez!
Jacob
2015-07-14T00:00:00Z
Ubicación estupenda, a mano de todo y en un entorno precioso. La casa está llena de detallitos que hacen la estancia aún más cómoda, nos sentimos como en casa. La comunicación con Nagore fue fácil y rápida. Una experiencia muy positiva y sin duda muy recomendable este alojamiento!
Beatriz
2016-09-07T00:00:00Z
This property was incredibly quaint & our group described the landscape as being like in a fairytale, surrounded by mountains. If you want an authentic local experience this is the place to stay. Nagore was very helpful and a really lovely girl. Her communication was excellent prior and during our stay. The property is perfect for 4 adults. Thanks nagore
Tracey
2015-08-09T00:00:00Z
Rodzaj pokoju
Całe miejsce
---
Rodzaj nieruchomości
Dom
---
Mieści
5
---
Sypialnie
Atallo, Navarra, Hiszpania
Baskijski typowy dom pięknie odrestaurowany i otoczony górami Aralar. 7'de Tolosa. 30'de Donosti. A 60 'Biarritz. Bardzo wygodne dla rodzin, par lub przyjaciół. Idealny dla 6 osób. Mówimy Ingles. Euskaldunak gara.
Przytulny dom, który jest dostępny z miejscowości Lizartza kamienia. Spokojne miejsce na wsi, gdzie kończy się droga i wolności jest wygrana. To idealne miejsce na relaks, medytować lub wizyta wioski i miasteczka otaczają @ s Place. Idealny do 6, dostępne dla maksymalnie 8 osób. Parter z salonem, kominkiem, kuchnią i baño.Esta piętrze znajduje się duże łóżko podwójne sofa. Na piętrze jest podzielony na dwa miejsca espacios.un prowadzi podwójne łóżko o 1.50 i armarios.El innej przestrzeni, która jest wiodącym okna, jest rodzajem relaksu z dwoma pojedynczymi łóżkami piętrowymi i niski łóżko 1,50 , Jeśli wziąć samochód można udać się na przerwę spędzić dzień w miastach i najczęściej odwiedzanych miast Kraju Basków: Tuluza (8min) San Sebastian (30min), Pampeluna (40 min) Zarauz i Hendaya (40min). Jest domem dla cieszyć się z partnerem, rodziną, przyjaciółmi ... Jest to idealne rozwiązanie! To jest magia! PS Ten przygotowany do zorganizowania dzieciom equipamintos jak wanna, mini adapter WC, nocnik, krzesełka do karmienia i trampoliną juguetes.Dispone chirristra i zasięg w zadaszonym przestrzeni zewnętrznej.
Ostatni dom na dobrze utwardzona droga 1 km od miejscowości Lizartza. Spokój, natura i wiele magii (gwiazdy, księżyc, chmury, burze widoki z okna).
Experiencia de 10. Es un lugar inolvidable, se respira el cariño con el que está diseñada la casa. El trato de Ainhoa ha sido excelente tanto en la preparación como durante la estancia. Hemos ido en familia, con tres niños pequeños, que han disfrutado al máximo (esta totalmente preparada para ellos). Absolutamente recomendable!!!.
Jon
2016-11-20T00:00:00Z
La casa es estupenda, con unas vistas inmejorables. Está perfectamente equipada, y los propietarios nos dieron algunas orientaciones que nos fueron útiles para ir a hacer montaña. Muy recomendable
Víktu
2016-12-11T00:00:00Z
Valoración: Casa de piedra preciosa, totalmente reconstruida con mucho encanto, cada rincón pensado al milímetro para aprovechar el espacio, la luz, las increíbles vistas.... preparada para niños de todas las edades, con todos los servicios (toallas,sabanas,utensilios de cocina,juguetes...). Una joya dentro de Airbnb, espero que nunca la dejen de ofrecer sus propietarios. Seria muy injusto describir con mis palabras, ya q no creo q se pueda trasmitir, lo que se siente al estar en semejante paraje natural y hospedarse en una casa más q preciosa, dotada con todos los servicios y comodidades q hacen olvidar la necesidad de salir de allí. Me resulta más fácil hablar de los propietarios, lástima que solo los vimos en la entrega de las llaves, son de ese tipo de gente tan agradable que fue como si los conociéramos de años. Nos facilitaron la llegada, sobre todo porque la hora no la teníamos nada clara y nos permitieron "retrasarla". A la hora de salir de allí te lo planteas mucho, y creo q a cualquiera q vaya a pasar unos días a esta casa, nada más llegar y ser consciente de donde está, lo primero que hará es intentar alargar unos días más su estancia.
Ana
2016-12-31T00:00:00Z
We had a fantastic time at this charming house in the hills. The views are incredible and living space very generous. It was great for kids with all the toys inside and outside the property, our some was devastated to leave. Ainhoa was a brilliant host, she gave us some great recommendations for things to do and always got back to us very promptly if we had any questions. We hope to come back again soon
Damian
2016-07-19T00:00:00Z
Ainhoa made us feel very welcome and ensured a smooth handover by meeting us in Tolosa so that we could follow her up to the house. She was also very responsive with her replies to correspondence. The property is stunning, at the end of a road high in the hills with 180+ degree views. We have a 3 and 6 year old and this was a fantastic space for them to run and play. They were very well provided for in terms of toys, scooters, trikes, paddling pool, basketball hoop etc. They also loved the horse and Donkey and really enjoyed feeding them grass. This is an extremely well maintained and well loved family property in a beautiful spot. We went swimming a couple of times in the river just a short drive from the house. The town Tolosa is just 10 mins away and perfect for supplies, bakery, playground for the kids with fantastic bar with outdoor seating adjacent. The only thing we struggled with was the open plan sleeping arrangements. It didn't work so well for our children and meant it was quite late by the time they got to sleep as no curtains upstairs - I would recommend bringing eye masks! Thank you for a wonderful stay!
Jasmine
2016-08-09T00:00:00Z
Acogedora y bonita casa en un entorno envidiable. Necesidad de disponer de coche para poder acceder, ya que se encuentra algo lejos del pueblo para ir andando, en un camino de bastante desnivel, pero forma parte del encanto de su situación y lo compensa con las vistas espectaculares. Muy buen trato de los dueños, con flexibilidad para adaptarse a nuestros horarios. Totalmente recomendada.
Alvaro
2015-11-16T00:00:00Z
Nuestra estancia en la casa de Ainhoa y de su familia fue exactamente lo que esperábamos. Las casa es mágica y las vistas del valle alrededor maravillosas, ideal para una familia o parejas con (EMAIL HIDDEN) atención de la anfitriona ha sido impecable, siempre atenta y dispuesta a aclarar nuestras dudas y facilitarnos información sobre diferentes posibles actividades para pasar el día: excursiones,ferias,mercados,(URL HIDDEN) casa está lo suficientemente aislada como para garantizar privacidad y tranquilidad y a tan solo 10 minutos en coche de Tolosa y media hora de la preciosas San Sebastián. Totalmente recomendable!
Marco
2016-01-05T00:00:00Z
Ainhoa y familia han sido unos buenisimos anfitriones , han dejado una casa llena de juguetes que hace que no notes a los mas peques . la casa esta completa , llevamos mas cosas de las que luego necesitamos ya que tiene de todo. cajita de tes y pastitas ,un detallazo. el barrio es buenisimo , en 20 min llegas andando a la plaza del pueblo. La casa es tal como aparece en las fotos, con mucho encanto.
Patxi
2016-09-12T00:00:00Z
Rodzaj pokoju
Całe miejsce
---
Rodzaj nieruchomości
Dom
---
Mieści
8
---
Sypialnie
atallo, navarra, Hiszpania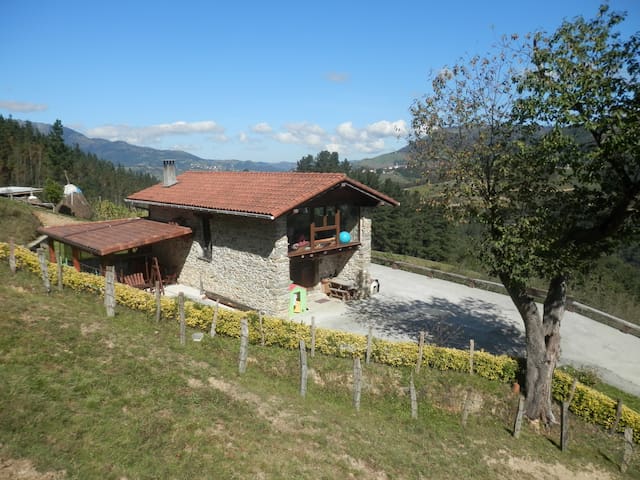 Old farmhouse situated in a small farming village surrounded by beech and oak forests. Ideal for hiking in the Sierra de Aralar. Located 30'de Gipuzkoa and Pamplona beaches. If you want to rest, this is the place.
Rodzaj pokoju
Całe miejsce
---
Rodzaj nieruchomości
Dom
---
Mieści
16
---
Sypialnie
Arruitz, Navarra, Hiszpania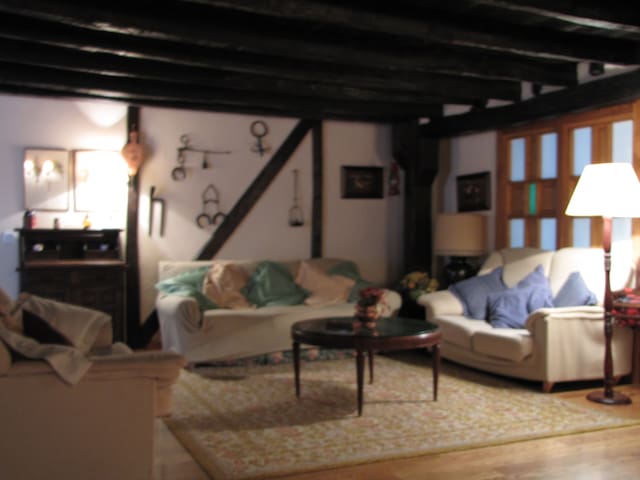 Un entorno inigualable, bien comunicado con Pamplona 20 minutos, San Sebastian 35 minutos, frente a San Donato y la Sierra de Urbasa. Adosado de nueva construcción, todas las comodidades, decorado con antigüedades, jardín, y vistas espectaculares
Belle maison/appartement, confortable, spacieuse, et propre, toute équipée dans un bel environnement de montagne.
Patricia
2016-08-01T00:00:00Z
Casa molto grande e accogliente, pulita in perfetto ordine e con ogni comodità in un posto molto tranquillo, ci è servito per riposarci un po'. Grazie Maite di tutto.
Concetta
2016-08-19T00:00:00Z
Au calme à proximité de belles balades dans la sierra. Totalement conforme au descriptif.
Frédéric
2016-08-21T00:00:00Z
Casa muy amplia y bonita en un entorno espectacular rodeada de verdes campos montañas. Tuvimos un pequeño problema de comunicación al llegar pero Jesus nos espero para la entrega de llaves, ni mas ni menos, hasta medianoche. Se lo agradecemos infinitamente. No tuvimos el placer de conocer a Maite, mas que por teléfono, pero Jesus nos pareció una persona encantadora. Sin duda, un sitio al que volvería encantado ya que, esta vez, el motivo de nuestra visita era disfrutar de las fiestas de San Fermin y no tuvimos tiempo de disfrutar de los alrededores.
jordi
2016-07-11T00:00:00Z
Bonita casa con las montañas como paisaje. Es un pueblo muy tranquilo y a la casa noble falta de nada. Con Maite muy bien, nos atendió en todo lo que necesitamos
Enrique
2017-02-26T00:00:00Z
Rodzaj pokoju
Całe miejsce
---
Rodzaj nieruchomości
Dom
---
Mieści
5
---
Sypialnie
Eguiarreta, Navarra, Hiszpania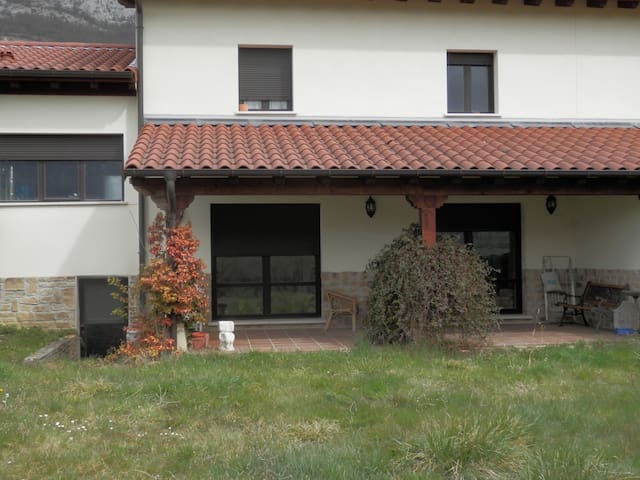 Caserío de 1786, situado en el valle, entre dos sierras de inigualable belleza, Aralar y Urbasa-Andía. Restaurado respetando la estructura original de piedra y madera original. Muy bien situado y con unas comunicaciones inmejorables por carretera.
Martinberika is a Basque farmstead situated in Hiriberri/Villanueva de Arakil. Due to its interesting architecture and history, the establishment is classified by the Príncipe de Viana institution as category two. The ground floor contains the kitchen (fully furnished), a full bathroom, a lounge and hearth and access to the terrace and lumber room with table tennis and a table football machine. The first floor contains one full bathroom and 4 bedrooms, 3 of them with twin beds and 1 with a double bed and en-suite bathroom. The top floor has a snooker room, a bedroom with a king-size double bed (1.50 m) and a sofa bed, a full bathroom next to the bedroom and a lounge with sofas and a TV with home cinema. The top floor is an attic floor with skylights. The floors are wooden and there is heating in all the rooms. The light filters into the house from the roof, through two skylights, thereby providing the stairway and passageways with natural light. The bedrooms and lounge have wooden floors and each part of the house is heated. There is a terrace with a table and chairs. A 25 km. Pamplona, with bus service to the city. Perfect for the festival of San Fermin can enjoy and relax in the countryside while still being able to move the party in a comfortable and very economical
Estamos en un pueblo pequeño, típico de la montaña de Navarra, con grandes caseríos, en su mayoría restaurados. El río pasa al lado de casa y hacemos cursillos de piragüa para los huéspedes que lo soliciten.
We loved our stay at Alfonso's beautiful location while attending the San Fermin festival in nearby Pamplona. We got in and out of town easily, and having this location out in the country was a pleasant reprieve from the amazing and crazy festival. We can't say enough about how impressed we were with the place, it's charm and the cute community it resides in. Cheers Alfonso!
Michael
2016-07-09T00:00:00Z
Alfonso es súper amable, nos permitió coger lo que quisieramos de su huerto, nos explico sitios para visitar etc
Pablo
2016-08-23T00:00:00Z
Het huis van Alfonso is een heerlijk ruim en comfortabel gerenoveerd dorpshuis met een fijne grote keuken. Het terras is niet erg groot maar we mochten ook van de schaduwrijke (moes)tuin gebruik maken. Aan het begin van de avond oogsten we tomaten, uien en courgettes voor het diner. Alfonso is een gastvrije en sympathieke gastheer die een heerlijk huis verhuurd op twintig minuten van Pamplona en een uurtje van San Sebastian.
Karel
2016-08-06T00:00:00Z
Alfonso's casa was amazing. Huge, and could easily accommodate us 12 lads. The village is beautifully secluded which gave everyone some time to relax in comfort once we escaped the hullaballo of the San Fermin festival (taxis cost about 45 euro to get there). Alfonso was very kind, met us on our arrival and showed us where all the amenities were. The all stay went without incident! Gracias Alfonso!
Daniel
2014-07-16T00:00:00Z
Un lugar muy agradable, la casa es muy acogedora, con todo tipo de instalaciones. Alfonso muy atento y nos proporcionó mucha información y nos aconsejó muy bien. Una experiencia para repetir.
Gustavo
2014-08-16T00:00:00Z
Alfonso was very personable and helpful. He lent us a notebook of information about the area, provided a list of bus times during our stay, led us to a larger town where we could buy groceries, and shared some vegetables from his garden. Perfectly situated for runners, cyclists, and hill-walkers as well as visitors to Pamplona (only 30+ minutes away by bus), the large restored farmhouse offered ample accommodations (including a pool table) and modern conveniences. It was located in a quiet valley dotted with traditional Basque villages bordered by escarpments of the Sierra de Urbasa on either side. The heights afforded a magnificent vistas (especially at the Shrine of San Miduel de Aralar) and a nature reserve with a network of paths and roads winding among mountain villages where we could enjoy a meal or simple refreshment. We only wish we could have stayed longer to enjoy more of the surrounding countryside.
Gay Marie
2015-07-10T00:00:00Z
Fantastic place with the best host ever! Alfonso rocks! Was always available for any questions, advice or problems. Beautiful location with lots of outdoor activities. Would very much like to return. Highly recommended!
Paul
2016-07-18T00:00:00Z
Beautiful, original barn set in a truly magnificent part of Spain. Alfonso was a super host; on hand and/or the telephone whenever we needed him, couldn't ask for more! Ideal for those wanting to enjoy San Fermin or retreat somewhere unique and peaceful. Highly recommend.
Danny
2014-07-11T00:00:00Z
Rodzaj pokoju
Całe miejsce
---
Rodzaj nieruchomości
Dom
---
Mieści
12
---
Sypialnie
Villanueva, Navarre, Hiszpania
Beautiful classic northern Navarra mountain house, under the impressive Malloas in Aralar. Fully restored. Ideal for mountain lovers - many marked walks.
House is distributed in 2 floors with no walls or single rooms; except the toilet.
Great house and surroundings! We received some local food and vegetables from the garden at our arrival. Ander and his father have made every effort to welcome us at their house. And our kids had a great time on the drums!
Erika
2016-08-07T00:00:00Z
Great spot! The house is as per Photos And as described. Although we didn't get to meet Ander in person, Ander was wonderful and extremely helpful and very prompt with all communication. We had questions before and during our stay and Ander was always quick to respond and always seemed cheerful and helpful. We received fresh vegetables and goodies on arrival and the two days we were there (lovely surprise!) and later found out it was Ander's Dad who had left the locally grown goodies!! Very sweet! Thank you for a lovely stay. We would highly recommend !! Take care and all the best
Lisal
2016-08-24T00:00:00Z
La descripcion del anuncio es exactamente lo que te encuentras, el anfrition nos ofrecio todo tipo de informacion y ayuda para disfrutar de la casa y el entorno.
Marta
2015-08-31T00:00:00Z
This house is very special. It's in a wonderful location above a little village a couple of km above the valley road. There are craggy mountains behind and a view across the valley to big hills opposite. The garden is full of trees, sheep graze in the next field and you hear cowbells and several church clocks down the valley. Inside is quiet and cool. It's very much Ander's place. As you can see from the photos, there's a drum kit and other percussion instruments, shelves of books and CDs, lots of original paintings and antique furniture. On a practical level, the kitchen is well-equipped and the beds are comfortable. In our week's stay, we enjoyed a couple of days mainly at the house, going down to the river in the valley for a swim one afternoon and going for a gentle walk across to the next village another time. The other days we went on day trips, for example visiting the Flysch at Zumaia or the Wild West landscape of the Bardenas Reales. Ander's dad, Mikel, had left us a large present of wine and cheese and other local produce for when we arrived. He was very friendly and helpful helping us find our feet the first day. (All done via text and online translation software in both directions!) Meanwhile, Ander was extraordinarily helpful on several occasions via text from NYC! We had a truly wonderful time and we couldn't recommend it more.
Giles
2016-08-20T00:00:00Z
This is a great house for those wanting closeness to nature, peace, relaxation and a 'no-frills' way of being. It exceeded our expectation and was just right for us. We loved the: Rustic nature of the house + immediate environment and land Wood everywhere inside - beams, floor, furnishings, etc. Decorated with great fabrics and naive art Sounds of nature all around - sheep, cattle, donkeys, cats, dogs Deer on the road, lizards on the patio, soaring birds Distance from other humans / habitations Changeable weather of the Basque Country in August - some very hot and sunny, some misty and cooler (even rain) Walk up to the top of Aralar from Errazkin - Abategane and Beluta Passes and back down Majada de Olatxiki farm at the top in it's Hidden Valley with tinkling / clanging animal bells of all shapes and sizes Mountain and valley views - both from the house and when out walking Food and people at the local cafe Friendly people we met There is so, so much more I could write...... It was a great and deep joy to be there. Biggest thanks to Ander and his family. David Adams and family
David
2015-08-14T00:00:00Z
We had a great stay at the mountain house. It is located in a beautiful area with gorgeous views on the mountains. the yard is very nice, we had dinner outside every night and the children explored the entire area. The house itself is very convenient, 2 floors with the top floor beds in one area but nicely devided with closets for some privacy. On the lower floor the kitchen is fully equiped and it had a nice corner to sit down at the fireplace for colder nights. The best feature of house is everything in it. The drums, pooltable and all kinds of musical instruments and artwork make it very personal and not a standard holiday home. The bathroom is quite small to share but when taking turnes it works fine. There was a lot of information on walking paths and things to do in the area, so it was easy to find our way. We made several walking tours up to the mountains with beautiful views and many great vulpture and other preybirds. We also went to San Sebastian and Bilbao for some swimming and culture. All in all, the week was way too short to explore the surroundings, we've had a great stay!
Mireille
2016-07-30T00:00:00Z
Es aún mejor de lo que se ve en las fotos, un lugar precioso en un terreno propio grandísimo. La vista desde la casa es espectacular, y por dentoro está decorada de forma muy agradable. Un buen equipo de música, con una gran coleccion de cds, un montón de instrumentos musicales, chimenea, una hamaca entre dos árboles, una mesa de billar... Ander y su padre fueron amabilísimos con nosotros, nos hicieron sentir como en casa. Un lugar muy personal, en entorno maravilloso, un sitio inolvidable.
Daniel
2014-08-20T00:00:00Z
Rodzaj pokoju
Całe miejsce
---
Rodzaj nieruchomości
Dom
---
Mieści
6
---
Sypialnie
Gaintza, Navarra, Hiszpania