This charming country cottage has been lovingly restored and refurbished. It is situated in the peaceful rural setting of Aughnasheelin, approximately 5km from the picturesque town of Ballinamore. It is the perfect place for a relaxing holiday.
This charming country cottage has been lovingly restored and refurbished. It is situated in the peaceful rural setting of Aughnasheelin, approximately 5km from the picturesque town of Ballinamore, 14km from Drumshanbo and 24km from Carrick-on-Shannon. It is within easy reach of many local amenities and is in an ideal place for a relaxing holiday. The property can accommodate up to 5 people. Upstairs consists of one double bedroom and one large triple room with a double and a single bed. There is a shared bathroom with an electric shower. Downstairs there is a living/dining room with an oil fired stove - the perfect place to relax. The kitchen is fully equipped with all modern conveniences. There is a separate sitting room with open fire (with the option to use this room as a third bedroom with single bed). The downstairs bathroom is equipped with a bath. The house has central heating and ample private parking. Bed linen, duvets and towels are supplied free of charge. Cot available on request.
Should you wish to leave this tranquil setting the cottage's location has a lot to offer guests. At the foot of the Sliabh an Iarainn mountain, the quiet country lanes are ideal for countryside walks and there are numerous loops near the cottage. A 2km walk will take you to the charming Pol an Easa Waterfall. Set in south Leitrim, it is in the heart of the county's Lakeland district close to the Shannon-Erne Waterway. This waterway allows for ample fishing and boating opportunities. 5km away you will find the picturesque town of Ballinamore. Ballinamore is widely acknowledged as an anglers paradise surrounded by 28 lakes within a 5 mile radius. Located within the middle reaches of the Shannon-Erne Waterway, a narrow canalised river connecting a series of lakes from Lough Scur to Garadice; there is a great variety of waters to be discovered. 14km away you will find the quaint town of Drumshanbo. Every July Drumshanbo plays host to the award winning Joe Mooney Summer School - a week long festival of traditional Irish music, song and dance named after the man who did so much to promote the cause of Leitrim and his beloved town. The committee continue to emulate his high ideals, endeavouring to promote Leitrim's heritage of traditional music while handing on the best traditions of the past to future generations. 20km away you will find the Arigna Mining Experience. This Energy Centre provides visitors with a unique insight into what coal mining life was like in the Arigna Valley, since its beginning in the 1700's until closure in 1990. During the underground tour, visitors will experience what it was like to work in some of the narrowest coal seams in the western world. The tour which will last 45 minutes brings visitors to the coal face of the mine, where the methods used to extract coal are demonstrated. Lighting and sound effects in the mine, add to the authenticity of the underground experience. 24km away you will find Carrick-on-Shannon - the hub of Lovely Leitrim with several restaurants, tea rooms, traditional pubs and modern bars. Carrick has earned a reputation as a Foodie's haven with several award-winning restaurants and coffee shops along with a farmer's market, a craft brewery and lots of specialist local food suppliers. Take a walk out over the River Shannon on the boardwalk. Enjoy browsing in boutique clothes shops, antiques, interiors and book shops. Within a 25km range you could treat yourself to afternoon tea and a visit to the gardens of the beautiful Lough Rynn Castle. Kilronan Castle boasts a truly wonderful spa and do great day packages if you fancy some pampering. 40km will take you to Lough Key Forest Park and Activity Centre where you can try ziplining, take a tree top walk or enjoy a picnic on the lake shore.
Beautiful place and really friendly host. Phillip was very helpful especially when it came to my poor sense of direction . Upon arrival we were greeted and treated with scones and cream. Would highly recommend to anyone looking to stay in the area . Thanks again Phillip
Sinead
2016-10-31T00:00:00Z
Staying in the cottage owned by Philip and Eileen was a delight - ticked all the boxes for me. A quiet area with great walks along country lanes and roads. Stayed for 3 nights and didn't drive to any other attractions, stayed local and enjoyed the simple quietness of the area. The cottage itself is very comfortable - well stocked kitchen with everything you could need, very comfy beds and an upstairs open space with light that will appeal to any meditators! Everything is spotlessly clean and it felt like a home away from home to me. Eileen provided beautiful delights for my arrival also - don't want to mention them as it was a great surprise!
Miriam
2016-05-03T00:00:00Z
The lodge is located about 10mins from the town of Ballinamore and with Philip's directions it is easy enough to find. Upon our arrival we received a warm welcome from Philip and Eileen - the cottage so cosy from the oil fired stove and some tasty treats on the table to welcome us after a long trip. The lodge was well appointed and comfortable, with a modern farmhouse feel and had all the basic amenities you could wish for. The rooms were spacious and clean, and the bed was so comfortable. As noted by another guest, the open space on the landing is a real feature of the lodge, perfect for yoga/meditating or just sitting in the chair reading a book under the lovely natural light coming through the velux window! Though located on a local access lane, the lodge is pleasantly secluded with views across the fields to the horizon, and at night the stars shone as clear as a bell. Phllip and Eileen have great local knowledge, are only 5 minutes away in case of any problems, and are very accomodating and friendly. Philip even brought us to see his cattle when I mentioned that we were hoping to see some calves!! A great spot to get away from it all!
Amy
2017-02-06T00:00:00Z
Rodzaj pokoju
Całe miejsce
---
Rodzaj nieruchomości
Dom
---
Mieści
5
---
Sypialnie
Ballinamore, Leitrim, Irlandia
3 Bedroom House Sleeps 4 located in a quiet area in the centre of Ballinamore, walking distance to all shops, restaurants, pubs and local ammenites .
Town house - great location for exploring the beautiful countryside, fishing holidays,boating on the Shannon Erne Waterway.
Local amenities including walking, horse-riding, golfing, and boating and is ideally located as a touring base for a range of interesting outings to for example, the Marble Arch Caves, Florence Court, Cavan Crystal etc. It boasts lively evening entertainment with some great pubs and good restaurants.
Mary made us very welcome when we arrived. The house was fine apart from the shower we both thought it was a bit small.
Peter
2015-09-18T00:00:00Z
We were met by a very friendly lady whom was considerate of our late arrival getting there, it's located in a good location to see many sites within an hour radius. The backyard was up steps and rock-scaped so it was a little hard for the dogs but being that they were accommodating to us having them we couldn't complain, especially since they were so nice. WiFi was via cell network but decent enough, parking was right outside the door. Overall comfortable and with the standard amenities one would expect in the area.
Christopher
2016-05-30T00:00:00Z
We spent two nights at Terri's house. Terri was helpful and kind. Her mother met us and showed us around. Everything was nice. This house is well situated in the middle of a charming village. Good place for visits and walks around the 40 lakes... We recommend
Guillaume
2015-07-17T00:00:00Z
We've stayed 10 nights at Terri's place and it was worth every penny. It was clean, warm and we felt very comfortable. The living room is cozy and comfortable, we even had some DVDs to choose from which was cool. Also the shower was warm and had enough pressure. We would definitely rent this place again!
Danny
2016-01-27T00:00:00Z
We've had a very nice stay. Terri as well as her friend Mary made sure that we were looked after. We were able to arrive late and check out at our own pace. We only stayed 3 nights and there are still some things that we would like to discover in the sorounding area so we plan on visiting again. We surely recommend staying with Terri.
Joe
2016-08-01T00:00:00Z
The town house was just as described and supplied with all necessities. The neighborhood was charming and we were within short walk from shops, pubs and market. The space was perfect for the four of us. I contacted Terri with a few questions and she was quick to respond and very helpful. We'd definitely stay here again! On a side note: A previous review stated that the shower was small. We are average height/weight and it was fine for us (although smaller than we're used to) however I believe that a larger person would have difficulty.
Chris
2015-10-27T00:00:00Z
The house was very warm, clean and comfortable. It was well equipped with all you would need for self catering. Handy for the town. Host was helpful and friendly. Would recommend and will return.
Seamus
2015-12-30T00:00:00Z
Hi Terri, just to say thanks ,we had a great trip In Ballinamore, house very easy to find 5 min walk supermarkets and pubs,and restaurants,local people in village were very friendly and helpful .Margaret was there to meet us to show us around ,house was lovely and comfortable ,very clean had everything we needed .there are lovely walks along the canal , Ballinamore is very central to visit other places around .
Mel
2016-07-07T00:00:00Z
Rodzaj pokoju
Całe miejsce
---
Rodzaj nieruchomości
Dom
---
Mieści
4
---
Sypialnie
Ballinamore, Leitrim, Irlandia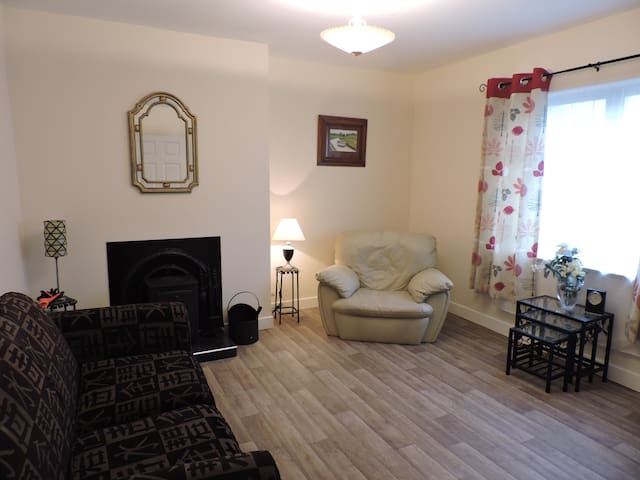 River Cottage is a warm and cosy 4 bed home perfect for friends and family. For Spring 2017 when booking 3 nights or more get 3 days free bike hire or a 1 day guided canoe tour. The cottage is located in the historic village of Fenagh and only 14 miles from the vibrant riverside town of Carrick on Shannon & 10 miles from Lough Rynn Castle Hotel. The cottage is conveniently located within 18 minutes drive of the N4/M4 national route and as such provides a great central base for exploring Ireland.
River Cottage has 4 large bedrooms. Each bed is covered with warm luxurious high quality bed linen, duvets and a cosy throw for extra warmth. Three bedrooms have king size beds and the fourth a four poster double bed. Two bedrooms have ensuite shower, wash basin and toilet. Each bedroom can be supplied with a cot or single beds to accommodate children. The house comfortably sleeps 8 adults. The separate cosy sitting room with wood burning stove, TV, plenty of books and magazines invites you to relax and unwind each evening. WIFI keeps you in the loop with family, friends, news and entertainment. River Cottage is finished to the highest standards with solid oak flooring on the ground floor and pitch pine flooring upstairs. The kitchen, dining and living area can comfortably seat a full house. The kitchen is well equipped and will make cooking a pleasure. The semi-pro cooker has six gas rings, two electric grills and two electric fan assisted ovens. There are coffee and tea pots, toasted sandwich maker, a food processor and blender and many other items and utensils to make you feel at home. The character of the house is truly defined by its exquisite wall panelling, wooden floors, and carefully selected furnishing making River Cottage a unique and charming place to stay. You will find a mix of historical and modern, quirky, colourful and cheerful all blended together to make your stay as relaxing, comfortable and homely as possible. The large vegetable garden is to the rear of the cottage. You are welcome to select seasonal crop or fresh herbs to add to your meals. Relax by the riverside barbecue and outdoor seating area in the back garden. Watch the ducks as they waddle unannounced from river to lawn and back or nestle securely inside their very own duck lodge ! The cottage is located on the Tour de Humbert route from Fenagh village. The local wooded landscape is dotted with picturesque lakes some of which form part of the Shannon Erne Blueway. The cottage is wrapped within a secluded one acre site of exquisitely landscaped lawn, flower, vegetable and tree lined gardens which blend seamlessly into the surrounding countryside. On your doorstep: River cottage is located on a beautiful country lane known locally as the "old French road" which forms part of Tour de Humbert and follows the circuitous route of General Humbert, who in 1798 led a French invasion of Ireland. The route starts from Kilcummin harbour in County Mayo and winds through the unspoiled countryside of Sligo and Leitrim to finish at Ballinamuck in Co Longford. This section of the route is particularly favoured by local walkers, joggers and cyclists for its sweeping rise past Fenagh and Drumroosk lakes with panoramic views across the south Leitrim Landscape towards the Sliabh An Iarainn Mountains to the north. Always a lovely walk in every season, you'll return to the cottage refreshed and relaxed. If you are lucky enough to visit on a warm summers evening with the sun breaking through the green canopy of leaves which characterise this tree lined route, see swans gracefully passing by on a mirror flat lake or breathe in the scent of freshly cut meadow and listen to the bird song, you too might just momentarily connect with that inner calmness that we sometimes refer to as heaven! 1 Minute Drive – Fenagh Village Fenagh village has two traditional Irish pubs offering music on many weekends throughout the year. The phone box no longer works (no phone!) however the letter box is in perfect working order! Occasionally the ghost of Heatheringtons cat passes unnoticed across the road between the two pubs. When it rains its best to sit inside as your pint will fill with water! No other "do's" or "don'ts" come to mind really. Drink deep and enjoy a village that still lacks any real sense of hurry and oozes that timeless sedate feeling capable of rejuvenating any soul. 2 Minute Drive - Fenagh Visitor Centre Settle in with a well-earned coffee in the café or explore what Fenagh has to offer with help from the centre's friendly staff and its wide selection of photos, maps and literature. If you have young children, they will enjoy the Monks Den, a children's indoor soft play area in the centre. Take time to explore the many archaeological features from Ireland's rich Celtic heritage in the landscape surrounding Fenagh including court tombs, standing stones and a Dolmen not to mention two Medieval Abbeys which imbue the nearby village with such a peaceful character 5 Minute Drive – Shannon Erne Blueway The Shannon Erne Blueway is a 70km canoe and kayak paddling trail from Leitrim village in Co.Leitrim to Belturbet in Co Cavan with access all the way into Enniskillen in Co Fermanagh (UK) via upper Loch Erne. The Blueway comprises of 15 individual trails varying in distance and character. Choose a 1km,10km or a longer paddle trail to match your ability or time constraints on either sheltered canal or large open island doted lakes. Trail heads, access points and services are all clearly signposted along the entire length of the Blueway making it easy to identify your start and finish points. With endless paddling possibilities, pick your journey and do the Shannon-Erne your way! Way To Go Adventures provide guided Canadian Canoe tours and bike hire on the Shannon Erne Blueway River Cottage in Fenagh is located at the mid-point of the newly launched Shannon Erne Blueway. Sections of the Blueway also have waterside paths suitable for walking or cycling. A guided canoe tour can be arranged for you to explore the Shannon Erne Blueway or bikes can be hired so you can follow the waterside paths or the Tour de Humbert at leisure from your own doorstep deep into the surrounding countryside. Local access points to the Blueway from River Cottage include. 5 Minutes – access point - lock 5 Ardrum. 6 Minutes – access point - lock 4 Aghoo. 6 Minutes – access point lock - 7 Ballyduff. 8 Minutes- access point lock - 8 Castlefore. 6 Minute Drive – Ballinamore With two large supermarkets, Supervalu and Tesco, many main street shops including butchers, an off licence and newsagents Ballinamore is a convenient location to pick up all the provisions that you might need for your stay. The town and surrounding areas host up to seven festivals annually with varied themes including drama, fishing, music and family. Choose from a selection of local restaurants serving everything from traditional food through to the essential weekend take away pizza! Some of the local pubs host regular traditional music nights. Visit the towns Tourism office on Main Street for much more information on local activities, attractions and events. 15 Minute Drive - Lough Rynn Castle This modern hotel is just 10 miles from River Cottage. The site was originally occupied by the local Celtic Reynolds clan and subsequently by the Crofton and Clements families until the 1970's. Refurbished and reopened in 2006 the castle is now an ideal location for an evening meal in the Sandstone Restaurant, afternoon tea, a walk in the Victorian Walled Gardens or to just take in the views as rowers pass by on the international rowing facility of the tree lined Lough Rynn itself. 25 Minute Drive – Carrick on Shannon Nearby Carrick on Shannon is only 14 miles away (23 km). Carrick is a vibrant town with several traditional pubs offering music to entertain a wide range of tastes as well as many cafes, restaurants, and a four screen cinema. The town boosts many arts and heritage attractions in addition to recreational outlets such as bowling, karting or indeed Moonriver boat trips on the Shannon itself Carrick is a food lover's heaven with several award-winning restaurants and coffee shops along with a farmer's market where you can savour lots of local speciality foods. Browse in the many boutique clothes, antiques, interiors and book shops. Take a walk out over the River Shannon on the boardwalk. Try Kidz Kingdom with lots for children to enjoy in the soft play centre. Try summer activity camps, tennis courts, playgrounds, or the swimming pool. Hire bikes, kayaks or canoes. Play 18 hole golf, have fun at indoor shooting, go – karting, fishing or stand up paddle boarding. 30 Minute Drive – Lock Key Forest and Activity Park For the more energetic spend a day in Lough Key Forest Park and Activity Centre where you can take a tree top walk or try Zipit with 900 meters of ziplines. Relax in the lakeside café or enjoy a picnic on the lake shore. Try BODA BORG, 47 rooms containing challenging fun-filled activities, imaginative puzzles and enjoyable tasks but with no instructions! For the little ones the Adventure Play Kingdom is a dynamic, colourful and safe environment that'll keep kids entertained for hours. Or simply unwind and follow one of the many walking or cycling trails throughout the park. 30 Minute Drive - The Arigna Mining Experience This Centre provides visitors with a unique insight into what coal mining life was like in the Arigna Valley, since its beginning in the 1700's until closure in 1990. During the underground tour, visitors will experience what it was like to work in some of the narrowest coal seams in the western world. The tour which will last 45 minutes brings visitors to the coal face of the mine, where the methods used to extract coal are demonstrated. Lighting and sound effects in the mine, add to the authenticity of the underground experience. 30 Minute Drive – Slieve Russell Hotel Golf & Country Club A fantastic resort set on a 300-acre estate just outside Ballyconnell towards the northern section of the Shannon Erne Blueway in Co. Cavan. After a round of golf on the 18-hole golf course why not enjoy an evening meal in one of the three restaurants. Relax to some light music in the bar. There's also a fitness centre with an indoor pool, a steam room, a sauna and a hot tub, and treatments are available in the spa while kids enjoy the games room and play area. 45 Minute Drive – Marble Arch Caves Global Geopark - Irelands Ancient East Marble Arch Caves Global Geopark is host to one of the finest show caves in Europe. Visitors are guided through a fascinating natural underworld of rivers, waterfalls, winding passages and lofty chambers while stunningly beautiful cave formations glisten all around. The Cavan Burren is now part of the Marble Arch Caves Global Geopark, one of numerous UNESCO Global Geoparks found across the world. About three kilometres south of Blacklion and north-west of Cuilcagh Mountain lies a remarkable limestone plateau at an altitude of between seven hundred and nine hundred feet, which is now beginning to be recognized as one of the finest relict landscapes of its size in all of Ireland. Its funereal monuments, habitation sites and fields survive from prehistoric times. The Geopark is now over 18,000 hectares in size and contains over 40 sites of interest. 50 Minute Drive – Enniskillen (UK) Located almost exactly in the Centre of neighbouring Co. Fermanagh on a natural island which separates the Upper and Lower sections of Lough Erne, Enniskillen effectively bookends the Shannon-Erne Blueway to the North from its starting point in Leitrim to the South. Why not spend an afternoon in Erne side shopping mall or visit the restored buildings in the old butter market with its appealing variety of craft shops and studios selling paintings, ceramics, jewellery and even fishing tackle. Explore Enniskillen Castle, a former stronghold of the 16th-century Maguire chieftains. The castle guards the western end of the town's central island, its twin-turreted Watergate looming over passing fleets of cabin cruisers. Within the walls you'll find the Fermanagh County Museum, which has displays on the county's history, archaeology, landscape and wildlife. 1 Hour Drive - Lough Gill and Parke's Castle A restored plantation castle of the early 17th century, picturesquely situated on the wooded shores of Lough Gill, once the home of Robert Parke and his family. The Courtyard grounds contain evidence of an earlier 16th century Tower House structure once owned by Sir Brian O'Rourke who subsequently was executed at Tyburn, London in 1591. The Castle has been restored using Irish oak and traditional craftsmenship. 1 Hour Drive – Glencar waterfall Leitrim Glencar Waterfall is situated near Glencar Lake, 11 kilometres west of Manorhamilton in County Leitrim. It is particularly impressive after rain and can be viewed from a lovely wooded walk. There are more waterfalls visible from the road, although none is quite as romantic as this one which is mentioned by WB Yeats in his poem 'The Stolen Child'. The facilities on site include Car Park, Picnic Area, Public Toilets, Playground and the 'teaSHED' a new Coffee Shop / Tea House at Glencar Waterfall. The teaSHED caters for locals, hill walkers, tourists and tour buses who visit the area. Freshly baked scones, bread, desserts as well as locally produced products are on sale, with areas for local arts, crafts and speciality foods. A footbridge provides access from the waterfall carpark to the teaSHED and new public playground. 1 Hour 40 Minute Drive – The Hill of Tara – Irelands Ancient East The Hill of Tara in County Meath is best known as the seat of the High Kings of Ireland but has been an important site since the discovery of a late Stone Age passage tomb. Held sacred by people from the Neolithic era, Tara was believed by worshippers to be a dwelling place of the gods and an entrance to the world of eternal joy. Modern day facilities at the visitor centre include an audio visual show, while guided tours of the Hill of Tara are available on request. Exciting new research and excavations by the Hill of Tara Discovery Programme research team continue to add to our understanding of the site. Access to the Hill of Tara is open all year around. 1 Hour 40 Minute Drive – Westport – Wild Atlantic Way The town of Westport is located in County Mayo on the Wild Atlantic Way. The site of the town offers visitors an opportunity to experience a well maintained urban setting on the banks of the beautiful Carrabawn River in addition to a bustling Quay area on the shores of Clew Bay. The topography and biodiversity of the Westport's environs provides for spectacular scenery which enables visitors to the area to capture a real sense of its heritage and landscape. The town has won numerous awards for tourism. There is a multitude of shops, restaurants and activity providers offering everything from golf, walking, hiking, boating , fishing or simply do your own thing and explore the Wild Atlantic Way by car on one of the many scenic drives. 2 Hour Drive - Dublin One of the best things about Dublin is its size. Small enough to fill a perfect weekend without feeling like you've missed anything, Dublin also offers lots more to delve into if time allows. And getting around won't eat into your holiday time as the city has plenty of transport options, from busses and trams to city trains and Dublin bikes. Guided tours can be a great way for first time visitors to get acquainted with any new city, and it's a wonderful way to learn about Dublin. Get the lay of the land on an open-top sightseeing bus tour. One of the nicest things about visiting a city for the first time is that feeling of adventure and the unknown – being a little lost most of the time but not really caring! Long, rambling, unplanned walks around Dublin will ensure you'll uncover your own city gems. Buy lunch and eat it in St. Stephen's Green like the locals do, or experience a part of Dublin that has changed little over the years by walking through the Liberties' own Meath Street markets. Introduce yourself to authentic traditional Irish music at the Cobblestone in Smithfield. 2 Hour Drive - Galway - Wild Atlantic Way Galway City is a thriving, bohemian, cultural city on the western coast of Ireland. Along with being a popular seaside destination with beautiful beaches and long winding promenade, it also has a buzzing cosmopolitan city centre. The city is a joy to explore with its labyrinthine cobbled streets, colourful shop facades and busy café/ bar culture. The city is also well known for its many festivals throughout the year with huge crowds gathering for the annual Galway Arts Festival, Races and numerous other events. Old Ireland is present too with turf fires and traditional music featuring in many pubs to compliment your enjoyment of a well earned pint of Guinness. Take an evening stroll along the promenade and watch the sunset over Galway Bay or watch the salmon fishermen in the River Corrib from the perfect vantage point of the Salmon Weir Bridge. 2 Hour Drive – Belfast So what's Belfast like today? Well, it's packed with history, culture, exciting events, great food, super shopping… you might even spot a ship or two. You'll also find some of the friendliest people you'll ever meet. Have a look around and learn more about the city, a city that was recently named in the top 5 of the UKs best city break destinations by TripAdvisor Travellers Choice Awards. From the W5 interactive science museum and Belfast Zoo, to Aunt Sandra's Candy Factory and Belfast Giants Ice Hockey Team, there are plenty of entertaining attractions for the young and the young at heart around Belfast. Home to Titanic Studios and where Game of Thrones is shot, and only a stone's throw away from other filming locations across Northern Ireland including The King's Road, Winterfell, The Wall and Dragonstone. 3 Hour 10 Minute Drive – The Cliffs of Moher Centre – Wild Atlantic Way The friendly team at the visitor centre are there to assist you during your visit to the Cliffs of Moher, so please don't hesitate to ask for any help you require. They also have your safety as a primary concern so please pay attention to their advice while onsite. Most of the staff are local to the area and will be happy to provide you with recommendations on where else to visit as well as provide you with directions. Due to the popularity of the Cliffs of Moher as a tourist attraction, during the months of July and August the Cliffs can become quite crowded during the peak times of the day, 11am- 3pm. It is advisable that if you are travelling to the Cliffs by car that you do so outside of these times for your maximum comfort and enjoyment of the Cliffs. The Cliffs of Moher Visitor Centre is open until 9pm in July and for most of August. 3 Hour 40 Minute Drive - Cork. Steeped in history, Cork City is fast gaining a reputation as one of Europe's hippest cities. Like Venice, the city is built upon water, and the city centre is built on an island in the River Lee, just upstream of Cork Harbour. The two channels of the River Lee which embrace the city centre are spanned by many bridges, and this gives the city a distinctive continental air. Exploring Cork is an enjoyable, multi-day pursuit. Ring the Shandon Bells in the 300-year-old tower of St. Anne's Church, and marvel at the French Gothic spires of St. Finbarre's Cathedral. You will discover unique shopping and dining options, including the English Market, with its stalls selling foods from all over the world, and numerous pedestrian walkways and sidewalks flanked by smart boutiques and major department stores. At every corner you'll come across another panoramic view, another interesting architectural feature and some of the best art galleries, theatres and museums in Ireland.
River Cottage is an ideal location to relax and unwind as you wish. Be it bathing in the peace of the local countryside or exploring our beautiful Island and savouring the very best that Ireland has to offer. The list provided above merely scratches the surface of what is available. You will discover many more special locations, attractions, restaurants and activities as you explore our neighbourhood. Simply ask.
We really enjoyed our time at River Cottage. The place was exactly as described and Stephen was an excellent host. We're looking forward to having an opportunity to return.
Niamh
2017-01-02T00:00:00Z
A lot of time and love has gone in to making River Cottage a lovely place to stay. Some additional kitchen utensils would have helped as we cooked both nights
Aine
2017-03-16T00:00:00Z
Stephen was a fantastic host. He had the fire lighting & a welcome package ready for us on our arrival. That was only the start of his 5* service. The house is beautiful & our boys 8 & 7 enjoyed exploring the garden and the short walk to Fenagh Abbey ruins. We had a day out exploring the beautiful country side on bikes provided , with all essential safety gear included. We also spent another day kayaking the local waterways with Stephen as our very capable guide, his hot soup on our short stop was perfect to keep us going. Couldn't recommend it highly enough. The Glennon Family
Lisa
2016-11-05T00:00:00Z
Rodzaj pokoju
Całe miejsce
---
Rodzaj nieruchomości
Dom
---
Mieści
8
---
Sypialnie
Carrick-On-Shannon, County Leitrim, Irlandia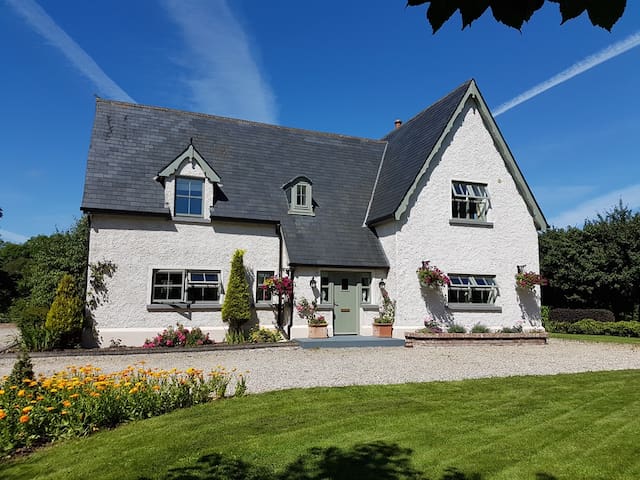 Large Modern Country house (2500 sq feet) Two miles from the town of Ballinamore. Set on private site not overlooked
Rodzaj pokoju
Całe miejsce
---
Rodzaj nieruchomości
Dom
---
Mieści
12
---
Sypialnie
Leitrim, County Leitrim, Irlandia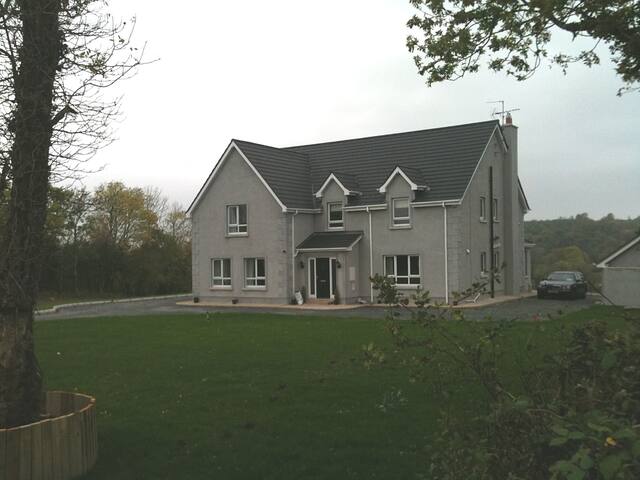 Beautiful 3 Bedroom house available for holiday rental. Excellent location- 6km to Ballinamore, 30km to Carrick on Shannon - Beautiful area, Scenic and quiet; overlooking Drumcoura lake and close to all amenities. Private secure parking, Free WIFI
This property is also located a 5 minute walk from Drumcoura Lake Resort Bar and Restaurant and Equestrian Centre.
Lovely 4 bed bungalow. I would highly recommend. Irene was extremely accommodating.Perfect cottage in the countryside. Nice and quiet with everything you need. A few horse friends in the neighbouring field.
Michael
2015-08-22T00:00:00Z
Irene was a lovely host, very easy to deal with and always available if needed. The house was lovely, well equipped and clean. would stay here again.
Seamus
2015-08-13T00:00:00Z
Super place to stay was attending festival in Drumcoura could not have been better located - House lovely and clean and fresh- Very welcoming will def stay again
Nicola
2016-06-08T00:00:00Z
Rodzaj pokoju
Całe miejsce
---
Rodzaj nieruchomości
Dom
---
Mieści
6
---
Sypialnie
Ballinamore, Leitrim, Irlandia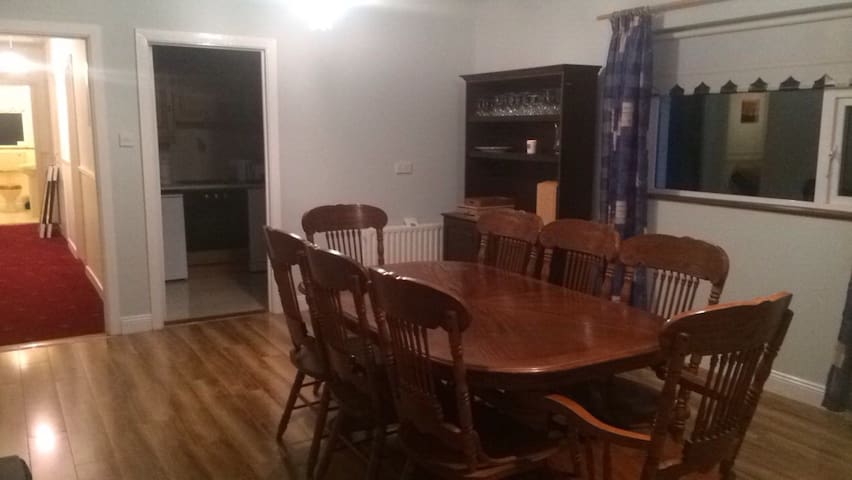 This Log Cabin is on a premium site with the best views overlooking Lake Drumcoura,with extended private decking not overlooked..Sleeps 8 people comfortably .Fully equipped modern kitchen with american style fridge/freezer, Sky TV.
*Glenview Folk Museum nearby *Theme Saloon bar(Food & Music) *Fishing Lakes Front and Rear of Cabin *Boat Fishing Trips arranged .Bait/Rods and Gillie supplied. *Horseriding *Archery *Tennis Court *Playground *9 Hole Golf Course 8 minute drive There is a forest walk , and the local town of Ballinamore is only 3 miles away with a Super Value and Tesco available. Local tourist Attractions,Marble Arch Caves and Arigna Mines.
Rodzaj pokoju
Całe miejsce
---
Rodzaj nieruchomości
Dom
---
Mieści
8
---
Sypialnie
Ballinamore, Leitrim, Irlandia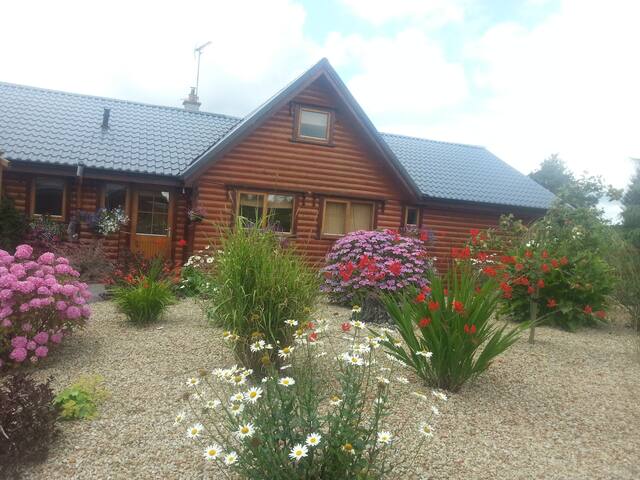 Located in scenic rural area in lakeland Leitrim 1 km from historic village of Fenagh with it's 2 pubs. Plenty of safe parking space, convenient to R202 and only 5km from Ballinamore with supermarkets,pubs, hotels and churches.
The host canceled this reservation 4 days before arrival. This is an automated posting.
Arturo
2016-08-26T00:00:00Z
Sean and Julia welcome us during one night during our journey around ireland. Their home are lovely, quiet and the vue from the room are amazing even without a sunny weather. Sean and Julia are friendly and have a lot of wonderful stories. I recommand them.
Nathalie
2016-05-09T00:00:00Z
Rodzaj pokoju
Pokój prywatny
---
Rodzaj nieruchomości
Dom
---
Mieści
2
---
Sypialnie
Ballinamore, Leitrim, Irlandia
Located in the heart of Ballinamore is this Modern 3 bed which is available from the 3rd to the 6th of June for the ultimate Country and Western Festival of the year Cowboys and Heroes. Ballinamore have a shuttle bus which runs every 30mins Contact: (PHONE NUMBER HIDDEN)
Rodzaj pokoju
Całe miejsce
---
Rodzaj nieruchomości
Dom
---
Mieści
6
---
Sypialnie
Ballinamore, Leitrim, Irlandia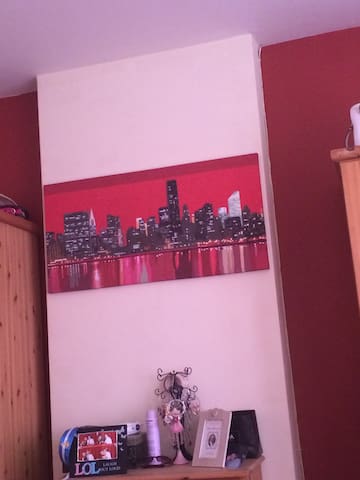 100 yr-old farmhouse with 1.5 acres of private grounds in quiet and peaceful surroundings. 10 mins drive from busy little town of Ballinamore and within easy reach of many local amenities. A wood-burning stove is the centre point of the living room.
A 100 yr-old farmhouse situated in 1 1/2 acres of private grounds in quiet and peaceful surroundings. Being 10 mins drive from busy little town of Ballinamore and within easy reach of many local amenities, it is in an ideal area for a relaxing holiday. A wood-burning stove provides a centre point of the living room. Ideal for * quiet getaway in peaceful countryside * family holiday away from the crowds The cosy farmhouse has 3 spacious bedrooms. Two of which have a double bed and the third has 2 bunk-beds to sleep 4. The owner can also provide additional small bunk for young kids and a fold-up bed if necessary when two families shared the property. There is one main bathroom which has a walk-in shower and a spare toilet/closet. The kitchen holds a dining table which can seat up to 8. The centre of the house is the living room with the wood-burning stove and can seat 8. In addition to the wood-burning stove, the house has central-heating. There is ample private parking space for 2 or more cars and plenty of outdoor playing space for children. There is a shed and a barn which have been used for extra storage. The owner has specifically not connected a TV in the property because it enabled her family to socialise during their stay there. Board games and books are available. The kitchen is very well equipped especially with a fantastic Brittania cooker to encourage homecooking. The grounds are a varied mix of garden with lawn and shrubs, courtyard, flowering raised beds, woodland and wild meadow with young fruit trees. There is a trampoline and a BBQ available. There is plenty of private ground space for use of bikes or playing of basketball. A full-size table-tennis table can be set up if necessary for use in covered barn.
Drumcora Equestrian Centre - horse riding, archery (10 mins) Ballinamore - golf course, boat hire, numerous festivals (e.g. Family, Angling) (10 mins) Keeldra Lake - small lake with swimming facilities south of Cloone (10 mins) Numerous small lakes nearby for fishing Inland waterways - canal at Ballinamore (10 mins drive), river Shannon at Rooskey (20 mins), Carrick-on-Shannon (30 mins) Lough Key forest park (40 mins) Marble Arch caves (45 mins) Enniskillen, Fermanagh (50 mins) Manor House Marine, day boat hire on Lough Erne (60 mins)
I stayed in this cottage with 4 friends over new year and we had an absolute blast! The cottage was just perfect for a peaceful few days away, with a lovely big (and very well equipped) kitchen! We had everything we needed from a table tennis table in the adjoining barn to a wood burning fire place in the cosy living room! The cottage is in a great location as it felt very secluded yet was close to local shops too. Would highly recommend! :)
Jenny
2016-01-03T00:00:00Z
Rodzaj pokoju
Całe miejsce
---
Rodzaj nieruchomości
Dom
---
Mieści
8
---
Sypialnie
Ballinamore, Leitrim, Irlandia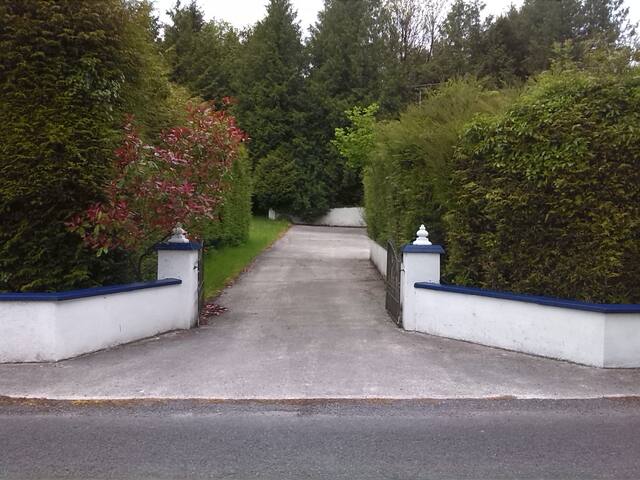 Our warm, light-filled, eco-friendly house, surrounded by beautiful gardens, grounds, woods and lakes adjacent to Jampa Ling Tibetan Buddhist Centre, a secluded retreat in a stunning natural environment. One of the most peaceful places in Ireland.
Woodland paths, lakes, the sound of birds, prayer flags flapping in the breeze; this is a spacious, tranquil house in a unique spiritual environment in the magnificent West Cavan countryside. Two miles from the village of Bawnboy and close to Marble Arch Caves Geopark and the Cuilcagh Mountains, Rathduff House is ideal for escaping the stresses and strains of daily living. We offer a warm, relaxing space with oak floors, large sash windows and French windows opening to the patio and gardens.
Although we don't think you will want to leave, there are interesting amenities available within a short drive: the Famine Workhouse in Bawnboy Village, the Teddy Bear Museum, Templeport Church and St. Mogue's Island, the historic Florencecourt House and Gardens and the Marble Arch Caves Global Geopark with it's stunning underworld of caves and lakes. Rathduff House is close to writer John McGahern's childhood home and school. There is a Catholic church, small shop and two pubs in our local village of Bawnboy. There are supermarkets (SuperValue and Centra), cafe/restaurants, pubs, shops, post-office and garage in Ballyconnell, on the Dublin road. Ballinamore, approx 10-15 minutes away, has a health food shop. The bigger towns of Enniskillen (in Northern Ireland), Cavan and Carrick-on-Shannon etc. are approx. thirty to forty minutes away.
We loved staying here. Frank & Jo were great hosts, they thought of everything and made our stay very enjoyable. Beautiful, serene and peaceful setting. We would highly recommend this place to anyone! Justin & Sarah
Justin & Sarah
2015-07-27T00:00:00Z
Everything that we had been led to expect about the house and its environment turned about to be true. This was a great house - very comfortable, spacious, airy, light and with a good external patio/garden area to the rear. There are also loads of good books around - particularly if you are interested in art. Frank was very friendly and helpful, and made sure we knew about all the heating controls, etc. when he met us on our arrival. Probably because of the house's location in the environs of a Buddhist retreat, there was no disturbance at all, and we didn't even see the young woman who was occupying a small end part of the house. We didn't really engage with the Buddhist community - you're not expected to - but we paid them a visit to look around and make some purchases from their (informal) shop, and they made it very clear that we were free to enjoy their grounds and eat in their dining room if we booked. One of us had a cycle, and the whole area around Bawnboy is excellent for relatively traffic free roads and lovely countryside. We would definitely recommend this house with no reservations.
Derek
2016-06-09T00:00:00Z
Staying at Frank's house was a very special treat. The location is so beautiful, and close to many different places we were excited to visit - though I didn't know the area well. The house is so beautifully decorated, and so comfortable. Truly a beautiful experience and such a wonderful setting. The meditation center is wonderful, and I wish we could have stayed longer to enjoy it more. The gardens at the center are beautiful! The house has the most beautiful big windows and doors that open to the garden area. We just loved it. All we could need... and Frank was very nice and helpful! This house and location is even better than you can tell from the photos and description. It is absolutely wonderful, and not to be missed. You will be very happy you stayed here...
Sage
2016-09-11T00:00:00Z
This was our first Airbnb booking and Rathduff house has certainly set the bar very high! Frank and Jo's home is like something from 'Grand Designs' yet with a rural Irish cottage feel. It is beautifully presented, with a muted colour scheme, interesting features and stunning views from the open-plan kitchen and living room. The 'studio/living room' was quickly adopted as a gallery/play area by our six year old who spent many a happy hour drawing and dancing. The kitchen area is fully equipped and perfectly situated for cooking without feeling separated from the rest of the family. Upstairs, there are two very spacious rooms at either end of the house and an open plan gallery area in-between – ideal for solitary reading and complemented by stunning views across field and forest. There is a quaint third bedroom with an arched window and low roof. Directly opposite this room is a lovely bright bathroom, tastefully decorated. The house is private at front and back yet just a minutes' walk away from the Jampa Ling Buddhist Centre with wonderful forest walks on your doorstep. If you enjoy meditation or Buddhism then you will have the complete relaxing experience. Frank answered all queries before arriving and was extremely helpful in booking a silent meditation weekend at the centre and advising on family-friendly activities. Frank and Jo were great hosts and made our stay feel like a home from home. The only small issue was that the electrical board tripped a few times but we had already been advised that this might happen and knew how to reset it. All in all, a beautiful house, lovely grounds, perfect hosts and an ideal introduction to the Airbnb experience.
Mike
2015-07-20T00:00:00Z
The best kept secret in Ireland! Off the beaten track, kind and friendly host and peaceful location.
CJ
2016-06-22T00:00:00Z
We had a wonderful time at Rathduff house, which is charming and surrounded by a beautiful garden. The house, located in a peaceful place, is spacious, very comfortable and welcoming. Frank and Jo decorated it with taste and personnality. They were great hosts, very helpful and they did everything to make us feel at home and to make our stay enjoyable. They indicated us very good adresses (especially the butcher of Ballyconnell, which we highly recommand !). We had some small problems with the electricity meter, but our hosts warned us about it so we knew how to reset it, and it happened only the two first days. The house is far from principle tourist attractions, but we can enjoy lovely walks in the forest or along the different lakes where we met the local population who was very friendly and helpful. We recommand this house for a peaceful and resting stay, far from urban life.
Maguelone
2015-08-16T00:00:00Z
Lovely welcome from Frank with scones and chat. Easy quick communcations throughout. The house is gorgeous. Very stylish and restful. No wifi or TV made it easier to really disconnect. We had lunch and did the beginners meditation in the centre which was a treat. Next time we would do more meditation at the centre. Overall 5 star visit.
Aideen
2016-06-29T00:00:00Z
Alles was keurig in orde. Frank en Jo verwelkomden ons vrolijk. Er stonden zelfs verse bloemen, brood en heerlijk fruit voor ons klaar.
Marcolien
2015-08-20T00:00:00Z
Rodzaj pokoju
Całe miejsce
---
Rodzaj nieruchomości
Dom
---
Mieści
5
---
Sypialnie
Owengallis, County Cavan, Irlandia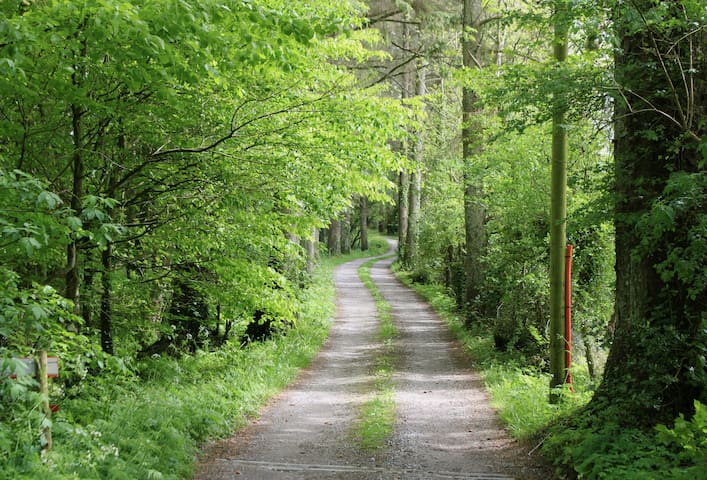 The Lakeside outlook is breathtaking, The best kept secret "the quaint sleepy village of Keshcarrigan " with its beautiful park,local pubs and river running through it, is in walking distance . Boats from the river Shannon can dock at the local Jetty just up the road. 10klm from Carrick-on-Shannon has Clubs,Pubs,music venues with busy night-life. Pleasure boating,, Kayaking,,treking,hillwaking,watersports,. My place is good for couples, solo adventurers, families (with kids), and big groups.
All good here.
Donal
2016-07-25T00:00:00Z
Rodzaj pokoju
Całe miejsce
---
Rodzaj nieruchomości
Dom
---
Mieści
8
---
Sypialnie
Carrick-On-Shannon, Leitrim, Irlandia
Country living & relaxation. Located in the west of County Cavan, the town of Ballyconnell is overlooked by the Slieve Russell Mountain & named after a Celtic Ford. This vibrant & picturesque town, has won numerous National Tidy Town Awards.
My house is quiet, comfortable, spacious and relaxing.
Located in the west of County Cavan, the town of Ballyconnell is ideal for coarse fishing, walking, cycling, & golf. One of Ireland's leading golf courses is just 5 minutes away at the famous Slieve Russell Hotel.
Fiona made our arrival great, even though we were later than expected. It was a cozy place to lay our head on a long journey....
David
2016-07-11T00:00:00Z
We had a lovely time at Fiona's house. It is a quiet, rural place near all the lakes and nature.
Jonna
2016-07-08T00:00:00Z
We were made very welcome on arrival with lovely hot coffee and home made buns. The house is lovely and the bedroom was very adequate, clean and comfortable. Really worth a return visit. We went to the local pub for a drink which is approx 5/7 minute drive. Overall a great place to stay and would recommend it to anyone who is looking to stay in the surrounding area. Kieran & Fiona have an excellent knowledge of the area which is great and saves a lot of time(URL HIDDEN)
Maeve
2016-12-04T00:00:00Z
Fionas Haus ist in einer sehr schönen ländlichen Gegend gelegen. Parkplätze gibt es direkt vorm Haus. Die nächste kleine Einkaufsmöglichkeit ist ca. 10 Minuten Autofahrt entfernt. Wir wurden sehr freundlich empfangen. Die Zimmer waren sehr sauber, so dass wir uns direkt wohlgefühlt haben. Im Haus herrscht eine familiäre Atmosphäre. Die Küche durften wir zum kochen benutzen :-) Fiona hat sich für uns Zeit genommen und hat uns ein paar Sehenswürdigkeiten für die Weiterreise empfohlen. Wir würden die Unterkunft jederzeit weiterempfehlen!
Antonia
2016-08-05T00:00:00Z
A lovely family very helpful, with a charming and comfortable house in a great spot, closed to many interesting and beautiful places. We felt like being at home, thanks to Fiona, very welcoming.
Erell
2016-05-03T00:00:00Z
Rodzaj pokoju
Pokój współdzielony
---
Rodzaj nieruchomości
Dom
---
Mieści
6
---
Sypialnie
Ballyconnell,, Cavan, Irlandia
A cozy 2 bedroom rural cottage with modern conveniences like Wifi. An ideal place to 'get away from it all', where the only call is that of nature beckoning you to explore it. It is an ideal retreat for nature lovers, artists, or a romantic break.
Are you looking for a quiet, relaxing break in the countryside in the West of Ireland? Rustic, but with all modern conveniences? Then look no further!! The space is a traditionally styled cottage bakery but modernised to make your stay comfortable and welcoming! The sitting room is the heart of this home with wood panelled ceilings and the open fire - heated with turf from our own bog! There is a large garden with mature trees and lake views in the Garden. The apartment is next door to local pub, restaurant and shop. Comfortably sleeps 5, master room has double and single bed second room has double bed. Two lakes just a short walk great for fishing or just looking at. We have broadband but it's more basic than broadband available in the city. There may be animal noises from time to time as the garden backs out onto cattle farm land and its also where our beef in the pub comes from (our next door neighbour is the local butcher). We have a play are for kids, a bouncy castle, pool table and a table tennis table on site.
The house is next door to local pub, restaurant and small shop. There is beautiful scenery in this idyllic peaceful country escape. It is quite a rural area so a car is recommended. The area is excellent for cyclists. We are central for touring Lovely Leitrim with two lakes on your doorstep its the perfect place to have a nice relaxing fishing holiday or just take in the scenery.
Hi. Our stay at the Lakeview Escape was very nice and homely. the staff were wonderful and friendly. the house was clean and tidy and very comfortable. Our Sunday dinner was very tasty and plenty was served, enjoyed it very much. The area has some beautiful views and lakes and villages. Would recommend anyone to stay at this wonderful place. A big Thank You to the hosts for everything. Very much enjoyed. John & Glend(URL HIDDEN)
glenda
2015-08-17T00:00:00Z
Hosts were there to warmly welcome us and walk us through the property. Online description very accurate- lovely bedrooms and comfortable beds and ample room for four people plus dog. Lovely quiet location and right beside corner shop and local pub. Lovely local people and scenic views. Lots of outside space for dog to run and plenty of room for parking.
Natalie
2015-07-14T00:00:00Z
Our host was very friendly and helpful. A lovely fire lighting when we arrived considering we were almost an hour late as we got lost on the way. Our host had no problem in cooking up a lovely meal for us. Nothing seemed to be a problem. If you're looking for somewhere peaceful and tranquil this is the place to be.
Mary
2016-11-01T00:00:00Z
A last-minute decision to look for somewhere to stay in this region, led us to booking one of the few places available that could accommodate us and our border collie. Despite booking at very short notice (calling just 30 minutes before arrival!), Eilis managed to have everything in order, including a blazing open fire. We were made feel very welcome. Eilis and James were very friendly and helpful. The location is rural, very quiet, and within easy reach of lots of walking options. This is a perfect base for exploring Leitrim, Roscommon, and South Fermanagh. I would definitely recommend!
Lisa
2016-09-09T00:00:00Z
We booked very last minute but you wouldn't have known it by the welcome we received. The beds were warm and comfortable. The kitchen was well stocked. There was even milk in the fridge. Having the tavern and general store a few feet away was very convenient. My only regret is we were gone all day every day so we didn't get enough time to sit and chat with our hosts.
Mendylou
2016-05-15T00:00:00Z
We enjoyed staying at this house because it is in central Ireland and many attractions nearby. Though the hospitality was nice, the food from their pub very good and the bedrooms were spacious, the cigarette smell on the first floor made our stay less enjoyable.
Hélène
2016-06-22T00:00:00Z
Had a really nice short break in this lovely house and everything was provided. The family were very welcoming and helpful. The food in the bar was excellent and the delivered morning breakfast was an extra special touch. Family and bar staff were very friendly and to be able to have the dog stay as well suited us very well. Would certainly recommend this to anyone and hope to be back soon. Thanks very much Eilish and Jimmy and the rest of the family. Regards Damian
Damian
2016-08-15T00:00:00Z
Great place! I love that the pub and store right next door are run by the hosts. I could just walk over and speak to Eilis if I needed anything. The food in the pub is also really really good! I wish I'd had a chance to eat there more often. The house is very cosy. I especially love the sitting room and rocking chair. Eilis had the fireplace lit for us when we arrived which was much appreciated. The countryside is also very beautiful! And like the name says, it's right by a lovely lake.
Theodora
2017-01-03T00:00:00Z
Rodzaj pokoju
Całe miejsce
---
Rodzaj nieruchomości
Dom
---
Mieści
5
---
Sypialnie
Drumcong, Leitrim, Irlandia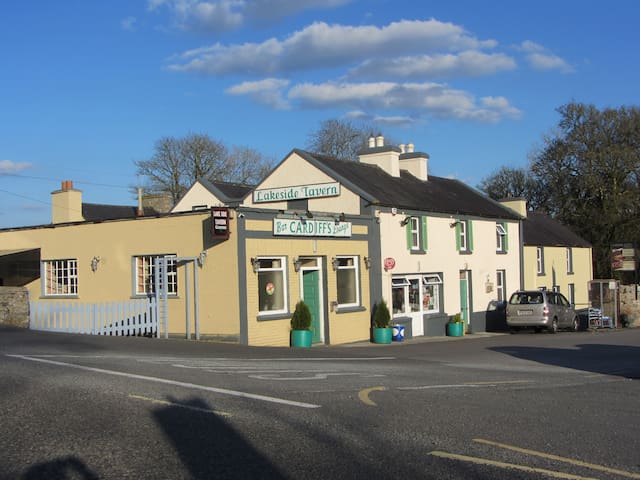 3 bedroom , one ensuite bungalow available for holiday let in Aughavas, Co. Leitrim. All mod cons, oil fired central heating. Great location for fishermen and exploring the North West.
3 bedroom family home with all necessary facilities to accommodate a family on holiday. Sleeps six
quiet, peaceful, relaxing area - good location for exploring the north west of the country. Approx. half an hour from Carrick on Shannon Close to Lough Rynn hotel and St. Joseph's Church, Aughavas.
Rodzaj pokoju
Całe miejsce
---
Rodzaj nieruchomości
Dom
---
Mieści
6
---
Sypialnie
Aughnaglace, Cloone, Leitrim, Irlandia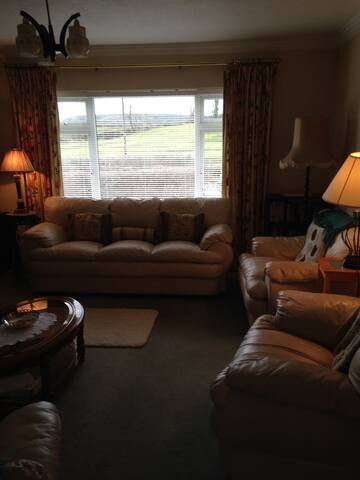 Fantastic new lakehouse house in picturesque Cavan looking out on one of Ireland's best coarse fishing lakes. Just outside the village of Bawnboy with several championship golf courses within a short drive including the Slieve Russel and the Nick Faldo layout at Lough Erne. 3 generous bedrooms and a sofa bed on a mezzanine as well as an attic for any spillover guests.
Rodzaj pokoju
Całe miejsce
---
Rodzaj nieruchomości
Dom
---
Mieści
8
---
Sypialnie
Cavan, Cavan, Irlandia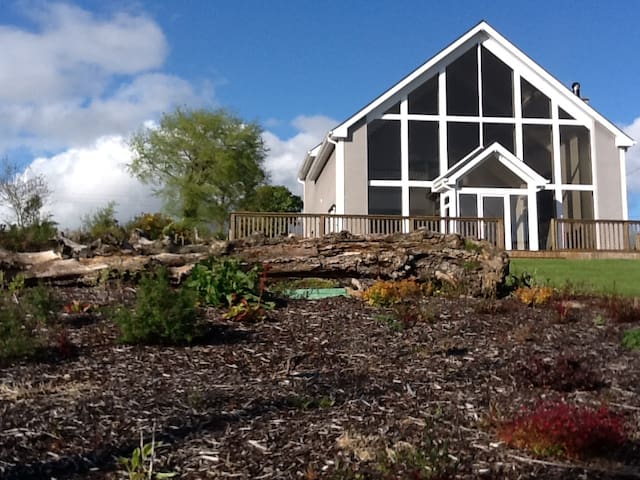 Luxury home. 4 very spacious double rooms, 2 en suite. Built-in wardrobes. Beautiful conservatory and plenty of parking. Large modern kitchen with all amenities. Close proximity to the Slieve Russell Hotel, Florence Court House & Gardens, Marble Arch Caves, UNESCO Geopark-Cavan Burren Park, Out-Doors & Dirty Gamespark, Cavan canoeing, Cuilcagh Way - walking, biking, Brackley Lake,
Rodzaj pokoju
Całe miejsce
---
Rodzaj nieruchomości
Dom
---
Mieści
4
---
Sypialnie
Bawnboy, County Cavan, Irlandia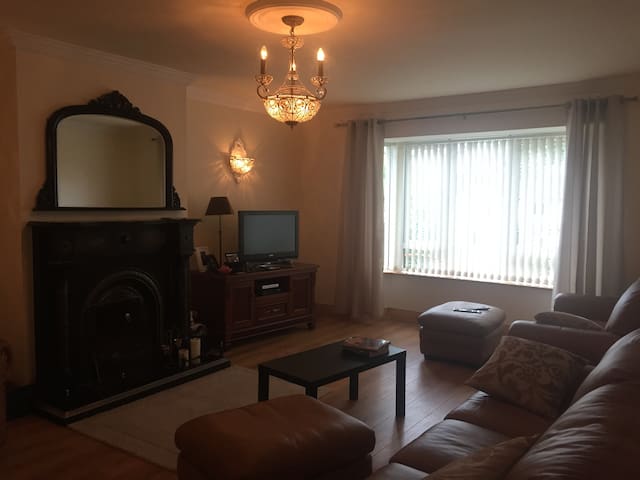 Your own private space with own entrance. Bright airy room with ensuite. In a quiet estate within walking distance of town and 5 min drive to Lough Rynn Castle, 15mins to Ck-on-shannon and 20 mins to Longford.
Our neighbourhood is very quiet so ideal for a nice quiet getaway.
Olive was an excellent and extremely hospitable host. The room was perfect for our needs, and the heated floor was a lovely surprise on a cold December night. I would highly recommend Olive's place for any attending a wedding/function in Lough Rynn.
Brian
2016-12-03T00:00:00Z
We were greeted by Olives husband and allowed into the property immediately. There's a driveway to keep your car safe overnight. The room was spacious enough for 3 with a lovely modern bathroom. The room was cozy and warm. When Olive returned she was friendly and accommodating. Telling us about activities in the area, then afterwards left us in peace to relax. The bed was very comfortable. Easy and no fuss. Would highly recommended this property. Thanks Olive.
Tommy
2015-10-27T00:00:00Z
Olive was very friendly and obliging. She was there to welcome us and our room was lovely, warm and clean, very comfy bed!
yvonne
2015-10-18T00:00:00Z
A lovely place to stay, self-contained accommodation. Olive, our host, was lovely and friendly and so very helpful, even dropped us to the wedding we were attending.
Rory
2017-04-01T00:00:00Z
Our host Olive was very welcoming and made us feel at home in her home. We were visiting Mohill for a wedding in Lough Rynn Castle; the location of this AirBnB is only few minutes drive from the castle and the room provided by Olive, which has its own side entrance, was perfect for our requirements. The room was very cosy, warm, clean, quiet and the bathroom has a great shower. We would definitely return and recommend staying here.
(EMAIL HIDDEN)
2016-03-20T00:00:00Z
Olive and her husband Dan were fantastic hosts. The room was everything we needed and more and Olive really did go above and beyond to make sure we had everything we needed. Really lovely experience, would highly recommend to anyone looking for a warm welcomed, comfy stay.
Emma
2016-05-24T00:00:00Z
Thoroughly pleasant stay
Ciaran
2016-08-14T00:00:00Z
Olive was fantastic. She offered Tea when we arrived. The room is clean and nice. It's a very quiet place and we liked it a lot. Thanks for everything.
Juliane
2016-07-27T00:00:00Z
Rodzaj pokoju
Pokój prywatny
---
Rodzaj nieruchomości
Dom
---
Mieści
2
---
Sypialnie
Mohill, Leitrim, Irlandia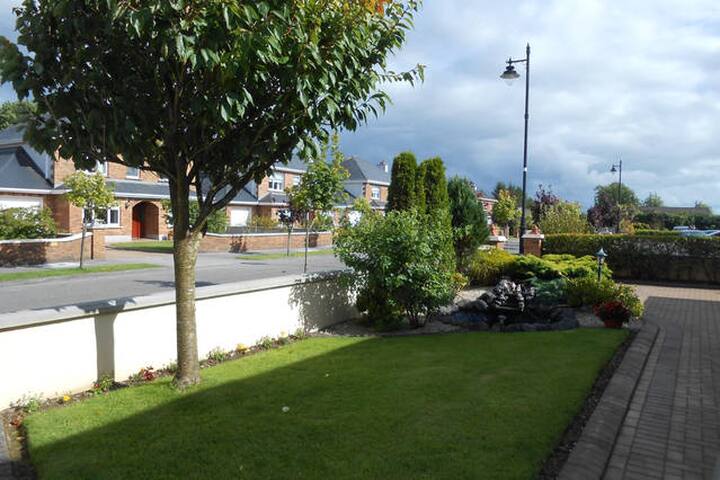 A beautiful fully restored Irish Farmhouse in Drumshanbo, Co. Leitrim. We are 2 hours from Dublin and Galway. The booming County town of Carrick on Shannon is only 10 minutes by car. There are 3 double and 1 twin room all en suite. Fully fitted kitchen, 2 sitting rooms and a study. We have a wood burner stove and chopped wood ready for you! Drumshanbo is 10 minutes by foot and we have 2 golf courses nearby.** note house is available from end April to mid June and the month of September**
Rodzaj pokoju
Całe miejsce
---
Rodzaj nieruchomości
Dom
---
Mieści
8
---
Sypialnie
Leitrim, County Leitrim, Irlandia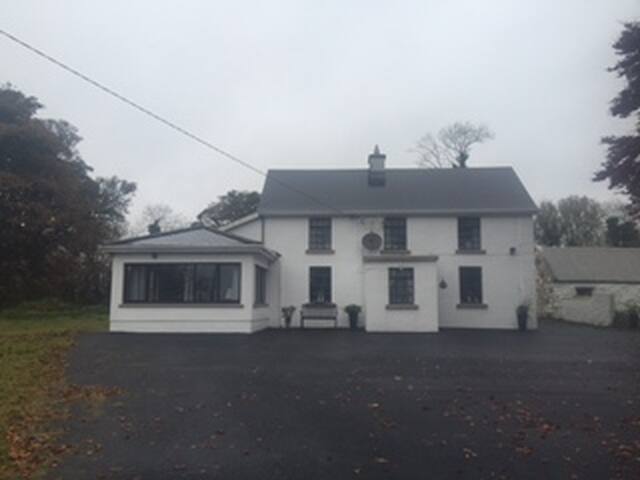 Wpisz daty, by zobaczyć pełną cenę. Obowiązują dodatkowe opłaty. Cena może uwzględniać podatek.