Accommodation for the young at heart in a small two-story studio in a new building, a kitchen incl. Equipment, wireless Internet, TV, radio and underfloor heating are also included. two separate single beds, additional spare bed available. two additional skylights. Balcony over gear accessible, quiet location Approximately 20km north of Salzburg city location, it offers an ideal and affordable base from which to explore the city of Salzburg.
Alles super! Elisabeth ist sehr freundliche, die Wohnung sehr gemütlich und der Empfang war sehr herzlich. Vielen Dank!
Ben
2017-02-28T00:00:00Z
Elisabeth was the perfect host. The language barrier between us didn't matter as she was so welcoming and warm. She met us when we arrived and had went through the trouble of (SENSITIVE CONTENTS HIDDEN) Translating the 'Welcome Guide' that is normally in German so that we didn't have to. The apartment is completely private with your own entrance and key and Elisabeth gives you all the privacy you need. Although the location is slightly out of the way (40 minute drive into Salzburg), it was perfect for us as it was a lovely place to relax. Elisabeth was always happy to help if we had any questions and even came to the apartment to help us work the washing machine. The apartment is very cosy and warm with a kitchen full of supplies. Although there is no hob, there is an induction hot plate which comes in handy. We are very jealous of the next guests to stay at Elisabeth's place and we would have stayed longer if we could have!! Thank you so much for having us!
Chloe
2017-01-25T00:00:00Z
Nette Gastgeberin mit begrüßungsgetränk.Tolle Unterkunft sieht aus wie auf den Fotos.Immer wieder gerne.
Vaclav
2017-03-16T00:00:00Z
Die Unterkunft bei Elisabeth ist genau so wie es in den Beschreibungen steht. Wir hatten das Glück die ersten Gäste bei ihr zu sein und fühlten uns gleich sehr willkommen. Wir kamen - anders als eigentlich geplant - erst am späten Abend an und wurden von Elisabeth herzlich empfangen! Das Appartment hat eine separate Haustür und man hat alles, was man für ein paar entspannte Tage braucht. Da es während unserem zweitätigen Aufenthalt bitterkalt war, haben wir nur Salzburg besichtigt, das mit dem Auto ca. 25 Minuten entfernt liegt. Der Aufenthalt bei Elisabeth war sehr schön und wir können ihre Unterkunft nur weiterempfehlen!
Alexander
2017-01-08T00:00:00Z
Eine tolle kleine Wohnung für 2 Personen. Perfekt ausgestattet mit allem was man braucht. Eine großzügige, hilfsbereite und freundliche Gastgeberin inklusive Hol und Bringservice zur Lokalbahn. Herzlichen Dank Elisabeth! Gerne wieder!!
Dagmar
2017-02-21T00:00:00Z
Rodzaj pokoju
Pokój prywatny
---
Rodzaj nieruchomości
Apartament
---
Mieści
2
---
Sypialnie
Obereching, Salzburg, Austria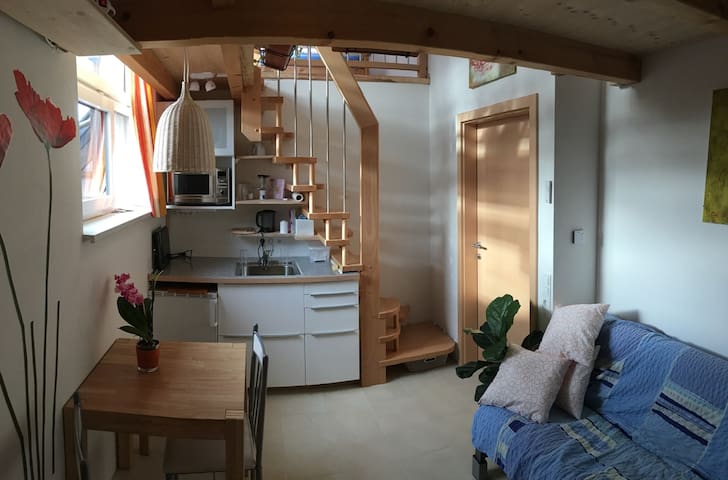 Die großzügige Wohnung mit Terrasse befindet sich im Zentrum der Stille-Nacht-Gemeinde Oberndorf und ist idealer Ausgangspunkt für den Besuch der Stadt Salzburg als auch für Ausflüge in die Umgebung, zu Seen und nach München.
Die neu und modern renovierte Wohnung in einem Altstadthaus ist hell und freundlich und zeichnet sich durch eine verkehrsgünstige Lage aus. Neben dem sehr großzügigen Wohnraum mit integrierter Küche stehen ein Schlafraum für 2 Personen und ein gepflegtes Bad zur Verfügung. Meine Gäste können die Wohnung inkl. Küche und Terrasse vollständig nutzen. Sightseeing und gemeinsame Aktivitäten biete ich auf Anfrage an. Ebenso gemeinsames Kochen oder Bekochen. Während des Gästeaufenthalts bin ich nicht in der Wohnung. Ich liebe den Blick auf die wunderschöne Brücke, die Oberndorf mit Laufen verbindet. Auf der zum Teil überdachten Terrasse lässt sich auch bei Regen gut eine Tasse Kaffee oder Tee genießen. Die Advent- und Weihnachtszeit in Oberndorf und Salzburg sollte man unbedingt erleben. Die Lokalbahn, die halbstündlich nach Salzburg fährt, ist in 2 Minuten erreichbar. Abholung vom Flughafen auf Anfrage. Guter Ausgangspunkt für Ausflüge in die Stadt Salzburg, in das Salzkammergut und nach München.
Café, Bäckerei und Geschäfte in unmittelbarer Nähe. Das Salzach-Städtchen Laufen in Deutschland ist nur wenige Minuten entfernt und über die schöne Brücke erreichbar. Viele bezaubernde Seen sind in kurzer Zeit erreichbar.
Staying at Karin's was such a pleasure! Her apartment is extremely spacious and equipped with all of the necessities (towels, blankets, soaps, etc). Being a cooking instructor, her kitchen is a highlight of the apartment - with multiple ovens, a very fast cook top, high tech dishwasher, a huge island and more. Karin is so sweet and generous, allowing guests full access to her kitchen and and all of her top notch cookware. She even provides guests with a private cooking lesson on request - an experience you definitely shouldn't miss out on. There are two bathrooms - very modern and one with a huge shower. Although the bed is a couch bed, it is very comfortable (more so than some real beds), and the bedroom is spacious as well. Although the living room is enormous, there is not too much lounging furniture (it is more of an open space with one couch and two dining tables), however, there is a great covered balcony with couches outside and overall the apartment is very comfortable. The neighborhood is very cute and she lives very close to the train station (just a few minute walk), which you can easily take to Salzburg. Overall I would highly recommend staying at Karin's! It is definitely a steal and a fantastic find if you want somewhere huge and modern to stay with a great host!
Hadiyah
2016-07-25T00:00:00Z
Karin's very large, sunny, immaculate and quiet apartment, including a very comfortable bed and an extremely well equipped kitchen, is everything you could wish for in an Airbnb. Karin provided us with a warm welcome, maps, information and referrals to great restaurants in the area. Oberndorf is a pretty little town surrounded by lush countryside but only 20 minutes away by train from Salzburg. We had a lovely three-day stay here. Thank you Karin.
Randy
2016-06-20T00:00:00Z
We stayed at Karin's place for 3 nights for day trips to Salzburg city and Hallstatt. The huge, loft-style apartment is situated at a central location in Oberndorf. A large window next to the dining table overlooks Brückengasse so during breakfast, you can observe Austrians in their natural setting :) The apartment also serves as a cooking school, so it has probably the most complete collection of cooking equipment, spices and (German) cook-books I've ever seen. It's also equipped with a state-of-the-art Espresso machine and everything else you'd expect from a 4-5 star hotel. Overall amazing value for the price - you won't be disappointed.
Bernhard
2016-07-09T00:00:00Z
Semplicemente meraviglioso! Appartamento gigantesco e confortevole, riscaldato bene e con una cucina da Masterchef!!!ah dimenticavo due bagni di cui uno con doccia stellare!!15 min d'auto fino a Salisburgo, collegata anche tramite treno, la cui stazione è a cinque minuti a piedi da casa e i treni passano ogni mezzora!L'appartamento, situato ai piedi del ponte di Laufen sul fiume Salzach che divide Germania da Austria, è una delle attrazioni di Oberndorf e quando nevica inutile dirlo, incantevole! Karin, la padrona di casa, persona squisita e gentilissima, lascia piena disposizione di tutto ciò che si trova in casa (elettrodomestici, utensili, ecc..) e aiuta in qualsiasi momento per consigli su attrazioni e ristoranti! Veramente ottima scelta! Siamo pienamente soddisfatti!!!
emanuela
2016-01-03T00:00:00Z
What a wonderful experience! Karin treated me as if I were family from my first message to her. I was traveling from Venice to Salzburg, and while on the train found Karin's adorable flat. She responded fast and confirmed my reservation for that night. What a relief with only a few hours until my arrival! My train was delayed due to stowaways on the train. The police came out which delayed my arrival time to Salzburg until 10pm. Karin insisted on picking me up since it was already late and I was traveling alone. So kind! Her house is newly remodeled and very safe in a quaint neighborhood. Her house is about 25 minutes from Salzburg by a train that is literally around the block. The shops in the neighborhood are so nice with a cute bakery on the corner. Karin uses her loft when it is not being rented to teach cooking lessons so it is a chef's dream kitchen. She even gave me a bottle of Austrian wine as a welcome present! She kept me informed with all the local events going on and the national events. Apparently every August Salzburg has a huge musical festival for the whole month, I ended up going thanks to Karin and highly recommend it! Overall one of the best experiences I have had with a host! We have already discussed my future visits back next summer!
Ashley
2015-08-10T00:00:00Z
Karin is a great host and her apartment is fantastic. Very spacious, right on the center of the town an very near the rail station. The town is a great base to visit Bavaria and upper Austria (specially Salzburg 20 min by train or car). The apartment is also a cooking school so the guest will fin a huge assortment of implements for cooking and making coffee. A great value no doubt.
Simon
2016-08-01T00:00:00Z
Beautiful massive apartment in the quaint town of Oberndorf. Karin and her children were most welcome, and had left us some wine and water on arrival. Overall, we had a fantastic time, it is the perfect place to explore Salzburg from if you don't want to be in the central city area.
Brian
2015-10-04T00:00:00Z
Karin ist eine aussergewöhnlich herzliche liebenswürdige Frau . Hat uns ganz fürsorglich empfangen . Die Wohnung ist phantastisch ausgestattet . Und unglaublich stilvoll und Hochwertig eingerichtet.eine Superlage . . eine Wohnung zum absoluten Wohlfühlen mit Weite und großzügig Wir werden wenn wir dort sind nur noch bei Karin wohnen wollen wohnen wollen
Manfred
2016-10-10T00:00:00Z
Rodzaj pokoju
Całe miejsce
---
Rodzaj nieruchomości
Apartament
---
Mieści
2
---
Sypialnie
Oberndorf bei Salzburg, Salzburg, Austria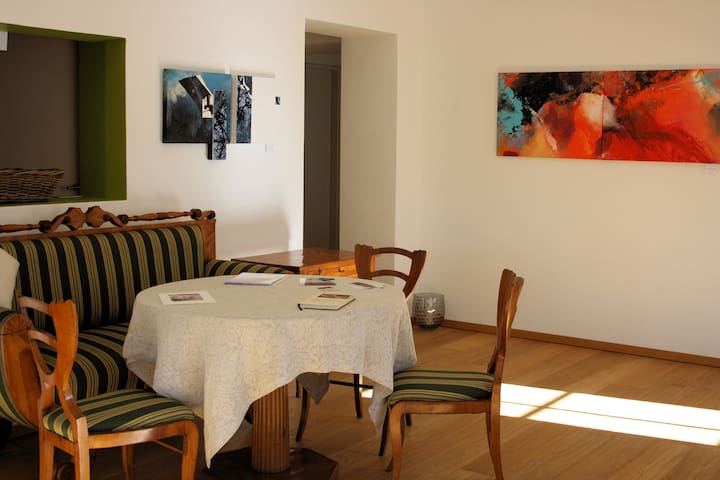 Großzügige 2-Zimmer-EG-Whg in zentraler Altstadtlage mit historischem Flair. Optimaler Ausgangspunkt für Ausflüge nach Salzburg (25 Min mit Lokalbahn), in den Rupertiwinkel und ins Chiemgauer Land. Bekannte Stille-Nacht-Kapelle von Oberndorf (10 Min zu Fuß).
Es ist ein breites (1,40 m) Bett im Schlafzimmer vorhanden und ein ebenso breites Schlafsofa im Wohnzimmer.
Historische Altstadt Gemütlicher Wanderweg an der Salzachschleife von Brücke zu Brücke Stille Nacht Kapelle zu Fuß in 10 Minuten zu erreichen Wallfahrtskirche Maria Bühel zu Fuß in 20 Minuten zu erreichen Verkehrsruhige Umgebung
Andrea is a fantastic host! 10 minutes after arrival we managed to lock ourselves out of the apartment and she was there within 10 minutes. ;) Her apartment is beautiful and fully equipped with everything! It was our best airbnb reservation so far, Andrea's apartment truly merits 5 stars. The town was beautiful too, so i absolutely recommend this place to others. :) Thank you Andrea! :)
Sophie
2016-08-02T00:00:00Z
We loved everything about this apartment. The apartment itself is huge. Andrea has it fully stocked with everything that you could possibly need on your vacation. The bathroom is a wonderful size, there is a full kitchen with fully stocked cabinets and the bed was wonderful. There is also an assigned parking spot, and checking in/out was a breeze. Andrea and her son even stopped by to make sure we had everything and to see if we had any questions. It's in a great spot as well, with plenty of walking paths and within a walkable distance to the town center. There were also plenty of guides and brochures about things to do in the area. My only wish is that we could have stayed longer.
Princess
2016-03-12T00:00:00Z
I loved the location and apartment. I would recommend this beautiful space to all.
Justin
2016-06-10T00:00:00Z
Everything was as described and more! There were lots of cute extras left in the house making it very homey :) Such a quiet and comfortable location in a beautiful old town. The host was very easy to contact and ensured we had all the information we needed.
Amelie
2016-10-08T00:00:00Z
Même si nous n'avons pas rencontré Andréa, nous nous sommes sentis très bien accueillis (petites attentions à notre arrivée, facilité pour accéder au logement)
Elisabeth
2016-08-13T00:00:00Z
We have a great stay in Andrea's house. Very cosy and well equipped with everything you need for long terms stay. Andrea is very friendly and responsive. Highly recommended and hope to stay there again.
Stepan
2016-04-28T00:00:00Z
Andrea's appartment is clean and cozy, chocolate, apples and wine are also prepared. She is kind and helpful to offer help for us.
Phoenix
2016-10-01T00:00:00Z
Andrea's place was very nice. The location is perfect for those who plan to visit Salzburg. 20-30mins to reach Salzburg, or less then 5 mins to reach convenient shop by car. There are restaurants, bakery near Andrea's place. Check in was easy, the key was kept in a small box and can be obtained anytime you check in. Andrea had thought of many extra, such as sparking water, wine, chocolate & cookies. We had the great time at this loevly house. Parking is free. Andrea communicated well and clear before we check in. I would recommend Andrea's place. Regards, HT
HT
2016-12-04T00:00:00Z
Rodzaj pokoju
Całe miejsce
---
Rodzaj nieruchomości
Apartament
---
Mieści
4
---
Sypialnie
Laufen, Bayern, Niemcy
Wohnen Sie in einem echten Schloss am Salzach - Fluss, nur 18 Kilometer von Salzburg entfernt. Das Schloss liegt im Zentrum der restaurierten historischen mittelalterlichen Stadt Laufen: Oberndorf und die "Stille Nacht Kapelle" wo das berühmte Lied entstanden ist, sind gleich über die Grenzbrücke.Ihr Auto parkt kostenlos ums Eck.In nur 6 Minuten sind Sie zu Fuss an der Haltestelle der Lokalbahn in nur 24 Minuten im Zentrum von Salzburg.Die Wohnung ist modern und gemütlich!
Die Wohnung im ersten Stock nutzen Sie allein. Sie hat hohe Räume, solide Wände und echten Meerbaum-Hartholzparkettboden, eine abgeteilte Designer Küche mit Nespresso Maschine, separates Bad mit Dusche und WC, ein grosses Doppelbett und einen Esstisch mit Blick auf das historische (URL HIDDEN) Haus gibt es einen Aufzug und eine Münzwaschmaschine und einen Trockner.Das Apartment ist ideal für eine oder 2 Personen, die ohne Parkplatzsorgen Salzburg und Umgebung entdecken möchten. Für bis zu 4 Personen ist die Übernachtung durch ein zusätzliches Sofabett oder Futon möglich.Die Oberndorfer Lokalbahn fährt täglich zwischen 5.00 und 00:00 am Wochenende sogar bis 2:00 morgens zum Salzburger (URL HIDDEN) gibt günstige Mehrtageskarten. Das Schloss liegt im Zentrum der restaurierten historischen Stadt Laufen:Gleich gegenüber können Sie im ehemaligen Kloster speisen, viele Gaststätten im historischen Ortskern laden ein - im Haus ist ein sehr guter Italiener. Kochen Sie selber?Der Bio-Laden oder ein Supermarkt sind 1 Minute entfernt.Spazieren Sie einfach vor das Schloss zum Sonnen am Salzach Strand. Der nächste Badesee (Schlittschuh im Winter) ist nur 5 km entfernt. Alle wichtigen Geschäfte, Bio Laden, Supermarkt, Apotheke, Buchhandlung sind in 2-3 Minuten zu Fuss zu erreichen. Wohnen im Schloss ist einfach ein Erlebnis!
Gute angenehme Lokale sowohl auf der Laufener als auch Oberndorfer Fluss-Seite.Die stille Nacht - Kapelle; die Klosterkirche und lange schöne Spazierwege am Salzach-Ufer.Der Abtsee.
Stefan has a nice, clean apt with mostly everything you could need for your stay. Stefan was not available but his friend Jan helped us into the place. We were tired and couldn't find the building at first and Jan must have seen us from the window because he came down to meet us before we could call for help. The Italian place downstairs has wonderful food and a friendly staff. We suggest purchasing the weekly train ticket RIGHT OFF THE BAT(before heading to Laufen) i f you plan on going to Salzburg. That would be most cost effective. Cute town, not too much to do. The walking path by the river is quite nice. It is close to the train station and about 20 min ride to Salzburg.
Laura
2014-06-08T00:00:00Z
I stayed with my son to go skiing in The Salzburg alps. We reached all the major ski resorts within 90 minutes from Laufen. Nice apartment with well equipped kitchen. Check in was very flexible, we arrived very late due to bad traffic, but no problem with late check in. Laufen is a very nice small old town, all you need is available within walking distance. WIFI was ok, but could disconnect from time to time. Thanks Stefan for a nice stay. Best Regards, Fred
Fredrik
2017-01-24T00:00:00Z
Estuve muy contento de vivir y estudiar un mes en el departamento de Stefan en Laufen. Para mi era una situación ideal porque tenía mucha tranquilidad en casa y en el pueblo y estaba a poco tiempo de Salzburg. Tenía que viajar cada tres días a Salzburg por mis estudios y en otras ocasiones por turismo. Compré una tarjeta mensual para el tren local incluyendo transporte en la ciudad de Salzburg, con lo que ahorré mucho dinero. La estación está a 10 minutos a pie. Hay muchos lugares donde comer en Laufen y en Oberndorf, cruzando el puente sobre el río Salzach. Mis caminatas preferidas eran por las costaneras del río. La gente es muy amable. En el departamento cocinaba cuando necesitaba y hay un supermercado Penny a pocos metros de casa. Stefan estuvo siempre en contacto dispuesto a aconsejarme y darme información. Muy recomendable.
Fernán
2017-03-31T00:00:00Z
I enjoyed the area a lot. Lovely walks by the river and a half hour train ride to Salzburg.
Rich
2014-05-17T00:00:00Z
L'accueil et les explications sur l'appartement ont été sympathiques. L'appartement était propre, le lit confortable. Nous avons eu du plaisir à y vivre quelque jours.
Villoz
2013-10-22T00:00:00Z
Nette kleine Wohnung in der Altstadt von Laufen. Perfekt um von hieraus Salzburg via Bahn zu erkunden. Im Nachbarort kann außerdem die Stille Nacht Kapelle besucht werden. Da Stefan auf Reisen war, wurden wir von seinem Stiefsohn recht herzlich in Empfang genommen. In Laufen sind ein Supermarkt, Apotheke und diverse Restaurants vorhanden.
Reinhard
2014-09-26T00:00:00Z
Laufen is a very nice old town at the river Salzach. 25 minutes to get to Salzburg by train or 15 minutes by car. The apartment was perfectly located for me. there is a very nice swimming pool and sauna in 7 minutes walk from apartment. I enjoyed staying there If i return to Salzburg i would like staying here again.
Elena
2013-11-01T00:00:00Z
Beautiful and quiet town. A little far from Salzburg and the local train is kinda expensive but it was a great stay! Stefan is easy to get a hold of. And its neighbor town Oberndorf is famous for the church where the most famous Christmas song 'silent night' was written and performed for the first time. The church is just a 10 min walk from Stefan's place and it is totally worth visiting.
carrie
2015-10-01T00:00:00Z
Rodzaj pokoju
Całe miejsce
---
Rodzaj nieruchomości
Apartament
---
Mieści
4
---
Sypialnie
Laufen, Bawaria, Niemcy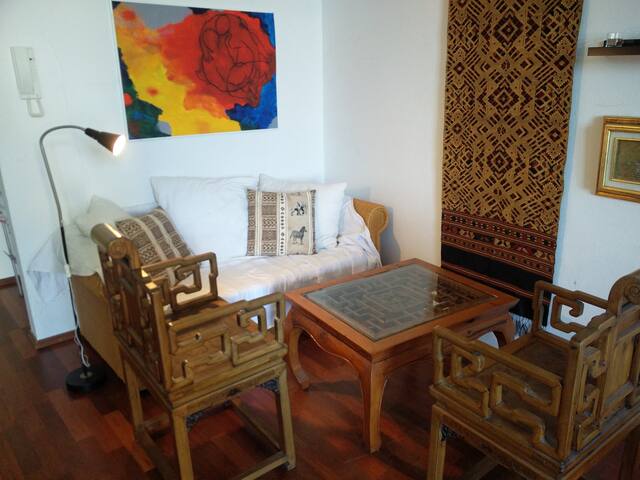 Small room for single person with TV, radio, bathroom, separate kitchenette kpl. with balcony
The guest room is located about 20 km north of Salzburg. With Park and Ride car park on Station Bürmoos (3 km) can be relaxing with the Salzburger local railway in about 20 minutes reach the city of Salzburg at hourly intervals.
Elisabeth was a great host and very helpful especially regarding the bus and train schedules. Small but clean and comfortable room.
Thomas
2017-03-19T00:00:00Z
Rodzaj pokoju
Pokój prywatny
---
Rodzaj nieruchomości
Apartament
---
Mieści
1
---
Sypialnie
Obereching, Salzburg, Austria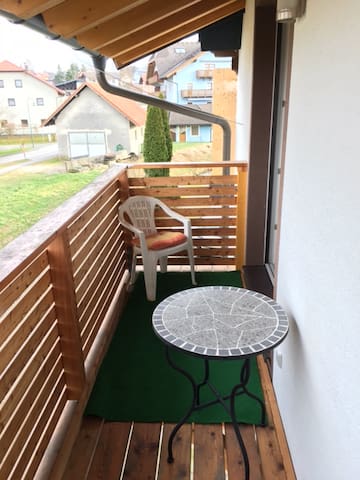 Sunny 3 room apartment about 85 m2 with garden and terrace, beautiful conservatory. Garage for free. Salzburg center is min in about 20th to reach by car or the local train. In the immediate vicinity there are numerous lakes and ski areas.
Amenities: coffee maker, espresso machine, dishwasher, washing machine, electric cooker with ceramic hob, bath, sleeps 2 more people in the living room. Equipped kitchen. TV with national and international channels.
Stay at Laszlo's place was excellent! The place looks even better than the pictures, very clean, cozy and comfortable. The hosts are very friendly and flexible. We would prefer to stay there again and will recommend for anyone.
Dona
2017-03-19T00:00:00Z
We really enjoyed our stay in Laufen! What a beautiful apartment, just as you can see on the photographs, very comfortable and with a very nice garden too! László who welcomed us very warmly is a very nice host, easy to talk with, he always answered promptly to all our questions. It was a pleasure to meet him! The apartment is perfectly located to discover the area with a lot of things to visit. Highly recommended, we hope to come back soon!
Karine
2016-07-20T00:00:00Z
La casa si trova a Laufen, a soli 20 minuti di auto dal centro di Salisburgo. Ha garage privato ed è circondata da un ampio giardino. La casa è molto luminosa e dispone di una cucina nuova e ben attrezzata. Laszlo ci ha fatto trovare latte, acqua e cioccolatini e ha dispensato consigli per i negozi vicini e per Salisburgo. Noi ci siamo stati a dicembre... atmosfera natalizia davvero bella. Consigliato!!!
Giuliano
2016-12-11T00:00:00Z
Wish it had another bathroom. Otherwise everything was good.. host also gave us extra sheets and provided with Milk and Bread. Accomodated our late arrival too.
Balasubramanian
2016-12-24T00:00:00Z
La casa è bella, ospitale e molto luminosa; piacevoli anche i dintorni per fare delle passeggiate. Laufen è una cittadina incantevole! Grazie a Laszlo e sua mamma, molto carini ed ospitali.
cristina
2016-03-30T00:00:00Z
Its really a beautiful house, all perfectly..... its was my favorite airbnb!!!!!!! Lazlo and his family are great. I hope visit in summer again.
Valeria
2015-12-30T00:00:00Z
Modern and comfortable airbnb. Comes with everything you need. Beautiful garden and area. Short drive into Salzburg. Thank you.
Andy
2017-01-01T00:00:00Z
Don't let Laszlo's young looks fool you. He is a very bright and responsible host who speaks multiple languages. He responded to every message we sent within a matter of minutes. He made sure we had everything we needed and accommodated our needs. The house/flat was perfect. It was well equipped and tastefully decorated. The location was just perfect. It's a few minute walk to the old town where you can shop, eat and stroll along the river with a stunning view of the alps. A quick 20 15-20 minute drive or train ride and your in Salzburg. This really IS an ideal location. I would whole-hardheartedly recommend this listing to anyone who wants to visit the Salzburg area. Thanks Laszlo for having us. We will come see you again next time we return to Salzburg for sure. It was just all too easy and nice not to.
Christopher
2016-04-18T00:00:00Z
Rodzaj pokoju
Całe miejsce
---
Rodzaj nieruchomości
Apartament
---
Mieści
6
---
Sypialnie
Laufen, Bawaria, Niemcy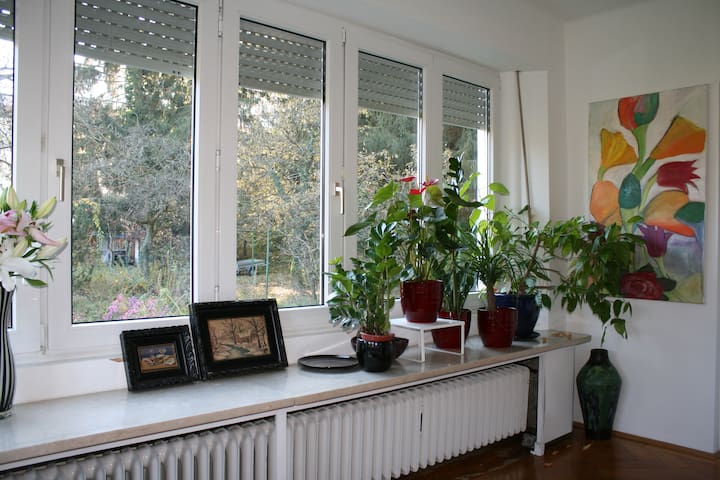 Urlaub am Bauernhof am Rande des Ibmer Moores in unmittelbarer Nähe des Holzöstersees, befinden sich unsere Ferienwohnungen, die ganz individuell eingerichtet sind. Am Hof befinden sich unter den ganzen Tieren auch ein Kinderkino, ein 120m² Spielzimmer, Kinderdisco mit Aufenthaltsraum, vielen Spielsachen und einem großen Spielplatz; Frühstück und Abendessen auf Wunsch buchbar !! Für Kulturinteressierte ist Burghausen mit der längsten Burganlage, sowie die Mozartstadt Salzburg schnell erreichbar
Die Wohnungen sind modern und gemütlich eingerichtet. Und werden mit viel Liebe und Führsorge für Sie vorbereitet. Wir haben einen großen Garten mit Spielplatz und an heißen Tagen kann man es wagen, in den nicht weit entfernten Teich zu springen.
In unserem kleinen Dorf ist eine immerzu idyllische Athmosphäre. Nur wenige Minuten von unserem Standort liegen die verschiedensten Seen. Die Natur ist ein stetiger Begleiter am Land. Deshalb werden in unserem Ort auch Moorwanderungen , Traktorfahrten und noch vieles mehr Angeboten.
Rodzaj pokoju
Całe miejsce
---
Rodzaj nieruchomości
Apartament
---
Mieści
5
---
Sypialnie
Neuhausen, Oberösterreich, Austria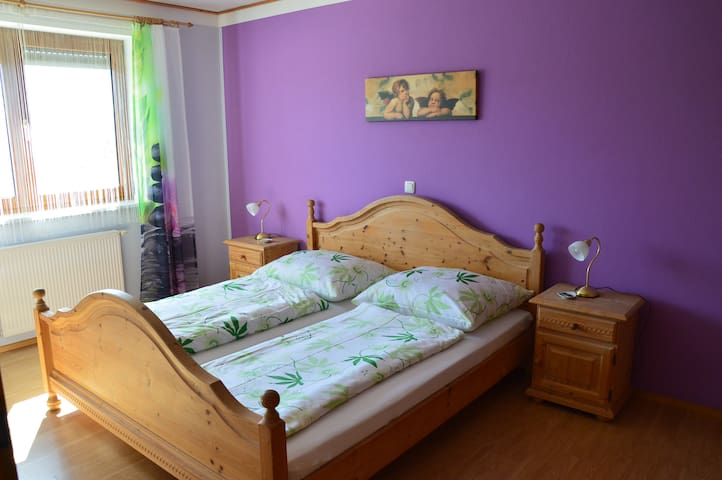 In my very custom artist upstairs apartment of a two-family house you can feel super. There is a small bedroom with large windows. The kitchen and the balcony can be used with. Very individual apartment of my mother, who is an Artist and travels a lot.
Ruhige Traumlage, an drei Seiten von Wiesen umgeben mit einem schönen Garten, Blick auf Wald und die Berge in der Ferne. 2 Minuten zur Lokalbahn nach Salzburg. Beautiful, quiet area. View of garden, woods and the Mountains in the far. Rural but close to Train station. I live downstairs with my Partner David and my daughter Johanna. Most of the time there'll be someone around if you Need help or have questions about the area. You can also join us for a Beer or Glass of Wine on the terrace :)
Very quiet at nights. Rural area, but bakery, butcher, Bank, trainstation are within walking distance. 3 km to lake Höllerersee.
Michaela and her family are perfect hosts that made many efforts to make our stay as home, providing us everything even in New Year's Eve. The house is much more gorgeous than the pictures. It's just the dream house of mine. They gave us a whole first floor. The living room is huge and artistically decorated. The village is located a little away from town but very convenient to reach by car. They have even two cute cats, very attracted to people and behave well.
Raul
2016-01-03T00:00:00Z
Alles 5 von 5 Sternen..Wir waren begeistert
Tim und Marlies
2016-11-13T00:00:00Z
Michaela und David haben uns sehr herzlich empfangen. Die Wohnung ist wie beworben wirklich im Besitz einer Künstlerin, sehr liebevoll, geschmackvoll und gemütlich eingerichtet. Man fühlt sich wirklich sofort wie zu Hause und sie macht einen neugierig auf die Person, die dort normalerweise wohnt. Wirklich sehr zu empfehlen! Perfekt für ein entspannendes Wochenende auf dem Land:)
Anette
2016-10-31T00:00:00Z
Eine Wohnung, die liebevoll und detaillreich die Geschichte der Besitzerin erzählt. Von einer Frau, die lebt, liebt und genießt. Das machte meinen Aufenthalt dort zum Genuss. Dazu der Blick ins Grüne, die Ruhe, der Besuch der Katzen, die unkomplizierte Abwicklung mit Schlüssel usw., der herzliche und vertrauensvolle Empfang durch Michaela.... Eine kleine (Urlaubs-)Oase, die dazu verleitet, einfach nur (dort) zu sein. Streifzüge durch die Wohnung - und jedesmal bleibt der Blick an einem anderen Detail hängen. Danke für das Vertrauen!
Petra
2017-03-09T00:00:00Z
Rodzaj pokoju
Całe miejsce
---
Rodzaj nieruchomości
Apartament
---
Mieści
2
---
Sypialnie
Sankt Pantaleon, Górna Austria, Austria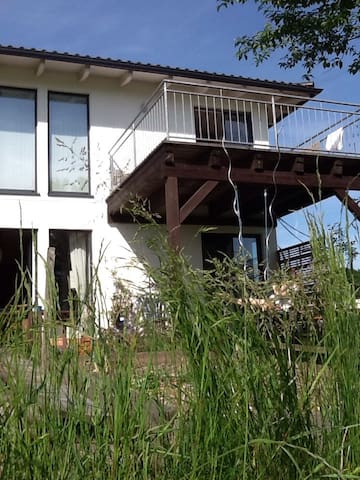 A beautiful large spacious one-bedroom panoramic apartment for up to three people with a balcony. The garden of the building stretch invites you to linger and relax.
During the day, two beds can easily be highly placed in a cabinet, so that even more living space is available.
Rodzaj pokoju
Pokój prywatny
---
Rodzaj nieruchomości
Apartament
---
Mieści
3
---
Sypialnie
Obereching, Salzburg, Austria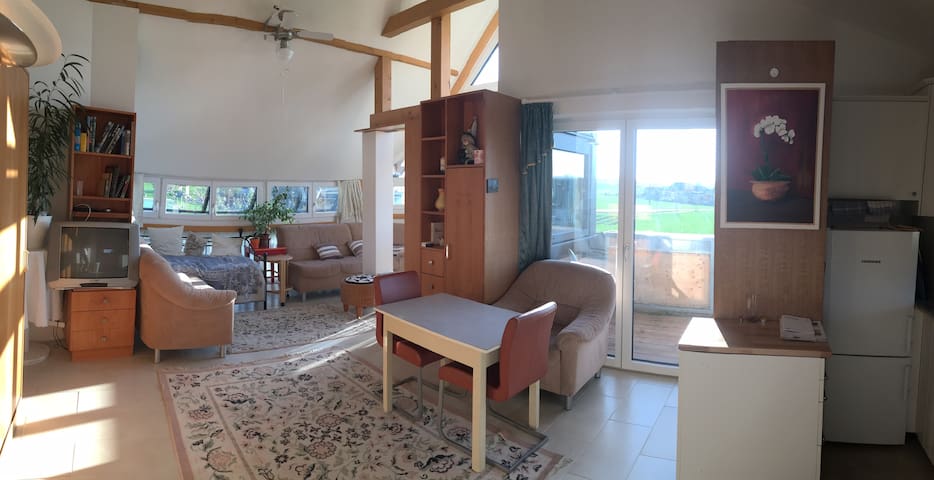 Sehr gemütliche Wohnung im Untergeschoss eines Zweifamilienhauses. Es werden gleichzeitig keine anderen Gäste im Haus/Garten sein!
Der zur Verfügung stehende Bereich der Wohnung sind: 1 Badezimmer mit 7,5 qm, ein Schlafzimmer 14 qm mit 1,40 m Doppelbett, 1 offener Wohnraum mit Wohnzimmer-Bereich (1 Ausziehcouch), Essbereich, Küche (1 Ausziehcouch) mit insgesamt 34 qm, 1 Vorraum, Terrasse mit 54 qm und ein Garten mit ca. 800 qm. Ruhige, schöne Umgebung. 150 m zu öffentl. Verkehrsmittel, 3 km zum See. Ich vermiete meine Wohnung nur, wenn ich auf Reisen bin. Wir werden uns also bestenfalls zu ein- oder auschecken sehen, oder meine Mutter übernimmt das für mich :) Salzburger Lokalbahn nearby SEHR WICHTIG: es gibt hier einen Kater (Roxy), der zwar meiner Mutter im 1. Stock gehört, aber das ganze Haus als sein Eigentum betrachtet. Für Katzenallergiker also nicht geeignet! Not for cat-Allergic People!
Quiet, rural neighbourhood
Ich und meine beiden Jungs haben 9 Tage Urlaub bei Michaela gemacht. Wir wurden sehr freundlich und hilfsbereit von Ihrer Mutter empfangen, die uns auch jederzeit mit Rat und Tat zur Seite stand. Wir haben uns sehr wohl und wie zu Hause gefühlt. Von St. Pantaleon ist Salzburg und auch ander Sehenswürdigkeiten sehr gut zu erreichen. Eine optimale Lage in sehr ruhiger Umgebung in der man auch mal die Seele baumeln lassen kann. Für die Gäste ist eine Schublade gefüllt mit Tips und Sehenswürdigkeiten in der Umgebeung vorhanden. Rundrum ein ganz toller Aufenthalt! Gerne würden wir Michaela bei unserem nächsten Urlaub wieder besuchen.
Mathias
2015-08-09T00:00:00Z
Rodzaj pokoju
Całe miejsce
---
Rodzaj nieruchomości
Apartament
---
Mieści
4
---
Sypialnie
Sankt Pantaleon, Górna Austria, Austria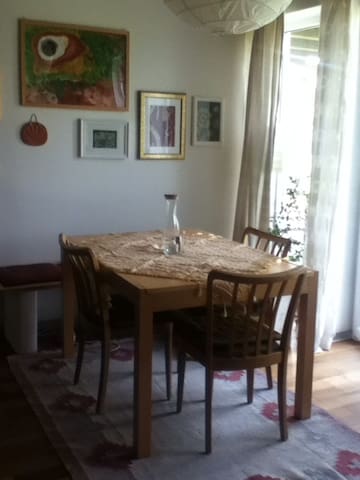 Wir vermieten ein Appartment am Bauernhof. Mit 2 Zimmern, einer Wohnküche mit Couch und Esstisch, einer Diele und einem Badezimmer mit Dusche. Auch ein großer Balkon ist dabei. Wir haben einen Bio-Bauernhof mit vielen Kühen und Kälbern und Katzen.
Großräumiges, bäuerliches Apartment mit großem Balkon und viel Platz auch draußen zu sein. Es gibt Platz zum grillen und draußen sein. Die Gegend ist wunderschön zum wandern und radfahren. Die Möglichkeit ein selbst mitgebrachtes Pferd unterzustellen ist kein Problem. Kosten dafür sind 50Euro pro Tag pro Pferd.
Obertrum ist super zum wandern und radfahren und unten am See ist es herrlich zu schwimmen und zu planschen.
Fantastyczne miejsce ! Bardzo mili gospodarze. Wszystko było OK. Czysto, miło, cicho :) Polecam to miejsce wszystkim, którzy chcą wypocząć !
Ryszard
2016-05-17T00:00:00Z
Casa dentro de una granja super tranquila. Ideal para los niños que se divierten al aire libre. Se necesita coche para ir al pueblo. Los propietarios muy majos y acogedores. Lo recomiendo para familias.
Beatriz
2017-03-27T00:00:00Z
This house is perfect if u travel with a car. it's on a farm and the view is wonderful! The house is cozy and beautiful! we spent a perfect time there!
Fei
2016-12-31T00:00:00Z
This was our first ever time of using Air BnB and it was an excellent experience. The accommodation was well equipped and exactly as described. It was excellent value for money and easy enough to find using information from the owner and (SENSITIVE CONTENTS HIDDEN) maps. Our host communicated with us effectively prior to our visit and we were made to feel welcome on our arrival. We were able to drive to the outskirts of Salzburg in around 20 minutes where we used Messe Centre Park and Ride to get into the heart of the city. It was nice to return to the peace and quiet of the farm accommodation at the end of a hectic day (we were visiting the Salzburg Festival). I would recommend this accommodation for anyone wanting to combine a city break with a peaceful country retreat.
Carolyn
2016-07-25T00:00:00Z
Gerhard est un hôte efficace. L'endroit est parfaitement tranquille à 18 km de Salzbourg. L'appartement correspondait en tout point à la description. Il faut tout de même préciser que sans un GPS, l'endroit peut-être difficile à trouver. Mais mon GPS m'a parfaitement guidé. Lors de mon séjour, il y a eu plein de gentilles attentions posées derrière la porte de l'appartements comme des poires du verger ou une délicieuse petite tarte aux pommes. Je recommande vivement ce lieu très bien équipé.
Pierre-Yves
2016-10-10T00:00:00Z
The accommodation was as written; Gerhard and his family were really warm and we felt welcome in theirs house. Perfect was the possibility to visit the cattle stables and home made product offer. If you search quiet place with nice nature, not fare away from Salzburg, it is the right place!
Daniel
2016-06-14T00:00:00Z
The house is in a wonderful place in the countryside, close to Obertrum lake and 20 min from Salzburg. Tha house is very nice, clean and very well equipped. There are many facilities for families (kids playground, bbq, external table etc) and Gerard's family is very kind.
MARGHERITA
2016-08-21T00:00:00Z
Unsere Mitarbeiter waren sehr zufrieden! Hosts Daniela& Gerhard waren sehr nett und freundlich.
Anja
2016-12-07T00:00:00Z
Rodzaj pokoju
Całe miejsce
---
Rodzaj nieruchomości
Apartament
---
Mieści
5
---
Sypialnie
Obertrum, Salzburg, Austria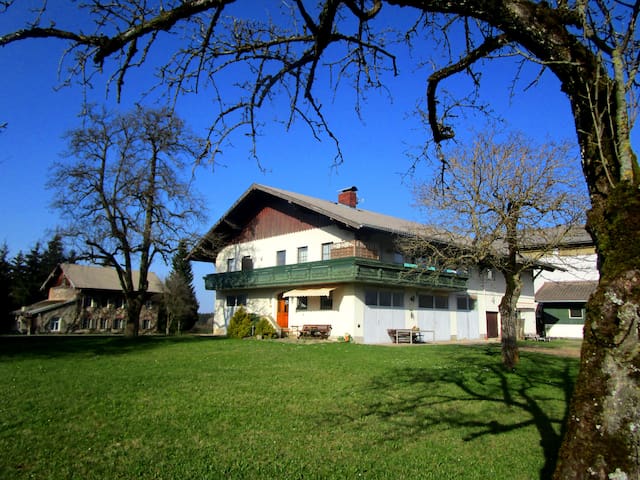 Quiet location
Rodzaj pokoju
Całe miejsce
---
Rodzaj nieruchomości
Apartament
---
Mieści
2
---
Sypialnie
Seeleiten, Oberösterreich, Austria
The apartment includes a bunk room (for the young at heart) with space-saving staircase and a single room each with a single bed, separate kitchen, on the course of the balcony can be reached; for each room is a small kitchen available, 2 TV (satellite) and radio, WiFi available in the room.
The apartment is located in a new building, with floor heating, The property is about 20 km north of the city of Salzburg.
Rodzaj pokoju
Pokój prywatny
---
Rodzaj nieruchomości
Apartament
---
Mieści
3
---
Sypialnie
Obereching, Salzburg, Austria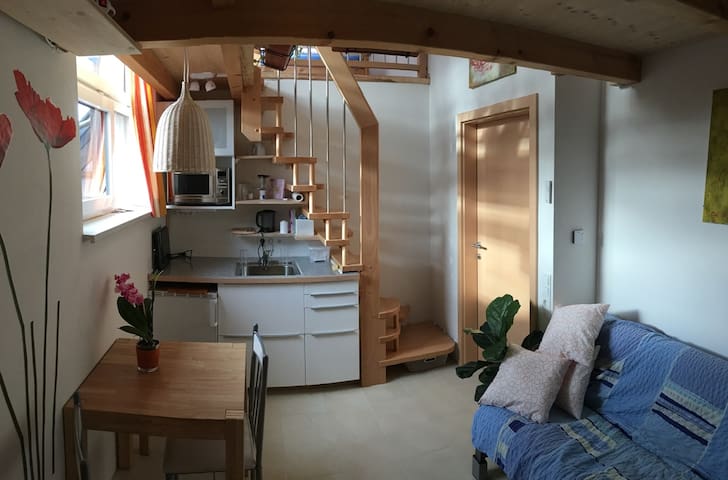 Relax in our newly renovated apartment in a quite countryside location well within striking distance of central Salzburg. Our Guesthouse is located approximately 2.5km from the warmest lake in Upper Bavaria, Waginger See/Tachinger See. This is accessible by foot, car and also by using one of the many well signposted cycle routes located directly outside the apartment. In the winter months there is plenty of cross country skiing routes in the local area and great ski resorts within 50km.
The apartment has recently undergone complete renovation including a new kitchen, large living room, bedroom, bathroom and laundry room. There is also an elevated decking area that overlooks the surrounding countryside. If required, the option of a second double bedroom is available, this is located directly next door to the entrance of the apartment (Additional charges will apply). Please notify us if this is required when making your enquiry.
Our Guesthouse is located approximately 2.5km from the warmest lake in northern Bavaria, Waginger See/Tachinger See. This is accessible by foot or car or also by using one of the many well signposted cycle routes located directly outside the apartment.
Decisamente lo rifarei, abbiamo soggiornato solo tre notti per il ponte dell'Immacolata, meta finale era Salisburgo; io, mia moglie e nostra figlia di 15 anni. L'appartamento è assolutamente accogliente, incantevole e non fa minimamente rimpiangere casa propria, l'unica cosa che manca è lo spazzolino da denti! Host impeccabile in tutti i membri con cui abbiamo avuto a che fare; personalmente contiamo di tornarci con la stagione calda e per una settimana. CONSIGLIATISSIMO.
Elvira
2016-12-11T00:00:00Z
Alles wunderbar: eine super ausgestattete Ferienwohnung, bei der auch an Details gedacht ist und sehr nette Gastgeber.
Angelika
2016-12-30T00:00:00Z
War alles Bestens. Ein wunderschönes zu Hause und sehr liebe und besorgte Gastgeber inklusive Grosseltern.
Eva Maria
2016-12-05T00:00:00Z
Die Ferienwohnung ist einfach wunderbar - groß, toll und komplett neu ausgestattet, extrem sauber, es gibt einen Balkon, einen tollen Garten (den wir wegen des Regens und der Kälte diesmal leider nicht nutzen konnten) und wirklich freundliche Vermieter. Für unseren Sohn wurde selbst im November noch eine Tischtennisplatte draußen überdacht bereit gestellt, da er ein großer Tischtennisfan ist. Wir sind begeistert und haben auf jeden Fall vor wieder zu kommen.
A.B.
2016-11-04T00:00:00Z
Séjour très agréable en Bavière. Le logement est parfait, très bien equipe, moderne et très confortable, très propre. La communication avec Diana était très bonne. Elle et son mari anticipaient nos besoins, questions... C'était parfait !
Arnø
2016-10-28T00:00:00Z
Wirklich eine super tolle Ferienwohnung. Super ausgestattet und schön eingerichtet. Sehr nette Gastgeber, die einem auch mit Tipps und Ideen weiterhelfen. Zur Umgebung: Sehr schöne, idyllische Umgebung. Der schöne Wagging See ist in 5 min mit dem Auto zu erreichen. Salzburg ist in etwa 30 min ohne Schwierigkeiten zu erreichen. In etwa 1 Stunde kann man dann direkt in Berchtesgaden sein und die herrliche Alpenlandschaft genießen. Alles in allem können wir diese Unterkunft und die Gastgeber nur wärmstens empfehlen. Wir würden auf jeden Fall wieder dort hingehen. Vielen Dank!
Markus
2016-09-26T00:00:00Z
Eine sehr schöne Unterkunft mit allem was wir gebraucht haben und darüber hinaus vielen kleinen Aufmerksamkeiten. Für Ruhesuchende einfach perfekt mit guter Anbindung nach Salzburg etc. Die Gastgeber sind super zuvorkommend und wir waren rundum zufrieden und glücklich.
Lara
2017-01-03T00:00:00Z
Appartamento spazioso e curatissimo in tutti i dettagli, con un terrazzo meraviglioso affacciato sulla campagna circostante. Posizione ottima, vicino a moltissimi posti meravigliosi, raggiungibili facilmente in auto, in bicicletta attraverso le piste ciclabili o con i mezzi pubblici. Host fantastici, gentilissimi, ci siamo trovati veramente benissimo. Grazie a Diana e Jörg! Andateci, non ve ne pentirete! ❤️ noi torneremo sicuramente! Danke Diana und Jörg!!!
Michèle
2016-11-11T00:00:00Z
Rodzaj pokoju
Całe miejsce
---
Rodzaj nieruchomości
Apartament
---
Mieści
3
---
Sypialnie
Fridolfing, Bayern, Niemcy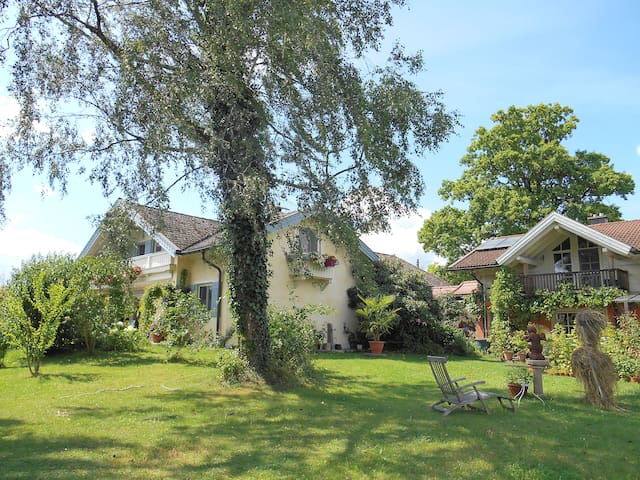 You always wanted to discover Salzburg and the Bavarian alpine country? Experience nature, mountains, rivers and lakes and also culture, gastronomy enjoy to leave then dangling from a quiet and cozy place, the soul and recharge? Our beautiful top floor apartment is ideal for 2 to 3 persons. Whether you are here on business, want to enjoy the beauty of the region or just looking for relaxation, you will feel at home in the house Sunset. The apartment is equipped with all comforts. You live where you have the cock crow in the distance and strip the wind through the grass to listen and are still only 13 km from Salzburg. A bathing lake is only 3 km, which can be reached by a short walk over hills with breathtaking mountain panorama. After an active day you can relax in the house with a professional massage or yoga class. Your dog is also welcome!
Equipment large living and dining area with sofa, 1 bedroom with double bed, Bath / WC with underfloor heating and bathtub, Kitchen with top quality complete equipment, dishwasher, microwave, Wooden floors in the whole house except the bathroom and kitchen. Cable / satellite TV, HD flat screen color TV (SAT / DVBT), DVD / CD player, radio stereo, free Wi-Fi. Insect screens in the bedroom + living room, Baby high chair, balcony furniture, hairdryer laundry and dry by appointment and fee
Unkomplizierte schnelle Kommunikation. Unsere Mitarbeiter haben sich wohl gefühlt. Vielen Dank.
Clarissa
2013-10-03T00:00:00Z
Wir haben uns bei Dominique und Agi sehr wohl gefühlt. Die Wohnung ist sehr gemütlich und sauber. Die im Inserat verffentlichten Bilder entsprechen den tatsächlichen Gegebenheiten. Nicht verschweigen wollen wir jedoch, dass die von uns erwartete Ruhe "auf dem Land" nicht uneingeschränkt gegeben war. Flugzeug- und Zuglärm sowie eine Baustelle im Wohnviertel haben uns doch hin und wieder sehr gestört. Eine deutlich positive Bewertung für die Wohnung, leider nur befriedigend für das Umfeld.
Andreas
2014-09-08T00:00:00Z
Beautiful apartment with a perfect location, defiantly recommend only booking if you have a car. Totally worth it though, great host.
Abbie
2016-11-28T00:00:00Z
Wir haben uns bei Dominique sehr wohl gefühlt. Die Wohnung wird mit den Fotos relitätsgetreu abgebildet. Alles ist ordentlich, sauber und gut ausgestattet. Das kleine Weiler selbst ist sehr ruhig und idyllisch gelegen. Außerdem war Dominique sehr unkompliziert & offen. Der Whermutstropfen ist eigentlich keiner, denn wir haben nur zufällig die Einflugschneise bemerkt. Da diese nur sehr wenige Flugzeuge passieren, stört sie nicht. Wir würden jederzeit wieder kommen!
Hanne
2014-07-08T00:00:00Z
We loved every minute here. The home and surroundings were gorgeous. Dominique was incredibly hospitable and helpful. We look forward to going back very soon.
Stephanie
2016-12-04T00:00:00Z
A lovely, roomy loft apartment on the outskirts of Salzburg that looks exactly like the pictures on airbnb. Dominique met us on arrival and showed us around the apartment We really enjoyed our stay and would definitely recommend the apartment to fellow travellers.
Steve
2014-08-25T00:00:00Z
Rodzaj pokoju
Całe miejsce
---
Rodzaj nieruchomości
Apartament
---
Mieści
2
---
Sypialnie
Laufen, Bawaria, Niemcy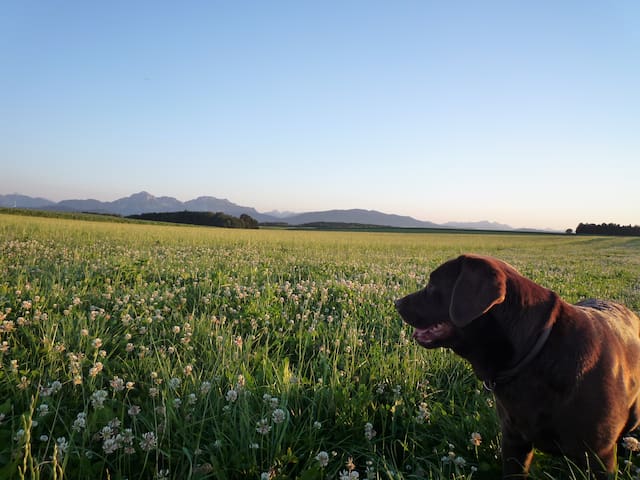 Das 1-Zimmer Appartement befindet sich im 1. Stock eines Hauses als separate Wohneinheit mit einem Schlaf-/Wohnraum, Mini-Küche, Bad (Dusche, Badewanne und WC), sowie einer Terrasse mit herrlichem Bergblick. Meine Unterkunft ist in der Seelentium Region (Ibmer Moor und See). Salzburg (37 km), Burghausen (19 km) und Braunau (25 km) sind in der Nähe erreichbar. Meine Unterkunft ist gut für Alleinreisende.
Kleines, einfach eingerichtetes Appartement mit schönem Ausblick. Einkaufsmöglichkeit in der Nähe, gute Lage für Besuche in der Natur, z.B. Ibmer Moor oder Weidmoos.
Barbara
2017-04-05T00:00:00Z
Rodzaj pokoju
Całe miejsce
---
Rodzaj nieruchomości
Apartament
---
Mieści
1
---
Sypialnie
Eggelsberg, Oberösterreich, Austria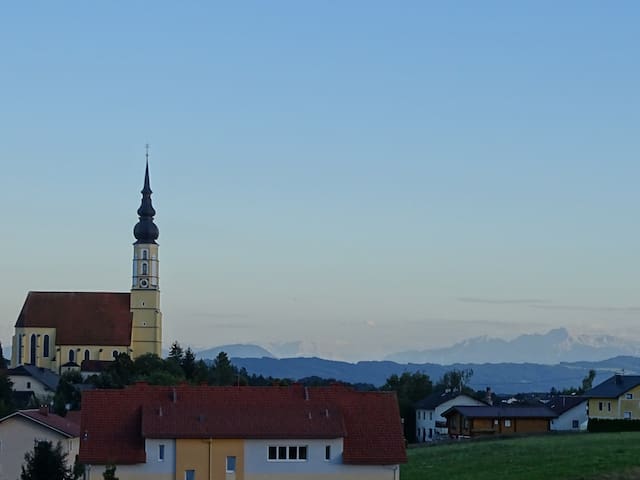 Cała podłoga w mieszkaniu do wynajęcia. W sumie 3 sypialniami dla maksymalnie 7 osób (łóżka pojedyncze) przestrzeni. An East-side oraz balkonem od strony zachodniej jest dostępna. Wspaniały widok panoramiczny. około 20 km na północ od Salzburga, w spokojnej okolicy relaksujące. W salonie dwa pojedyncze łóżka mogą być przechowywane w szafie w ciągu dnia, więc dużo miejsca do zamieszkania jest dostępna. Każdy pokój wyposażony jest w telewizor i kuchnia, dwie Zinmer połączenia WLAN
Widok panoramiczny jest wolny najwcześniej po Niemczech powrotem
Rodzaj pokoju
Całe miejsce
---
Rodzaj nieruchomości
Apartament
---
Mieści
7
---
Sypialnie
Obereching, Salzburg, Austria
Our hotel Harmanschlag located in one of the most beautiful tourist areas in Bavaria with stunning views of Lake Waging, the entire Alpine chain of Salzburg, Berchtesgaden and Chiemgau mountains. This room is also equipped with fine wooden furnishings. The bathroom has a sink, shower and toilet. From the balcony you also have a beautiful view of the entire mountain range, and Waginger See! All rooms are equipped with a parquet floor.
Our working farm is located just outside the town Tettenhausen on Lake Waging in a quiet location, nestled between beautiful meadows and fields, not far from our forest to 495m via N / N By the way, you can spend your holiday with us every season. Beautiful ski areas can be reached in about an hour. but with good snow conditions you can do cross-country skiing in the vicinity. And in the freezing cold waiting for the ice on the lake already that you go for a swim with the skates on. In our house, adults and children are just as welcome as late sleepers and early risers, hikers, climbers, anglers, cyclists, motorcyclists, other athletes, idlers and enthusiasts, adventurous and nature lovers or active, which let off steam a bit at work on the farm want. Also for groups, our house is ideally suited.
Rodzaj pokoju
Całe miejsce
---
Rodzaj nieruchomości
Apartament
---
Mieści
3
---
Sypialnie
Waging am See, Bayern, Niemcy