Spectacular, huge loft with PRIVATE BACKYARD for your private use with the BEST LOCATION in NYC! A short walk to East River Parks/piers with dramatic Manhattan views and best spots in neighborhood. My place is exquisitely restored, greatly furnished, hung with local art & only minutes to Manhattan by subway, ferry, cab or foot via Williamsburg Bridge. The oasis of a yard can be enjoyed year round. Cable, WiFi, AC, modern heating, WBFP (dura-flame logs). Photos show areas for your exclusive use.
In a 19th century restored Sea Captains House an entire floor with a shady, cool, oasis, private garden awaits you. My place has the greatest location in this hip, fun, highly desired neighborhood with great and easy proximity to Manhattan! High restored tin ceilings and chandeliers floating over glossy hardwood floors in the main large bedroom. A brick WBFP (dura flame logs only please) and slate floors greet you in the foyer of this amazing space that leads you into a cozy fully equipped efficient kitchenette ( coffee maker, full stove/oven, pots, pans, plates, glassware, tea kettle, microwave, stainless steel fridge, deep sink) with a precious sky lighted dining room alcove that seats 4. Walk beyond the dining room and you will find yourself in a beautifully restored glass carriage house that serves as your dramatic living room (with double pane windows and its own separate gas heater to keep you toasty warm in the winter as you watch snow fall in the backyard) and or becomes your spare bedroom. In the warm months you can open a glass garage door in this carriage house and it becomes part of a shady garden complete with a bamboo, fig and birch tree. In this outdoor bird haven are lounge chairs surrounded by miniature palms and a coffee table. Getting off the New York City streets and lounging in this oasis of a space sipping your favorite beverage is just too good to be true. There is also a bar-b-que in the garden, so pickup something great for the grill at the Williamsburg Food Town Market, Whole Foods, or Harvest Market only 5 blocks away. The space has east and west windows and is elegant and "zen." Tiled bathroom with stainless steel shower complete this space and full laundry service is available up the street. One comfortable queen size bed, a full size bed, and a pull out couch in the large front room (3 beds in total in this room), a good queen size fold down couch that sleeps two comfortably in the glass living room are there for your sleeping comfort plus a large white leather couch. The layout makes it perfect and private for two couples to stay easily or a family of 6. By NYC standards, there is tons of room in my 1500 sq ft loft inside plus an outside deck and yard. You are in the hippest most happening neighborhood in NYC, Williamsburg Brooklyn waterfront! You are just 3 minute walk to the EAST RIVER ferry into Manhattan's 34 St, and just minutes walking to East River Parks with gorgeous views of the river and bridges and the Manhattan skyline. Eat out at the owner run amazing restaurants like "Sweet Water" (bistro)N. 6th St, "Aurora"(Italian) Grand St, "Sea" (beautiful Thai) and the classic "Teddy's"(american bistro)N.8th St. More traditionally, the best steak house, "Peter Luger's" Broadway is also nearby as well as "Giando's"(Italian) Kent Ave (the best view) on the water for a sunset dinner. "Rawkills" (bar) Grand St. two and a half blocks up the street serves the best cocktails from 3 pm on. These are just the tip of the iceberg of great restaurants. Shopping whether for food/ wine / cheese or the non edible things is great. Boutiques abound for the clotheshorse that is hip. Go into the "Bedford Cheese Shop" on Bedford Ave, into "Mast Brothers Chocolate" on North 3rd coming back from the subway, or to the weekend flea market on North 6 off Kent Ave and you will not want to leave the neighborhood..... Why? There is also lots of diverse cultural nightlife like "The Knitting Factory" with great music and drinks a few blocks away. Then you come back to a beautiful, elegant, comfortable oasis and the envy of all "Williamsburgers". A 10 min cab ride/car service and you are in Manhattan. East River ferry is a 3 minute walk up the street with service to Midtown or Downtown Manhattan (check schedules) and is a quick and scenic way to get into Manhattan. The L train /Bedford Ave is the closest frequent, quick subway and is a neat, fun walk (10 min) encountering stores, and restaurants. Everything you want is along Bedford Ave or right off it.You can also walk to the JM subway (13 min) that takes you over the Williamsburg Bridge to downtown Chinatown, lower East Side of Manhattan, and City Hall. ( Walking the Williamsburg bridge during the day is also beautiful just make sure you are on the pedestrian walkway and not the bike or the car route!) 6 people max and base rate is based on two people staying. I have been in the neighborhood for over 20 years and have coordinated with my wife a number of the initial artistic and free cultural multimedia events. We are in our private space on premises, so your privacy is intact; at hand though should you need anything; you can knock on my door.
It's great proximity to Manhattan, and its cool village feel. Many owner run restaurants, bars shops that make it cozy, unique, hip and classy. It is a real neighborhood. It was years before a semi industrial Polish/ Italian neighborhood with many older buildings that had stores on the ground floor and apartments above. Then the artist came in and cleaned up the rundown places, frequented the few local places and it became the hippest place. In the 1990's it was the largest concentration of artist in the world. Few remain for Williamsburg became too popular when everybody else caught on how cool it is. The vibe is still there though. Now sky rise apartments/ and condo's are on the waterfront and just a few of the precious older places like mine remain.
This is a great apartment full of bohemian character (originating in part from Todd's own artworks). The bedroom & conservatory are spacious and the bedding comfortable. The small yard is a lovely extra benefit on a warm summer night. There are peculiarities - the deepest kitchen sinks I have ever encountered & a door which can only be locked by squatting on the floor but ( unless you have got very short arms and/or unreliable knees ) these only add to the charm of the place. The location is excellent. Despite a being just a few minutes walk from the bars and restaurants of Bedford Avenue, the immediate neighbourhood and the building itself are quiet. Todd and his wife Maria are unobtrusive but responsive hosts and I hope that they found my daughters and I to be undemanding but very appreciative guests. We loved our stay.
Boyd
2016-09-01T00:00:00Z
My wife and I loved our stay at Todd's place. Todd and Azul were gracious with providing tips for the city and recommendations about town. When we get the chance to return to New York, we will surely be looking up Todd's place again.
Joel
2016-03-18T00:00:00Z
Neighborhood was fantastic! Outdoor area and back bedroom/living room are great spaces to hang out. Although not quite a 2 bedroom, due to the way the apartment is broken up there is just enough privacy for 2 couples. Cheta is a great host and I highly recommend staying with her. Really good over all experience.
Corinne
2014-09-16T00:00:00Z
The pictures do not do this home justice. Not only is there a lot of character and charm, but the accommodations are comfortable and the location is amazing! It's a block away from the water and you can see the Williamsburg bridge and the Manhattan skyline with a quick 5 minute walk. The subway is within walking distance, and there are a ton of cute shops and restaurants around. We had 3 girls, and we each got our own bed - one real bed, one air mattress, and one couch bed. The back room next to the outside patio with all the windows is beautiful and really peaceful - that was definitely our favorite room. It was an amazing deal and can't wait to come back and stay here again.
Suzie
2012-10-24T00:00:00Z
Great space, many rooms to relax and enjoy company. Highly recommend anyone to stay here which is conveniently located in Brooklyn, NY. In a great location with plenty of restaurants, shopping, night-life. Also the location made it convenient for quick rides to the more touristy attractions of NY.
Antoni
2017-02-06T00:00:00Z
Greg was a very accommodating host however the apartment has only the very basics in terms of bedding / cooking utensils / cleaning products etc and there is no TV or iron. Its a good 10 minutes walk to the subway and whilst the ferry is just 5 minutes walk they are much more infrequent. The mosquitos made trying to get a good night's sleep almost impossible as did the super soft mattress in the bedroom (and then super hard mattress on the lounge). I would suspect that this apartment would be very cold in winter.
Ellenor
2012-09-23T00:00:00Z
My family and I stayed here for my wedding weekend and it was absolutely beautiful! Everyone who came in were in awe of the beautiful space--both in natural light and design. The host was really easy to communicate with and they made sure our stay was perfect!
Yianella
2017-02-19T00:00:00Z
We (mijn dochter, moeder, zus en ik) hebben een fantastische tijd gehad in NY. Het appartement van Todd was geweldig en de beschrijving en foto's van het appartement kwamen precies overeen met de werkelijkheid. Het was echt home away from home!! Azul was er voor ons als we hem nodig hadden, alles was prima geregeld en klopte. De keuze voor Williamsburg als uitvalsbasis was top! we zouden heel graag nog eens komen logeren!! Dank Todd en Azul, xx
Colette
2016-03-24T00:00:00Z
Rodzaj pokoju
Całe miejsce
---
Rodzaj nieruchomości
Loft
---
Mieści
6
---
Sypialnie
Brooklyn, Nowy Jork, Stany Zjednoczone
Stay here for a comfortable, authentic NYC experience with amazing views of Brooklyn and Manhattan.
Live like a a local at my apartment in Williamsburg. Mi casa es tu casa! You will be located near some of the most authentic bars and delicious restaurants in the city. What's the best part? You are welcome to make yourself at home. Feel free to cook, have people over, and enjoy access to my rooftop with amazing views of Brooklyn and Manhattan. IMPORTANT **Group of 4 - 5** IMPORTANT There is one queen size bed in the room, and I have a queen-size blow up mattress that will also fit in the bedroom. If you are all okay with squeezing into the room – I've seen it been done many times – then you are all welcomed to stay here.
From Wikipedia: Williamsburg is an influential hub of current indie rock, hipster culture, and the local art community. Many ethnic groups also have historically based enclaves within the neighborhood, including African Americans, Italians, Jews, Puerto Ricans, and Dominicans. The area is rapidly going through gentrification.
Great stay! Special thanks to Jack and Marina for taking a very good care of us. Nice and cozy apartment with a friendly atmosphere and astonishing view from the roof top!!! Very good location with lots of bars, shops, clubs. Walking distance to SOHO via the Williamsburg bridge with its unforgettable views. Highly recommended!
Konstantin
2015-11-14T00:00:00Z
Very beautiful space! The apartment itself was inviting and airy - bedroom was comfortable and the rooftop view was lovely and definitely a must see. Convenient location with a lot of things to do around it. Jack was very welcoming and friendly. Would stay again!
Eethan
2016-09-20T00:00:00Z
I had an amazing time staying at Jack's place! He was wonderfully welcoming and gave specific instructions for entering his apartment so I could leave my bags before check in. Jack kept me in tune with a lot of cool things going on in the area which made my stay in Williamsburg very authentic (not to much incredibly fun)! There are lots of great cafes and shops around within walking distance. I was able to use the kitchen to store my own food and the room I stayed in was very big and spacious. The apartment was always cool and comfortable despite the 100F heat outside. I would highly recommend staying at Jack's place and am already anticipating returning for my next stay in Williamsburg.
Alyssar
2016-08-12T00:00:00Z
Wir waren wirklich sehr zufrieden mit unserer Unterkunft! Die Lage ist wirklich perfekt. Man geht nur einige Minuten Williamsburg Bridge oder zum Fähranleger. Außerdem bietet die Dachterrasse einen fabelhaften Blick über die Skyline von Manhatten! In der Umgebung gibt es zahlreiche Cafés, Restaurants und Bars. Die Wohnung ist schön eingerichtet, es ist sauber und ordentlich. Unser Gastgeber Jack hat uns herzlich empfangen und hat sich die Zeit genommen uns seinen Stadtteil zu zeigen, inklusive eines Besuchs in einem der besten Burger - Restaurants von Brooklyn! Vielen Dank dafür! Liebe Grüße aus Hannover! Ole, Line, Susi und Mr Fix-it ;)
Caroline
2015-08-13T00:00:00Z
Even before we arrived, Jack answered all of my questions in a timely manner. He was easy to reach by phone for those last minute questions. Jack was a gracious host. It was a pleasure chatting with him. The apartment met our expectations. It was a pleasant surprise to have a restaurant just below. We didn't have to wander far to eat. Enjoyed the neighborhood.
Michele
2015-08-31T00:00:00Z
Top Aufenthalt mit Weltklasse Empfehlung!
Matthias
2016-11-26T00:00:00Z
This is a great apartment - as you can see on the pics, spacious, and confortable . Great location. The perfect place to explore Manhattan and brooklyn nightlife! Jack was on holidays, but his roomate was helpful and gave us a lot of tips about special events.
Candice
2015-04-15T00:00:00Z
Jack and his place are both awesome. He is friendly, responsive and easy to communicate with. And his apartment is HUGE by New York standards, or otherwise. Clean, cool and comfortable. Would definitely stay here again.
larry
2016-07-08T00:00:00Z
Rodzaj pokoju
Pokój prywatny
---
Rodzaj nieruchomości
Apartament
---
Mieści
4
---
Sypialnie
Brooklyn, Nowy Jork, Stany Zjednoczone
Classic Large studio(over 500 sq/f) Conveniently located Close to bars, restaurants, and shopping On a quiet street Sleeps four Super Sunny Wifi and Cable Including HBO
Perfectly located, large studio in Williamsburg Brooklyn, the coolest neighborhood on Earth! One stop from Manhattan. Spacious Comfortable bed Quiet Close to great bars and restaurants Close to great shopping Close to transportation -Beautiful open space layout -Very sunny with southern exposure and big windows -One full size bed and one full size sleeper couch -The kitchen is fully stocked for your cooking pleasure. -Wifi available -We like to keep extra clean. We will meet you at the apt and make sure you get settled with ease. We will give you two sets of keys at that point. We will be available all through your stay, so if you need something, just ask! -Williamsburg, Brooklyn is one of the best neighborhoods in the WORLD! -There are too many bars and restaurant around. We'll provide a helpful guide when you arrive. -Great shopping with local artists, craftsmen, and designers; their small boutiques are so unique. -We are one stop from Manhattan on the L train and about a 7 minute walk to the subway -We are also conveniently located by the East River Ferry which makes stops in Manhattan, Brooklyn and Long Island City. The trip to Manhattan takes only 15 minutes and it's only a two minute walk from the apartment. -The closest train is the L at the Bedford stop. It's a 7 minute walk from the apartment. -The East River Ferry is a 2 minutes walk from the apartment. -There are a few Citibike locations by the apartment. -Waving down a cab is not a problem. Our home is your home. We try to keep it clean, comfortable and homey. We hope you'll feel like this is your home away from home.
-Williamsburg, Brooklyn is one of the best neighborhoods in the WORLD! -There are too many bars and restaurant around. We'll provide a helpful guide when you arrive. -Great shopping with local artists, craftsmen, and designers; their small boutiques are so unique. -We are one stop from Manhattan on the L train and about a 7 minute walk to the subway -We are also conveniently located by the East River Ferry which makes stops in Manhattan, Brooklyn and Long Island City. The trip to Manhattan takes only 15 minutes and it's only a two minute walk from the apartment.
Nice apartment at the perfect location! Easy going host, great communication. I can definitely recommend this place.
Catrien
2016-06-01T00:00:00Z
My parents were coming to visit and I needed a place close to me. The apartment was everything I needed it to be. Clean, prime location, amazing hosts, and pretty spacious for a studio apartment. I would book this place again in a heartbeat.
Stephanie
2016-05-25T00:00:00Z
What a fabulous place! This is a prime example of not judging a book by its cover, or in this situation, the exterior of the building. We were a little concerned when we walked up but once we saw The apartment we couldn't have been happier. It was spotlessly clean, well appointed, and had everything you need. And the neighborhood was so much fun that we didn't even go back into Manhattan on either of the two nights we were there. Benjamin was always available for us, giving us inside tips on where to dine and places to go. We will definitely go back!
Geri
2016-06-20T00:00:00Z
I booked last minute with Morris and he went out of his way to make sure I could come at my preferred check-in time. The apartment was big, spotless and very comfortable. It was exactly what I needed. I'm very familiar with the neighborhood and this is a great location. I will definitely recommend it to any future visitors I have.
Shayla
2015-12-20T00:00:00Z
Great apartment, awesome location and Morris is a very helpful/communicative host! Very good all round!
Zacchaeus
2016-08-22T00:00:00Z
Great location, very easy experience overall, loved the apartment - recommend this place!
David
2015-12-14T00:00:00Z
The apartment was great, super conveniently located and our hosts were excellent. I would definitely stay here again, I can't recommend it highly enough!
Helen
2016-12-03T00:00:00Z
Apartment was great, perfectly located within Williamsburg, close to shops, bars and restaurants with the Williamsburg Bridge close by for those looking for a nice walk into Manhattan Benjamin met us at the door when we arrived and was helpful with recommendations and advice on the area Apartment was a good size with all facilities you could need Would recommend
Brian
2016-11-17T00:00:00Z
Rodzaj pokoju
Całe miejsce
---
Rodzaj nieruchomości
Apartament
---
Mieści
4
---
Sypialnie
Brooklyn, Nowy Jork, Stany Zjednoczone
Located comfortably in the belly of a century old Building is a shared space with pleasant rooms to stay in for a visit to NYC. The room can comfortably accommodate 2. Internet - Private Room with lock and key - Small Safe - Safe Neighborhood - See Detailed description for more.
In the center of Williamsburg Brooklyn Close to Subway and River -> 1 stop away from Manhattan. The East River Ferry is only blocks away. You can travel to and from "The City" in a matter of minutes -> You will find many restaurants representing food from all over the world and music venues with every type of musical flavor you need to taste. This space as mentioned, it is located on 1st Floor inside the belly of an old building - it has the charm of an old NYC building :) the Loft as we call it, is a shared space with other travelers. So please come and enjoy NYC share with us. The bedroom is 10'x7' (3x2 Meters)The room has a working safe for your valuables. 3 bathrooms each with a shower - the kitchen is the largest shared space with refrigerator and microwave along with a food cooker, coffee press and a tea pot. There isn't a stove for pan cooking. We offer a variety of complimentary teas and some instant coffee. We urge you to go out and try one coffees at one of the dozens of cafes in the neighborhood.
Music, Art, Food (Fine/Casual) Brooklyn - World Travelers - NYC and all its History - World Class Museums - Subway to Coney Island - Across the river from the LES, Little Italy, Chinatown.
Great location and friendly host! Right at the Williamsburg waterfront and just a few minutes away from the L Train.
Julie
2016-11-20T00:00:00Z
The loft is very conveniently located, and John was very friendly and helpful. Don't expect much privacy from the other rooms with the paper-thin walls.
Loïc
2016-09-30T00:00:00Z
Mi hermana y yo estamos muy agradecidas de que personas como John sean anfritiones. Se portó GENIAL desde el primer momento. Es súper simpático, dinámico, te ayuda en lo que necesites... en definitiva, un anfitrión de 10. Además, la ubicación nos gustó mucho: he estado anteriormente en NY (me hospedé en Manhattan), pero personalmente pienso que la ubicación es muy buena porque hay transporte cerca que te lleva a Manhattan (tardas relativamente poco) y al aeropuerto. La habitación y el piso entero estaba limpio y ordenado, tal como se ve en las fotos. Cuando vuelva a NY espero poder volver a alojarme allí. My sister and I are very grateful that people like John are hosts. He behaved great from the start. He is super friendly, dynamic, helps you in whatever you need ... definitely, a host of 10. In addition, the location we liked: I have previously been in NY (I stayed in Manhattan), but I personally think the location is very good because there are subway nearby for to go to Manhattan (it won't take you too much to arrive) and the airport. The room and the flat was clean and tidy, as seen in the photos. When I come back to NY, I hope stay there again.
Silvia
2016-03-16T00:00:00Z
Was a great stay. Host was a real champion. Cool vibe in the place. Heaps of room.
Dane
2015-09-14T00:00:00Z
Let me start off by saying that John is an exceptional host. And I can say without a doubt that if you need to stay with somebody you can trust and count on it's John. But as far as the apartment I can't really say just because the day before I had a medical issue occur where I was not suitable for travel. I messaged John early on my arrival date and told him about my misfortune, and after he had been very helpful and receptive, that I saw it fit for him to keep the money. And I will say his response was so kind and understanding that I will be stay there on an upcoming trip. And then I can give a review on the room, which I know will be perfect for my needs. Thanks to John can't wait to come on by!
Krystal
2015-08-16T00:00:00Z
Prime location, clean rooms and organized. The "loft" experience means guests in other rooms will hear your conversations - where you can all agree that this is a great deal for a place to stay in Williamsburg, Brooklyn.
Elton
2016-05-08T00:00:00Z
Fantastic location for good price! Place is quite noisy and small, very thin walls. But if you're looking for an okay priced airbnb at a good spot then this is the place to be!
Annemieke
2016-10-06T00:00:00Z
I can recommend the neighbourhood en the place!
Justine
2017-02-13T00:00:00Z
Rodzaj pokoju
Pokój prywatny
---
Rodzaj nieruchomości
Loft
---
Mieści
2
---
Sypialnie
Brooklyn, Nowy Jork, Stany Zjednoczone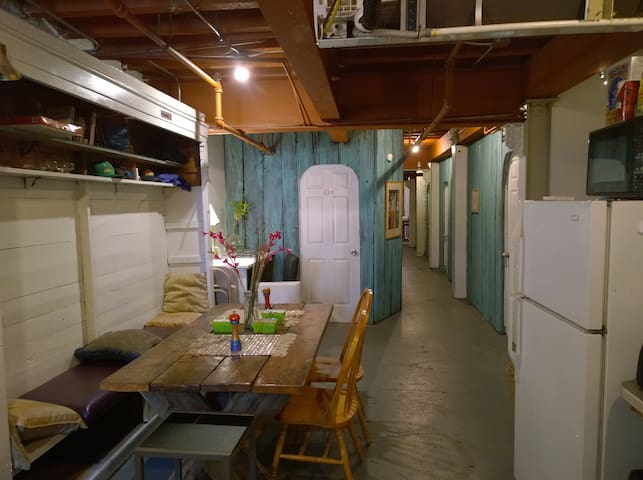 A rare find amongst the ever-changing architectural landscape of Williamsburg, this 1920s former ammunition factory retains a charm reminiscent of Brooklyns early industrial roots. This listing includes access to two private bedrooms, a large open shared space, a full size kitchen, and a full size bathroom. When you enter the spacious apartment, you first see the wall of windows directly across the living room. There is lots of natural light in the space, making it feel alive, warm, and open. Open the windows and enjoy the sounds of Williamsburg. In the living area, there is and oversized chesterfield sofa, a comfy faux-leather chair with an extra large ottoman, a hand crafted farmers' table that seats up to 8 people, and the kitchen. Kick your feet up and enjoy a good movie. The kitchen is modern industrial meets country kitchen appeal. The open shelving makes access to stemware, dinner plates, and cups not only a cinch, but the design statement is unique. It feels open and new and invites those living in the space to engage with the kitchen. The bar is hand built and houses a kitchen cart for extended counter space. The shelves opposite the kitchen sink house are also handmade. Help yourself to any of the kitchen stuffs you might happen to fancy. The bathroom is crisp and clean. The full size bath is a nice place to relax after a day of gallivanting. Bath linens are provided. The first bedroom with its traditional spin on modern decor has a queen size bed. In total, two adults can sleep in this room. Air conditioner is installed for summer season. The second bedroom doubles as an art studio. It has a queen size bed where two adults can sleep. There's also an air conditioner in this room.
Conveniently nestled in the heart of Williamsburgs celebrated SOUTHSIDE, a brief seven minute walk to the BEDFORD L stop will make your daily adventures a breeze with the accessibility of local coffee shops, a bustling nightlife, and countless local restaurants. Williamsburg is an influential hub for indie rock, hipster culture, and the local art community. The neighborhood is being redefined by a growing population and the rapid development of housing and retail space particularly catered to a wealthy population that has been historically foreign to the neighborhood. It's the coolest place in town, and you'll be short of no luxuries in this desirable area.
The host canceled this reservation the day before arrival. This is an automated posting.
Robert
2016-06-09T00:00:00Z
Jordan & Joshua's very charming apartment is centrally located in Williamsburg with restaurants and bars just around the corner. With two separate bedrooms it was the ideal accommodation for us – a company of three. We would love to come back. Communication with Jordan & Joshua and pick-up of the keys was flawless.
Rasmus
2015-11-16T00:00:00Z
Where do I start. Oh yes, Jordan and his apartment are AMAZING! I'm sure there isn't enough space to capture everything, so here are my top reasons why you should stay at this place. 1.) Interactions with Jordan: Not only did he respond quickly to my multitude of questions, but he continually offered to help with anything we needed to make our stay more enjoyable. He also has the best personality. 2.) Accommodating special requests: it was my bachelor weekend and Jordan was kind enough to let my brother come into his apartment early to set up the place with photos, flowers and things I love. He didn't have to do this, but he truly cared about making this weekend special. 3.) Location, location, location: the neighborhood is awesome, if you are looking for a different experience just on the doorstep of NYC, you will LOVE Williamsburg. It's a safe neighborhood and easy to find parking if you're driving. Also, the apartment itself had so much character and space (more space than any hotel you could stay at for the same price). Finally, everything was clean and tidy. Everyone has their own definition of cleanliness but Jordan's place more than passed my clean OCD test. 4.) If feels like home: Jordan makes every effort to ensure you have what you need and the place is at your disposal. We felt like we could move right in! Overall, we loved our weekend at Jordan's pad and made great memories with friends and family. Cheers!
Blake
2014-07-22T00:00:00Z
A really beautifully done apartment with great and unique decorations throughout. Close to Bedford Street and surrounding bars, cafes and shops.
Daniel
2017-02-05T00:00:00Z
Joshua and Jordan's loft could not have been any more incredible! It's such a unique space filled with so much character in a vibrant neighborhood. Tons of stuff to do within walking distance or a quick train ride. Joshua and Jordan went above and beyond to make our stay comfortable and easy. We hope to be back soon! Thanks Joshua and Jordan!
Katie
2017-03-05T00:00:00Z
Great location. Clean and comfortable.
Zach
2017-01-22T00:00:00Z
Great apartment to stay at; it was very clean and in a great location. Within walking distance to lots of bars and restaurants. Unfortunately, Jordan and I were not able to meet, but he provided great instructions and everything I needed to know to get to and around the apartment. I would definitely stay here again.
Matthew
2013-03-11T00:00:00Z
Jordan is a pleasure to communicate with and his apartment is absolutely magical and exactly as described. It's a home full of warmth and happiness that you can't help but feel. The beds and couch are extremely comfortable and the place is very clean. I highly recommend this apartment!
Alicia
2014-07-07T00:00:00Z
Rodzaj pokoju
Całe miejsce
---
Rodzaj nieruchomości
Apartament
---
Mieści
4
---
Sypialnie
Brooklyn, Nowy Jork, Stany Zjednoczone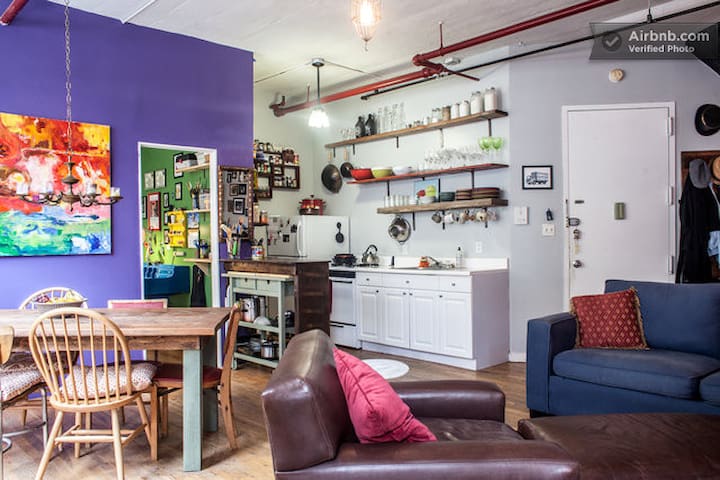 This amazing, brand new penthouse apartment in Williamsburg with expansive views of Manhattan is on par with anything you'll find at any 5 star hotel, and offers even more. Just 1 stop off the L train from manhattan and Union Square, trend-setting Williamsburg is the place where everyone wants to be. If you're not familiar with Williamsburg, it's what Manhattan used to be before Disney and the chain stores and restaurants popped up everywhere. Unique restaurants, shops and sights are all within a couple blocks from my front door which is only one block off Bedford Ave., the buzzing hub of Williamsburg. This elevator penthouse has everything you could ever want while visiting the big city. It's all brand new, including the furniture. Top of the line, stainless steel appliances, with dishwasher and microwave and importantly, a full-size washer and dryer. The bedroom, is also huge with a queen size bed and floor to ceiling windows that look out to the city of Manhattan with clear views of the Empire State Building, Chrysler Building and Williamsburg Bridge. The living area is unlike anything else you'll find. Spacious, modern, stylish and very comfortable. Right off the living room is a huge private balcony for warmer nights that looks out to the manhattan skyline. If the manhattan skyline views aren't enough, 360 degree views of the city and Brooklyn are located just one flight up on the huge roof deck. Or maybe you'd like to work out in the brand new gym located in the building. Other amenities include Verizon Fios, the fastest wireless internet and cable with over 200 channels and a huge 50" Smart television to watch them on. The modern couch folds down to be a very comfortable bed that sleeps two. If you're looking for a special visit to NYC and to see where world wide trends in art, fashion, food and drink begin before the rest of the world has experienced them, this is the place to be.
Had the best time in nyc. The apartment was clean and had the most amazing view. The host was great and informative as well. Over all great time.
Eric
2016-07-21T00:00:00Z
Russell's place was in a great location right in the heart of Williamsburg. The place was really clean and looked even better than the pictures show.
Jonathan
2014-10-19T00:00:00Z
Great apartment just as advertised. Good communication even from traveling abroad.
Nao
2016-08-21T00:00:00Z
Russell's place was amazing! Such a great location, such a great spot. Would 100% stay there again
Kevin
2016-08-26T00:00:00Z
The deck is amazing! Love the place. Couldn't have been happier.
Matthew
2016-10-09T00:00:00Z
Great location in a great NYC neighbourhood - it was fun soaking Williamsburg's atmosphere right there. Also, getting to Manhattan was very easy - 2 subway lines are less than 10 minutes away, plus you can always take Brooklyn's water taxi. Thanks, Russell, you were a great host and I can absolutely recommend your place!
Aigars
2014-11-09T00:00:00Z
Amazing place! Russell was a great host and we will definitely be back. Apartment was absolutely amazing!
Anna
2016-07-28T00:00:00Z
Best apartment, best host, best value
Shaul
2016-02-07T00:00:00Z
Rodzaj pokoju
Całe miejsce
---
Rodzaj nieruchomości
Apartament
---
Mieści
4
---
Sypialnie
Brooklyn, Nowy Jork, Stany Zjednoczone
My place is close to Amazing restaurants, beautiful parks, galleries and public art . You'll love my place because of the location and the ambiance. My place is good for couples, solo adventurers, business travelers, and families (with kids).
We had an excellent time at Jennifer's place. The flat is lovely and very well located, in the heart of Williamsburg. Jennifer is a great host, very kind and helpful. I will definitely recommend this flat!
Naima
2017-04-04T00:00:00Z
A pleasant trip of pleasure and business. Central location for my needs.
April
2017-02-23T00:00:00Z
Very modern and clean little apartment in great location in Williamsburg! Check-in/check-out was very easy with lockbox access. Amenities were modern. Four us comfortably shared the apartment. I highly recommend for anyone looking for a great, clean, space at an excellent price in the heart of Williamsburg.
Ildiko
2017-03-05T00:00:00Z
Jennifer's home was exactly as described! Her accommodations and hospitality go above and beyond. I definitely will be back!
Jared
2017-03-12T00:00:00Z
Booked this place for my parents when they came to visit Brooklyn. Jennifer was super responsive and everything was exactly how she described it. Will definitely be booking it again!
Rose
2017-03-20T00:00:00Z
Fantastic place !! I cannot come up with enough positive superlatives. I warmly recommend this appartement. Definitely my absolute best airbnb experience. The location is great, the appartement is nicely renovated, the price is very attractive. The hosts are extremly kind and responsive. We LOVED our stay there.
Sylvain
2016-12-06T00:00:00Z
Great Apartment!!! Very Nice, clean, upgraded and close to everything. Short walk to the train and transit. Getting to the City was Easy. And it's located in a beautiful neighborhood
Sam
2016-12-12T00:00:00Z
Beautiful, large and light apartment. Living space is large and comfortable - even hosted our son over to watch the basketball game one evening. The place looks recently remodeled and was very clean and comfortable. We would recommend it.
Cynthia
2017-03-27T00:00:00Z
Rodzaj pokoju
Całe miejsce
---
Rodzaj nieruchomości
Dom
---
Mieści
3
---
Sypialnie
Brooklyn, Nowy Jork, Stany Zjednoczone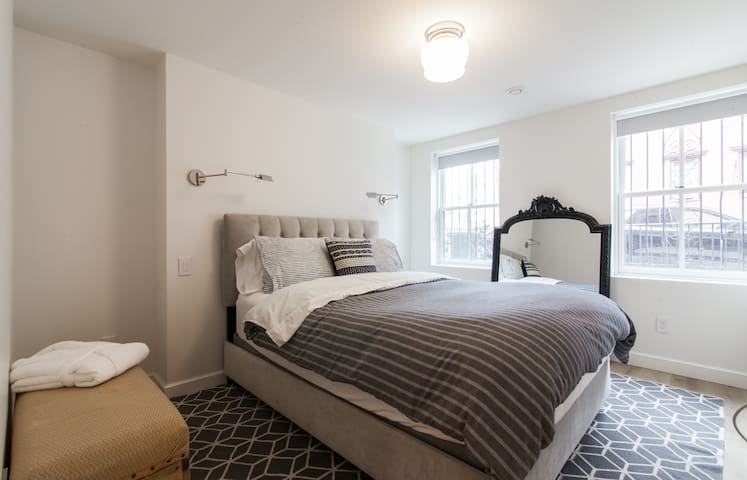 This spacious studio has a queen size bed in its own nook that opens up the living area. There is a fire escape you can go out on to catch the sunset too or hang out inside and open the windows to get a lovely cross breeze.
It's a very large studio with windows that allow natural like to pour in. The white with exposed brick walls give it unique character. The bed is in its own nook making the living area feel very open.
Williamsburg has so many charming bars, restaurants and cafes just a short hop, skip and a jump away. I'm happy to share some recommendations, just ask!
Great apartment. Clean and comfortable. Check-in and check-out was easy with no issues.
omer
2017-04-07T00:00:00Z
I stayed at Jordana's place for ~3 weeks while looking for an apartment after moving to NY. It was great to have such a warm and comfortable place to come back to every night while searching for a permanent place to live.
Maxwell
2017-03-01T00:00:00Z
Lovely spacious studio apartment as seen on pictures. Well equipped bathroom and self-catered kitchen. Quite close to subway station so make it very easy to visit the city during the day and have dinner in the neighbourhood. Great restaurant and cafe selections within walking distance and we ended up having breakfast and dinner nearby. Be prepared to drag luggage through busy hipster streets and up subway and apartment stairs..but worth the hassle. We will be back!
Winnie
2016-04-04T00:00:00Z
I had a great stay at Jordana's place in Williamsburg. It's located in a cool area with a ton of restaurants/cafes within walking distance. A few blocks away is the walking entrance to the Williamsburg Bridge, so you can easily get over to Manhattan if you don't feel like taking a cab or train. The apartment actually looked larger in person than in the photos, which is usually the opposite! Jordana was excellent at communication - I'd definitely recommend staying here.
Nick
2016-11-04T00:00:00Z
Loved this place. Loft style. Very NY. Jordana was easy to communicate with and it's central to all things Williamsburg. Good experience!
Ash
2016-03-24T00:00:00Z
Jordana's appartment was the best! Very nice decorated and a comfortable bed. We loved the area, w burg is for sure the most relaxed place to be with the perfect vibe! It was close to the L and J train which took you everywhere. Jordana was very easy to talk to and flexible and had Some great tips! Only thing is that the street could get a bit noisy in the early morning, but since we wanted to get up early that was not a problem! Would definitaly recommend this app and would stay there again!
roos
2016-05-29T00:00:00Z
Awesome home base for anyone/couple who have things to do in Williamsburg. Feels like an authentic BK apartment. Jordana is easy to communicate with and she's provided everything you'd need for a comfy nights sleep.
Jessica
2016-10-25T00:00:00Z
Jordana's place was fantastic! Great location and it's even larger than it looks in the pictures. Wish we had stayed more than two days. Jordana was quick to respond and very helpful. Definitely recommend!
Mariana
2016-12-31T00:00:00Z
Rodzaj pokoju
Całe miejsce
---
Rodzaj nieruchomości
Apartament
---
Mieści
2
---
Sypialnie
Brooklyn, Nowy Jork, Stany Zjednoczone
Cozy 1B studio in the heart of Williamsburg one block away from the greatest view of NYC near the water and 1 subway stop away from the city (Bedford) The neighborhood is super cool! 2 blocks away from Bedford Ave where you can find amazing restaurants, unique shops and coffees (I can send you recommendations) The studio has great light and a small outdoor area perfect for a wine night. 10 min walk to the L train or JMZ subway. Super convenient to have the best of both worlds: Brooklyn and NYC
The studio is newly furnished with modern finishes like marble and concrete, beautiful plants, candles and books to read on your free time. *It is located on GROUND FLOOR* It has great light thanks to the 2 huge windows with plants facing the street. The street is super quiet both day and night. The private outdoor area at night has super cozy lights perfect for a wine night or a cigarette break for smokers. A rack with hangers will be available to organize your coats and clothing during your trip.
Enjoy a walk on the side of the water with the best view of New York City and the Williamsburg bridge just 4 blocks away.
Andrea es una excelente host, y su departamento debe ser el más cómodo, bonito y lleno de buenas energías que conozco! Estuvimos una semana con mi hermano, y quedamos enamorados del vecindario: volvíamos caminando por Bedford ave. a todas horas de la noche y siempre había vida. Además, saber que después de un día magnífico nos esperaba un lugar tan bonito y cálido nos alegró completamente el viaje. En nuestro viaje a NYC nos hospedamos en otros dos lugares más, y realmente la casa de Andrea marcó la diferencia y nos brindó la experiencia que queríamos vivir :). Gracias!
Jesica
2017-01-01T00:00:00Z
The host canceled this reservation 45 days before arrival. This is an automated posting.
sharon
2016-12-15T00:00:00Z
Andrea's flat is in a great location in Williamsburg, safe area, tons of cafes, restaurants, bars and nice walks along the river. Her flat is cozy and with great design. Andrea is super sweet and helpful. Its not really a flat for cooking a ton, but you can still get the job done. The only negative could be that the front door leads right the to street.
michelle
2017-03-14T00:00:00Z
Andrea è una perfetta padrona di casa,io e il mio fidanzato siamo stati a casa sua per otto magnifici giorni. La casa è perfetta per una coppia, ha tutto il necessario per trascorrere un soggiorno confortevole. Al nostro arrivo Andrea,ci ha fatto trovare l'appartamento pulito e profumato (compresi biancheria e asciugamani) e un sacco di bigliettini che ci hanno fatto sentire subito a casa! È stato semplice e immediato comunicare con lei, ed è sempre stata disponibile a darci consigli e suggerimenti sulla casa e sui locali vicini. La zona di williamsbourg è meravigliosa e vivace,piena di negozi, locali e ristoranti. La metropolitana che porta a manatthan è a 5 min a piedi dall'appartamento. Insomma vi consiglio vivamente di soggiornare qui :)
Veronica
2016-12-24T00:00:00Z
Rodzaj pokoju
Całe miejsce
---
Rodzaj nieruchomości
Apartament
---
Mieści
2
---
Sypialnie
Brooklyn, Nowy Jork, Stany Zjednoczone
My place is in the center of the coolest area of Brooklyn, Williamsburg! Located in the heart of the neighborhood, you'll find the best restaurants, bars, vintage shops just couple blocks away. A whole foods and an Apple Store were recently opened too. Whenever you want to cruise into the city the L line and the M/J line are available and only one stop away from Manhattan!
The reason I moved to this apartment was the light, the place is so cozy and the big windows just makes you wake up on the best state of mind. I'm a young Brazilian who's been living in NYC for the past 4 years, although I would love to socialize and show the neighborhood around, I'm very respectful of people's space, having roommates has thought me that. If you ever decide to stay in, the TV has diverse channels and I have a small but really well equipped kitchen, I'm a fan of cooking and if you take the risk I can have a meal ready! haha
Williamsburg is a neighborhood that has changed a lot in the past couple of years, it became a laid back young neighborhood known for its great restaurant and bars. Keeping a hipster vibe, you can count with a ton of vintage shops, vegetarian/vegan cuisine, flea markets and cool bars. Even tho you're in Brooklyn, you're just one stop away from the city, and commodities are all over the hood, we're served with the biggest super markets, apple store, J.Crew, Diesel, Uniqlo and pretty much all the shopping you can find in Manhattan.
Marina's place is wonderful, and an excellent location too! She's easy to communicate with and was very accommodating when we needed to adjust our check-in/out time. Highly recommended!
Nicoletta
2017-03-22T00:00:00Z
A very clean, large and sunny room/apt in a great location. Can walk a block or two to the East River, sit in a small park and enjoy the view of the City.Very comfortable and large bed - could use some night lamps next to the bed and some blackout curtains or blinds on windows. Heating was excellent and quiet - no noisy radiators. Could also use a chair or two in the bedroom. Room was private - would suggest remote headphones for tv watching in adjacent living room to keep noise down. I would def. stay here again-great value and a lovely apt. Very easy to get into the City and plenty of places to eat and shop for food in the neighborhood. Clean, small, modern kitchen. Parking also appears to be easier than in other NYC neighborhoods at certain hours - didn't see any restrictions for time.
Steve
2016-12-15T00:00:00Z
Stayed at Marina's for the last few days of my trip. By far this was the highlight of the entire New York experience because of Marina's 5 star hospitality, amazingly convenient and clean accommodation. Marina was also very helplful in providing me with ideals of what I should do and in a rare Friday night gathering allowed me to join her for dinner and experience how she lives NYC life! :-)
Richie
2017-03-05T00:00:00Z
The host canceled this reservation 10 days before arrival. This is an automated posting.
Dan
2017-03-03T00:00:00Z
It was a great place for travel in New York!! Especially, accessibility was good! Subway is closed to the place!
정우
2017-04-05T00:00:00Z
We stay here for 5 nights during our Christmas trip in NY. Marina's room is very cozy and warm. Room is clean, the bath is spacious.The best place to stay when it's cold outside. The view of the roof on the Manhattan skyline. Marina's friend Ingrid is friendly and delicate. She made our stay very comfortable.
Andrey
2016-12-29T00:00:00Z
Location was very nice in Williamsburg. A small walk to train stations and good coffee/restaurants nearby. Make sure to communicate with the host for check in!
Grant
2017-03-25T00:00:00Z
It is exactly how it's described. A lovely space and room. Super sunny and in a charming neighborhood. And a very nice host.
Nicole
2017-01-15T00:00:00Z
Rodzaj pokoju
Pokój prywatny
---
Rodzaj nieruchomości
Apartament
---
Mieści
2
---
Sypialnie
Brooklyn, Nowy Jork, Stany Zjednoczone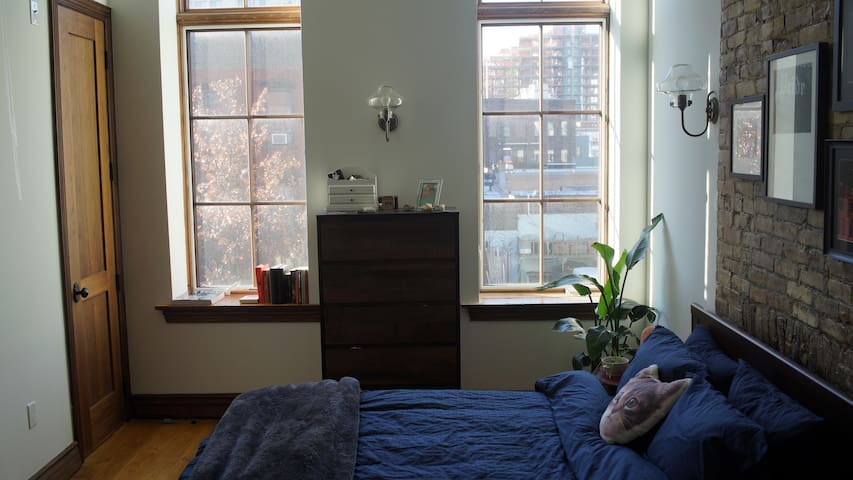 Hey guys, I am renting out my cozy charming room in Williamsburg, Brooklyn for 3 weeks (January 1st - 22nd January) It's 30 seconds from the BEDFORD subway station and it's close to so many amazing coffee shops and restaurants.
Rodzaj pokoju
Pokój prywatny
---
Rodzaj nieruchomości
Apartament
---
Mieści
1
---
Sypialnie
Brooklyn, Nowy Jork, Stany Zjednoczone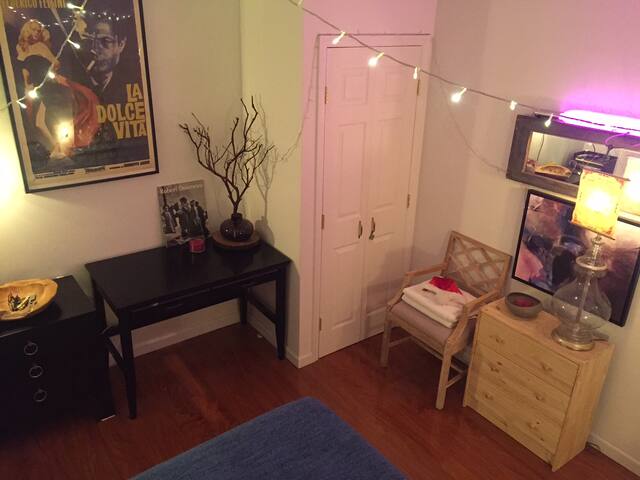 One of the most unique spaces in New York, a (very) rare converted industrial loft with loads of character, and incredibly located in the heart of Williamsburg, two blocks away from the water. Staying here is an experience it itself -- the special charm of the space is overwhelming. But to boot, the kitchen is fully outfitted to make espresso or start cooking, and the bathroom has just been fully renovated, newly painted and floors laid. The perfect experience.
A very rare property, this 900 square foot loft is in a converted industrial building in the very heart of Williamsburg. The 100 year old hardwood floors, spectacular beams, and large windows create this very unique, very rare (nowadays) loft space. The address could not be more ideal, with a less than 5 minute walk to the L train, one stop from Manhattan, in the heart of all that makes this part of Brooklyn so popular, surrounded by boutique shops, restaurants, yoga spaces, bars, etc. It's newly decorated, with whimsy and comfort in mind. There is one queen sized bed, a day bed with a proper twin sized mattress, and a trundle bed underneath, again with a twin sized mattress – so you can comfortably sleep up to 4 adults. A full-sized bathtub (and spa shower head) awaits you in the bathroom, to soak away in after a long day. The bathroom has just been newly renovated: fully painted and new floors laid down and the area is sparkling clean. Shampoo, soaps, bath salts, etc., are all available for your use while you are a guest. The sink is in the kitchen. The kitchen is fully outfitted with everything you need to cook, make your morning latte with an espresso machine, your afternoon smoothie, etc. [The Ninja blender is a Vitamix equivalent and will convert you to its uber smooth power, if you aren't already familiar with it). A dining room table can seat up to ten people (with the available leaves added). A custom-made standing desk is available for while you work. Wifi works very well (and as a digital photographer, I can attest to it with all the up and downloads I do on a daily basis). Please note: The floor of the building has three apartments, and one of them has to access their door through the kitchen (see photos), so this is not a space that everyone may like. The bathroom and kitchen are fully private, for your use only. The neighbors are the kindest creatives you'll encounter and keep very much to themselves. There is old loft building noise where you can hear neighbors sometimes on occasion (e.g. doors closing, footsteps) but everyone is mature, well behaved and respectful -- it's not suitable to being a party space but for someone who wants to live like the artists in the 70s in SoHo but with full amenities. Check out time is 11 AM and check in is at 2 PM. However, I am delighted to look into being flexible with that timing if you let me know well in advance so I can check with previous guests, arrange the cleaner for different hours, etc. **Please also be sure to send a brief introduction if it's not in your profile as you will be staying in my home in New York with my belongings and I'd love to know who is there!
Williamsburg is arguably one of the hippest areas of New York, with the most amenities in Brooklyn. Founded by musicians and artists, it has now grown more gentried, leading to some of the most famous restaurants in NY: from the staple of Peter Lugar's to the newly minted Lilia's.
Incredible stay and perfect location. Amy was so helpful and made us feel so welcome. I've lived in Brooklyn for two years and I've yet to come across an apartment with as much charm as Amy's. Thank you Amy.
Luke
2016-06-15T00:00:00Z
We really enjoyed staying her house! Safe areas, clean house, her hospitality, everything is wonderful!! Before we visited there, she arranged the car from the airport for us. And she always kind, warm, and helpful!! It was the first time to use Airbnb, but this would be totally awesome staying. We definitely want to stay again! Highly recommend!
Yuki
2016-08-12T00:00:00Z
It was an awesome artsy experience!
Chaka
2016-07-17T00:00:00Z
Amy was a great host and the place is super well located. I'll definitely recommend this place. We were using the city bike around the corner and exploring Manhattan and Brooklyn. Going out at night is good as you can walk to places without taking a cab. Amy was always helpful and willing to help and the place has a great vibe. I also like the neighborhood, having the energy from Manhattan but with the hipness of Brooklyn.
Jorge
2016-11-12T00:00:00Z
Amy was an amazing host. My friends arrived a day earlier than me from France and do not speak a lot of English and she suggested spontaneously to arrange a good taxi service for them. She was liaising all the time with us to make sure that they would get in okay -- and before as well as throughout the stay she was always really quick to react, and patient, if we needed anything. The loft is superbly decorated and offers quite a huge space for New York. We were 3 and had largely enough space, with a dining area, a big bed and the sofa bed/sitting room area + kitchen and closets/hallway. There were some curtains that could maintain some privacy if needed. It's a real artist's loft with one quirky detail, that she mentions in the ad: one neighbor having to pass through the kitchen area to get in his apartment. But it wasn't bothering at all, we only saw someone once in four days and hardly heard anything. If what you're looking for is a different lodging experience right in the heart of Williamsburg I would definitely recommend Amy's loft!
Elodie
2016-09-25T00:00:00Z
Amy was a fantastic host, she was so warm and welcoming and me and my guest were extremely well looked after. Both Amy and her lovely neighbour Heather were very communicative and accommodating when we needed them for any local recommendations and advice. The apartment is beautifully designed, extremely clean, airy and comfortable and in the best possible location in the heart of Williamsburg. There is loads to do and explore with amazing places to eat and great bars seconds away. We would definitely stay again. Highly recommended!
Fraser
2016-05-29T00:00:00Z
Amy was a great host - very prompt communications seemingly any time of day or night! An information pack was sent that provided some really information about the local area. There's lots of great places to eat and drink in the local area as well a couple of supermarkets. It's a 10 min walk to the subway station and very convenient for Manhattan. Lots of space which is unusual for NYC! The apartment is quirky with a shared entrance through the kitchen - Amy mentions it in the description and it really isn't an issue - I only saw the neighbours once in a week long stay.
Victoria
2016-10-16T00:00:00Z
What a find! If you like everything Williamsburg you will love this awesome space. Tastefully decorated, in a central location close to all the bars and restaurants, you can't get much better. We managed to get a chance to meet Amy, who was so helpful with tips for the area, showing us around her place, and even leaving a welcome bottle of wine and food for our stay. Amy was contactable throughout the whole process, and very flexible with our plans. Totally recommend staying here and hope to return. Thanks Amy!
Anita
2016-06-21T00:00:00Z
Rodzaj pokoju
Całe miejsce
---
Rodzaj nieruchomości
Loft
---
Mieści
4
---
Sypialnie
Brooklyn, Nowy Jork, Stany Zjednoczone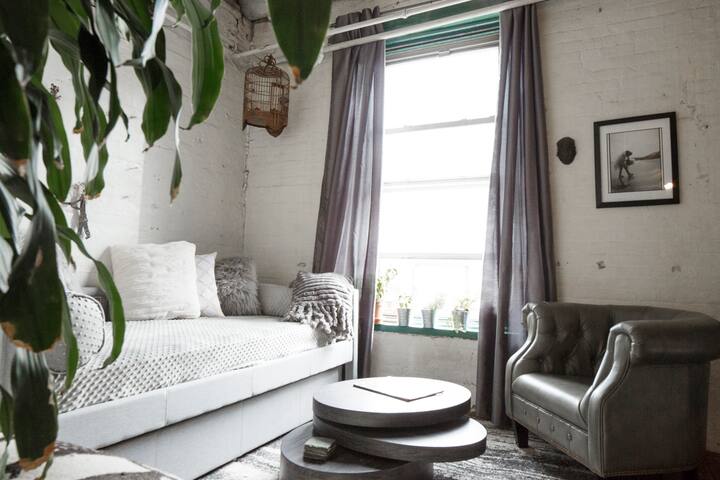 Modern, bright and open - located in the heart of Williamsburg, just a few minutes walk to the Bedford L subway and one stop away from Manhattan. This is a charming neighborhood with endless bars, restaurants and Smorgasburg! This apartment is a perfect oasis for couples, business travelers or anyone looking for a comfy and convenient stay.
This apartment is perfectly located and has all the modern updates you'll need to feel comfortable and at home! Central air conditioning / heat, 5 burner gas stove, oven, large freezer / refrigerator, modern bathroom with dual sinks and plenty of storage space!
- Popular nearby coffee shops: Devocion, Blue Bottle, Freehold - Popular nearby bars: Freehold, Rye, Berry Park, The Wythe Hotel - Every Saturday from 11 - 6pm, Smorgasburg is a large food market event on at 90 Kent Ave
Perfect spot in Williamsburg. Gabby's apartment was exactly as listed and one of the nicest air bnb apartments we've stayed in. Very clean, great location with a ton of cafes, bars and stores nearby.
Fritha
2016-12-27T00:00:00Z
Gabby's place was in the best location for my trip. It's right down the road from the most amazing coffee shops, restaurants, and bars. I loved how modern the complex was, it made us feel safer. Would definitely stay again!
Cortney
2016-11-27T00:00:00Z
Gabby's place was perfectly located near the heart of Williamsburg, which was our goal for this stay. Just a short walk from all the shops, bars and restaurants made this apt a great crash pad for exploring Brooklyn. Gabby was also super communicative and made it easy for me to get the keys to her place for the weekend. My husband and I enjoyed our stay!
Tawny
2016-10-09T00:00:00Z
Gabby's place is great and very comfortable. Also very closed to everything in the very hot Williamsburg's neighborhood. And great communication with Gabby who was very reactive to any question then we could have. Thanks again.
Julien
2016-06-26T00:00:00Z
Overall we enjoyed our stay and loved the location. Cool modern apartment. Gabby was very helpful and easy to communicate with.
Katie
2016-11-20T00:00:00Z
The host canceled this reservation 36 days before arrival. This is an automated posting.
Laura
2016-11-23T00:00:00Z
Rodzaj pokoju
Całe miejsce
---
Rodzaj nieruchomości
Apartament
---
Mieści
2
---
Sypialnie
Brooklyn, Nowy Jork, Stany Zjednoczone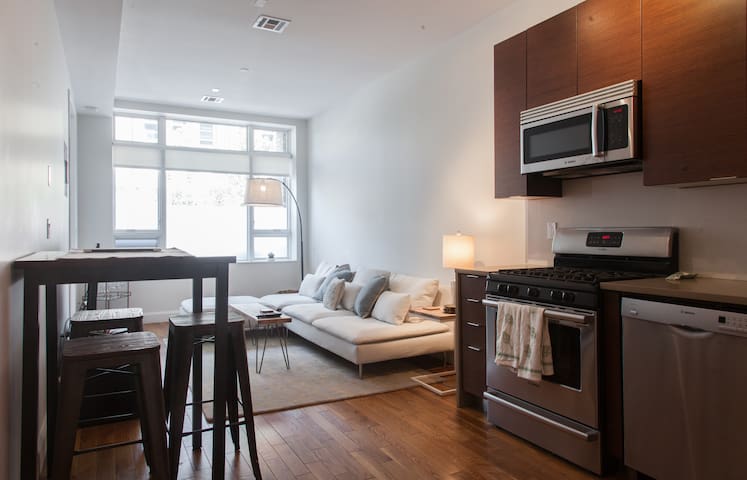 No risk, legal Airbnb rental in private residence. Private bedroom/bath in artists 140 year old renovated home with original paintings, unique decor and back yard. A 10 minute walk to the Bedford stop on the L train. Close to ferry. Bike rental 2 blocks away. On street parking. Great neighborhood with a lot of restaurants, shopping and pubs. One subway stop away from Manhattan.
Great location, breakfast included! Located in a 140 year old home brought up to modern standards. Trendy neighborhood with shopping and restaurants abound. One stop on the subway from Manhattan. Accommodates two people, full size futon bed. The house has exposed brick, wide plank wood floors, original erotic art and a lovely back yard with deck. Fresh linens are provided as well as a hair dryer and iron. Breakfast is your choice. We offer yogurt, fresh fruit, bagels/lox/cream cheese, eggs, bacon, muffins, oatmeal, granola and always freshly made juice and coffee/tea. **There is construction now being done across the street. There may be noise starting at 7:30am week days.
Williamsburg - Artistic neighborhood with a lot of restaurants and shopping. Great area to enjoy the waterfront, smorgasburg, with easy access to Manhattan.
Mark and Shelly were wonderful to spend some time with, and their home and breakfast were fabulous! If we come back to NYC, we are staying here again.
Sarah
2017-02-12T00:00:00Z
Great hosts- friendly and very considerate. Beautiful house. Perfect location in a quiet street, a few minutes from the shore and from all the restaurants and bars the lively neighbourhood offers. Highly recommended!
Eva
2014-05-03T00:00:00Z
We had a really amazing time at Shelly's place! We not only had a nice sleeping room but also our own bathroom. Every morning a very delicious American breakfast was served by the two of them, so that we could discover a nice spectrum of US-culinarities. Shelly and her husband are great hosts who gave us many good advices for activities and restaurants.
Eva
2016-10-09T00:00:00Z
Shelly and Mark were incredible hosts! This was my first official airbnb experience and I'm happy to report back that it was all we could have asked for and more. Their home is beautiful--full of character, art, and edge. The neighborhood is also full of great bars, restaurants, and shops that entertained us for hours. As an added bonus, Mark made breakfast every morning bright and early before we left for our meetings in the city and it was all delicious (Shelly also made fresh juice, which was a real delight). We'll definitely be coming back here on our next NYC visit.
Erica
2015-10-10T00:00:00Z
Mark and Shelly made us feel very welcome. Mark has great stories about life in NYC in general and Williamsburg in particular. He cooked us great breakfasts. Both have a great sense of humor. Their house is located near all the hotspots in Williamsburg and a short walk from Williamsburg Bridge. We will certainly return. Highly recommended!
Kees
2014-10-16T00:00:00Z
Shelly and Mark are so lovely! Their home is in a great area, close to transportation and many local restaurants. The breakfast was definitely my favorite part. Thanks again for letting me stay!
Ashley
2016-05-06T00:00:00Z
Mark and Shelly are great hosts!
Michael
2015-05-08T00:00:00Z
Shelly & Mark = Best hosts ever !!! Warm, friendly, funny. We really enjoyed our stay in their lovely house, in the heart of Williamsburg. We loved talking with them. What about breakfast ?! Delicious, each day different. Thank you Shelly & Mark. Hope to come back :) We still have things to learn about baseball ;)
Gabrielle
2015-09-29T00:00:00Z
Rodzaj pokoju
Pokój prywatny
---
Rodzaj nieruchomości
Dom
---
Mieści
2
---
Sypialnie
Brooklyn, Nowy Jork, Stany Zjednoczone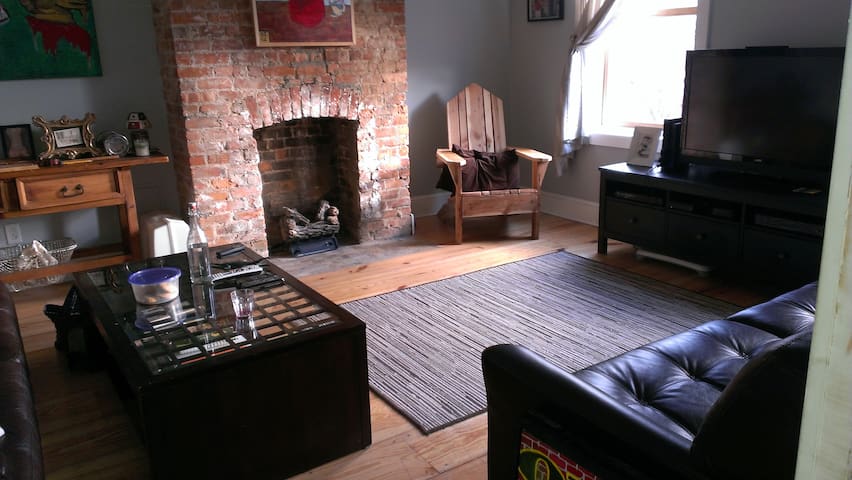 Want to stay in a dream apartment in trendy Williamsburg? Our place is close to Freehold, egg, Aurora, Devocion, Blue Bottle Coffee, and Radegast! We have floor to ceiling windows, a view of the Freedom tower, an unparalleled view of the city from our rooftop, and simple modern décor. Our place is great for couples, solo, and business travelers. Our apartment is a pleasant 10 minute (very safe) walk to the Bedford L train, and 15 minutes to the JMZ.
We have central heating and air!!! No matter how hot it is in NYC, you will always feel the rush of cool air when you step inside the home. With our floor to ceiling windows you always have plenty of sunlight, and can see much of the sky at night. Our apartment faces the courtyards, and is very quiet and private. Our apartment kitchen is full of anything you would need including pots and pans, cutlery, salt and pepper, oil, coffee grinder, coffee makers (drip and French press), etc. If your stay requires it, we have private laundry (soap provided!) and dryer within the apartment, as well as a dishwasher. We do not have a TV. Get out and explore the city!!
The neighborhood is the best in the city. My husband has lived in NYC his entire life, and we choose to live here! The neighborhood is very safe, there are many families and people walking around at all hours. Some of the best restaurants are located nearby and one of our personal favorites is Saturdays Smorgasburg!
The place was awesome!! Great location, on street (free) parking available, plenty of space (for a NYC home), pretty furnishings, excellent balcony, beautiful rooftop view. Floor to ceiling windows. Nice deep bathtub (I didn't take a bath, but it would have been nice). They left out really good coffee and teas for us. (I'm only now realizing that I didn't help myself to any of the tea which was a mistake since it seemed like the kinds of tea I love.) They didn't have a tv which was 100% fine with me and everyone in my group (why would you watch tv while you're traveling?), but I can imagine that might matter to some people. And Caitlin was so sweet and wonderful at communicating and coordinating logistics. Would definitely come back again if availability permits. It felt like I was visiting a hospitable friend.
Adrienne
2016-10-09T00:00:00Z
We stayed at Caitrin and Adrian's place for two nights and we had an amazing time! The flat is gorgeous, clean and perfectly located with many local bars and restaurants situated only minutes away from the flat. Also, you must go up to the rooftop! The view you get of Manhattan from up there is a treat, especially at night!
inga
2017-01-01T00:00:00Z
Caitrin's home had everything we needed for a comfortable and enjoyable stay. Her information was accurate, timely and very thorough. Nothing was left to chance. She answered the few questions we had quickly and showed a real interest in seeing that we were happy in her home. The unit was quiet and close to stores, shops, restaurants, transportation, athletics (try the Soulcycle a block away for an inspirational workout!), etc., etc., etc... We had several marginal rental experiences but this renewed our faith in Airbnb.
Niles
2016-09-12T00:00:00Z
Rodzaj pokoju
Całe miejsce
---
Rodzaj nieruchomości
Apartament
---
Mieści
3
---
Sypialnie
Brooklyn, Nowy Jork, Stany Zjednoczone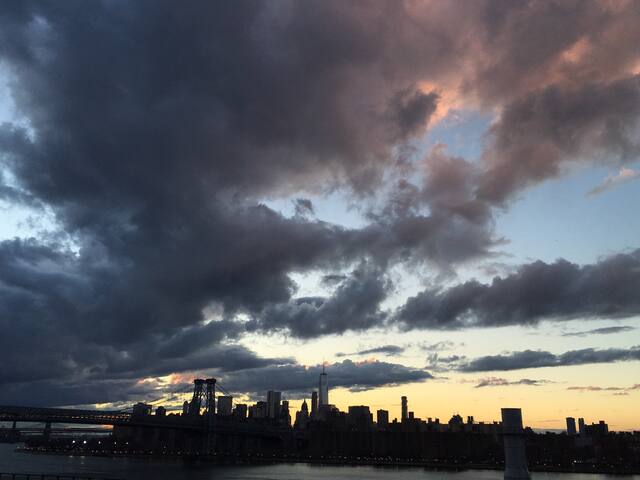 Spacious, private room with super high ceilings in a 2br apartment in the heart of Williamsburg, Brooklyn (North 1st and Berry). Private access to a huge outdoor space/terrace. My roommate's cat, Dewey, lives in the apartment but won't go into the room if the door is closed. Easy access to Manhattan (15 mins to Union Square) and other parts of Brooklyn.
Megan's place was very comfortable and gave off a very homey feel. Her adorable cat Dewey made it so that I felt comfortable and loved in a home that wasn't even my own. Highly recommended
Jairo
2017-03-25T00:00:00Z
Our stay at Megan's place was great. She's a good host. It's easy to communicate with her and she was very flexible to accomodate our schedule + perfect Brooklyn location.
Isa
2016-10-09T00:00:00Z
The host canceled this reservation 2 days before arrival. This is an automated posting.
Albertine
2016-10-05T00:00:00Z
Rodzaj pokoju
Pokój prywatny
---
Rodzaj nieruchomości
Apartament
---
Mieści
2
---
Sypialnie
Brooklyn, Nowy Jork, Stany Zjednoczone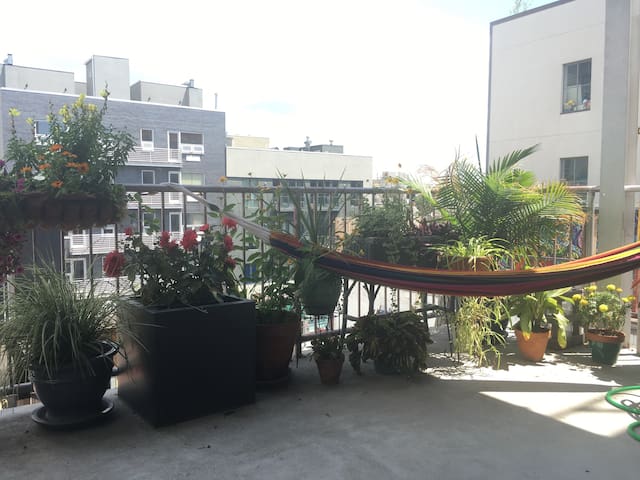 Only one stop on L subway from Manhattan, three bridges and the whole Lower Manhattan is what you can see from this exposed brick duplex, used in movies, in a former industrial building, steps from all the Billyburg fun and yet almost on the water.
You'll have the whole flat for yourself as I am traveling. The apartment has been used as a movie set, for example here: (URL HIDDEN)
One of the most vibrant hoods in the city. A new concert space just opened 2 blocks from here. Plenty of restaurants & clubs. Nighthawk Cinema 3 minutes walk. Bodegas within 2-3 blocks, Harvest Market for groceries 5 blocks away. Coffee shops galore.
Nous n'avons pas rencontré Peter, mais nos agréables échanges avant notre arrivée ont permis de tout organiser clairement. C'est son amie Xiren qui nous a accueilli et donné les clés. Elle était très sympathique et disponible pour répondre à nos questions. L'appartement était propre, bien équipé et correspondait tout a fait à la description. Spacieux et bien décoré, ce duplex installé dans une ancienne usine de cirage fait très new-yorkais. La vue sur le pont de Williamsburg ne gâche rien ! Idéal pour un séjour en couple. Le quartier est très agréable et animé, avec ses restaurants de toutes sortes, ses bars, magasins épiceries et supermarchés. On y trouve tout se dont on peu avoir besoin. Un point de départ idéal pour découvrir New York puisque la ligne L vous mène à Manhattan en une station (la vue sur la skyline à 5 minutes de l'appartement est une belle entrée en matière), alors que la ligne G (station à 10-15 minutes) nous mène vers d'autres quartiers intéressant de Brooklyn. Nous conseillons tout a fait ce super appartement que nous relouerions avec plaisir lors d'un prochain séjour. Thanks Peter !
Damien
2016-10-05T00:00:00Z
L'appartement de Peter est tout simplement fantastique. Spacieux, décoré avec goût, l'âme d'artiste de Peter est partout. La vue sur le pont et Manhattan la nuit est magique. Le quartier de Williamsburg est super agréable, à quelques blocks de chez Peter, sur Kent avenue, il y a un supermarché oú l'on trouve plein de produits bio. Idéal pour se nourrir d'autre chose que de hot-dog ou burgers.
Lilou
2016-07-11T00:00:00Z
Rodzaj pokoju
Całe miejsce
---
Rodzaj nieruchomości
Apartament
---
Mieści
2
---
Sypialnie
Brooklyn, Nowy Jork, Stany Zjednoczone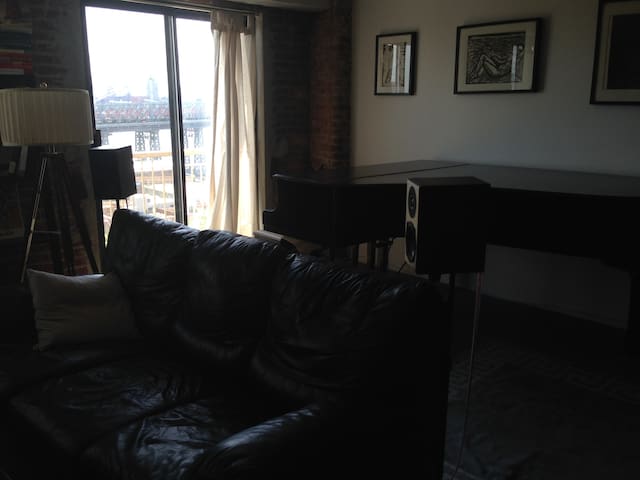 Beautiful view of the river and Manhattan while being centrally located near the shops, restaurants, and scene in Williamsburg. This open floor plan is a cozy home base for exploring Brooklyn and puts you one-stop from Manhattan or stay put and enjoy our bright and airy studio.
Entire studio apartment.
We are in a quiet building but situated right in the heart of the Williamsburg scene. You'll be just 1-2 blocks from Williamsburg establishments including: Skinny Denis, Depannuer, Devocion, Radegast, Nite Hawk, and so much more. Wanting to work up an appetite for brunch at Mogador Cafe? Check out local yoga studios including Y7, Green Holistic, Kula, or (up in green point) New Love City. If you're looking to get a Williamsburg experience without having to get in a cab or subway, look no further.
Bridgette's mini loft was great. Super clean, cozy and convenient. If you'd like to explore Brooklyn and Bushwick and still be able to easily access Manhattan, then this is the place for you.
David
2017-01-02T00:00:00Z
The location was key. It was walking distance to everything I wanted to check out in Williamsburg! The best bars, coffee shops, restaurants and grocery stores! My favorite thing was my morning run. I started right at the front door over the Williamsburg bridge and back. It was exactly 4 miles and a great way to start the day for anyone who likes to work out! The place was so charming and I felt at home. If I felt like being lazy the fact that they had Netflix was definitely a plus. They left a long note on the counter and fresh coffee when I arrived. The note had all the information I needed plus more. Only thing was that I wanted to do laundry and had to go into the little town to drop it off. I kind of enjoyed though. That's how it should be. Thanks Bridget!
haley
2016-08-30T00:00:00Z
Bridgette's house is the best! My friends and I had a good time staying in her house. It is exactly like the pictures she posted on the airbnb. Although it is a little bit walk from T station to the house, it is worthy to spend this amount money in the most hipster town.
Yilun
2014-12-26T00:00:00Z
Great place, great location to explore Brooklyn and beyond.. Very bright apartment, bring eye patch if planning late nights...
Andrew
2015-08-07T00:00:00Z
Nous avons été accueillis avec un paquet de café :). Souples sur les horaires de check-in :). Appartement très sympa, conforme aux photos et dans un quartier génial. On recommande !
Nathalie
2016-02-17T00:00:00Z
Bridgette's apartment was great. A tranquil and comfortable spot to park up in Williamsburg. Easy access to everything you need and an easy cycle into Manhattan.
Matt + Lola
2016-09-02T00:00:00Z
Der Aufenthalt in Bridgettes Wohnung war toll. Die Wohnung ist sehr hell mit vielen Fenstern und Blick auf Manhattan. Williamsburg ist eine tolle Gegend zum Wohnen mit etwas Abstand zum sehr trubeligen Manahattan und eigener lebhafter Atmosphäre mit vielen Bars, Cafes und Läden. Bridgette war ein super Host. Wir haben uns sehr wohl gefühlt in ihrer Wohnung. Gerade in einer Stadt wie New York, die auch etwas anstrengend sein kann und man viel herumläuft, ist es toll, eine schöne Wohnung zum Erholen zu haben.
Henrike
2016-09-17T00:00:00Z
My parents stayed at Bridgette's place over the weekend and loved it! The place is right in the heart of Williamsburg, close to a ton of great bars/restaurants, and has a beautiful view of the water which is a block away. Bridgette was so thoughtful and left my parents a bag of coffee for them to enjoy on the rooftop in the morning. Thank you for everything, they had a wonderful experience staying here and I would definitely recommend this place to anyone in the future!
Conor
2016-07-05T00:00:00Z
Rodzaj pokoju
Całe miejsce
---
Rodzaj nieruchomości
Apartament
---
Mieści
3
---
Sypialnie
Brooklyn, Nowy Jork, Stany Zjednoczone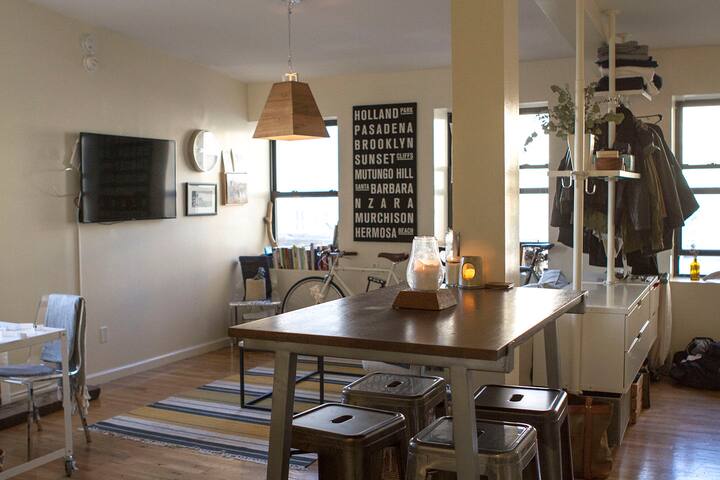 Wpisz daty, by zobaczyć pełną cenę. Obowiązują dodatkowe opłaty. Cena może uwzględniać podatek.