Imponujący projekt domu 400 metrów z ogrodem 1000 metrów 15 minut od centrum Barcelony. Słońce, natura, ogród w pełni wyposażone w wygodne krzesła, grill, oczek wodnych, drzew owocowych i zwierząt gospodarskich Są pewne prace reklamowe nagrane w domu: (URL HIDDEN) (URL HIDDEN)
Dom jest w słynnej dzielnicy z prywatnych ochroniarzy, 10min od Barcelony, znane jako siedziba znanych piłkarzy FC Barcelona. Sam dom jest 400sq m, a 1200 w ogrodzie. To wszystko jest zrobione ze szkła, z pięknymi widokami na relaks i basenu Morza Śródziemnego, a także w Barcelonie. Plus, to jest zaledwie kilka metrów od lasu naturalnego La Marina. Dom ma dwa piętra i antresoli. Parter ma ogromny projekcji i strona pokoju, z barem i kanapy. Istnieje również 25sqm pokój kąpielowy rzeźbione w kamieniu naturalnym i siłownię oraz miejsce parkingowe na 3-4 samochody. Na piętrze znajdują się cztery pokoje, w tym apartament 45sqm z kompletną łazienkę zintegrowany z pokoju, z prysznicem i kredens, z bezpośrednim widokiem z łóżka na morzu. Druga sypialnia jest cicho jeden z widokiem na tyły ogrodu. Posiada oddzielną łazienkę z naturalnego światła dziennego pułapu na własny użytek. Pozostałe pokoje są kredens i biurze. W salonie jest 60sqm i ma miejsce dwukrotnie wysokość i jest wykonane ze szkła. Kuchnia jest ogromny, z centralną wyspą i dostępu do tylnego ogrodu. Na antresoli znajduje się kanapa i stolik, idealne miejsce na "siesta" lub po prostu odpocząć trochę. Zyskuje dostęp do prywatnego tarasu na dachu, z widokiem na przednich i tylnych ogrodów. Dom posiada dwa ogrody. Przednia Jednym z nich jest "tropikalna" jeden (palmy, leżaki i trawa). Posiada również szeroki ganek, obok okna, w przypadku wziął wystarczająco dużo słońca! Tylny ogród z grillem, jest "Mediterranean" jednym z drzew i krzewów pochodzących z regionu. Jest też jezioro urządzone strony ogrodu z fontanną i kamieni.
Dom położony jest w dzielnicy mieszkalnej wysoką pozycję w górę Badalona. Spokój i dyskrecja jest maksymalna. Miły dom z naturalnego parku chronione tak, że istnieje bezpośredni i pełen szacunku kontakt z naturą. Komunikacja z Barcelona jest proste, bo przy wejściu do kompleksu znajduje się połączenie z rundy miasta. Mamy bezpieczeństwo prywatnej
We want to say many thanks for a wonderful stay. Vanesa and Miguel made us feel very welcome, and the house and the location are fantastic. We were two families, nine people, and we really enjoyed staying here. Some of us spent whole days just relaxing by and in the pool and inside the house, playing in the garden, watching the birds and the rabbits, picking fruit and playing with the dogs. We had rented cars and could easily get to central Barcelona in 30 minutes. We also had quite a few trips to the beaches in Badalona, closer by and as good as the ones in Barcelona. Also the beaches of Badalona were very good and
Anne Marie
2014-07-15T00:00:00Z
I honestly don't have a bad word to say about the villa and its host, absolutely everything was perfect! Prior to our stay here, Miguel was excellent at confirming the booking and rapidly answering any of the queries our group had for our stay. Miguel sorted every detail to suit our stay, from accommodating an extra guest to allowing us to check in early and check out late due to flight times which we are very grateful for. When we arrived at the villa we couldn't believe how beautiful the place and the views are, the pictures don't do the villa justice, it is honestly amazing and hands down the best place any of us had ever stayed. The dogs are gorgeous, friendly and so well behaved we were all very sad to leave them! The place had everything we needed and more, the only downside was only booking a weeks stay, i could easily spend my summer there. We would like to thank Miguel and Vanessa for renting out such an amazing place and making our week in Barcelona very special!! Will be planning a return here.
Grace
2016-06-22T00:00:00Z
This amazing luxury house is a true wonder so close to Barcelona. With a spectacular view you dream of to see daily, what a pleasure. We enjoyed very much! You must be an animal lover to like this house. You get with the house 2 lovely dogs, birds and chickens, you feel home immediately and daily nice fresh eggs! You have complete privacy and the house totally for yourself. The hosts Vanesa and Miguel are the best. Lovely nice couple that wants to please you all the way and make sure you have great comfort in their home. Next time in Barca we would be happy to rent it again. Big up !!!
Marianne
2015-03-26T00:00:00Z
Miguel is one of the most helpful hosts I've ever met, quite responsive and kind. He waited for us to give us detailed instructional on our arrival and help us order taxis every morning! And his house has definitely the most amazing sea view,with two the cutest dogs I have ever seen. Miguel is so considerate to prepare drinks and food for us. I wish I could come back to stay here again in summer and for sure recommend it to anyone visiting Barcelona!
小璐
2017-01-28T00:00:00Z
Una casa estupenda y muy bien equipada, esperamos volver pronto. Los servicios y espacios de la casa han sido tal cual nuestras expectativas, esperamos volver muy pronto. Gracias
Leonor
2017-01-13T00:00:00Z
别墅位于巴塞罗那郊区,半山上,可以俯瞰整个巴塞罗那的全景还可以看到大海,房东不会英文,有翻译软件,很方便沟通,非常赞,哈哈,适合喝茶玩
Ping
2017-02-02T00:00:00Z
The terrace and backyard are great, also enjoyed the amazing sunrise.
Shirley
2016-10-06T00:00:00Z
I definitely recommend this house. Miguel is a great and attentive host and the house is beautiful. The views are truly remarkable and the home provides a peaceful respite from the bustle of Barcelona. Downtown is only 20-25 minutes away by car and overall we found this a great location for our family of four with two kids (ages 7 and 10).
Scott
2016-09-05T00:00:00Z
Rodzaj pokoju
Całe miejsce
---
Rodzaj nieruchomości
Dom
---
Mieści
10
---
Sypialnie
Badalona, Catalunya, Hiszpania
Izolowane dom w miejscowości Teia, w Maresme, w atrakcyjnej okolicy w nadmorskiej dzielnicy Barcelony, zaledwie 20 minut od stolicy i 3 km od plaży. A 3 km od Puerto Deportivo El Masnou. Numer rejestracyjny: HUTB-015167
TranslationAbout tłumaczenie (SENSITIVE CONTENTS HIDDEN) natychmiastowy españolalemáninglésDetectar idiomainglésalemánespañolTraducir Izolowane dom w miejscowości Teia, w Maresme, w atrakcyjnej okolicy w nadmorskiej dzielnicy Barcelony, zaledwie 20 minut od stolicy i 3 km od plaży. A 3 km od Puerto Deportivo El Masnou. 750m2 ziemi. 2 sypialnie z podwójnym łóżkiem, jeden z wyjątkowymi widokami na morze i góry 180x210 łóżku. 2 łazienki, kuchnia, ogród 80m2, 70m2 strych pokój, weranda 30m2 z Piłkarzyki, elektronicznej cel rzutki, ognisko, internet. Canal +, nagłośnienie Harman Kardon. wyjątkowa i oryginalna dekoracja, wykonana przez artystę, właściciel domu. cichy i bardzo spokojny miejsce, gdzie można odpocząć w górach z fantastycznym widokiem na morze i góry. Również dostępne dla stron (urodziny, eventy, imprezy tematyczne, etc.) z gastronomii, muzyki, tańca i zatrzymać. Ceny na zapytanie. W zasadzie nie ma dzieci dozwolone ponieważ dom posiada wiele unikalnych przedmiotów. ze zwierzętami domowymi Pojedynczo dom w miejscowości Teia, w Maresme, w atrakcyjnej okolicy w nadmorskiej dzielnicy Barcelony, zaledwie 20 minut od stolicy i 3 km od plaży. A 3 km od Puerto Deportivo El Masnou. 750m2 ziemi. 2 sypialnie z podwójnymi łóżkami, jeden z wyjątkową morze i góry i łóżko (PHONE NUMBER HIDDEN) łazienki, kuchnia, ogród 80m2, pokój 70m2 strych, weranda 30m2 Z Piłkarzyki, elektronicznej tarczy rzutki, ognisko, internet. Canal +, Harman Kardon stereo. Oryginalne i niepowtarzalne dekoracje, wykonane przez artystę, właściciel domu. cichy i bardzo spokojny można odpocząć Gdzie w górach z fantastycznym widokiem na morze i góry. Również dostępne dla stron (urodziny, eventy, imprezy tematyczne, etc.) z cateringiem, muzyką, tańcem i pobyt. Ceny na zapytanie. W zasadzie nie ma dzieci dozwolone ponieważ dom posiada wiele unikalnych przedmiotów. Zwierzęta dozwolone.
Loved our stay at Neives apartment - very talented artist. The view from the apartment in particular the bedroom took our breath away. Neives does not speak any english however she tried her hardest to make us feel very welcome and used (SENSITIVE CONTENTS HIDDEN) translate to communicate with us. Her smile only was accomidating. GPS couldn't locate the address so if your driving best to arrange a meeting point with Nevies - we took the obvious Macdonalds. Must love animals to stay at Neives as she has two lovely dogs - even though they didnt stay at the aprtment with us we had the pleasure of meeting them when we arrived. Thanks for a lovely stay Olivia and Ben from Australia
olivia
2013-01-30T00:00:00Z
The house is so nice. And the host is so cool. The view of the house is so gorgeous!
Nicole
2014-09-21T00:00:00Z
Una casa preciosa como en las imagenes, sobretodo las vistas.
Paola
2016-04-24T00:00:00Z
The house is amazing and our host was friendly and efficient. We where very happy with our stay and plan to come back again.
Max
2016-04-22T00:00:00Z
Nos fuimos un finde entero 4 personas en la casa de Nieves. Llegamos por la tarde pero no encontramos el sitio por lo malo que es nuestro GPS y Nieves vino a buscarnos sin problema al supermercado. Lo pasamos genial en la casa, muchas cosas buonitas que ver, descobrir y aprovechar de la tranquilidad y de las vistas al mar y a la montaña ! Por el dia, la casa esta muy bien, pasa aere fresco y por la noche en la terraza para cenar con las luces preciosas nos encanto. Lo recomandaria tanto por un finde con amigos que por uno (URL HIDDEN) habitacion con vista al mar es preciosa tambien ! Nos fuimos al mar por la tarde en 7 minutos...Y nos fuimos el dia despues por la tarde sin problema Nieves no tenia muchas exigencias solo de avisarla cuando saliamos de la casa al final para devolverle las llaves ! Gracias por todo Nieves, repetiremos seguro !
anais
2013-08-05T00:00:00Z
La casa es espectacular, única Gracias a Nieves que crea cada una de las cosas que hay dentro. No le falta detalle. Las vistas són increibles....Aunque para ello ...el camino hasta la casa sea un poco complicado. Yo fui para una fiesta con antiguos compañeros.....Y la (URL HIDDEN) que no todo el mundo se comportó como debiera. Espero poder volver a la casa....Con tranquilidad Y en família. ....Y poder hacer otros eventos.....però mas tranquilos. Gracias!!!!
Judith
2014-09-22T00:00:00Z
The house was so whimsical! It was like being in an art gallery - many things to look at and explore throughout the house. You can tell that a lot of love went into decorating it. Nieves was very responsive to our emails beforehand and respected our privacy during our stay. The location was good if you are looking for a quiet place to relax and a nice view - grocery stores and beach are within 15 minutes and Mataro was about 25 minutes. From the beach you can catch a train into Barcelona. We stayed here to attend the MotoGP races at Circuit de Barcelona-Catalunya, and we managed to sneak in on the smaller roads and avoid all of the traffic coming from Barcelona. The beds were comfortable enough, and there was a wall-mounted AC unit which helped keep the sleeping loft cooler in the evenings. The house also had most of the essentials - cooking supplies, hairdryer, soap, etc. There is also a computer which you can use and wifi in the whole house. Nieves has two small dogs which are absolute sweethearts - we kept the fence open so they could come and visit us and they would just curl up on our laps and sleep. But if you aren't into dogs then Nieves can also make sure they stay in their area and don't bother you. Some warnings: The narrow dirt road to get up to the house can be tricky, especially if you have a cheap manual transmission rental car like us. We managed but wish we had let the rental car agent talk us into the small SUV instead. And definitely follow the map that Nieves provides - it is much better than the GPS, which tried to take us the wrong way! There must be an electrical short between a water pipe and some wiring, because we got electrocuted a couple of times in the shower or while using the sink. Nothing dramatic, but still a shock! Leaving the windows open for a nice seabreeze was really enjoyable, but also meant that we got bit by a lot of mosquitos and gnats. Bring repellant if you are sensitive to bites! Though there are two bedrooms, they are both located on the second floor with little privacy (also the case with the toilets). So if you plan to go as two couples, make sure you are very comfortable with your friends! All in all we would recommend staying here!
Melanie
2015-06-16T00:00:00Z
The host canceled this reservation 2 days before arrival. This is an automated posting.
Yi
2016-09-19T00:00:00Z
Rodzaj pokoju
Całe miejsce
---
Rodzaj nieruchomości
Chatka w górach
---
Mieści
6
---
Sypialnie
Teià, Katalonia, Hiszpania
Grand-Wohnung, 20 Minuten von Barcelona an der Maresme Küste wir die Wohnung umgestaltet haben vier Personen Platz + 2. Es hat einen atemberaubenden Blick auf das Meer, mit Nutzung des Pools und Garten, sehr originell und ruhig.
Als ein Grand-Wohnung, alle Räume sind offen, mit zwei Doppelbetten und zwei Zustellbetten für Kinder, kann das Sofa auch in ein Bett umgewandelt werden und das Gefühl ist eine der Freiheit in allen Räumen aufgrund der Aussicht auf das Meer. Der Wohnbereich verfügt über ein Heimkino-Projektor und Leinwand. Und es gibt viele Filme.
Wir sind sehr nah am Meer und die Berge, so dass für lange Spaziergänge. Die Gegend ist sehr ruhig und geschützt werden, gibt es gute Restaurants in der Nähe von Barcelona und Sie können die Stadt zu genießen, die nur zwanzig Minuten mit dem Auto oder mit dem Zug, mit dem Sie in der Mitte der Stadt wird abfallen.
Absolutely amazing! House is all filled with lovely, relaxing atmosphere you don't want to leave at all - just relax by the pool, listing to music, having some cava with fruits and observe the magnificent see-view. Carlos and Divina are wonderful hosts, super friendly and helpful, welcomed us with vine, fruits and even some tapas, as we arrived late in the evening. Thank you for sharing your beautiful house and kindness with all of us! We coming back for sure!
Alexandra
2016-09-14T00:00:00Z
Das Appartement war genau wie beschrieben. Die Ausstattung war genauso super, wie die Lage. Carlos war sehr gastfreundlich und hilfsbereit. Er hat uns super Tipps für unsere Tagesausflüge in die nähre Umgebung un nach Barcelona gegeben. Wir kommen gerne wieder.
Uta
2016-07-01T00:00:00Z
Great appartement, nice vieuw Excellent hospitality
Peter
2016-08-06T00:00:00Z
Just returned from a four day stay at Carlos's apartment. The apartment was clean tidy and very well equipped with everything you could need for your stay, pool was great a decent size and good depth and plenty of sun loungers and chairs. Carlos was a true gent, extremely helpful offering advice on restaurants and the best way to get about, he was always at the end of a mobile which I used to text him several times and always got a prompt response with good advice. All in all a lovely place to stay, and a great host.
NIGEL
2016-06-09T00:00:00Z
This was a lovely two bed villa in the hills of teia, the view in the morning is wonderful, the apartment is in wonderful condition i will recommend anyone looking to take some time out to relax and chill. This is the place to be!
Joshua
2015-06-09T00:00:00Z
nous avons passés un séjour fantastique, Carlos est quelqu'un de très gentil et l'habitation au top ! +++
David
2016-08-05T00:00:00Z
The apartment was great, Carlos was very friendly and helpful. Great experience
Geoffrey
2016-05-31T00:00:00Z
Nous revenons d'un séjour à Teià. La maison est encore plus belle que sur les photos et la vue est exceptionnelle ; rien ne manque. Merci à nos hôtes Carlos et Divina pour leur gentillesse et leur disponibilité. Une semaine inoubliable !
Valerie
2016-04-15T00:00:00Z
Rodzaj pokoju
Całe miejsce
---
Rodzaj nieruchomości
Apartament
---
Mieści
6
---
Sypialnie
Teià, Catalunya, Hiszpania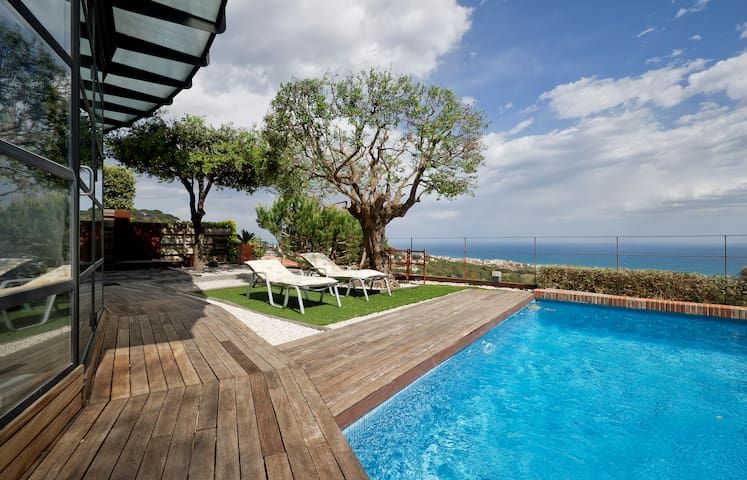 Beautiful old wooden sailboat, very cozy, perfect for two people. Located near Barcelona, 3m away from the beach and close to Zona Boulevard. Acces to public transport nearby. Bonito barco de madera antiguo, muy acogedor, ideal para dos personas. Situado al lado de Barcelona a 3m de la playa y al lado de zona boulevard. Transporte publico a 2 minutos.
the area is quiet, it is 5 'from the beach and near bars and supermarket
A 15 mins en voiture de Barcelone, lieu au top. Dépaysement total. Cool
Florent
2017-02-27T00:00:00Z
Nous avons été accueilli chaleureusement par Jessica, qui n hésité pas à repondre à toutes nos questions, son logement est très charmant et décoré avec soin, le bateau est fidèle à la description, bien équipe,et nous a permis de nous évader de la ville de Barcelone pour un moment de tranquillité, presqu a la belle Etoile et tres original, pique niquer et bronzer sur le bateau nous ont enchantés, le quartier de Badalona est très bien situé et fréquente, commerces et cafés avec une très belle plage à proximité et le métro, les sanitaires du port privé sont très propres et nettoyés régulièrement, nous renouvellerons l expérience à notre retour à Barcelone, à refaire absolument !
Kimy
2016-08-29T00:00:00Z
Wir waren zu Zweit für 5 Tage auf der schönen "Tin Lizzie". Ein kleines Segelboot mit tollem Ambiente und direkten Blick auf den Sonnenaufgang. Es liegt an einem privaten Steg mit einer Sicherheitstür und Karten-Zugang. Direkt vor dem Steg befinden sich sehr großzügige Waschräume. Leider sollte man Frühaufsteher sein um warm Wasser zu bekommen, aber damit ließe sich leben. Das Boot ist komplett ausgestattet, man bräuchte eigtl erstmal nichts mitbringen. Handtücher, Decken, Kissen, Wasserkocher, Tee, Kaffee, Gas-Herd, Mini-Backofen, Kühlschrank, Spülbecken mit Wasser und vieles mehr. Aber keine Toilette an Board, für Leute mit schwacher Blase vllt ein Problem. Vom Hafen fährt ein Bus zur nächsten Train und Tram. Die Train fährt in 3 Haltestellen zum Catalunya, die Metro fährt wesentlich länger und eher nur Richtung Arc de Triomf. Der Strand ist direkt nebem dem Hafen, 3 Minuten zu Fuß. Achtung: Die ersten 50 Meter ist Senioren-FKK ;) Direkt am Strand befindet sich ein riesiger Supermarkt, mit allem was man brauch. Alles in allem, ein super Entspannter Urlaub für unternehmungs- und reiselustige. Top!!!
kaev
2016-10-07T00:00:00Z
Добрый день! Барселона прекрасна, но мы влюбились в очаровательный городок Бадалона! Множество ресторанов с вкусной едой и маленькими ценами, прекрасное море, пустые пляжи. Классный порт в Бадалоне со множеством самых разнообразных яхт. На каких-то из них плавают, на многих других живут по несколько дней. Проход на пирс с лодками и в помещение с душевыми и туалетами осуществляется с помощью электронного замка с карточкой. А лодка Джессики нам показалась самой уютной. Удобная спаленка. Единственно что - это место не для высоких людей. Мне кажется, людям ростом выше 1,78см будет неудобно спать и ходить внутри лодки. Малюсенькая красивая гостиная с раздвижным столиком и двумя диванчиками, даже есть гардеробчик с вешалками. Есть все необходимое, включая постельное белье и пледы, полотенца, средства для мытья посуды, чай, кофе, специи, свечки. Есть холодильник, электрическая печка и газовая плита, раковина с водой, необходимая посуда, столовые приборы, даже прищепки для белья. Все очень чисто и удобно. В спальне открывается форточка, комфортно спать в прохладе. И в то же время очень надежно закрываются все окна, двери без щелей. Мы пережили два сильных ливня на лодке, ничего не промокло. А как приятно посидеть на диванах с подушками в открытой части лодки с вином и фруктами вечером под звездами!! Души и туалеты находятся в порту в отдельном здании, просторные и чистые. В самом порту много кафе и баров, есть большой китайский ресторан, который работает до 3 часов ночи. До пляжей Бадалоны идти 5 минут. По пути большой супермаркет Меркадона. На пляжах тоже много кафе, ресторанов и магазинчиков. Все очень чисто, спокойно. Много видов транспорта до Барселоны (метро, автобус, трамвай, электричка). Ехать 15-20 минут до центра. Во время нашего приезда Джессики не было в Барселоне, но ее брат Рубен нас встретил, все показал и рассказал и даже вызвал для нас такси на 3 часа ночи на обратную дорогу до аэропорта. Все было четко по времени. При отъезде мы просто оставили карточку, не надо было никого ждать. В общем, мы до сих пор в полном восторге, спасибо большое Джессике и ее брату за такой замечательный отдых. Смело езжайте отдыхать на лодке, воспользуйтесь такой возможностью.
Elena
2016-09-29T00:00:00Z
Jessica is very Nice, and the boat is awesome. Thank you so much - amazing to spend a Night in such authentic suroundings. Rikke and Jens
Rikke
2016-10-21T00:00:00Z
Many thanks Jessica for your welcome! Even if we arrived late on Friday (because of the plane), Jessica was really nice and welcoming. The boat is really nice and cozy. Just one point to mention is that the localisation to the center city is more far than what we expected. Thanks again Jessica for all :)
guenaelle
2016-11-20T00:00:00Z
Hey, The boat was small but really nice. The bathroom of the marina was clean and quite big. Directly in front of the marina goes a train, which brings you in minutes to the city center of barcelona. There are newly build appartments next to the marina, which feel a little cold, but if you walk 10min at the beach there will be the old town of badelona. Thanks very much Jessica, for providing us this little home for some days. Philipp
Philipp
2016-09-06T00:00:00Z
El bote es tal cual se ve en las fotos. Sumamente comodo y en una linda zona. Es un poco alejado del centro de la ciudad y a unos 15 minutos caminando hasta la estacion, donde. tienes trenes hastas 00hs. de cada dia. A escasos metros esta Mercadona para hacer tus compras urgentes y una muy bonita playa que visitar.
Luis
2017-03-27T00:00:00Z
Rodzaj pokoju
Całe miejsce
---
Rodzaj nieruchomości
Łódź
---
Mieści
2
---
Sypialnie
Barcelona, Catalunya, Hiszpania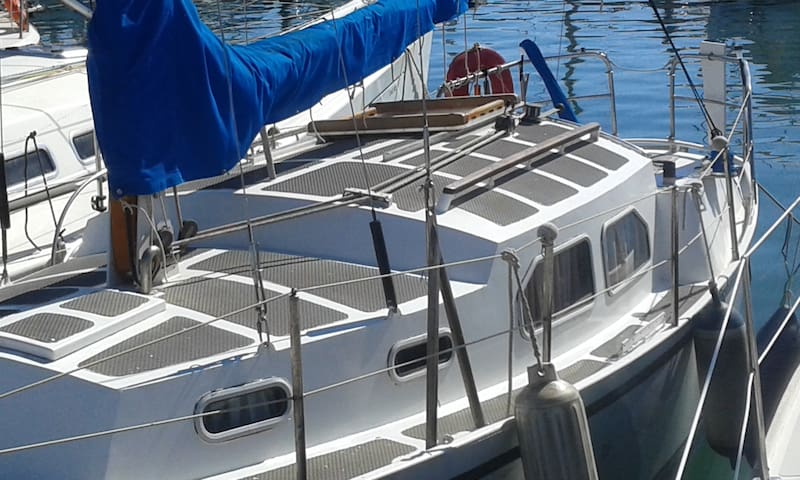 English / Español.Currently jesteśmy SuperGospodarz Airbnb Jeśli chcesz odwiedzić Barcelonę w oryginalny i ekonomiczny sposób, pobyt w naszej łodzi żaglowej, wygodna łódź z 12 metrów szybki i łatwy dostęp do łodzi miasta centre.The jest do wyłącznego użytku.
>>> Łódź: Dostęp do łodzi z kokpitu jest poprzez szerokie schody. Po wejściu do środka, jesteśmy w dużym pokoju, w którym można zobaczyć na jakość drewna, z ładnymi drewnianymi belkami objętych łuk, dając w wyniku przestronną elegancką atmosferę. Obszar jadalnia znajduje się na lewej burcie łodzi i kuchni na prawą burtę. Dystrybucja salonie jest zakończona z dużym stołem wykresu. Na lewej burcie schodów znajduje się duża szafa, na mokro / sucho garnitury i ubrania żeglarskie, a obok niego praktyczny napoje szafy. Kabina główny posiada niezależną toaletą i umywalką, a pozostałe dwie przestronne kabiny posiadają niezależne umywalki i dzielić toaletę. Czym wyróżnia się z kabiny kapitana, jest boczna dostęp do łóżka. Ten szczegół jest dobrym przykładem tego, jak wygodne, a Łódź jest duża. , Jacht ma 60 m2 powierzchni, a to jest to samo działanie jak ty pokład, gdzie można korzystać z kąpieli słonecznych lub towarzystwo do 12 znajomych, która jest licencjonowane goście pojemność. ////////////////////////////////////////////////// ////////////////////////////////// Obecnie Airbnb kategorię SuperGospodarz. Jeśli chcesz odwiedzić Barcelonę w oryginalny i ekonomiczny sposób, pobyt na naszej łodzi, wygodne żaglówce 12-metrowy z szybkim i łatwym dostępem do całego miasta. Jest wyposażony we wszystkie udogodnienia można mieć apartamento.Todo Jacht jest do wyłącznej dyspozycji gości. >>>> Łódź Schodząc do wielkich schodów, mamy dostęp do dużego salonu, który wyróżnia się poziomem jakości w Meblarstwo z kilkoma ładnymi łukami wyłożonych zbrojenia w drewnianym stropem, powodując w przestronnym i eleganckim salonie. Jadalnia jest przesunięty do lewej i prawej burty kuchni wzdłuż głównej sali. Dystrybucja salonie jest kompletna z ogromnym stołem wykresu. Na lewej burcie skali znajduje się duża szafa na ubrania wody, a obok znajduje się praktyczne meble / bar. Trzy podwójne staterooms są przestronne i wyposażone w toalety i dwie łazienki z WC i umywalką. Kabina Master wyróżnia się wszerz i bocznym dostępem do łóżka, ten szczegół jest dobrym odniesienia do uznania, że jest to świetne, wygodne i komfortowe łodzi. , Jacht ma 60 metrów kwadratowych powierzchni, a przestrzeń ta jest taka sama jak ma pokrywę (taras), gdzie można opalać się i cieszyć się ze swoimi przyjaciółmi z zatwierdzoną pojemności do 12 osób.
>>>> Gdzie jest łódź, a co czyni ofertę usług portu?: Jest w porcie w Badalona. Port w Badalona jest ostatnim budowlanych; Obok wielkich plaż i 10 minut od centrum Barcelony (samochodem). Jest dobrze skomunikowane: autobus w porcie, połączeń kolejowych, stacji metra i tramwaju, wszystko w Acerca 30 minut od centrum Barcelony. Dostęp drogowy z "rund" i C-31 i B-20. Port posiada wszystkie usługi nowoczesnych nowo utworzonego portu; Z informacji Komendy Głównej turystycznej, meteorologii. Komunikacja: telefon, faks, internet, radio UKF, Wi-Fi (bezpłatnie). Szkoła żeglarstwa i innych sportów wodnych, rampy łodzią, Przychodnia, Indywidualne prysznice i toalety, pralnia, restauracje, kawiarnie, poczta, parking, zajęcia turystyczne, czartery łodzi, sklepy żeglarskie. Można sprawdzić wszystkie te informacje i nie tylko w następnym wstęgi: marinabadalona. Nasza łódź jest w jednym z najlepszych miejsc do cumowania w porcie i około 25 metrów od budynku były prywatne prysznice i toalety. Istnieje prywatny parking na terenie portu (12Euros / dzień) i bezpłatny parking wokół portu w spokojnej dzielnicy (3 minuty pieszo). Istnieje również duży supermarket tuż przy porcie. >>>> Bezpieczeństwa Jest to bardzo bezpiecznej przystani na pobyt, z ograniczonym dostępem (karta elektroniczna) do obszarów były łodzie zacumowane. 24h służby bezpieczeństwa z kamerami CC i personelu portu na miejscu, szczególnie w porze nocnej. >>>> sportów morskich: Jeśli chcesz doświadczyć nowych doznań, w porcie znajduje się również szeroka gama łódek. ////////////////////////////////////////////////// //////////////////////////////// >>>> Gdzie się znajduje łódkę i jakie usługi port? Znajduje się on w porcie w Badalona. Port Badalona niedawno wybudowany, położony jest obok wspaniałych plaż i 10 minut od centrum Barcelony samochodem. Dobra komunikacja: autobus na terenie hotelu, pociągiem, metrem i tramwajem łączącej centrum Barcelony w 30 minut. Drogi dojazdowe jak rund i C-31 i B-20. Posiada wszystkie usługi nowoczesnego portu: kapitanem informacji turystycznej, usług i meteorologii. Komunikacja: telefon, fax, Internet, radio UKF, Wi-Fi (za darmo) .Escuela Miejskie żeglarskie i sportów wodnych. Pochylnia dla łodzi, Pielęgniarstwo, zindywidualizowane i prysznice, pralnia, restauracje i kawiarnie, poczta, parkingi, turystyka, żeglarskie Czarter, Nautical sklepy miednice. Widać to i inne informacje na temat portu internetowej marinabadalona. Nasza łódź znajduje się w jednym z najlepszych portów cumowniczych Badalona w odległości 25 metrów kąpieli wyłącznego użytku klubu jachtowego, które wyróżniają się jako indywidualne. Istnieje prywatny parking na terenie portu (12Euros / dzień) i bezpłatny parking wokół portu w spokojnej dzielnicy (3 minuty spacerem). Istnieje również duży supermarket tuż przy porcie. >>>> Bezpieczeństwa: Jest to port z bezpieczeństwem, ograniczony dostęp do obszarów, gdzie łodzie zadokowany przy pomocy karty elektronicznej. 24h służby bezpieczeństwa z monitorowane i port pracownicy nieustannie patroluje zwłaszcza przy monitoringu nocnego. >>>> sporty wodne: Jeśli to, co chcesz jest doświadczyć nowych doznań w porcie istnieje szeroka gama wypożyczalnie łodzi.
Quiet Marina, nice restaurants nearby, fantastic beach. But don't forget: This is a boat. Living on a boat is different. On the other hand: I extended from 4 weeks to 8 weeks, I guess that says it all.
Andreas
2017-02-05T00:00:00Z
This Week end was perfect! Oscar is a excellent host, very welcoming, and his boat is totaly clean! Exactly as on photos. it is at about 30/40 mn from Barcelona, et the ride by bike is quite pretty and easy. I loved it!
Dorothée
2015-09-29T00:00:00Z
Amazing stay on this sailboat. The sailboat was quiet, spotless and very comfortable. The area was well served by public transport..That said we enjoyed using the bikes to get around. It was an easy and pleasant 10 km ride to the Sagrada Familia in Barcelona. Oskar, our host waited patiently for us to get there and kindly explained the house rules. We would definitely recommend this sailboat listing for a trip. Thank you so much Oskar
maggie
2016-05-16T00:00:00Z
Host explained to to move around. Actually it takes 1 hour to reach Barcelona city from the boat. Doesnt matter which way you go. This place is to spend time on the beach and visit City once a day. We did a mistake or or 2 day for travelling city 2 times a day, it was really disaster, as we had a child and stroller with us. But 1 City trip per day is really enjoyable. We got a bit frustration of Barcelona sight seeings, everything except food was quite overpriced. Prices were almost like in Swiss :) But still a lot of people pay and visit strange places like Sagrada Familia etc.
Andres
2014-10-07T00:00:00Z
Staying on a sailboat was a unique experience which I would recommend to people looking for something different. Ignasi was very accommodating and helpful. The port is located a fair distance from the city centre, but there is a metro station about a 15 minute walk from the boat so it's easy enough to get around. Being outside the city centre made the stay peaceful. The boat is well stocked and the bed is comfortable. Never having stayed on a boat before, the rocking and boat sounds took some getting used, but all in all it was a memorable stay.
Megan
2014-05-18T00:00:00Z
We had a great time at Oscar's boat. He was a great host. He explained everything thoroughly to us, also had some welcoming drinks for us. During our stay weather was horrible but boat was nice and cosy. The port is very quiet, really good place to relax. There is plenty of restaurants nearby and also beautiful beach. We had a great week there even though the weather was rainy. We definitely recommend staying at the boat.
Marta
2016-10-14T00:00:00Z
The host was very welcoming and helpful The boat itself was spacious with limited head room but was no problem. It is located a little way away from Barcelona but it was easy to get transport in.
Sharon
2016-09-10T00:00:00Z
The welcome by Oscar was perfect and he provided us a lot of tips for the local travelling. Everything was in good condition and as sailors we know what we got. Overall we had a nice stay in this unique location.
Bernhard
2016-05-30T00:00:00Z
Rodzaj pokoju
Całe miejsce
---
Rodzaj nieruchomości
Łódź
---
Mieści
6
---
Sypialnie
Badalona, Catalunya, Hiszpania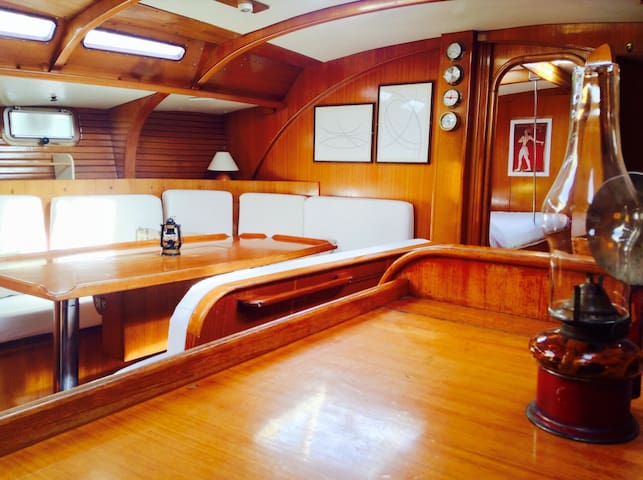 Nowy uroczy i chłodne duplex-loft! Jest to bardzo szerokie i przestronne mieszkanie, położone niecałe 10 minut do beach.Metro się w ciągu 2 minut i zabierze Cię bezpośrednio do Sagrada Familia (12 min) i centrum miasta Barcelona (15 min). Marina Port znajduje się w okolicy.
Uroczy i chłodnym poddaszu czeka na ciebie w Barcelonie! Jest to bardzo szeroki i przestronny apartament z wzloty dachów. To jest to, co czyni go bardzo oświetlenie i wygodne. Przestrzeń jest około 70 m2 podzielony na 2 poziom. Poniżej znajduje się pokój podszewka z rozkładaną sofą, kuchni i łazienki. Pewnego lekko sypialnia z łóżkiem 150 x 200 cms. Nad stroną jest szeroka przestrzeń wykonane z drewna z innego złoża 150 x 200 cms. Znajdziesz na niej wszystko, czego potrzebujesz, aby cieszyć się doskonałą pobytu. Oferuje on bezpłatny WiFi, TV, AC / ogrzewanie, w pełni wyposażona kuchnia, podwójne łóżko oraz rozkładana sofa, zestawy arkuszy, ręczniki, szampon, itp Ich lokalizacja w zewnętrznymi Barcelonie, co sprawia, że jest ciche i bezgłośne miejsce, które pozwoli Ci być cicho i spokojnie w nocy. Stacja metra znajduje się zaledwie w 2 minuts pieszo od strychu i trwa do Sagrada Familia w 10 minut tylko i do centrum miasta w 15 minut tylko. Do plaży jest 5 minutowa idąc. Obszar ten jest zupełnie nowy i całkowicie odnowiony i nowe Nautic portu z dużą ilością restauracji i sklepów. Barcelona może być całkowicie zadowoleni przez pokarm lub rowerem (jego pełne rowerów kwatery sklepów). Na poddaszu znajduje się na 4 piętrze z windą. Chcemy, aby poczuć się jak w domu! Pomogę ci tyle, ile mogę, daje mapy, polecam miejsc do odwiedzenia, jeść, aby cieszyć! możemy pozostać w kontakcie tak jak trzeba!
Bardzo miłe, serdeczne powitanie! Raquel zaopatrzyła nas w niezbędna mapke i poinformowała o wszystkim zanim zdążyliśmy o cokolwiek zapytać
Dominika
2016-10-12T00:00:00Z
Мои родители очень довольны путешествием. В квартире есть все необходимое, она в точности такая, как и в описании. Ракель встретила очень хорошо и при необходимости всегда быстро отвечала. Квартира находится рядом с красивым пляжем, поблизости есть все необходимые магазины и местные торговые лавки. Удивил и сам город - Бадалона- своею красотою и пляжами.
Anna
2016-06-01T00:00:00Z
Logement spacieux (hormis la SDB), stationnement facile, quartier agréable, et fiabilité de l'hôte malgré son retard. Le logement est très bien équipé, assez propre. Cependant l'appartement n'a pas de "charme" et de déco, il parait très aseptisé... La distance du centre-ville n'est vraiment pas un problème car le métro est très proche et commode à prendre! La mer est juste à côté, rien à dire :)
Laura
2016-11-27T00:00:00Z
Très bien accueilli par Raquel ! Elle a été très disponible. Elle nous a montré les endroits sympas à voir à badalona. L'appartement est propre, confortable, calme, spacieux et surtout proche du métro. Parfaitement conforme aux photos. Je recommende ! Et si j'ai l'occasion je repasserai un séjour dans votre appartement . Merci pour tout !!
Laura
2016-03-16T00:00:00Z
Die Wohnung liegt kurz vor dem Zentrum Badalonas und ist selbst Nachts mit einem Nachtbus von Barcelona aus (N11) zu erreichen, sonst von Samstag auf Sonntag auch durchgängig mit der Metro. Von außen ist das Gebäude der Wohnung nicht so ansprechend, aber drinnen wird man mit einer hellen und geräumigen Wohnung für seine Geduld belohnt. Raquel hat sich gefreut, dass ich sie bis zu unserer Ankunft stets über Verspätungen etc. aktuell gehalten hab, weil sie ganz aus Barcelona kommt, um die Schlüsselübergabe zu machen. Sie hat uns über die Wohnung gut informiert und äußerst präzise über die Locations aufgeklärt Barcelonas aufgeklärt, was sich für uns später als äußerst hilfreich gezeigt hat. Schlüsselrückgabe war ein Briefkasten im Treppenhaus und damit für uns super einfach. Ich empfehle jedem dieses Apartment, der damit keine Probleme hat, dass sie 30 Minuten vom Zentrum Barcelonas entfernt ist :o)
André
2017-02-05T00:00:00Z
The place is accessible, good size, clean and well equipped kitchen and close to all amenities however the shower is very restrictive especially for larger people. There's no TV available for relaxation.The host was excellent and made all the necessary info regarding excursions, shops/supermarket etc available and went an extra mile by making additional key available.
Minah
2017-01-02T00:00:00Z
Beautiful place! Very close to metro and beach!
David
2016-07-24T00:00:00Z
What a great experience! Fantastic apartment which was very clean and spacious. Raquel was very helpful on arrival and made sure we had everything we needed. Easy connection into Barcelona Central and 5 minutes from an amazing beach. I would highly recommend this apartment and would definitely stay again!
Jo
2016-06-26T00:00:00Z
Rodzaj pokoju
Całe miejsce
---
Rodzaj nieruchomości
Loft
---
Mieści
4
---
Sypialnie
Badalona, Catalunya, Hiszpania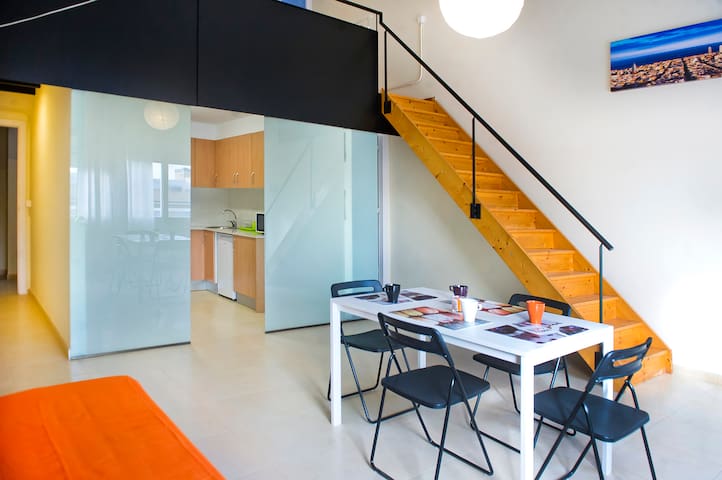 Niezależny pensjonat z widokiem na basen i wspaniała, w pobliżu plaż i Maresme pobliżu Barcelony (przez 20 minut pociągiem). Doskonałym miejscem dla par, rodzin z dziećmi i małej grupy przyjaciół, którzy chcą spędzić odprężające wakacje i mają okazję zwiedzić Barcelonę. Jesteśmy w pobliżu: - Barcelona (20 km) - obwód Montmeló / Barcelona / Katalonia (F1 i Moto GP) (17 km) - La illa fantasía wodny (6 km) - Maresme Plaże
Jest to duży strych, gdzie można mieć prywatną przestrzeń i łazienkę dla Ciebie. Również w przestrzeni kuchni znajdą Państwo: - ekspres do kawy Nespresso - Lodówka - Kuchenka mikrofalowa - Toaste - naczynia odżywianie Ponadto, można zjeść śniadanie lub wypić drinka w godzinach popołudniowych w strefie relaksu z Barceloną i widokiem na morze.
Cicha i bezpieczna okolica.
Rodzaj pokoju
Całe miejsce
---
Rodzaj nieruchomości
Domek gościnny
---
Mieści
3
---
Sypialnie
Teià, Catalunya, Hiszpania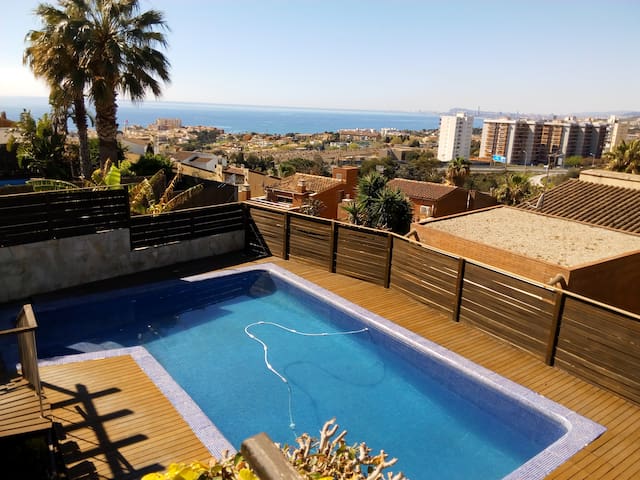 Atrakcje: Ocata Beach, El Maresme. pokochasz swoje miejsce ze względu na widoki, miejsca, ludzie, na zewnątrz obszarów, bliskość dworca kolejowego, z łatwym BCN. Moje mieszkanie jest dobre dla par. 5 'do stacji kolejowej, 20' do Barcelony. Rozrywka i restauracji do 5 '.
El Masnou es una ciudad agradable, con una playa maravillosa y tranquila en Primavera. El apartamento está bien ubicado. La habitación tiene luz y ventilación por una puerta que da a un balcón. Desde el inicio, Alicia nos explicó lo que era del Airbnb (la habitación y el baño compartido). Lo único que no nos gustó es que el colchón no es cómodo, recomendamos cambiarlo.
Marcel
2017-04-09T00:00:00Z
Muy bien!
Ramon
2017-01-15T00:00:00Z
El masnou is a nice little village 20 minutes from Barcelona. Alicia is friendl and easy going -all was perfectly fine!
Selina
2017-03-06T00:00:00Z
Ali obrigado por tudo. Iremos voltar a el masnou de certeza. 5**
Daisy
2016-10-15T00:00:00Z
Excelente la experiencia en casa de Alice muy rico y acojedor el lugar excelente y Alice y su hijo Jamau nos hicieron sentir como en casa. Volveremos a Barcelona y nos gustaría volver a quedarnos aqui!!!!
Siryedd
2016-11-12T00:00:00Z
Ali y su hijo son encantadores, ha sido agradable compartir ratos con ellos, y me han dado info para mejorar mi estancia en el Masnou
Óscar
2017-02-24T00:00:00Z
Ha sido estar como en casa.
Alejandro
2016-08-13T00:00:00Z
Super schöner aufenthalt Hatten eine gute Zeit und Alicia ist eine sehr nette Frau :) Alles super :)
Daniel
2016-09-26T00:00:00Z
Rodzaj pokoju
Pokój prywatny
---
Rodzaj nieruchomości
Apartament
---
Mieści
2
---
Sypialnie
El Masnou, Catalunya, Hiszpania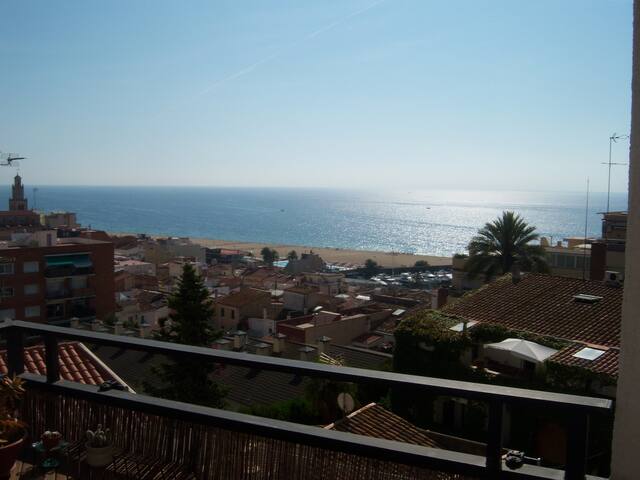 Private apartment inside my house. Open kitchen, double bedroom, bathroom with washing machine, living room, dining room very bright. Quiet and independent. It goes through my living room.
Prywatne mieszkanie znajduje się na najwyższym piętrze domu. To jest 5 minut spacerem od centrum miasta. Jest to Cul de Sac, więc jest to bardzo spokojne i ciche miejsce na relaks po ciężkim dniu w Barcelonie.
plac zabaw dla dzieci, supermarket, przystanek autobusowy
experiencia bonita barrio tranquilo, el único inconveniente los cabezazos que me he dado por el techo inclinado lo demás bien quizás los ventanales que entra aire, nada más.
Claudio
2016-12-30T00:00:00Z
Les photos sont conformes à là réalité mais au niveau de l'intimité c'est un peu compliquée étant donné que l'appartement de Paquita est juste en dessous et qu'il n'y a pas de porte qui nous sépare. Cuisine un peu petite mais appartement bien dans l'ensemble et proche de la ville de Barcelone (à seulement 15 min en transport de l'appartement). Nous recommandons ce logement pour des séjours de courte durée.
Alexandre
2017-02-07T00:00:00Z
Paquita è una brava donna, la casa purtroppo non ti lascia privacy, nessuna porta tra gli ospiti e la proprietaria. Pochi accessori in cucina e di sera il paese è assolutamente poco vissuto
Carmine
2017-03-25T00:00:00Z
Paquita es encantadora y el apartamento esta muy bien. La zona tranquila y cerca de bcn en coche.
Jaime
2017-01-08T00:00:00Z
Excelente anfitriona, y un lugar con todos los serv básicos, un poco lejos del área turística pero en bus se llega, volveria
Javier
2017-03-20T00:00:00Z
L'appartement de Paquita est en tous points conforme à ce que nous avions pu lire de la description et des commentaires précédents. Les points positifs : Vaste logement, très propre, accueil charmant de Paquita malgré la barrière de la langue, et surtout beaucoup de calme pour des nuits réparatrices. Pour le reste, il est vrai que l'appartement situé sous les toits communique directement avec la salle à manger de l'hôte par laquelle nous sommes obligés de passer pour le rejoindre. Mais ce n'est pas vraiment dérangeant au final. L'équipement de la cuisine est par ailleurs un peu succinct, et la sous-pente fait que les plus grands prendront vite l'habitude de marcher courbé dans les recoins de l'appartement, après s'être cogné 1 ou 2 fois la tête au plafond ! Quant à l'éloignement du centre de Barcelone, il n'autorise pas à rentrer pour respecter l'heure de la sacro-sainte sieste ! Mais au final, la desserte en transports en communs est excellente et en quarante minutes chrono on rejoint le centre de Barcelone. Les noctambules pourront même profiter des folles nuits barcelonaises puisqu'un bus de nuit (le N9) relie le centre de la capitale catalane à Tiana durant toute la nuit. Attention, la carte HolaBCN ne fonctionne pas avec le bus qui relie la gare de Montgat et Tiana. Il faut donc choisir une carte T10 (ou 30 ou 50) ou pour ceux qui voyagent avec une carte HolaBCN, racheter une carte T10 pour le court voyage en bus de la gare de Montgat jusqu'à Tiana.
Diana
2017-04-01T00:00:00Z
Todo fue correcto, el alojamiento es acogedor y se encuentra a 10 minutos en coche del centro de la ciudad muy cómodo para desplazarse. Paquita es una señora muy amable y respetuosa. Recomendable.
Juanito
2016-12-07T00:00:00Z
Nuestra estancia en el lugar de Paquita era encantador, ella no podía hacer lo suficiente para nosotros y era amable y acogedor. El apartamento era mucho más espaciosa de lo que esperábamos y el barrio es también muy agradable y fácil de moverse.
Diu
2017-01-03T00:00:00Z
Rodzaj pokoju
Całe miejsce
---
Rodzaj nieruchomości
Dom
---
Mieści
2
---
Sypialnie
Tiana, Catalunya, Hiszpania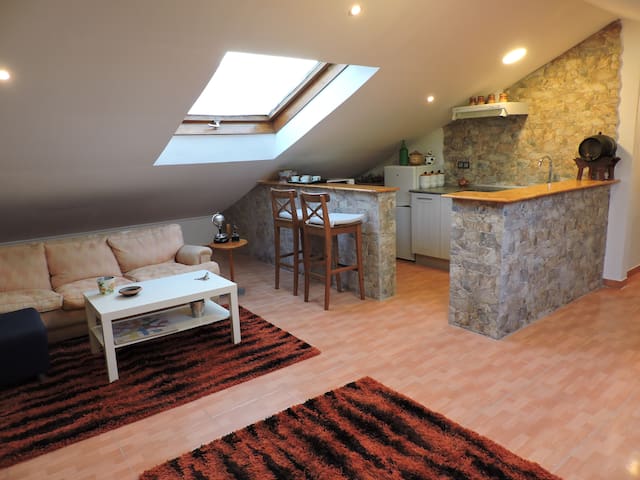 Poddasze idealne dla par, 5 min. Chodzę do plaży, znajduje się w centrum miasta Montgat, dobrze połączone 20 minut drogi od Barcelony, przy szosie i pod warunkiem, dworce kolejowe, taksówek i autobusów.
Niezależny apartament nad morzem i dobrze podłączony.
Spokojna okolica, w pobliżu Starego Miasta, gdzie wioska rybacka i VISTAR targ rybny.
Rodzaj pokoju
Całe miejsce
---
Rodzaj nieruchomości
Apartament
---
Mieści
2
---
Sypialnie
Montgat, Barcelona, Hiszpania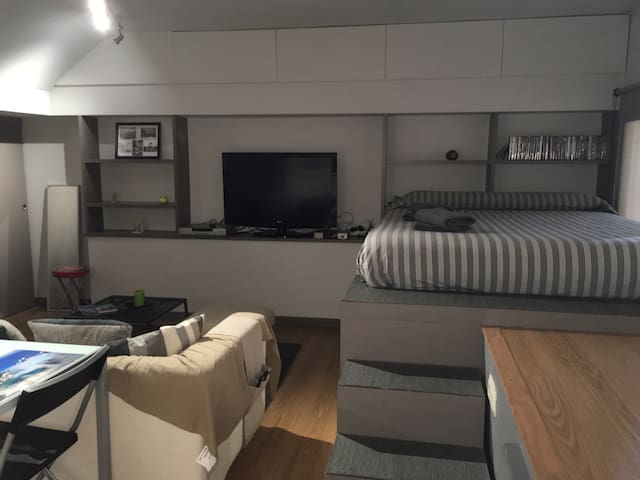 My place is close to the beach, family-friendly activities, the airport, and public transport. It is an easy 30 min drive to Barcelona city with all its restaurants and nightlife You'll love my place because of the views, the coziness, and the location. My place is good for couples, business travelers, families (with kids). It is also a perfect base for traveling the coast of Costa Brava.
The property is within a 5 min walk to the picturesque historical town of Ayella. You can be on a beach and the local port offering several restaurants within a 5 min car ride. Barcelona is a 30 minute car journey with local buses and trains taking you to the city.
It really is a beautiful town with a lovely square to sit and have coffee and watch the world go by. It does however have all modern conveniences
great host
Gottfried
2017-03-02T00:00:00Z
Rodzaj pokoju
Całe miejsce
---
Rodzaj nieruchomości
Dom
---
Mieści
8
---
Sypialnie
Alella, Catalunya, Hiszpania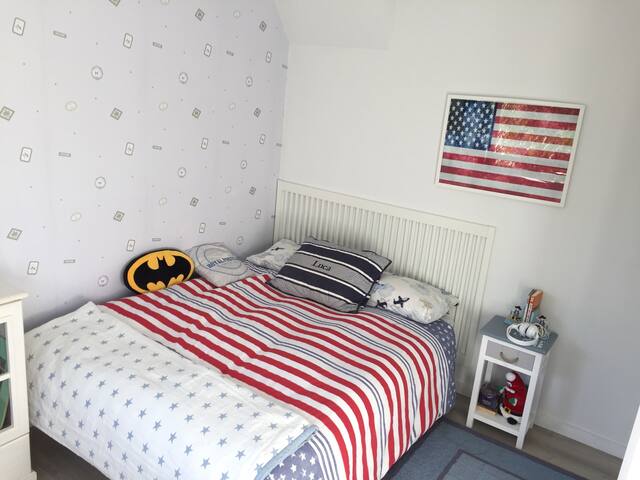 Two individual bedrooms with a private bathroom, for one or two travellers looking for a relaxing place near the beach, away from noisy and crowded touristic Barcelona downtown. Interesting places: Port El Masnou, Beaches, Alella vineyards and wineries, Barcelona city, Circuit de Catalunya Montmeló, Moto GP, Formula 1 Swimrun Barcelona (Cabrera de Mar-Castell de Buriac-Pont del Petroli), Spanish Championship Would you need help to plan your activities?
Type: Private single room in apartment / Loft 2 single rooms available Region: Catalonia City: El Masnou Nearest Metropolitan Area: Barcelona, 15 Km/20min ride by car, train or bus Nearest Major Airport: Barcelona Prat 17km; Girona (Costa Brava) 65km Description: Bright 3rd floor 110m2 apartment. Large living-dining room with modern open kitchen all in a 50m2 loft ambience, plus balcony. All bedroom exterior with mountain view. 2 single bedroom, (one bed 90x190 in each room) 1 bathroom. Large community pool and private parking. Elevator. 500m walk to beach, marina with disco, bar/restaurant, other amenities and train to Barcelona downtown (20min/2€) Convenience store, coffee shop, bars, fruit, fish & meat market around the corner. No main or noisy roads within the neighborhood. Additional information: The apartment is well equipped with all convenience and household standard appliances. Long stay might be possible, just ask. Amenities: Elevator, Swimming pool, TV, VCR, DVD, Radio, Washer, Dishwasher, Microwave, Refrigerator, Wi-Fi, Activities/Attractions: Barcelona sightseeing and tours Beach, Yacht boating, Fishing, Hiking, Trekking, Mountain Biking, Surfing , Sailing school, Cinemas, Shopping Mall Other Conditions: Language of communication: Spanish, English, No Pets No smoking (smoking allowed in the balcony)
Lovely quiet neigborhood with supermarket and public transportation nearby and a short walk to the train station and beaches. Es un barrio tranquilo y bien ubicado cerca del puerto deportivo y la playa, con todo tipo de servicios en las cercanías
Great host, nice and clean house
alper
2017-04-09T00:00:00Z
Luis is great. Amazing place , exactly as the pictures shows. It is close to the train station which can lead you to Barcelona really easily in a matter of little time. Also the beach is really close and the apartment has a pool , also nice. I really felt at home and accepted in the place. The bed is really comfortable and the bathroom really clean. Luis helped me figure out what to do and was really there for me when i needed to. I would go back anytime and I wish every host would be like him.
Thalja
2016-06-27T00:00:00Z
El piso es tal y como se ve en las fotografias. Es realmente muy acogedor y el trato con el anfitrión es de lo más familiar, eso hace que haya una muy buena convivencia. No obstante, también permite poder ser independiente. Alrededor del piso hay un par de estaciones de bus, lo que hace que la mobilidad sea factible. Además en frente del piso también hay un pequeño supermercado, un par de bares/restaurantes, cafeterias y panaderias. En mi caso escogí este piso por su excelente ubicación ya que tenia que ir a trabajar en una escuela de Alella, además la relación precio/calidad es muy buena. Otra cosa a añadir es que la cama es muy pero que muy confortable y todo muy ordenado y limpio.
Andrea
2017-03-08T00:00:00Z
El departamento es muy bonito y cómodo. Está ubicado en un pueblo muy tranquilo cerca de Barcelona. Tuvimos una excelente estadía y nos sentimos muy cómodos. Luis ha sido un excelente anfitrión e hizo todo lo posible para que nos sintiéramos bien. Siempre atento a nuestras necesidades. Altamente recomendable!
Miguel
2016-10-05T00:00:00Z
toen we binnenkwamen had luis ons verwelkomt hijj heeft van alles uitgelegd en alles zag er heel netjes uit! was een leuk welkom
Lidia
2016-08-04T00:00:00Z
Luis was a great host, really made us feel like home. The appartament it's just like shown in the pic. Nice quiet location. I would definitely come back.
Vittorio
2016-05-03T00:00:00Z
A fantastic host! Luis and Ingrid are both very friendly and will make you feel at home. The rooms and bathroom were very clean and tidy, and the apartment is well-decorated. They were able to recommend places to visit and eat, as well as advise on the places to buy groceries and petrol. Will recommend to friends.
Luke
2017-03-03T00:00:00Z
If there somewhere in the world the competition "Who is the best host of the world?" is taking part, then it is clear who is (not "should be", but "who IS") the winner - Luis of course! And I'm afraid he is taking the second and the third place, also :) Additionally to the top-quality amenities as cleanest clean, comfortable, modern, open, very well equipped apartement (which offering privacy too of course when needed) you meet such amount of hospitality and kindness from open minded intelligent host and his girlfriend you ever didn't expect (because of his/their personality and good command of English language, too)! He is starting take care of you even before you are arriving - just ask and he'll send all kind of information what was asked or needed. It seems to me that he did it every time with all his quests - all answeres for my numerous questions (too much from my side, one is more boring for him than the next one probably and so on, I'm afraid;) came quickly and were totally clear and understandable! Staying there is not only renting a room - it was my best luck I found this place! I feel so sorry of about the previous and future quests who were/are staying there maybe when he has to be at work, far away... poor people! They can only enjoy the place but not a company.... but even this possibility should definately make people feel good! Despite the fact that it seems to be a bit far from Barcelona at first sight, it is not true actually. The connection between Barcelona and El Masnou is so good and quick that it is not a problem not at all. Oppositely, the neighbourhood and the town itself are so cosy, nice, quiet and friendly even in December... so I can just imagine how perfect everything could be at vacation period on sunny days... swimming pool...the beach nearby... and mountains... it should be paradise! What else... maybe it seems to be TOO positive feedback; but really, there is not any reason for being neutral... it is not possible to point to something what should be improved... no! So, host Luis, THANK YOU and good luck with everything you do; and please do not stop offering to people the best what you have - your kind attitude additionally the wondrous place for staying. Greetings to Luis and congratulations to future quests! Take care! kp
Kyllike
2016-12-22T00:00:00Z
Rodzaj pokoju
Pokój prywatny
---
Rodzaj nieruchomości
Apartament
---
Mieści
2
---
Sypialnie
Alella, Catalunya, Hiszpania
Prywatny pokój dwuosobowy na plaży tylko 10 mil od centrum Barcelony, mieszkanie jest hughe i bardzo dobre comuncation.
Apartament na plaży i obok wszystkich usług i transportu, 10 minut od centrum Barcelony
The host canceled this reservation 7 days before arrival. This is an automated posting.
perrine
2016-05-20T00:00:00Z
El Masnou is a beautiful place with a long beach, close to Barcelona and yet far enough to escape the buzz. Ignacio's apartment is just the thing you need. A terrace looking over the sea, multiple bedrooms and toilets, kitchen. Even though I arrived late at night, our host was still waiting and let me into the place. My friend and I had a lot of privacy, but any time we contacted Ignacio for directions or anything else, he responded right away. I really felt at home; the introduction period basically lasted one day, and after that it was very smooth. We got suggestions for local foods, transport, places to visit in Barcelona, parking, everything we asked for. Never left us hanging. He even gave me a lift to the airport at 4 in the morning. Amazing. I would most definitely like to be Ignacio's guest, provided I travel to that part of Spain next year. Cheers
Luka
2016-07-22T00:00:00Z
Ignacio est très accueillant et se met en quatre pour faire plaisir. Merci.
Patricia
2016-05-23T00:00:00Z
Ignacio was a lovely host. He was very nice, made things super easy from before we even got to his place until we left. He made us feel very comfortable and right at home in his lovely place, and even gave us essential visitor tips for the city! I would definitely recommend him as a host and would even visit him again.
Nadia
2016-06-03T00:00:00Z
Ignacio, was a great host he welcomed us into his home and showed us around and to our room. He then informed us that he would not be staying in the property during our stay. The accommodation was very clean and tidy.
Clare
2016-06-07T00:00:00Z
Ignacio's house was very nice, clean and comfortable. The room was spacious and I had access to my own bathroom. Ignacio was very easy to communicate with and was flexible around my changing arrival time. I would highly recommend and would stay again!
Olivia
2016-07-24T00:00:00Z
I can highly recommend this accomodation. Ingnacio was a fantastic host. Only a short walk from the train station with regular trains to Barcelona and of course an amazing view I will certainly be staying here again next time I am in Barcelona.
Allister
2016-05-31T00:00:00Z
Hébergement fidèle aux photos, bien équipé, bien situé pour visiter Barcelone (à 20 min). Une grande route passante et très bruyante au bas de l'immeuble ne permet pas de laisser la fenêtre ouverte mais elle n'est pas dérangeante pour le couchage car les 2 chambres sont éloignées de la rue. Le logement manquait tout de même d'un peu de ménage surtout au sol... Ignacio est très sympathique et il nous a même contacté durant notre séjour pour savoir si tout allait bien. Très bon hôte.
Felipe
2017-03-03T00:00:00Z
Rodzaj pokoju
Całe miejsce
---
Rodzaj nieruchomości
Apartament
---
Mieści
4
---
Sypialnie
El Masnou, Catalunya, Hiszpania
Nowoczesne, jasne andvery wygodne mieszkanie w pobliżu plaży, w 30 minut pociągiem do centrum Barcelony. Idealny dla rodzin lub busisess ludzi. Z osobnym biurku i wszystkich urządzeń. Wszystko, czego potrzebujesz to gotowy. Po prostu spróbuj!
Zrelaksuj się i biznesu w Barcelonie, ale blisko do miasta, również ze wszystkimi urządzeniami niezbędnymi dla małych dzieci
wioska jakość, duża plaża, eleganckie restauracje, wycieczki piesze, górskie w 2km, pole golfowe w 10 minut, piwnice i wiele więcej
Très bel appartement spacieux, très propre et très bien situé. Il est a 10 minutes à pied de la gare et à 25 minutes de Barcelone par le train . Il correspond tout à fait à ce qui est annoncé ! Nous y avons passé 2 jours tres agreables à 5 personnes . A recommander . Nous y retournerons sans hésitation.
Virginie
2016-07-24T00:00:00Z
Хорошая большая светлая квартира с гостеприимной хозяйкой. Мы останавливались на неделю впятером - 3 взрослых и 2 детей, нам было удобно: просторная гостинная-столовая, три спальни, два санузла и действительно есть все необходимое для кофмортного проживания. Заселились поздно, в 00.00, и очень кстати был набор продуктов, предусмотрительно оставленный хозяйкой. Море в пяти минутах ходьбы, пляж прекрасный. В двух шагах (450 метров), если пойти от дома налево, большая детская площадка и 2 супермаркета. 7 минут пешком до железнодорожной станции, электропоезда ходят раз в 9 минут, полчаса езды до центра Барселоны (поезд R1 до станции Площадь Каталонии). Мы очень довольны отдыхом, спасибо, Монтсе!
Julia
2016-11-11T00:00:00Z
First of all we would like to thank Montse for the hospitality. She is a very nice person. We were met by her like her own relatives. She has even prepared some nice surprises for us and made everything we felt like visiting our own mothers house. The apartment is in an ideal location, close to the beach and railway station. It is very well equipped and has everything needed for your comfortable stay. As a family with two kids we found it a perfect stay for families. We would lovely come back here next time when visiting Barcelona.
Saulius
2016-10-13T00:00:00Z
Montse is excellent host: very helpful and hospitable. The place was just what we needed - we couldn't have asked for more!
Justyna
2017-03-04T00:00:00Z
We have stayed in Montse´s place while visiting family in the area. At our arrival she was waiting us to offer a proper welcome and from that moment she made us feel like home. The flat´s conditions accurately reflect what is shown in the pictures and it is clean and well-maintained. It is actually bigger than we expected, the WiFi connection worked flawlessly (important if you need to work remotely) and it is at a few minutes walking distance of the beach (and even if it was winter when we stayed there, walks on the beach are still nice) and at around 10-15 minutes of the train station to go to Barcelona. All in all, highly recommendable!!
Daniel
2017-02-14T00:00:00Z
The host was very helpful and the apartment is great value for money. Highly recommended!
Airto
2016-11-26T00:00:00Z
Genial. Muy bien recibido, piso esta impecable, limpio y la organizacion esta perfecta. Esta relativamente cerca del circuito
Cassio
2016-06-06T00:00:00Z
We had a very pleasant stay in Montse apartment. Everything was just as described and she was helpful and nice. I would go there again..
Kasper
2016-10-20T00:00:00Z
Rodzaj pokoju
Całe miejsce
---
Rodzaj nieruchomości
Apartament
---
Mieści
5
---
Sypialnie
El Masnou, Catalunya, Hiszpania
A charming little house situated in a quiet street in the center of the beautiful old village of Tiana. A place surrounded by nature, only 20 minutes from the center of Barcelona. Friendly and very familiar ambience, ideal for couples seeking tranquility Nice house situated in a quiet street in the center of the beautiful village of Tiana, very nice place surrounded by nature. A 20 minutes from downtown Barcelona. friendly and familiar manner. Ideal for couples seeking tranquility.
The setting, location and pure air breathed during the day and night. The sound of the church bell and the chirping of birds transport you to another world just 18 Km from the bustle of the big city.
The street is very quiet, only circulate the cars of people who reside for download purchase.
Quisiera expresar perfectamente la sensación que tuvimos al entrar en la preciosa casa de Mariona. Son ese tipo de sensaciones que se sienten y no se escriben. Nos recibió con una deliciosa cena, típica catalana, que nos encantó. La amabilidad de Xavi que, en un primer momento nos recogió en la parada del tren, la sonrisa de Mariona y la ternura de la bella gata fue nuestra bienvenida. En toda la estancia le recordé a Mariona lo enamorada que estaba de su casa. ¡Belleza!. Nuestra habitación impecable, con una terraza que disfrutamos al 200% tomando café y escuchando los pájaros muy temprano. No hay duda de que todo fue muy acogedor. No tenemos pegas de nada. De nada. Al contrario, salimos más encantados que nunca y agradecidos con las cenas y risas en el jardín de Mariona que disfrutamos junto a la amiga de Mariona, Laura. Un goce. Me quedo con la grata experiencia y los recuerdos. ¡Gracias Mariona y hasta siempre!. =)
Mariana
2016-08-17T00:00:00Z
Mariona is a wonderful host, kind and friendly. Tiana is a quite place, 20min away by car from the center. I strongly suggest Mariona as your host while visiting Barcelona!
Lorenzo
2017-03-04T00:00:00Z
WOW! What a treat! This was the best. Such a beautiful house outside of the hustle of the city. Super close to the beach. The bed was super comfortable! Great sheets and pillows. And CLEAN!!!!! Plus the kindest host ever! Look no further, it doesn't get much better than this!
karen
2016-06-15T00:00:00Z
Merci Mariona pour ton accueil, ta gentillesse. On avait l'impression d'être chez nous, tu as tout fait pour cela. Ta maison est charmante, ton village aussi. Nous avons bien dormi, tout est très propre et décoré avec goût. On ne voulait plus partir .... Quelle belle rencontre. A très bientôt.
MONIQUE
2016-06-27T00:00:00Z
What a great find. Quaint village with surprisingly easy access to the centre of Barcelona and the beach. Mariona has a beautiful house and she is the perfect, relaxed host. We were free to use the facilities whenever we wished to. I had such a good time I didn't want to leave. I extremely recommend.
Mario
2016-10-06T00:00:00Z
Fantasticamente Bien ! Muy amable e atenta a repetir !!!
Prisca
2016-10-31T00:00:00Z
Rodzaj pokoju
Pokój prywatny
---
Rodzaj nieruchomości
Dom
---
Mieści
2
---
Sypialnie
Tiana, Catalunya, Hiszpania
Piętro z widokiem na morze, piękny ogród społeczności, 5 minut od plaży i dworca kolejowego. Bardzo dobrze podłączone. Bardzo ciche, z lasami w tył. Możliwość jazdy żaglowe usługi. Piętro z widokiem na morze, piękny ogród społeczności, 5 minut od plaży i dworca kolejowego. Bardzo dobrze podłączone. Bardzo ciche, z lasami w tył. Możliwość jazdy żaglowe usługi.
Bardzo słoneczny z pięknym widokiem na morze i las. A 5 minut od dworca kolejowego. 20 minut od Barcelony. Pokój dwuosobowy z łazienką. Przestronny salon. Kuchnia, dwie łazienki i dwa pokoje jednoosobowe. Bardzo słoneczny z pięknym widokiem na morze i las. A 5 minut od dworca kolejowego. 20 minut od Barcelony. Pokój dwuosobowy z łazienką. Przestronny salon. Kuchnia, dwie łazienki i dwa pokoje jednoosobowe.
Jesteśmy w samym centrum miasta. W tej samej ulicy znajduje piekarnie, sklepy i wszystko, czego potrzebujesz ... Jesteśmy w samym centrum miasta. W tej samej ulicy znajduje piekarnie, sklepy i wszystko, czego potrzebujesz ...
Pobyt u Jordiego i jego rodziny był wspaniałym doświadczeniem. Mieszkanie jest zlokalizowane blisko plaży a widok z tarasu przepiękny. Każda chwila to czysty relaks. Jordi i jego rodzina to wspaniali ludzie, dali mi poczucie prywatności a zarazem mogłam poznać prawdziwą hiszpańską rodzinę. Polecam pobyt w El Masnou każdemu kto chce odpocząć w ciszy i spokoju korzystając z piękna okolicy.
Katarzyna
2016-07-29T00:00:00Z
Tot bé! Gràcies Jordi.
Aina
2016-10-06T00:00:00Z
Nous sommes arrivé assez tard, mais Jordi a su nous accueillir et nous mettre à l'aise comme il fallait, nous avons profité de notre séjour et surtout apprécier Barcelone, nous avons passé de superbe vacances! Je vous conseille fortement l'appartenant de Jordi :D
Gloria
2016-07-15T00:00:00Z
La casa de Jordi y Gabi esta muy bien situada, muy cerca del tren y la playa y el bosque que hay al lado es estupendo para pasear. La casa esta muy limpia y cuidada y tiene unas preciosas vistas al mar. La habitacion es muy comoda y el baño es privado. Ellos son muy amables y me han dado informacion sobre la zona. Un sitio estupendo para disfrutar de la playa
Candela
2016-03-27T00:00:00Z
Casa muy acogedora, luminosa y cálida, con preciosa vista al mar, a pocos minutos de la playa; habitación silenciosa, espaciosa y comoda con bonita vista al parque, baño privado con bañera. Todo muy limpio. Jordi y su familia nos hizo sentir como en casa, siempre disponibles y amables, atentos y cariñosos. Experiencia muy positiva, para repetir seguramente!
Fiorenza
2016-02-28T00:00:00Z
Jordi is a friendly and courteous host with nice tips about El Masnou. We didn't meet often but when we did it always was a pleasure. The room is pretty nice and tidy with an own balcony. El Masnou is a cool place to chill and enjoy the good weather. BONUS: Awesome view from Jordi's balcony! Thank you Jordi!
Felix
2016-06-08T00:00:00Z
Jordi et sa famille sont très discret, nous avons passé un bon séjour. Impeccable.
Virginie
2016-08-02T00:00:00Z
Das Zimmer war schön und hatte auch einen eigenen Balkon. Wir hatten ein eigenes Bad. Alles war sehr sauber. Das Wohnhaus ist in einer ruhigen Gegend. Cafés und Restaurants sind zu Fuß in wenigen Minuten zu erreichen. Unser Lieblingscafé war eine Straße weiter :) Der Strand war nur wenige Minuten entfernt, genauso wie die Bahnstation. Ich kann es nur empfehlen!
Nicolette
2016-09-23T00:00:00Z
Rodzaj pokoju
Pokój prywatny
---
Rodzaj nieruchomości
Apartament
---
Mieści
2
---
Sypialnie
El Masnou, Catalunya, Hiszpania
Polubisz to miejsce dlatego, że ma widoki na góry i wszystkie plaże na wybrzeżu miejscowości szeroką Mongat na kilka minut z śródziemnomorskich Słońca i Tipical restauracji z potrawami dobra kuchnia Świeże produkty od morza i dobre Paella !!! - Ma bardzo dobra komunikacja do transportu Barcelona City cieszyć wszystkich miejsc zainteresowań może chcesz visit.-miejsce jest przytulne i ciche, i nadające się do wszelkiego rodzaju turystów z otwartym duchem i wolą cieszyć się i dzielić swój pobyt.
W swoim cichym i prywatnym pokoju będzie odnowić siłę na nowy dzień piękne. Miejsce jest ciche i ciepłe, a przez okno widać opuszcza morera za drzew na zewnątrz.
Jest to spokojne miejsce, ale dobrze conected przez drogowe Autobusy-pobliżu ekspresowej-niedaleko dworca-Station,
Maison propre et quartier calme . Anna est très accueillante et très aimable on 'a senti comme chez nous. Je recommande à tout le monde .vous n'allez pas regretter. Merci Anna je ne t'oublierai jamais.
naima
2017-02-01T00:00:00Z
Anna was a wonderful host. She made us feel at home and very welcome. A quaint Spanish home and not too far from secluded beaches away from the tourists. A leisurely 10 minute walk will take you to the train and metro and a few stop ride to the centre of Barcelona. Thank you Anna,you are such a sweet kind lady and we wish you all the best. Angela and Ian.
Ian
2016-09-16T00:00:00Z
Anna is bijzonder aardig, zorgzaam en gastvrij. We kwamen niets tekort en konden haar altijd iets vragen voor bijvoorbeeld het ontbijt, maar ook qua vervoer. Ze heeft ons meerdere malen gebracht en opgehaald van en naar het dichts bijzijnde station. Anna's huis is klein en knus. De kamer is niet groot, maar netjes en schoon. Ook de badkamer is netjes en door alle snuisterijen van Anna ook erg huiselijk. Aangezien wij voornamelijk in Barcelona wilden zijn, ligt Tiana best wel een eind uit de stad, maar het is met openbaar vervoer goed te bereiken. Het is wel handig dat vooraf even goed uit te zoeken. In combinatie met het fantastische Barcelona hebben wij erg genoten van het verblijf bij Anna.
Arnold
2016-10-19T00:00:00Z
I had a really wonderful time at Anna's place. She is really helpful and really kind. The house is located in a very nice area, only 15 minutes walk from the train station.
Tünde Krisztina
2016-10-21T00:00:00Z
Anna is a lovely lady. She took great care of us and was very generous with providing lots of food and advice. We had a really great time and it's a nice place a little out of barcelona and a walk to the beach. Thank you.
Lazarus
2016-10-31T00:00:00Z
We like the Montgat sandy beach (30 min train ride from downtown Barcelona), the quiet small town Tiana (few hundred meters uphill from Anna's) and the Christmas market in Batalona (one train stop down south from Montgat). The listing is recommended for people who travel with cars (right next to highway), or who, like us, simply want to have some quiet time from city.
Elsa
2016-12-19T00:00:00Z
We had a wonderful stay with Anna! She was extremely helpful with directions to her house from the airport and was lovely and welcome when we arrived (despite being very late at night). Thank you Anna!!
Em
2017-01-04T00:00:00Z
Anna est vraiment très charmante. Elle nous a mis à l'aise dès le premier jour et tout au long du séjour. Elle a été attentive à nos besoins et s'est toujours proposée pour venir nous récupérer ou nous accompagner à la gare ou faire des courses. Sa maison est très propre et le côté exotique de son jardin est très agréable. Tiana est une petite commune qui lègerement éloignée du centre de barcelone cependant l'arrêt de bus est à 1 minutes à pieds de la maison, il permet d'aller à la gare de Mongat (R1) en 5 minutes et il n'y a que quelques stations (entre 3 et 5) pour rejoindre la plaça des catalunya. (ligne rouge). Le bus de nuit s'arrête également devant la maison c'est vraiment super. Le must, il y a une très belle plage tranquille entre la gare de Mongat et Mongat Nord. Je vous recommande de choisir Anna pour votre séjour à Barcelone.
Black
2016-09-21T00:00:00Z
Rodzaj pokoju
Pokój prywatny
---
Rodzaj nieruchomości
Dom
---
Mieści
2
---
Sypialnie
Tiana, Catalunya, Hiszpania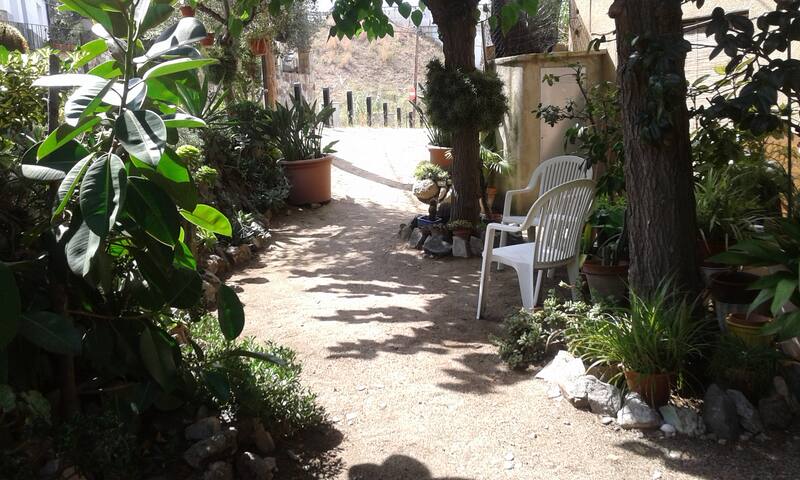 Отдельная комната с двуспальной кроватью в Масноу, Барселона. Отдельная комната с двуспальной кроватью в Масноу, Барселона. Номер дома фирменная нога, как я Masnou, Барселона.
В нашем доме вы будете просыпаться каждое утро под звуки птиц во дворе. После этого вы можете получить доступ к нашему патио / террасе, рядом с пальмой и растениями, наслаждаться кофе и отдохнуть с прекрасными звуками природы. Наш дом расположен в жилом районе, всего в нескольких кварталах от Средиземного моря. Это абсолютно красивый, тихий и уютный район. En La Casa Nuestra puedes disfrutar ла natureleza у Tranquilidad. Пор лас mananas levantares аль sonidos дель Pajaros дель патио, Donde puedes disfrutar ту Desayuno и кафе. La Casa Эста situada ан уна зона Residencial, alderedor де виллы. Esta зона себе encuentra absolutamente Линды у Хермоза.
Le Masnou est un charmant village catalan, à côté de Barcelone Avec 22 600 habitants ~. Il est une partie de la région de Maresme, bien connu de son beau temps, les plages, la nature et une touche de la communauté des pêcheurs. Nos costumes de district très bien pour les personnes qui sont à la recherche de vacances agréable, ensoleillée à la plage, ou à ceux qui sont à Surf. De plus, les gens sont intéressés, les activités de l'OMS Une telle randonnée, devrait envisager de rester à notre maison. Le Masnou est une ville charmante avec environ 22 000 habitants. Il est situé à côté de la Barcelona métropolitaine. El Masnou, ainsi que les autres peuples de la région du Maresme, est conozido pour son histoire, ses pêcheurs, ses plages et ses natureleza. Pour cette raison, nous vous recommandons notre maison pour les gens qui aiment profiter des journées sur la plage, dans les montagnes, le surf, etc.
Eeva & Matheus are an extremely friendly couple and we were happy to be their first AirBnB guests! The dog, Hertta, is the cutest thing ever and the location is pretty good. There is a trainstop close to the house which takes you in about 20 min to Barcelona city centre. The town itself is good if you want to experience what it's like to live like a local. Some local produce shops around to buy food and there are bars/restaurants in the marina...all walking distance. Easy to park your car just outside of the house. The property is a little small if you are bringing a lot of luggage, but Eeva and Matheus are happy to help and make sure you have a great stay. We also loved that Matheus invited us to dinner, which was a local dish! really tasty. So if you don't require that much luxury and just want to meet a cool couple of people and be close (but not in) Barcelona, this is a good place to stay!
Heleen
2017-03-26T00:00:00Z
Rodzaj pokoju
Pokój prywatny
---
Rodzaj nieruchomości
Dom
---
Mieści
2
---
Sypialnie
El Masnou, Catalunya, Hiszpania
Alella DO - Airbnb
:
Średnia ocena:

4.72

/

5

gwiazdek od

502

gości