킹 사이즈 마스터 침대, 퀸 게스트 침대, 더블 리클 라이닝 가죽 소파와 멋진 집. 거대한 HD TV를. 사무실 / 운동 영역입니다. 산악 자전거와 세인트 Tammany 주 추적에 쉽게 액세스 할 수 있습니다. (3 개의 양조장에 자전거.) 1시간 북쪽으로 뉴 올리언스와 배턴 루지의 1 시간 동쪽에 위치하고 있습니다.
편안한 울트라
LSU와 뉴 올리언스 근처 옥외 범죄는 쉽게, 훌륭한 음식과 음료를 갈 수 없습니다.
We had a great time at Derek's house. The house was spacious and clean. He even had extra bikes to ride the Tammany Trace and left directions on how to get to the Trace from his house, along with other suggestions for food and activities in the area. We could not have asked for a better experience and look forward to renting this house again.
Flossie
2016-05-23T00:00:00Z
House was a small, well kept, 2 bedroom place. Great couches and entertainment system, including Xbox 1, that my kids loved.
Chad
2016-06-26T00:00:00Z
Derek's home was perfect for our weekend in Abita Springs. Our favorite part of the trip was being able to bike from the house to The Abita Brewery. The house was very clean, had everything we needed, and Derek responded quickly to any questions we had. I would definitely recommend this place to friends!
Teal
2016-07-10T00:00:00Z
What a GREAT experience! Derek was a wonderful, informative host. His house was spotless and what we had hoped (URL HIDDEN) husband is fanatical so I was thrilled he was pleased with the house! A few of my favorites: the couch (I loved that it reclined - on both sides and I could work on my laptop) and the master bed - it was extremely comfortable. The shades were on the light side so we woke up early - an idea I warmed up to after a day or two but originally didn't like. Suggest a stand alone fan to drown out the noise from local busy street behind house - It worked perfectly ! Loved the wooden floors! Felt clean!! The kitchen was wonderful and had all of the amenities we needed. I was appreciate he left whole milk in the refrigerator because we didn't take the time to go the store the night before and we really needed milk for our coffee. He had mentioned in his notes that if we needed anything - just replace- which we did. We would recommend and would surely stay there again! Also appreciated extra charges for iPhones left in house - a nice touch !
Bridget
2016-06-07T00:00:00Z
This place was perfect for my son and I. Very clean and well kept home. Comfortable surroundings. Derek was great in communicating with us and checking that everything was ok. Would highly recommend.
B.j.
2016-08-07T00:00:00Z
The listing was very accurate. Our host kept in constant communication with us. There was plenty or room for me, my sister, and my son.
Mary
2016-10-23T00:00:00Z
Great location, all the expected amenities, easy check out. The master suite bed is /super/ comfortable.
John
2017-03-17T00:00:00Z
Stayed here for a weekend wedding at Abita Brewery. House was easy to find, a quick 5 minutes to Abita Brewey, and minutes away from cute downtown Covington. Derek was very communicative yet laid back and flexible to our plans. His house is so comfortable and has such awesome entertainment options that you almost don't want to leave! But Abita Brewery is must-do and Covington was way more fun than we honestly expected! Our men got shaves and haircuts at North Shore Hair Salon that were so dapper that they plan to come back as often as possible to keep the look going. Food at Del Porto was phenomenal, fun bar and band at Tap Room, and the strongest drive thru daiquiris ever at Daiquiris and Creams. Derek left a list of places to hit up, and now we want to come back and visit them all!
Kelly
2016-12-10T00:00:00Z
Rodzaj pokoju
Całe miejsce
---
Rodzaj nieruchomości
Dom
---
Mieści
4
---
Sypialnie
Abita Springs, Luizjana, Stany Zjednoczone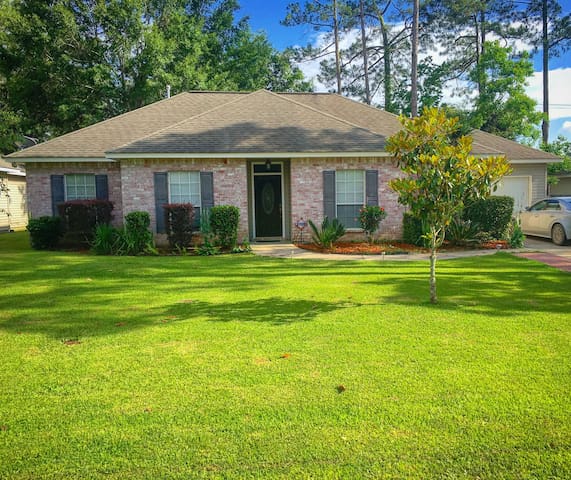 Rodzaj pokoju
Całe miejsce
---
Rodzaj nieruchomości
Dom
---
Mieści
4
---
Sypialnie
Abita Springs, Luizjana, Stany Zjednoczone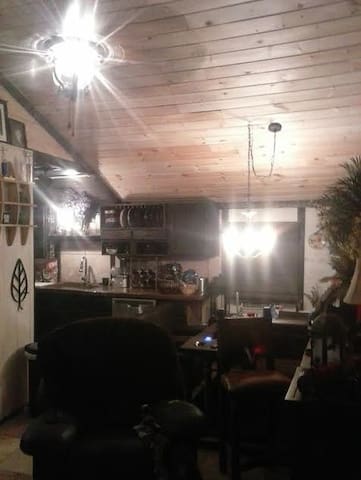 The Downtown Luxe Duplex is located in the heart of Historic Downtown Covington surrounded by restaurants, nightlife, shopping, biking trails, and many family-friendly activities. You'll love my over 100 year old historic home. It is the right side duplex with 800 square feet of luxurious furnishings located across the street from the Bogue Falaya River and the English Tea Room restaurant. Need full living and kitchen? Check out my other listing: "The Downtown Loft" located on the second floor.
The Downtown Luxe Duplex embodies the true essence of Southern Historic homes with 10 feet ceilings, original hard wood floors, original bead board walls, French doors, transom windows, thick base boards and trim, huge wood windows, ceiling fans, new recessed lighting, and a fireplace for those cold winter nights. The bathroom is constructed of slate floors and walk-in shower with custom antique cabinetry. There is a kitchenette with fridge, microwave, coffee pot, electric burners, pots, pans, utensils, dinnerware, glassware, coffee/sugar/creamer, trash bags, towels, and a "Louisiana Welcome Basket" of sorts with local snacks and drinks. The Luxe Duplex also has a bistro hardwood table and lounge chairs for dining. Both beds have Tempur-Pedic foam mattress with mattress pads for the ultimate in restful sleep. Both the bedrooms have ceiling fans for added circulation and big bright windows and exterior doors. The front bedroom has a French door that opens onto the front porch that has swings and wicker outdoor chairs. The back bedroom's door opens out onto the back deck which has outdoor sectionals, umbrellas, TV, tables, and dart board. The bathroom has towels, soap, shampoo and conditioner and all beds have linens, throws, pillows, and candles.
Rodzaj pokoju
Całe miejsce
---
Rodzaj nieruchomości
Dom
---
Mieści
4
---
Sypialnie
Covington, Luizjana, Stany Zjednoczone
Cozy room in beautiful neighborhood in Covington, Louisiana. Guest Bed/ Bath completely private. Shared access to living area, kitchen and laundry. Enjoy the serenity of the private back yard with covered patio and outdoor kitchen. Only 45 min to New Orleans and 1 hour to Baton Rouge.
Great area that has a quiet country feel yet is close to town and just a short drive across the lake to New Orleans. Close access to Tammany Trace for running or bicycling.
Quiet friendly neighborhood. Great area to take a walk, run or bike ride. Close to great restaurants and shopping.
Scott and Paula have an absolutely beautiful, super clean home. They are located in an quiet, peaceful area where you can hear the sounds of nature at night: it was incredibly relaxing. They allowed me to check in pretty late which I very much appreciated. We were able to have a short chat over breakfast and got to know each other. They are both very down to earth, kind people. I only stayed one night as I was passing through on my way to Texas, but I wish I could have stayed longer. Having my own bathroom was a plus! They also have a very sweet, mild-mannered dog that I enjoyed meeting. I would definitely recommend staying here. Thank you both for a lovely visit!
Lindsay and Shayne
2016-05-23T00:00:00Z
Fantastic folks! Paula is super talented and Scott has the best advise on where to eat! This was my first experience sharing a location, and it was fabulous. Will be back!
Susan
2016-06-06T00:00:00Z
We can not say enough about Scott and Paula, or our over all experience staying with them. Our every expectation was exceeded beyond belief. Not only were they great hosts, but they became great friends. My wife and I were made to feel very much at home. Speaking of their home, it is perfectly arranged to accommodate guests. We had privacy when we wanted it, and familial type companionship when desired. Their outdoor facilities are my envy, with everything anyone could desire. There was even an added attraction named Ginger, their pet dog. She was such a joy; Well behaved, playful, and did I say loving.
Cherelyn
2016-10-14T00:00:00Z
Had a wonderful stay here! Very clean and comfortable. Neighborhood was very nice and great for going for a run or walk. Booked last minute and was able to be accommodated on very short notice! Would definitely recommend this place to others.
Kyla
2016-05-29T00:00:00Z
Scott and Paula were fantastic and extremely helpful. They were great conversationalists and very friendly. DEFINITELY RECOMMEND SCOTT AND PAULA!!!
David
2016-08-26T00:00:00Z
What a perfect experience for me. This was my first time to book with AirBNB. And this house was all I was told it would be. You want quiet? I was only here over night but it was quiet. I was greeted at the door, shown my accommodations and I enjoyed my stay. My only regret was that I did not have time to sit and visit with Scott, Paula and Ginger. So note to self don't be so rushed next visit. Thank you for such a pleasant stay.
Susan
2016-12-03T00:00:00Z
Scott and Paula were great hosts! Very knowledgable about the area and local breweries. The listing was very accurate. Coffee was made every morning just waiting for us too :-) The puppy, Ginger, is sweet and adorable. The neighborhood was safe and quiet. Would recommend staying here to anybody visiting this neck of the woods. They were really great hosts. Very well worth it.
Kevin
2016-07-26T00:00:00Z
This was the BEST abb I have ever stayed at. The room was perfect, comfortable, and clean. Bathroom was fantastic as well. The hosts were helpful in giving us recommendations on where to eat, their home was locked and we were told the code, and the next next morning they had coffee made! I felt so safe and welcomed here. They also helped us figure out how to avoid the flooding on our way home!
Mallory
2016-08-17T00:00:00Z
Rodzaj pokoju
Pokój prywatny
---
Rodzaj nieruchomości
Dom
---
Mieści
2
---
Sypialnie
Covington, Luizjana, Stany Zjednoczone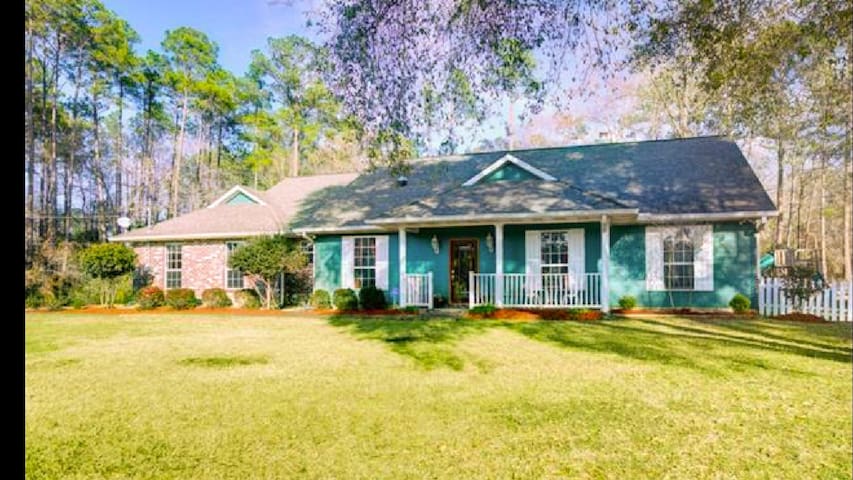 Only a couple of minute's to the start of the ST. TAMMANY TRACE; a bike, walk, horse trail linking Covington to Fountainbleau Park in Mandeville. Available for special events such as weddings, yoga workshops. Art galleries, restaurants and shopping in walking distance.
Beautifully decorated private bedroom with two double beds, bath and balcony overlooking a river. Located on an oak lined street in the heart of historic downtown. Across the street, dine at The English Tea House, around the corner coffee shops, antiques, restaurants and art galleries. Bike and kayak rentals available. A couple of blocks walk to seasonal monthly events, Second Saturday Art Stroll, Final Friday Antique Car Show, Third Friday Free Landing Concert by the river, Every Saturday and Wednesday Farmer's Market and The St. Tammany Trace where locals and visitors can bike, jog or walk to several nearby towns. Just a 45 min drive to the French Quarter in New Orleans. A few minutes drive to the famous Abita Springs Opry House, The Pontchartrain Vineyards that host the "Jazz in the Vines" concerts and tasting, Ponchatoula that host the renowned Strawberry Festival. Less than a two hour drive to Waveland to walk along the Gulf Coast. I can also rent you time and space if you are wanting to host a workshop/seminar from the house. The house can also be rented for other temporary purposes such as weddings, art openings and working studios. I teach Kundalini yoga and Vipassana meditation and you are welcome to join a class. I also make and sell cold pressed vegetable and fruit juices that may be purchased from me at home or on Saturday mornings at the Farmer's Market only a ten minute walk from the house. If you are looking for a place of refuge you have discovered it here at The House of Dunn.
This is the most wonderful neighborhood! Oak lined with a Tea House across the street...antique shops...dress shops...hair salons...restaurants just around the corner.
Sally is an incredible hostess. We had such a wonderful stay at the House of Dunn with our son. We did not want to leave. The new deck overlooking the river is a nice place to sit and watch the scenery and the birds. We did not have to drive anywhere the whole weekend.
eileen
2016-09-11T00:00:00Z
We loved staying at Sally's place so much we came back again. And will again soon we hope.
Jeremy
2014-09-01T00:00:00Z
Refreshing and peaceful. Calming. Antiquish and artsy. Full of character and soul.
Angela
2014-08-01T00:00:00Z
I felt very welcome.
(EMAIL HIDDEN)
2016-03-07T00:00:00Z
This was the second time I stayed at Sally's and for good reason; I knew I would get a relaxing night sleep in a truly hospitable home. I was in the area having to do training for work. Sally made it convenient for me to get in and out while I handled some strange hours. The best part of this recent stay was being able to unwind after a long day, then take my time waking with a cup of coffee in a room which fed good feelings. I would really like to find some time to be a guest when I have no schedule and can just take in the beauty of her house.
Dan
2014-08-21T00:00:00Z
Sally was a terrific host! The house was just as described, maybe even better! What a way to wake up to a beautiful balcony view with cardinals and migrant birds.
Ben
2015-06-22T00:00:00Z
Sally was a very kind host. The whole house is filled with the sort of love and positivity that's tangible. My girlfriend and I had the best experience staying here and taking it slow and easy for a couple of days. I currently live in Covington, and I can't wait to go back to Sally's House of Dunn. Next time I'll have a kayak so I can push off into the river in the backyard. The beds are incredible, too! I can't imagine there's a better spot to stay in Covington.
Jonathan
2014-10-01T00:00:00Z
Sally was so welcoming to my family! A very eclectic atmosphere I look forward to staying here again in the future.
Rikki
2015-05-26T00:00:00Z
Rodzaj pokoju
Pokój prywatny
---
Rodzaj nieruchomości
Dom
---
Mieści
4
---
Sypialnie
Covington, Luizjana, Stany Zjednoczone
The Downtown Loft is located in the heart of Historic Downtown Covington surrounded by restaurants, nightlife, shopping, biking trails, and many family-friendly activities. You'll love my over 100 year old renovated upstairs loft apartment. It is a 1200 square feet spacious, chic, and cozy retreat located across the street from the Bogue Falaya River and the English Tea Room restaurant. Need two separate bedrooms? Check out my other listing: "The Downtown Luxe Duplex" located on the first floor.
The Downtown Loft Apartment embodies the essence of an open loft-style apartment with cathedral ceilings, wood floors, recessed lighting, half-walls, and a fireplace for those cold winter nights. The bathroom is constructed of slate floors and shower tub with custom antique cabinetry and the kitchen has more custom cabinetry, slate counter tops, and all stainless steel appliances. The unique entry hallway adds additional seating space and storage areas. All beds and daybeds with trundles have Tempur-Pedic foam mattress with mattress pads for the ultimate in restful sleep. Both the bedroom and living area have ceiling fans for added circulation and big bright windows that either slide open or hinge open. The Loft also has a full size washer and dryer with all your detergent, softener, and dryer sheet needs. The bathroom has towels, soap, shampoo and conditioner and all beds have linens and pillows. The kitchen has pots, pans, glassware, dinnerware, utensils, dishwasher detergent, gas stove, fridge with ice maker, trash bags, napkins, coffee pot with filters/coffee/sugar/creamer, and a "Louisiana Welcome Basket" of sorts with local snacks and drinks.
The Downtown Loft Apartment is located in the heart of Historic Downtown Covington directly adjacent to the free Oxlot public parking which is great when you want to host parties in the Loft or are traveling with multiple vehicles and/or trailers. The rear driveway of the Loft will accommodate up to 4-5 vehicles of free off street parking, also.
Crystal had everything ready and so clean for our arrival. She even had coffee fixings, local beer, and print outs of area shopping and dining!
Brooke
2016-09-27T00:00:00Z
Amazing place to stay. Comfortable, roomy and well equipped. Close to restaurants, the river, and right in the middle of downtown Covington. We will be staying here again for another overnight get away.
William
2017-02-12T00:00:00Z
The loft is everything I wanted it to be: cozy, comfortable, and in a great, safe location. Check-in was a breeze. The loft is stylishly decorated and would easily house several people, but was super comfortable for my daughter and myself. The shotgun style loft has all the amenities you need. Best of all was the comfy couches with tons of throws and pillows, just for relaxing. The only drawback, which isn't the owners fault, is the loud street cleaners and trash collectors that come around every morning about 0600. There's no way to sleep through that noise. Again, not Crystal's fault. I will definitely consider Crystal's place and would recommend it to anyone going to Covington for the charm of the city, to the Global Wildlife Park in Folsom, or for any reason you plan to be in the area.
Pamela
2017-03-02T00:00:00Z
Having lived in Covington I was aware of the location of Crystals place so was excited to be back downtown with it's restaurants, pubs and coffee shops, as well as a block away from the wonderful Bogue Falaya park, which is right on the river with sandy shores and room to be alone, what I was unaware of was how much larger Crystals place actually was compared to the photos. Having said that, it was incredibly cozy, convenient, comfortable, relaxing and quiet. I can't recommend Crystal's place enough. Looking forward to returning.
Carolyn
2017-03-22T00:00:00Z
What can I say, Crystal was an awesome host! Although our schedules did not allow much face to face contact, Crystal was always available when I tried to contact her. The Loft is just as nice and comfortable as it looks in the pictures, a full kitchen, two TV's and plenty of room for guests. The neighborhood is just as nice. A short walk to several restaurants, coffee shops, boutiques, antique shops, and yes even a bar or two, no need to drink and drive. This is a great place to stay in Covington because of the proximity to everything. But with all the conveniences and comfort of the Loft, it is a great place to consider for visits to New Orleans or Baton Rouge. The price is very reasonable for what you are getting. Better than any hotel at the same price. Upon arrival after meeting Crystal I found complimentary water, beer, cokes, and potato chips, and even a couple of candy bars waiting for me. Also there was coffee, laundry soap, bath soap and just about everything you would need. If you were coming for a week stay all you need is clothes. Crystal is a very nice person, easy to talk to and willing to be a super host. I would definitely reccomend staying here. And if I ever go back to Covington, I will be staying here again!
Norman
2016-10-27T00:00:00Z
Excellent posh domain with excellent amenities and comfortable for guests. Host was by far the most amazing of all my journeys! Jalapeño chips and trundle beds are now always a part of my heart
Ashley
2017-02-24T00:00:00Z
Perfect loft in Covington! Very spacious and comfortable. Crystal is a great host. Very convenient and easy. Felt like home and did not want to leave.
Cady
2017-02-05T00:00:00Z
The Loft was absolutely wonderful! Everything that I need for my stay was provided by Crystal. She is a wonderful host and very accommodating for your every need. My pets and I were very comfortable staying in the Loft. Would highly recommend her place if your looking for a place to stay.
Amanda
2016-12-31T00:00:00Z
Rodzaj pokoju
Całe miejsce
---
Rodzaj nieruchomości
Dom
---
Mieści
6
---
Sypialnie
Covington, Luizjana, Stany Zjednoczone
My place is close to 45 minutes away from New Orleans and just minutes off I-12. You'll love my place because of the nice neighborhood, cozy bed, TV, mini-fridge and Wi-Fi. My place is good for couples, solo adventurers, and business travelers. The room is on the 2nd floor along with the bathroom.
Nice will coming hosts, comfortable stay, may offer to every Airbnb user.
Andrew
2017-03-07T00:00:00Z
Cozy space, great hosts. Loved our stay!
Kegan
2017-02-19T00:00:00Z
Absolutely recommendable! Clean, with all necessary stuff (hairdryer, shampoo, minibar, water, tourist guide) and welcoming hosts.
victoria
2017-03-18T00:00:00Z
Trevor and his family were very nice and helpful. The room was clean and the house was nice in a good neighborhood. The drive into New Orleans wasn't bad at all. Definitely a good place to stay for my mom and sister's first time out there.
Amanda
2017-02-28T00:00:00Z
We made this reservation at the last minute. Trevor and family were very accommodating. The neighborhood is nice and it is a convenient location. The room was clean and comfortable. We enjoyed chatting with the family.
Carla and Mark
2016-12-22T00:00:00Z
My stay was perfect, Trevor and his family are very kind and welcoming. The room was clean and comfortable. It had a minifridge which was very conveinent. I recommend staying here.
Andres Felipe
2017-03-03T00:00:00Z
Great host very friendy and a great room.
Samuel
2017-04-02T00:00:00Z
Where should I start?? Our fist time using Airbnb so we were a little skeptical but once we arrived it felt like home!! Very welcoming family! The room was very cozy bed was comfy plenty of pillows! The NOLA decor was beautiful! Blackout curtains a plus for me!!! Plenty of closet space plenty of large towels!! The bathroom was huge and very clean! Also very convenient to the main highway to all the stores and restaurants!! I definitely recommend this Airbnb to anyone!!
Belem
2017-03-13T00:00:00Z
Rodzaj pokoju
Pokój prywatny
---
Rodzaj nieruchomości
Dom
---
Mieści
2
---
Sypialnie
Covington, Luizjana, Stany Zjednoczone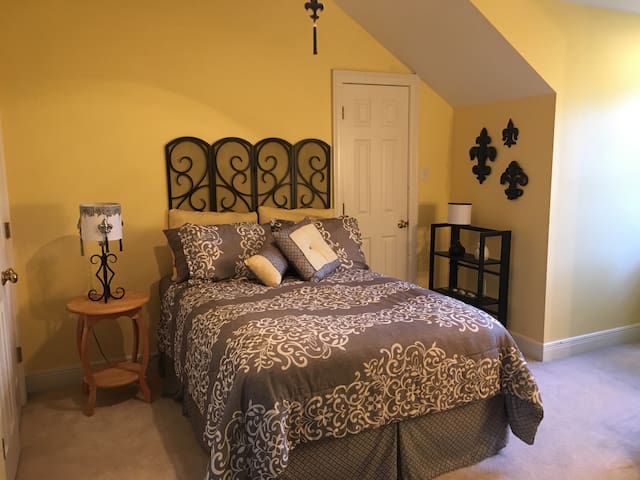 1200 sq. ft. Cozy Cottage on private acreage, 6 minutes from downtown Covington. This is a stand-alone home with deck overlooking pond, screened porch and BBQ. Charming interior, lots of windows, and a comfortable interior might have you sleep late one day.
This is a home away from home, a quiet and peaceful jewel tucked away at the back of our 20 acres property, just off Highway 21. Entry for the property is about six miles from the charming and fun town of Covington. The cottage, as the photos show, is an old classic – but the interior with cathedral ceilings and modern kitchen and furnishing provides convenience without sacrificing charm. Just 50 minutes from New Orleans and the French Quarter should you tire of crickets and stars.
We are the cottage's only visible neighbors. Abita Springs and Covington are each about 5 minutes' drive; Mandeville on Lake Ponchatrain is 15 minutes away. All these towns offer great restaurants, shopping, parks, walking trails, music and fun concerts, markets and events almost every weekend. New Orleans is 50 minutes away, across the Causeway Bridge, and as you know offers everything.
We absolutely LOVED our stay at Pond View Cottage!! Wayne and Elaine were wonderful hosts, they welcomed us like old friends. The cottage was charming and exactly how it was described. We conveniently traveled around the area, into New Orleans and Covington. Elaine and Wayne gave us great recommendations for places to go and where to eat. The cottage is comfortable and perfectly situated. Private, but not isolated. I would highly recommend a stay at Pond View Cottage, it is the perfect home away from home.
Emmie
2016-01-03T00:00:00Z
What a wonderful three days! The cottage is really relaxing and beautiful. A really interesting design where every room faces a peaceful pond. It was just what I needed to recharge. Elaine and her husband were real dolls. So sweet with fresh baked bread, homemade honey and jam. So wonderful. I will definitely be back!
Renee
2015-04-12T00:00:00Z
Great couple. Glad to have met them. Place needs some work.
Shana
2016-05-30T00:00:00Z
Our first AirBNB experience couldn't have been better. Better in every way than we expected - and the reviews led us expect a lovely experience. Quiet, restful, beautiful, and great hosts. Elaine and Wayne were more like good friends than ABNB hosts. Couldn't say enough about how wonderful the stay was, so I'll leave it at that. If you want a first rate experience, book now.
Gerald
2015-11-16T00:00:00Z
It took me some time to sit and write this review, Pond View Cottage along with my hosts Elaine & Wayne, was too special, I had to try and convey the incredible beauty, peace and comfort of Pond View Cottage and the warmth of my hosts. Sitting out on the deck, next to the pond enjoying a cup of good coffee, toasted homemade bread, homemade strawberry jam & honey from Wayne's hives, all a welcoming gift from my hosts. Taking a nice hot shower after a day of hiking, sinking into the sofa with a good book and lets not forget the local spring water, absolutely refreshing. Listening to the birds in the woods next to the pond, plenty of grounds to walk, very private but just a short walk to their house, Wayne showed me his woodworking shop, the bee hives, the chicken coop. I was here to celebrate Christmas with my new & only grandson, my daughter, her husband and his family whose house was only a 10 minute drive, along with staying at Pond View Cottage, it made for a most memorable experience being with my family and the ambiance of Pond View. My friend from Louisiana joined me for my last 2 days at the cottage, we enjoyed breakfast in Abita Springs and took a walk in nearby Fontainebleau State Park. When I return to Louisiana in the spring, I will have a room in my daughters new home in Mandeville, I will have to spend a few days at Pond View Cottage, my home away from home. I returned to California with an additional jar of honey from my hosts for my brother-in-law also a beekeeper. This truly is a slice of heaven, Thank you Elaine and Wayne you were wonderful, I look forward to returning to Pond View Cottage.
Tony
2015-12-29T00:00:00Z
What an excellent cottage and what great hosts Elaine and Wayne were for our entire trip. I have stayed at many different airbnb locations around the world, but this was the best yet. The cottage is exactly as described, very bright inside and open floor plan. I woke everyday to the birds singing and animals moving outside. When we arrived, Wayne welcomed us and had made a special trip to get a new outdoor BBQ grill for our stay. During our stay, they gave us fresh strawberry jam, fresh, homemade breads, fresh eggs from the chicken coop, and fresh honey from Wayne's honeybees. Wayne even showed my daughter how to feed the bees and explained beekeeping. Felt like we were part of the family from the first day and enjoyed meeting them so much. But, was also very nice that the cottage was secluded enough we could come and go at our leisure and never needed to worry about disturbing them or having enough privacy ourselves. The kitchen had everything we could need for cooking during our stay, so we ended up making most breakfasts and several dinners at the cottage. Also had a great washer and dryer, which we really appreciated. BBQ grill on the back porch over looking the pond was great, but dinning room also very comfortable for meals. The hot water heater was great and both shower and the claw foot tub in the bathroom were excellent. Never did run out of hot water or have any concerns with A/C or heating. Rained several days during our stay, but no issues inside the cottage. For our trip, we spent a few days in French Quarter and then over a week here at the cottage. Really enjoyed local restaurants and easy access, such as Chimes in Covington with the goats and Rips by the Lake and the Old Railhead in old town Mandeville. Wish we had more time to explore local areas. As it was, an easy hour drive to French Quarter area and about an 1 hour and 45 minutes to visit the Plantations near Baton Rouge. Driving directly to the Oak Alley worked great and saved us regular cost of tours from hotels. Also, we really enjoyed the Insta-Gator alligator ranch only a few minutes drive from the cottage. My daughter loved picking up the alligators from the tank. Also, was a great location to visit the World War II museum, which we did two different days. Highly recommend trip to the museum when in NOLA. This is really a perfect location for relaxing, getting away for a weekend from the city, and just enjoying nature. We loved the pond with turtles and bullfrogs and fish to watch. We would love to come back again and will recommend to all of our friends as well.
Toby
2015-03-21T00:00:00Z
Liebe Elaine, lieber Wayne, wir sind euch sehr dankbar für die schöne Zeit in eurem Cottage. Ein wunderschöner Ort um einmal auszuspannen. Wir danken euch für die unvergesslichen Stunden, die wir mit euch gemeinsam erleben durften. Bei Freunden zu Hause. Wir freuen uns darauf wieder einmal eure Gäste sein zu dürfen. Danke für Alles. Conny & Gerhard
Cornelia
2016-02-27T00:00:00Z
When we arrived at the cottage we were welcomed by Wayne and Elaine. They helped us with our luggage and showed us around the beautiful cottage. Elaine surprised us with some delicious goodies upon our arrival. I was also very impressed with the fact that she had some items in the kitchen ready for us, like coffee and some snacks . We were so excited when we also had a lesson in bee keeping from Wayne the next day. The cottage was cozy, relaxing and very comfortable. We can not wait to return and highly recommend it to anyone interested in staying.
Lori
2015-03-09T00:00:00Z
Rodzaj pokoju
Całe miejsce
---
Rodzaj nieruchomości
Dom
---
Mieści
4
---
Sypialnie
Covington, Luizjana, Stany Zjednoczone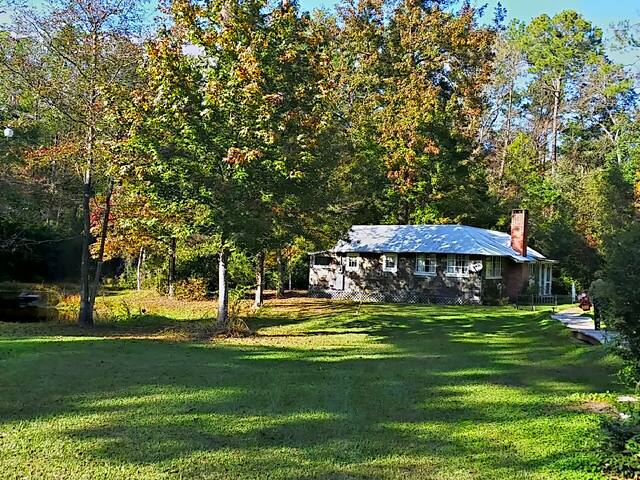 Our Guest House sits behind our historic home in a lovely residential neighborhood. It is in walking distance to our histortic downtown with many galleries, shops, and restaurants. We are just 40 minutes from New Orleans over the the Causeway Bridge. Our Guest House is done with a New Orleans feel. There is a comfortable size living/kitchen/dining area, a nice sized bedroom and a spa inspired bathroom. 5% of your rental fee is donated to Habitat for Humanity.
The Guest House is well appointed with a comfortable living area including a kitchen which has granite counter tops and a dishwasher and everything you need to make a true Louisiana meal. We have strived to have special thoughtful touches, such as locally made soaps in the bathroom as well as little treats in the kitchen. The bed is reported as being very comfortable and the bathroom reflects a spa feel.
Our neighborhood is filled with historic homes, many including ours, featured on the Holiday Home Tour last year. We are in easy walking distance of the historic downtown, there are frequently events such as wonderful free concerts at our trailhead or river landing. Our community is a pretty friendly place where folks will take the time to talk with you.
Helen and Cleo are lovely, chatty but also gave us plenty of time on our to just unwind. The cottage decorations were tasteful and interesting. It has a full kitchen that was a pleasure to use, but we hardly needed it as Helen and Cleo left us well provisioned with snacks and breakfast. Great hosts, great stat, will definitely be visiting again!
Meggie
2017-02-27T00:00:00Z
The hosts and the place we're awesome. My wife and I will definitely return.
Joseph
2016-12-26T00:00:00Z
Helen's place is an excellent location for experiencing historic downtown Covington Louisiana. It was clean, comfortable, roomy, and quiet. Helen and Cleo are great people. They make a mean apple cake too. We would definitely stay there again.
Jay
2017-01-30T00:00:00Z
Helen & Cleo were most excellent hosts who were available upon arrival and made excellent recommendations for things to do and places to dine. The cottage was very comfortable both inside and out.
Jennifer
2016-12-30T00:00:00Z
The guest house was awesome, it the best airbnb experience I ever had. Helen even made a quiche for us for breakfast. Aside from the quiche, she made cookie on on the side for midnight munchies. The bed is super comfy. 100% will book this place again if I go back to Covington. My group still talks about the house even after we left.
Dickens
2016-07-11T00:00:00Z
Covington has great shops, restaurants and places to explore. The community is friendly, safe and peaceful. You really don't have to go to the city when Covington and surrounding areas have everything you need.
Ruth
2017-02-26T00:00:00Z
We've stayed at many airbnb locations and have been happy with the majority. This was by far...the best. Exceeded every expectation. Convenient location near the library, excellent eating establishments, park...you name it. The cottage is lovely and the presentation was impeccable. The best part...our hosts. Genuinely lovely people. If you have the chance...enjoy the experience of this gem.
Gail
2016-10-11T00:00:00Z
Helen and Cleo were the nicest hosts! The place was clean and tastefully decorated. It had a beautiful garden in which you could sit for hours and enjoy the nice days of Covington. You will have lovely 4 legged companies as well. We enjoyed the yummy breakfast that Helen had put in our fridge before we arrive It was only 45min to New Orlean over the world's longest bridge, Causeway bridge. A view that you don't wanna miss. we had a great time at their cottage and we hope to be back again.
Golareh
2017-01-02T00:00:00Z
Rodzaj pokoju
Całe miejsce
---
Rodzaj nieruchomości
Dom
---
Mieści
4
---
Sypialnie
Covington, Luizjana, Stany Zjednoczone
In the heart of Covington we are close to the attractions. From our doorstep you can walk to coffee shops, breweries, and some of the best restaurants. There is a Farmers Market on Saturday and if you like riding bikes we have two for the taking, it is a scenic ride along the St. Tammany Trace. Our home is a nice newly remodeled cottage featuring a perfect backyard patio. We have simple house, and simple furnishing. The bedroom offers a futon and clean sheets and pillows.
Rodzaj pokoju
Pokój prywatny
---
Rodzaj nieruchomości
Dom
---
Mieści
2
---
Sypialnie
Covington, Luizjana, Stany Zjednoczone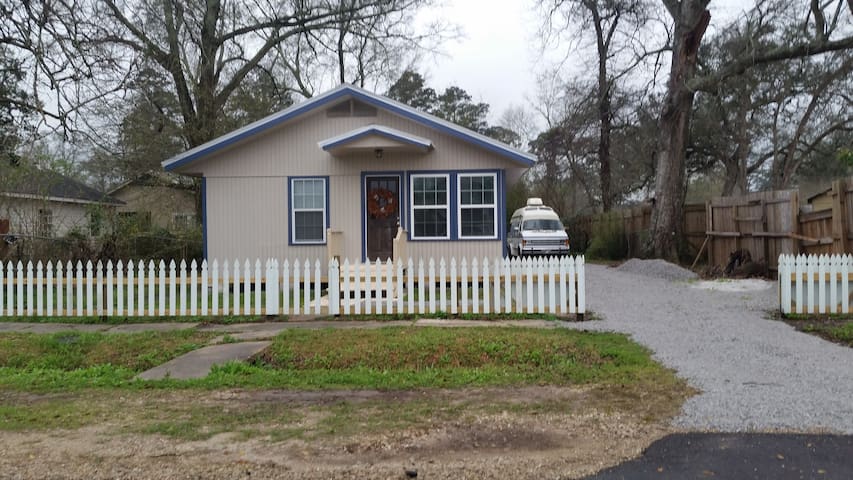 Enjoy private, gated, waterfront luxury at the foot of bustling Lee Lane. Relax by your private pool (not heated), take a stroll around the 12 lush riverfront acres, or explore downtown Covington just outside the gates of your private oasis.
The Guest House includes 800 square feet of newly renovated luxury -- king bed, full bathroom with separate shower and jacuzzi bath, kitchenette, and spacious, poolside cabana.
Located in the heart of downtown Covington. Walking distance to all shops & restaurants.
We originally booked Brian's Guest House as a pretty place for the Bridesmaids to get ready and photographed for our recent wedding. Brian was kind enough to let us know that it might not be sufficient for our purposes, and generously offered to let us also use his beautiful estate for our special day. Our photos have turned out incredibly beautiful and unique. It met every wish we could have possibly had - beautiful, spacious, and clean. Brian worked several days before our arrival to ensure a meticulously clean spot for photos and the girls to get ready. The host and the estate / guest house could not have been better. Thanks again Brian for your kindness and generosity.
Scott
2016-09-25T00:00:00Z
Absolute perfection! Stunning property. Vikki and Brian are lovely, hospitable people possessing exquisite taste. They go out of their way to ensure a pleasant, relaxing experience for their guests! Highly recommend staying here. Location can't be beat... fabulous restaurants and beautiful shops are right outside the gate... or just languish in the pool! Can't wait to return!
Liz
2016-07-04T00:00:00Z
Our host seemed very interested in our comfort and enjoyment. He was very approachable and available. The guest house was spotlessly clean. the property is beautiful. If anything, the photos don't quite do it justice. The property sits right next to old Covington with lots of nearby, walking distance, dining and shopping. We wouldn't hesitate to stay there again.
Jay
2016-10-18T00:00:00Z
I am 36 weeks pregnant and wanted a nice getaway before the arrival of our baby. This Guest House far exceeded our expectations for a baby-moon. We arrived and were greeted to the hospitality of a true southern lifestyle and the comforts/luxury of a magazine worthy experience. The location is perfect because you feel like you are isolated, but right outside the gates is a cute old town where you can walk to shops and restaurants. Furthermore, we had the pleasure of renting the guest house when the owners were spending the weekend in the main house and thoroughly enjoyed their company and hospitality. Upon leaving we planned our next visit and hope to make it an annual getaway from the city and hope to spend the time with the owners every visit.
Yvette
2016-05-31T00:00:00Z
The cottage was amazing, grounds beautiful and the proximity to the wonderful venues in town, fantastic. A one of a kind accommodation!!!!!
Jeffrey
2017-04-02T00:00:00Z
We had a wonderful weekend getaway at the guest house! Bryan was an amazing host. The fridge was stocked with water, beer, soda, and even supplies for mimosas! He was also very flexible with check-in/check-out times. We spent our time relaxing by the pool and also brought our canoe to paddle the bayou that's in the backyard.
Leah
2016-06-27T00:00:00Z
Couldn't have asked for a more tranquil, well appointed guest house. Located steps from several great restaurants/shops - it was the perfect spot to spend a few days as we visited family in Covington.
Jeremy
2017-03-12T00:00:00Z
Incredible estate in the center of Covington. The grounds are incredible and the property is amazing. The perfect place for our family to stay during our wedding. Felt like being right at home. The owners were amazing and incredible attentive. Great experience and hope to stay there again soon. This is the type of home we dream to have one day!!!
Robert
2016-10-31T00:00:00Z
Rodzaj pokoju
Całe miejsce
---
Rodzaj nieruchomości
Dom
---
Mieści
2
---
Sypialnie
Covington, Luizjana, Stany Zjednoczone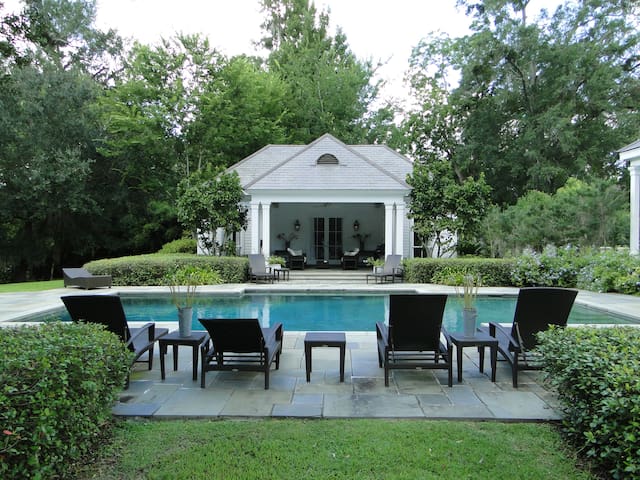 Welcome to three beautiful acres on the Bogue Fayala river! Where the deer run through towering pine, bamboo and magnolias. Springtime azalea's bloom and camellia's. My house is warm and inviting yet clean and crisp. A mix of contemporary with French and English antiques thrown in. I have a comfortable 2000 sq ft house with plenty patio's and decking. Not a party place but a place where one can literally feel rest, feel peace! Great getaway from New Orleans, yet close enough.
Great place to have quiet! The moment your drive up you will begin to smile. Three acres filled with pine, magnolias cypress, oak and many varieties of bamboo. Every season brings it own beauty. The house has been totally renovated with many perks. The kitchen is well equipped and you will have everything you need. I have a grill, outdoor shower, hammock, and swing to enjoy the outside fire pit for roasting marshmallows, plus folding chairs for the riverside. The Master suite invites you to the soaking tub wth forest views and vanity area. You will wake up to on the king bed with bamboo surrounding you! The guest bedroom has a queen bed with beautiful views. There is Jacuzzi/shower combo in the guest bath. Just think clam, rest and peace. Great place for bird watching and watching for deer to come drink from the river. If you are watchful you hear the nuns across the river ring their bells to pray every morning. PARADISE! You will not be disappointed.
Once you turn down 190 onto Lee road, you can start to breathe deeper. The trees begin to tower overhead and the road turns country. While we are just off the highway, there is real privacy about it. We are 10 minutes from downtown old covington where the best restaurants are and the quaint lee land shops and farmers market. Like you almost stepped back into a bygone era of happier days. Nearby is the best barbecue, pizza, and Japanese! Need organic? There is a organic store 3 minutes away! I so love my little space!
Rodzaj pokoju
Całe miejsce
---
Rodzaj nieruchomości
Dom
---
Mieści
4
---
Sypialnie
Covington, Luizjana, Stany Zjednoczone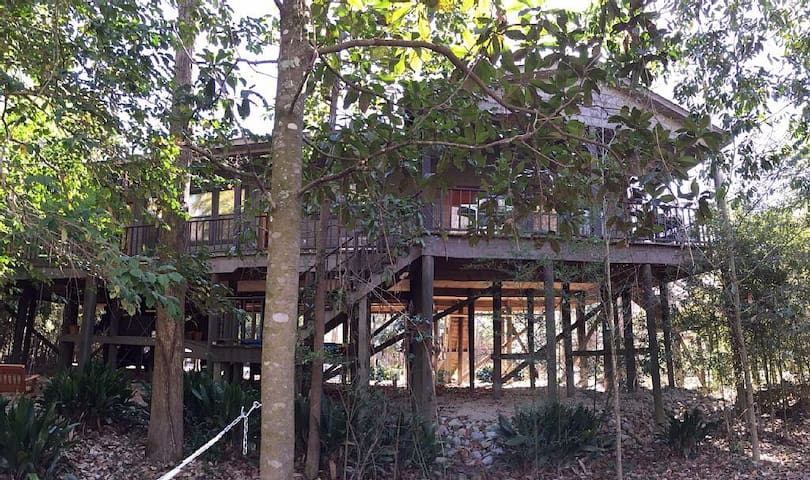 You'll love my place because of the outdoors space and the quiet, peaceful neighborhood. The outdoor space is great for a variety of activities such as barbecuing, campfires, and crawfish boils. The house has boat access to a waterway that leads to the tchefuncte river, which is great for watersports. My place is good for couples and families (with kids).
Boat slip available with boat launch at property or down the street. great access to the tchefuncte river for fishing, skiing, and dining in madisonville. Ample deck space for relaxation and barbecuing.
Great place
Paul
2017-02-19T00:00:00Z
Nick was very easy to work with and the house is in a quaint and very quiet are. The house was just as advertised, very clean and comfortable. Thank you!
Mark
2016-10-30T00:00:00Z
Rodzaj pokoju
Całe miejsce
---
Rodzaj nieruchomości
Dom
---
Mieści
4
---
Sypialnie
Covington, Luizjana, Stany Zjednoczone
Over 100 year old home; 4 bedrooms, 2 baths situated on 6 acres overlooking Bogue Falaya River, 45 minutes from New Orleans. The town of Covington with restaurants , supermarkets, etc. is 5 minutes away. Great for retreats or small family reunions.
This home is over 100 years old on 6 acres of beautifully landscaped property. The property is located on the Bogue Falaya River. There is a great outdoor area with a fireplace and built in bbq that overlooks the river. Next to that is a screened-in room with tables, benches and ceiling fans for eating. L'Esperance has a shallow pool that is fed by an artesian well and waterfall; perfect for cooling off in the summer. Too many special places on the property to list them all.
While we are located in a quiet residential neighborhood that is 5 mins away from the historic town of Covington, our property is very secluded and offers lots of privacy. Covington is a quaint, small town with wonderful restaurants and shopping. We are also located 45 mins from New Orleans.
What a magical experience! We live in Portland, OR but are originally from Covington. I grew up in an old house like this one and it made me feel so at home. It is a beautiful, historical property very close to downtown Covington. The house is a slice of history (built in the late 1800's) and transports you back in time. It has a classic "dog trot" down the middle of the house (a wide hallway) that promoted cross-breezes prior to A/C and 14 foot ceilings throughout the house. We had meals on the screened porch in the evenings watching the fireflies and watched a dramatic and thrilling Louisiana thunderstorm from the rocking chairs on the back porch. The grounds are well-manicured and lovely. There is a large fantastic spring fed wading pool on the side of the house that my 3 and 5 year old loved. They were able to swim and splash and play while we watched and waded and got some relief on the hotter days. The house is simple to find and is in the oldest part of Covington. Covington has a great downtown with really nice shops and restaurants and it's just a short drive away. The house is right on the Bogue Falaya river, directly across the river from Bogue Falaya Park. There is a large grill and a screened in family area down closer to the river which would be great for gatherings. Behind the house and down some brick steps is an enchanting walkway with giant stands of bamboo here and there along the way down to the river and a small pier. Although we did not use it, a canoe is there for guests' use. The house was very comfortable for all of us with plenty of room and the central A/C handled record heat very well despite the age of the home. We hope L'Esperance remains available for letting for years to come as it really felt like going home to me and my family.
Nicole
2015-08-14T00:00:00Z
Monique and her father were gracious hosts who responded quickly with any and all questions we had. They made us feel very welcome in their home. Everyone in the family absolutely loved this place. The grounds are beautiful. We especially enjoyed canoeing on the river and wading in the artesian pond. We took advantage of the outdoor stone fireplace with grill for a nice family cookout and bonfire. The house itself was amazing, much larger than I expected and filled with character and treasures. The screened porches were a plus. The front porch with the rocking chairs for some quiet time to enjoy the beauty of the property and the side porch for hanging out together playing cards into the night. Given the opportunity we would love to come back!
Patty
2015-09-29T00:00:00Z
The house was very beautiful - even more so than the photos. Very magical with lots of different nooks around the property that were fun to explore. We had a great time, the host was very helpful and always responded quickly to questions. My friends and I had a great time. Right off the main drag but removed enough to feel like you are in the country. I hope to come back in the summer when the river is lower and warmer - I definitely recommend it!
Sara
2016-04-18T00:00:00Z
Every detail covered and reflected in the description. Monique was welcoming and was there to help with any logistics. This is the perfect spot for families and friends to gather. We will be back!
Sara
2016-03-25T00:00:00Z
This is a home away from home, a quiet and peaceful jewel tucked away at the back of on a large and beautiful property, just off Highway. Entry for the property is about three miles from the charming and fun town of Covington; actully you can see Covington across it's river that runs through the back of the property. The large hous, as the photos show, is an old classic – but the interior with cathedral ceilings, warm kitchen and furnishing provides convenience without sacrificing charm. Just 50 minutes from New Orleans and the French Quarter should you tire of crickets and stars. When I return, we've already been in serious discussions to continue to use this as our home base.
Andrew
2016-10-18T00:00:00Z
Rodzaj pokoju
Całe miejsce
---
Rodzaj nieruchomości
Dom
---
Mieści
13
---
Sypialnie
Covington, Luizjana, Stany Zjednoczone
Inviting upscale home in secluded setting right in the middle of all the New Orleans Northshore has to offer. Plenty of open living space for family gatherings, a large deck overlooking a wooded river and 5 spacious bedrooms to accommodate everyone!
Great space, open, roomy and able to accomodate many with little trouble.
Eric
2017-02-05T00:00:00Z
Do not stay here. He will assess charges for something of which you are not responsible weeks later once you are gone for which you should not be held responsible or accountable. They are not honest or trustworthy. He accused us of ripping a door of the hinges and I think we would know if we did that (we did not) --he simply wants us to pay to update his home and buy a new door for it. I will fight any extra charges in court if necessary cause this is wrong. My parents were with us and were so so helpful cleaning and maintaining the home during our stay!
Tracey
2016-12-26T00:00:00Z
Rodzaj pokoju
Całe miejsce
---
Rodzaj nieruchomości
Dom
---
Mieści
13
---
Sypialnie
Covington, Luizjana, Stany Zjednoczone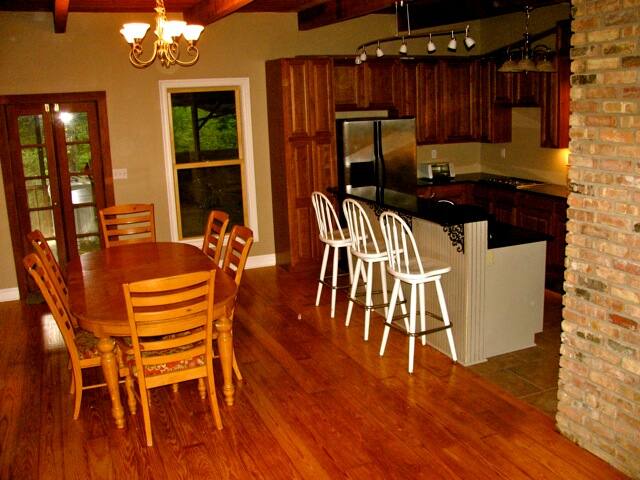 Tucked away this cottage is fully furnished with Antiques and original hardwood floors. You will find 2 bedrooms, each with a Queen size bed along with 2 full baths. The backyard features a huge deck to relax.
This home has been newly renovated with antique furnishings and original hardwood floors throughout the home. You can relax and watch your favorite program on the Cable TV or enjoy the wireless internet. There is a wooden deck with a BBQ for grilling.
This cottage is located just miles from old town Covington on Hwy 21. Quite and set back from the highway you are close to many activities including the St.Tammany Trace, where you can hike, walk or bicycle.
Good location, beautiful house and property, well maintained, welcoming hosts.
James
2016-07-17T00:00:00Z
Kevin responded quickly when we had a slight issue with the key less door code. He also texted quickly suggesting two awesome restaurants. The cottage is definitely charming with beautiful wood floors, wood walls and ceiling. It was a great get away experience in the woods relaxing on the wooden balcony. My husband and I only spent one night, but came back refreshed. Definitely a winner with complete privacy. The cottage is definitely in the woods with no neighbors.
Carol
2015-12-28T00:00:00Z
We stayed here for a few months and had a wonderful experience. Kevin was a fantastic and attentive host, and the property was rustic, cozy, and delightfully secluded. The backyard was spacious with a lovely creek in back, and it felt very private. The kitchen is well stocked and we didn't want for anything. And it's waking distance from a local brewery pumping out the best beer I've ever had. It was hard to leave. We would come back here any time.
Amanda
2016-04-23T00:00:00Z
As seeing i booked the cottage late at night, Kevin was very swift in getting back by the next morning. Great little place that is nice and secluded but still 5 minutes from anything you might need on your stay.. Very accomodating..Great place
Chad
2016-12-28T00:00:00Z
Kevin stayed on the phone with us until we made it to the cottage since we had a little trouble finding it. And he made great recommendations for places to eat as well. We felt very welcome. The cottage was cozy and quaint and very clean. The area is beautiful. It was a very relaxing and refreshing stay!
Julie
2016-05-23T00:00:00Z
Rodzaj pokoju
Całe miejsce
---
Rodzaj nieruchomości
Dom
---
Mieści
4
---
Sypialnie
Covington, Luizjana, Stany Zjednoczone
Enjoy your stay at the Acadian Cottage featuring the living room with heart pine floors, patio deck, bedroom and bathroom. Conveniently located off Interstate-12.
High and Dry! The home for rent includes 1 upstairs bedroom including two twin beds with full bathroom attached, a living room, full kitchen, laundry room and a large fenced in backyard with patio deck. There's a TV with an HD antennae and wifi internet in living room. Acadian Cottage is centrally located between Old Mandeville, downtown Covington and Madisonville. Restaurants, local breweries, pubs, coffee houses, tiny shops, art galleries, nature trails, bike paths, the Tchefuncte River and the Ponchartrain lakefront are all within a short driving distance away. Fountainbleau State Park in and Fairview State Park are also located in our area. The grocery store is right down the street.
Nice little neighborhood not far off I-12, but you wouldn't know it with all the birds singing pretty in the shady oaks and lazy magnolias that canopy the area.
Andrew was an amazing host. He was very friendly and gave us lots of clues where to go and what to do. The room was nice and quite spacious and had its own bathroom. It was really comfortable to use the kitchen and hang out on the porch. Also, the area around Covington offers a lot: biking, hiking/walking or kayaking as well as many nice restaurants. I'd definitively recommend this place!
Juliane
2016-08-21T00:00:00Z
Andrew welcomed us upon arrival and showed us around the house. He kindly made last-minute accommodations when our travel plans changed. We had some minor concerns during the beginning of our stay, but he promptly addressed them and made everything right. One of my favorite parts about the house was its location - just two miles from the Tammany Trace, which is a beautiful biking/running trail. Thanks for letting us know about the Tammany Trace and thanks for your hospitality, Andrew!
Diette C
2016-08-27T00:00:00Z
Andrew's place is great if you're looking for something economical and close to the Covington area as I was. Andrew was a great host. Very communicative and friendly.
Nathan
2016-10-22T00:00:00Z
Rodzaj pokoju
Pokój współdzielony
---
Rodzaj nieruchomości
Dom
---
Mieści
4
---
Sypialnie
Covington, Luizjana, Stany Zjednoczone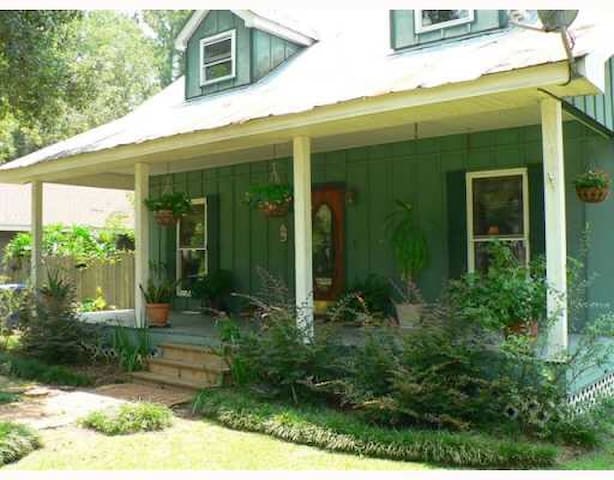 This upstairs bedroom offers privacy and convenience. Close to New Orleans, but in a safe and secure gated neighborhood on the NorthShore in Covington, LA.
Beautiful, safe location.
Gated community with lot's of great eating options close by, including Starbucks, Zea's, McAllisters, along with Mexican, Asian and American options.
Rodzaj pokoju
Pokój prywatny
---
Rodzaj nieruchomości
Dom
---
Mieści
2
---
Sypialnie
Covington, Luizjana, Stany Zjednoczone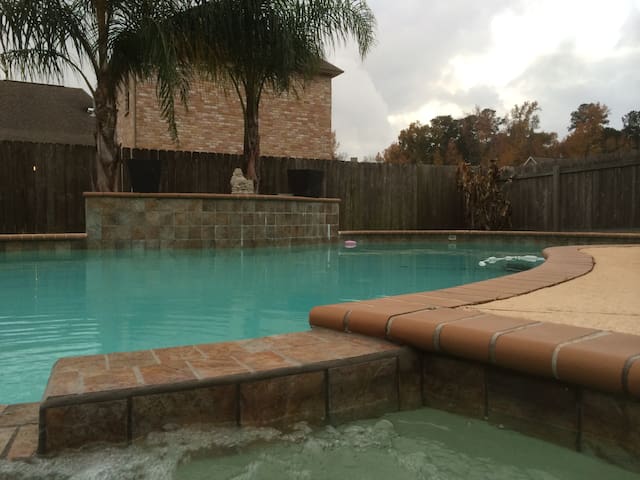 Abita Springs - Airbnb
:
Średnia ocena:

4.96

/

5

gwiazdek od

378

gości
Wpisz daty, by zobaczyć pełną cenę. Obowiązują dodatkowe opłaty. Cena może uwzględniać podatek.