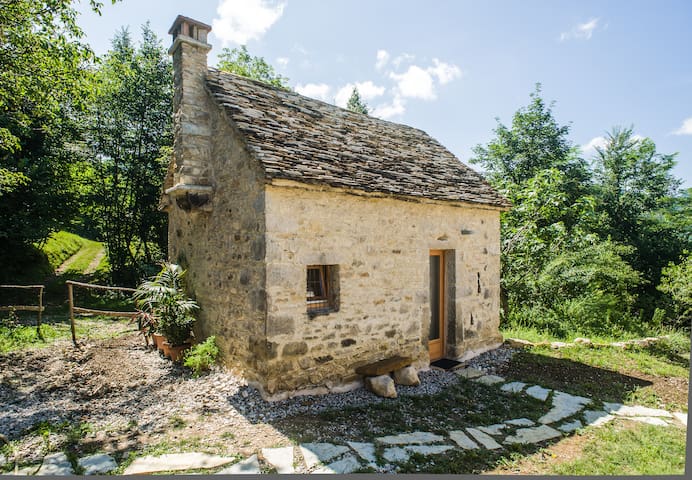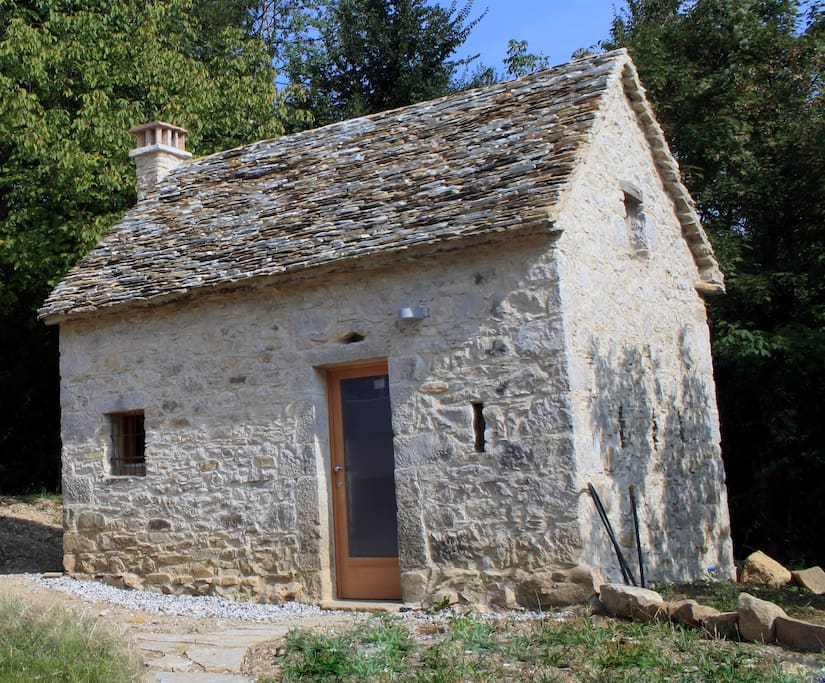 O tej ofercie
Independent unit with living room and kitchenette, attic, 2 single beds that can be joined. Independent access, fridge, large sun terrace and garden. Breakfast self-managed thanks to the presence of the kitchen.
---
---
Darmowe miejsce parkingowe
---
Dodatkowe osoby: 132 zł / noc więcej niż 1 gość
---
Independent unit with living room and kitchenette, attic, 2 single beds that can be joined. Independent access, fridge, large sun terrace and garden. Breakfast self-managed thanks to the presence of the kitchen.
The Dairy Cottage is an independent unit, within walking distance from the main building, with a small kitchen, a bedroom with 2 single beds and a bathroom. Breakfast is self-managed (you can, however, require the products Orto Alpino!).
The cottage is ideal for combining work and vacation or concentrate, in complete privacy, in their study design, life and professional growth.
The nineteenth-century building is mapped by the Austrian cadastre, chiselled in stone (typical of the area) and was used for the transformation of milk into cheese and the seasoning of the pieces. And 'yet the shape of the hearth where it was placed the copper kettle used by the cheesemaker and the shelves are still visible and the nails used to position the tools of the trade.
The accommodation and furnishings dell'OrtoAlpino reproduce the hospitality of a private home country of '900. Every object has a story and tells it to those who want to listen or just travel with the mind in a world of ancient and genuine.
Breakfast is self-managed, thanks to the kitchenette in the cottage.
You can ask us for the products you want, if possible, shall we them to you. And you're sure that will come from our garden, or that of a friend who loves nature.
Welcome to our little community. The hospitality in B&B is part of a larger project in which the house is often visited by guests, groups that use the space to meet, come together, work together. If you want to know more, talk to them, participate, where and when possible, to their activities.
Michele and his colleagues manage the house and they welcome you, accompany you in the knowledge of space and are happy to satisfy every desire and curiosity to make you have a more pleasant stay. They speak English. Antonietta is responsible for cleaning the house and its efficiency.
The B&B is situated in a rural area. Away from traffic, on a side street (although paved and easy to access), isolated from other homes. A space where you can stay if you want to or just enjoy the peace with people who are dear to you. Immersed in silence, is the ideal setting for meditation, contemplation of nature, to listen to the sound of the wind, the rain or light in the moonlight and stars.
The air is pure, clear, clear air. We are far from industrial areas, out of the foggy mists of the valley, surrounded by environmentally-friendly farming that does not use pesticides, far from roads, smog, traffic. And the purity you breathe, eat, touch.
The B & B is surrounded by green pastures and near the forest, the forest still alive, rich in botanical, large and small animals (you can see deer, roe deer, hares, badgers and all kinds of birds) of flowers, wild fruit and fungi. A priceless treasure available to anyone who wants to discover medicinal herbs, ancient fruit, changing colors every season, scents of violets, cyclamen, narcissus.
The B & B is part of a farm that grows all kinds of mountain vegetables, aromatic and medicinal plants, flowers and fruits, and that breeds in well-being and freedom, chickens, geese, turkeys, rabbits, ducks. All this in the most natural way, respecting the cycles of rotation, of the natural fertilization, intercropping, without the use of any artificial chemicals. And its products are available for those who like them, to enrich the breakfasts of the guests or to be enjoyed on the farm or in their return home (eggs, jams, honey, fresh vegetables and preserved herbs).
The B & B is connected to the world by a paved road, driveway for the bus, always accessible even in winter because of the need to link local residents. A coach service connects the village of DolomitiBus below (Tortal St. Anthony, 1.5 km away) with the railway stations of Feltre and Belluno. The daily runs are not numerous, but with a little organization transportation is easy and economical. In case of need or carry any baggage, we are happy to pick you up at the bus stop in San Antonio Tortal. You can also organize, on request, a personalized accompaniment to and from the valley floor or at the Passo San Boldo point of departure and arrival of many excursions and / or routes.
The territory of Ortoalpino you can live all year round. The peace and quiet, green and nature can be enriched with restful rural experiences, cultural, environmental and food and wine. Here are some ideas:
- Prosecco Valley. Beyond the Pitch. S. Boldo lies one of the most popular wine producing areas of the world. It 'a landscape shaped by vineyards, forests, isolated hamlets and small villages. Numerous wineries offer tastings, wine knowledge and ability to outlets interior will allow you to bring home the best of Italian production of bubbles. Numerous cottages, old inns and refreshments offer traditional dishes, delicacies within reach of every budget. We will give you all the information for a great experience.
- The WW. Our territory is crossed by the river Piave has been the scene of bloody battles during the First World War. A hundred years later there remain a number of war cemeteries and memorials (Italian, Austro-German, French and English) as well as small and large museums with fascinating and enriching testimonies.
- Agriculture and the Rural Alpine. And 'possible to visit an old dairy turnaria, still in operation, where the cheese is produced at dawn. And 'possible to visit mountain huts, firms cultivating herbs, small fruits. All of this with the opportunity to taste the products and spend time with the witnesses of ancient traditions
- The ghost towns. Cordellon, Tassei, Gena, California .. ancient testimonies of the life of the past, countries depopulated by emigration often located in places that are too difficult, have crystallized the time. Turning from their homes, often in ruins, you find yourself in glimpses of a time that no longer exists, reviewing old kitchens, basements stables, often still hung with poor tools, furniture, tools of everyday life. Absolutely charming.
- On the lake. The Mis lake and waterfalls are glimpses of the blows of nature. To see, enjoy the warmth of the sun and why not, even bathe in the cold waters of the Dolomites.
- And then ... churches, historic homes, small and large museums, towers and castles, fortified towns, evening promenades ... all offered by Valbelluna Treviso and valleys that surround our mountains with rings of ancient history, art, music, culture and tradition .
The OrtoAlpino is used as a starting point for many activities: sports, nature, science, and culture are intertwined and help you discover and explore the territory of the pre-Alps of Belluno, in an engaging and at the same time relaxing.
You can hike trails and mountain bike cycling or walking (trekking), also renting one of our bikes and doing a tour of the natural beauty and cultural heritage.
You can also ask us to contact Alessandra, our official Nordic Walking instructor, who will take you to discover unexplored places and otherwise difficult to reach by other means.
Make canyoning to Brent Art! It is a natural canyon carved by the river Ardo, to tread carefully and be enjoyed in both summer (fresh water) and winter (ice climbing).
 
The riding school near all'OrtoAlpino has trained horses available and suitable for the exploration of the mountain territory on which they move ... in summer, which in the cold but clear winter days.
We can provide everything you need for your business: please report in advance of the activity you want to do and you shall we maps, equipment, information and professional guides who will accompany you (in case you're not exactly an expert!).
---
Zameldowanie możliwe 16:00 - 00:00.
The OrtoAlpino is an educational farm cottage, set in a natural setting of absolute tranquility and harmony with the environment. The company also produces most of the vegetables that offers menus and ensure the recovery of the other ingredients through a network of companies and small local producers who work with natural and environmentally friendly farming techniques.
The house is self-sufficient in terms of energy (through solar panels and solar) and uses thermal energy from plant biomass. Ensure the recovery of rainwater for all non-potable uses. The drinking water comes from the aqueduct that takes the Dolomites. Of course we drink, pinned directly from the faucet.
Well ... let's not impacting the environment or to do as little as possible.
Join this logic and help us in our journey:
- The setting is absolutely informal and mountain. Adjust your clothing (especially shoes) in order to put you at ease. Brought always (even in summer) something to cover you because you just need a time to lower the temperature.
- Please contact our staff for any inquiry, idea, desire. We will try to fulfill it within the limits of our forces and respect for the welfare of the entire group.
- Avoid leaving lights, computers and any other source of waste, unnecessarily turned on.
- Avoid leaving any litter of any kind, to break plants, to scare away wild animals. If you get a rejection, a bottle, a can, please bring it with us as well that we will differentiate it and dispose of it. At the two outputs of the property there are ashtrays for cigarette butts.
- The temperature inside the building is regulated (in cold weather) at 20 °. There is a law that requires it (the exemption at 22 ° is only for health care) but also a civic consciousness that prevents us from wasting energy unnecessarily. Adjusts so your clothing according to what.
- The power supply is directly supervised by the staff of Ortoalpino. Report soon as you get any allergies, incompatibilities or special needs.
- All guestrooms are available from 16 hours onwards; this is to allow cleaning and airing. On the second floor of the building is accessed with slippers (available at the entrance)
- Pets are welcome but can not (compared to the other guests and later) access to interior spaces. They can be outdoors or in non-residential spaces (where you can stay at a bed and provide meal)
- In the interior spaces to the property is non-smoking. This is for health reasons and for reasons of security (the house is made of wood and there are many tissues .. a cigarette badly off can cause a fire and also endanger the lives of other guests). The person who discovered to smoke despite the ban, it will be ejected immediately and at any time of day from the hotel.
We are counting on your sensitivity.
Thank you.
---
Ten gospodarz ma ustalone Średnio Rygorystyczne Zasady Anulowania
Anuluj do 7 dni przed podróżą, a otrzymasz zwrot w pełnej wysokości. Anuluj w ciągu 7 dni przed przyjazdem, a otrzymasz 50% zwrotu kosztów pobytu oraz pełny zwrot opłat.
---
Pobyt na przynajmniej 1 dzień
Trichiana, Włochy

·

Z nami od: czerwiec 2012
I left a job in the city center to follow my passions: mountains, nature, natural farming, photography, cooking. In 2011 I opened a small farm with the possibility of staying in an old stone house refreshed with green building techniques. We don't want to be only a simple B & B but a space where guests can learn the territory and its culture through the vegetable garden, the trails through meadows and woods, and the history and legends of the place.
Wskaźnik aktywności:
100%
Czas odpowiedzi:
w ciągu kilku godzin
Dokładne informacje o lokalizacji są wyświetlane po potwierdzeniu rezerwacji.
Sprawdź inne opcje jakie oferuje Trichiana i okolice
Więcej miejsc pobytu w Trichiana: