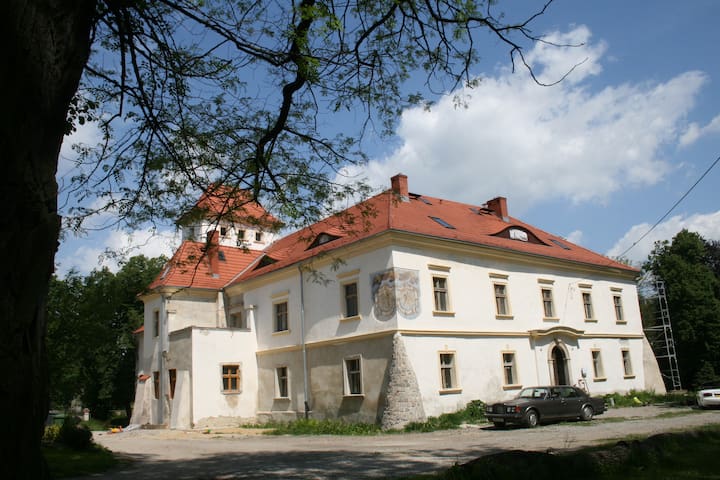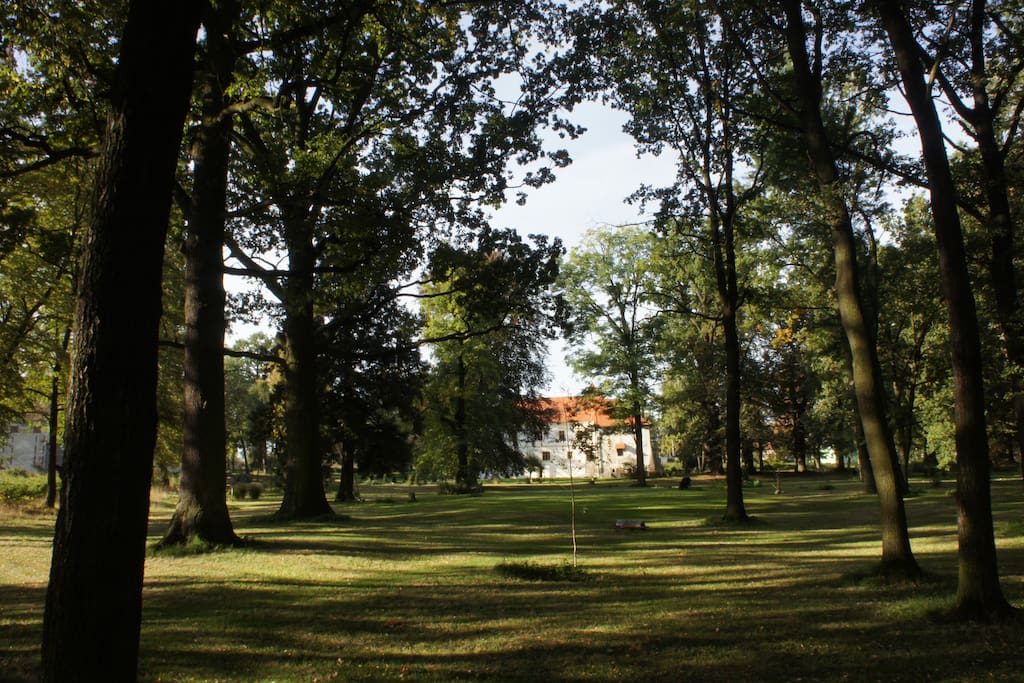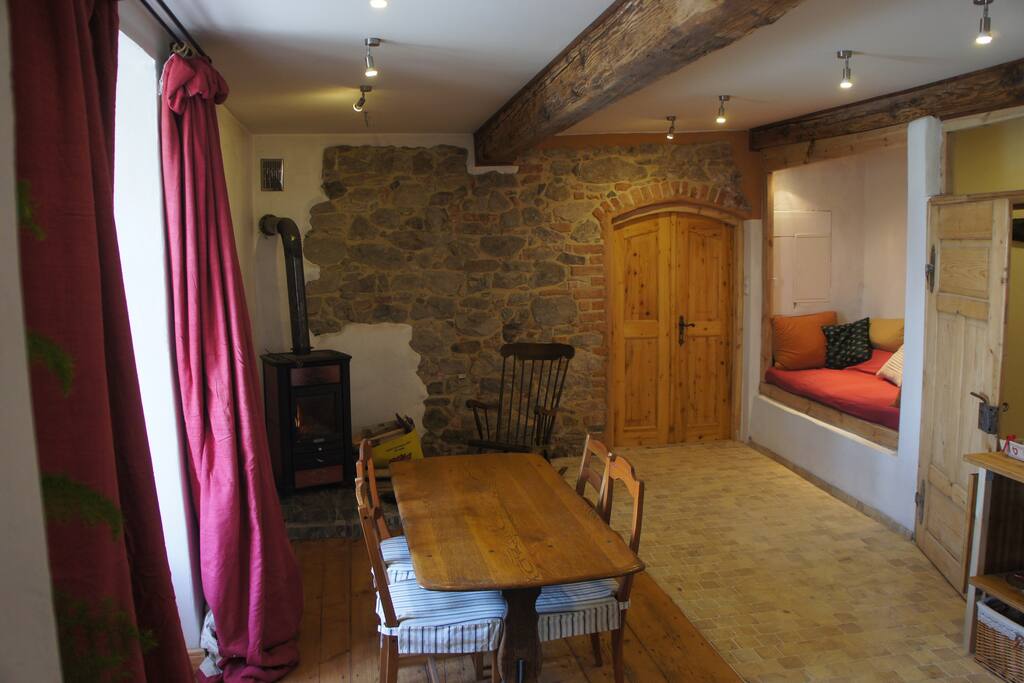 Ten 700-letni zamek jest jednym z najbardziej interesujących i ważnych domów w południowej Polsce. Piękna okolica jest idealna na wycieczki rowerowe, piesze wędrówki, jazdę konną, pływanie, jazdę na nartach - a także na relaks. To wspaniałe miejsce przyjemne dla dzieci
this 700 year old castle is one of the most interesting and important houses in Southern Poland. The beautiful countryside is great for biking, hiking, riding, swimming, skiing - and also for relaxing. It's a wonderful welcoming place for children
Przestrzeń
Byliśmy Airbnb "Superhosts" przez rok. To ogromny zaszczyt, oznacza to, że ponad 80% naszych gości dało nam 5 * oceny. Ale pamiętaj, zanim zarezerwujesz; Nie wszystko jest idealne tutaj. To prywatny dom rodzinny, a nie hotel. Nie oczekuj zbyt wiele! Jeśli Airbnb mówi, że mamy rezerwację, wyślij nam wiadomość. Możemy mieć przestrzeń. Ta strona umożliwia tylko jedną rezerwację na aukcji. Mamy 10 lat w 20 (?) Rok projektu renowacji i zawsze jest coś, co się dzieje. Robimy wszystko, aby nie zepsuć pobytu gościa, a z ich reakcji, wydaje się, że są interesujące (to jest - rzemieślnicy w pracy). Gęsi pomagają utrzymać trawę na krótko. Ale także poop. Był kiedyś księciem-biskupem prywatnego pałacu we Wrocławiu. To świetnie na romantyczną przerwę, na małej rodzinie lub na duże zjazdy, a także możemy robić naprawdę duże imprezy - do 200 w stodole, weselach lub przykładach Big Party. Niedawną grupą było 20 osób z pięciu rodzin, wszystkich dobrych przyjaciół, więc nie przeszkadzało im dzielenie się. Obecnie mamy trzy mieszkania, a czwarte już blisko. Nasz rugby festiwal pod koniec sierpnia trwa od 8 lat. Festiwal Emerging Artists dla 200 osób znajduje się w drugim roku i trwa dwa tygodnie w rezydencjach, wystawach i spektaklach w lipcu. Grupa przyjaciół lub osoby szukające miejsca rekolekcji lub zespołu budowniczego uznałoby to za dobre miejsce. Mieliśmy 15 studentów inżynierii akustycznej z Londynu robiąc interesujący eksperyment z ich profesorem przez tydzień, a teraz wracają regularnie. Mieliśmy kilku muzyków, aby zostać i skomponować. Żaden pisarz do tej pory (oprócz właściciela - jestem autorką), ale jest mało zakłóceń. Jest niezwykle spokojnie. Idealnie nadaje się do warsztatów mieszkalnych dla fotografii, malarstwa lub pisania. Lub budowanie zespołu. Tylko notatka o zimie. Na zewnątrz może być bardzo zimno. Wnętrze jest przytulne, ale oświetlenie pieców opalanych drewnem i utrzymywanie ich w spokoju wymaga trochę pracy. Możemy to zrobić dla ciebie, choć wielu gości związanych z miastem uwielbia tę okazję, aby je oświecać. Ściany o grubości 1 metra utrzymują ciepło raz ciepło. Mogą zająć dzień, aby się rozgrzać, więc im wcześniej wiedzieliśmy, że przyjdziesz, tym lepiej. Oferujemy również grzejniki gazowe i elektryczne. Kiedy mamy naprawdę duże grupy, znajdujemy dodatkowe pokoje we wsi, a cena jest niższa. W ten sposób możemy zaakceptować grupy do 30. Staje się trudniejsze, jeśli każdy chce indywidualne pokoje, ale nie przejmujemy się, gdy wiele osób dzieli pokój. Pokoje mają ładne łóżka, ale dodatkowe osoby mogą zatrzymać się, jeśli są zadowoleni z materacy na podłodze. Dom pochodzi z około 1300 roku, ale co 100 lat odbudowuje się, trudno powiedzieć, który krok był zbudowany kiedy. Historycy i archeolodzy architektoniczni kochają pytania zadane przez ten budynek, a my nie mamy jeszcze wszystkich odpowiedzi. Są freski, chwalebne renesansowe sufity pomalowane i sgraffito (technika tynkowania). Kaplica robocza (kościół wiejski, msza dwukrotnie w tygodniu) ma imponujący barokowy ołtarz, niedawno odrestaurowany. W 2012 roku nasza trwająca renowacja została niedawno nominowana do prestiżowej nagrody Europa Nostra / Unii Europejskiej na rzecz Ochrony Dziedzictwa Kulturowego (jedyny polski projekt tak uhonorowany). Nadal trwają prace, więc nie wygramy. Niemniej jednak, jesteśmy dumni, że jesteśmy blisko, i kochamy rozmawiać o naszym projekcie Wielkiego Domu z Gośćmi. Nasza cena jest za osobę. To trochę tańsze po dwóch ludzi. Położony w prywatnym parku z przepięknymi, dojrzałymi drzewami, kortem tenisowym i stawem kąpielowym (łyżwiarstwo zimą), okolica jest wspaniała, z płaskim i stromym terenem do uprawiania turystyki rowerowej, Sudetami do uprawiania turystyki pieszej (narty zimą) Muzeów, zajęć przygodowych. W pobliżu znajduje się jedno z najdłuższych kursów zip i drgań na najwyższym poziomie w Europie. Po stronie czeskiej oddalonej o zaledwie 5 km od hotelu 60 km przygotowanych tras rowerowych dla początkujących. Możesz wypożyczyć rower górski. Są ciekawe małe miasta. I niektóre wspaniałe otwory do pływania w starych kamieniołomach. Samochód zapewnia niezależność, inaczej robimy zakupy codziennie i mogą zabrać naszych gości do miasta. Otmuchow (6 km) na rezerwy, lub do następnej wsi, Kałków (2 km - możemy wypożyczać rower). W zależności od pory roku mogą być dostępne warzywa organiczne z naszego ogrodu, a nasze kurczaki zwykle produkują tyle jajek, abyśmy mogli podzielić się nimi. Możemy kupić lokalne miód, niepasteryzowane mleko, masło, dziczyznę, dzik. Możemy zamówić domowej roboty boczek lub kiełbaski od człowieka w wiosce. Wykonujemy dżemy i tradycyjne pikle. Nasze kurczaki, gęsi, indyki, perliczki i owce wędrujemy tam, gdzie chcą. Niektórzy goście lubią kupować gęś lub indykę za pieczenie. Nasz indyk jest innym doświadczeniem od Wszystko, co kupisz w sklepie. Najbliższym lotniskiem jest Wrocław, 75 minut jazdy. W samochodzie jest 5 godzin od Wiednia, Bratysławy lub Warszawy, 4 godziny od Berlina, 3,5 godziny od Krakowa, Pragi i Drezna, 2 godziny od lotniska w Ostrawie. Autobus jest szybszy niż pociąg z Wrocławia, lepiej jest pociąg z Katowic i Krakowa. Możemy spotkać się z Państwem w stacji Nysa. Po czeskiej stronie (Horni Hermanice) jest mały pociąg (co godzinę), które zabierze Cię w góry, lub na Brno, Pragę, Wiedeń lub Budapeszt, jeśli chcesz. Wielu naszych gości przyjeżdża, ponieważ przejeżdżają na wsi w połowie drogi między przerwami w Pradze czy Berlinie i Krakowie. Piotrowice Nyskie to idealne miejsce na poznanie polskiej i czeskiej wsi. Historia: dom prawdopodobnie zbudowano przed 1300 r., Ale po raz pierwszy wspomniany jako "Castro Petrowicz" (zamek Peterwitz) w 1369 r. - kiedy to prawdopodobnie była umocniona mozaika, należąca do rycerza, z obowiązkiem walczyć o biskupów Kiedy wezwano. Prawdopodobnie został on zniszczony przez husytów najeźdźców z Czech w 1428 r. Większość domu pochodzi z po 1600 r., Kiedy to należało do szlacheckiej rodziny o nazwie von Hundt. Niedawno odkryty to wspaniały i ważny sufit malowany w sali balowej, unikatowy w Polsce, pochodzący z 1620 roku. W tym samym czasie kaplica posiada artefakty i nadal służy jako kościół wiejski, jedyna taka prywatna kaplica na Śląsku i imponujący barok Ołtarz, po prostu przywrócony. Obraz na suficie balowej królowej Elżbiety z Czech, "Królowa Zimowa" sugeruje, że odwiedziła ją w 1620 roku, kiedy to wiadomo, że udała się do Nysy wraz z mężem Fryderykiem V z Czech. Elizabeth, córka Jakuba I Anglii i VI Szkocji, była Stuartem. W 1665 r. Dom stał się prywatną rezydencją Sebastiana von Rostocka, księcia-biskupa wrocławskiego (obecnie we Wrocławiu). Biskup zostawił go bratu siostrzeńcowemu, a następnie w 1744 r. Kupił go Baron von Wimmersberg, pozostając w rodzinie do Później Baron stracił go w grze w karty do swojego menedżera nieruchomości, Julius Lorenz w 1858. Rodzina Lorenzów była właścicielem domu do 1945 roku. Podczas polskich czasów komunistycznych dom był używany przez pięć rodzin z lokalnego gospodarstwa zbiorowego, ale został zaniedbany. Dopiero odkąd Anna i ja zaczęli ratować ją z powodu zaniedbania w 2007 roku jej piękno staje się bardziej widoczne. Prace konserwatorskie trwają, uważamy, że mamy 10 lat w 20-letniej renowacji, więc bądź przygotowany na trochę renowacji, która dzieje się wokół ciebie. Jeśli masz szczęście, Twoja wizyta może współdziałać z pracą wykwalifikowanego konserwatora. Jako firma zajmująca się działalnością domową przywracamy również stare samochody w jednym z stodoły. Stare samochody kochają tutaj. Jeśli jednak nowszy samochód wygląda na niechętnie, nadszedł czas, aby naprawić lakier z ułamkiem ceny, jaką zapłacisz w Niemczech lub w Wielkiej Brytanii. Zaczynamy inne "mikroprzedsiębiorstwa". Sprzedajemy antyki. Możemy tworzyć ciekawe komisje z metalu lub drewna, jeśli masz pomysły. Mamy upcycling biznesu robienie rzeczy z złomu. Czasami nasi goście lubią ich tyle, że kupują je! W okolicy jest mnóstwo działań związanych z akcją przygodową, ale dom jest cichy, idealny do likwidacji z powodu stresu w mieście. Okazuje się, że wielu naszych gości dużo spania. Jest to niezwykle spokojne miejsce. Nasze nowe mieszkania gościnne - dwie z w pełni wyposażoną kuchnią - są piękne i dają poczucie historii podczas pobytu, z odkrytą kamienicą i starymi drewnianymi belkami. Posiadają wydajne, ekologiczne nowoczesne piece do spalania drewna w zimie. Spalamy własne drewno. Zwykle nie oferujemy posiłków, ale można to zrobić, jeśli zostanie zapytane. Śniadanie z własnych jaj i domowej roboty boczek ze wsi jest ucztą. Dzieci też to kochają. Mamy sześcioro i są tak szczęśliwi, że dorastamy tutaj. Szczegółowy opis naszego zakwaterowania Przy odrobinie współużytkowania i korzystaniu z innych pomieszczeń w wiosce możemy wziąć grupę do 30 osób. Mamy dodatkowe łóżka składane, łóżka powietrzne i łóżeczka dla dzieci. Wszystkie mieszkania są ogrzewane ekologicznymi piecami opalającymi drewno. Używamy drewna z własnych drzew. Dostępne są dodatkowe grzejniki elektryczne i grzejniki gazowe. W gorące, letnie dni dom jest bardzo chłodny wewnątrz, jakby był klimatyzowany. Który nie ma! Mieszkanie 1 Lokalizacja: na dole, na wewnętrznym dziedzińcu. Głównie oryginalne drewniane podłogi, oprócz marmurowego obszaru z ogrzewaniem podłogowym Historia: to było mieszkanie właściciela wiele lat temu. Sypialnia 1: podwójne łóżko Pokój 2: dwa pojedyncze łóżka Pokój 3: duży salon z dwiema rozkładanymi sofami Powierzchnia mieszkalna, kuchnia, z ogrzewaniem podłogowym i piecem opalanym drewnem Marmurowa łazienka z ogrzewaniem podłogowym. Oddzielna toaleta Faces West i patrzy przez staw Mieszkanie 2 Lokalizacja: na dole
We've been Airbnb "Superhosts" for a year now. That's a tremendous honour, it means that more than 80% of our guests have given us 5* ratings. But be aware before you book; not everything is perfect here. It's a private family house, not a hotel. Don't expect too much!
If Airbnb says we are booked, send us a message. We may have space. This website only allows one booking per listing.
We're 10 years into a 20 (?) year restoration project and there is always some work going on. We do our best for it not to spoil a guest's stay, and from their reactions, it seems they find it interesting (it is! – craftsmen at work).
The geese help keep the grass short. But they also poop.
This was once a Prince-Bishop of Wroclaw's private palace. It's great for a romantic break, for a small family, or for a large reunion, and we can also do really big parties – up to 200 in the Big Party barn, weddings, or example. A recent group was 20 people from five families, all good friends, so they didn't mind a bit of sharing. Currently we have three apartments, with a fourth nearing completion.
Our rugby festival in late August has been going for 8 years. The Emerging Artists Festival for 200 people is in its 2nd year, and runs for two weeks of residencies, exhibitions and performances in July.
A group of friends, or people looking for a retreat or team-building venue would find this a good place. We had 15 acoustic engineering students from London doing interesting experiment with their professor for a week, and they now come back regularly.
We have had several musicians to stay and compose. No writers so far (apart from the owner - I'm an author), but there are few distractions. It is unusually peaceful. It would be ideal for residential workshops for photography, painting or writing. Or team building.

Just a note about winter. It can be very cold outside. Inside, it's cosy, but lighting the wood burning stoves and keeping them going involves a little work. We can do it for you, though many city-bound guests love the opportunity to light them themselves. One metre thick walls hold the heat once warm. They can take a day to warm up, so the earlier we know you are coming, the better. We also offer gas and electric heaters.
When we have really big groups, we find extra rooms in the village, and the price is lower. In this way we can accept groups up to 30. It gets more difficult if everyone wants individual rooms, but we don't mind when lots of people share a room. Rooms have nice beds, but extra people can stay if you are happy with mattresses on the floor.
The house dates from around 1300, but with a rebuild every 100 years or so, it's hard to say which bit was built when. Architectural historians and archaeologists love the questions this building asks, and we don't yet have all the answers. There are frescoes, glorious Renaissance painted ceilings, and sgraffito (a plaster technique). The working chapel (it's the village church, Mass twice a week) has an impressive baroque altar-piece, recently restored.
In 2012, our on-going restoration was short-listed for a prestigious Europa Nostra/European Union Award for the Protection of Cultural Heritage (the only Polish project so honoured). There is still work in progress, so we didn't win. Nonetheless, we are proud of getting close, and we love to talk about our Big House Project with guests.

Our price is per person. It gets a little cheaper after two people.
Set in a private park with magnificent, mature trees, a grass tennis court and swimming pond (skating in winter), the surrounding countryside is glorious, with both flat and steep terrain for cycling, the Sudety Mountains for hiking (skiing in winter), museums, adventure activities. Nearby is one of Europe's longest zip-wire and tree top agility courses. On the Czech side just 5 km away are 60 km of prepared mountain bike trails for experts to beginners. You can rent a top of the range mountain bike. There are some interesting small towns. And some wonderful swimming holes in old quarries.
A car gives you independence, otherwise we shop every day and can take our guests to the town. Otmuchow (6 km) for provisions, or to the next village, Kałków (2 km – and we can lend you a bicycle).
Depending on the time of year, there may be organic vegetables from our garden available, and our chickens usually produce enough eggs for us to share. We can buy local honey, unpasteurised milk, butter, venison, wild boar. We can order home-made bacon or sausages from a man in the village. We make jams and traditional pickles. Our chickens, geese, turkeys, guinea fowl and sheep wander where they want. Some guests like to buy a goose or some turkey for roasting. Our turkey is a different experience from anything you will buy in a shop.
The nearest airport is Wroclaw, a 75 minute drive. In a car, it is 5 hours from Vienna, Bratislava or Warsaw, 4 hours from Berlin, 3.5 hours from Krakow, Prague and Dresden, 2 hours from Ostrava airport. A bus is quicker than train from Wroclaw, train is better from Katowice and Krakow. We can meet you at Nysa station. On the Czech side (Horni Hermanice) there's a small train (hourly departures) which will take you off into the mountains, or on to Brno, Prague, Vienna or Budapest if you want.
A lot of our guests come because they are taking a countryside break half way between city breaks in Prague or Berlin and Krakow. Piotrowice Nyskie is an ideal place from where to experience the Polish and Czech countryside.
History: the house is likely to have been built before 1300, but is first mentioned as "Castro Petrowicz" (Castle Peterwitz) in 1369 - when it was probably a moated fortification, owned by a knight, with the duty to fight for the bishops when called upon. Quite likely it was destroyed by Hussite invaders from Bohemia in 1428. Most of the house dates from after 1600, when it was in the ownership of a noble family called von Hundt. Recently discovered is a stunning and important painted ceiling in the ballroom, unique in Poland, dating from 1620. The chapel has artefacts from that date too, and still serves as the village church, the only such private chapel in Silesia, and an impressive baroque altar, just restored. A picture on the ballroom ceiling of Queen Elizabeth of Bohemia, "The Winter Queen" suggests she may have visited in 1620, when it's known she went to nearby Nysa with her husband Frederick V of Bohemia. Elizabeth, daughter of James I of England, and VI of Scotland, was a Stuart.
The house became the private residence of Sebastian von Rostock, the Prince-Bishop of Breslau (now Wroclaw) in 1665. The bishop left it to a nephew, then, in 1744, Baron von Wimmersberg acquired it, and it stayed in the family until a later Baron lost it in a game of cards to his estate manager, Julius Lorenz in 1858. The Lorenz family owned the house until 1945.
During Polish communist times the house was used by five families from the local collective farm, but was badly neglected. Only since Anna and I started rescuing it from dereliction in 2007 has its beauty more become apparent. Conservation work continues, we think we are 10 years into a 20 year restoration, so be prepared for a little restoration work going on around you. If you are lucky, your visit might co-incide with work by a skilled conservationist.
As a side business, we also restore old cars in one of the barns. Old car people love it here. But if your newer car is looking scruffy, now's the time to have the paintwork fixed at a fraction of the price you'd pay in Germany or the UK. We are starting other "micro-industries." We sell some antiques. And we can make interesting commissions out of metal or wood if you have ideas. We have an upcycling business making things out of scrap metal. Sometimes our guests like them so much they buy them!
There are plenty of action-adventure activities nearby, but the house is quiet, ideal for winding down from City stress. We find that many of our guests do a lot of sleeping. It is an unusually peaceful place. Our new guest flats - two of them, with fully equipped kitchens - are beautiful, and give you a sense of history when you stay, with exposed stonework, and old wooden beams. They have efficient, ecological modern wood burning stoves for winter heat. We burn our own wood. We don't normally provide meals, but can do so if asked. Breakfast from our own eggs and with home-made bacon from the village is a treat.
Children love it too. We have six, and they are so lucky to be growing up here.
Detailed description of our accommodation
With a bit of sharing, and using other rooms in the village, we can take a group of up to 30 people. We have extra folding beds, air beds and children's cots. All flats are heated by ecological wood-burning stoves. We use wood from our own trees. Extra electric heaters, and gas heaters are available. On hot summer days, the house is very cool inside, as if there is air conditioning. Which there isn't!

Flat 1
Location: downstairs, off the internal courtyard. Mostly original wooden floors, apart from a marble area with underfloor heating
History: this was the house-keeper's flat many years ago.
Bedroom 1: double bed
Room 2: two single beds
Room 3: a large living room with two double sofa beds
Living area, kitchen, with underfloor heating and wood burning stove
Marble bathroom with underfloor heating.
Separate toilet
Faces West and looks over the pond


Flat 2
Location: downstairs, off the internal courtyard. It has a view over the park.
It has a wood burning stove, with gas and electric heaters if needed in winter, and underfloor heating in the bathroom
History: this used to be the castle kitchen. We've put a carpet on the original 19th century tiles to preserve them
Room 1: large living room and basic kitchen, then, through an arch, an area with double bed in a separate area, and the bathroom and toilet there too.
Room 2: a separate room through a door. The room can be completely separated from the apartment. It has it's own independent door to the courtyard. Our unique bendy floor boards with oak from our own park. The Hobbit Room, we call it.
Faces North and looks over the park

Flat 3
Location: is not in the palace but in the building opposite, with a view onto the palace. Décor is modern. It's basic accommodation, we do not make high claims for it!
Room 1: A large living room with two double sofa beds
Room 2: A small bedroom with a double bed
Kitchen with a table and a nice view of the palace. There is a traditional wood burning cooker, and a gas cooker
The bathroom and toilet are together. There is a washing machine

Other rooms
The Master Bedroom: Upstairs in the palace is a very large bedroom with a large bathroom en suite with a huge bath. Not everything is finished in this room – it will be the owners' bedroom in due course. Parquet floor. There is some antique furniture

The Safe Room: through double doors from the master bedroom is the Safe Room, so called because it has the old house safe in it. It's a big room, currently unfurnished, but we quite often put extra beds in there for guests. Wooden floor

The Sun-dial Room: from the Safe Room through more double doors. Called the Sun-dial Room because it is on the corner of the house with the sun-dial. Unfurnished, but we often put extra beds in it for big parties. Parquet floor, high ceilings with historic wooden beams. The Sun-dial Room is next to the upstairs kitchen
The upstairs kitchen is a very large kitchen with historic beams, original oak parquet. It will be the owners' kitchen when they move upstairs. Formerly it was a grand salon.
Guests can use this kitchen too, and up to 100 people can dine in the ballroom.
In the ballroom is an excellent Yamaha grand piano, the best instrument in the region and much loved by our visiting musicians. The room has a good acoustic for all sorts of music making and we often hold concerts there.
There is also a lot of clean floor space in the attic. Members of a large party can camp up there. Popular with children…
There is dormitory space in the barns too
There are other rooms in the village. Single and double rooms in private houses.
And there is an empty, unmodernised flat opposite that we can use with three rooms and some beds in each and space for airbeds. It is heated with a traditional wood stove on which you can also cook
Dostęp gości
Nie ograniczamy liczby gości. W tym domu nie ma "roped off areas". Jaki jest sens pobytu w zamku, jeśli nie możesz zwiedzić wieży, piwnic i stodół?
We don't restrict guests. There are no "roped off areas" in this house. What's the point of staying in a castle if you can't go exploring the tower and the cellars and the barns?
Kontakt z gośćmi
Lubimy spotkać się z naszymi gośćmi. Airbnb jest świetny do spotkań z ciekawymi ludźmi, a niektóre stały się dobrymi przyjaciółmi i stałymi odwiedzającymi. Reklamujemy gdzie indziej, ale najlepsi są z Airbnb! Lubię pokazać ludziom okolice i wyjaśnić nasz trwały projekt ratowniczy Big House. Mamy świetny profesjonalny standardowy fortepian Yamaha C3 dla muzyków, niedawno wyremontowany. Mamy sześciół małych dwujęzycznych dzieci - lubią spotykać się z dziećmi - i uczą się języka niemieckiego w szkole
We like to meet our guests. Airbnb is wonderful for meeting interesting people and some have become good friends and regular visitors. We do advertise elsewhere, but the best people are from Airbnb! I like to show people around and explain our ongoing Big House Rescue Project. We have a lovely professional standard Yamaha C3 grand piano for musicians, recently reconditioned. We have six small bilingual (English-Polish) children - they like meeting guest-children - and are learning German in school
Inne ważne rzeczy
Wiejskiej przerwy między miastami. Wielu gości przybywa z Krakowa do Pragi lub do Berlina do Krakowa. Jest kilka dobrych domów na wielkie spotkanie, rodzinę lub przyjaciół. Albo impreza. Mamy duże doświadczenie w imprezach na 200 osób w Big Party Barn. Są też inne miejsca noclegowe dla dużych grup, a także miejsce na namioty i suche campingi w naszych stodołach (mamy 7 ogromnych budynków). Kochamy spotkać starszych ludzi. Jeśli chcesz trochę pracy na samochód, a tutaj możemy to zrobić, mamy warsztat malarski. Zaczynamy interesy z antykami i możemy też tworzyć metalowe przedmioty z lokalnym kowalem i innymi rzemieślnikami
a countryside stay between city breaks. We get a lot of visitors going from Krakow to Prague, or Berlin to Krakow. There are few better houses for a big reunion, family or friends. Or a party. We have experience of parties for up to 200 in the Big Party Barn. There is other accommodation locally for big groups, and also space for tents, and dry indoor camping in our barns too (we have 7 enormous buildings). We love to meet old car people. If you want a little work done on your car while here, we can do it, we have a paint workshop. We are starting an antiques business, and we can also have made metal objects using the local blacksmith and other artisans
---
---
Komunikuj się zawsze za pośrednictwem Airbnb
Jeśli chcesz chronić swoje płatności, nigdy nie przesyłaj pieniędzy i nie komunikuj się poza stroną lub aplikacją Airbnb.
---
We accept dogs, but you must pay 10 euros a night. There is no Airbnb setting for this, so pay us when you come. This is because dogs ALWAYS require extra cleaning, even well-behaved ones!
Also, the dog must never be left unsupervised in the room. We can arrange a big, enclosed safe space in a barn if you want to go somewhere without your dog.
We recycle. Plastic, glass, paper, all separated. Uneaten food goes to our chickens and turkeys. They NEED eggshells too, so don't throw those away.
This is a family home not a hotel. Relax, and don't be too demanding! Well mannered people don't need to be told a set of rules, so we have none, apart from no smoking in the rooms.
We have small children, who speak English and Polish, a dog who barks - but never bites, two sheep and a cat. If you bring a dog, your dog mustn't chase the chickens, geese, turkeys, guinea fowl.
You will have your own kitchen, access to a washing machine and so on, your own private space. There are also four hectares (10 acres) of grounds.
You can keep yourselves to yourselves, but we're friendly helpful people too, and very proud of what we have achieved in the rescue of this important, historic old house, and keen to share our enthusiasm for it.
Należy także uwzględnić
Konieczność przejścia schodami
Zwierzęta w domu
Niektóre pomieszczenia są wspólne - rooms like the Ballroom are for everyone. Also the central courtyard. Villagers use the chapel which is an active church
---
This is a truly unique place. Seriously. If you find another private house dating back to the Middle Ages, literally including the local church and inhabited by a family with enough energy to organise a concert of classical music in their ball room, filling it with the local community, please let me know.
---
Fascinating accommodation and friendly, involved host. Even in winter the Palace and it's surroundings are just a charming as they look. We loved feeding wood in to our living room fireplace while drinking hot wine. Jim is happy to share the history of the palace and information about their restoration project. The surrounding area has lots of nice nature as well as good restaurants and historical sights. In general the experience was relaxing and cozy and I wish we could have stayed longer. With plenty of hot water and good internet, I can't complain about the details either. Truly a unique experience!
---
I'm an English author turned historic house restorer (and I'll write about this amazing Big House adventure soon too).
My wife Anna is Polish. We have five small children, a dog, several cats and half a dozen sheep

English is my native language,
Je parle couramment le français
I speak Japanese 私は日本に3年住んでいた。私は日本語を話す. また、私は日本語を読むことができ
I can also speak and read enough German. Ich lese Deutsch ohne Problem. Ich bin nicht fließend, aber ich spreche genug
Anna's native languag is Polish. She speaks fluent English. And understands Czech
Języki
Deutsch, English, Français, Polski, Čeština, 日本語
Wskaźnik aktywności:
100%
Czas odpowiedzi:
w ciągu kilku godzin
Sprawdź inne opcje, jakie oferuje Otmuchow i okolice
Więcej miejsc pobytu w Otmuchow: