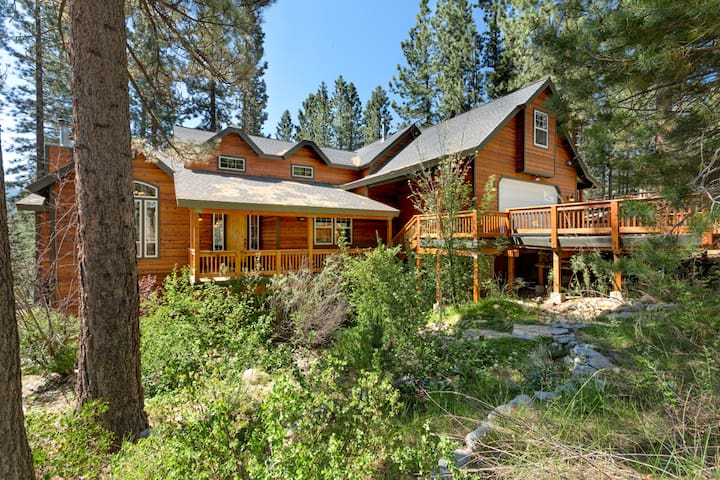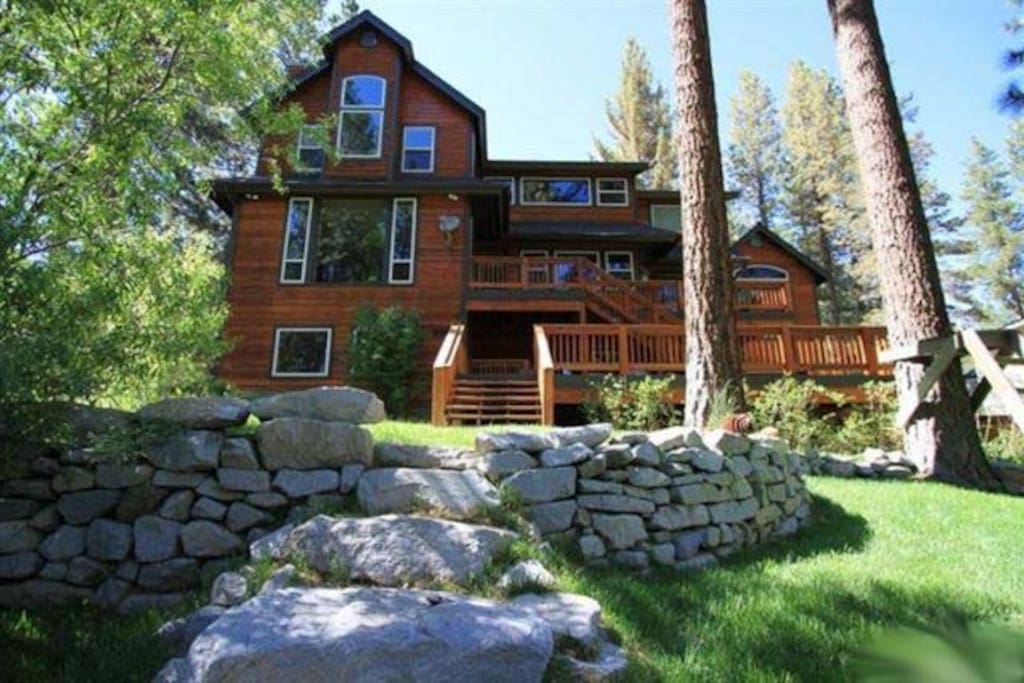 Peaceful, well appointed 5,800 sq. ft. home is spread over 3 floors. 5 Bedrooms, 5 baths, 3 living rooms, lounge, 2 fireplaces, dining room, and a large dine-in-kitchen. Sauna, Steam Room & Hot Tub. Decks/Views. Sleeps up to 14. 1 acre yard-fenced. Nestled among the trees, bordering forest with miles of trails for bikes, hiking, snow sports and more & just 5 minutes from Heavenly Valley, 10 minutes from the casinos. Ideal for families and groups.
Przestrzeń
Lovely home with huge, fenced back yard, set on the edge of the forest in a quiet residential neighborhood in South Lake Tahoe (Tahoe Paradise)--5 minutes to Heavenly Valley, 40 minutes to Squaw Valley and Kirkwood. Only a 10 minute drive to the lake and beaches and 10 minutes to the casinos.
The house borders national forest land with 400 miles of hiking, biking and snowmobile trails… You could even step out the back door and walk all the way to Los Angles through this forest without ever seeing a city!
The House: spacious, peaceful, and well appointed, this 5,800 sq. ft. home is spread out over 3 floors with 5 bedrooms and has beds to sleep 14--one bedroom also includes a great office area! (**While many houses in Tahoe don't have them, here all bedrooms have high quality black-out roller curtains, for those who like to sleep in!) There are also 5 full baths, 3 living rooms, a lounge room, 2 fireplaces, large kitchen with dining table, granite counters, dishwasher, expansive decks and outdoor area, formal dining room, spa (large steam room, large sauna, and wonderful Swedish shower), out door hot tub, laundry room with washer and dryer, 2 car heated garage; driveway with space for 4 medium size cars--all set on a 1 acre lot with huge lawns, view of expansive forest to the back, and a great tree house to boot!
This house offers privacy, green, green vistas, tons of natural light, and the comforts of an in-house spa—including steam room and sauna. Floors are a mix of hardwood and carpet, and all have radiant/floor heat. The house has with Wi-Fi and cable TV on any of the 5 40" flat screen TVs,
It is a great place to vacation, to relax, and simply to be.
Beds in Bedrooms as follows:
Bedroom #1= 1 King & 1 Queen
Bedroom #2= 1 Double
Bedroom #3= 1 Queen with a Twin bunk above
Bedroom #4= 1 Queen & 1 Twin
Bedroom #5= 1 Queen
After a long day of skiing you can take a sauna and steamroll, cook a great dinner in the large kitchen, and relax in the hot tub with friends. In the morning: wake to the view of the neighbors horses and amazing view of the forest, then head out to the sloops again. There is a reason they call this area "Tahoe Paradise". (This house, its amenities and location, just may be it!)
NOTE:
**From Dec. 21-Jan. 2 there is a 7 night minimum.
*This home has a County Vacation Rental Permit -#1972
Dostęp gości
Wonderful indoor spa: sauna, steam room and Swedish shower, and an out door Hot Tub--well appreciated after a day or skiing, hiking, or biking. Great deck off kitchen and dinning room, with its own dinning area and great gas BBQ. Big yard (with a fun tree house!) that boarders the National Forest and access to tons of trails for hiking, snow sports, biking, etc.
Kontakt z gośćmi
We won't be in Tahoe when the house is rented, but we do have a great local manager, who has been with the family for years, for any issues that come up!
Inne ważne rzeczy
Included in the rental is 1 hour of light housekeeping per day. (End of stay cleaning is not included in the rental price, but is included in the itemized invoice airbnb provides when you book.)
Also, please note no separate tax will be charged as we built the tax into the daily rate : )
Check-in Time is 4pm or any time after 4pm; Check out time is at noon. When we can, we're happy to arrange for an early check-in or later check-out (Early check-in/Late check-out charge is $250.)
***We generally have a 3 night minimum but will consider 2 night stays on a case to case basis. Depending what dates, 2 night stays will have an added "Short Stay" surcharge, which we will of course let you know about before booking. Also, some holiday dates have longer minimum stays.
Ta oferta posiada udogodnienia przydatne do podróży służbowych.
Internet bezprzewodowy (wifi)
Darmowe miejsce parkingowe
Nieodpowiednie dla zwierząt
Zakaz organizowania imprez
Zameldowanie o dowolnej godzinie po 16:00
Samodzielne zameldowanie z opcją keypad
Please Note:
Depending on the dates, we do allow 2 night rentals, but they may be subject to a $250 "short-stay" fee. We don't offer 2 night rentals through instant booking.
Per our rental permit the maximum number of guests allowed is 14--including children.
Sorry to say , but we no longer accept pet guests. (We love them, but... )
Check-out is at noon, Check-in is 4pm--but let us know your ideal time and we'll accommodate it if we can. If you'd like a late check-out and we can accommodate, late check outs are available for $250 fee.
A few of the "Dont's" and "No's": No smoking. And no loud parties or events in this rental, as the house is in a residential neighborhood where people really value the quiet of the woods and their homes. But this rule is a win-win: Good for the peace of our neighbors and good for renters too! No events may be held at the house without prior approval, so please discuss before booking.
While cleaners will come to do an end-of-stay cleaning that cleaning is for the basics and guests should, of course, pick up after themselves and leave the house in reasonably tidy condition: please make sure to dispose of any food, put garbage in the lock boxes outside, and any dirty dishes in the dish washer.
PLEASE NOTE THE FINE PRINT and Read In Full:
The county, the sherifs department and the neighbors in Tahoe are all vigilant regarding three things:
1. PARKNG 2. NOISE 3. GARBAGE
Renters must respect the laws regarding these issues, or citations will be issued directly to them, and also (potentially) to the property owner. Please know and respect the following:
1. PARKING: No street parking is allowed during snow removal conditions or between Nov. 1 and May 1. When street parking is allowed, it is only allowed within limited areas. We ask that renters use only the house parking--The house has a garage that can house 2 cars and space for 4 medium size cars in the drive way.
2. DISPOSAL OF GARBAGE: All garbage must be properly disposed of in the property's locked 'bear boxs' and no food or food items are to be left in the yard, on decks, or in vehicles. It's really dangerous for the people and bad for the bears!
3. NOISE: Renters must keep noise to a level that does not intrude on the peace of neighbors. Or as the county likes to say, renters "must not create unreasonable noise or disturbances, engage in disorderly conduct, or violate provisions of, the El Dorado County Code or any State law pertaining to noise or disorderly conduct." (Please help all enjoy this special place!)
--Cost to repair any damage to the house (repairs or cleaning) caused by any pets (or people) brought to or staying in the house are (of course) the responsibility of the renter.
***All rentals require a security deposit. and all rentals agree to the following rental contract:
Vacation Rental Agreement and Contract
This Rental Agreement and Contract (the "Agreement") is a legally binding agreement made and entered into by and between Steve Jones, his manager, or agent (the lessor), and ____________________________ (the Lessee or Guest). This agreement is binding in addition to any other terms of service agreed to by Lessee if booked directly with a online rental website, or other rental agency. If Lessee has agreed to any other terms of service, this agreement will serve as an addendum, and the additional terms of service agreed to (if any) will be additionally binding for the Lessee. Furthermore, the owner, agent, or owner agent (The Lessor), in the case of any contradicting terms, will have the right to enforce either at his or her discretion.
The undersigned person(s) or company (the "Lessee") pursuant to which the Guest has agreed to rent the residence described below (the "Property"), for the duration of the Rental Term, and for the Total Rental Fee and other good and valuable consideration as described herein.
Reservation Date: _________________
Term of Occupancy:
Check in date: ________________
Check in time: Not before __________PM
Check out Date: ________________
Check out Time: Not later than12 noon pacific time
Total Rental and Other Fees: As confirmed at time of booking and payment.

OCCUPANCY
Guest agrees that no more than [14] persons shall be permitted on the Property at any time during the Rental Term, OR the number of guests listed at time of booking WHICHEVER IS LESS, all of whom agree to comply and shall comply with ALL the conditions and restrictions imposed upon Guest under this Agreement. Any violation of any of the terms of the agreement shall be considered material breach and cause for tenants to immediately depart premises with no refunds of any kind owed. All guests do hereby agree to depart the property immediately, if any formal violation occurs. All guests further agree that the departure will result in no refunds of any kind. Additionally, if police are called due a complaint, guests agree, in addition to no refund of deposits or rents paid, renter shall reimburse owner, and /or owners agents for all actual expense including fines, and well as time the owner , and or its agents must spend to address violation, county complaint, investigations, etc… Those rates are as follows:
Owner Time: Billed at $500.00 per hour.
Local Manager Time Billed at $40.00 per hour
Book Keeper / Admin : $50.00 per hour.
NOTICE: We do not want any money. We also do not want to spend countless hours on noise complaints. We have had one noise complaint to date, and the costs were roughly as follows:
Owner Time: Exceeded 10 hours
Local Manager Time: Exceeded 4 hours
Admin: Time Exceeded 4 hours.
CONDITION AND USE OF PROPERTY
The Property is provided in "as is" condition. Rental Agent, owner, and /or manager, shall use its best efforts to ensure the operation of all amenities in the property, such as Internet access, satellite or cable TV access or fireplaces as applicable. Rental Agent shall not be held responsible for such items failure to work, but will make every effort to correct any issues as reported as quickly as possible. Guest acknowledges that use of amenities such as hot tubs, steam rooms, saunas, fireplaces, decks, and the like may be potentially dangerous and involve potential risks if improperly used, particularly with regard to children and such use is at the Guest's own risk. Guest expressly, by booking the reservation hereby holds the property owner, its managers, local contacts, agents, and affiliates, and insurance company harmless and hereby waives any and all potential claims, claims, liabilities, potential liabilities, potential causes or action, causes of action, and any other claims now, in the future, and forever.
Guest shall use the Property for residential purposes only and in a careful manner to prevent any damage or loss to the Property and keep the Property in clean and sanitary condition at all times. Guest and any additional permitted guests shall refrain from loud noise and shall not disturb, annoy, endanger, or inconvenience neighbors, nor shall Guest use the Property for any immoral, offensive or unlawful purposes, nor violate any law, association rules or ordinance, nor commit waste or nuisance on or about the Property. In addition to any and all other laws, guests expressly hereby agree to careful compliance of county parking ordinances, noise ordinances, and garbage ordinances.
Parking: At no time during snow removal conditions (i.e. snow on road), shall any guest or friends of guest's park on street. During these times, guest shall only park on and in designated spaces approved for parking on the premises. Specifically, guest will park only on driveway connected to the two-car garage. Guest will not exceed parking a total of two cars in the garage, and two large cars on the driveway or four small cars on the driveway if they fit without sticking out into the street. This agreement, and the county permit allows for up to 6 cars (confined to garage and driveway only). During summer, guest may also park up to three additional cars on the street directly in front of home. These cars must be parked on the side of the street where the home is, and not on the opposite side of the street.
Noise: Guest agrees to keep noise to a level that does not intrude on the peace of neighbors and understands that if they violate this, they will be issued citations by the Sheriff, and may be asked to leave. According to the regulations, guests "Must not create unreasonable noise or disturbances, engage in disorderly conduct, or violate provisions of, the El Dorado County Code or any State law pertaining to noise or disorderly conduct." Noise complaints are costly in terms of time and money. So please – keep noise, music , etc… at levels that comply with county ordinance (i.e. levels that will not disturb neighbors). That means loud music and partying must be kept indoors.
Garbage: Guest agrees to dispose of garbage in the following way: Any and all garbage must be disposed of in the property's 2 locked 'bear boxes' and no food or food items, or other refuse items are to be left in the yard, on decks, on the driveway, in vehicles, or anywhere else on property. If guests have excess garbage, guests must dispose of garbage at South Tahoe Refuse Company in town.

DEFAULT
If Guest should fail to comply with the conditions and obligations of this Agreement, Guest shall surrender the Property immediately, remove all Guest's property and belongings and leave the Property in good order and free of damage. No refund of any portion of the Total Rental Fee shall be made. Guest hereby waives any right to claims against property owner, agents, managers, affiliates, etc.….
ASSIGNMENT OR SUBLEASE
Guest shall not assign or sublease the Property or permit the use of any portion of the Property by other persons who are not family members or guests of the Guest and included within the number of and as permitted occupants under this Agreement.

RISK OF LOSS AND INDEMNIFICATION
Guest agrees that all personal property, furnishings, personal affects and other items brought into the Property by Guest or their permitted guests and visitors shall be at the sole risk of Guest with regard to any theft, damage, destruction or other loss and the property owner, owner agent's, manager's, house cleaners, and any and all other related parties shall have no liability whatsoever.
Guest hereby covenants and agrees to indemnify and hold harmless Rental Agent and their agents, owners, successors, employees and contractors from and against any costs, damages, liabilities, claims, legal fees and other actions for any damages, costs, attorneys fees incurred by Guest, permitted guests, visitors or agents, representatives or successors of Guest due to any claims relating to destruction of property or injury to persons or loss of life sustained by Guest or family and visitors of Guest in or about the Property and Guest expressly agrees to save and hold Rental Agent harmless in all such cases.
RELEASE
Guest hereby waives and releases any claims against Rental Agent, the Property owner and their successors, assigns, employees or representatives, officially or otherwise, for any injuries or death that may be sustained by Guest on or near or adjacent to the Property, including any common facilities, activities or amenities. Guest agrees to use any such facilities or amenities entirely at the Guest's own initiative, risk and responsibility.
OTHER TERMS:
Minor house cleaning and pick up service will occur generally daily at approximately 8:30am. This is a one-hour service, included in the rental fee. If guests would like more than just the one-hour, guest may request that directly with the cleaning people, and pay them directly for any additional cleaning.
ENTRY AND INSPECTION
Rental Agent reserves the right to enter the Property at reasonable times and with reasonable advance notice for the purposes of inspecting the Property or showing the Property to prospective purchasers, renters or other authorized persons. If Rental Agent has a reasonable belief that there is imminent danger to any person or property, Rental Agent may enter the Property without advance notice.
UNAVAILABILITY OF PROPERTY
In the event the Property is not available for use during the Rental Term due to reasons, events or circumstances beyond the control of Rental Agent, Rental Agent will apply due diligence and good faith efforts to locate a replacement property that equals or exceeds the Property with respect to occupancy capacity, location and value that meets the reasonable satisfaction of the Guest. If such replacement property cannot be found and made available, Rental Agent shall immediately return all payments made by the Guest, whereupon this Agreement shall be terminated and Guest and Rental Agent shall have no further obligations or liabilities in any manner pertaining to this Agreement.
ADDITIONAL TERMS TO THE RENAL AGREEMENT
In addition to the standard terms included herein, Guest acknowledges and agrees that the following additional terms and conditions apply to the Guest's rental of the Property:
1.ADDITIONAL GUESTS. If the Guest would like to have more guests stay at the property than those stated at the time of rental, the Guest will notify the property owner in advance. An additional fee may apply for additional guests and the number of guests cannot exceed the legally occupancy limit of 14 in total. (The Guest understands that the property has beds to sleep 11: 1 King, 3 Queen, 1 Double and 1 Twin.)
2.Guest are also advised the house is a five bedroom house. The attic room is not a bedroom, and is not to be slept in. The attic room is the room above the garage. Violations of same, shall be deemed a material breach of this contract.
5. DAMAGES. The cost to repair any and all damage to the property caused by pets or people brought to or staying at the property is the sole responsibility of the guest. Similarly, the guest is responsible for any and all citations or fees issued either to the guest or the property owner for violations of noise, parking or garbage disposal regulations as well any violation of the house's legal occupancy limit.

GENERAL PROVISIONS
This Agreement contains the entire agreement between the parties with regard to the rental of the Property, and any changes, amendments or modifications hereof shall be void unless the same are in writing and signed by both the Guest and the Rental Agent (except as described above). If there is an additional agreement that was agreed to on a travel booking web site, then this agreement will serve as an addendum to that agreement (as described above). To the extent that this agreement serves as an addendum, all terms herein shall be in addition to any and all other terms. If any terms between a prior agreement and this agreement /addendum exist, the terms herein shall at the Lessors discretion supersede any other agreement. If there are no contradictions between this agreement and any other, then both will be binding. The laws of the State of California shall govern this contract. The words "Rental Agent", "Owner", "Manager", "Lessor", "Guest", "Lessee", etc.… shall include their respective heirs, successors, and representatives. The waiver or failure to enforce any breach or provision of this agreement shall not be considered a waiver of that or any other provision in any subsequent breach thereof. If any provision herein is held to be invalid, the remainder of the Agreement shall remain in full force and effect. Any notice that is required to be given under this agreement shall be in writing and sent to the contact information included herein. This Agreement may be signed in one or more counterparts, each of which is an original, but taken together constitute one in the same instrument. Execution of a digital signature shall be deemed a valid signature. Additionally, this agreement in faxed form, scanned for, emailed form, shall be deemed valid.
Alternatively, this agreement may be signed at check in, if arranged prior to date of check in.
In any event, this agreement must be executed prior to renters taking possession of property for vacation rental term.
I love the outdoors, great books, the smell of snow and trees, the wildness of all animals, the luxury of spas and the pleasure of wonderfully made food.
Języki
English, Español
Wskaźnik aktywności:
100%
Czas odpowiedzi:
w ciągu godziny
Sprawdź inne opcje, jakie oferuje South Lake Tahoe i okolice
Więcej miejsc pobytu w South Lake Tahoe: