VERSILIA & LUCCA BY VESPA
VERSILIA & LUCCA BY VESPA
Guided tour in the Land where the Mountains meet the Sea
Obejmuje
Jedzenie, Napoje, Zakwaterowanie, Bilety, Transport, Wyposażenie
VERSILIA & LUCCA BY VESPA
VERSILIA & LUCCA BY VESPA
Guided tour in the Land where the Mountains meet the Sea
Obejmuje
Jedzenie, Napoje, Zakwaterowanie, Bilety, Transport, Wyposażenie
Every day a new adventure on board of the mythical Italian scooter-the symbol of La Dolce Vita-at the discovery of the hidden beauties of a less known, nevertheless sensational Tuscany. From the sea across luxuriant hills planted with olive trees, as far as villages suspended in time and art towns. We will twist hilly roads and whizz along mesmerizing coastal strips, and the sense of freedom will be overwhelming. We will reach marvelous historical towns as Lucca, or Pietrasanta, and enjoy a challenging ride into Versilia's hearth, as far as a tiny magic village, with splendid views over the sharp peaks of the Apuan Alps, and the so-called Monte Forato (the Pierced Mountain). We will delight our palates with local delicacies, and enjoy a kitchen whose recipes can't be found in the chef's manuals. So ... wear your helm, hop on your flaming Vespa and let us guide you into our amazing Tuscany experience! Requirements to book this tour: - Minimum age: 21 - Valid driving licence for car. - Passport or Identity Card. - Driving experience on scooters - Deposit of € 500,00 per Vespa upon Vespa delivery in the form of a pre-authorization by credit card (VISA or Mastercard). - Acceptance and signature of a standard rental contract upon delivery - Vespa is delivered with full thank PLEASE NOTE: The 2nd person riding on the back of the Vespa (Passenger) enjoys a discount of € 250
Hello, we are Marta & Elena. Marta is a professional tourist and nature guide who, besides a deep love and knowledge of the territory has an uncontainable passion for scooters and bikes, which she's been riding since over 20 years . Elena is the manager of an established Tuscan Tour operator, "That's Tuscany" , as well as licensed tour leader. She started her company in 1996 and is being leading it succesfully for over 20 years. She's been on an epic ride ever since, irrestibly attracted by new challenges and tourism trends, which she faces thanks to her determination and deep attachment to her Land. She used to ride scooters since she was a teenager and never gave up. In 2011 she opened a Vespa Scoter division, and since then she creates ultimate experiences by Vespa sharing fun and love for her Land with her hosts.

2 kolacje, 1 lunch, 1 menu degustacyjne

Wino, woda, koktajl, kawa

hotel – 2 noce

Opłata za wejście

skuter – 3 przejażdżki

Sprzęt bezpieczeństwa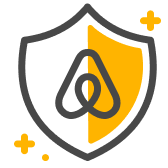 Bezpieczeństwo gości
Każda wyprawa organizowana jest zgodnie z wytycznymi branżowymi. Nawiązaliśmy współpracę ze stowarzyszeniem Adventure Travel Trade Association, ekspertem w branży podróżniczej, by razem określić najlepsze praktyki i najwyższe standardy bezpieczeństwa.
Każda atrakcja może zostać anulowana w ciągu 24 godzin od dokonania rezerwacji i otrzymasz pełny zwrot kosztów.
Zasady dotyczące komunikacji
Zawsze komunikuj się za pośrednictwem Airbnb. Aby chronić swoje płatności, nigdy nie przekazuj środków ani nie komunikuj się poza aplikacją lub stroną Airbnb.
W atrakcji może wziąć udział maksymalnie 6 gości. Muszą oni mieć ukończone 21 l. Poziom aktywności tej wyprawy: lekki. Driving experience on scooter. Valid Driving licence ( cat B, for car)
Oficjalny dokument tożsamości
Musisz zrobić sobie zdjęcie (tzw. selfie) i musi ono pasować do zdjęcia w Twoim dowodzie tożsamości. Airbnb chce w ten sposób potwierdzić, kto dokładnie weźmie udział w atrakcji. Jest to procedura jednorazowa.
Podczas tej atrakcji podawany będzie alkohol. Mogą go spożywać wyłącznie pełnoletni goście.
Accommodation is based on shared double rooms in BB treatment. Breakfast is buffet style. Please wear comfortable clothing and sport shoes during activities. Bring sun glasses, sun cream, and a jacket in case of wind or light rain. The order of visits and itinerary is subject to changes.
Atrakcje Airbnb są sprawdzane pod kątem jakości
Atrakcje Airbnb są sprawdzane pod kątem jakości
Prowadzone przez lokalnych mieszkańców, którzy są dumni ze swojej małej ojczyzny i którzy kochają to, co robią.

W małej grupie nigdy nie "zaginiesz w tłumie".

Sprawdzamy wszystkie atrakcje pod kątem tego, czy uczestnicy będą mogli zobaczyć mało dostępne miejsca.
Wyprawa 3-dniowa
VERSILIA & LUCCA BY VESPA